Updated March, 2019
Our Top Picks
Best Overall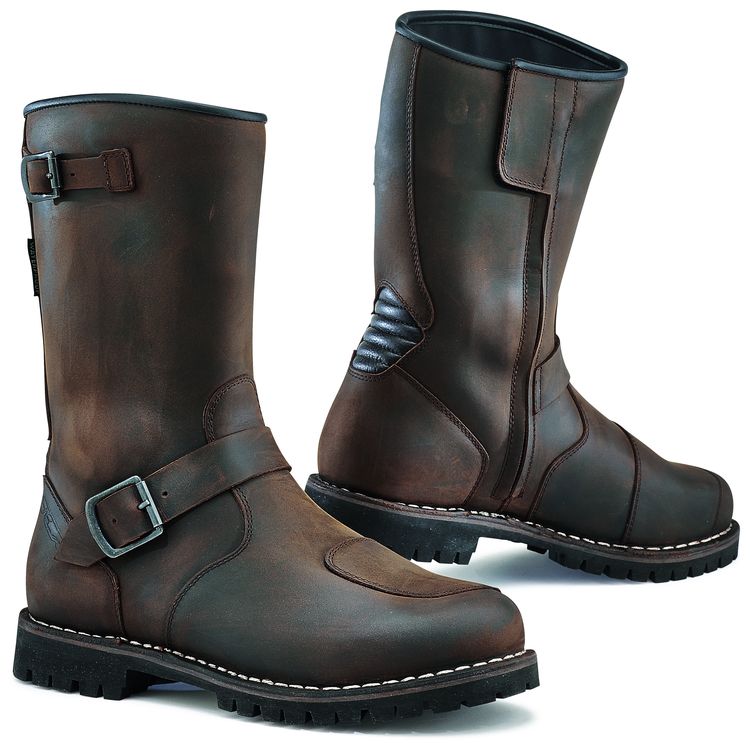 Best Value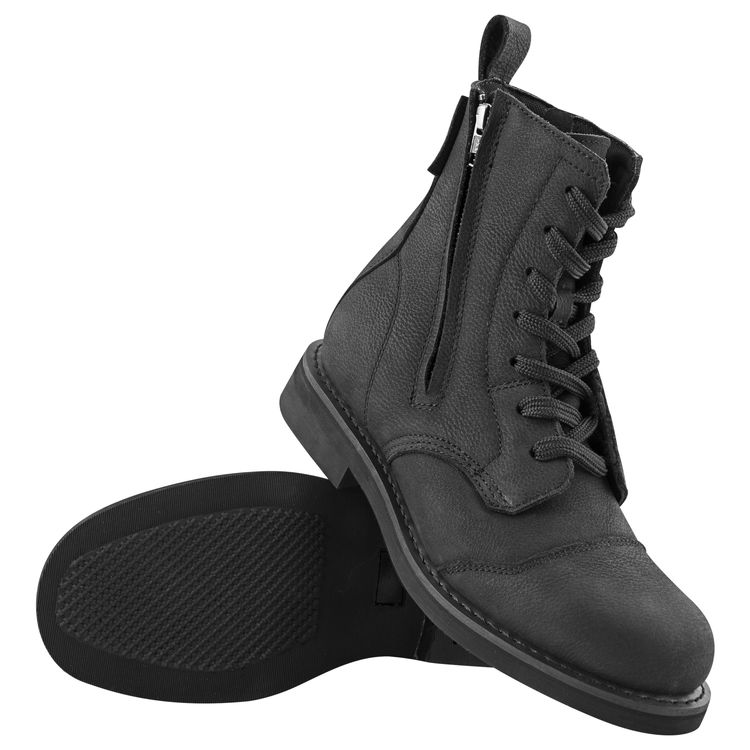 Fully Loaded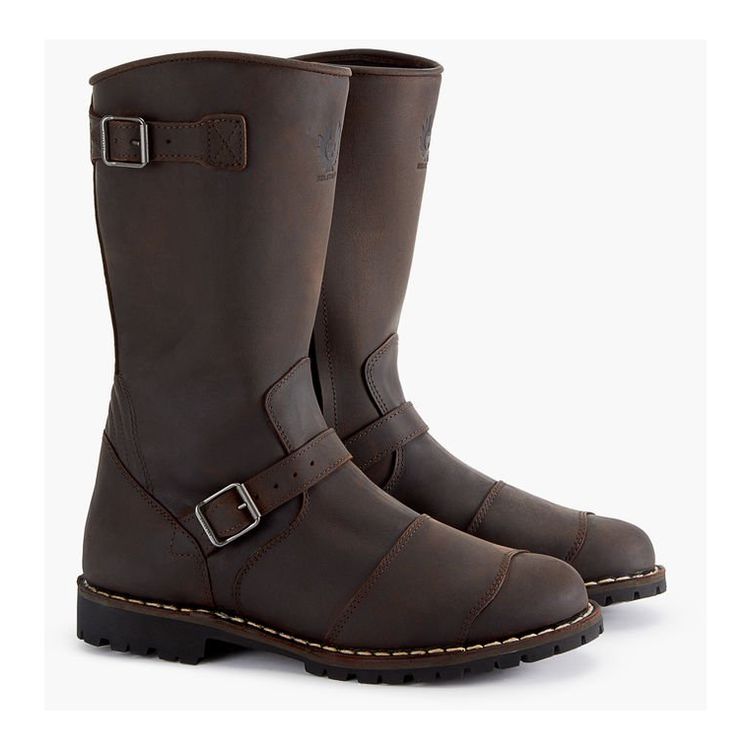 Other great options: Roland Sands Mojave, Forma Swift Flows, Merlin Charge
---
Cruiser boots are purpose-built riding boots that offer all of the protection of other types of riding boots but in a relaxed format that focuses equally on comfort both on and off a bike. Cruiser riders want a simple look that could easily be mistaken for casual street footwear, without all of the bolt-ons and exterior armor and padding of more sport style boots.
Cruiser boots are designed to function well with the relaxed upright position when riding a Harley, Goldwing, Indian, Triumph or whatever your sled of choice might be. The back is straight, legs are at a right angle and feet are resting in a flat position. And on some larger models, riders even have the luxury of stretching out a little bit more and the feet extend forward beyond the knees a bit. Think of sitting in a nice easy chair, but one on two wheels.
And what creates the immense appeal and popularity of the cruiser lifestyle is the comfort when on a ride. The body position is comfortable and relaxed. And there is even enough space for a rider to move and shift his or her weight a bit, unlike the confined crouch of a sport bike. So riders are looking for cruiser boots that are comfortable to wear for the long haul. These boots need to be ready to ride all day and even late into the night.
Beyond comfort and basic protection, cruiser boots come in a variety of materials, heights, styles, and colors to meet the needs of the huge number of cruiser bike riders. Each rider should consider his or her own taste and riding style as well as the environment of most of the rides. All of this, along with an evaluation of the safety benefits of each boot will help you to select the best cruise boot to meet your needs and style of riding.
Be sure to check back regularly with us here at wBW to read about our latest hands-on reviews of motorcycle cruiser boots and other great products for riders.
Cruiser Boots Buyer's Guide
The conditions that you ride in and the length of your rides will have some impact on the boots that you select. As an all weather rider, you might be in need of a more waterproof and insulated boot, but a rider who is only out on nice days might opt for a lighter weight boot without the added density of a liner.
In addition, the height of the boots is partially preference and partially based on the terrain that you ride in. Riding back roads with loose rock and debris can call for a taller boot that offers some protection from rocks and projectiles that could split open a shin.
But sedate rides around town might be more comfortable in a shorter boot. Your personal taste and needs along with our information about features and comfort levels will serve as a great guide for you when you are selecting your next pair of cruiser boots.
Best Cruiser Boots
In Detail
Best Overall
The classic look of the TCX Fuel cruiser boots makes them a favorite long before riders learn about all of the great features that are subtly included in these boots.
Construction & Fit:
Solid piece of leather covering the entire front of the boot is purpose designed to eliminate any seams which are the weakest link in any boot construction
Full grain leather boots offer a fully waterproof lining to allow riders to enjoy a ride in any weather
Additional leather pad is added at the shifter area for extra durability
Expansion inset at the back of the ankle provides added comfort on long rides by increasing the flexibility of the boot to accommodate a variety of foot positions.
Comfort fit system provides a boot that is pre-shaped to the contours of the foot and does not require the painful break-in period of many boots
Full-length interior zipper makes boots easy to pull on/take off
Collar is secured with a hook and loop tab
Adjustable steel buckles at the ankle and at the collar allow for a customized fit and add to the authentic look of this classic boot
Safety Features:
In addition to the incredibly durable leather upper, extra protection comes from:
Medial and lateral malleolus discs
Toe and heel counters
Thick and durable lug sole
At under $300, the TCX Fuel WP cruiser boot offers riders a great many comfort and safety features and the functionality to wear when riding or when out exploring the town. All of these benefits make the TCX Fuel WP the selection for the Best Overall Cruiser Boots 2019.
Buy TCX Fuel Waterproof
We receive a small commission when you purchase from one of our affiliate partners. Thank you for supporting us.
---
Best Value
The Speed and Strength Bikes Are In My Blood cruiser boots offer a very casual appearance that works well in any setting, including on a bike.
Construction & Fit:
Premium leather upper, convenient dual zipper entry, and sleek Under Cover lacing system make the Bikes Are In My Blood boots easy to get in and out of and ensure a perfectly customized fit
Anti-slip rubber sole and the reinforced toe shifter pad ensure stability and a great grip on the lever and pegs as you are cruising down the road
BAIMB cruiser boots offer riders a wide, roomy fit which adds to their comfort and makes them a great choice to wear all day, every day
Safety Features:
Added safety in the event of abrasion or impact is provided by the well-concealed molded internal toe and ankle reinforcements
At a cost of only $150, these are the perfect cruiser boots for any rider who is looking for basic protection along with great comfort and durability from a quality leather boot, making the Speed and Strength Bikes Are In My Blood boots the 2019 selection for Best Value Cruiser Boots.
Buy Speed and Strength Bikes Are In My Blood
We receive a small commission when you purchase from one of our affiliate partners. Thank you for supporting us.
---
Fully Loaded
The Belstaff Endurance cruiser boots are constructed of water-repellent black-buffalo leather for its amazing durability and comfort.
Construction & Fit:
Buffalo hide is waxed for added longevity and measures 1.4mm to 1.6 mm depending on the location
Internal layer is a waterproof and breathable membrane for added functionality as well as comfort in inclement weather
Heavy-duty lug design provides great rock-gripping, as well as the benefit of an anti-slip surface
And don't let the classic look of these boots mislead you, the soles are cutting edge Vibram rubber.
Safety Features:
While these boots look great, they also function equally well when it comes to protecting a rider's feet and ankles.
Protective inserts qualify these boots to be rated the CE Technical Standard EN 13634:201
Malleolus protectors on the medial and lateral sides for impact protection as well as toe and heel reinforcements
Insole of the Belstaff Endurance are molded to fit the contours of the foot and can be removed as well as replaced as needed
Full zipper and hook and loop tab make the Endurance an easy boot to put on and take off, while fine-tuning to the fit can be done with the ankle and collar buckle straps
For riders looking for extreme comfort and quality, the Belstaff Endurance will not disappoint. At almost $500, they are a bit pricey, but for a long term investment in cruiser boots, the Endurance By Belstaff is the 2019 selection for Best Fully Loaded Cruiser Boots.
Buy Belstaff Endurance
We receive a small commission when you purchase from one of our affiliate partners. Thank you for supporting us.
RevZilla
---
Other Great Cruiser Boots
In Detail
The Roland Sands Mojave cruiser boots are the perfect blend of a casual and comfortable boot with the function and safety features that all riders need.
Construction & Fit:
Outer construction is 100% top-grain cowhide which is paired with a waterproof Hipora liner for added functionality throughout the year
Tongue is gusseted for additional comfort as well as function when keeping out the rain and snow
Safety Features:
While these might look like any street boot, there is a great deal of protection concealed within this fine leather.
Toe box is reinforced and the ankle offers extra lateral support to reduce the potential for a sprained ankle or a torsion injury in an accident
Vibram sole offers a great textured surface for grip, slip resistance and stability and is reinforced with shank.
Added bonus is the shock absorbing nature of the Vibram material in the event of impact
This boot does not have a defined heel, making it a great choice for riders who are looking for a flat soled cruiser boot that offers great protection but in a very casual and subdued design.
Buy Roland Sands Mojave
We receive a small commission when you purchase from one of our affiliate partners. Thank you for supporting us.
---
The Forma Swift Flows might not meet the traditional image of a cruiser boot but it definitely fills a need for riders who were looking for all the comforts of a favorite pair of high top athletic shoes but also the safety features that all riders need.
Construction & Fit:
Sneaker cruiser boots are made of perforated full-grain leather and a double density sole with an extra shock absorbing heel insert
Standard high top lacing configuration allows riders to get the exact fit that they want on each ride as well as the security of a full lace system
Tongue is also padded to complete the comfort all the way around the ankle and lower leg.
All of the padding used is soft polymer padding with memory foam so the boots will actually conform to your foot and ankle as you wear them
Final layer is the Air mesh lining for comfort and to aid in wicking moisture away from the foot
Safety Features:
Ankle TPU molded plastic protections and reinforced heel and toe areas are just the beginning of the protection added to these cruiser boots.
The ankle area is also reinforced and sports a padded comfort collar
Footbed of the Swift Flows is a combination of a PP Mid Dual Flex midsole with anti-shock benefits and the actual antibacterial replaceable footbed with A.P.S. (Air Pump System)
For riders who are looking more for a cruiser sneaker than a cruiser boot, but still want great protection to go along with all of that comfort, the Forma Swift Flows are a great option.
Buy Forma Swift Flows
We receive a small commission when you purchase from one of our affiliate partners. Thank you for supporting us.
RevZilla
---
The Merlin Charger cruiser boots are the epitome of the typical cruiser/biker boot.
Construction & Fit:
Heritage style premium 2.4mm full-grain leather boots are paired with a Hipora triple liner that is both waterproof and has a breathable membrane
Moisture-wicking comfort footbed will keep out the rain and control sweat thanks to the Poliflex material that is also an anti-bacterial and antifungal surface
YKK zipper makes putting on the boots a breeze with added gusset for more comfort and pull tabs at the calf
And no traditional cruiser/biker boot is complete without the classic metal ring and strap detailing that the Charger proudly sports.
Safety Features:
CE level reinforced footbed is accompanied by reinforced protection at the ankle, heel, and toe for full impact protection in the event of an accident
Added durability of the gear shifter patch protects your foot and keeps your boots looking great
At just a tick under $200, the Merlin Charger boots are a nod to the rich history of bikers and the great gear that they enjoy. Durability and comfort are critical and the Charger offers all that and a classic look as well.
Buy Merlin Charger
We receive a small commission when you purchase from one of our affiliate partners. Thank you for supporting us.
RevZilla
Download & Save Our Infographic!
Can't decide on your favorite Cruiser Boot? Acquire all the information you need with our handy infographic to decide later or on-the-go. Download and save all our top picks for best Cruiser Boots of 2019.