Updated February, 2018
Cruiser boots are expected to provide the same level of protection for the feet, ankles and lower legs as all other styles of motorcycle boot but with a more casual or even covert look. Cruising is about a relaxed ride on a comfortable bike and in comfortable gear. The riding position allows the rider to sit with the spine straight or even slightly canted back and the feet are normally in a forward position rather than directly below the knees. This comfort ride has been popular in the United States since the 1930's when Harley Davidson and Indian dominated the market.
The unique posture of the cruiser is great for long rides and enjoyment but can leave the feet and ankles less protected and more prone to injury in the event of an accident. Durable abrasion protection, excellent ankle support, and a stable, non-slip sole are all critical features to look for in a quality cruiser boot. Personal taste and comfort will dictate the height of the boot, the upper material and maybe even the style of the sole but safety and protection should be the first considerations when selecting any riding boot.
Be sure to check back regularly with us here at wBW to read about our latest hands-on reviews of motorcycle boots and other great products for riders.
Recommendations
Our Top Picks
Best Overall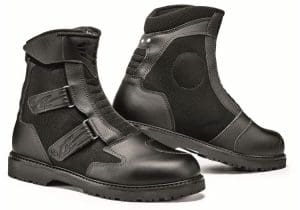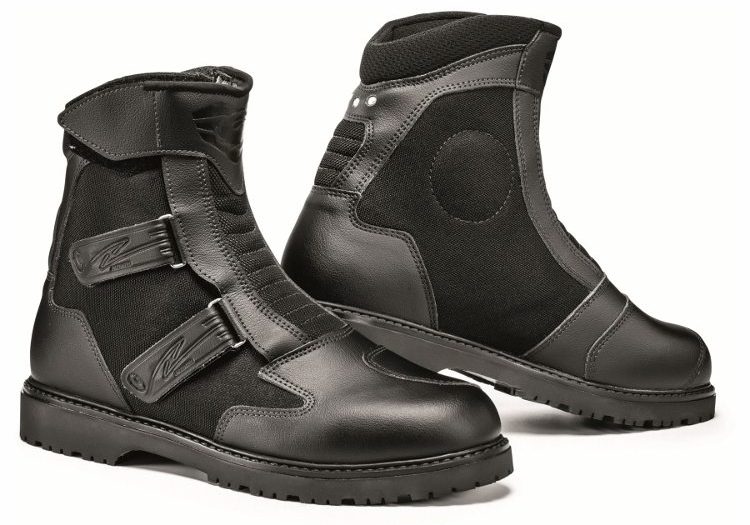 Sidi Fast Rain
Best Value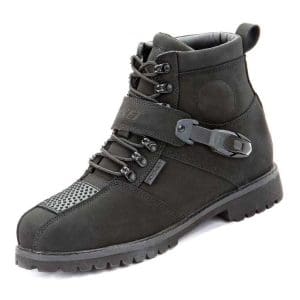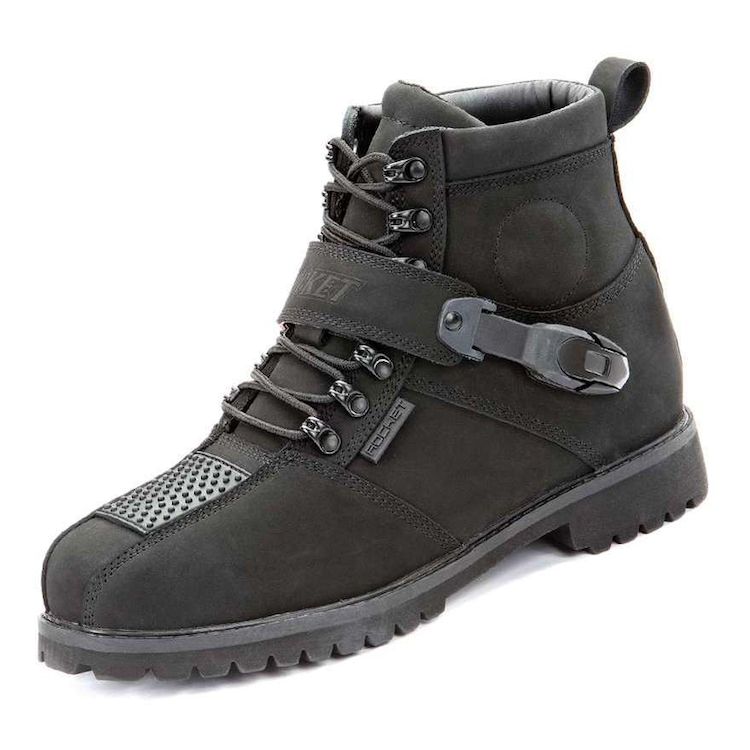 Fully Loaded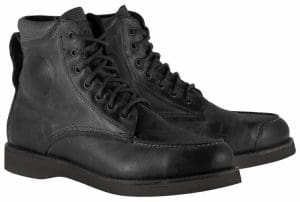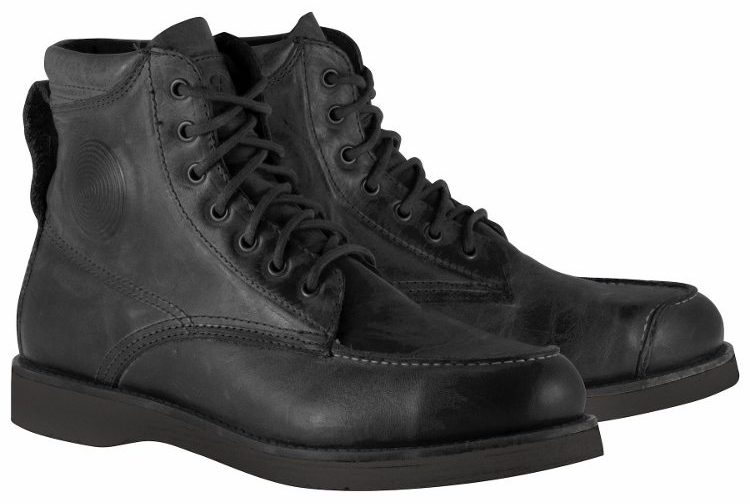 Alpinestars Oscar Monty
Other great options: Tour Master Vintage 2.0, Speed and Strength Cruise Missile, Speed and Strength Bikes Are In My Blood
Cruiser Boots Buyers Guide
Selecting a boot that meets your needs for comfort and riding style is critical to your satisfaction and your safety. If you are a die-hard rider who doesn't let a little rain keep you off your bike, then you need to focus your research on cruiser boots which are waterproof. If you live in a warmer climate, take that into consideration and look at boots which offer good airflow from manmade materials instead of full leather.
Also, consider your ride position to be sure that the boots you select will allow you to comfortably relax and that the boot leg is not too tall or short for a comfortable leg and ankle position. Your personal taste and needs along with our information about features and comfort levels will serve as a great guide for you when you are selecting your next pair of cruiser boots.
The Winners
In Detail
Best Overall


Sidi Fast Rain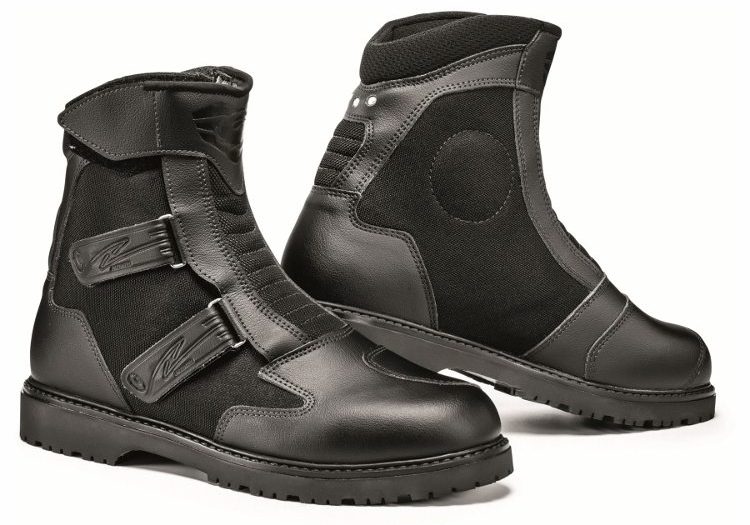 The Sidi Fast Rain is a mid-height cruiser boot that offers riders great versatility in a casual and comfortable cruiser boot. Function and safety are covertly concealed in this boot that could be worn to work, out to dinner with jeans or on a cross-country ride and function equally well under all of these conditions.
The upper is constructed of Technomicro and Cordura and double stitched in high-stress areas to provide maximum durability.
The waterproof membrane keeps feet dry but is also breathable and promotes wicking.
The Cambrelle lining is the final layer which is designed to provide the rider with the comfort needed for long rides.
A Sidi exclusive High Security Velcro brand closure system makes this boot both easy and fast to put on or take off. In addition, it eliminates the danger associated with loose shoe strings which can dangle and get caught on a bike.
Tucked inside this boot is internal heel, ankle and toe protection as well as a nylon inner sole with a removable arch support pad.
Riders also like the full-length inner gaiter.
An additional Technomicro layer is added to toe shift-brake area for added durability and grip.
Finally all of these feature rest on a bonded non-slip lug sole for stability, security and great durability.
The Sidi Fast Rain cruiser boot offers riders comfort, function and versatility all at a very reasonable price. This makes the Fast Rain our selection for Best Overall Cruiser Boot.
Buy Sidi Fast Rain
---
Best Value


Joe Rocket Big Bang 2.0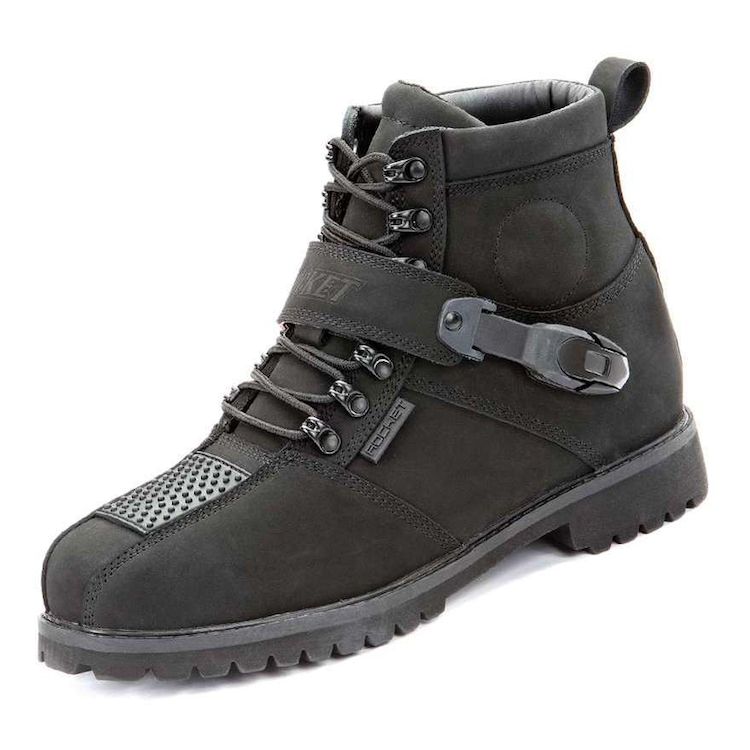 The Joe Rocket Big Bang 2.0 is a shorter boot with the cuff hitting just above the ankle. Designed to provide comfort when riding or walking, this boot has the protection needed when riding but the style and comfort demanded all day everyday wear. Available in black or grey, riders are certain to like the casual style and great protection offered by the Big Bang.
The Big Bang upper is constructed of 2mm full grain, matte finished leather and is triple stitched in high-stress areas for added durability.
The shifter zone is also reinforced to handle the added abrasion in that area without causing a failure.
A polymeric ratchet adjustment strap with an aluminum quick lock buckle mechanism provides a fast and secure closure system for the boot and eliminate the potential for hanging laces.
The Big Bang provides molded polymeric ankle protection as well as extra padding at the ankle cuff.
The sole is a typical lug design as found in many work/hiking boots.
The sole is solid and rather rigid as are most hiking type boots so a break in period is to be expected.
This boot is shorter than some other options but is a great entry level boot. At less than $100, the Joe Rocket Big Bang 2.0 is our selection for Best Value Cruiser Boot.
Buy Joe Rocket Big Bang 2.0
---
Fully Loaded


Alpinestars Oscar Monty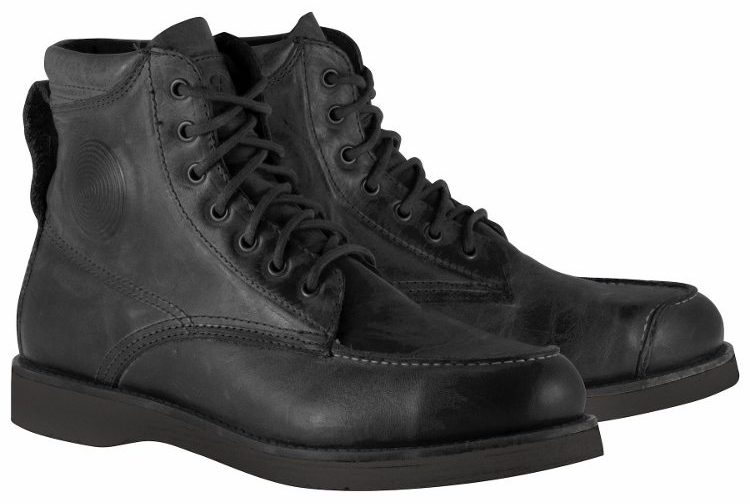 The Alpinestars Oscar Monty is the perfect cruiser boot for any rider who wants the classic look and comfort of a moccasin but with all of the protection needed for a safe ride. This is the perfect every day or every night boot that can be worn with any casual attire and blend in without attracting a second look. But this fashion masterfully conceals a lot of protection for feet and ankles as it conforms to Cat 2 CE 89/686/eec EU directive for safety.
You really can't go wrong when you start with a hand-finished leather upper.
The rear leather accordion collar adds to the comfort and range of motion. A gusseted tongue keeps wind, water, and dirt out of the front of the boot.
The microfiber insole includes anatomically shaped arch and heel contours and is covers with additional lycra for comfort.
The 3D mesh liner is highly breathable and promotes wicking of moisture away from the foot.
The low profile leather rear bootstrap makes it easy to put these boot on but does not catch on pant legs when walking.
So far this sounds like any high-end leather moccasin but the safety features make this anything but a common boot.
The toe box and heel counter are internally reinforced to provide structural support and integrity as well as impact protection.
The toe also has added padding at the shift point for comfort and added durability.
The oil-resistant rubber compound sole provides great grip and stability when launching or stopping and a subtle touch when riding.
The price on the Oscar Monty boots is a bit higher than some short cruising boots but for the stylish rider who wants one boot to wear to casual events, to work or when riding the Alpinestars Oscar Monty is the Best Fully Loaded choice.
Buy Alpinestars Oscar Monty
---
Other Great Cruiser Boots
In Detail
Tour Master Vintage 2.0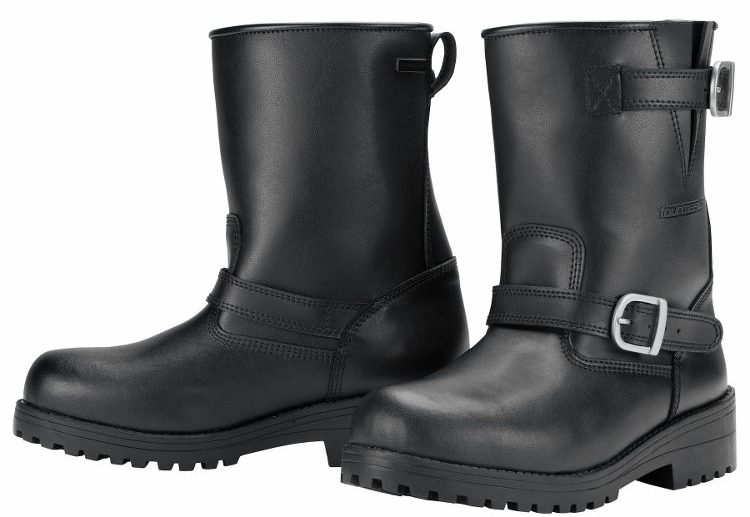 The Tour Master Vintage 2.0 is a great blend of vintage style, modern day safety and comfort features.
Riders who want the classic pull-on leather boot with a little chrome hardware will get the look that they want and so much more from the Vintage 2.0. The 2.0 model has improved durability from past versions but riders are reporting that they run a bit small so keep that in mind when selecting your size and consider a half size larger than normal.
The Vintage 2.0 upper is constructed of 1.8 to 2 mm water-resistant leather.
The HiPora layer provides a completely waterproof environment but it still breathable to promote wicking and natural body cooling.
The oil-resistant lug style sole provides good grip and stability when stopping or launching and the removable foot-beds make this boot comfortable when off the bike as well.
High tensile strength thread is used throughout the 2.0 to increase the durability of the boot.
Another update is the lowered and reinforced toe box. This slightly smaller toe box is a feature designed to improve the comfort and ability to easily shift.
The rear pull strap is large enough to provide good leverage when sliding the boot on but also high enough on the cuff so as not to catch on the bottom of pant legs when walking or riding.
Finally, the adjustable satin chrome buckles allow for a customized fit and add to the classic look of the Vintage 2.0.
At a little over $100, the Tour Master Vintage 2.0 is a redesign of a classic cruiser boot with some great modern updated for added safety, comfort and function.
Buy Tour Master Vintage 2.0
---
Speed and Strength Cruise Missile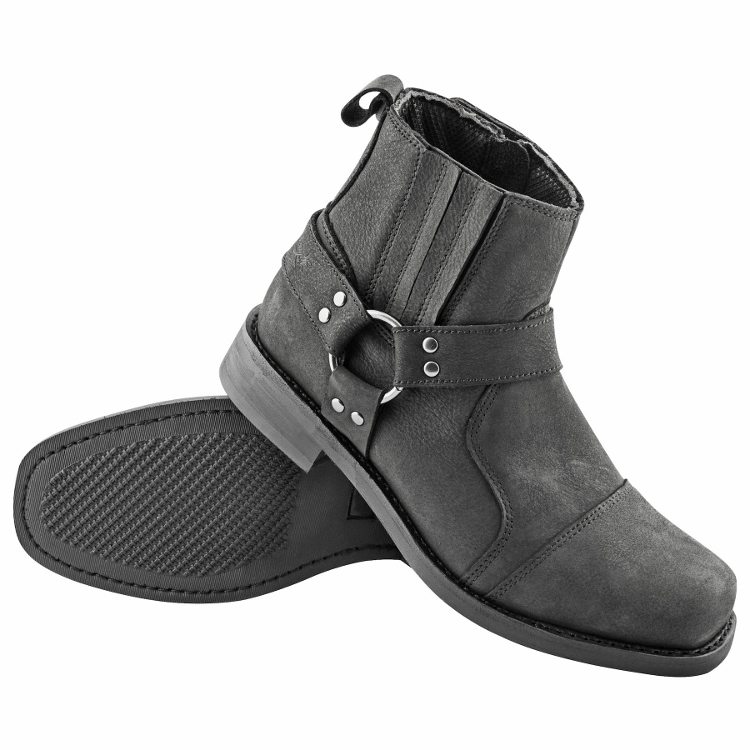 The Speed and Strength Cruise Missile is a shorter style cruiser boot which has been designed to meet the needs of riders who have a wider foot. The size overall does not run large but the width is on the wide side. Side zipper entry also makes this a great boot for a wider foot as this makes it much easier to put on and take off.
The premium leather upper on the Cruise Missile makes them comfortable from the first day but also durable.
The anti-slip rubber sole has a textured finish for grip and a slight heel for added comfort positioning the foot for long rides.
The molded internal toe and ankle reinforcements add to the impact protection and abrasion protection of the ankle in the event of a slide.
The reinforced toe shift pad adds to the durability and comfort when shifting.
Many riders are finding that this is the perfect boot to wear when commuting as the comfort and protection are both provided. The style of the boot also makes it a good selection to wear all day in a casual environment such as work or a social gathering.
The reasonable price makes the Cruise Missile a boot that allows all riders to enjoy their cruiser in a safe manner with adequate foot and ankle protection.
Buy Speed and Strength Cruise Missile
---
Speed and Strength Bikes Are In My Blood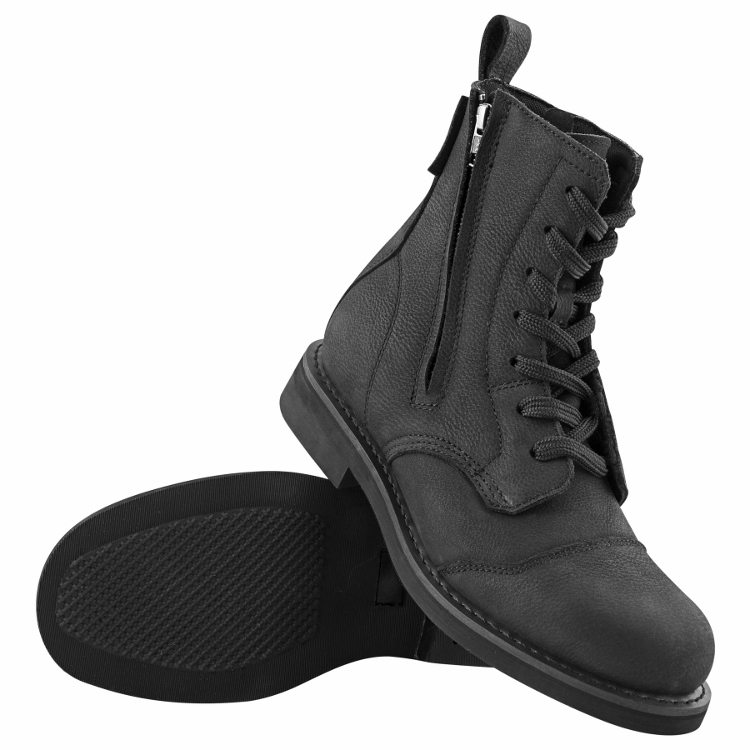 Speed and Strength struck a chord with dedicated riders who want a cruiser boot that offers safety and function. The Bikes Are In My Blood boots offer a simple, classic look and many great safety features hidden under this inconspicuous exterior.
The premium leather upper on the Bikes Are In My Blood boots make them very comfortable from day one but also provide great support and abrasion protection.
The Under Cover lacing system adds to the clean look while also avoiding the dangling and trailing laces which can get snagged or caught on a bike.
But the most unusual feature has to be the dual zipper entry. Reminiscent of jump boots, the purpose is the same, fast entry and exit can be important.
The dual zippers also make this slightly wider than most boot a great solution for riders with an ample foot. A custom fit can be achieved with the laces and always feel the same when the boots are secured with the zippers. Just grab the rear leather boot strap and slide your foot in.
A molded internal toe and ankle reinforcements add to the impact protection offered by these boots.
The outside of the toe is also reinforced with an additional layer of leather to avoid early wear from the shifter.
A textured anti-slip rubber sole provides grip and stability when stopping or launching and can transition to a more casual environment more seamlessly than a large lug sole.
For about $150, those riders whose bike is a daily part of life will appreciate the ability to wear the Bikes Are In My Blood boots anywhere and remain comfortable and stylish yet still protected when it's time to ride.
Buy Speed and Strength Bikes Are In My Blood
Check Prices on RevZilla Check Prices on Amazon
---