You'll break out in a chorus of Silent Night with this ad from UK agency Big Communications that uses a Harley Breakout to play the traditional carol.
The reverse countdown of the 12 Days of Christmas has been interrupted the past few days by the redevelopment of this website.
So today we are catching up with items we've picked from the 102nd Harley-Davidson Genuine Motor Parts & Accessories catalogue.
Our 12 Days of Harley Christmas series ends on Christmas Eve with a big surprise under the tree.
We started the reverse countdown with 12 shirts from the Harley sportswear range.
We continued with 11 Harley gift items.
Ten Harley cleaning products.
Nine Harley jackets.
Eight pairs of Harley gloves.
Seven Harley bar & shield collectables.
Next we have six Harley light options:
1 Top of the list here is the new Daymaker LED lamp ($661) which are brighter and whiter compared with the yellow light of a traditional halogen bulb.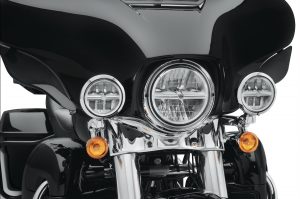 2 Daymaker Reflector Optics illuminates the full lamp for a wide coverage ($535).
3 Add some style to your headlight with a billet headlamp shell ($428) that recesses the lamp.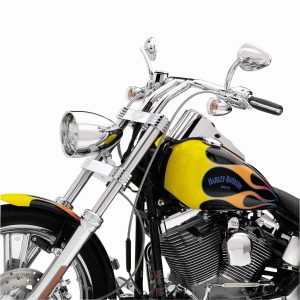 4 Give your taillight some attention-grabbing style and safety with an LED tail lamp ($189).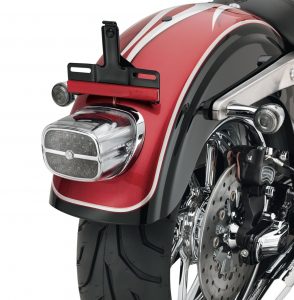 5 Add even more style with this LED Layback tail lamp ($201) shaped toy follow the slope of the rear fender.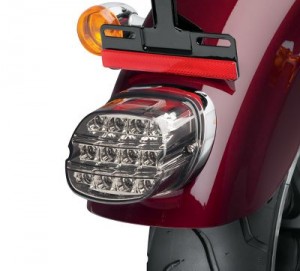 6 Add even more light with these FL Softail auxillary lamps at $504 (plus inserts).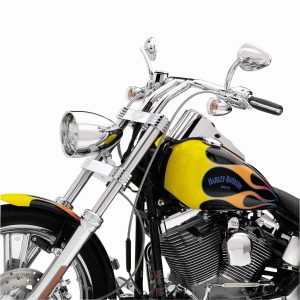 Next, we have five paint options.
While the new Hard Candy Flake and Divide are available to all, other paint options are limited so you will have a near-exclusive look.
Prices vary according to models and colours. For example a three-piece set (two guards and a tank) starts at $2900, tanks are available for Sportster, Dyna, Softail for around $1500-$2000, and for Touring up to around $6000.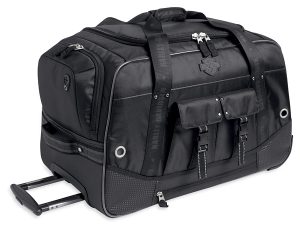 Then we have four luggage options from the catalogue:
There is the Heritage Quick Detach saddlebag conversion ($245) that converts from fixed luggage, a single-sided swingarm bag in black or brown ($239), a saddlebag cooler that goes inside your panniers ($88) and the clever Tonal polyester duffle bag (left) with collapsible handle and wheels ($229.49).
That brings us up to date.
Stay tuned for more gifts as we count down to Christmas Eve.