Adventure GTX Boots Review Summary
Adventure GTX Boots Image Gallery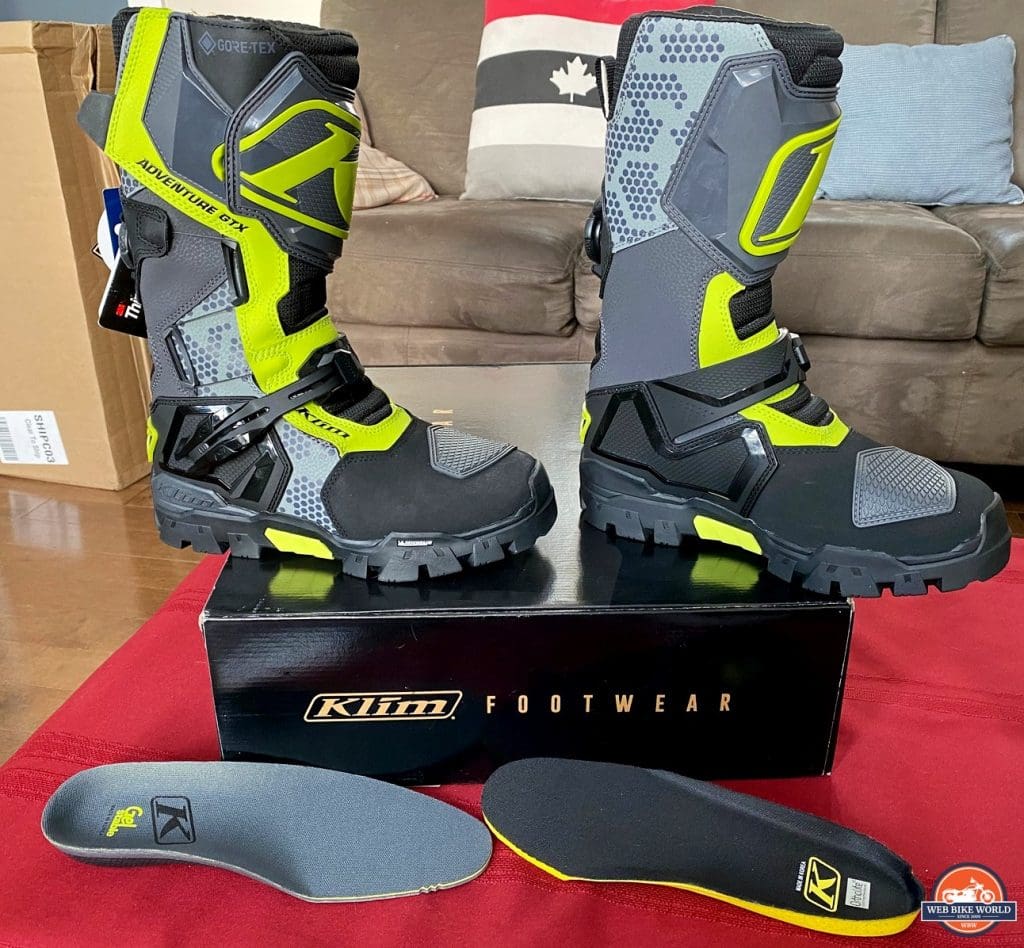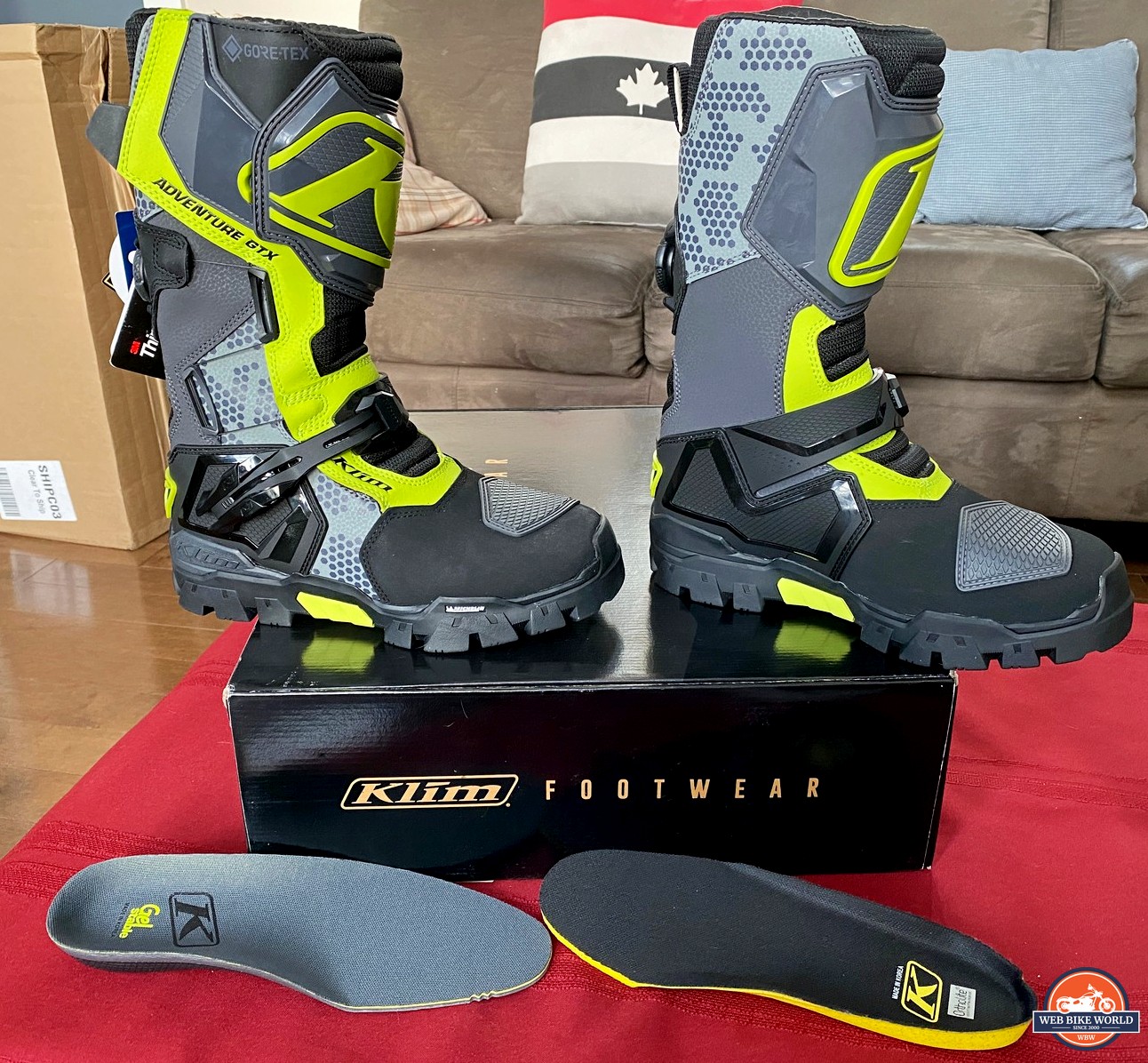 I've tried and failed to adequately answer one tough question we've received in emails to the wBW editor.
"Can you recommend riding boots that are comfortable to walk in but also provide a solid level of protection?"
I haven't yet found any I would say satisfactorily meet that criterion, but I'm hoping these new Klim Adventure GTX kicks are the unicorn we're all looking for. This question is the motorcycle gear equivalent of asking to have your cake and eat it too.
I've been wearing a pair of SIDI Adventure 2 Gore-Tex Boots for three years and appreciate them for all the reasons outlined in the review we did of them years ago. They set the footwear protection and comfort benchmark for me at this point, easily ranking among the best adventure boots available, but they're not great for walking in. Tolerable is how I would describe the experience.
Everything is Relative
It's winter here in Alberta, Canada and so getting out to road test these boots has been difficult, but I've managed to log about 300 miles wearing them so far. Thanks to COVID-19 restrictions I can't even realistically travel somewhere warmer to try them out either.
Regardless, I'll publish this piece as is of these Klim boots with a healthy injection of comparison to my Sidi AdvGT2 boots that I'm very familiar with. If you know much about these Sidis (and even if you don't) this should provide plenty of value until I finish testing down the road.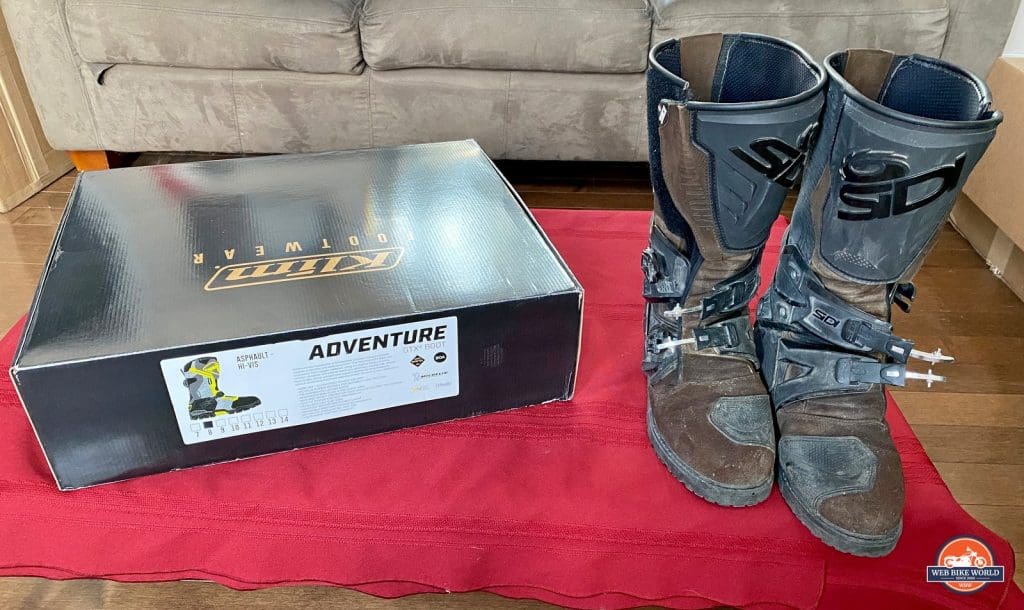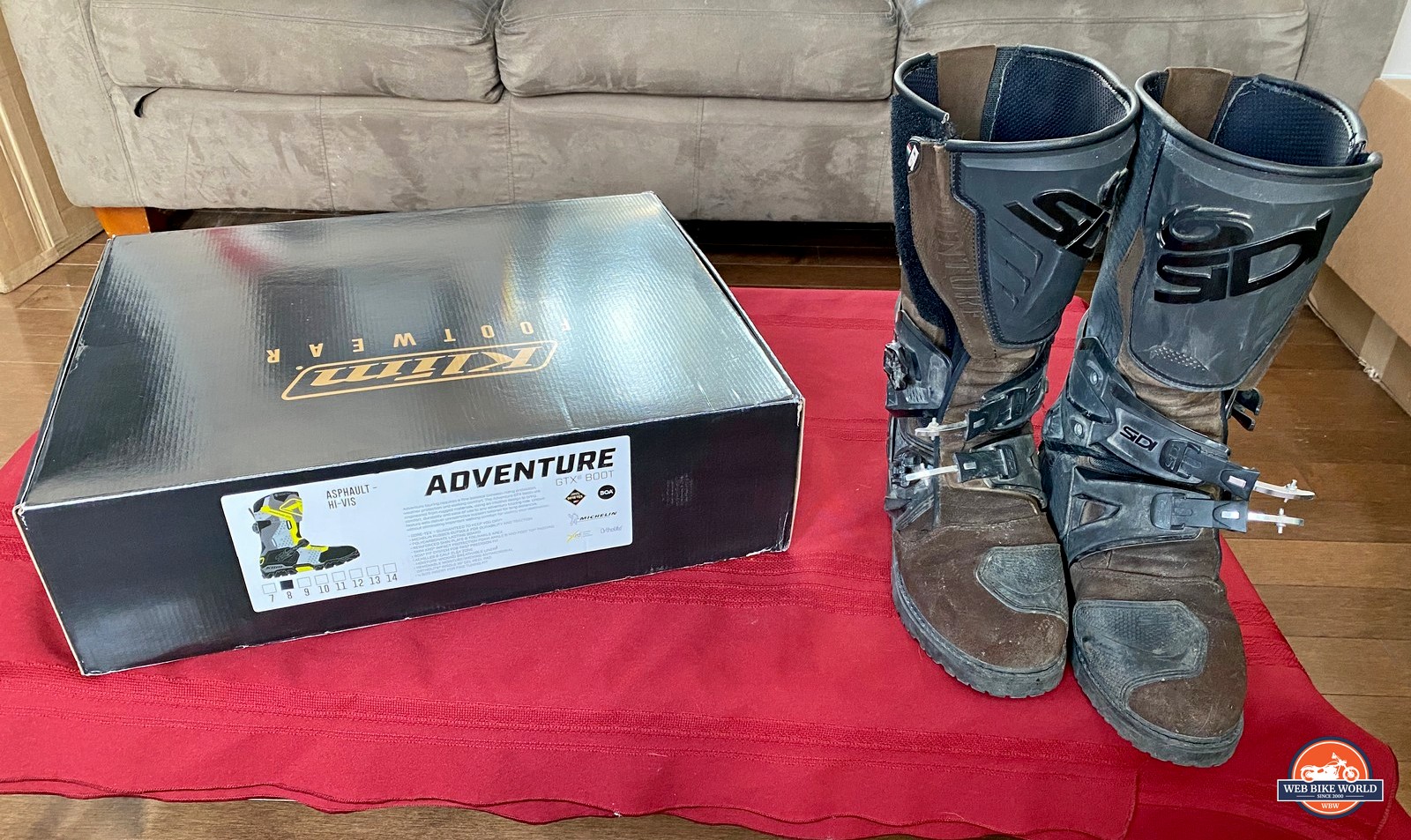 The Sidi Adventure 2 Gore-Tex and Klim Adventure GTX boots both have the same price tag ($449.99 US) so I think it's a germane comparison.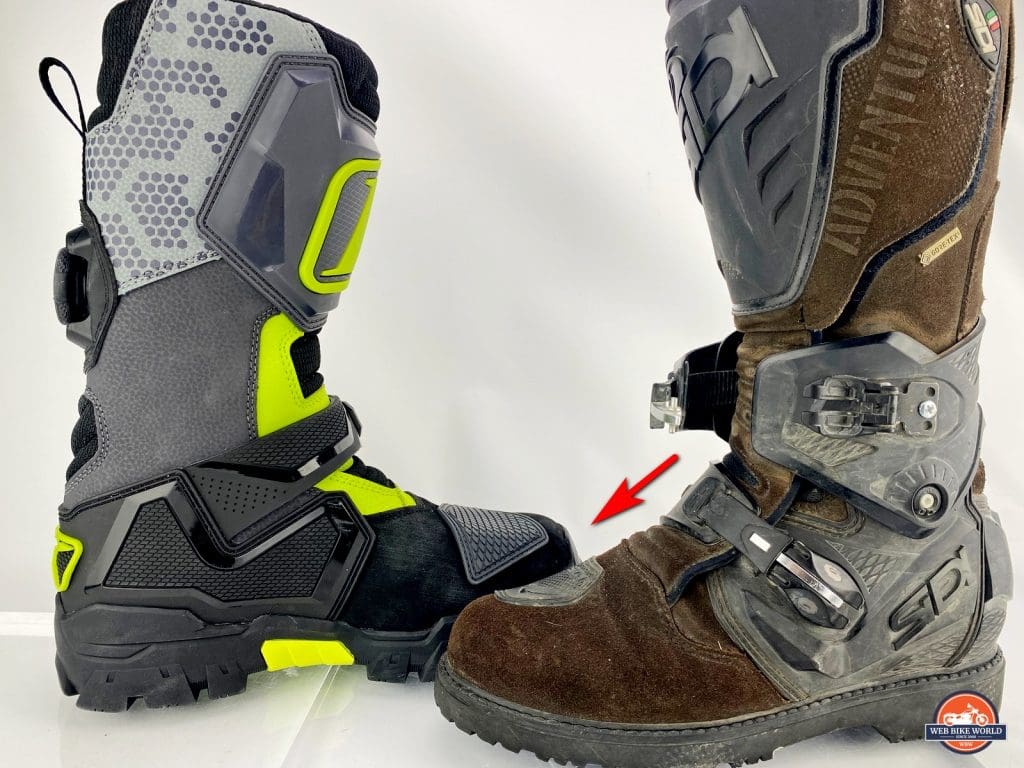 I Ordered Them Right Away
Once I became aware of this snazzy new pair of great-looking, Klim boots coming to market, I wasted no time in ordering them for this review.
As always I'll endeavour to be honest and pull no punches with my critique of this product, but I'll also be fair about it.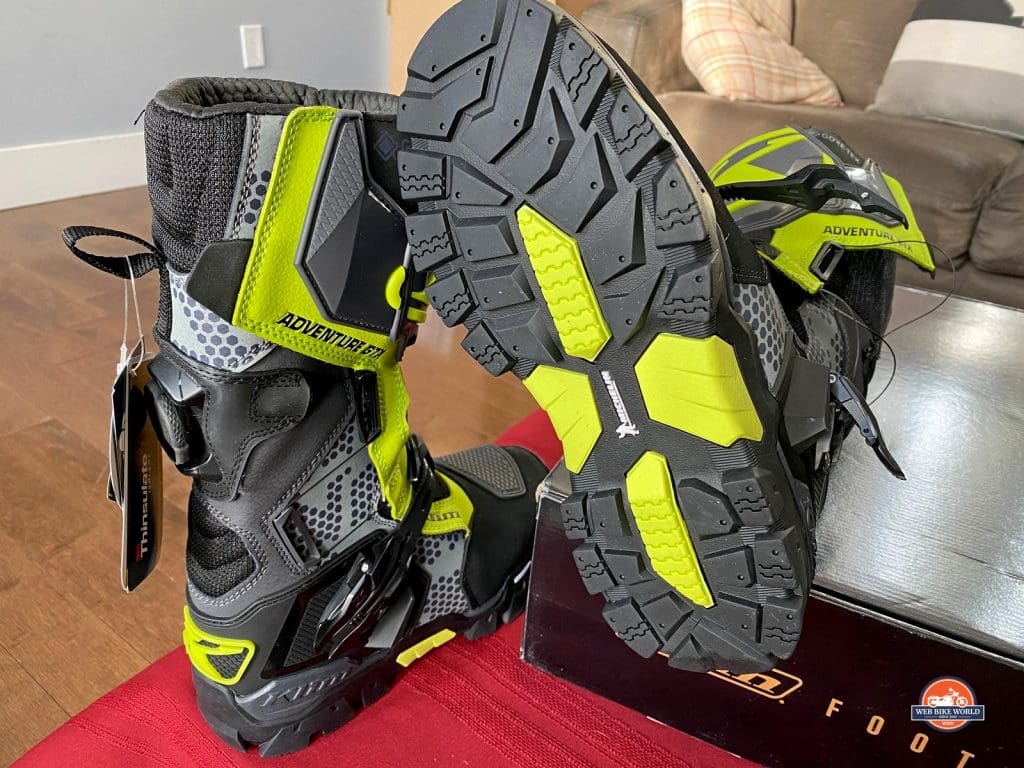 Out Of The Box Impressions
Immediately these boots grab my attention with their "in-your-face" styling, bold colors, and appealing adventure riding features. They look like motocross boots that were sent to prep school to take just enough of the wild side out of them.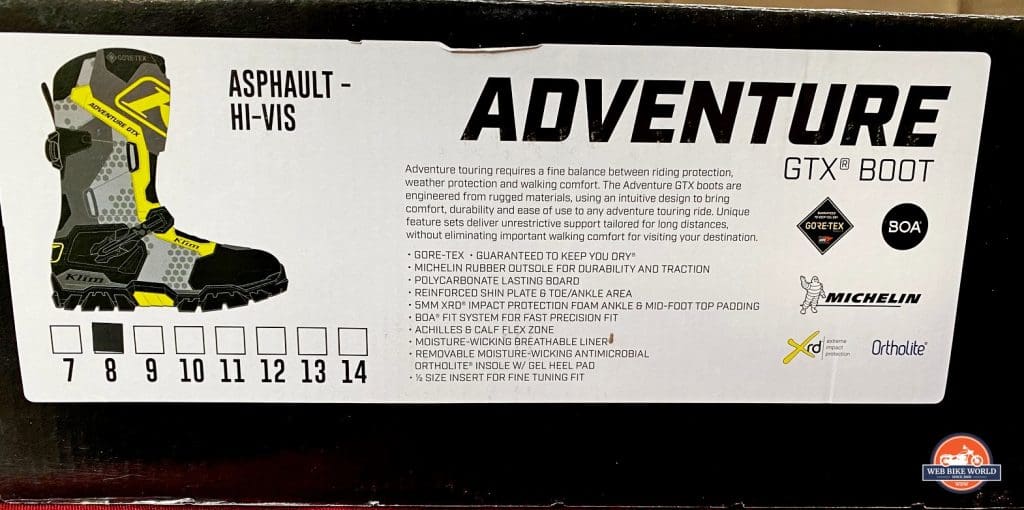 The BOA laces system and Michelin sole look trail-worthy. Maybe I'm just drunk on the exhilarating, fresh smell of leather and rubber, but one look at these boots makes me want to jump on the bike and hit the trails!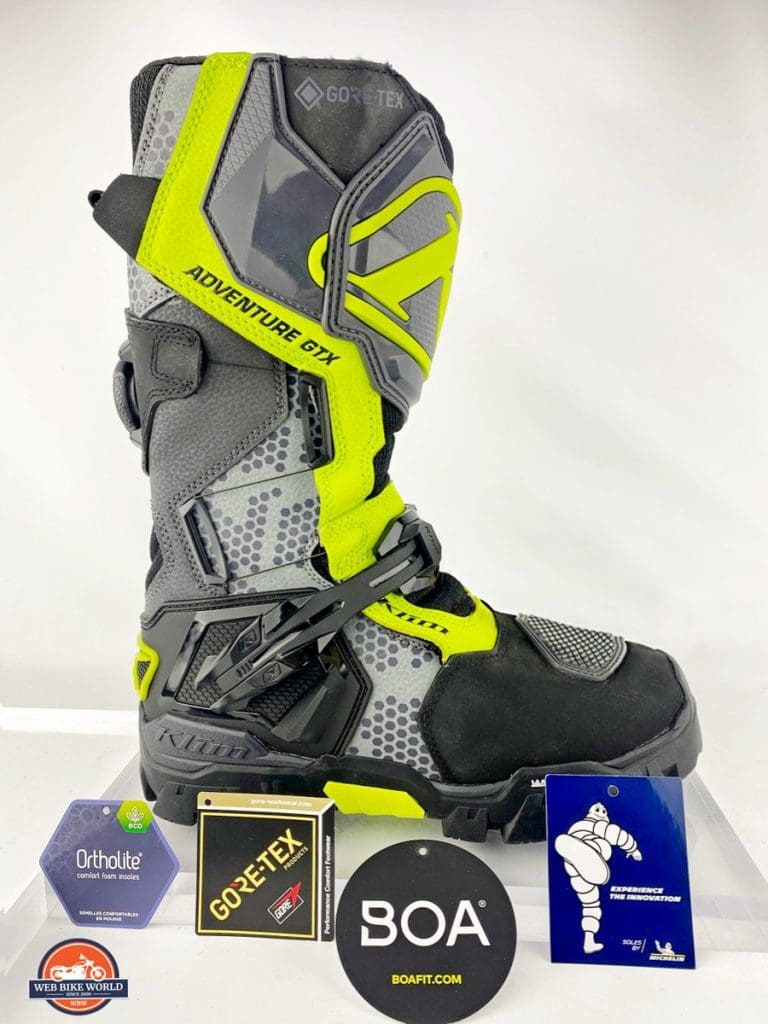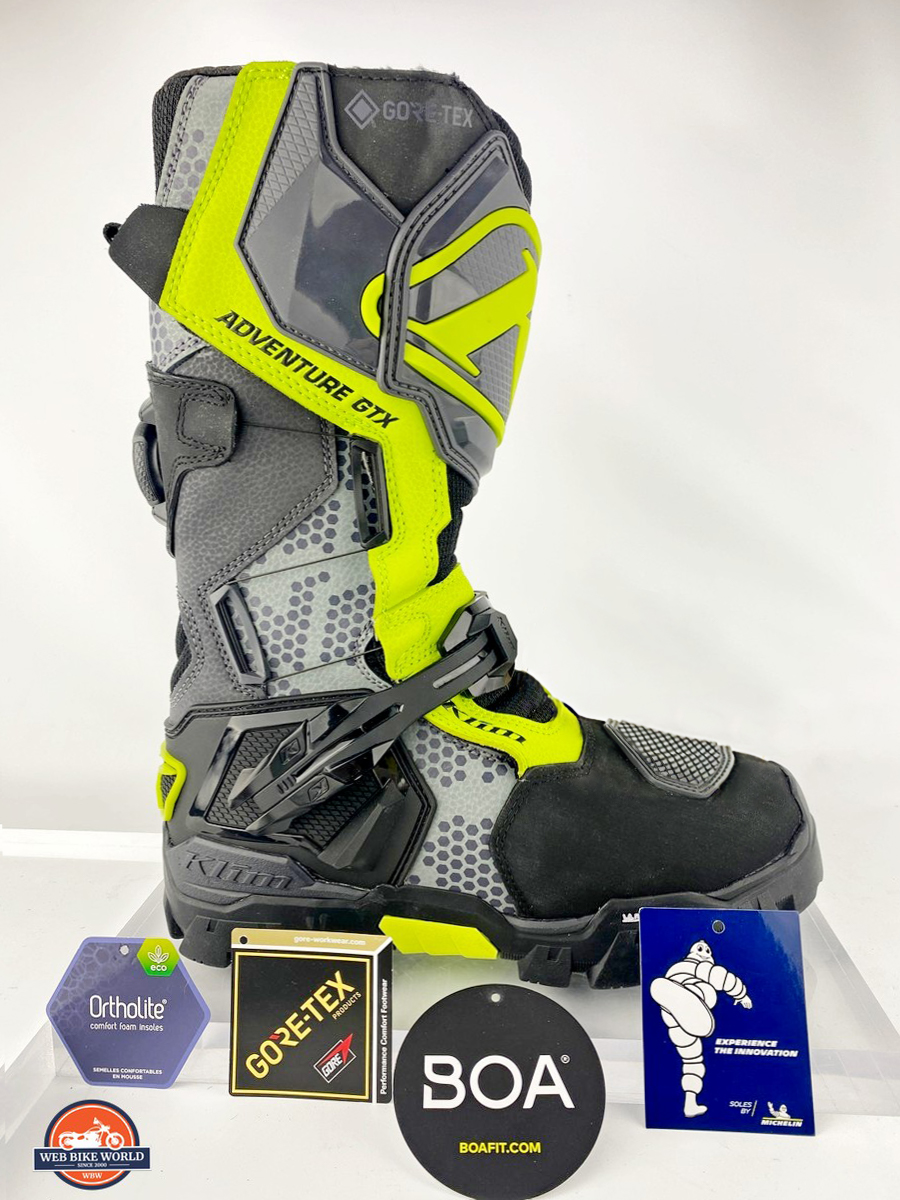 I like the giant letter "K" on the back of each heel combined with the larger ones found on the massive shin armor blocks.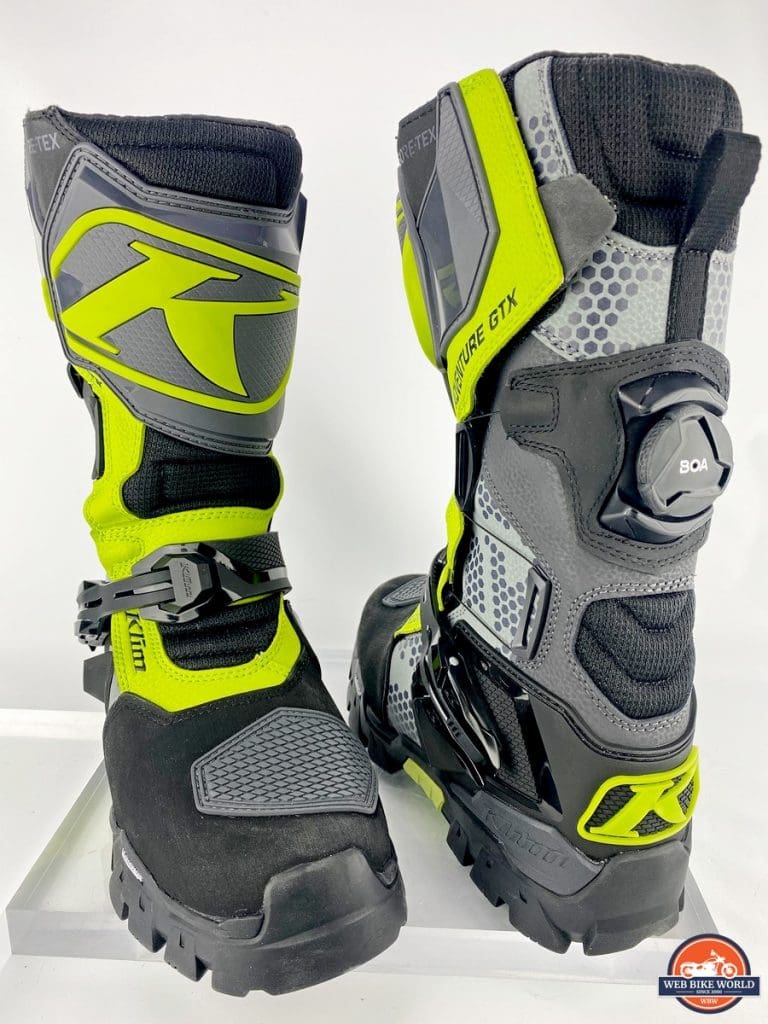 No Reflective Patches?
The Hi-Viz yellow accents are effective at getting the attention of anyone possessing a sense of sight, but these boots are designed to be worn under riding pants; those bright colors will be mostly hidden while out on the road. I wonder why Klim opted to minimize the yellow sections down low and not to put any reflective striping or patches anywhere at all?
My Sidi Adventure 2 Gore-Tex boots aren't equipped with any bright coloring whatsoever, but they do have one patch of reflective tape on the back of the heel areas.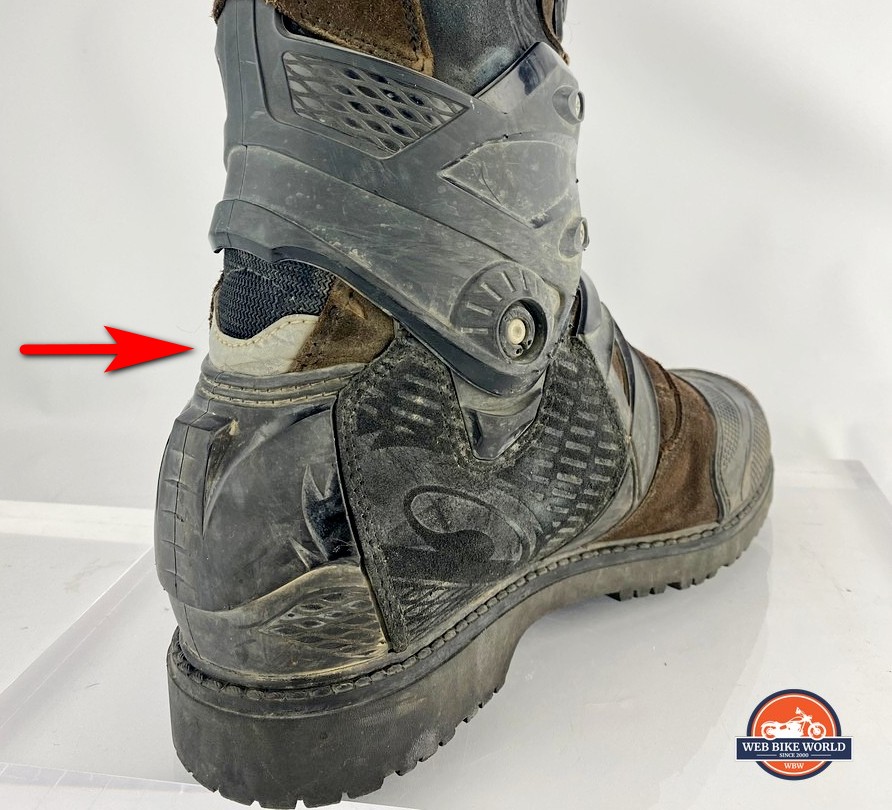 Sizing and Fit
I used the "fit wizard" found on Klim's website to determine I should order a size 8.
The fit wizard used my favorite pair of Asics running shoes as a reference point in determining this. The Wizard of Klim correctly predicted with an oddly specific 61% probability that I would be happy with the fit.
Not a 60% chance… 61%. That gave me a slight chuckle.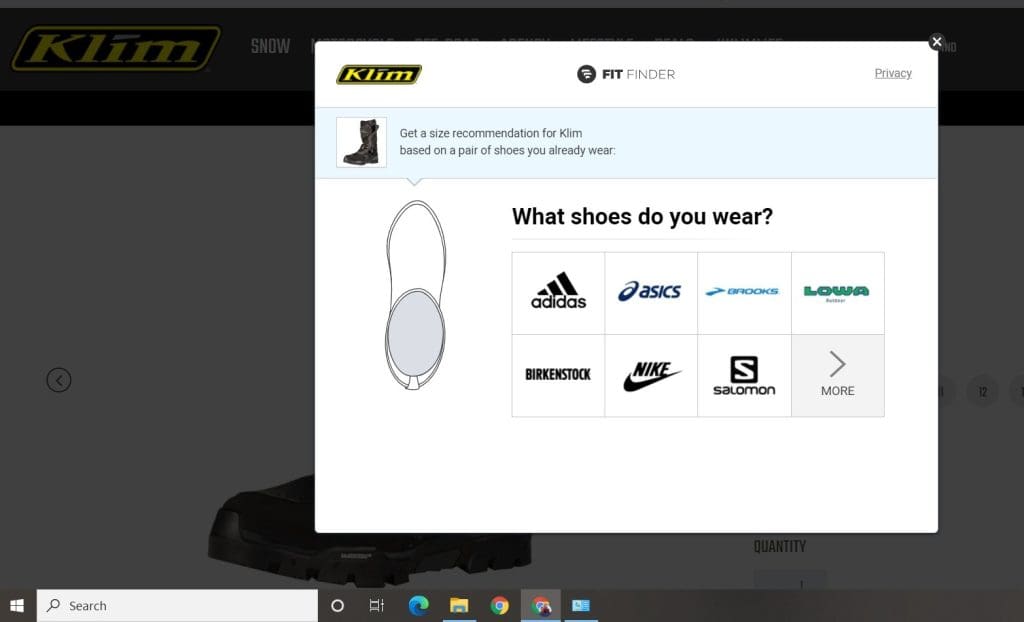 These Adventure GTX boots slipped on my feet with little resistance even brand new out of the box, after releasing the lower latch, velcro calf flap, and BOA laces. It sounds like a lot to do, but quick on and quick off is an accurate description of the process.
Once fully installed on my lower limbs, I find the pressure is nearly equal across my feet and shins thanks mostly to the BOA lacing system. It's better fitting in the shin and ankle areas than my Sidis are, much to my surprise.
My toes go right to the limit of usable space on each side and there is only a small pressure point on the top of my feet in front of the ankle area. I believe this will go away once they're broken in.
Walking
Initial fitment is awesome and I hope it'll remain that way as time wears on. It can't help think these boots might become too loose after breaking them in since they fit perfectly now. Having said that, I thought the same thing when I first tried on Klim's Krios Pro helmet, but even after thousands of miles ridden the fit remains as it was when new.
As advertised these boots are significantly more tolerable to walk around in than my Sidis are. I wouldn't go so far as to say I don't feel like I'm wearing 6lb riding boots, but I feel relatively fleet of foot while wearing them… you know, by big boot standards. Best of all, there are no squawking or creaking noises coming from them anywhere which is a big gripe I have about my noisy Sidi Adventure 2 Gore-Tex boots.
I roam around the house in them for about an hour alternating between sitting and walking. During it all, I find myself resisting an odd compulsion to kick things encountered at random. The boots feel solid and strong. I feel well protected and confident wearing the Adventure GTX boots so far… indoors.
The Latches
The lower latch on the boots is made of aluminum while the strap is TPU (Thermoplastic Polyurethane) with a steel pin centered in it.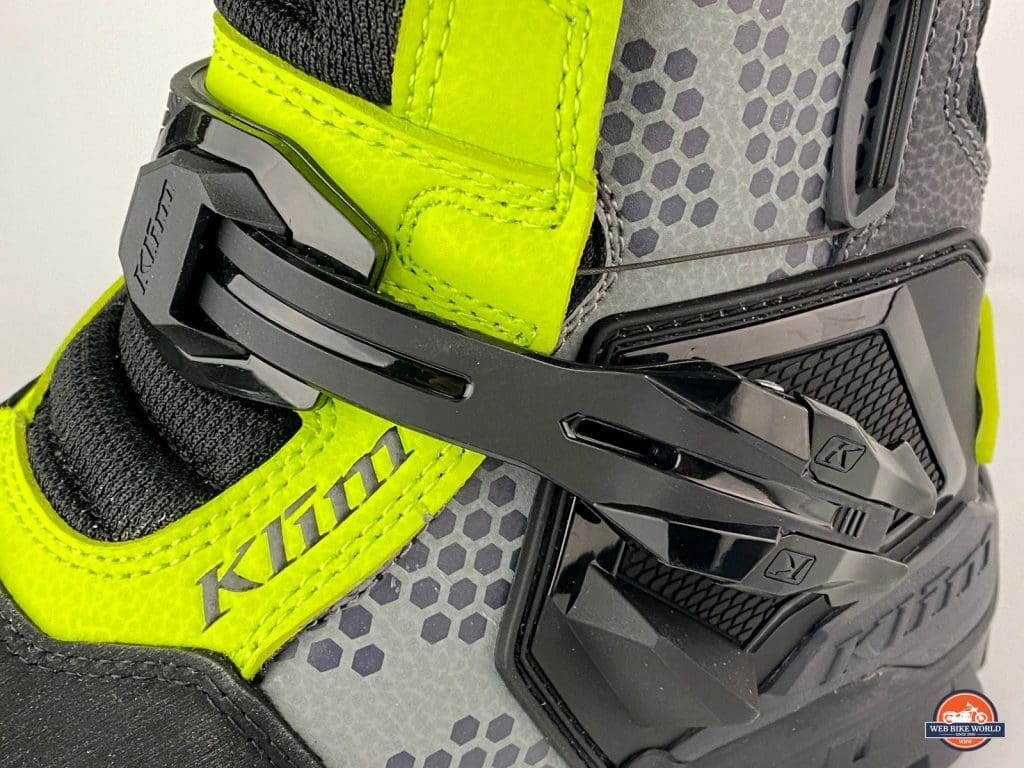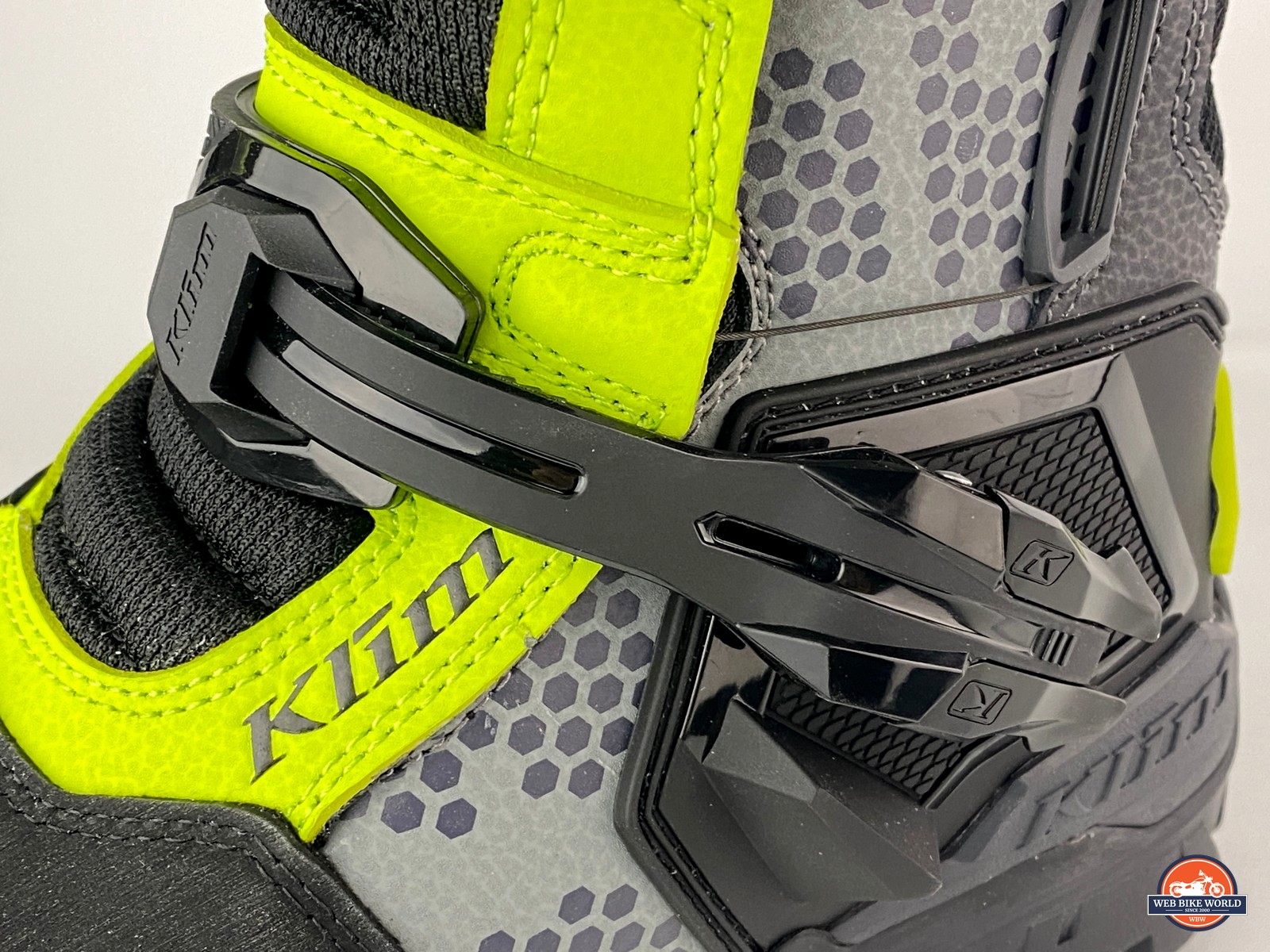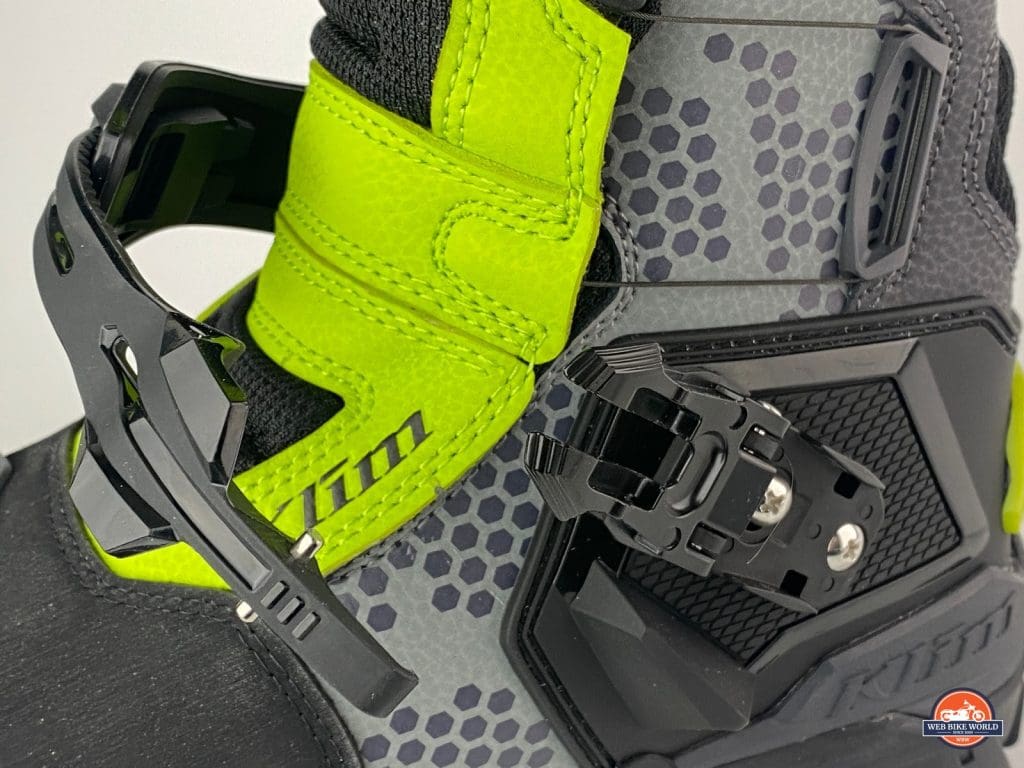 It's interesting to see Klim used black-colored aluminum for the latch and TPU for the strap, while Sidi went with black TPU for the latch and bare aluminum for the strap hooks on my old boots.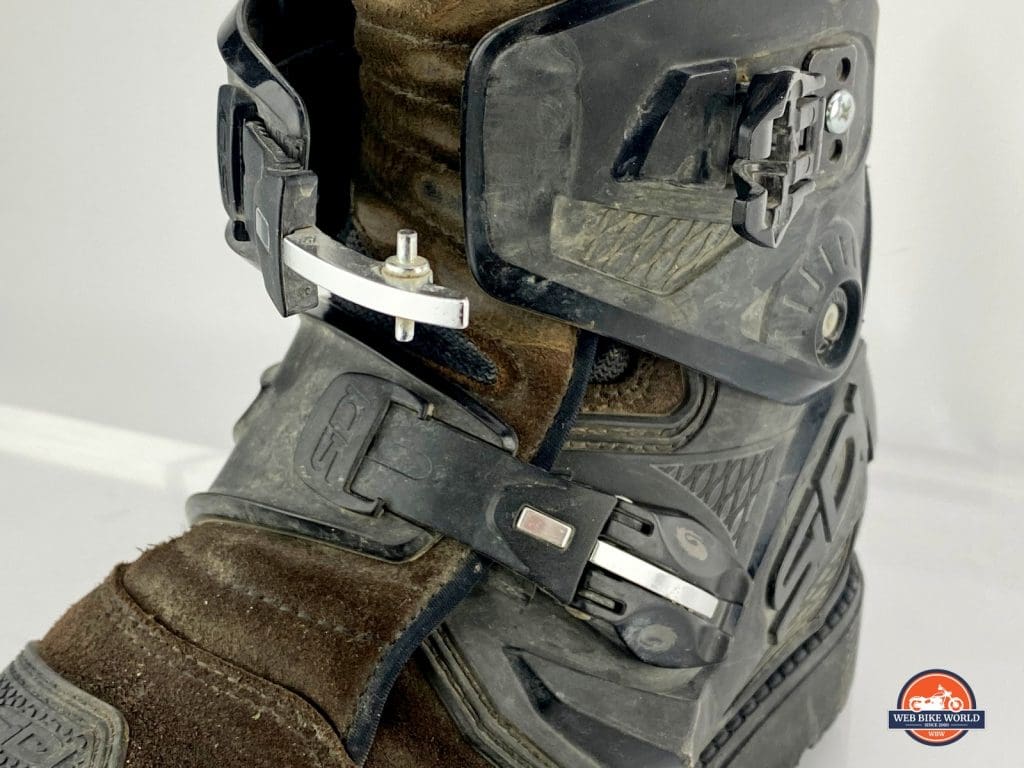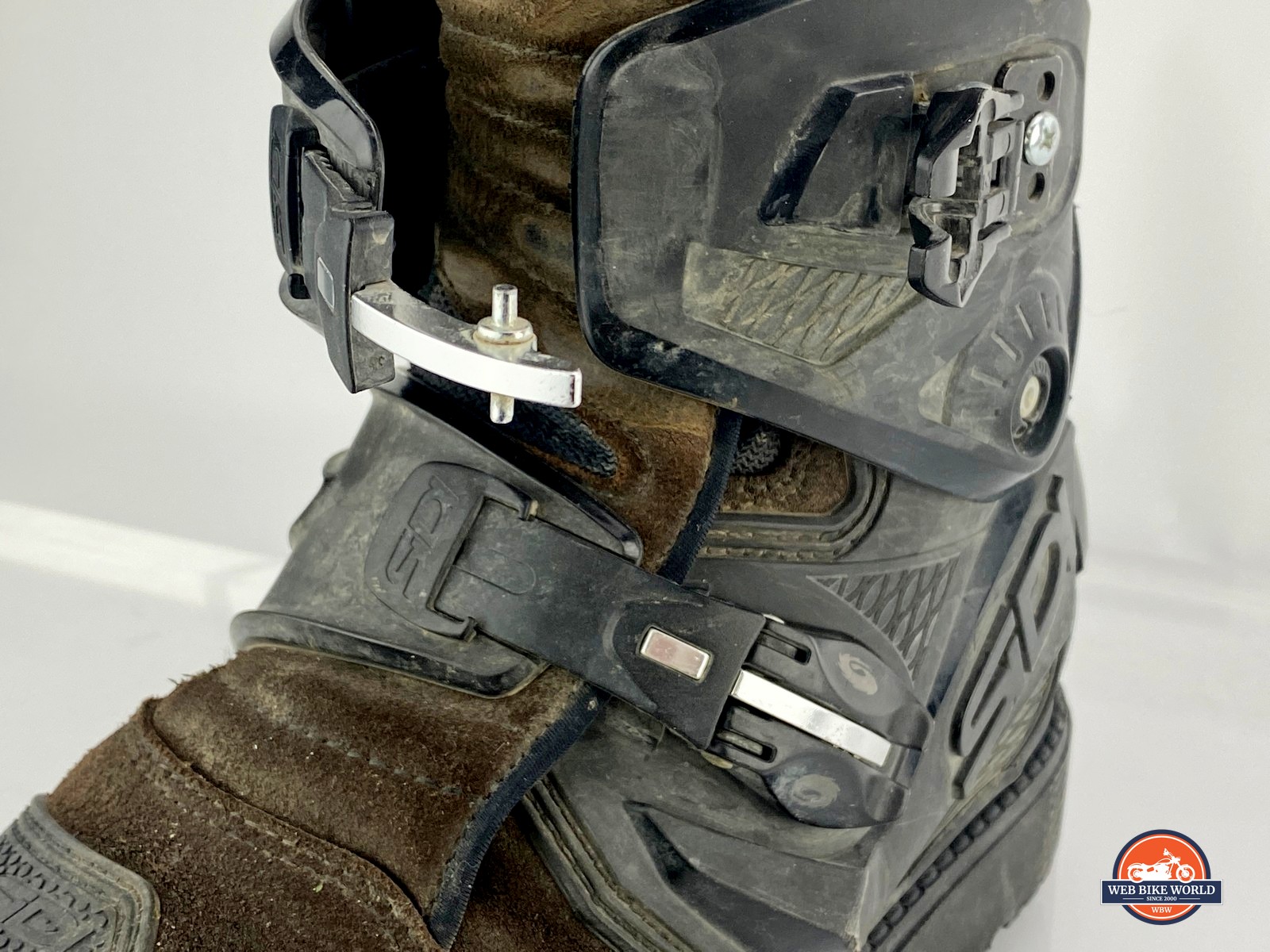 I wonder if the TPU holding the steel pin in the Klim boots will be strong enough to stand up over time since that's the main point of stress when the latch is cammed over to lock in place? I suspect it will hold together, but I'll be watching it carefully for signs of distress once I get riding with these.
A Deflector
I like the way Klim designed a protruding wedge in front of the latch to help deflect incoming rocks, twigs, etc which might otherwise strike the latch and open it.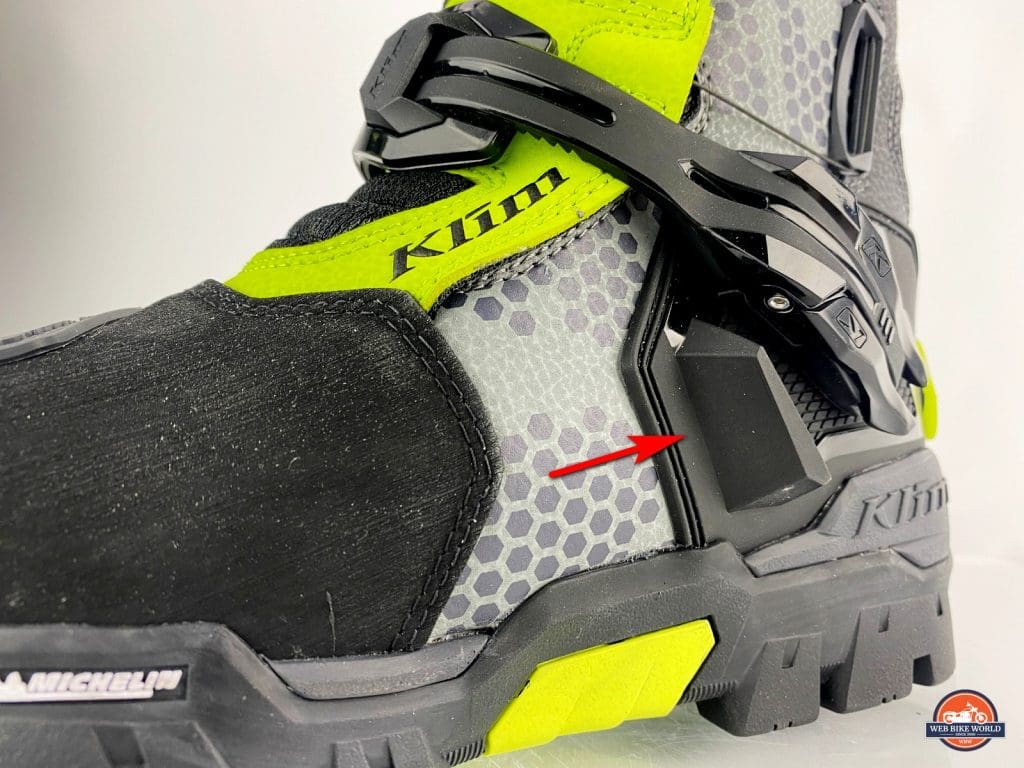 The BOA Laces System
BOA Fit Systems can be found holding together many different footwear products on the market nowadays and from what I can tell it's strong and reliable.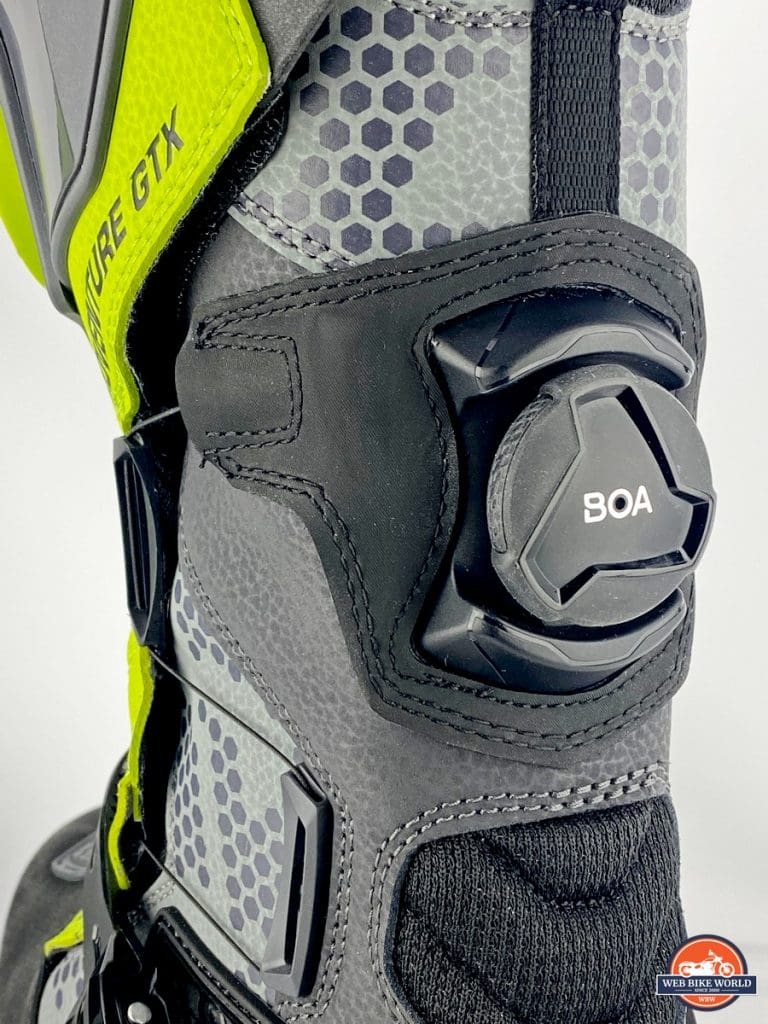 The BOA laces appear to be made of kevlar or something similar with fine fibers twisting around a central core. This is similar to what you would find in wire rope used for lifting or winching.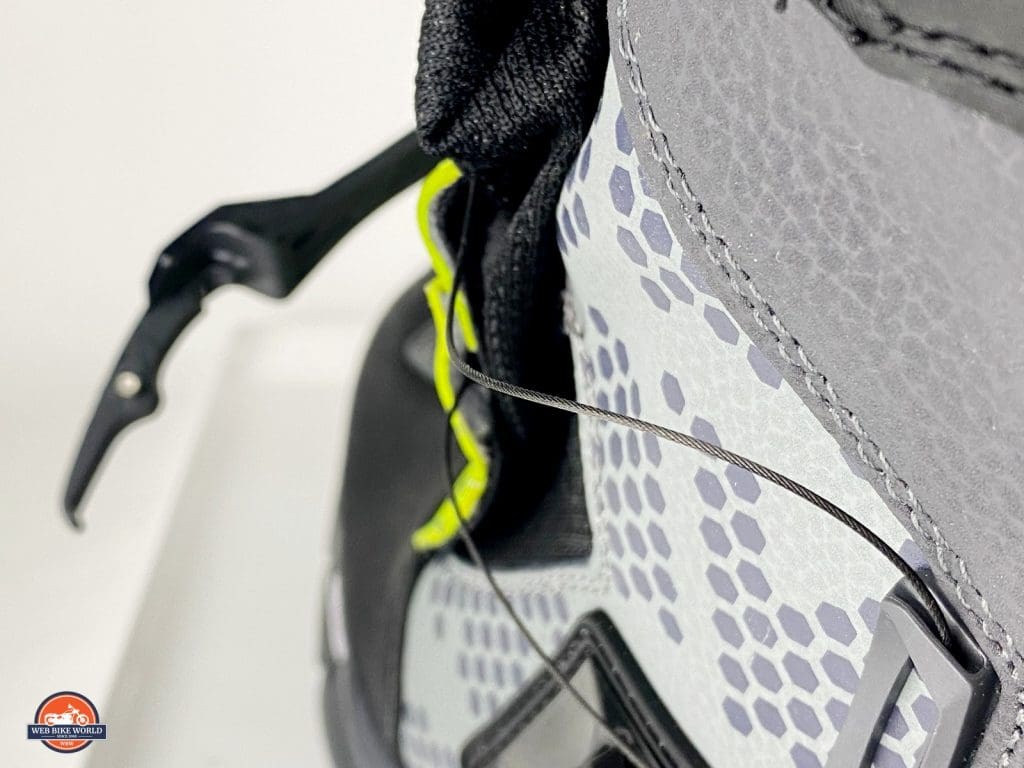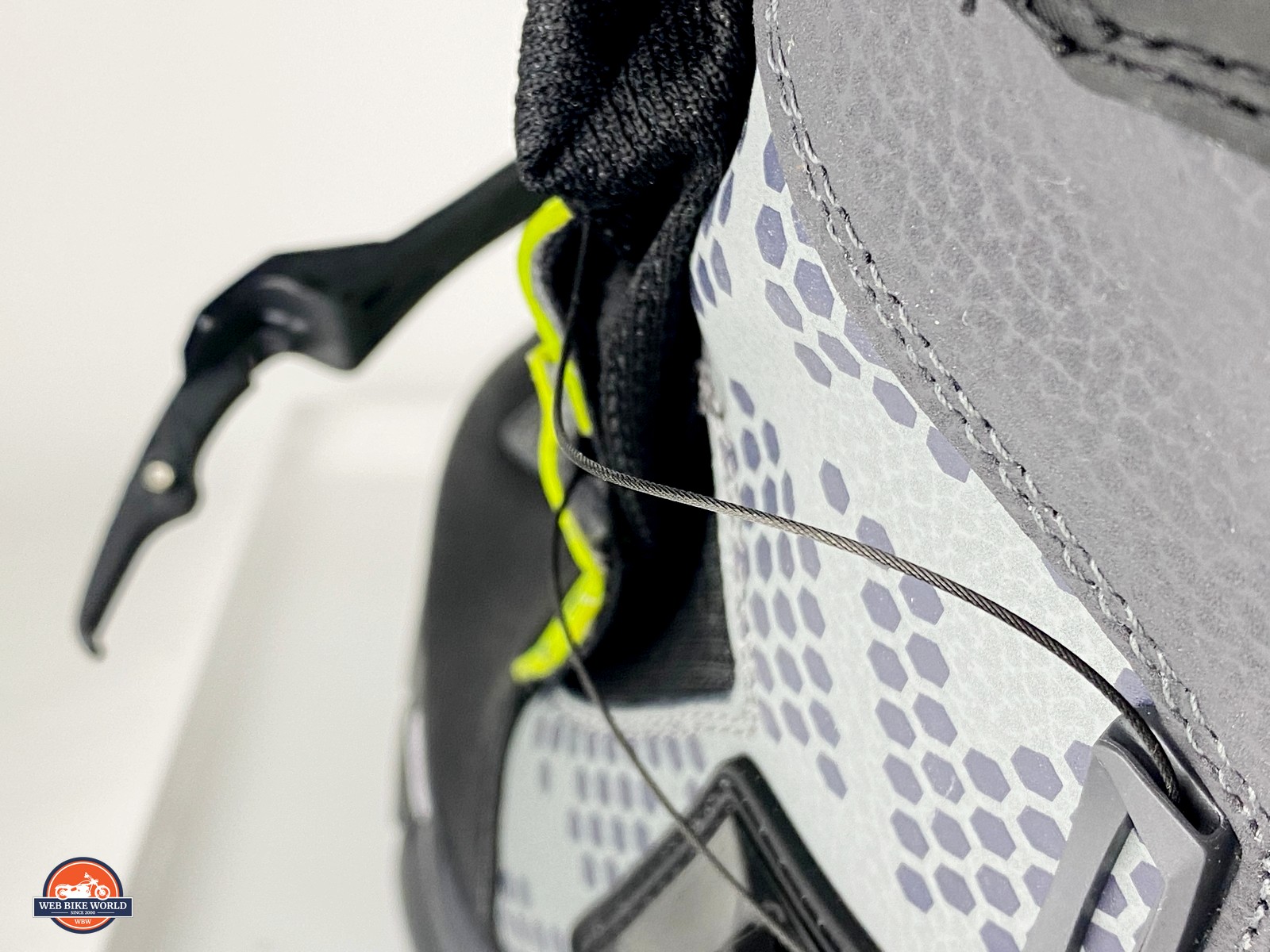 Very strong indeed, but I'll be watching these closely during testing to gauge whether the laces start sawing through the plastic guides they pass through on each side of the boots.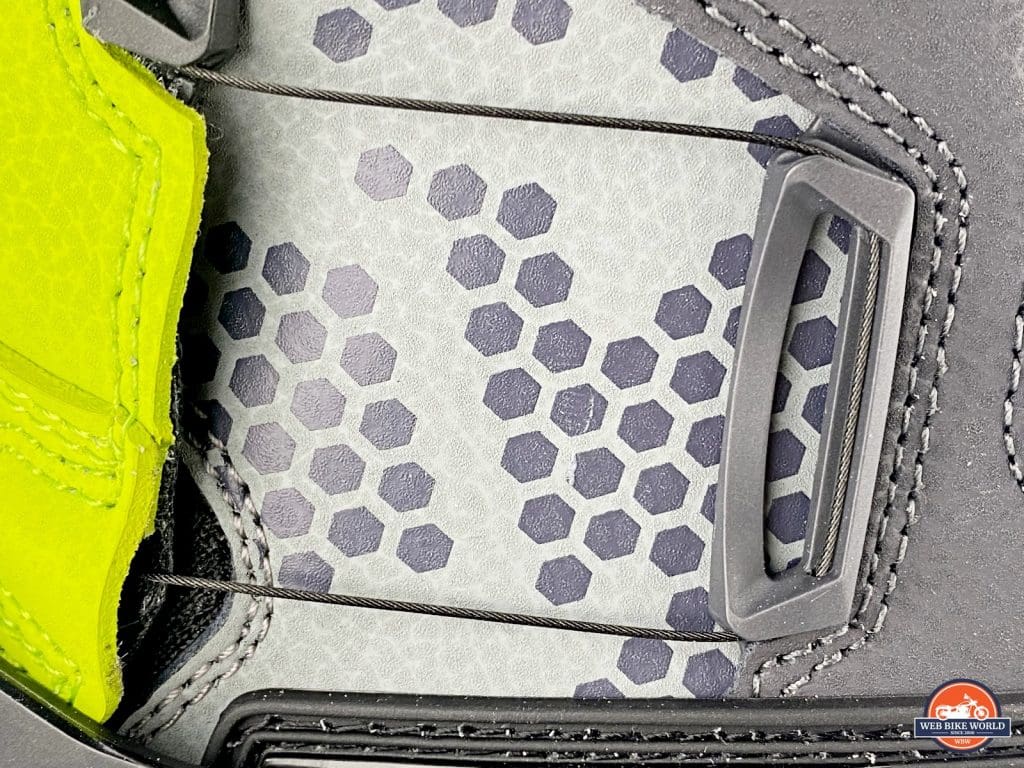 I looked on BOA's website but couldn't find much information about how it's made. I was impressed with the fact they offer a guaranteed lifetime warranty on any product their system is featured on. Nice!
Operating the BOA is simple. Pull out the round knob until it pops to relieve all tension on the laces. Then you're free to rip open the velcro flap for donning or doffing the boots. Pushing the knob in until it clicks then spinning it clockwise is how you tighten the laces.
Because Klim designed these boots to be worn underneath riding pants it should adequately limit the amount of dirt, mud, and dust getting into the BOA rotary dial potentially gumming it up and ruining it.
The Insoles
These boots came with two different sets of insoles and two more thin white inserts used to fine-tune the fit to a half size if desired.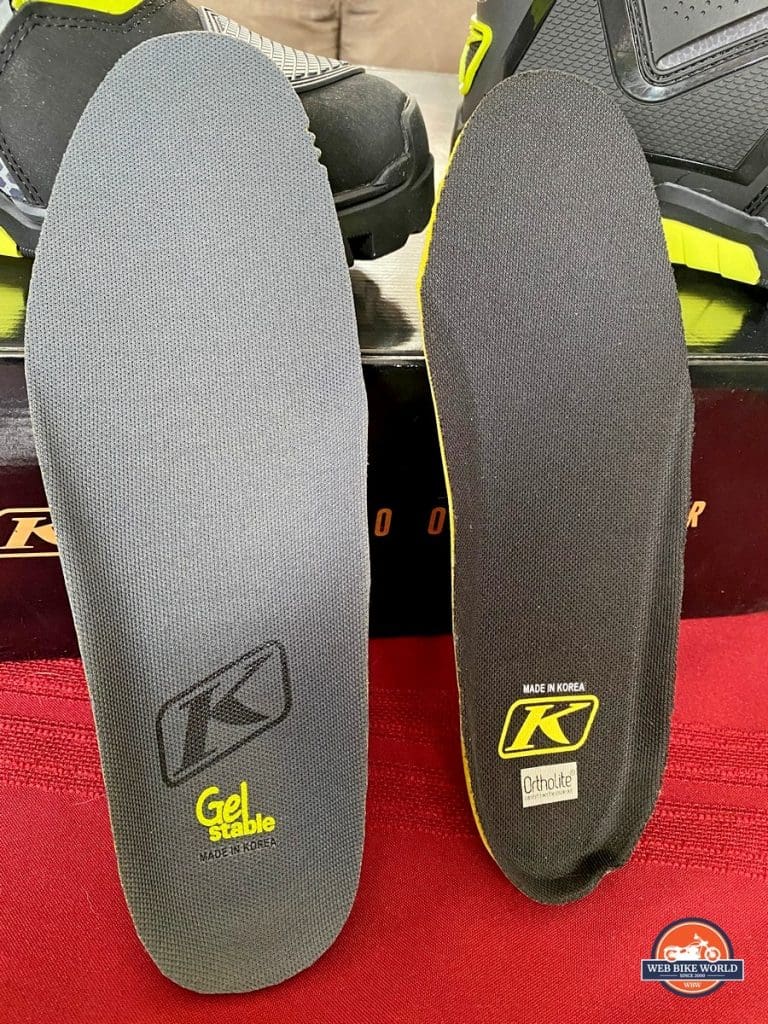 I've got one Gel Stable insole installed in the right boot and one of the Ortholite insoles in the left to compare them while I sit here writing this.
It only takes about 30 minutes to decide that I prefer the flatter fit of the Ortholite one at this juncture. The gel one has too much of an incline or rise on the heel area, causing my right heel to rub slightly on the back of the boot.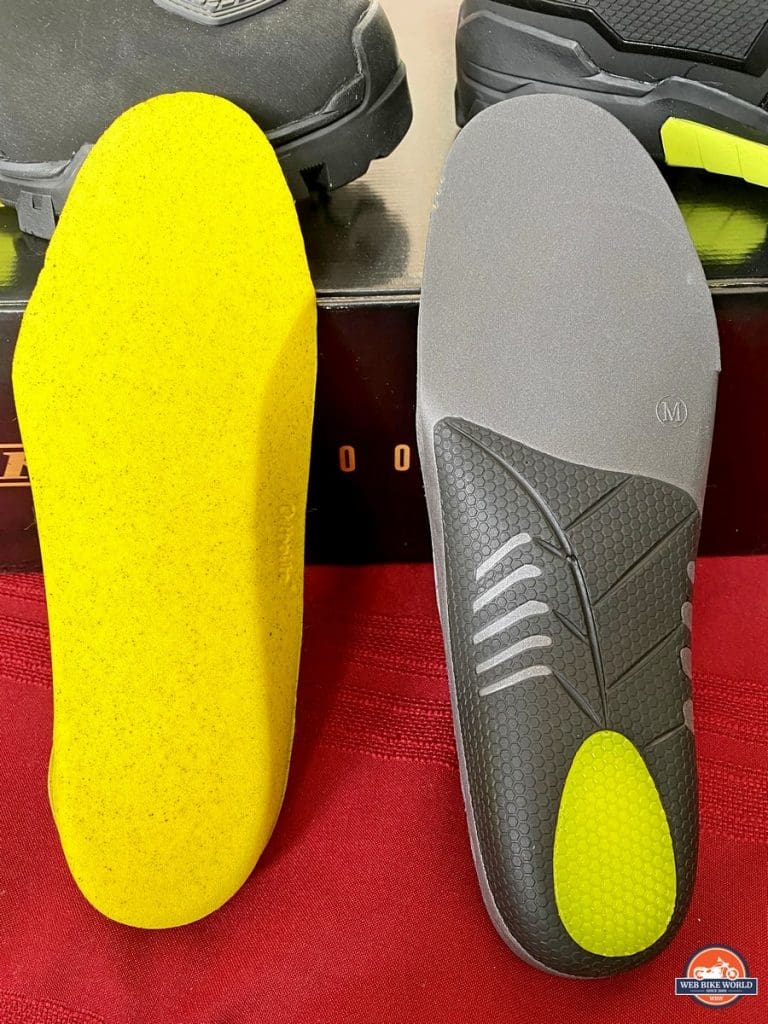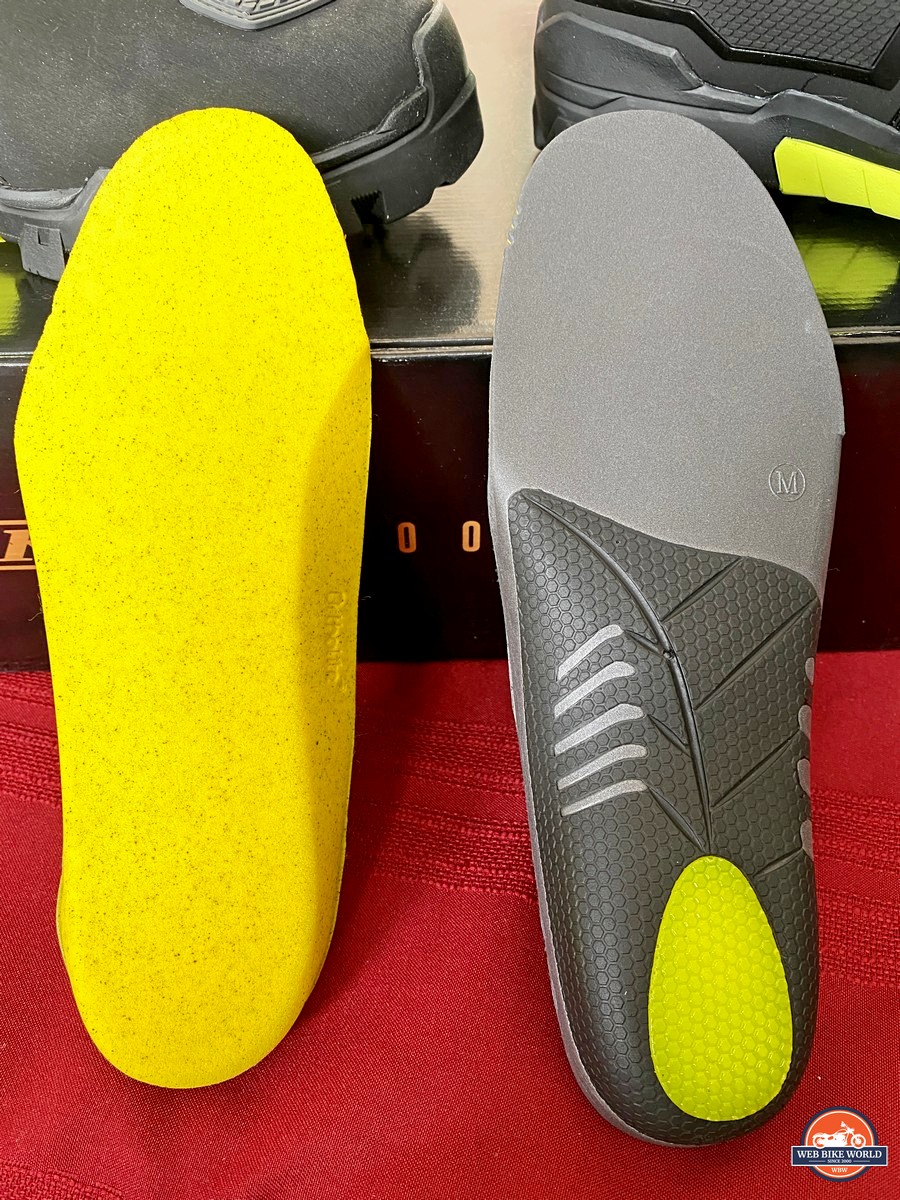 My left foot also feels cooler than my right which is logical considering gel doesn't breathe while Klim says the Ortholite insole material does. My feet tell me that is true from what I can ascertain sitting here inside my comfortably warm 21 degree Celsius home (70 Fahrenheit).
Wide Footed People Will Rejoice
These boots have a wide carcass (across the toe box area) on them compared to some other boots I've worn. That roominess bodes well for my E width feet.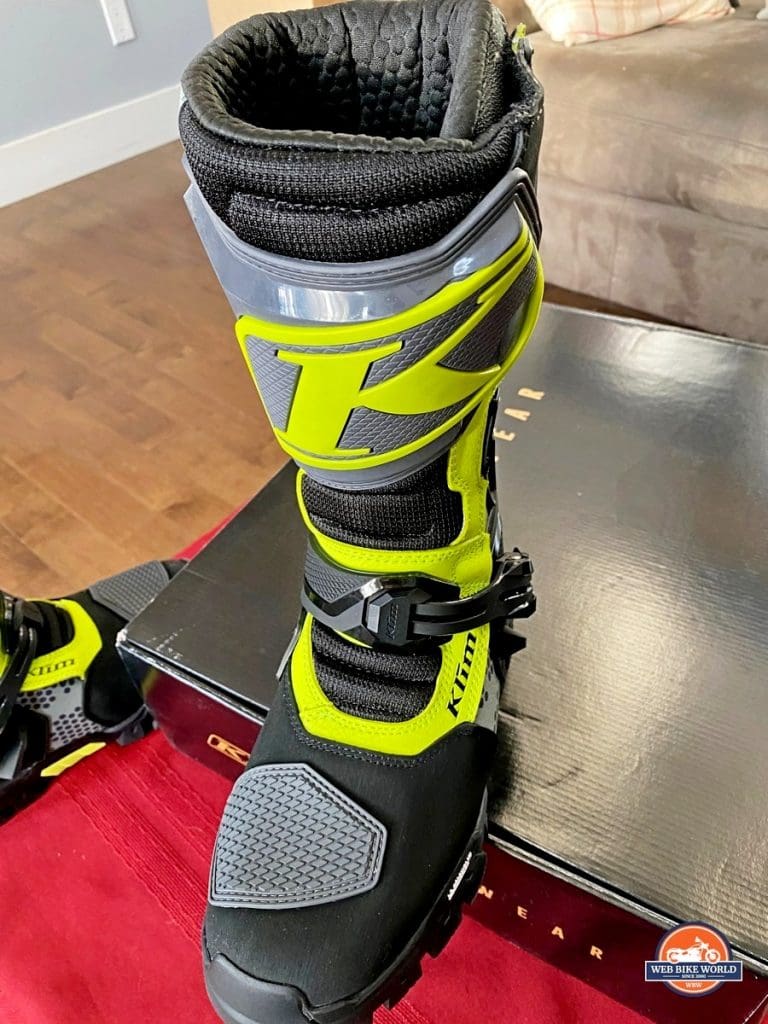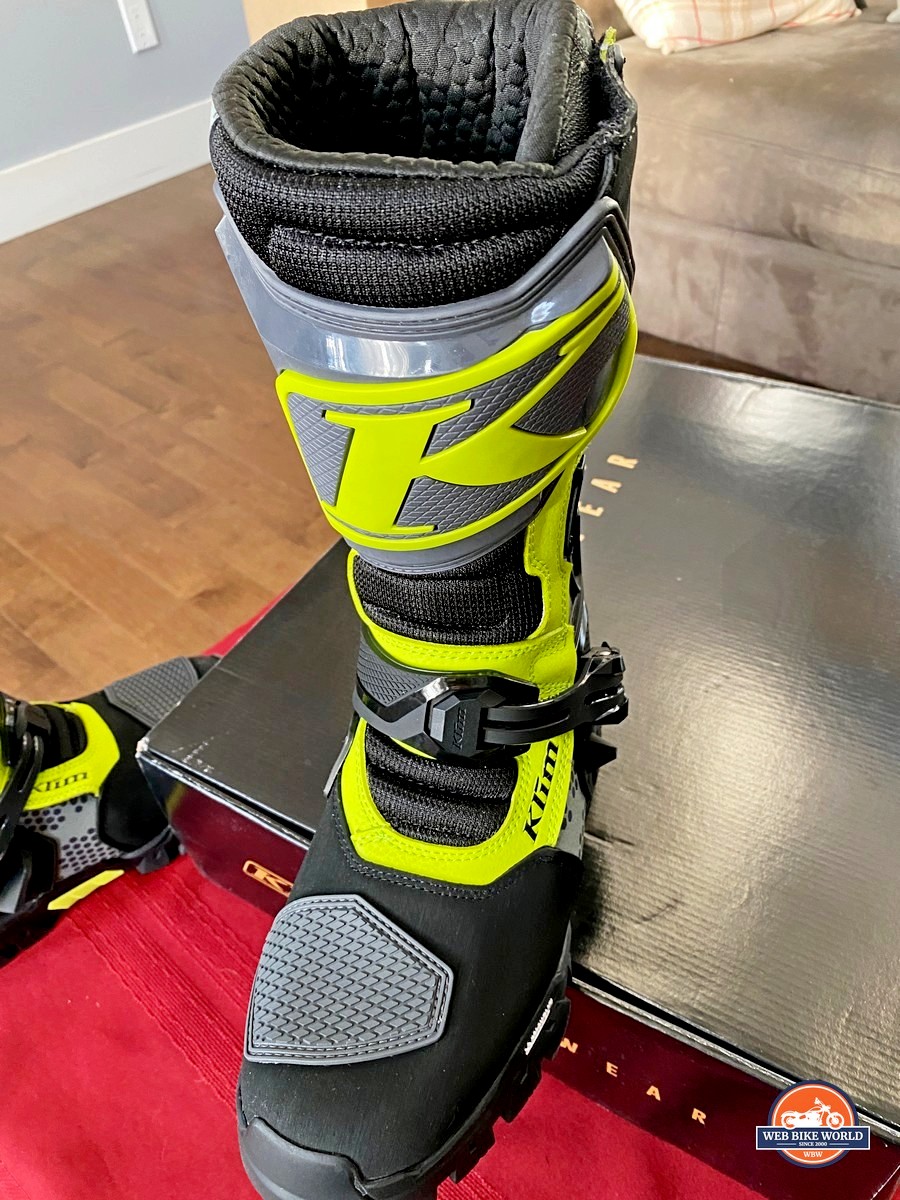 When I first put on my Sidis years ago I had to endure at least a week of painful riding before they relaxed and stopped pinching the sides of my feet. If they didn't fit me so well now I would have to seriously question who the narrow-footed people are that Sidi designed them for.
Style
There are two versions of the GTX Adventure boot. The Hi-Viz Asphalt ones I ordered along with a Stealth Black version pictured below for all the "high-speed-low-drag-ninja" riders out there.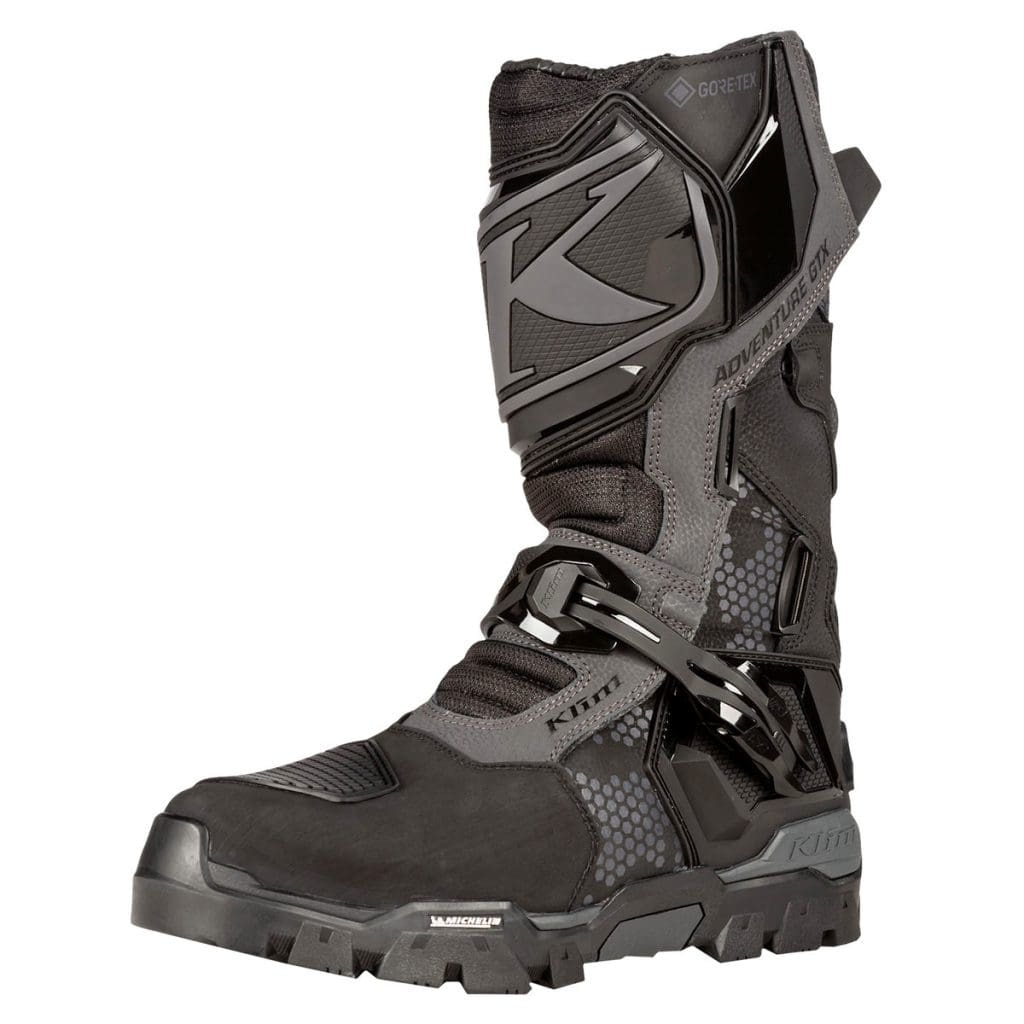 Photo from Klim
These motorcycle boots resemble Klim's snowmobile line in many ways from looking at their Havoc GTX BOA ones.
I think the styling is sharp and rugged-looking with just the right amount of bright yellow to accent the grey and black. Full marks here from me although I'm sure some people might say it's too over the top and "Power Ranger" for their taste.
That's One Big Toe
The toe box on these Klim boots is almost an inch taller than the Sidis I usually wear. That excess bulk seems destined to interfere to some degree with my ability to shift gears on the bikes.
As my logical friend, John Wyss, pointed out to me upon seeing this: "We're just gonna have to ask you to go ahead and adjust your bike for these boots…yeaaaah, that'd be great."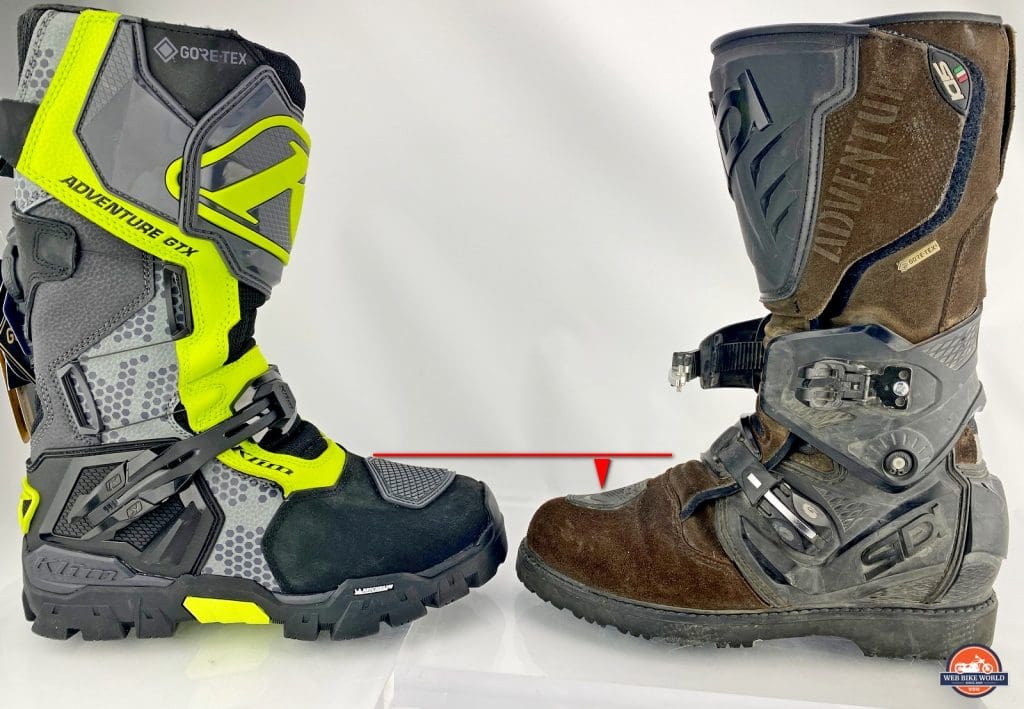 John is correct. You're going to need to raise the shifter arm on any bike to get that big toe box underneath without dislocating your ankle. Perhaps a little too much snowmobile styling transferred over to these motorcycling boots in that regard?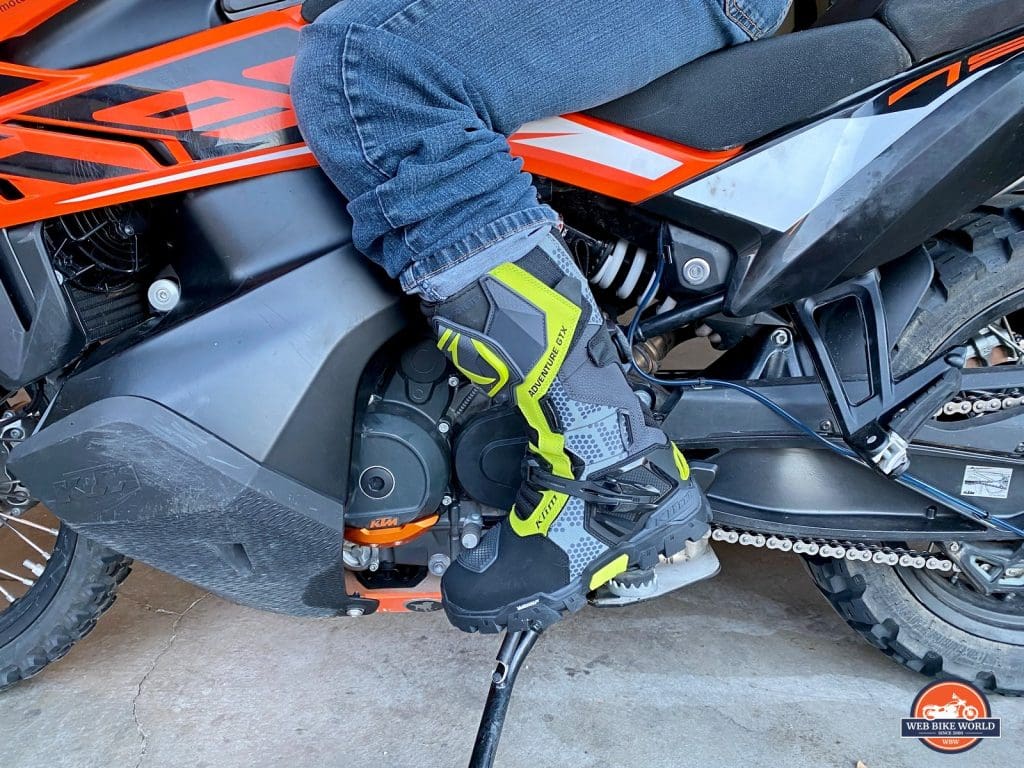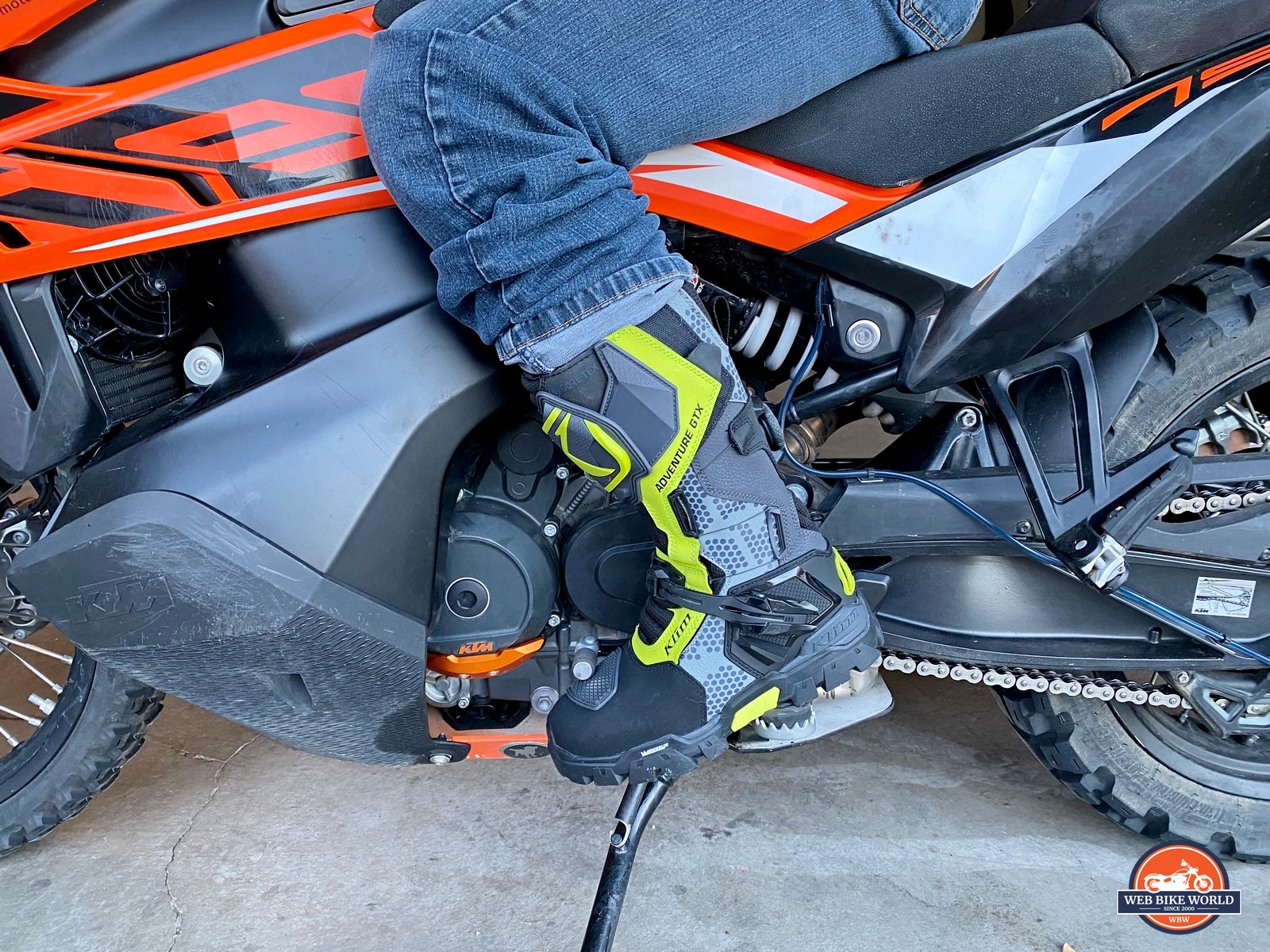 I still haven't ridden enough while wearing these boots, but to my surprise, shifting my bike was easy, and felt normal! As you can see in the photo above everything lines up perfectly on my KTM for these boots. Something's fishy here…
Then it dawned on me that I have equipped my 790 with a Rottweiler Performance Trans Saver that when installed raises the shifter arm position upwards about an inch. That's why now it's easier to shift in these Klim boots than while wearing my Sidis.
By the way, I fully recommend the Trans Saver for your 790 Adventure. It works well to protect the bike from harsh shifts and obviously it sets up well with Klim's new Adventure GTX boots too!
Lightweight?
I tossed the boots on my scale to see how much of an effect gravity has on them.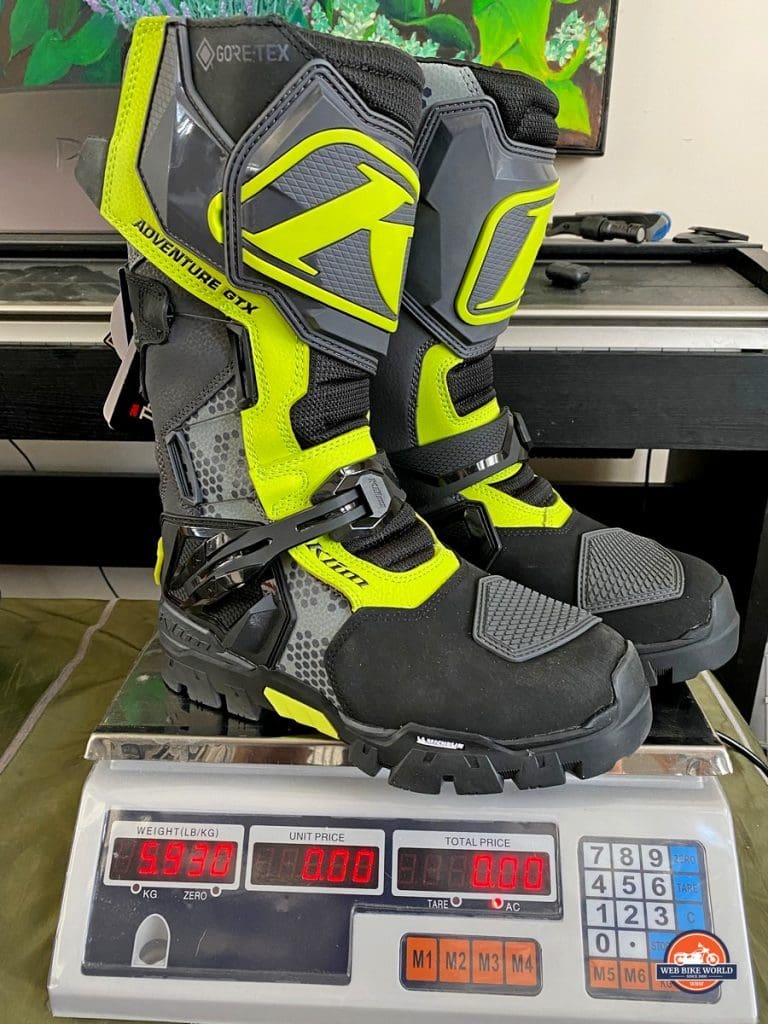 They rang up just under 6lbs. Not the heaviest I've ever worn, but not the lightest either.
Here's how the Sidi AdvGT2 boots did comparatively. About 0.5 lbs lighter.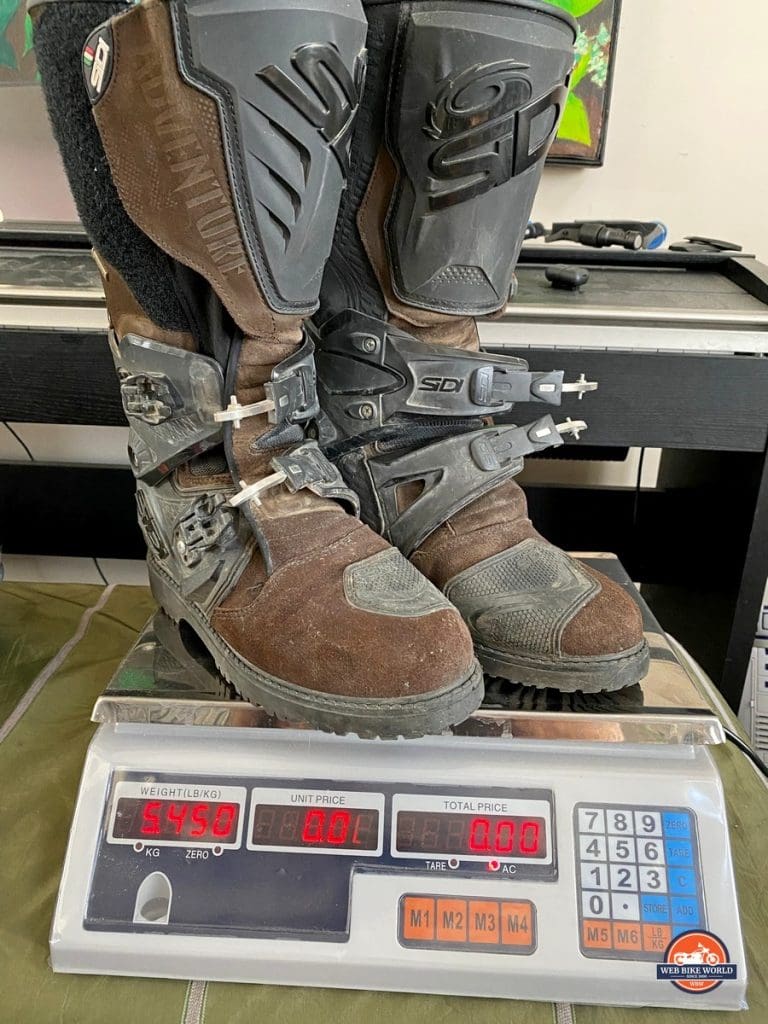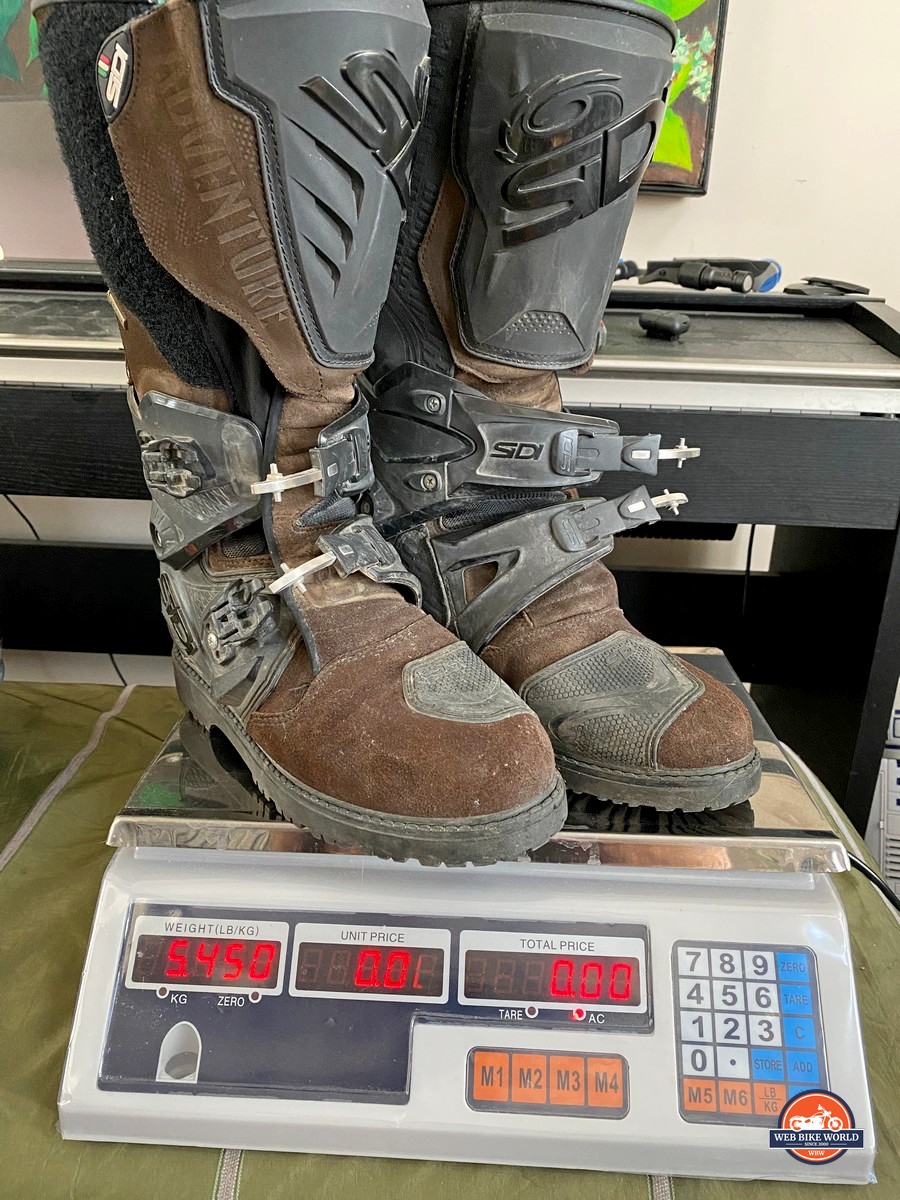 The Interior
The uppermost portion of the Klim inner liner is black nylon with honeycomb-shaped indentations covering it. This pattern is one I'm familiar with for channeling perspiration outwards so your feet can breathe.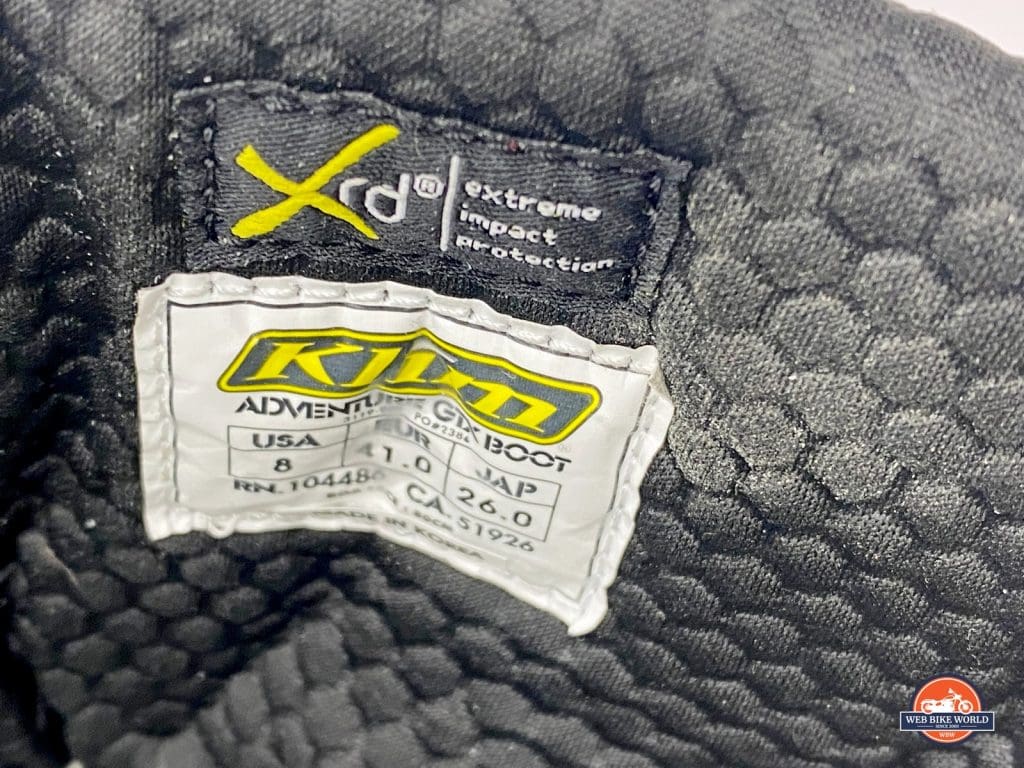 There's a similarly-textured, silky, white liner below that which visually reminds me of a puffy pirate shirt from the "Yaaaar matey" days of yore or maybe a wedding dress. It feels reasonably tough and thick, but I'm not thrilled about how it's free to bunch up any which way it likes around where my shin and ankle live while I'm wearing the boot.
This translates to a slightly different fit each time I put the boots on. I would prefer consistency.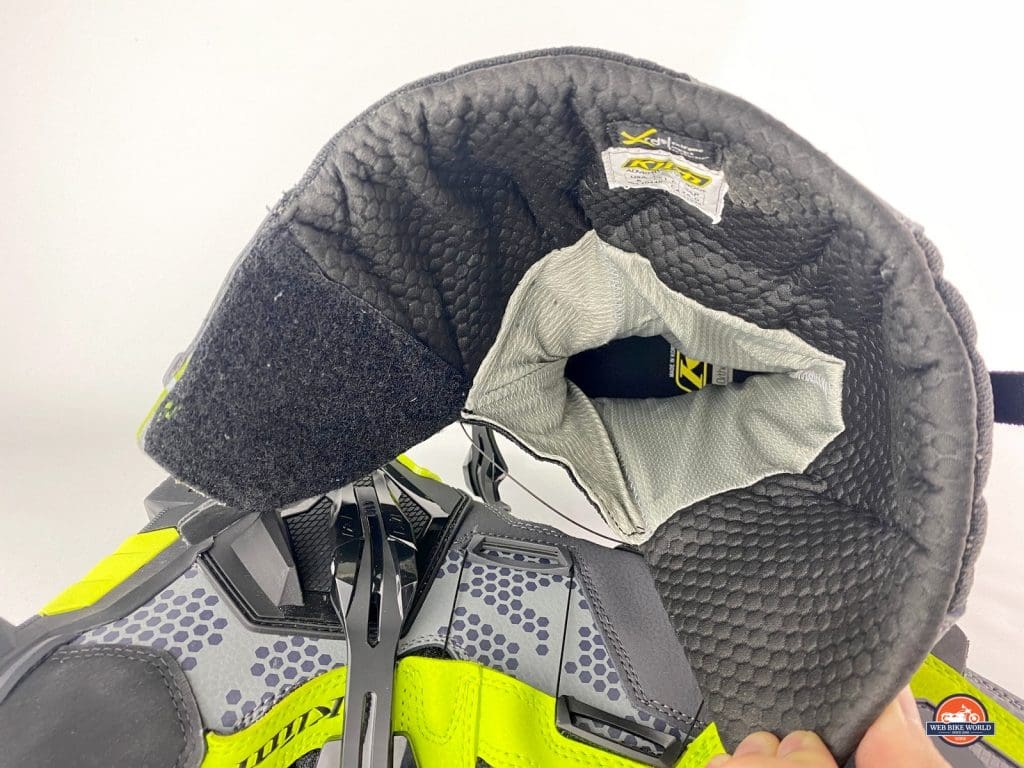 I suspect those peaks and ridges are more likely to wear and fray over time due to the stress riser it might become with feet/shins working against them. I wonder how many miles and years I'll get out of these before that material wears through in spots?
I'm only hypothesizing this might happen, and I'm willing to give Klim the benefit of the doubt that they've done their homework on this liner not becoming a problem or wearing prematurely.
If I compare it to the Sidi boots (and I will) they've gone completely opposed to Klim's design. Their liner is all pulled tight (like a carpet that is kicked out to the corners of a room) and stuck uniformly to the inside of the boot. Only the liner found in the expanding portion of the velcro flap creases and bulges slightly when folded over to close the boot.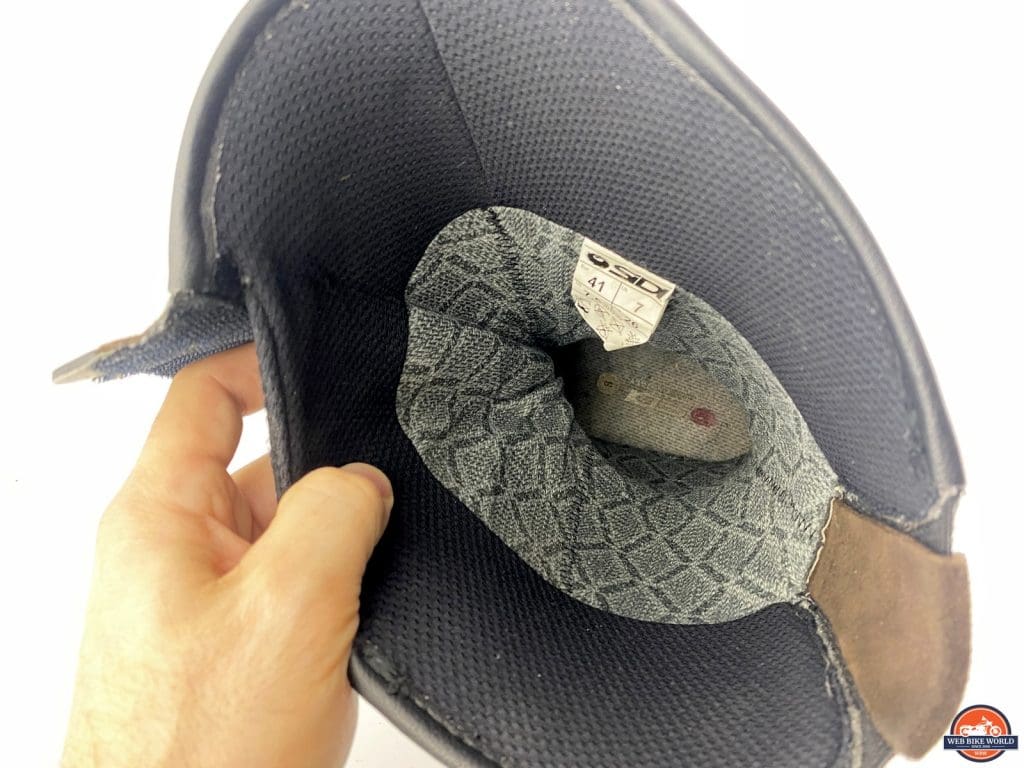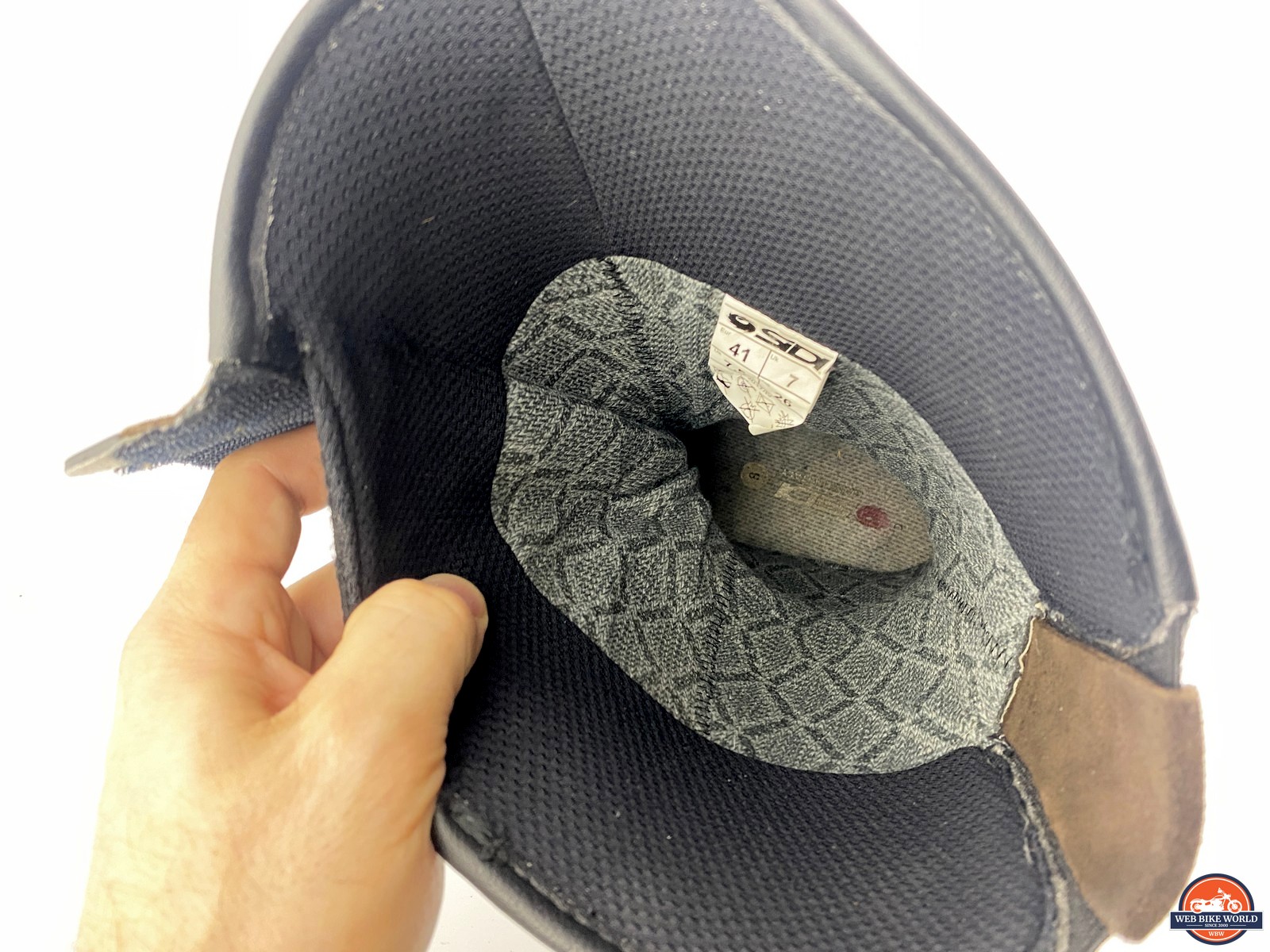 I've logged around 15,000 miles wearing these Sidi boots spread over 3 years without the liner showing the slightest sign of wear so far.
Protective Padding and Armor
When it comes to armor and protection it's interesting to note once again how Klim and Sidi have divergent strategies in place.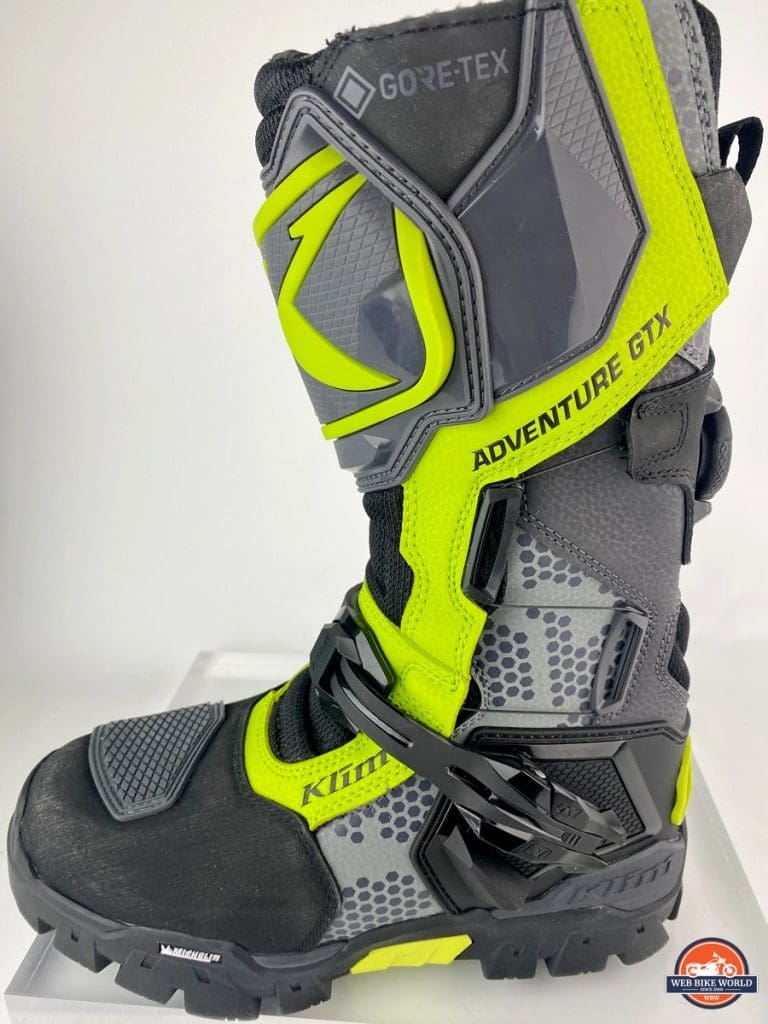 I notice surprisingly thick padding in the Klim Adventure GTX on both sides of the ankle areas instead of hard inserts made of TPU as is found on the Sidis.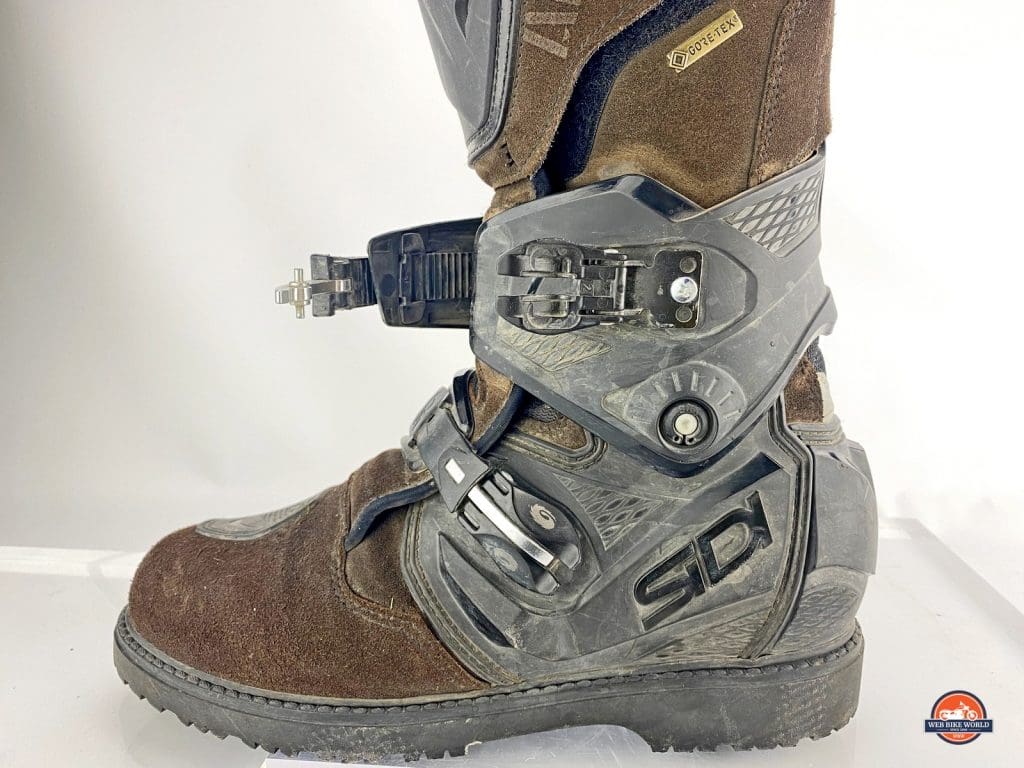 This is the "5MM XRD® IMPACT PROTECTION FOAM ANKLE PUCKS and 5MM XRD® IMPACT PROTECTION FOAM MID-FOOT TOP PADDING" mentioned in the Klim brochure. Klim is banking on thick, soft padding to protect the wearer from ankle injuries, which I'm not sure will work in some crash scenarios while in others I think it will.
One of my friends recently went down and had his F850GS land on top of his leg in such a way that it hyper-extended his ankle outwards. His injury was serious and required surgery to repair. The Alpinestars Toucan boots he was wearing probably helped minimize the damage based on what I see for armor on them. I'm glad it was good enough to allow him to recover and continue riding.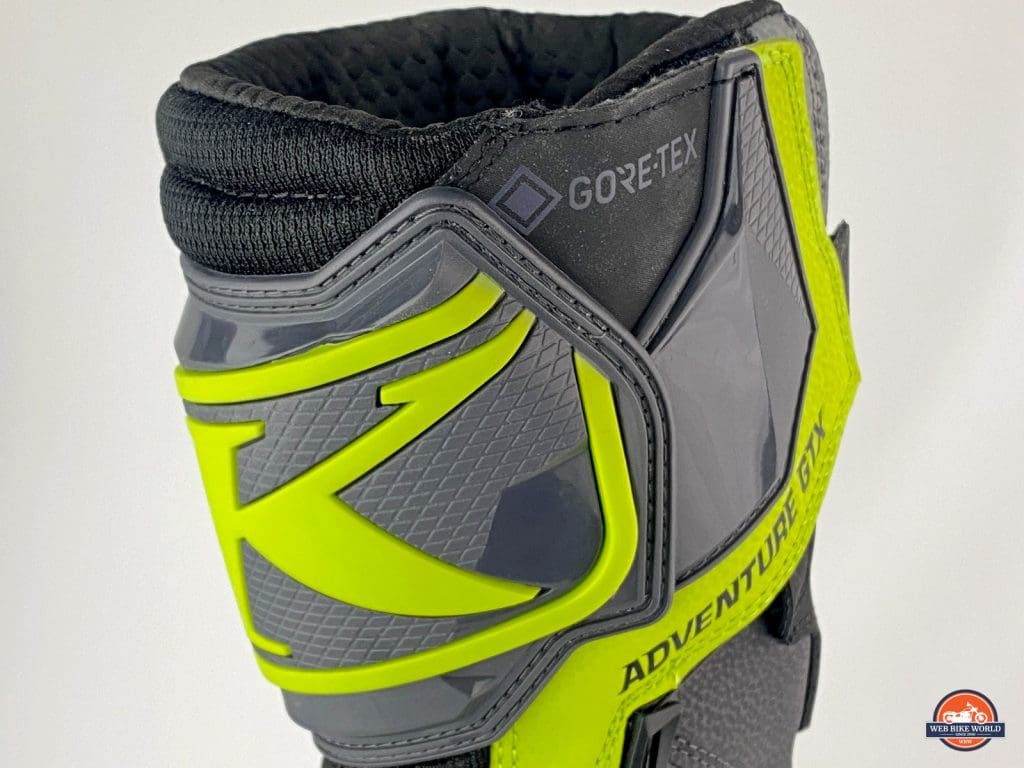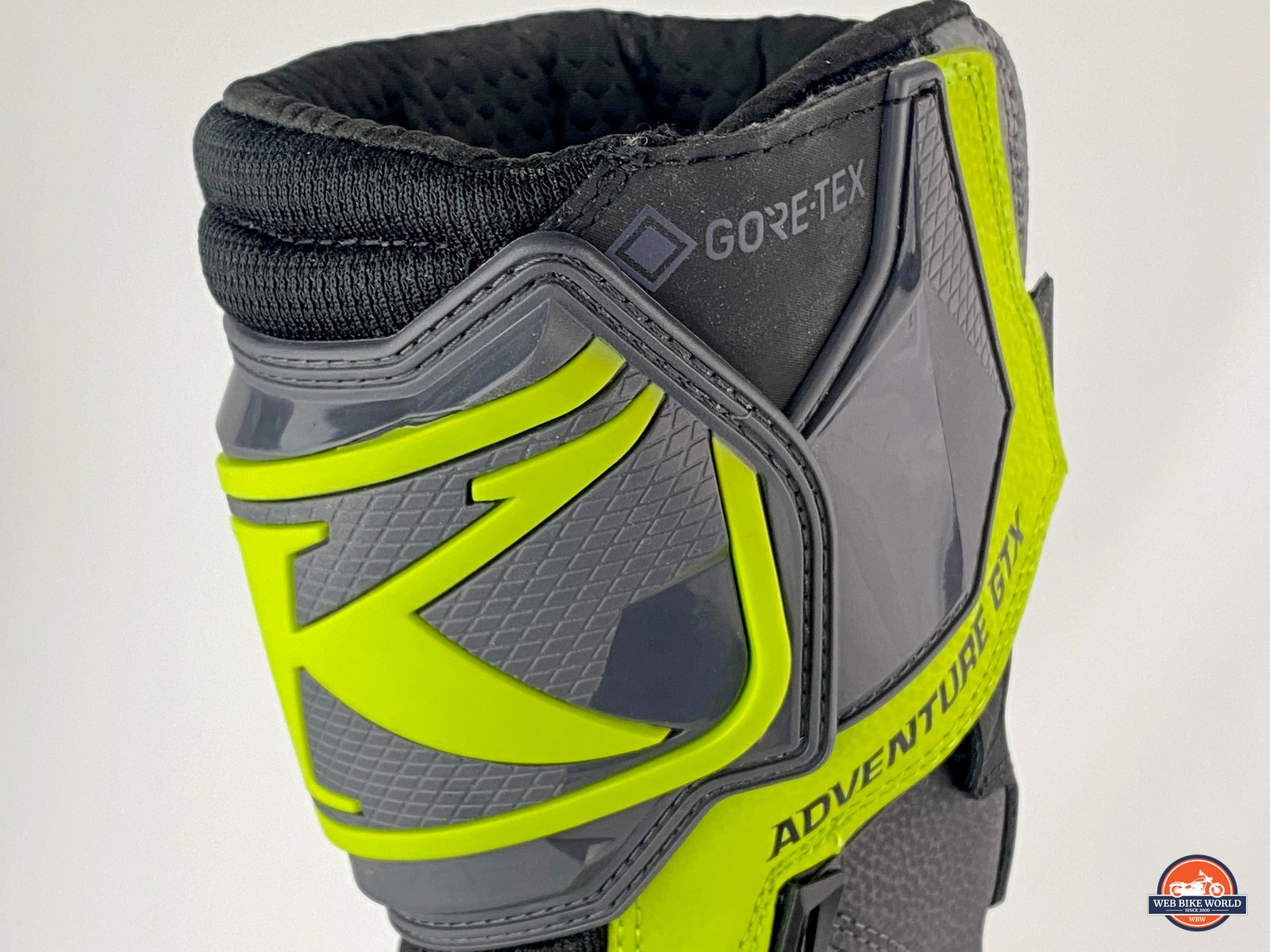 The truth is, there's no way to fully protect moving joints without sacrificing SOME measure of mobility and comfort. Klim designed these boots with finding the right balance of protection, comfort, and mobility. It's a tall order to meet.
Around The Soles And Toes
I appreciate what Klim did with the lower portion of the boots when it comes to protection.
I recently reviewed some Joe Rocket Canada Whistler Adventure boots and criticized them for failing to adequately unify/support my foot with the sides and soles using armor and padding. To me, that's the area most often in harm's way, especially the way I ride. I often bounce my feet off all kinds of things while off-road and a couple of times I've felt stinging pain while wearing my Sidis because of a gap in the armor on the sides of those boots.
This "crack" in the wall of armor I speak of resides between the toe area and where the abundant ankle supports lay on the Adventure 2 Gore-Tex.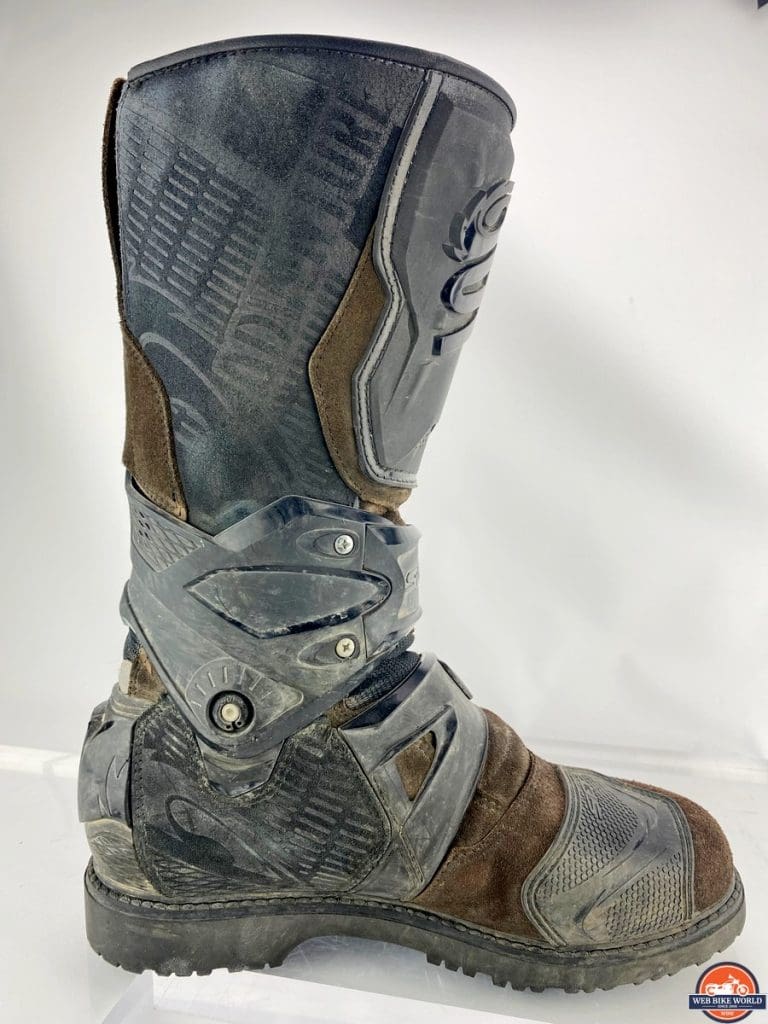 That's not an issue with the Klim Adventure GTX boots thus far. There's an overly thick sole on the bottom, combined with plenty of hidden protection on all the sides, and surrounding my toes. It's difficult to show in a photograph but once you have them in your hands you can feel it.
The net result is a stiff enclosure for your foot to reside in safely and comfortably with a smaller gap (than is found on the Sidis) to allow your arch to flex while walking.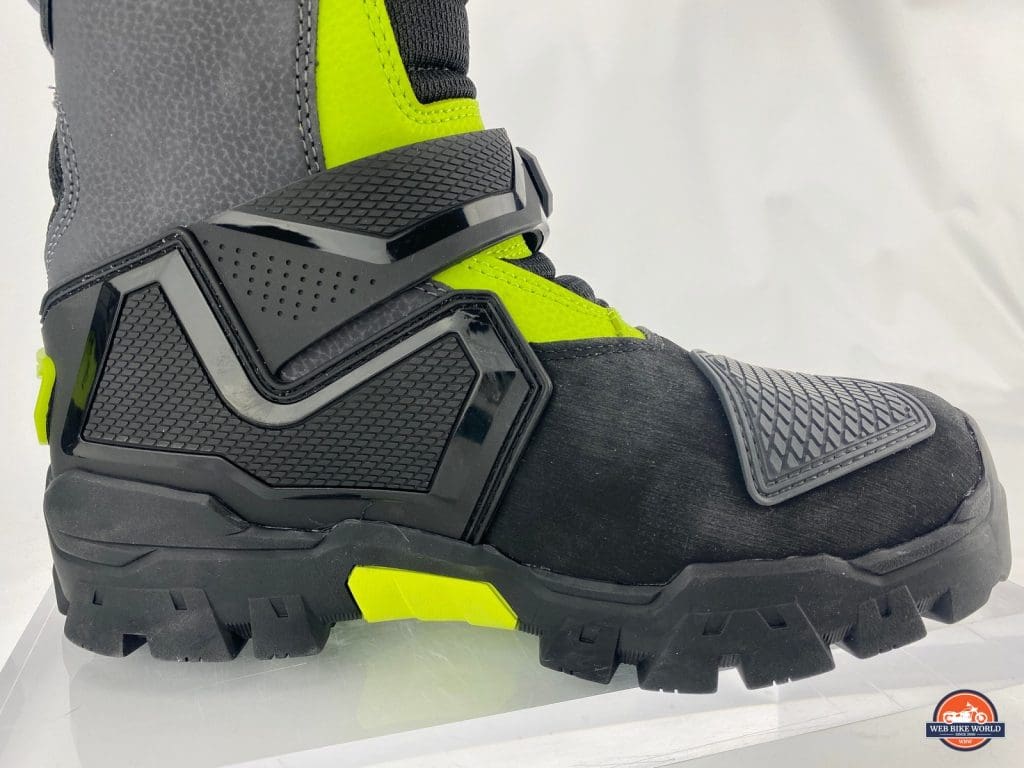 The lower half of these boots convey a strong feeling of assuredness you won't be hurt should your foot inadvertently come off a footpeg and smack an unforgiving chunk of our natural world.
My friend Greg rightly pointed out the lack of stitching holding the sole to the upper frame on these Klims which may or may not be missed. I have seen glued on soles separate on other boots at the most inopportune times before. I think that's why some people bring Gorilla Glue on adventure rides, right Mark Estabillo?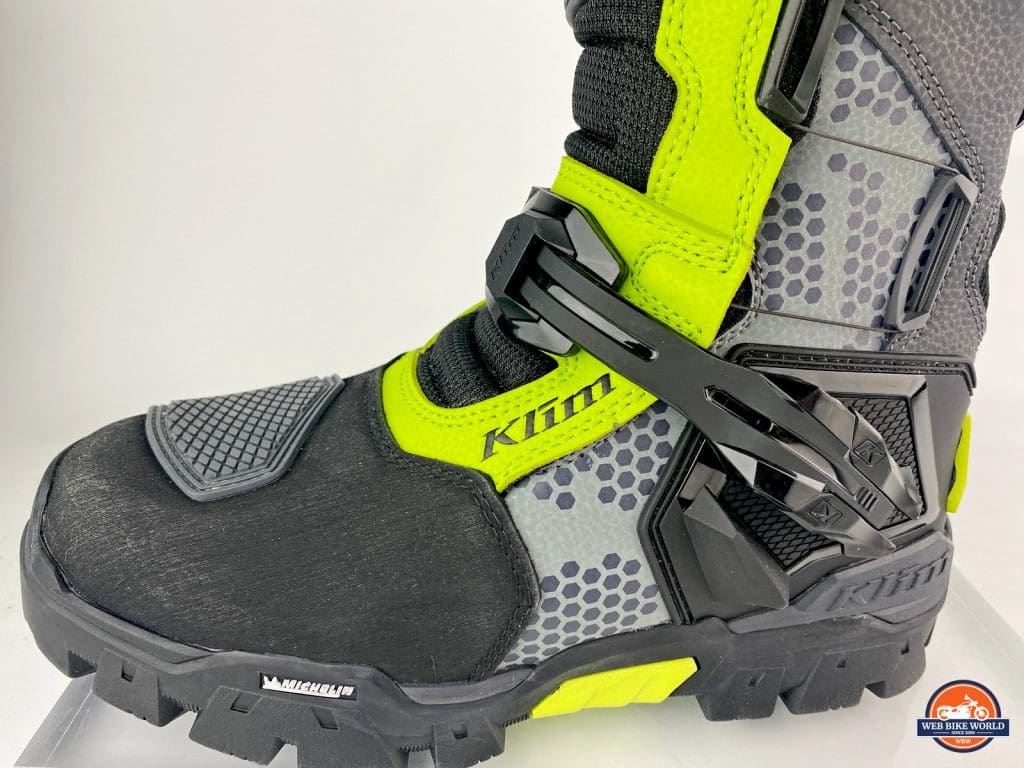 So it's a trade-off I suppose between these two boots. Do you fear an ankle injury more than a foot injury? If so, I would say the Sidis are better equipped to repel that, but for protection everywhere else I think the Klim boots might have a slight edge.
Testing Out On The Road
As mentioned, I found a 3-day window of decent temperatures to ride in with these boots totaling about 300 miles primarily on asphalt.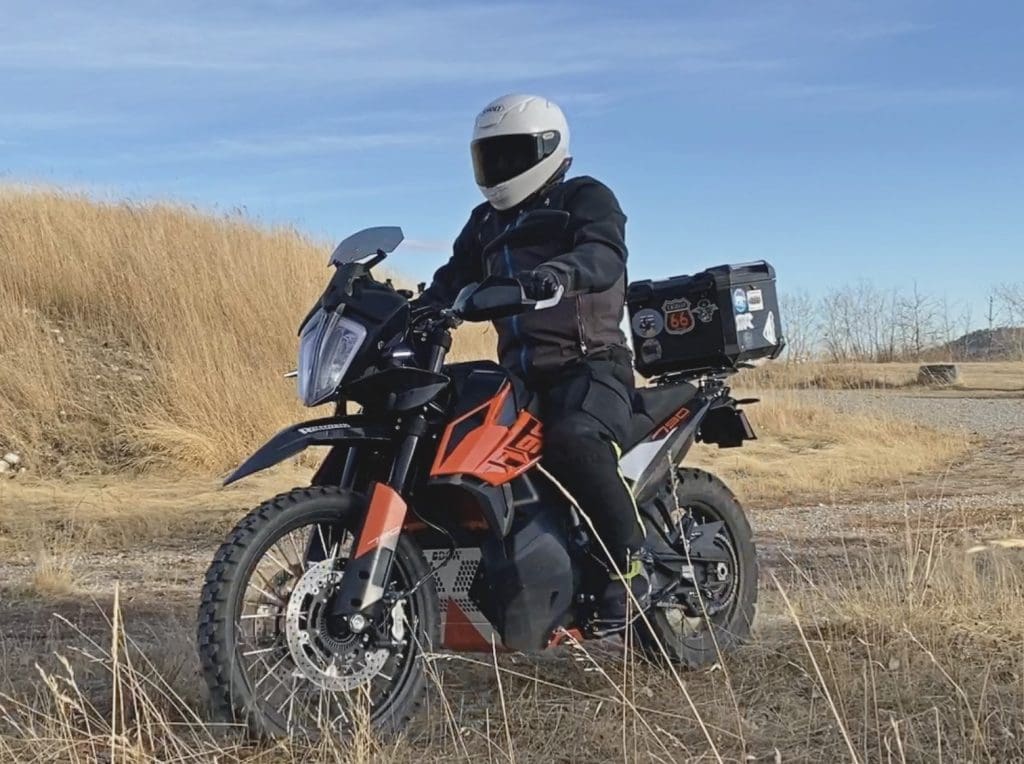 Cold Weather Riding
The temperature has been consistent during these precious few December rides I've had. The coldest has been 5 Celsius or 41 Fahrenheit and the highest was 16 Celsius or 61 Fahrenheit.
These boots don't have a Thinsulate liner, but keep me comfortable down to the 6 degree Celsius mark (42F) when the cold air hitting the Flex Zone starts to make me wish I was wearing heated socks. So I know what the lower limit is, but I haven't come near determining what the high-temperature threshold is yet. They've kept my feet at an agreeable temperature at all the other temperatures above 5 Celsius so far.
Shifter Plate Reinforcement
The shifter plate on top of the toe box is made of soft rubber much like on the soles. I was hoping because of that it wouldn't transfer cold through to my toes inside when riding in cold weather. The soft rubber still does allow some warmth to escape from my little piggies as it turns out, but it's not unbearable.
My Sidis have a patch of hard TPU for their shifter plate and it freezes my big toe regularly when it gets cold out.
That's all I can comment on vis-à-vis the boots' performance in the wild. I like wearing them on the bike, because I don't take much notice of them, meaning they're doing a good job of not distracting me from the ride with pinching, rubbing, or getting in the way of controlling my steel horse.
I can't ask for a lot more than that.
Waterproof?
When I'm out adventure riding, I enjoy confidently striding around in lakes, streams, and puddles knowing my riding boots won't leak. Thus far my Sidis have been up to the challenge because the waterproof lining extends almost to the top of the boots (see the photo below). I know I can walk in water roughly as deep as my boots are tall.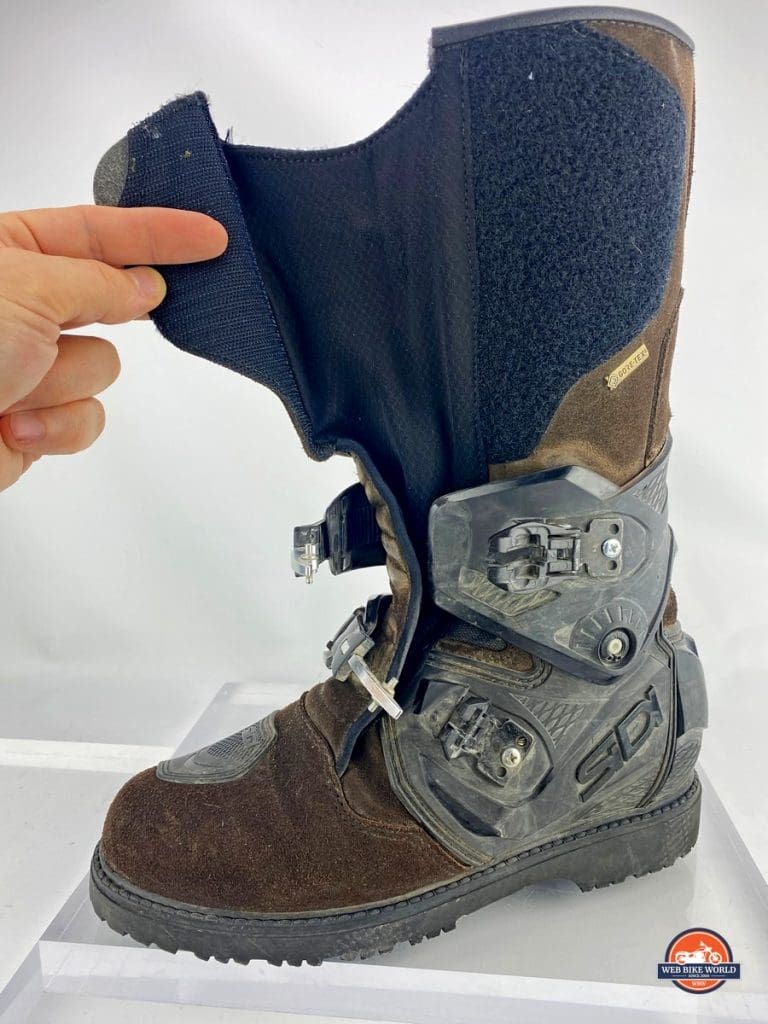 These Klim Adventure GTX boots are more or less the same height as the Sidis, but to my disappointment, I find the waterproof lining in them stops 5.5 inches below the top!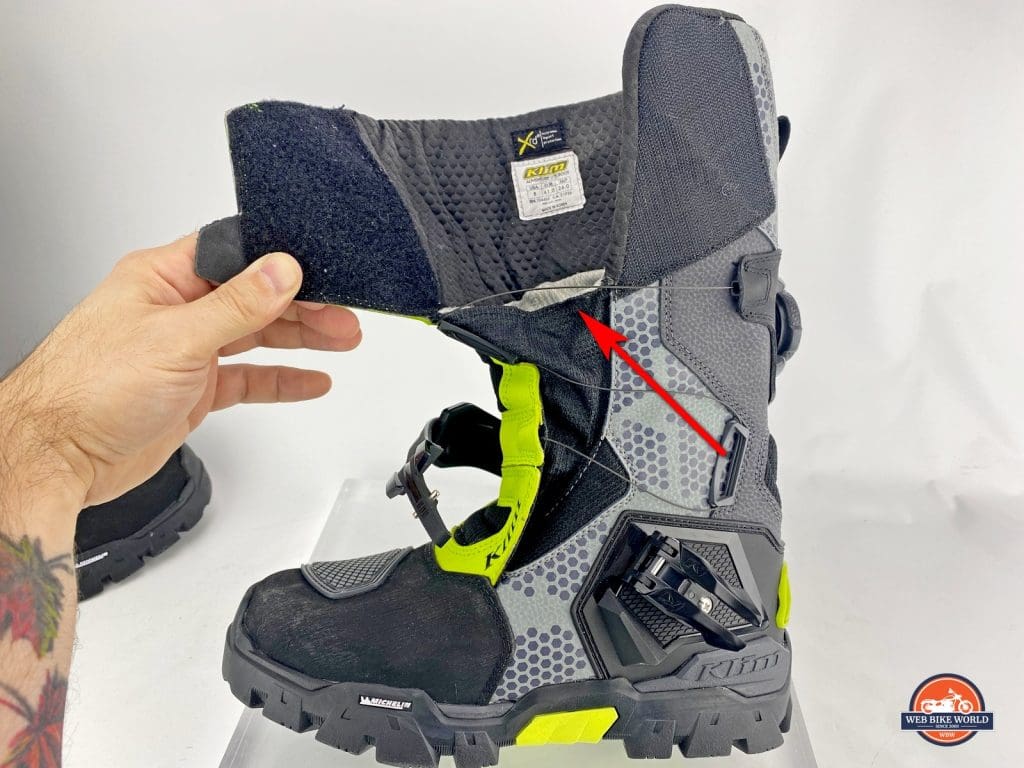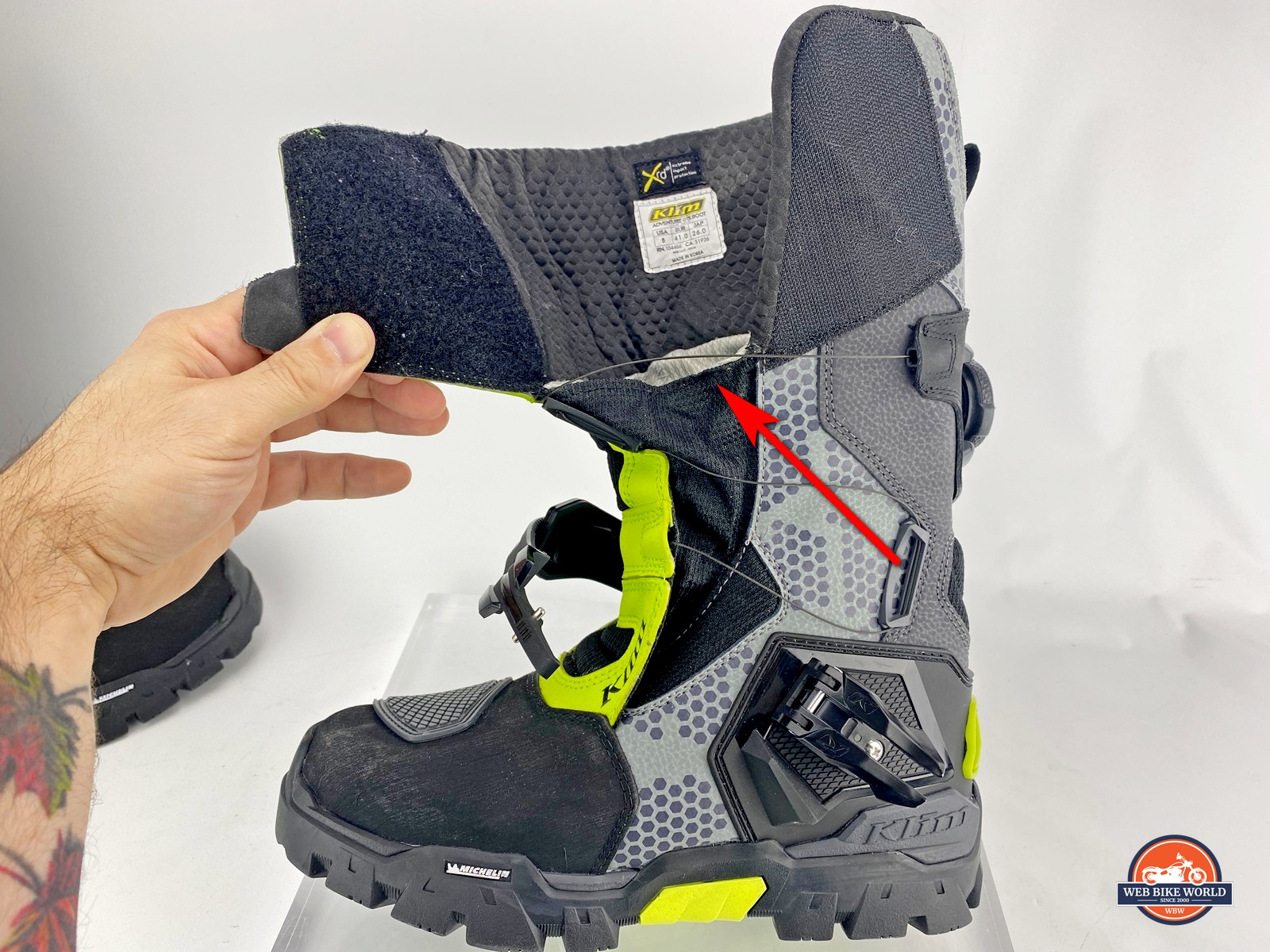 If I wear waterproof riding pants over them there shouldn't be any problem with water getting inside while I'm riding, but if I decide to venture into a puddle or stream deeper than about 8 inches my feet are going to get wet.
Dear Klim, I'm not happy with this shortcoming and would strongly encourage extending the liner to the top of the boots.
Simulating Riding In The Rain
Since I can't find any rain to ride in this time of year I took the boots to the local car wash and had my son blast them with pressurized water. I'm just doing my part to help cheer everyone up in these trying Covid-19 times with some entertaining behavior out in public.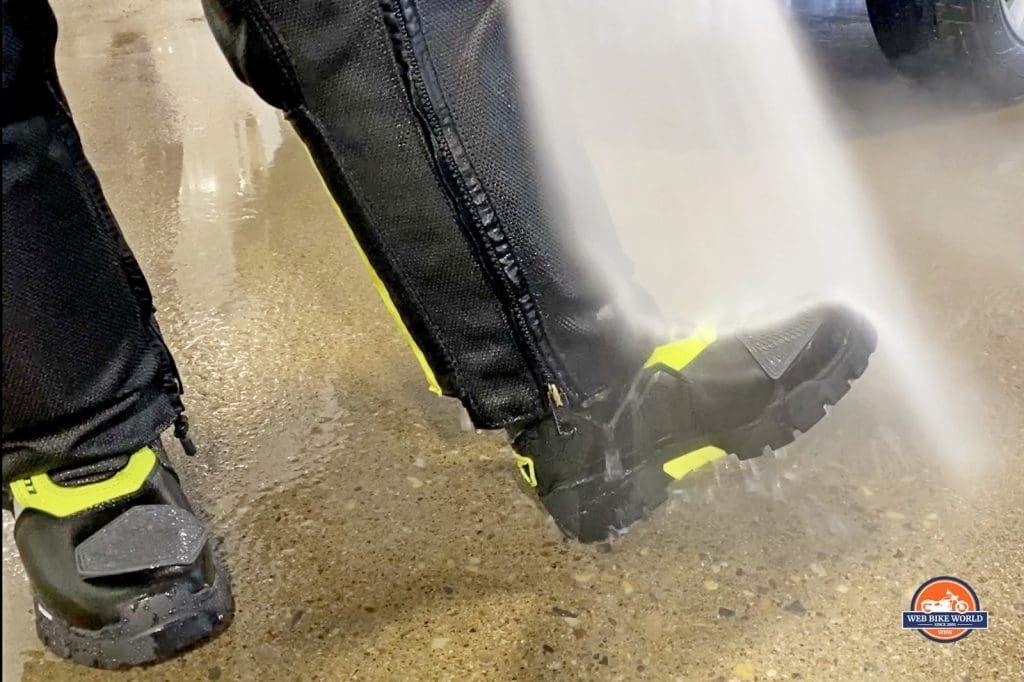 That should simulate riding conditions at highway speed, right?
I found no leaks after dousing them for about 10 minutes at the car wash, but I felt a cold sensation on top of my foot while walking around outside in the -2 Celsius (28 Fahrenheit) temperatures afterward.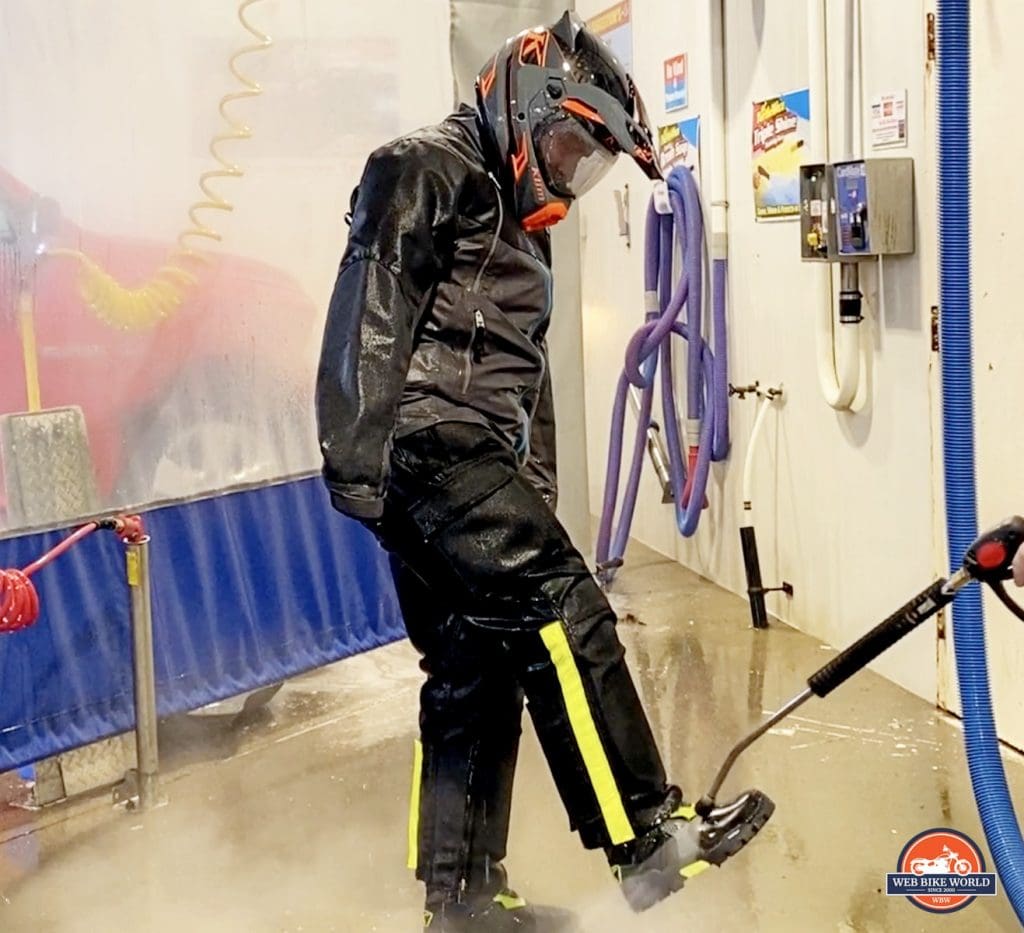 The source of this was the soft, accordion-looking material that appears on top of the boots just behind the toe box. This is what Klim labels a "flex zone" to help provide walking comfort to the wearer.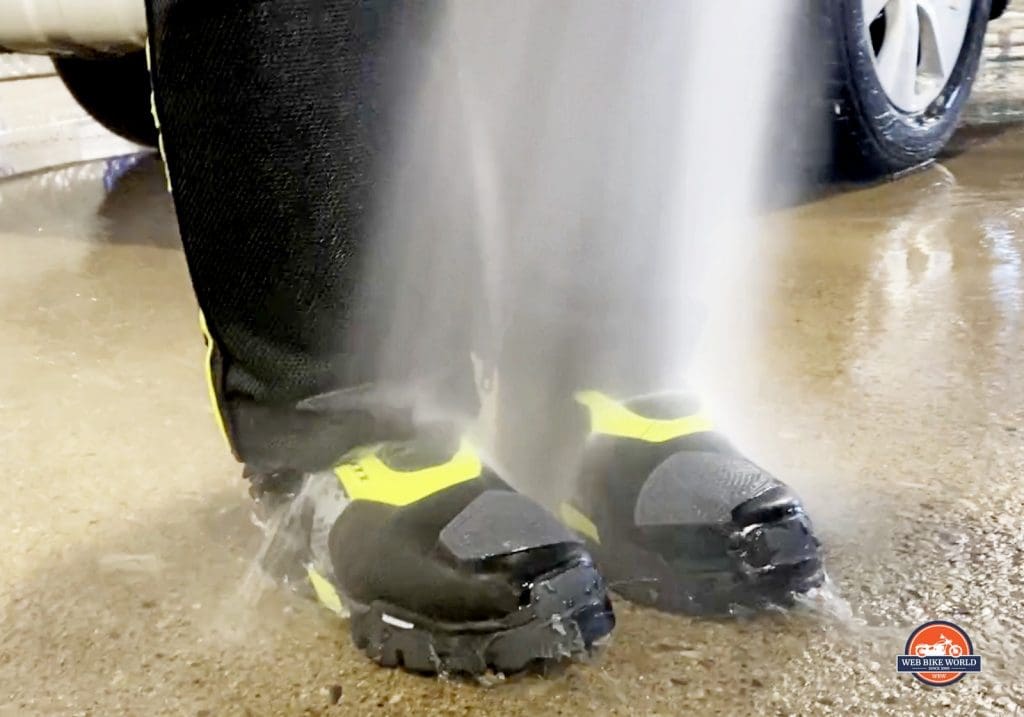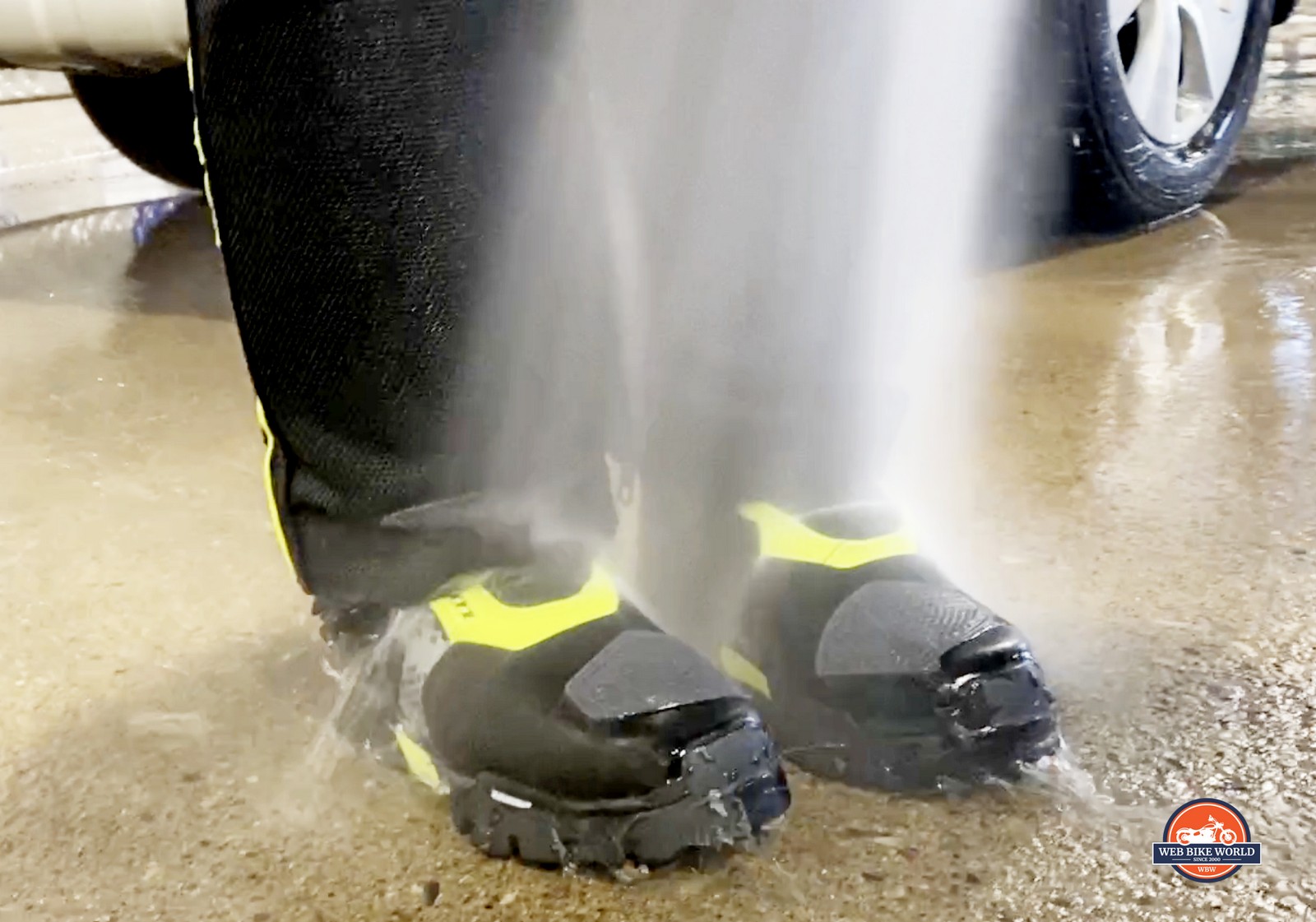 It also holds water for about 20 minutes after getting "rained on" at the car wash. If you press down on this Flex Zone while it's wet you'll see water squish out and run down the sides of the boot.
Happily, I verified nothing had leaked through to reach my feet inside, so I can confidently say the Gore-Tex liner in these boots work as they should.
Traction
After visiting the car wash, I went to the dog park to do some walking and simultaneously give my best friend Boomer some exercise. It would also provide an opportunity to test the degree of traction these Michelin rubber soles provide while walking on less than accommodating terrain. I'm talking about ice and snow.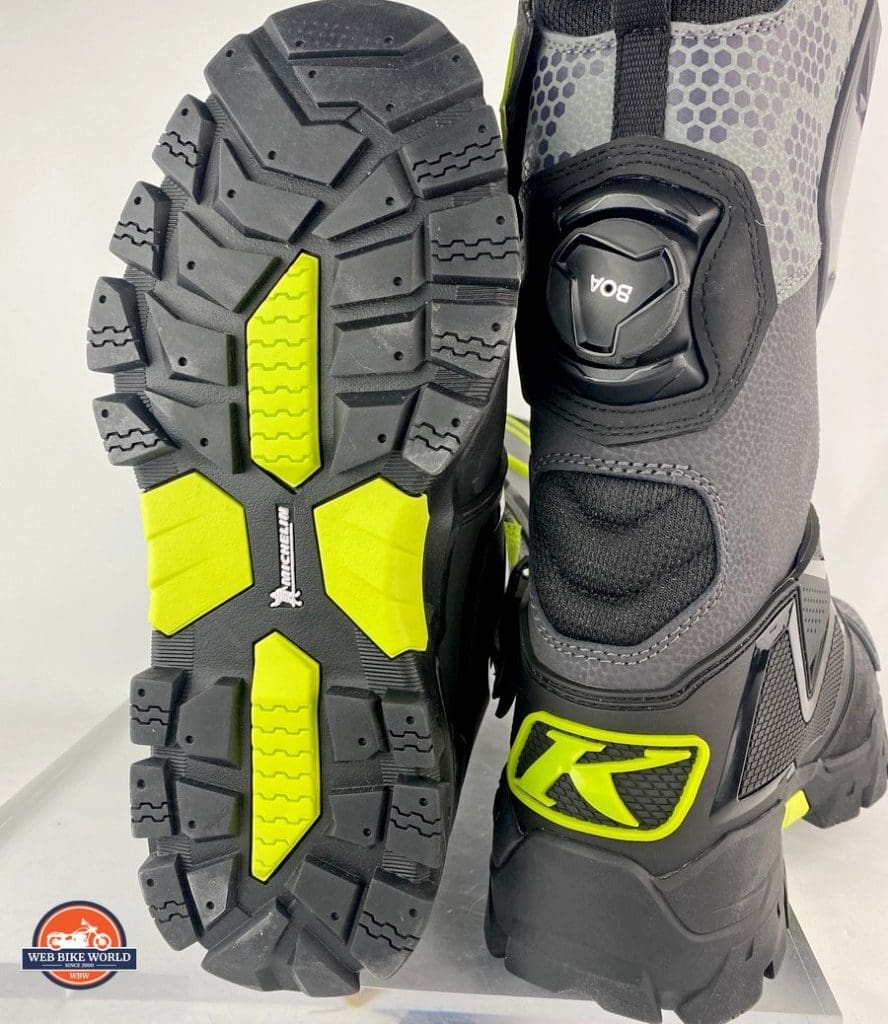 I was impressed by the fact the rubber stayed perfectly flexible even in temperatures below freezing! Much like the X-Ice snow tires I have on my car, these Michelin rubber soles find grip on snow and ice just about as well as they do on dry ground.
That soft rubber might wear out more quickly in high heat environments, though. Again, I'll be better positioned to judge the longevity at the end of next year's riding season.
Here's a photo of the sole on my Sidis after many, many miles just for comparison. The Sidis may or may not win on longevity, but the Klim soles grip significantly better.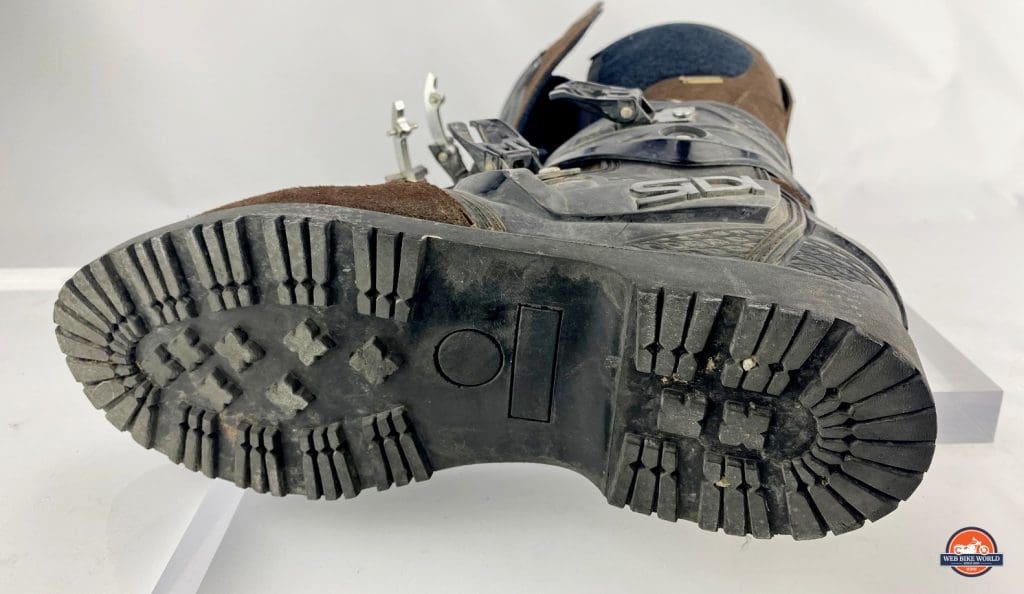 The "Funk" Factor
The lining in the Klim Adventure GTX boots is antimicrobial so even when I get around to doing my "funk-factor" testing I'm confident these won't turn into putrid cesspools that will need to be given a wide berth. Typically my olfactory based testing involves wearing the same socks for 3 or 4 days while out on a long ride. That's plenty enough time to note whether things get too… ripe.
The Joe Rocket Canada boots I mentioned earlier failed this test, but no others I've reviewed have.
The Final Verdict?
I apologize for not being able to complete this review before publishing it. I didn't choose to be born in a land where the motorcycle season only lasts 4 months per year. If I could I would move somewhere warmer. Would anyone like to sponsor a "weather refugee" like me during the winter months?
At this point, I can only see two areas of concern worthy of mentioning, but more may appear later. The short waterproof liner and the overly large toe box (unless you adjust your bike to compensate) are notable examples of how these boots missed the adventure rider target application, in my opinion.
Still, it's looking like Klim has managed to successfully capture lightning in a bottle when it comes to balancing a fairly significant amount of protection encased within a frame that's flexible enough to walk in.
Honestly, for myself, the Sidis are sufficiently flexible to walk in. I prioritize having a full-length waterproof liner and more substantial ankle protection above the ability to go hiking in my riding boots. Let's face it, these are for riding motorcycles, not jogging.
But, the Adventure GTX boots are growing on me the more I ride in them and I'm going to give them a solid chance to win me over next riding season. No question, these are well-made boots with plenty to like about them.
What Others Are Saying
Kyle Bradshaw posted a video not long ago about these new Klim boots. He was chosen to help test out the prototype before the production boots were released to the public. His 5000 miles seem to say they are what Klim says they are.
I hope the insight and observations I've made in this half-baked review will help you better decide which boots should be on your feet.
Pros
BOA system for getting a snug, uniform fit
Two different insoles and insert to provide half sizes
Flexible enough to comfortably walk long distances
Armor within is discreet yet present
Reasonably Lightweight
Michelin rubber sole provides exceptional traction
Waterproof Gore-Tex layer
Competitively priced
Warm layering that breathes well
Cons
The toe box is too thick/tall for easy shifting
The waterproof liner stops 5.5" from the top of the boot
Loose interior lining bunches up
Is there enough ankle protection for adventure riding?
Too warm for summer riding?
The glued-on sole (will it hold over time?)
Specs
Manufacturer: Klim
Price (When Tested): $449.99
Made In: Korea
Sizing: Men's sizes 7 to 14 and no Women's sizes
Colors: Stealth Black or Hi-Viz Asphalt
Review Date: November 2020