Brisbane riders have the chance to go wild on a locally designed WYLD mini electric chopper at the "Launch, Show & Ride EV Expo" at University of Southern Queensland's Springfield Campus next week.
The WYLD is produced by Brisbane-based electric light vehicle company EMoS, formerly known as e-Motion Concepts.
The e-Moped will cost from $A2999 to $A5599 depending on battery size.
EMoS will launch the bike at the event in the USQ's Springfield campus car park of Block B at University Drive, on 12 December 2020, 9am to noon. 
And you can get a chance to have a test ride.
In fact, because it is governed at 50m/h top speed it's classed as a moped, so you don't even need a motorcycle licence. (Mopeds can be ridden on a car licence in  Queensland, Western Australia, South Australia and the Northern Territory.)
Extending the special moped licence to all states is one of the key points of a Two Wheel Action Group petition to state and federal ministers. Click here to read more and sign the petition.
Electric future
While you're at the Expo, you can see and ride the future of electric vehicles with a display of EMoS light electric vehicles (LEVs) to transport people and goods.
Ride Sports will also display their range of e-bikes and the Australian Electric Vehicle Association (AEVA) will have information about electric vehicles and some electric cars on show.
As part of the Australian launch of the EMoS WYLD, the company will give away one of their iLARK three-wheeled personal e-scooters to one lucky attendant.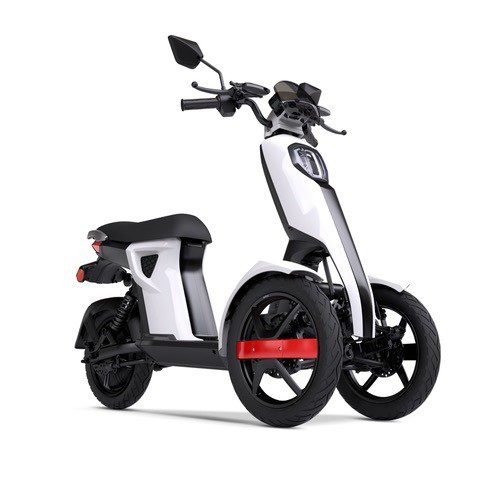 EMoS co-founder Harry Proskefalas visitors will be able to learn more about the coming electric vehicle revolution.
"The venue at USQ Springfield campus is very fitting, with USQ's own commitment to sustainability, such as the 2 megawatt solar project and green transport initiatives," he says. 
The WYLD features a removable battery and you buy a backup 20Ah battery with 80km of range for $600 or a 30Ah battery with 90km range for $850.
It has fat 12-inch tyres, a solo saddle, mini ape-hanger bars, digital instruments and Harley-esque styling in red or blue.