It seems unlikely that Harley-Davidson will go off-road, especially since it has divested itself of MV Agusta and Buell in recent years to concentrate on its core values – heavyweight cruisers.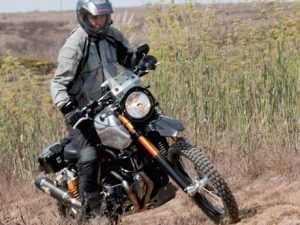 However, in business you never say never and Harley-Davidson has this year struck out with a learner 500cc bike, so who knows what is next. And given the growth in adventure bikes, there could be a market for a dual-sport Harley.
That's what American Jim Carducci thinks. He has developed a business making the dual-sport SC3 Adventure bike out of 1993-2003 model 883 and 1200 Sportsters. He only makes six a year and it costs $US72,000 ($A77,700). He doesn't export at the moment and you have to pick up your bike from his business, Carducci Dual Sport in Sunnyvale, California.
The SC3 Adventure includes a modified Sportster frame, engine, brakes, axle, instruments, oil tank, wiring and handlebars. He adds a skid plate, crash bars, small windscreen, halogen headlight, high fenders, new suspension, chain drive, exhaust, LED taillight and blinkers, rear rack, solo seat, 22-litre tank and, of course, knobby tyres.
"Our bikes are composed 48% with build-to-print components that I designed, 46% spec'ed-in components, and 6% original parts from the Sportster donor bike," says Jim. "So, going to higher volume with those parts is easily do-able and precision reproducible. Our current limitations for high-volume production are the availability of the hand-formed aluminum tanks and also good donor Sportsters. In the near term, we will produce and sell only a few limited customs per year. As we grow and come up with different designs and components, that could change. We are considering our own designed frame and a specced v-twin motor to create a full-custom mono-shock sub 450lb bike.
"For exporting, we currently leave that up to the customer to arrange. We have begun working with the local US Export office on details of how to export our bike to different countries. We've had a fair amount of interest from Australian's through inquiries on our website, the ADVrider forum, blogs, and we've also met and talked to a few at local bike shows. The comments typically are positive; they think this would be a fun bike to ride in the outback."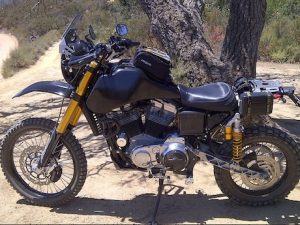 From the video above you can see it rides pretty well with long-travel Ohlins suspension and Harley's very torquey, low-revving engine which should make it ideal for churning through the soft stuff. It weighs in at 215kg dry which isn't out of order with other 1200cc dual-sport juggernauts on the market. With a 24-litre tank, it would make a lot of sense in our vast outback and the only problem we can see is the very high seat of 901mm which reduces to 838mm when a rider is seated.
It certainly looks like a macho beast.
Carducci SC3 Adventure
Price: $77,700Engine: '93-'03 Sportster 883 or 1200
Wheelbase: 1612mm
Rake & Trail: 30 degrees /142mm
Triple clamp offset: 0.71 inch (18mm)
Seat: 901mm
Dry weight: 215kg
Suspension: Ohlins 48mm USD forks, 254mm travel, Scotts steering damper; Ohlins twin shocks, 203mm travel
Wheels: 140/80-18; 90/90-21
Fuel tank: 24 litres