Husqvarna Pilen Helmet Review Summary
Review Summary
Husqvarna's Pilen is is a badass looking helmet that is extremely comfortable to wear thanks to its lightweight design. This not-quite-full-face helmet is well made and comes with some nice features, including a bamboo mesh liner, Zeiss goggles, and a microlock chin strap.
Pros
Awesome design
Comfortable to wear with glasses
Snug fit
Ultra lightweight
Cons
Hard to find (as of today)
The seal with the goggles isn't always perfect
you may be replacing the Goggles fairly often
Husqvarna Pilen Helmet Image Gallery
The Husqvarna Pilen Helmet isn't available in North America yet, but it's coming soon. I figured I should let the cat out of the bag right away before you rush off looking to buy it straight away.
I first learned of it about a month ago while drooling over news of the two, very sexy, naked street bikes Husqvarna is releasing this year in the 701 and 401 Svartpilen and Vitpilen. The bikes were featured on Jay Leno's Garage TV show in February. You can see it here:
Svart is Swedish for black, while Vit means white. Pilen? Arrow.
Husky seems a tad obsessed with archery for some reason… I thought they were more into chainsaws?
That's fine though and the name still hits the bullseye with me. Pilen is pronounced "PEE-LYNN".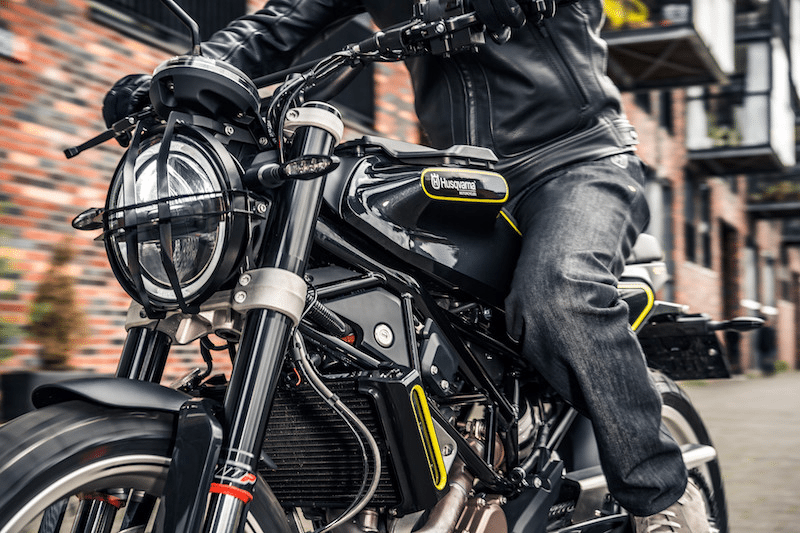 The Arrow Helmet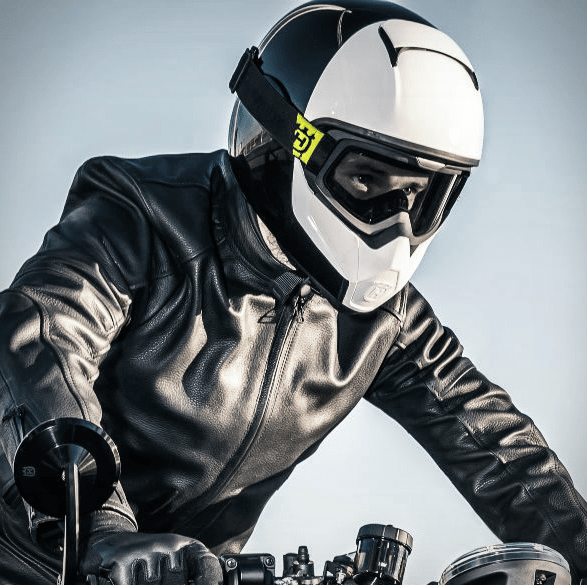 Excited as I am to try out these two bikes, I'm more hot for the matching Pilen helmet Husqvarna conspired with Shark Helmets to produce.
The cranium-conforming fit and stark, two-tone paint job of the helmet really call out to me. It smacks of fighter jet pilot meets Star Wars stormtrooper design and I unapologetically dig that look. I faintly see the Punisher skull logo there somewhere or is it more a Casey Jones-esque hockey goalie mask? Either way, it's very fetching and draws plenty of looks.
I unbelievably managed to get my hands on one of these Pilen helmets through pure, dumb luck last week and have spent some time getting to know it since.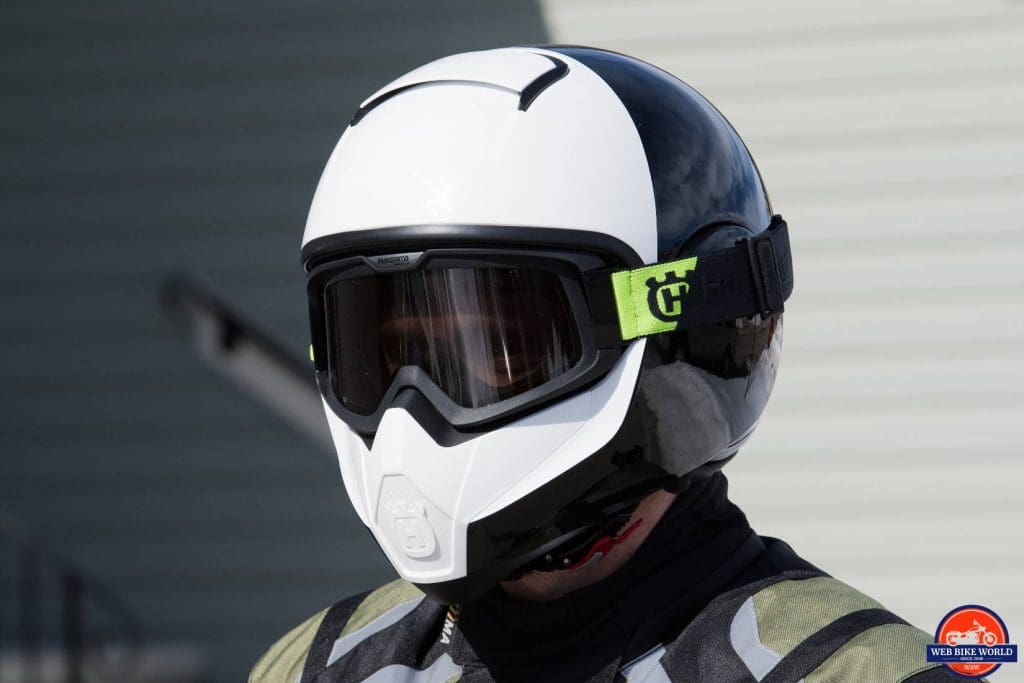 Design Features
---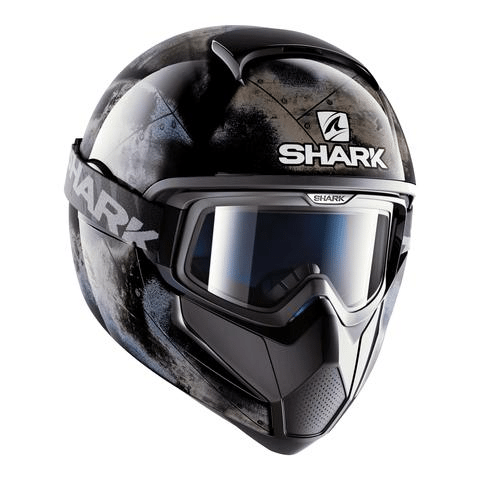 If the Pilen looks familiar to you there's a good reason for that. It's really just a Shark Vancore helmet with a different paint scheme and the Husqvarna logo stamped on it.
WebBikeWorld didn't review the Shark Vancore when it first became available in 2017, so this is two birds with one stone, hands-on review. You can watch Revzilla gear guru Anthony in this video go over the Vancore features, along with his likes and dislikes:
Outer Shell
---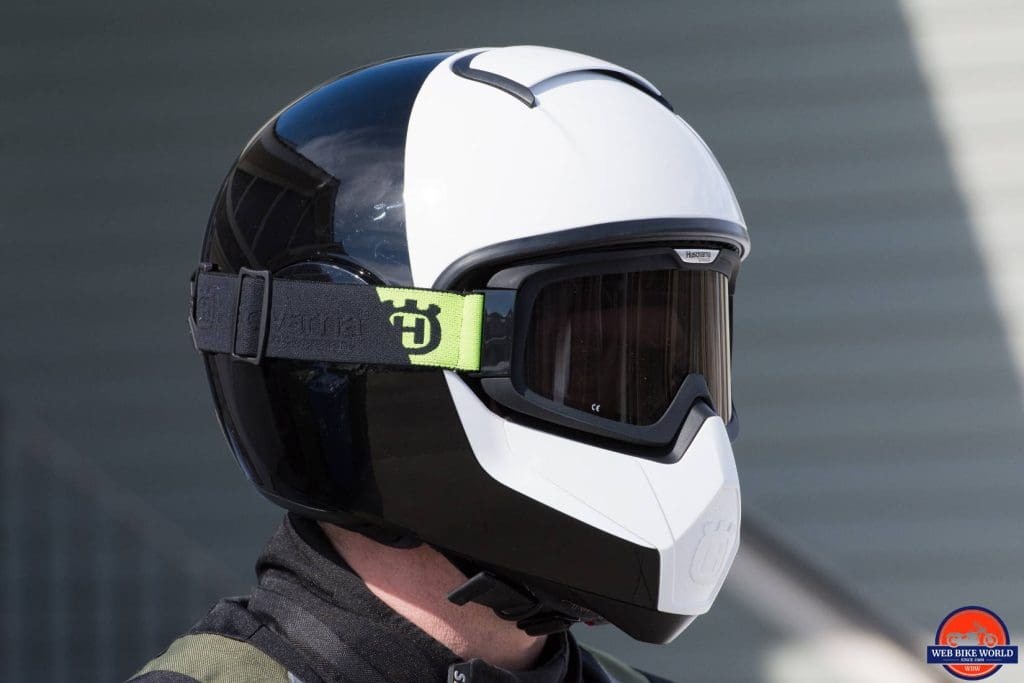 This Round Oval shaped helmet has an all fiberglass shell making it impressively light. It weighs in at just a smidge over 3 lbs. I swear it feels lighter on my head than even my shorty open face helmet does.
It comes available in several sizes: XS, S, M, L, XL, and XXL.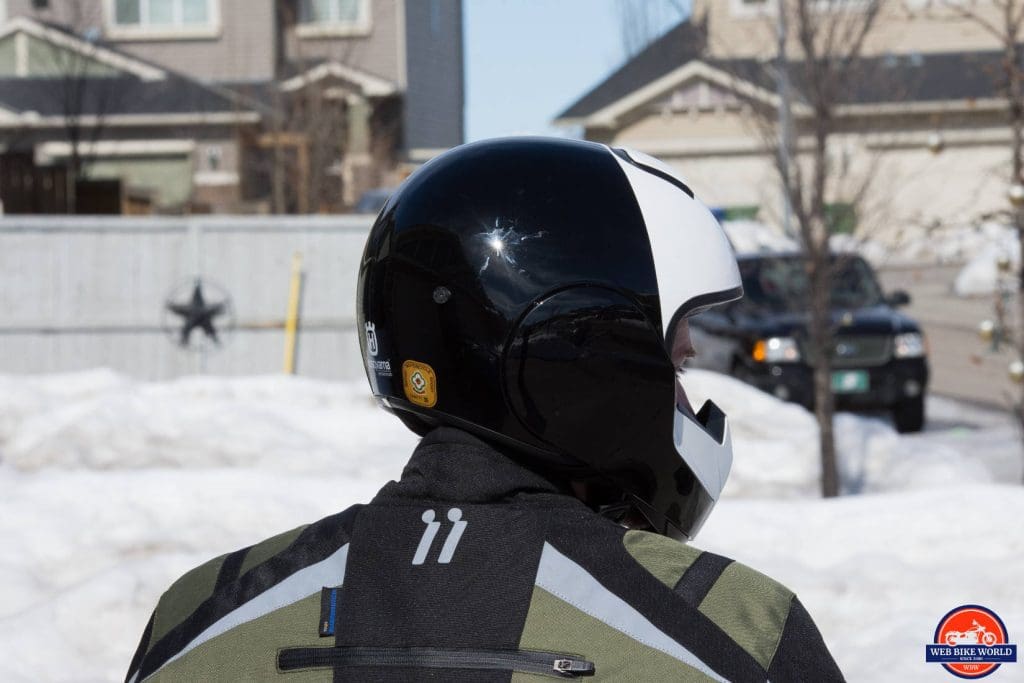 There's a seam separating the chin bar section and the main helmet portion that screams modular design, but it's only an illusion. This is a static design helmet with no pivoting chin bar assembly.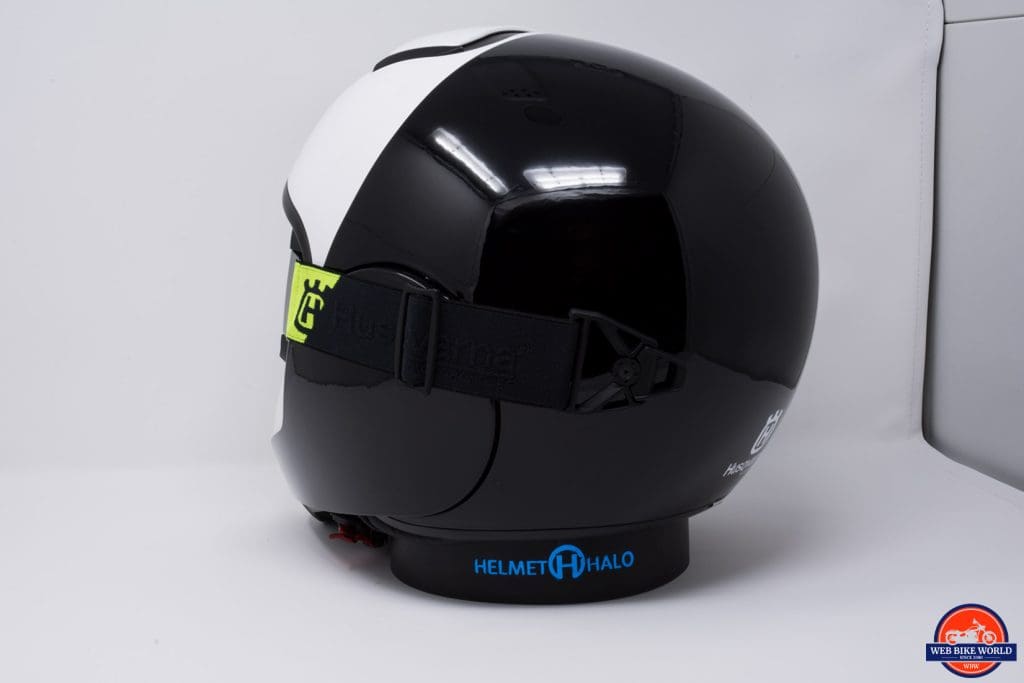 Full Face Helmet?
---
Even though the Pilen is advertised as full face, the chin bar area has only very thin foam on it and I doubt would pass any kind of serious stress test from what I can tell handling and examining it. It's not flimsy or cheap feeling but just doesn't seem overly beefy compared to typical chin bars.
Protective ability is better than a ¾ helmet design would be without a doubt because the chin bar is anchored to the helmet's main frame, but I don't see it being a legitimate face protector when the fiberglass hits the road if you know what I mean.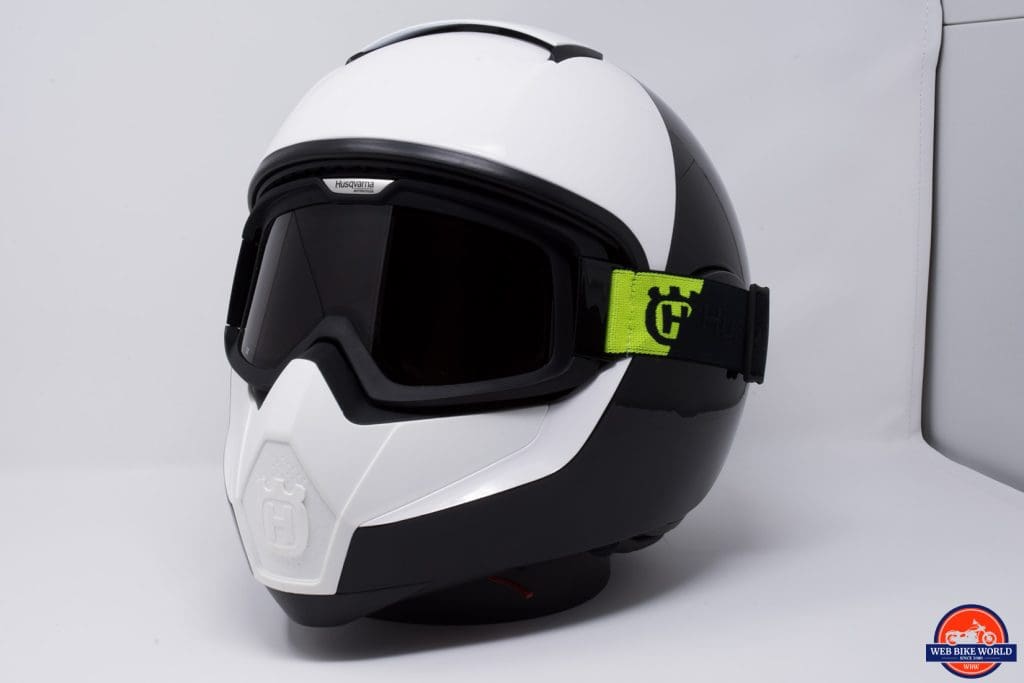 This helmet is ECE 22.05 and DOT approved of course, regardless. You can wear it confident in its ability to protect up to those excellent standards.
Fit and Comfort Factor
---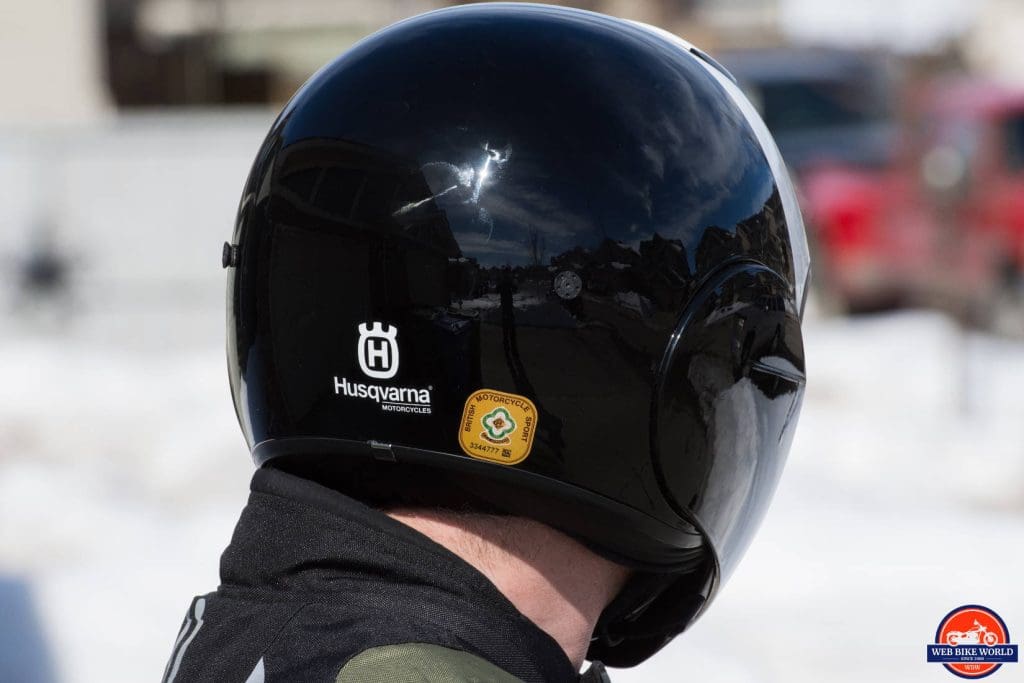 My head shape is more suited to an intermediate oval design but this Pilen feels perfectly snug and comfy once I get my noggin seated in it. The size and shape really follow the jawline and base of the skull closely making it feel almost at one with my head. It's the most comfortable helmet I've ever worn to this point.
My head measures 23 inches around above the ears and eyebrows. That puts me just between Medium and Large in most helmet sizes. Most often I choose to go with the smaller size of the two. The Pilen is no different and the Medium fits me perfectly with no pinching or hot spots to talk about.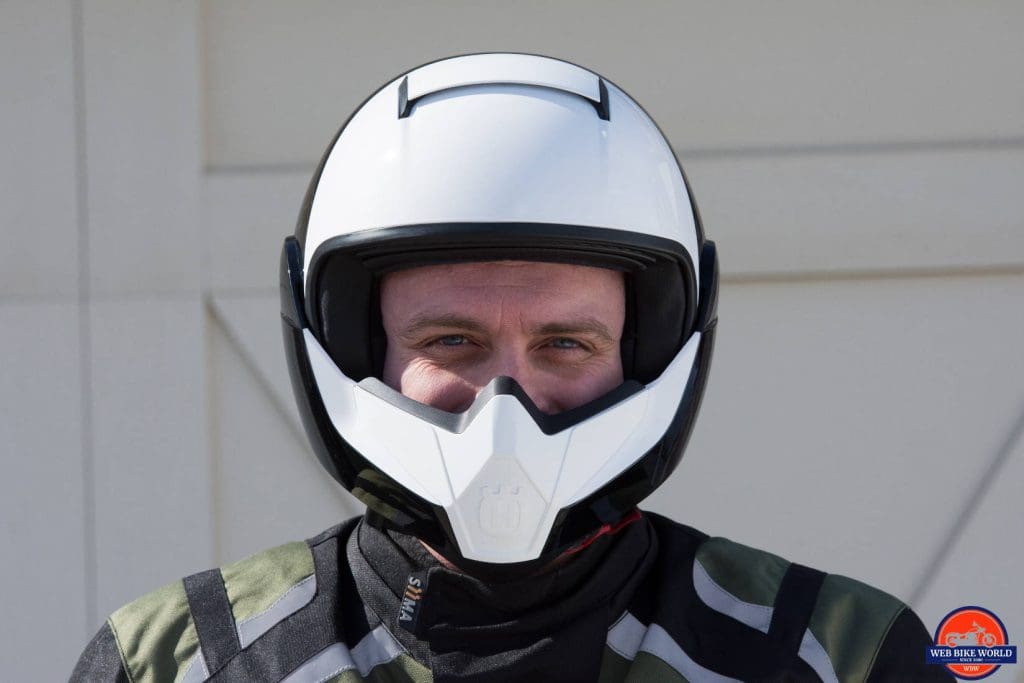 The close fit which I love also can be a bit of a pain when donning it if you are blessed with a super-sized snotlocker as I am. I find when I pull the helmet on, the chin bar unavoidably gives my nose a bit of a flick in passing and the padding around the ear area catches my listeners and folds them up like a lawn chair, flat against my head. Happily, there's enough give in the foam liner to get my fingers in to sort things out with little trouble.
If you are claustrophobic then you may not care for this close-fitting Pilen.
Peripheral Vision
The goggles do cut off a bit of my peripheral vision, but not enough to be a problem doing shoulder checks or watching for suicidal deer coming up out of the ditch to say hello.
Liner Material
The EPS foam layer is just over an inch thick and grooved deeply for airflow from the top vent over the crown of the head and down the back of the skull where it then exits out the bottom.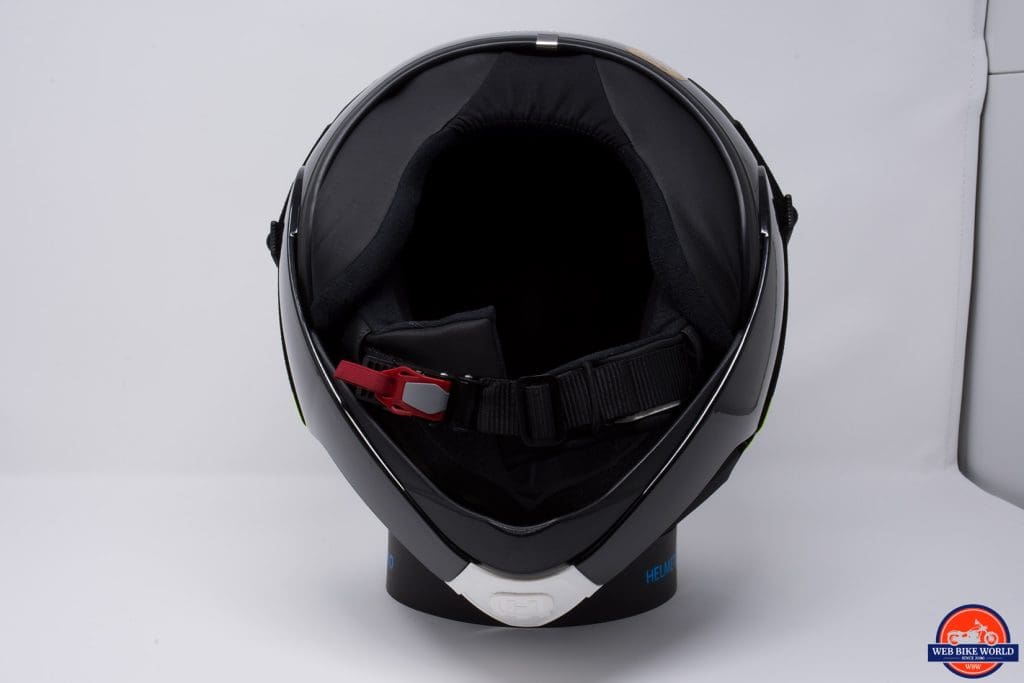 There is soft, felt material on the brow and cheek areas along with bamboo fiber, mesh textile everywhere else that naturally wicks moisture away and resists bacteria and mold growth.
The washable liner and cheek pads are held in place with velcro strips and plastic tabs. Both are fairly easily removed and installed although when I pulled out the main liner from my helmet one of the velcro pieces that is supposed to stay attached to the shell appeared along with the liner.
I spent some time carefully unfolding it and reinstalling it back in the small gap between the outer shell and the foam.
Air Flow
---
There's a large vent on top of the helmet that can be opened by sliding the whole piece backward. The 2" x 5" vent is easily opened and closed with a gloved hand compared to the small switches found on many other helmets. This vent does seem to flow air quite well despite the lack of openings at the center of the outer shell at the back of the helmet.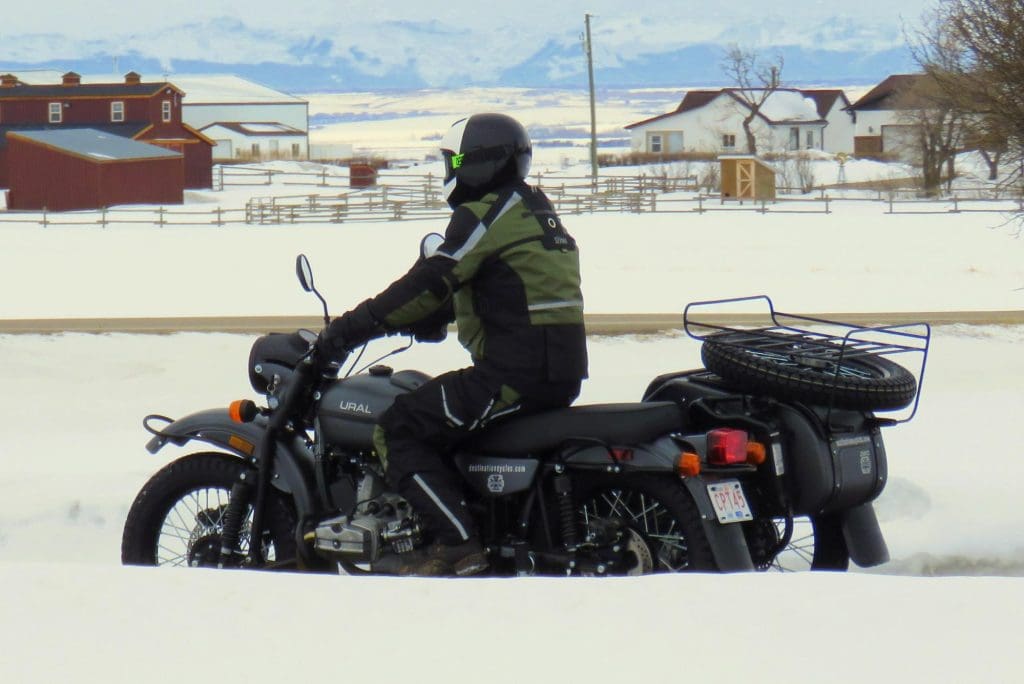 The Pilen was surprisingly warm despite the frigid temperature I tested it in. A small amount of air came up from under the chin bar and ever so slightly around the goggles despite the flexible rubber liner they seat against.
On warmer days I'm sure this would be welcomed, but short of trading the goggles for sunglasses, I don't see a way to increase airflow through the helmet if you're a really sweaty individual. I'm not, so I think I will get along just fine with the Pilen in the summer.
Wind Noise
It's not a superbly quiet helmet, but it's also not what I would label noisy. I found it quite good, but I'm not the best judge since wind noise has never bothered me from helmets others have complained about. My Harley Davidson FXRG modular helmet which I would call noisy (built by HJC) creates a noticeable wind roar at highway speed others would avoid, but I still wear it.
The Pilen has more of a swish sound to it at the same speed comparatively.
I think I may have bumped the goggles out of line at one point while playing with the air vent and caused a faint whistling noise to appear suddenly. I noticed that when I tilted my head down I heard it, but when I held my head straight on it would disappear. It may have actually been coming from the air vent not being completely closed, I'm not totally certain.
Quick Release Goggles
---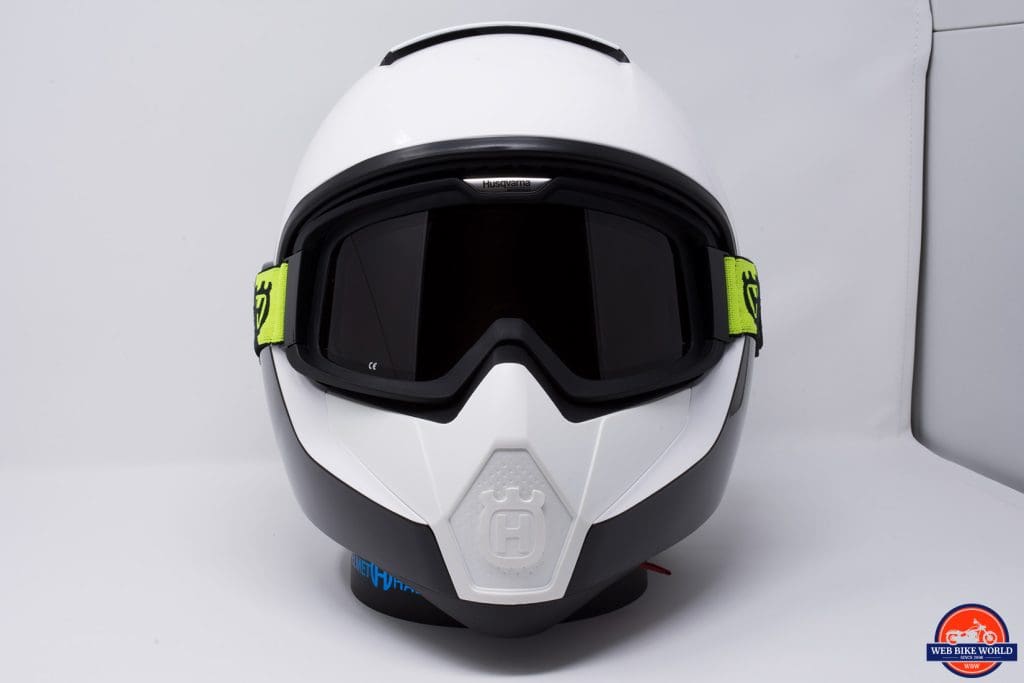 The goggles are excellent quality and other than the uber cool overall look (reminiscent of Jason from Friday the 13th?) are the best thing about this helmet.
Made by Zeiss, the double-panel, scratch and impact resistant lens is beautifully distortion free, flexible and coated with a fog resistant chemical I found highly effective.
I wore them on about a 40-minute ride in below freezing temps (26 degrees F) just standing around, riding in traffic and at highway speed without even a hint of fogging.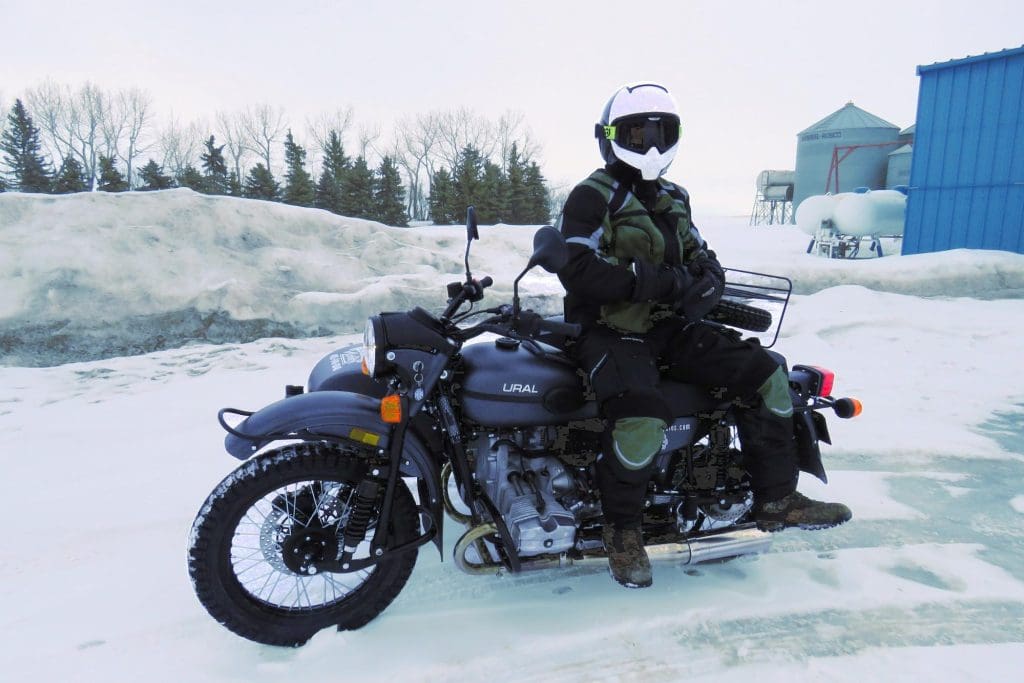 Foam and Seal
The foam and rubber around the lens stayed flexible even in the cold and as I mentioned only leaked a tiny amount of air.
I would like to test them again in rain to see whether water would leak through, but at this time of year, we're more likely to get snow so that'll have to wait for a further review. They likely would seal much better when used in typically warmer motorcycle weather.
It's worth noting that another reviewer of the Shark Vancore on the Revzilla site didn't mention any rain leaking through but did find after extended use the goggle foam deteriorated badly, so fussy owners will likely be replacing the goggles yearly to keep them fresh. See their review at the bottom of this page.
Glasses Friendly Design
There's plenty of room to wear prescription glasses in this helmet and the goggles will isolate them from your breath perfectly to keep from fogging up too.
Lens Tinting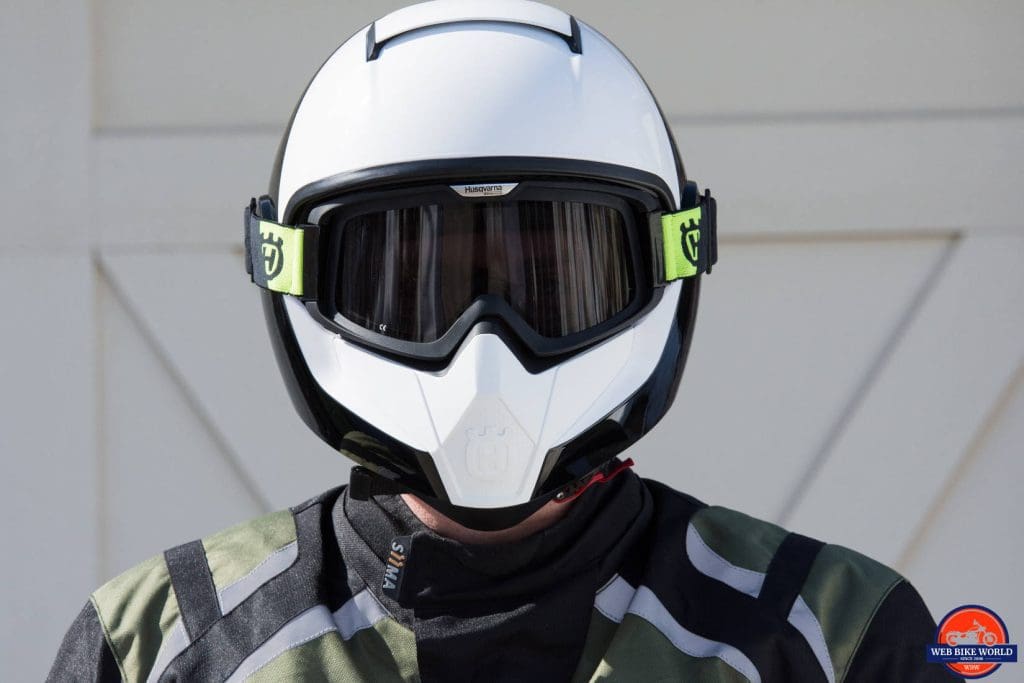 The tint of the lens didn't bother me even on an overcast day, but in the owner's manual, it says it's too dark and not suitable for night, dusk or fog riding situations.
Clear lenses are available from Husqvarna/Shark from what I've read.
Weakening Latches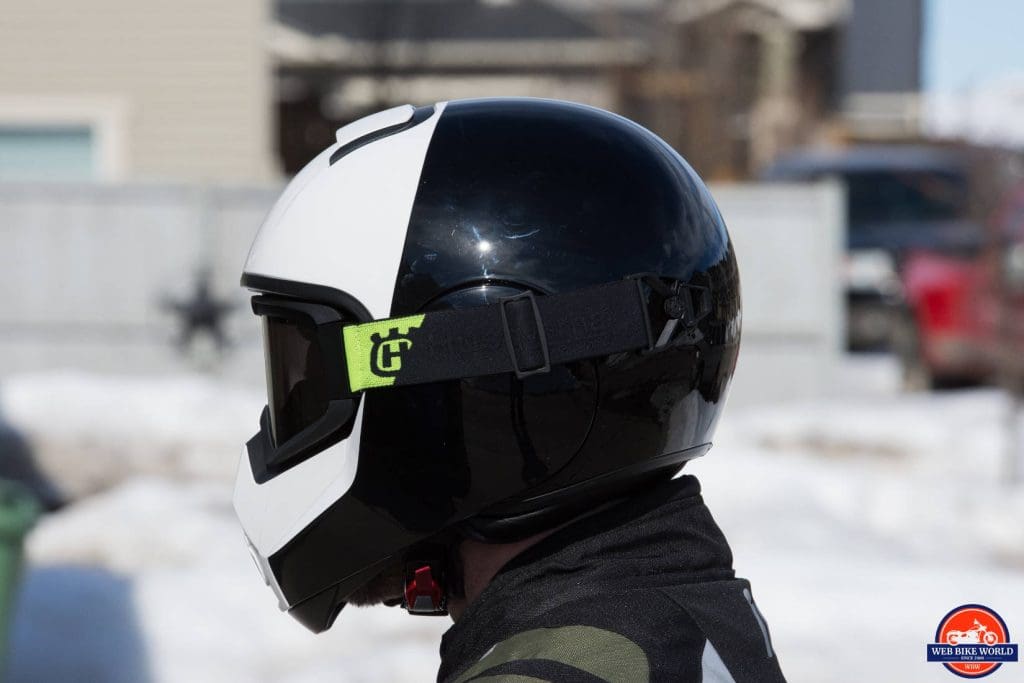 The quick release lever is on the left side latch and works well to put on or take off the goggles. Undoing the left side leaves the goggles dangling from the right side anchor point and it might be better to leave both sides connected and lift them up to the forehead area instead.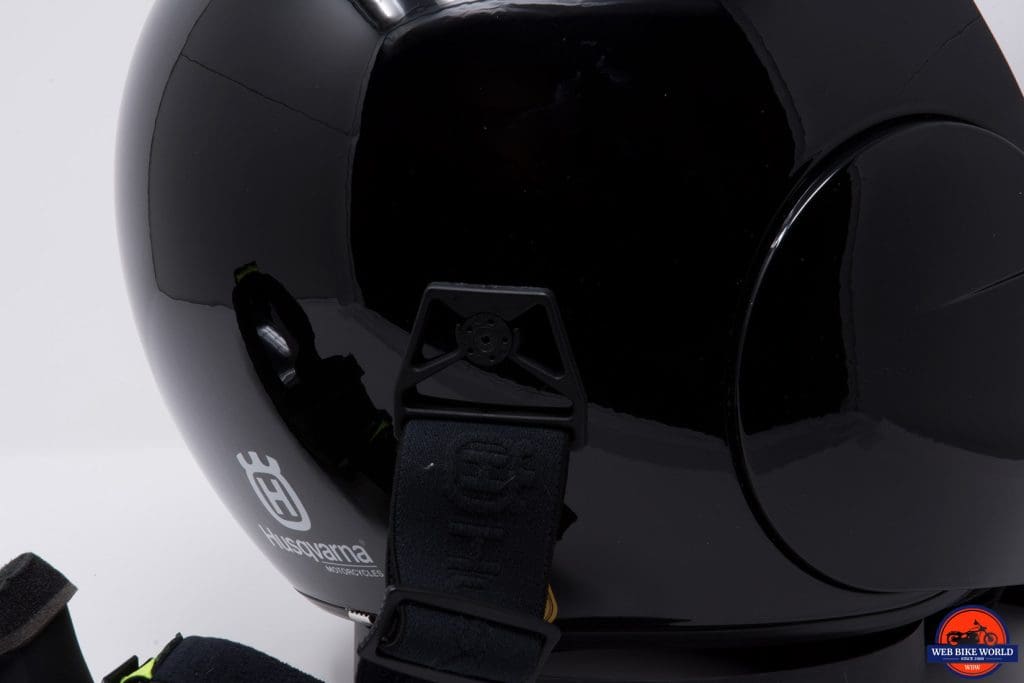 The reviewer on Revzilla I mentioned earlier found that with age the quick release would let go with less and less effort or hand contact, but never opened up while riding the bike thankfully.
There is an adjustment on each side to loosen or tighten the elastic material if desired.
Microlock Ratcheting Chinstrap
---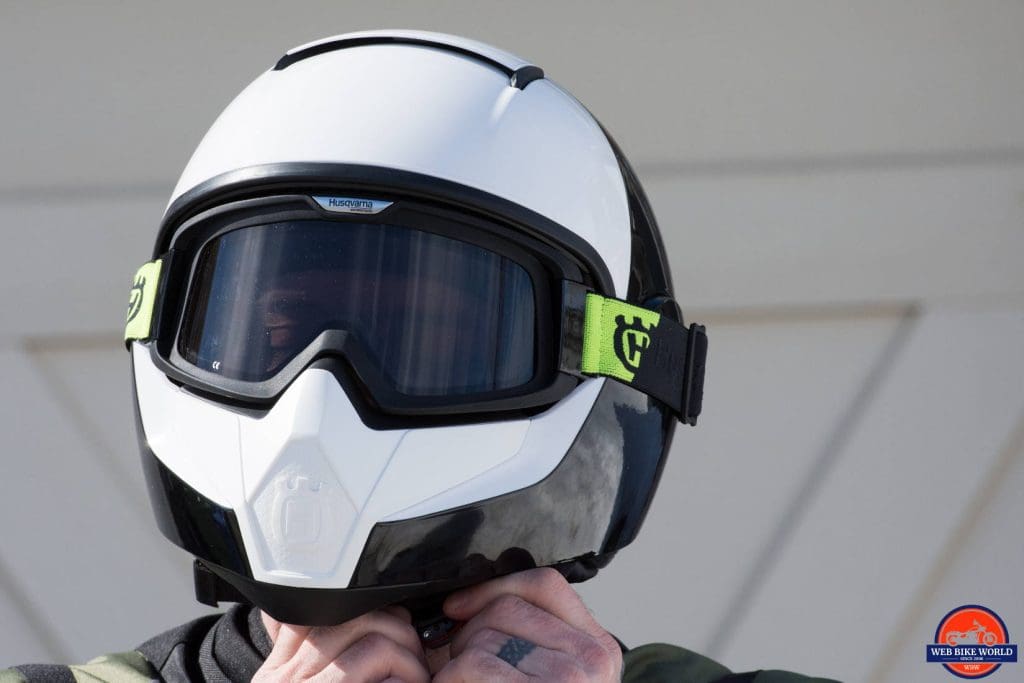 This is such a great selling feature for me and endears me to the Pilen design.
The double D ring chin strap system works great but is irritating for me to buckle and unbuckle while in comparison the Microlock system literally can be cycled ten times faster. When taking the helmet off you only need one hand to undo the latch and that is a big feature in this helmet.
I know some people feel strongly that D rings are the only way to go in order to feel a helmet is on securely, but there's no evidence to suggest the Micolock ratcheting style chin straps are inferior.
SHARKTOOTH Bluetooth Entertainment System
---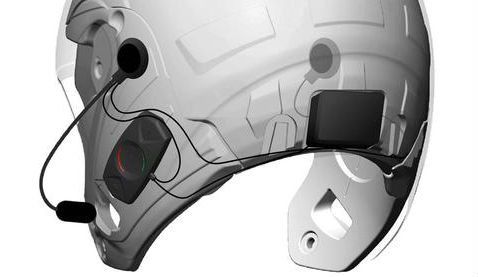 The Pilen has three cavities built into the EPS tailor-made to install the SHARKTOOTH entertainment system.
SHARKTOOTH isn't packed with as many fancy features as say the SENA 30K is, but if you just want a basic system to let you listen to music, answer your phone calls, communicate with another motorcycle or passenger and follow your GPS this is a good one. It will fit perfectly in the helmet other than the exterior control unit, but even that is built with a very low profile and less bulky than many other systems are.
It's somewhat more affordable too at $250 new.
Other Bluetooth systems can be used with the Pilen as with any other helmet.
The Verdict
---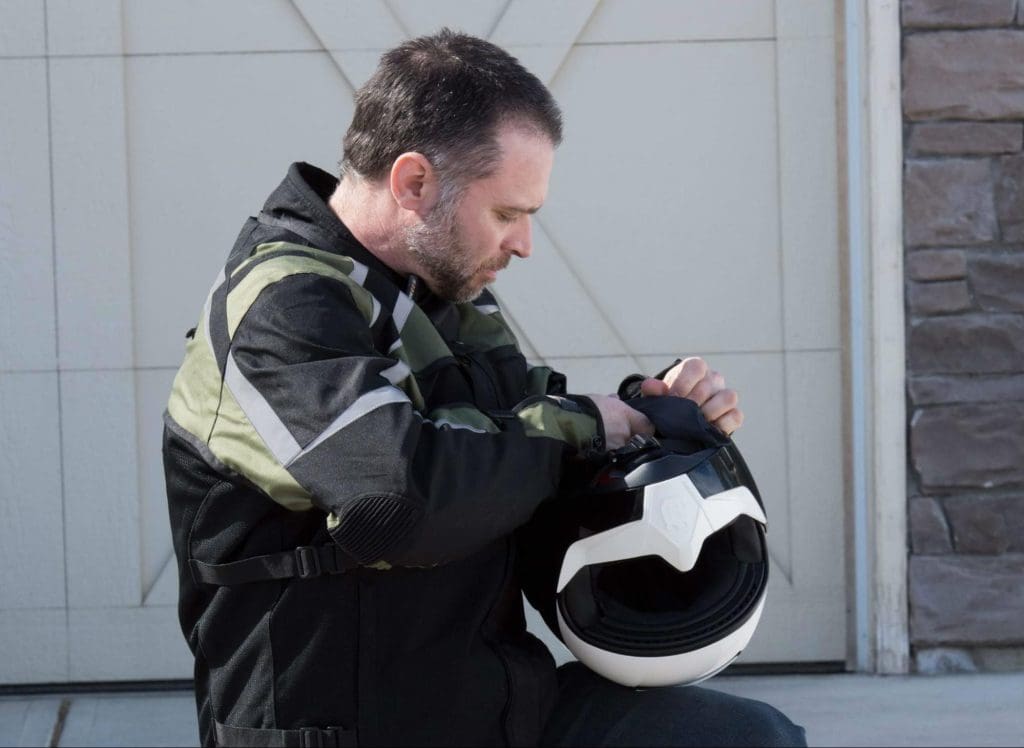 The Pilen is a compactly designed, handsomely simple and straightforward helmet complete with some appreciably nice features. The ultra lightweight, bamboo mesh liner, microlock chin strap and Zeiss goggles are a big draw. It's original, has the panache of a Cobra Commander helmet and who can deny that character's sense of style?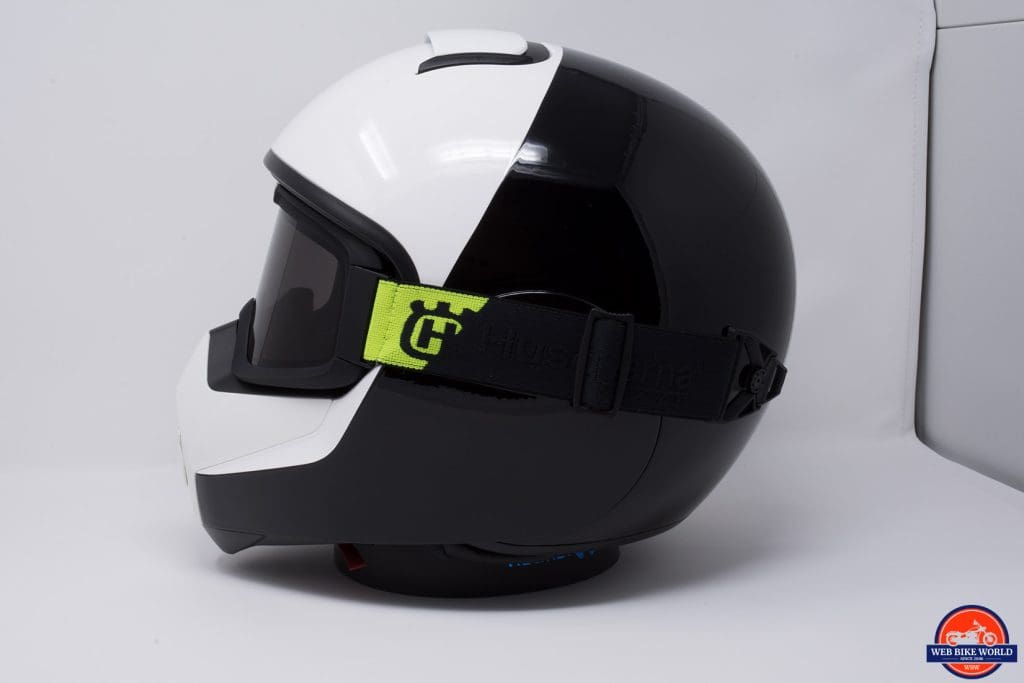 It could possibly use better rear exhaust venting, a sturdier chin bar, better quality foam seal around the goggles with a clear lens, but there isn't really a whole lot to be unhappy with from the field testing I did with it.
If you're a big Husqvarna fan celebrating the arrival of the new street bikes then you might be willing to pay more for the brand name helmet the Pilen is. Pricing in North America hasn't been released yet, but you can expect it to be close to the $400 mark based on European pricing.
If you don't desire the matching Husqvarna helmet to complete an ensemble with your new Husky 701 or 401 bike, there is, of course, the Shark Vancore option. I would definitely point you towards it instead of the Pilen since you'll get what amounts to the same helmet for $100 to $150 less.
Specs
Manufacturer: Husqvarna
Price (When Tested): Estimated $400
Made In:
Alternative models & colors: SHARK Vancore
Sizes: XS / S / M / L / XL / XXL
Review Date: April 2018
Pros
Awesome design
Comfortable to wear with glasses
Snug fit
Ultra lightweight
Cons
Hard to find (as of today)
The seal with the goggles isn't always perfect