The 2000s were a great decade for me in many ways, but they totally sucked from a motorcycle ownership perspective. I was working hard to ensure food was on the table for my two young sons, and I had to get my riding fix by borrowing my brother's Gixxer or my father's Goldwing. Still, there were a lot of amazing bikes out there that I didn't have access to—and today, I'm going to write about them.
Choosing the best motorcycles from any decade is always a challenge, and I am fully preparing myself for this article's comments section by donning a flame suit. Yes, I have already revealed a couple of bikes that I must include—but let me know your thoughts; what did I miss? What bike released between 2000 and 2010 gets your heart rate up?
These 10 bikes are the models that always had me stopping to look at bike shows each year and wonder if my kids really needed three meals a day. Clearly, I was able to prioritize.
To the list!
2000 Suzuki Hayabusa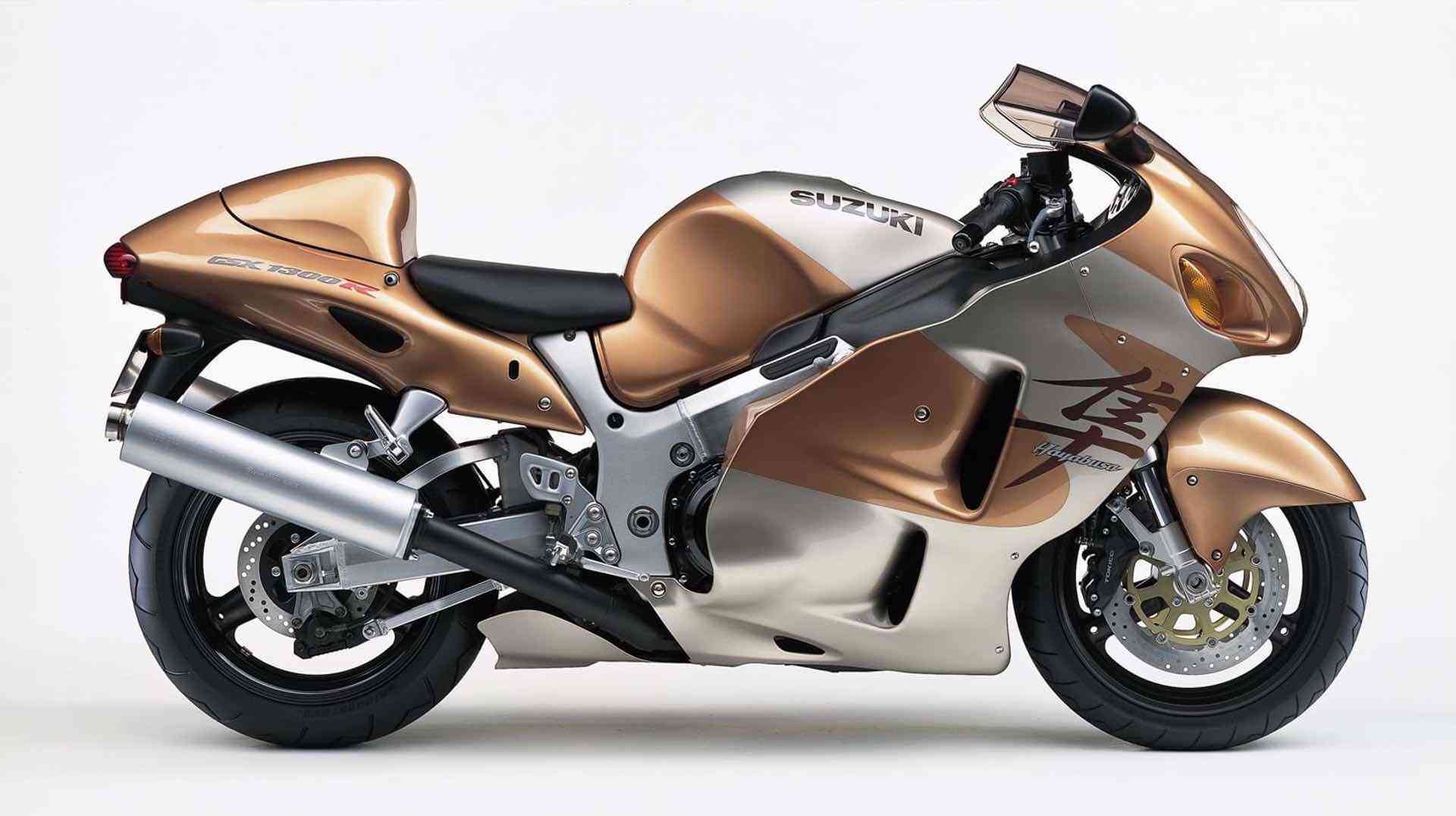 Via Suzuki.
Introduced in 1999, this 1299cc missile was instantly the fastest production motorcycle on the planet. Others tried to chase the title, but the big bad 'Busa will forever be linked to the title of "fastest".
Now, to be the best (in my opinion) takes more than just doing one thing really well. Fortunately, Suzuki also fit stout brakes, a capable suspension, reasonably comfortable ergonomics (for a missile), and surprising reliability into the Hayabusa.
Top speed turned into top sales, and in 2008 the second generation Hayabusa was delivered. Every element of the bike got a performance enhancement—more muscular bodywork, more cc's, and more speed cemented this bike as absolutely one of the best of the 2000s. And the 2021 Suzuki Hayabusa is pretty great, too!
2001 Harley Davidson VRSC (VRod)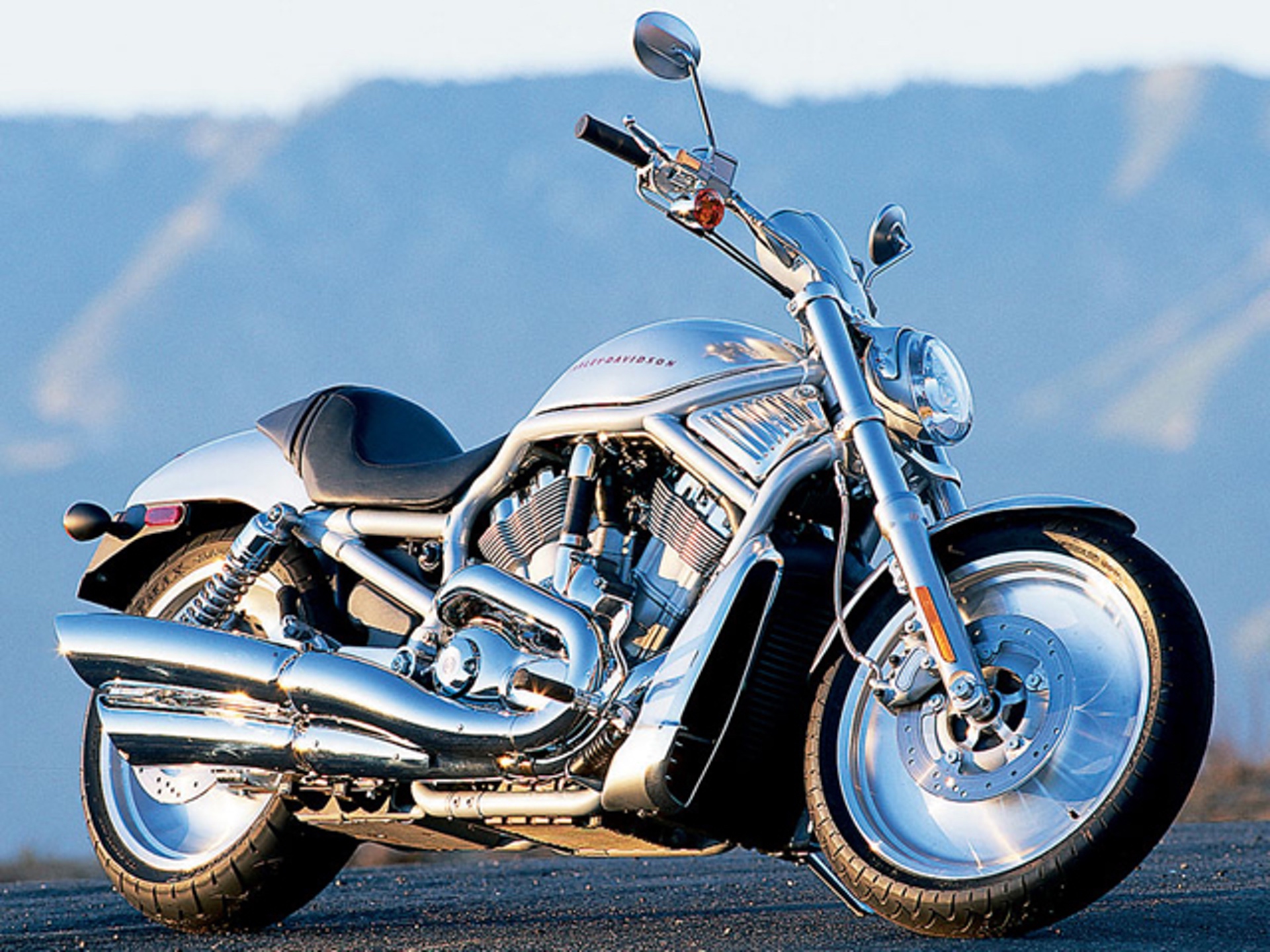 Via Harley Davidson.
Harley Davidson is as much a culture as it is a motorcycle brand—and moving into Y2K, the brass at HD was keen to find new customers. To draw in those new clients (and preferably younger ones) meant taking on one of the main criticisms of the brand: poor performance. Nobody knows performance quite like Porsche, so HD reached out, and the resultant engineering output was the Harley Davidson VRod—with an all-new 60-degree V-twin Revolution engine.
The Harley-Davidson VRSC (V-twin Racing Street Custom), or V-Rod, was everything the brand had never been before: sleek, light, and powerful. The frame was now hydroformed, the fuel tank was plastic (and under the seat), and the traditional tank location now held the airbox and battery.
The Revolution engine made some serious ponies—115hp to be exact—and could spin up to 9000 rpm. If it wasn't for the HD badge, customers would have no idea who made this unique motorcycle.
For the HD faithful, the usual lineup of 45-degree V-twins remained—but for all those that never thought they wanted a Harley, the brand kept VRod's in production for the next 17 years. That, my friends, is an epic run for this badass muscle bike.
2001 Honda Goldwing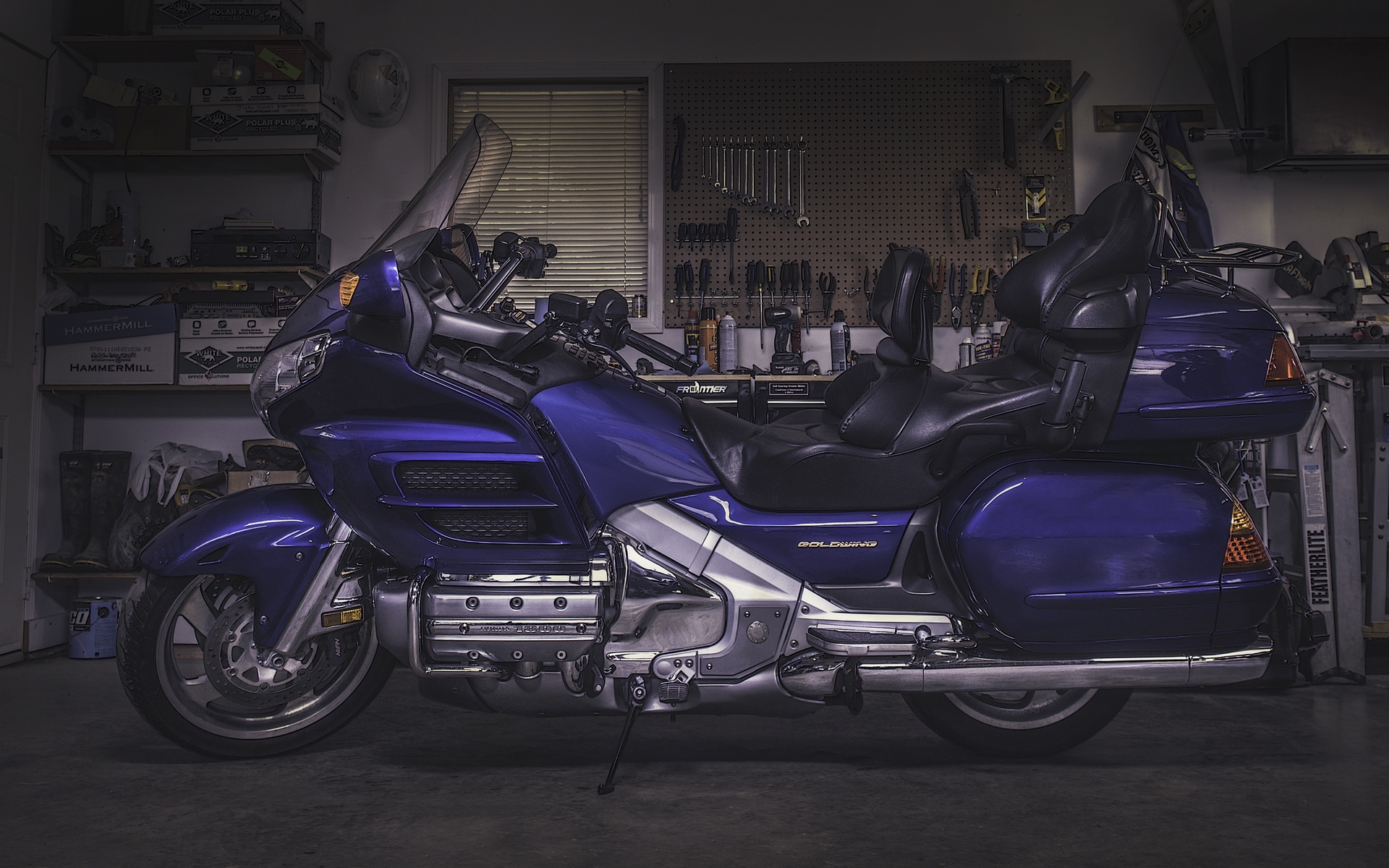 Via Bookstrucker.
Messing with your flagship model can be a tricky task but Honda knew there was little choice. The traditional Goldwing owner was beginning to age out. Turning the engineers loose with a long list of must-haves, what they created for 2001 was nothing short of game-changing.
Starting with a sport bike-like aluminum beam frame, an all-new 1832cc six-cylinder, flat, boxer-style engine making 120hp and 123 lb-ft of torque completely transformed what riders could expect from a full-dressed touring machine. Bikes from Harley Davidson and BMW (or any other manufacturer actually), were suddenly very underpowered by comparison and in the mirrors after the first turn.
The handling traits of the new 'Wing set expectations so far in a new direction it actually became difficult to make a reasonable comparison to any other fully loaded touring bike. 850lbs has never felt so tempting to drop into a corner like this.
I fully admit my fanboy status for the 2001 Goldwing. The images used for this article are of my father's 'Wing, a bike that will live in my garage forever. I rode it shortly after he brought it home in 2001, and I was shocked at its capabilities. 20 years and 45,000 km later, the bike is flawless and still gives me an unmatched smile when I ride it each summer.
To see what the brand has done more recently with this classic model, check out the 2021 Honda Goldwing.
2001–2005 BMW R 1150 GS Adventure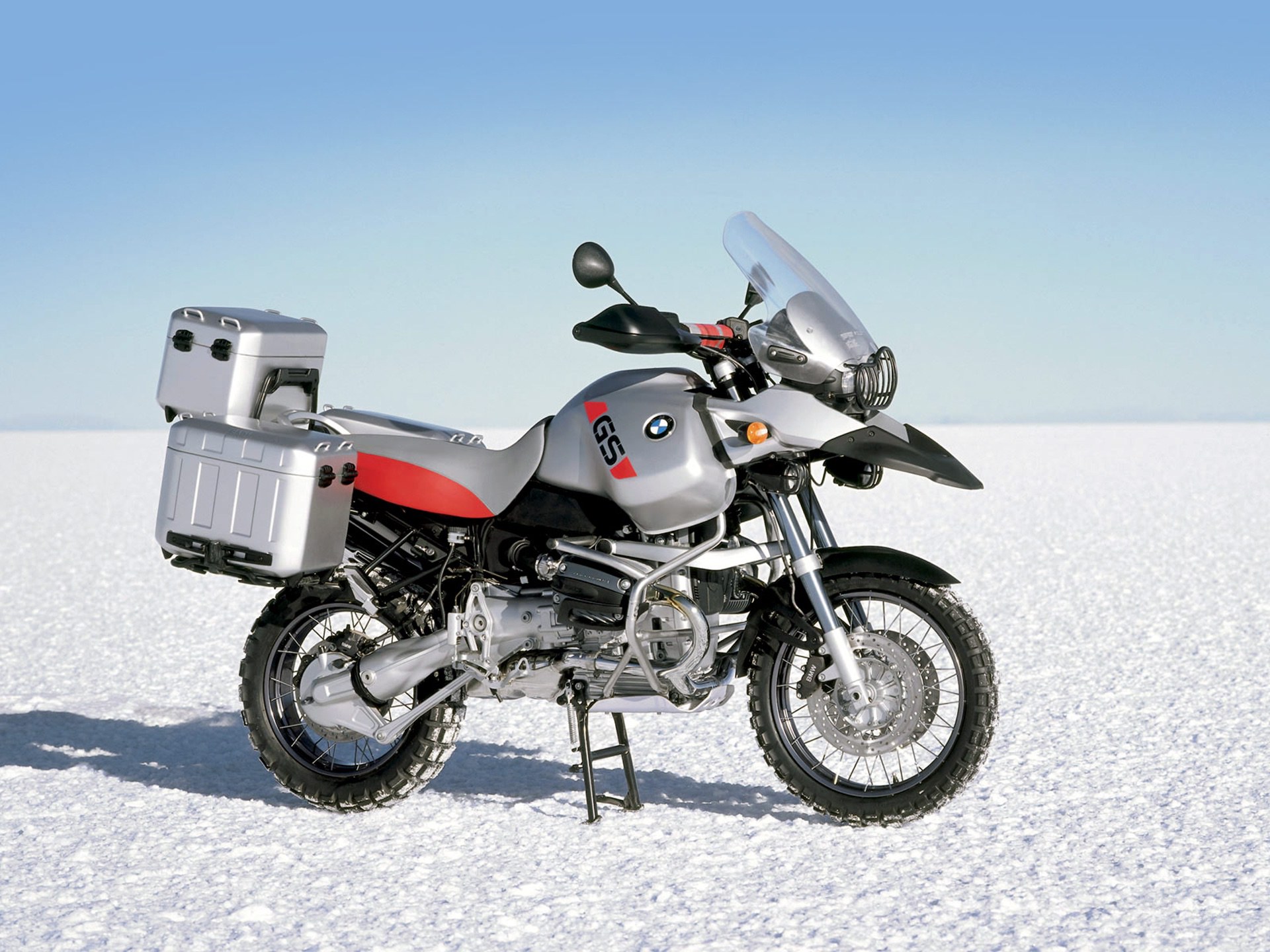 Of all the cult-like followings belonging to certain motorcycles, the BMW GS dual-sport/adventure bikes have one of the largest. But this devout following is well-deserved, and cannot be explained from a spec sheet alone.
Not especially powerful, the 1130cc boxer twin has the torque on tap every time your right wrist calls for it. The gearing and grip, when combined with the high perch and wide bars, somehow come together in a unique mashup of engineering to deliver a precise and shockingly nimble set of off-pavement skills.
The BMW R 1150 GS Adventure had a number of differences from the standard GS to make it more suitable for adventure travel. These included an optional 30-litre (6.6 gal) fuel tank, a larger screen, a single-piece seat, 20 millimeter (0.8 in) more suspension in the front and rear, a lower first gear, and a conventional sixth gear in place of the standard model's overdrive gear.
An anti-knock sensor adjustment change allowed the adventure version to run on lower-quality gasoline as well. Common options on both models were heated hand grips and ABS brakes.
Cementing its place amongst the best, the R 1150 GS Adventure was ridden in 2004 by Ewan McGregor and Charley Boorman during their epic 30,000km journey in "Long Way Round."
2002 Honda CRF450R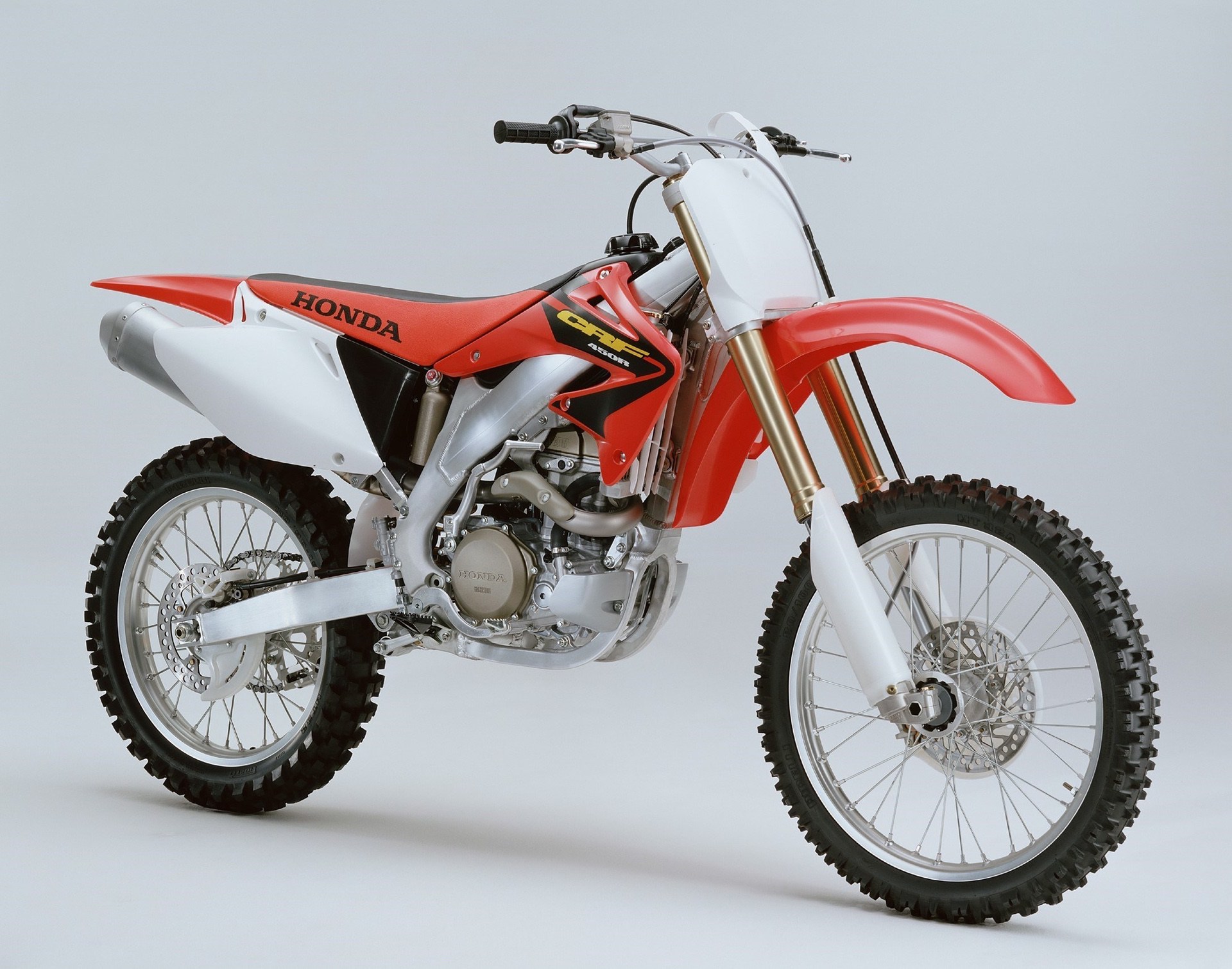 Via Honda.
Yamaha had a huge lead in the world of big displacement 4-stroke MX bikes coming into the 2000s—but in 2002, Honda hit back with a game-changing bike. It would probably have been a simpler proposition to make a team red clone of the Yammy YZ400F, but Honda went for a full clean sheet rework and delivered the CRF450R. It's a big bore 4-stroke with weight and handling that rivals the 250cc 2 strokes of the day.
Every major complaint of the competition, Honda addressed. With a light and strong chassis, fast throttle response, capable suspension, and compact ergonomics, nothing was ignored and over the next few years, the CRF450R was the bike in the garage of every weekend track junkie. Delivering a major hit to the high-strung 2-stroke race bikes, Honda completely changed what riders could expect from a big bore 4-stroke.
2002 Yamaha FJR1300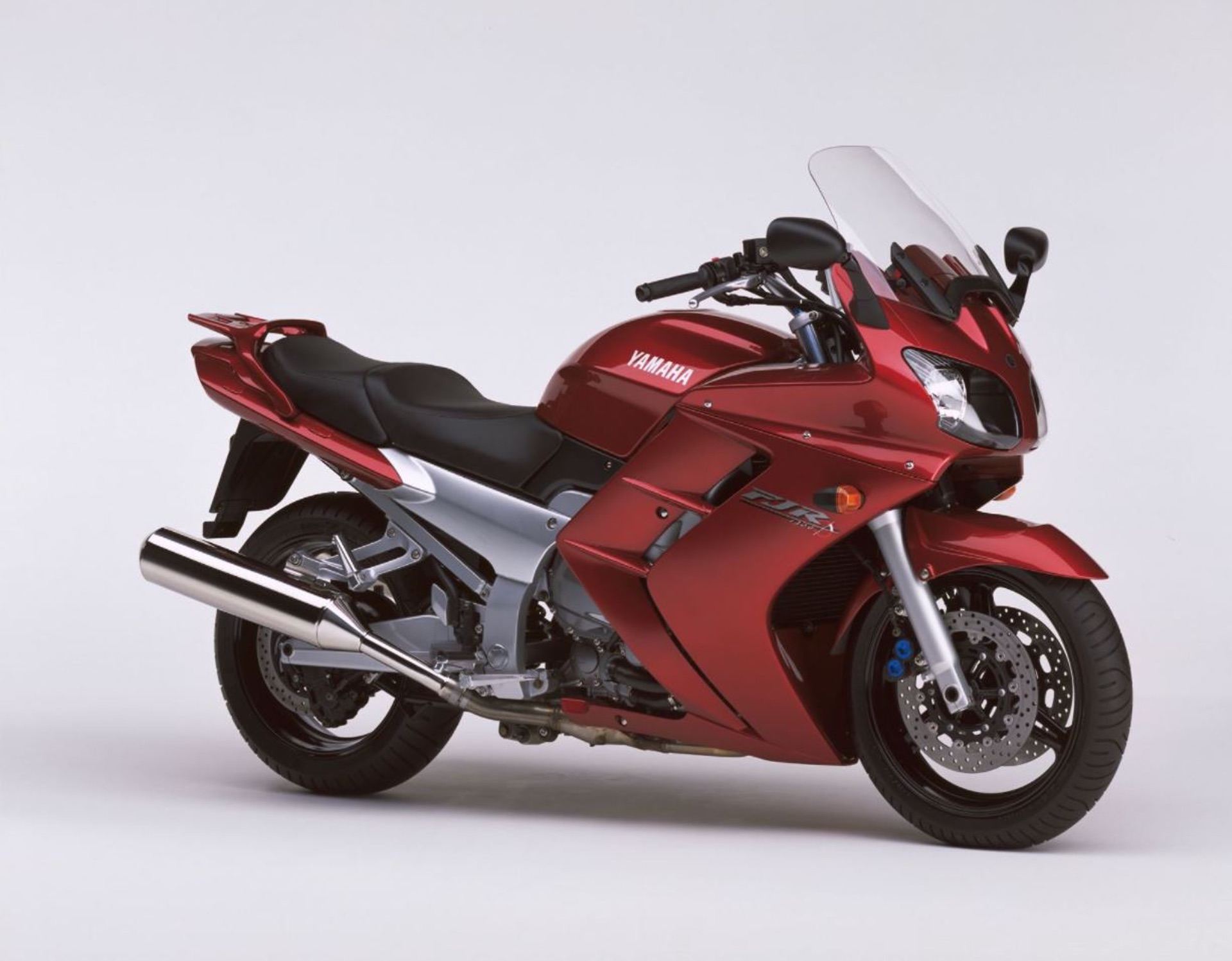 Via Yamaha
Europe saw the Yamaha FJR1300 in 2001, and instantly North Americans were begging for it. Yamaha has always been a producer of excellent engines, and the 1298cc transverse inline-four rewarded pilots with 144 hp and just shy of 100 lb-ft of torque. Other sport-touring machines may have had a few more bells and whistles, but the FJR focused on being a superb corner-loving, mile-eating ride.
Reliability and capability are the hallmarks of the FJR1300. High-speed 2-up riding is aided with the electrically adjustable windscreen, plush seat, 6.6-gallon fuel tank, and slick panniers. The engine and 5-speed gearbox are mated to a drive shaft encased within the swingarm, which has mono-shock suspension and a remote quick-set two-position adjustable pre-load.
I love this quote from Cycle World when they named it as the best sport-touring bike of 2002 (and also 2004): "The FJR combines cruise-ship comfort with a motor that would probably propel an ocean liner at a good clip, all wrapped in a classy-looking silver package." I would agree—there is not another sport-touring machine from the 2000s that can match Yamahas FJR1300.
2004 Triumph Rocket 3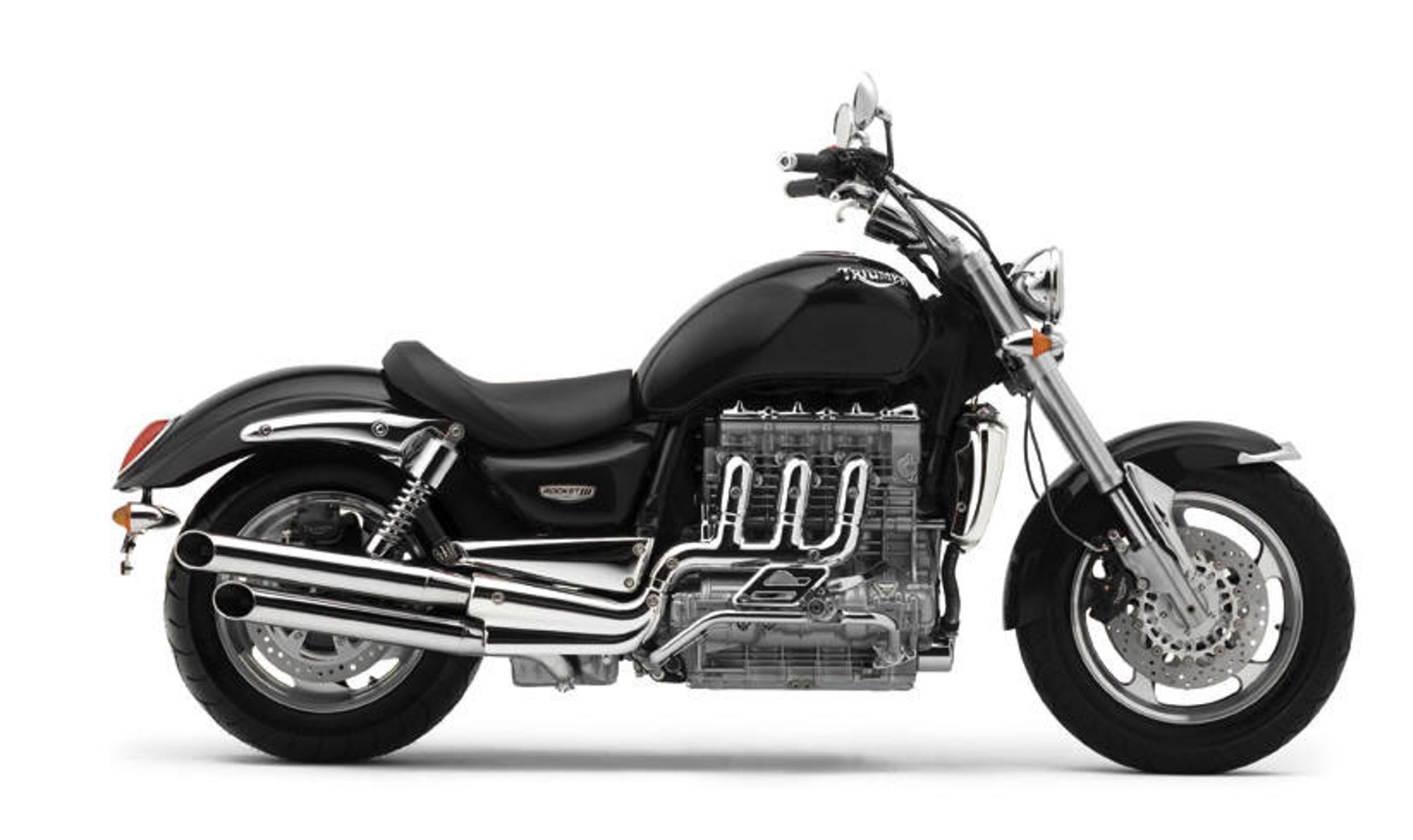 Triumph simply blew everyone's minds with the introduction of this beast. With 2294cc and nearly 150 lb/ft of torque from three massive cylinders, say hello to the Rocket 3!
Walking around the Triumph Rocket 3 reveals all sorts of unique bits. The front dual headlights, wide forks, and relaxed handlebar position seem aimed at the cruiser crowd. That radiator is huge! Then you swing around and look at it from the back and try to make sense of the three pipes and very wide rubber. The view from each side is equally interesting, with the right being dominated by the chrome exhaust manifold.
This bike looks totally different from other Triumph motorcycles, and I love it. Riders at the time praised the highly capable chassis and the handling prowess of the Rocket 3. It took a little time for them to truly discover the merits of the R3 and understand it was really a muscle bike that could both cruise and tour. I have no hesitation stating that the R3 has reached elite status, thanks to sticking to the mantra that more is always better.
2006–2010 Suzuki GSXR750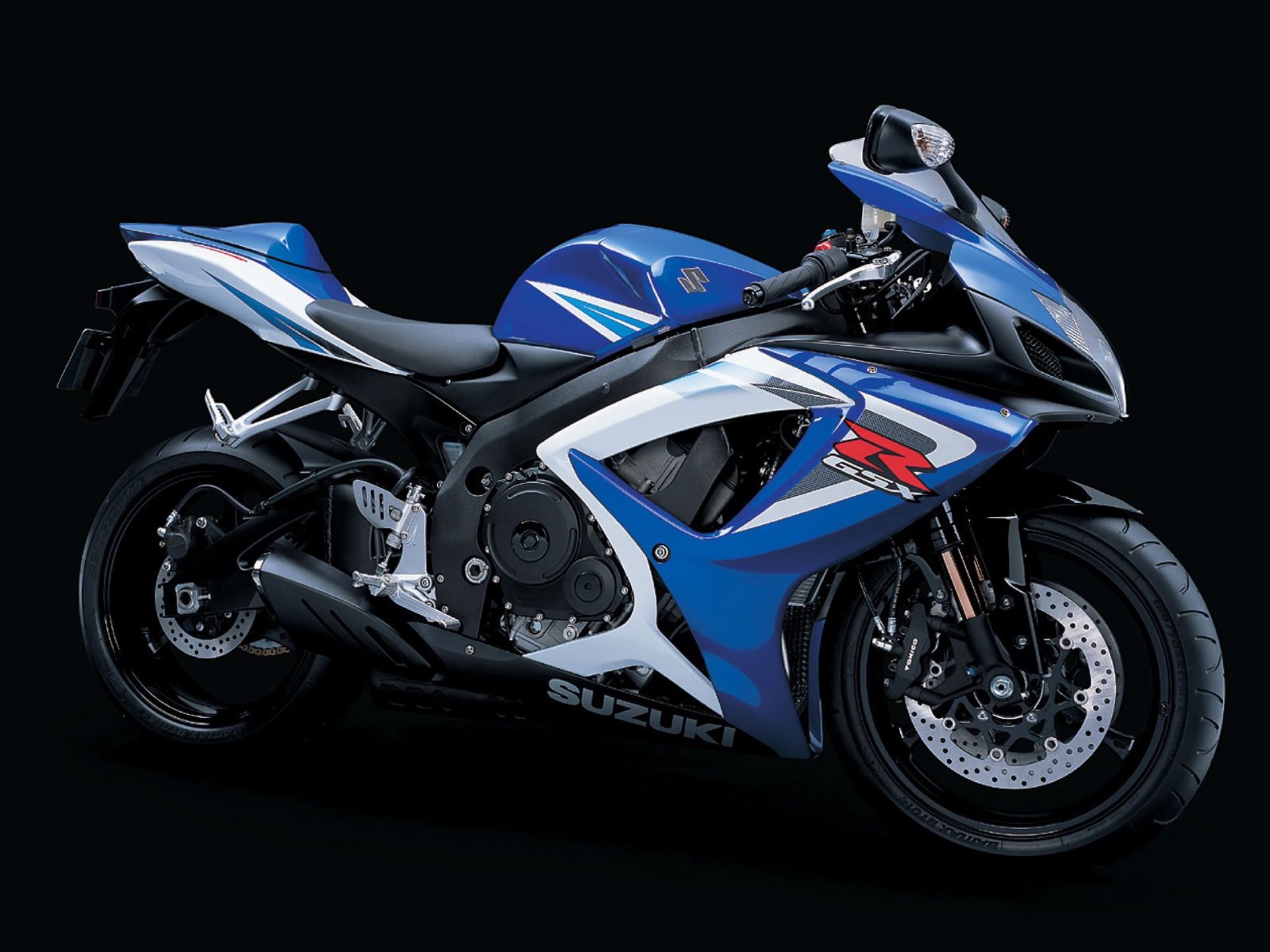 I told myself I could only include one Gixxer on this list, and here it is, the 2006–2010 version of the GSXR750. Providing the ideal crossbreed between the 600 and the literbike, the GSXR750 received a serious overhaul and came into 2006 with all the flair of Kramer into Seinfeld's apartment.
Dripping with fresh sleek styling, the GSXR750 is the perfect choice for the Supersport rider out on the street. Dimensionally, it is near spot-on with the GSXR600, but with an additional 25 hp and only 2 extra kilos of weight.
Feeling like a smaller bike than the 2005 model, the 2006 version of the 750 really was like having the ultimate 600. Supreme handling, brakes, and an extremely light weight allowed Suzuki to own this niche space in the realm of supersport motorcycles.
I could debate all day as to why the GSXR750 is one of the best bikes of the 2000s. It is simply that good.
2007 Can-Am Spyder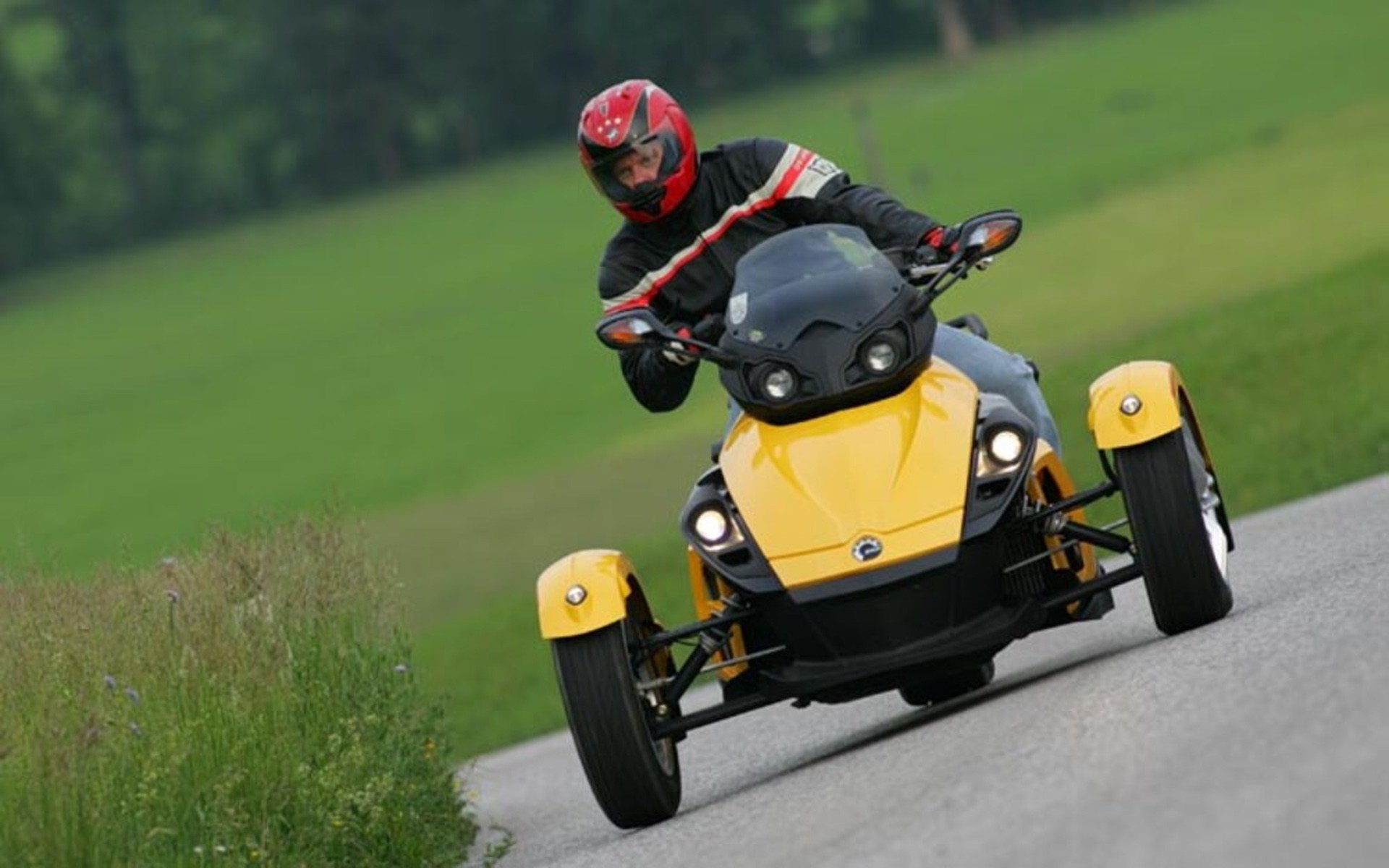 Photo Credit: Motortrend.
Is it a bike? Don't call it a trike, and it's definitely not a car. What it is (in this writer's opinion) is brilliant. With a Rotax-built, 998cc, liquid-cooled twin-engine producing 106hp, plenty of power was available to move the 700lb Can-Am Spyder with gusto.
With parent company Bombardier already having vast experience in this general mechanical layout thanks to the Skidoo brand, Can-Am engineers came out of the gate with a quality machine. Thoughtfully including a reverse gear and a Vehicle Stability System consisting of ABS, traction control, and stability control paved the way for new riders to gain confidence in the saddle.
I am including the Spyder in this list of the best of the 2000s for a very simple reason: it was a game-changer when it launched. With a rider-friendly 29' seat height, a comfortable riding position, and a look that was sporty yet not intimidating, Can-Am was able to attract owners to the Powersports world who had never ridden a motorcycle.
This machine brought more women into the sport as well, with 21 percent of sales going their way. Not many machines can claim to have changed the market quite the way Can-Am Spyder did.
2000 Marine Turbine Technologies Y2K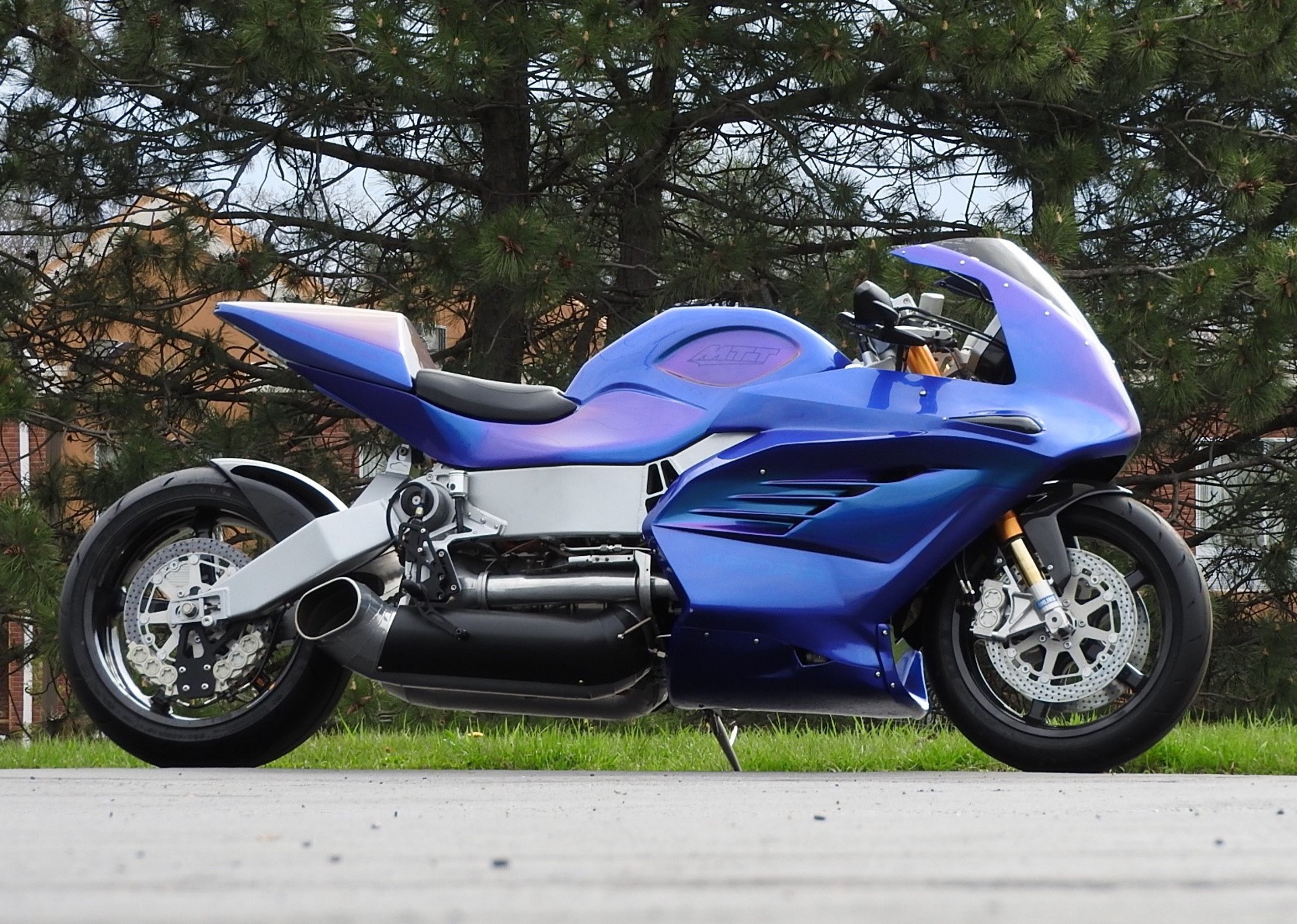 Via Marine Turbine Technologies.
It's a JET BIKE!!!! What else even needs to be said? Oh, I know—I will take mine in purple, please.
Unlike other attempts at turbine-jet bikes that relied on jet thrust for propulsion, the MTT engineers devised a 2-speed gearbox, to connect the turbine shaft to the rear wheel. Touting insane specs like 320hp and 52,000rpm, the MTT Y2K is a low production custom machine, with the first bike being delivered to none other than Jay Leno.
I won't even bother to try and compare it with other sportbikes; that would be like trying to compare a grape to a watermelon—and honestly, who cares? It's a freaking Jet Bike from the 2000s.
At the start of the current millennium, motorcycle manufacturers began to innovate and rewrite what is possible on two wheels. We can't wait to see what the current decade will bring for motorcycle design.