The 2021 CRF450RL: A Street Legal Motocrosser
Contents
Honda Motorcycles gave the CRF450R a full overhaul for 2021. It comes to the party with a new chassis, suspension, bodywork, and extensive engine work. Coming from the 2021 Honda lineup, the CRF450R comes with a newly added hydraulic clutch, a central-port head, and a revalved suspension with over 12 inches of travel. All of which play a crucial role in the performance of this Japanese motorcycle while making it look like a bike found in the winner's circle.
The CRF450R not only looks the part but when paired with a skilled motocrosser, it will take the trophy every time. The CRF450R utilizes a 449cc liquid-cooled engine capable of 55.2 horsepower. It also comes with 12.2 inches of front suspension travel. Both of these features are ready to take on any course of action to take home gold.
The cost is almost three thousand dollars less than the CRF450RWE (Works Edition) but also does not come with the aftermarket goodies. But if you plan on adding your own upgrades to your motocross bike, the CRF450R is exactly what you need.
The 2021 Honda CRF450R starts at $9,599 USD / $10,799 CAD.
On this page: we've curated specs, features, news, photos/videos, etc. so you can read up on the new 2021 Honda CRF450R in one place.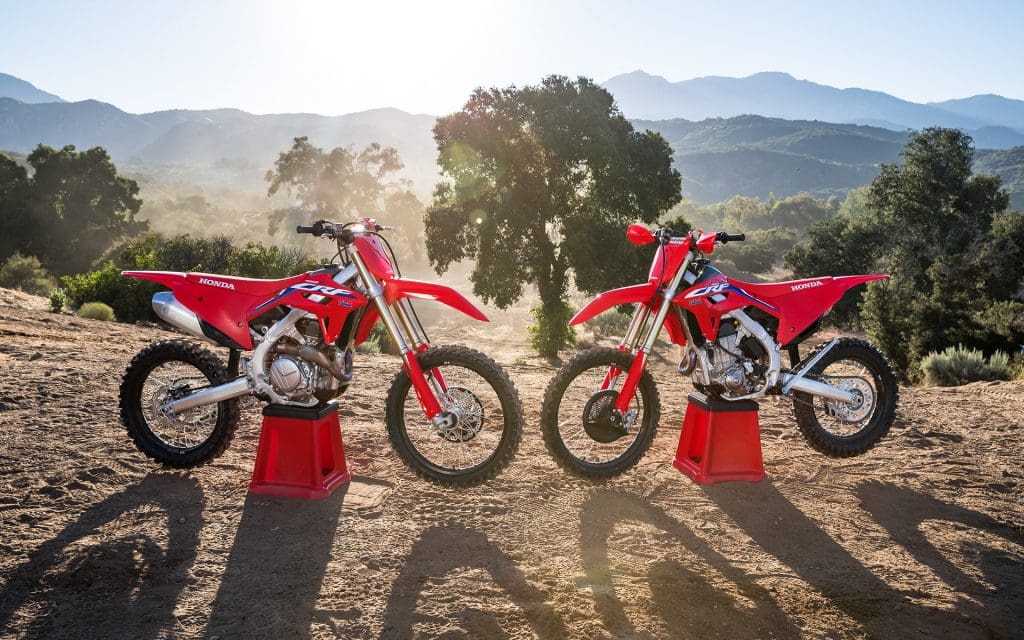 ---
Model Overview
General Info
Price: $9,599 USD / $10,799 CAD
Key Features:

Disc brakes front and rear
Hydraulic clutch
Inverted Forks
Main Specs
Engine: 449cc liquid-cooled, single-cylinder, four-stroke
Power: 55.2 horsepower
Wet Weight: 244 lbs (111 kg)
Seat Height: 965 mm (38 in.) at the lowest point
Competitors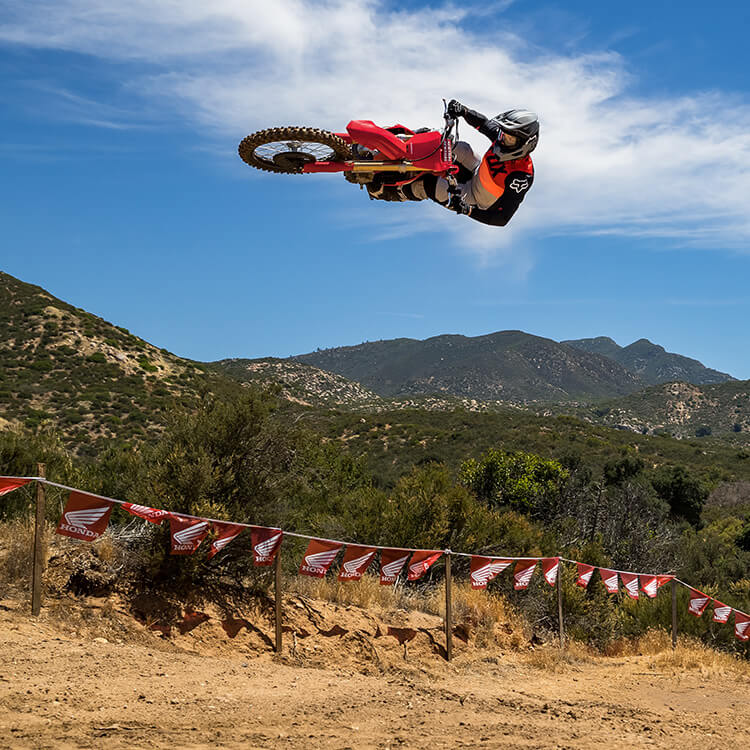 ---
2021 Honda CRF450R Specifications
| | |
| --- | --- |
| ENGINE | |
| Engine | 449cc liquid-cooled single-cylinder four-stroke |
| Power | 55.2 horsepower |
| Bore x Stroke | 96mm x 62.1mm |
| Compression Ratio | 13.5:1 |
| Fuel System | Programmed Fuel Injection (PGM-FI), 46mm downdraft throttle body |
| Starter | Electric |
| Valve Train | Unicam four-valve; 38mm intake; 31mm exhaust |
| DRIVETRAIN | |
| Clutch | |
| Transmission | Close-ratio five-speed |
| Final Drive | #520 Chain; 13T/49T |
| CHASSIS | |
| Suspension Front | 49mm inverted Showa fork with rebound and compression damping adjustability; 12.2 inches of travel |
| Suspension Rear | Pro-Link Showa single shock with adjustable spring preload, rebound and compression damping adjustability; 12.4 inches of travel |
| Brakes Front | Single 260mm disc with twin-piston caliper |
| Brakes Rear | Single 240mm disc |
| Tires Front | Dunlop MX33 80/100-21 |
| Tires Rear | Dunlop MX33 120/80-19 |
| Fuel Tank Capacity | 1.7 gallons |
| Color | Red |
| ELECTRICAL | |
| Ignition | DC-CDI |
| Spark Plugs | |
| Headlight | |
| Tail Light | |
| DIMENSIONS | |
| Overall Length | |
| Overall Width | |
| Trail | 4.5 inches |
| Wheelbase | 58.3 inches |
| Ground Clearance | 13.2 inches |
| Seat Height | 38 inches |
| Curb Weight | 244 pounds (Includes all standard equipment, required fluids and full tank of fuel—ready to ride.) |
| WARRANTY | |
| Warranty | Transferable, unlimited-mileage limited warranty |
| Extension | Extended coverage available with a HondaCare Protection Plan® |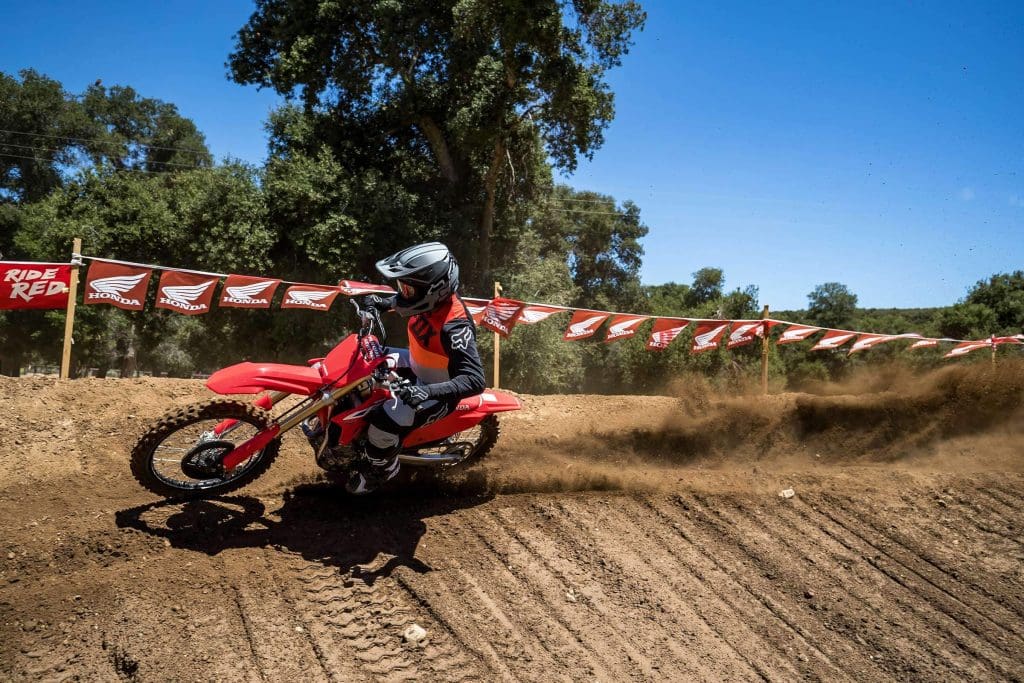 ---
2021 Honda CRF450R Features
HANDLING
LIGHTER, NARROWER FRAME
Great handling starts with a superior frame, and we've made some big changes to our 2021 CRF450R's chassis. First, it's lighter—over a pound and a half lighter. By making the frame's main spars narrower, we saved weight, but more important we made the chassis more responsive by reducing lateral rigidity 20 percent. The result is a bike that gets into, around, and out of corners faster.
NARROWER SWINGARM
Designed in conjunction with the new frame, by using narrower main members (just like the frame uses narrower main spars), we've matched the swingarm's lateral rigidity to the rest of the chassis. What you get is a balanced, fully integrated approach to frame stiffness, letting you get around corners faster and with better feel.
LIGHTER SUBFRAME
We totally redesigned the rear subframe to make it nearly three-quarters of a pound lighter, and along the way simplified its construction too.
NEW BATTERY BOX
Three key features changed here: The battery box is lower, for an improved center of gravity. Second, it's also easier to service. And third, it's now water-tight, so there's less to worry about when racing in wet conditions.
FRONT SUSPENSION
We've increased the front suspension's stroke by 5mm for 2021, for better handling and rider comfort. Also, we redesigned the axle holding fixtures at the bottom of each fork leg—that increases rigidity, and enhances steering precision and suspension performance.
NEW TRIPLE CLAMPS
The CRF450R is a perfectly matched package. With the frame and swingarm featuring a retuned lateral stiffness, and the fork legs featuring a new, stiffer axle fixture, we joined the two with new upper and lower triple clamps. Working in concert, they help improve and balance total rigidity, responsiveness and turning performance.
REAR SUSPENSION
The 2021 CRF450R's new frame design gave us the opportunity to fit a new rear shock. We've optimized its shape to match the frame, and gave it new settings to work with the new chassis. The shocks valving resets faster for better response. In addition, we've fit a new steel spring that's way lighter, cutting weight without cutting performance.
SHOWA SPRING FORK
The 49mm Showa fork features a conventional spring design that helps increase the CRF450R's front-suspension precision, handling and feel. The spring rate provides better bottoming resistance and improved handling.
NEW EXHAUST PIPE
Along with the single-muffler exhaust, naturally we gave the 2021 CRF450R a new single-pipe header. We've completely changed the routing too, bringing it 74mm closer to the center of the bike. It's lighter, and helps improve weight distribution.
NEW SINGLE-MUFFLER EXHAUST
Changing the muffler's construction to a pressed-alloy design let us reshape it too, for better rider ergonomics and lighter weight. How much lighter? More than two and a half pounds!

ENGINEERING
NEW HYDRAULIC CLUTCH
This is huge news for the 2021 CRF450R. Out with the old cable-actuated clutch, and in with the first hydraulically actuated clutch we've offered outside of our works bikes. Made by Nissin, it's the same design as in our Grand Prix MX machines, and performs better than third-party conversions. You get a clutch-lever pull that's ten percent lighter at its peak, even though it's paired with a new, stronger 8-plate clutch. Plus, you'll never have to worry about making a clutch-cable adjustment, even during the longest events.
NEW CLUTCH ASSEMBLY
While the new hydraulic clutch is getting all the attention, we've made even more improvement with the parts that do the work: the clutch assembly itself. Say good-bye to clutch fade—we've upped the number of clutch plates from seven to eight, to improve durability and hookup. That means 85 percent less slip at peak horsepower, and 27 percent more total torque transmission through the clutch pack. Even the spring is stronger, but thanks to the hydraulic actuation, clutch-lever pull is lighter than ever.
HRC LAUNCH CONTROL
We're talking about a special ECU program here: push the button to select the mode, hold the throttle open, release the clutch, and the CRF450R will do the rest, launching you into the first turn with a big advantage. It turns your bike into a holeshot-seeking machine!
Honda SELECTABLE TORQUE CONTROL (HSTC)
Notice that button on the handlebar by the clutch perch? The CRF450R and CRF450RWE get our Honda Selectable Torque Control (HSTC). You can choose from one of three settings to perfectly dial your bike in depending on how much traction is available.
ENGINE MODE SELECT BUTTON
This simple handlebar-mounted button lets you dial in engine power delivery character with a push of your thumb. Choose between Standard, Smooth and Aggressive, depending on track conditions.
COMPACT FUEL PUMP
No detail is too small for our engineers—especially if they can make it smaller and lighter. That's what they did to the 2021 CRF450R's fuel pump. Why carry around any extra weight when you don't have too? While they were at it, they reduced the number of attaching fasteners from six to four.
NEW RADIATOR SHROUDS
Using computer-aided Computational Fluid Dynamics, we've fine-tuned the CRF450R's radiator shrouds to increase cooling. They're now a one-piece design, but more important, better cooling equals more consistent power, longer into a race, especially when you're really on the gas and working the engine hard.
REAR BRAKE PADS
Brakes are for more than just stopping: they help you set up the bike in turns and jumps. Which is why we pay so much attention to detail like brake pads. They're designed to last longer and give you more stopping power—a real win/win to help you win.
260mm FRONT BRAKE
The CRF450R's large front-brake disc measures a whopping 260mm. You get great brake feel and a pattern that cuts down on weight. Front and rear brake-disc guards are part of the package too.
TITANIUM FUEL TANK
Grams and performance count, and the CRF450R uses a titanium fuel tank. Light and strong, it maintains the same capacity as our previous plastic unit, while freeing up more space and helping to centralize fuel mass.

CONVENIENCE
NEW AIRBOX AND FILTER
Along with the new air filter, the airbox shape helps deliver more torque. You can access the airbox through the left number plate. And because the new filter has no rubber gasket where it interfaces with the intake boot, cleaning and servicing the filter is faster and less messy than ever.
ELECTRIC STARTER
Kickstarting? Maybe if you're riding in the vintage class, but not here. By ditching the kickstarter entirely, our engineers can make the CRF450R lighter. Electric starters and lithium-ion batteries are so light now and so good that putting them on a bike like this is a win/win combination. And winning is what a CRF450R is all about.
NEW SWITCH ASSEMBLY
Check out the controls on the new 2021 CRF450R. We've made them lighter, and more intuitive. Controls used to be your bike's shifter, clutch, and brakes. Now you have things like launch assist, selectable power modes, and more. We believe they should be easy to use, and we've just made them easier.

PERFORMANCE
EXCLUSIVE WORKS EDITION
Homologated for racing and available in limited numbers, the CRF450RWE Works Edition includes all the big improvements of this year's CRF450R plus a special hand-ported cylinder head; Hinson clutch basket and cover; Twin Air filter, Throttle Jockey graphics and seat cover; upgraded DID DirtStar LT-X rims; an exclusive Yoshimura exhaust system including a titanium header; titanium nitride-coated lower fork legs; revalved suspension; an RK gold chain; special ECU settings; and black triple clamps.
449cc UNICAM ENGINE
Honda's Unicam cylinder heads combine the best of single- and double-overhead-cam designs. The configuration contributes to a compact engine that saves weight over a comparable dual-overhead-camshaft motor and also permits a narrow included valve angle. This flattens the combustion chamber to facilitate ignition flame propagation, allowing a high compression ratio. Since less space is taken up in the cylinder head, the camshaft sits lower in the head for a more compact engine and a lower center of gravity.
REVISED DECOMPRESSION SYSTEM
You can't see this unless you take the engine apart, but you'll notice it on the track. Our engineers redesigned the auto decompression hardware, and also moved it from the right side of the cam to the left. The result is less stalling at extreme low RPM (think deep into a turn without downshifting) as well as better rideability.
NEW CYLINDER HEAD
The 2021 CRF450R gets a whole new cylinder head this year. Its biggest feature: an oval-shaped centralized exhaust port. Together with the new single-muffler exhaust, it boosts power from 5000 rpm up, and increases exhaust efficiency.
TITANIUM INTAKE VALVES
Lightweight titanium intake valves cut down on reciprocating mass and permit the use of smaller valve springs, reducing overall engine height.
NEW FUEL INJECTOR BODY POSITION
We've changed the angle where the fuel-injector fits into the CRF450R's intake tract. By steepening the angle from 30 to 60 degrees, the injector now sprays fuel all the way back to the throttle butterfly. The engine gets a cooler, denser fuel charge for more power and better torque. It's little details like this that put the CRF450R up front.
DOWNDRAFT FUEL INJECTION
The CRF450R features a downdraft intake tract and FI body to help increase both power and fuel-metering precision. It's part of the reason the CRF450R offers such explosive power and massive torque, especially out of the starting gate and in the critical first 100 feet of the race to the first turn.
DOUBLE-SPRAY INJECTOR SETTINGS
The CRF450R's fuel-injection system sprays twice per intake cycle. That helps increase fuel atomization without adding the weight or complexity of a second injector. The better fuel atomization means more power in the midrange and on overrev—you'll feel it the first time you race.
DUNLOP MX33 TIRES
These are the skins of choice for serious MX racers right now, so naturally, we fit the best to the 2021 CRF450R. The Dunlops hook up in a wide variety of conditions, and help you put the CRF450R's improved cornering performance to the ground.
CYLINDER HEAD LAYOUT
The CRF450R uses our latest finger-follower rocker design. The Unicam cylinder head remains one of the most efficient in the MX world, giving you the design and performance of a double-overhead-cam layout but the compactness of a single-overhead-cam design.
13.5:1 COMPRESSION RATIO
Honda engineering at its best: The CRF450R's cylinder head features a highly refined combustion-chamber shape and generous squish area, allowing an impressive 13.5:1 compression ratio for superior efficiency and power.
SKID PLATE
A factory skid plate is light and offers the engine and lower-frame protection that a racer demands.

COMFORT
NEW, SLIM BODYWORK
We've slimmed down the CRF450R's bodywork, and reduced the total number of pieces. It makes it a lot easier to move around on the new bike, and that maximizes your riding freedom. While we were at it, we reduced the total number of fasteners needed to remove the body panels—maintenance off the bike just got easier too.
FRESH NEW STYLING
A bike the works as well as the 2021 CRF450R should look just as good, right? That's why we freshened up the overall graphics package. Plus, our "in mold" graphics help keep your bike looking good. We think the only thing that could make it look better is a big ol' First Place trophy sitting on the seat. We did our part—the trophy is up to you.
RENTHAL "FATBAR"
The aluminum Renthal Fatbar features a bend that's even better than the legendary Honda "CR" bar. It's the new standard of excellence—you're gonna love it! In addition, the CRF450RWE gets special Renthal grips.
BLACK RIMS
They may not help you go faster, but the black DID DirtStar rims sure look good.
NEW SEAT
Sometimes you need to think out of the box—that's what we did with the new CRF450R's seat. We moved the attaching bolts from the rear to the front, and the tongue from the front to the rear. The result? When it's time for service, removing and installing your new CRF450R's seat is easier than ever.
FLAT SEAT/TANK JUNCTION
The CRF450R features a flat seat/tank junction, including a titanium fuel tank. The superior ergonomics make it easier to move forward and back on the bike, increasing your control.
NEW CABLE ROUTING
You may not notice it at first, but re-routing the CRF450R's throttle cables and new hydraulic clutch line let our engineers shave almost half a pound off the bike. Light is always right!

---
2021 Honda CRF450R Photos
---
2021 Honda CRF450R Videos
---
Links
Honda Websites
Other Links