Simpson Outlaw Bandit Review Summary
Review Summary
The Simpson Outlaw Bandit surprised me with what a comfortable, lightweight and well-built piece of headgear it is. At a glance it may look like a novelty "all show, no go" lid thanks to its unique and distinct styling, but with SNELL M2015 certification, a fiberglass shell and an extra thick 3mm visor it's much more. An old-school, spartan and simple helmet designed around crash protection is what you'll get here. No frills or space-age features to be found, thus it won't appeal to those who crave high tech farkles.
Build Materials & Quality
Pros
Strong & simple build/design
Comfortable & lightweight
Unique look
3 shell sizes
Snell M2015 Approved
3mm visor is much thicker than average
Simpson approves this helmet for painting
customization
Good value & protection for $399 USD
Cons
Lacks modern features like integrated sun lens/visor, Pinlock
Visor isn't quick to detach. Need a screwdriver to remove
install
No air intake or exhaust vents on top area of helmet
No provisions for BlueTooth device installation
Visor leaks water through the seal easily
Not very suitable for long-range touring use
Simpson Outlaw Image Gallery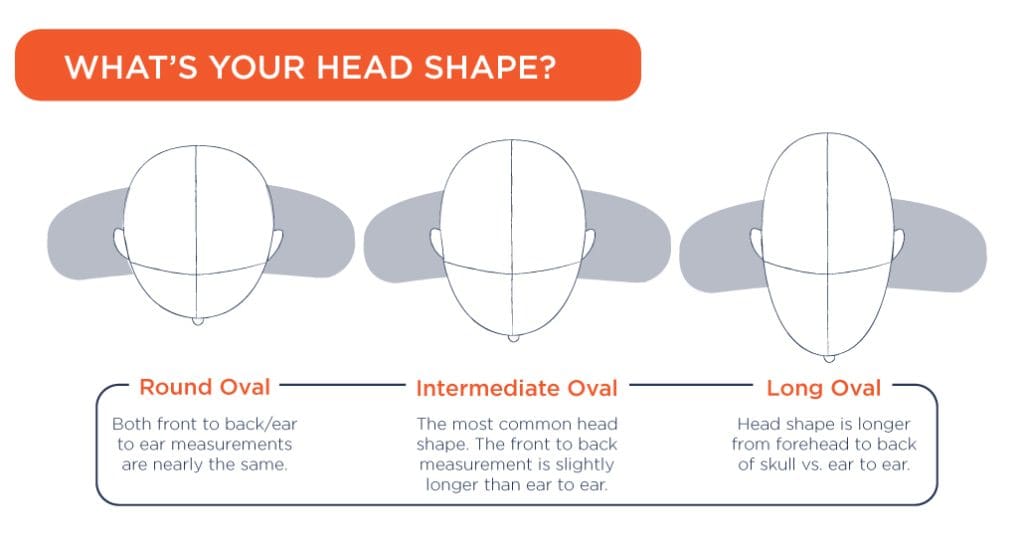 Simpson doesn't list any shape for the helmet on their site, but Revzilla calls it "Neutral Oval" which I take to mean something between Round Oval and Intermediate Oval.
I would agree with that or say that it has a definite Round Oval bias to it since it fits my Round Oval head comfortably. If you're a Long Oval type or of the Narrow persuasion head shape you should look at other options.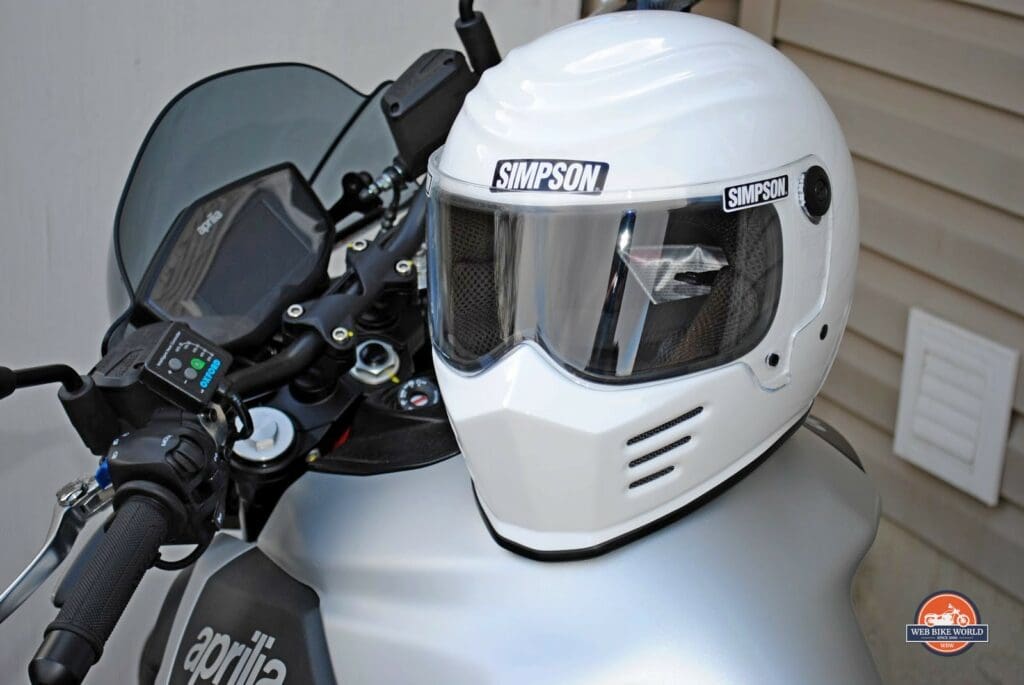 Simpson Helmets
We haven't reviewed many helmets from New Braunfels, Texas-based Simpson for some weird reason. On the other hand, last year I was one of the first reviewers to try out their newly designed modular helmet unveiled at AimExpo. It's called the Mod Bandit as seen in the photo below.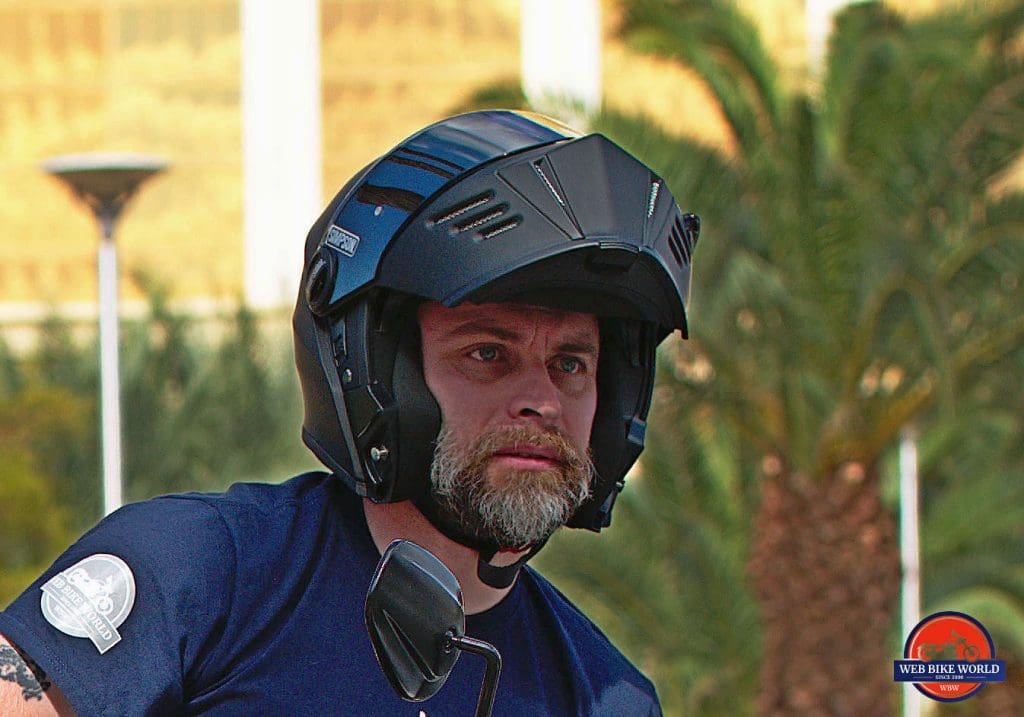 Me wearing the Simpson Mod Bandit helmet
We purchased an Outlaw Bandit helmet from Revzilla in the name of adding to our Simpson review collection.
Origins
Simpson was founded back in 1959 by retired American race car driver Bill Simpson. Their helmets have since become synonymous with car drag racing safety as well as being the "coolest or most badass" looking motorcycle helmet around.
I'm sure many of you are familiar with The Stig from Top Gear who conceals his identity using Simpson helmets.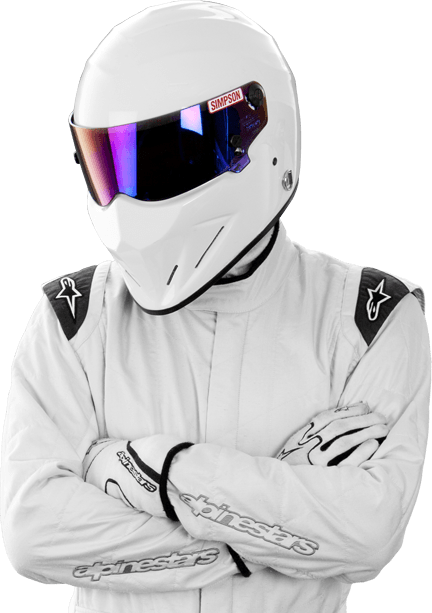 Photo from Top Gear
Unique "Simpson" Looks
This 2019 version of the Outlaw Bandit looks identical to the one that first dropped back in 2015. It also looks much like all other Bandit full face helmets they've made since the original RXM-1 back in 1979 (seen in the photo below). I appreciate that sense of tradition and history in this line which is a big part of the Simpson brand appeal.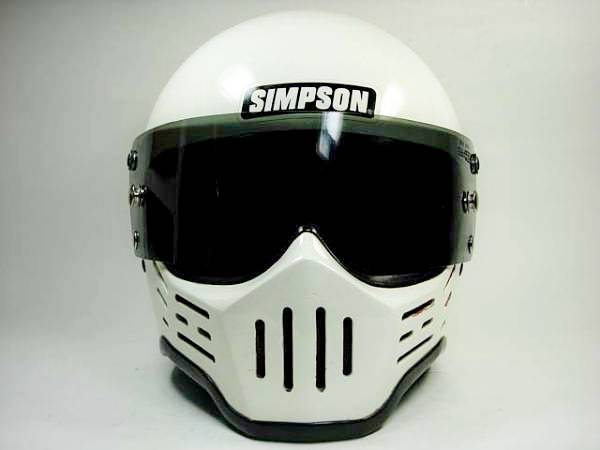 Photo from Aucfan
Unmistakable and easily picked out of a crowd, some people have described the Outlaw Bandit as a Star Wars helmet because it reminds them of the Imperial Stormtroopers while others like Revzilla's video reviewer Anthony refer to it as "the Predator" style.
The cultural influence these Simpson helmets have had on society is truly impressive!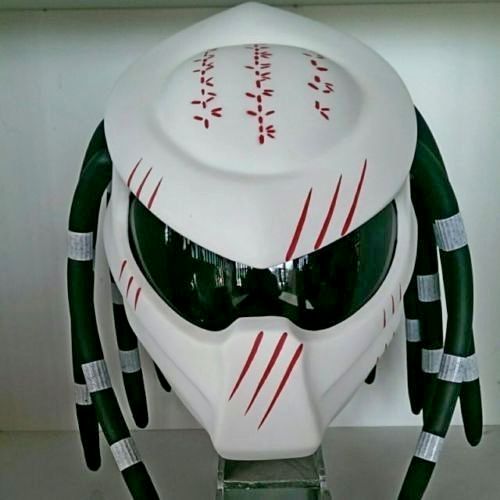 The Predator helmet from 2040 Parts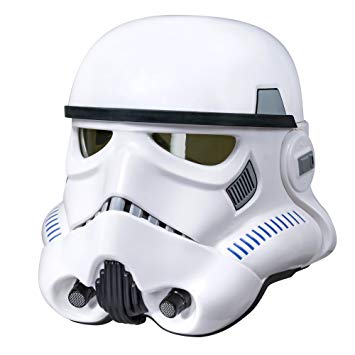 Imperial Stormtrooper Helmet via Amazon
I suppose Simpson may have designed their helmets after Star Wars and not vice versa since the first movie came out in 1977 now that I think about it.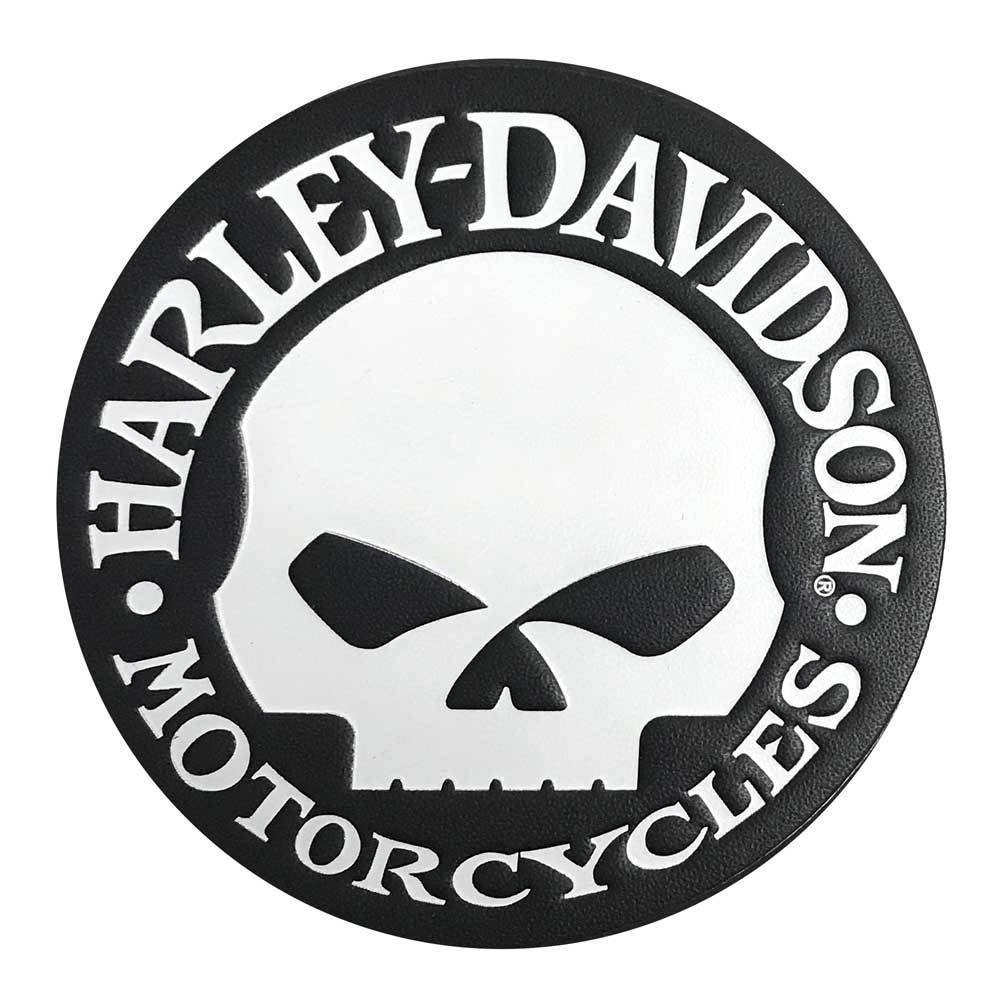 Photo from Wisconsin Harley
I wonder if Willie G Davidson's famous skull logo invented in 2000 might have been inspired by the Simpson helmet look? Perhaps it's no coincidence Simpson helmets are very popular with Harley Davidson owners because they also see the similarities?
Fitment & Comfort
The Outlaw Bandit seems built to fit my head to a tee.
The moment I put it on I note the pleasant, uniformly snug fit all around my cranium doesn't feel uncomfortably tight thankfully.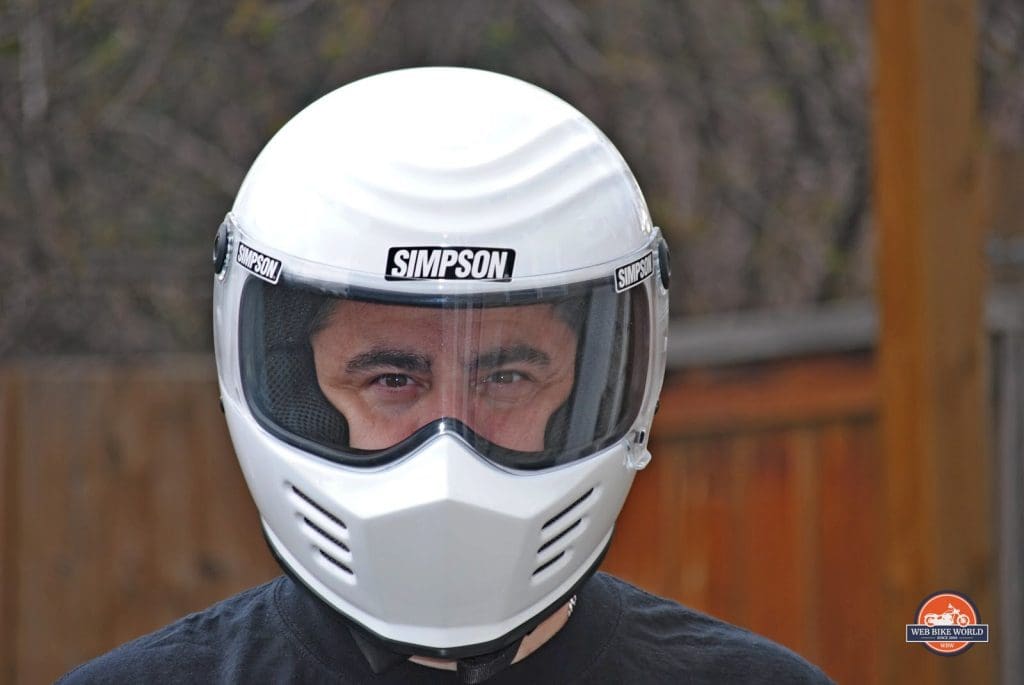 I enjoy wearing helmets with chin bars that sit in close proximity to my face yet don't make me feel crowded. That's exactly how the Outlaw Bandit fit is for me.
People who feel claustrophobic likely won't enjoy that closeness, but the trade-off is reduced pull and lift from crosswinds in my experience. I also feel like it cuts down on wind coming up underneath the helmet to cause noise.
Two Sets Of Cheek Pads
The helmet comes with two sets of cheek pads to better accommodate a good fit. I'm using the 35mm thinner ones to achieve what I need in lieu of the thicker 40mm ones.
FYI an extra set of cheek pads costs $20 US on the Revzilla site, so consider this nice added value in the $399 price tag.
Sizing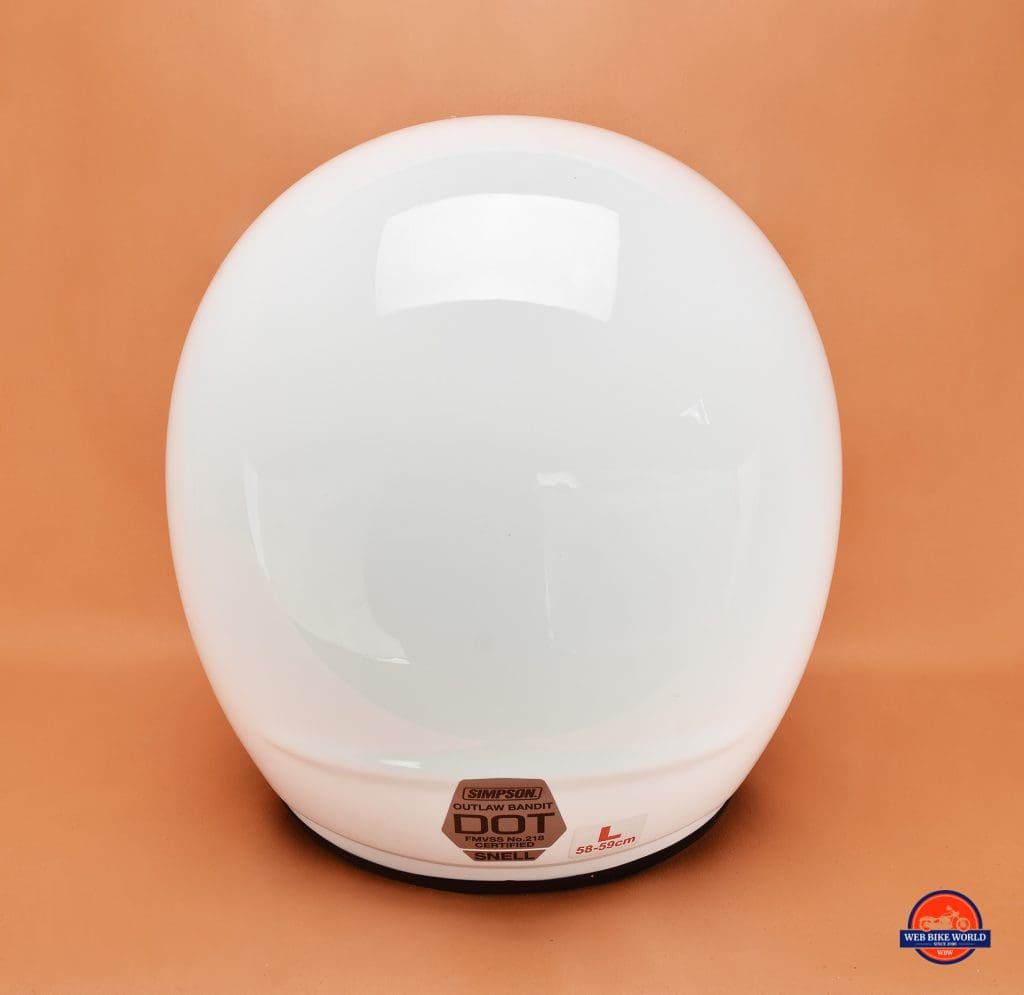 Simpson builds 3 shell sizes for the "O.B" (Outlaw Bandit) which helps keep it looking proportional to your body size when worn. Helmet sizes range from XS to XXL where most other manufacturers have an XXXL size too.
My 23" or 58.42cm head fits decidedly in the Large column as seen in the chart below. I will point out that their chart isn't accurate on the metric side so it's wise to avoid using it when selecting your new Outlaw Bandit online.

Source: Simpson Protective Products
Having a clear idea of what size to choose is a nice change for me from many other helmets where I seem to land right between M and L in "no man's land." I never really know until I get my hands on the helmet as to whether it will fit a bit too tight because I tend to go for the smaller Medium size most often.
The Shoei GT Air is an example of a helmet where Medium was really uncomfortable for me, but every other time I've done well going for the smaller size option.
Shell Construction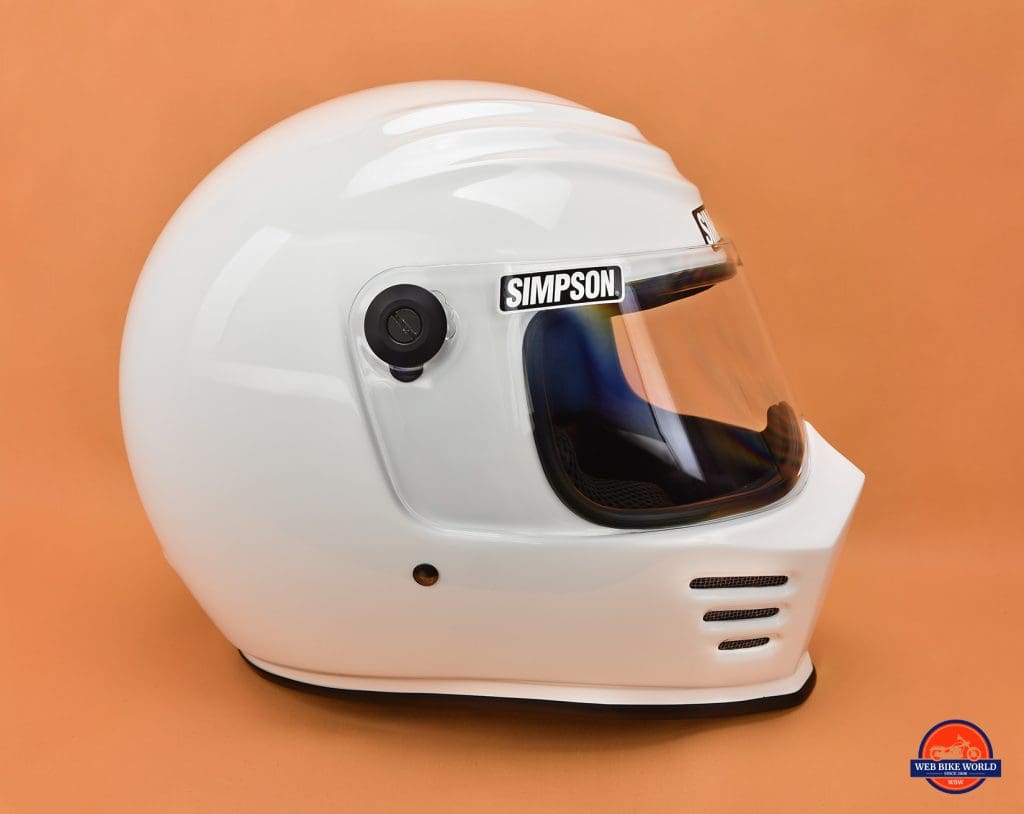 The shell is made up of high-quality fiberglass making the OB a naturally lightweight helmet. My scale shows it weighing in at a comfortable 3lbs 5oz. That's right around where I like a helmet to be as it reduces fatigue and neck strain effectively.
Angry Forehead Lines
Three sweeping arches that run side to side are molded into the shell above the visor area. Coupled with the ram air intake slots on the chin bar it gives the OB its uber-aggressive look.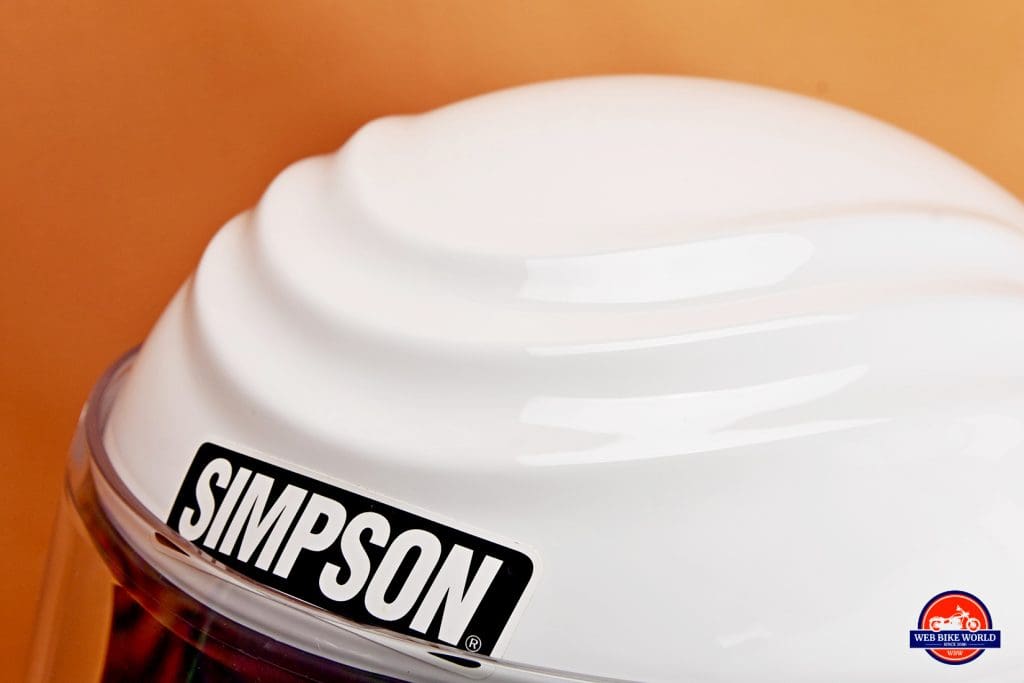 These features aren't there just for show surprisingly. The forehead swoops actually help stabilize the helmet at speed and come from drag racing helmet designs. While out testing I experienced no head shake at high speeds with my head out in the windblast so it actually seems to work much to my shock and amazement. 
I'll touch on the "cat-whisker" ram air intake slots later on when I discuss airflow.
Customization Options
This shell is coated in a lovely gloss white paint with only one brand name sticker set in the center of the forehead area above the eyeport opening. The SIMPSON sticker almost seems an afterthought addition because it's not covered in the clear coat as is typical on most helmets.
I think this because Simpson is one of the few (if only?) manufacturers that has no issue with people painting and customizing their helmets. They even provide instructions on doing it:
"Painting:
Use 320-grit sandpaper to prepare the helmet surface. Sand evenly until all the shine is removed. Paint only with acrylic enamels. Lacquer paints are not compatible and will weaken or destroy the shell. Do not allow any solvent or paint to come in contact with the inner shell."
This is a big reason many riders keep buying Simpson helmets and part of the charm. My wife is an excellent painter and artist so I'm looking to have her try her hand at enhancing this Outlaw Bandit after I'm finished reviewing it. I'll post the results to the site when she's done.
SNELL M2015 Certification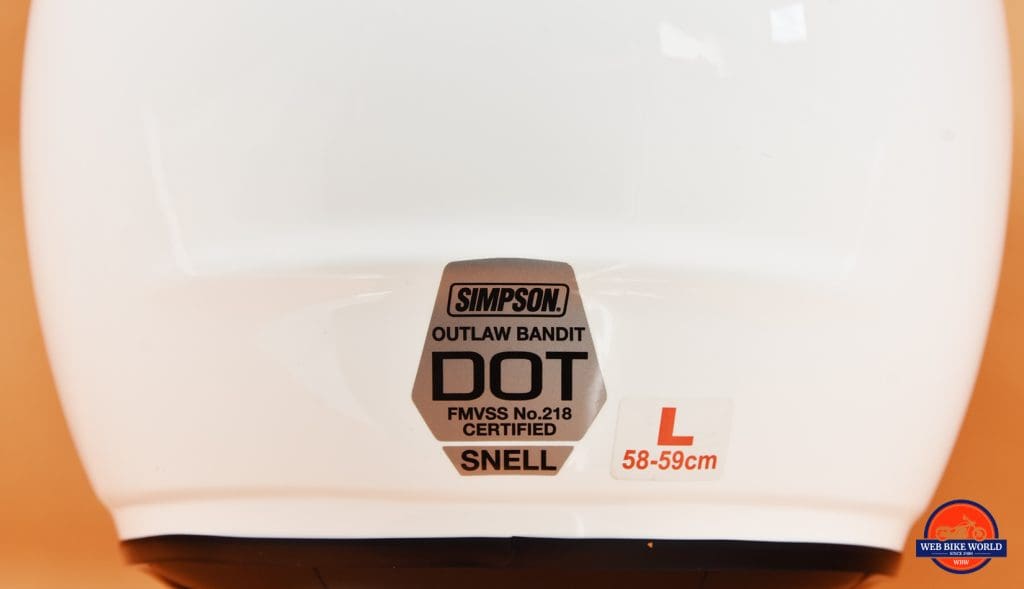 It makes me happy to find this old school and straightforward helmet meets the highest safety standard for SNELL in addition to DOT. That stamp on the back of this helmet should reassure you that in the event of a crash your noggin will experience the least amount of energy possible transferred to it through the helmet shell.
Unfortunately, the OB hasn't been tested by SHARP to give us another opinion on its crash protection level because it isn't ECE 22.05 certified. Would it pass ECE testing? I believe it would because it passes DOT and SNELL but I'm not totally certain.
A Reluctance To Go SNELL?
I've noticed fewer new helmets have been built to the latest SNELL criteria because manufacturers seem to think they would need to add bulk to their helmets in order to make the grade (in particular for the penetration tests done at SMF I'm told). I'm still trying to figure out where the line is for weight and passing SNELL standards at this point. The Outlaw Bandit might be the lightest SNELL approved helmet.
The Arai DT-X is also SNELL approved and weighs a paltry 3lbs 9 oz so it seems to me, helmets don't have to be heavyweights in order to pass SNELL testing. I'm not sure yet what all the anxiety is based on with manufacturers and SNELL these days.
To read about the advantage of SNELL over just DOT check out this article on Motorcycle Standards Comparison.
Visor System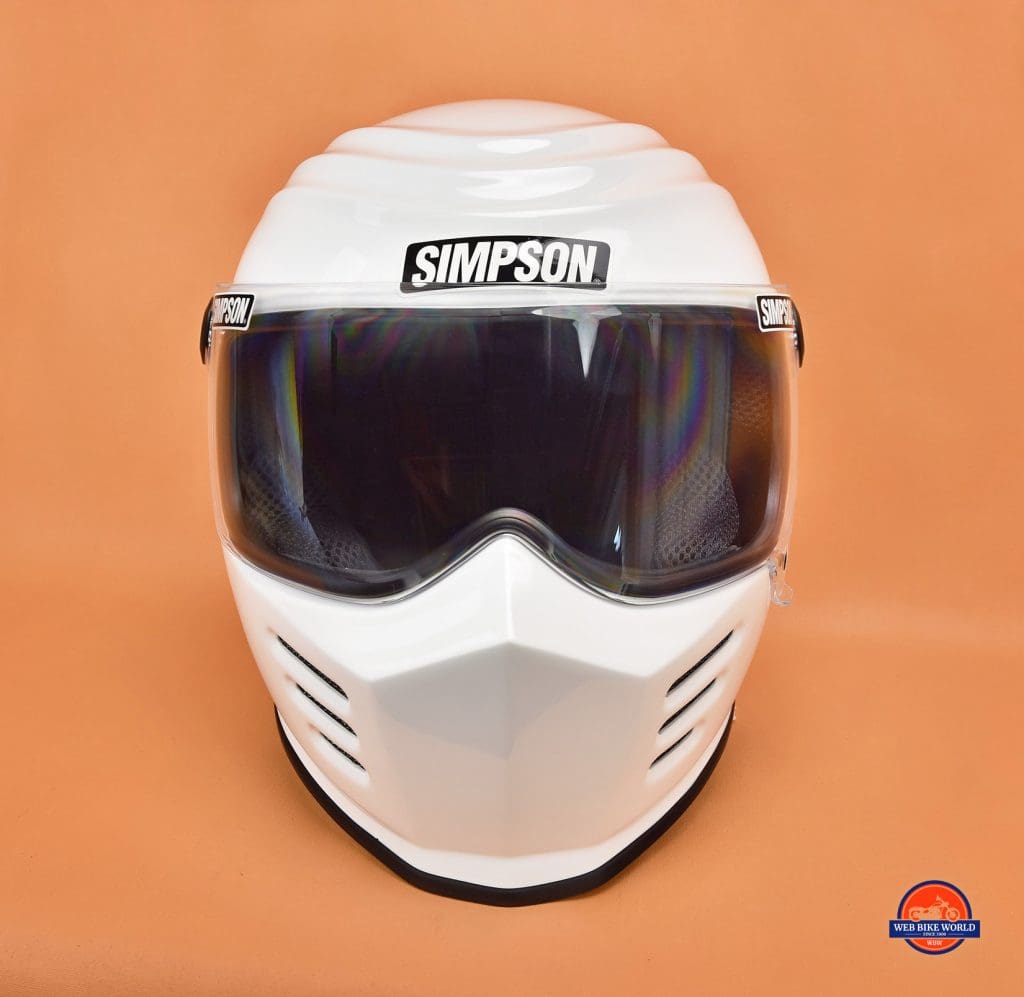 This system is so basic I'm a bit surprised it pivots at all. It is optically correct with no distortions or inclusions to irritate the wearer and it resisted scratching well throughout testing.
Having said that, there are some issues born out of the lack of sophistication of its old school design.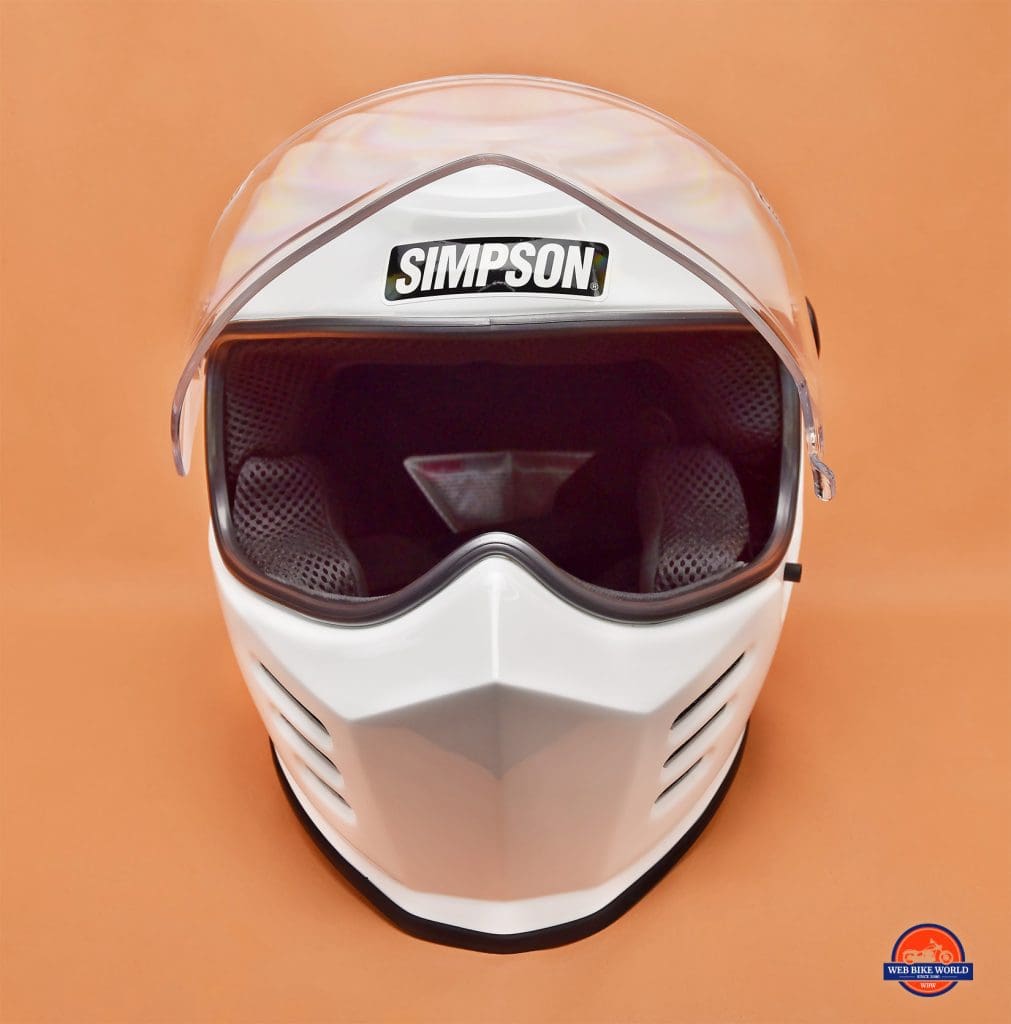 Detents
There are only 3 detented positions on the OB visor but the action on it is smoothly operating at least.
You only need one hand to open or close it because of that smoothness and I don't notice obnoxiously loud clunking noises echoing painfully through the helmet interior with the OB when I reposition the visor as I do with many fancier lids.
The retention knob used to hold it closed works well and has a cool, retro swagger to it that I dig as well.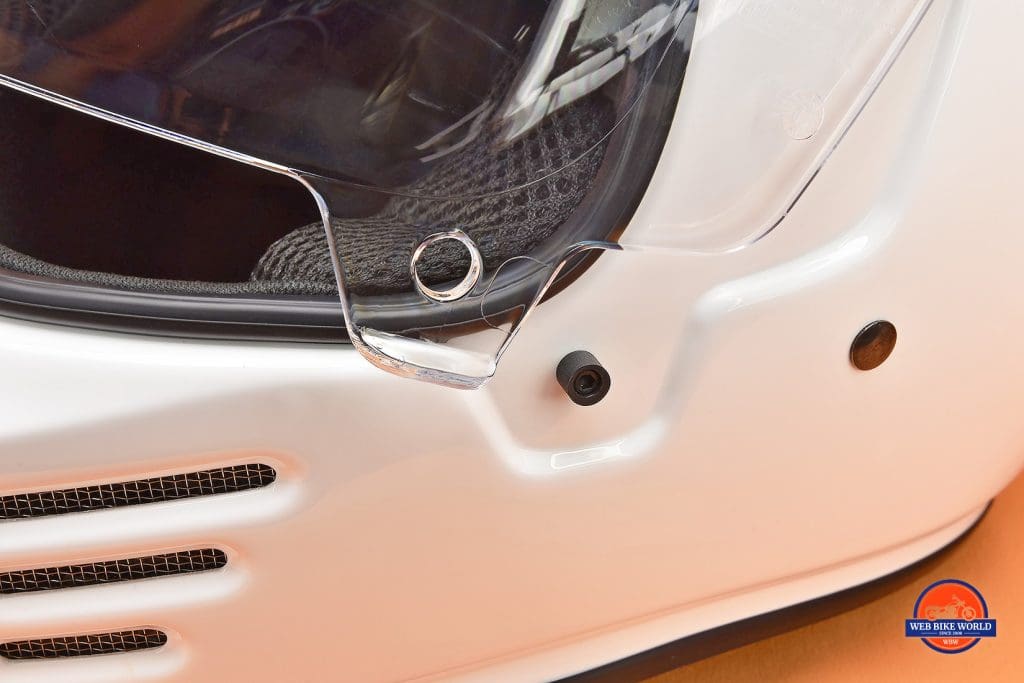 I Need It Cracked Open For Air
You can't just crack the visor open slightly and rest it on the retention knob to get more airflow unfortunately which irritates me greatly.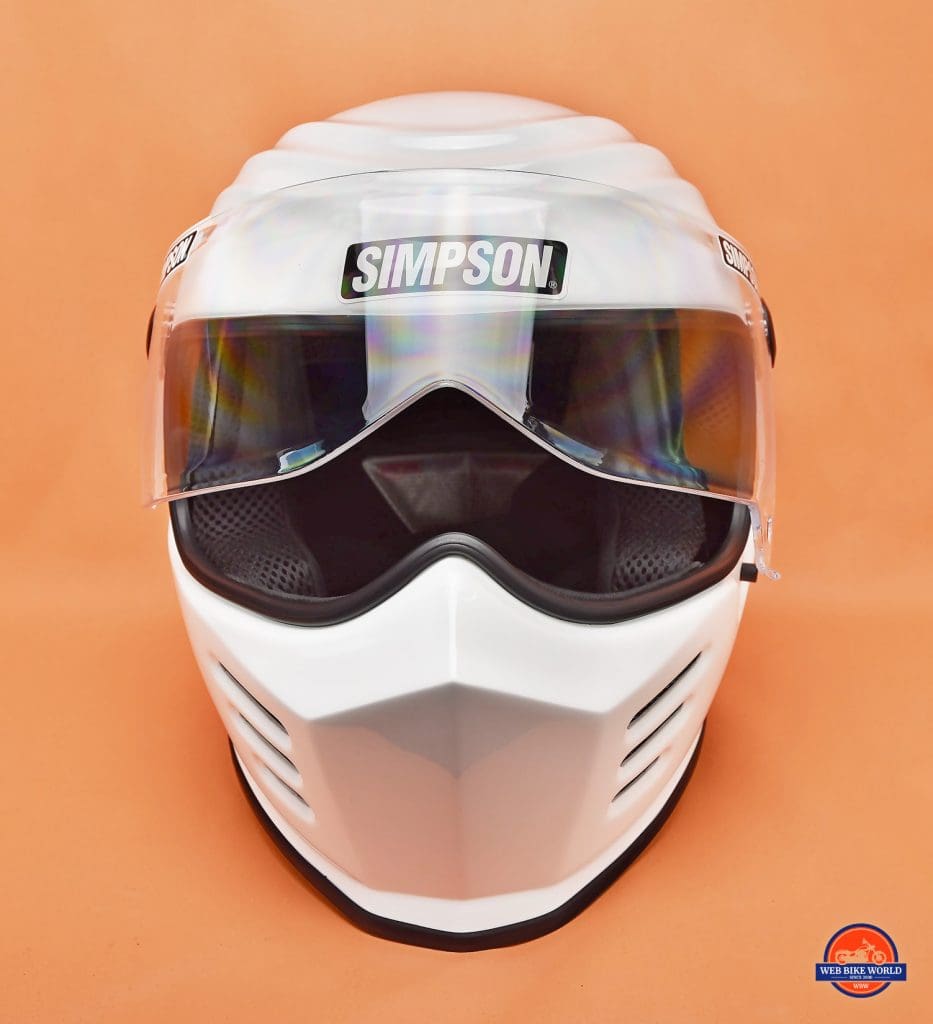 Even when it's open to the first position (ajar about 3" away from closed) any wind speed over 60mph (100kph) will slam it shut. This could definitely be an area of improvement for the OB.
Slow Detach Visor?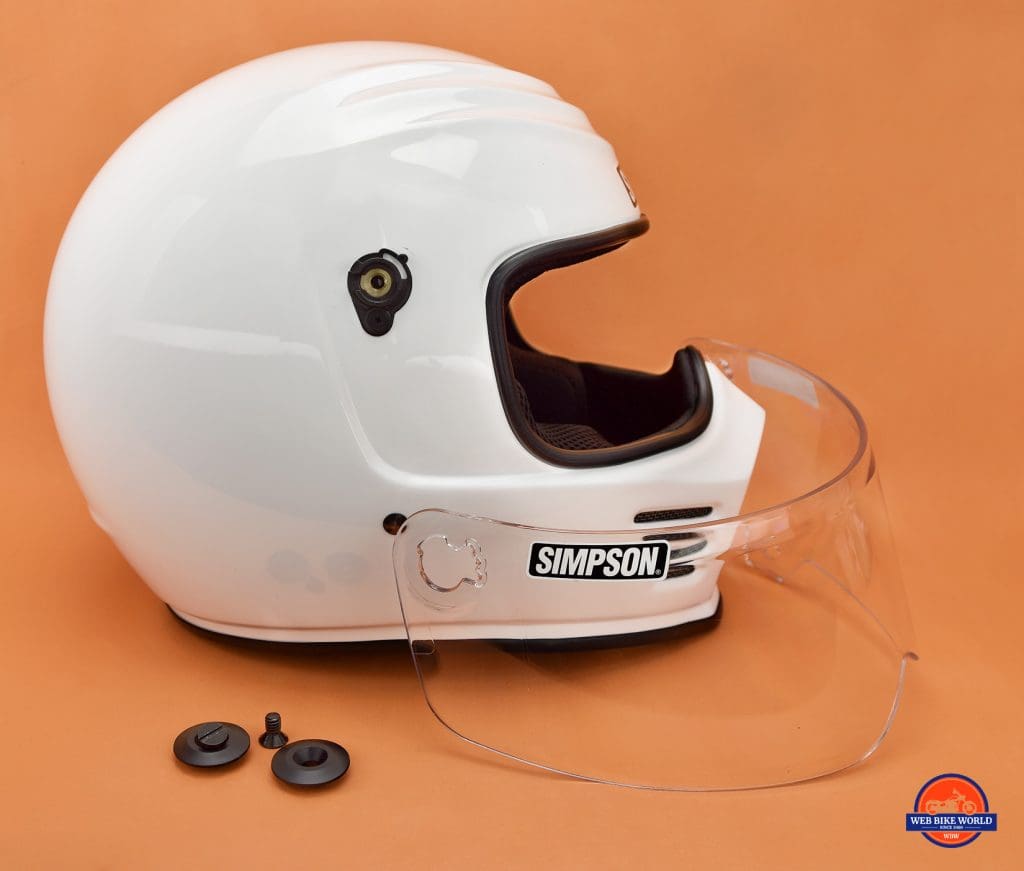 The visor can't be labeled quick detach unless you're really fast at using a flat screwdriver to undo fasteners. It's kind of a pain, but at the same time, I prefer this to the irritatingly complex visor system found on Arai helmets.
The clear visor is 3mm thick making it beefier than average by a long shot. This overengineering is another leftover from the drag racing world where drivers sitting in open cockpits worried about pieces of their cars breaking off and hitting them in the face at high speeds.
I appreciated that extra degree of protection each time a giant insect or a chunk of gravel bounced off it while I was out test riding. I've tested some helmets that make me very nervous in looking at the flimsy visors on them. Not this one though.
Water Leakage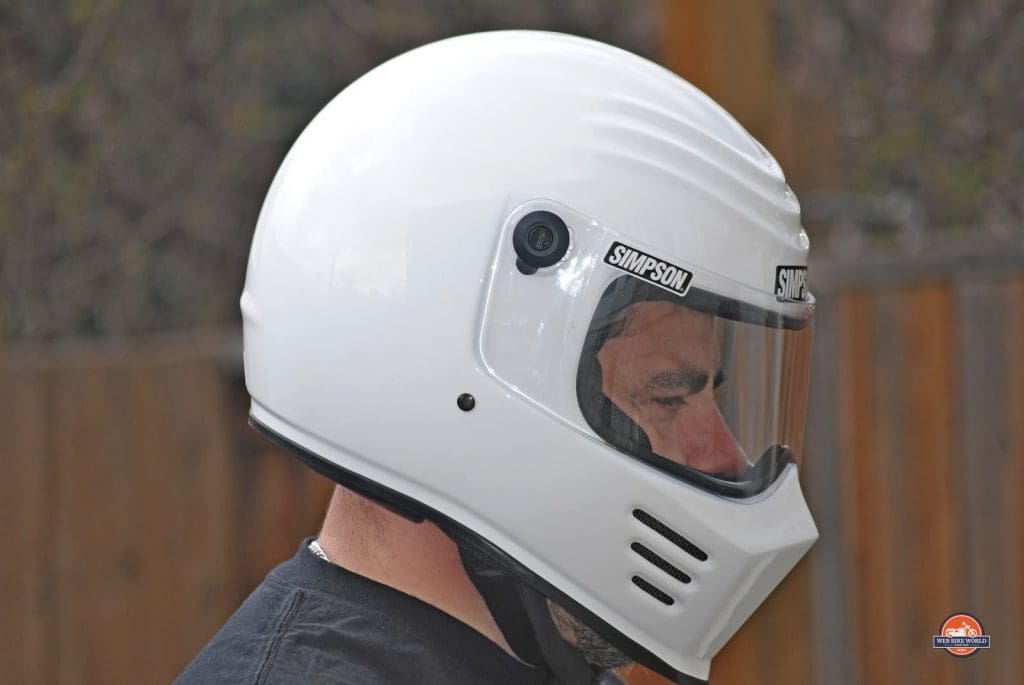 Unfortunately that thickness limits flex on the visor and it's plain to see gaps present between the rubber seal surrounding the eyeport and the visor lens on each side of this helmet.
It definitely will leak water in these areas when worn in the rain. This somewhat limits the Outlaw Bandit to fair-weather riding unless you just don't give a rip about it like some people.
Fogging
The inside of the visor has a noticeable anti-fog coating on it that works ok. It's definitely inferior to the Pinlock system which I consider the gold standard.
For me, I think it would be worth Simpson's while getting Pinlock to build something to fit this helmet as the coating is barely passable. Even if it means bumping the price up to $450.
Visor Variety
At least there's a wide variety of visors available for these helmets ranging from $60 to $80 in price. If nothing else Simpson ensures an owner can find exactly the look and tint they're looking for.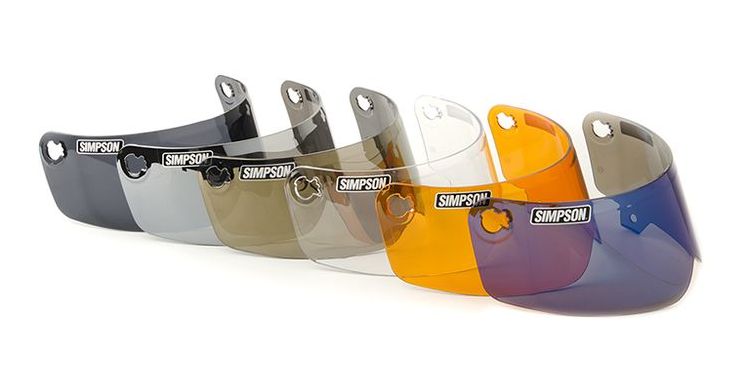 Photo from Revzilla
Eyeport Visibility
I found no issue seeing clearly and comfortably out of the Outlaw Bandit.
It's not as open as some other helmets I've tested, but I don't find anything getting in my field of view peripherally or dead ahead. Simpson made some changes for the Outlaw over previous Bandit helmets to open up the viewport better because of negative feedback they received in the past.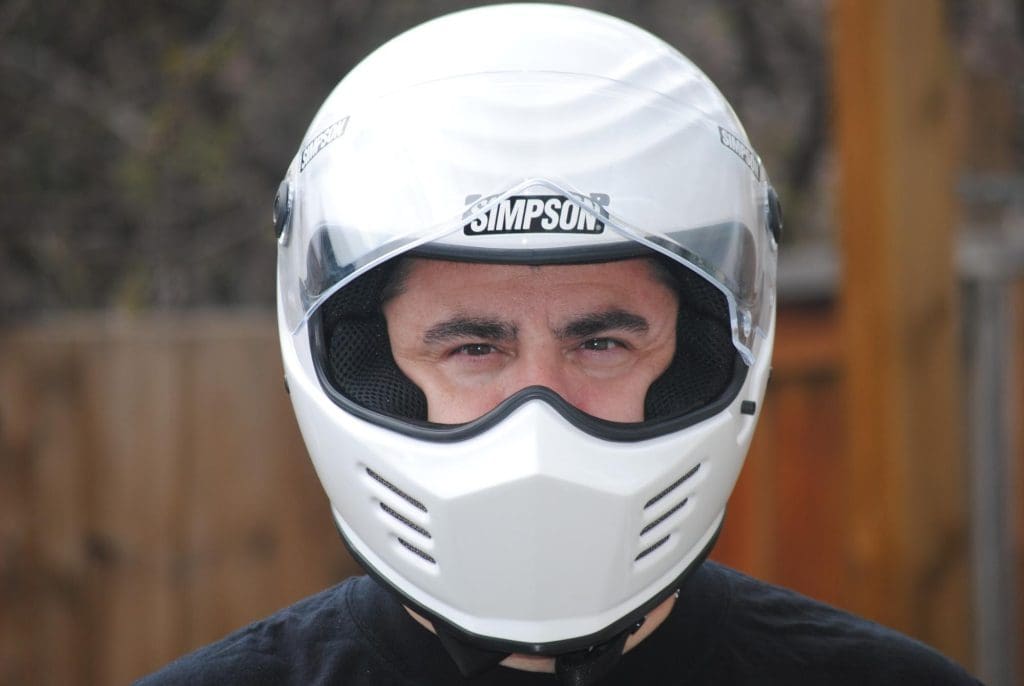 My friend Gerry feels the point in the middle of the chin bar did get in his way of reading the dash on his Aprilia Shiver to be fair and I can see how it might bother some people.
Interior Liner, Padding, & EPS Foam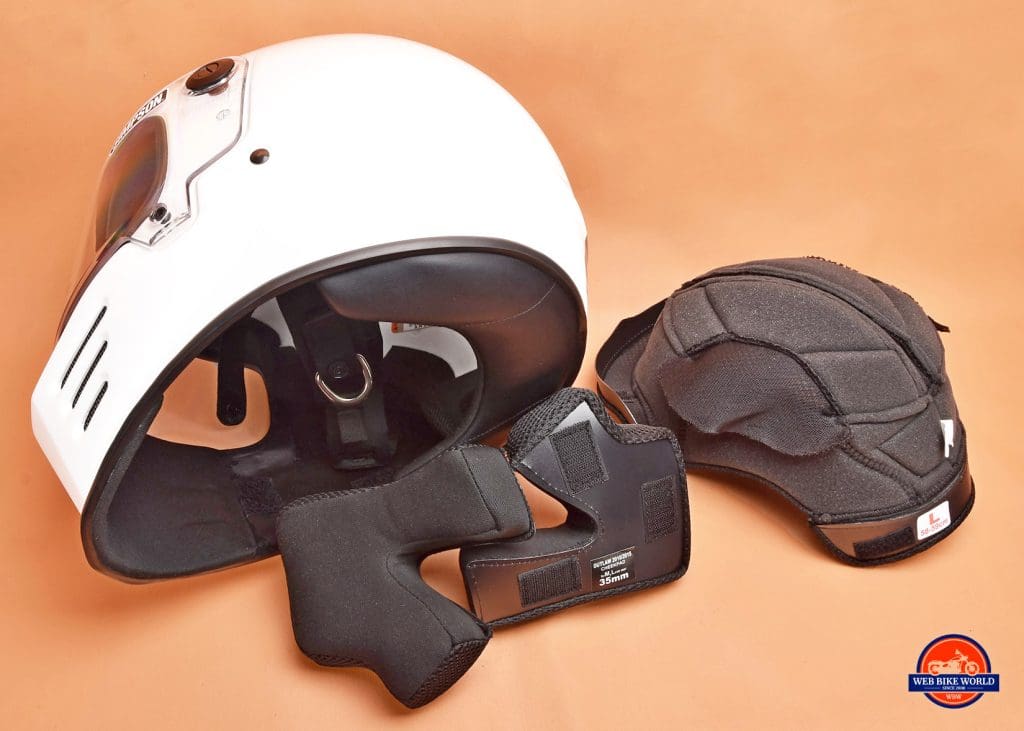 The interior of the OB has a well thought out mixture of mesh nylon and fairly soft closely-knit nylon materials.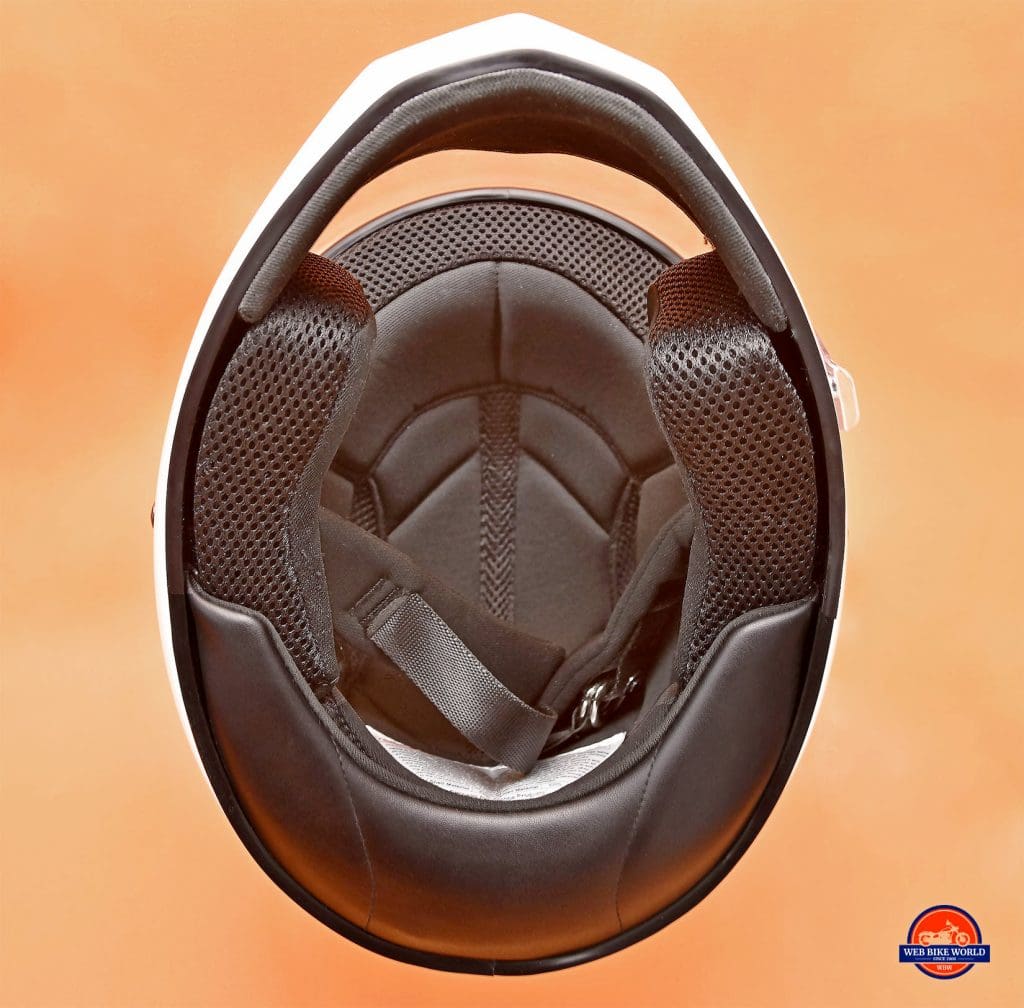 The non-mesh sections wick away moisture effectively and feel smooth against my skin where it comes in contact. It's actually on the softer side of similar helmet liners I've tested previously and I give Simpson full credit for choosing well here.
The neck roll at the back of the helmet opening is leather which helps keep the helmet from sliding and falling to the ground when set down irresponsibly on slippery motorcycle seats by… individuals I know well and refuse to name to protect their identity.
Velcro
What really makes me happy is how they've used velcro to attach all the internal padding where it belongs instead of plastic snaps or tabs.
On other helmets, I've had some of those fasteners fail during testing while this velcro is pretty fool-proof and much easier to use in general when installing cheek pads and the liner quickly.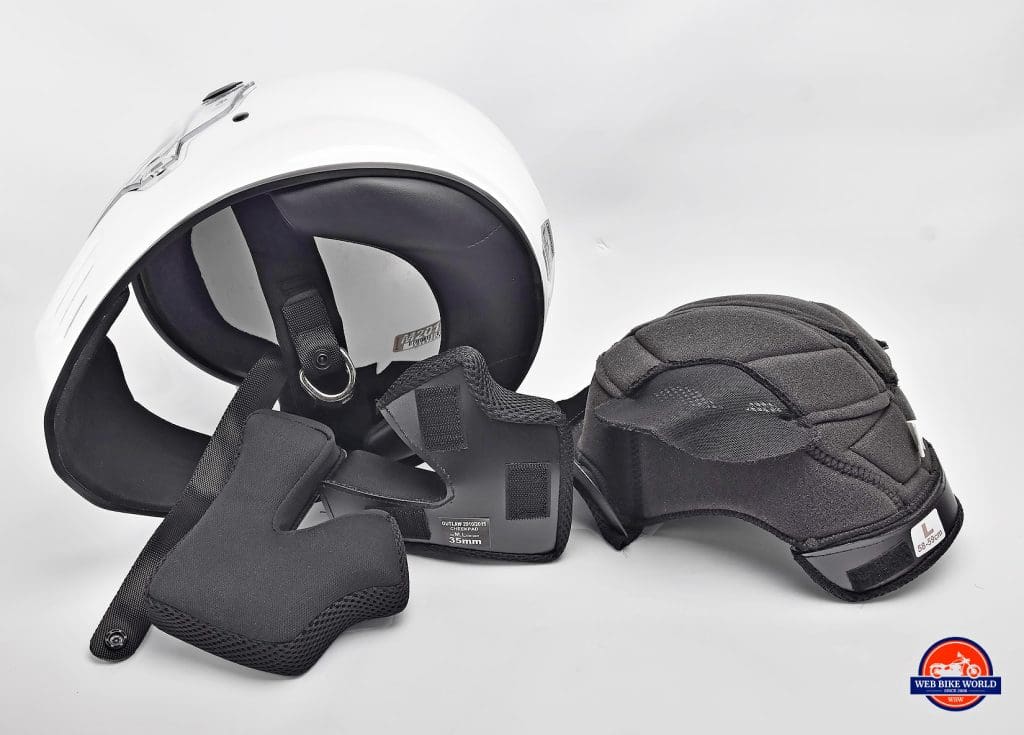 EPS Foam
In the photo above you'll note the white EPS foam inside the shell has no grooves cut into it or exhaust holes of any kind. It's all uniform density which is different than companies like Shoei and Arai which choose multi-density foam instead.
Bluetooth Device Installation
I installed a SENA SF4 device in the OB to judge how it would cope with that new-age technology in its old school framework. I half expected it to require an injection of immunosuppressants (organ transplant anti-rejection medications) to get it to stay in there!
It installed noticeably easier than in most other helmets thanks to the velcro anchoring system of the padding and liner. In fact, I found plenty of room to run and conceal wiring throughout the helmet.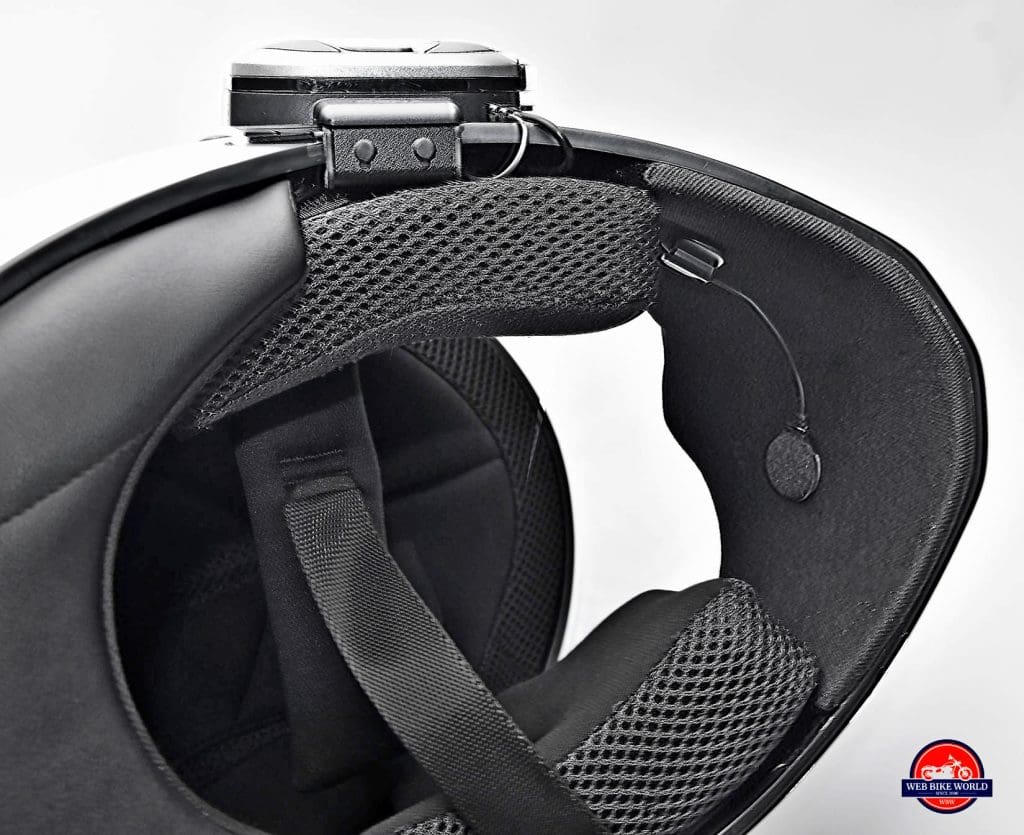 Speaker Placement
The one fly in the ointment would be speaker placement. This helmet has a HUGE amount of room for ears on each side which I particularly enjoy when it comes to comfort. The downside of all that ear space is that it makes correct speaker proximity placement near impossible because they need to be close to the wearer's ears to be heard clearly.
I found I couldn't manage to get the speakers close enough to be used effectively even with the system blaring at full volume. I tried installing some padding under the speakers to move them out closer from the shell to no avail.
There's just too much gap to make up, unfortunately. I think there's enough room to wear buds instead which can be plugged into the SENA SF4 or a 30K system in lieu of the speakers, but I didn't attempt this during my testing.
Airflow & Venting
Always On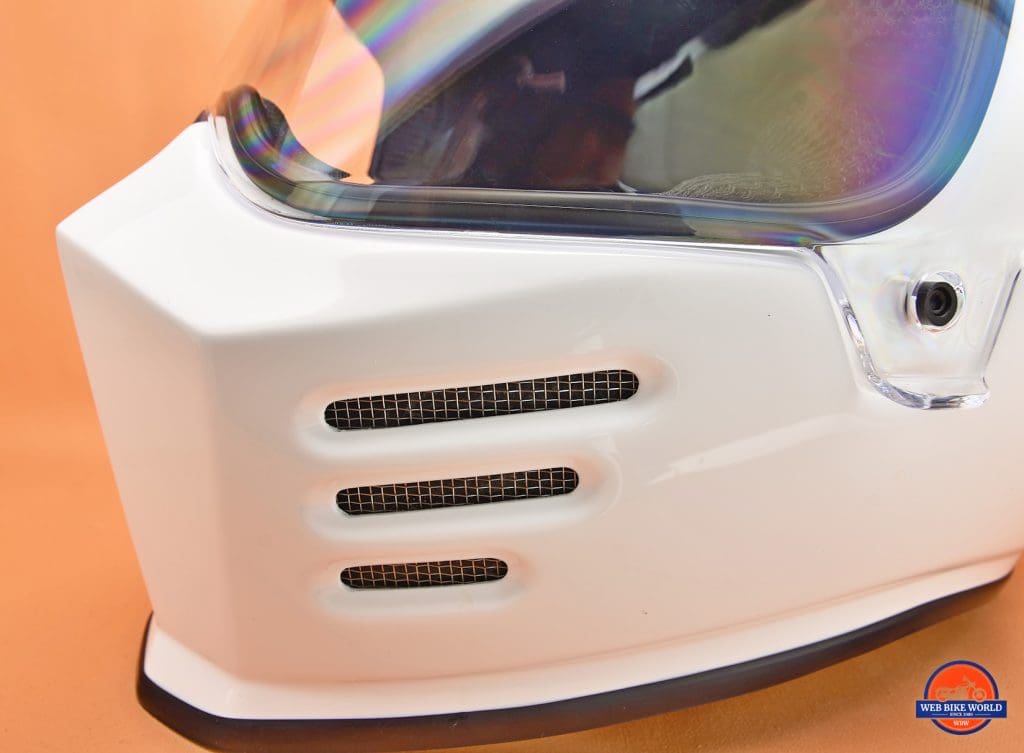 Those ram air intake vents on the chin bar of the OB are always working because there's simply no way to close them.
They direct plenty of air right to the wearer's mouth/nose/face/forehead areas nicely and upwards into the visor too. It's exactly how I like it to be while riding and a good thing too because this is the full extent of air venting in the Outlaw Bandit.
The shell above the visor hasn't got any venting or exhaust ports as I already mentioned so if you've got long hair or are the kind of rider who sweats profusely from your crown you won't like the Outlaw Bandit for any lengthy rides.
There are other models of Simpson helmets that do have upper vents (Street Bandit, Mod Bandit, etc) but not this one.
Windshield Issues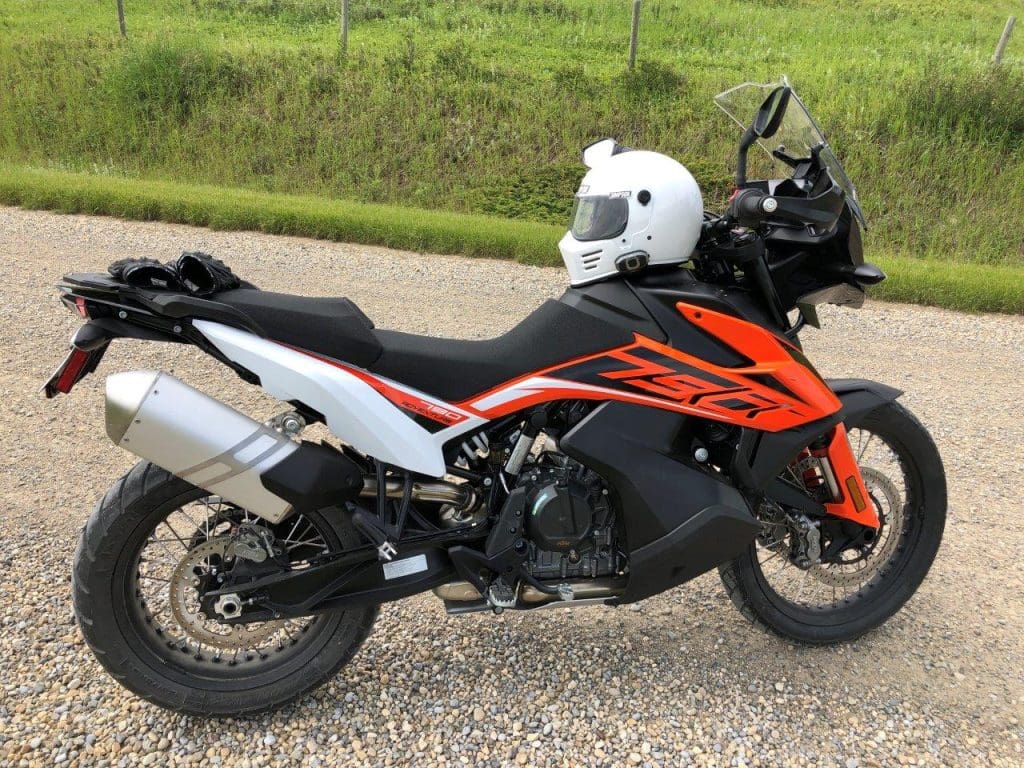 This isn't a good helmet to wear on a bike equipped with a mid-height windshield because you won't get ANY airflow. The windshield on my KTM 790 Adventure blocks 99% of the wind hitting my upper chest and the lower facial area which is the only place the Outlaw Bandit can draw in air!
If I stood upon the pegs and had my face out in the wind it was lovely conversely, so bear this in mind when deciding if the OB is for you.
Wind Noise
This is a confusing area for me to judge on the OB because it seems to be a bit of a moving target.
Perhaps my consternation is related to how I just finished testing the loudest helmet I've ever worn in the Klim K1R, but I don't find the OB especially noisy. A number of other reviewers have labeled it loud and so I'm a bit perplexed as to why I'm not on the same page as them in that regard.
It's most assuredly not a quiet helmet (like a Shoei GT Air for example) and I find when I first put it on and start riding it sounds pretty average for noise. As the miles add up and I play with the visor more and more it seems to get louder though. Is that even possible?
I notice that it's quietest when out in the wind in the standard riding position, which makes complete sense based on the shape of the shell. It's only slightly louder if my head is tilted downwards as in a racing tuck because wind starts to catch on the top of the visor edge and whistle a bit.
Not For Long Rides
This only confirms the argument saying the Outlaw Bandit isn't a touring helmet. It's designed to be worn a couple of hours a day for riding and that's about it.
Final Verdict?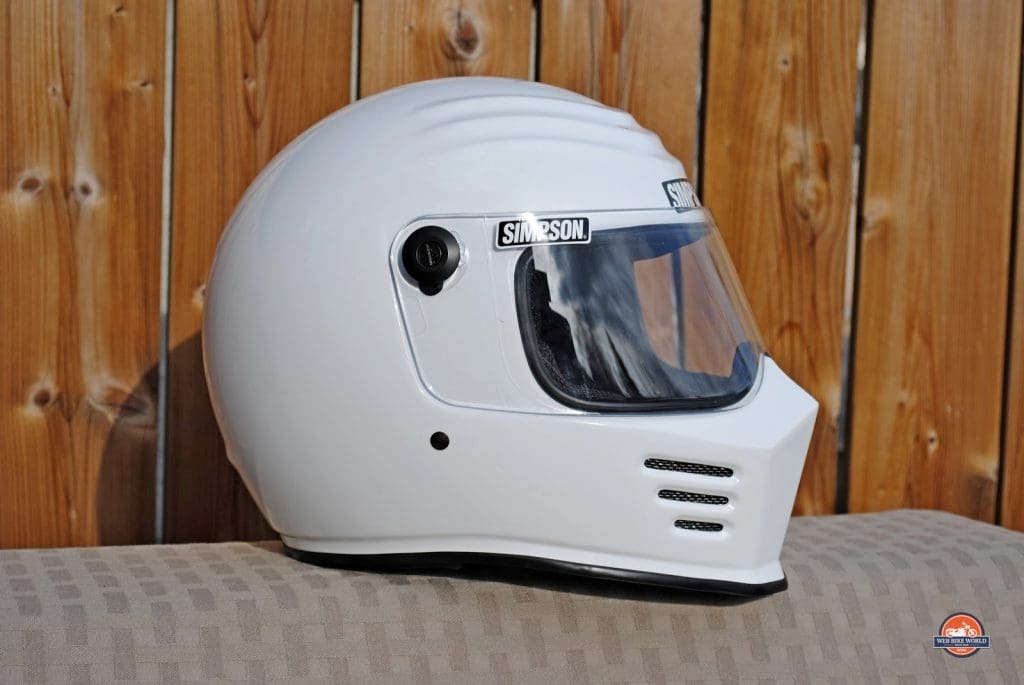 I like the Outlaw Bandit.
It's the kind of helmet that will stand the test of time because it's got style, strength, and charisma. When people see you riding around with this thing on it makes them think "now that's cool biker guy/girl right there who don't take s*** from anyone."
I love the platform it has for customization and the history behind the Simpson brand.
I'll be keeping this one in my collection and will definitely bust it out for some rides every so often because it's got that "je ne sais quoi" about it that everyone who sets eyes on it senses.
The Full Face for Cruiser Riders
This is a helmet I hope cruiser owners will embrace and wear instead of beanies and novelty lids. I realize having that awesome "biker look" is fun and part of the allure of riding Harleys and Indians, but those helmets really don't protect the rider's face from serious damage in a crash.
The Outlaw Bandit can be a middle ground to meet on where you'll still look tough and mean, but get to keep your face in one piece should you happen to skid across the ground after a collision you didn't ask for or deserve.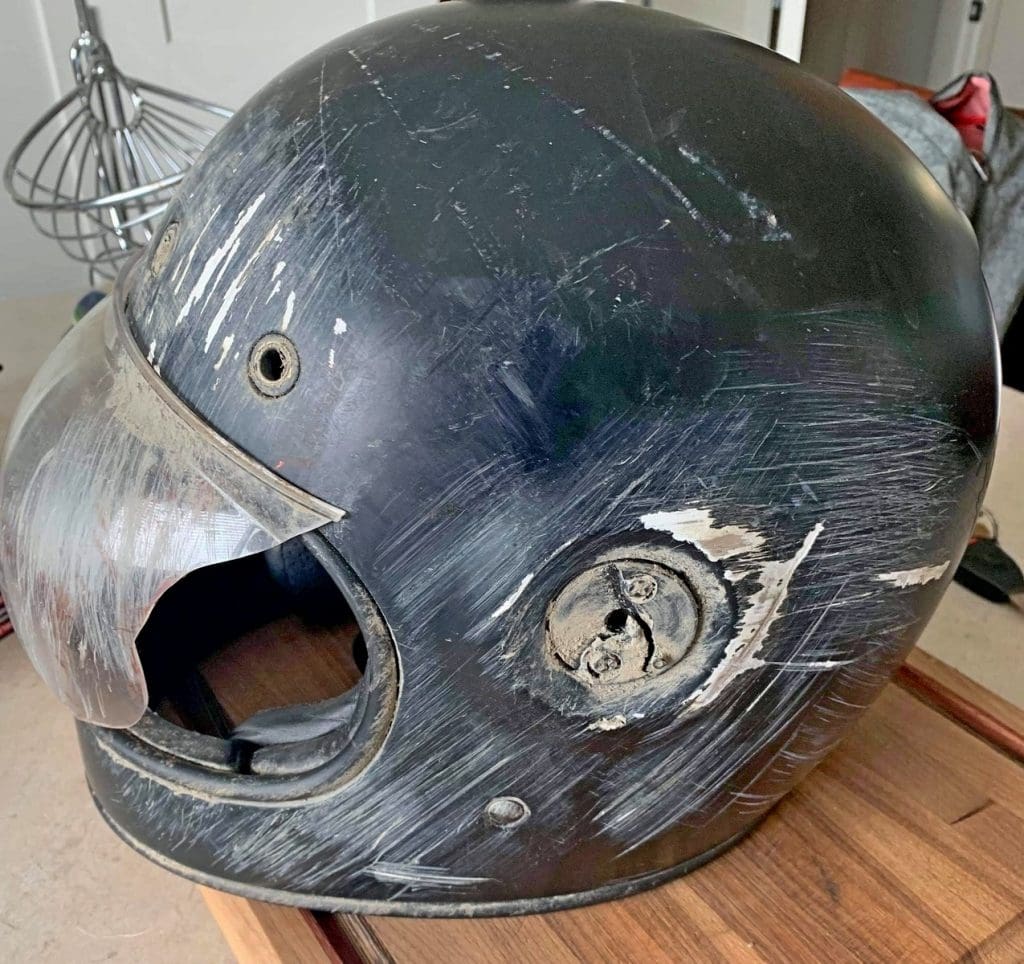 Have a look at my friend's helmet in the photo above and you'll understand what I'm talking about. He went for a slide doing over 70mph just last week and walked away with fairly minor injuries thanks to his helmet and gear protecting him.
It's Legitimate Head Protection
The SNELL stamp on the back of this Simpson helmet has value and proves it's a serious player when it comes to a helmet's primary responsibility: head protection.
It's easy to overlook this as you fixate on the cool "angry eyebrows" molded into the top of the Outlaw Bandit, but recognize it or not it's there.
Perhaps as helmets get fancier and more feature-rich these days with everything from rearview cameras to heads up displays built into them head safety might be getting forgotten by manufacturers as well?
Pros
Strong and simple build/design
Comfortable and lightweight
Unique look
3 shell sizes
Snell M2015 Approved
3mm visor is much thicker than average
Simpson approves this helmet shell for custom painting/customization
Excellent value and protection for $399 USD
Cons
Lacks modern features like integrated sun lens/visor, Pinlock
Visor isn't quick to detach. Need a screwdriver to remove/install
No air intake or exhaust vents on top area of helmet
No provisions for BlueTooth device installation
Visor leaks water through the seal easily
Not very suitable for long-range touring use
Specs
Manufacturer: Simpson Race Products
Price when tested: USD$ 399.95
Made in: China
Sizes: XS, SM, MD, LG, XL, 2XL
Colors: Black, Gloss White, Matte Black, Candee Red, Rayleigh Blue, & Gunmetal
Safety Designations: DOT FMVSS No. 218 and Snell M 2015
Review Date: July 16, 2019