Review Summary
Gravity doesn't exert itself upon the Klim K1R very much. It's so lightweight (claimed 2.9 lbs) that it legitimately threatens to capture the "lightest helmet on the market" crown. Carbon fiber shell goodness and a Transitions-auto-darkening visor along with a comfy interior at a reasonable price of $550 USD are its lovely super features. The flip side of the coin? It's horribly noisy, the visor has a noticeable "fishbowl" optical flaw when it's not tinted and disappointing amounts of airflow through the upper air vents. There are other ergonomic and liner flaws as well. The most important question when considering this helmet is: What negative attributes are you willing to put up with in order to enjoy the luxurious positives the K1R offers?
Build Materials & Quality
Pros
Carbon Fiber shell
Fast-acting Transition visor
Ultra Lightweight
Feels strong & well built
Very comfortable interior
Easy visor removal & installation
Dual DOT & ECE certification
Decent value for $550 USD
5 year warranty
Cons
Very Noisy
Limited airflow
Awkward small vent switches
Microsuede interior padding seems to wear quickly
Only 2 shell sizes
Fishbowl visor effect?
Available in USA & Canada only
KLIM K1R Raw Karbon Helmet Image Gallery
*Note: The Klim K1R Karbon helmet seems Round Oval shaped but the Klim rep I spoke with informed me it was designed Intermediate Oval. It fits my head perfectly so I'd say it has a strong round bias if it's IO shaped. That means it won't be any fun for people with narrow or long oval heads. Not that there's anything wrong with that.
Thank You!
The K1R was provided free of charge for this review by 2wheel.com and Klim.
First Impressions
In the box, I found the helmet wrapped in a fancy fleece helmet bag along with an owner's manual, spare visor handles, and a pin lock anti-fog insert.
I feel electricity gather in the air as I pick up this Klim helmet for the first time. I pause poignantly before donning it just to appreciate its physical beauty first.
I love the intricate weave pattern of the carbon fiber shell encased in a smoke-tinted resin shielding. It vaguely reminds me of alligator hide or snakeskin which is fitting considering how stiff and strong carbon fiber helmets are.
Carbon Fiber
These helmet shells offer the best level of protection. 
Even though I know it's illogical and inaccurate to think they're remotely bulletproof I can't help believe just a wee bit that perhaps it might deflect a bullet given the opportunity… y'know, a slower moving one, fired out of an old musket… at long range.
I marvel at the extreme lack of weight and the oh-so-cool, PinLock-endowed, Transitions visor. It's an "oooooooooh… ahhhhhh" kind of luxury peep show when observing it fade to black instantly should any UV radiation react with it.
Yes, I'm having a moment here. I'm slightly awestruck on an emotional level by what appears to be near fanatical attention to detail evident in this Klim helmet design.
Wow, what a physically attractive beauty!
What's in a Name?
Then abruptly all that magic pauses as my gaze rests on the large, italicized print "KLIM" brand letters scrawled across the back of the helmet. My slightly obsessive nature kicks into overdrive…  and a mental tangent and rant ensues.
Klim is one of the top gear manufacturers on the market when it comes to jackets, pants, gloves and other accessories. That much I am certain of after inspecting it on clothing racks myself and seeing photos of their gear that's been in crashes. This is their first helmet I've been exposed to and I'm eager to try it out.
Let's face it though… that's a weird name they've got.
I try to reason why this company name is "milk" spelled backwards… I've got nothing.
Klim "does the body good", perhaps?
It can't be the owner's last name since this Idaho-based company's CEO and Founder's name is Justin Summers.
Klim still is actually named Teton Outfitters, but in 1999 they switched to their current "DBA" (Doing Business As) name that's only 4 letters long, ergo much easier to fit on a helmet or jacket.
What is a "Klim" then?
I realize Klim reminds me of Klik, the name given to the fat-laden, heavily salted processed pork my dad used to sometimes feed us kids for questionable reasons. It's just Canadian SPAM, basically. We sometimes did get Spam instead, but it was usually Klik or even KAM for the most part. Is this the source of my consternation/obsession with the Klim name?
Possibly.
Say it Right
How do you even pronounce Klim properly anyway? Apparently, it's supposed to be "Climb", but shouldn't it be phonetically correct as in saying the name "Tim" with a K substituted for the T?
Like "K-limb"?
Maybe it'd be simpler to pronounce it "Polaris Industries" since that's who actually owns Klim now, eh?
I decide to call and email John Summers (Klim's Director of Marketing) to ask these and some other important questions.
Success!
I got the answers I wanted from Mark Kincart (one of their Strategic Partners asked to respond to my questions).
The Klim name has roots in their early days of snowmobile gear manufacturing. Their riding jackets and pants were very popular for mountain based hill "klim-bing" or high marking as it's sometimes called. So it turns out the Klim name isn't so weird after all.
I shared and discussed other observations I made about the K1R with Mark that I'll mention further along in this review.
The Weight
A huge must-have for me in any helmet is low weight. I pine for a luxurious mixture of the highest possible level of head protection without bulk and mass straining my neck muscles and joints. What can I say? I'm a bit of a snob that way and typically will harp on portly helmets while praising airy ones.
Featherweight Fight!!
I grab the current featherweight champion helmet of my personal collection: the AGV Sport Modular Carbon to unfairly compare a modular and full-face helmet.
The Klim feels the lighter of the two in my hands, but bear in mind I do have a SENA 30K unit installed in the AGV while the Klim is unsullied as of yet.
Both these helmets weigh practically nothing compared to most competitor products on the market so this is just me being a bit ridiculous, but stay with me all the same here.
Judge's Scorecards After 10 Rounds
I look back at the AGV review to see what it came in at without the SENA: 3lbs even despite AGV claiming 2.85lbs for it. With the SENA installed the AGV weighs in at 3lbs 5 oz. Those 30K units are heavy it seems.
There's a sticker on the back of the K1R saying it should weigh 1380g +/- 50g (3lbs +/-1.76oz).
Putting the Klim on my scale rings up 2lbs 15 oz (1332g) so it appears I've got one of the lighter possible ones in my hot little hands. Having said that it's only 6 oz lighter than my modular AGV/SENA combo!
Honestly, I would have expected more of a difference between a carbon fiber modular and a carbon fiber full-face helmet, but I admit this AGV is a freak of nature and my favorite helmet reviewed to date for that very reason. Still, I feel a twinge of disappointment and this won't be the last time with the K1R as you'll soon hear about.
The Lightest Full Face Helmet?
Is this Klim the lightest full-face helmet on the market? No, but as I said in the intro it's really close.
We did a comparison article about helmet weights in 2017 where we found the Nexx XR1R was number one amongst on-road helmets at 1219g or 2lbs 11 oz.
Dual DOT & ECE Certification
There's likely another helmet out there now an ounce or two less, but really these are all so close it hardly matters in reality.
With this helmet on my head, I don't feel like I'm wearing one. It feels almost like a novelty item despite the reality of it being super strong. The fact it's dual-certified DOT and ECE is proof of that.
Other Certifications?
I wonder why Klim didn't design this helmet to Snell M2015 standards? I suspect it might pass if checked, but I'm not sure.
Mark told me that at the time it was designed Klim thought pursuing Snell certification would mean making the helmet heavier and that was something they wanted to avoid. I believe that belief has been debunked now, but the ship had already sailed so to speak. Most helmets need to be engineered right from the beginning to meet or exceed Snell standards.
Unfortunately, SHARP hasn't tested the Klim K1R to give us any extra insight into the crashworthiness either.
Fitment & Build Quality
A Bit Big
This is a size Large K1R and it's a bit loose fitting on my 23-inch head (58.45cm).
I should have asked for a medium, but I messed up when ordering because the size chart on 2wheel.com's page shows a Large is what I needed.
On the other hand, both Revzilla and Klim's own page show a Large is too big for me, but Revzilla's is confusing as you can see here.
Note: If you click on the "view size chart" link the popup window lists "Klim Helmet Sizes", but there's a section below it if you scroll down that is specifically for the K1R and TK1200 helmets recommending different sizing. It's easy to miss if you aren't paying attention.
If you choose to order either of those Klim helmets don't make the same mistake. With a welding beanie on my head, I'm able to fill up the gap to get a proper and snug fit.
2 Shell Sizes
With only two shell sizes available it may sound like there's a danger of looking like you have a larger than normal head whilst wearing the K1R, but it's so light it won't feel awkward wearing it.
Sizes are also more limited than with most other helmets. Small to XXL is the lot you have to pick from where typically XS and XXXL is also available.
"Roundish" Head Shape
The great news for me personally is the "Intermediate Oval" helmet liner matches my head perfectly and feels just right once I throw it on.
I'm quite curious why this helmet ended up with such a round bias to it. 
Surely that shape will limit the number of people in the US market who fit it best and Klim is an American oriented company through and through. Their lineup of jackets and pants is well known to fit big and tall body types the best, which is the most common build found in "Murica".
Mark wasn't able to give me a good explanation about this, but admitted there are varying degrees of Intermediate Oval helmets.
Interior Padding
Klim did a nice job selecting a comfortable interior padding covering, but longevity might be an issue.
On the crown area is mesh nylon that helped cool my head while a microsuede cheek pad covering below feels soft against the skin, absorbs sweat and wicked it away nicely. It's antimicrobial/washable too just as we'd expect from any quality helmet on the market these days.
Pilling
I notice small knit balls have appeared on the liner in some high friction areas like at the back of the helmet where my neck sits against it and on the chin skirt material. This is the first interior I've noticed doing this in all my testing to date and to quote Shania Twain: that don't impress me much.
I like the reflective pads on the outward face of the neck roll for high viz reasons and there's an unusual slippery, satin-feeling polyester type of material used on it that seems "skookum" and should hold up well over time.
Overall, the interior is pretty darn nice.
Chin Strap
The chin strap is a plain-Jane, standard Double D Ring design which helps keep the helmet weight at uber low levels.
I really have nothing notable to say about it other than it works as advertised and feels comfortable to wear. It has a microsuede covering on the underside of it, but must be different than the one used on the cheek pads since no knit balls have appeared on it.
Eyeport Opening & Visibility
Here's where I have a problem with the helmet, but not in an expected way.
The opening is perfectly fine when it comes to left/right visibility despite quite a beefy chin bar height. Shoulder checks are a breeze wearing a helmet this light and I don't find the helmet rubs on my shoulders in any unexpected way.
My problem is with the massive rubber breath guard rising up from the chin bar area in front of my nose. It perfectly blocks my view of the dash on my bike because of where it sits and I have to nod in order to check my instruments each time.
Fogging
This annoys me and the breath guard design only adds to my frustration by sometimes counteracting the benefits of the included PinLock shield's anti-fog benefits.
I found the PinLock shield worked perfectly in preventing fogging in cold, wet riding weather EXCEPT directly behind the breath guard which produced large water droplets for some weird reason. This isn't a huge deal since I can't see that area anyway, but only further illustrates the need for a redesign of the breath guard.
Transitions Visor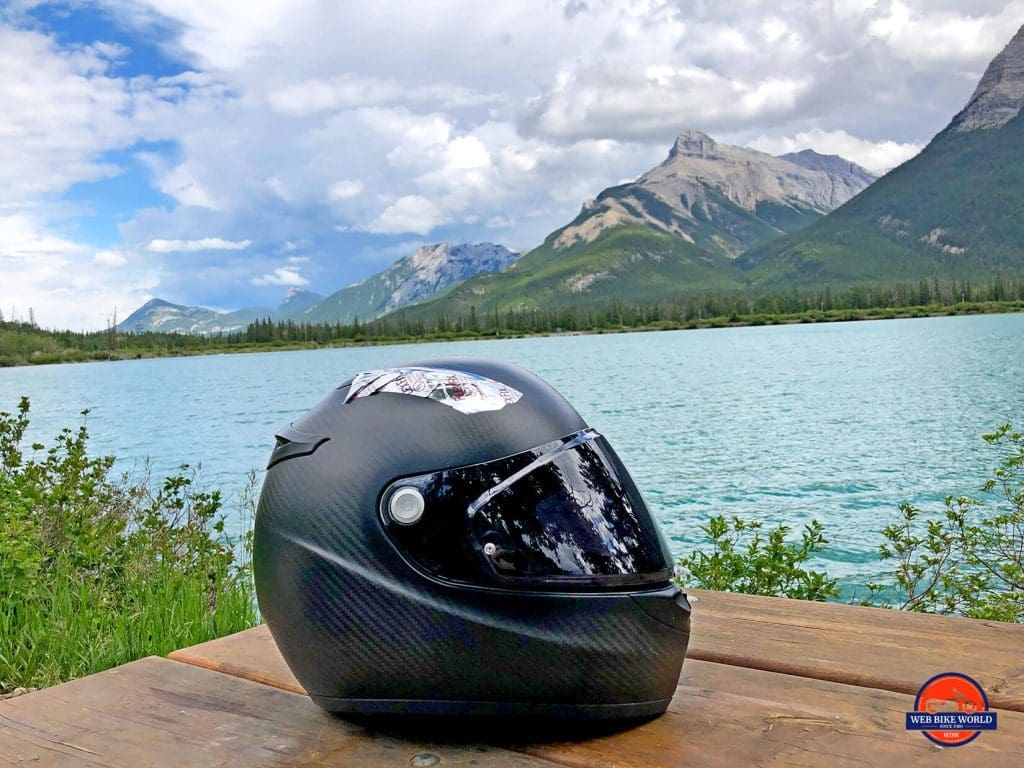 If this review were only for the Transitions visor it would be close to getting the first 5/5 score from me! It alone I would give a 4.9/5 as I still have a couple of small gripes about it but mainly heaps of praise.
Visor Seal
Something unique on the K1R is the material used for the visor seal. I've never come across one like this on a helmet where it's best described as a fuzzy rubber band.
This slightly soft to the touch bead running around the perimeter of the eyeport sealed out wind and water perfectly during my testing. It should (in theory) better resist scratching or damaging the edge of the visor over time and I think the fact it's used here with a Transitions visor is no accident.
Auto Darkening Mechanism
I have really enjoyed this feature and give full credit to Klim for having the vision to include it on the K1R.
Anytime UV radiation and the Thermochromatic elements in the visor meet, it begins darkening to soothe my sunlight-sensitive eyeballs. It reaches full tint inside 20 seconds as you can see in the short video I shot below.
Conversely, it takes over 2 minutes to fade back to clear indoors or at night where/when there's no UV present.
It never does go totally clear under overcast skies. That's one of my beefs with the visor. While riding in steady rain I found the road just a bit harder to see clearly because the visor was still faintly tinted.
If I ride through a short tunnel it's necessary to flip open the visor as well because it won't transition to clear quickly enough for my comfort.
Limited Lifetime
"All good things must come to an end" is an old saying that holds true for all Transitions visors.
As you can see in The Downside of Photochromic Helmet Faceshields, these visors typically only last 2 or 3 years until they won't darken anymore and will need replacement.
At $150 USD each on Revzilla, it adds significantly to the price of a helmet compared to about $60 USD per tinted visor or even less for replacing the integrated sun lenses found on many helmets these days.
Getting Your Money's Worth
The best policy with these Transitions visors to achieve maximum life is to store the whole helmet as much as possible inside the felt bag that came in the box out of direct sunlight.
It's similar to a rechargeable cell phone battery where each time the system cycles it degrades just a little bit.
Visor Optical Clarity
This visor resisted scratching well during day-to-day handling and even after I wiped it several times with my gloved hand in the rain to clear water from it.
Fishbowl Effect
However, around the outside edge of the visor is an area about ½ an inch wide that has a noticeable amount of optical distortion to it. It's impossible to photograph, unfortunately, but when the lens isn't tinted and I look through it I have the distinct impression that I'm looking through a fishbowl due to the wave illusion created around the edges of the visor.
The first time I wore the helmet it made me feel slightly disoriented but, strangely enough, I notice it less and less every time I put the helmet on. I don't notice it at all once it tints while out riding under the open sky.
I mention this only because it's weird but not an actual problem for me while riding with it much to my surprise.
On & Off
The latching system on the visor is among the easiest to use I've come across. Pull down on the switch under the hinge and the visor pops out of the holding socket on its own most times. It almost acts spring-loaded, but I believe it's just tension releasing from the curved shield.
To re-install I just hold steady pressure on the silver disc on the center of the visor hinge point up against the socket and close the visor slightly to get it to click back into place. Very nice!
Visor Locking Positions
The visor can be opened to lock into 4 detents including fully closed. I'm very pleased to see this visor will remain just cracked open about ⅛ of an inch to allow extra airflow in even with highway speed wind force acting on it.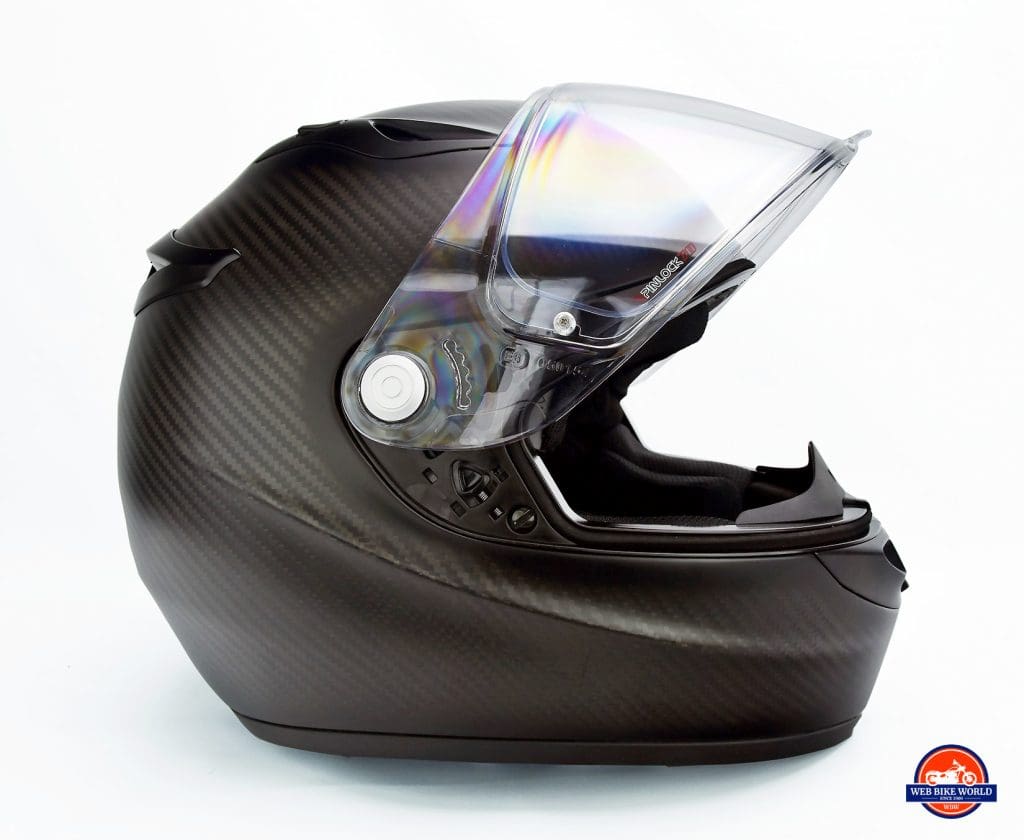 Airflow & Wind Noise
Here's the elephant in the room when it comes to the K1R helmet: noise and cooling problems.
The Chin Bar Vent Airflow is Good
The vent on the chin bar flows a lot of air to the visor and wearer's face. If you aren't the type of person who worries about air on your scalp you may find the chin bar vent airflow sufficient for your cooling needs while wearing the K1R. It wouldn't be adequate for my needs personally in a hot environment.
I rate the switch on the chin bar vent small and difficult to locate when first getting acquainted with the K1R. It's just not sized as it should be to pinpoint quickly with a gloved hand, but after a few hundred miles I was getting better at using it.
Compared to the vast majority of helmets on the market this is a poor design despite the fact from a distance it looks slick, unique, and innovative.
The Top Air Vents
This beautiful helmet is BRUTALLY loud and the airflow runs at half what it should be because the top air vents don't flow any air that I could notice.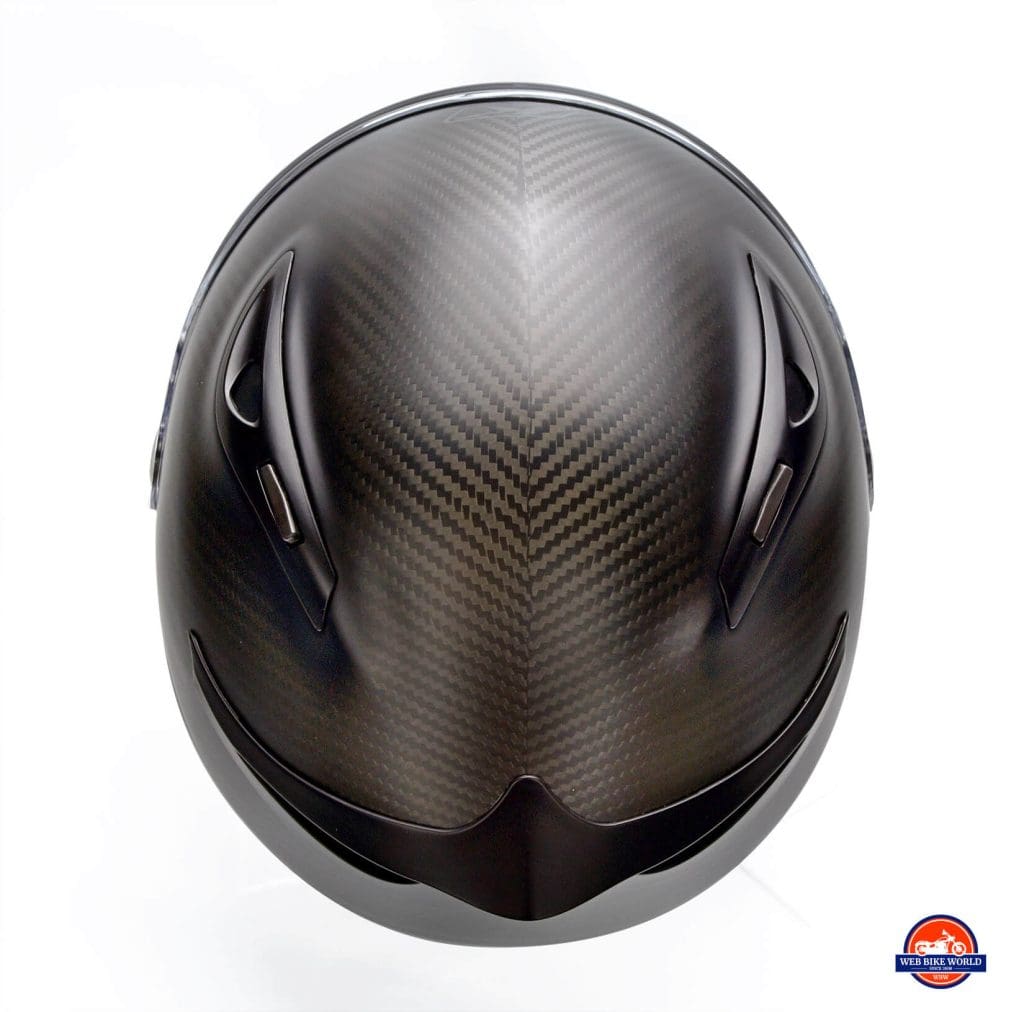 It's Unbearable
Both the cooling and noise problems are linked to the design of the top air vents.
The orifices on those vent scoops are actuated using a couple of two-position switches (open or closed) but the two flaps the switches move for opening or closing flow are recessed underneath the intake tunnels built into the shell of the helmet.
The intake orifices on the outside shell are either too small or possibly incorrectly positioned to produce a vacuum effective enough to draw in cooling airflow for the wearer's crown.
Additionally, they create noise similar to the way those deer horns people mount on cars and bikes do. The wind washing over these openings make for heavy turbulence and a constant low-pitched roar at any speed at or above 40mph (65kph).
When I asked Mark about the source of the noise he suggested that it was coming from the hinge points on the visor or side plates. With a little experimentation I discovered he was correct about that being another source of noise from the helmet.
Wear Ear Plugs?
I don't wear ear plugs when I ride unlike many people so I can't tell you whether that would solve the noise issues. It definitely would help because the K1R can't get any louder, I'm sure of that.
Scott loves using the Transitions visor to kill bugs
Ultralight, carbon fiber helmets like these aren't typically quiet, to begin with. Even after I removed the top air vents from the noise equation by covering them in duct tape I still found the K1R louder than average, but more bearable.
I asked my friend and wBW reader Scott Boone try out this Klim to make sure I'm not being unreasonable or overly sensitive. He echoed my assessment and said it was still louder than his usual $170 USD Icon Alliance helmet even with tape over the top vents.
Rider Positioning
It's interesting to note the helmet is much noisier in the standard or upright riding position by far than it is when you tilt your head down as someone would riding tucked in a sportbike tuck. I would guess the neck roll must be to blame somehow, but I haven't narrowed down what exactly on the neck roll the cause is yet.
Compared to the AGV Sportmodular Carbon
I had to get more perspective on the noise level so I again chose to unfairly compare the K1R to my AGV modular carbon fiber helmet.
Modular helmets are consistently louder than full-face ones in general, but even with the tape on the Klim helmet I still find the AGV quieter at highway speeds. This should have been an easy win for the K1R.
It's hard to fathom how Klim has let this go uncorrected for 3 years. The K1R was released in 2016 and hasn't been changed from what I gather.
Lift & Pull Issues
Klim did a great job with the shape of the helmet. I encountered ZERO problems with lift or pull while testing the K1R. Even dreaded crosswinds had nothing to say about it. Well done!
Perhaps the ultra-lightweight helped somehow?
Glasses Compatible Design
Scott wears prescription glasses and mentioned how pleasant the K1R is for slipping the spectacles on or off thanks to grooves in the padding running along where glasses stems need to go when worn.
Final Verdict?
Let me explain my final thoughts on this Klim helmet using an odd yet entertaining analogy.
Your New Best Friend
I think most everyone has fantasized about what it would be like having a close personal relationship with a famous, A-list celebrity. Imagine if that came to pass where you got to regularly rub shoulders and pal around with them. Maybe even have an intimate relationship with them if you're single. Go ahead, indulge your imagination about how fun, exciting, and incredible that would be.
Now, inject a fatal flaw into that individual's personality so unexpected and awful that you decide it's just not worth going any further. I know everyone has different levels of tolerance when it comes to this kind of thing so you'll have to tailor my analogy for full effect on you personally.
That's the K1R for me. I want to like it so badly but just can't put up with it.
One ride I always take when testing gear goes from home out to Canmore, Alberta via the 1A highway. The trip takes 1.5 hrs and ends with a treat at a favorite restaurant named 514 Poutine where I typically scarf down two "steamies" and a Spruce beer. My first trip out wearing the K1R almost made me throw in the towel due to noise.
Its reasonable price point for a carbon fiber helmet is impressive especially since the visor alone costs $150. Full credit to Klim in that regard. Having said that, I would rather wear other quieter helmets that are basically just as lightweight, handsome to look at and flow air more effectively.
Fix It, Klim!
The potential for this helmet is tremendous if Klim decides to improve on the design in the next generation. 
Unfortunately Mark informed me that Klim is planning to phase out production of the K1R to instead focus on their much more popular line of modular helmets. That's a shame really, so get yourself a K1R while you still can if this sounds like your cup of tea.
If you're someone who is utterly smitten with the Transitions visor, always wears earplugs, and doesn't care about having copious amounts of airflow around your crown this may be the best lid imaginable for you. There's zero rider fatigue to endure while wearing a lid this lightweight.
My friend Gerry adores this helmet, and well enough that he's willing to endure the noise to enjoy the finer points of the K1R. Despite his affection for it, Gerry admits there's no way, as it stands now, that he'll be able to hear much of anything from Bluetooth speakers installed in this Klim lid.
Other Options
Other ultra-lightweight (even carbon fiber helmets comparable to this one) are becoming more common on the market these days. Unfortunately, you can't get Transition visors for helmets other than Klim, Shoei, Bell, and Lazer from what I could find so there is that point to weigh.
Brandon recently reviewed the Scorpion EXO-ST1400 that weighs 3lbs 5 oz according to his scale and is quiet to boot. It costs $399.99 USD but doesn't have the Transitions visor.
I haven't worn this one myself, but trust Brandon's ears are honest.
Ruroc is a UK snowboard helmet company that just released a line of motorcycle helmets this year, all of them are carbon fiber, weigh 3lbs and cost about the same or a little less than the Scorpion above. We haven't tested any yet, but have a commitment from Ruroc to supply us with one asap to get the scoop.
Maybe it'll be just as loud as the Klim too, but maybe not.
Photo from Ruroc
These are only a couple of alternatives with more popping up every day. I hold out hope Klim will change their mind and instead revamp the K1R so that perhaps someday the "K2R" might be top dog in the carbon fiber helmet market.
Pros
Carbon Fiber shell
Fast-acting Transition visor
Ultra Lightweight
Feels strong & well built
Very comfortable interior
Easy visor removal & installation
Dual DOT & ECE certification
Decent value for $550 USD
5 year warranty
Cons
Very Noisy
Limited airflow
Awkward small vent switches
Microsuede interior padding seems to wear quickly
Only 2 shell sizes
Fishbowl visor effect?
Available in USA & Canada only
Specs
Manufacturer: KLIM
Price when tested: USD$ 549.99 MSRP CAD$ 699.95
Made in: China
Sizes: SM, MD, LG, XL, 2XL
Safety Designations: DOT FMVSS No. 218 and ECE 22.05
Review Date: June 23, 2019