Arai DT-X Helmet Review Summary
Review Summary
Arai really knocked it out of the park with the DT-X. For any rider looking for a versatile helmet I am hard pressed find any drawbacks about the DT-X and feel comfortable recommending it to any rider.
Pros
Low noise
comfortable
looks cool
well ventilated
high quality
and an affordable price tag
Cons
Don't love the clear visor
Arai DT-X Helmet Image Gallery
For those of you not familiar with Arai Helmets, they are a Japanese company who has been around since 1926. Arai helmets are all hand built and are designed to meet or beat SNELL safety standards. They are a family-owned company, with a strong belief in high quality control and safety.
We have reviewed numerous Arai Helmet over the years and have consistently found them to be high-quality units that offer the very best in protection and rider comfort. Let's see if the DT-X follows that tradition.
At a price point starting at $589.95 MSRP, the all-new Arai DT-X (DownTown-X) is Arai's entry level helmet a level up from the Vector 2. It sits below the Signet-X and Quantum-X.
Arai has just revamped the DT-X and packed it full of sweet features: Antimicrobial Interior Material – keeps the inside of the helmet from smelling like a gym sock, A PB-SCLC Shell – increases the strength and safety by allowing for better impact absorption, Variable Axis Shield System – the design results in a smoother shell which will increase the helmet's ability to brush off objects during impact (avoiding snags), One Piece Multi Density EPS liner – helps minimize the helmet size and weight for added comfort, Dual Flow Ventilation – Increased airflow and exhaust make for a more comfortable ride, especially in warmer weather, 5MM Peel Away Temple and Cheek Pads – fine tune the fit of the interior of the DT-X, DOT, ECE and Snell Certified (learn why that's important).
See Also: Helmet Buyers Guide, Helmet Review Home and all Arai Helmet Reviews.
Helmet Fit
The DT-X is available in sizes XXS-XXL and it's shape is intermediate oval.

Arai Helmet Shape Guide
I'm a big guy at 6'2 240 lbs with an intermediate oval shaped head. My typical helmet size is XL for most brands. Just for comparison, I own a Shoei GT-Air Helmet that fits in XL that fits my head shape quite well. The DT-X in XL actually fit me quite well but as with all helmets, I recommend trying them on to determine if it fits properly.
One area that was a bit snugger than I like was the cheek pad. I found my cheeks to be overflowing over the top of the pad. Luckily, the cheek pads are adjustable and I was able to peel away about 5mm which wound up being a perfect fit for me.
The temple pads can also be peeled way to relieve some pressure, but I did not find a need for this during my test.
After making the adjustment on the cheek pad the interior of the helmet fit me quite nicely. One other area where the DT-X shines is there is a groove built in that seems like a natural fit for eye / sunglasses.
I was able to put on a pair of Ray Ban aviators quite nicely without adding any additional pressure onto my head.
Paint, Graphics and Overall Quality
The DT-X comes in a wide range of new color schemes. White, black, black frost, guard red, guard green and guard white frost.
The helmet we received is a new color scheme called Torrent White. It is a glossy white paint scheme with grey, off white and silver graphics. The graphics are painted and then glossed over which adds a layer of protection to prevent chipping.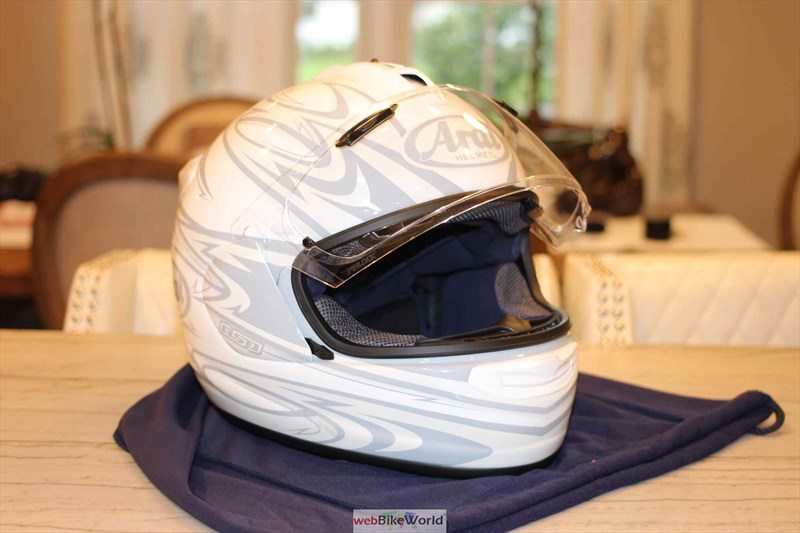 From a looks perspective, I would have liked a tinted visor rather than clear but that can always be swapped out or fitted with the VAS Pro Shade System.
Paint, Graphics and Overall Quality
The DT-X has a ton of ventilation points.
There are 2 brow vents to circulate air around the forehead / temple region.
The chin vent has 2 positions to direct air around the chin or upwards to help with fogging.
A dual purpose vent on top, when riding upright,allows for air to flow in and out.
An intake vent in the rear helmet is used when riding in a more aggressive stance. It allows you to open up 2 vents to maximize airflow and exhaust through the rear of the helmet.
The crown and rear intakes push air through the liner and exhausts the air through holes in the lining which allows for more circulation within the lining. The air is then pushed out through one of the 5 exhaust vents around the helmet.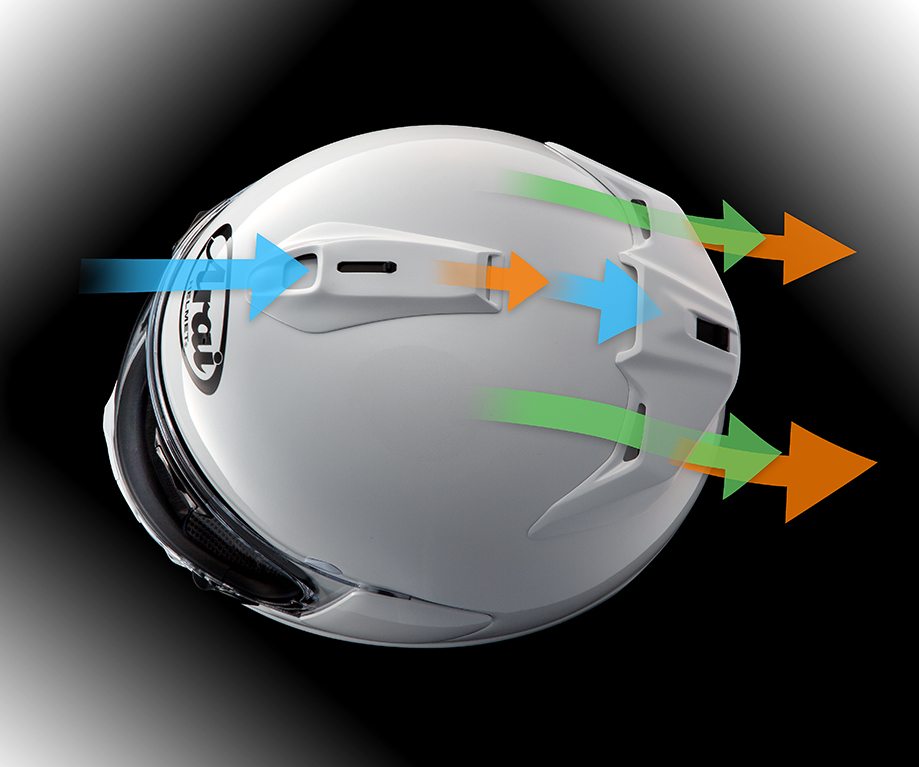 With the exception of the two bottom rear vents, each one can be opened and closed with ease. The only one I had a bit of trouble with was the top rear vent, but that was more due to me not being familiar with the helmet.
I tested this helmet for 2 hours in 75 degree somewhat muggy weather in New York. The air was a bit thicker than normal due to some rain over the last few days.
Full disclosure, nearly every helmet I've ever owned has tended to fog rather quickly however. The DT-X held it's own and once the fog started to build a bit I was able to open up the brow vents and defog them relatively quickly.
Helmet Weight
The DT-Xi is made out of lightweight fiberglass. The helmet weighs in at 3 lbs 9 ozs which puts it right in the weight range of the most other Arai helmets.
I wouldn't consider this a "lightweight" helmet, but it is definitely one that you can wear comfortably for long periods of time.
Face Shield
I am a bit biased on this because I lean towards using a tinted visor during my daytime rides. The stock visor is clear, meaning that you'll need sunglasses to ride comfortably when the sun's out.
However,the DT-X uses the Variable Axis Shield system that will allow you to swap out visors without any tools. You can always run the VAS Pro Shade system that will allow you run multiple visors without having to stop and swap.
According to Arai it also allows for a smoother shell in the temple area for added comfort.
There is a single black tab right below the visor that you will need to push in that will pop the cover off. With the cover off, just push the tab once more and the visor will pop off quite easily.
Visibility
From a visibility standpoint, the face shield and eye holes are wide enough to have minimal visibility issues. I was able to maintain my peripherals quite well and had full view of the road ahead.
I did however had a hard time getting an easy look at the instrument panel. I feel like the mouth / chin protector is a little larger than I like and may have affected my view. Definitely not a game changer, just something to be on the lookout for when giving the helmet a test run.
Noise Levels
On a typical ride, I usually have all vents open because I prefer airflow in exchange for some ride noise. With all vents open I found the sound levels extremely minimal and quiet. It would make an excellent choice for a long bike tour.
Gallery
Conclusion
Arai really knocked it out of the park with the DT-X. Low noise, comfortable, looks cool, well ventilated, high quality, and an affordable price tag. The only drawback to me is the clear visor, but really it's just a matter of preference and is easily swappable.
For any rider looking for a versatile helmet I am hard pressed find any drawbacks about the DT-X and feel comfortable recommending it to any rider.
w

BW

 Review: Arai DT-X Helmet
Manufacturer: Arai Helmet Ltd.
MSRP: $589.95 – $729.95
Colors: Solids and Graphics
Made In: Japan
Sizes: XXS-XXL
Review Date: Oct 24th, 2017
Shell Size : Intermediate Oval