SENA 30K Intercom Hands-On Image Gallery
Years ago when my husband and I began to take longer trips on our motorcycles we realized we needed a better way to communicate than the frantic hand signals my loving spouse always failed to notice. So for Christmas a number of years ago we gifted each other with the SENA SMH10 intercom system.
Overall they have been a reliable and dependable way to communicate with each other but they did have a couple of idiosyncrasies that over time became annoying. So when I accidentally clipped the side of my helmet on a recent trip and snapped the baseplate of my unit we decided to look around a little before we bought another system. I kept coming back to the SENA website though. The features and ease of use stood out from the competition, so when the 30K became available I was pretty excited to put it to the test.
Webbikeworld has done several in-depth reviews of SENA intercoms over the years so in this review I'll concentrate on what's new and what features we used most frequently on the 30K.
About Sena
SENA has been making communication systems since 1998. The staff, including the CEO, are motorcyclists so they understand the needs of riders and the challenges we face using technology while we ride. This translates into products that are packed with features but easy to use.
The base model has gone through numerous improvements over the years from the 10 series to the 20S and now the 30K. They also offer a wide variety of intercom choices. Starting with the very simple and minuscule 3S to the action camera hybrid the 20S EVO. New this year is a Bluetooth integrated full face helmet that utilizes noise-canceling technology.
SENA also makes communication devices for bicycle helmets and industrial applications so they have a lot of experience to pull from in the communication field.
What's In the Box?
The top layer of the box was neatly packed with the dual communicator modules plus two base units incorporating the helmet clip with the boom microphone attached.
The bottom layer contained a handy flip chart guide for getting started, two different types of charging cords for each unit, a wired boom microphone (for flip-up helmets), and a wired microphone (for full face helmets). It also contained a plastic bag for each unit that contained microphone covers, an adhesive option to attach the base plate, 2 attachment cords with 2 male ends (for an MP3 player), and various bits and adhesives to position and attach the speakers and microphones.
Getting Started With the 30K
Right out of the box I noticed that the 30K looked sleeker and more sophisticated than my old model. It's slightly larger but thinner so it hugs closer to the side of my helmet. The base unit that attaches to the helmet is beefier and shorter, utilizing a different system to clip the module into the base which does away with the piece that broke off on my old unit.
Before I assembled everything I charged up both units and followed the quick start guide instructions to update the units to the latest firmware via a device manager on my computer. In this case version 1.0.1. The instructions are pretty straightforward (they even include a video tutorial), so I had no trouble. I had both units updated in a few minutes.
After that, they recommend you do a factory reset. It's pretty easy to do; you just push the phone button at the rear of the module for 10 seconds until the indicator light goes to solid red, and then tap the jog dial. You'll want to do the reset before you customize your module since it resets the unit to the factory settings.
Next, they had to be attached to our helmets. The attachment clip is pretty simple – it just slides inside the cheek pad on the helmet and tightens with two small screws. I had no problem fitting it to my RPHA 10 flip-up type helmet.
I switched out the boom microphone for the included wired boom microphone which works really slick with my rotating chin bar. My old unit came with just a standard boom. I kept shutting the boom microphone in my chin bar, to the point that the boom was all shredded and ready to fall off. Both boom type microphones come with a larger tab to tell you which side is live to help you keep it turned toward your mouth. I do wish they would put a visual cue also. Maybe a yellow dot so you can see right away if it's not pointed in the right direction.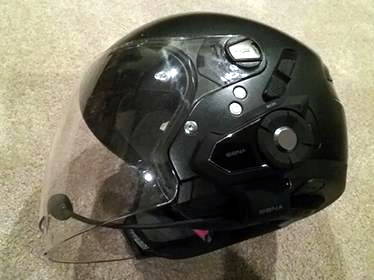 My husband has a Nolan N43 helmet. It has a funky lip around the bottom of it that makes attaching a clip impossible. So I had to use the adhesive backplate (SENA does not recommend this by the way). In order to use this option, you have to first remove the speaker wires so you can thread them through the new back. This involves removing a very small screw that tried to make its escape to freedom several times. I also realized a little too late that re-assembly would have been a lot easier if I'd done it before I stuck the back plate to the side of the helmet.
As with any intercom, it's important to get the speakers as close to your ears as possible. I took advantage of the foam pads provided in the kit to get them right up next to my ears and then used the foam speaker covers so the edges wouldn't dig into me. With this set-up, the sound came in loud and clear.
The module then slides onto the base. It doesn't give a real definitive 'click' when it seats but once it's in it feels very solid. The units are already paired at the factory so all we had to do is turn them on and we were ready to go.
The Sena App
One of my favorite things about the 30K is the phone app. Using the app is a very simple way to adjust the settings on your unit. You can
set your radio stations, put in 3 preset phone numbers for speed dialing, set up a mesh, and turn off or on all the various features. You can also adjust the volume differently for your intercom, phone, and music.
The quick start guide has a URL for a website that you can download the app from or you can just search for it in your app store. Just make sure you download the app specific to the 30K. Also, your unit has to be on and paired to your phone (which was very simple) before you
can use the app.
You could also use the device manager on your computer to set up your device but it's not near as fun. The only thing that's a bit easier is setting the radio stations as you can write them in instead of scrolling like you have to do on the app.
Voice vs Manual Commands
We decided to practice a little first before taking them on the road. I imagine we looked a little goofy sitting in our living room with our helmets on but hey, safety first. There is a learning curve involved, even if you've had a SENA before, so I recommend you read the full manual and do a little practicing before you head out.
All the normal commands can be performed by either using the large jog dial and the small phone button at the rear of the unit or by using voice commands.
The voice command function was my biggest pet peeve with the SMH10. The VOX didn't always activate and once on didn't want to turn off. I think the wind noise, particularly with my husband's helmet, was the culprit but eventually, we just stopped using it. But the 30K performed flawlessly, at least in the living room. A 'hello SENA' wakes the system up and 'she' requests a voice command (by the way 'she' doesn't care how you pronounce her name).
There are a number of commands to choose from including intercom, music, radio, and mesh (more on that later). The trick is knowing exactly what to say to activate the command. For instance to activate the intercom you have to follow the 'Intercom' command with the number of the person you want to connect with – '1' if it's just you and your husband in the living room.
Once you've established an intercom connection you can reconnect by just saying a word or blowing on the microphone which became somewhat of a problem when I took mine on the road for a solo trip (more on that later).
Once we got the hang of the commands the VOX worked really slick. You can turn the music off and on, listen to the radio, make and answer phone calls and of course talk to others in your group all without removing your hands from your bike controls. And don't worry, if you forget a command you can ask "what can I say" and she'll run through the list of available commands.
One hint though, if you're trying several commands back to back, you must give SENA a few seconds between commands before you wake her up again. You can go right from one function to another though. So, for example, you can switch from streaming music to the intercom without shutting the music off first.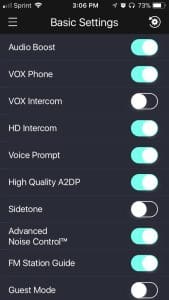 In fact, if you're in 'mesh' mode, the intercom overlays the music with the audio multitasking feature. This is a great feature if you're pairing it with a GPS so you don't miss a turn. I have some difficulty hearing when there's a lot of background noise but you can adjust the volume of the music overlay so it wasn't a problem. It's easy to adjust the settings using the phone app. I found that it worked best with the 'Audio Overlay Volume Management' button pushed to the left. That looks like it should turn the feature off but it doesn't. With the button pushed to the right the audio didn't fade into the background and it was hard to hear a conversation.
For those of us used to talking to SIRI or Alexa the commands may seem pretty limited. I kept catching myself trying to have a conversation with my helmet, but considering it's a unit that fits in the palm of your hand and that its primary purpose is to be an intercom, I think it does pretty well.
I did discover a glitch when I was testing the units. I gave it a number of commands in succession without much of a break between them. After 3 or 4 commands in a row SENA apparently got tired of me bossing her around and the unit shut off. I thought perhaps this was an aberration but I was able to replicate it on the other unit. Giving that many commands in a row is not something I would normally do on a ride but it was a little disconcerting to have the unit turn itself off. I have to give kudos to SENA support though. After several emails back and forth about the issue, they actually picked up the phone and called me to discuss it with a promise to take it to the development team. I came away very impressed with the enthusiasm they have for their product.
Riding with the SENA 30K
The first thing my husband said when we took the 30K on the road was "wow, the intercom is a lot better". And it is. There is a less static, voices are clearer and it picks up a lot less wind noise from the other helmet.
On the open road, we were able to get quite a ways from each other and still stay connected. SENA claims the intercom has a 1.2 mile range and out on the highway I think that's pretty close. In town the Bluetooth intercom started breaking up at .6 miles. It did reconnect as soon as we got back into range.
I like to listen to music when I ride solo. The FM radio worked better than I was expecting. It came in very clear and had pretty good range. With the 30K I can alternate between streaming tunes from my phone and the radio. I had some issues with my old SMH10 frequently pausing my streaming music but the 30K doesn't seem to have that problem.
The hands-free voice commands are a really nice feature. On the road the wind noise makes it a little tough for me to hear SENA's voice. In their review of the 20S Rick and Burn had the opposite problem with SENA's voice coming in too loud. Apparently, they've fixed that problem. My husband also claims I'm deaf, so your results may vary.
I did have an issue the first time I tested the unit riding solo. I couldn't get any of the voice commands to work. I couldn't even get SENA to 'wake up'. Every time I started to speak I heard a double beep and she said: "intercom failed, try again later". Manual commands worked fine. I consulted SENA and they had me do another reset.
Again, it worked fine when both units were on but when I rode solo I couldn't wake up the VOX. So I re-read the manual and I think I have it figured out. Remember I wrote earlier that once you've established an intercom link you just have to say a word or blow on the mike to re-establish the connection. Well, apparently it doesn't disconnect even when one unit is off.
As soon as I started to speak it tried to open the intercom link. I'm not sure why this doesn't disconnect when you turn the units off but apparently, it doesn't. You can manually wake up VOX with one push on the ambient button or you can turn the VOX off for just the intercom via the app before you leave. I've been using the manual method if I want to switch from FM to streaming music-about the only command I really use when I'm solo. I've had mixed results turning the intercom VOX off – it still occasionally tries to connect to the other unit.
When riding with a buddy we both use the voice command for the intercom almost exclusively and it's been working very well. Occasionally a loud noise in my helmet connected the intercom accidentally (like my visor clipping shut). You can change the sensitivity via the phone app. Turning it down to 1 eliminates the accidental connection but you do have to talk a little louder to activate it.
I don't make phone calls when I ride but I think that's a nice feature to have in case of emergency. Incoming phone calls can be answered with a voice command or by pushing the phone button but mine automatically connects after 2 rings anyway so I usually just wait for it to connect by itself. To make an outgoing call to one of your preset phone numbers you just have to say 'phone' and the number of the preset you want to dial.
What's New on the 30K
The new 30K has proven to be smoother and more reliable than my old unit but how is it different than other intercom systems? The biggest new innovation in the 30K is mesh technology.
Mesh technology is the latest and greatest when it comes to group communication. It allows you to connect with nearby 30K users without having to pair with them. Using mesh you can connect up to 16 users in private mode, or an unlimited amount in public mode, and it automatically adapts to riders leaving and joining the group. Since it is multi-hopping with a range of over a mile you could stretch a group communication over 5 miles with 6 people talking at a time. This would be great if you have a club that frequently rides together or if you're arranging a large group ride.
It's very easy to start the mesh intercom. With the mesh antenna up (you have to pull forward slightly to raise it) you just push the mesh button on top of the unit and it automatically connects to any 30K units within a mile. You can create a private mesh for a closed group by either using the mesh button on top of the unit, using the phone app or by inviting them with a voice command.
Voice quality is very good through the mesh network. It sounds louder and even more clear than with the regular intercom. It almost sounded like he was right next to me. In fact, we found it was much easier to use 'mesh' mode all the time for the intercom instead of using the Bluetooth connection. In mesh, you just have to start talking to start an intercom conversation and all the other functions work the same.
What I Like About the 30K
There are several things about the 30K I really like. When you turn the units on there is a battery check. It tells you with a series of red flashes on the power button if the battery is low, medium, or fully charged. Using a voice command you can also ask for a 'battery check' or SENA will give you a warning if the battery level goes to low. The units charge much faster (a full charge in 1.5 hours) and if you have one of those big touring rigs you can even charge the units while you're riding with the USB or lighter cord that's provided.
I also really like the voice commands. Talking to your helmet is just so much cooler than using a series of buttons. And just like hands-free Bluetooth in your car, it's a lot safer to keep your hands on the bars than fiddling with your helmet intercom.
I'm a musician and a singer so I really appreciate the sound quality of the speakers and the smooth operation of the radio and streaming music. It has plenty of volume to hear it at high speeds (I never turned it up all the way) and a smart volume feature that lowers the volume when I slow down. We've also been using the music sharing feature a lot. It's really easy to turn on using the app and either person can advance the track if you get to a tune you don't like.
I also appreciate that I can actually hear my husband when he talks to me and I'm not deafened by the wind noise from his helmet. This was really annoying on the SMH10 – I'm glad there has been such amazing advances in noise-canceling technology.
The ambient button feature is pretty interesting. Pushing the button twice quickly turns off my music so I can hear if I suddenly find myself in heavy traffic or if emergency vehicles are approaching. The button is a little hard to find with gloves on but with a little practice I got pretty good at it. It's almost like you're listening to the inside of your helmet, kind of a strange sensation, but it also does a good job of enhancing outside sounds.
And of course, we both really liked the mesh function. Being able to connect with friends without having to go through pairing everyone, and having to remember the sequence you have to pair them in, really saves a lot of headaches.
Features
The following chart compares the features of the SENA SMH10, 20S, and 30K:
| | | | | |
| --- | --- | --- | --- | --- |
| Feature | SMH10 | 20S | 30K | Comments |
| Intercom Distance | .5 miles | 1.2 miles | 1.2 mi. (2km) | |
| Voice Commands | X | X | X | Intercom only on SMH10 |
| Bluetooth | 3.0 | 4.1 | 4.1 | |
| Audio | Stereo | HD Stereo | HD Stereo | |
| Wired Music | X | X | X | |
| Wireless Music Streaming | X | X | X | Much smoother on the 20S & 30K |
| Music Sharing | | X | X | |
| Universal Compatibility | X | X | X | |
| Audio Multitasking | | X | X | Intercom overlays music/GPS |
| Smartphone App | | X | X | Easiest way to set features |
| Ambient Mode | | X | X | Takes priority over other functions |
| FM Radio | | X | X | |
| Advanced Noise Control | X | X | X | Better with each generation |
| Group Intercom | 4-way | 8-way | Multi-way | |
| Mesh Intercom | | | X | Unlimited intercom connection |
Conclusion
With every generation, SENA has improved and expanded the features on their motorcycle intercoms. Compared to my old SMH10 the 30K is smoother, more reliable and has a lot more functions. The audio quality is much better, both for music and intercom conversations. The features I use most are easy to access and very reliable. There is a learning curve but the full manual is easy to read and understand. With a little practice, we became quite adept at moving from one command to another.
The one glitch we had with the units shutting off happened very infrequently and I trust that SENA will address any issues with future software updates.
I see the mesh intercom as being a great feature for group rides. We need to talk all our riding friends into getting one. How great would it be to just jump on the intercom and talk about an upcoming stop or a road hazard instead of passing backhand signals.
The new SENA intercom has lots of great features and with the updateable software I'm looking forward to many years of riding with the 30K. You can purchase the SENA 30k at Revzilla for $296.10 for a single unit or $521.10 for the Dual Pack.