KTM's New ADV Class Game Changer
I spent the last two days at the Calgary Motorcycle Show gawking longingly at what is slated to be my next motorcycle. I put a deposit down on one back in November without even knowing the price or having seen it in person. Am I completely nuts?
Crazy like a fox as it turns out!
When the confirmed production bike specs were released in November 2018 at EICMA along with welcomed news of 2019 availability the situation escalated into high gear at my local dealership. Everyone suddenly realized KTM had delivered on building a bike with owner input (demands?) being priority 1.
The number of deposits put down on the 790 adventure bikes in Calgary at one dealership tripled overnight even though only people who attended EICMA saw the thing in person!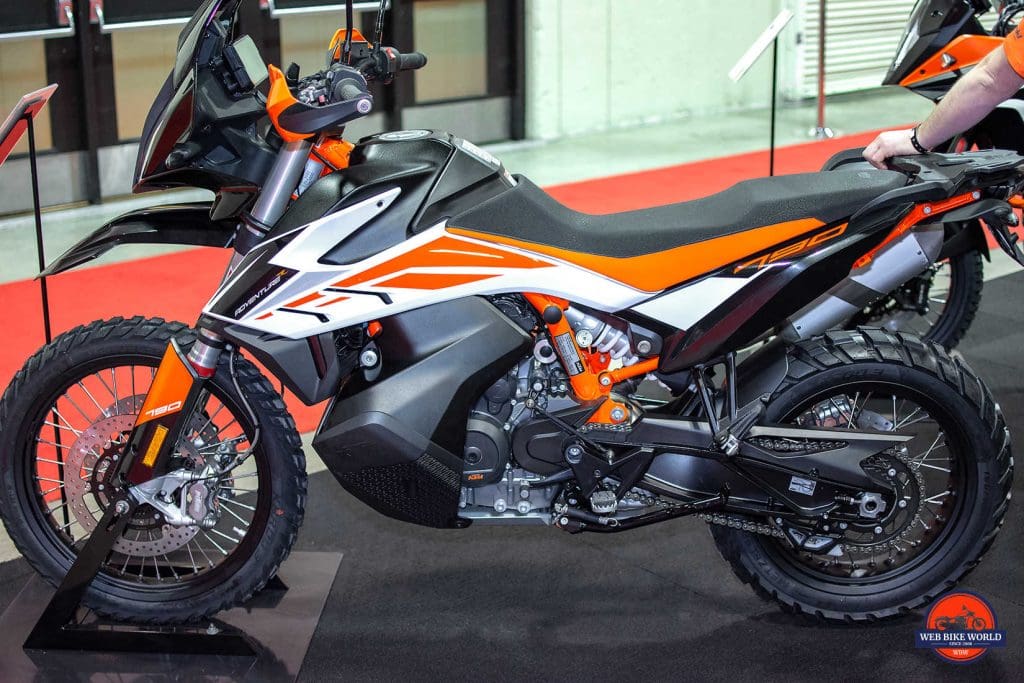 Photo by KTM
What's So Appealing?
Firstly the specs, second a rich catalog of features which combine in my mind to make this the motorcycle of the year for 2019. I'm fully aware what a bold prediction this is for a motorcycle I haven't even heard running and have only sat on to this point. Bear in mind I'm saying this with an asterisk to be explained later.
The Numbers
799cc Inline Twin LC8c DOHC engine
claimed 94 horsepower (70 kW) and 65 ft lbs torque (88 Nm)
6-speed transmission
34.6" seat height
416 lbs dry weight
WP adjustable suspension with Progressive Dampening System (rear only), 9.4" travel
10.4" of ground clearance
5.4 gallon (20 Litre) gas tank yielding approximately 280 miles (450 km) range
21" front wheel 18" rear
The impressive mixture of range, power, and suspension put this bike ahead of everything in the class on paper. Imagine what power it will make with a Rottweiler Performance intake system, Akrapovic exhaust, and some fuel mapping changes. Definitely more than 100 hp making this "smallish" bike a dynamo both on and off-road.
Features & Options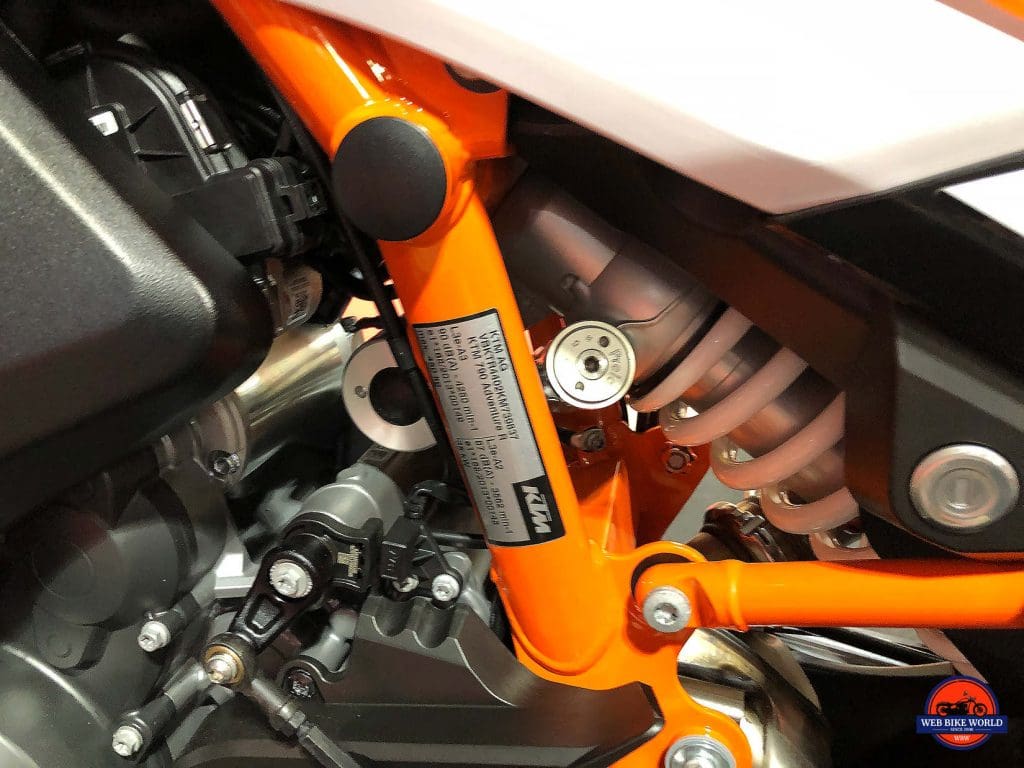 What I really love about this 790 is the available options that make it a premium touring bike capable of going virtually anywhere. Long days on asphalt, dirt, mud, rocks, or sand.
TFT display with Bluetooth connectivity
Cornering ABS, Traction control
Heated grips and seat (optional)
4 ride modes
Quick shifter (optional)
Cruise control
GPS mount
Center stand (optional)
Metzeler Karoo III tires
KTM My Ride Navigation App compatible
Wrap around bark busters (hand guards)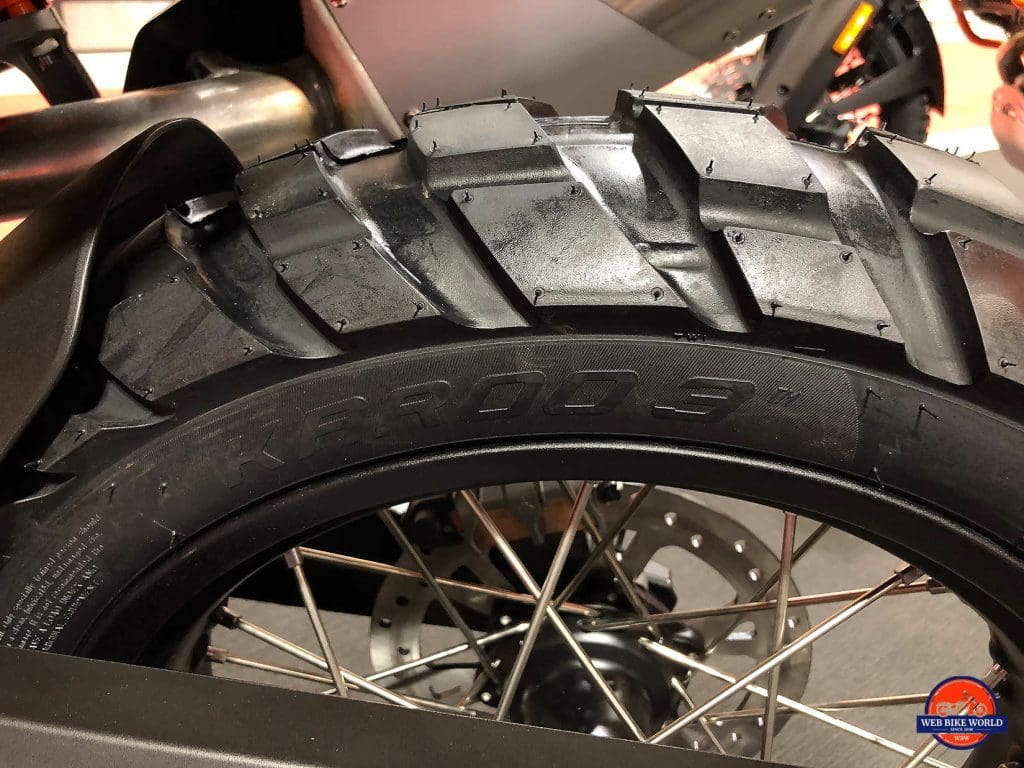 Cable Clutch?
It's got all the latest bells and whistles, but in contrast to this top tier tech, it comes with a cable clutch instead of a hydraulic one. Some people will love this while others condemn it.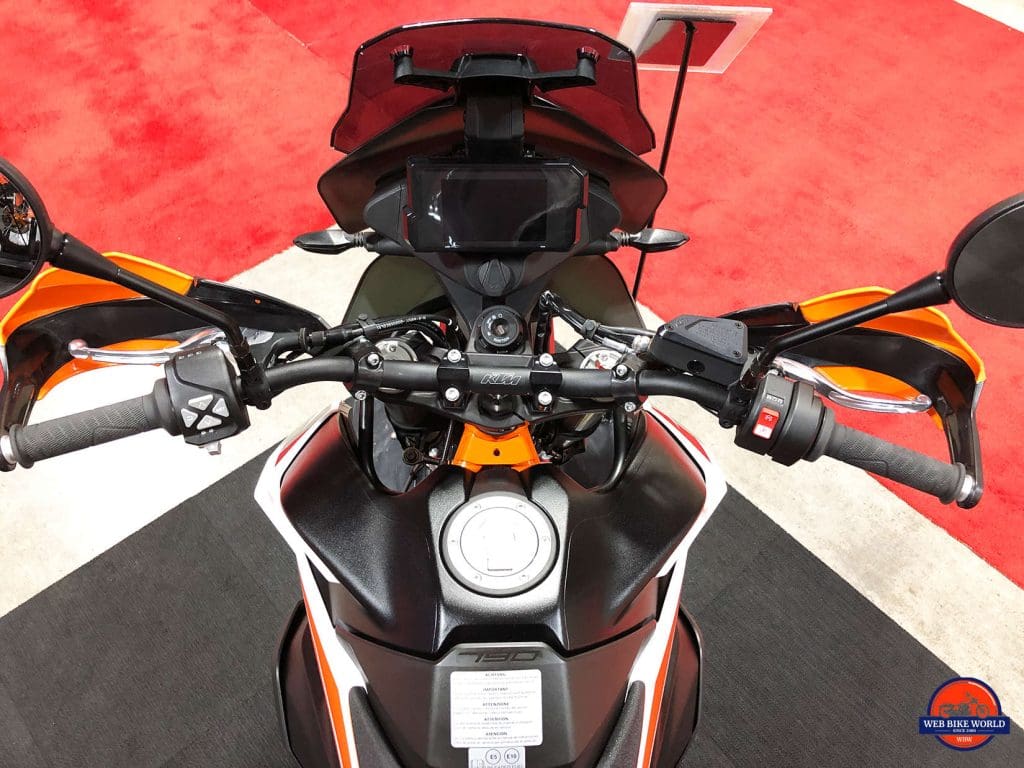 I'm indifferent. It has a nice light pull and I think the cable will work just fine.
Must Haves
The cruise control, center stand, quick shifter, heated grips, and Bluetooth/Navigation will be must-haves on my bike I know that much.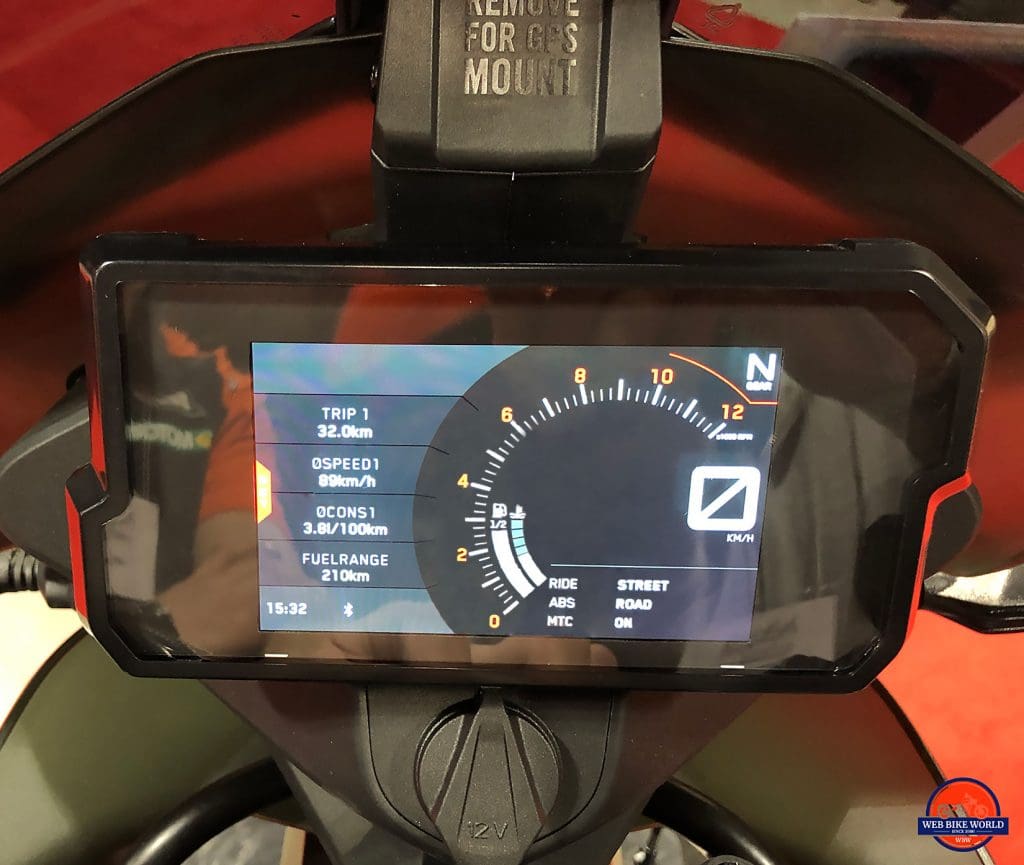 The TFT display is in a word – PERFECT! Clear and easy to read in any kind of light. It's the same one you'll find on the big 1290 Adventure bikes.
Other Notable Features
Kickstand Mounting
KTM has mounted the side stand on every previous ADV bike to the side of the engine block. This has at times resulted in expensive incidents where the mounting bolts get pulled out and in some cases heavily damaging the engine block when bikes fell over and the end of the kickstand impacted on a rock or something else hard.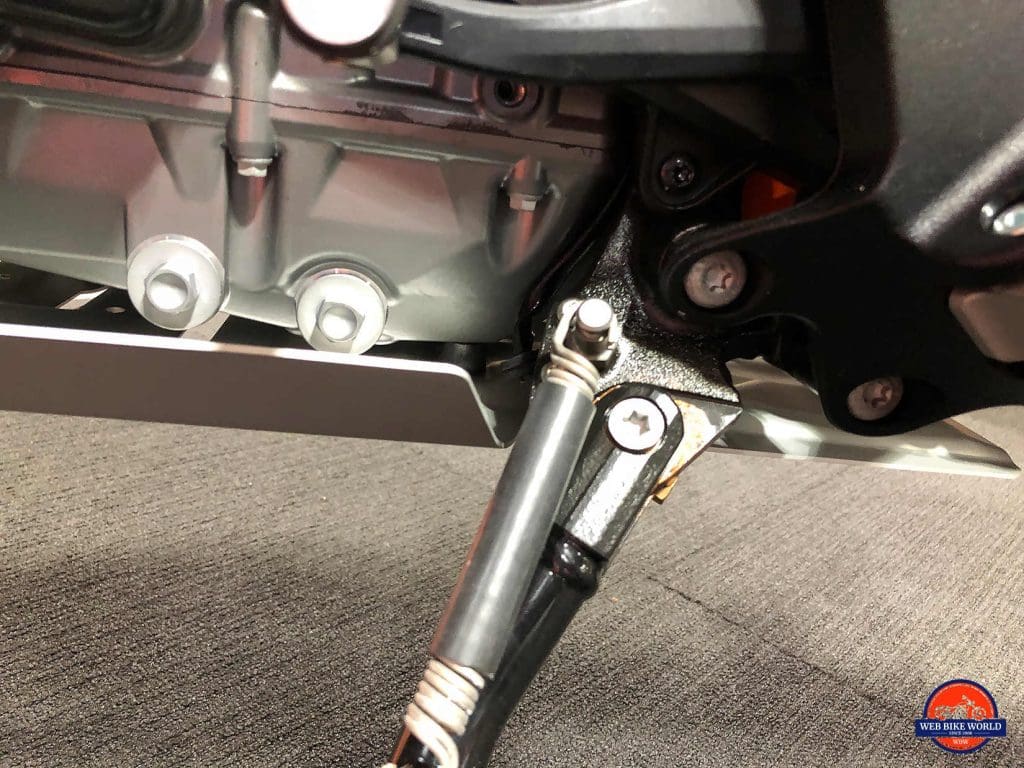 Black Dog Cycle Works has sold many kickstand relocation kits (one of them to me for my 1190) as a result of KTM's stubbornness for many years in order to prevent this from happening.
Until now that is. I was glad to see the kickstand bolted to the frame right beside the left footpeg. Finally!
Air Filter Access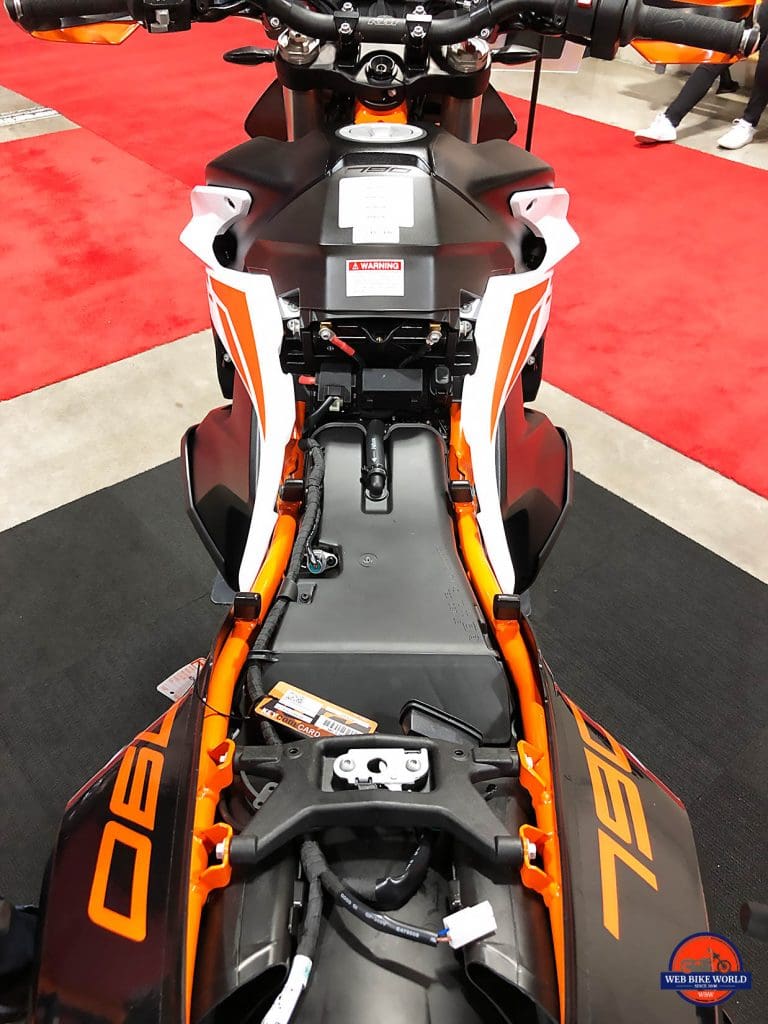 Most impressive to me is the fact the air filter can be removed/installed without removing the gas tank on the 790 Adventure. There isn't another adventure bike on the market that can say that, shockingly. I still can't believe that's the case.
*** Correction: I've just found out the BMW F850GS also has the same style of air filter used in this new KTM 790 Adventure R ***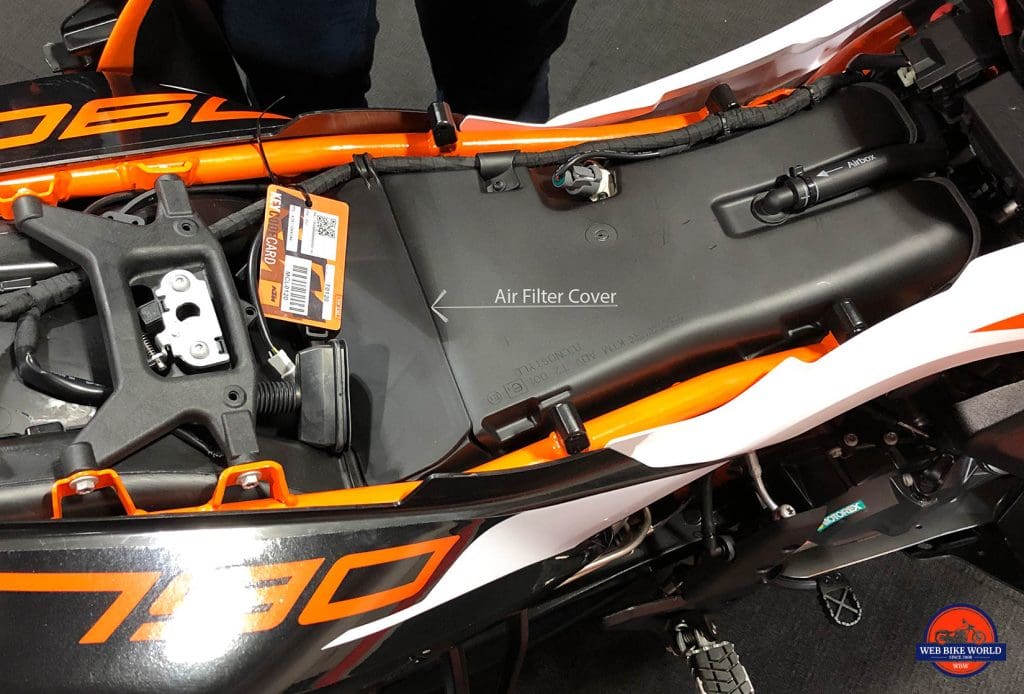 In the photo below you can see the airbox with the seat removed. At the back end under the passenger area, is a cover held on with two Phillips headed screws. Underneath that is the air filter element from what I can ascertain. The snorkel for drawing in the air is behind this cover. I like that location a lot and think it should allow for deep water crossing while helping minimize the amount of dirt and sand sucked in as well.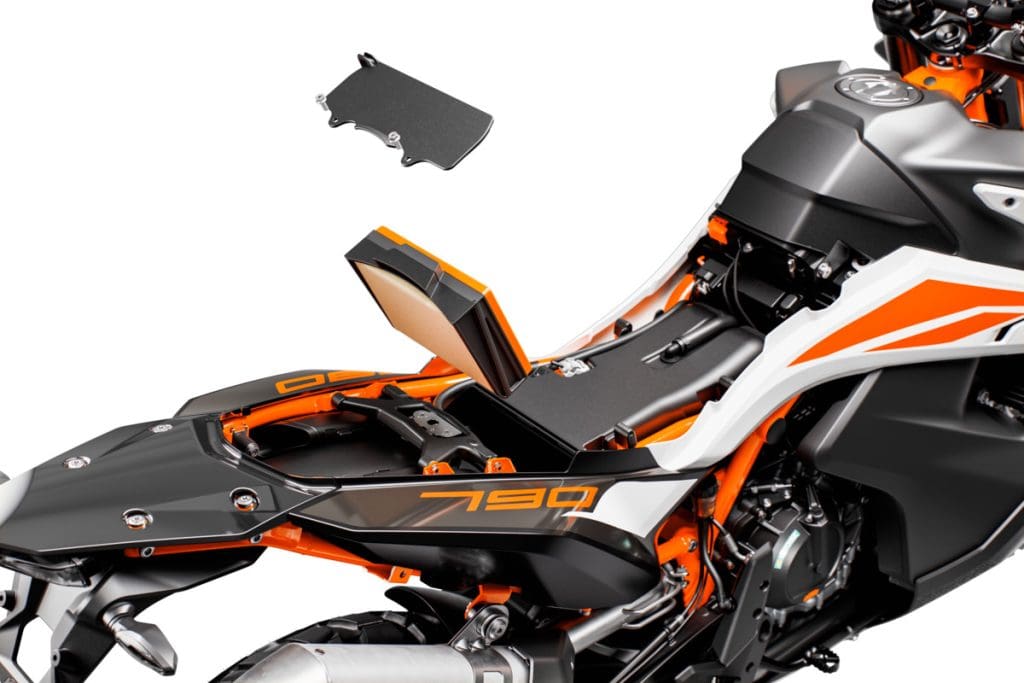 Photo by KISKA
Will It Seal Out Dust Properly?
How will this completely new airbox and filter do when ridden in the sand? That's the million dollar question. Remember the problems KTM had with the leaking airboxes on the last few models of big ADV bikes. My 1190 had the engine overhauled and repaired under warranty at only 7000 kms (4300 miles) due to sand bypassing the air filter seal and dusting the engine. A wise owner wouldn't chance it with this new 790 and immediately switch to a Uni filter or something even better I would think. Why risk it?
Low Center of Gravity
The BMW boxer style engine design has blessed the 1200 and 1250GS bikes with an above average off-road capability thanks to a net lower center of gravity. KTM definitely took note and in a brilliant engineering move designed the gas tank on the 790 to reach all the way down both sides of the bike and hold the bulk of its contents in the exact place the BMW engine cylinder heads reside.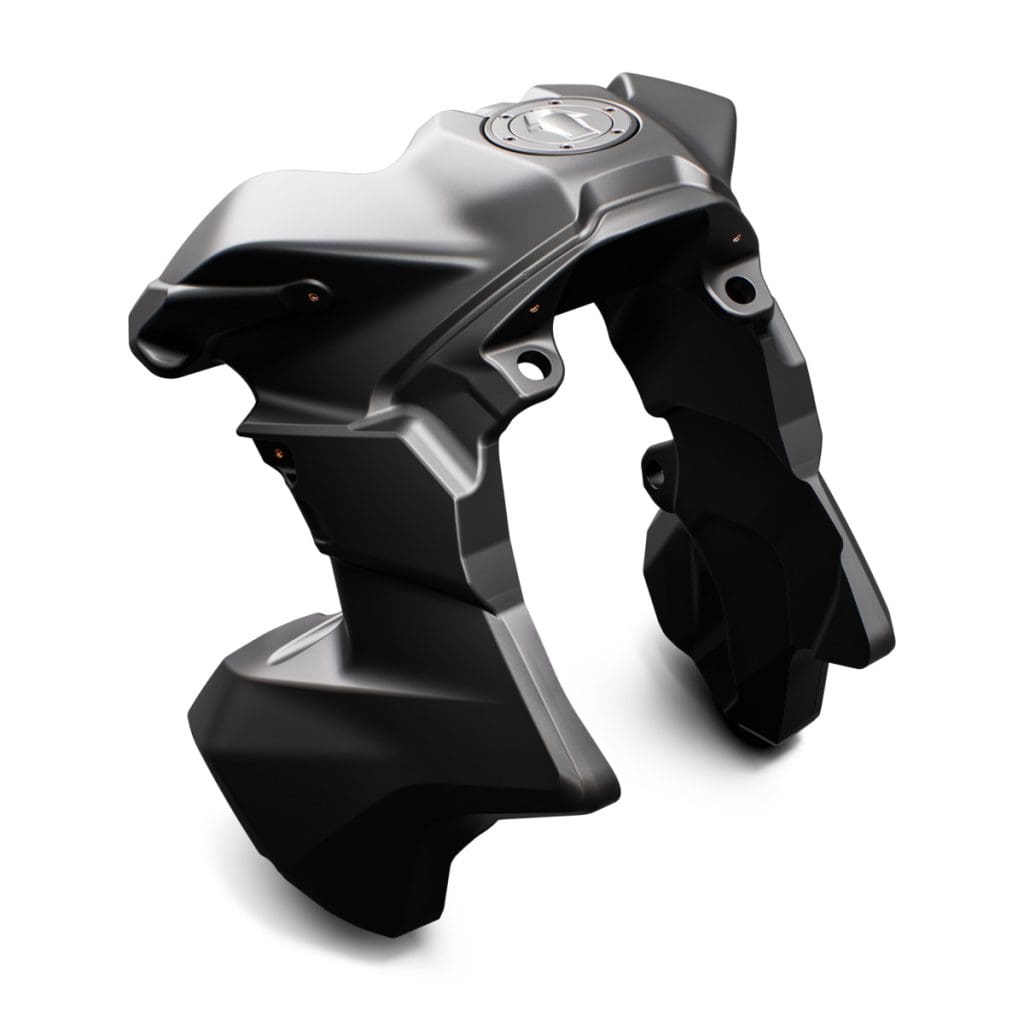 Photo by KISKA
How about this: the 790 adventure comes with the same horsepower from factory as the F850GS and Africa Twin and weighs at least 50 lbs less.
After mods it could potentially get close to what former versions of the BMW R1200GS had and weigh about 100 lbs less.
The new 2019 1250GS got an increase in power, but it also got heavier, unfortunately.
Consider what these stats mean for a moment and you'll begin to appreciate just how good this 790 Adventure should be. Yeah… this 790 might end up being better all around than the current best selling adventure bike on the market!
Have a look at Chris Birch taking the prototype 790R for a rip in the dirt in this video. Note the squeaky brakes.
The Big Questions On Everyone's Mind
Will the gas tank hold up to rough terrain riding?
Putting the gas tank down low in harm's way on an aggressive adventure bike is a bit risky for obvious reasons. I rapped my knuckles on the tank to gauge how tough it is. It seems quite thick and sturdy from what I can tell. There are also plastic shields installed on the lower areas of the tank where it's sure to hit the dirt in the event of a tip over or spill.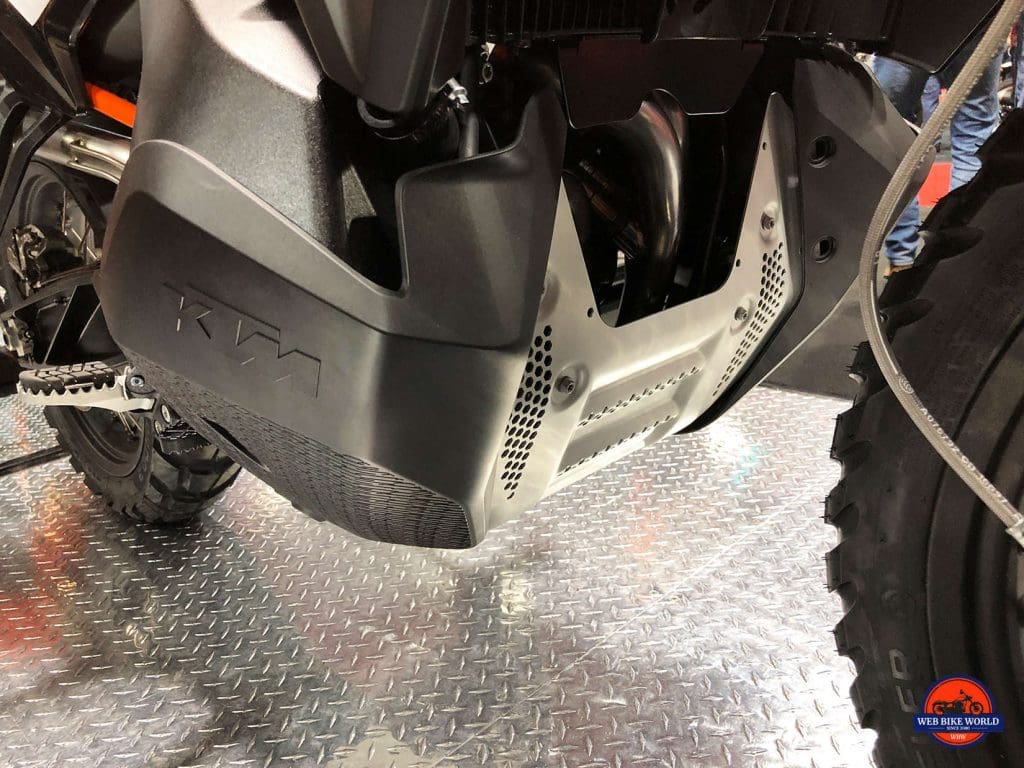 These stock plastic shields aren't nearly tough enough for my liking but should make a difference unless you really tag a sharp rock at breakneck speed. I'm sure crash bars are being developed as I write this by many different shops to help prevent that. The BMW 1200GS has managed to be wildly popular despite risking damaging the engine heads while off-road so I'm sure the 790 worries will dissipate similarly.
Cold Weather?
The only wonder for me on this tank plastic durability would be in cold weather when it may become brittle. I can't answer that question until I actually try the bike in our ever-changing and unpredictable Canadian mountain climate.
What About This Brand New LC8c Engine?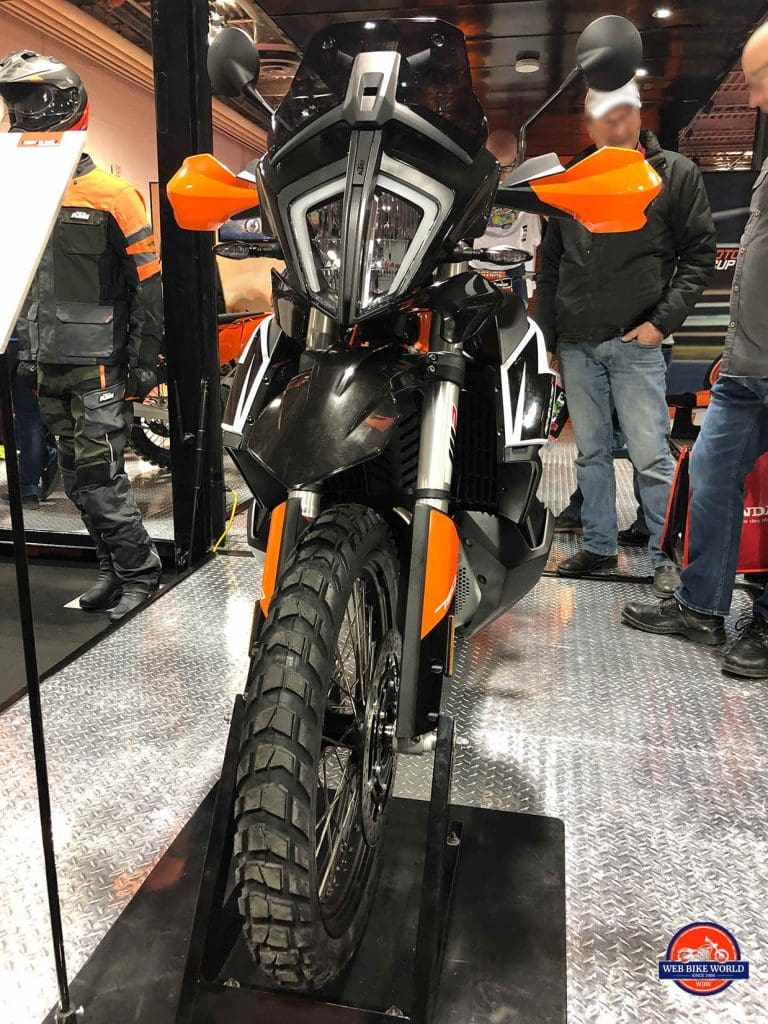 Here's a legitimate area of concern for sure. This is KTM's first foray into a parallel twin engine design and despite all the careful testing that's gone into it no one really knows how it will last long term.
BMW's new F850GS has an all-new engine in it too, but they have a long history of success with similar parallel twin engines in the legendary F800GS to draw on. Despite that experience, they've already issued two recalls on their new engine since October 2018.
That fact gives me some pause when thinking about the KTM LC8c. I'm definitely opting for an extended warranty on this purchase and I'll be watching the 790 Duke Scalpel recall notices. The Scalpel, which is already available in dealerships has the same engine in it but is tuned differently.
Nitpicking From Me
Protective Measures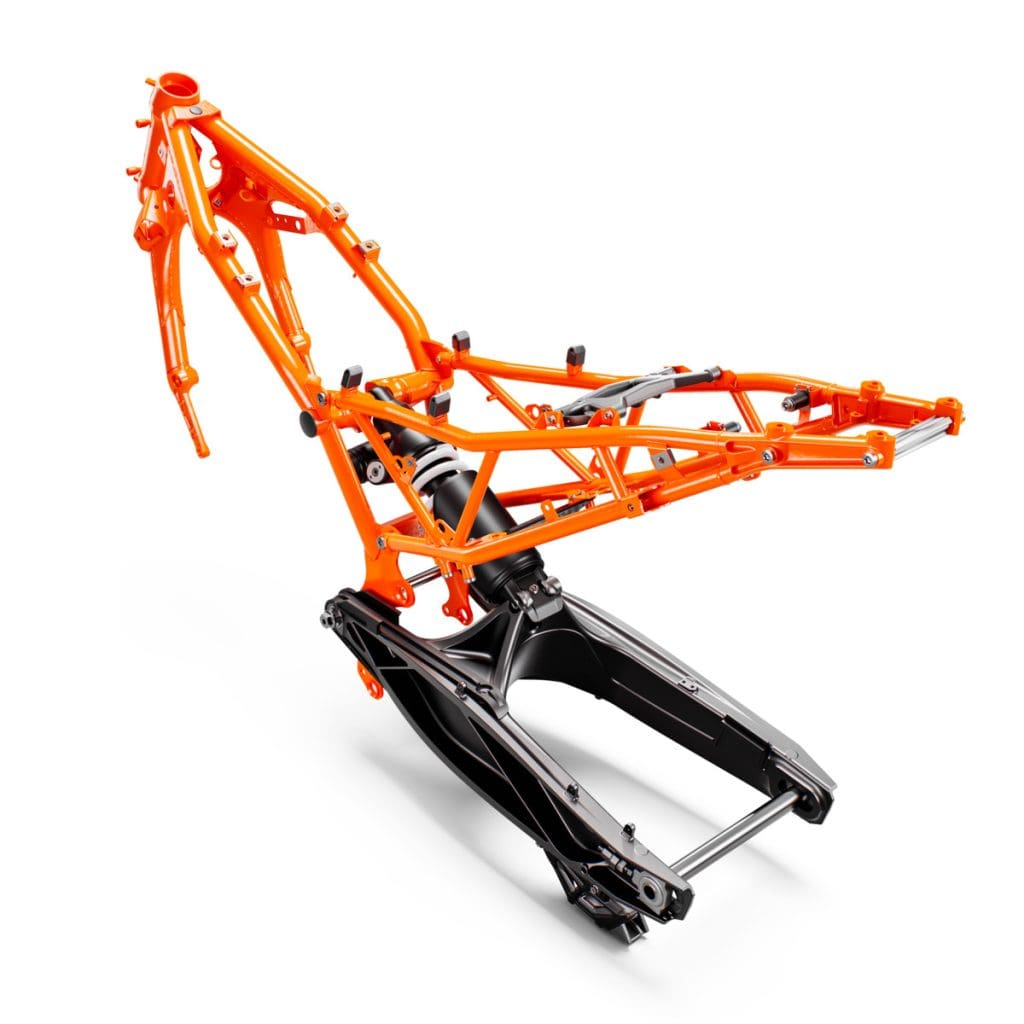 Photo by KISKA
The engine is a stressed member of the frame on the 790 Adventure R. That's a good thing from a performance point of view, but also makes me nervous about it withstanding some big bounces and jumps bound to be encountered while off-road riding it.
The bash plate on it from the factory is only about ⅛" thick aluminum as you can see in the photos and the exhaust is directly behind it with no frame tube in between to absorb a nasty hit.
The KTM optional bash plate I had on my 1190 Adventure was over ¼" thick in comparison which put my mind at ease. I'm surprised KTM didn't put that much beefier one on this 790 R. I know I will to protect my engine and exhaust.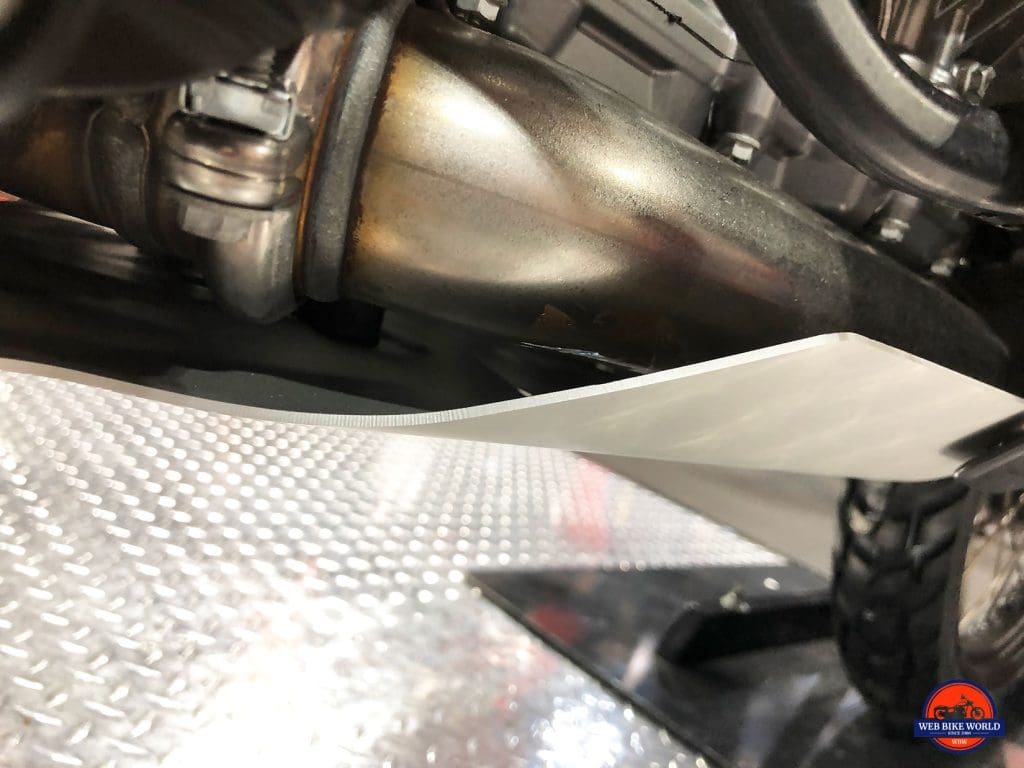 Short People Woes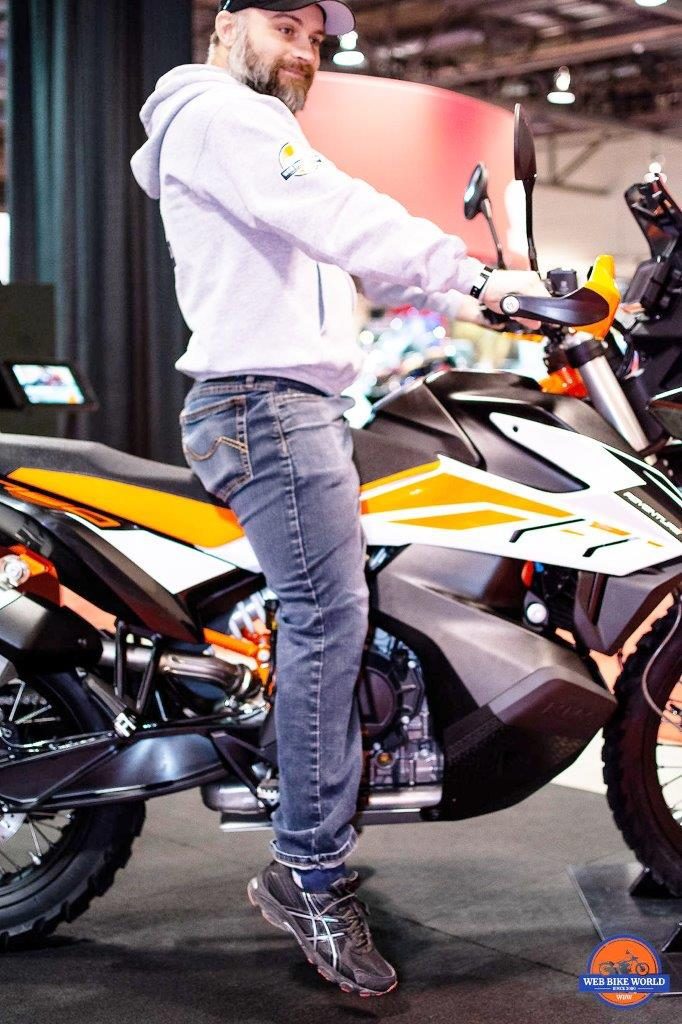 As you can see in the photo above I can't reach the ground while sitting flat on the seat. The seat height is too tall for me at 34.6 inches and I come up about ¾ of an inch short on each side. My 27.5-inch inseam isn't up to the challenge.
Luckily there's plenty of padding (3 to 4 inches thick) in the seat which should give me the option of shaving it down 2 inches I think, making it useable. I refuse to adjust the suspension down and to lose out on the delicious 9.4 inches of travel so it's going to be the seat that pays the price for my genetic shortcomings.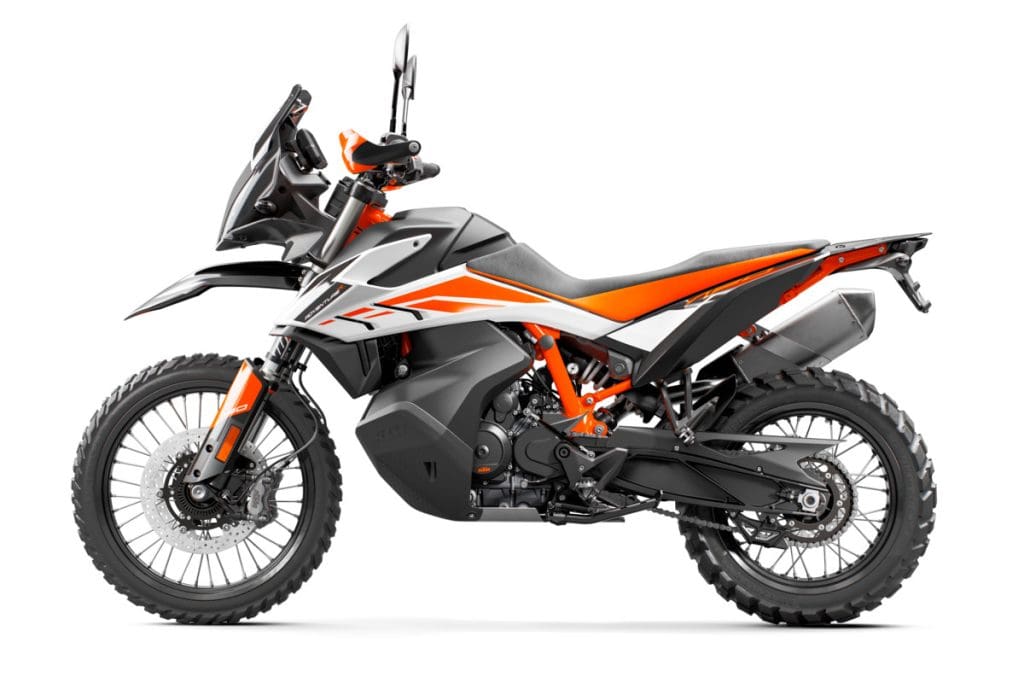 Photo of the 790 Adventure R by KTM
I could opt for the non-R model 790 Adventure (photo below) which has a lower seat height of 32.4 inches instead, but it "only" has 7.5 inches of travel on the suspension and the rear monoshock isn't equipped with WP's Progressive Dampening System.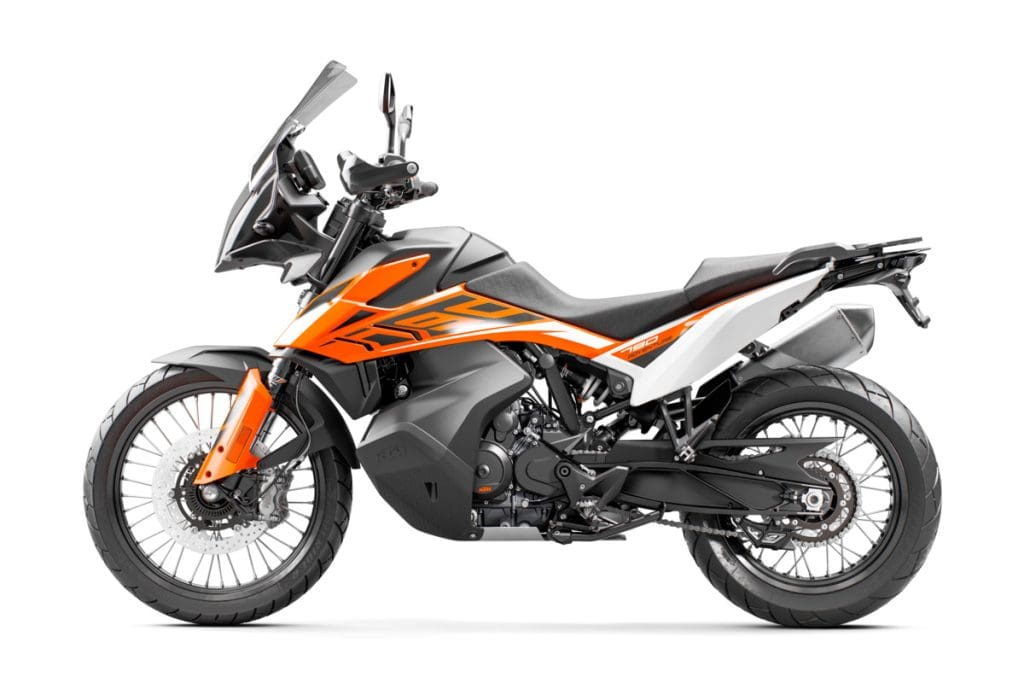 Photo of the 790 Adventure by KTM
Swap The Seat?
I couldn't confirm it but there's a strong rumor saying the shorter two-piece seat from the non-R bike can be installed on the Adventure R. It's about 1 inch thinner and so I'll likely confirm this with KTM and then further lower the padding to fit me. I know a really skilled seat customizer craftswoman who can help me do this justice luckily, but there may short person options that pop up from KTM PowerParts or maybe companies like Corbin or Sargent to consider too.
I'll figure it out. Perhaps I'll give in and go for the non-R model too once I see one of them. It actually doesn't give up a whole lot to the 790R in reality other than the suspension travel, more street oriented tires and ground clearance. The tire-hugging front fender is really ugly to me though, while the dirt bike styled one on the R model just looks righteous to me.
To Sum It Up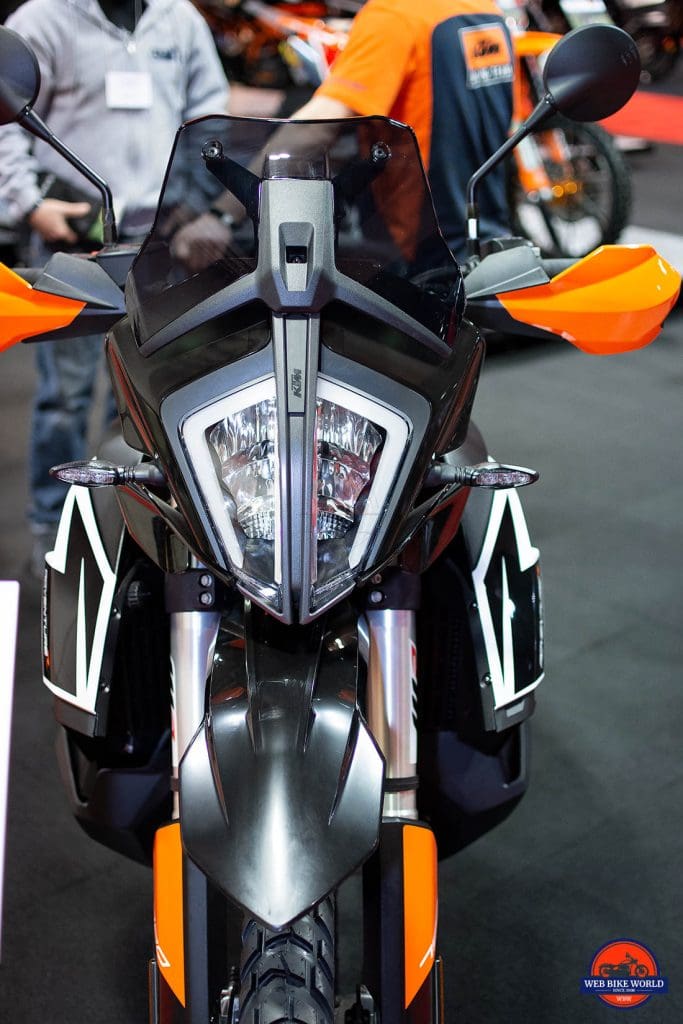 The 2019 BMW F850GS has already received critical acclaim in every review both on and off road and I don't doubt it's deserved. Everything I've seen points to it as being terrific. My very knowledgeable friend Greg bought one and sings its praises so I trust it's a winner.
Having looked closely at both of them in person I still give the edge to the KTM 790 Adventure R. The low slung, larger capacity gas tank, higher horsepower and torque, lighter weight (about 50 to 60 lbs lighter than the F850GS) and much better suspension tell me to give KTM my money instead of BMW. Which of the two new engines will come out on top? We'll see.
No, I haven't ridden either bike yet, but I'll remedy that ASAP. I'm confident my prediction based on careful observation and research will stand up in the testing arena but how wide will the gap be? That remains to be seen.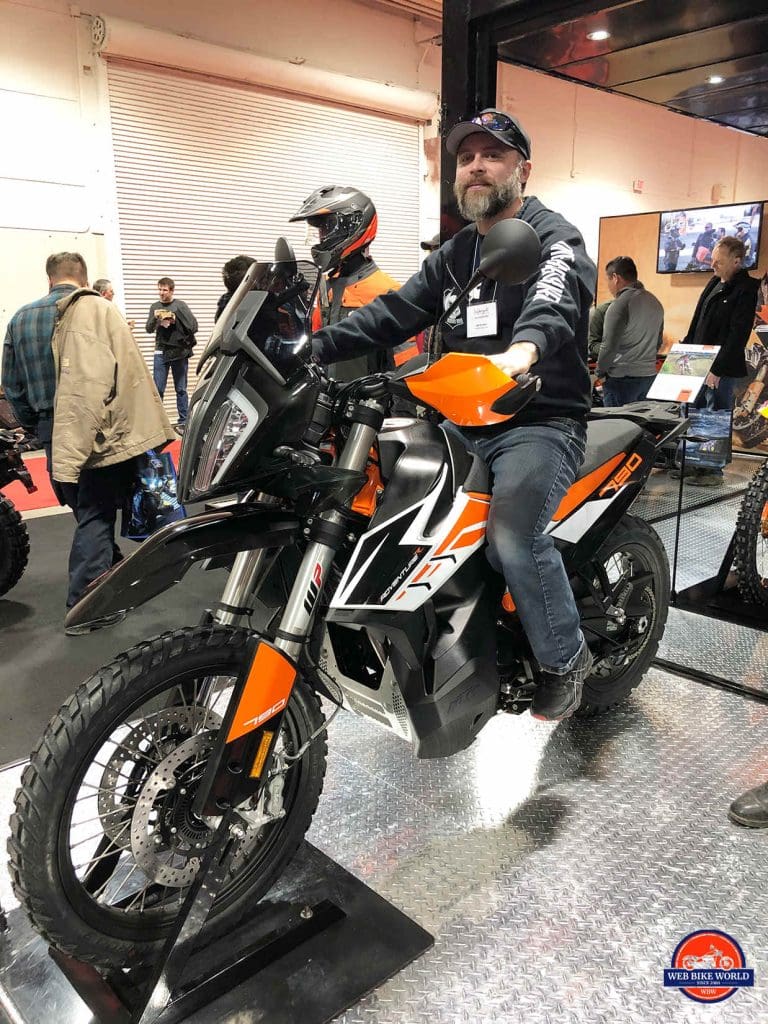 Supply Problems
There's still one big problem to talk about, unfortunately: Supply vs Demand.
I was told by my dealer they expected these KTMs to arrive here in June or July, but the brand reps at the bike show told me there's a huge gap in supply now that demand has exploded all over North America. Sadly, I'm not confident I'll get my bike before November at this writing, but I'm going to attempt making contact with the KTM media relations department and beg, even cry a little, if I have to in order to make it happen this year. I know everyone wants to see this matchup.
Is it worth the wait? Yes, I think so, but it ruins my plans to do a head to head, long ride comparison with Greg's F850GS this summer to share with you. Greg is planning to ride north to conquer the Dalton and Dempster highways, and I wanted to take the KTM down the same brutal roads to duke it out mano a mano to torture test these thoroughbred stallions from Germany and Austria.
All I can promise is to do my best to make it happen, my friends.
2019 KTM 790 Image Gallery