Oxford Products Beckley Women's Jacket
Review Summary
The Oxford Products Beckley jacket is a tailored motorcycle jacket for women with stretch panels to give that perfect fit. The jacket is slightly longer at the back thus ensuring the lower part of your back is nicely covered too.
Pros
Class AA garment under the CE standard EN17092 CE
Armor in shoulders and elbows
Rolled, perforated leather collar
Lightweight
Short connector zip
Range of sizes
Stretch panels
Cons
Pocket for back protector but this is not supplied
No thermal lining
Oxford Products Beckley Jacket  
Myself and three other ladies were invited by Oxford Products to attend their offices to meet their ladies motorcycle clothing design team. We spent the day trying on their ladies clothing, having a look around their premises and then meeting with their design team.
The designers asked us what we liked or didn't like about the clothes we tried on, what we felt as ladies worked or didn't work, and what we would like to see or have on our motorcycle clothing. It was a really interesting day and great that a motorcycle clothing company actually wanted to talk to ladies to seek our thoughts and opinions about ladies motorcycle clothing.
One of the items of clothing that I tried on was the Beckley jacket. I was really taken with this jacket as soon as I tried it on. This jacket came home with me so I could review it.
The Beckley ladies jacket from Oxford is made from premium cow leather which gives the jacket a supple and lightweight feel to it. There are stretch panels down either side of the jacket, on the inside of the arms and under the armpits. 
The jacket just felt comfortable and stretched nicely where us ladies need a little extra stretch. Normally with a leather jacket you have to wear it for a while to allow it to stretch and mold to you but the Beckley just felt good straightaway,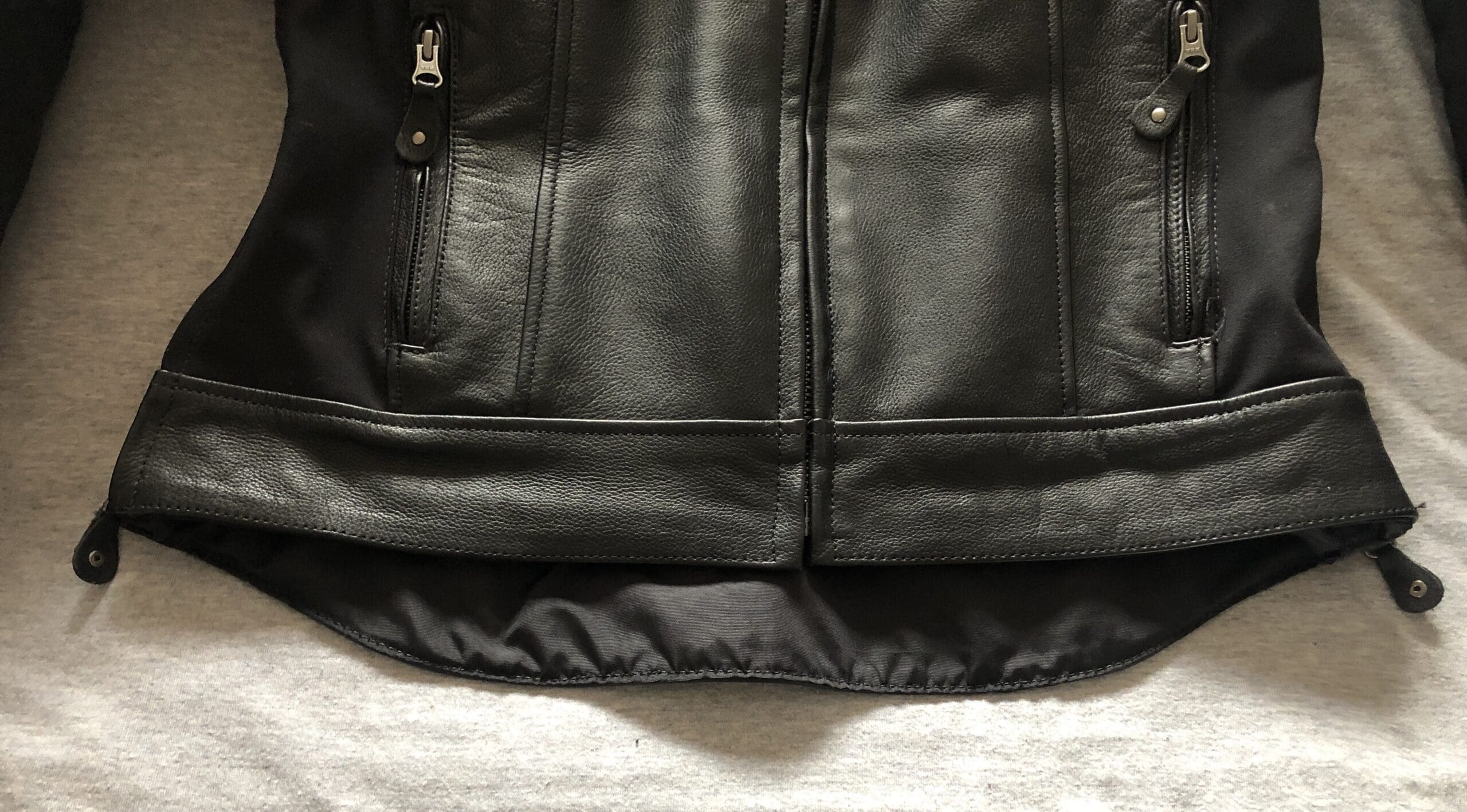 The rear of the jacket is lower than the front
As you can see from the picture above, the rear of the jacket hangs a little lower than the front which nicely ensures that your lower back is covered when riding. 
There are two zips on either side which, when unzipped, will give you an extra bit of give if you've had one too many cakes on your ride out!
The collar is a classic rolled style which is perforated on the inside to give that extra comfort when riding. The collar can be fastened with a single branded popper just to the side.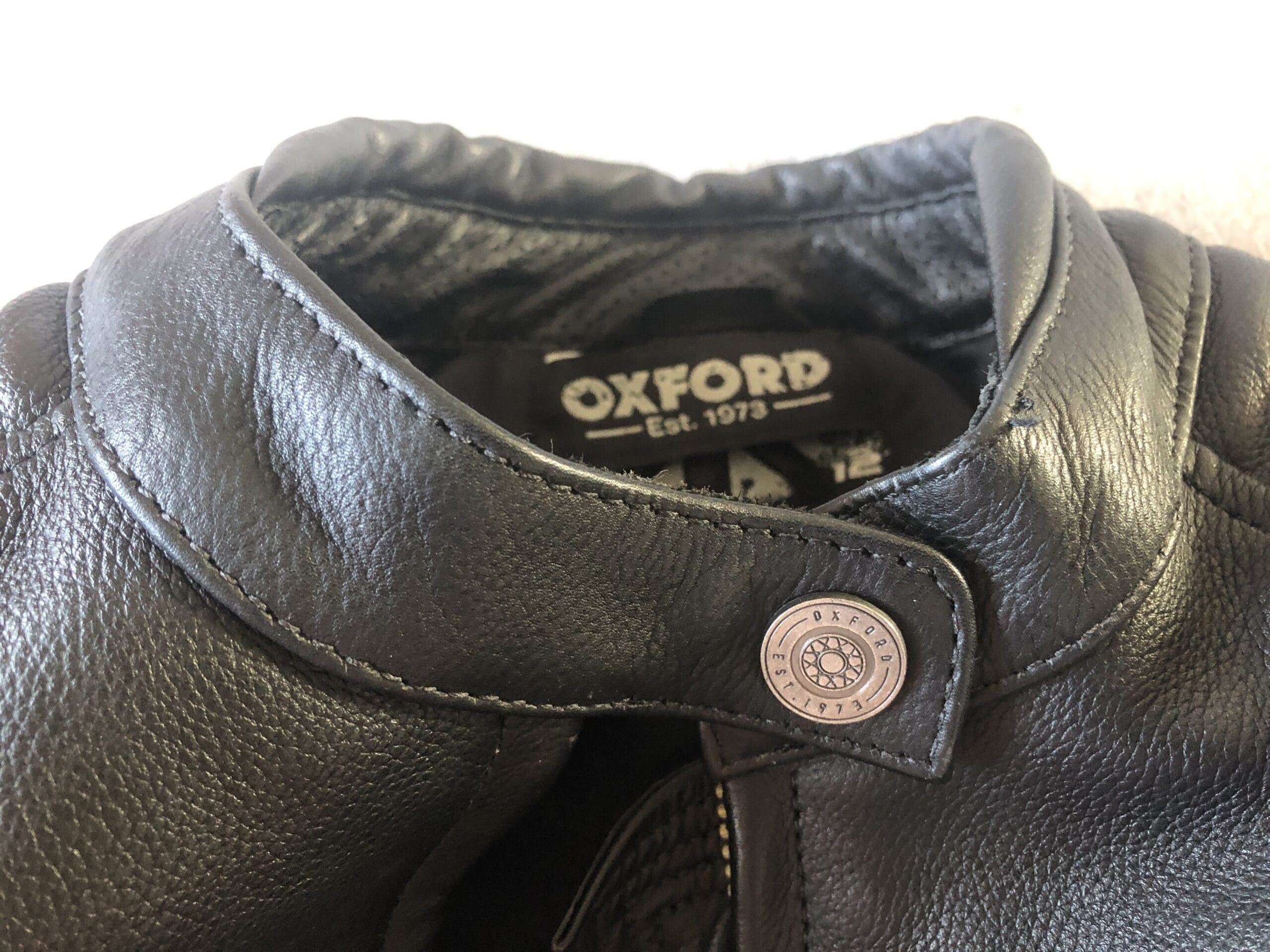 The perforated collar
There is a zip on each cuff too for added comfort.
It is the little attention to details on this jacket that makes it so nice to wear when riding a bike. The jacket just moves with you and because it is styled for women, it looks good too.
About Oxford
Established in 1973, Oxford Products started when Alec Hammond, the present owner and Chairman, started selling GRP motorcycle top boxes out of the back of his car. In Oxford, hence the name, the first Oxford Products warehouse opened in 1977. Oxford Products are now a global company.
Oxford Products have been part of the motor racing community since 1976 with their own race team. The Moto Rapido Ducati team, now known as Oxford Products Racing Ducati, have been taking part in British Superbikes since 2011. This championship year, 2022, legendary rider Tommy Bridewell finished third in the championship for the team. 
As you enter the offices of Oxford Products, you will see prominently displayed one of their racing bikes. The main corridor is lined with racing leathers worn by past and current riders. You can tell they are incredibly proud of their racing history and rightly so.
Oxford Beckley Ladies Jacket Features
The CE approved armor in the shoulders and elbow come as standard with the jacket and are surprisingly comfortable. You don't really notice the armor is there.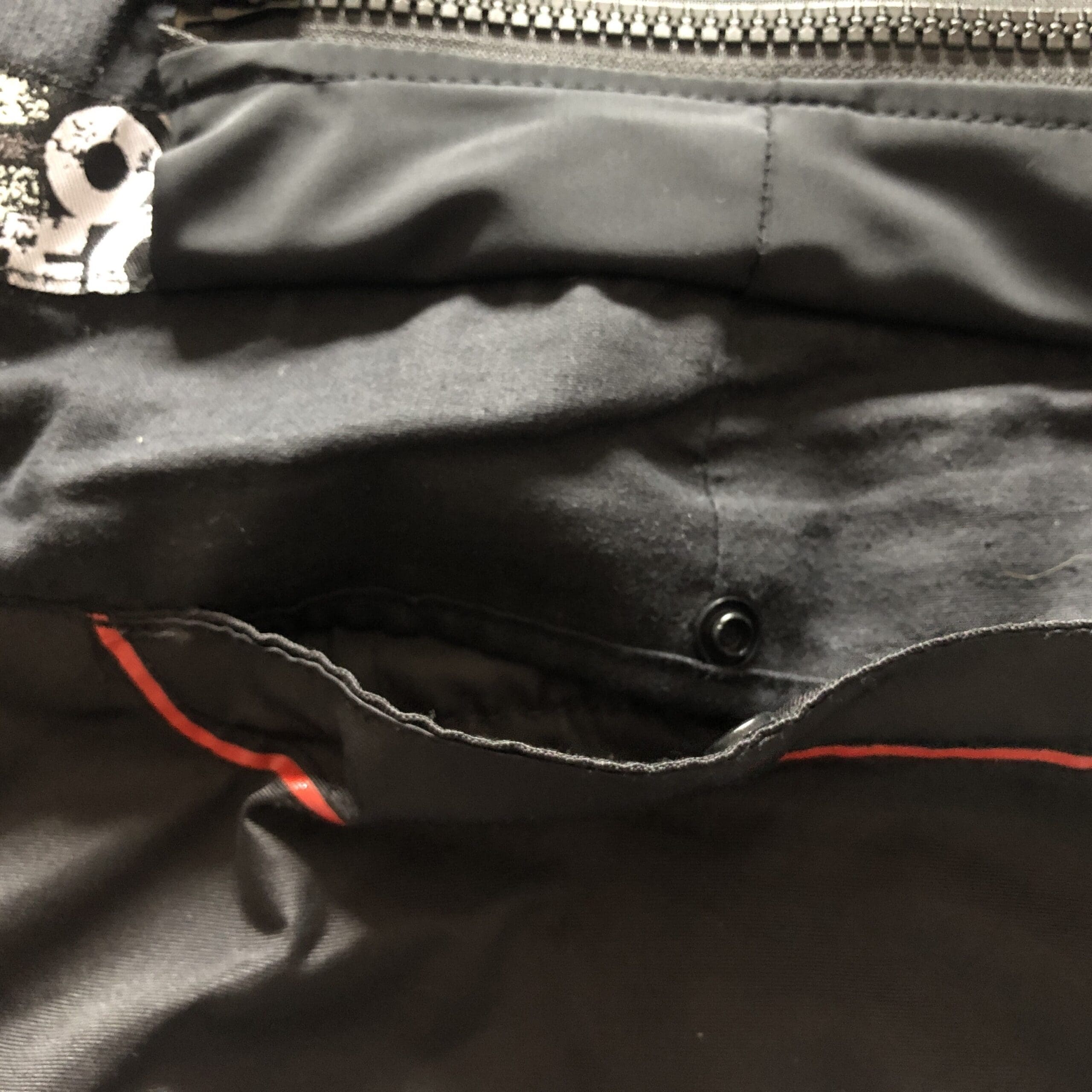 The pocket and popper for the back protector
There is a pocket on the inside of the jacket so you can insert a back protector which is secured with a single popper. Personally, I would like it if the back protector came as standard. I have to remember to take a back protector out of one of my other jackets!
A short connection zip is on the inside back of the jacket which comes with the other half so can be sewn to and attached to a pair of trousers.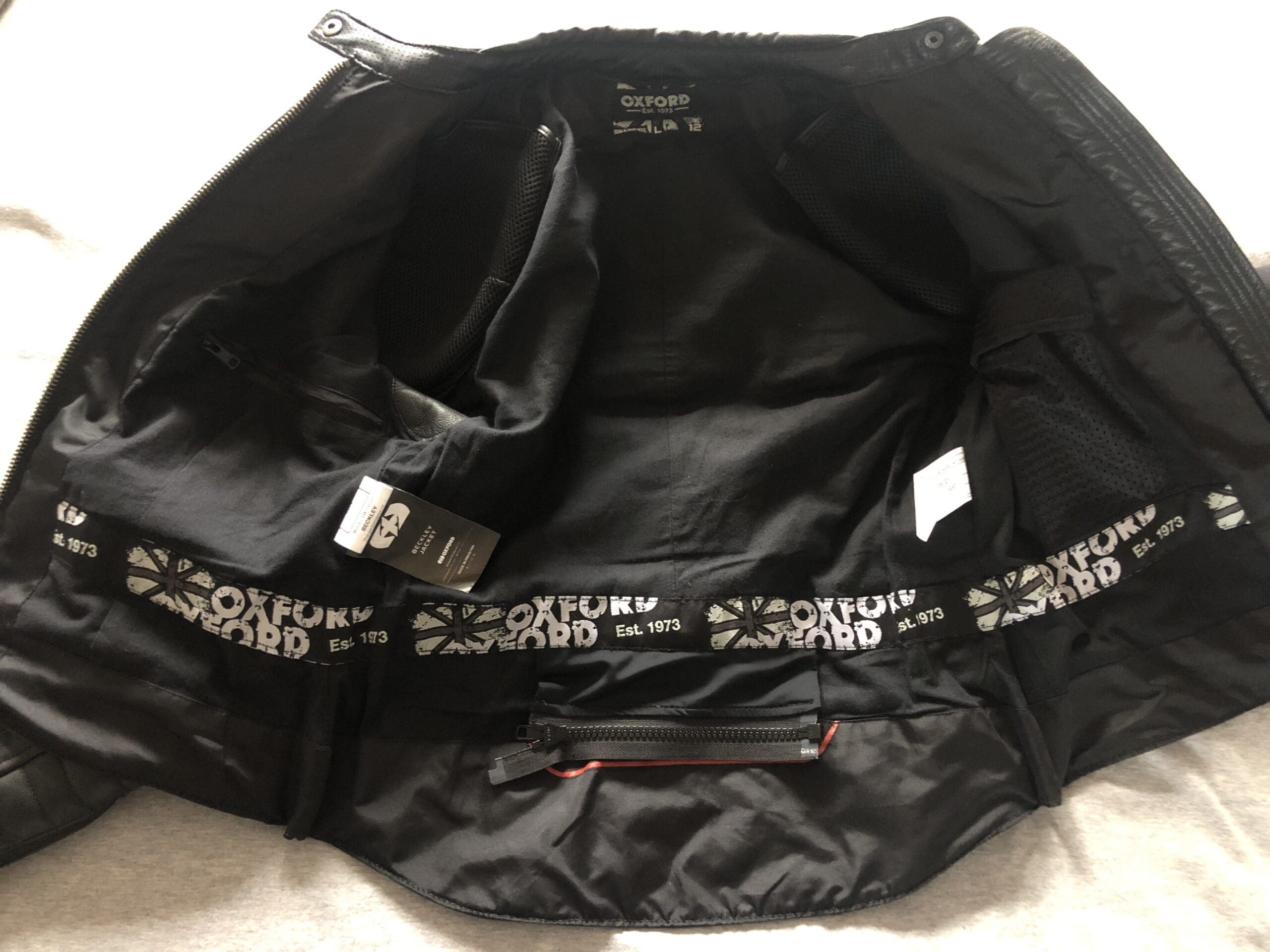 The inside of the jacket, on the left is the zipped pocket, the right the open pocket
The Beckley has four pockets, two zippered on the outside and two on the inside, one zippered.
Stretch panels down each side to give that extra flexibility and comfort.
For a complete list of features, visit Oxford Products Beckley Ladies Jacket
Oxford Beckley Ladies Jacket Construction
Materials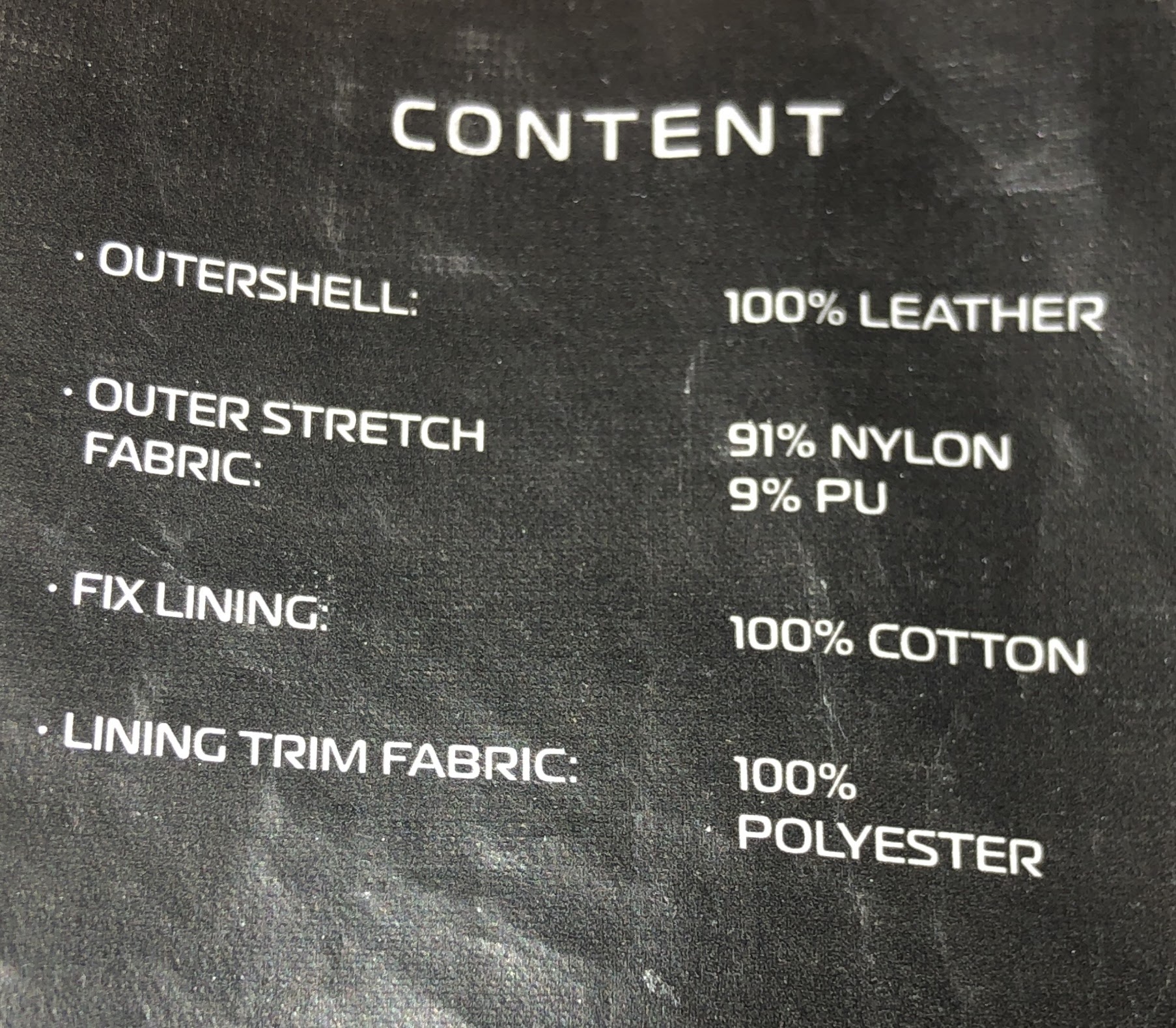 Label showing materials used.
A combination of materials make up the entire jacket. The outer shell is 100% leather; the outer stretch fabric is 91% nylon and 9% pu; the fixed lining is 100% cotton and the lining trim fabric is 100% polyester.
Pockets
There are four pockets in total. Two zippered pockets on the outside of the jacket and two on the inside.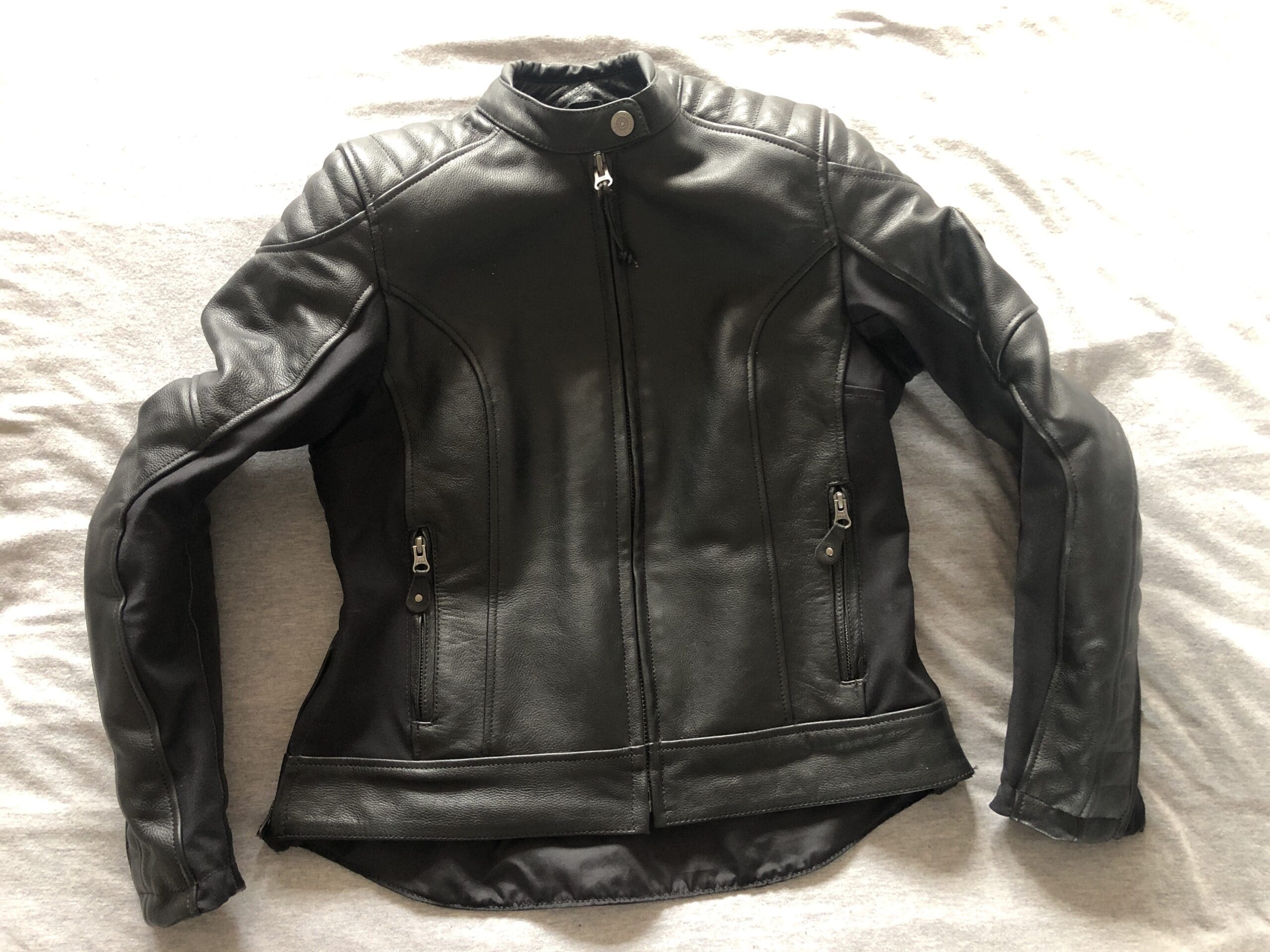 Two outside zippered pockets
I like that the outside pockets are zippered. I normally put my house key in one of these pockets when I go out and then my bike key goes into the other pocket when parked up. To know that they are in a zippered pocket is reassuring.
On the inside, one pocket is zippered and is a good size, the other is made with a mesh type material which looks conveniently like the shape of a mobile phone. Although this is an open pocket, if you do put your phone in here, I think it is very unlikely to come out due to the depth of the pocket itself and weight of a phone.
Branding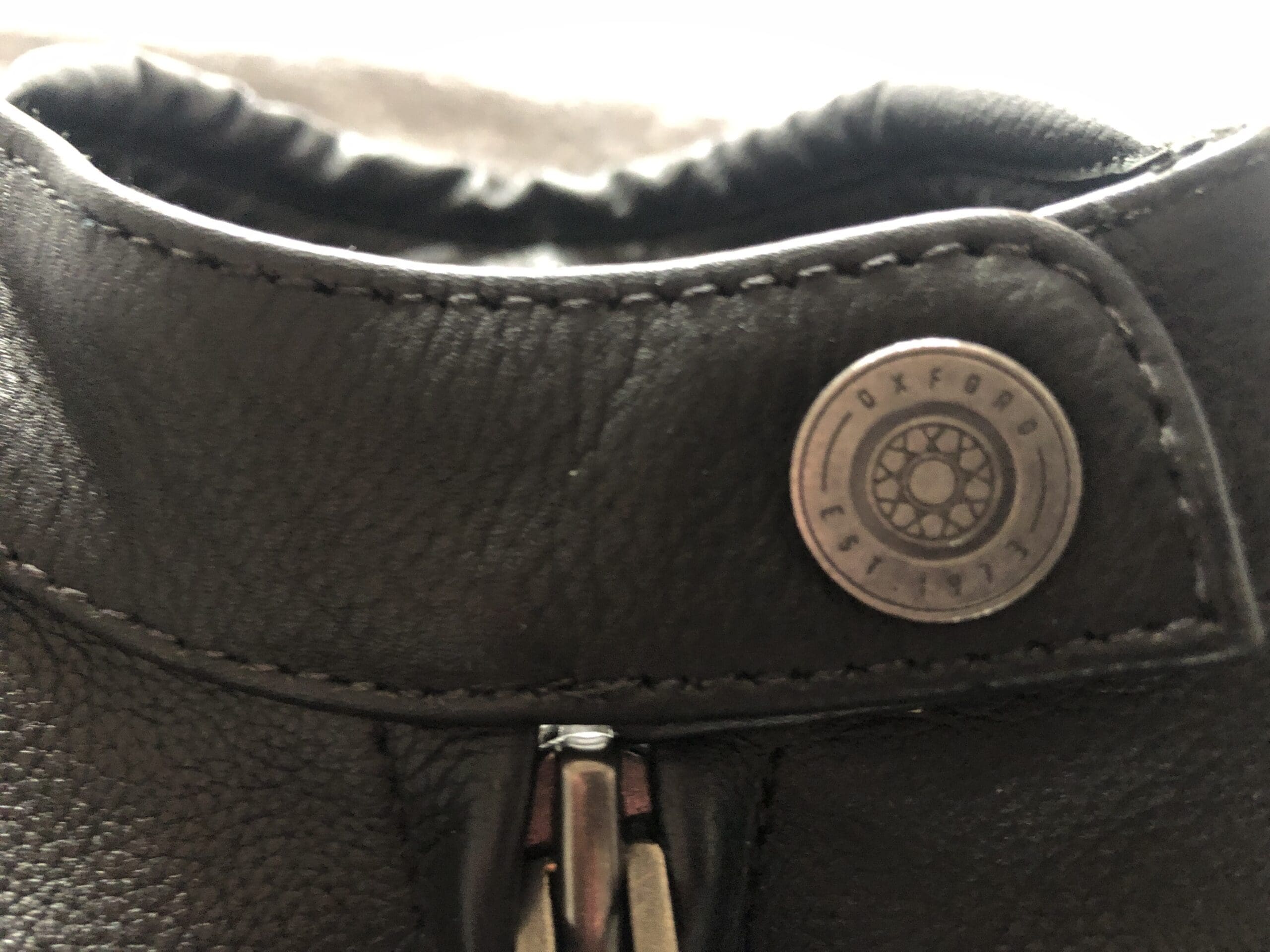 There is single popper fastening on the collar which fastens just to the left with Oxford Est. 1973 branded onto the popper.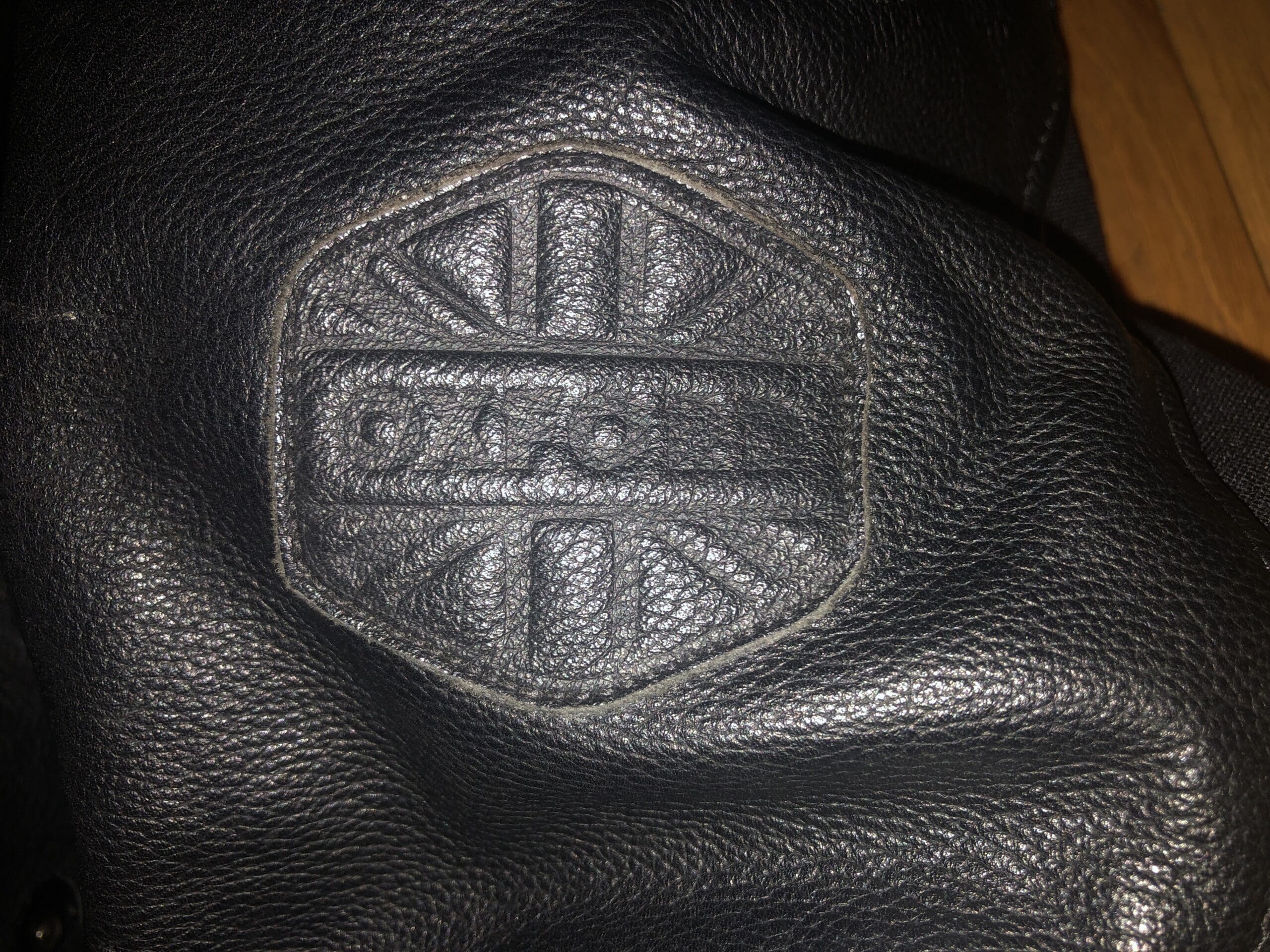 The Oxford Products branding on the right arm.
On the top of the left arm is a sewn-on leather badge with 'Oxford' across the middle which very nicely blends into the color and design of the jacket. It is not garish at all.
Zippers
All the zippers are YKK, of which there are seven, six of which and have a leather fob with a single silver pop rivet on the bottom of the pull tabs.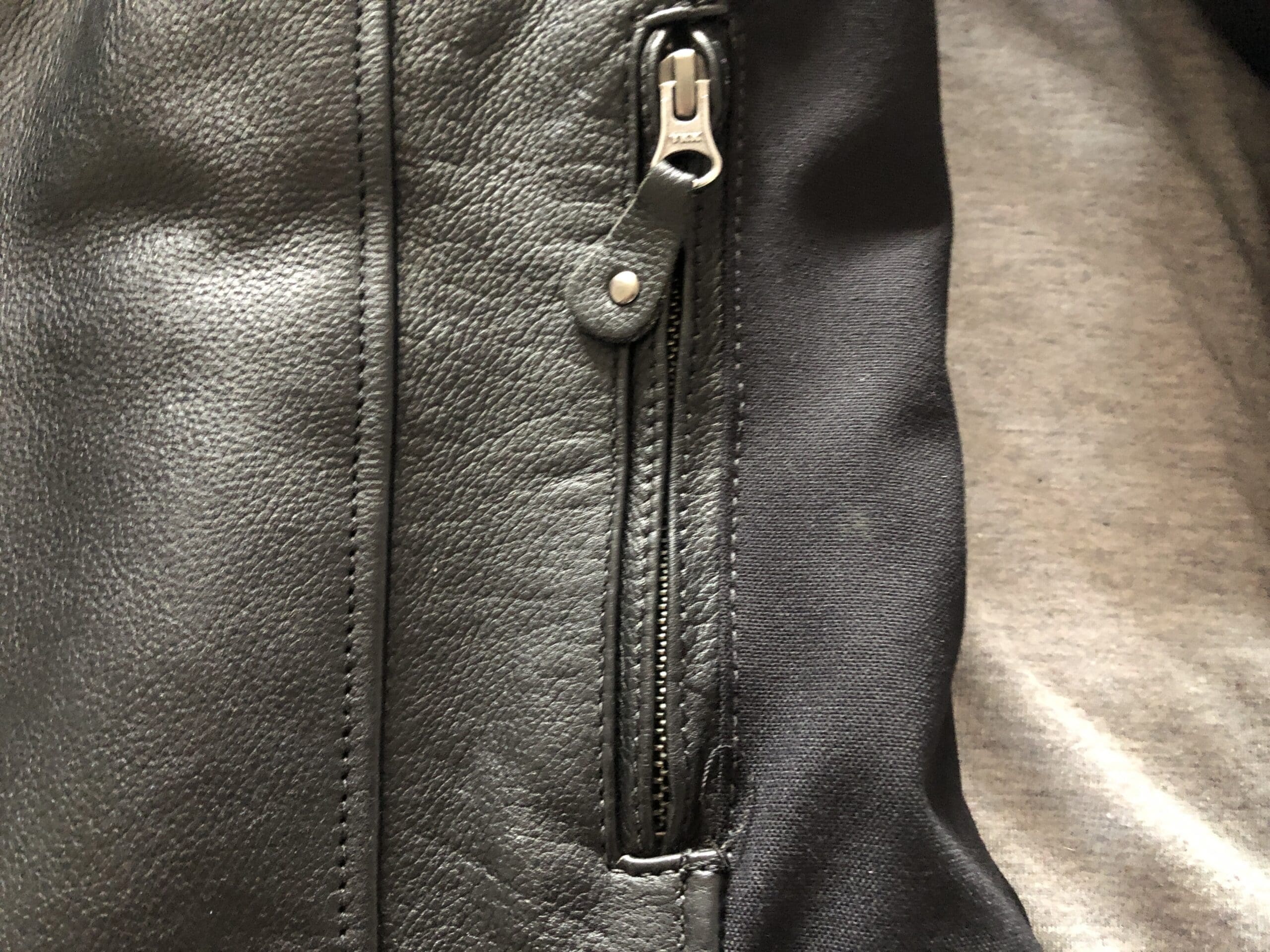 YKK zips with a leather fob.
The seventh zip, which is the main zip to do the jacket up, instead of a leather fob, has a string piece of leather tied in a knot, a bit different and nice.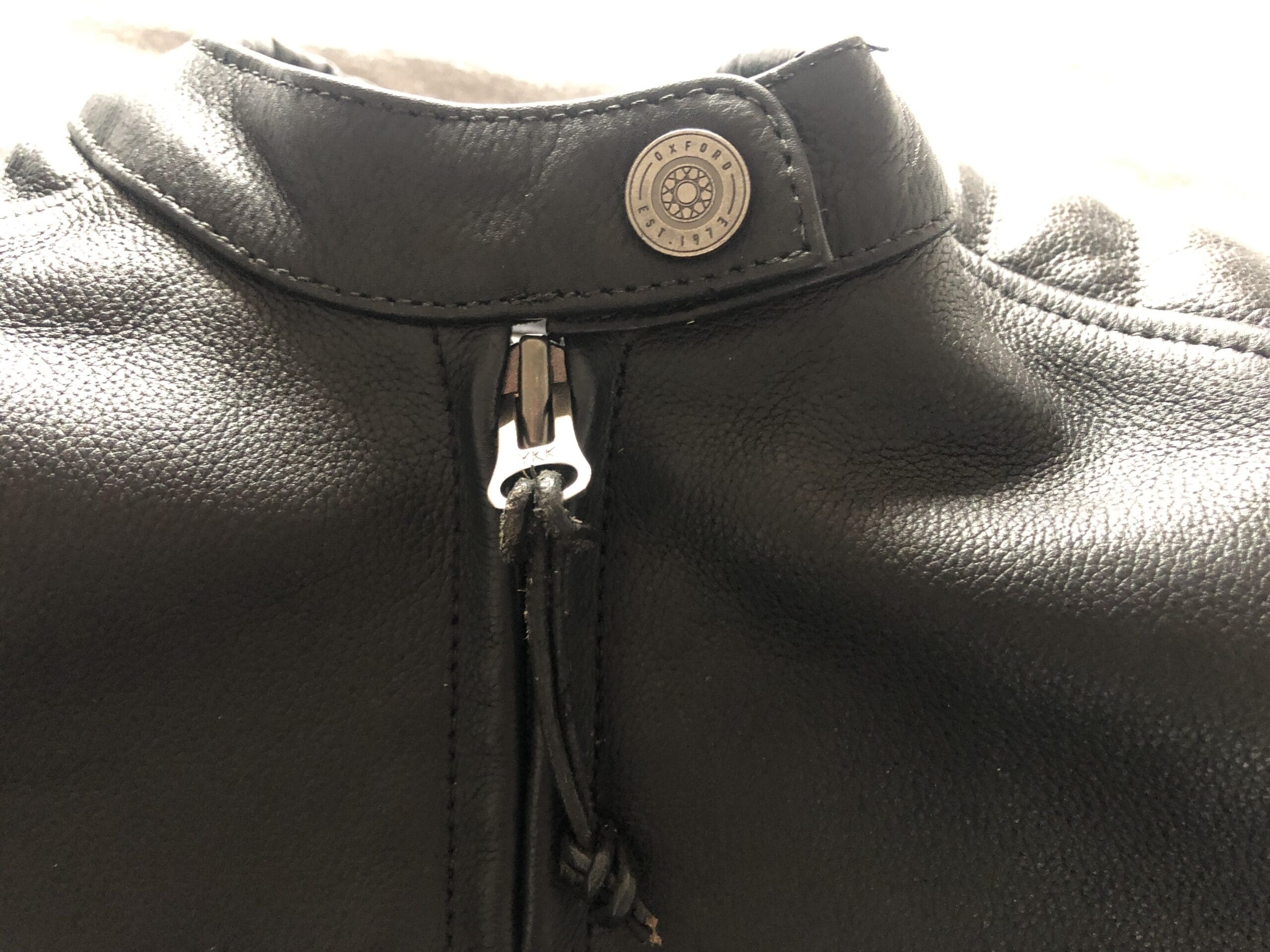 The string 'fob' on the main zip.
Oxford Products Beckley jacket Build Quality
I really like the feel of the Beckley jacket, it just feels like a quality garment. Given that it is a AA certified leather motorcycle jacket, it is surprisingly light.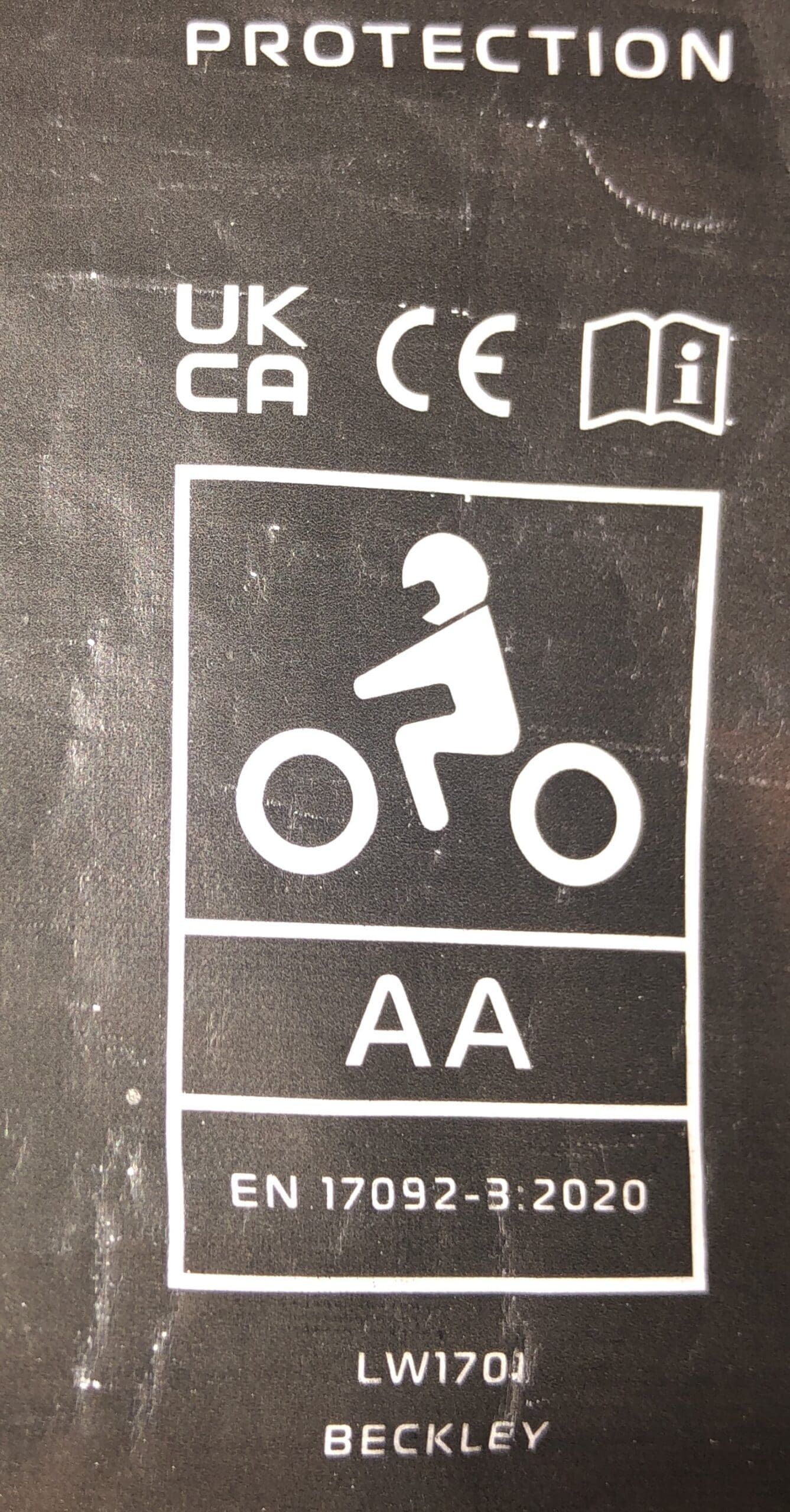 The Beckley is a Class AA rated jacket and, according to the label, the performance of the jacket has been tested by Ricotest, Notified body (0498), Verona, Italy.
Ricotest, according to their website, is the first Italian research, testing and certification institute of footwear, gloves, clothing, impact protectors and in general personal protective equipment [aka PPE] for work, sport and outdoor.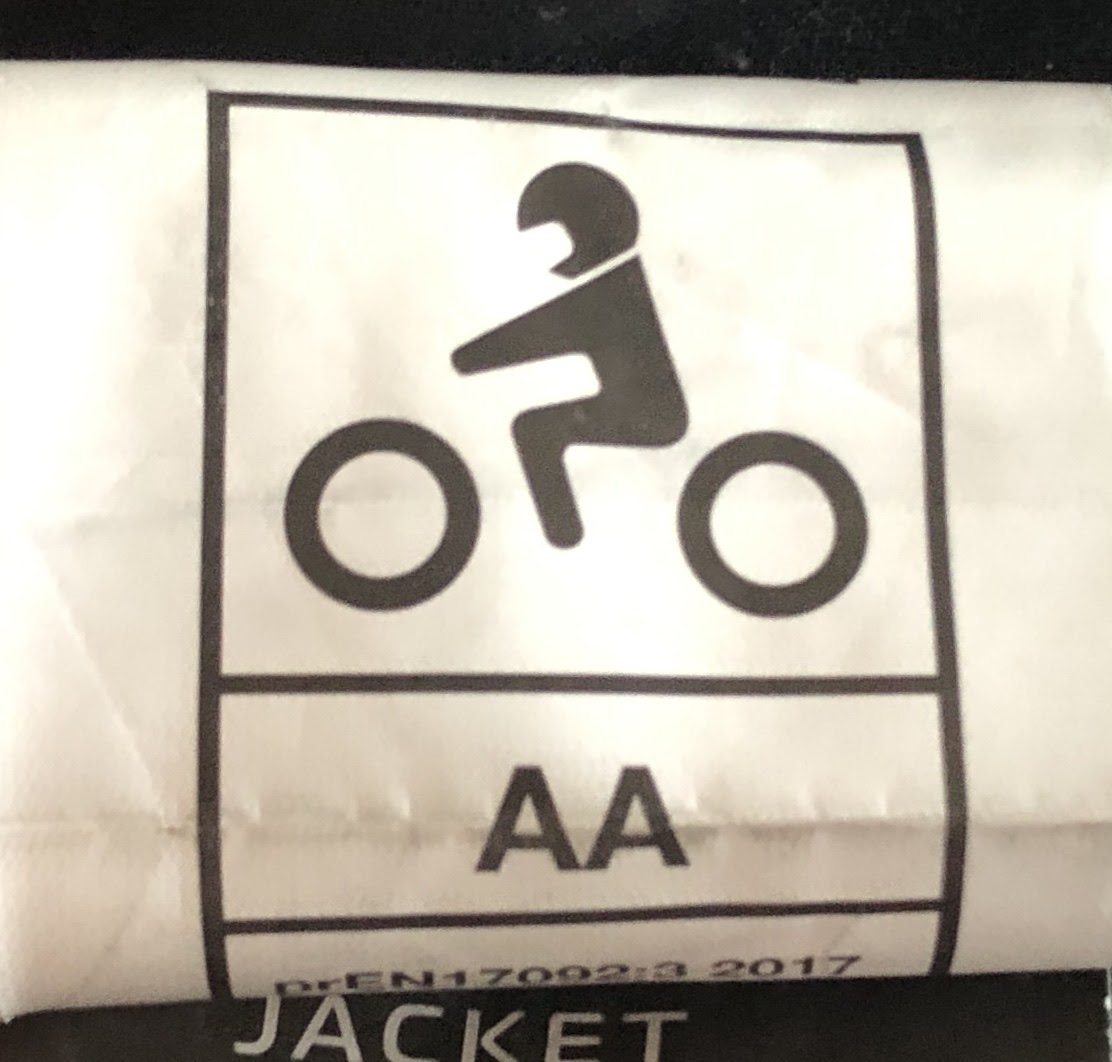 Motorcycle clothing is tested with the darmstadt method in accordance with WN17092. Products are tested using mechanical and chemical methods.
Personally, knowing that the jacket I am wearing when riding my motorbike has been rigorously tested and conforms to the required standards, gives you peace of mind.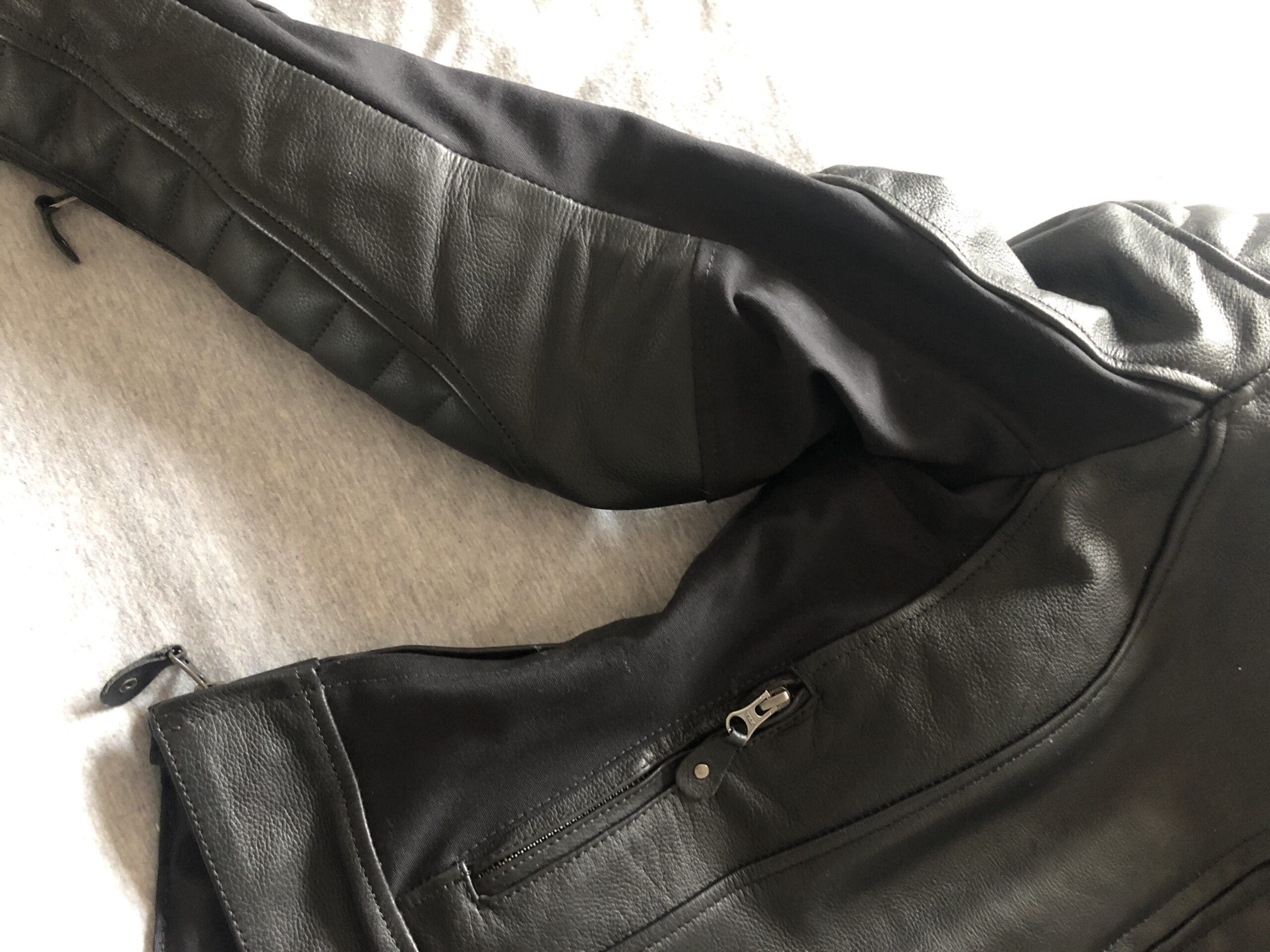 The stretch panel down the side, armpit and arm.
The stretch panels down each side, really do mean that the jacket not only molds to your shape but also moves with you when you are riding giving you flexibility and allowing for maximum comfort.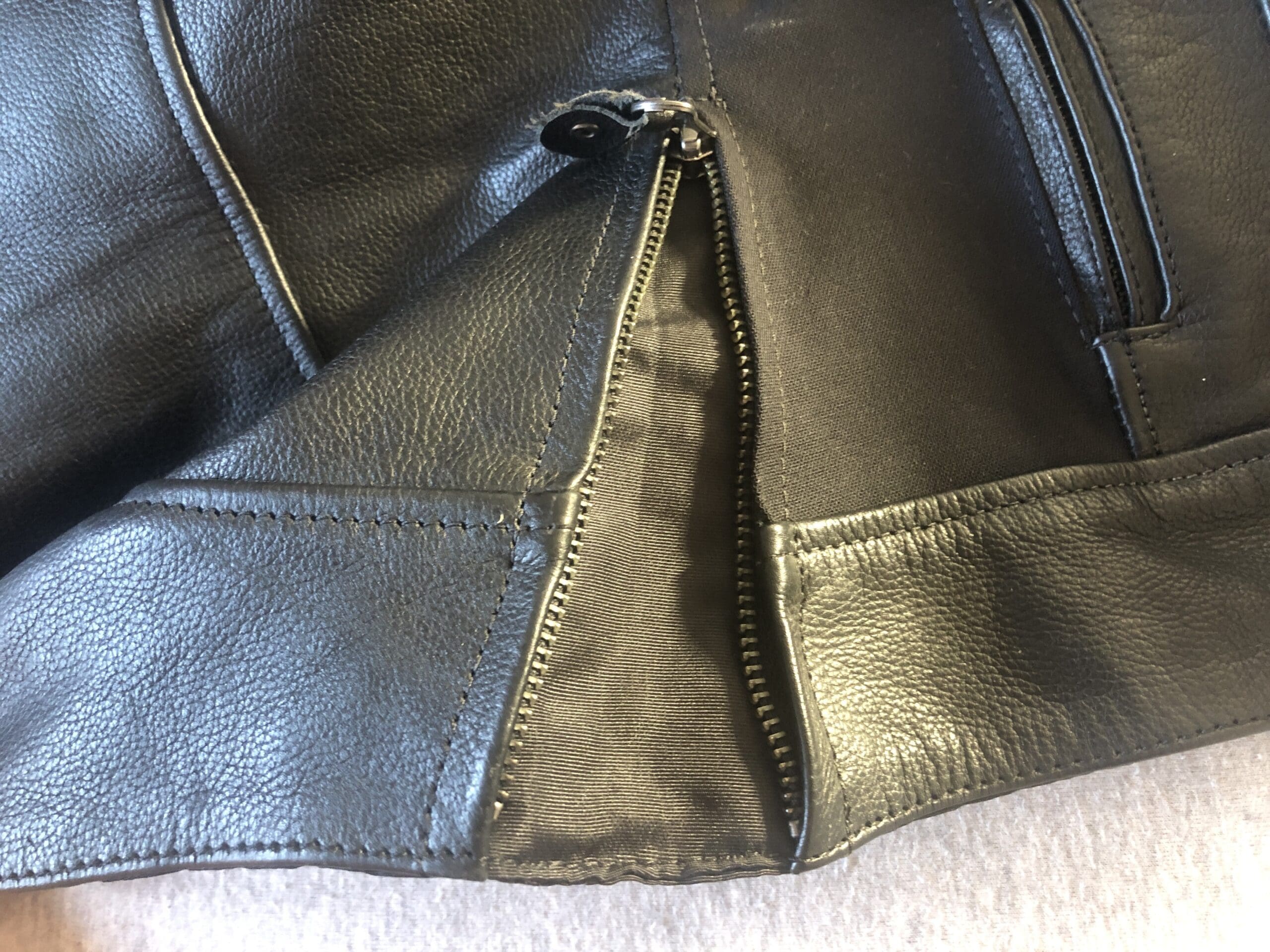 On each side of the jacket there are two short zips which, when opened, allow for extra growth in the bottom of the jacket. The jacket grows with you as it were should you need that function – possibly after a biker's breakfast on a Sunday morning!
Sizing
The jacket comes in 6 sizes: 8, 10, 12, 14, 16, 18.
I would suggest using the chart function on the website to help determine sizing.
I went up to the next size in the jacket as I do feel the cold when riding and normally ride with a couple of layers underneath, say, a thermal vest and long sleeve top.
As there is no thermal lining for that added layer of warmth, in the colder weather I would need to wear a fleece or heated vest under the jacket.
Comfort
What I found surprising, bearing in mind that this is a leather jacket, is just how light it is. Normally with leather you expect it to be weightier but it is surprisingly light.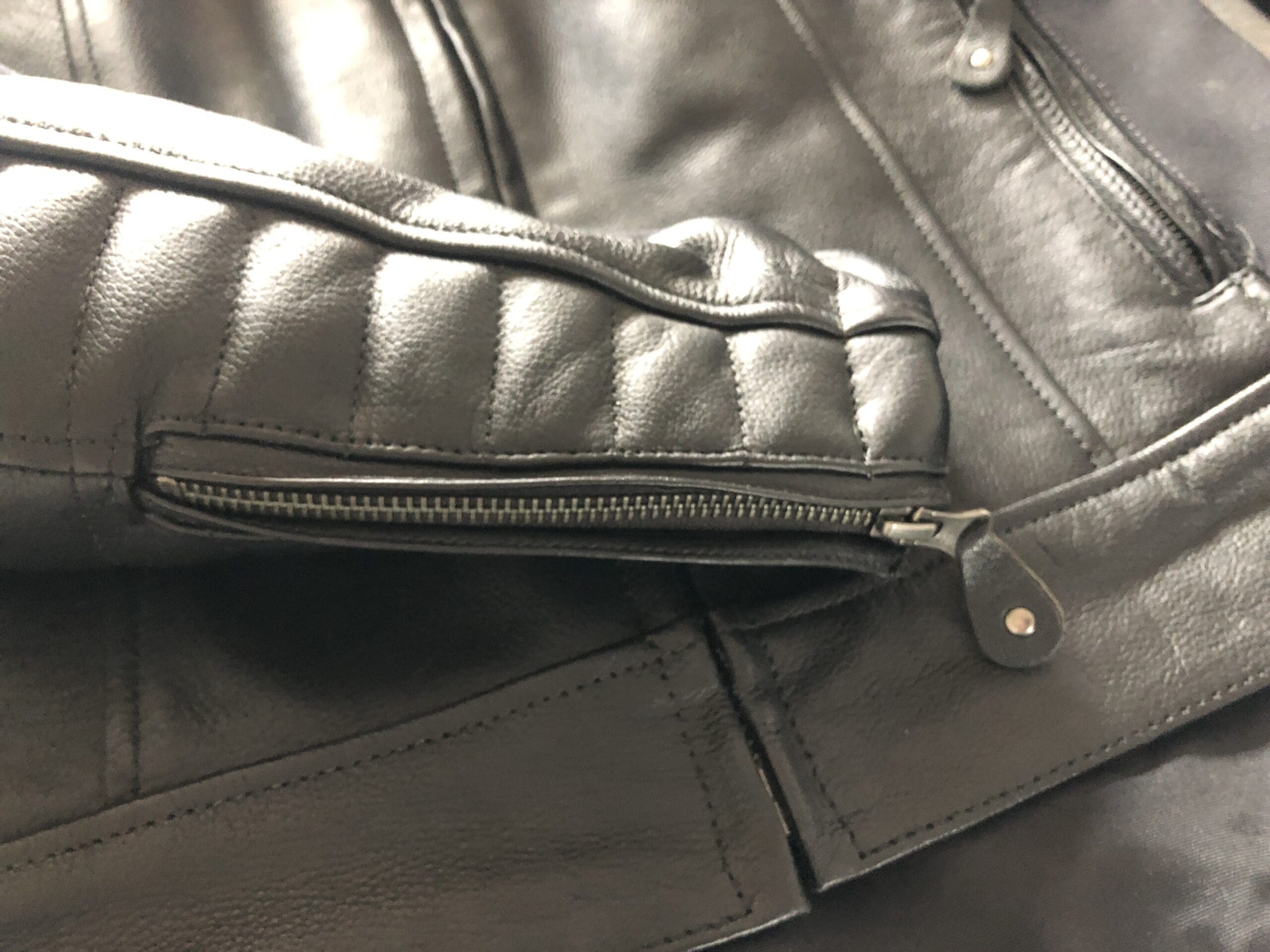 The armor in the shoulders and arms feels nice too, in fact you don't really notice it is there at all.
Because of the stretch material on the jacket, it really does mold to your body shape and this is particularly good when riding a bike and leant forward as it is not too tight across the chest, which I have experienced with some jackets. 
There seems to be extra give across the chest to accommodate us ladies. You can tell thought has gone into the design of this jacket. 
Short Connection Zip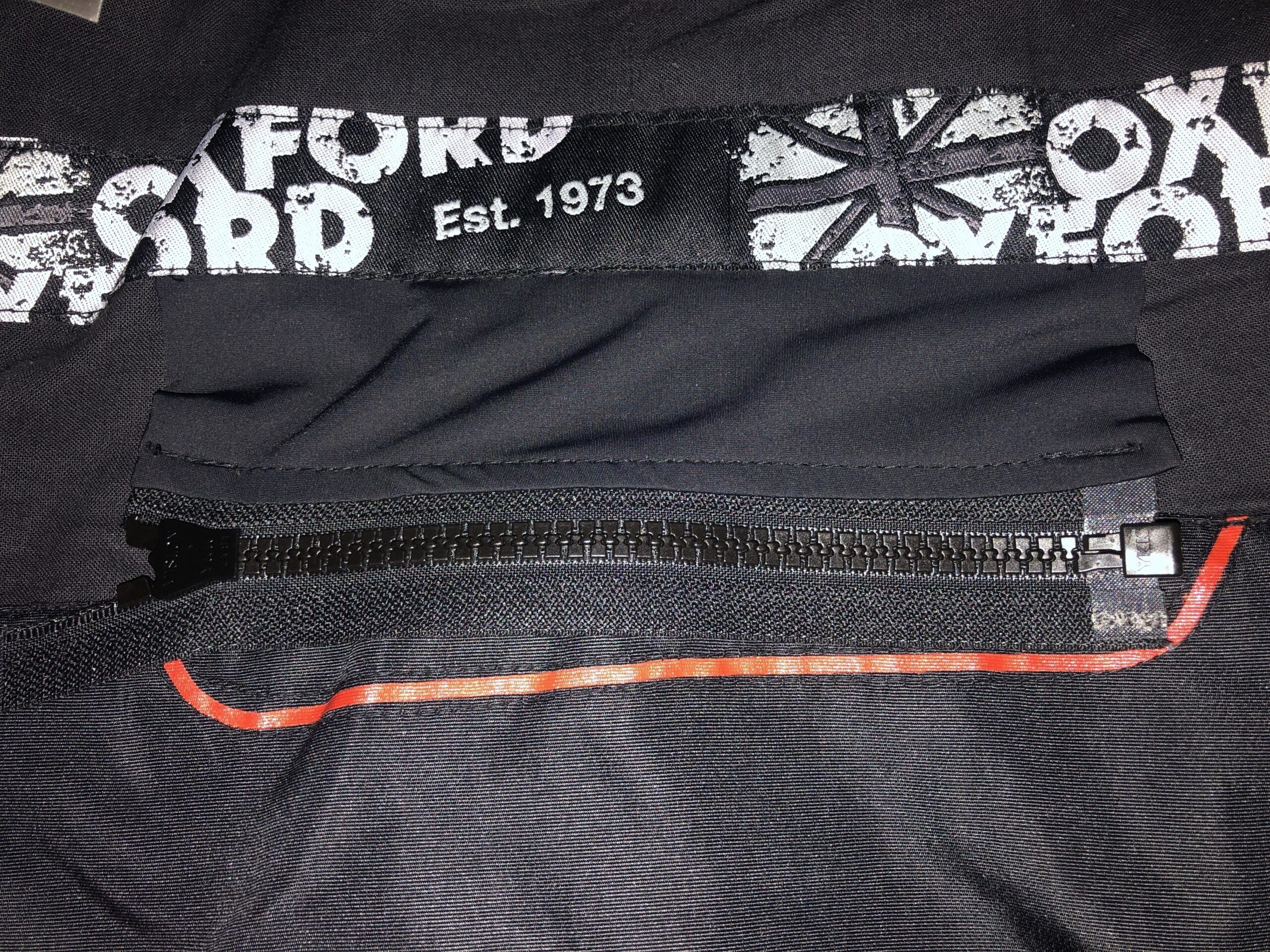 Short connection zip
The jacket has a short connection zip on the inside back of the jacket. The zip comes with the other half so you can sew this (or in my case, my mum can sew this 😂) to a favorite pair of jeans or trousers. 
If you (or your mum) cannot sew, then also available is an Oxford connector belt to allow you to zip your trousers to the jacket.
Oxford Products Beckley Jacket Functionality
As with most leather jackets, this is not waterproof. I regularly apply a leather protector to the jacket and although this doesn't make the jacket waterproof, I find that it is quite good at holding a light shower off you. A downpour and the rain will get through. 
I do have a light waterproof overlayer which I pop over the Beckley if I know it is going to be a wet ride.
In the warmer weather, because it has no thermal liner, it is very comfortable to wear. This has been my go to jacket over the summer. I am so pleased with how the jacket fits me, how it looks and of course knowing the protection it offers me when riding.
The Beckley is a smart looking jacket. Taking the armor out is so quick and easy, you could very easily wear this for a night out or down the pub. It is perfect for doubling up as a riding jacket in the day, and pub jacket in the evening if you were touring, thus meaning you have to take one less item with you. 
If, like me, you go touring on a bike, you will know that space is a premium and we only take what is strictly necessary so having bike gear with double functionality is a win win in my book.
Ventilation
The collar is perforated which allows for air flow around so you don't end up with a sticky collar or neck.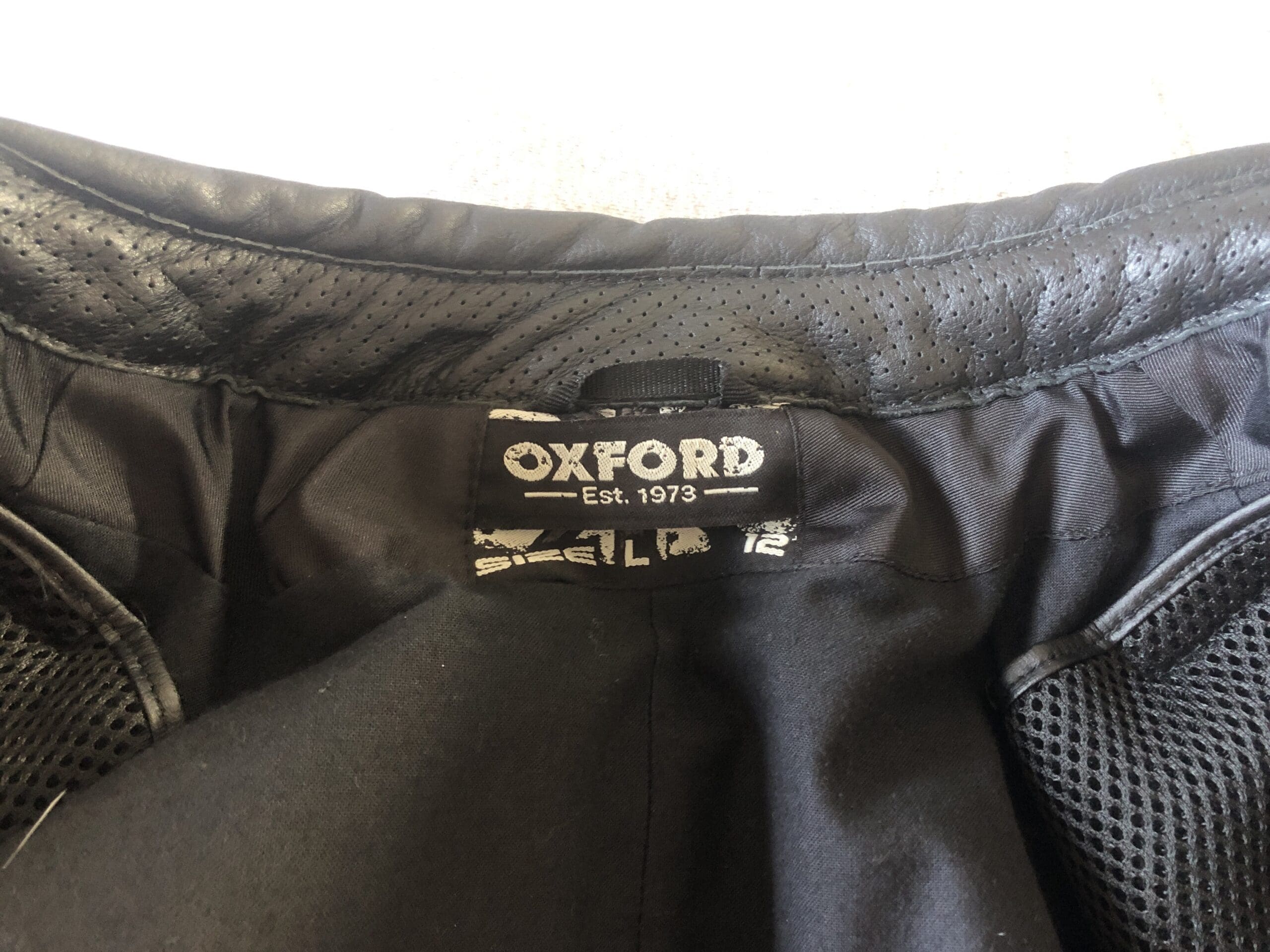 Because the stretch panels are not leather, they do allow some air to get through keeping your body at a nice temperature in the warm weather.
On a colder day though, I do feel a need to wear a thermal top underneath to stop the air getting through!
This is what makes the Beckley a versatile jacket though, you can layer up or down according to the seasons.
Protection and CE Rating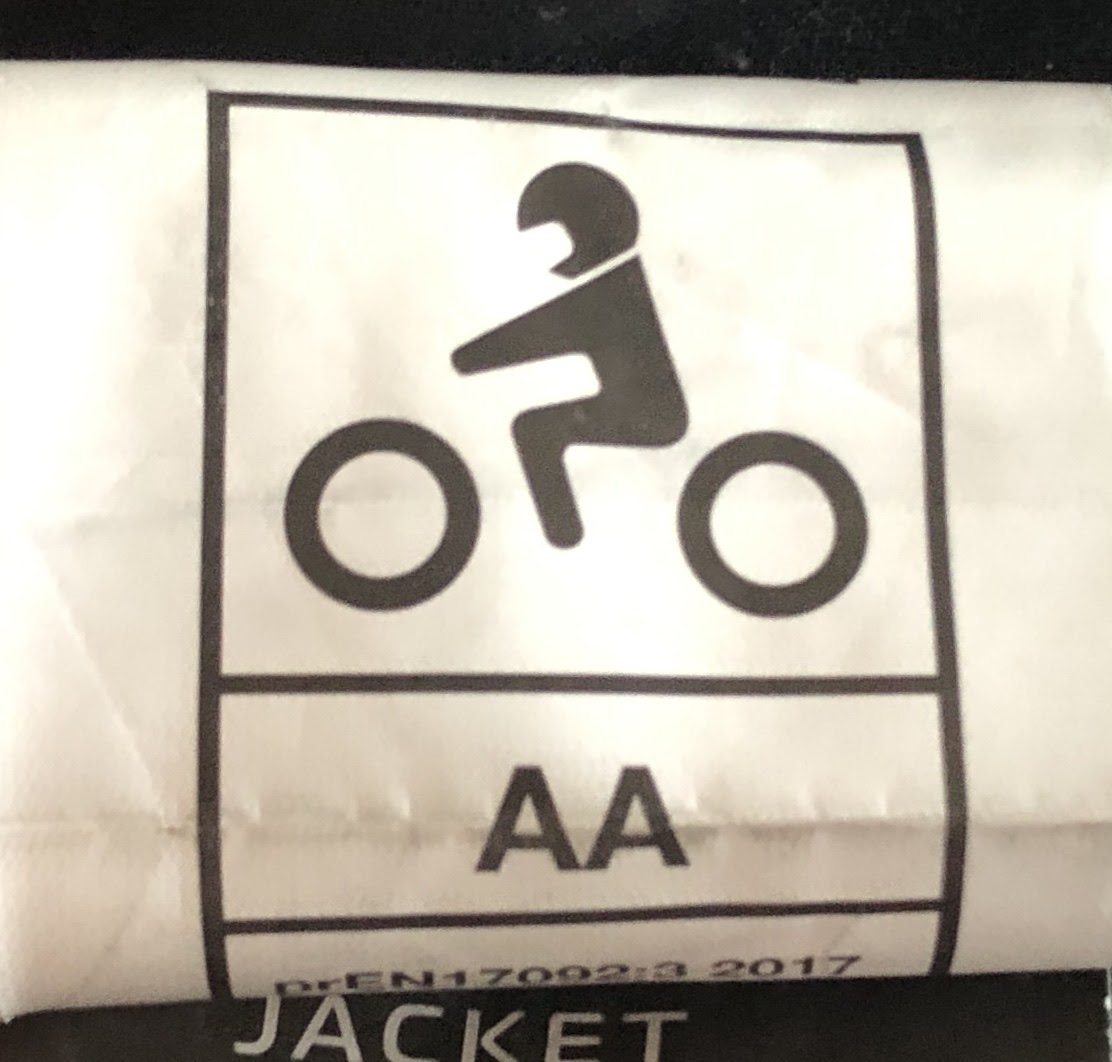 Label showing the Beckley is Class AA 
The Beckley is a CE approved Class AA garment under the CE standard EN17092. Personally, I wouldn't wear anything below AA rated when riding my bike. I want to know that if I come off my bike I have the necessary gear on that will protect me as much as possible.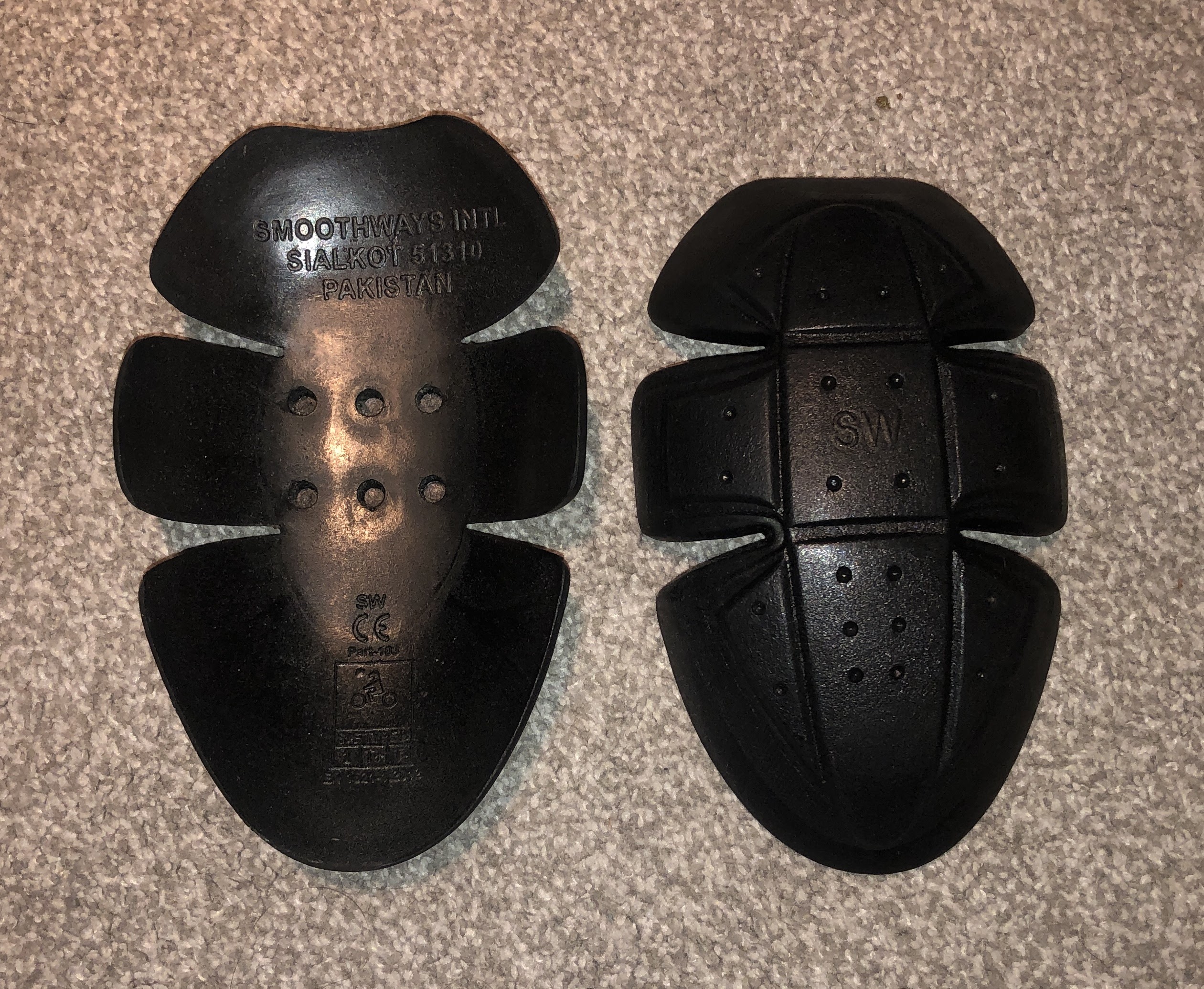 Shoulder armor
Here is a picture of the armor in the shoulders. It may look bulky but honestly, when wearing the jacket, you really don't know it's there. The armor is CE certified.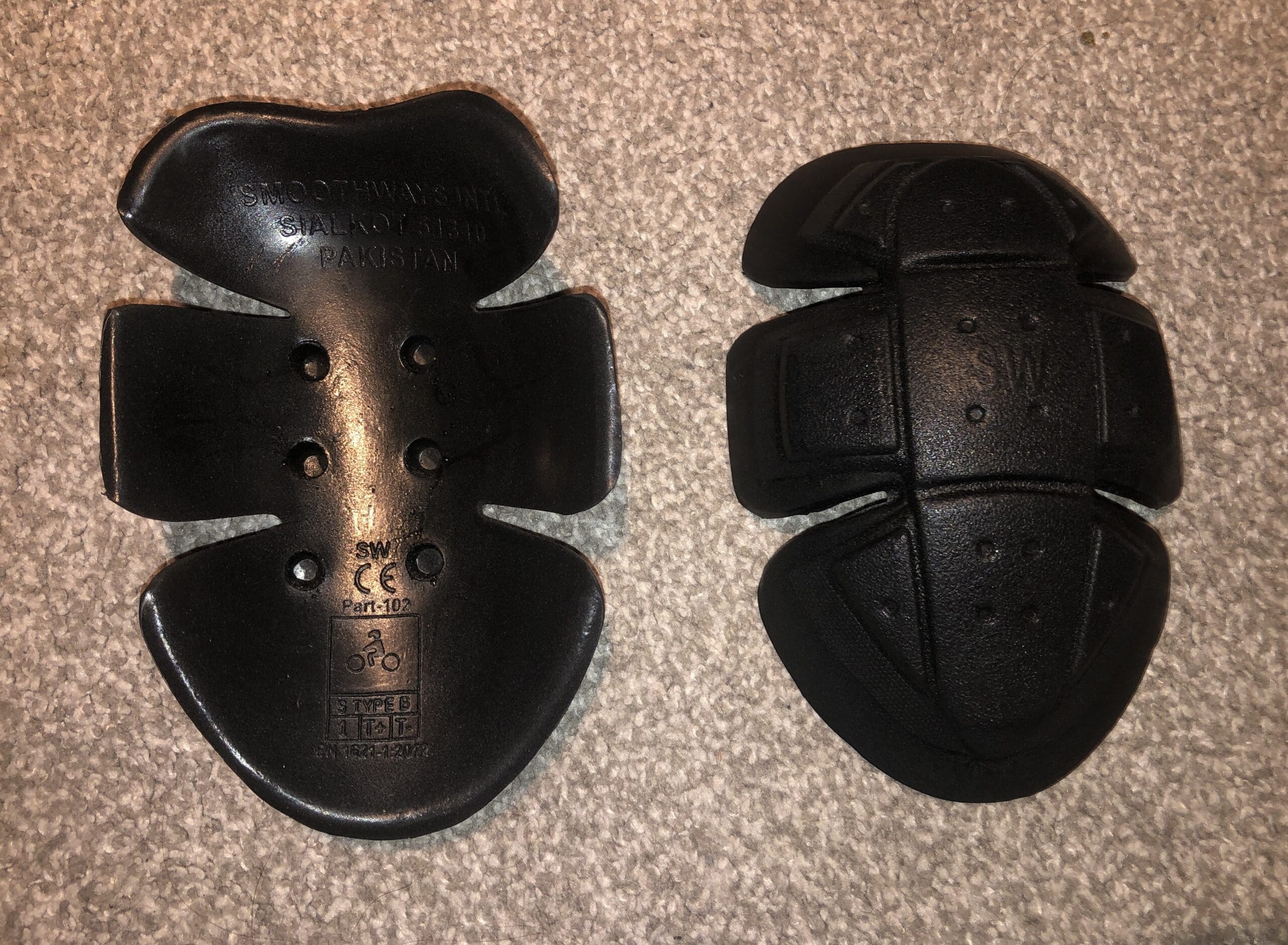 Elbow armor
This is the armor in the elbows. It is nice and long and offers protection not just on the elbows but going down the arm too. The armor is CE certified.
Care Instructions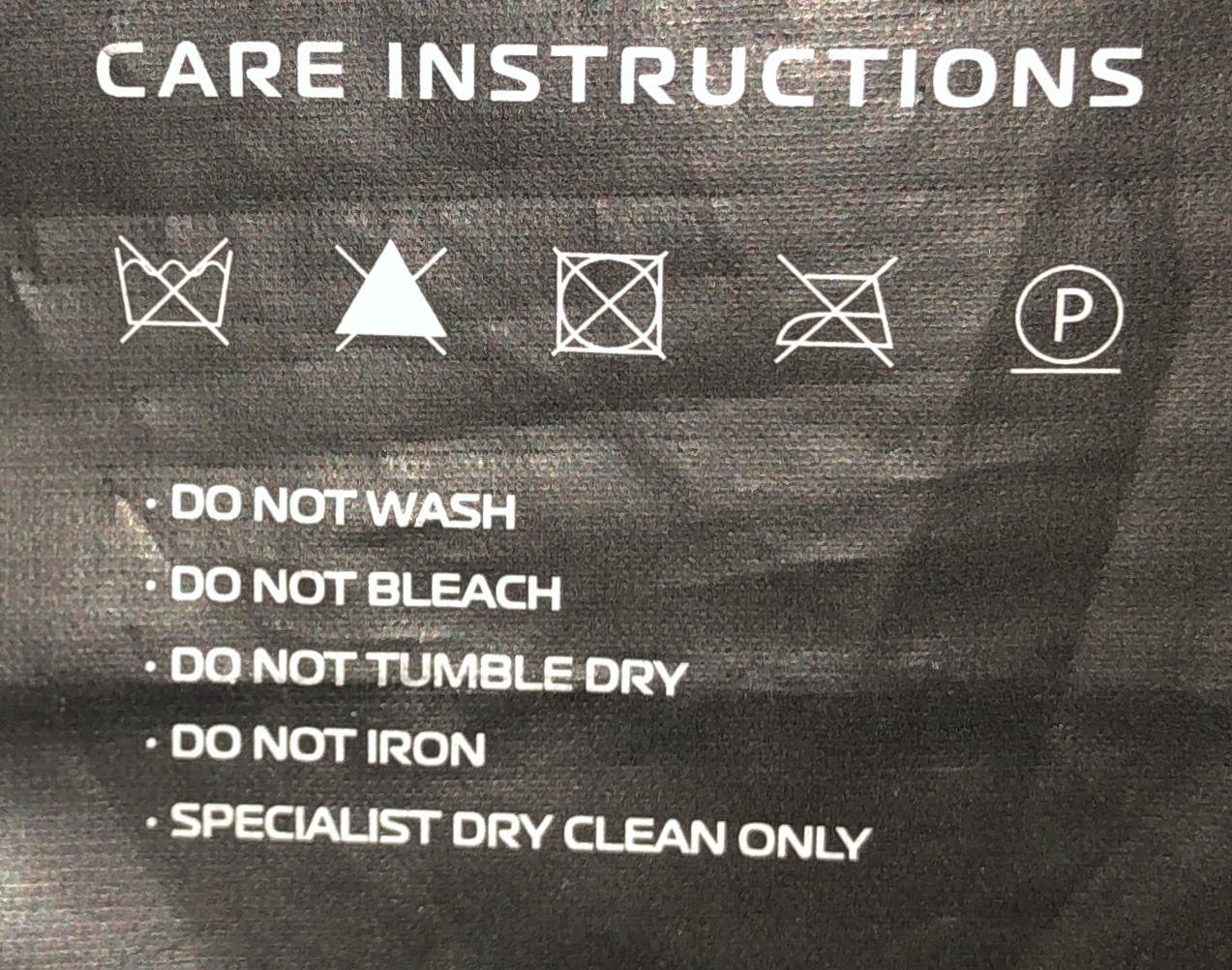 Care instructions label
As the jacket is leather, you cannot pop it into the washing machine for a freshen up. Most dry cleaners do offer a specialist cleaning service.
If I get back from a ride and the jacket has road dirt up the back, and this happens more frequently now we are coming into winter unfortunately ☹, I wipe it down with a damp cloth and leave it to dry before putting it away.
To keep the jacket supple and in nice condition, I regularly apply a leather protector. I find this keeps the jacket in tip top condition and looking nice too. 
Conclusion
I knew from my first meeting with the Beckley jacket that the jacket and I were going to get along. Not only does it offer safety and protection when riding but it also makes you look good whilst doing so.
Yes, I would prefer the Beckley to have a waterproof lining to protect me that little bit more when I am out in the unpleasant elements from wind and rain but I wouldn't let this stop me buying the jacket, I can just throw a waterproof overlayer on. 
I would also like to see a back protector come as standard with the jacket. In my opinion, a back protector is a must have when riding.
Because the Beckley is designed for women, it has a beautiful shape to it and enhances any body type. The added stretch across the chest makes it comfortable for us ladies to wear as it accommodates our body's lumps and bumps.
The Beckley has a smart element to it as well so it nicely doubles up as a great jacket for the evening. This is perfect when touring as there is no need to take a separate jacket thus cutting down on your luggage leaving more space for those unexpected purchases, in my case it was a pair of boots 😆
Although at $326.50 USD / $436.65 CAD / £280, this is a considered purchase, but for a quality AA rated leather jacket, it is great value for your money and a stylish addition to your motorbike wardrobe.
Pros
CE Level AA with EN17092-3-2020 designation

CE Level 2 Armor

Lightweight

Value Pricing
Cons
Inside pockets not zippered

Pocket for back protector but this is not supplied
Specs
Manufacturer:

Oxford Products

Price:

(When Tested) $326.50 USD / $436.65 CAD / £280

Made In:

Pakistan

Colors:

Black, Russet 

Sizes:

8, 10, 12, 14, 16, 18

Review Period:

May – November 2022
Important Links / Where to Buy