Harley-Davidson has already updated their 2014 catalogue just two months into the year.
The 102nd Harley-Davidson Genuine Motor Parts & Accessories catalogue is available free at your local dealership, but it seems 900 pages isn't enough to fit it all in. That's because Harley keeps adding to its impressive list of more than 10,000 accessories. They have now added a host of accessories just for the new Project Rushmore Touring range including Road King Classic, Street Glide, Electra Glide Ultra Classic and Electra Glide Ultra Limited.
The new accessories range from windshields to seating, lighting and luggage. Like the bikes, most of the accessories have been included in the Rushmore Project four-year testing program in wind tunnels and on the open road to ensure performance, fit, quality and reliability.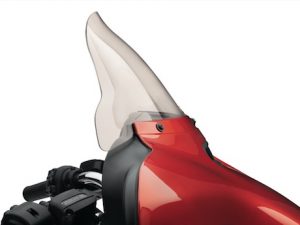 If you think the standard windscreens have low buffeting – and they do – the accessory windscreens offer even better protection with less buffeting. They come in a range of sizes and heights, fully detachable options, tinting and colour variations, anodised trim accessories and additional mid-frame and fairing-mounted air deflectors.
The new Harley-Davidson Touring seats are like armchairs, but if you want even more comfort, there are accessory solo and two-up designs made of premium leather and high-grade materials. Some have Road Zeppelin air adjustors, integrated rider backrests and passenger arm rests, heaters and options for tall and short riders. Harley's Custom Seat Program also allows customers to design their own seat by choosing from a range of styles, inlay designs and stitch colours.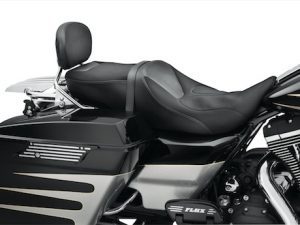 If the now-brighter Halogen headlights aren't good enough, you can go to the Harley-Davidson LED Daymaker optional headlights which turn twilight into daylight and come with either black or chrome housings in a shock-free mount.
The most important option for me would be the Boom! Audio system which has the clearest sound of any motorcycle audio system I have tested with just 1% distortion, down from the previous 25%.
Apart from the Boom! Box 6.5GT with GPS and touchscreen, you can also get auxiliary speakers for the fairing, lowers, saddlebags, top box and even a sub woofer. There is also a more powerful 75W amp, iPod interface, integrated GPS, hidden antennas, weatherproof components and communication kits that will connect with your pillion and other bikes.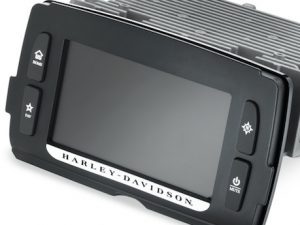 To retain your pride and joy's lustre, Harley-Davidson now has transparent Paint Guard to protect against road grime, stone chips and minor scuffs. It is quick to apply and removed, and is suitable for Touring models from 1993 right up to the present.
These are only the tip of the iceberg of Project Rushmore Touring model accessories. There are also engine trims, handlebars, controls, pedals, foot boards, wheels, styling accessories, Screamin' Eagle performance parts and a range of fixed, detachable and even stretched luggage options.
For further information or for inspiration, visit the Harley-Davidson Guide to Customizing, and Inspiration Gallery.