Updated February, 2018
For most riders, comfort is a big factor when selecting any gear. Most of us ride a bike to get someplace and not just out to experience the ride, so you want to be dressed in what appears to be everyday street clothes. You might be going to work, going out for a meal or to meet friends, so on most occasions, jeans are the appropriate attire. Riding in jeans is just a common occurrence and an easy way to look good and be comfortable; until the day that you go down wearing just jeans.
Before you jump to the conclusion that I am a hater, I live my entire life in jeans. They are my go-to attire and are worn to work, out for a meal or just about anywhere else I go. The only place I don't wear jeans is on the beach but I have been known to wear cut-offs there too.
But the cold, hard truth is that jeans are great for everyday life but they are not going to survive a slide on asphalt, gravel or even hard dirt and rock. We have all torn a hole in jeans playing in the grass so think about what an abrasive surface will do to them. After all, denim jeans are made from cotton which is not considered a durable material.
So the solution to comfort, a casual appearance and safety when riding is to purchase riding jeans. These jeans are made by the same companies who make all of the other protective gear that riders around the world trust with their lives. But they look like everyday jeans that you bought at the mall. However, that look is deceiving because these jeans are made to endure all of the impact, abrasion, and chaos that can happen when you are riding a motorcycle.
Be sure to check back regularly with us here at wBW to read about our latest hands-on reviews of riding jeans and other great products for riders.
Recommendations
Our Top Picks
Best Overall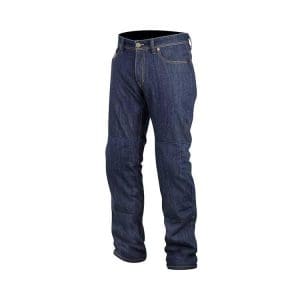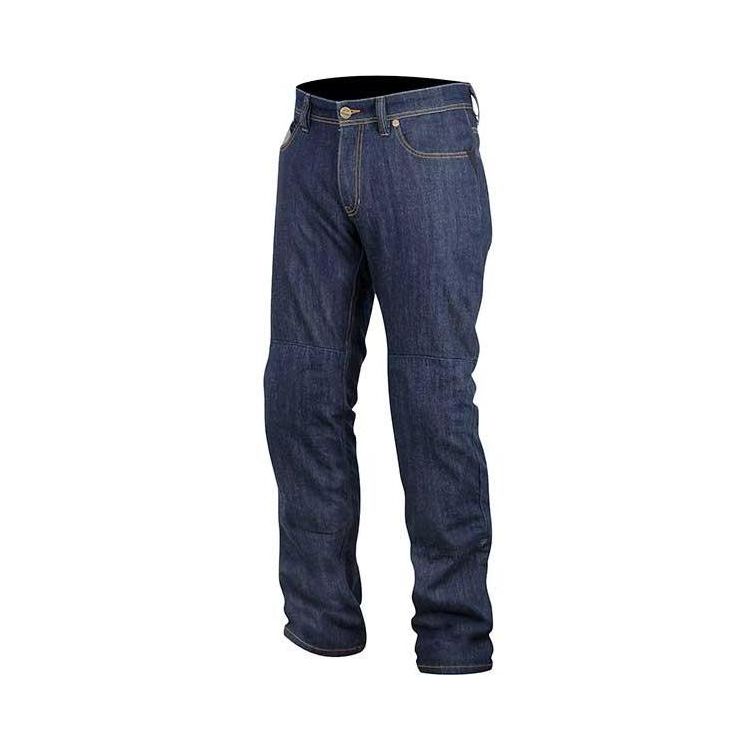 Best Value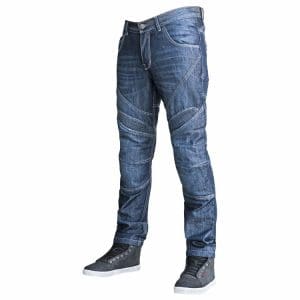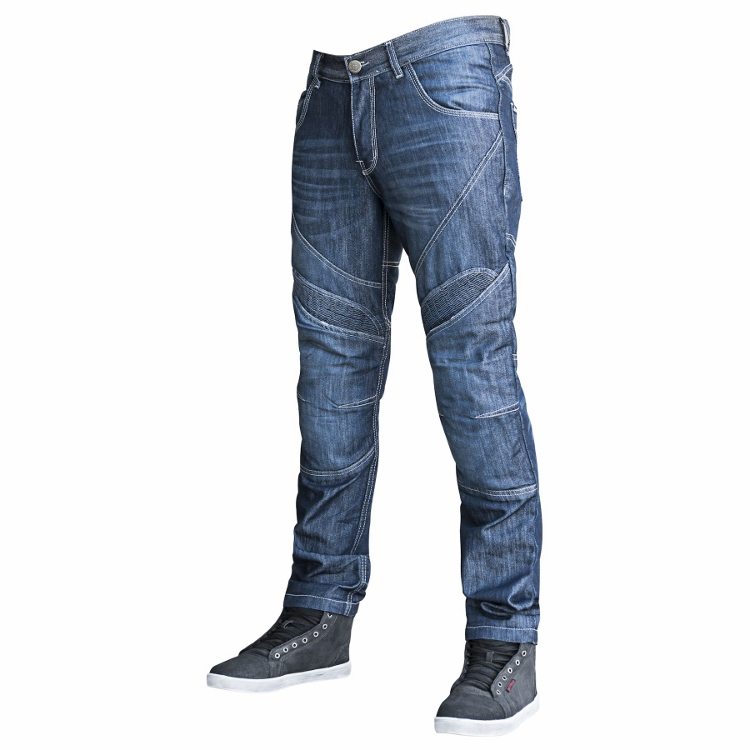 Fully Loaded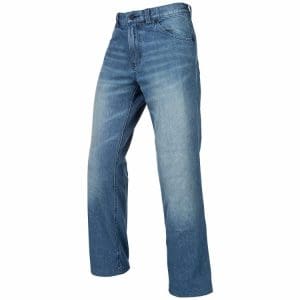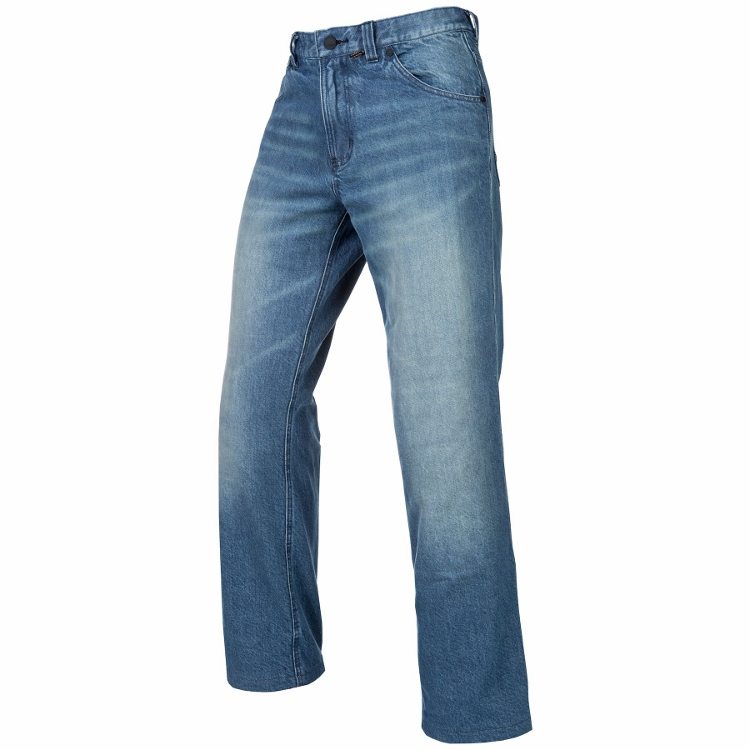 Other great options: Scorpion EXO Covert, Dainese Bonneville, Dainese D1 EVO
Riding Jeans Buyers Guide
Everyone has slightly different taste when it comes to looks and comfort of jeans. Some riders want a certain color or shade of blue and others really don't care about the color as much as the comfort. But the one feature that all riders agree on is safety.
We all want to know that if, or when we go down, our jeans are going to provide the protection we need to be able to walk away from the accident. So our evaluations are going to focus mainly on the safety features and the durability of materials and construction and not on the fashion statement that the jeans make. This lets each rider take our safety information and create their own visual opinion to make a great choice when buying riding jeans.
The Winners
In Detail
Best Overall


Alpinestars Resist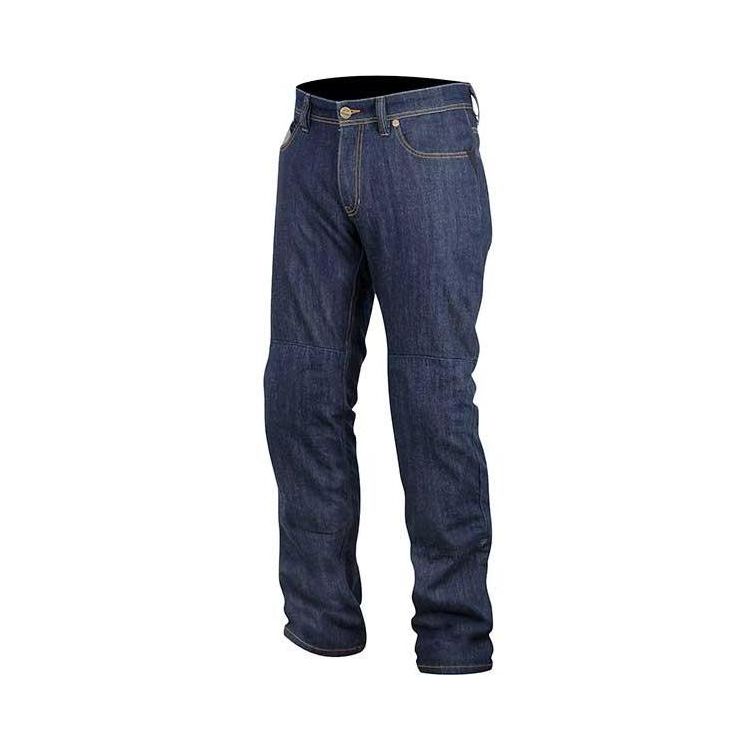 The Alpinestars Resist jeans are straight fit jeans which have been designed to provide superior protection from abrasion.
These jeans are made of 13 oz. comfort denim for comfort but are then reinforced with DuPont Kevlar panels in the seat, hip and knee areas. In addition, the main seam is reinforced to reduce tearing during a slide or on impact. Additional impact protection is provided by the removable hip protectors which are held in place with Velcro brand attachments. Internal knee compartments house the CE certified knee protectors and are also adjustable to customize the fit to the riders leg length.
These jeans are sized very accurately so order your regular size and they will fit just fine. The pre-shaped legs add to the comfort when riding but nothing about these jeans looks unusual when you are not on your bike. These are a great blend of safety and comfort in a pair of "covert" riding jeans.
For all of these benefits and a cost of less than $200, the Alpinestars Resist is our selection for Best Overall Riding Jeans.
Buy Alpinestars Resist
---
Best Value


Speed and Strength Rust and Redemption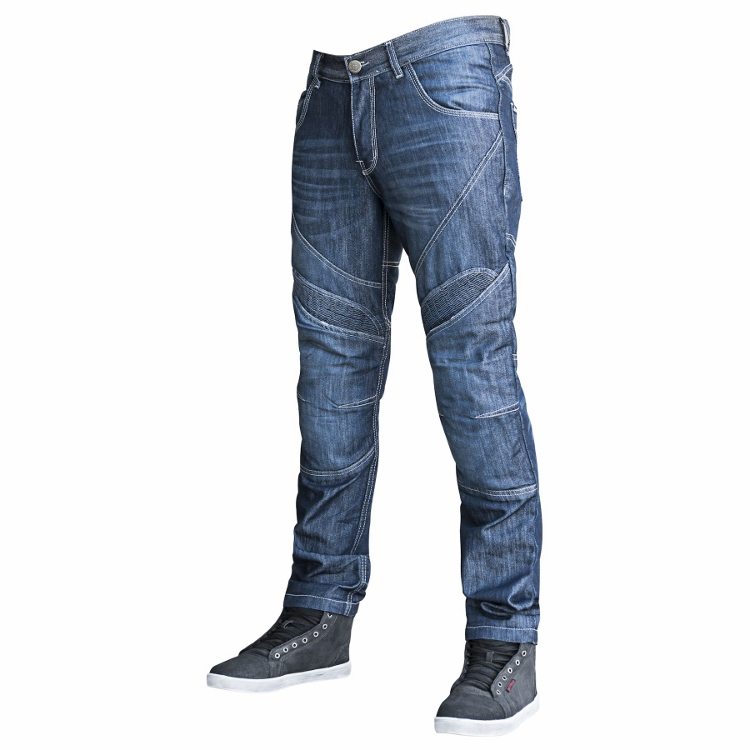 The Speed and Strength Rust and Redemption jeans offer great protection and comfort at a great price.
These jeans are a fairly straight fit and are sized true in both length and waist. The material is a 12 oz. denim so it is not super thick but it is very comfortable from the first wear as the material is distressed.
The safety features start with the DuPont Kevlar fiber thread reinforced knees and seat. Unlike other jeans which have a pad of Kevlar added to the pant fabric, these have the Kevlar thread woven into the denim to offer a more low profile fit. There is also knee armor included which is removable. Stretch panels at the waist and knees allow for more comfort when the armor is inserted.
For around $150, the Rust and Redemption jeans offer a great look, great abrasion protection, and removable knee armor. That package makes these jeans our selection for Best Value in riding jeans.
Buy Rust and Redemption
---
Fully Loaded


Klim K Fifty 1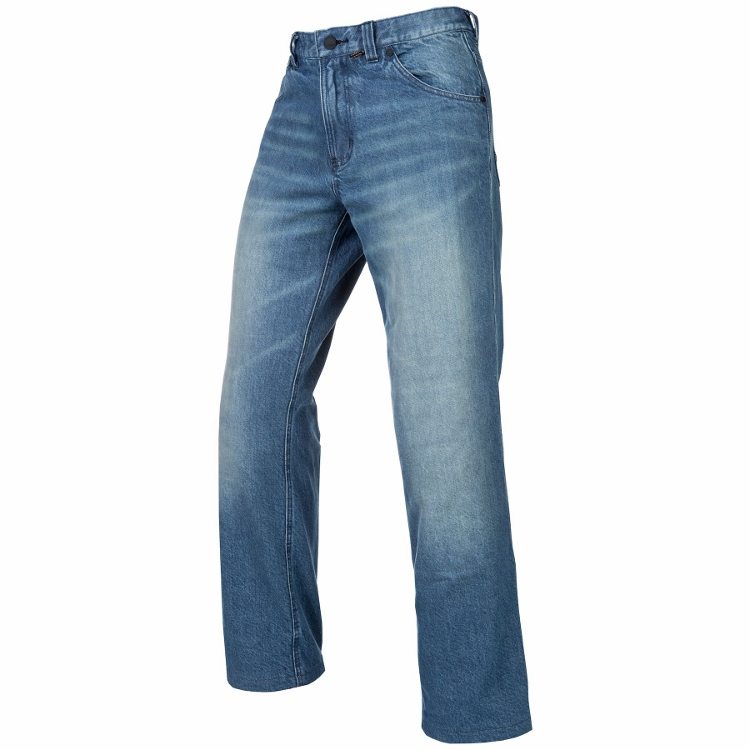 Klim has taken all of their experience and skill at crafting durable riding gear and concealed it in a pair of jeans that look completely unrelated to riding.
The Klim K Fifty 1 jeans a hybrid construction of Cordura Denim and are reinforced with DuPont Kevlar in the slide zones of the seat, hips, and legs.
In addition to the abrasion protection, the K Fifty 1 jeans include D30 Evo hip and knee armor and Poron XRD impact foam to protect the tailbone. An added feature to assist riders in creating a perfect custom fit is the Velcro adjustment for the armor pockets to ensure proper positioning for maximum protection.
To the casual observer, these appear to be regular jeans and sport the standard 5 exterior pockets and belt loops.
An added feature is that these jeans are lined with comfort mesh which wicks moisture away from your body and promotes natural cooling.
At a price near $300 per pair, the K Fifty 1 is pricey but for riding jeans that conceal all of this protection and safety gear, they are worth the splurge as our selection for Best Fully Loaded Riding Jeans.
Buy Klim K Fifty 1
---
Other Great Riding Jeans
In Detail
Scorpion EXO Covert
The Scorpion Covert jeans offer rider protection in a style that would never be suspected of being riding jeans.
Made from heavy 14 oz denim in a rich authentic indigo, these jeans look and feel great riding or out for a casual evening. But it is whats inside that makes these jeans really special.
These jeans are lined from the knees to the waist with 165GSM DuPont Kevlar. In addition, there is also a mesh lining throughout the jeans for comfort and to promote airflow for additional rider comfort. Pockets are included in the knees and hips for optional SAS-TEC armor for additional impact protection if desired.
For the cost of a regular pair of jeans, riders are getting the benefit of Kevlar lining and the ability to insert armor at the knees and hips all while looking like any other pair of 5 pocket jeans from the mall. The Scorpion Covert is a great choice for a low key look but with top quality protection.
Buy Scorpion EXO Covert
---
Dainese Bonneville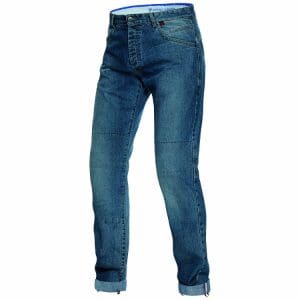 The Dainese Bonneville is a straight leg design with just a bit more room than the slim version. The sizing is very accurate and even with the armor protection the jeans fit well and are comfortable on and off a bike.
The adjustable Pro-Shape knee armor is certified to Standard EN 1621.1 and there are pockets at the hips if riders choose to add additional Pro-Shape protection for impact. The high impact areas are also lined with 100% DuPont Kevlar Jersey for added abrasion protection.
You could easily pay this same amount for any pair of Italian made jeans so why not buy the ones that also add slide and impact protection?
Buy Dainese Bonneville
---
Dainese D1 EVO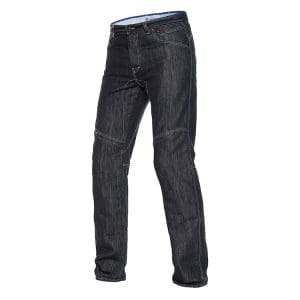 Durability and safety are the main features of the D1 EVO jeans but fashion and comfort have clearly not been overlooked.
The denim fabric of these jeans has been woven with additional aramid yard and reinforced with DuPont Kevlar to provide maximum protection against abrasion. But comfort is ensured thanks to a slightly more generous cut and added gusset to make even long rides very comfortable.
Dainese Pro-Shape knee armor is included and can be adjusted to custom fit the riders leg length. This armor conforms with Standard EN 1621.1 for safety. There are also pockets in the hips in case riders would like to purchase additional Pro-Shape armor for the hip area.
A Kevlar lining adds an extra layer of protection from abrasion injuries or from objects cutting or protruding through the jeans. The D1 offers the highest level of protection available in Dainese riding jeans while still being fashionable enough for a day at the office or a night on the town.
Buy Dainese D1 EVO
---