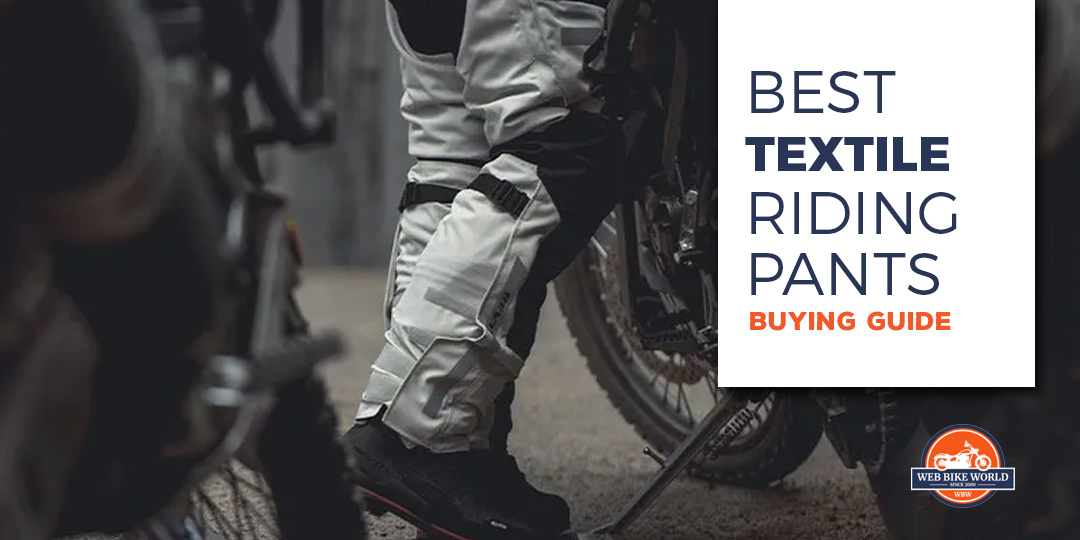 About Our Recommendations
Founded in 2000, our team at wBW has collectively tested more than 2,500 helmets, jackets, boots, gloves, accessories, and more. We do not fluff reviews. A riders safety is heavily dictated by how they ride and what they wear while doing so. Our goal is to help riders make informed decisions about the gear they invest in to protect themselves.
wBW is funded by our audience. Our recommendations and reviews may contain affiliate links that earn us a small comission if you make a purchase after clicking them. This is the primary way we fund our website and pay our review team (and comes at no additional cost to you). We disclose our relationship with brands or manufacturers for transparency. For more information about our extensive review process, see our review policies.
A Brief Textile Pants Buyer's Guide
The cut and style of the textile pants riders choose should be based on the type of riding and the environment in which they ride most often. Riders should also consider how much versatility that they expect from the pants.
For example: are you planning on riding the Dempster highway to Tuktoyaktuk, or are you keeping it to the tarmac inner-city style?
Fortunately, gear manufacturers offer a wide variety of textile pants that meet the many different use cases of all riders. Both men and women can now find a good selection of textile riding pants.
Our recommendations below are focused on providing riders with some quality choices that offer durability and safety as well as a range of riding styles and uses. This information, along with riders personal preferences and intended use, will help take the guesswork out of selecting a great pair of textile pants.
A note about availability (updated December 28, 2021):
Some of the gear we recommend in this list may be, at the time you are reading it and clicking the links, out of stock at all retailers. This has been an ongoing issue due to the global pandemic throughout the past 18 or so months with motorcycle gear in general. The only time an item is removed or replaced is if it is discontinued, so if it's on this list, it might be out of stock but is expected to return to stock at retailers at some point in Q1 or Q2 2022
Best Entry Level Textile Motorcycle Pants
Priced under $300.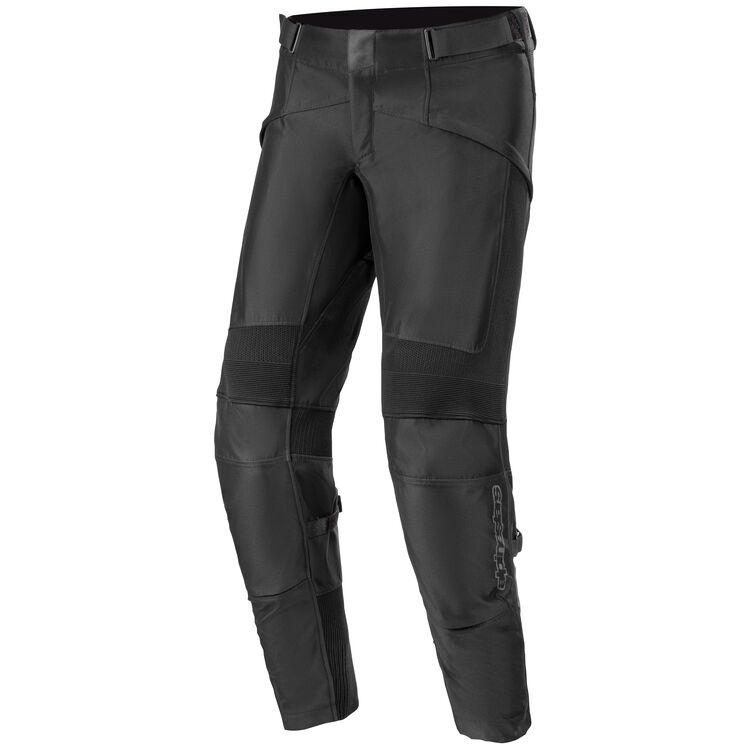 Alpinestars T SP-5 Rideknit Pants
Why?
Alpinestars, as a company, is most famously associated with sportbikes. It seems to fit perfectly, then, that the T SP-5 Rideknit pants are aimed purely at the sport and sport touring riders, giving a flexible textile-based riding pant that is easy to wear, designed to fit under sport boots, with a high tail area so that it extends protection when a rider is in a tuck.
The seams are also knitted together (hence the Rideknit name) in a super-strong, yet elastic, way that allows maximum comfort and fit.
Key Specs
• Chassis constructed from hard-wearing poly-fabric for comfort, durability and abrasion resistance
• Knitted design textile pants with pre-curved knees for optimal riding performance
• Tapered for a seamless fit with sports riding footwear
• Knitted technology fabric on seam area for maximum stretchability, thus optimizing fit and comfort
• Single crotch panel for additional rider comfort
• Rear of pants is elongated, giving a high back profile for enhanced coverage when riding
• Knitted technology fabric on seam area for maximum stretchability
• Ergonomic pre-curved knee construction reduces rider fatigue
• Hook and loop waist adjustment for a secure closure
• Two front thigh pockets for real-world practicality
• Elasticated ankle panel for quick and easy on/off
• Front fly with button for a secure closure
• Equipped with a short cord to tighten the calf
• CE Level 1 hip and knee protection
Protection & Safety
• Textile poly-fabric is hard-wearing, durable, and highly abrasion-resistant
• CE level 1 hip and knee Alpinestars Nucleon flex-armor protects while allowing a high range of movement
• Elongated tail of the pants to cover more of the rider should they come off the bike while in a tuck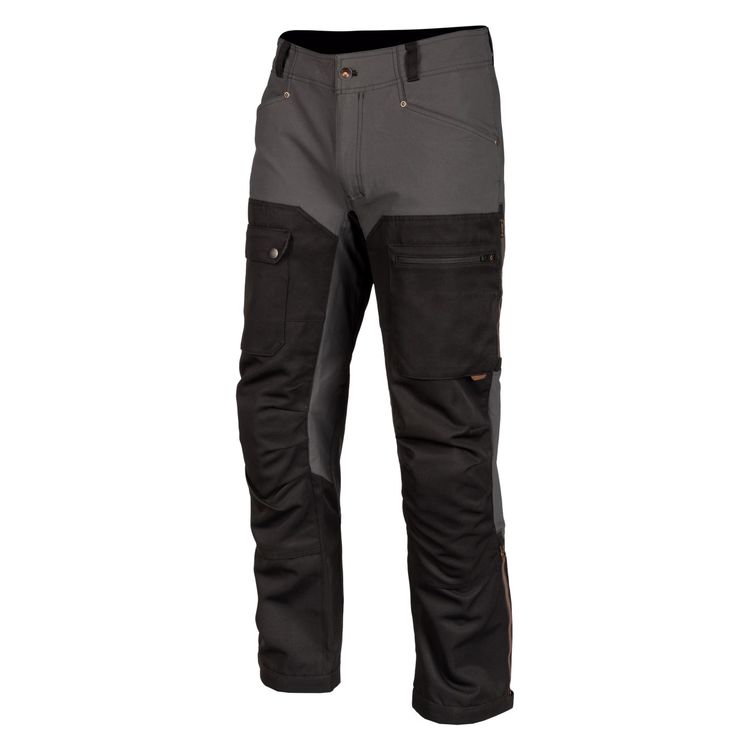 Klim Switchback Cargo Pants
Why?
With a look that seems inspired by outdoor clothing, the Klim Switchback Cargo pants provide riders with a huge amount of cargo space and a relaxed, casual look that transitions beautifully off the bike. These are the ideal pants to wear if your journey extends beyond two wheels to include hiking a trail and/or pitching a tent.
The ability to easily remove the armor makes the pants even more versatile and a great selection for many riders who want a casual look but great function and protection when riding.
Key Specs
• Karbonite Micromesh and nylon chassis
• DWR treatment
• D3O LP1 hip and knee armor (level 1)
• Armor can be removed while wearing pants
• Two zippered outer thigh vents
• 2 calf entry assist dual zippers
• Two front hand pockets
• Two rear pockets
• One zippered front thigh cargo pocket
• One double snap front thigh cargo pocket
• Adjustable bottom hem fastens down around ankle revealing 3M Scotchlite reflective material
Protection & Safety
• D3O LP1 armor, level 1, is located at the hip and the knee
The biggest bonus for this armor is that it can be removed while still wearing the Switchbacks, making them even more comfortable when not on your bike.
Best Mid-Range Textile Motorcycle Pants
Priced $300 - $500.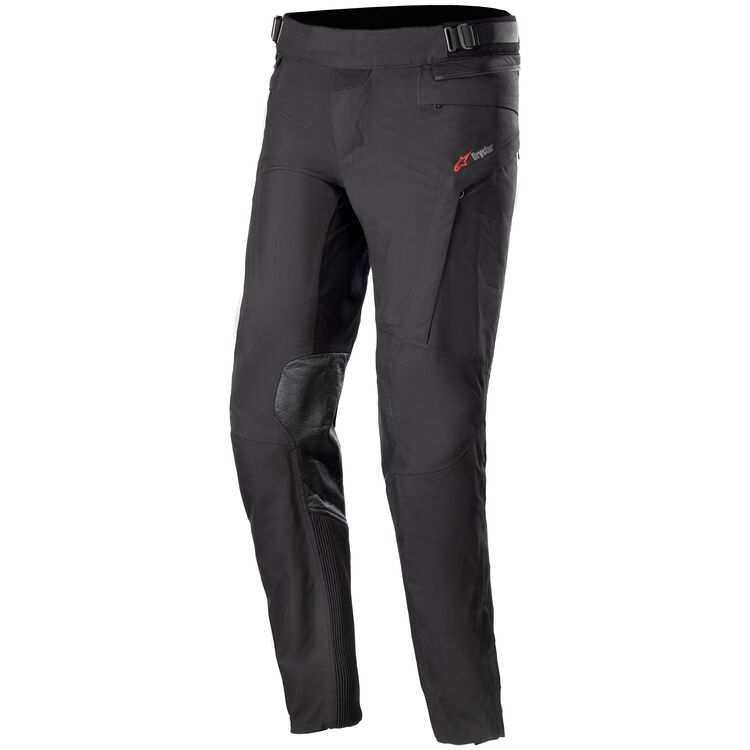 Alpinestars AMT-10 Drystar XF Pants
Why?
These pants are the latest and most innovative all-weather protective apparel from Alpinestars.
Equipped with laminated 2L DrystarXF waterproof and highly breathable membrane they provide superior comfort in any weather conditions, wet or dry. Drystar XF membrane incorporates hydrophilic technology where water vapor is absorbed from the body and desorbed on the outside to provide 100% waterproof performance.
Key Specs
• Modular construction for optimal versatility
• Laminated DrystarXF membrane provides superior breathability and waterproofing
• MATRYX panel for enhanced airflow and mechanical performance
• Rideknit panel for comfort and stretch zones for an optimized fit
• Elasticated back waist accordion incorporating waist volume adjusters for an optimized fit
• Ergonomically designed zippered front pockets for ease of use.
• Lower leg stretch accordion construction for the best fit and optimized comfort, regardless of the type of boot or shoe the rider is wearing
• Designed with a tailored, ergonomic fit to accommodate all riding movements
• Can wear in or out of boots
Protection & Safety
• Nucleon Flex Pro Knee Level 2 armor and Bio-Flex Hip armor included
• Reflective detail on the lower leg
• Aramid fiber Flynet leather panels for high abrasion resistance
• CE approved to pr-EN17092 as a Class AA garmentapered PE comfort foam for superior riding comfort.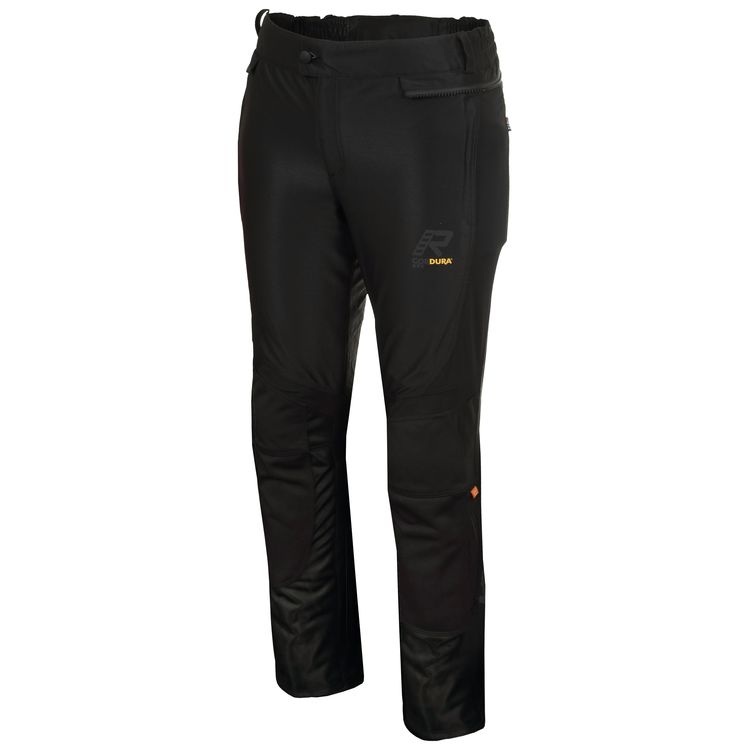 Rukka StretchAir
Why?
The Rukka Stretch Air textile pants are a rather unique twist on protective riding pants. The comfort fit, durability, and armor protection make the Rukka StretchAir a great alternative to some of the bulkier textile pants options on this list.
Key Specs
• Knitted mesh Cordura AFT for maximum airflow
• Knitted Cordura AFT in two layers on knees
• Elastic Cordura panels for extra fit flexibility
• Belt loops
• Jacket-to-pant connecting zipper
• Two external pockets with zippers
• Rukka D3O XTR Air Knee/Shin and Hip Protectors CE Level 2 EN 1621-1 2012
• Stretch material on sides, above the knees, knee bend, rear yoke and leg cuffs
• Fits inside boots
• Rukka AirCushion and Rukka Antiglide system of Keprotec in seat
• Can be fitted with Rukka Suspenders (sold separately)
• The Rukka warranty is valid for 5 (five) years from the date of purchase against faults in material or workmanship
Protection & Safety
• And don't let the relaxed fit and style of the Stretch-Air make you question the safety features offered by these textile pants.
• D3O XTR Air armor in the knees
• Hip armor rated CE Level 2 EN 1621-1 2012.
• Double layer of Cordura is added at the knee and shin for extra abrasion protection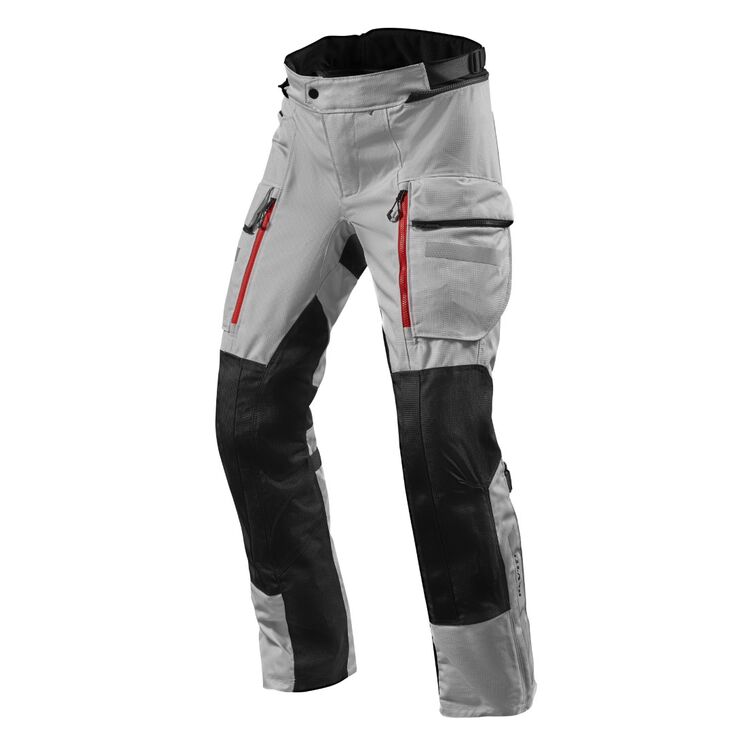 Rev'It! Sand 4 H2O
Why?
After the highly successful Sand 3 pants, Rev'It found a way to refine that pant into one of the finest adventure pants on the market today. A full 1000D ripstop polyester outer shell, backed by two detachable liners, one for thermals, one for waterproofing with Hydratex membrane, and a comfortable fit, means that these pants are meant to be ridden all day, all night, and in all seasons.
Adding to the protection is Seeflex CE II armor in the knees, and SeeSmart CE I type B at the hips. Wide opening ventilation zips allow for cooling air to flow through, as well. The ultimate ADV pant from Rev'It!
Key Specs
Protection Features:
• Outer shell: polyester ripstop | PWR|shell 1000D | PWR|shell stretch
• Insulation: detachable thermal liner
• Waterproofing: detachable Hydratex®|G-liner
• Breathability: detachable Hydratex®|G-liner
• Composition: 98% Polyester, 2% Polyamide
• Lining: 100% polyester
• Thermal liner: 100% polyester (insulation 100% polyester)
• Membrane: 100% polyurethane (tricot 100% polyamide)
• Protection: Seeflex CE Level 2 protection at knees, SeeSmart CE Level 1 type B hip protection (RV33)
• Visibility: laminated reflection on the calves
Ergonomic Features:
• Fit: tour fit
• Adjustability: adjustment strap at waist, adjustment tab at ankles, 3 position adjustable knee armor
• Ventilation: VCS I zippers at upper legs
• Features: B-lock button closure | calf zippers | grip panel at seat | short and long connection zipper | stretch
• Pockets: slit pocket | waterproof stash pocket
Protection & Safety
• 1000D ripstop polyester shell allows for maximum abrasion resistance possible
• Seeflex and SeeSmart armor is flexible for comfort, yet will take an impact without transferring the shock to the rider
• Ventilation is on the top inside of the thighs, so that there are no weak points on the outside of the legs where abrasion is most likely to occur
Best High-End Textile Motorcycle Pants
Priced over $500+.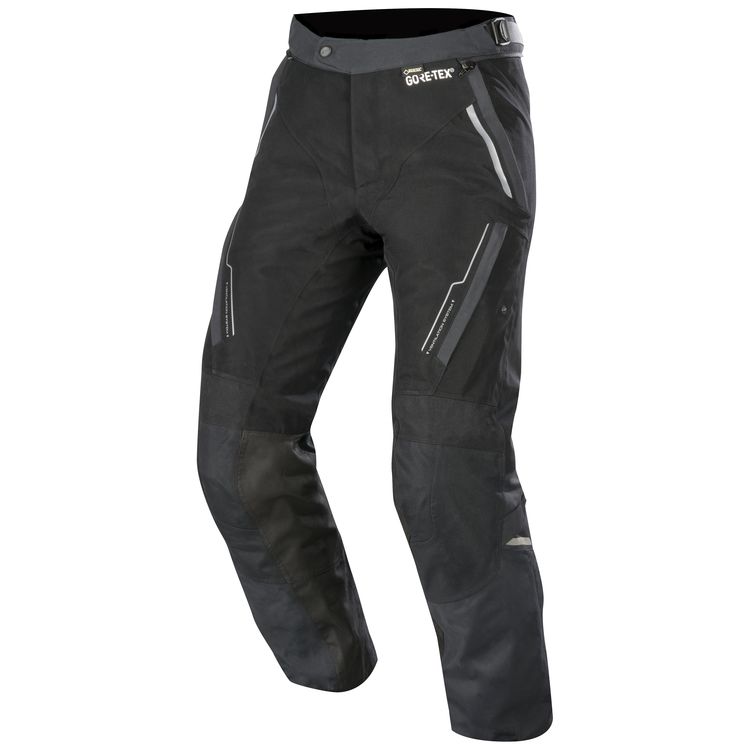 Key Specs
• Multi-panel main shell Gore-Tex construction with reinforcements on the thigh areas for an optimal combination of durability, protection and weight saving
• Fully laminated Gore-Tex chassis (three layer above the knee and two layers below the knee) which is bonded for weight-saving, plus exceptional waterproofing and breathability
• Gore-Tex stretch inserts positioned on knees offers mobility and riding fit on various touring bike models
• Ballistic nylon reinforcements strategically positioned on legs for enhanced tear and abrasion resistance and with a non-scratch finish to preserve the bike's paintwork
• Removable 100g thermal lining
• Ventilation system features zippered air intakes on thighs which offer superior interior cooling and airflow to prevent build of potentially fatiguing heat
• Thigh air vents feature snap buttons to ensure vent stays open while riding
• Lightweight, removable CE certified knee protectors
• Internal hip pockets lined with ergonomically tapered PE comfort foam for riding comfort
• Hip compartments can be upgraded to incorporate Alpinestars Nucleon hip protectors (sold separately)
• Hook and loop grip closure leg closure system on calf and ankle ensures optimized garment fit and also help to keep protectors in place in the event of an impact slide
• Deep, zippered front hand pockets for peace-of-mind storage of belongings
• Waist connection zipper enables attachment to various Alpinestars textile riding jackets
• Inner waist incorporates soft padded lining for high levels of comfort
• Reflective detailing on front and bottom legs improves rider visibility
Protection & Safety
The protection offered by the Bryce Gore-Tex is exactly what riders have come to expect from Alpinestars in safe yet comfortable armor.
• Lightweight, removable CE certified knee armor is provided as is tapered PE comfort foam at the hips
• Internal pockets for both the knee and hip protection allow riders to upgrade or replace the included armor as they see fit
• Ballistic nylon reinforcements are strategically located on the legs for enhanced tear and abrasion resistance and have a non-scratch finish to preserve your bike's finish
• Reflective detailing on front and bottom legs improves makes you easier to see at night or in low light conditions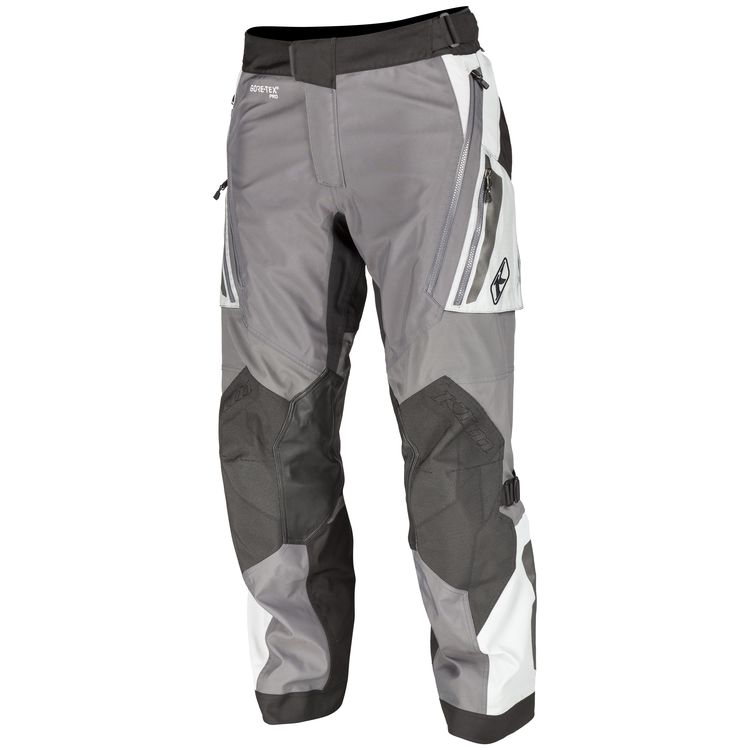 Klim Badlands Pro Pants
Why?
Klim is rather legendary in the world of ADV gear, and the best of their tech can be found in the Badlands Pro pants.
The Gore-Tex 3 Layer Pro shell is 100% waterproof and still very breathable. D3O Aero Pro armor at the knees, hips and tailbone provide excellent impact protection, and 500D Karbonite ripstop panels in key impact and wear areas provide high levels of abrasion resistance.
Key Specs
• Gore-Tex 3-layer Pro Laminate technology Guaranteed To Keep You Dry
• SPL 200 3 layer Pro Gore-Tex on main body
• FPL 400 3 layer Pro Gore-Tex
• Custom-engineered variable-density Superfabric on knees
• 500D Karbonite ripstop on pocket and seat
• Highly abrasion resistant 500D Karbonite ripstop panels in key impact and wear areas
• Pre-curved knee positioning construction
• VELCRO® brand fasteners
• YKK Vislon water resistant zippers
• Upper shin quick adjust keeps armor in place
Heat resistant leather coverage to grip and protect
• Klimatek cooling stretch mesh in hip and knee pad pockets
• Internal moisture-wicking mesh Polygiene odor fighting for long trips
• 2 zippered cargo pockets
• Standardized jacket-to-pant zipper integration system
• Custom TPU zipper pullers
• Adjustable cuffs
• 2 front thigh intake vents
• 2 back thigh exhaust vents
Protection & Safety
• 3M Scotchlite reflective material on panels
• CE level 2 Klim D3O Aero Pro armor at hips, knees and tailbone
• Adjustable armor pockets
What To Think About When Shopping For Textile Motorcycle Pants
Textile bike gear is no longer just a cheap substitute for high-quality leather gear. Modern technology and the desire to create a more comfortable alternative to heavyweight leather safety gear have combined to create durable fabrics. In addition, processes have been created which allow these materials to be combined to form a finished fabric with all of the same benefits and values of leather. And these new textiles can be thinner and offer better contouring capabilities than leather.
Many of these textiles were created with drastically different applications in mind, but have been adapted into the world of motorcycle gear. Kevlar was invented in 1965 by Stephanie Kwolek for use in the structure of bulletproof vests and other body armor. Cordura was formulated in 1966 and the intended application was for military tires.
Gear manufacturers were challenged by riders to create ultra safe but also ultra comfortable gear, and their quest led them to explore the use of some of the strongest textiles ever created. The outcome of their efforts is an entire line of textile gear that offers riders a safe, comfortable and in most cases more affordable alternative to the leather gear that was embraced by past generations of riders.
Be sure to check back regularly with us here at wBW to read about our latest hands-on reviews of motorcycle cruiser boots and other great products for riders.
At WBW, "Best" Actually Means Something
Remember when you could open up a review of something, and when the publication—magazine, car show, whatever—said "best" they stood behind it? Yea, we remember, and we're bringing it back.
Here's how we do things:
We disclose our affiliate relationships—We make money via advertising and affiliate relationships on our website. It's how we pay our team and invest in things like sending Jim to Italy. And Japan. And France… wait… why do we always send Jim places?

We obsessively hands-on test—We wear and ride with gear before reviewing it, and we update reviews down the line if our opinions change. We look at real-world situations because that's the world we live in.

We're objective—Good gear is good gear, regardless of who made it.

We're value-focused—Why pay $500 if something for $250 is just as good? Our review scores and recommendations reflect best value. Brand only goes so far—the gear has to stand on its own.