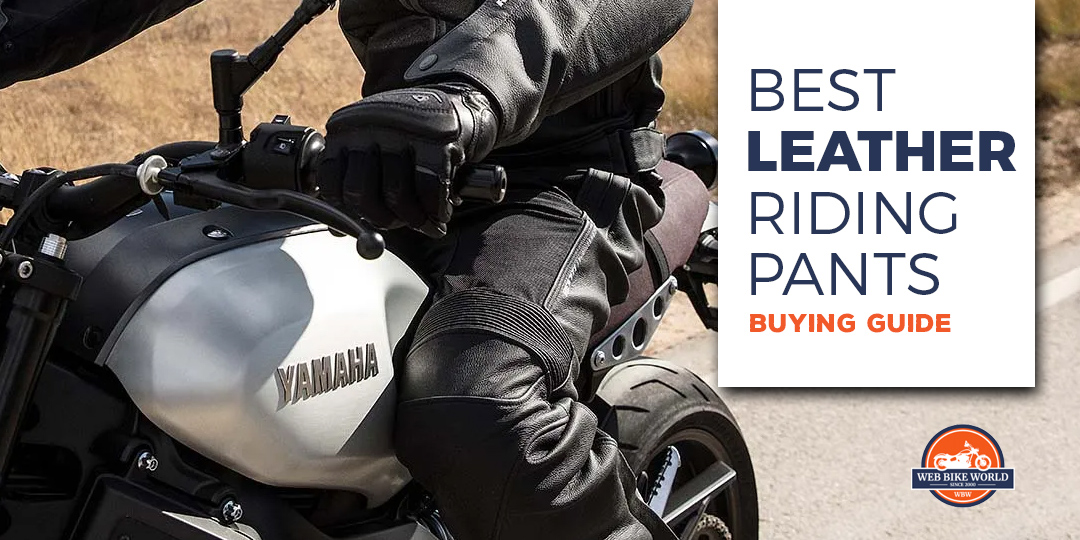 For Abrasion Protection, Leather Pants Are King
The cut and style of the best leather pants for you will depend greatly on the style of riding you enjoy and the environment where you ride most often.
Fortunately, gear manufacturers have greatly increased the variety of both sizes and styles of leather pants they offer. And in the case of larger brands, there is a fairly good selection of ladies leather riding pants available (see my colleague Brittany's list on the best motorcycle pants for women).
The recommendations below are focused on providing riders with quality choices that offer durability and safety across a range of riding styles and uses. This information, along with riders' personal preferences and intended use, will take the guesswork out of selecting a great pair of leather pants.
Stay safe out there!
– Chase
About Our Recommendations
Founded in 2000, our team at wBW has collectively tested more than 2,500 helmets, jackets, boots, gloves, accessories, and more. We do not fluff reviews. A riders safety is heavily dictated by how they ride and what they wear while doing so. Our goal is to help riders make informed decisions about the gear they invest in to protect themselves.
wBW is funded by our audience. Our recommendations and reviews may contain affiliate links that earn us a small comission if you make a purchase after clicking them. This is the primary way we fund our website and pay our review team (and comes at no additional cost to you). We disclose our relationship with brands or manufacturers for transparency. For more information about our extensive review process, see our review policies.
Best Entry Level Leather Motorcycle Pants
Priced under $300.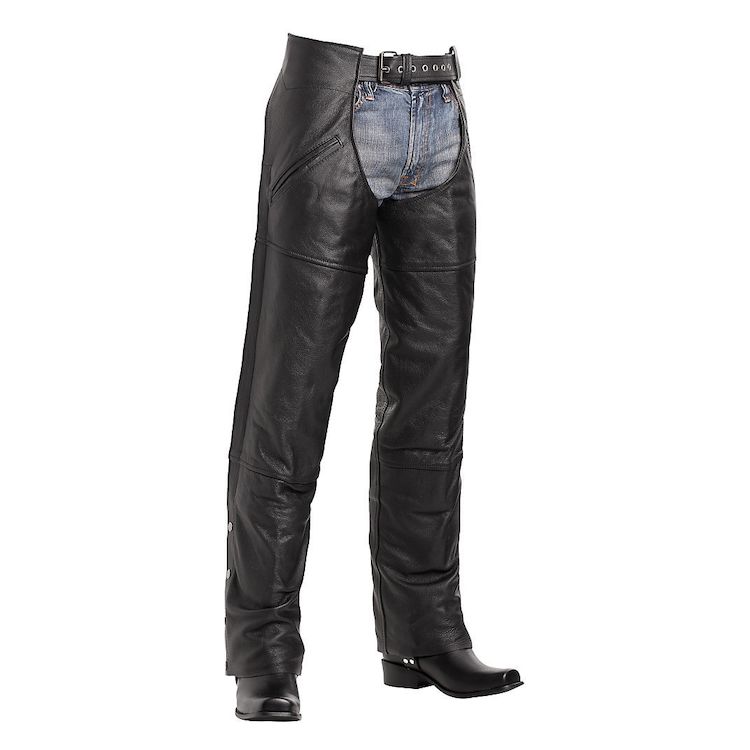 Street & Steel Heavy Duty Leather Chaps
Why?
Chaps are always a great option for riders seeking a leather pant alternative because they can be put on top of whatever you are already wearing, then taken off at your destination and packed away in your saddlebags.
These Street & Steel chaps are the heavy-duty version of their standard version—meaning extra slide protection—and also have a removable liner for when things get hot.
Key Specs
• Full-length side zippers ensure ease of entry and egress
• Multi-snap leg bottoms accommodate any style of boot
• Adjustable brass buckle belt in front with leather cord adjustment in back allows for an easy fit
• Removable liner for winter or summer use
Protection & Safety
• Heavy-duty leather will always provide a high level of abrasion resistance in the event of a slide compared to textile options or no motorcycle pants at all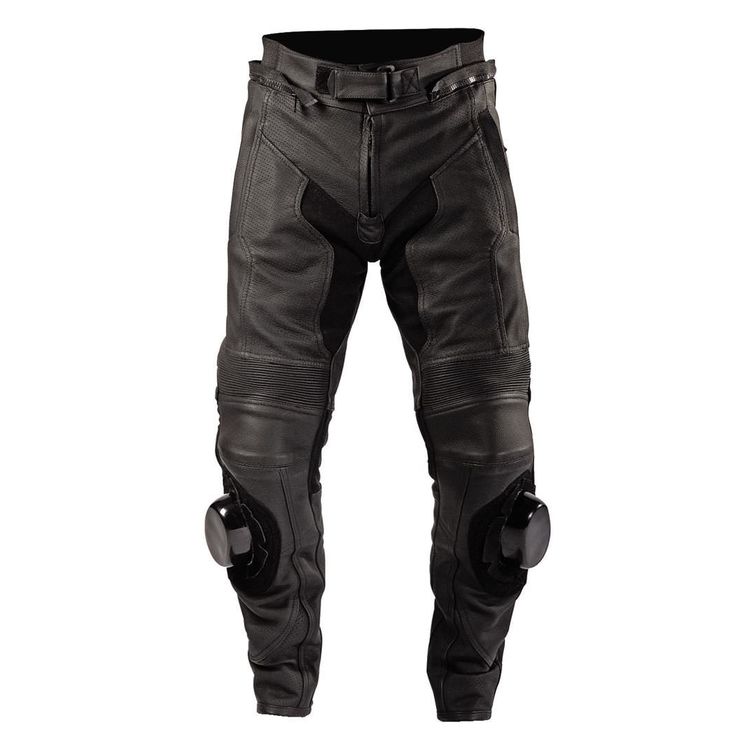 Motonation Revolver Perforated Leather Pants
Why?
These pants come highly regarded by real riders and are extremely affordable for entry-level track riding. These are designed for spring/summer riding, or for warm climates, as their perforation makes them quite cool.
Key Specs
• Perforated leather panels help to keep the rider cool in any condition
• Soft and pliable 1.2mm (non-impact) to 1.4mm (impact areas) matte leather construction for optimum protection, durability and comfort
• CE approved Level 1 knee protectors
• Pocket for optional hip armor (sold separately)
• Pre-curved legs for a perfect look and fit, and for maximum riding comfort
• Multiple stitched seam construction for maximum tear resistance
• YKK zippers with long leather zipper pulls
• Two front hand-warmer pockets
• Accordion leather-Spandex stretch panels are located above the knees and at the back for a non-binding fit
• Waist connection zippers for pant attachment, short and 360 degree
• Replaceable and adjustable knee pucks
• Hook and loop secured strap at the top of the main zipper
• Highly breathable elastic fabric in the waist, crotch, down to above the knee, and also behind the knee for maximum comfort
Protection & Safety
The abrasion protection of 1.4 mm leather can't be denied, and at this price point, we're impressed. Real riders are also impressed, as these have some of the best reviews we've seen for entry-level track apparel.
CE level 1 impact protection is included in the knees, but the hip armor pockets come empty, meaning you'll have to purchase those separately.
The Motonation Revolver Pants include perforation throughout, making these pants appropriate for even warmer or more humid weather. The legs of these pants are pre-curved to make the sitting position more comfortable and less fatiguing.
Accordion leather-spandex stretch panels above both knees and the lower back help create increased mobility and a tailored feel. Knee sliders are included. These can be worn alone or zipped to any jacket with a short or 360 connection zipper, creating an instant entry-level track suit that doesn't break the bank.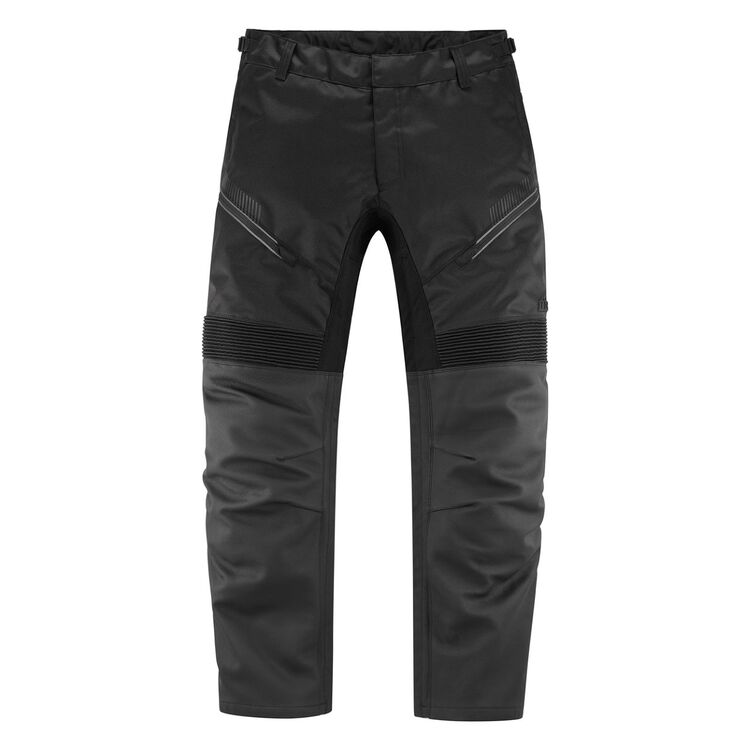 Icon Contra 2 Leather Overpants
Why?
The Icon Contra 2 Leather Overpants are a perfect balance between textile and leather.
Riders wearing these pants will get you the best of both worlds: the protection and slide-resistance of leather, paired with the maneuverability and breathability of textile fabrics (if you're looking for textile, see our textile riding pant recommendations).
Key Specs
• Premium leather and textile construction
• D3O removable hip and knee impact protectors
• Inseam zippers provide easy on/off
• Adjustable waist straps
• Reflective accents
• Certified according to FprEN 17902-4 Class A
Protection & Safety
• While many legwear options will leave it up to the rider to purchase hip armor separately, these pants come fully equipped with D3O impact protectors in both knee and hip areas—making these pants FprEN 17902-4 Class A safety certified
• Reflective patches will keep you visible in low-light riding situations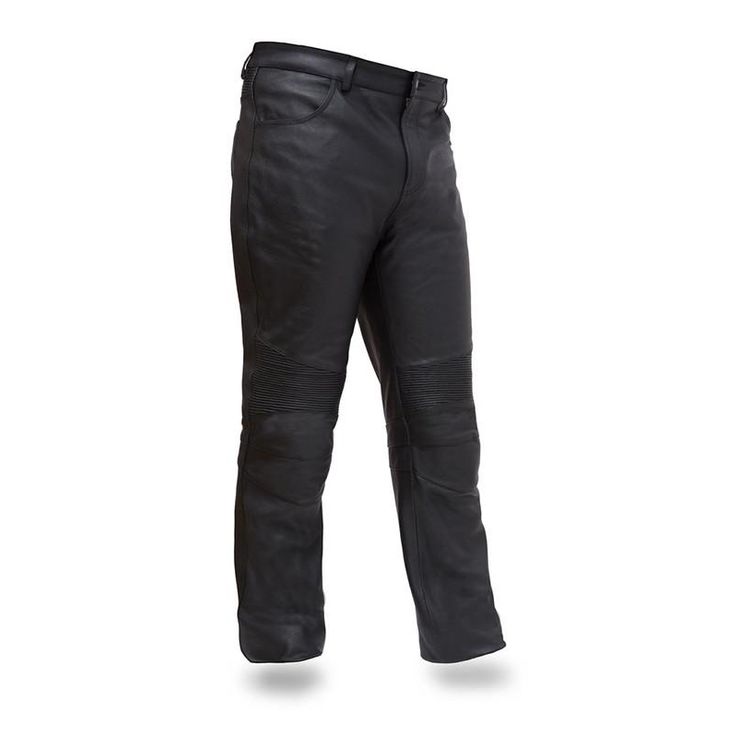 First Manufacturing Smarty Pants
Price: $230
Where to Buy: RevZilla | Amazon | J&P Cycles
Why?
Leather pants that fit like jeans, have great reviews from real riders, and cost less than a pair of Nike Air Jordans—it's a no brainer as long as your inseam isn't longer than 32" and you have your own armored underlayer.
Key Specs
• Jean style
• Stretch panel above the knee
• Back stretch panel
• Two back pockets with design stitch detail
• Pre-curved knee detail for extra comfort in riding position
• 31″ inseam
Protection & Safety
• The First Manufacturing Smarty Pants are simple and contemporary, for a rider looking for great protection in town or on backroads. They are styled like jeans, but with pre-curved legs and stretch panels where it counts, creating a comfortable situation that helps to fight fatigue and restriction.
• Abrasion resistance is a step up from textile, and several steps up from a regular pair of jeans. These pants do not come with any impact protection, so an armored under layer is suggested and will need to be purchased separately.
Best Mid-Range Leather Motorcycle Pants
Priced $300 - $500.
Rev'It! Ignition 3 Pants
Why?
While not purely leather, these Ignition 3 pants are designed to provide similar protection for those in extremely hot climate areas like Arizona, Texas, California, and Florida.
They have the abrasion protection of leather but with the breezy airflow properties of mesh. There is also a removable hydratex liner for waterproofing and wind-breaking when it's cooler.
Key Specs
Protection Specs:
• Outer shell: Monaco Performance cowhide, dynax mesh, PWR shell 500D stretch, wax polyester, Lorica
• Waterproofing: detachable hydratex 3L
• Protection: Seeflex CE level 2 protection at knees, Seesmart CE level 1 type B hip protector insert version RV33, safety seams
• Visibility: reflection
Ergonomic Features:
• Fit: Tour fit, regular
• Adjustability: Adjustment straps
• Ventilation: Ventilation panels
• Features: Stretch lips, stretch panels, short and long connection zippers, adjustable protector pockets, hook-and-snap front closure, calf zippers
• Pockets: Slit pockets
Protection & Safety
• Full cowhide leather on the sliding bits, dynax mesh with PWD 500D rating combines to give you a pant that will keep you cool as well as give you excellent abrasion resistance
• Seeflex CE II armor at the knees and Seesmart CE I armor at the hips protect against the most common impact areas of the lower body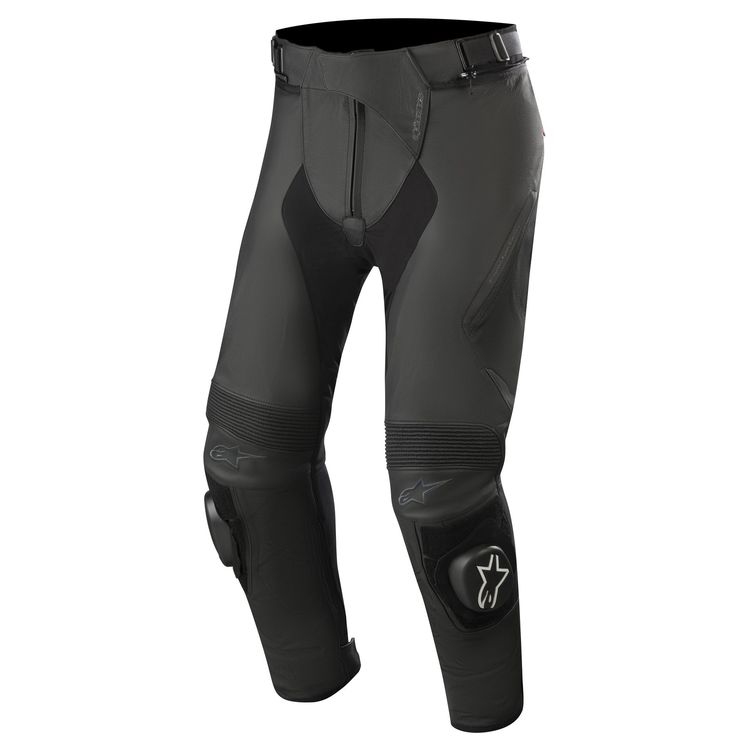 Alpinestars Missile V2 Pants
Why?
The Alpinestars Missile v2 and the Alpinestars Missile v2 Airflow offer riders CE-certified pants for peace of mind when spending a day at the track, as well as the comfort that is oftentimes sacrificed when buying quality leather race-style pants.
Riders need a full range of motion and the ability to move quickly and easily to negotiate a tough track while cheating gravity and inertia, and that is exactly what both versions of the Missile v2 provide.
Key Specs
• Premium leather main chassis constructed from 1.3mm genuine bovine leather
• Accordion leather stretch zones above the knee offer improved flexibility
• Extended high rear waist construction provides greater overlap with the riding jacket
• Large stretch panels on calf and crotch area for improved fit and feel
• Pre-curved leg construction helps reduce riding fatigue and improves fit
• Zippered ventilation for air cooling
• Jacket-to-pant connection zipper allows attachment to Alpinestars riding jackets
• Hook and loop ankle adjuster
• Internal mesh lining with stretch panel inserts work in conjunction with outer stretch zones for freedom of movement
• Pocket for optional hip protection (sold separately)
• Internally reinforced seat area
• CE Level 1 Alpinestars GP-R protection on knee
• Replaceable Sport knee sliders for excellent impact and abrasion resistance
Protection & Safety
• The main bovine leather component of the Alpinestars Missile v2 pants is internally reinforced in the seating area to offer added abrasion protection and durability
• Alpinestars GP-R knee protection, which is CE Level 1 certified, is included, and riders can opt to add replaceable sport knee sliders for excellent impact and abrasion protection
• Pockets are located in the hip area for added impact protection as well (if the rider chooses to purchase it separately)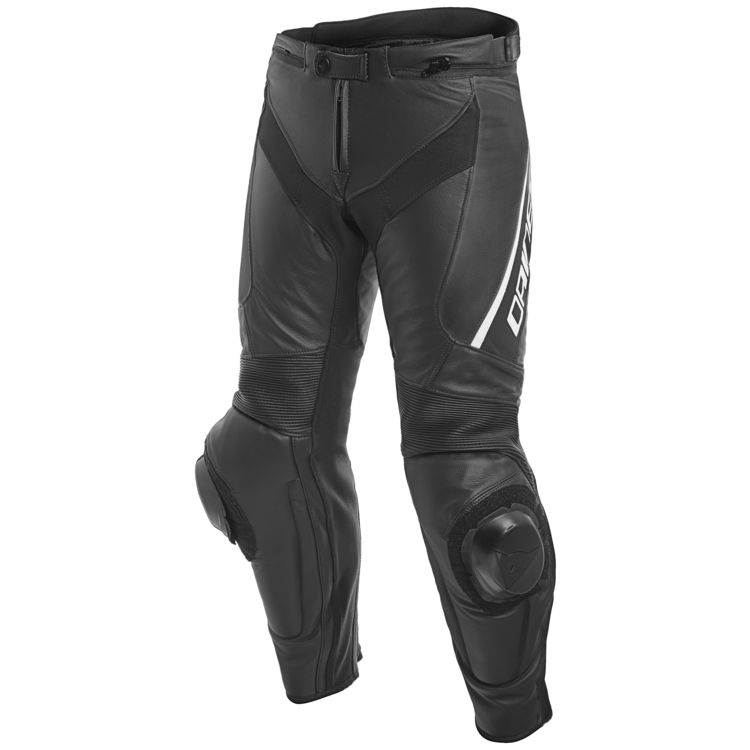 Dainese Delta 3 Perforated Leather Pants
Why?
The Dainese Delta 3 are a tried-and-true leather pant option for sport riders looking for a breathable and flexible pant without sacrificing any safety features. Their extremely high level of protection, due to the EN 1621.1 standard Level 2 armor on the hips and EN 1621.1 Standard armor on the knees, ensures these pants are ready for any spill on the track.
These pants are a perfect addition to the mid-range price category as the value for money is impressive .
Key Specs
• S1 bi-elastic fabric
• Tutu cowhide leather with perforated cooling zones
• Double calf zip
• Elasticated inserts
• Hips adjustment
• Inserts in elasticated fabric
• Jacket-pants fastening system
• Pant-to-boot fastening system
• Nanofeel liner with Silver ion treatment
• Interchangeable knee sliders
• Reflective inserts
Protection & Safety
• Composite protectors certified to EN 1621.1 Standard on knees
• Pants certified to CE – Cat. II – 89/686/EEC Directive
• Soft protectors certified to EN 1621.1 standard Level 2 on hips
Best High-End Leather Motorcycle Pants
Priced over $500+.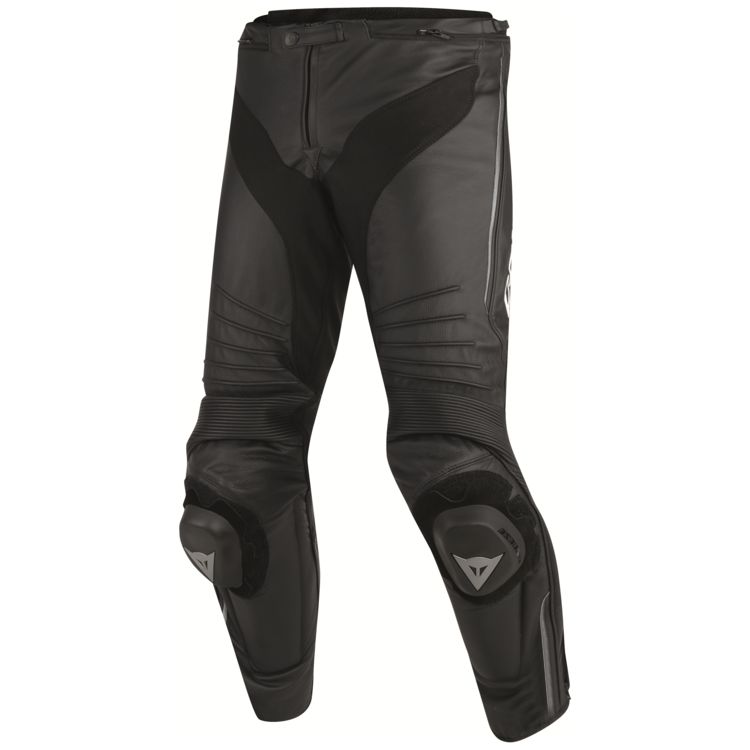 Dainese Misano Leather Pants
Why?
Dainese Misano leather pants offer the same great fit, comfort, and protection as the full race suit for riders who are not looking for a single, full-body piece of gear.
Double calf zippers and a suit-to-boot connection system are excellent for fit and comfort when you are fully outfitted and ready to push your bike and gear to the limit, making the Dainese Misano a great pair of race-quality leather pants.
Key Specs
Protection:
• Pants certified to CE – Cat. II – 89/686/EEC Directive
• Pro-Shape soft protectors certified to Standard EN 1621.1 on hips
Ergonomics and Comfort:
• D-Skin 2.0 leather
• S1 bi-elastic fabric
• Nanofeel liner with Silver ion treatment
• Jacket-trousers fastening system
• Double calf zip
• Elasticated inserts
• Inserts in elasticated fabric
• Suit-to-boot fastening system
• Microelastic elasticated inserts
Other Features:
• Interchangeable knee sliders
• Seamless thermoformed soft inserts
Protection & Safety
• The overall safety level of the pants meets the CE – Cat. II – 89/686/EEC Directive
• Pro-Shape soft hip armor is certified to Standard EN 1621.1.
• Interchangeable knee sliders round out the abrasion protection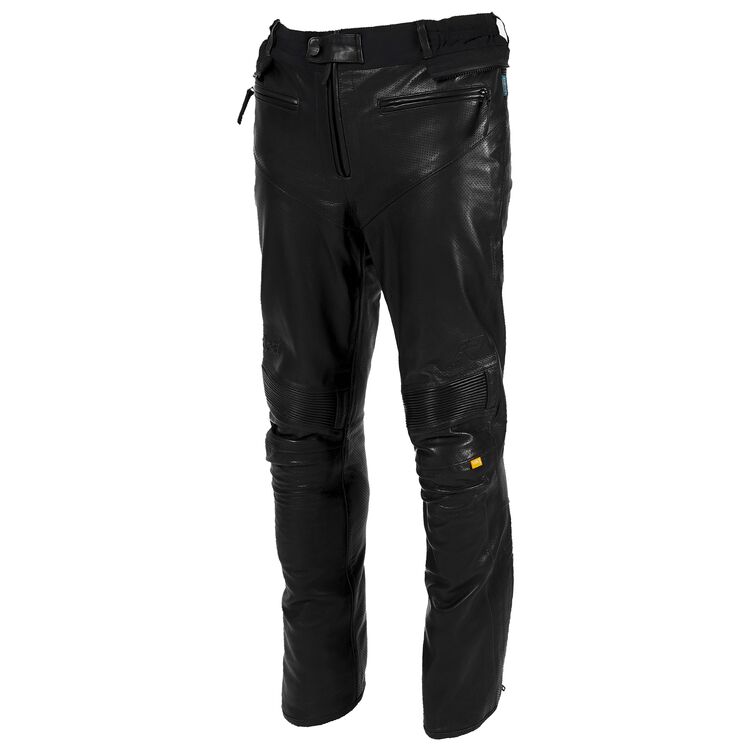 Rukka Aramen Leather Pants
Why?
The Rukka Aramen is a more relaxed pair of leather pants intended for touring and adventure riding versus a day at the track. The build quality, as you'd expect from Rukka, is first-rate, as is the innovation baked into these pants. Rain and leather don't go well together, but the Aramen pants have got your back; the 3-layer fully perforated aniline calf leather Corium+ Platinum laminate construction is breathable, wind and waterproof. Additional creature comforts include a removable thermal liner. Protection comes in the form of D3O LP1 hip and knee protectors.
At over a grand, the Rukka Aramen leather pants are obviously not targeted at the masses; still, for riders wanting leather, waterproofing, and a more relaxed fit they tick all of the boxes. Adventure touring pants with this feature set are rare.
Key Specs
• Breathable, wind and waterproof 3-layer fully perforated aniline calf leather Corium+ Platinum laminate
• Detachable thermal liner
• Belt loops
• Gusseted bottoms with zippers
• Connection zipper for trousers
• Stretch panels above the knees and at back
• Two pockets outside with zippers
Protection & Safety
• Rukka D3O LP1 knee/shin and hip protectors, CE Level 1 EN 1621-1 2012, are included in these pants
• Rukka suspenders, which are sold separately, can also be added for additional comfort and security when stretching your legs after a long ride
• Warranty is valid for five years from the date of purchase against faults in material or workmanship
What To Think About When Shopping For Leather Motorcycle Pants
Leather and other animal hides have been used to make garments since the Paleolithic period. And after over 3 million years of trials and testing, leather is still the most favored material for durable, protective, and comfortable clothing.
The added durability of leather over manmade materials exists because leather is a single panel of solid material while manmade materials are woven fibers. And when a single fiber breaks, the entire strength of the material can become compromised.
In addition, the thickness of most commercially sourced leather adds to their ability to protect against friction burns and other injuries from severe abrasion.
Innovations in the safety offered by leather riding pants include the addition of a Kevlar lining and extremely durable Kevlar armor panels, which are much stronger and also much thinner than old-style armor. Kevlar thread is sometimes used to make the seams in garments less likely to burst on impact.
Be sure to check back regularly with us here at wBW to read about our latest hands-on reviews of motorcycle cruiser boots and other great products for riders.
At WBW, "Best" Actually Means Something
Remember when you could open up a review of something, and when the publication—magazine, car show, whatever—said "best" they stood behind it? Yea, we remember, and we're bringing it back.
Here's how we do things:
We disclose our affiliate relationships—We make money via advertising and affiliate relationships on our website. It's how we pay our team and invest in things like sending Jim to Italy. And Japan. And France… wait… why do we always send Jim places?

We obsessively hands-on test—We wear and ride with gear before reviewing it, and we update reviews down the line if our opinions change. We look at real-world situations because that's the world we live in.

We're objective—Good gear is good gear, regardless of who made it.

We're value-focused—Why pay $500 if something for $250 is just as good? Our review scores and recommendations reflect best value. Brand only goes so far—the gear has to stand on its own.