Updated March, 2019
Our Top Picks
Best Overall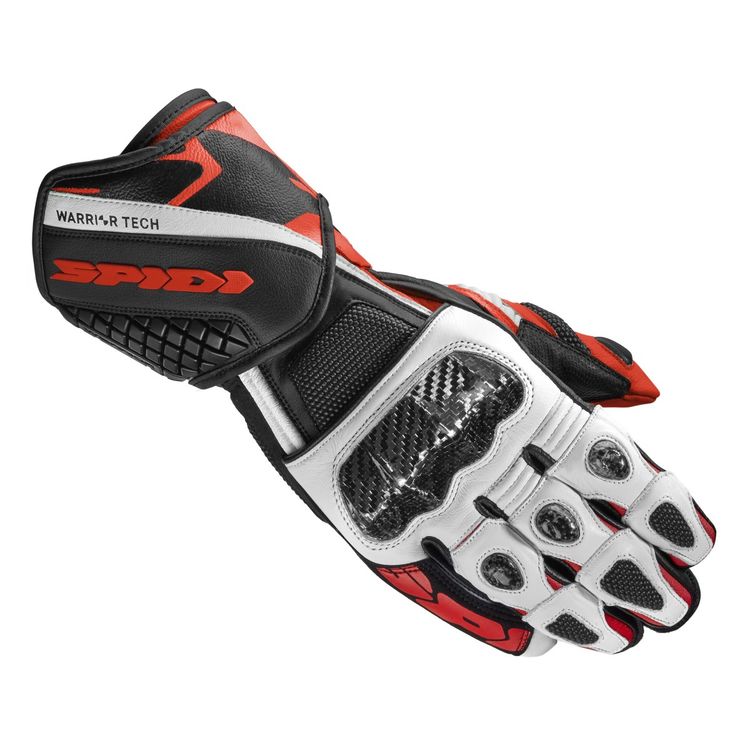 Best Value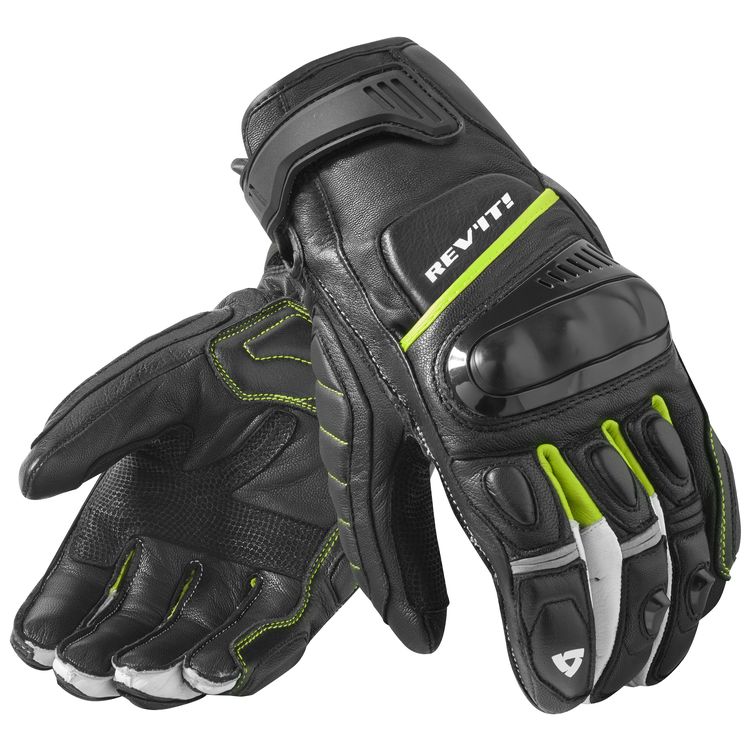 Fully Loaded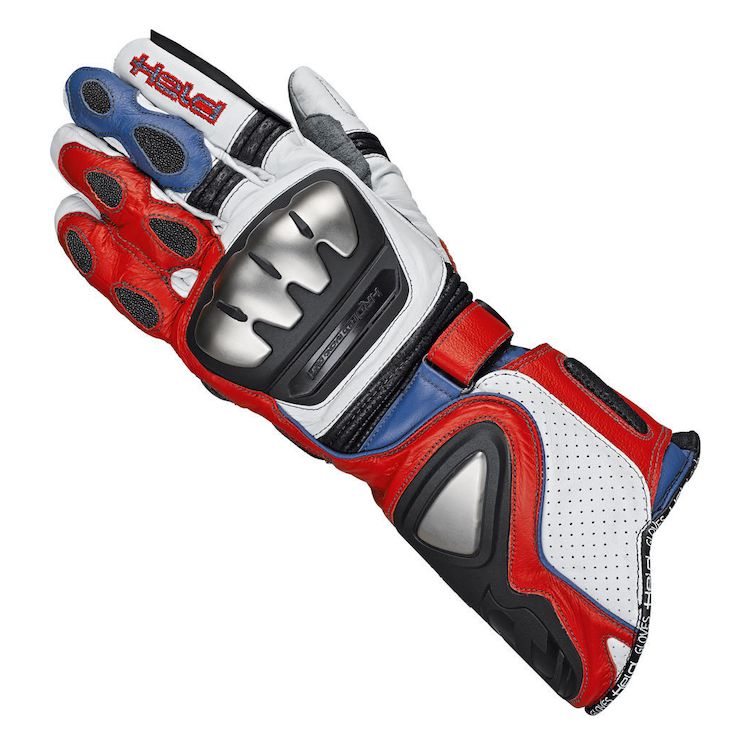 Other great options:  Alpinestars Supertech, REV'IT Spitfire, Dainese 4 Stroke EVO
---
Gloves are a very important piece of gear for any rider who is looking to protect his or her hands as well as enhance the riding experience. But when it comes to racing, gloves might be one of the most significant pieces of gear that a rider selects. Gloves are tasked with protecting the 27 bones, two ligaments and 34 muscles that allow our hands to function and us to function in our technology-laden world. But in addition to protection, racing gloves need to allow a rider to read the feel of the bike from the contact with the handlebar, make ever so minimal changes in acceleration or braking, and maneuver the two-wheeled rocket.
Some riders will prefer a minimalist style glove that offers a snug fit and has no added frills that create any bulk or limitations to touch and dexterity. Other riders are willing to sacrifice a bit of comfort and flexibility to have the added armor and multiple layers of material between their skin and the pavement. But one thing is for sure, each rider must make that decision based on his or her own level of comfort.
There is no guarantee that gloves will provide complete protection to your hands but it is certain that your hands will fair far better in the event of an accident if you are wearing a quality pair of purpose-built motorcycle gloves.
Be sure to check back regularly with us here at wBW to read about our latest hands-on reviews of race gloves and other great products for riders.
Race Glove Buyer's Guide
Motorcycle racing is about pushing yourself, your gear and your bike to the very edge. And sometimes the only way to determine the edge is to cross that line and take the punishment that the pavement hands out. But you can do that and walk away, as long as you are wearing quality gear. Then it is just a matter of knowing where the line is and pushing yourself right back to it with confidence in your skills and the reliability of your gear.
When I think of the qualities I look for in a race glove, I can't help but hear 38 Special and Hold On Loosely. They sum up all that a race glove needs to allow a rider to do. First, hold on loosely but don't let go. And second, if you cling too tightly you're gonna lose control.
A good race glove will provide all the durability, comfort and protection that you need, in state of the art materials and innovative designs that allow not only does not dull your sense of touch but somehow enhances it.
Best Race Gloves
In Detail
Best Overall
The Spidi Carbo 5 is a longer cuffed glove that is made predominantly of leather to provide great protection for your hand and wrist when you are pushing it to the limit on the track.
Construction & Fit:
Comfort features in the Carbo 5 included vented leather to promote airflow for moisture control, the padding on the sides of the hand and the back of the hand, and longer cuff
Accordion inserts on the fingers allow full range of motion in the pre-curved fingers of the Carbo 5
Closure of the Spidi Carbo 5 includes elastics at the wrist as well as a hook and loop strap and a double tab closure on the cuff
Safety Features:
Cowhide leather ranging from .6mm to .8mm is the base layer of protection with Superfabric and carbon fiber on the knuckles
Palms are constructed of Clarino microfiber for added grip and abrasion protection without adding unnecessary bulk
Added durability and protection come from the Keramide reinforcements and the Warrior technology sliders on the palm
All of the comfort and safety offered by the Spidi Carbo 5 makes it the selection for the Best Overall Race Glove.
Buy Spidi Carbo 5
We receive a small commission when you purchase from one of our affiliate partners. Thank you for supporting us.
RevZilla
---
Best Value
The REV'IT Chicane is a great shorter cuff race glove that falls somewhere in between a full gauntlet style glove and the wrist length of the shortest race gloves.
Construction & Fit:
Outer shell of these gloves is made predominantly of leather with cowhide on the back and wrist area and goatskin leather on the palm for a better sense of feel from the softer, more supple material.
SuperFabric and PU coated fabric make up the rest of the outer material of these slightly pre-curved gloves.
The fit of the Chicanes is definitely a more snug race fit, but added comfort is afforded by the outside stitching which helps to eliminate any rubbing or abrasion concerns from the inside of the gloves, even in hot conditions.
Ventilation panels also aid in keeping hands free of moisture and early fatigue due to sweat and loss of ability to grip.
Safety Features:
TPU hard-shell finger knuckles and ventilated TPU hard-shell protectors at the knuckles provide great impact protection
Temperfoam adds to the impact protection under the hard armor
Powershield knit and a TPU hard-shell palm slider rounds out the protective gear in the REV'IT Chicanes
At $150.00, the REV'IT Chicanes offer great comfort and protection at a price that allows every racer to own a pair of high-quality race specific gloves making the Chicanes the selection for the Best Value Race Glove 2019.
Buy REV'IT Chicane
We receive a small commission when you purchase from one of our affiliate partners. Thank you for supporting us.
RevZilla
---
Fully Loaded
The Held Titan EVO is the real deal racing glove as worn by Micheal Dunlop in the Isle of Man TT, and this true race glove can be your choice as well. These are truly full sizes gloves with a long cuff that protects the hand and wrist as well as the lower arm.
Construction & Fit:
Durable yet supple kangaroo leather can take a long slide on the pavement without allowing abrasion burns on your skin but also allows for a great sense of touch as you feather on the clutch or roll into the throttle on a tight curve
Gloves are unlined and use a special step seam to avoid pressure points in the hand
Palm is pre-formed to provide a natural grip position and remain crease free
Elasticated leather panel on the back of the hand, thumb, and fingers add to the perfect fit and mobility when wearing the Titan EVO
Perforated sidewalls on the fingers allow for great airflow to cut down on moisture and provide a more secure grip
Elastic at the wrist and a strap, as well as the double flap closure at the cuff, keep the Titans securely on place throughout even a long race
Safety Features:
Held takes the protection in their gloves equally as seriously as the comfort and fit. Titanium knuckle protectors
DuPont Kevlar protects the back of the hand while the edge of the hand is also wrapped in a hard plastic shell that is reinforced with titanium
Carbon and Aramid thumb joint protector
Suprotect shock-absorbing foam provides impact protection for your digits
Your pinkie finger is actually bridged to your ring finger by a DuPont Keval band for added support
Highly abrasion resistant stingray leather and is placed over the ball of the thumb and index finger with shock-absorbing gel
Clearly, the Held Titan EVO is sporting the latest in race glove technology and innovation. But unlike some gear that is only offered to professional riders, the Titan is available to anyone who is willing to invest $400.00 to wear the Best Fully Loaded Race Glove for 2019.
Buy Held Titan EVO
We receive a small commission when you purchase from one of our affiliate partners. Thank you for supporting us.
RevZilla
---
Other Great Race Gloves
In Detail
The Alpinestars Supertech gloves can be seen on the hands of some of your favorite MotoGP racers and in your gear bag if you are willing to invest the $399.95 it takes to get them. And for that price, you will know that you are wearing a glove that meets the stringent CE 2 level requirements.
Construction & Fit:
Outer shell of the Supertech is comprised of full-grain kangaroo and cow leather for durability and performance
All of the digits are pre-shaped to provide a natural grip position without causing unnecessary fatigue to the fingers or thumb
Localized perforations on backhand and fourchettes keep the hands cool to reduce moisture and the issues that can cause with both grip and comfort
Even as large as these gloves are, they offer amazing comfort thanks to the:
Ergonomic stretch insert on the palm
Stretch leather accordion insert on extended thumb zone and fingers
Lateral leather accordion insert on the back of the hand
Ergonomically shaped cuff
Safety Features:
Alpinestars Dynamic Friction Shield (DFS) knuckle protection system features dual density mold construction for superior impact protection
Palm is covered by ergonomic engineered Keprotec reinforcements
Kevlar wraps fingers and thumb for added abrasion protection
For a fully loaded full-length race glove that could be found at any MotoGP race, the Alpinestars Supertech is a great choice even at a cost that is equal to many jackets and helmets.
Buy Alpinestars Supertech
We receive a small commission when you purchase from one of our affiliate partners. Thank you for supporting us.
---
The REV'IT Spitfire gloves are designed to pair with either the REV'IT Spitfire race suit or the Venom race suit for a day at the track.
Construction & Fit:
Outer shell is a combination of goatskin, SuperFabric, PU coated fabric, and 3D air mesh for the best possible comfort and durability
Tri-fleece liner helps to aid in wicking moisture away from the skin to improve comfort and grip

Secured at the wrist with a strap and at the cuff with a set of double adjustable hook and loop tabs to complete the full race fit and feel of the REV'IT Spitfire race gloves.
Safety Features:
Aluminum dual composition sliders in the knuckle and wrist also provide a source for protection and ventilation.
TPU hard-shell palm slider, TPU finger knuckle protectors, and a TPU hard-shell pinky slider round out the armor on the hand and fingers
EVA foam inserts provide additional padding and protection around the hand and fingers
At around $240, these gloves are ready for a day at any track and will provide the protection and performance that any racer, from novice to pro would expect from a quality race glove.
Buy REV'IT Spitfire
We receive a small commission when you purchase from one of our affiliate partners. Thank you for supporting us.
RevZilla
---
Dainese packs all the protection that you need for a day at the track into the 4 Stroke short race gloves. The entire design of this glove revolves around protection!
Construction & Fit:
Certified to CE category II – Pr-EN 13594/2010 Standard level 1, Dainese created a race track quality glove for riders who are looking for a short glove rather than the longer cuff or gauntlet.
Multi-layered cowhide gloves with micro-elastic inserts, high tenacity fabric, and micro-injection reinforcement on the goatskin palm
Fingers are pre-curved with perforations on the inside
Safety Features:
Composite inserts made of preformed stainless steel and thermoplastic resin make up the armor on the knuckles and back of the hand
Inserts of thermoplastic resin are located on the outside of the little finger as is the distortion control to avoid twisting injuries or separation injuries to the little finger
Thermoplastic resin inserts are also located at the joints of the fingers for added protection against hyperextension and twist injuries
Inserts made of thermoplastic polyurethane are also located on the palm and at the cuff
The Dainese 4 Stroke is a race track quality short glove alternative for racers who don't want the size and bulk of the more traditional long cuff or gauntlet length race glove.
Buy Dainese 4 Stroke
We receive a small commission when you purchase from one of our affiliate partners. Thank you for supporting us.
Download & Save Our Infographic!
Can't decide on your favorite Race Glove? Acquire all the information you need with our handy infographic to decide later or on-the-go. Download and save all our top picks for best Race Gloves of 2019.