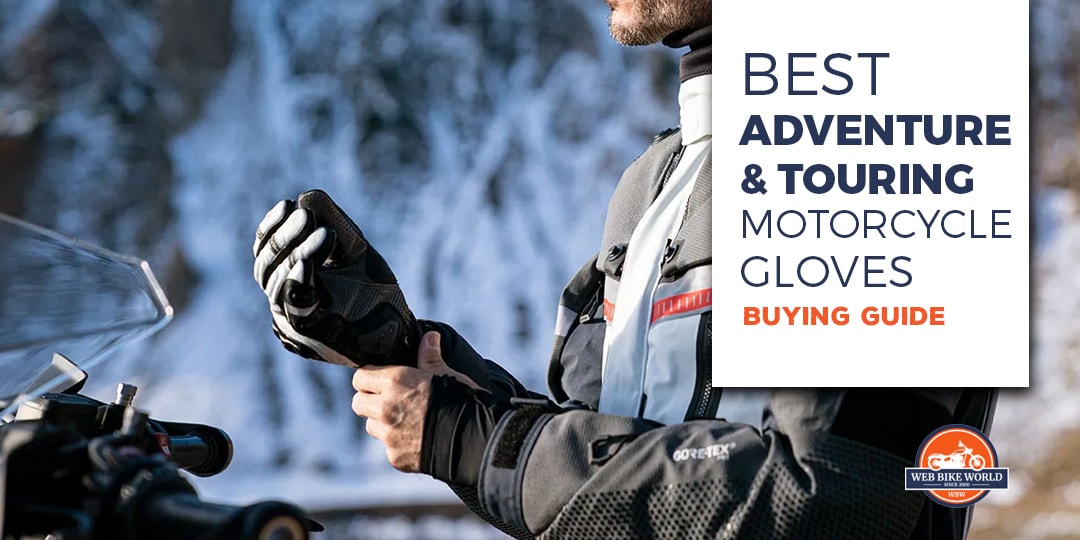 About Our Glove Recommendations
Founded in 2000, our team at wBW has collectively tested more than 2,500 helmets, jackets, boots, gloves, accessories, and more. We do not fluff reviews. A riders safety is heavily dictated by how they ride and what they wear while doing so. Our goal is to help riders make informed decisions about the gear they invest in to protect themselves.
wBW is funded by our audience. Our recommendations and reviews may contain affiliate links that earn us a small comission if you make a purchase after clicking them. This is the primary way we fund our website and pay our review team (and comes at no additional cost to you). We disclose our relationship with brands or manufacturers for transparency. For more information about our extensive review process, see our review policies.
Best Entry Level Adventure & Touring Gloves
Priced under $125.
Moose Racing ADV 1 Short Gloves
Price: $60
Where to Buy: RevZilla
Why?
The ADV1 Short is a great all-around ADV glove that will stand up well to the typical mayhem adventures riders love to get into. A high denier fabric shell with integrated stretch panels resists abrasion well and makes for easy finger movement.
D3O® Pro knuckle pads offer solid impact protection and the Hipora waterproof/windproof breathable membrane will help keep things dry.
Key Specs
• Short glove design with low-profile closure to fit under jacket cuff and seal out the elements
• High denier fabric shell with integrated stretch panels
• Pre-curved finger patterning for increased comfort
• Flexible D3O® mesh finger panels
• D3O® Pro knuckle pad
• Smart skin TPU coating for enhanced durability
• Hipora® waterproof/windproof and breathable membrane
• Waterproof Clarino® palm with genuine leather overlaid in high wear areas
• Cuff strap adjustments to fine-tune fit
• Thin moisture wicking lining for added comfort/warmth
Protection & Safety
• Combination of perforated leather and synthetics for lightweight but strong protection
• D30 knuckles and flexible D30 give great outer hand protection
• A waterproof Clarino leather palm will hold up well against ground slides
• Pre-curved finger patterning for increased comfort and good bar contact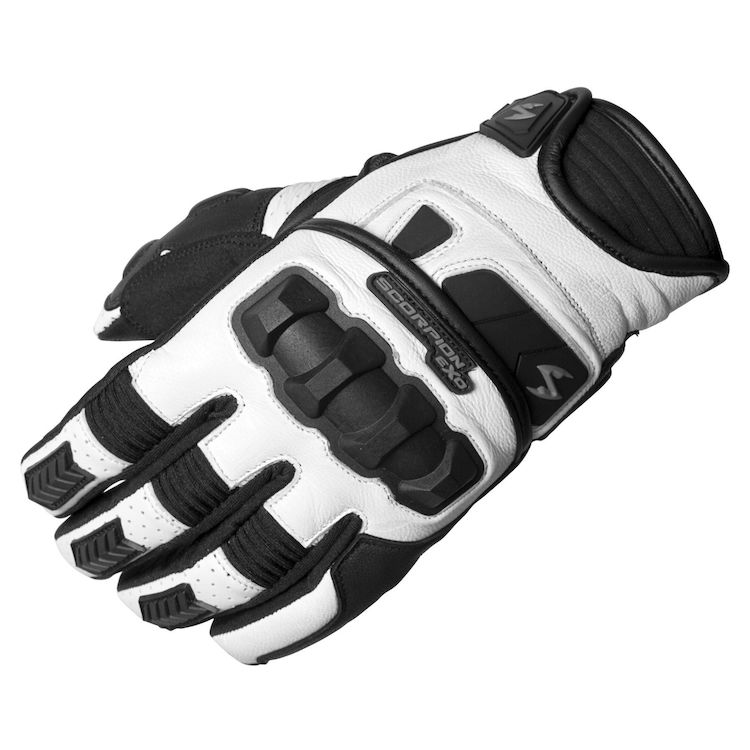 Scorpion EXO Klaw II Gloves
Price: $55
Where to Buy: RevZilla | Amazon | J&P Cycles
Why?
The Klaw II glove is much more focused on the touring side of ADV/touring. Designed to be worn all day comfortably, it is made of goatskin with slight perforation to allow just enough airflow.
Molded TPU on the knuckles and fingers provide protection, while the wrist closure is made of Neoprene to be as comfortable as possible on the highest movement area of your throttle hand.
Key Specs
• Durable, goatskin leather construction
• TPU molded knuckle protection
• Pre-curved palm and fingers for grip comfort
• TPR molded finger protectors
• Rib-stretch knuckle expansion panels provide flexibility
• Neoprene wrist relief panel
• Hook and loop wrist closure
Protection & Safety
• Full goatskin construction for lightweight but durable abrasion resistance
• Finger TPU panels protect against rocks and road debris brought up by vehicle tires, as well as providing a slide zone
• Knuckle TPU is mounted on a stretch zone to allow for maximum comfort and flexibility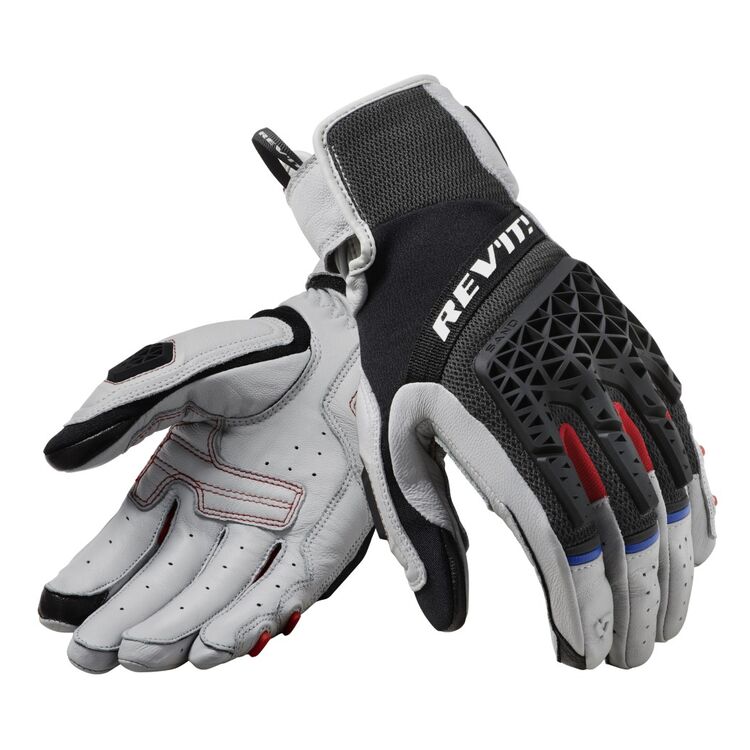 REV'IT! Sand 4 Gloves
Price: $120 ($160 for H2O version)
Where to Buy: RevZilla
Why?
The REV'IT Sand 4 is a great short glove for warmer conditions but still offers the safety that you want every time you are on your bike. At just around $100, they are perfect for riders who are in a hot environment but also prefer to ride with gloves. Comfort and protection are well balanced with functionality in these short gloves.
We have an in-depth riding review from October 2021 of the Sand 4 Gloves. Check it out here.
Key Specs
Fit:
• Runs slightly small; order the larger size if you are between sizes
Protection Features:
• Outer Shell: 3D air mesh | stretch | connect finger tip leather | goatskin | PWR|shell 500D stretch
• Lining: tricot lining
• Composition: 68% Leather, 20% Polyester, 11% polyamide, 1% polyurethane
• Protection: injected ventilated flex knuckle | Temperfoam ® knuckle | PWR shield at Palm | TPR injected finger knuckle protectors | TPR palm slider
• Visibility: reflective stretch inserts
Ergonomic Features:
• Adjustability: adjustment tab at cuff
• Ventilation: ventilation panels, ventilated TPR injected knuckles
• Features: short cuff, elastic at wrist and back hand, outside stitching, grip patch at palm, connect finger tip
Protection & Safety
• TPR flexible ventilated knuckle, TPR palm slider, PWR yarn, and TPR finger knuckles
• Temperfoam is added for additional impact protection at the fingers, thumb, knuckles, back of the hand, at the palm slider, and at the cuff
• Additional ventilation panels help to reduce sweating, which can cause a loss of gripping ability and fatigue
• New triangular open TPR allows much more airflow to the hand without losing armor integrity
Best Mid-Range Adventure & Touring Gloves
Priced $126 - $200.
Klim Adventure GTX Short Gloves
Price: $180
Where to Buy: RevZilla | Amazon | J&P Cycles
Why?
Klim specializes in the ADV and touring markets, and this glove is a perfect illustration of the company's design expertise. GoreTex lining keeps the hands dry, while goat leather and synthetic stretch woven material makes the glove lightweight.
The knuckle is protected by carbon fiber, while ceramic superfabric covers the palm heel and finger sliders to maximize abrasion resistance. The palm is made of Poron XRD anti-penetration material to prevent impacts on rocks and gravel from piercing the glove.
Key Specs
• Gore-Tex + Gore Grip technology
• Guaranteed to keep you dry
• Goat leather and stretch woven construction
• Short cuff design for under-the-cuff use
• Ceramic print in slide areas
• 3D silicone finger pads
• Carbon fiber knuckle protector
• Poron XRD palm
• Moisture-wicking liner material
• Klim-engineered rider grip articulation
• Mult-E-Touch smart device functionality
• Visor wiper
• Entry assist loop
• VELCRO® brand wrist closure
Protection & Safety
• Poron XRD in the palm ensures that if you fall and put your hand down on something sharp, it won't pierce or cut
• Carbon fiber knuckles are extremely durable and lightweight
• Ceramic coated superfabric on all slide areas increases abrasion resistance
• Goatskin leather and synthetic materials are naturally abrasion resistant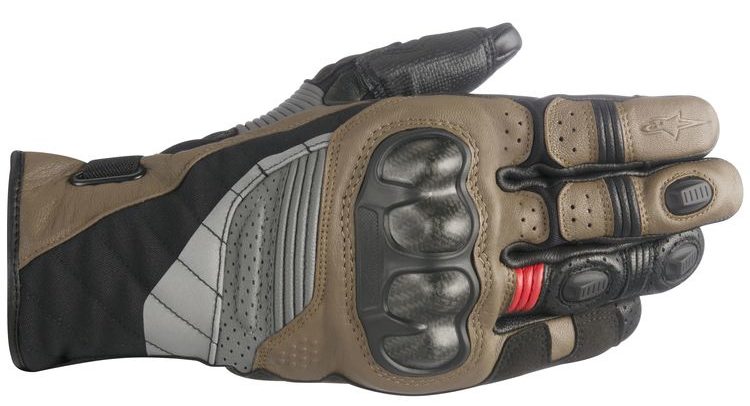 Alpinestars Belize Drystar Gloves
Price: $180
Where to Buy: RevZilla | Amazon | J&P Cycles
Why?
A proper ADV glove should mean that you never need to change out the glove during the day. This is where the Belize Drystar shines, as it is designed from the outset to be an all day and all night three-season glove.
Drystar lining keeps your hands dry, perforated leather and synthetic materials keeps them ventilated, and TPU sliders and a matte carbon fiber knuckle keeps them protected. This is the best of all worlds in one glove.
Key Specs
• Multi-panel, multi-material construction consisting of stretch polyamide fabric, leather, and perforated leather on back of hand
• Leather palm, thumb, and fourchettes for comfort and durability
• PU-coated reinforcements on palm and thumb provide superior grip on controls
• Synthetic suede reinforcements with foam padding on the palm
• TPU palm slider to provide abrasion resistance on key impact zones
• Wrist closure system with stretch strap for tight closure
• Reflective print to increase rider visibility
• Touchscreen compatible fingertips for use with smart devices
• Molded matte carbon reinforced hard knuckle to increase protection
• Waterproof Drystar-sealed triple layer construction for a highly reduced material construction to promote dexterity and sensitivity of bike controls
• Stretch accordions on finger tips and backhand to increase flexibility and fit
• Ergonomic stretch insert between thumb and palm offers flexibility to vastly improve hand movement
• Arshield reinforcements, consisting of aramidic fiber and polyamide for abrasion resistance performance for fourth finger
• Stretch panel on backhand for better fit
• CE certified level 1
Protection & Safety
• TPU palm and finger sliders take the brunt of impact abrasion to give the glove the best chance to survive a slide
• Leather in the palm, covering the thumb, and in the fourchettes is super durable and abrasion-resistant
• Back of hand is leather with synthetic materials in key areas for maximum protection without overheating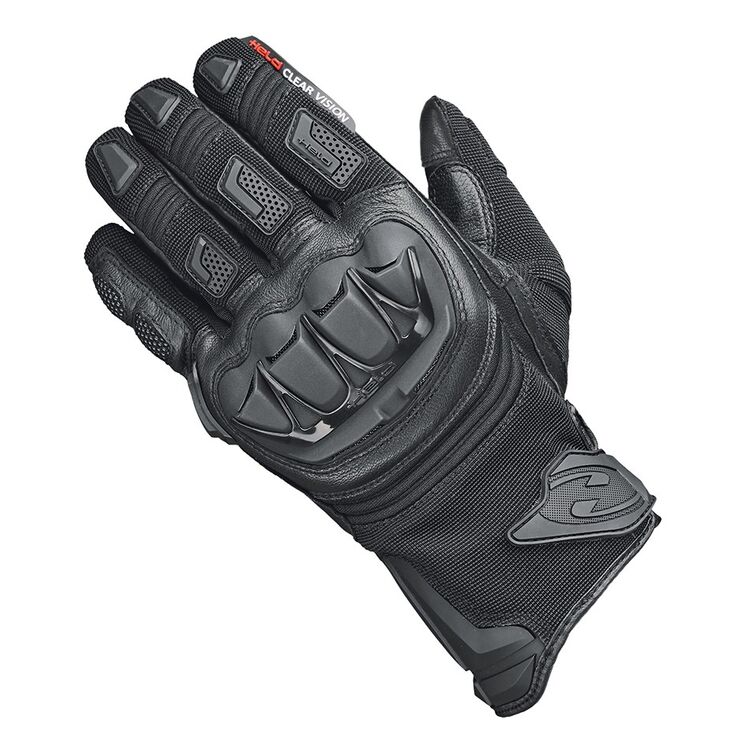 Held Sambia Pro Gloves
Price: $175
Where to Buy: RevZilla | J&P Cycles
Why?
These are highly featured gloves that will please even the most hardcore ADV rider. They are constructed with an elastane leather back and a highly abrasion-resistant kangaroo leather palm, and once broken in they move easily in concert with your hands.
The knuckle protection is substantial with air venting and exhaust; these are definitely a warm-weather glove. A visor wipe is added to the index finger, always a nice touch, and they also feature touchscreen capabilities.
Key Specs
• Elastane leather detailed back
• Highly abrasion-resistant kangaroo leather palm
• 37.5 inner lining at upper hand, unlined palm
• Special flat seam
• VELCRO® adjustment at cuffs
• Perforated finger side walls
• Perforated leather on palm
• Air-vents on fingers (ACS-Air circulation System)
• Special leather at finger which allows smartphone operation
• Visor wiper
• Hard plastic knuckle protection
Protection & Safety
• Knuckle protection tested (impact test for knuckle protection)
• Palm & ball of thumb reinforced with SuperFabric brand material underlaid with Armaprotec
• The palm is made from Kangaroo leather—very durable, and oh so supple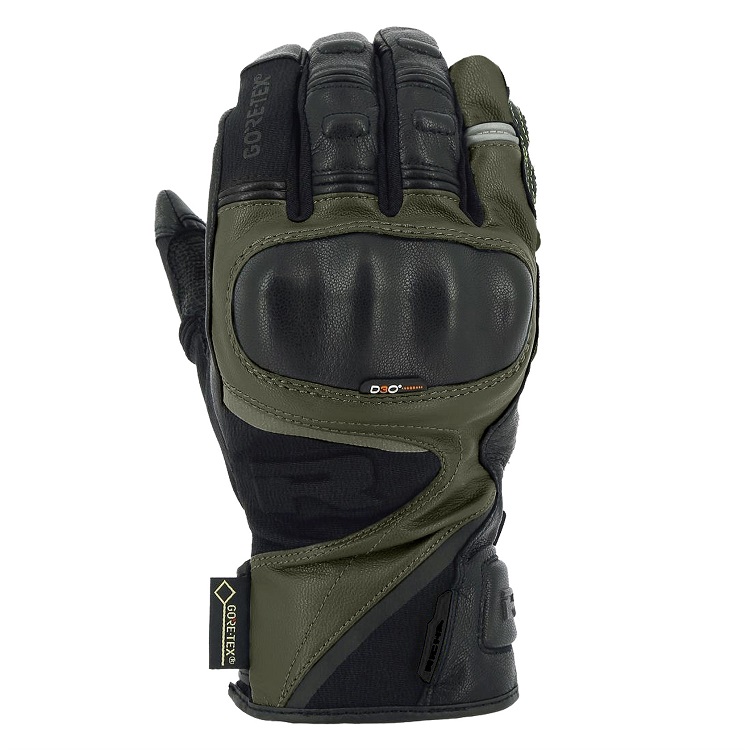 Richa Atlantic GTX Gloves
Price: $160
Where to Buy: Richa
Why?
Often called the "ultimate summer waterproof glove", the Richa Atlantic GTX is actually much more versatile than that. It is, in fact, a glove that can be comfortably and confidently worn from April through October - and even deeper into the winter months if you have heated grips.
The Atlantic GTX features a Gore-Tex laminated membrane so it will never get soaked and "wet out" in heavy rain. It has a soft knuckle protector from D30, as well as Superfabric protectors on the little finger and palm.The glove's main chassis is leather (front and back), supplemented with stretch fabric on the thumb, wrist and between the fingers. Accordion stretch panels on the fingers enhance comfort and mobility. There's even a handy visor wipe on the left index finger.
All-in-all, the Atlantic GTX punches well above its weight - the spec for this glove rivals the very best from Klim, Rukka or anyone else.
Key Specs
• Gore-Tex laminated leather that never wets out
• Mid-length cuff
• Double wrist closure for comfort
• D3O® impact knuckle foam
• Antiabrasion SuperFabric™ zones for optimal slide protection
• Double wrist closure improving the level of protection
Protection & Safety
• D3O® impact knuckle foam
• Antiabrasion SuperFabric™ zones for optimal slide protection
Best High-End Adventure & Touring Gloves
Priced over $200.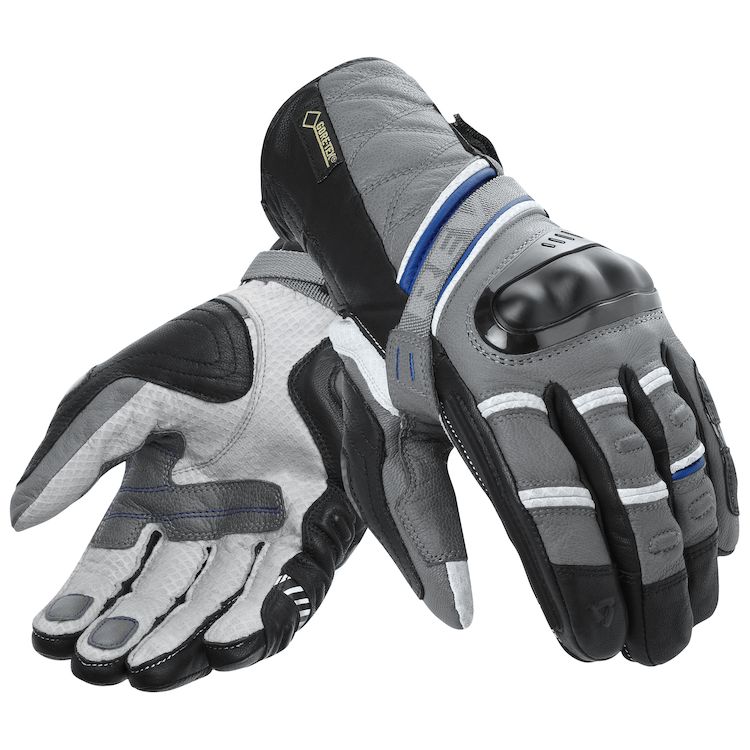 REV'IT! Dominator GTX Gloves
Price: $380
Where to Buy: RevZilla
Why?
REV'IT has stepped up their game with the Dominator GTX ADV/touring gloves. The outer shell of these gloves is all leather, but the composition is from a variety of different hides.
The location of each variant is based on the balance of durability and comfort needed in that specific part of the hand and lower wrist. GoreTex lining keeps the hands dry, while full TPU armor on the knuckles, palm, thumb, and finger sliders provides class-leading abrasion resistance and impact protection.
Key Specs
Protection Features:
• Outer shell: Drum dyed goatskin with WR finish, Pittards hairsheep diamond WR100X, and Cow leather
• Lining: Tri-fleece liner
• Waterproofing: GORE-TEX Gloves + Gore grip technology
• Breathability: GORE-TEX Gloves + Gore grip technology
Composition:
• Outer shell: 100% leather
• Lining: 100% polyester
• Membrane: 100% Gore-Tex® membrane (ePTFE)
Protection:
​• Ventilated dual comp protector at knuckle
• TPU hard-shell palm slider
• TPU hard-shell thumb protector
• PU injected finger knuckles
• PWR yarn
• Visibility: Reflection at little finger
Ergonomic Features:
• Fit: Tour fit
• Adjustability: Wrist and cuff adjustment system
• Ventilation: Ventilated dual comp protector
• Features: Outside stitching, stretch panels at fingers, elastic at wrist, short cuff
Protection & Safety
• Multiple types and grades of leather in specific areas provide the best abrasion resistance possible while maintaining a lightweight glove feel
• TPU sliders on main slide areas help with abrasion
• TPU palm heel and knuckles provide impact protection
• Ventilated TPU surround at the knuckles allows for natural ventilation through the GoreTex liner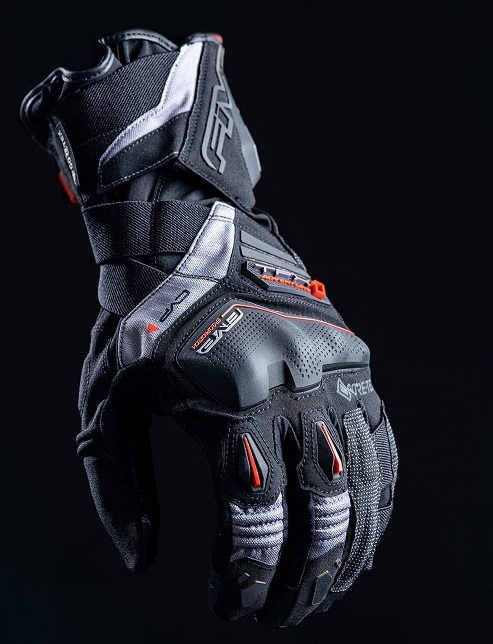 Five TFX-1 GTX Gloves
Price: $245
Where to Buy: Five Gloves
Why?
The absolute peak ADV and touring glove from FIVE, a company that knows its way around gloves. At this price point you expect the best and that's what you get with the TFX-1. Digitalized, full-grain goat leather construction on the palm, with a topside consisting of water-repellent stretch fabric and RipStop. A Gore-Tex membrane is bonded to the glove, ensuring that the glove will never wet out. A SuperFabric insert inside the palm extends all the way through to the fingers and offers superior protection without hindering grip. This is complemented by FIVE's ERGO PROTECH shell in semi-soft TPR.
The TFX-1 also features a dual fastening system with a V-shaped band and Velcro for precise adjustment, as well as a Clear Vision Pad visor wipe and Touch Screen capability that actually works!
Nearly $250 is a lot of money for a pair of gloves, but the feature set on the TFX-1 justifies the price.
Key Specs
Protection Features:
• Water-repellent stretch and RipStop construction
• Full-grain goat leather for comfort and suppleness, plus digitalized leather reinforcements at key contact points for exceptional grip in wet weather
• SuperFabric reinforcements to protect the palm and wrist
• Laminated Gore-Tex membrane to guarantee waterproofing and breathability
Protection & Safety
• ERGO PROTECH one-piece metacarpophalangeal protective shell in soft TPR memory-foam on the back of the hand
• Phalangeal protection in soft TPR on the index and middle fingers
• Forearm protection with a semi-soft TPR ED Shell
• SuperFabric reinforcement on the little and ring fingers
• Anti-twist accordion strap between the little and ring fingers
What To Look For In Adventure / Touring Gloves
Adventure and touring gloves are the multitools of the ADV world, made to suit a wide variety of conditions. Some conditions demand amazing impact protection while others need to provide a strong grip even for hot, sweaty and dusty hands. The secret to a great selection for Adventure/Touring gloves is that they meet all of your needs under various conditions while still providing the comfort you need on a long trek.
There are two main variations in the adventure/touring category. The first is the longer cuff that extends the protection to the wrist and lower arm, while the second offers a short cuff that focuses on protecting the hand. As with any piece of gear, each glove length has its benefits and drawbacks, making personal comfort and preference the deciding factor for many riders.
Regardless of the length that you select, getting the correct size is critical to the functionality and safety of the gloves. Be sure to check out our glove sizing guide to be sure that you are going to get a good fit out of any type of glove that you are purchasing to ensure long-term satisfaction and functionality.
There is no guarantee that gloves will provide complete protection to your hands, but it is certain that your hands will fare far better in the event of an accident if you are wearing a quality pair of purpose-built motorcycle gloves.
Be sure to check back regularly with us here at wBW to read about our latest hands-on reviews of Adventure/Touring gloves and other great products for riders.
At WBW, "Best" Actually Means Something
Remember when you could open up a review of something, and when the publication—magazine, car show, whatever—said "best" they stood behind it? Yea, we remember, and we're bringing it back.
Here's how we do things:
We disclose our affiliate relationships—We make money via advertising and affiliate relationships on our website. It's how we pay our team and invest in things like sending Jim to Italy. And Japan. And France… wait… why do we always send Jim places?

We obsessively hands-on test—We wear and ride with gear before reviewing it, and we update reviews down the line if our opinions change. We look at real-world situations because that's the world we live in.

We're objective—Good gear is good gear, regardless of who made it.

We're value-focused—Why pay $500 if something for $250 is just as good? Our review scores and recommendations reflect best value. Brand only goes so far—the gear has to stand on its own.