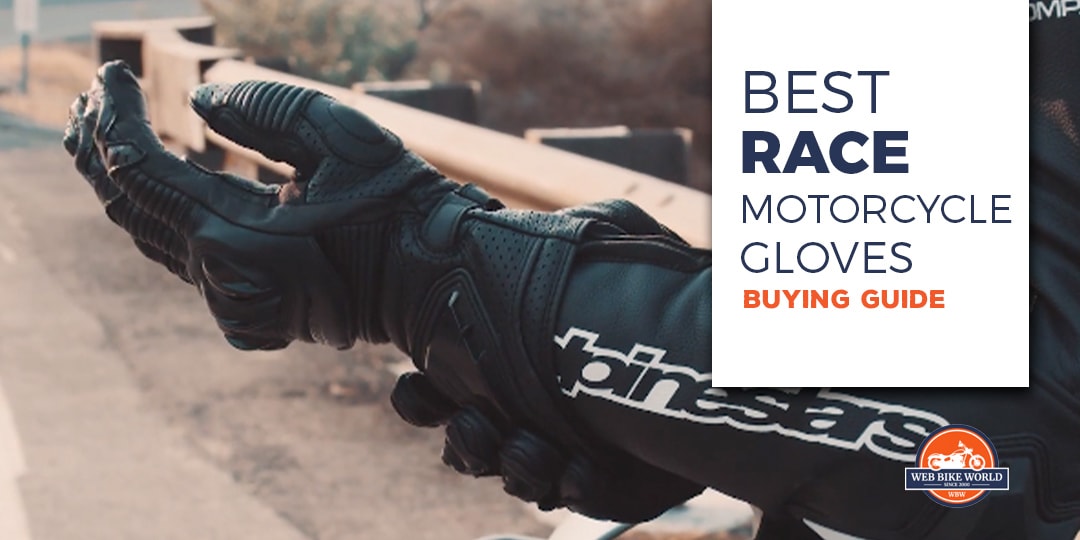 About Our Glove Recommendations
Founded in 2000, our team at wBW has collectively tested more than 2,500 helmets, jackets, boots, gloves, accessories, and more. We do not fluff reviews. A riders safety is heavily dictated by how they ride and what they wear while doing so. Our goal is to help riders make informed decisions about the gear they invest in to protect themselves.
wBW is funded by our audience. Our recommendations and reviews may contain affiliate links that earn us a small comission if you make a purchase after clicking them. This is the primary way we fund our website and pay our review team (and comes at no additional cost to you). We disclose our relationship with brands or manufacturers for transparency. For more information about our extensive review process, see our review policies.
Race Glove Buyer's Guide
Motorcycle racing is about pushing yourself, your gear, and your bike to the very edge. And sometimes the only way to determine that edge is to cross the line and take the punishment the pavement hands out.
Wearing quality gear greatly increases your odds of walking away from a slide. Then, it's just a matter of knowing where the line is and pushing yourself right back to it with confidence in your skills and the reliability of your gear.
When I think of the qualities I look for in a race glove, I can't help but hear Hold On Loosely by 38 Special. That song sums up all that a race glove needs to allow a rider to do.
First, hold on loosely but don't let go. And second, if you cling too tightly, you're gonna lose control.
Good race gloves will provide all the durability, comfort, and protection that you need. Through the use of state of the art materials and innovative design, they'll enhance your sense of touch instead of dulling it and allow you to hold on to your handlebars just the right amount.
As always, ride safe!
Best Entry Level Motorcycle Race Gloves
Priced under $100.
Alpinestars SP-8 V3
Why?
Getting ready for a track day? The Alpinestars SP-8 V3 glove is constructed from a highly abrasion-resistant mix of full-grain goat leather, synthetic leather, and racing DNA materials.
Enhanced levels of protection are found in features like the extended cuff for greater coverage and MotoGP-derived SP dual-density knuckle protectors. Equally important is control, and the SP-8 V3's have a pre-shaped finger construction, along with a new anatomically-profiled grip insert on the palm and thumb delivering high levels of movement and comfort.
Key Specs
• Premium, full-grain goat leather and synthetic leather material construction is comfortable, durable and offers excellent abrasion resistance
• Extended cuff for greater coverage with an integrated closure for security and ease of use
• An innovative microfiber and PU grip insert is strategically positioned on the palm and thumb for excellent levels of grip control and durability
• Ergonomic stretch insert between palm and thumb offers improved range of hand movement and greater sensitivity while operating the bike controls
• Incorporates premium quality synthetic suede palm and landing reinforcement for grip, control and durability
• Perforated cuff plus perforated finger sidewalls for superb breathability
• Hook and loop cuff and wrist closure, plus elasticized wrist design for secure, personalized fit
• Pre-shaped, anatomical finger design and half inner/half outer external seams for comfort and exceptional feel
• Touchscreen compatible fingertip on index finger and thumb for use with touchscreen devices
• New construction for reduced seams and enhanced rider comfort
Protection & Safety
• EVA foam provides protection throughout the gloves
• TPU armor added to the protection of the little finger and the knuckles
• TPU hard-shell palm slider for added protection and to eliminate abrasion concerns in a slide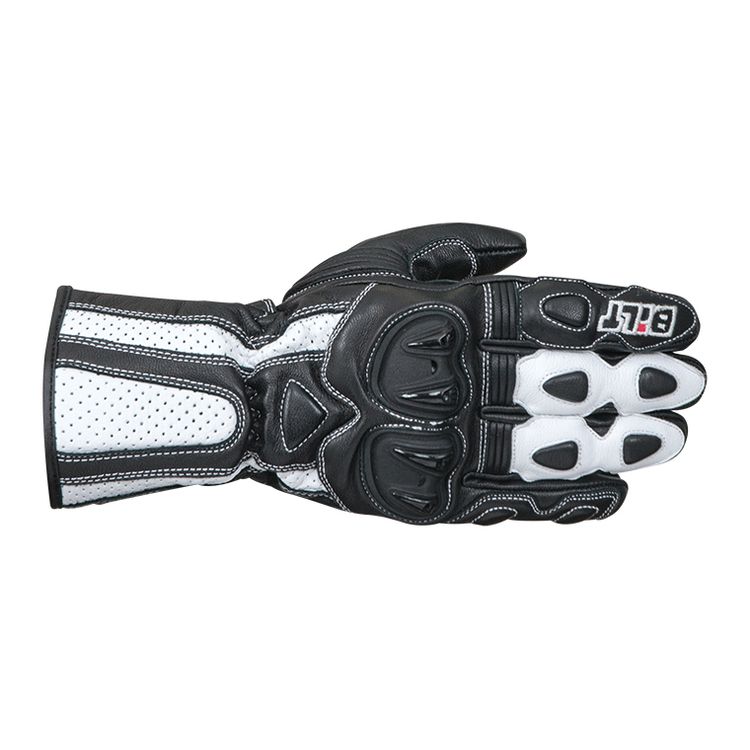 BILT Max Speed Leather
Why?
Racing on a budget just makes sense; tires are expensive. The BILT Max Speed Leather gloves keep things affordable while still delivering what's needed in a racing glove.
BILT gives you a proper extended cuff, a two-piece TPU molded knuckle, and memory foam padding at the fingers. The Max Speeds are a great option for those riders looking to get track-level protection for fewer dollars.
Key Specs
• Quality supple leather
• Pre-curved sport fit
• Unlined for a closer fit
• Leather stretch panels at fingers
• External seam overlay with memory foam inserts
• Leather finger overlays with memory foam padding
• VELCRO® brand tab at cuff
Protection & Safety
• Full leather palm with overlays
• Molded TPU two-piece ventilated knuckle
Best Mid-Range Motorcycle Race Gloves
Priced $100 - $250.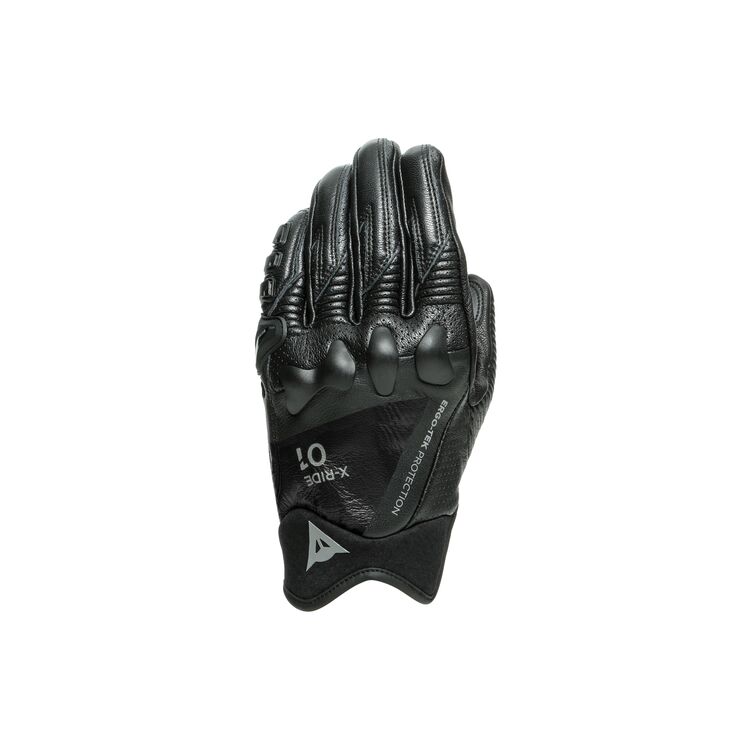 Dainese X Ride
Why?
The Dainese X-Ride is the glove for riders looking to maintain maximum protection but wanting the movement found from a short cuff glove. Made with goatskin leather, the Ergo-Tek knuckles and nylon-carbon plates allow easy finger movement and excellent protection.
Key Specs
• Drum-dyed goatskin leather super soft palm
• Goatskin Leather
• Reinforcement in goatskin between thumb, index and palm
• Pre-curved finger
• Adjustable cuff strap
• Elastic insert on external thumb
• Microelastic elasticated inserts
• Neoprene cuff
• Smart touch technology
• Soft inserts
Protection & Safety
• DCP system on little finger
• Ergo-Tek knuckles
• Reinforced palm
• Thermoplastic resin inserts on side of little finger
• Gloves certified to CE – Cat. II – EN 13594/2015 Standard cat. II lev. 1
• Inserts in thermoplastic polyurethane on the palm
• One single leather panel to the side of the hand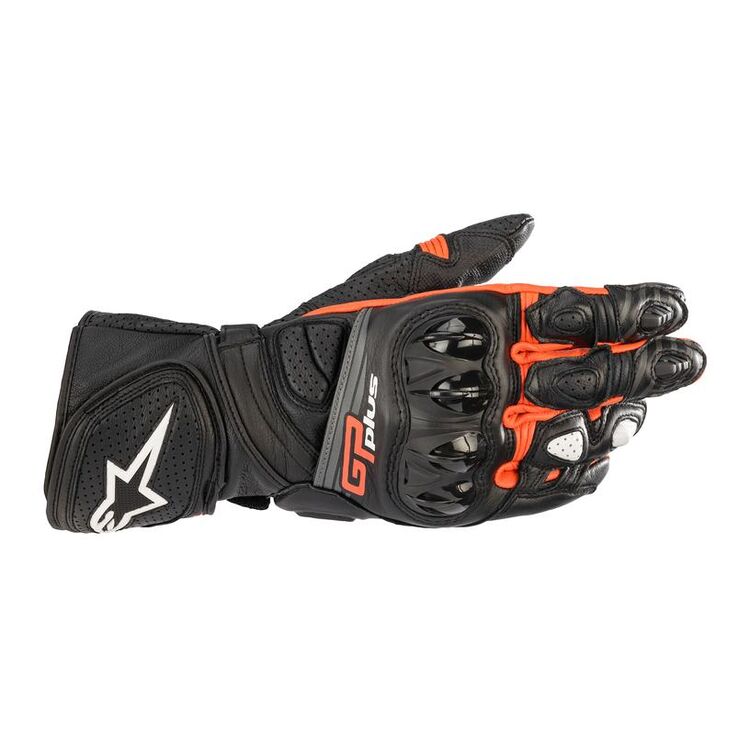 Alpinestars GP Plus R V2
Why?
The Alpinestars GP Plus R has been debatably one of the best racing motorcycle glove selections in this pricing category. Now the V2 looks to carry on with that title with fully updated ergonomic shaping and design details. It's everything you have come to expect, just updated.
Key Specs
• Constructed from supple and durable full-grain cow and goat leather
• Localized perforations on palm and backhand
• Ventilated fourchettes keep the hands cool
• Ergonomic engineered leather reinforcements on the palm and outer hand landing zones provide maximum abrasion resistance in key impact zones
• Ergonomic stretch insert on palm
• Pre-curved finger construction reduces rider fatigue
• Alpinestars Dynamic Friction Shield (DFS) knuckle protection system features dual density mold construction for superior resistance to repeated impacts
• Molded knuckle protection air intakes and exhaust ports for improved hand ventilation
• Injected TPU palm and finger slider for superior impact and abrasion resistance
• Protective double cuff closure with TPR logo wraps around wrist and raises the entire profile of the glove to protect wrist bone from impact in a crash
• VELCRO® wrist adjustable closure strap
• Stretch leather accordions on fingers and thumb for superior fit and flexibility
• Internal top surface hand and thumb lining made with DuPont™ Kevlar® fiber fabric
• Internal little finger lining made with DuPont™ Kevlar® fiber fabric
• Alpinestars patented third and fourth finger bridge prevents finger roll separation in the event of a slide
• Palm pad panel combined into palm/thumb/little finger reinforcement
• External finger and palm seams for a close fit and superior feel
• Printed logos
Protection & Safety
• Designed by Alpinestars specifically for the track
• Alpinestars Dynamic Friction Shield is featured on the knuckles for maximum impact resistance
• TPU injected inserts are found all around the palm and fingers for added abrasion resistance
• DuPont™ Kevlar is found throughout the glove for maximum slide resistance
• CE certified to Level 1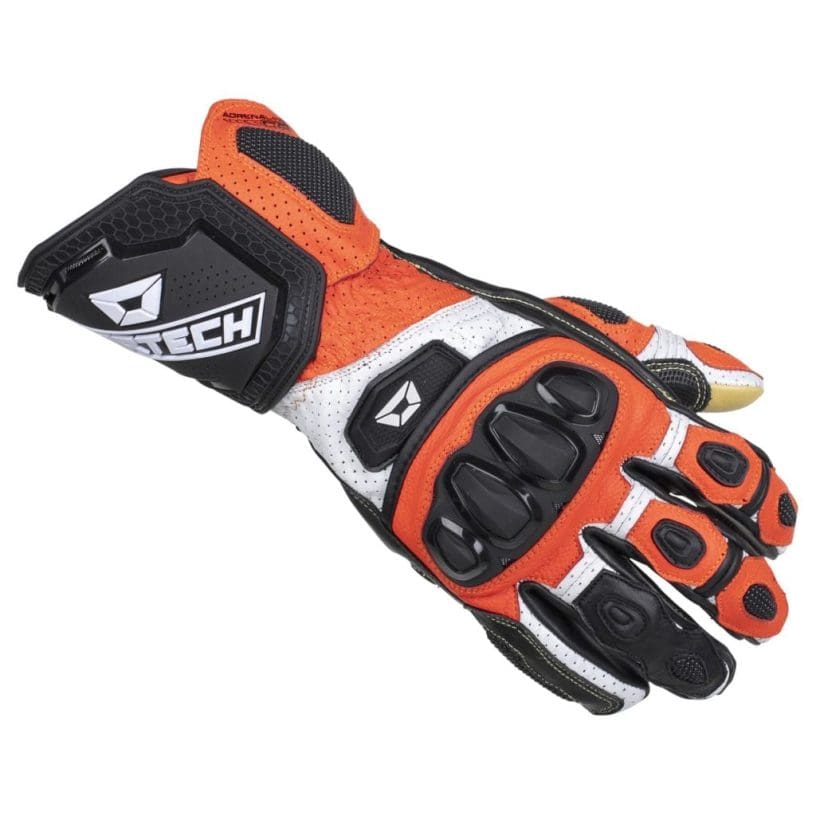 Cortech Adrenaline GP
Why?
The Adrenaline GP gloves are the top of the line racing glove made by Cortech, who are known for producing bang-for-your-buck products.
The main body is made of cowhide, with a goat leather palm for bar feel. What impresses about the glove, however, is that the stitching is kevlar, and there is a CE-approved KNOX SPS Scaphoid Protection System on the palm.
Backing up that SPS system is SuperFabric on the thumb, fingers, palm blade, and gauntlet wrist. Lastly, with ventilated TPR knuckle protectors, that venting flows through to a coolmax lining to dissipate heat, preventing the glove from slipping due to sweat.
Key Specs
Fit:
• Runs slightly small, order the larger size if you are between sizes
Features:
• Drum-dyed full cowhide construction
• Goat leather palm
• DuPont™ Kevlar® fiber stitching for increased protection and strength
• CE-approved KNOX® SPS (Scaphoid Protection System) on palm
• Pre-curved fingers for increased comfort
• Vented TPR knuckle protector
• Reversed seam finger construction
• Superfabric® on thumb, fingers, side of palm and gauntlet
• Digital leather overlays on palm, middle and index fingers for added grip
• Additional leather overlays on palm and fourth finger
• 360-degree dual gauntlet hook and loop closure
• Coolmax® insulation to reduce heat
Protection & Safety
• Kevlar stitching to prevent layer separation during possible high-abrasion events
• SuperFabric on all primary sliding points
• TPR armor on the knuckles
• KNOX SPS on palm to prevent ulnar and wrist injuries
Best High-End Motorcycle Race Gloves
Priced over $250.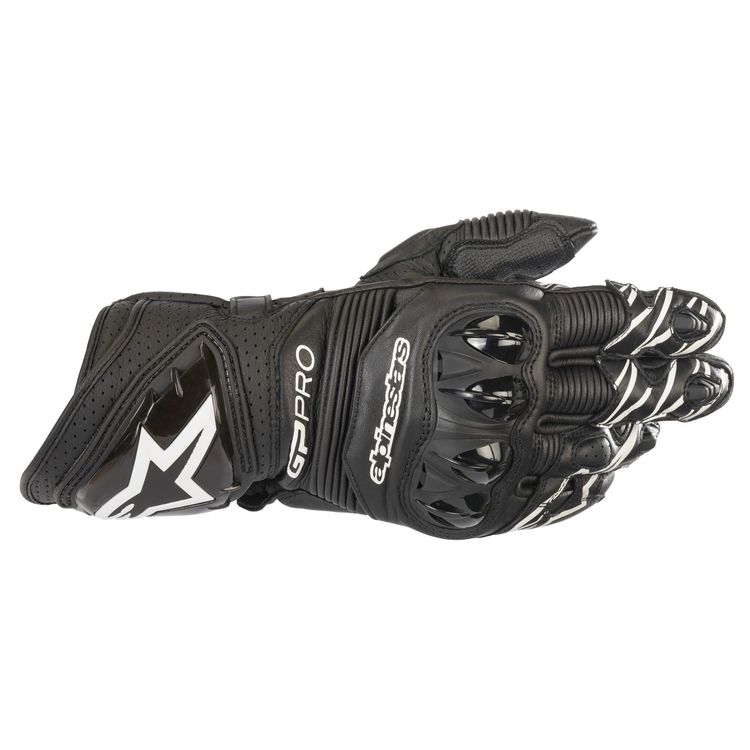 Alpinestars GP Pro R3
Price: $270-$280
Where to Buy: RevZilla | Amazon | J&P Cycles
Why?
The Alpinestars GP Pro 3 uses a variety of different materials in strategic locations to provide riders with the ultimate in protection, comfort, and tactile feedback.
Key Specs
• Mix of cow and goat leather with kangaroo leather on the palm
• Outer seam palm construction
• Long cuff
• Hard knuckle
• Knuckle panel perforated gusset for better ventilation
• Print on finger
• Finger bridge
• Double closure system with Cuff DFS protection
• Side reinforcements with palm hard slider
• Accordion panels in leather on fingers thumb and backhand to increase fit and direct comfort
• Thumb and palm reinforcement for a superior grip
• TPU finger protection
• Soft padding protection on fingertips
• Ergonomic stretch insert on palm
• CE certified CAT II Level 2
Protection & Safety
The protection offered by the Bryce Gore-Tex is exactly what riders have come to expect from Alpinestars in safe yet comfortable armor.
• Armored knuckles with a panel of perforations for better ventilation for added grip
• Armor on the gantlet for added abrasion protection in the event of a slide
• Side reinforcements with a palm slider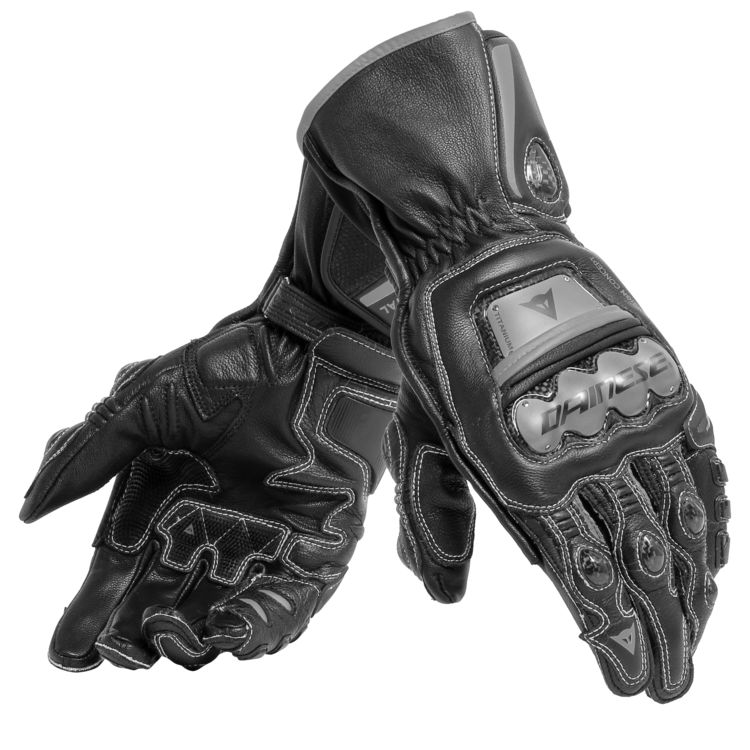 Dainese Full Metal 6
Why?
The Dainese Full Metal 6 gauntlet gloves are a race quality piece of gear that brings comfort and innovation to every rider who wears them, though a price point over $400, they might not fit into the budgetary constraints of many riders.
The Dainese Full Metal 6 is almost like wearing a full exoskeleton that has been seamlessly integrated into a soft, yet durable, goatskin glove. All of the technology and innovation of the Dainese Full Metal 6 make them one of the best gloves money can buy.
Key Specs
Protection:
• Carbon fiber inserts at the joints of the fingers and the head of the ulna bone
• Composite inserts in carbon fiber and titanium on the knuckles and back
• DCP system on little finger
• External thermoplastic resin inserts on side of little finger
• Gloves certified to CE – Cat. II – PrEN 13594 Standard lev. 1
• One single leather panel to the size of the hand
• Polyurethane insert on the palm
• Quadruple elastication between knuckles and back of the hand
• Reinforced leather palm
• Reinforced preformed cuff construction
Ergonomics and Comfort:
• Aramid fiber stitching
• Drum-dyed goatskin leather super soft palm
• Goatskin Leather
• Internal reinforcements with aramid fiber jersey
•Adjustable cuff strap
• Elasticated inserts
• Micro-injection reinforcement on the palm
• Microelastic elasticated inserts
• Palm Super Touch in goatskin
• Pre-curved fingers
• Precurved wrist
• Tightening strap
Other Features:
• Cover on the tightening strap
• Elasticated cuff inserts
• Soft inserts
Protection & Safety
The protection in Dainese Full Metal 6 sounds like something from a futuristic movie but here it is…
• Carbon fiber inserts at the finger joints and at the head of the ulna bone, (that's basically the outside bone in your lower arm where it meets your wrist) work as a suit of armor
• Knuckles and back of the hand are covered by carbon fiber and titanium inserts and there is a polyurethane insert to protect the palm
• Little finger is protected by the DCP system and an external thermoplastic resin insert
• Gauntlet cuff is reinforced and pre-curved for added safety
• Overall, these gloves are certified to CE – Cat. II – PrEN 13594 Standard Level 1
What To Think About When Shopping For Race Gloves
Gloves are a very important piece of gear for any rider who is looking to protect his or her hands as well as enhance the riding experience. But when it comes to racing, gloves might be one of the most significant pieces of gear that a rider selects.
Gloves are tasked with protecting the 27 bones, two ligaments, and 34 muscles that allow our hands (and the rest of us by proxy) to function in our technology-laden world. But in addition to protection, racing gloves need to allow a rider to read the feel of the bike from contact with the handlebar, make ever-so-minimal changes in acceleration or braking, and maneuver the two-wheeled rocket.
Some riders will prefer a minimalist style glove that offers a snug fit and has no added frills that create any bulk or limitations to touch and dexterity. Other riders are willing to sacrifice a bit of comfort and flexibility to have added armor and multiple layers of material between their skin and the pavement. But one thing is for sure: each rider must make that decision based on his or her own level of comfort.
There is no guarantee that gloves will provide complete protection to your hands, but it is certain that your hands will fair far better in the event of an accident if you are wearing a quality pair of purpose-built motorcycle gloves.
Be sure to check back regularly with us here at wBW to read about our latest hands-on reviews of gauntlet gloves and other great products for riders.
At WBW, "Best" Actually Means Something
Remember when you could open up a review of something, and when the publication—magazine, car show, whatever—said "best" they stood behind it? Yea, we remember, and we're bringing it back.
Here's how we do things:
We disclose our affiliate relationships—We make money via advertising and affiliate relationships on our website. It's how we pay our team and invest in things like sending Jim to Italy. And Japan. And France… wait… why do we always send Jim places?

We obsessively hands-on test—We wear and ride with gear before reviewing it, and we update reviews down the line if our opinions change. We look at real-world situations because that's the world we live in.

We're objective—Good gear is good gear, regardless of who made it.

We're value-focused—Why pay $500 if something for $250 is just as good? Our review scores and recommendations reflect best value. Brand only goes so far—the gear has to stand on its own.