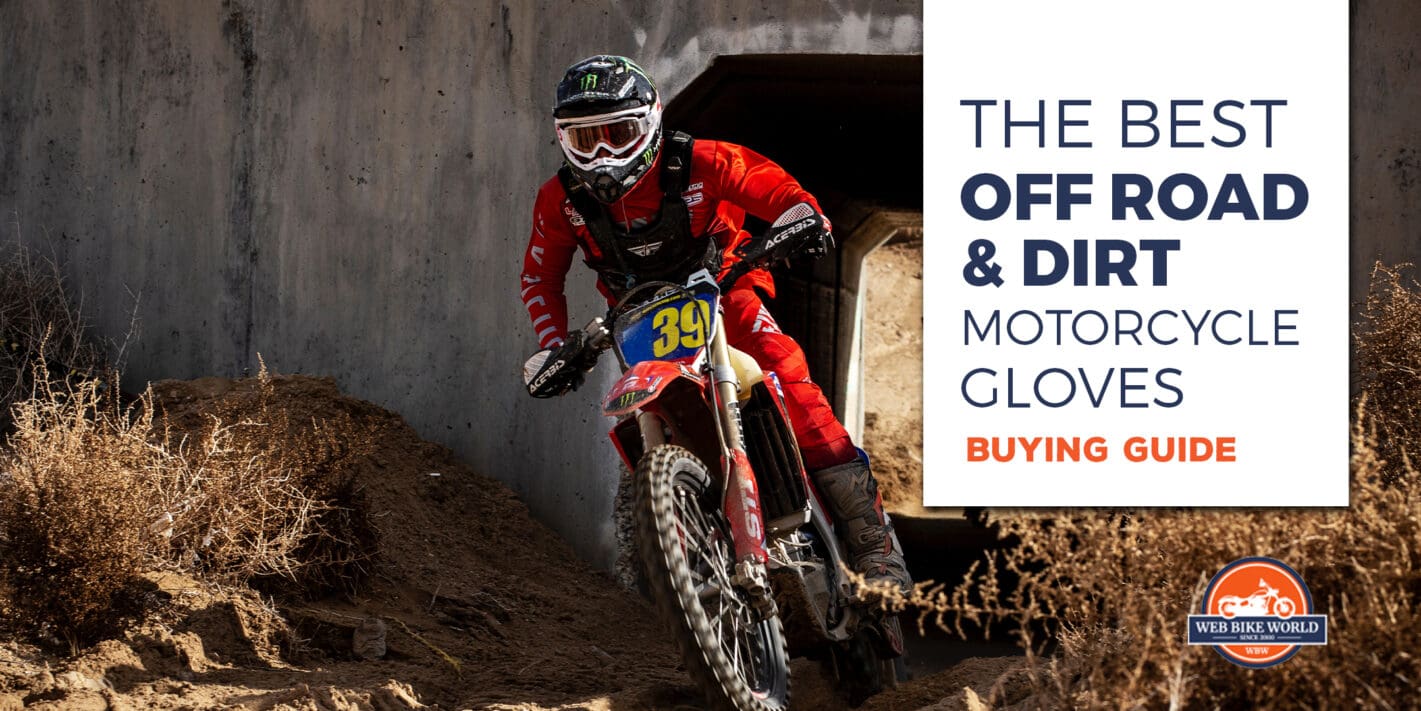 The Best Off-Road (Dirtbike) Gloves For 2022
We'd Know: We've Hands-On Tested 2500+ Pieces Of Riding Gear Since 2000
Our picks are based on gloves that offer the best blend of safety/performance, function/features, and price.
Last updated October 16, 2022 by Jared Northcott.
About Our Glove Recommendations
Founded in 2000, our team at wBW has collectively tested more than 2,500 helmets, jackets, boots, gloves, accessories, and more. We do not fluff reviews. A riders safety is heavily dictated by how they ride and what they wear while doing so. Our goal is to help riders make informed decisions about the gear they invest in to protect themselves.
wBW is funded by our audience. Our recommendations and reviews may contain affiliate links that earn us a small comission if you make a purchase after clicking them. This is the primary way we fund our website and pay our review team (and comes at no additional cost to you). We disclose our relationship with brands or manufacturers for transparency. For more information about our extensive review process, see our review policies.
Best Entry Level Off-Road/Dirtbike Gloves
Priced under $50.
Alpinestars Full Bore Gloves
Why?
The REV'IT RSR 3 is a mostly leather glove that offers great protection, with a very affordable price tag. It's a great entry-level option for a gauntlet glove that provides far more protective features than most gloves in this price range.
Key Specs
Ergonomic padded palm for optimal comfort
Neoprene and TPR knuckle area offer enhanced protection against impacts
Wrist adjustment provides a secure customized fit
Upper construction from a breathable stretch fabric for high levels of rider comfort
Synthetic suede palm for high levels of durability and grip
Reinforced thumb patches
Stretch cuff for optimized fit
Protection & Safety
TPR patches provide anti-penetration defense against branches and rocks
Palm heel features Synthetic suede and ergonomic padding for high levels of comfort, durability, and grip
Best Mid-Range Off-Road/Dirtbike Gloves
Priced $50- $75.
Fox Racing Bomber Gloves
Why?
When your intention is to just "send it", the Fox Bomber gloves are just what you need. The molded plastic knuckle and finger armor offer enhanced top-of-hand protection, while the padded double-layer palm adds another level of strength without sacrificing comfort.
Key Specs
Compression molded neoprene cuff with hook and loop closure
Double layer conductive Clarino palm and finger pads
Touchscreen compatible fingertip and thumb
Perforated goatskin leather back of hand
Molded TPU knuckle protector and finger sliders
Stretch airflow nylon finger gussets
Silicone print at finger tips for lever grip
Protection & Safety
A double layer and padded Carino palm
Perforated goatskin leather top of hand for enhanced comfort with molded plastic knuckle coverage
Finger pads with touchscreen compatibility
Scorpion EXO Talon Gloves
Why?
The Talon provides the perfect mix of road-worthy abrasion resistance, off-road comfort, and ventilation to allow the hands to remain cool. TPU armor combined with synthetic leather reinforcement on key abrasion areas make these perfect for dual-sport riding in the spring and summer.
Key Specs
Top grain goatskin leather palm and fingers
Synthetic leather reinforcement on palms for extra grip and protection
Durable breathable mesh on back of hand and between fingers
Hard TPU knuckle protector on hinged panel for extra mobility
TPR finger protectors and padded areas on palm and wrist for additional protection
Pre-curved ergonomic fit
TPU and hook and loop fastener wrist closure system
Kwik Touch touchscreen capable
Protection & Safety
Goatskin leather palm and fingers for abrasion resistance
High airflow mesh on back of the hand for ventilation and comfort
TPU armor on the knuckles and fingers provide impact protection
Reinforced synthetic leather on the palm for extra abrasion resistance and higher grip
Leatt Moto 4.5 Lite Gloves
Why?
Seeking the best grip and feel you can possibly find? Leatt Moto 4.5 Lite gloves have Nanogrip palm material using woven fibers that are 7,500 times thinner than human hair, along with the new FormFit finger stitching that gives unreal grip no matter the conditions.
There is plenty of airflow in these gloves. They also feature 3D molded AirFlex impact gel protection for your fingers and knuckles.
Key Specs
3D molded AirFlex impact gel protection on knuckles, third and fourth finger
FormFit finger stitching to give the best grip and feel
SlideLock wrist strap that gives secure fastening
New improved upper mesh for improved ventilation
NanoGrip palm is ultra-thin for superior bike feel
Ultimate dry and wet grip
Nano fiber technology 7.500 times thinner than hair
Very stretchy and flexible
Pre-curved, snug fit, and seamless palm reinforced with synthetic suede
Multi-row, technical thread stitching for durability
Touchscreen function
Protection & Safety
CE tested and certified as:
Personal Protective Equipment 89/686/EEC
Knuckle Impact protection EN 13594:2015
Best High-End Off-Road/Dirtbike Gloves
Priced over $75.
Knox Orsa Textile MK2
Why?
At $100, the Knox Orsa Textile MK2 gloves are at the high end of the price range for off-road/dirt bike gloves. However, the protection and features they include more than justify the price.
Honeycomb gel armor over the knuckles in a TPU shell provides superior knuckle protection, while SPS on the palm heel and outer heel prevents hyperextension of the wrist should you land hands-first off your bike.
Key Specs
Pinnacle of the Knox Off Road collection
Honeycomb Gel over the knuckles, encapsulated in a strong outer shell
Unique BOA wrist closure system for a "Dialed in" micro adjustable fit
Patented low profile Knox Scaphoid Protection System (SPS) on the palm (Patent No EP1594378)
Seamless finger construction for superior comfort
Single layer Clarino breathable performance palm for maximum feel
Perforated Leather and Air Mesh upper with abrasion resistance finger guards
Terry cloth thumb panel to use as a wipe
Silicone finger prints for improved grip
Protection & Safety
Honeycomb gel structure under TPU knuckle armor for the best knuckle protection off-road
SPS palm heel and heel outer protects the wrist from hyperextension
Leather combined with air mesh allows for maximum ventilation on the back of the hand and fingers without sacrificing abrasion resistance
Rev'It Kinetic
Why?
Everything about this glove screams comfort. The Kinetic gloves use a new type of lightweight, high-quality knitting technology that Rev'it claims give a totally unique feel.
The injected, flexible knuckle protection element and Temperfoam® shock-absorbing insert panels add to the overall safety and comfort level of the rider. And the mix of neoprene and goat skin mean in these gloves offer plenty of airflow along with great abrasion resistance.
Key Specs
Adjustment strap at wrist
Stretch fabric on back of hand and fingers
Soft Tricot liner
The connect fingertip has been specifically designed to operate touchscreens
Laminated reflection for increased visibility on the road
Elastic at wrist for a comfortable fit
Protection & Safety
The knuckle protection is injected in the upper material, which makes it very flexible and abrasion-resistant
Equipped with PWR shield at the palm
Temperfoam® protection for fingers, knuckles, palm and thumb knuckle
CE EN 13594:2015 Certification
What To Think About When Shopping For Off-Road Gloves
In the world of off-roading and dirt biking, gloves need to be able to take an immense amount of abuse from dirt, mud, and impacts without failing. In fact, a good set of gloves will almost be egging you on, asking for more. And, if you really enjoy the trail or the moto course, you'll give them a hell of a lot more.
There is no guarantee that gloves will provide complete protection to your hands, but it is certain that your hands will fare far better in the event of an accident if you are wearing a quality pair of purpose-built motorcycle gloves.
Be sure to check back regularly with us here at wBW to read about our latest hands-on reviews of off-road/dirt bike gloves and other great products for riders.
Off-Road/Dirt Glove Buyer's Guide
Off-road/dirt bike riding packs a punch, and a rider's gloves need to provide incredible protection above all else. Comfort and fit are also important factors, but a great fitting glove does you no good if it blows out halfway through a ride and leaves your hands unprotected and subject to multiple types of abuse.
Finding the most durable glove that also works for the size and shape of your hands (and your riding style) can be as big a challenge as some of the off-road courses that you will face.
At WBW, "Best" Actually Means Something
Remember when you could open up a review of something, and when the publication—magazine, car show, whatever—said "best" they stood behind it? Yea, we remember, and we're bringing it back.
Here's how we do things:
We disclose our affiliate relationships—We make money via advertising and affiliate relationships on our website. It's how we pay our team and invest in things like sending Jim to Italy. And Japan. And France… wait… why do we always send Jim places?

We obsessively hands-on test—We wear and ride with gear before reviewing it, and we update reviews down the line if our opinions change. We look at real-world situations because that's the world we live in.

We're objective—Good gear is good gear, regardless of who made it.

We're value-focused—Why pay $500 if something for $250 is just as good? Our review scores and recommendations reflect best value. Brand only goes so far—the gear has to stand on its own.