Review Summary
The Cyrusher Kommoda is a powerful full-suspension e-bike with a low center of gravity which makes for easy handling for shorter riders. Along with bells and whistles such as a color LCD display, pre-installed rear rack, and an electric horn (neat!), it's a suitable entry-level offering that will handle beautifully on both paved paths and dirt paths.
Pros
750w / 80 Nm rear-hub motor makes plenty of power.
Comes with speed limiter removed and can reach 28mph/42kmh. You want speed? You got it.
20" tires and step-thru frame are perfect for shorties and those with less mobility.
Low center of gravity makes it a very comfortable and nimble ride.
Color LCD is easy to read and the electric horn is a nice addition to the bells and whistles.
Foldable bike pedals make it easier to fit on the side inside of vehicles.
Cons
No quick release on the front wheel (at least on the bike Cyrusher sent to us for review).
Lots of wires at the front of the handlebars detract from its appearance.
May not be as comfortable for riders 6'0 and taller.
Review Summary
The Cyrusher Kommoda is a fat-tired electric bike featuring full suspension, 750w rear hub motor, and a 48v 14Ah battery.

The 20" fat tires are suitable for all-terrain and an excellent choice for shorter riders who would prefer a step-thru frame for better mobility.

The Kommoda comes Class 3 speed unlocked and can reach speeds up to 26mph/42kmh. 

It features a colorful 3.7" LCD display that reads well and is aesthetically pleasing. 

Like many other ebikes in the segment, it comes with preload adjustment and lockouts for riders to customize their ride feel.
We unboxed and assembled the Cyrusher Kommoda in late 2022. In the past several months, we've taken this fat-tired ebike through hot summer months and frigid winter temperatures to see how it fared in various riding conditions.
First off, let's take a look at the bike specs:
Cyrusher Kommoda Specifications
MSRP:

$1,899 USD (approx $2,500 CAD)
Battery:

48V 14Ah Lithium Ion
Range:

Up to 80km / 50 mi
Pedal Sensor:

Cadence, 5 PAS levels
Derailleur:

7-Speed Shimano
Brakes:

Hydraulic disc brake
Tires:

20″ x 4″ puncture-resistant tires
Weight:

74 lbs (34 kg) with battery
Available colours:

Orange, White, Blue, Grey
Cyrusher Kommoda Performance
If You Like Speed and Power, You're In Luck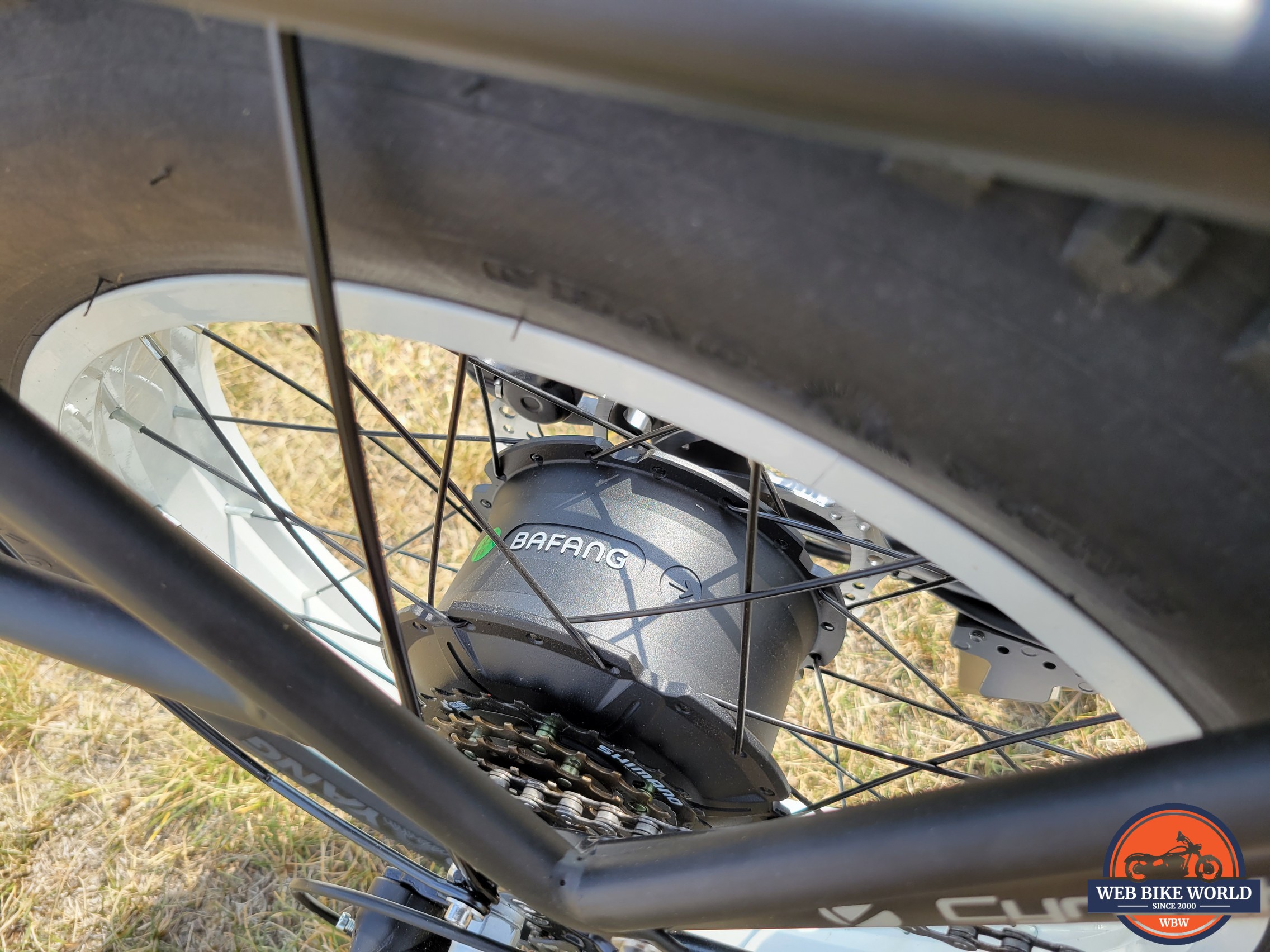 While the Kommoda shares the same 750w rear hub motor as some of the other ebikes that we've previously reviewed, this bike has strong acceleration and peaks at 1000w in power. 
The motor puts out 80nM of torque which is the same as the TurboAnt Nebula N1. It also weighs the same (74lb vs 75lb on the N1) but due to the geometry and form factor of the Kommoda, it feels much quicker. On the other hand, the KBO Breeze Step-Thru has significantly less torque at 60nM. 
Bear in mind that the KBO Breeze is not meant as an all-terrain offering hence its slimmer tire profile and lack of hill-climbing power.
Cyrusher advertises their ebike as being capable of up to 26mph, but a heavy twist of the throttle and PAS level 5 took me past that to 28mph / 45kmh. It's exhilarating. 
Per Canada ebike regulations, the speed limit is 32km/h which is why most electric bikes come with a Class 2 speed limit. Some models will allow you to remove this programming and it was a surprise when we took the Kommoda out for its first test run to find out that it wasn't speed-limited.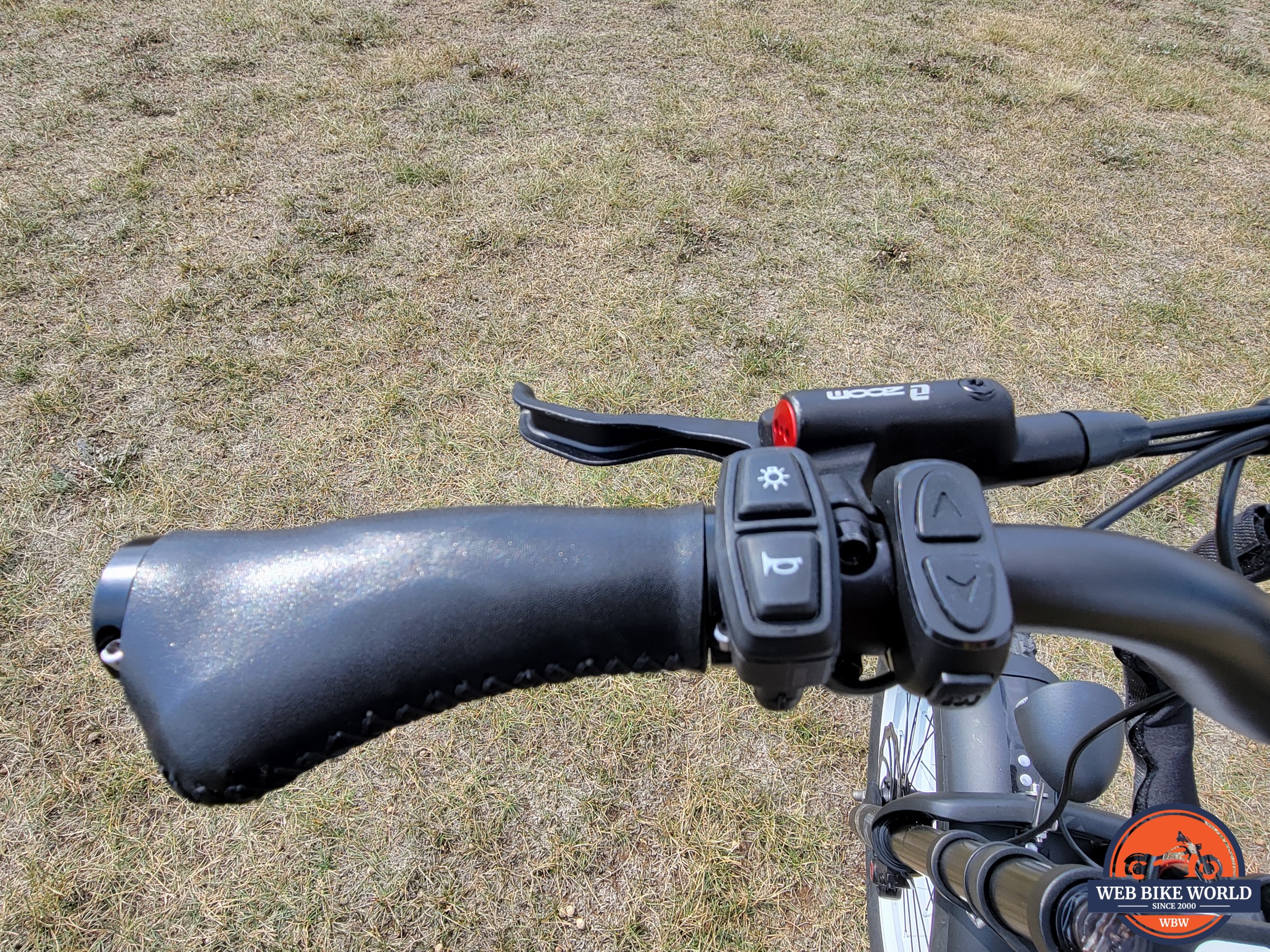 For the majority of riding, PAS level 2 and 3 is enough, especially on paved paths where I frequently encounter dog walkers and pedestrians out on a leisurely stroll. Switching between PAS levels can be toggled by the Up/Down arrows on the left side of the handlebar. Both are well within reach and even for smaller hands there should be no issue. 
Other buttons on the left handlebar include an LED headlight button and an electric horn. This is a nice touch as most brands are content with including a simple ring-a-ling-ding bell. The horn itself makes an obvious tone and during my test rides, every pedestrian heard me from at least 5 meters away (5.4 yards for our American friends). Safety first, everyone.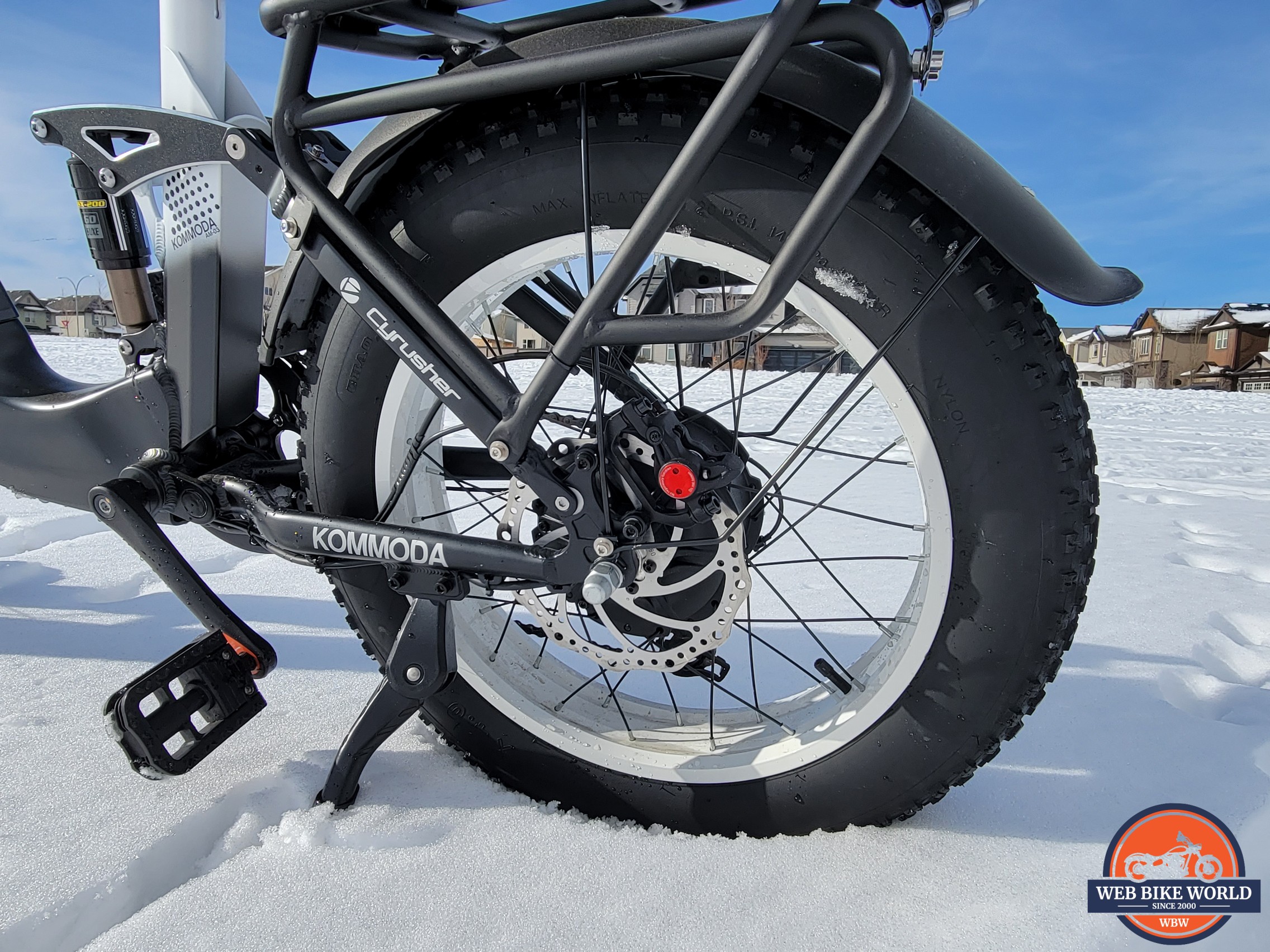 Moving into the components for a bit, these were my overall observations during our months of testing:
The hydraulic disc brakes are responsive and inspired stopping confidence at all speeds. Braking power remained nice and tight.

The twist-throttle is placed conveniently and integrated into the right handle grip. You do not have to move far to reach it.

The gearing is smooth.

The handlebar grips are well-padded and comfortable over long-distance rides.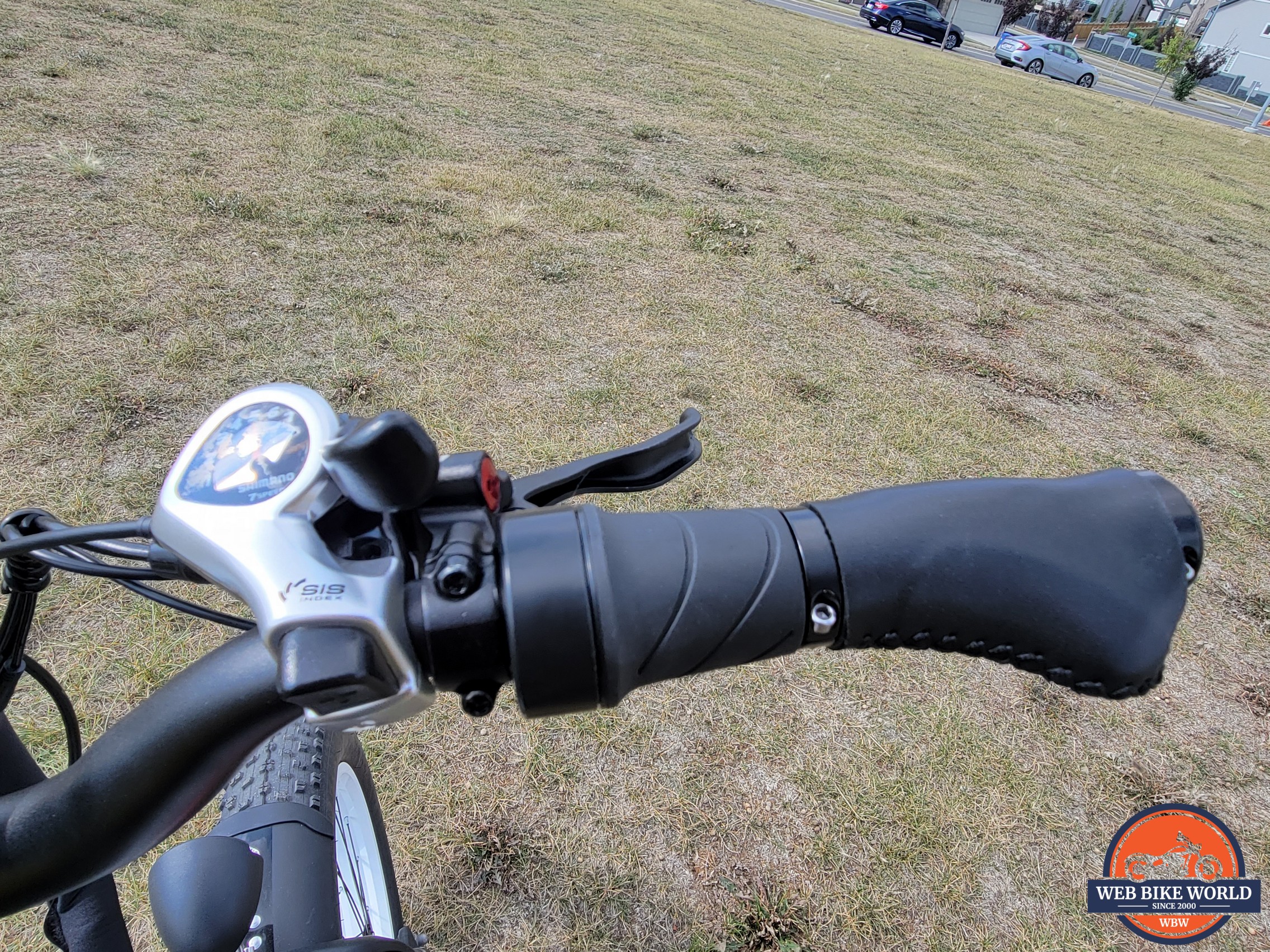 I found our 10th time riding this bike to be just as enjoyable as our initial test ride. I can't say enough how quickly this bike accelerates. The 20″ wheel diameter gets you moving in quick fashion so hold on tight.
Most of the team here at webBikeWorld rides motorcycles and it's great to know that I can partake in unleashing my speed demon through e-scooters and e-bikes.
The 180mm hydraulic brakes are a good pairing with the 750w motor. There is no mismatch and I felt safe with its braking performance in both Fall and Winter months. This ebike has a lot of pep and you'll want to get the brakes serviced properly as part of regular bike maintenance.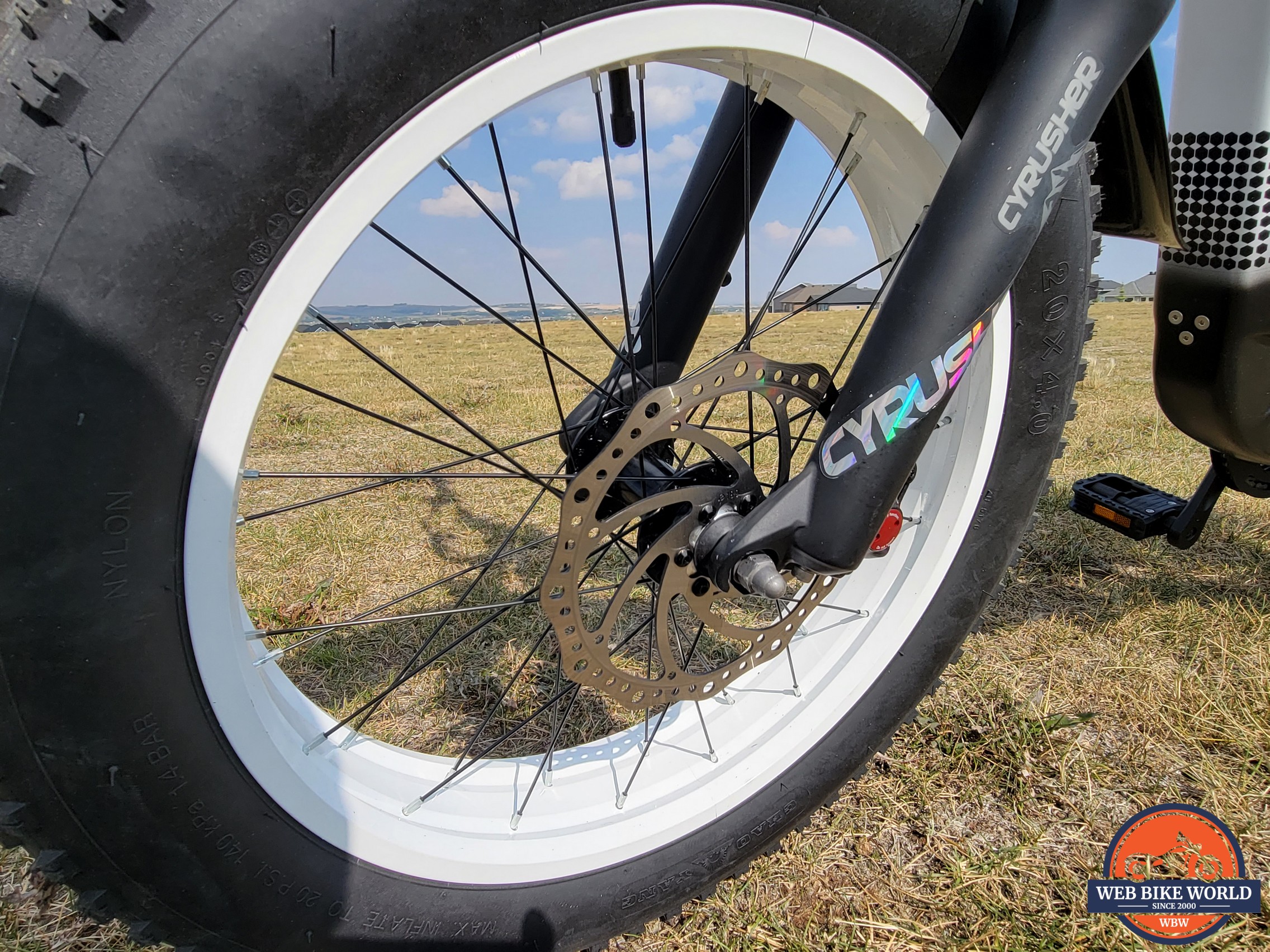 Plenty Of Range In A Single Charge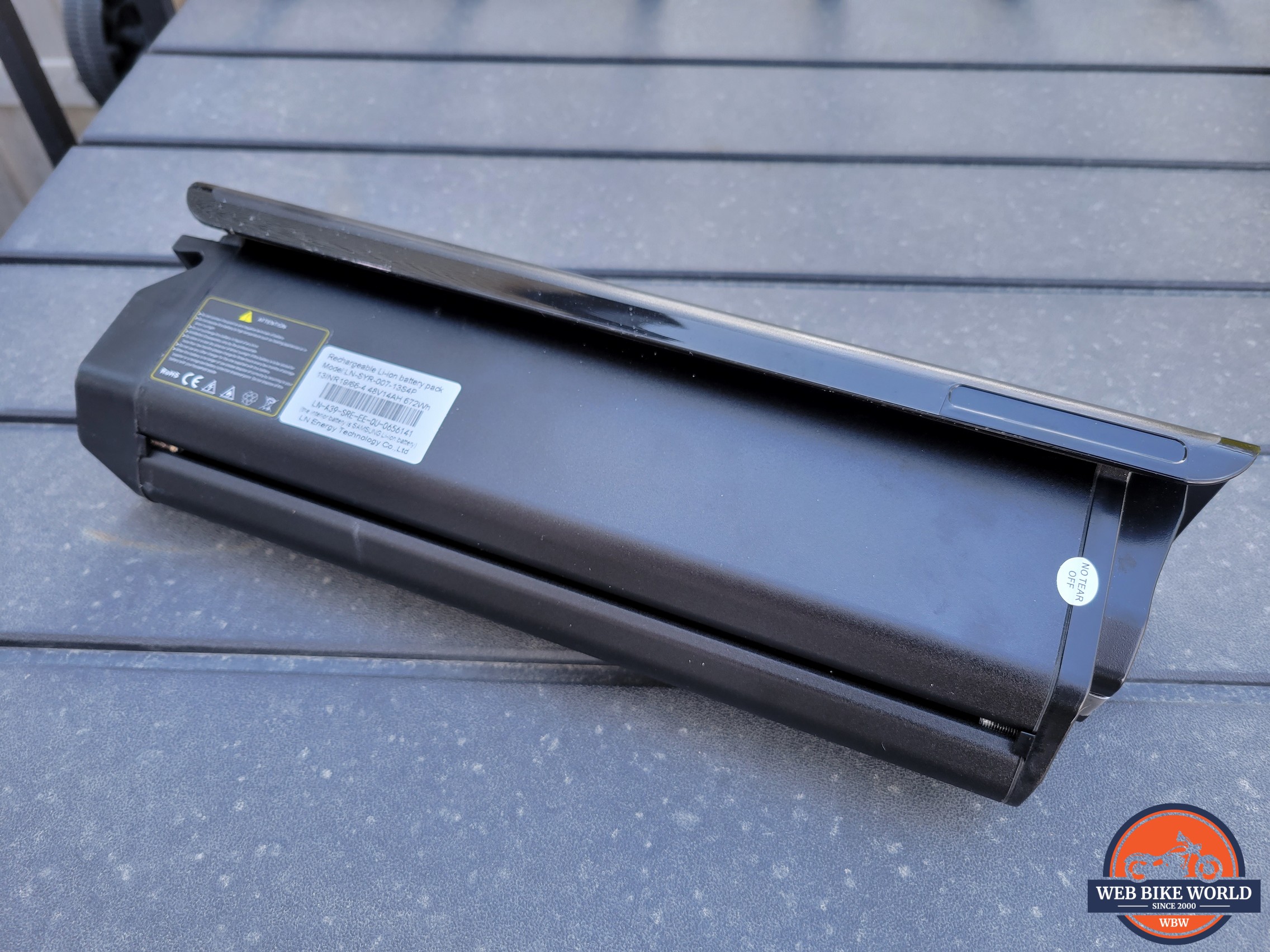 Okay, so the Kommoda has power in excess but how does it perform range-wise? 
The 48V 14Ah battery takes roughly 6-7 hours to charge to full and you can expect to get anywhere between 40km and 80km depending on how heavy you are on the throttle.
Every rider has different habits and numerous factors will influence the type of range. It'd take a dedicated article to talk about all the different factors, but I came across this very neat electric bike range calculator to help estimate the sort of range you're likely to achieve based on different settings.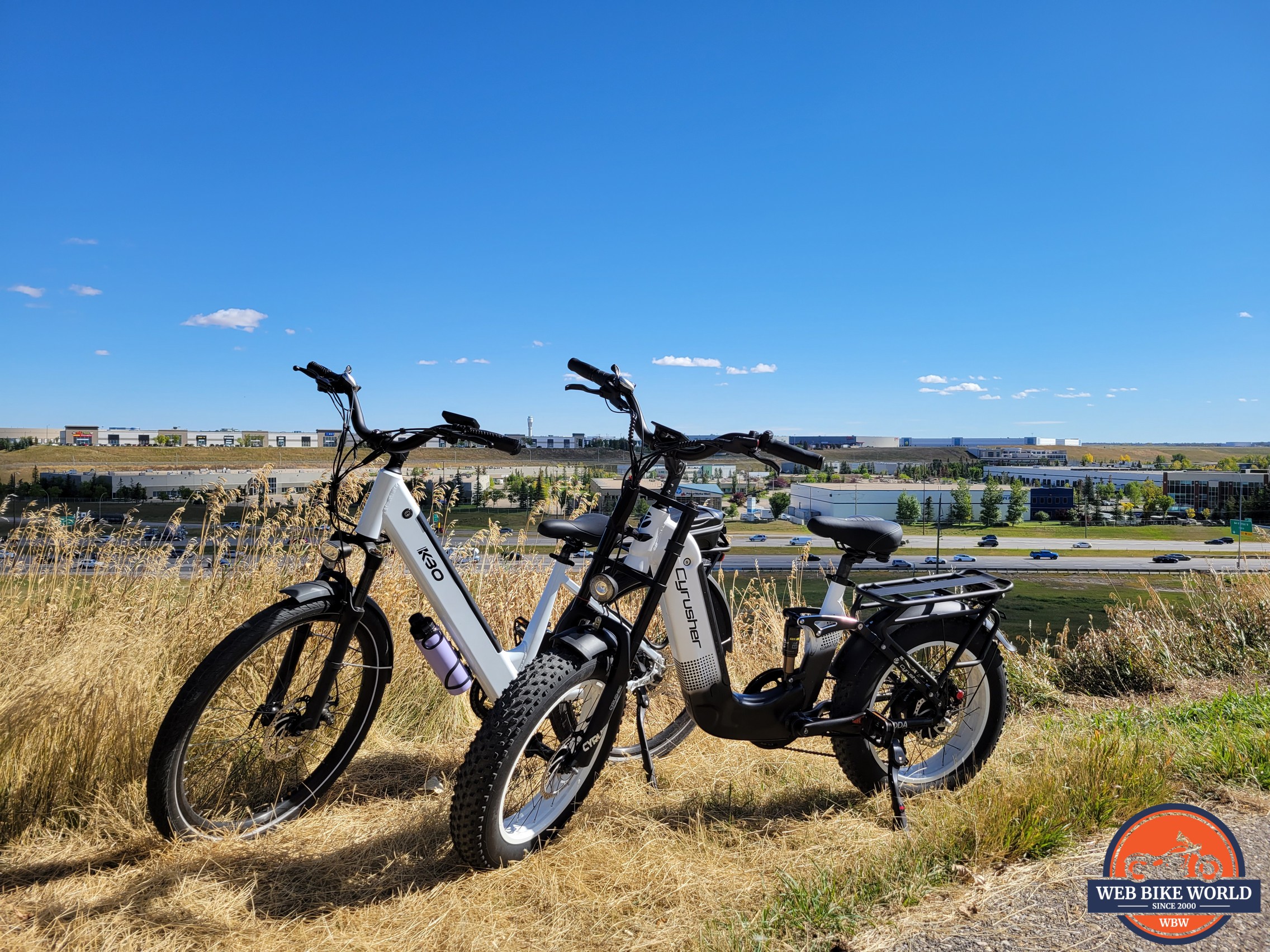 During one of our test rides, we headed out one summer afternoon for a jaunt. I rode the KBO Breeze Step Thru while my wife Amber took the Kommoda.
The ride was all on the pavement with various inclines and hills heading in and out of nearby parks frequented by cyclists. It would be typical of what you can expect in a suburban environment with the occasional stretch of long road.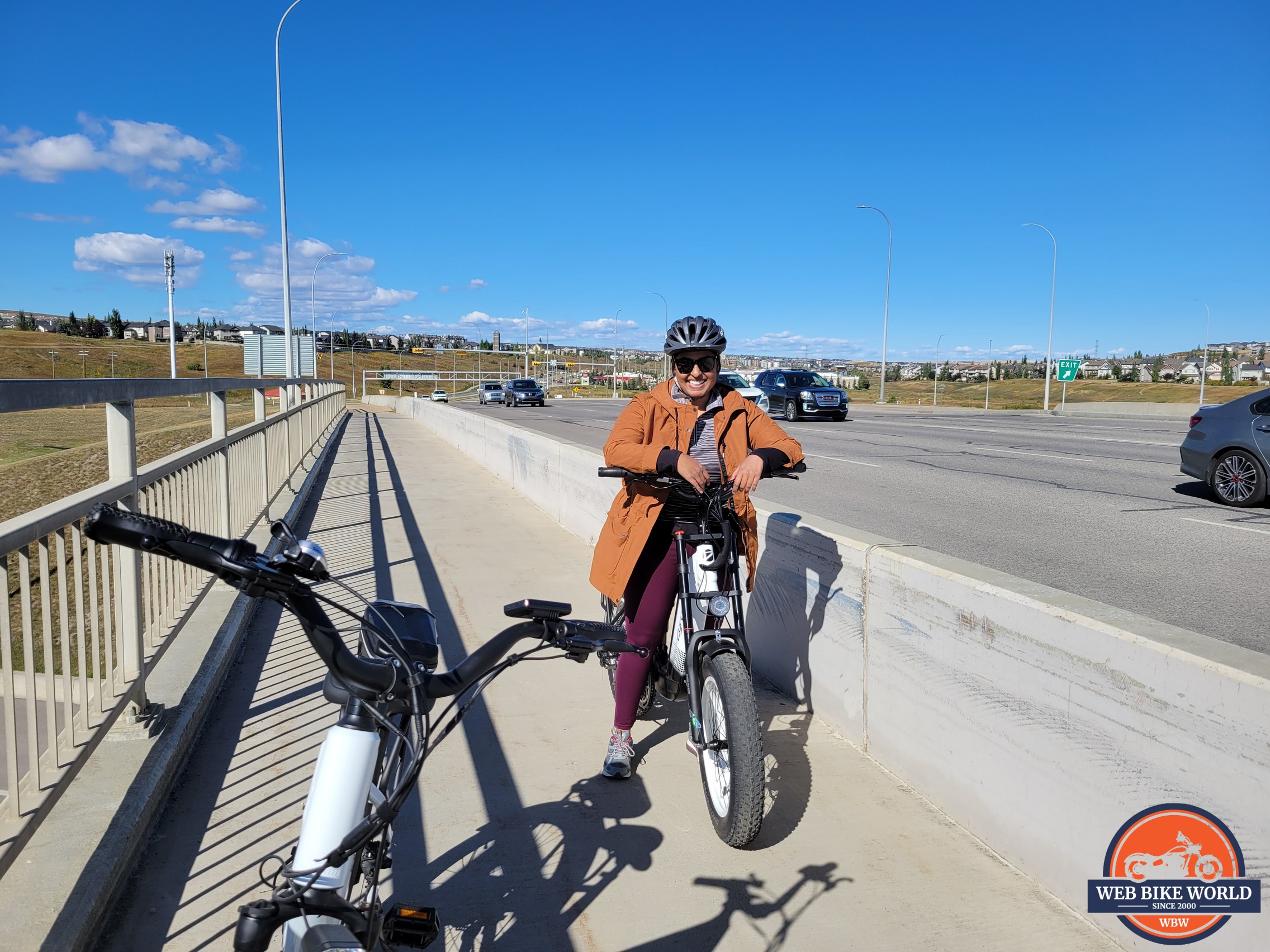 We made multiple stops for an accompanying fall photoshoot and the total ride took around 2.5 hours. Both riders remained on PAS 2 and 3 for most of the trip and we logged ~19mi / 30km. By the time we got home, the Kommoda still had at least 35-40% of battery life remaining. 
Referring back to the ebike range calculator that I mentioned, this was fairly in line with its estimate of a total range of 37mi / 60km. It will be no problem if you want to ride it to work or pick up groceries if you have luggage storage that you can strap to the rear rack that comes with the bike.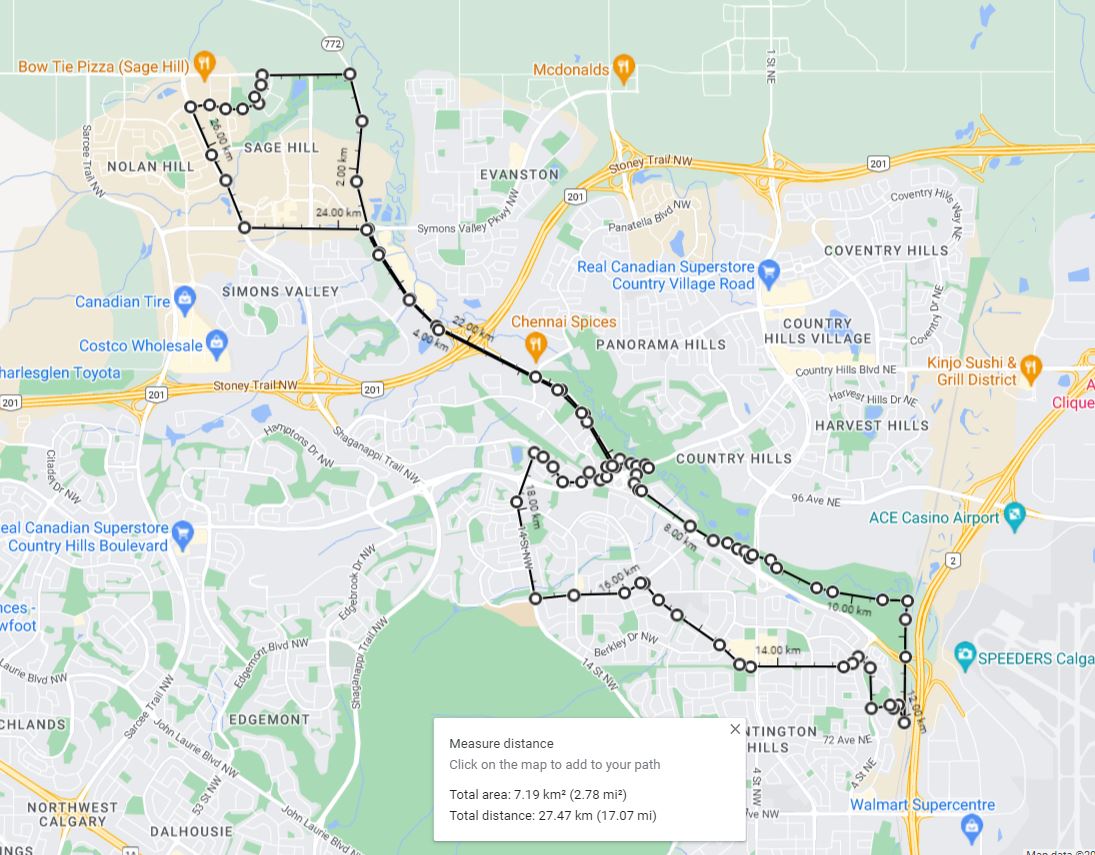 For additional perspective, I can easily traverse from one end of Calgary to the other. Given how comfortable this ebike rides (more on that later), it makes a decent commuter bike while offering its rider plenty of room to unleash their speed demon.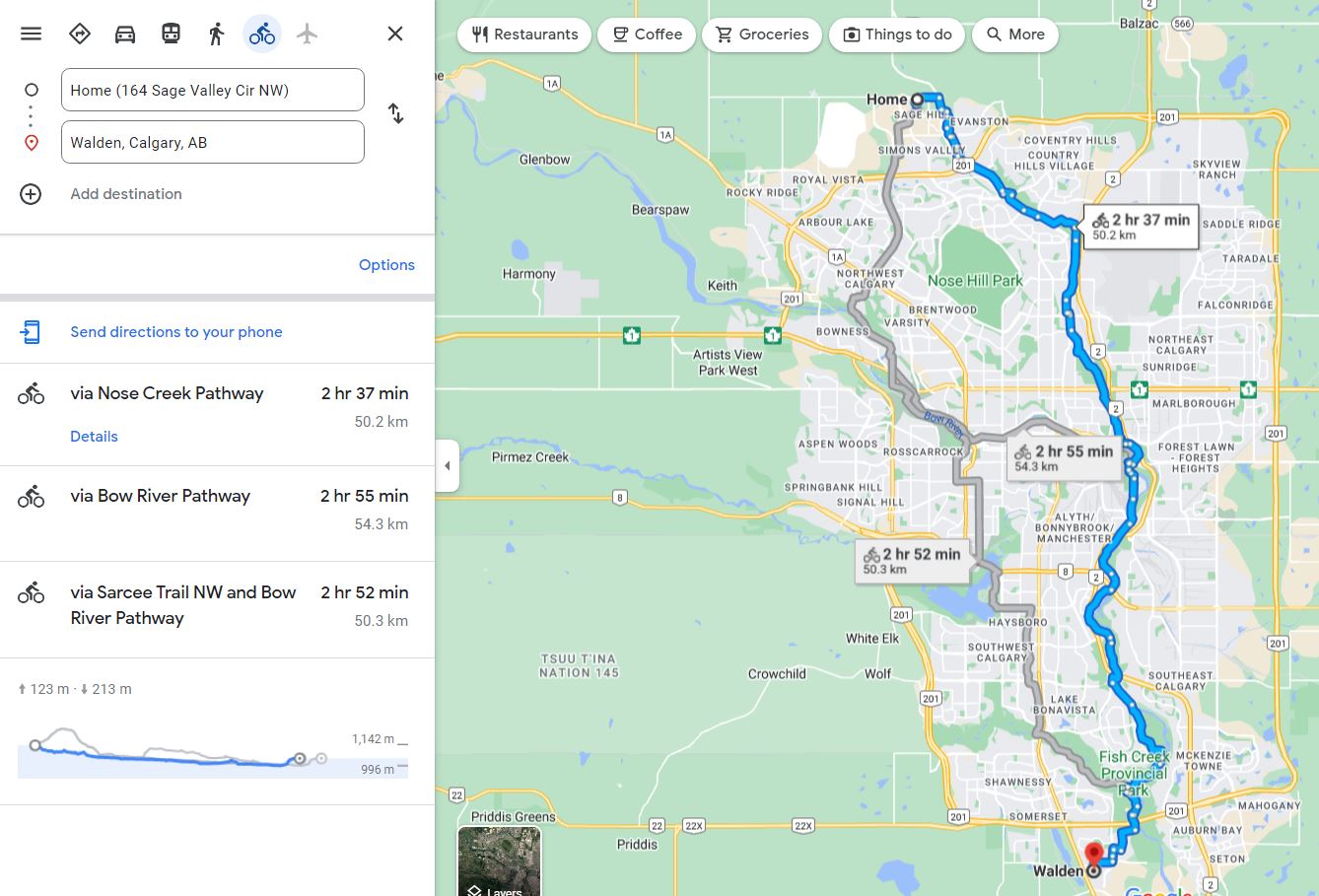 The fat tires introduce more drag than commuter-style ebikes, but range can be easily extended by going lighter on the throttle and planning a route with more flat stretches.
It's A Heavy Yet Comfortable Ride
The Kommoda seems to do great at a variety of different things. It's got plenty of power for inclines yet also employs a laid back cruising experience with its cushy saddle seat and rear rack for any cargo that you need to take with you.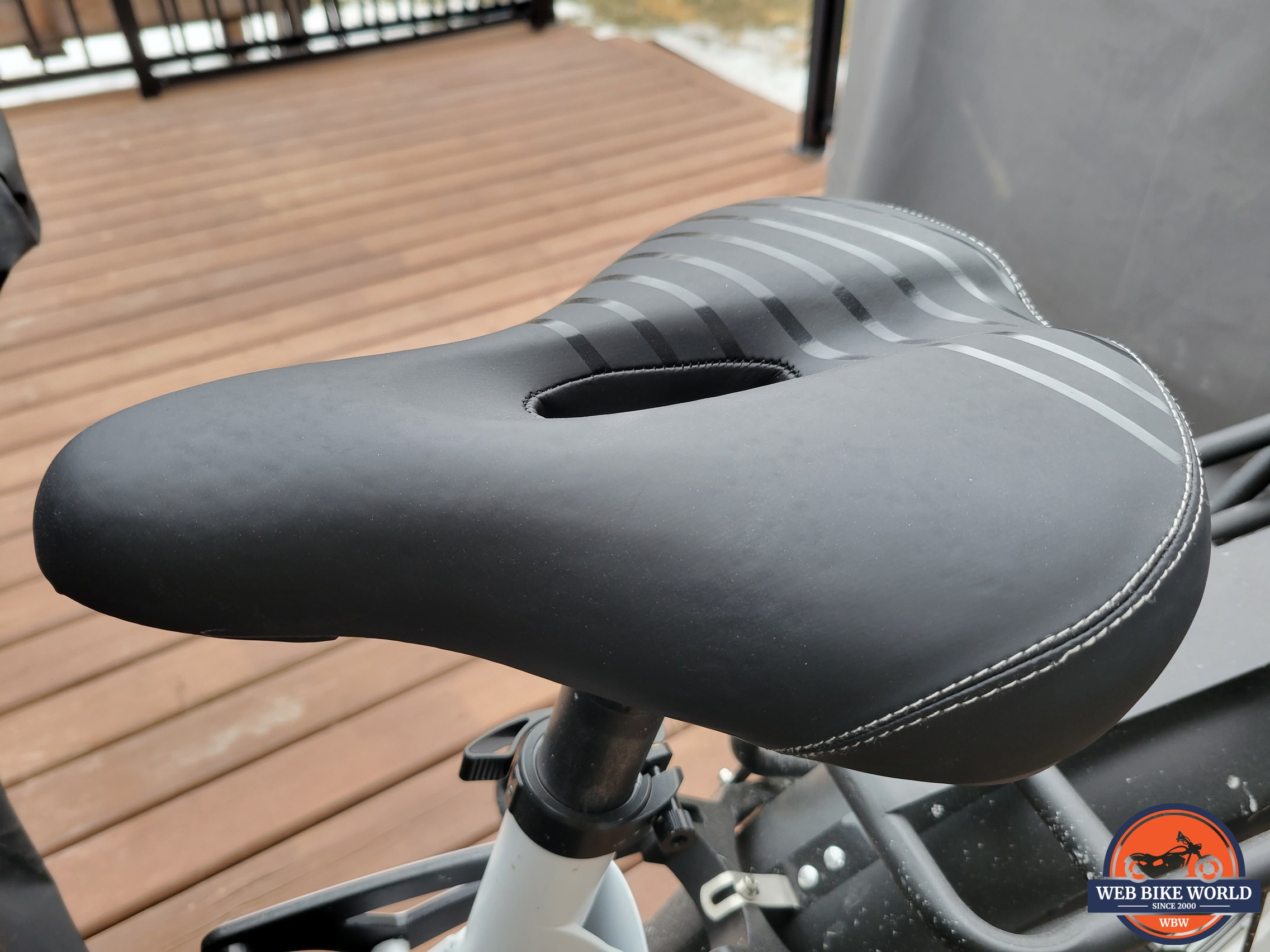 During our testing, we found that the rear spring shock and lower center of gravity synergized to create a very comfortable ride. It handles bumpy dirt paths, gravel, and uneven grass like a champ to keep your butt nice and cushy.
Never mind the fact that the bike weighs 74lb with the battery; you barely notice when you experience how nimble the ride is. Biking enthusiasts are no stranger to the fact that smaller wheel diameters yield several benefits:
Less tire resistance = more speed

Better maneuverability

Less rotational mass
Even though the Kommoda has fat tires which create more drag, its effects are either negligible or offset by the other design elements. The consequence of this overall design makes it suitable for a wide range of riders.
Well done, Cyrusher.
The front forks are also adorned with disclaimer labels to remind you that this bike is not a freeride bike meant for mountain biking. The full suspension is there as an added level of comfort but if you're looking to blaze up mountain paths, you're looking at an entirely different segment of ebikes.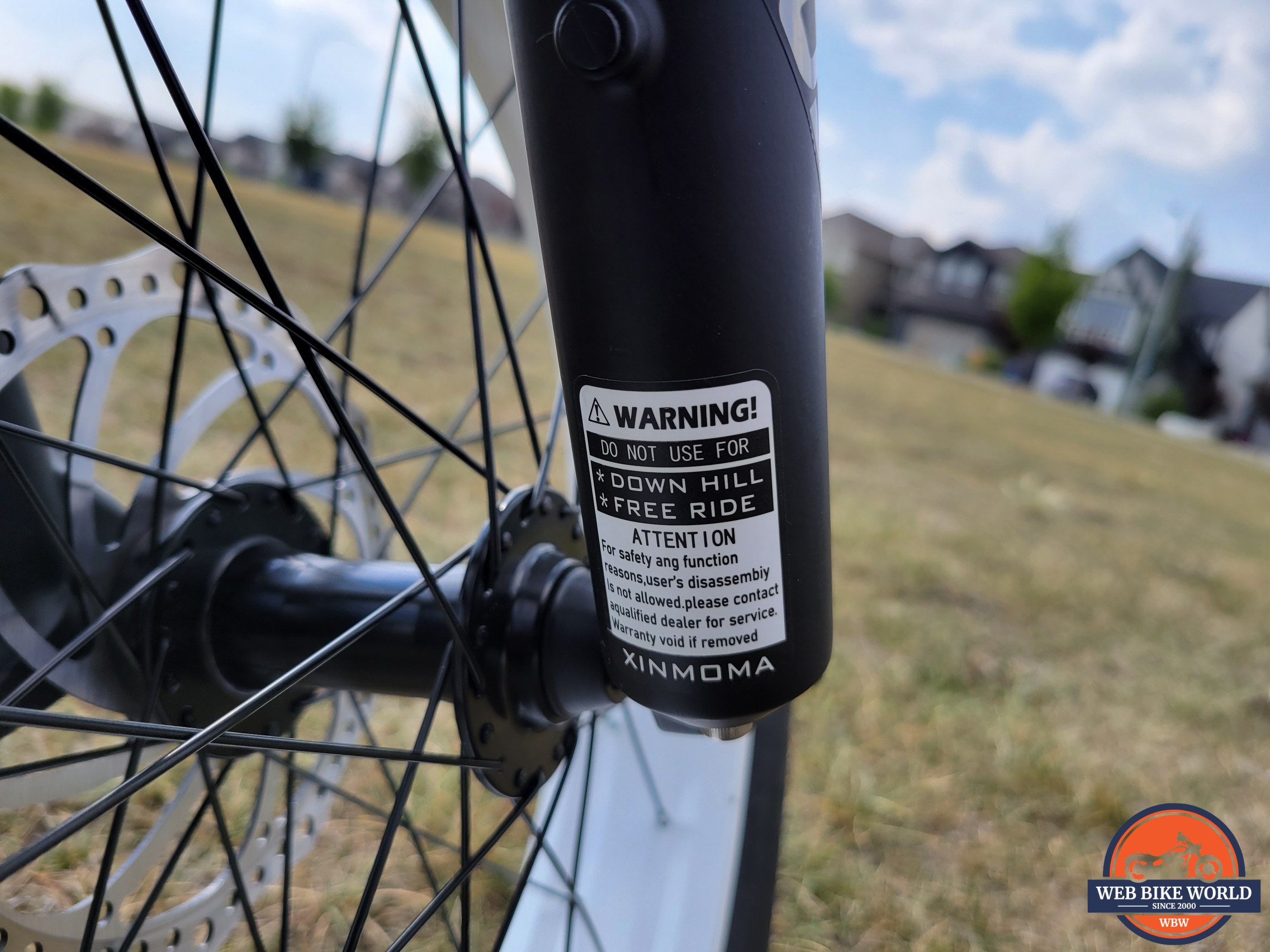 Build Quality and Style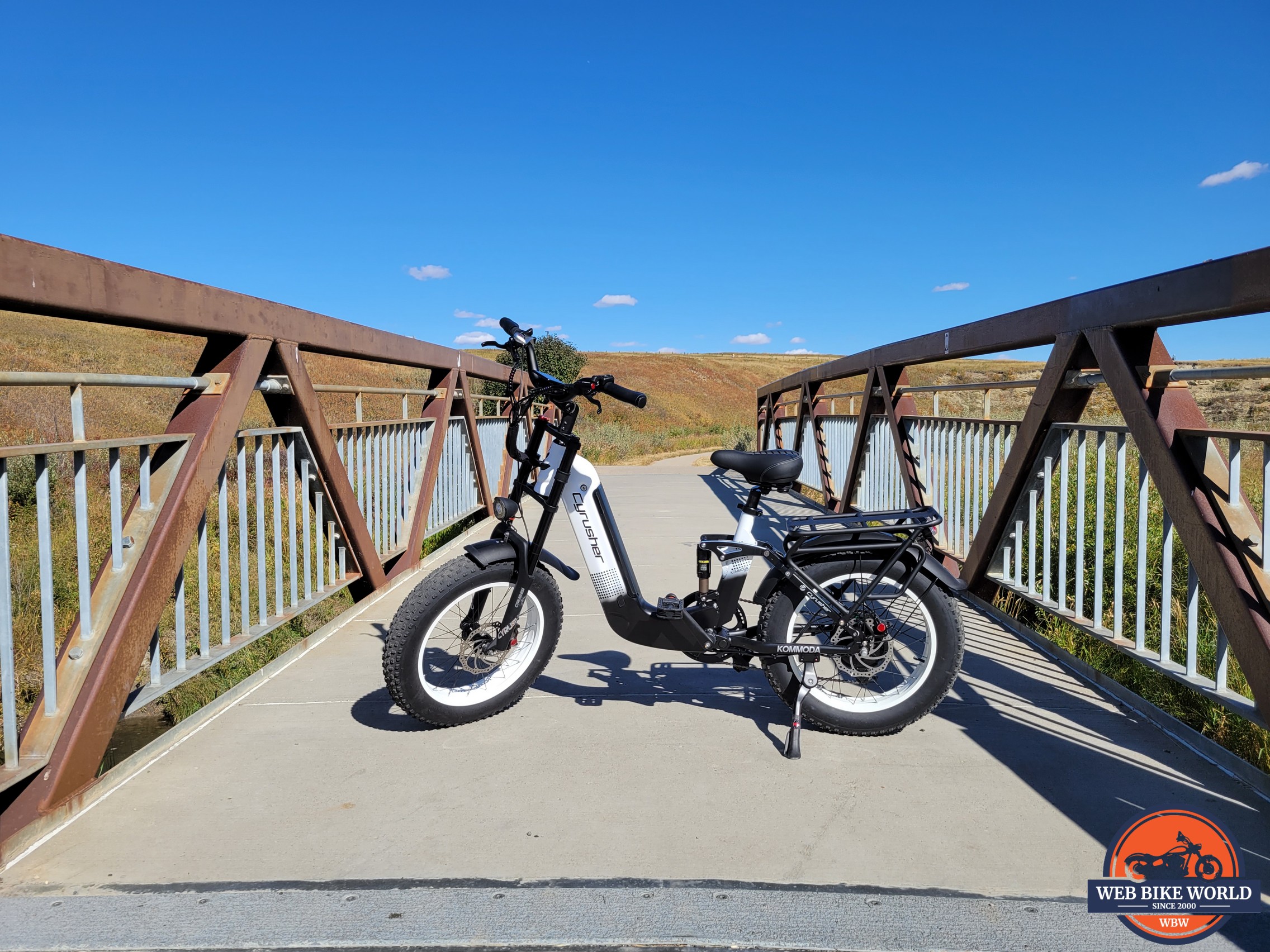 The Kommoda has a very handsome and compelling design. The frame of the bike is firm and the welds are clean with no loose parts. The step-thru design suits a variety of riders as previously mentioned.
It comes with features commonly seen on other ebikes such as preload adjustment but small features enhance the experience:
Folding pedals. I don't have a bike rack mounted to my car so I have to load this into the back of the RAV4. Folding pedals allow me to lay it flat on its side.

A preinstall rear rack with a nicely mounted visible taillight.

Integrated battery design gives the bike clean lines.

Colorful LCD display with clear readings. Minimal glare in direct sunlight.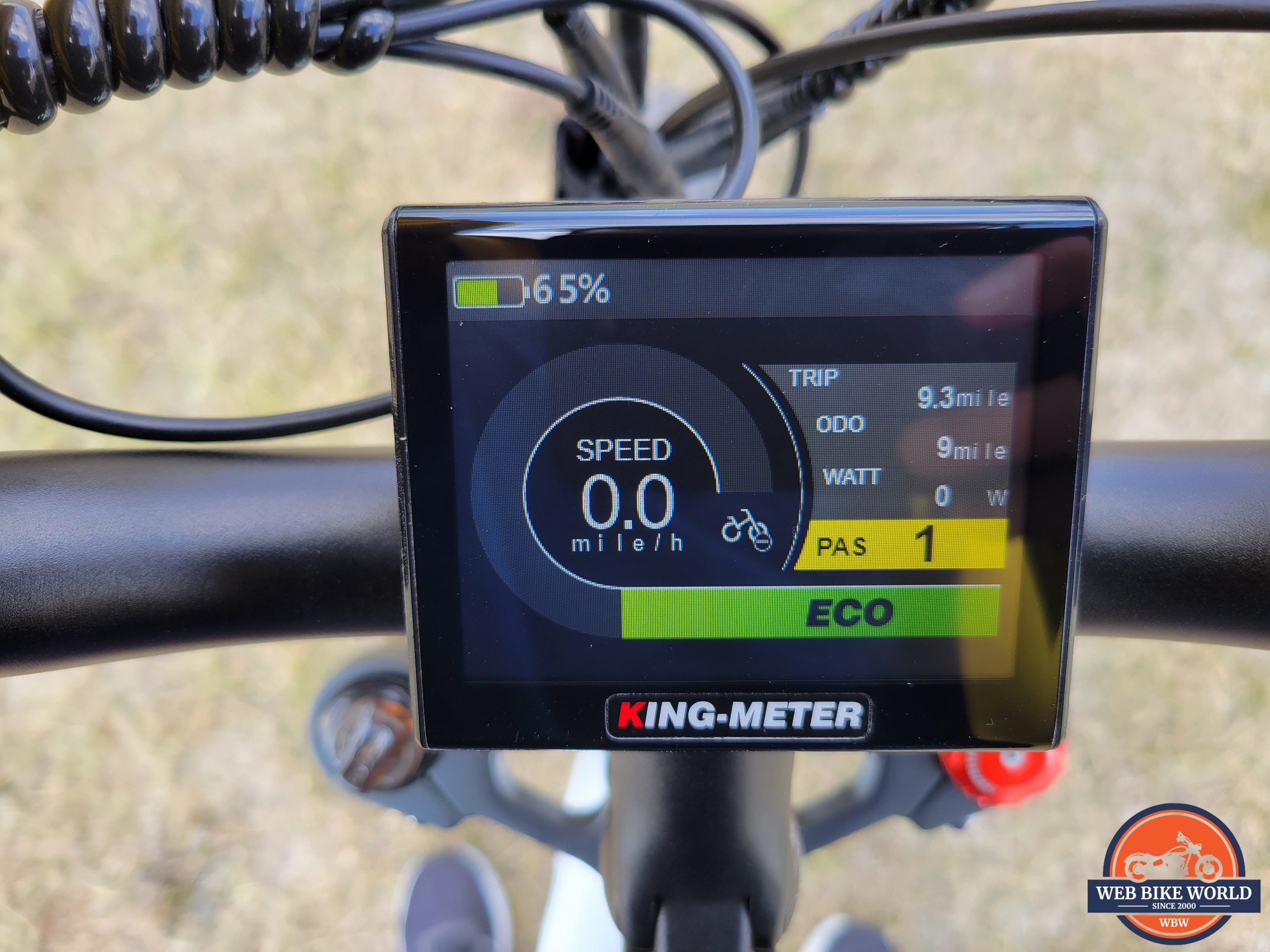 This bike offers something to a wide range of riders. My friends have ridden it. My parents (in their 60's) have ridden it. The My wife vehemently sticks to riding the Kommoda during our outings.
Fall and Winter Riding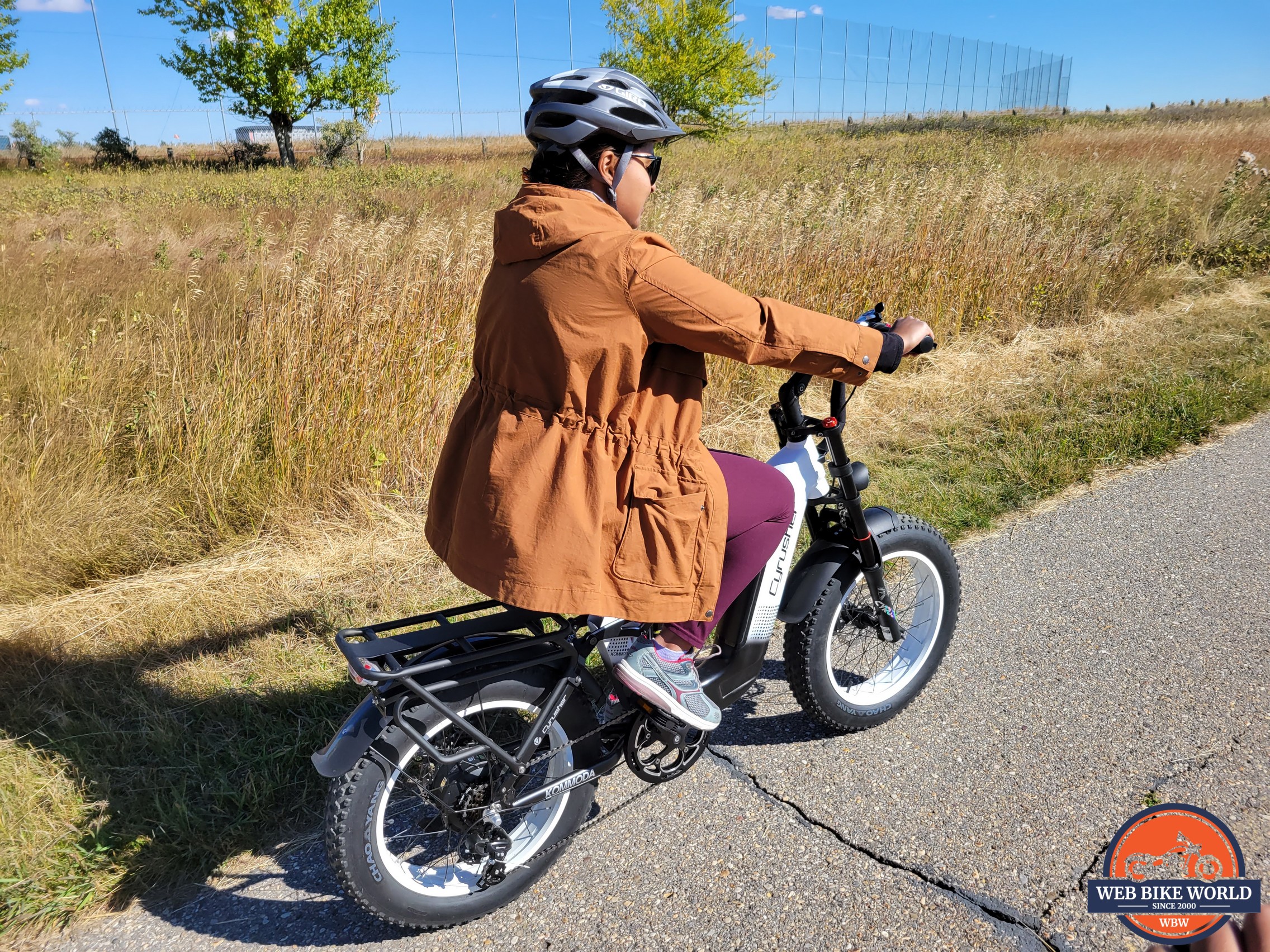 The Kommoda was a pleasure to ride during the warmer months. We received this bike in September and was able to get a solid month of riding in before the snow came in. Calgary is notorious for its freezing temperatures and snow dumps which presented the perfect opportunity to test it.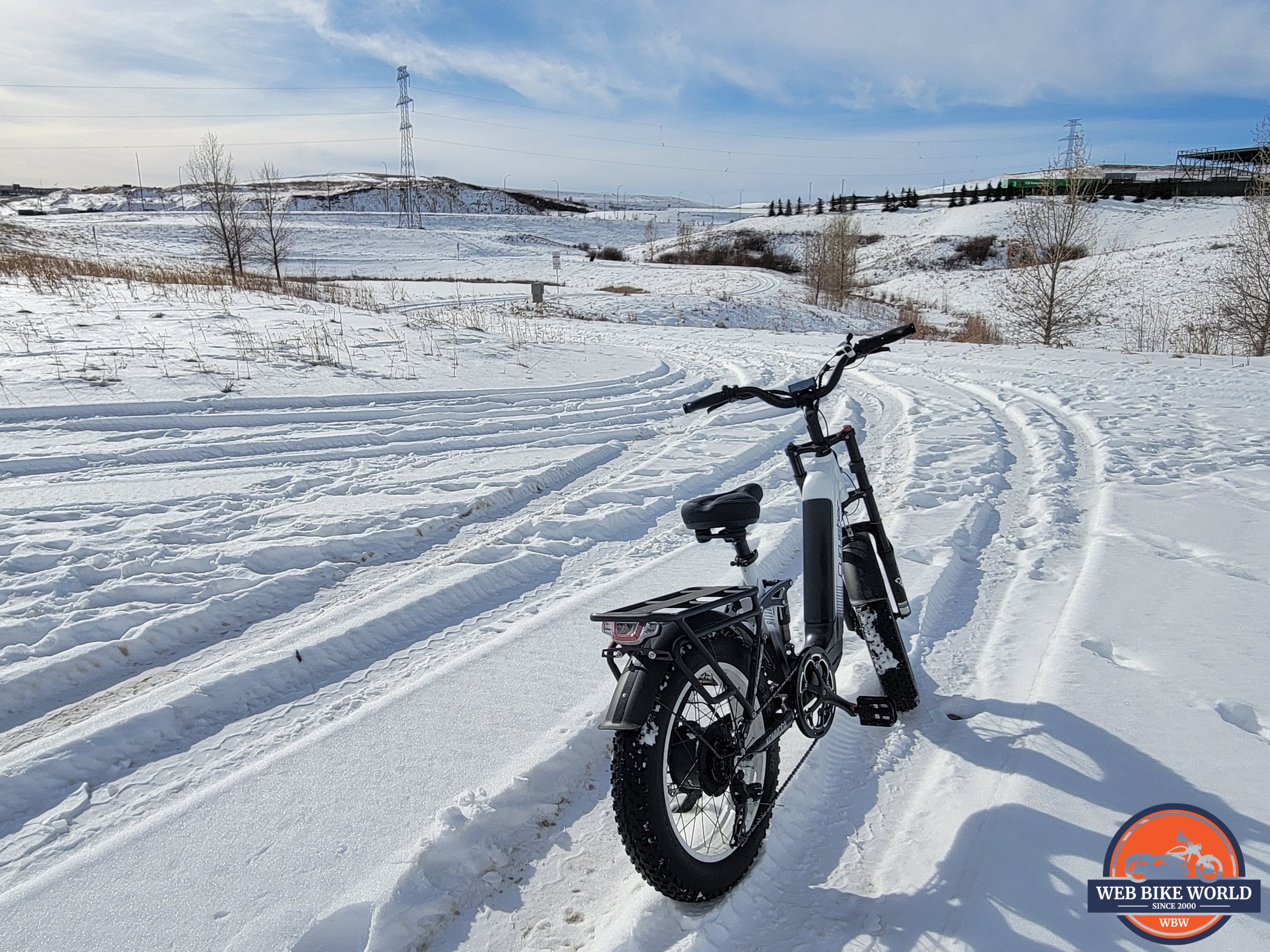 We rode this bike in a variety of cold weather conditions ranging from -20C (-4F) to 5C (41F) and definitely learned a lot about how to properly handle ebikes in the winter. 
If you intend on riding the Kommoda in the winter, or any ebike for that matter, there are several learnings I can share with you.
Environment and Riding Technique Matters
During our winter testing months, we rode the Kommoda on ice cold pavement and to up to 3 inches of snow. Clear pavement is no different than during warm months and is a non-issue. The ebike also handled one to two inches of snow without any issues whatsoever.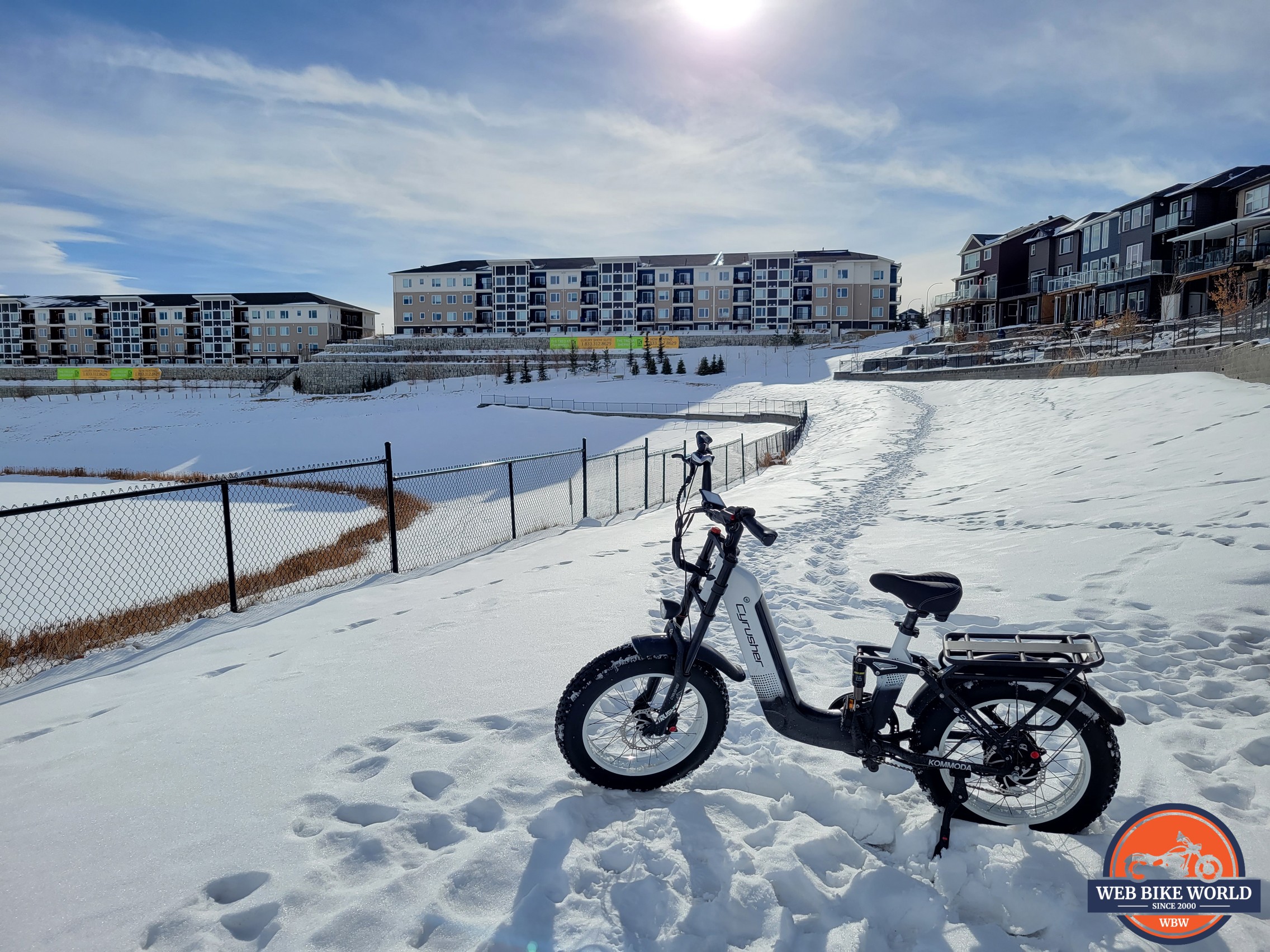 However, once you get into 2.5 inches and above, there is a significant decrease in traction. To compensate for this, you'll want to consider these tips:
Ride in a straight line where possible.

You have very little traction and a complete lack of 4-wheel stability, especially in deeper snow. Any turns or curves on a path combined with electric torque mean that you're very likely to drift which leads me to the next point

Be conscious of the throttle.

The Kommoda has 80nM of torque. It's powerful and can be jarring even on PAS 1 and 2 in winter weather. Feathering the throttle and limiting yourself to PAS 1 is the best way to maintain control of the ebike in the snow.

Avoid bumps where possible.

Snow gets packed down unevenly on flats and collected at crosswalks where plows have gone through. These bumps can be up to 6-7 inches tall and depending on weather, they can also be rock hard or just piled up slush. Make sure you hit these on a straight line if you've got to ride over them.

Traverse deeper snow by using the twist throttle vs pedalling

. Like

motorcycle ice racing

where traction is minimal (they also have studded tires, you don't), you really don't want to have both feet high up on the pedal lest you slip and fall. The other reason is that with a cadence sensor,

the motor applies a set amount of torque when you pedal whereas the twist throttle offers much more control

. I frequently extended both legs close to the ground as 4-point support while lightly applying the throttle. Bonus: you can yell out "

weeeeee!

" while you do this.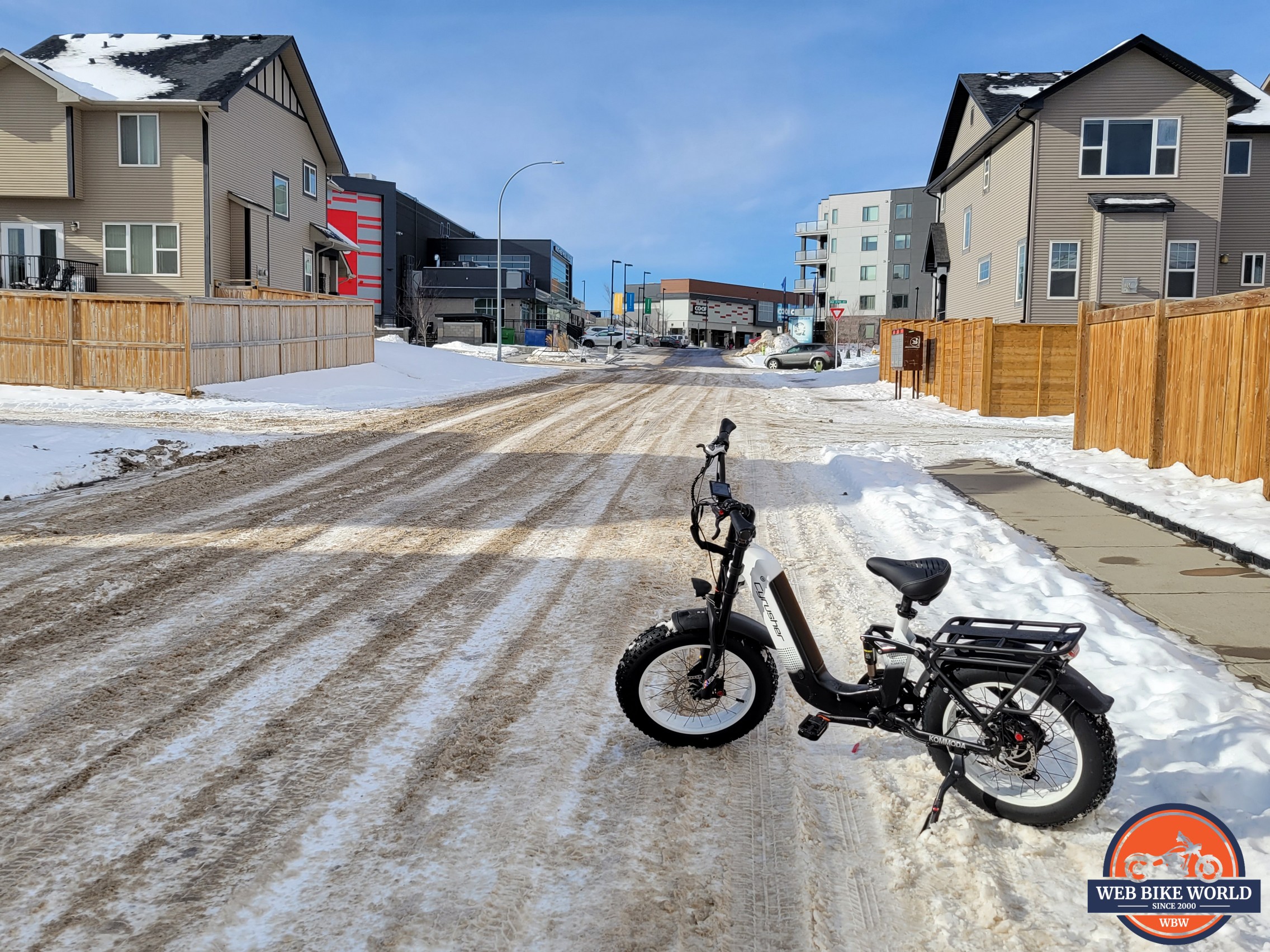 Lastly, what I was rather impressed is that the 20" wheels on the Kommoda do not get caked up in snow as much as my larger TurboAnt Nebula N1. My thought is that the smaller wheels and higher RPM do a good job of releasing snow between the treads.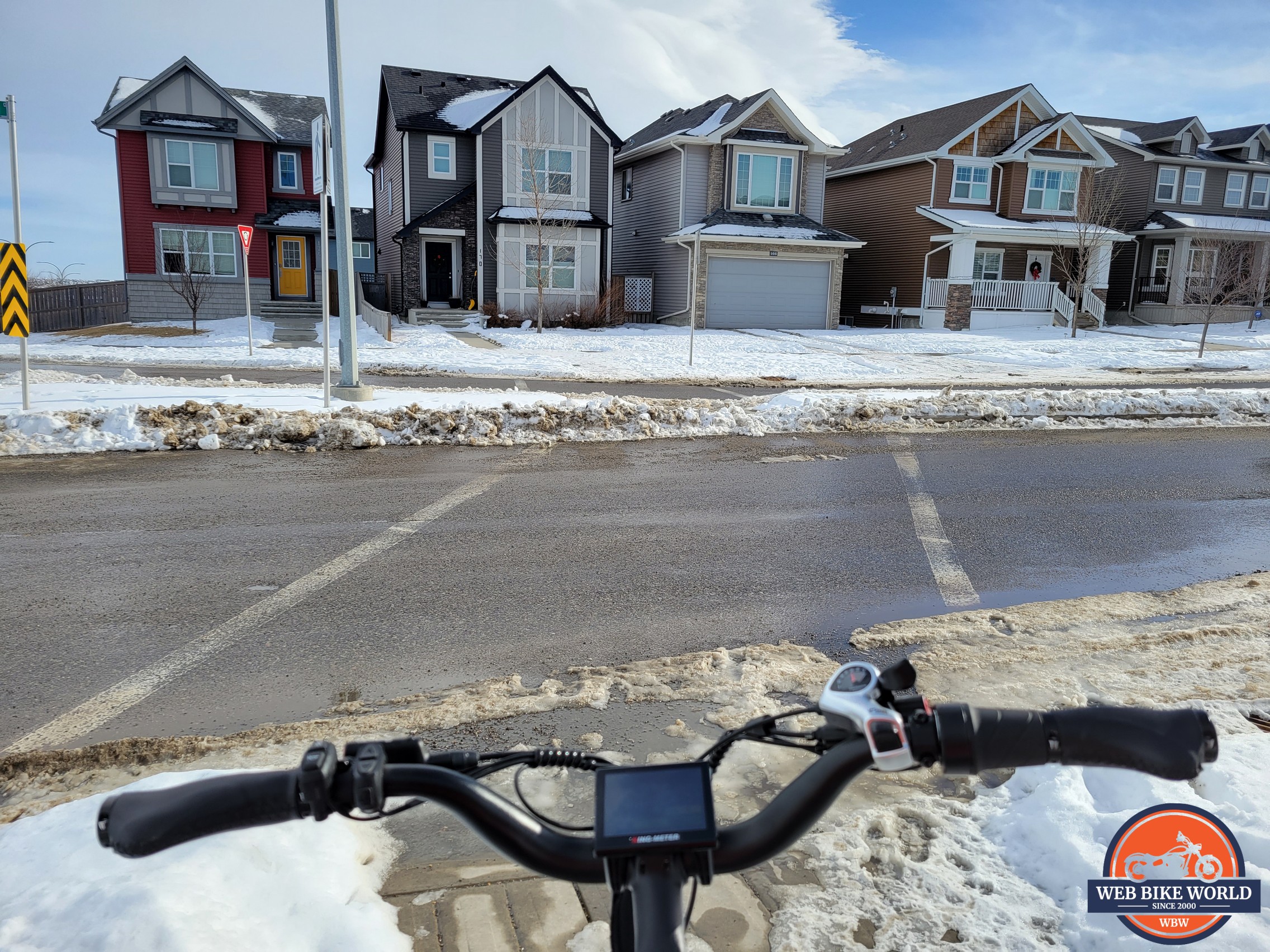 Winter Maintenance Is Important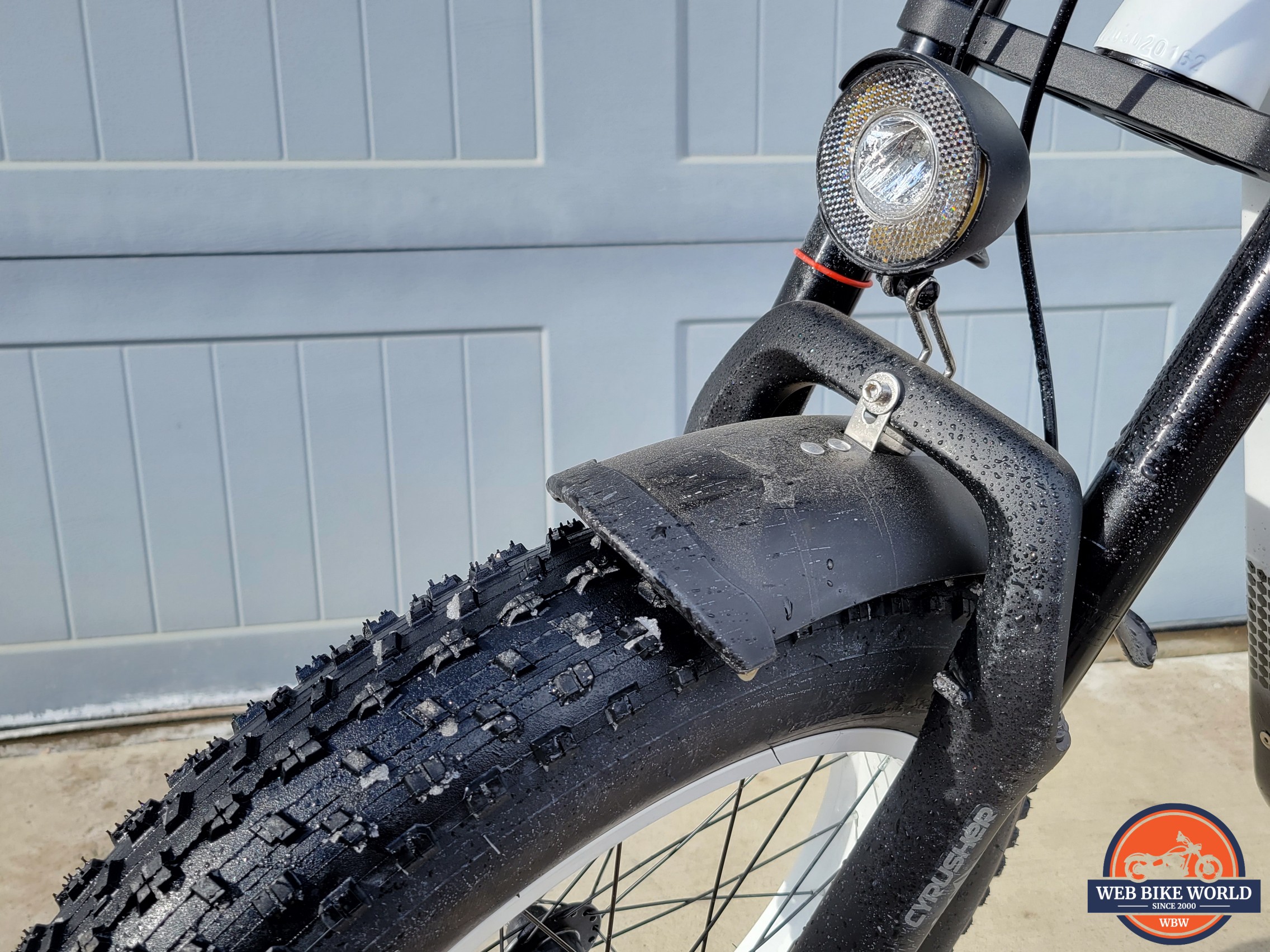 The Samsung battery on the Cyrusher Kommoda is rated IP65 meaning it is dustproof and heavily water-resistant so it can handle a bit of wetness. That said, other parts like the chain and derailleur are metal and subject to corrosion so it's best practice to lightly rinse off what you can, wipe down any wet surfaces, and apply lubrication spray like Muc Off to avoid rust on metal parts.
Don't keep your battery in cold weather. Bring it indoors for charging and storage. Don't store it at full charge. The battery is an integral part of an ebike. For more detailed info, this guide on how to maintain your ebike battery by Giant Bicycles is very helpful.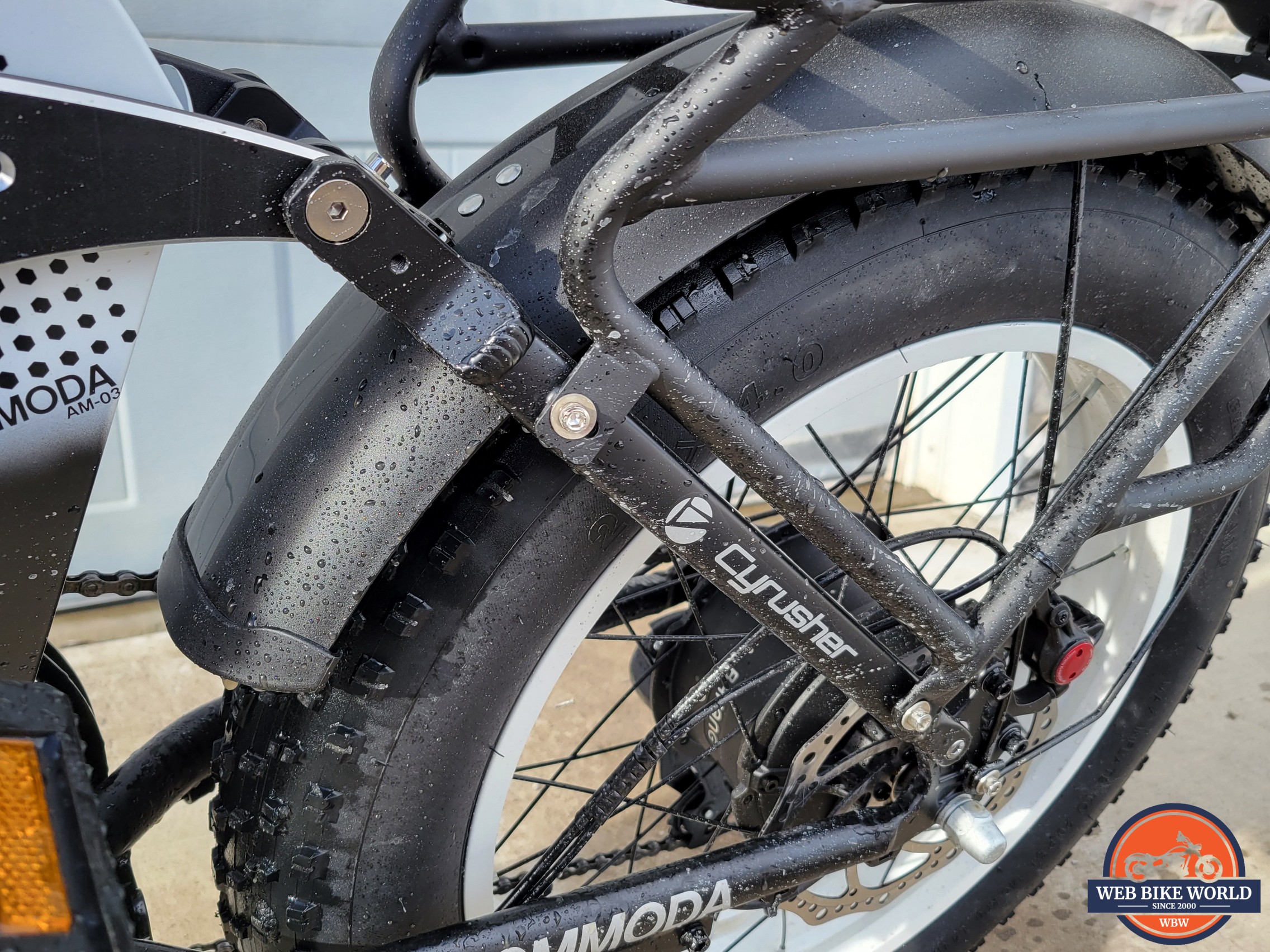 For those who are keen to enhance their winter riding experience even further, there are studded winter tires available for ebikes.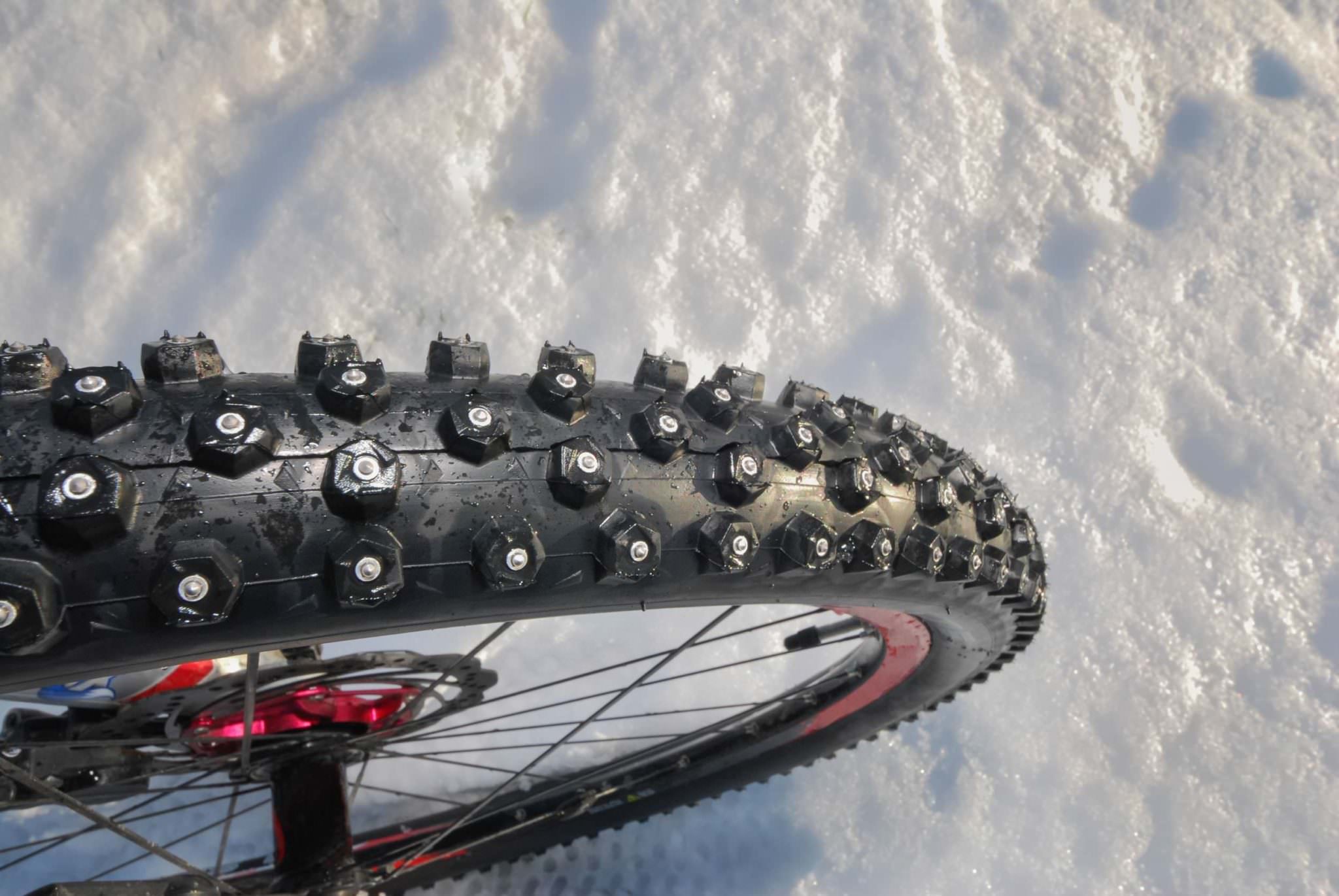 Image Courtesy: Icebike.org
Is The Kommoda Good Value?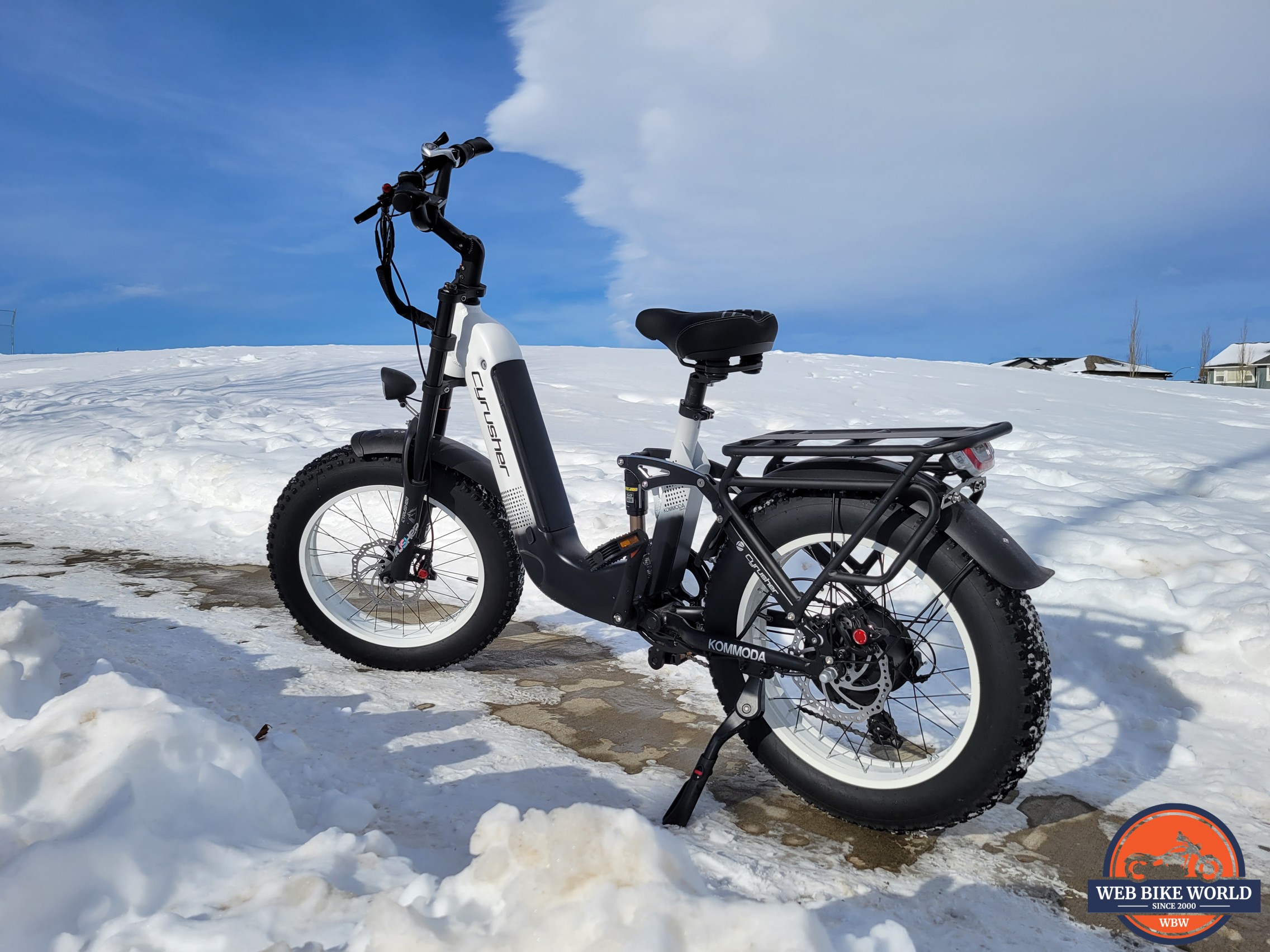 At the time of unboxing, the Kommoda retailed for $2,499 USD which was a big pill to swallow. At time time, I would consider it harder to justify the extra cost from late 2022. However, its revised pricing of $1899 USD is much more in line with what we'd expect.
Comparatively, the Himiway All-Terrain Cruiser  costs $1599 USD while the TurboAnt Nebula N1 cost $1849 USD.
For a bike that utilizes the same 750w Bafang motor and 7-speed Shimano derailleur as many of the ODM brands, it's not overly priced but is definitely nearing the higher end of the entry-level ebike segment. It's not necessarily a bad thing that brands are using ubiquitous components; it means that parts are readily available for replacement as well so you don't need to shell out premiums for proprietary parts.
What I do appreciate about Cyrusher's Kommoda is that it comes with some nice-to-have features such as the preinstalled rear rack and fenders, a handsome LCD display, and components such as the hydraulic disc brakes. It's also a fantastic looking bike especially in bright orange.
Is it expensive? Not particularly. There aren't many manufacturers offering full-suspension ebikes as a step-thru model so considering the comfort and performance that the Kommoda offers, it's a great all-around choice that will check off multiple boxes for most riders looking to get the most of their purchase.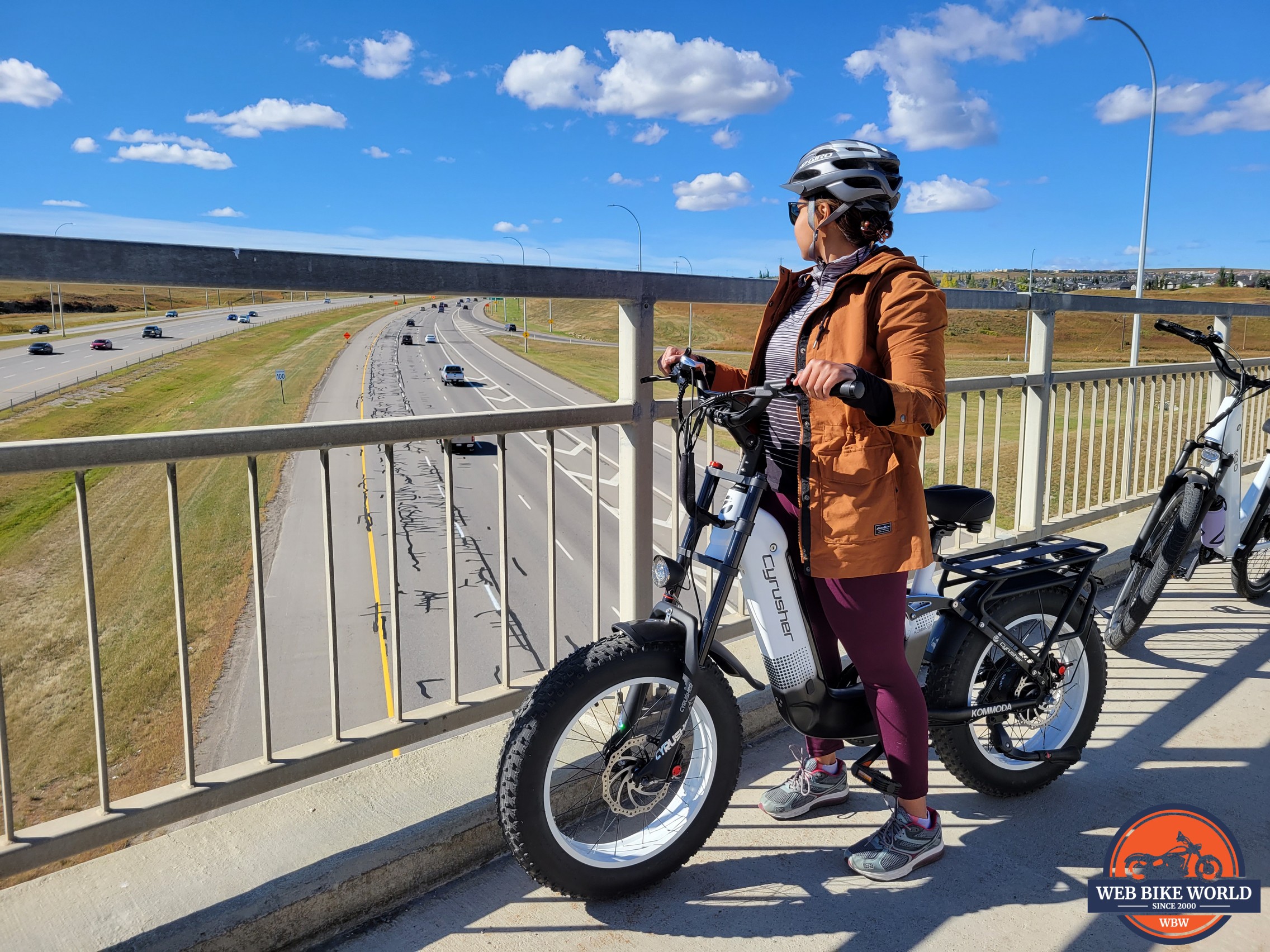 Pros
750w / 80 Nm rear-hub motor makes plenty of power.

Comes with speed limiter removed and can reach 28mph/42kmh. You want speed? You got it.

20" tires and step-thru frame are perfect for shorties and those with less mobility.

Low center of gravity makes it a very cushy ride.

Color LCD is easy to read and the electric horn is a nice addition to the bells and whistles.

Foldable bike pedals make it easier to fit on the side inside of vehicles.
Cons
No quick release on the front wheel (at least on the bike Cyrusher sent to us for review).

Lots of wires at the front of the handlebars detract from its appearance.

May not be as comfortable for riders 6'0 and taller.
Important Links / Where to Buy