Founded in 2014, Cyrusher is an ebike manufacturer with roots in China. They have since evolved into an international brand with a presence in 10+ countries and growing.
Their team reached out to Electric.Travel in August 2022 and we decided to partner with them on a Cyrusher Kommoda review.
The Cyrusher Kommoda is a step-thru design ebike with fat tires that is designed for shorter riders but don't let its stout aesthetic fool you. There is way more to this ebike than meets the eye.
Read on to check out our assembly and first-ride review, and don't forget to check out the Cyrusher 2022 model lineup.
We'd like to thank Cyrusher for providing us with the Kommoda at no cost for the purposes of this (and future) reviews. Brands sending us gear/product for review must agree to our extensive review policies. Thank you for supporting us.
Cyrusher Kommoda Specifications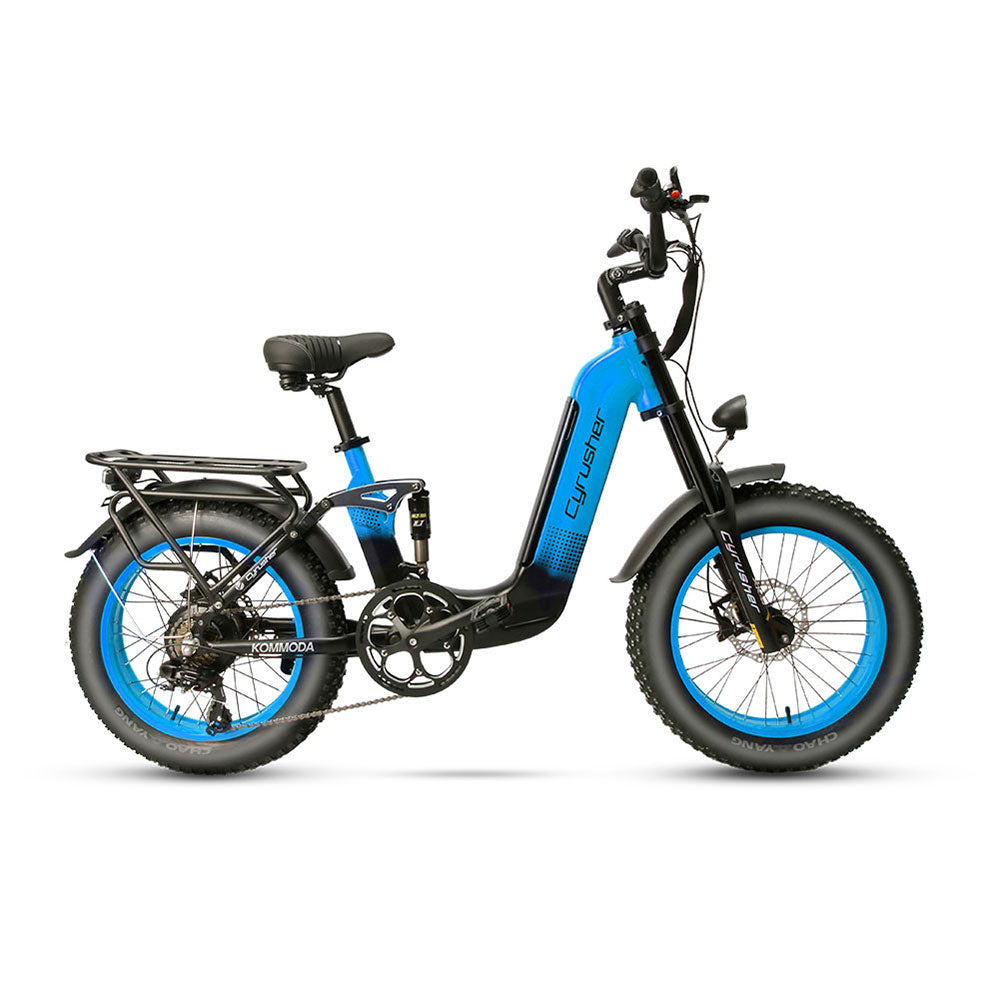 Blue Cyrusher Kommoda – I absolutely love this colour.
Manufacturer website: Cyrusher
MSRP: $2,299 USD (approx $3,100 CAD)
Motor: 750W (1000W peak)
Torque: 80 nM peak
Battery: 48V 14Ah Lithium Ion
Range: Up to 80km / 50 mi
Pedal Sensor: Cadence, 5 PAS levels
Top Speed: 45kmh / 28mph
Derailleur: 7-Speed Shimano
Brakes: Hydraulic brake lever
Tires: 20″ x 4″ puncture-resistant tires
Weight: 74 lbs (34 kg) with battery
Available colours: Orange, White, Blue, Grey
Cyrusher Kommoda Unboxing & Assembly
The Cyrusher box weighs in around 80lb. It's easy to move around with the handle cutouts.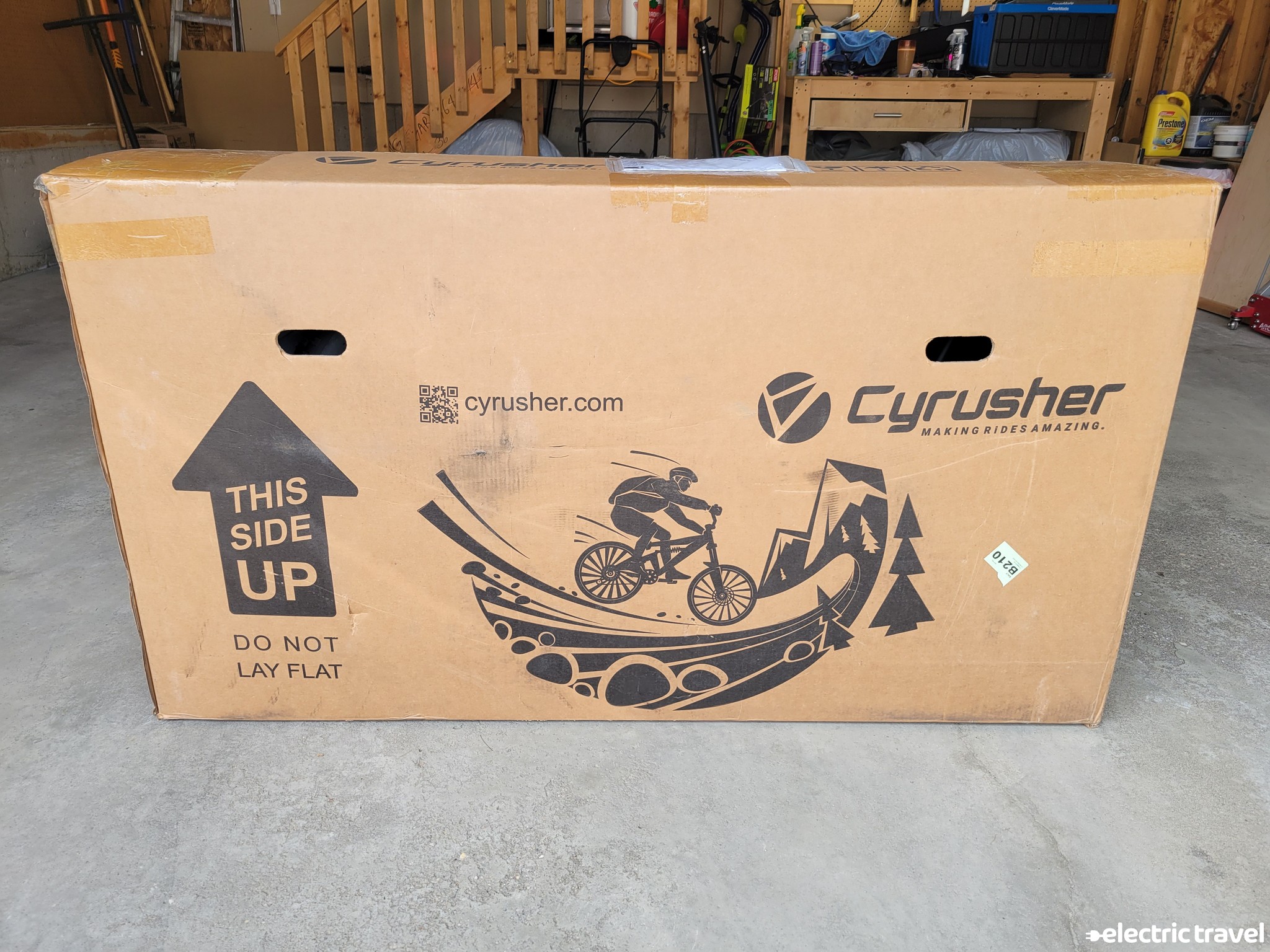 For those who want the short version, Cyrusher's got a great 6-minute video that walks you through the assembly process. Do yourself a favour and take a peek.
Otherwise, if you've got time to spare, read on to learn how I embarrassed myself (3 times so far, reviewing ebikes) putting this ebike together.
The toolkit box comes with everything you need to assemble the bike:
Charger
Wrench
Hex wrench set
Air pump
User guide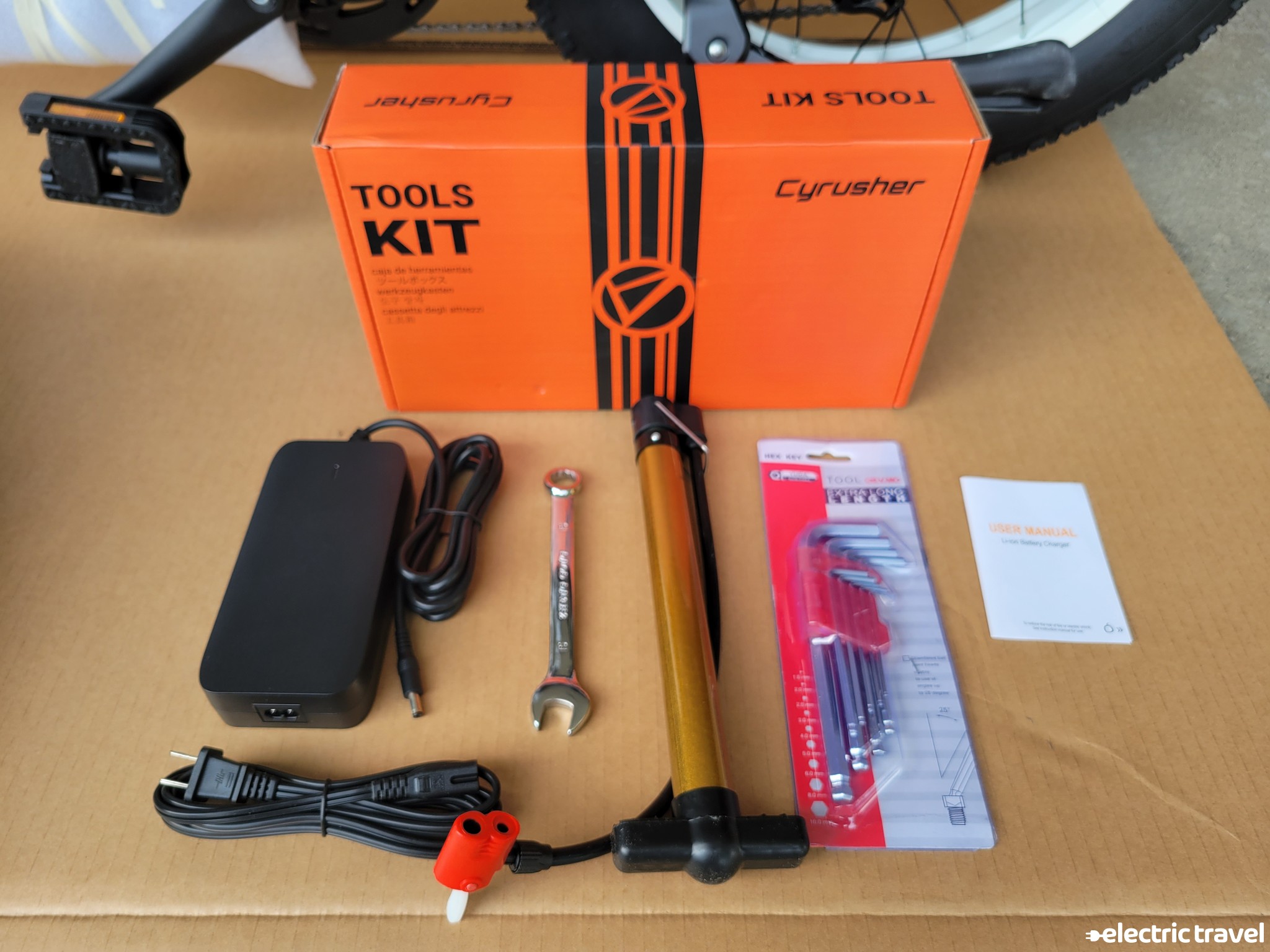 Every serious rider has a pump in their tool chest but it's nice to see that they included one.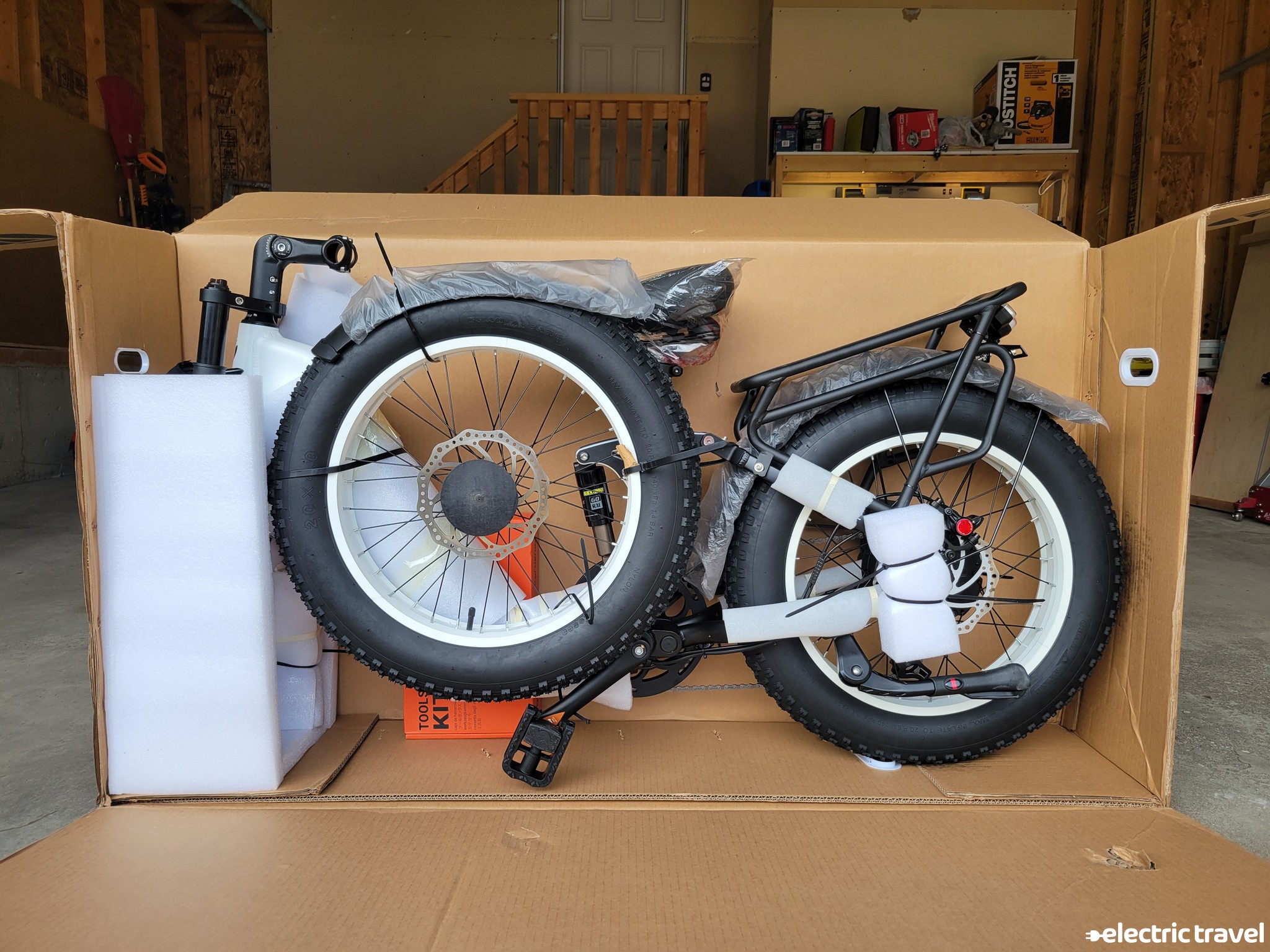 All components packed tight and tight. The handlebars are protected by foam.
Like most ebikes, they come 90% pre-assembled. The assembly process is easily handled by one person and should take roughly 30 minutes.
Reverse the headset 180 degrees
Cyrusher's Youtube video rightfully calls out the first and arguably the most important step: flip your damn headset 180 degrees. In the boxed photo below, you can clearly see that the headset faces towards the seat.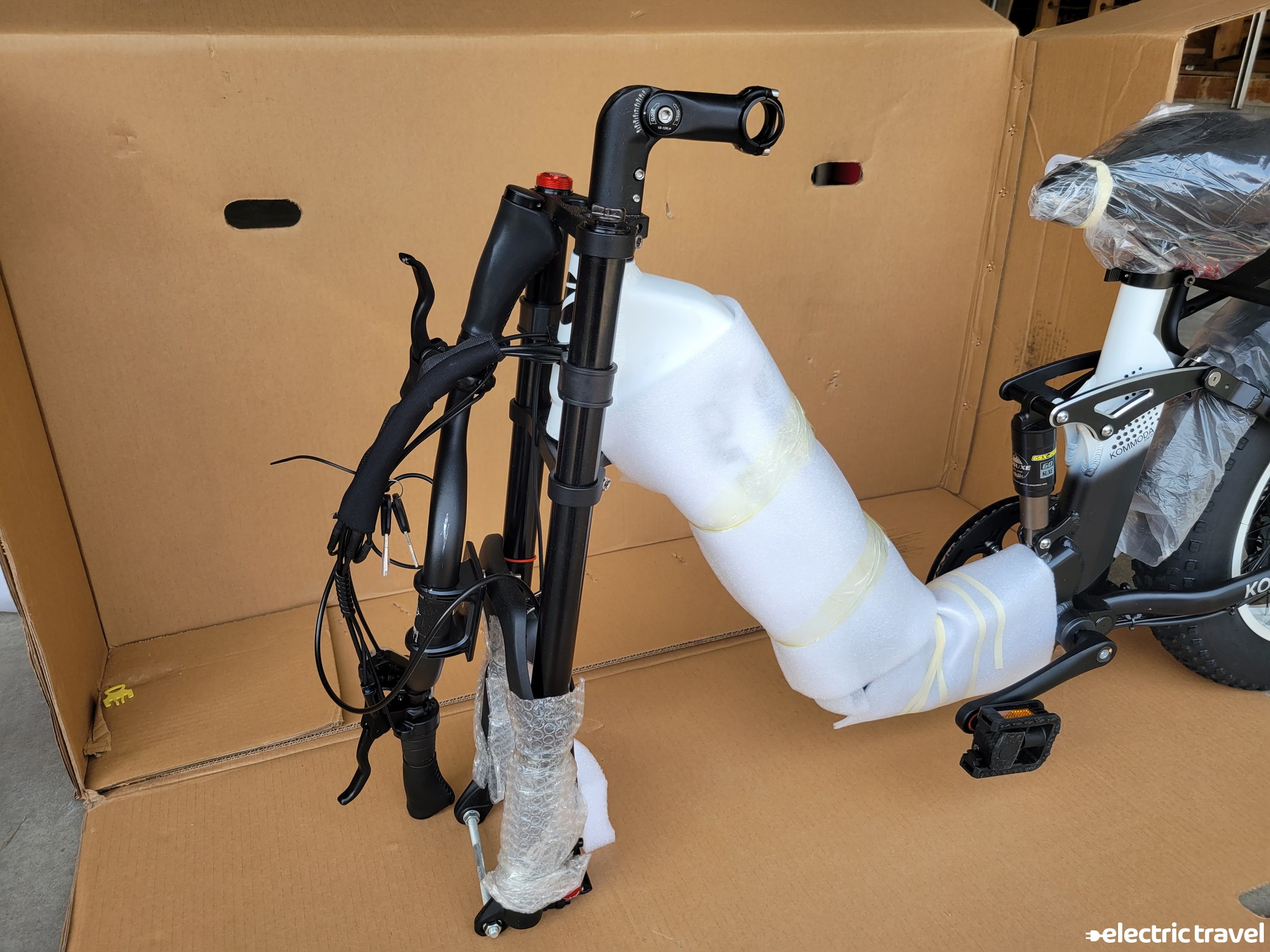 Despite having assembled several ebikes in the past, I still haven't learned my lesson. I promptly put the handlebars on and feeling quite proud of myself, took a look and realized the handlebars were WAY too close to me.
Oopsies.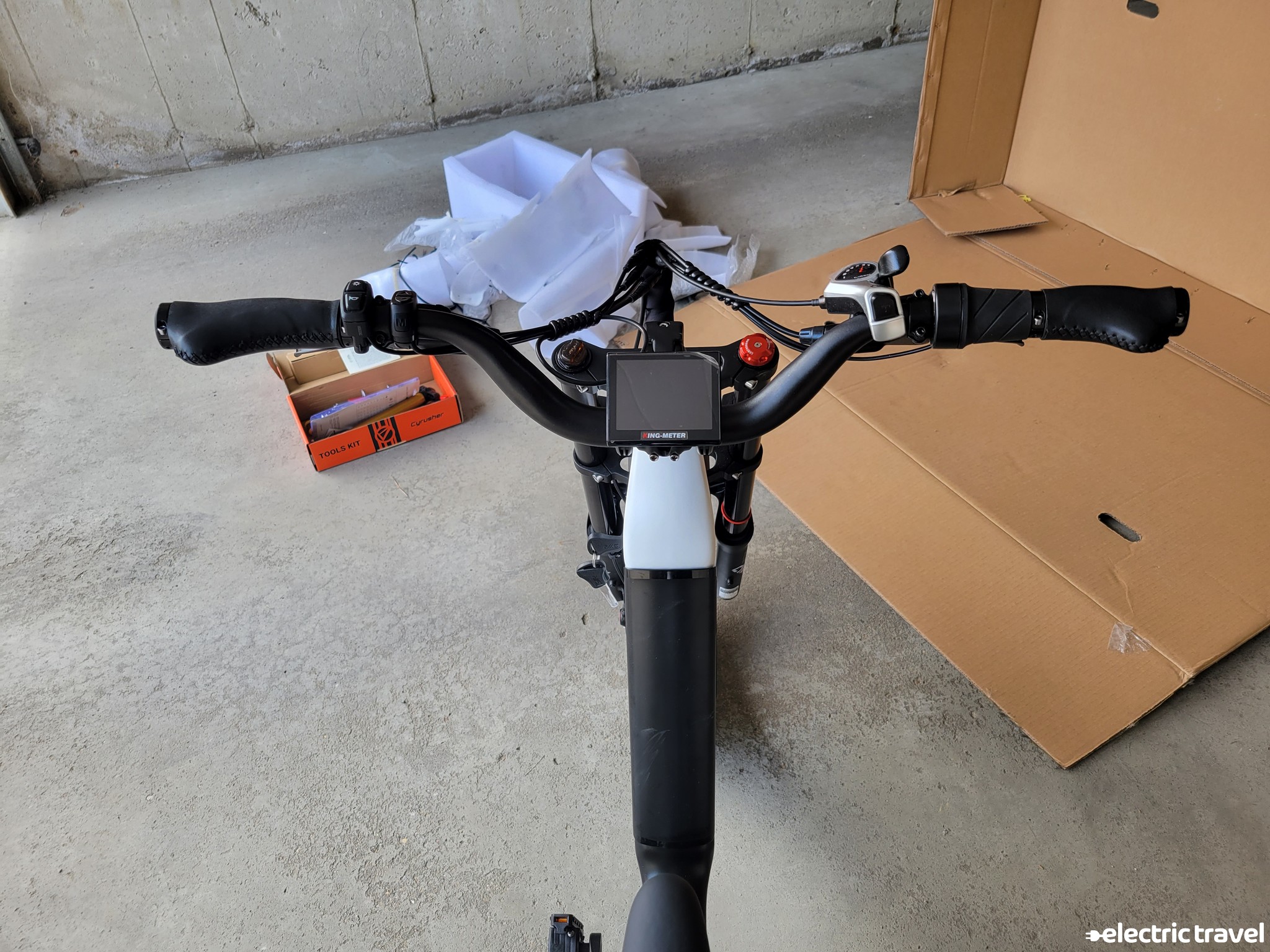 Yeah, this doesn't look right.
The headset is secured by 3 hex bolts. The two bolts on either sides of the stem and one at the top.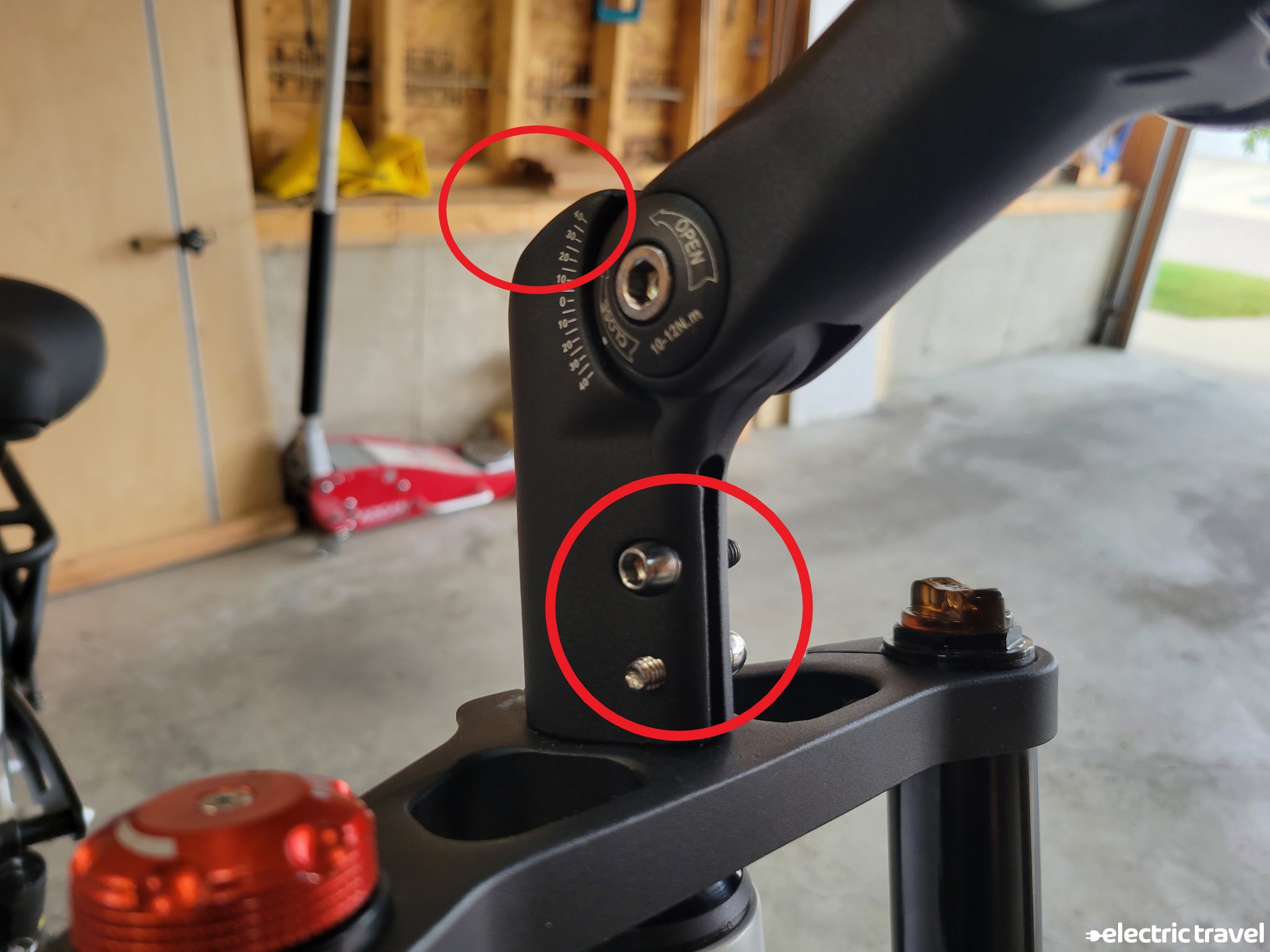 Loosen the final hex bolt at the top and the headset should swivel.
It might be a bit tight, so put some elbow grease into it, ya big wimp.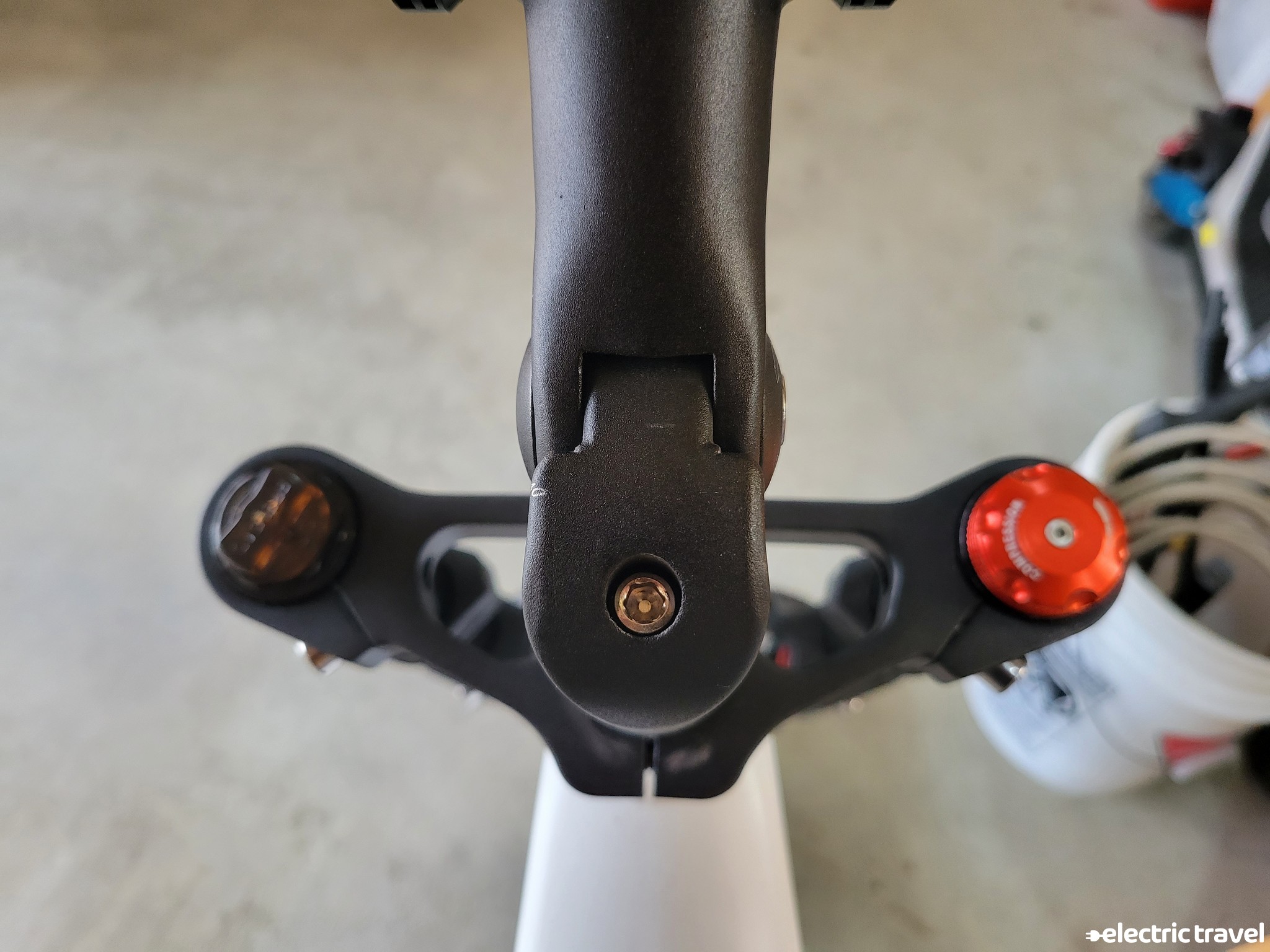 Attach the front wheel
The next thing you need to do is install the front wheel. The Cyrusher Kommoda that they sent did not come with a quick release, so use the provided wrench and take off the placeholder nuts and bolt. Having a second person help with this step will make it easier.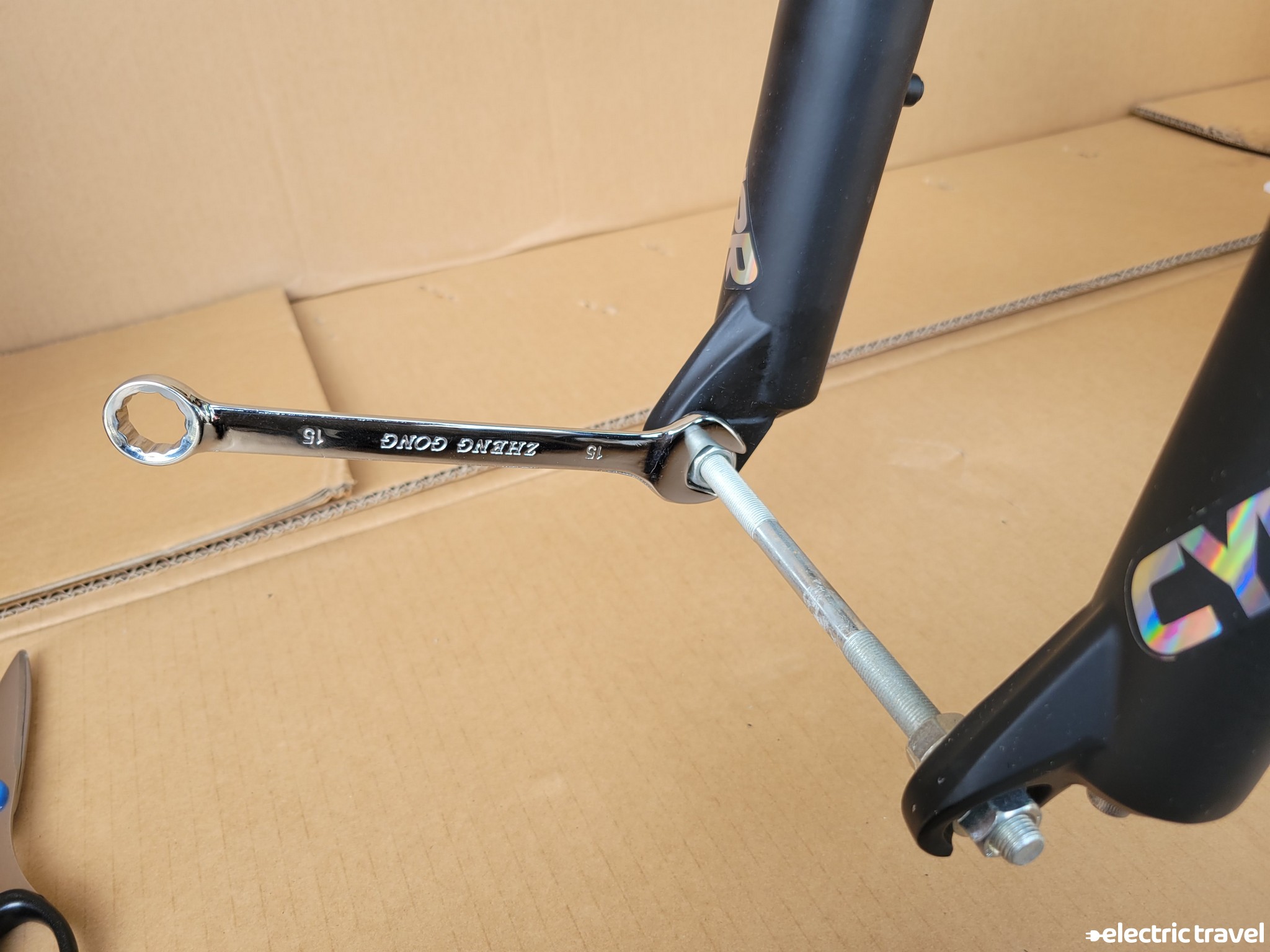 Gently set the front of the bike onto the protruding bolt on the front wheel. Make sure you line up the brake rotor so that it goes into the brake caliper.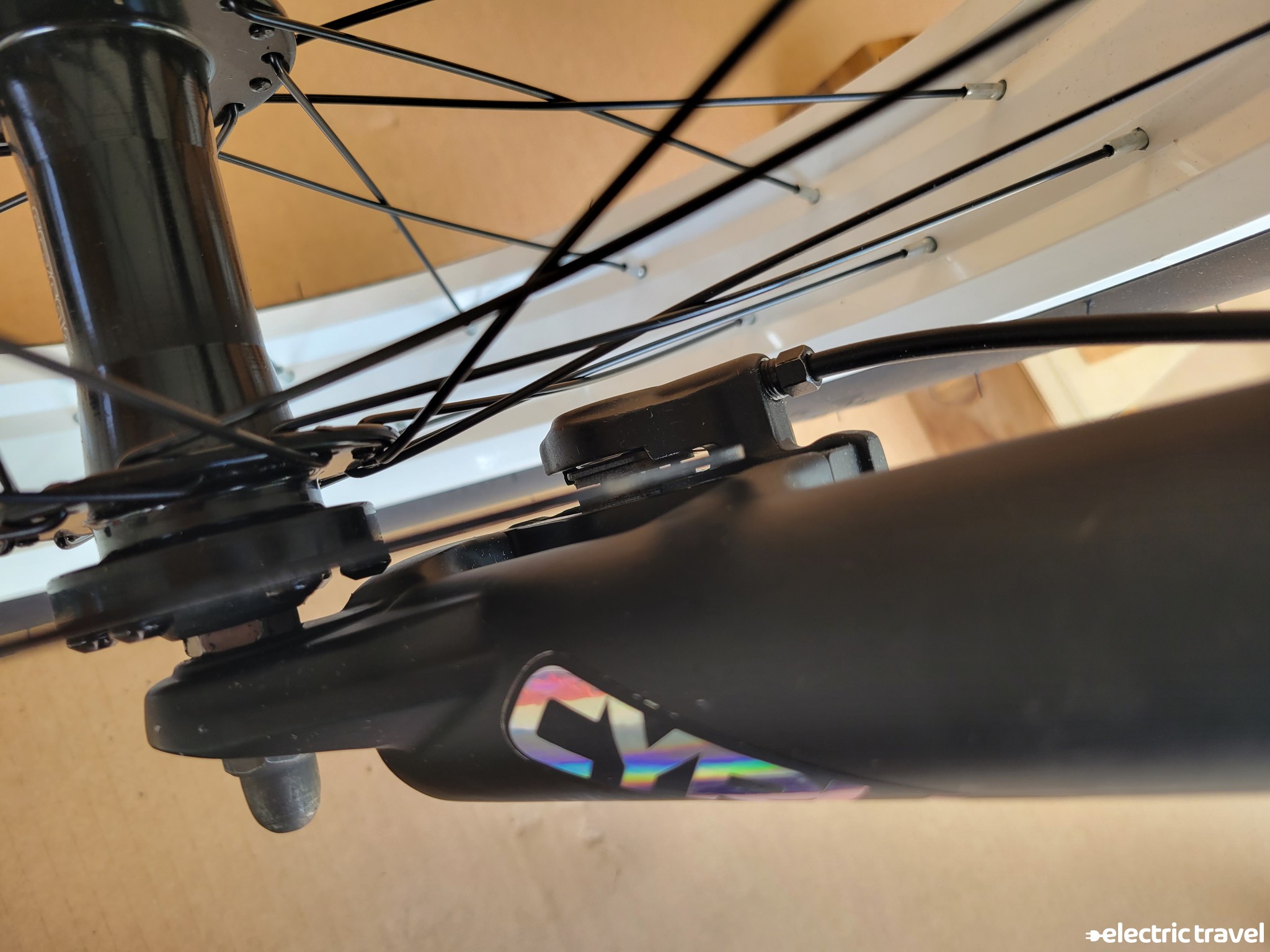 Top down view showing the brake rotor inside the caliper.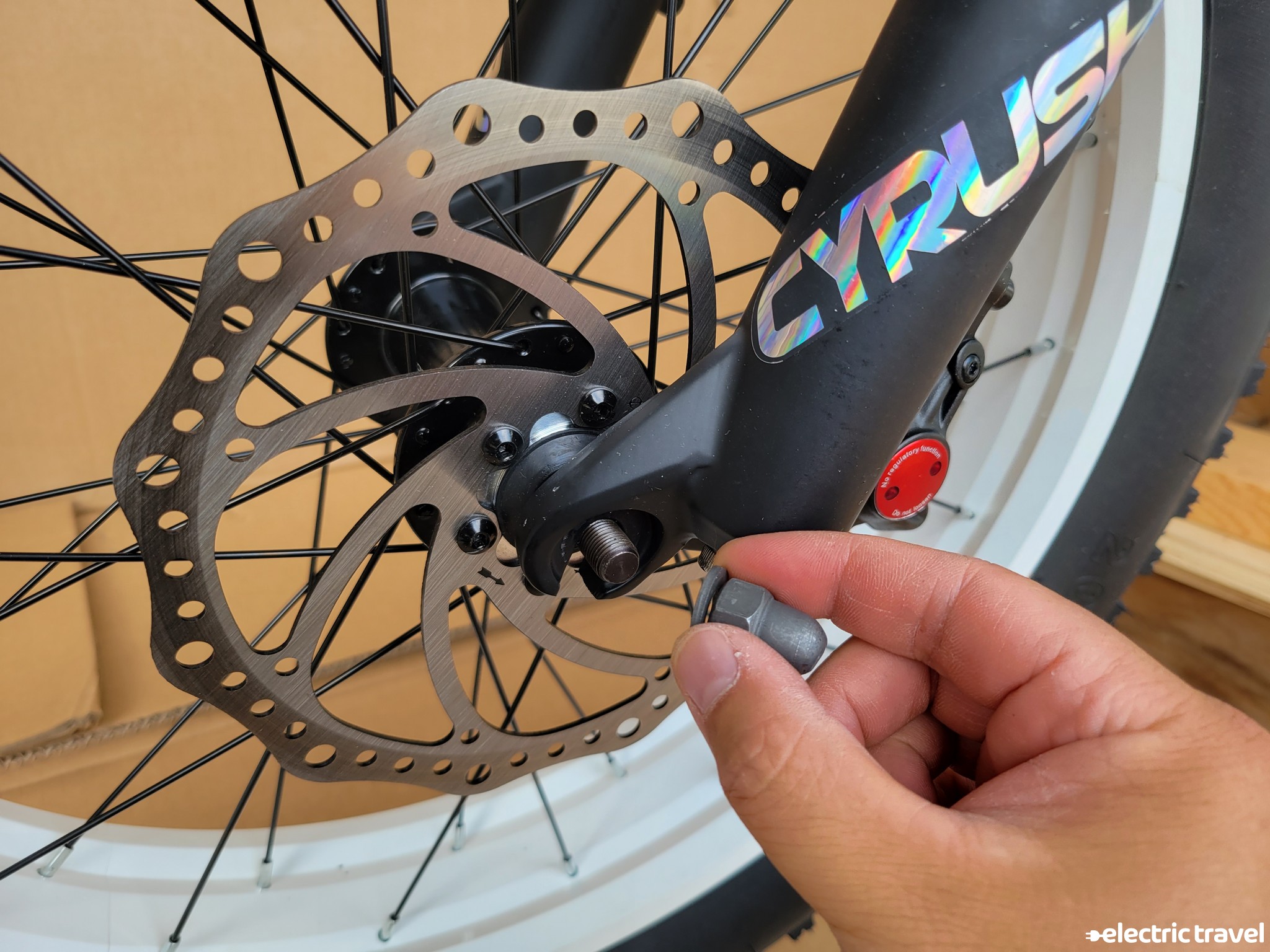 Put the washer on and tighten up the bolts on both sides of the wheel.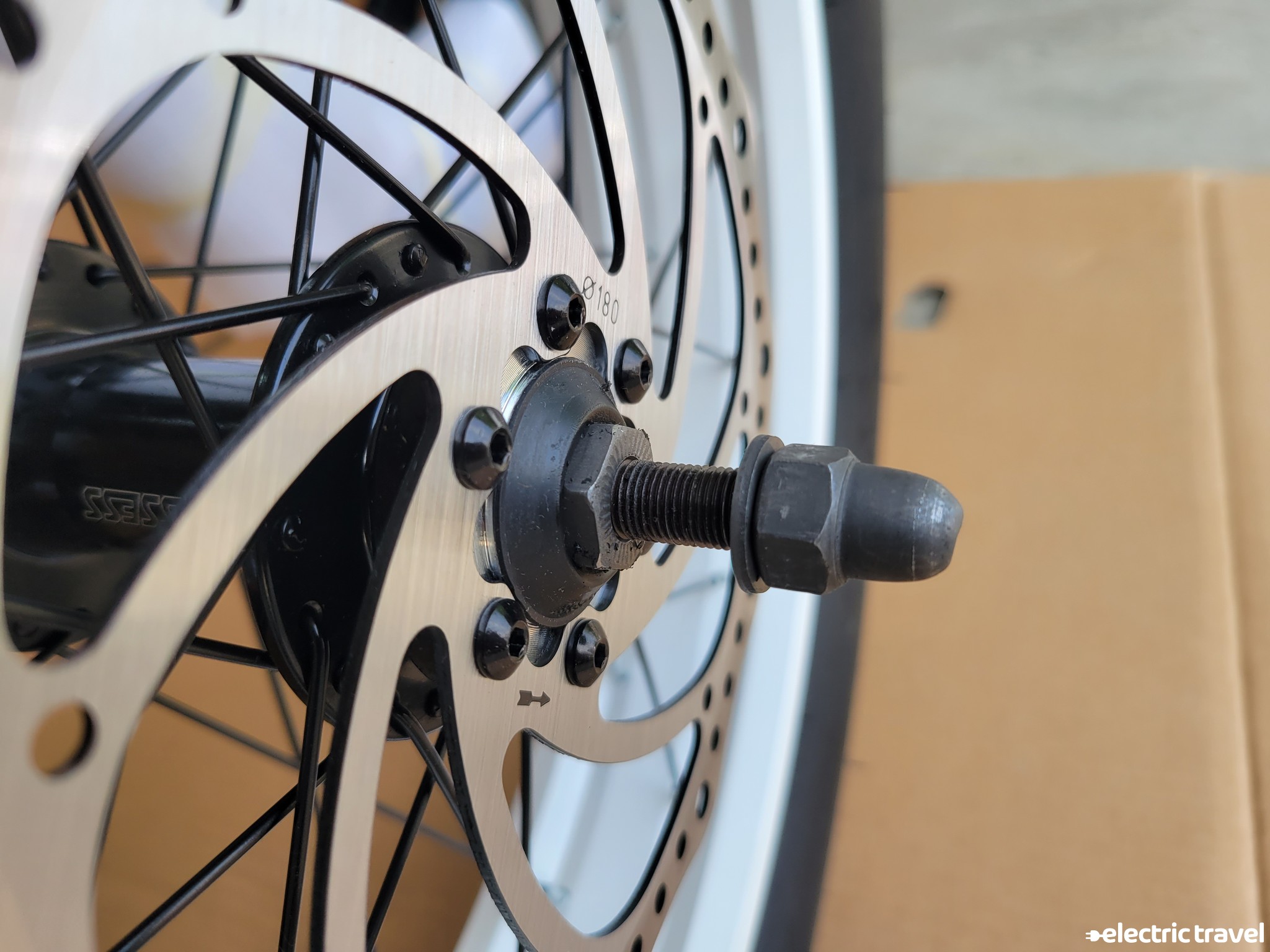 Attach the handlebar
There's a total of 4 hex bolts that you need to loosen to take off the handlebar clamp.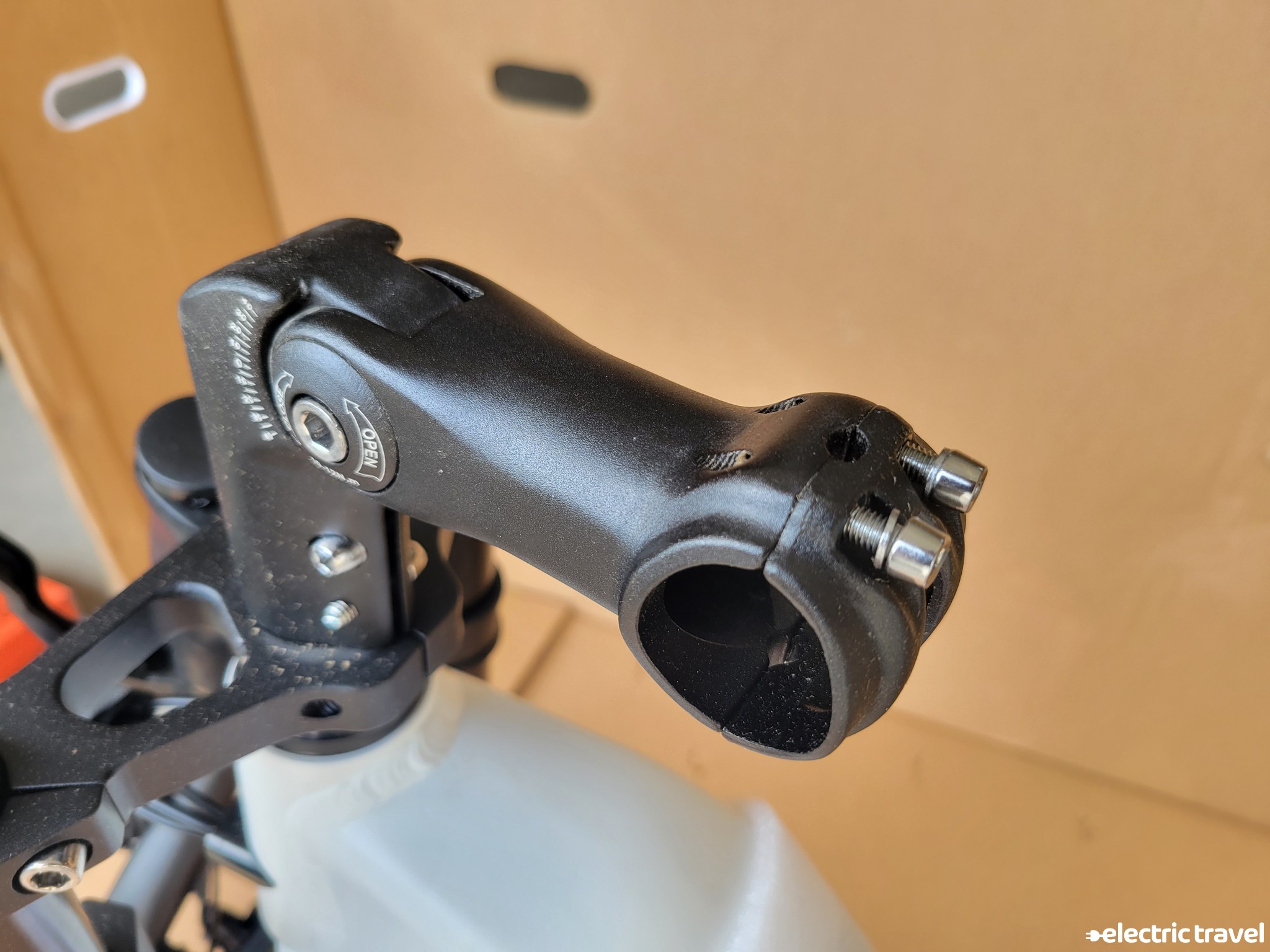 Take the 4 hex bolts off and put your handlebars on. The handlebar has a nice visual guide to help you line it up.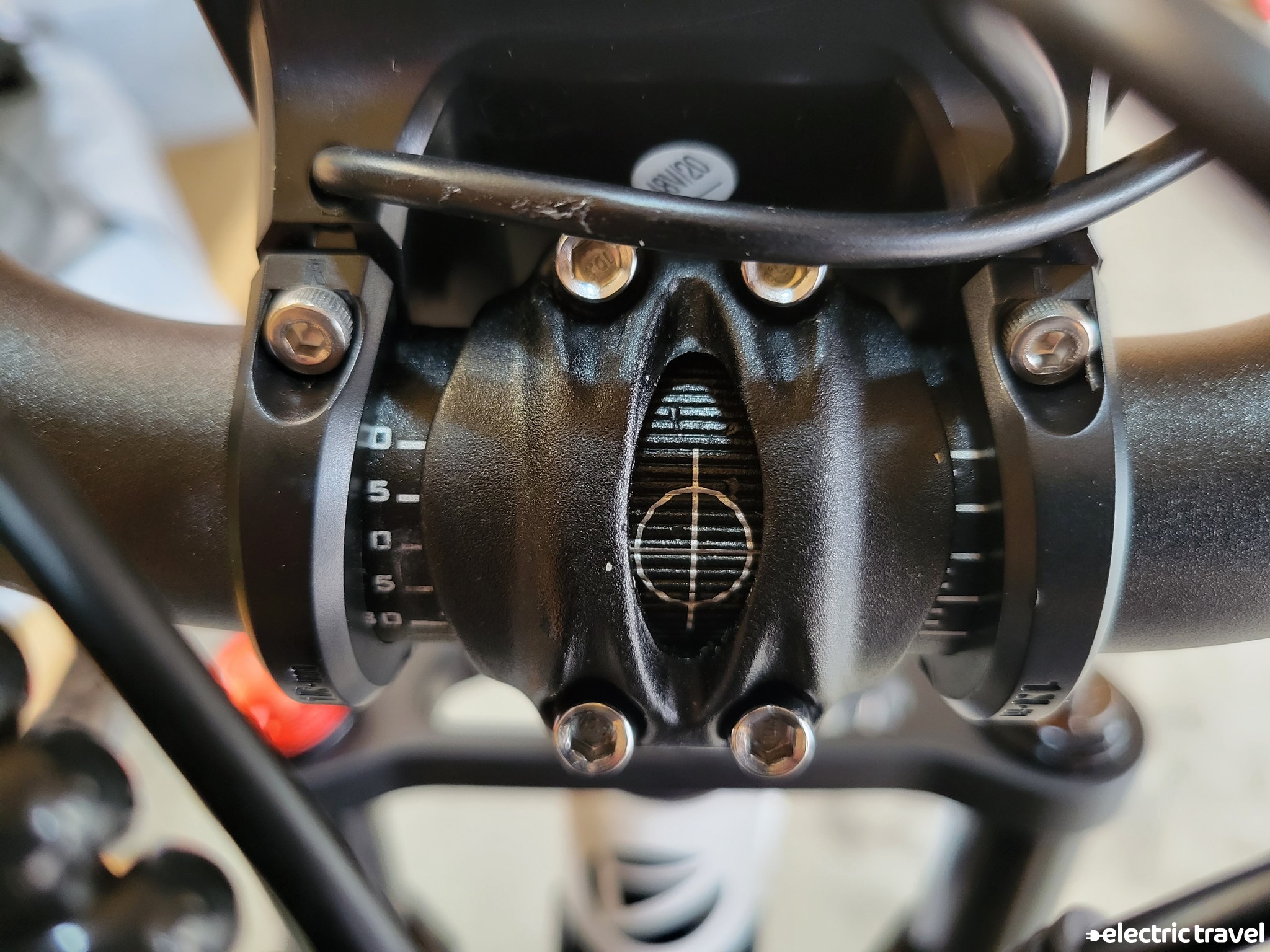 Add your headlight and front fender
The LED headlight and front fender are secured by a washer and hex bolt.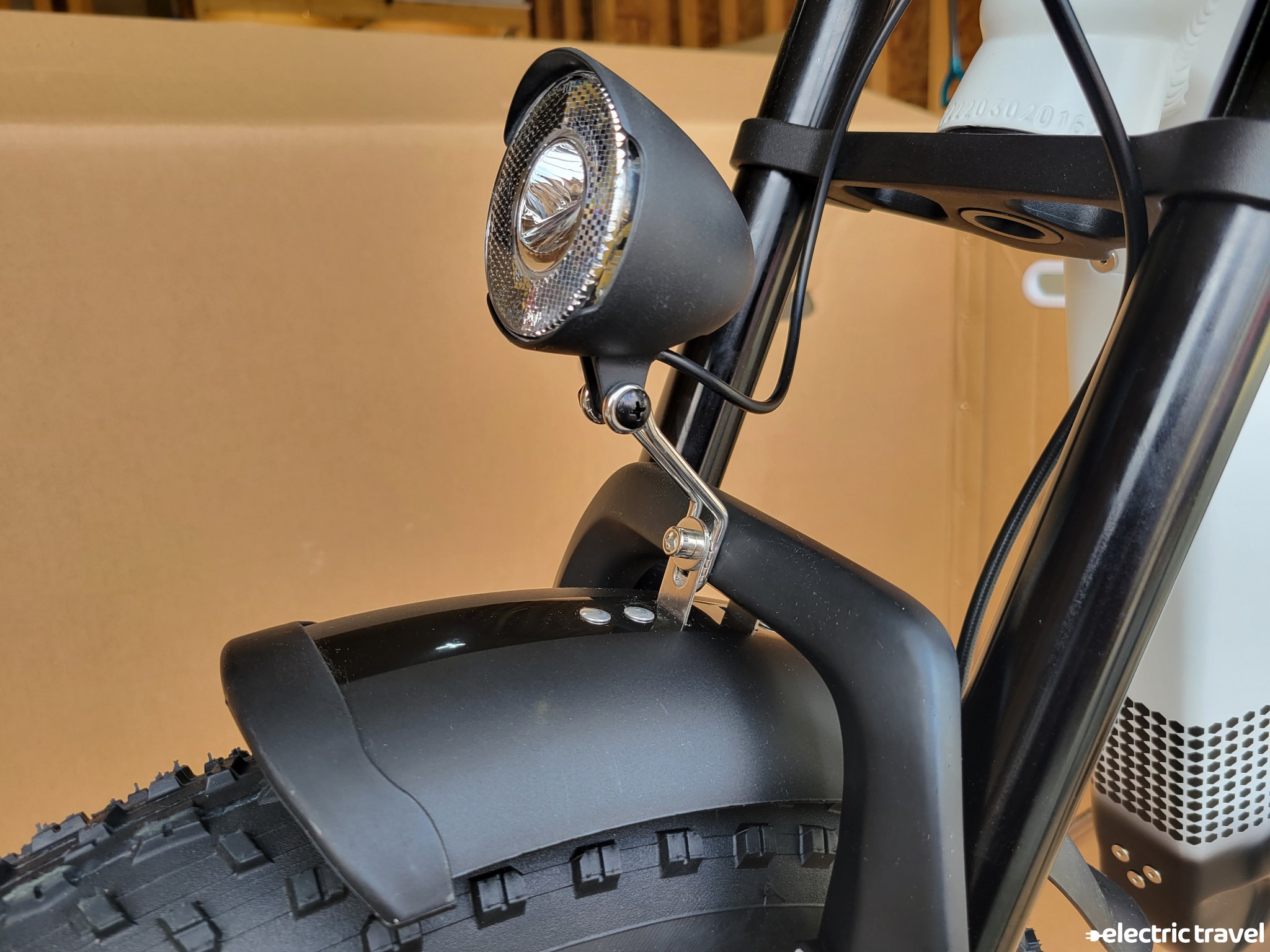 Adjust your riding position
The ebike adjustable angle stem lets riders increase the height and angle of their riding position. It offers 80 degrees of movement and can be set via the hex bolt shown below.
It's a nice feature for riders with shorter arms or those who prefer a more upright riding position. Find what works best for you.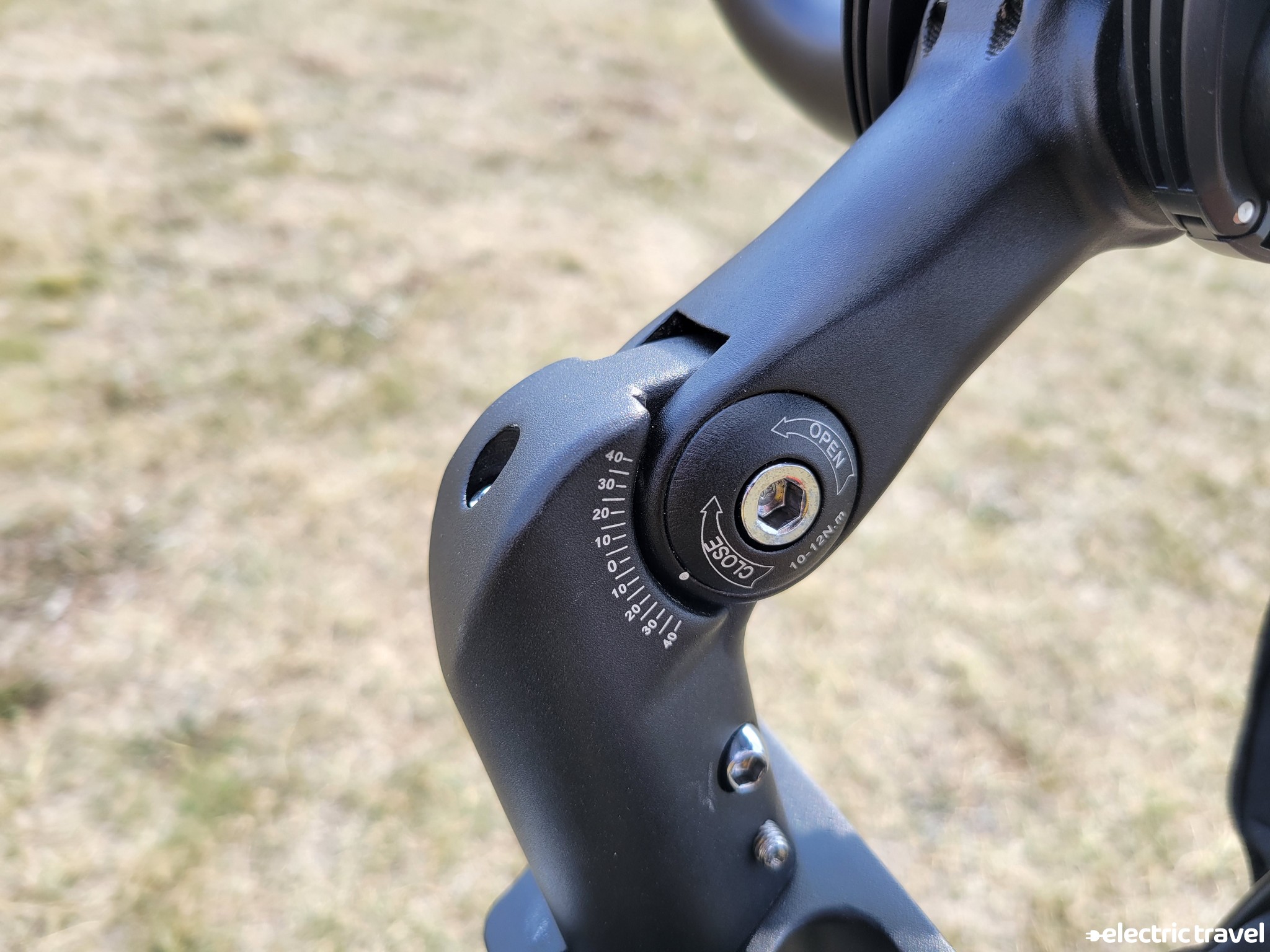 Charge it up!
That's it! You're all done. The last thing to do is to charge up the battery to full and let the fun begin! Make sure that you read the owner's manual if this is your first time riding an ebike.
Customer Service and Communication
I need to take a moment and speak to Cyrusher's customer service. Their business affiliate manager, June, was an absolute pleasure to work with and helped me get this ebike all ready to go. When I initially got the bike, there were some slight issues with the battery and the brake lever which they immediately responded to and took care of.
Cyrusher takes pride in a good experience and as such, they have a large knowledge base of articles including:
It's all laid out on their support page so if you ever find yourself stuck, take a peek and you'll likely find an answer to your question. Barring a self-serve approach, you can always rely on their team to respond to your questions.
Cyrusher Kommoda Components
48V 14Ah Samsung Battery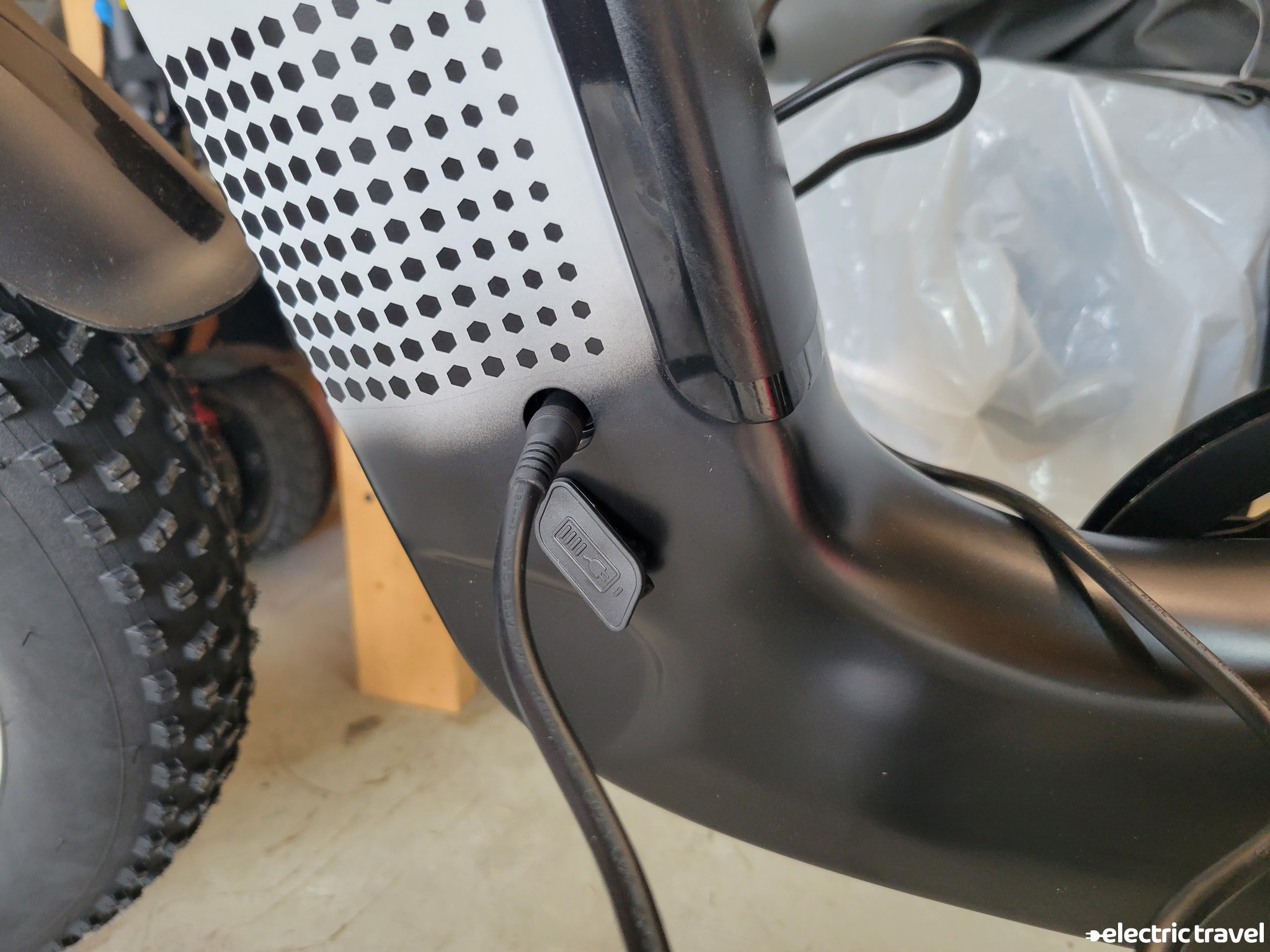 The Kommoda is powered by a 48v 14aH battery. Charging time is roughly 5-7 hours and offers a range of up to 50 mi / 80km.
Bafang 750W Motor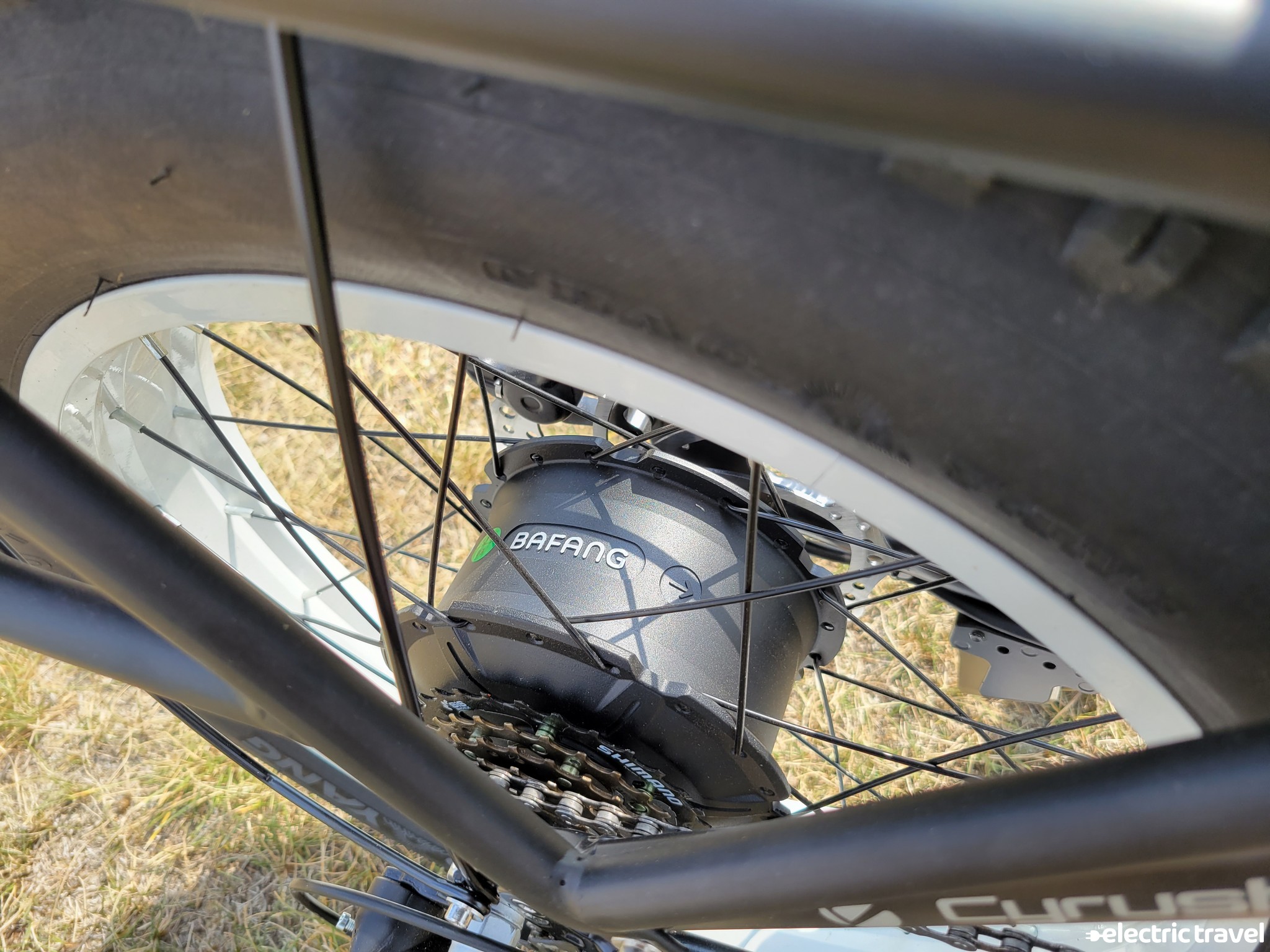 The Bafang 750w motor is commonly used on entry-level ebikes such as the TurboAnt Nebula N1 and Himiway All-Terrain Cruiser.
It's cost-effective and delivers enough oomph to get you moving.
20″ x 4″ Puncture Resistant Fat Tires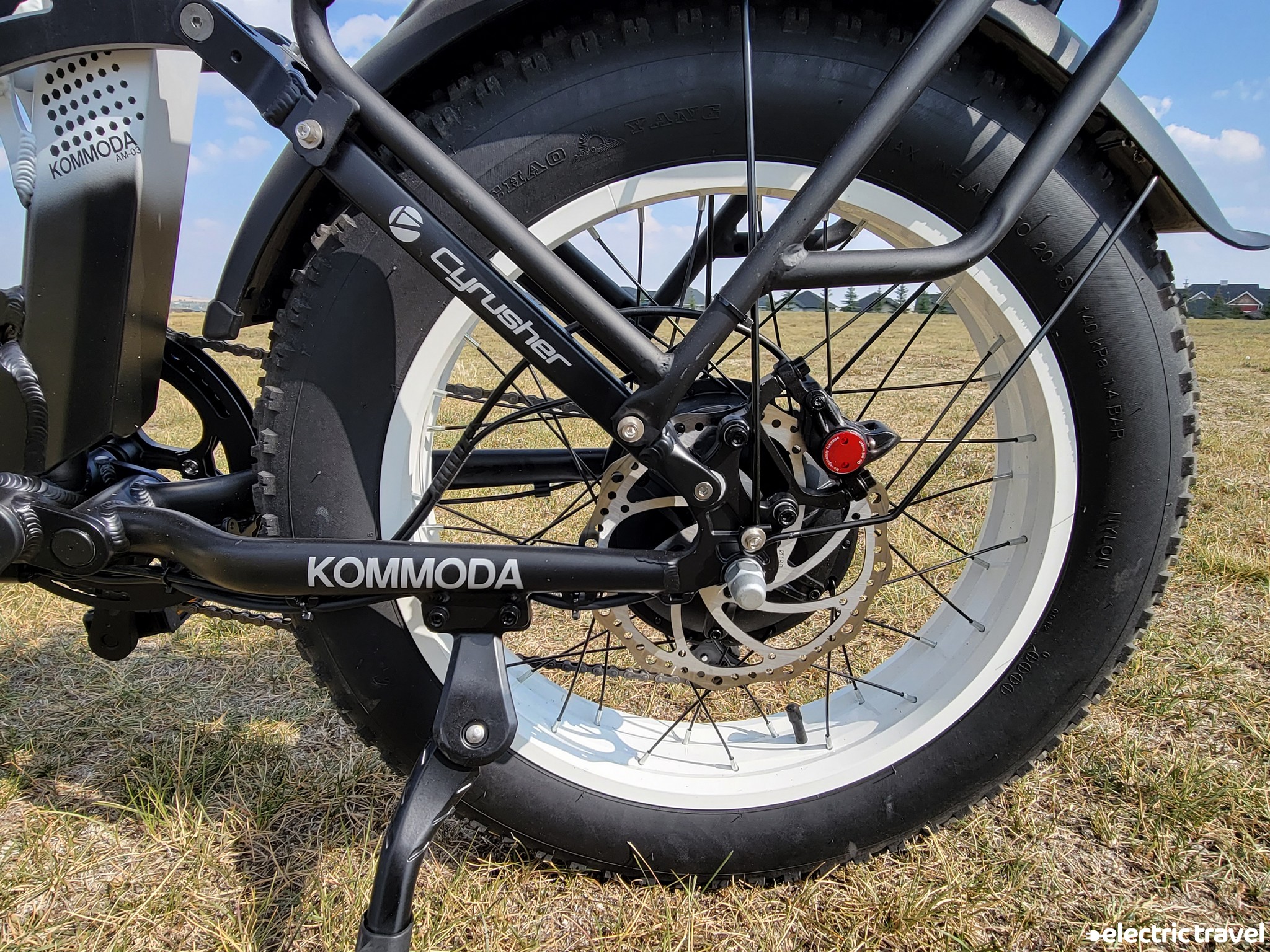 To accommodate shorter riders, the Kommoda employs a step-thru frame as well as 20" fat tires whereas other eMTB's (electric mountain bikes) use a standard-size 26" tire.
Colour LCD Display, Settings Menu, & PAS/Light Switch
I've touted similar sentiments in my Varla Pegasus review, and it's the fact that I absolutely love big coloured LCD displays.
The Kommoda is no exception with its K5242 LCD screen. The screen incorporates your speedometer, battery life, PAS level indicator, odometer, tripmeter, and wattmeter.
Everything is laid out cleanly and easy-to-read.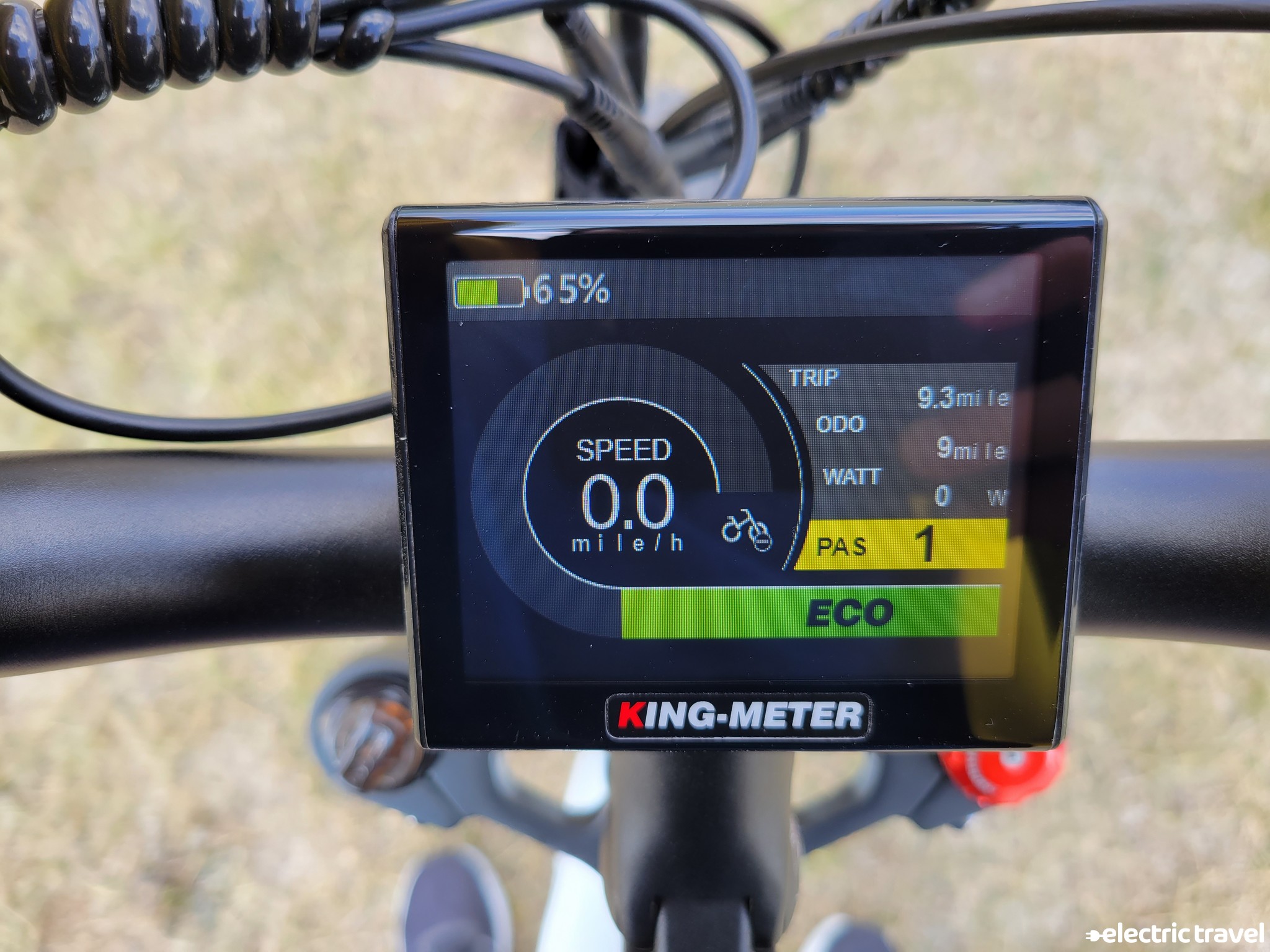 One of the unique features that I have not yet reviewed on an ebike is the electronic horn. Ebikes typically ship with a bell but the Cyrusher features a battery-operated horn to alert others to your presence.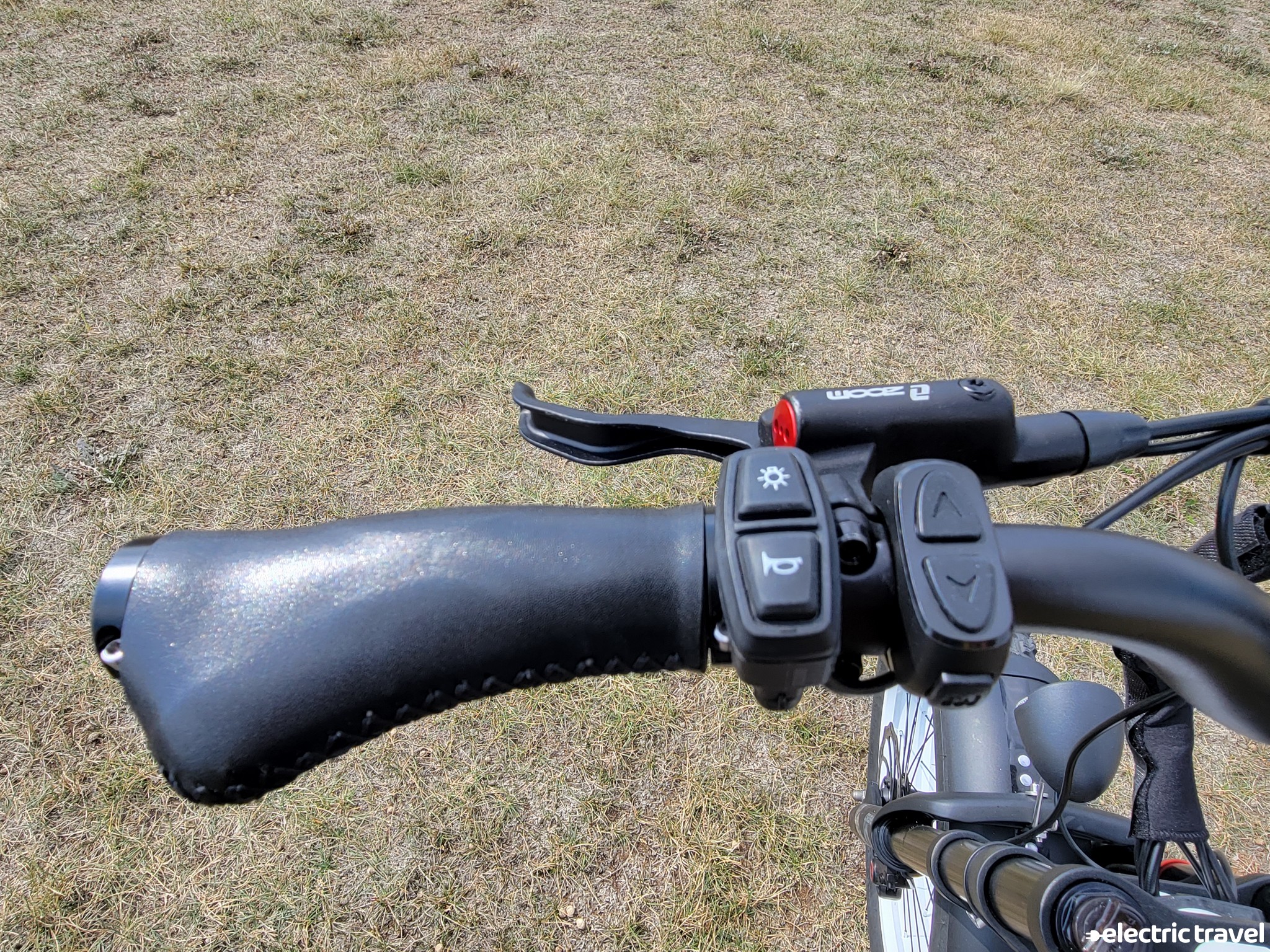 The left handlebar controls your headlight, horn, and PAS speed levels.
Front & Rear LED Lights
The front has a 250-lumen headlight which can be toggled via the left handlebar controls.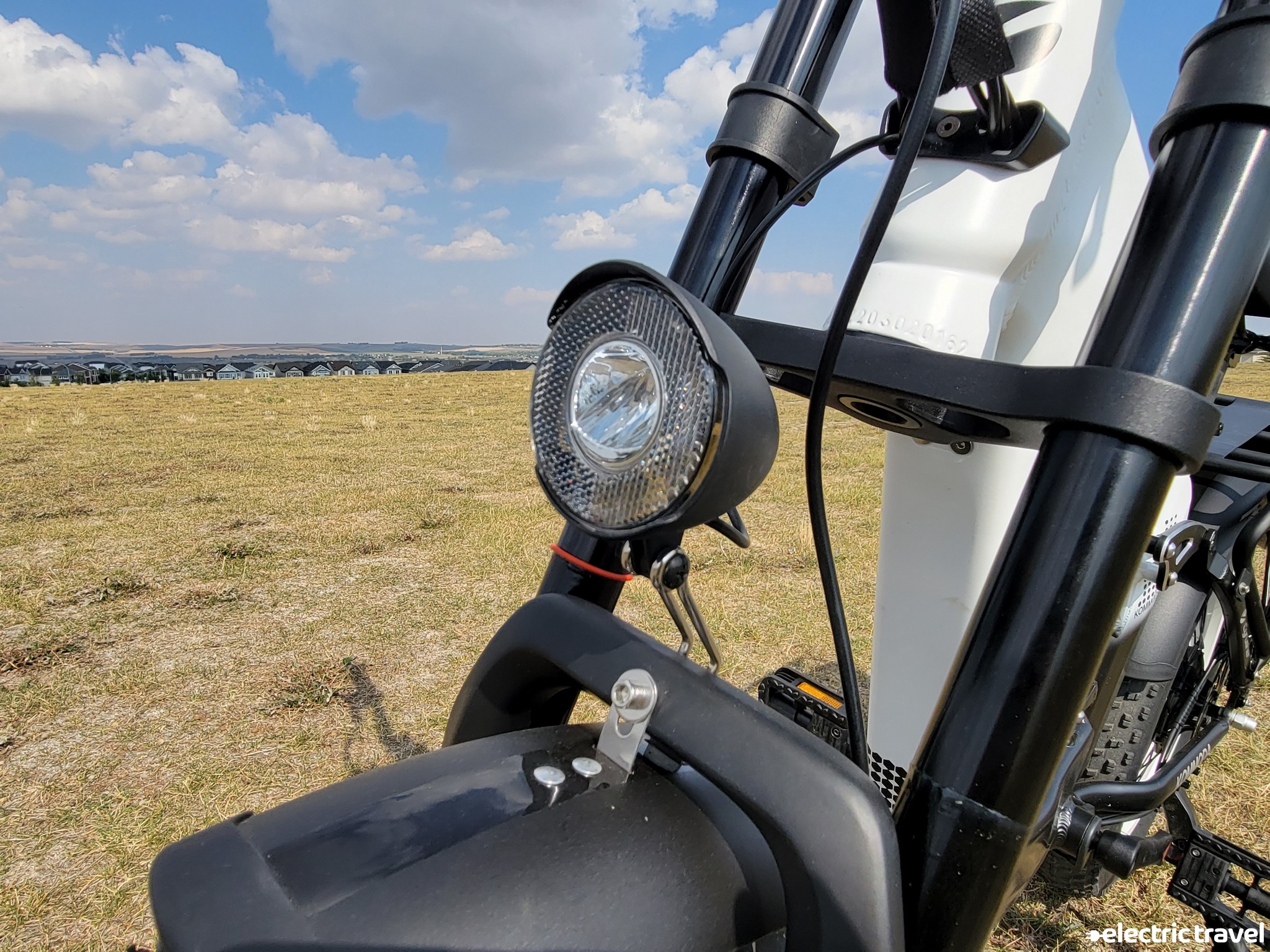 The taillight is attached to the rear fender and integrated with the pre-installed rear rack. It emanates a solid red light when lighting is toggled, but does not blink when braking.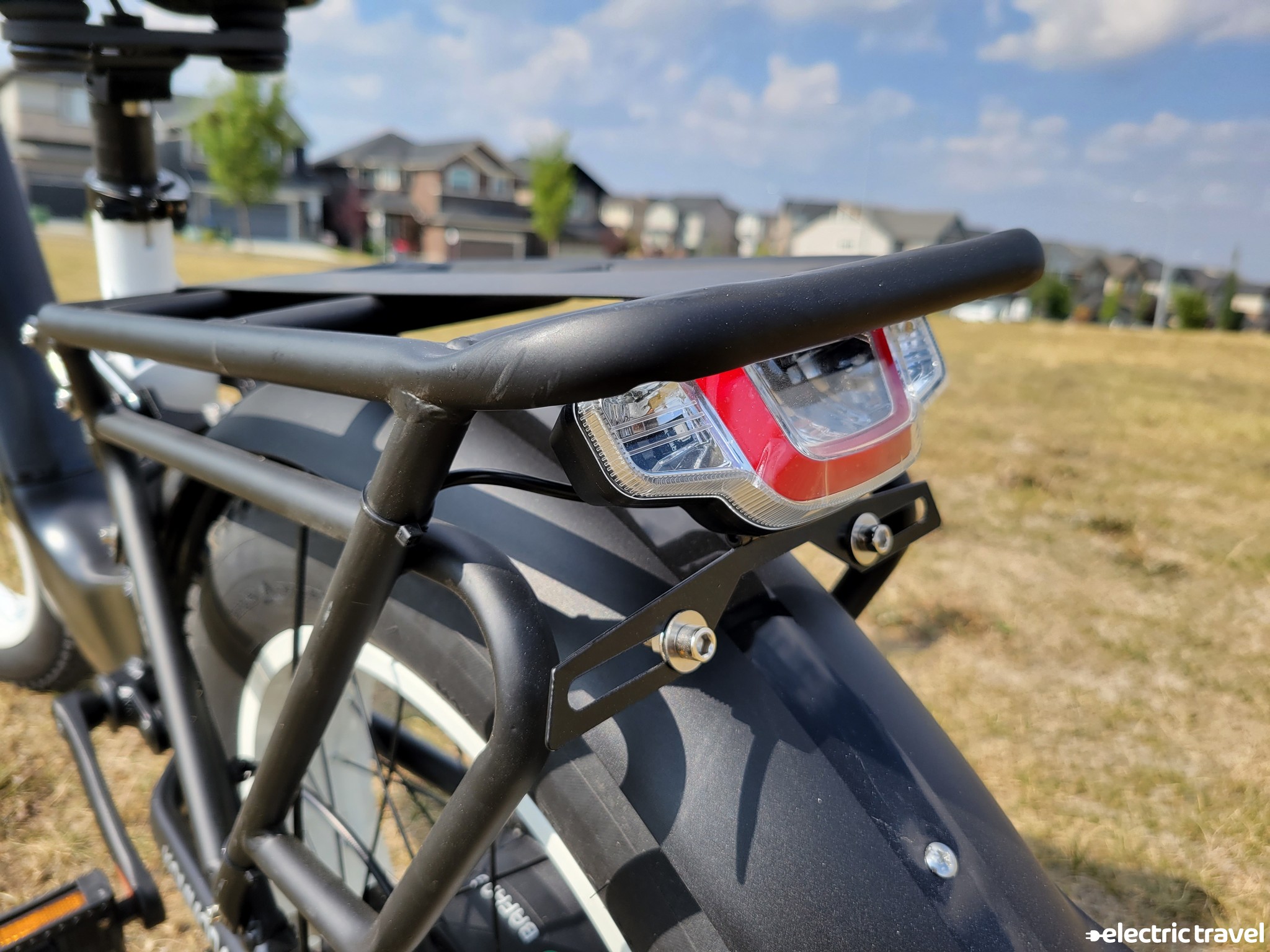 Shimano Tourney Shifter + Shimano Altus Derailleur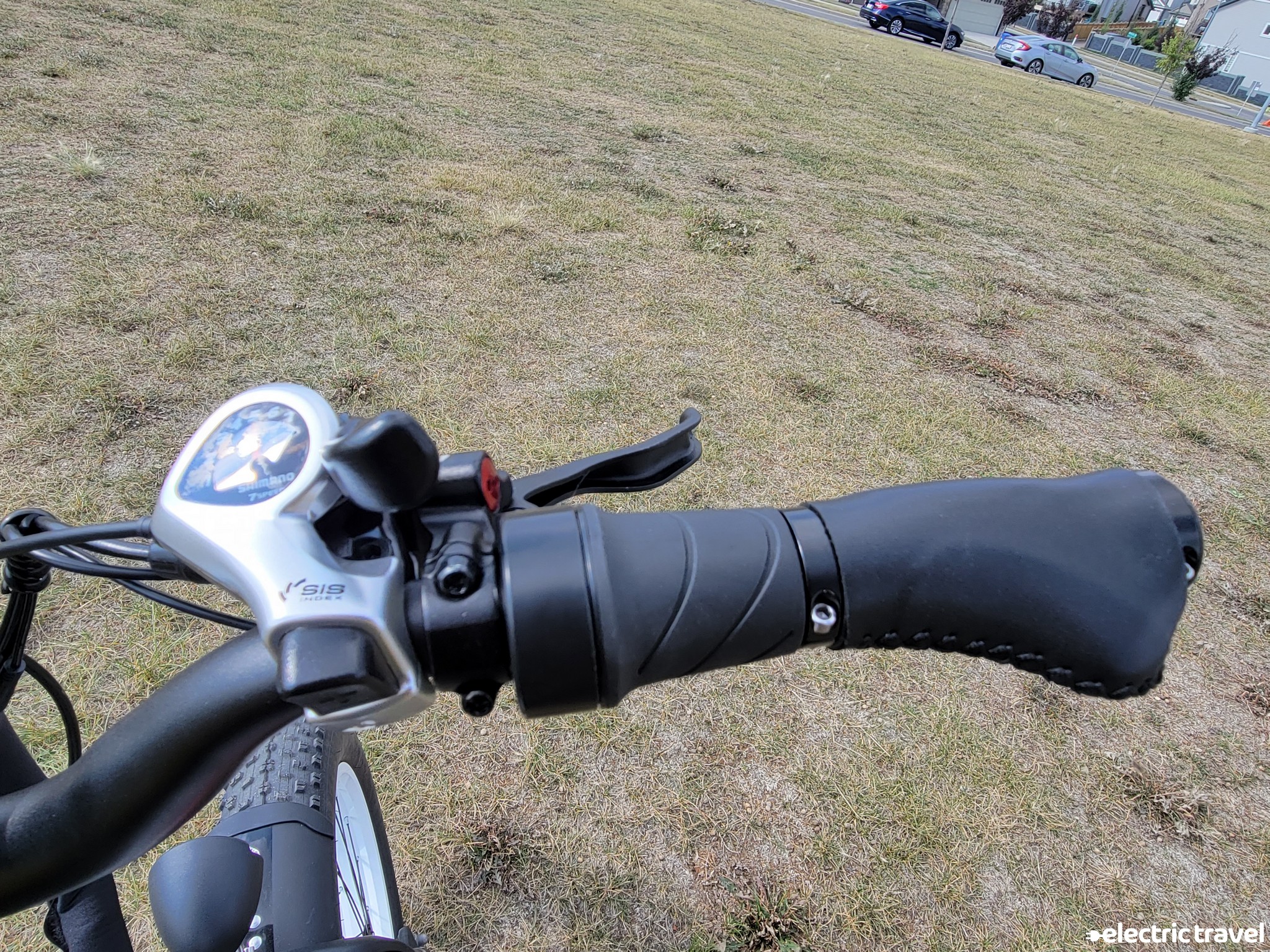 The Kommoda uses yet another common entry-level bike component, the Shimano Tourney shifter and 7-speed derailleur, alongside the twist throttle on the right handlebar.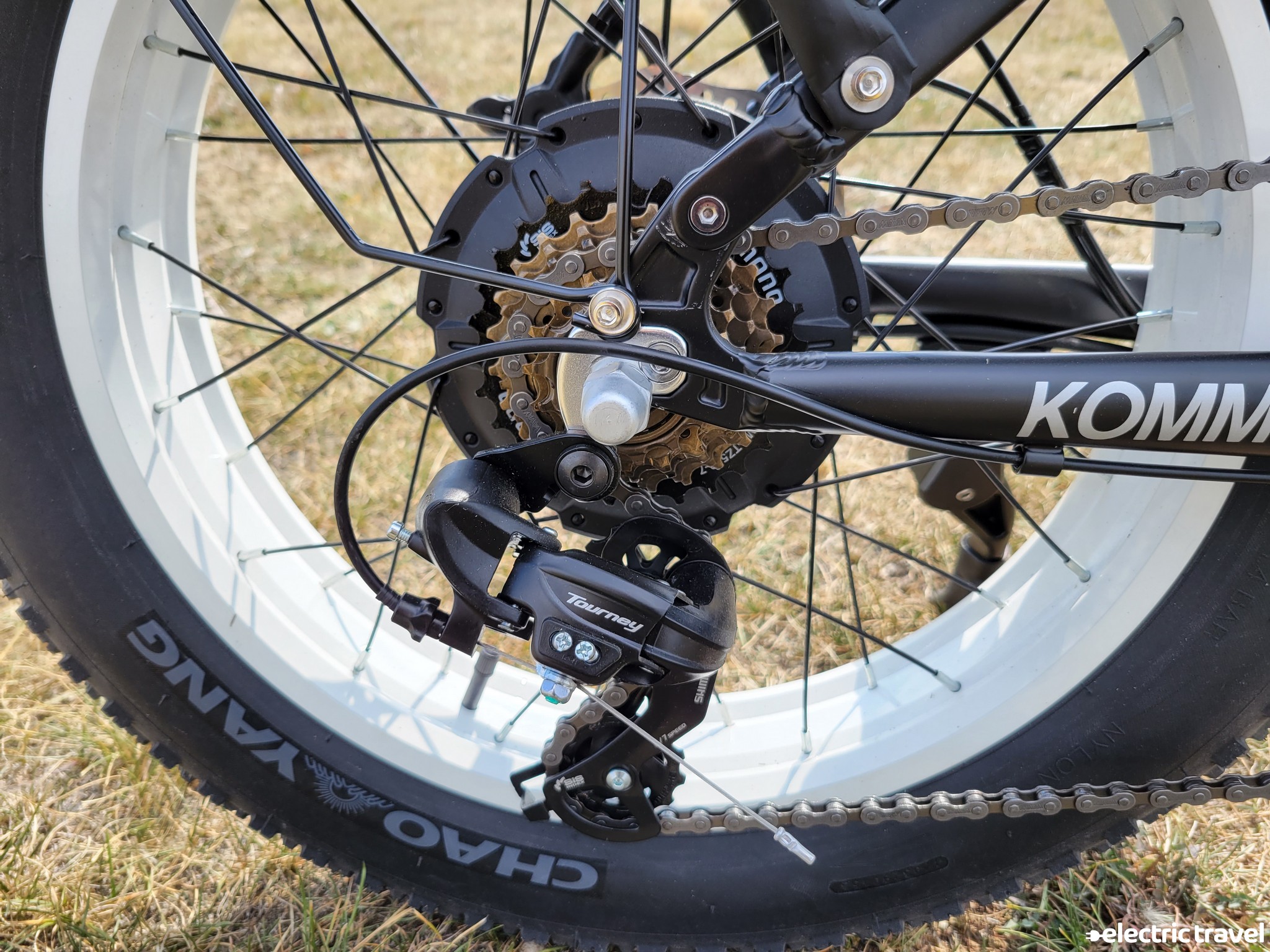 Full Suspension Setup
The Cyrusher Kommoda has a unique look to it. In addition to the front fork suspension, it also has a rear spring suspension right below the saddle seat.
The frame is well-built and it features lockout and a 110mm preload adjustment.
Since the tires are a smaller 20", what you get is a nimble ride and a lower center of gravity.
Cyrusher Kommoda First Ride and Impressions
I took the Kommoda out for a quick ride around the neighborhood. The LCD colour display was easy to read in the daylight and the Shimano 7-speed shifted smoothly.
The first thing I did notice was there was no speed limited on the Kommoda. Wait, what?
The max speed on this bike is 45kmh / 28mph, which is way higher than the 32kmh / 20mph speed limit that Class 2 ebikes abide by.
The preload adjustment is easy to use and you can change it on the fly to suit your riding style.
I look forward to riding this ebike throughout the fall season as we work our way to the long-term review.
Cyrusher Kommoda Photo Gallery