After the initial unboxing of the Himiway Fat Tire Cruiser, I was eager to get on the road and start putting it through its paces. I managed decent rides before Germany (where I'm based) decided to experience its wettest summer in over a decade. I'm not made of sugar, by any means, but wet trails and unseasonably chilly weather certainly took the zest out of any long-distance rides.
Luckily, the weather managed to turn itself around, and we enjoyed some semblance of summer. I've easily gone over the first 100 km, and I can safely say that I have pushed the Himiway Cruiser to its limits, both on- and off-road, and in a wide range of situations.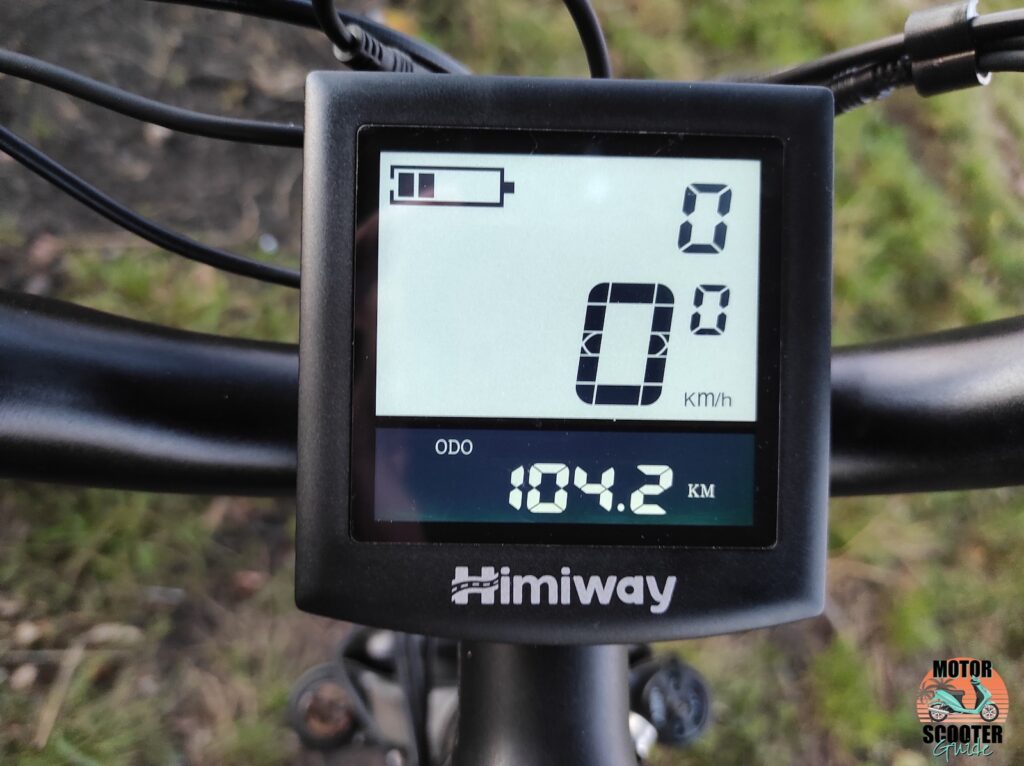 I haven't quite been as enthusiastic in my testing methods as my dear colleague Cameron Martel (who bravely uploaded some images of the injuries he attained trying to find the limits of the Himiway Cruiser Step-Thru in his recent review). Still, I think I've done a decent job of learning how this bike operates.
But first, a bit more about Himiway and its place in the market.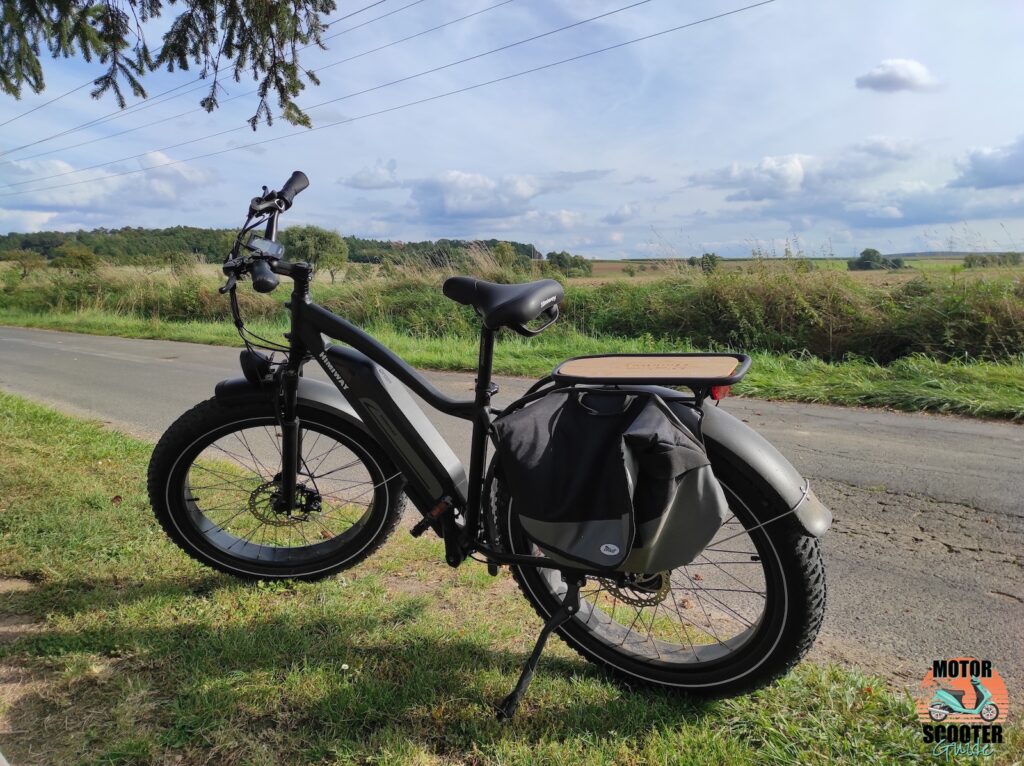 Himiway Bikes
Himiway is a budget brand that's trying to break into a rapidly expanding market. Simply put: the eBike market is getting bigger and bigger by the moment. How big? Well, to put things in perspective, I've recently returned from the IAA Mobility show in Munich.
Traditionally, the IAA was held annually in Frankfurt and served as a pure mecca for petrolheads looking to get their first glimpses of the newest and hottest cars. Today, it has evolved into a mobility festival with half of the show halls dedicated to eBikes. eBikes are big business these days, and now that they're commanding prime real estate at auto shows, it's a trend worth paying attention to.
Now, this could be a problem for Himiway. With a not-so-well-established direct-to-customer sales strategy and heavy competition from already recognized brands, Himiway is something of an underdog in the budget eBike space. But the brand certainly has risen to the challenge.
With only three models on offer in the 2021 Himiway lineup, the company doesn't have the widest variety of eBikes to choose from. However, Himiway is priding itself on quality over quantity. The 2021 lineup includes:
Himiway Cruiser – This is the hardtail fat-tire bike that we're talking about here.
Himiway Cruiser Step-Thru – This bike is like the Cruiser but with an easier, step-thru frame. For more information on this bad boy, see Cameron's unboxing article.
Himiway Escape – The last model on the list is a moped-inspired eBike, including many of the same components as the above two models.
Featuring high-quality components, a sleek design, a decent-sized community of riders, adequate customer support, and competitive pricing, Himiway offers ideal entry-level eBikes for those new to the world of electronically-assisted pedal-power. Let's take a closer look at why the Himiway Cruiser might offer one of the best bang-for-buck ratios in the segment.
—
Himiway provided us with the All-Terrain Cruiser at no cost for the purposes of this (and future) reviews. We also have an affiliate relationship with Himiway and receive a small commission if you purchase an eBike via our links. Note that brands sending us gear for review must agree to our extensive review policies. Thank you for supporting us.
2021 Himiway All-Terrain Cruiser Specifications
The Himiway All-Terrain Cruiser is an affordable fat-tire cruiser with off-road ambitions. Important specifications:
Price: $1,599 USD / $1,935.67 CAD
Buy: Himiway Cruiser
Motor: 750w Brushless Gear Hub Motor / 80 Nm Torque
Est. Range: 35 mi / 56 km (electric power only), 60 mi / 100km (pedal assist)
Top Speed: est. ~ 25 mph / 40 kph
Pedal Sensor: Cadence, with 5 PAS levels
Battery: 48v 17.5AH Samsung Lithium Battery (840WH)
Transmission: Shimano 7-speed free-wheel
Overall Weight: 72 lbs / 32 kg
Payload Capacity: 350 lbs / 158.7 kg
Exploring the Himiway All-Terrain Cruiser's Key Features
The real nuts and bolts of the Himiway Cruiser have been covered in my previous unboxing article. But there's more to learn about the Cruiser than what parts are where and what certain bits do. To fully understand what the bike and its parts are capable of, I had to take it on some serious rides.
Here's what I learned about the Himiway Cruiser's main components and how they handled real-world ride tests.
Shimano Altus Derailleur + Shimano Tourney Shifter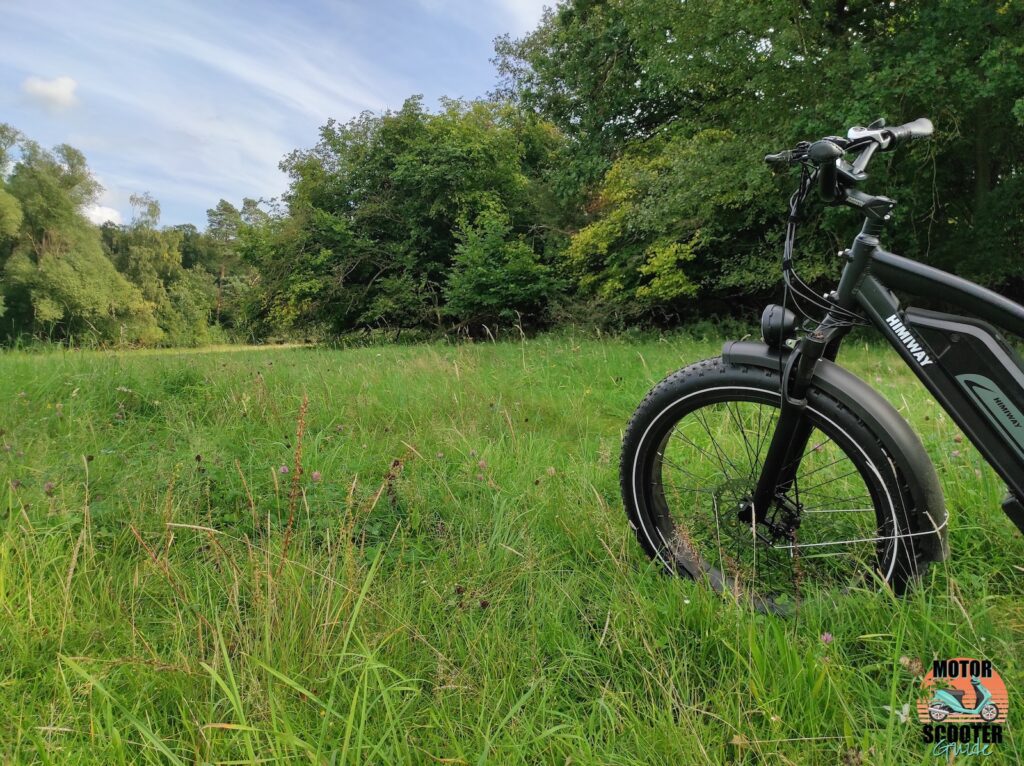 In the transmission department, the Himiway Cruiser uses some pretty standard components for this market segment. These come in the form of Shimano's Altus 7-speed derailleur with Shimano's faithful Tourney shifting technology.
I'll agree with Cameron's assessment of the Tourney shifter (which is the same as the one in the Cruiser Step-Thru): the gear selectors are spaced a touch too far apart for easy shifting, but I won't really call it a hassle either. They could be closer together, but they are what they are. They work, and they work well. So it's hard to complain.
In fact, the gear shifts are quite painless. They pop in and out with a nice, positive action and no drama.
For most casual riders, gear shifts are almost arbitrary since you can rely on the power of the Bafang motor to do the heavy lifting anyway. Still, being in the right gear for the right terrain makes riding much, much more comfortable.
But let's talk about that motor.
Bafang 750W Hub Motor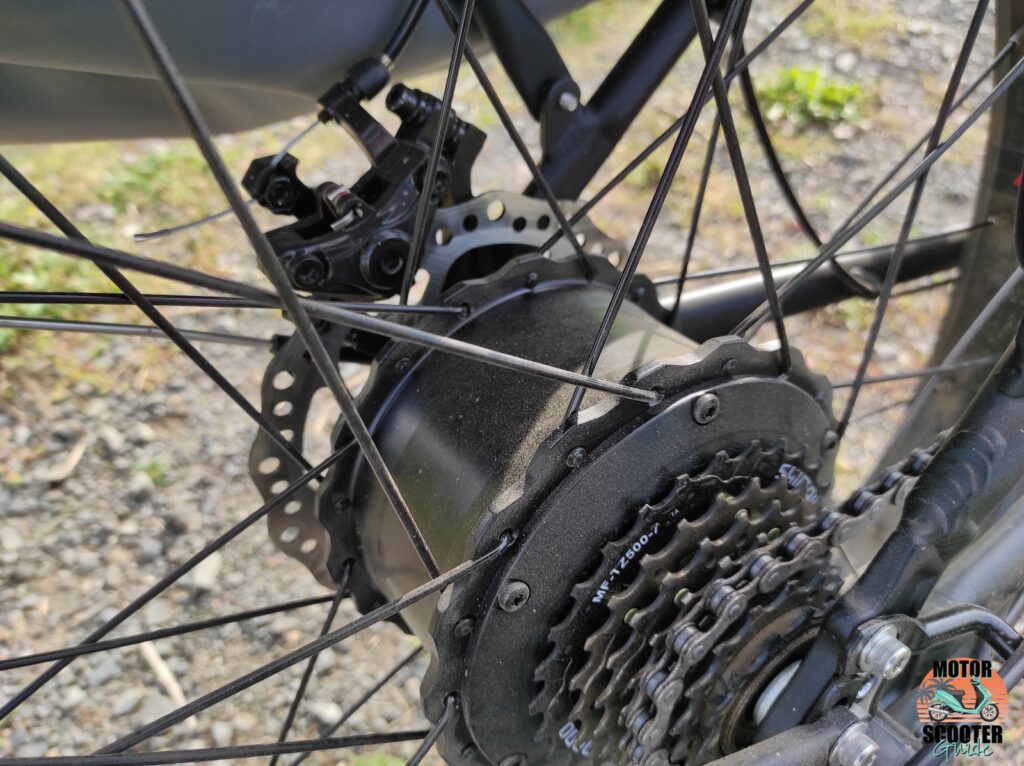 The heart of the Himiway Cruiser is the bike's hub-drive motor from Bafang. Bafang is quite a popular brand in the budget-eBike space, but the Himiway Cruiser seems to feature a larger and more powerful motor than most.
It's a 750W beast that produces a handsome 80 Nm of torque. What that means is that it's got plenty of strength and pulling power. If you use the twist-grip throttle from stationary without paying attention, it can easily pull you off balance.
So far, I've put the Bafang 750W up against some steep hills, carrying myself plus bags, and it hasn't even broken a sweat. Now, with great power comes great battery drain, but if you're keeping the level of assistance within reason and only asking for full power when you really need it, you don't have to worry too much about battery life.
All in all, you're getting excellent bang-for-buck in the power department.
Kenda 26" x 4" Tires + Front Adjustable Suspension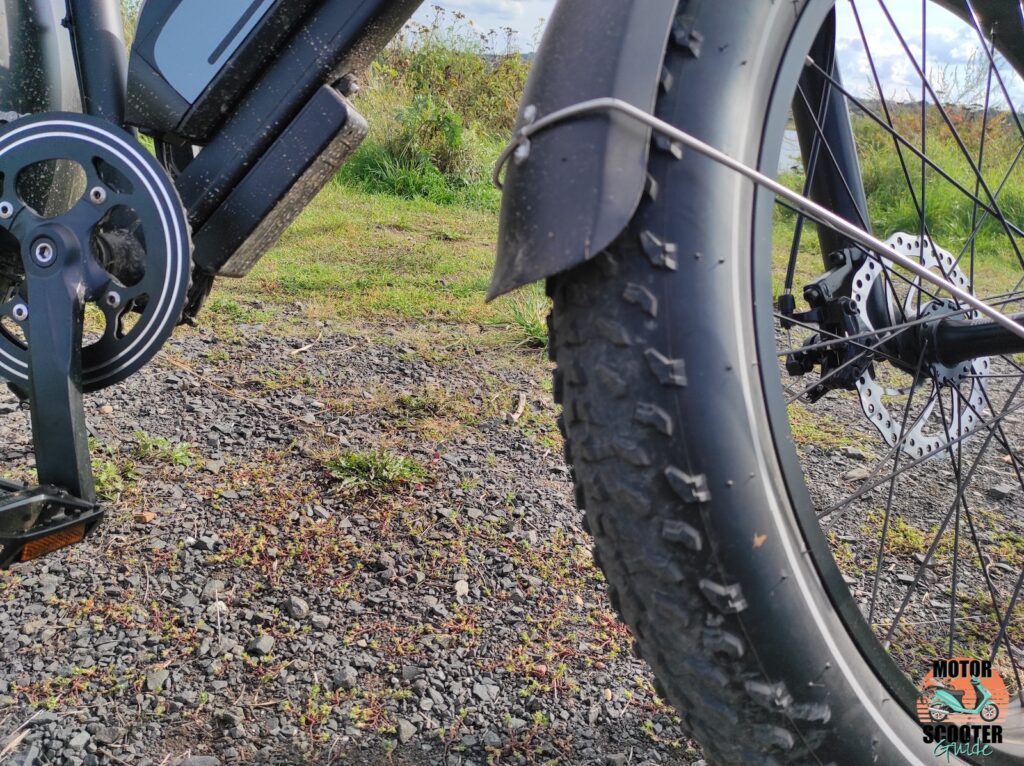 There's no escaping the Himiway Cruiser's giant tires. These 4" tires are as fat as they come, and if you're looking for an eBike with real traction, the Himiway Cruiser has plenty of that. If you're riding along a cycling path and feel like going off-piste and tackling some grass, these tires won't let you down. Gravel? No problem. Mud? A breeze. Sand? What sand?
But big wheels can cause big problems. Being as large as they are, you can get yourself into some tricky situations if you don't plan in advance. If you need to slow right down to do some fancy steering through a narrow gate, being in the wrong gear can make steering an unnecessary nightmare. But if you're careful with your gearing or have plenty of leg muscle to power on through, there's nothing to worry about.
In fact, the big tires add a nice bit of spring when you're on rougher terrains, and they work well with the front suspension. The front suspension is adjustable and can handle some tough trails with relative ease. It also helps that the Himiway Cruiser comes equipped with a rather plush saddle, making most bumps almost undetectable.
Riding the 2021 Himiway All-Terrain Cruiser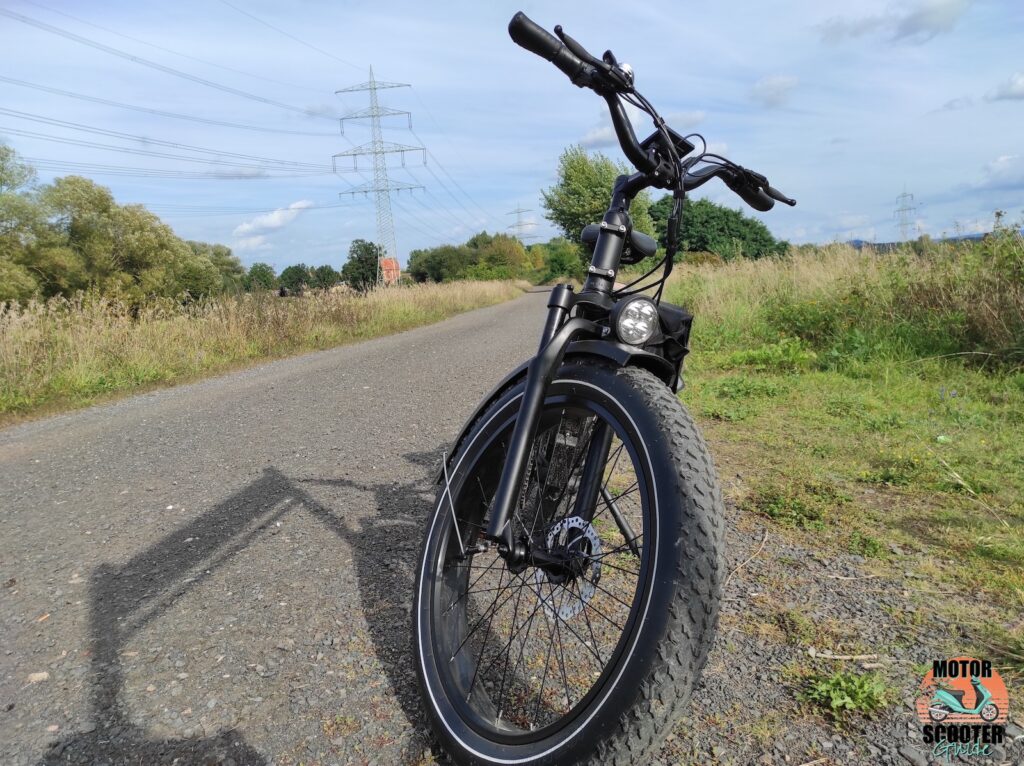 We can talk about the specs all day, but the only way to really judge the Himiway Cruiser is on how it performs in real-world situations. Just to recap, I live in semi-rural Germany. That means I've got forests and mountains on my doorstep, but I'm not totally remote. I live on the edge of a decent-sized city too. My testing has taken me through dirt trails and city streets in equal measure. Here are some key things you need to know about this eBike.
It's Powerful
Since you're only human, you're going to unlock the factory restrictions, aren't you? Without any electronic restrictions, the Himiway Cruiser will throw you to speeds of up to about 47 kph. That's crazy fast. It feels like it could even go faster, but the gearing simply won't allow it. It doesn't even feel unstable at that speed, but you start to become aware of just how cheap the brakes are if you need to throw the anchor down in a hurry.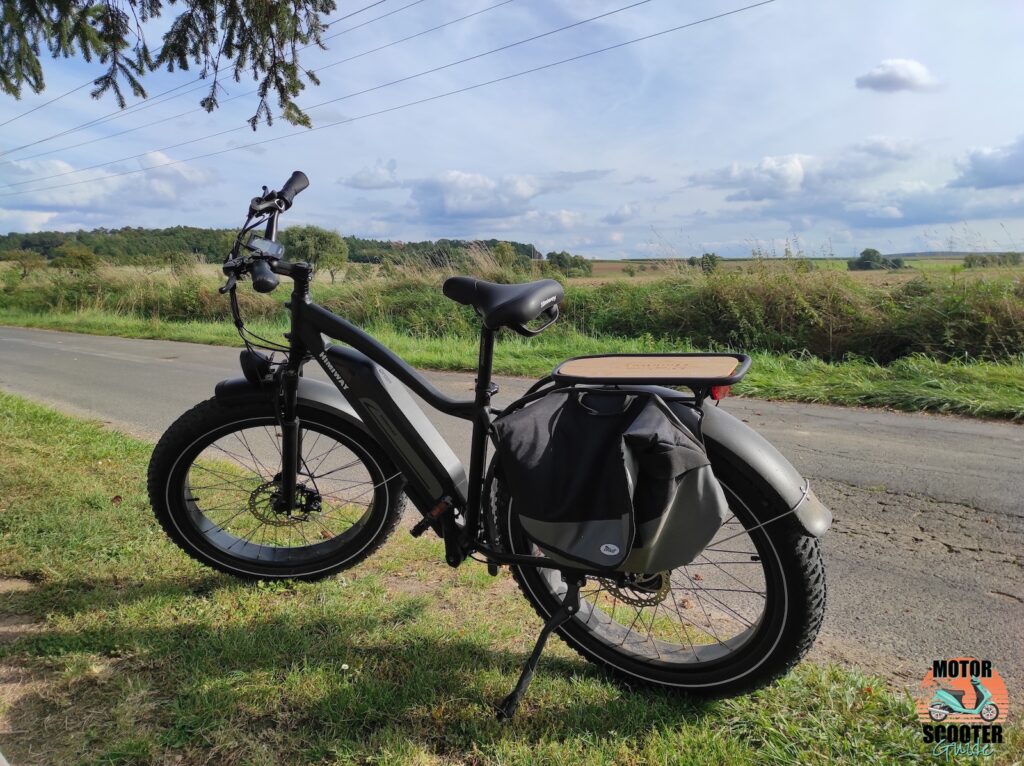 So it's fast. But it's more than that. It can carry some weight. I've been using it as a shopping bike, and with saddlebags, it's a perfectly capable grocery-getter. Overall, you'll struggle to find a more powerful bike with such a versatile personality for the price point.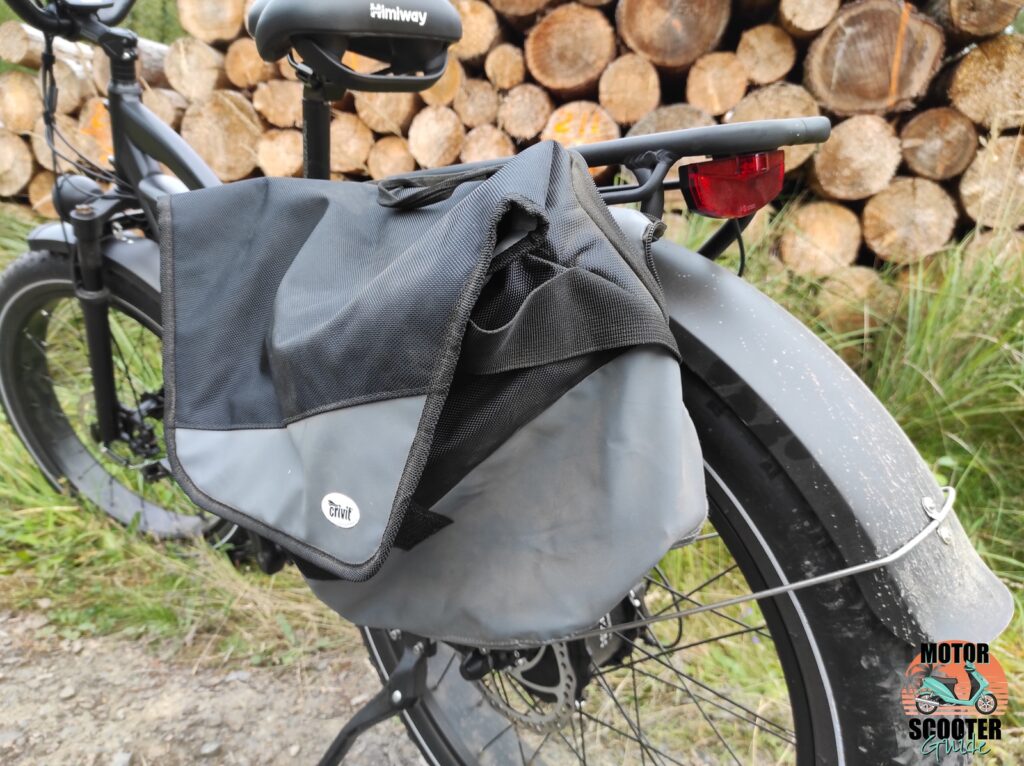 Cadence Sensors Suck
At the budget end of the spectrum, cadence sensors are the standard. It's old technology, but it's cheap technology. What this means in layman's terms is that as you pedal, the motor will engage or disengage like a kind of jerky cruise control to keep you roughly at a set speed depending on what level of pedal-assist you've got dialed in.
This can be quite jarring.
There's no gentle roll-on of power. It's very much a "you-go-fast-now" kind of thing, which takes some getting used to. Now, that's not to say it's a deal-breaker. Cadence-sensor technology is cheap, and rather than fork out on a torque sensor, Himiway would rather spend your money on some of the other nice extras, like big tires, quality suspension, and a soft seat.
Over time, the jarring sensation goes away as you learn to predict when it's going to kick in and when it isn't. It's not a problem, but it's something to keep in mind when you're shopping around.
Battery Life
When it comes to all things electric, there's only one stat that people want to know about: the battery life. Now, Himiway quotes an approximate max range of 60 miles or 100 km. How did it perform in real life? Pretty well, actually.
The maximum range is dependent on how much you're relying on the pedal-assist power and the kind of terrain you're riding on. For example, if you're facing a lot of uphill slogs and you want the machine to do most of the work for you, you can expect your battery range to take a pummelling in the process. But if you're looking for gentle cruising on a nice paved road and you're willing to put a bit of effort in, you can certainly enjoy that full 60 miles (100 km) of range.
Luckily, the battery charges in a quick 4 hours or so from a standard plug. As long as you're aware of the battery's limits and how your riding style can affect it, most moderate-length rides are entirely possible without you having to worry.
Even with the big fat tires, the Himiway Cruiser isn't hard work to pedal like a normal bike if you do end up running out of juice. Just make sure that you're using the appropriate gears.
Other Thoughts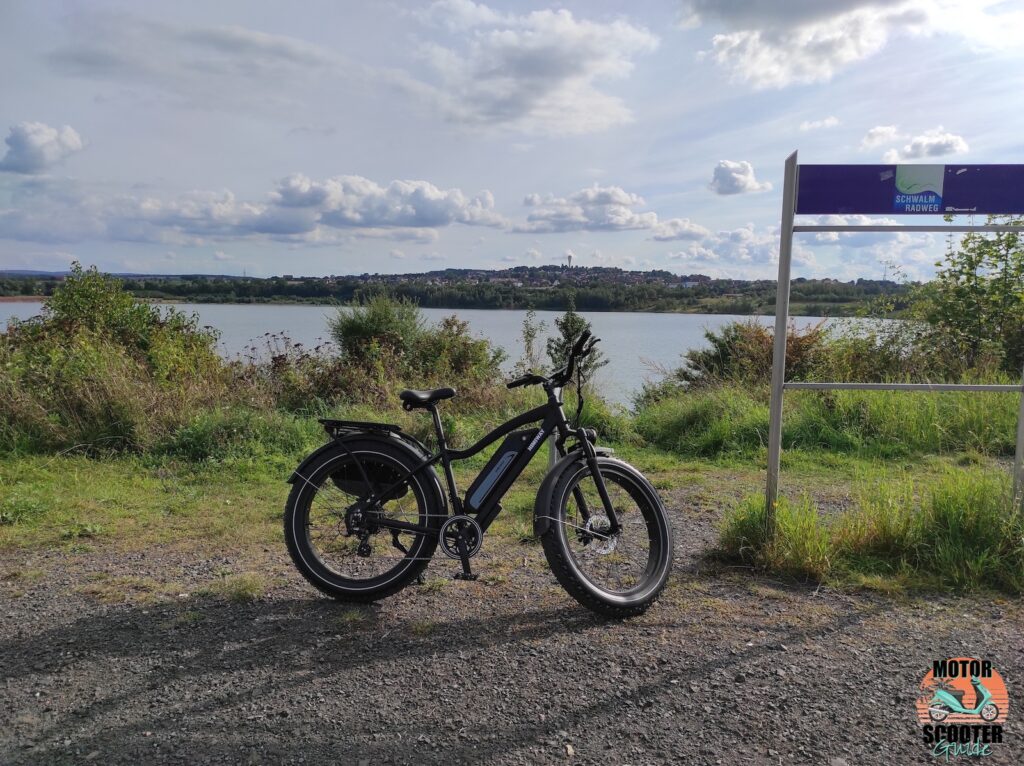 I haven't managed to crash the Cruiser yet, and I don't really plan on doing so either. However, I can say that the components are tough and hardwearing. Over the past few months, I've had the bike out in the rain, through deep puddles, over rocky paths, and down some questionable trails. So far, nothing has come loose or looked like it could evolve into a problem.
When I unboxed this eBike, I was immediately disappointed with the quality of the headlight and the whole assembly that went with it. It still feels cheap, and I still don't like it, but it hasn't let me down. It hasn't rattled loose. It hasn't broken. And what's more, it actually produces pretty good light for riding at night.
There are enough plus points about this eBike to warrant the price tag. In fact, I'd go as far as to say it should probably be priced higher. You get a lot of bike for your buck. But that's not to say it's perfect. There are a few things that could be improved.
Things I'd Change About the Himiway Cruiser
In an ideal world, we'd petition Himiway for a few small refinements to their Cruiser model. However, these refinements would cost money, and to be honest, I'm quite happy with how the Cruiser is priced. Still, here's what I'd change.
Better brakes – The brakes are good enough if you ride the Cruiser like it's meant to be ridden. But we're only human, and we're going to derestrict it, aren't we? So, when you've got potential speeds of up to 50 km/hr, better brakes would be a nice upgrade.
Relocate the controller – Yep, this is a recurring complaint from both Cameron and me. The location of the controller is quite vulnerable to bumps and scrapes. For such a vital bit of equipment, it'd be best if it was relocated to a safer position.
Rear suspension? – Now, this is a tall order, and it's not going to happen. The bike is marketed as a hardtail cruiser. But since it's so capable in the rough, it's always very tempting to push it to the limit. And that hardtail suddenly becomes damn hard when you're trying to do something you shouldn't. Granted, the seat helps, but for the kind of moves I'm talking about, you're not going to be sitting down for very long.
Aside from those suggestions—which are fairly mild, all things considered—there's not much to fault about the Himiway Cruiser.
If you're looking for a versatile, capable, and fun eBike that's guaranteed to turn heads, you can't go wrong with the Himiway Cruiser. For an MSRP of $1,599, it packs a powerful punch. It has plenty of torque, a handsome range of decent high-quality parts, and it's seriously comfortable to ride, too.
It's not perfect, and there are several ways that it could be improved. However, if you're not too fussed about having the best specs that money can buy, or you're not overly concerned about performance and range, then this is a worthy choice. It's far from being at the forefront of innovation in the tech department, but it's tough, dependable, and a joy to ride.
What's more, it's easy to repair. Just ask Cameron.