Review Summary
The KBO Breeze Step Thru is a commuter-style ebike that offers nimble handling, comfort, and 500w of power for everyday riding. Goodies such as a pre-installed rear rack add utility to this product and make it a solid choice for those venturing into entry-level ebikes.
Pros
Currently priced at $1399, it's a very affordable choice for a beginner ebike
Step-thru design makes for easy dismounting for less flexible riders
27.5" x 2.4" Panasonic tires offer a nimble riding experience compared to fat-tired ebikes
With the battery removed, the bike itself is quite lightweight and not cumbersome
Includes pre-installed rear rack
Cons
500w / 60 Nm torque compared to 750w / 80 Nm (which many entry-level ebikes come with)
Thin faux leather handlebar grips are uncomfortable
The basic design and aesthetic do not set this ebike apart from its competitors
Review Summary
At $1,399 USD, the KBO Breeze Step Thru is one of the most affordable entry-level commuter ebike options on the market.

It weighs in at 62lb / 28kg. Combined with its thin 2.4" wide tires, it is nimble and relatively lightweight.

Charging time takes roughly 5 hours and spirited riding on PAS level 3+ yielded roughly 45km / 28 mi.

The saddle seat is comfortable but the faux leather grip pads are thin and put pressure on the palm.

It comes with preload adjustment and lockouts for riders to customize their ride feel.

The design may look rather pedestrian, but it's a fun ride for any ebike beginner.
Light. Nimble. Easy to ride.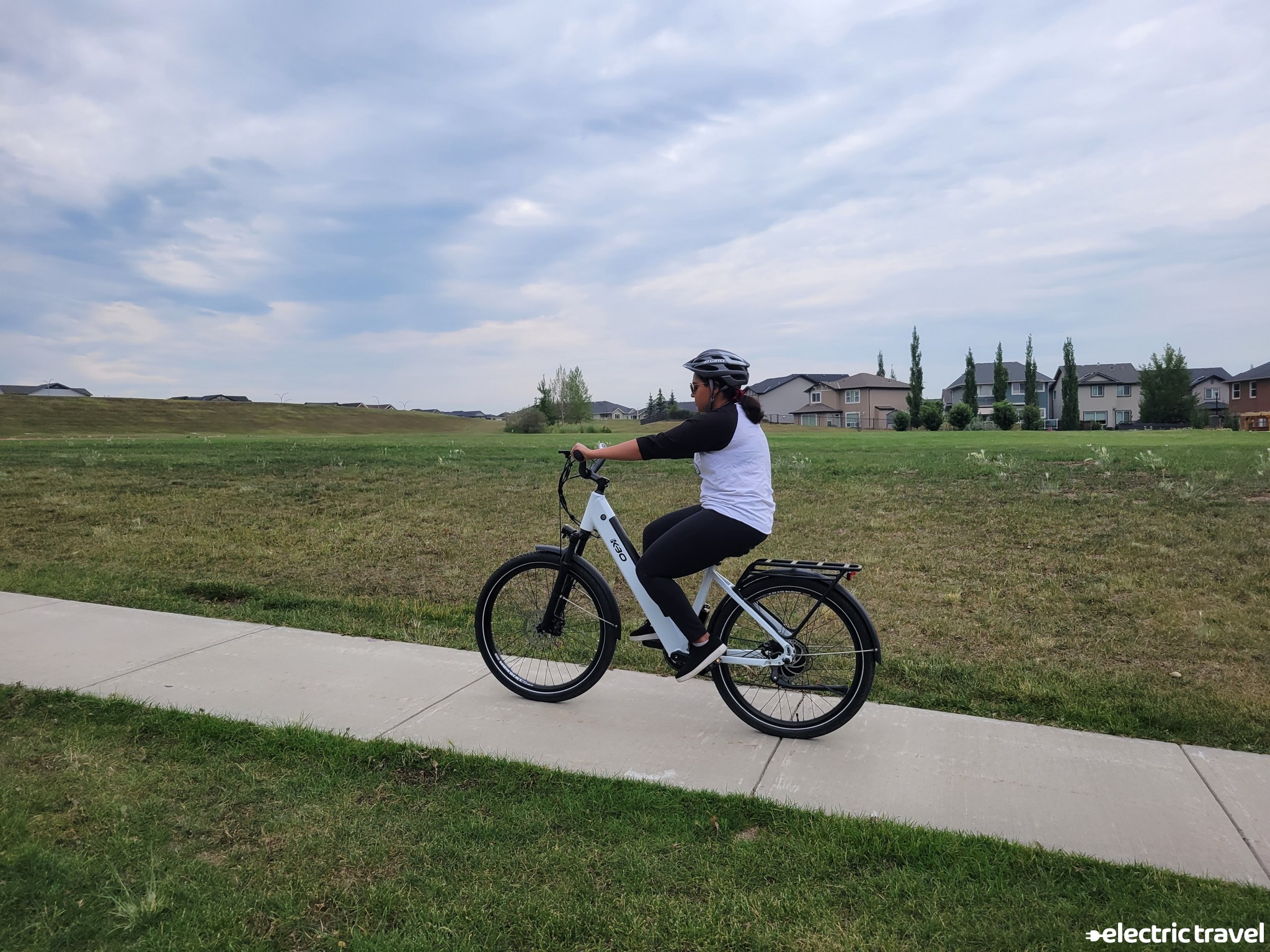 Earlier in the year, we received the KBO Breeze and the Breeze Step Thru. After putting it through its paces this summer, we're sharing what we've learned in this long-term ride review.
The KBO Breeze Step Thru is the sibling to the Breeze and has, you guessed it, a step thru frame. While the aesthetics of the bike are mediocre, the step thru design is ideal for those who lack the flexibility to hop over waist-height fences. 
It's easy to dismount…if you actually remember to utilize the step thru instead of swinging your legs over the seat to get off.
We'd like to thank KBO Bike for providing us with this Breeze Step Thru at no cost for the purposes of this (and future) reviews. Brands sending us gear/product for review must agree to our extensive review policies. Thank you for supporting us.
KBO Breeze Step Thru Specifications
Motor:

500W Bafang Brushless Rear Hub Motor

Torque:

60 Nm

Battery:

48V 16Ah Samsung battery (768Wh), removable

Range:

55 mi / 88 km

Pedal-Assist Sensor:

Cadence, 5 PAS levels

Top Speed:

28 MPH / 45 KMH (Comes as Class 2 but can be unlocked to Class 3)

Derailleur:

Shimano Altus 7-speed

Shifter: Shimano Tourney
Brakes

: Mechanical disc brakes

Tires:

27.5″ X 2.4″ Panasonic tires

Weight (w/ battery):

~28 kg (~62 lbs)
KBO Breeze Step Thru Performance
Acceleration and Braking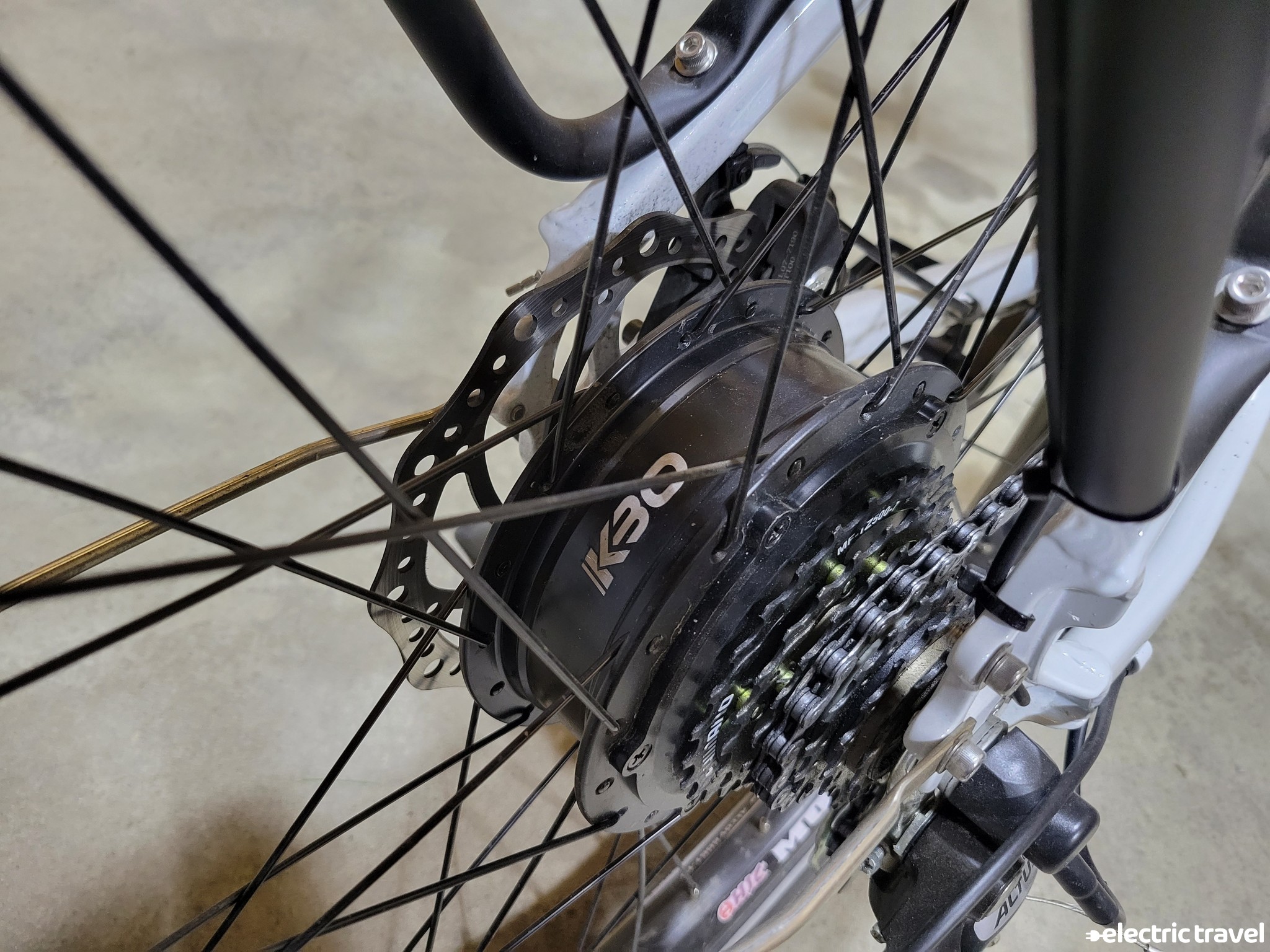 The 500w Bafang rear hub motor.
The KBO Breeze Step Thru has a lower price point than many entry-level competitors. Coming in at $1399 USD, it's an affordable option that doesn't break the wallet if you're looking for a commuter-style ebike. However, the 500w rear hub motor, while capable of a peak 750w, only produces 60 Nm of torque. 
It's not as spiffy as my other ebikes and it's a glaring difference each time I ride it, especially as I traverse up gentle hills and crank up the PAS level.
On the other hand, the Himiway Cruiser Step Thru produces 80 Nm of torque and a quicker riding experience. Don't get me wrong, this electric bike is a great value proposition and you certainly get what you pay for. Check out KBO's full lineup.
The bike has 5 PAS levels and on flat ground, I reached the following max speeds which was no different from the TurboAnt Nebula N1 that I recently reviewed.
PAS Level 1 – 9mph / 14kmh

PAS Level 2 – 12mph / 19kmh

PAS Level 3 – 14mph / 22kmh

PAS Level 4 – 16mph / 26kmh

PAS Level 5 – 20mph / 32kmh
Note: I'm a 5'7 and 170lb rider.
As with all Class 2 ebikes, it's limited to speeds of 20mph/32kph per the Canadian federal government regulations. 
While riding, PAS level 1 and 2 (I guess you can call them eco and low mode, respectively) were underwhelming and dull. 
If you're a forlorn individual who has lost the will to live, or you're simply trying to stretch that battery range to the max, PAS level 1 is for you. 
Otherwise, if you're like me, that's excited about what life (and ebikes, duh) have to offer, you'll likely find yourself utilizing PAS level 3 at minimum. They say power is alluring and those who have it never want to give it up. I totally resonate with that.
On the brighter side, acceleration on the Step Thru is smooth and the thinner 2.4" wide tires mean less rolling resistance. I love the twist throttle and have always found them handy when making smaller maneuvers that don't require pedaling.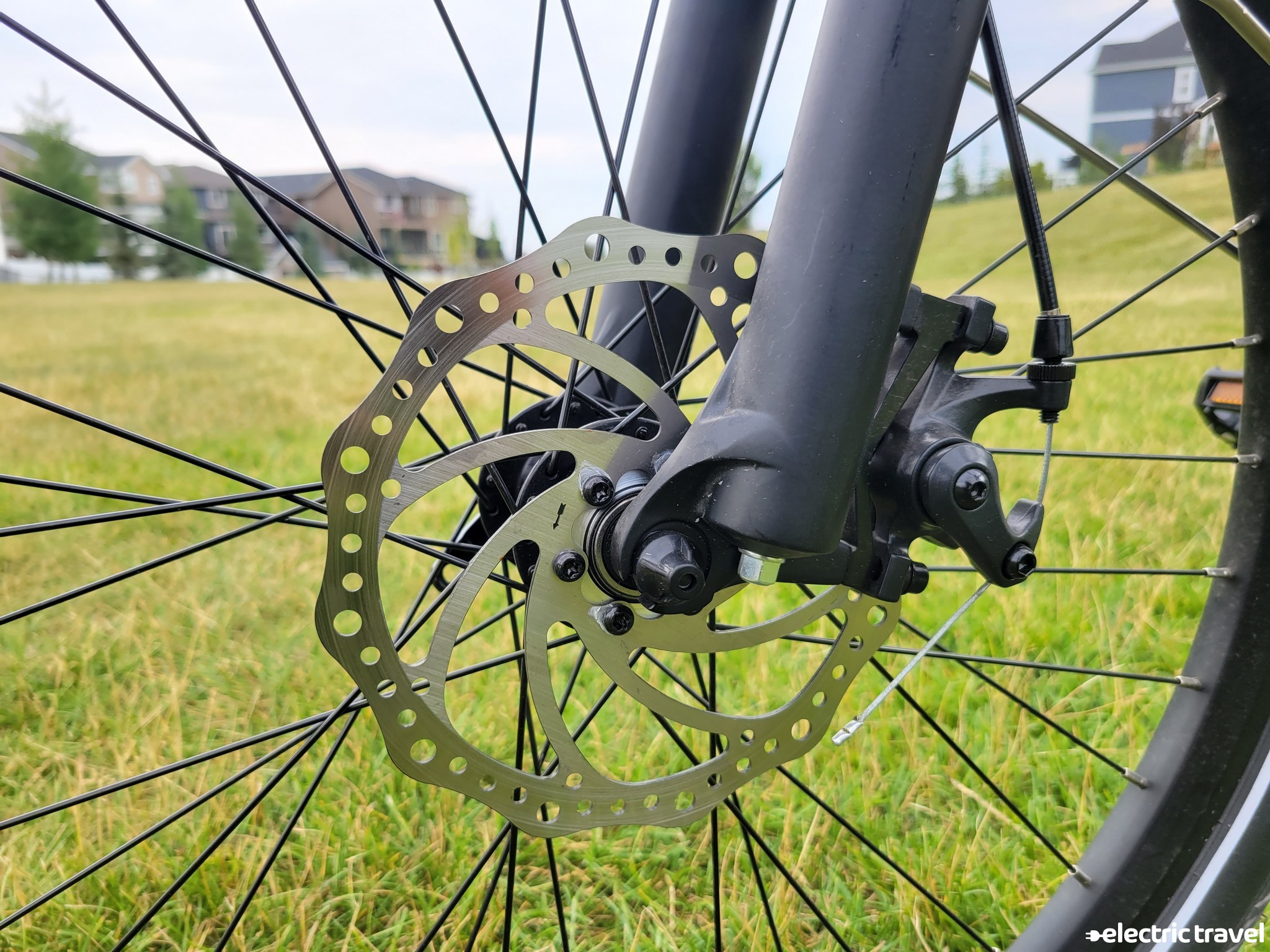 The brake feel is firm and provides adequate stopping power, partly owing to its 62lb weight. During the long-term testing, we did find that the rear brakes squealed but there was no impact to the mechanical disc braking performance.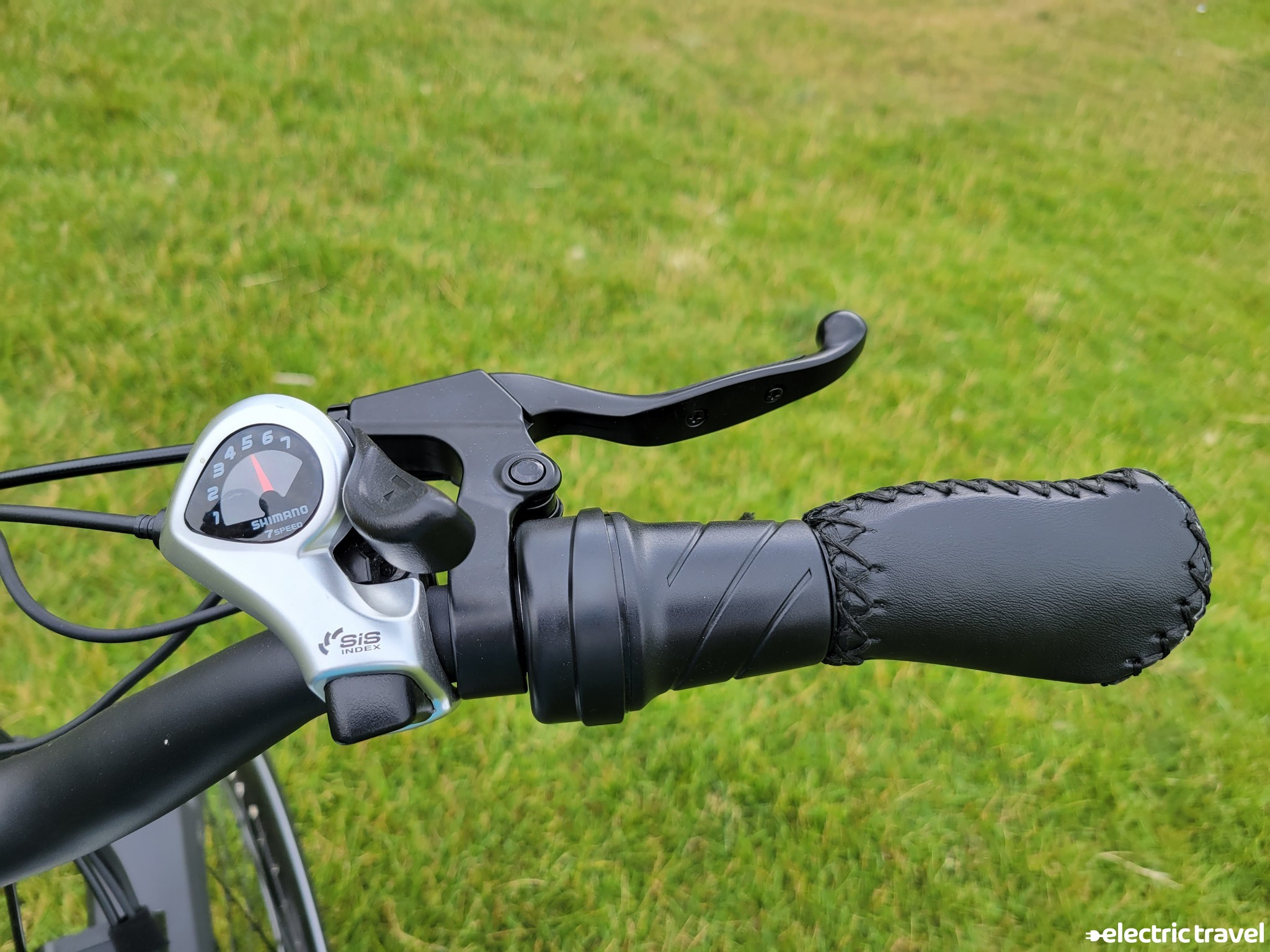 As usual, many entry-level ebikes come with the 7-speed Shimano Tourney shifter. 
In my experience, I can stay in 4th gear for the entire ride unless I am going up steep 30-degree hills. The 500w motor also puts out enough power that I am not riding at a sustained speeds on long stretches of flat road so higher gears rarely get used, if ever.
Battery and Range
The Breeze ST is powered by a Samsung/LG 48V 16 Ah lithium ion battery. 
It's a long internal removable battery that slots into the top side of the aluminum bike frame which results in a clean look; one of the biggest reasons why I prefer an internal battery to externally mounted batteries.
Included with the bike is a 3.0 amp quick charger which will take the battery from empty to full in roughly 5 hours.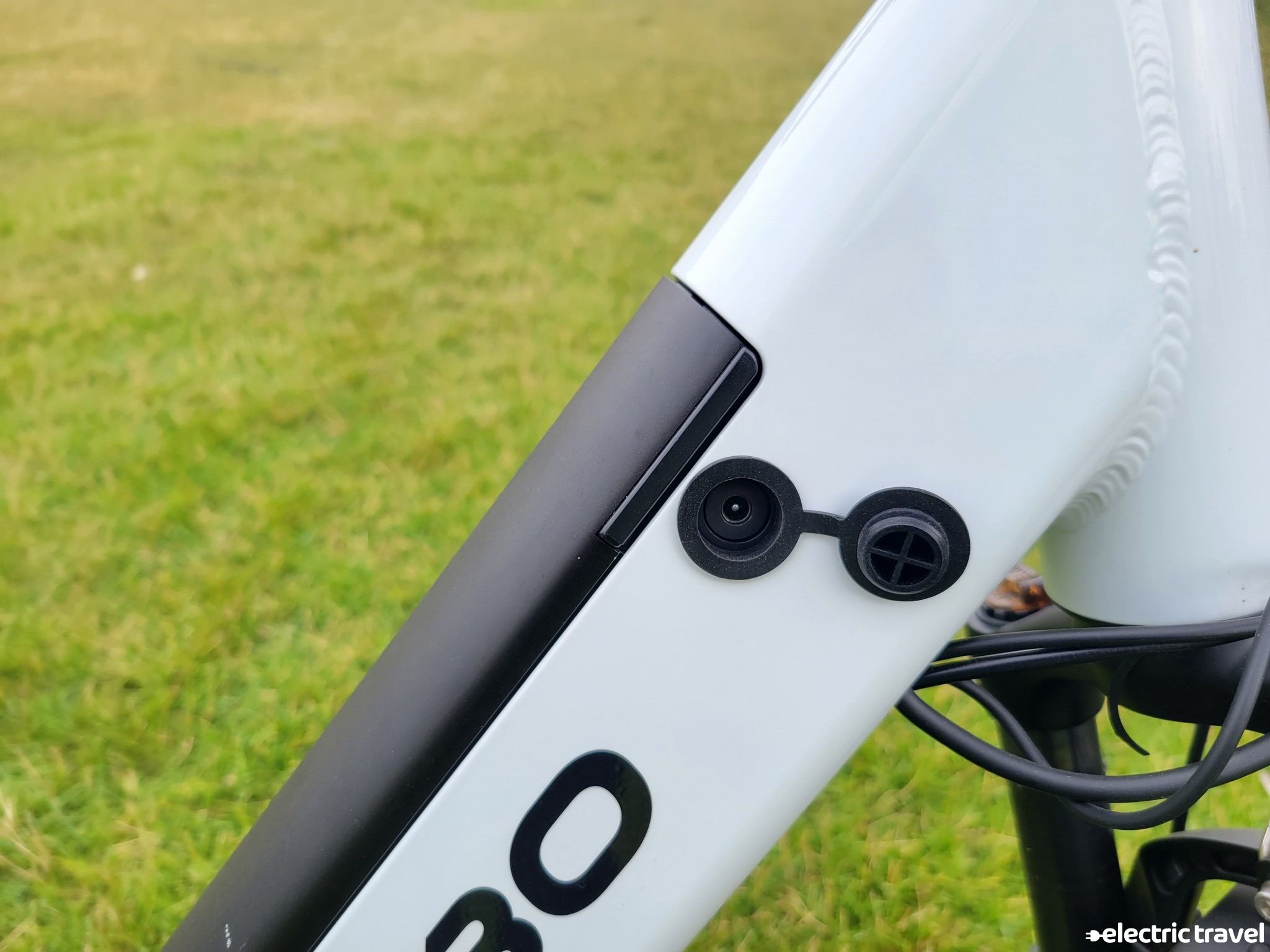 The battery slots into the frame of the bike. There is an AC adapter plug for on-bike charging.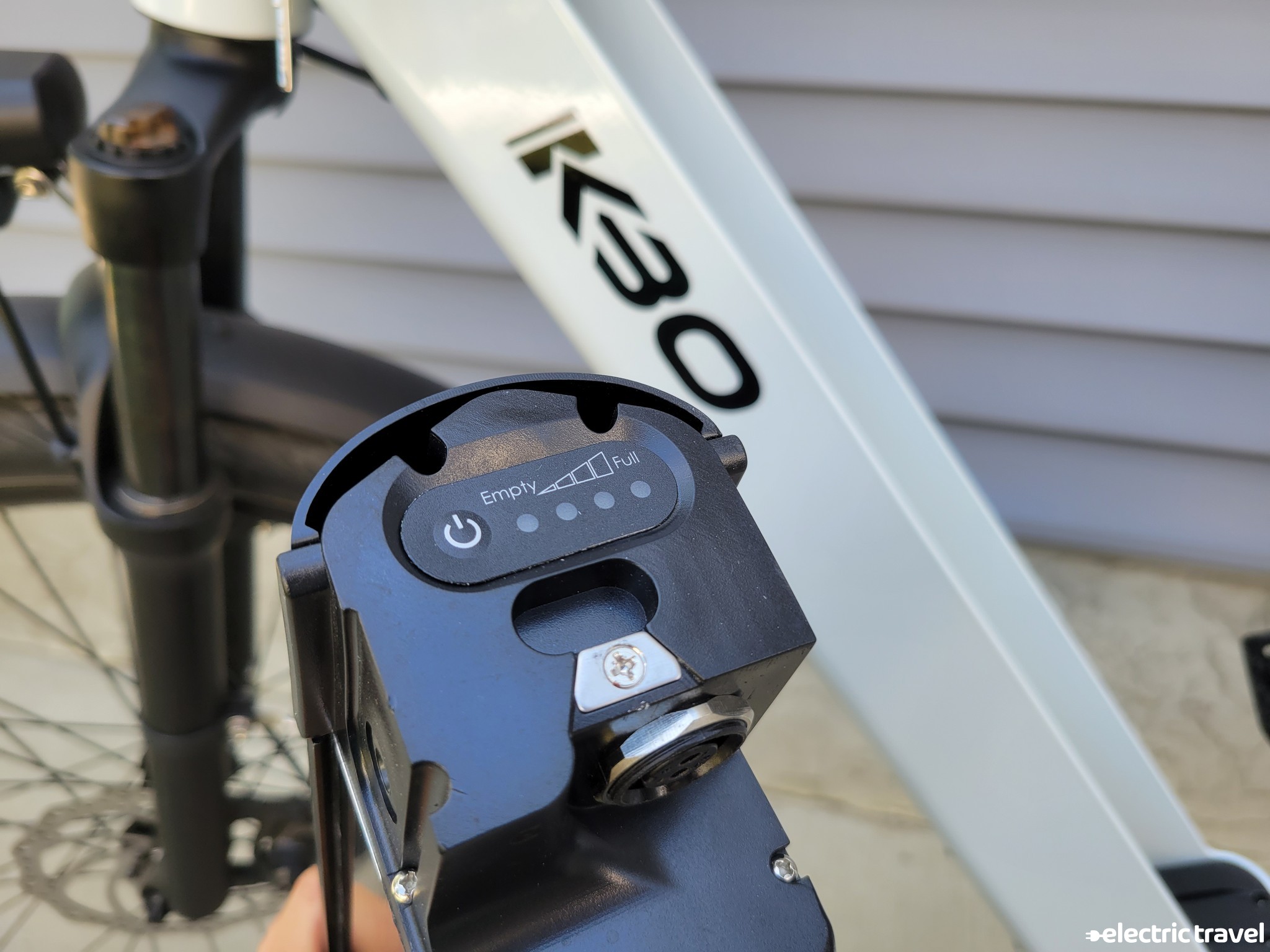 The internal battery can be removed and you can check how much charge is left.
What was the range like? 
Well, as I mentioned, I thoroughly disliked being in PAS level 1 and 2. I averaged about 40-45km of range on the bike as I rode it through a variety of biking/walking paths in the neighborhood. My testing routes have high elevation/tons of hills and I use PAS level 3/4 to reduce exertion on my end.

I'm also what you can call a lazy ebike rider / motorcycle wannabe, meaning that not only do I let the motor do the bulk of the work, I also tend to use the twist throttle liberally. Naturally, I didn't get as much range as I like but it's a fair trade.
On the other hand, the KBO offers fantastic range if you're riding on flat ground and put in your fair share of work. This screenshot below shows a leisurely ride using a combination of pedal-only and PAS level 1 which only used roughly 20% of the battery on a 24km/15mi ride.
For comparison, 24km is just a tad under half the distance of the entire city of Calgary. There are a lot of places you can visit with this bike on a single charge.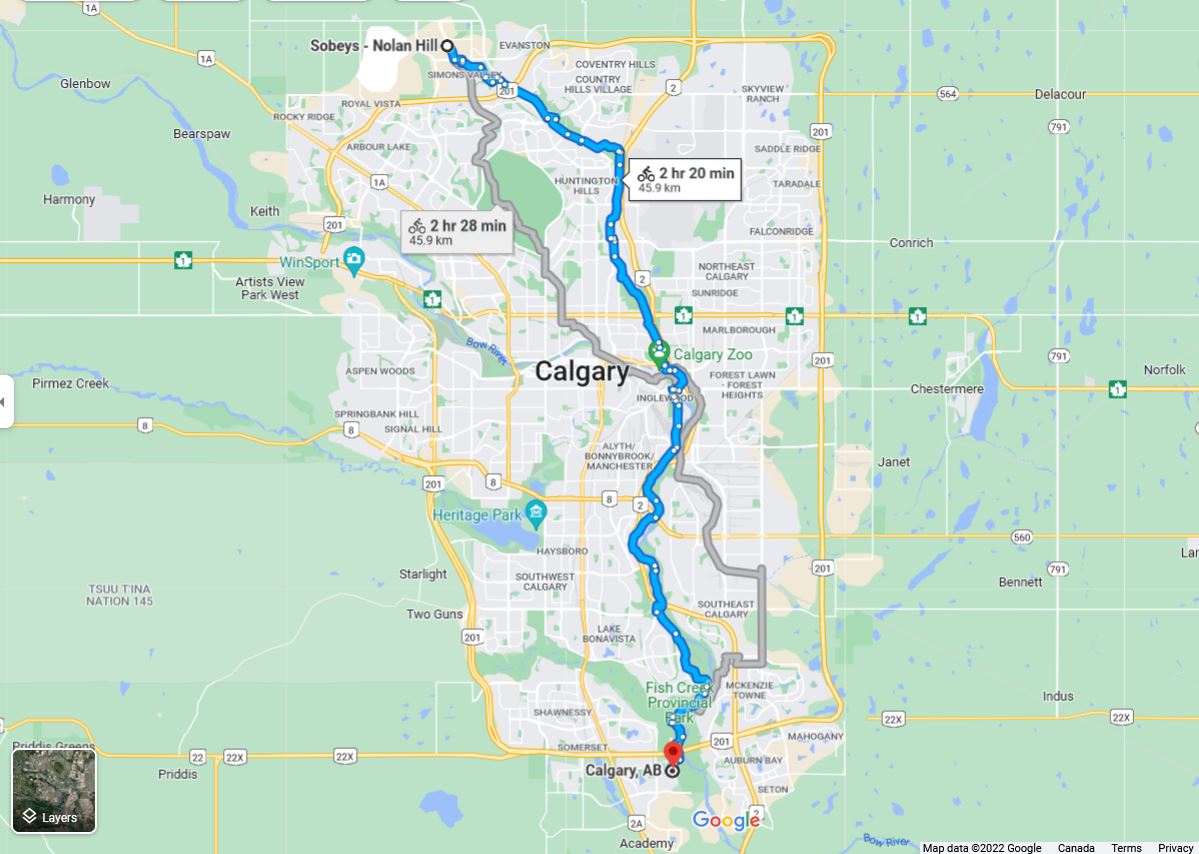 Tires and Suspension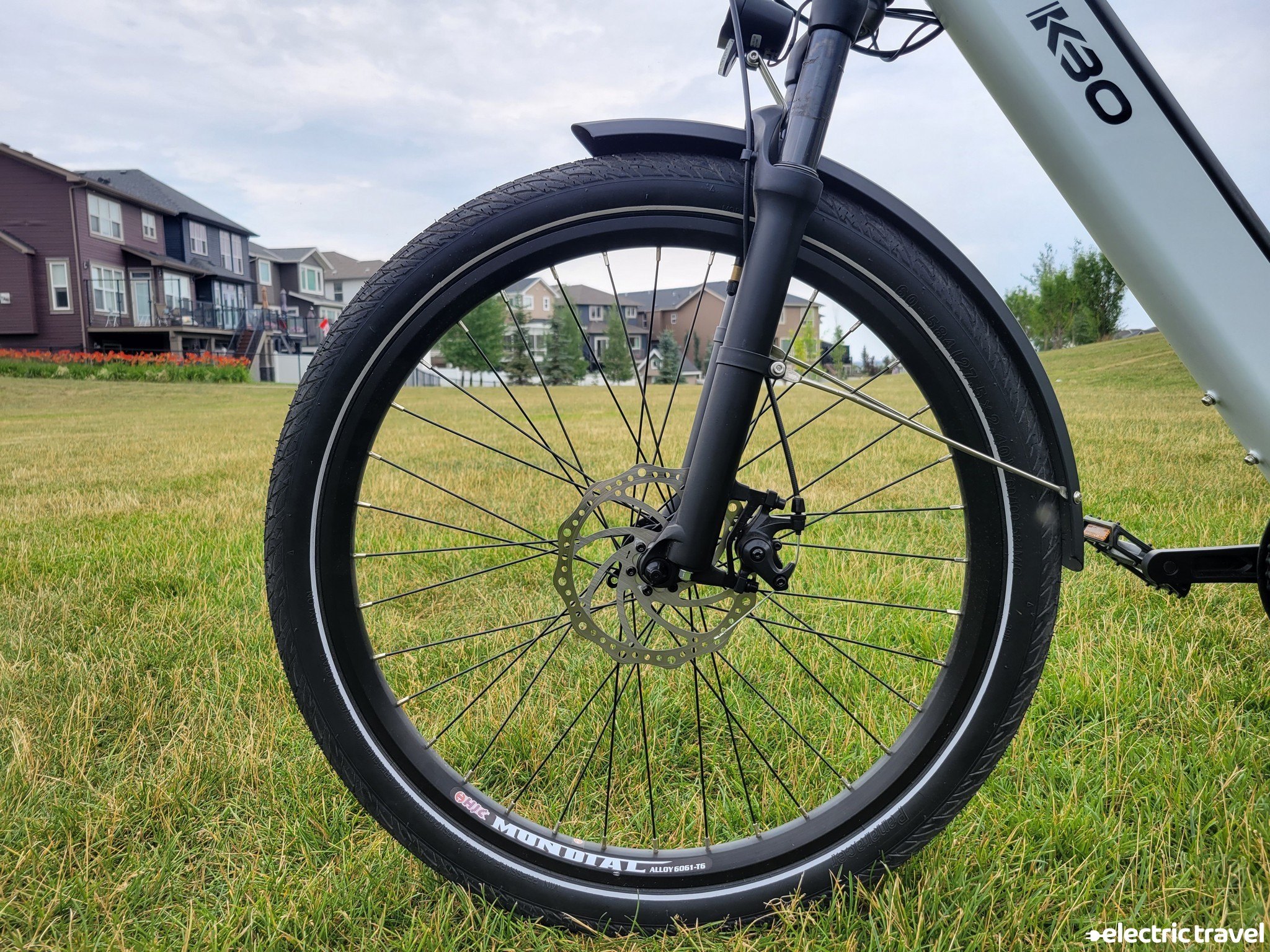 The front and rear wheels are 27.5" by 2.4".
I was pleasantly surprised by the nimbleness of the Breeze ST. The 27.5" X 2.4" tires were very comfortable and made it really easy to maneuver the bike. 
It's not an off-road bike, so don't expect to take it on mountain bike paths. 
It does best on pavement and will perform admirably on light dirt paths and grass. The lower rolling resistance of the tires also helps to cut through the grass and with the help of your saviour, the 500w rear hub motor, you can cut across grassy plains with absolutely no issues.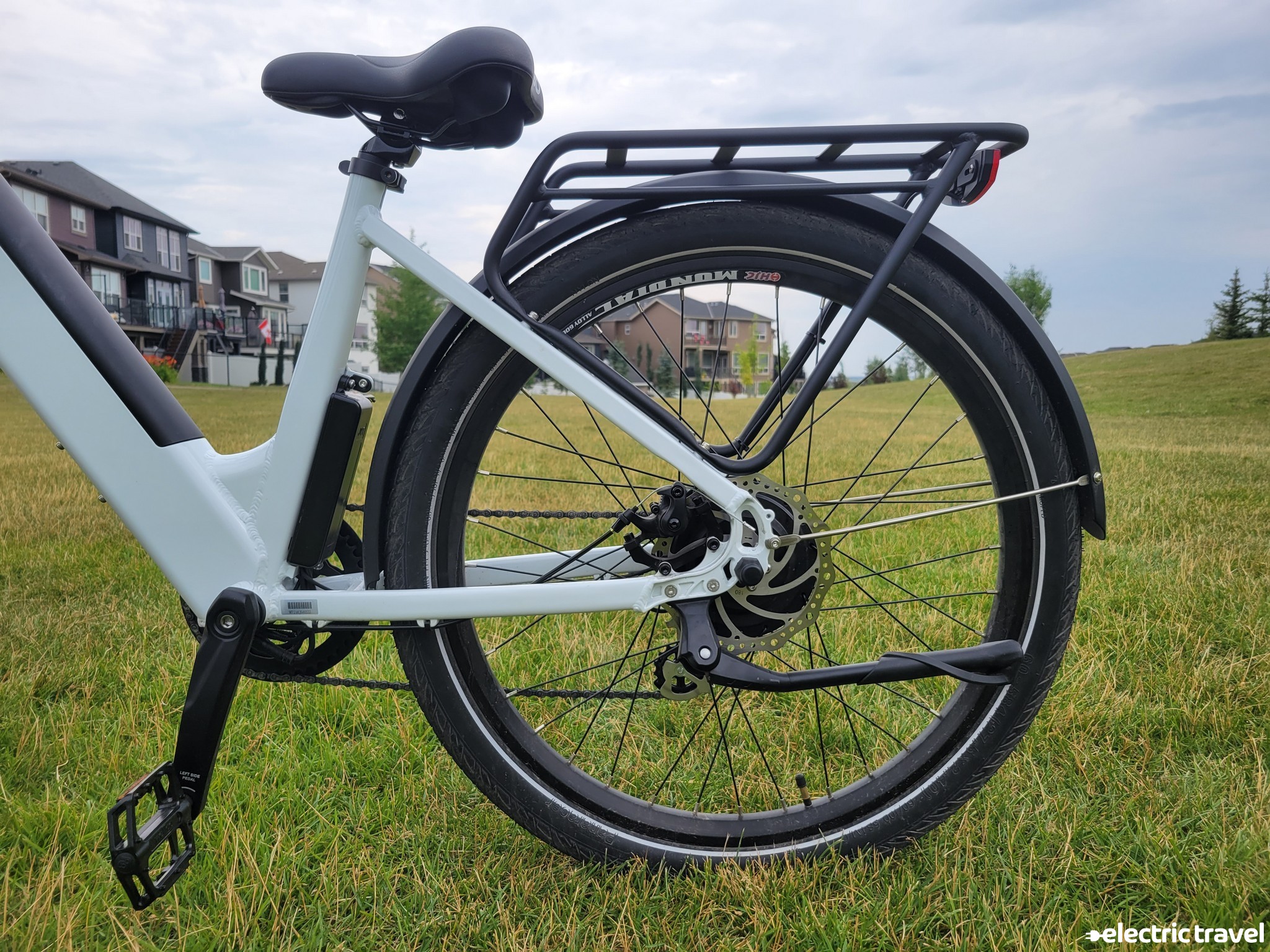 The bike also features preload adjustment and lockout mechanisms in the front forks. I've seen them on nearly all the entry-level ebikes we've reviewed thus far. The way you use these depend on several factors:
The type of ride feel you're looking for;

The environment in which you're riding the bike (think potholes, road bumps, etc).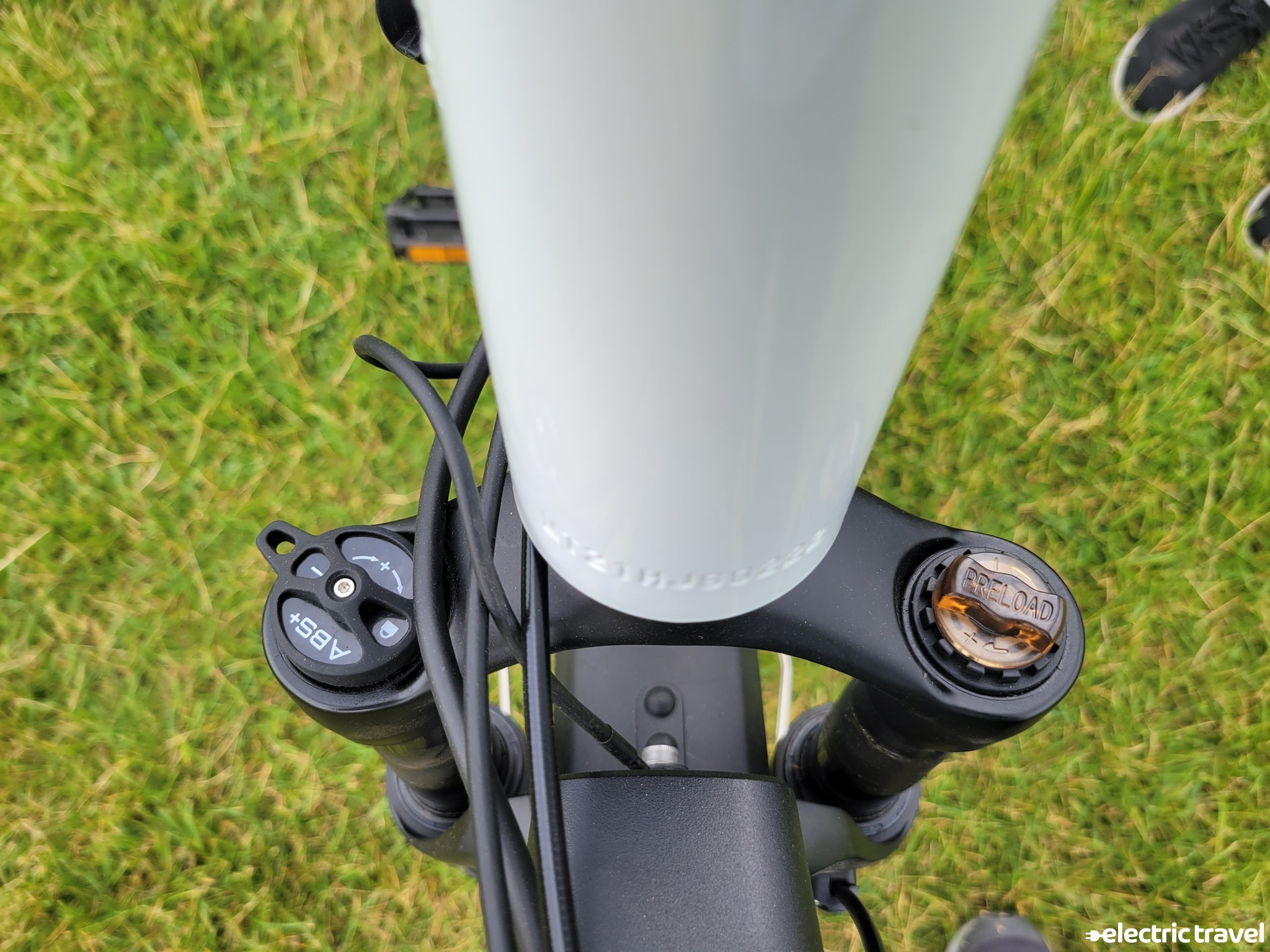 Preloads
Preloads allow you to adjust the amount of compression in the spring of your forks. So, if you're a heavier rider or you want a stiffer rider, you'll want to increase the compression (+) of the spring.

If you're a lighter rider or you prefer a softer ride, you'll want to decrease the preload (-) on the fork. Just be aware that heavier braking means that your front will dive forward more.
Lockout
While the preload is a variable mechanism that lets you customize how stiff/soft your rider is, the lockout is simpler. Locking out the bike stiffens the suspension which provides a more predictable ride and is handy if you're carrying cargo on the rear rack.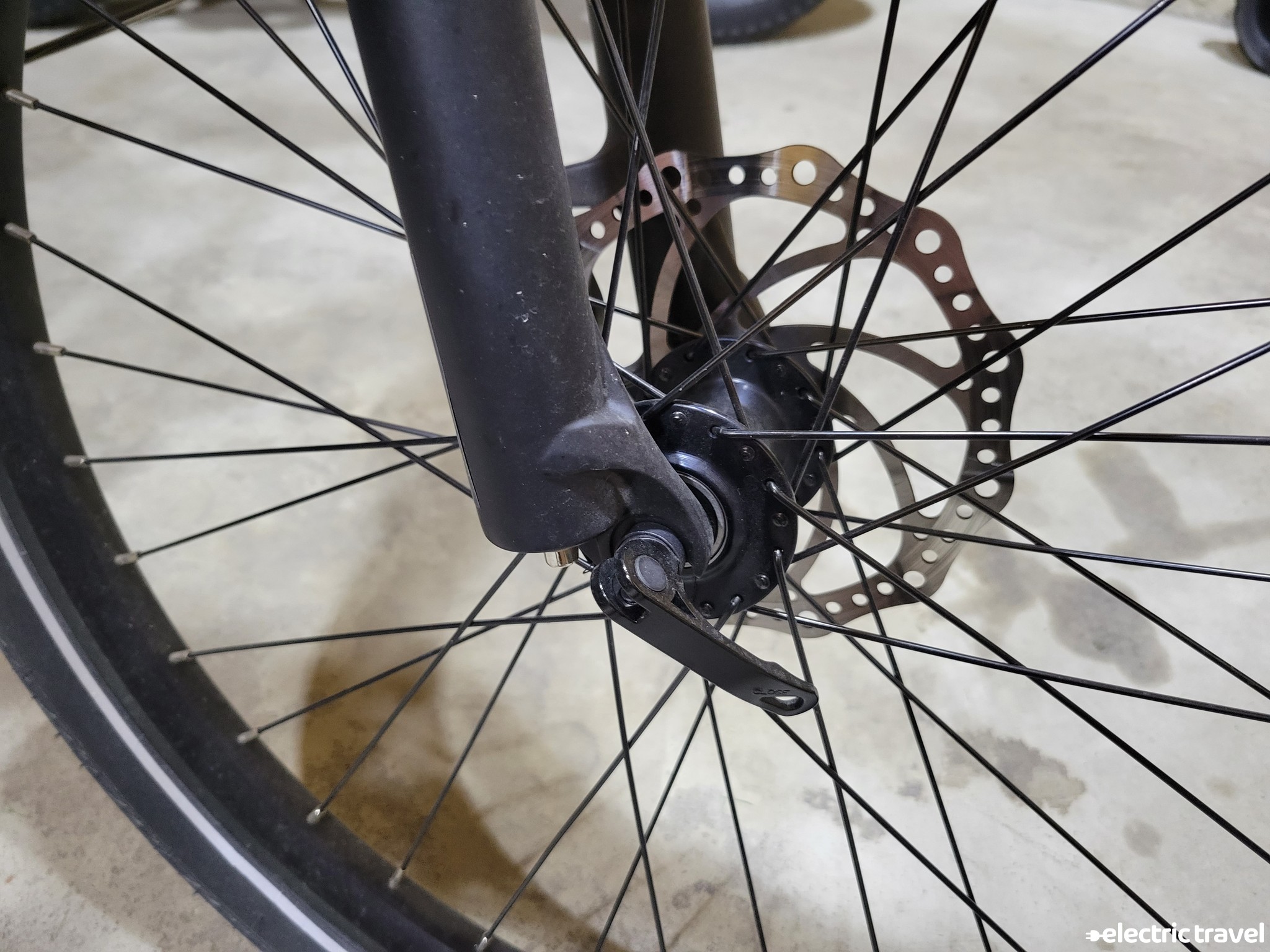 Quick-release levers are handy for taking the front wheel off.
The front wheel also comes with a quick-release that allows you to remove said wheel in mere seconds.
Shimano 7-Speed Derailleur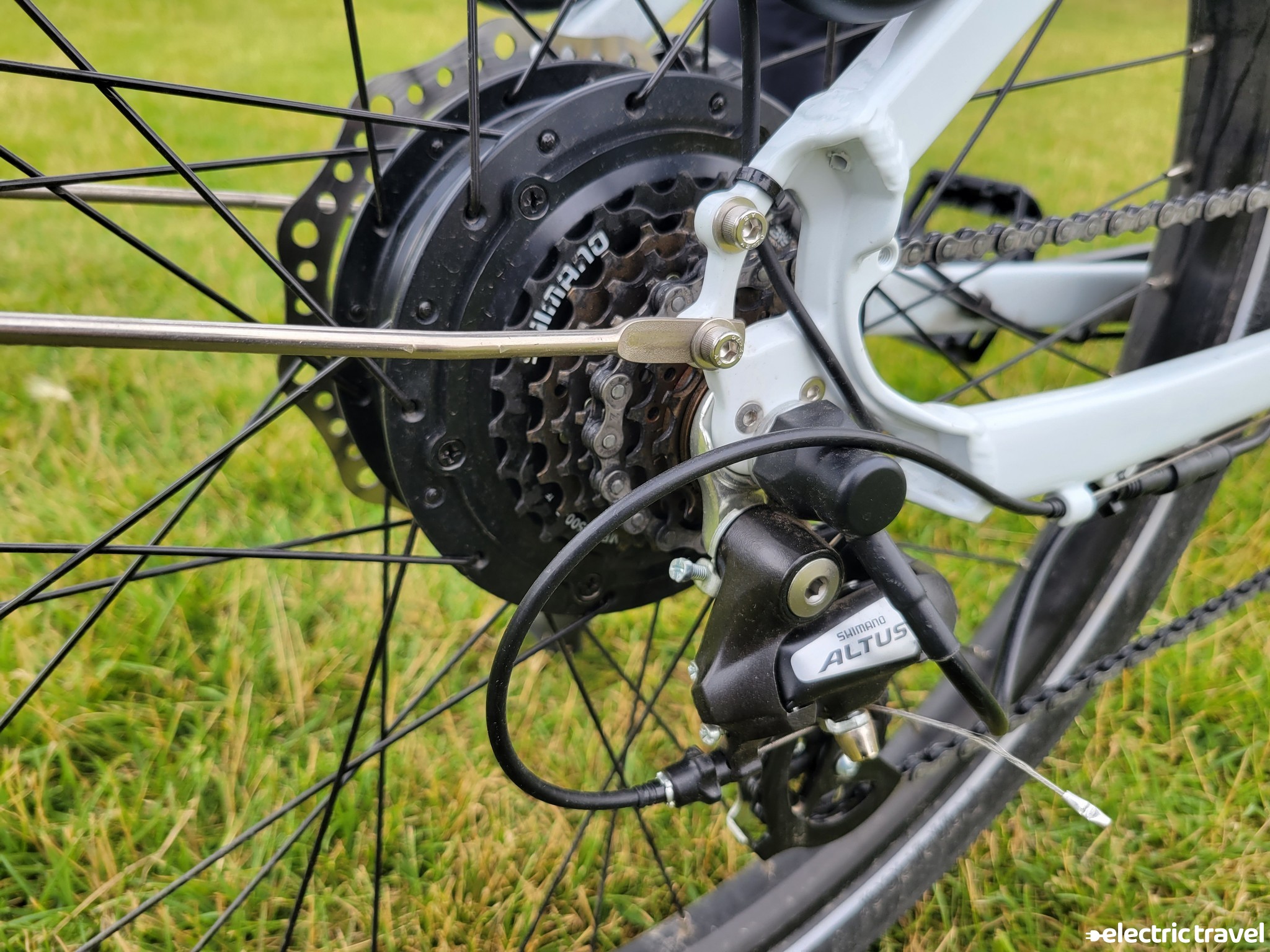 The Shimano 7-speed derailleur and KMC chain makes yet another appearance on the Step Thru ST. We've seen these components on offerings such as the Himiway Step Thru and TurboAnt Nebula N1.
Gear changes are immediate and there is no shift rattling. Just like the Himiway ST, the KBO Breeze ST is an easy-going ride that often leaves the long-throw shifter like the child that gets the least attention in the family.
KBO Breeze Step Thru Build Quality and Style
Design and Aesthetic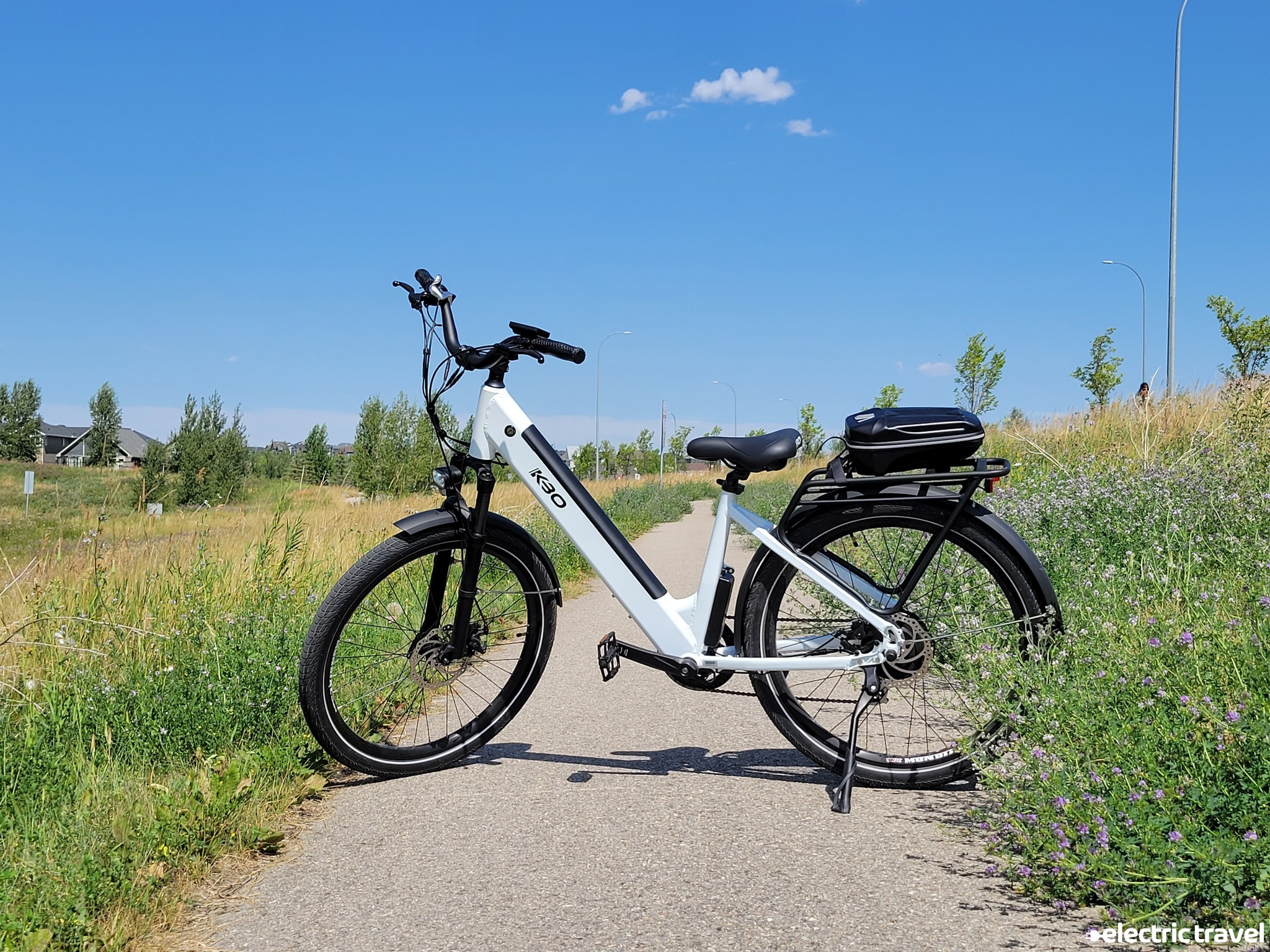 For shorter riders, the step thru frame is a boon that makes it comfortable to dismount and perfect for riders under 6 feet. The internal battery design keeps it sleek and does not interfere with rider legs stepping through the frame. The controller is carefully positioned from debris impact.
The aesthetics of the bike, while subjective, are a tad underwhelming. 
The Breeze ST comes in only one colour option while its sibling is available in a bright orange paint job.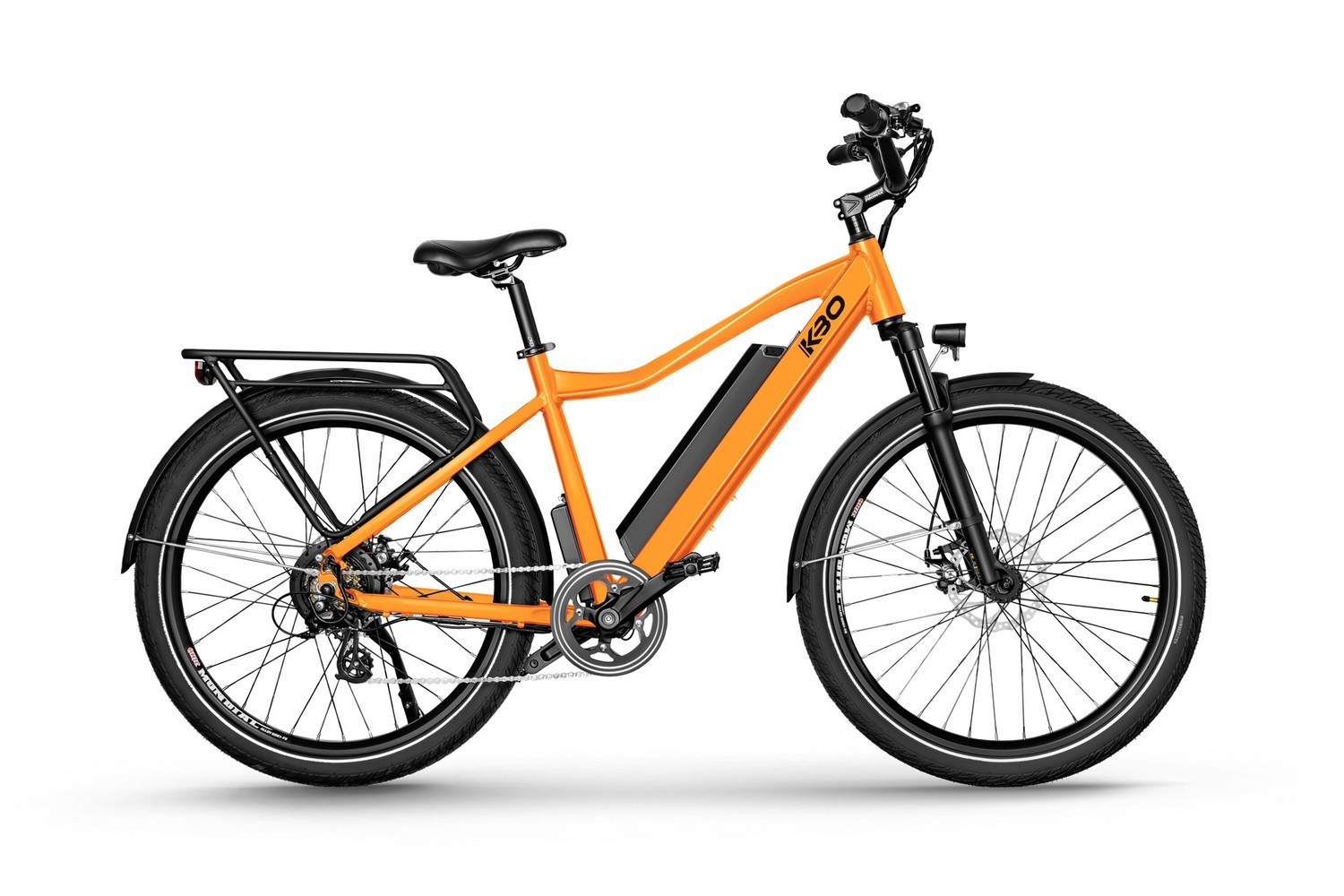 The KBO Breeze has more colour options than the Step Thru. It has TWO colours. The orange paintjob is eyecatching.
As we've called out in our KBO unboxing article, many manufacturers mix and match ubiquitous components through Haidong, a Chinese manufacturer of ODM and OEM bikes that offers drop shipping and design/manufacturing support for D2C (direct-to-consumer) eBike brands.
There's only so much variety available when building ebikes from the same list of components. However, these components also serve to make the KBO Breeze ST easy to maintain and replace parts as needed. Wear and tear components (derailleur, chain, etc) are easy to source in the event of parts failure, and should be relative inexpensive to replace.
Headset
The KBO Breeze ST allows you to adjust the height of the handlebars but not the angle.
As a commuter bike, I prefer a more upright riding position. With the lack of angle adjustability at the headset, my riding position was very much hunched over with arms outstretched which placed added pressure on my palms.
As I mention below, in combination with the thinner faux leather grips, this contributes to an uncomfortable ride. It's something to be aware of if you've got shorter arms or want a more friendly cruiser-style riding experience.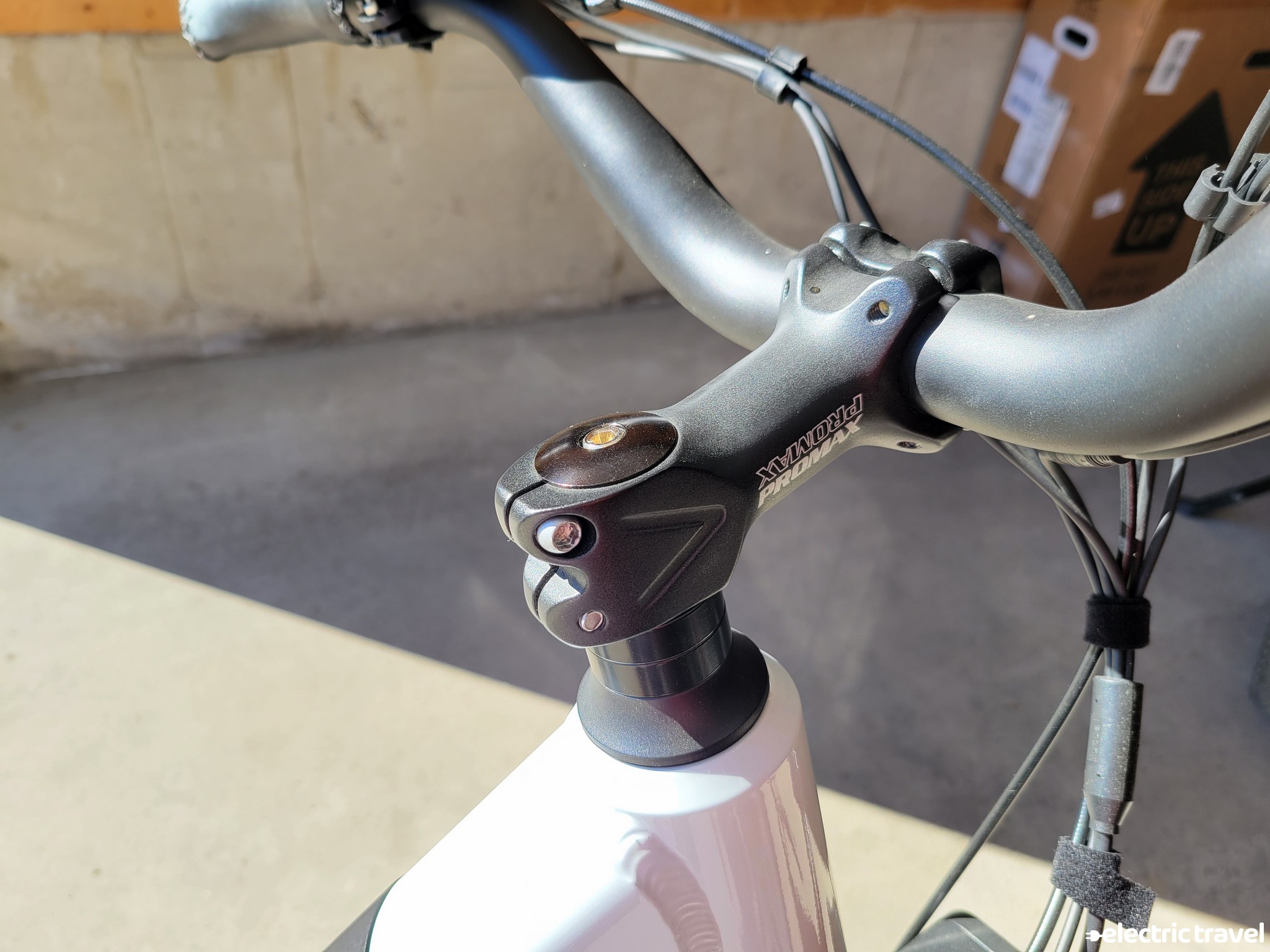 Faux Leather Grips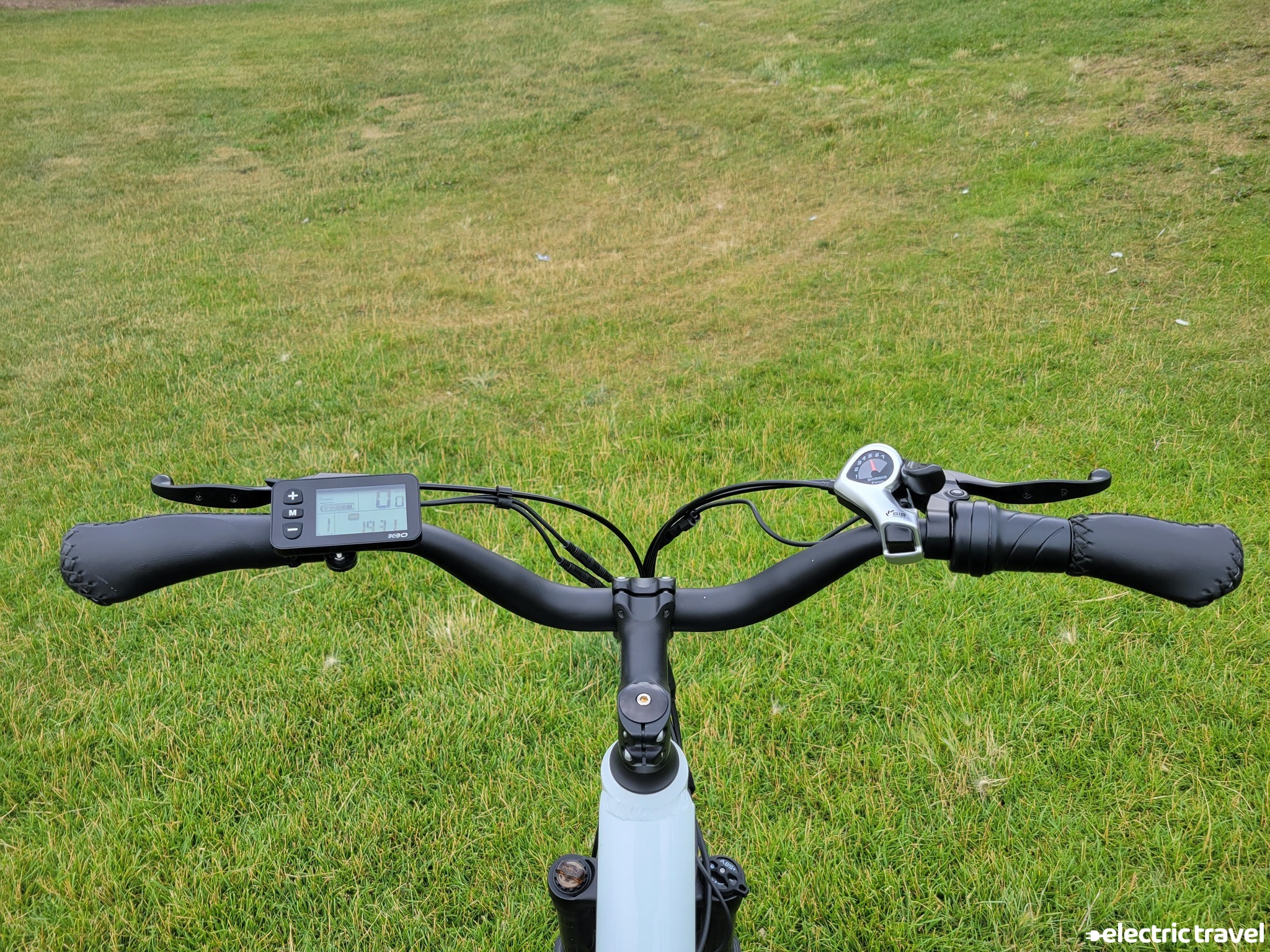 I do have a gripe with the grips (hehe). It's shaped ergonomically but you can see that the faux leather is thin with the edges of the handles showing through. 
As such, the ergonomics of the grip are undermined by the lack of cushioning material. The increased pressure on the palms resulted in an uncomfortable ride which I think is a miss.
LCD Display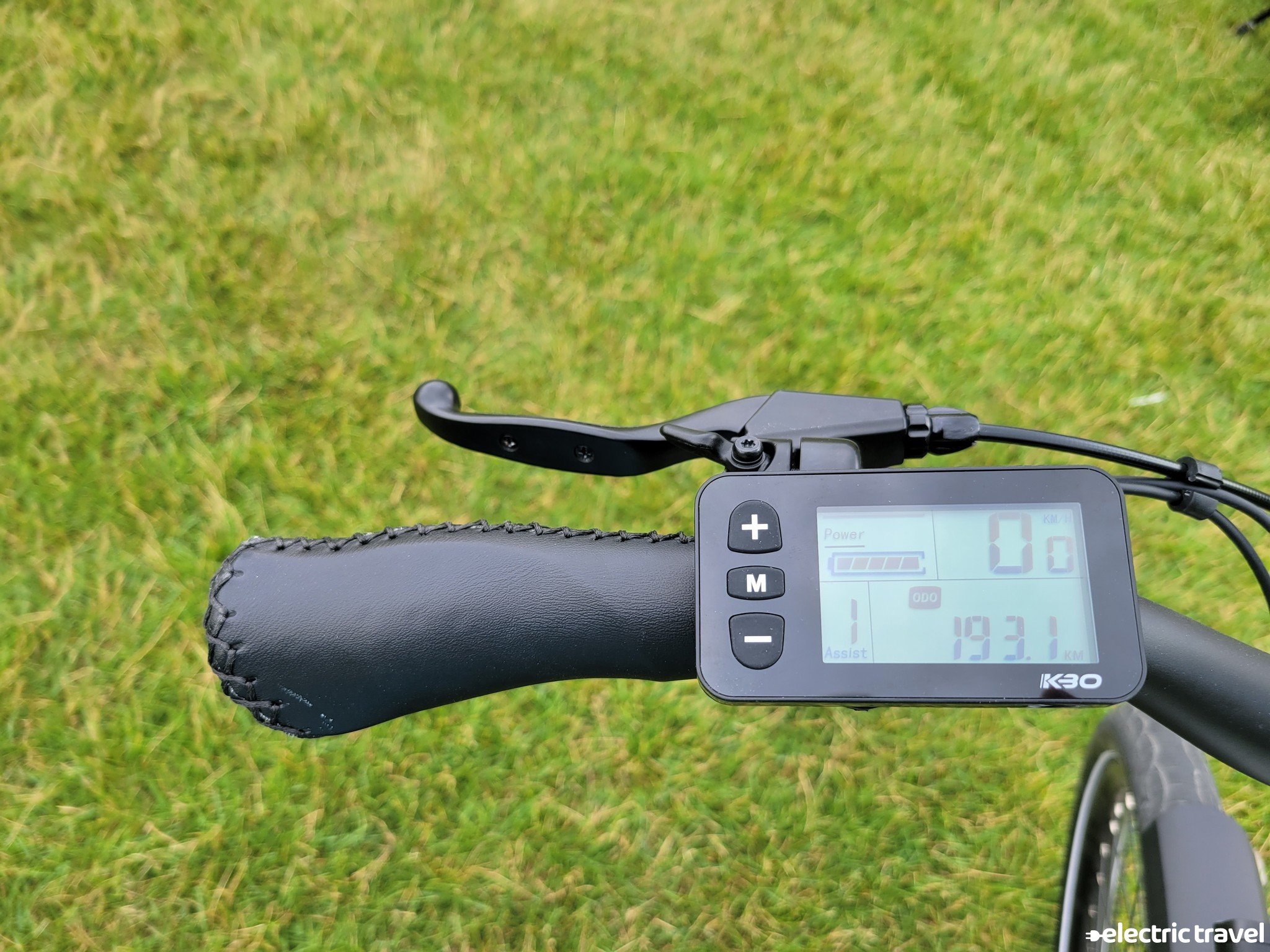 It's a simple display, and there's nothing wrong with simplicity.
The monochrome LCD screen is simple and displays standard metrics such as battery life, PAS level, speed, and mileage. 
The + and – buttons are intuitive and toggle PAS and smaller hands will find that they are easily within reach.
As a personal preference, I find it to be more informative when the battery level shows in percentages as opposed to a bar which offers a vague estimation of its remaining life.
Headlight and Taillight
The headlight on the Breeze ST is a simple LED paired with a reflector underneath, mounted alongside the front fender.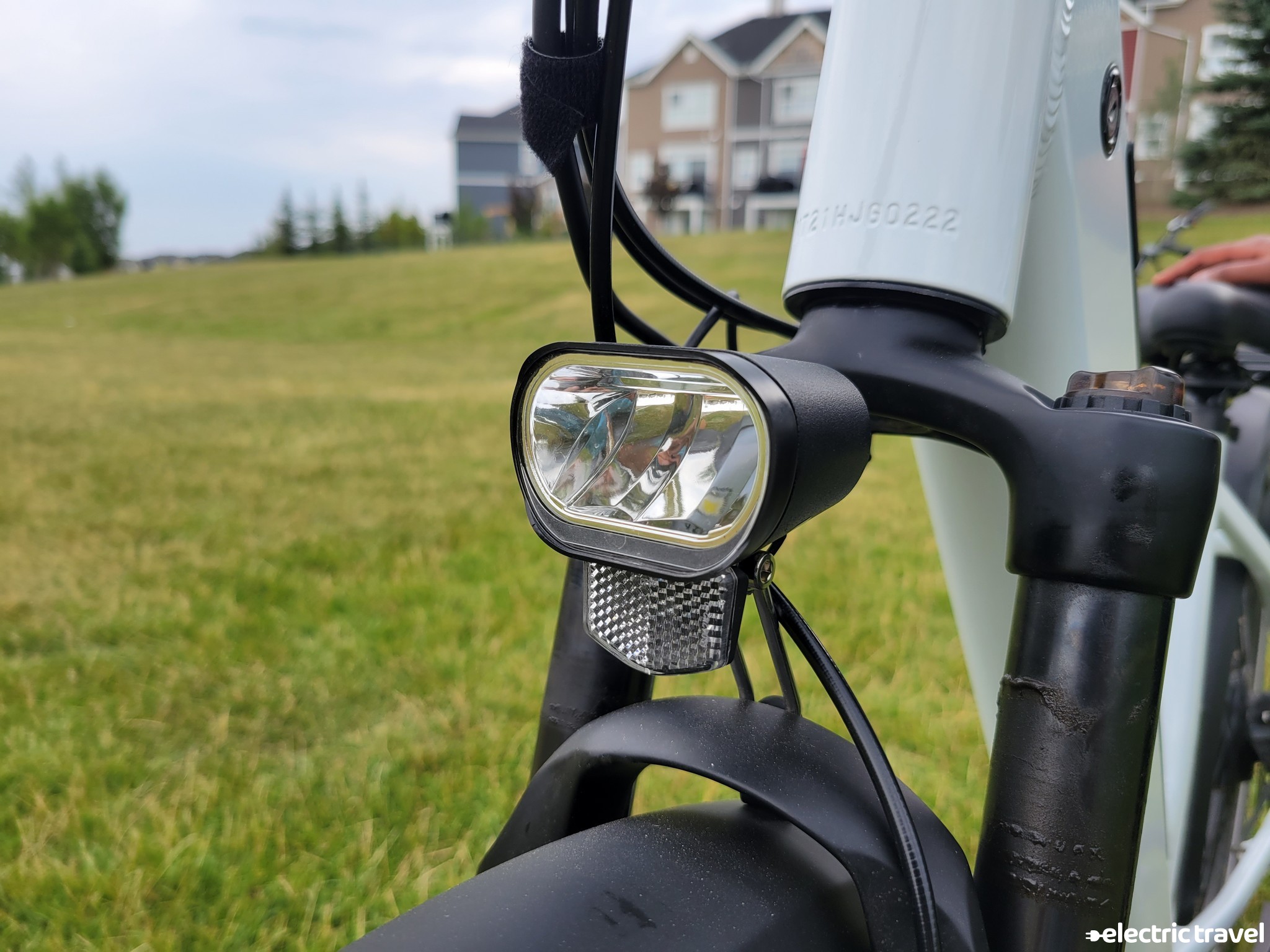 The taillight is mounted to the frame of the rear rack and blinks when the brakes are engaged which brings attention to your presence on the road. They're simple yet functional, and it's all any rider can ask for.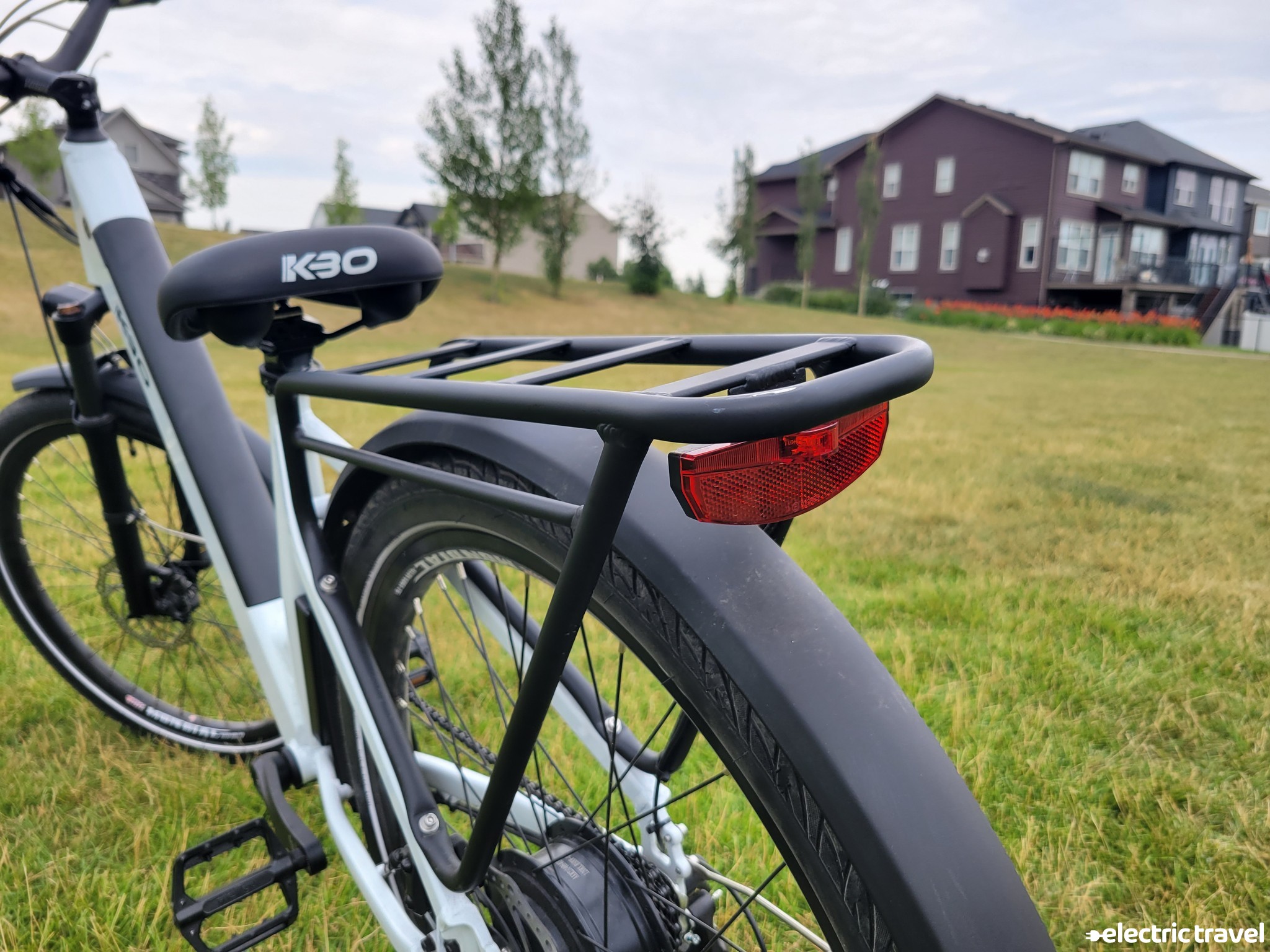 KBO Breeze Step Thru  N1 Value for Money
The TurboAnt Nebula N1 and the KBO Breeze Step Thru.
The KBO Breeze ST is priced accordingly. It's got a smaller motor and less torque, and as a result, you get a product that is roughly $200-300 USD cheaper than other entry-level competitors. However, the 48v 16aH battery (768 Wh capacity) makes it a contender in the commuter ebike segment.
If maximizing oomph while on a budget is not a priority for you, you'll be happy with the MSRP of $1499 (currently on sale for $1399 at the time of writing).
It's easy to ride. It's nimble. It's pretty fun.
Pros
Currently priced at $1399, it's a very affordable choice for a beginner ebike.

Step-thru design makes for easy dismounting for less flexible riders.

27.5" x 2.4" Panasonic tires offer a nimble riding experience compared to fat-tired ebikes.

With the battery removed, the bike itself is quite lightweight and not cumbersome.

Includes preinstalled rear rack.
Cons
500w / 60 Nm torque compared to 750w / 80 Nm which many entry-level ebikes come with.

Thin faux leather handlebar grips are uncomfortable.

The basic design and aesthetic make for a forgettable bike.
Important Links / Where to Buy