CFMoto importers Mojo Motorcycles are either worried about the public's perception of the bargain-priced Chinese motorcycle brand or so confident in its reliability that they have offered bikes for long-term evaluation to several motorcycle magazines and websites.
MotorbikeWriter's CFMoto 650NK press bike arrived a couple of weeks ago with the agreement that I hold on to it until the second service in a few months. I'd expect that a bargain-priced bike would expose any of its flaws in that time.
I tested the first batch of 650NKs that arrived a couple of years ago and was very impressed with what you get for the on-road cost of $6990. My main criticisms were the brakes, instruments and tyres. Mojo Motorcycles boss Michael Poynton took note of similar motorcycle press criticisms and the new batch has arrived with decent Spanish/Chinese brakes with braided steel lines and petal discs, upgraded Taiwanese instruments and German Continental Conti Attack tyres. Price remained at $6990 rideaway, but has recently been increased by $300. Still a great bargain and probably an even better bargain if Australia goes ahead with its tipped Free Trade Agreement with China.
READ MY REVIEWS OF 2013 AND 2014 MODELS
The quick changes in components is evidence that CFMoto is intent on producing a quality product and listening to the demands of consumers. This attention to quality control is reflected in the deal they have done with Austrian motorcycle manufacturer KTM to produce Duke 200 and 390 models in China for the local market.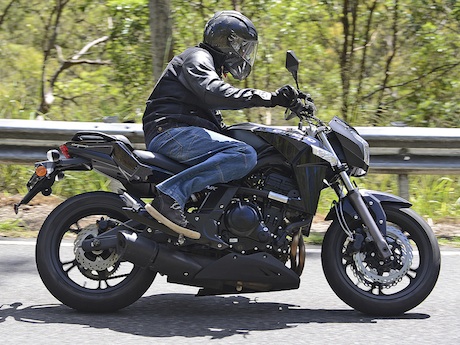 To further emphasise their commitment to quality and the development of technology, CFMoto is providing factory support for the WK Bikes race team at the Isle of Man TT next month. The CFMoto 650i will be ridden in the Lightweight category by Gary Johnson who put in a 175km/h (109mph) practice lap last year with the development bike.
Clearly CFMoto is in for the long haul and so is their 650NK in our hands. Before it goes in for its first service this week, it has already clocked 1000km with not a problem at all.
My only criticisms seem rather insignificant when you consider how little the bike costs, but here goes:
The fuel float isn't very accurate and probably needs addressing. The gauge on the LCD Instruments measures the fuel in 11 bars, but it jumps up and down by about three bars at a time.
Parallel twin engines tend to buzz a fair bit at high revs and this is no different. It isn't annoying and doesn't make your hands tingle, but it does blur the image in the mirrors. You can't tell if you are being followed by an ambulance or an ice-cream van! The wing mirror housings are good quality, but the mirror needs improved isolation.
The indicator switch is flimsy and doesn't always trigger. Every time you use it, you have to look down and check that it has actuated or cancelled.
On a long haul, the hard seat becomes a bit of a pain. At least it's flat and there aren't supports that dig into your backside. Maybe a thicker or better-quality foam would help.
On bumpy roads the suspension is a bit choppy and lacks the subtlety to take the sting out of sudden bumps.
That's about it. All fairly minor complaints considering the price of the bike. But I suspect that CFMoto will even iron these out in quick time.
Keep checking back here for more reports on the bike as we take it past its first service.