Spidi Flash-R EVO Women's Gloves Review Summary
Review Summary
If you are on the hunt for a lightweight, comfortable and breathable riding glove, look no further! The Spidi Flash-R EVO Women's Gloves come equipped with elasticized neoprene fabric paired with punched mesh and vent details to ensure the most comfort for your hand. The high resistance suede microfiber material gives a sleek and smooth feel to the glove while giving extra life to them. The Spidi Flash-R EVO Women's Gloves have CE Level 1 knuckle protectors along with padding on the side, back and palm of your hand. Add in the secure velcro close, the touch screen compatibility, and shock absorption material… you have a glove with a lot of potential!
Pros
Elasticized neoprene fabric paired with punched mesh and vent details
High resistance suede microfiber material
Pull tab at cuff to assist in pulling on glove
Padding on the back, side and palm of the hand
Touch screen fingertip
Snug, comfortable fit
CE Level 1 knuckle protector
Variable density polyurethanes shield for shock absorption functions
Cons
The Powertech knuckles shield is misaligned and covers the back of the hand instead instead of the knuckles
No protection on finger joints or thumbs
Glove color may differ from what you see online
Material frays very easily
Spidi Flash-R EVO Women's Gloves Image Gallery
Review Summary
If you're looking for the main takeaways from this review, here is my summary on the Spidi Flash-R EVO Women's Gloves:
Flash-R EVO Women's Gloves retail for $51.75 USD.
The gloves are available in 4 different color schemes and range from size XS-XL, but color may vary from online images
Has padding on the palm, back, and side of the hand
High-resistance mesh inserts gives maximum comfort and ventilation
CE Level 1 knuckle protector does not line up with the rider's knuckle, but lines up with the back of their hand
Velcro closure feels secure and is not easy to pull off
Touchscreen compatibility works well
Glove frays easily
Breathable, movable, comfortable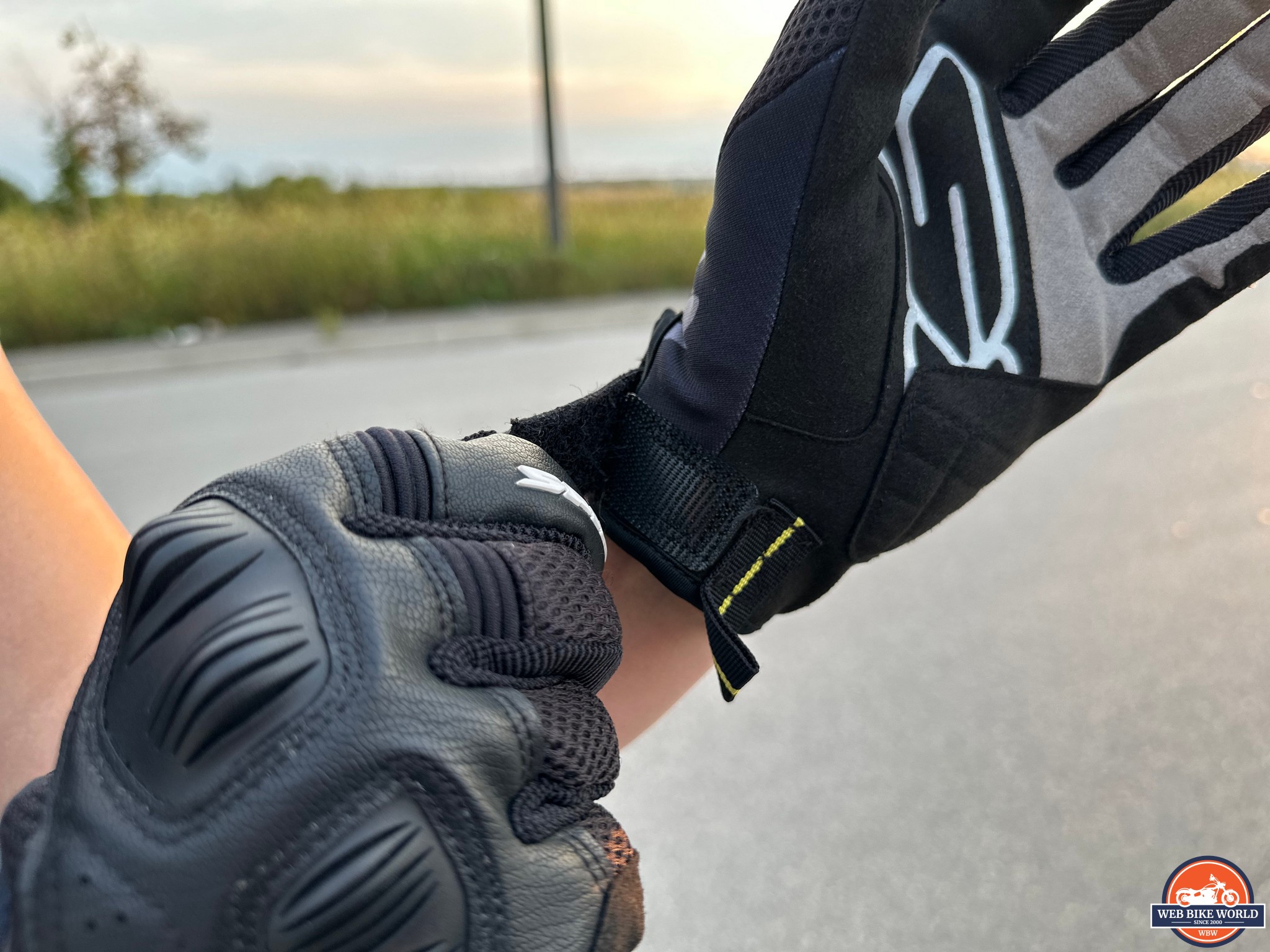 Do you really need protective riding gloves as a passenger?
Let me ask you this before you answer that question:
Do you enjoy having 10 fingers and being able to use all of them?
If you answered YES to that question, then YES…you do!
You need proper, protective riding gloves, even as a passenger. Safety should always be top of mind. Safety doesn't stop at a helmet or jacket.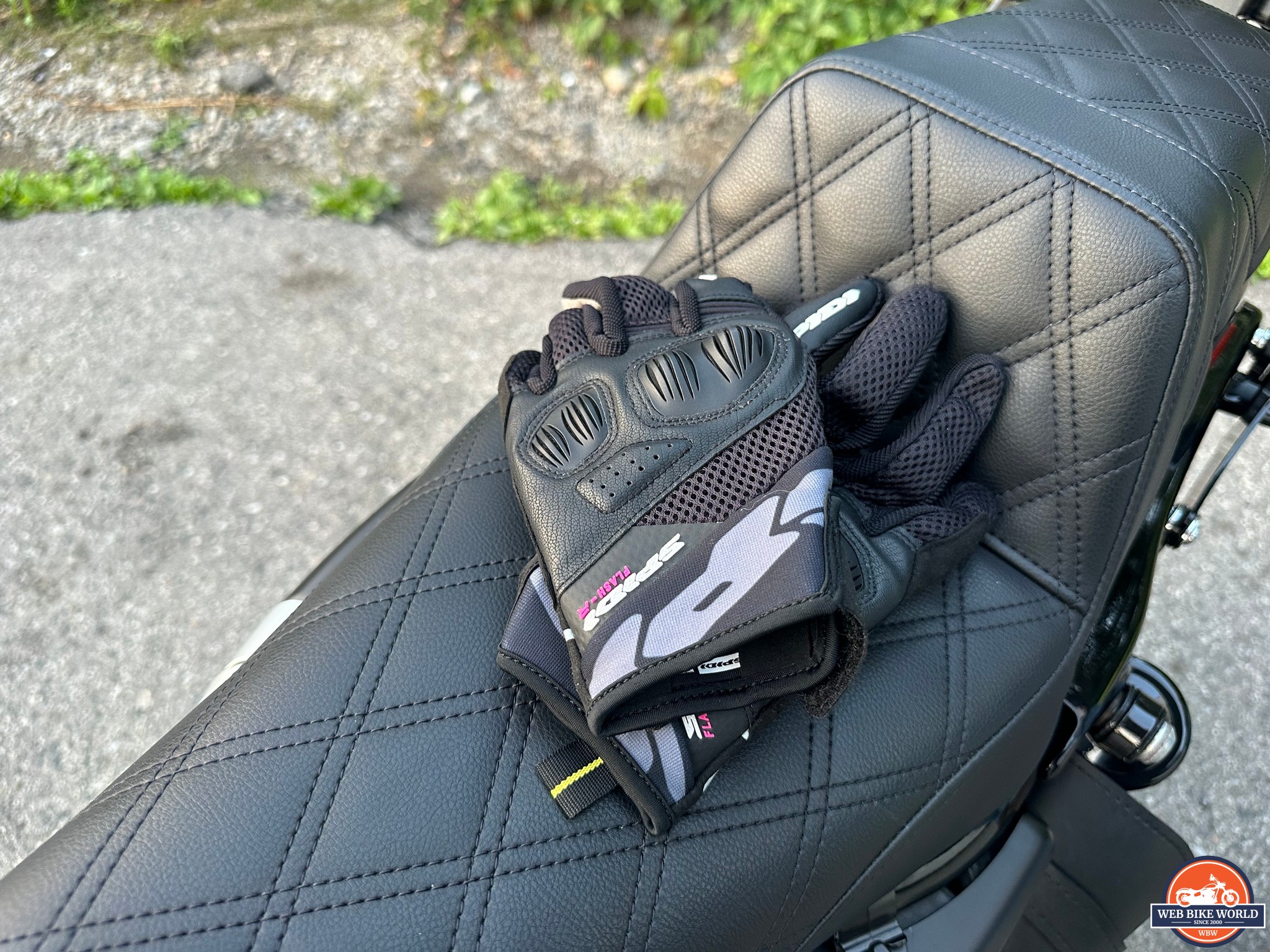 Proper riding gloves will not only protect your hands in the case of an accident, they also provide better grip, and they help keep your hands safe from the elements.
If you aren't sure where to start on your glove purchasing journey, check out our Motorcycle Glove Buyer's Guide!
Spidi Flash-R EVO Women's Gloves
I hate to say it, but I used to assume that a basic leather glove would be sufficient protection for my hands when riding. While leather gloves are great for protecting against road rash, they do not protect your hands against impact.
It's time to move on from the half-assed gloves we were wearing. It's time to upgrade. Luckily Spidi has paired advancements in technology and protective gear, with style and comfort to create the Spidi Flash-R EVO Women's Gloves.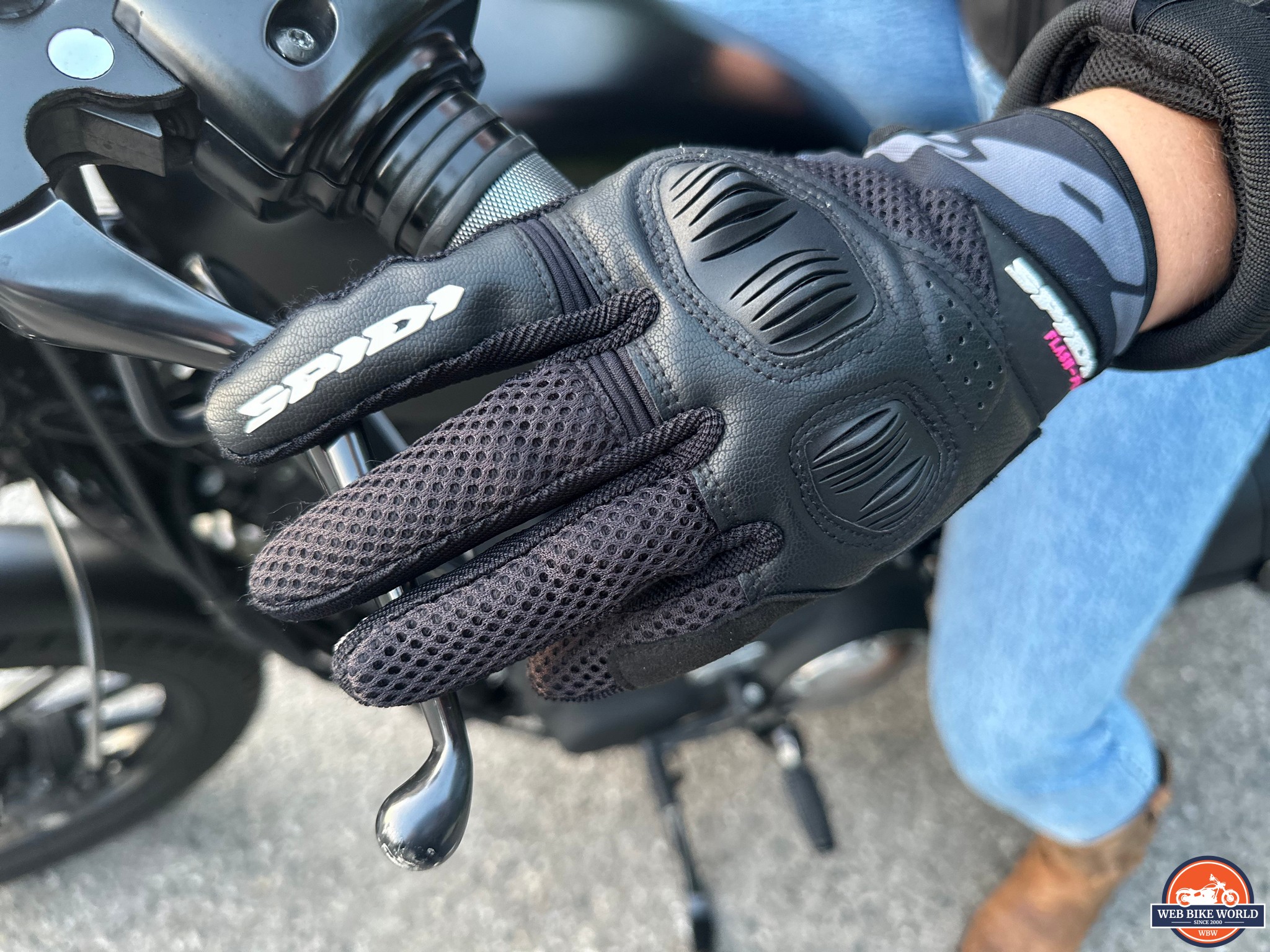 Let me introduce you to the Spidi Flash-R EVO Women's Gloves! These gloves come with touchscreen compatibility, elasticized neoprene fabric paired with punched mesh and vent details, CE Level 1 knuckle protectors, as well as padding on the back, the side and the palm of the hand. All while providing a comfortable but snug fit.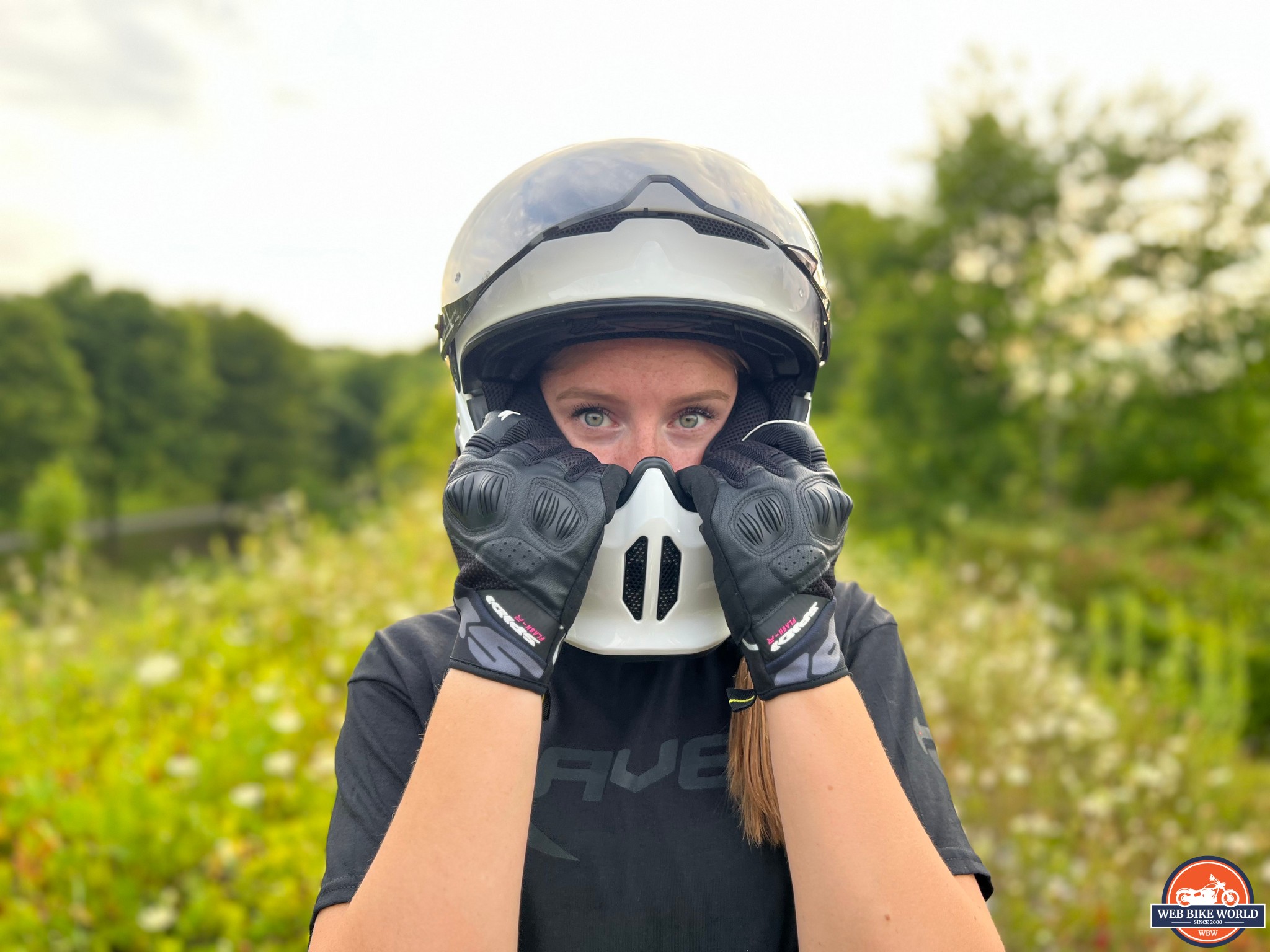 When I first put these gloves on, I thought I found my new go-to riding gloves. They were a perfect fit and were very comfortable. However, after wearing them a handful of times and doing some research, that might not be the case.
Design and Quality
Design is all about perspective and mixing creativity with functionality. Spidi definitely achieved that with their design of the Spidi Flash-R EVO Women's Gloves. They are fashionable and easy on the eyes, yet have hidden features to ensure safety when riding.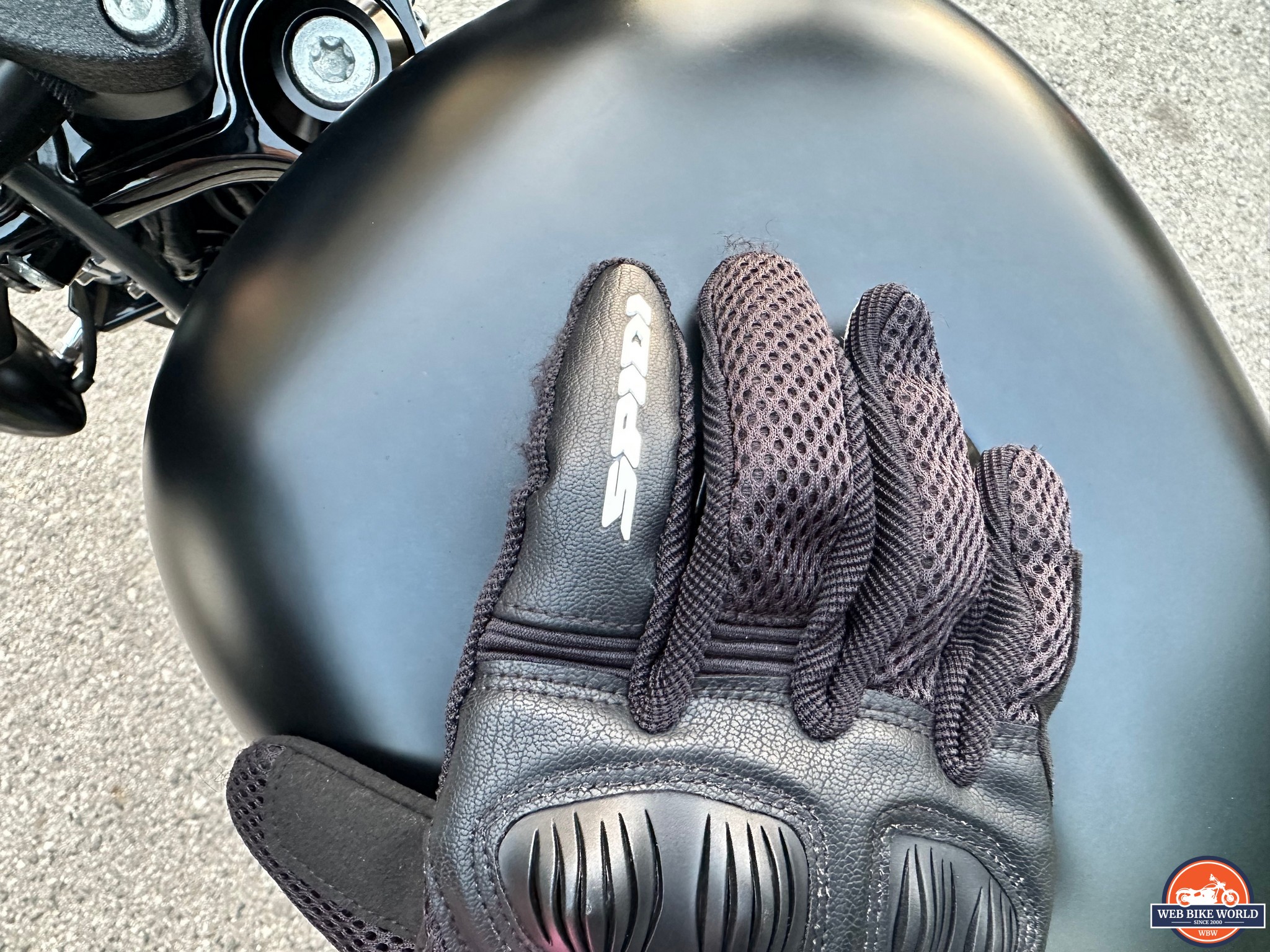 At first touch, the quality seemed up to par with what I would expect from Spidi. However, my opinion quickly changed when Devan pointed out the material started to fray after just a handful of wears.
Design
The Spidi Flash-R EVO Women's Gloves are short cuffed and made with stretchy, breathable materials. They are lightweight and made to move with you.
They are available in sizes XS-XL and come in 4 color variations:
Black
Black/White
Red
Black/Fuschia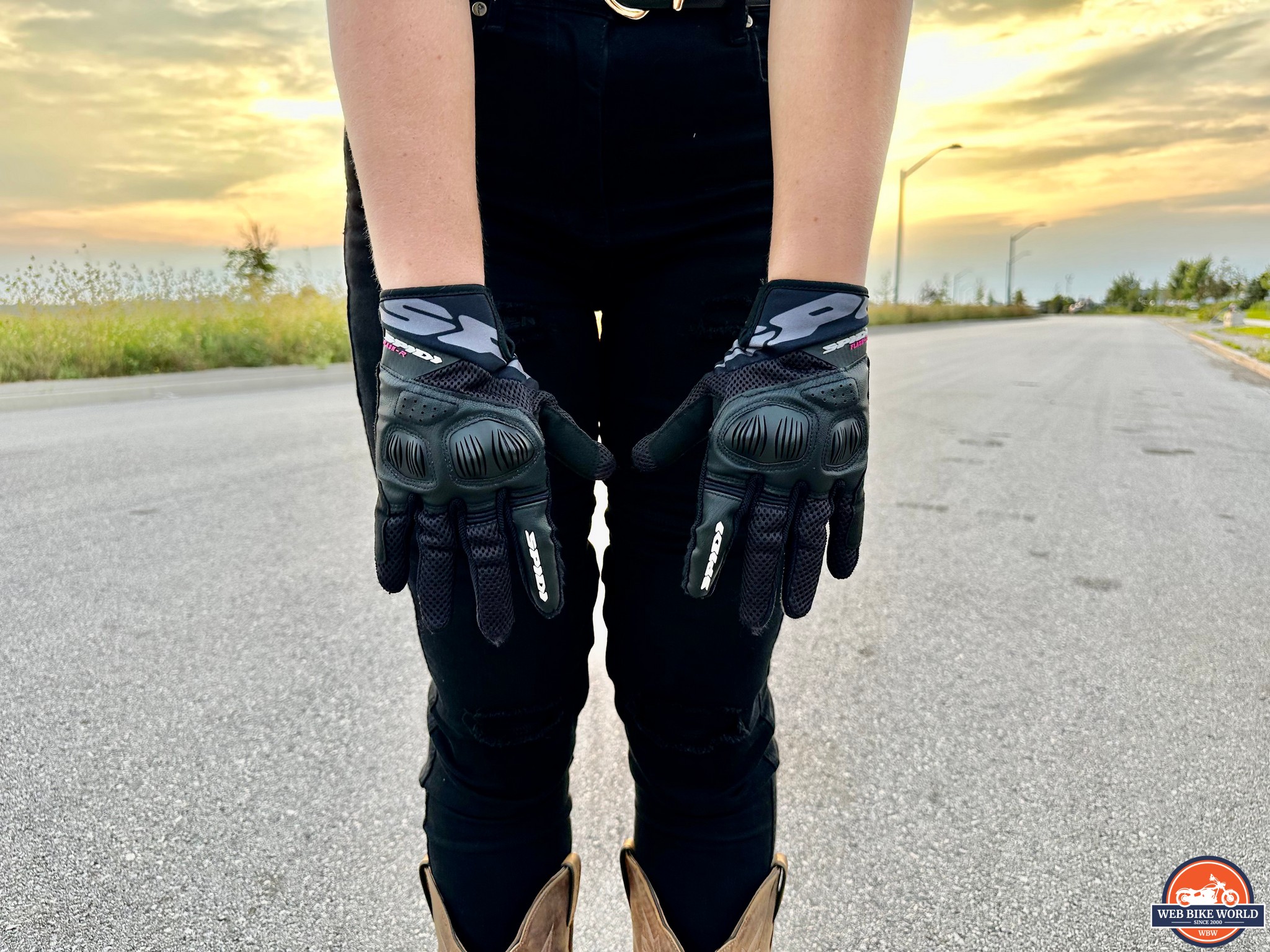 The Spidi Flash-R EVO Women's Gloves were designed to have maximum airflow while providing comfort and protection. I noticed the extreme breathability right away. I was shocked when I took the glove off for the first time after a long, hot ride and didn't have a pool of sweat in my palm.
The stretch fabric works simultaneously with the mesh venting and high resistant microfiber reinforcement to ensure sweat free and breathable hands while riding.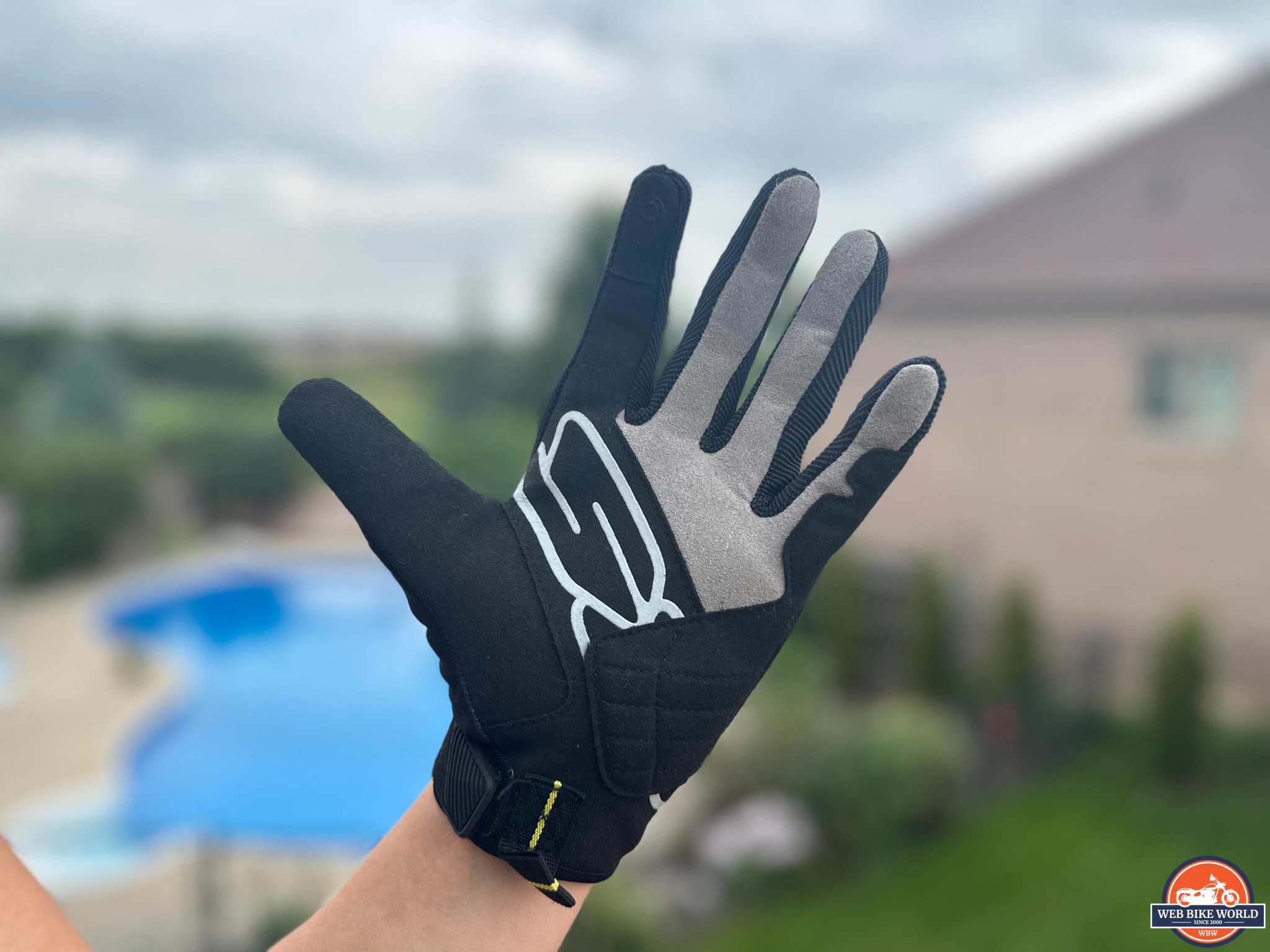 The glove has a wide enough opening for your hand to easily and comfortably slide in. They also have a velcro close that feels very secure. I have tried multiple times to pull the glove off after securing it and it does not budge. That's a huge checkmark in my books.
When it comes to the overall design of the glove, it's sleek and slim, which is exactly what you want in a light-duty riding glove. However, there are some significant design flaws in the protection portion of this glove that are worth noting.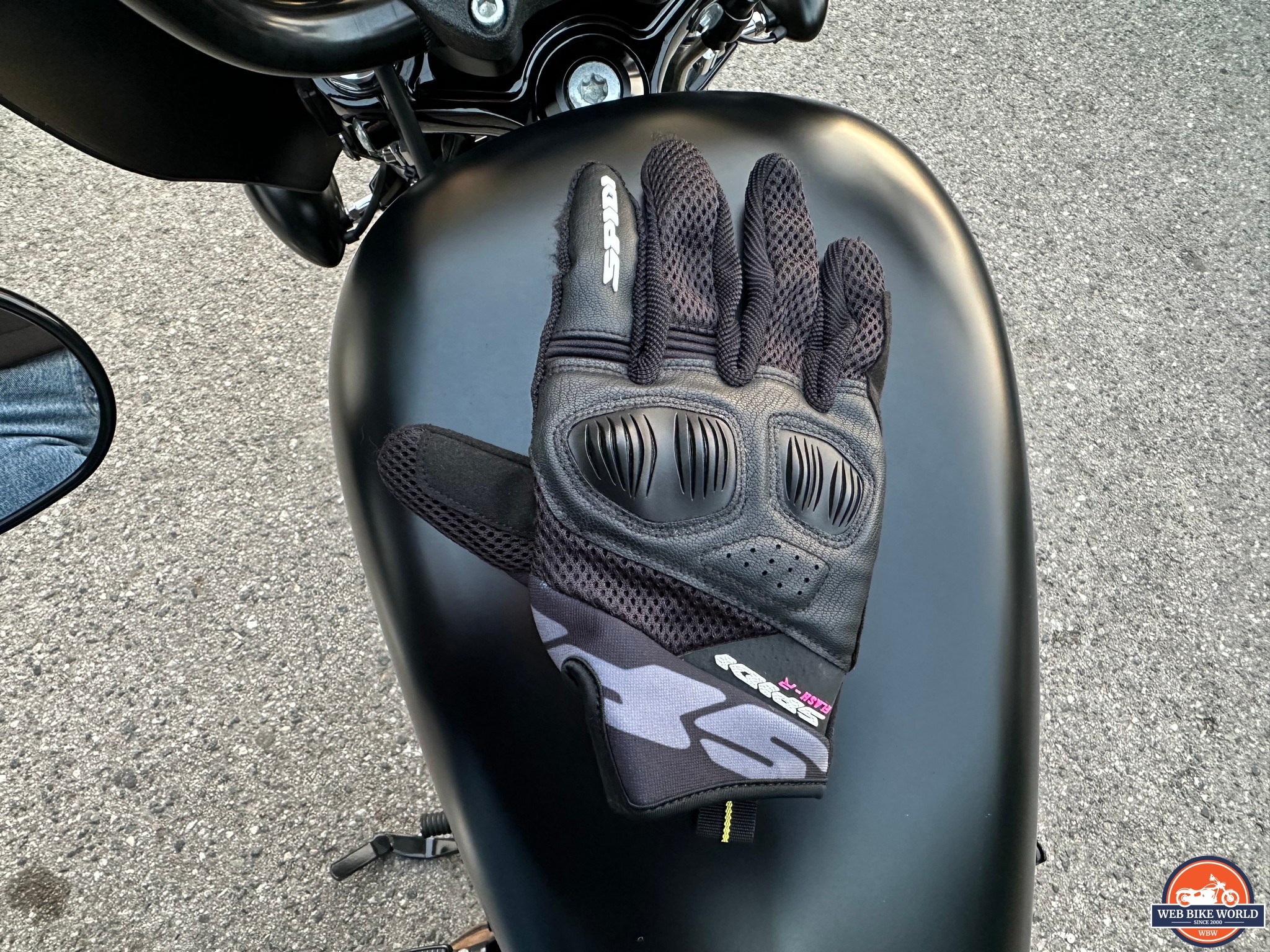 The CE Level 1 knuckle protector is an amazing addition to this glove. However, it's not doing its job. The knuckle protector is only an added value if it actually protects your knuckles. Unfortunately the knuckle protector on the Spidi Flash-R EVO Women's Glove sits on the back of your hand, which is not ideal for knuckle protection.
I will go into more detail about the protection of this glove later in this review!
Quality
The Spidi Flash-R EVO Women's Glove is very visually appealing. The material at first grab seems durable, breathable and high quality. However, after only wearing the gloves a handful of times (less than 10 times), the fingers started fraying. This makes me question not only the quality of the glove, but the quality of protection as well.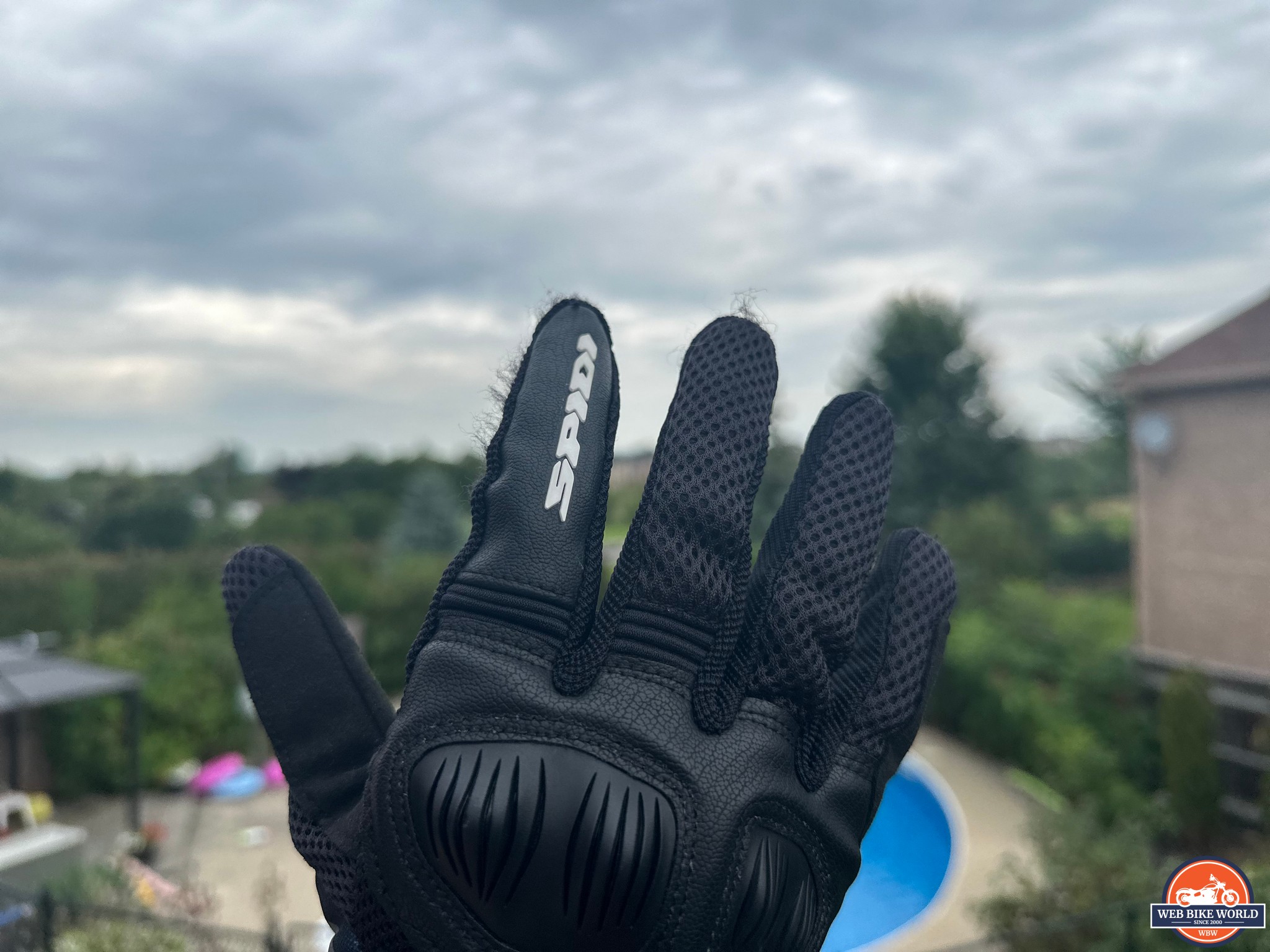 Wear and tear is normal and expected, you're up against the elements with no shell for protection. However, seeing this amount fraying on the fingers after only wearing them a handful of times, seems like an opportunity for improvement for Spidi.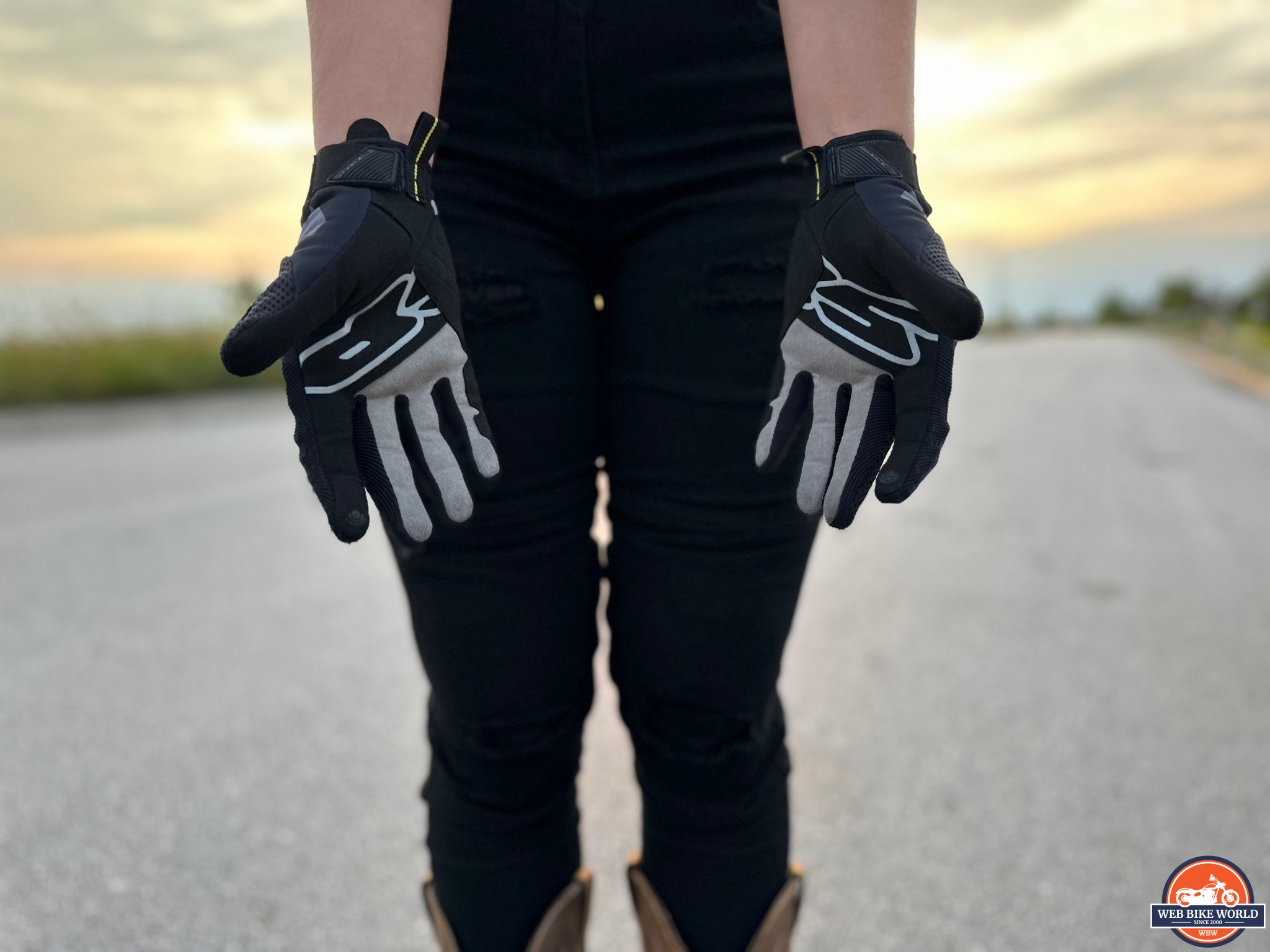 Keep in mind that I have only worn these gloves as a passenger, so this fraying has come from little to no hand movement. I can only assume that the wear and tear would increase faster if I was gripping handlebars and switching gears as a rider.
Design & Quality Ratings: 65%
I actually quite enjoy the design of the Spidi Flash-R EVO Women's Gloves. They are lightweight, stylish, short cuffed, and non-restricting, all while being extremely breathable. They come in multiple color schemes, all of which look sleek and effortless.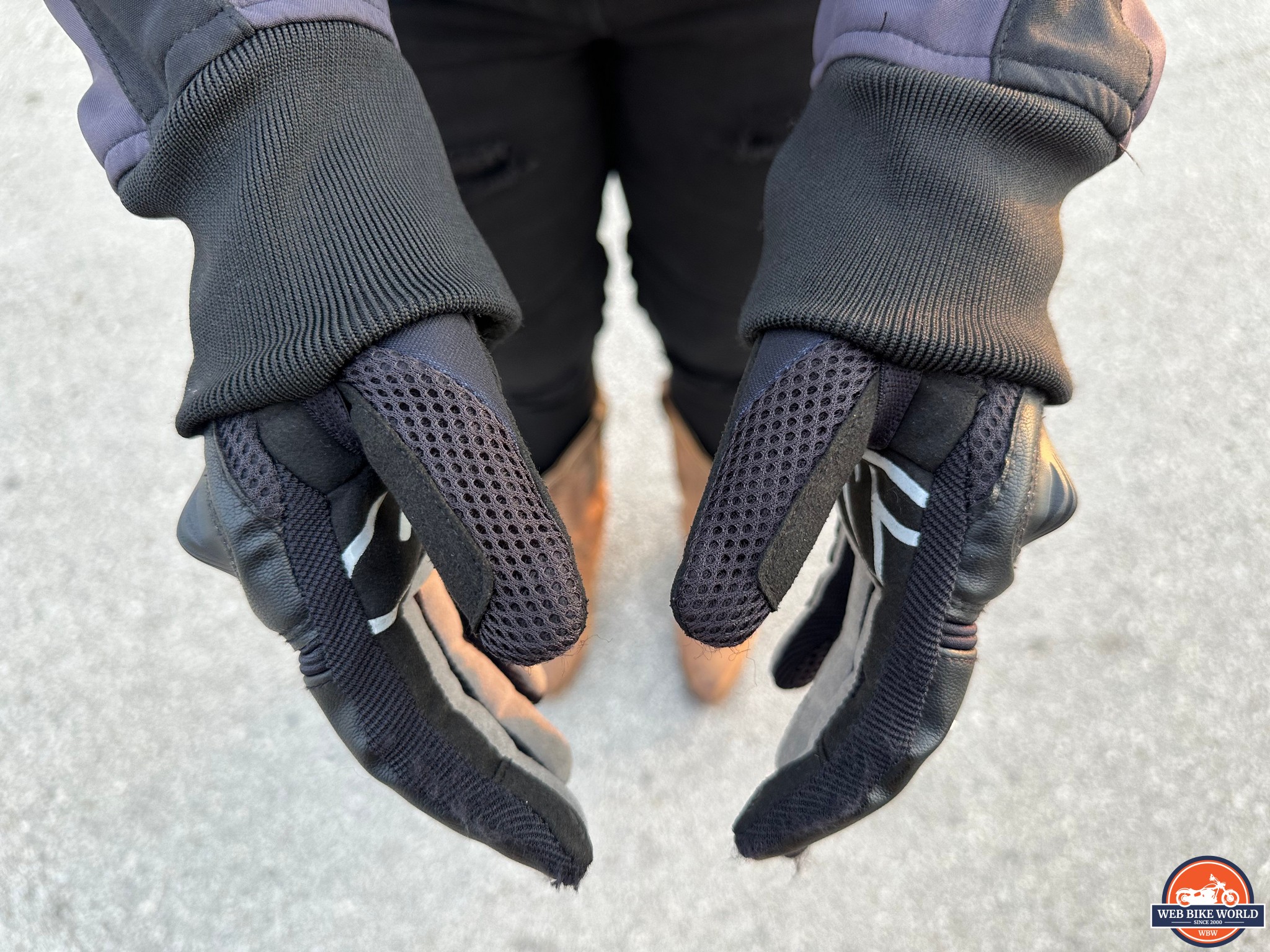 My score being low stems from the overall quality of the glove and placement of the protection pads. The gloves should not be fraying in the fingers after wearing them a few times. Period. Especially as a passenger who doesn't touch the handle bars. The fraying causes concerns for the quality of the entire glove.
The quality makes me question whether or not these Spidi Gloves will actually protect my hands in the unfortunate event of an accident or fall. Take the fraying into consideration alongside the misaligned knuckle protector pad and you have a potential recipe for disaster.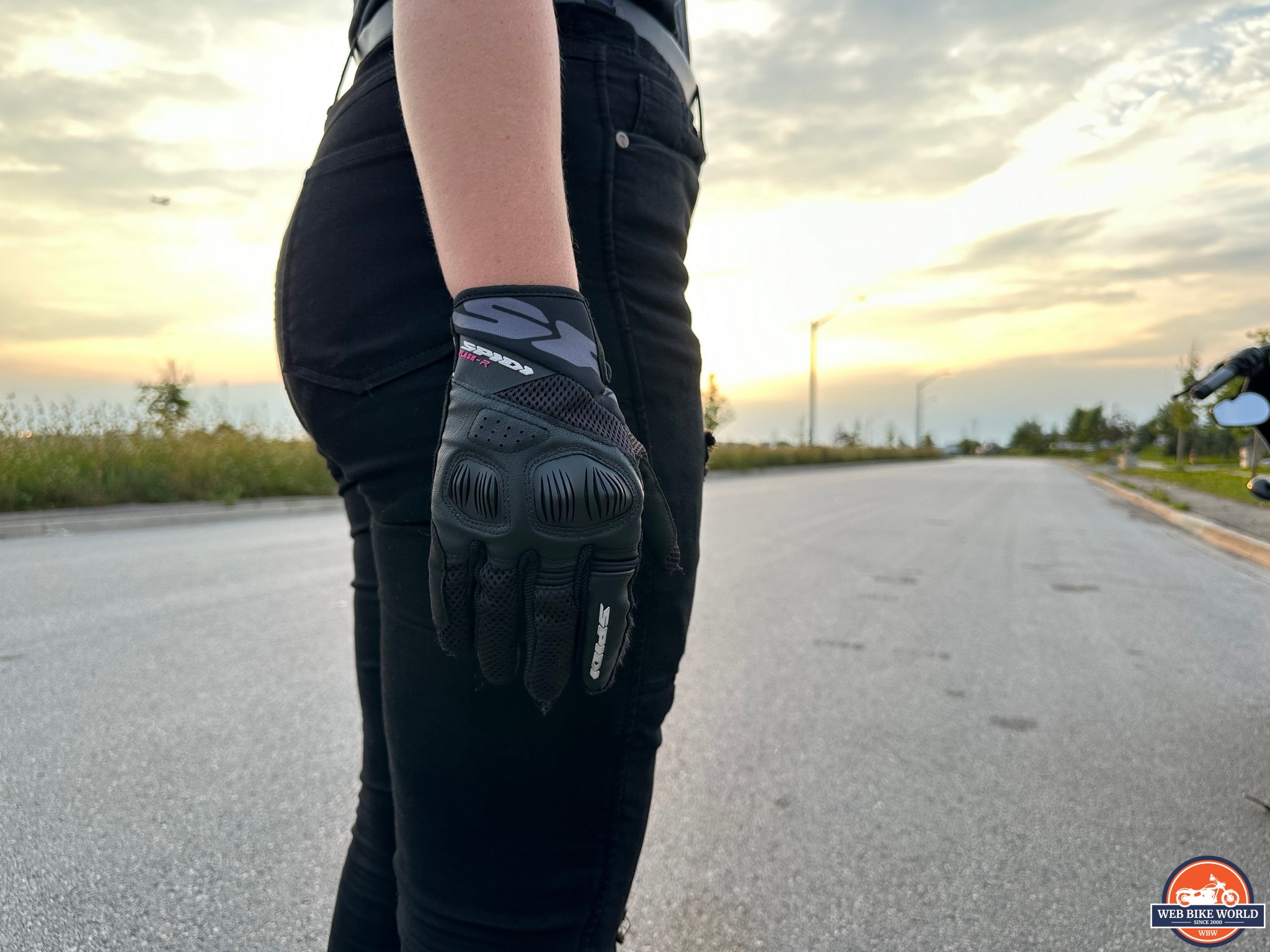 Size & Fit
Buying gloves can be a tricky process, especially if you have never purchased riding gloves before. As a newbie purchasing protective gear, I wasn't sure if I should stick to Spidi's size guide or pick the glove size I thought would fit best.
After reading through their recommendations, I'm glad I followed their size guide. The gloves fit perfectly snug and comfortable on me!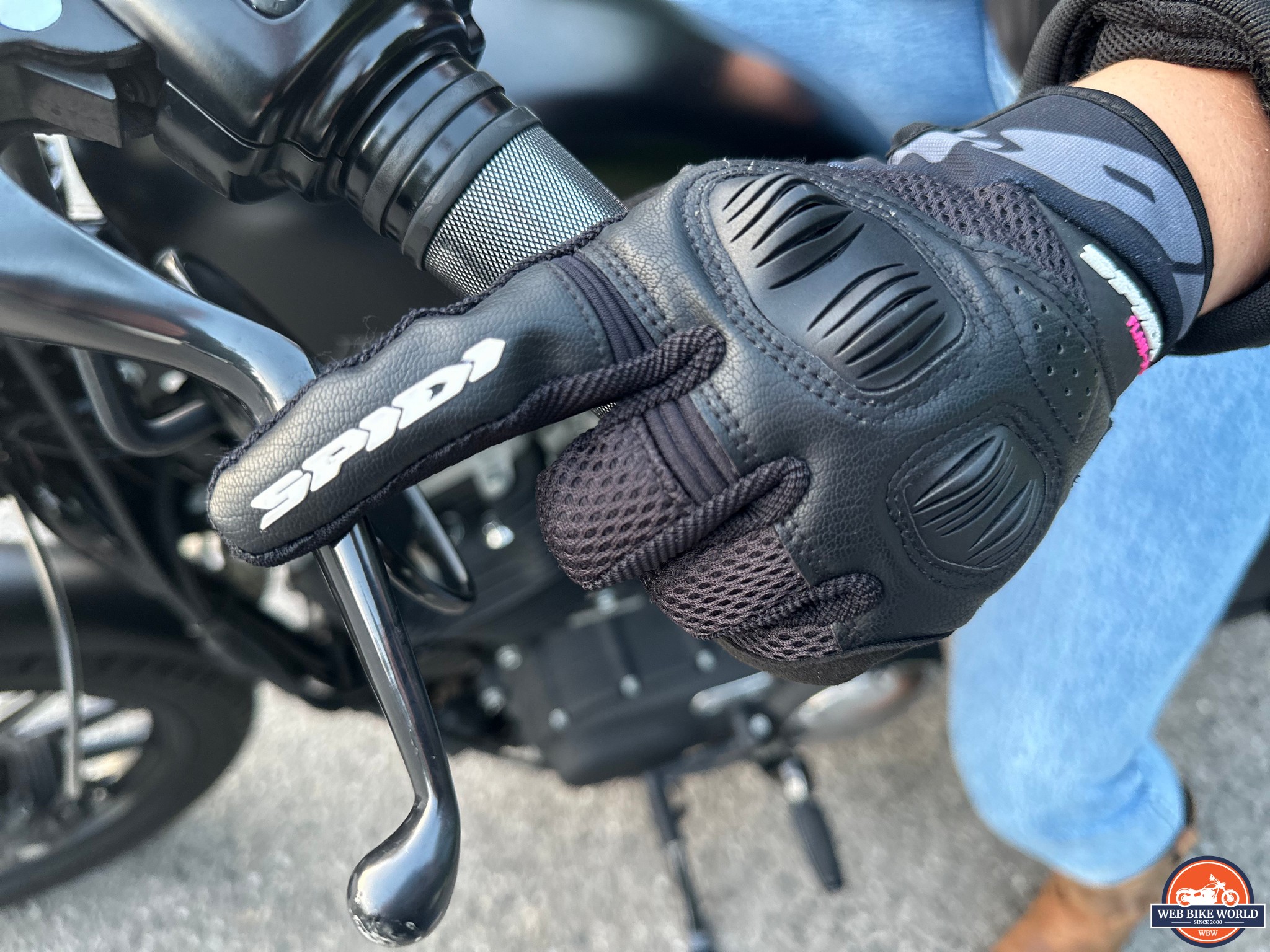 Size
Spidi's size guide was bang on and their instructions for measuring your hand were very easy to follow. They recommend wrapping a cloth measuring tape around your hand behind the knuckles, not including the thumb, while keeping the tape snug. You then measure both your left and right hand, and then use the larger of the two measurements to determine which size glove to get.
Based on those measurements, I opted for a size medium. The size medium fits me like a glove 😉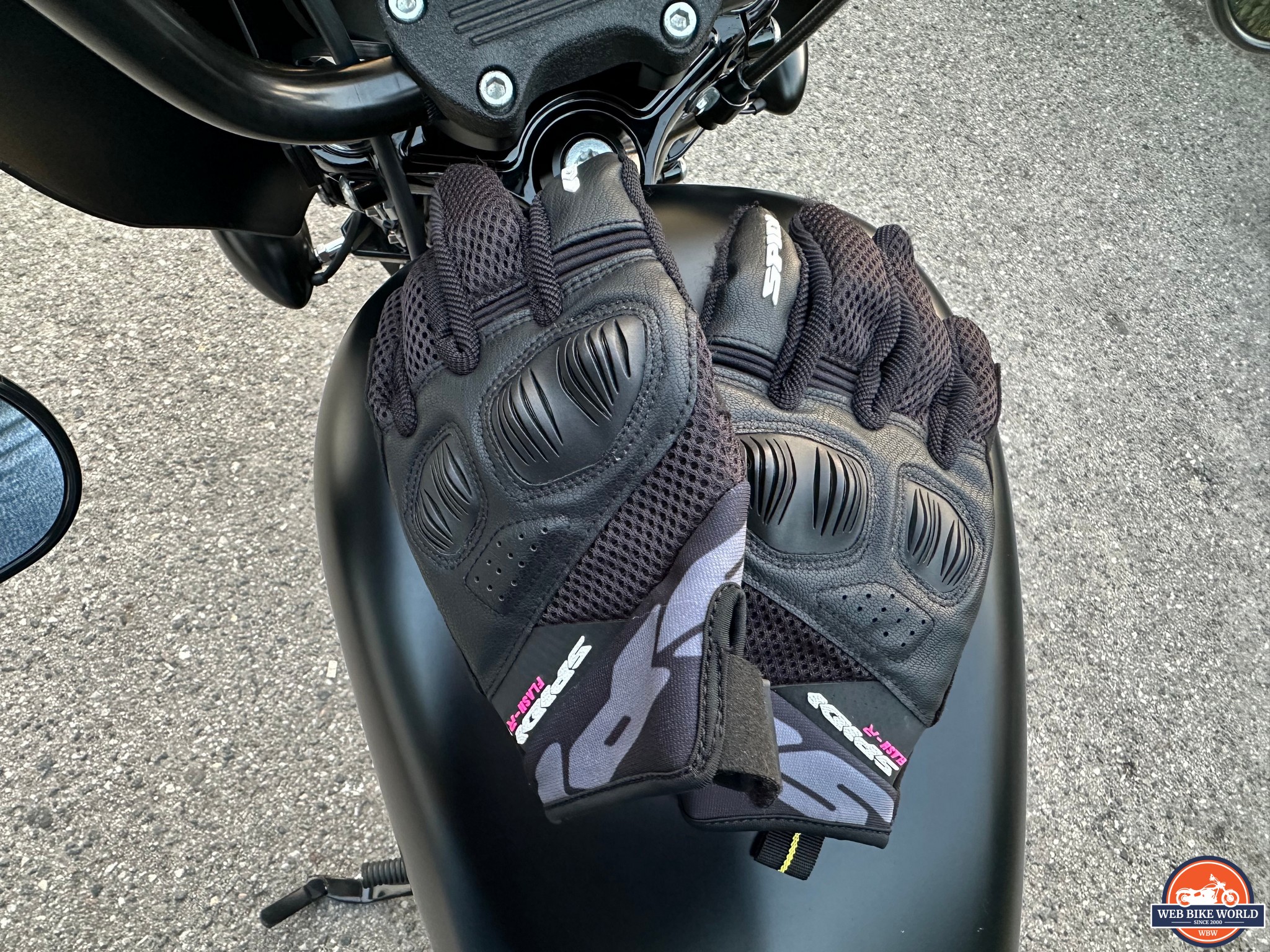 Spidi does have a disclaimer on their website that states: "Customers have found these gloves to run slightly small. If your hands measure at the top end of a size range, we recommend you size up." 
Despite the disclaimer provided by Spidi, I found the gloves to fit very true to size even though I was at the top of the size range. If I sized up the gloves would have been way too big. So keep that in mind!
Fit
The Spidi Flash-R EVO Women's Gloves are meant to have a snug but comfortable fit. They need to be snug enough to stay on your hands, but you do not want the glove to limit your ability to ride or grip something.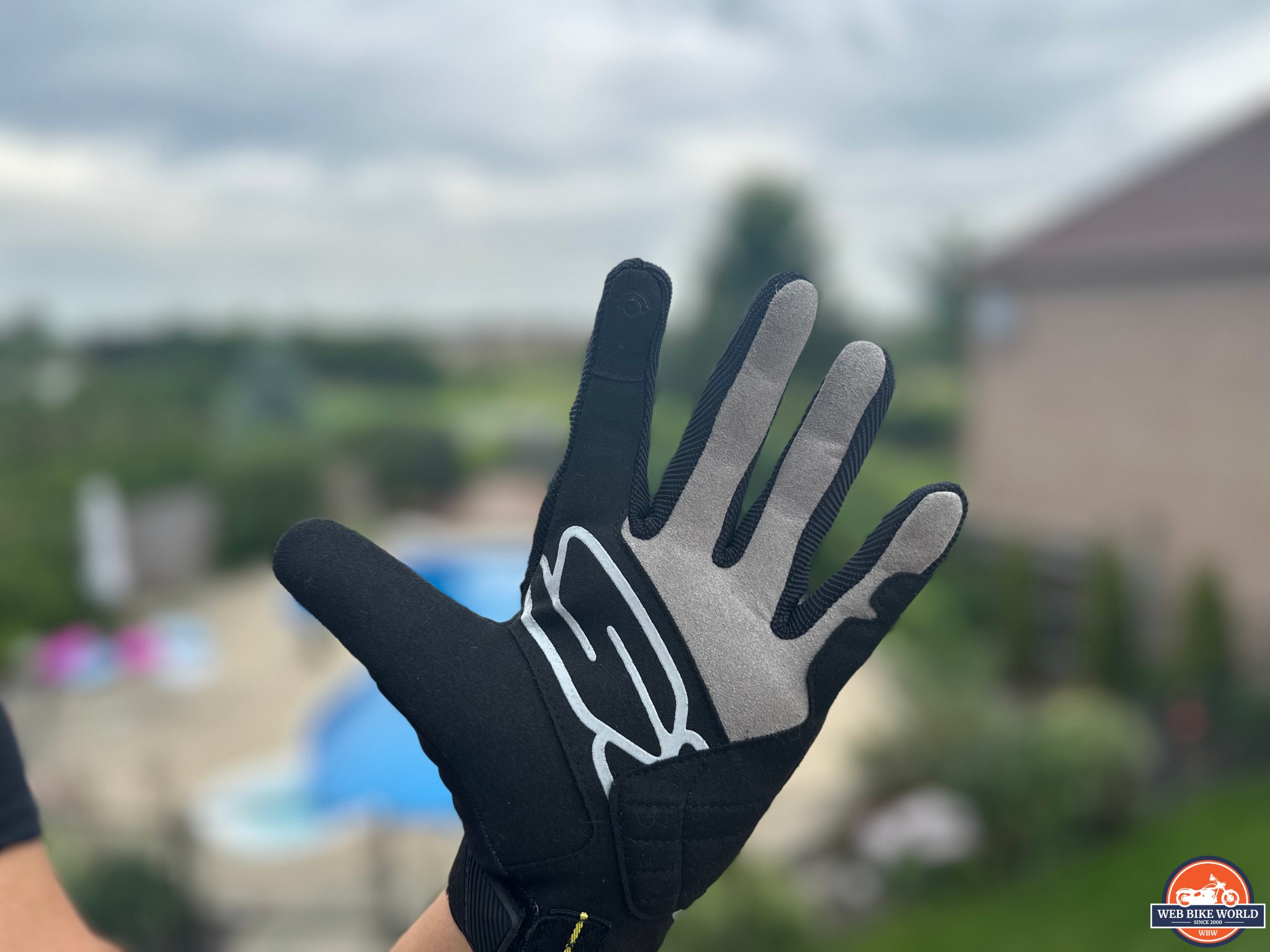 The wrist opening is wide enough to get your hand in comfortably. The velcro close is adjustable, so you can make the closing as tight or as loose as you would like around your wrist.
There is elasticity throughout the glove, which makes moving your hand and fingers very easy, even with the intentional snug fit.
Size & Fit Rating: 85%
I was very happy with the overall size and fit of the Spidi Flash-R EVO Women's Gloves. The gloves were true to size in my opinion and the Spidi size guide made choosing a size effortless. Even with the disclaimer provided by Spidi, I would say that the size guide will give you the most accurate sizing results.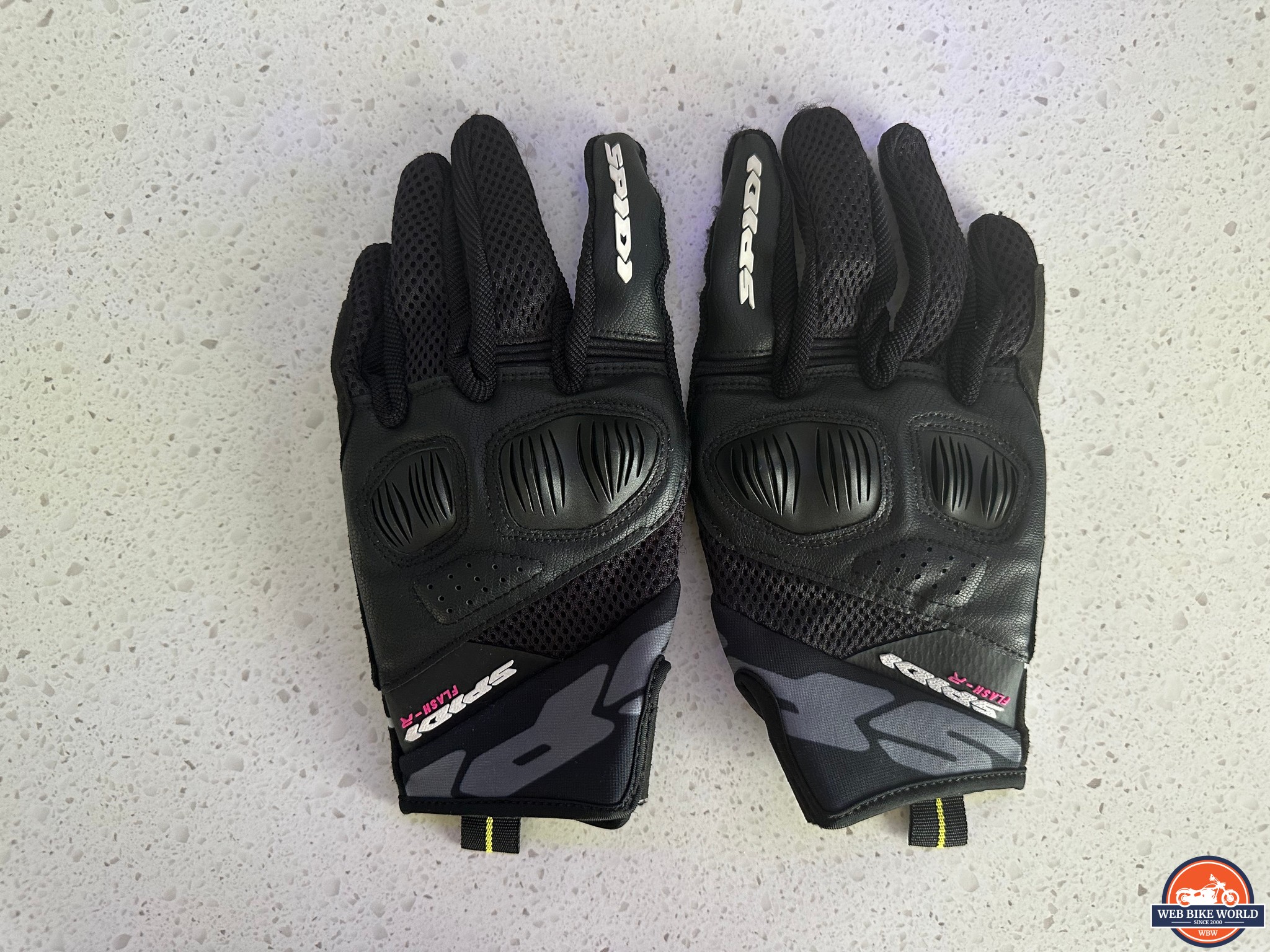 The fit is comfortable throughout the entire glove. There is no restriction in the wrist or finger movement. The fingers are long enough to fit my entire finger, but not too long to create extra fabric or folding.  All in all, the size and fit are on par with my expectations!
Features
Earlier in this review, I touched upon a few features that the Spidi Flash-R EVO Women's Gloves come equipped with. I think there are a few features that deserve their own spotlight, you can read about those below!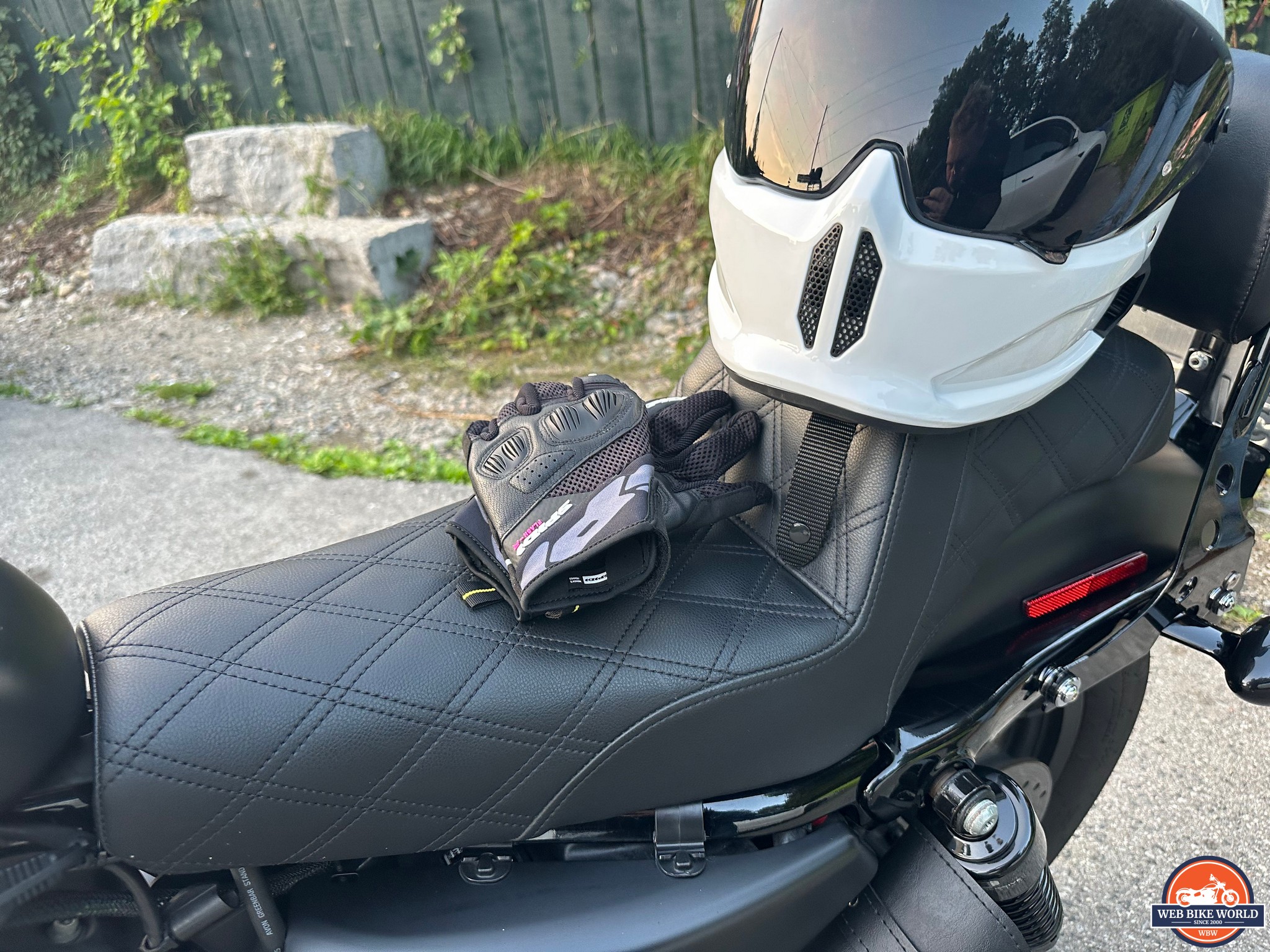 Touchscreen Compatibility
In today's day and age, our cellphones are always attached to our hips. Trying to take gloves on and off to change a song or unlock your phone is a nuisance that Spidi is trying to avoid!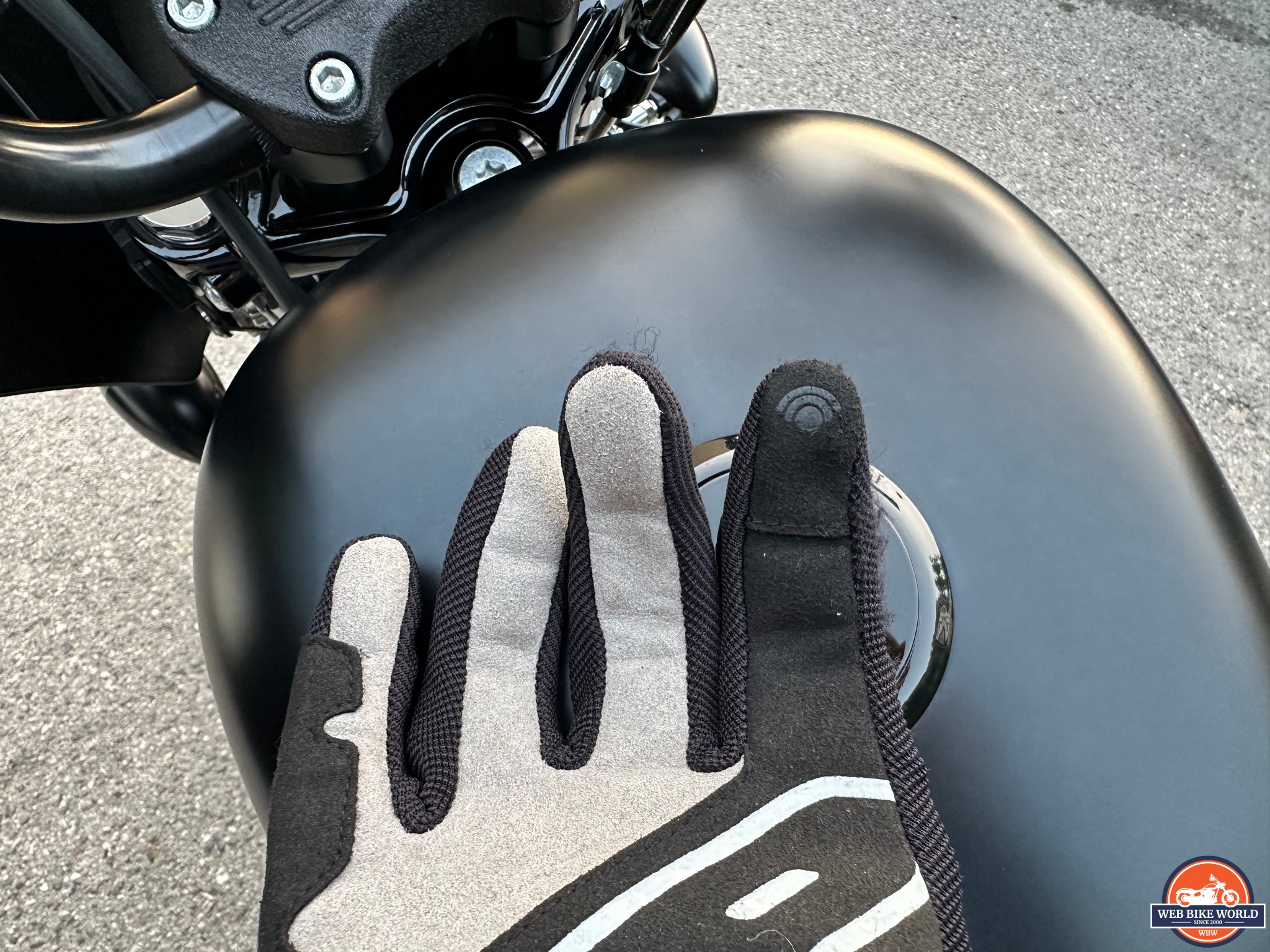 The Spidi Flash-R EVO Women's Gloves come equipped with a touch screen compatible index finger to make using your phone with gloves on, a very easy thing to do!
Of course we DO NOT endorse using your phone while riding.
However, sometimes you need to pull off to the side to check directions or make a phone call. Instead of undoing all your gear, the Spidi glove makes access to your phone incredibly easy.
Velcro Close
The wrist opening is closed securely by a strip of strong velcro. Having a velcro close is extremely beneficial to riders. They make taking the glove on and off quick and easy. I find the velcro close to be secure and strong holding. Even after trying to pull the glove off, the velcro held tight and did not budge.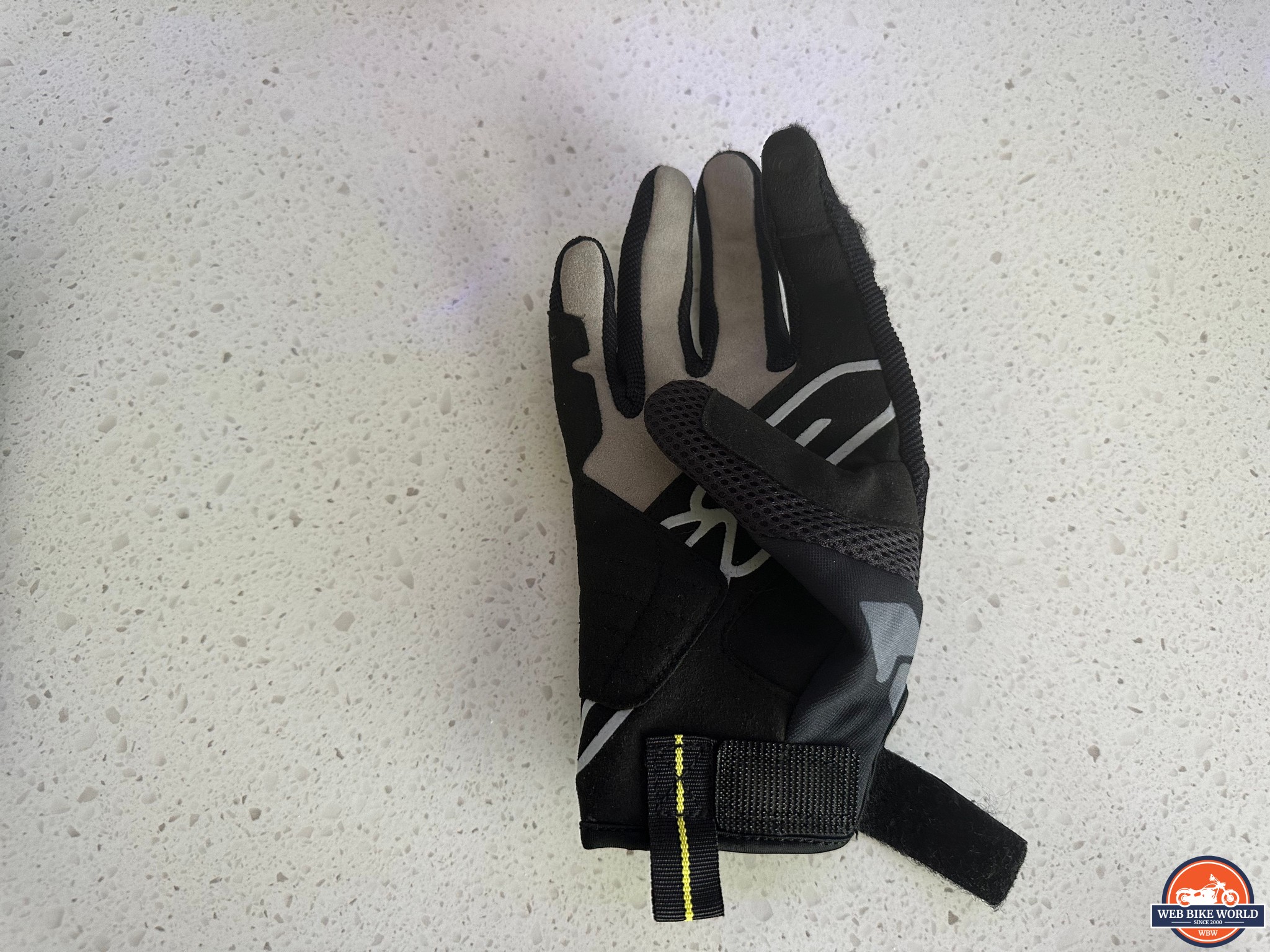 Pull Tab
Although the wrist opening is large enough to comfortably fit your hand through, Spidi has attached a pull tab to the top of the hole to help pull your hand into the glove. The pull tab might not seem like that big of a deal, however, I believe it is an added benefit to the glove. It gives you extra space to grab the glove and helps to make sure that the glove is on properly and secure.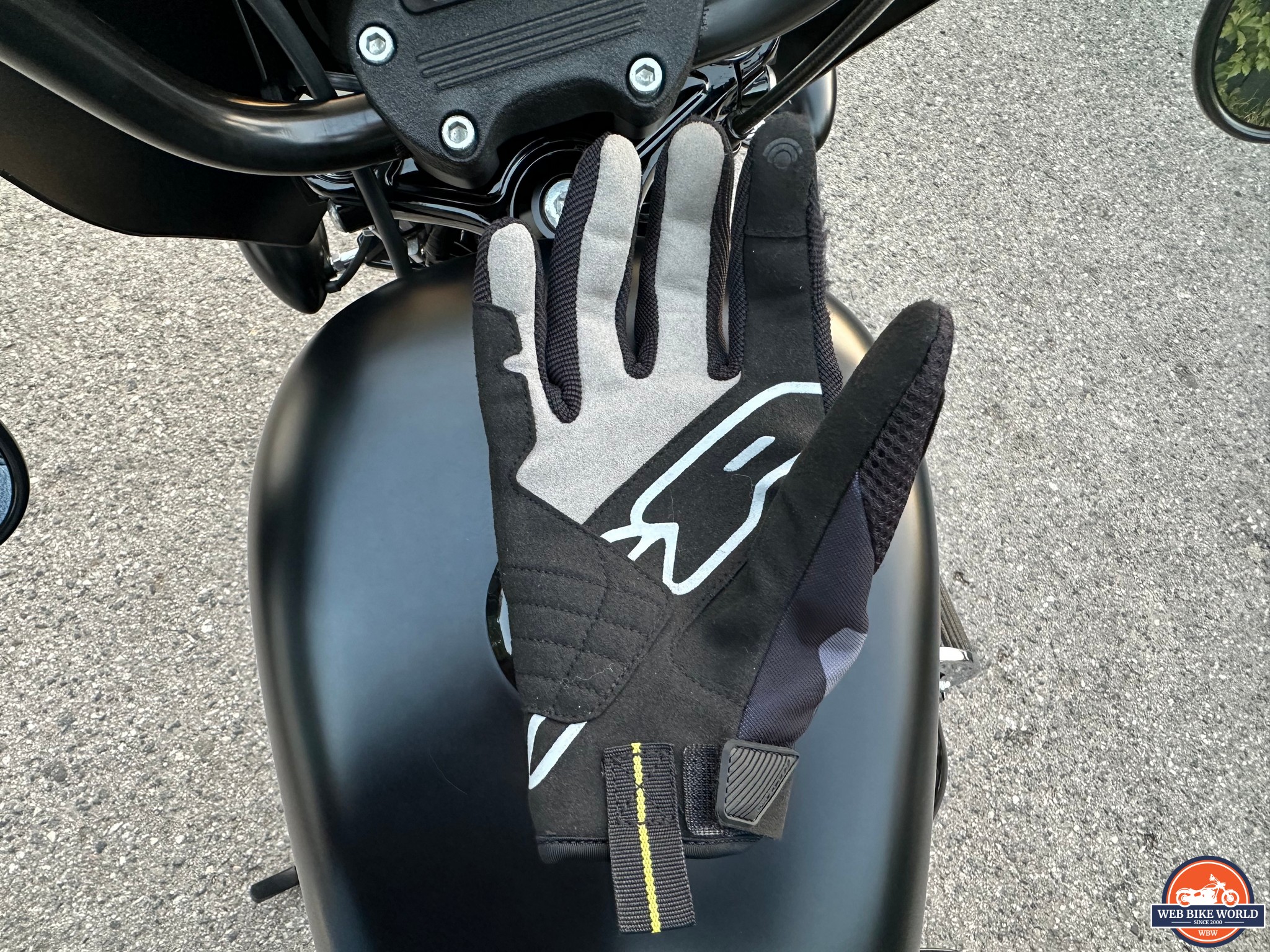 Elasticized and Punched Mesh Fabric
Having gloves that move with you are extremely important when riding, even as a passenger. Spidi has used elasticized and punched mesh fabric throughout the glove for a comfortable and breezy feel.
The elasticity of the material allows the gloves to easily bend with no uncomfortable folding. The punched mesh fabric creates a cool and breezy feeling throughout the glove. The mix of these two fabrics really is a match made in heaven. My hands stay cool and are able to breathe while staying flexible.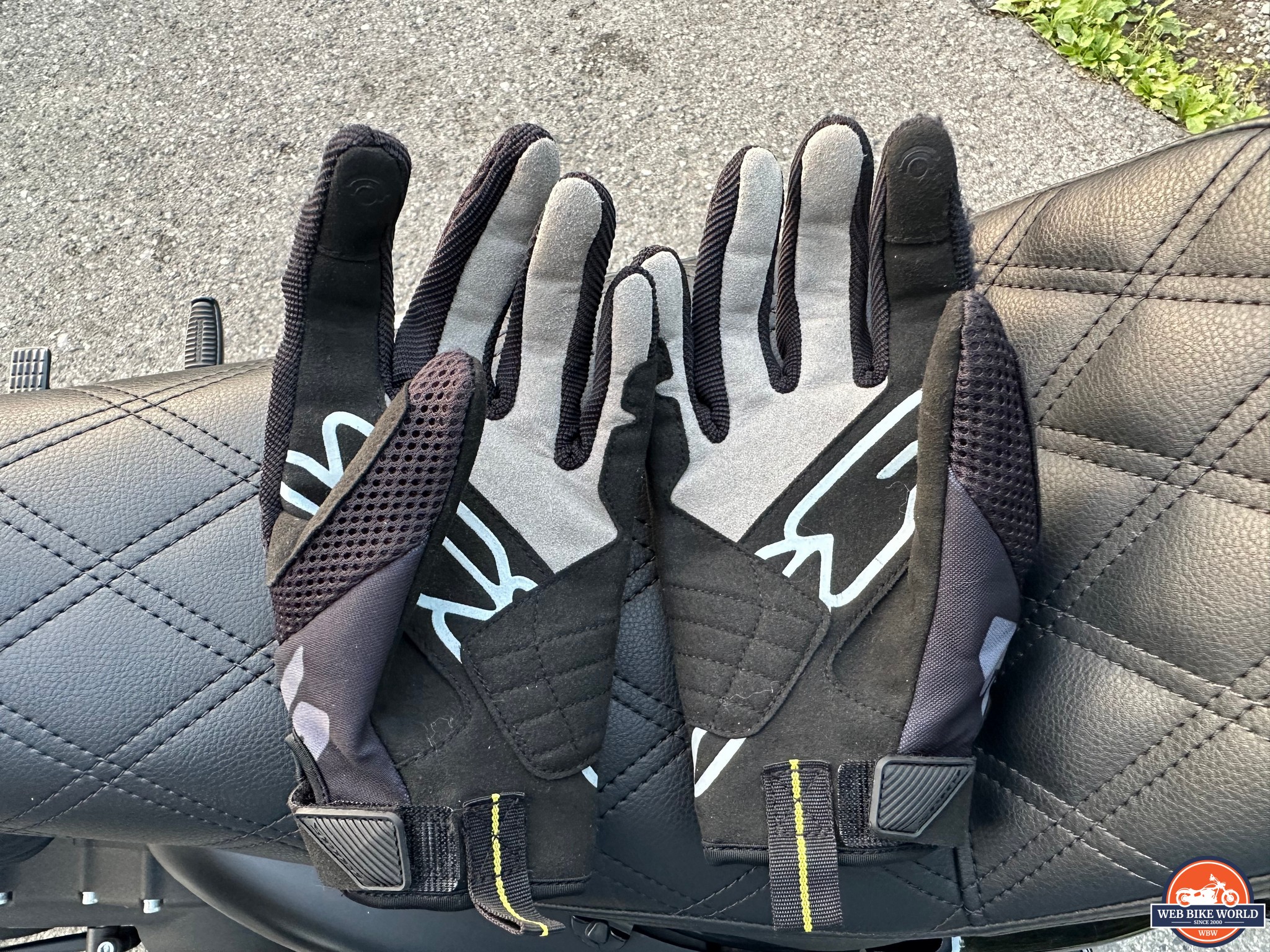 Features Rating: 85%
Some people might find that added features on gloves are not necessary, and in some cases this might be true. This is not the case for the Spidi Flash-R EVO Women's Gloves. The features on these gloves add value to the overall functionality and wear of the glove.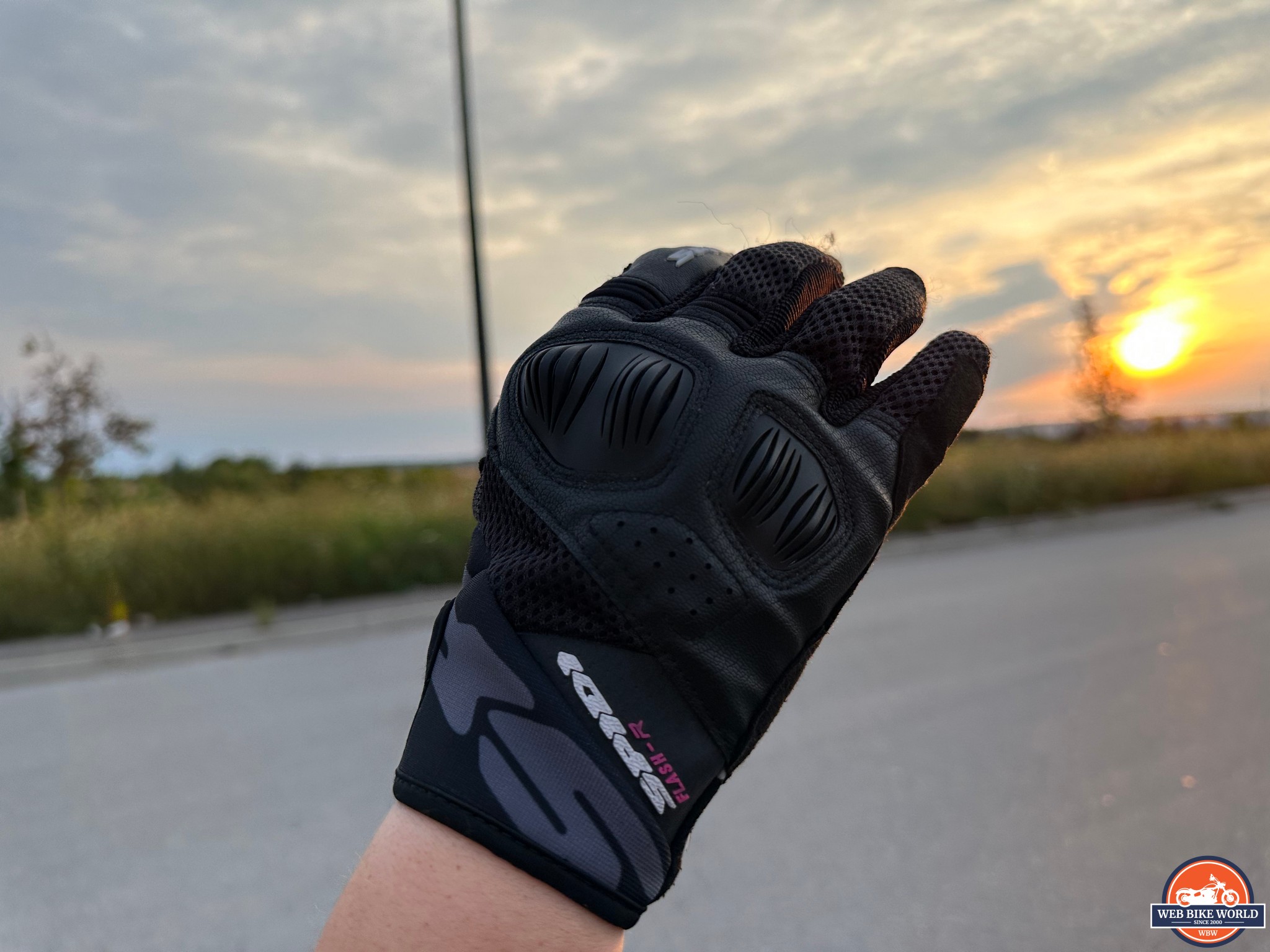 Of course, there is always room for improvement, however I think Spidi hit the nail on the head with the added features on these gloves.
Protection
Like I mentioned earlier, protection doesn't stop at a helmet or a jacket. Protection is important for every part of your body (especially your hands if you value using your fingers). Just like all protective gear, you can get something basic or you can get something with extra protection for that extra peace of mind.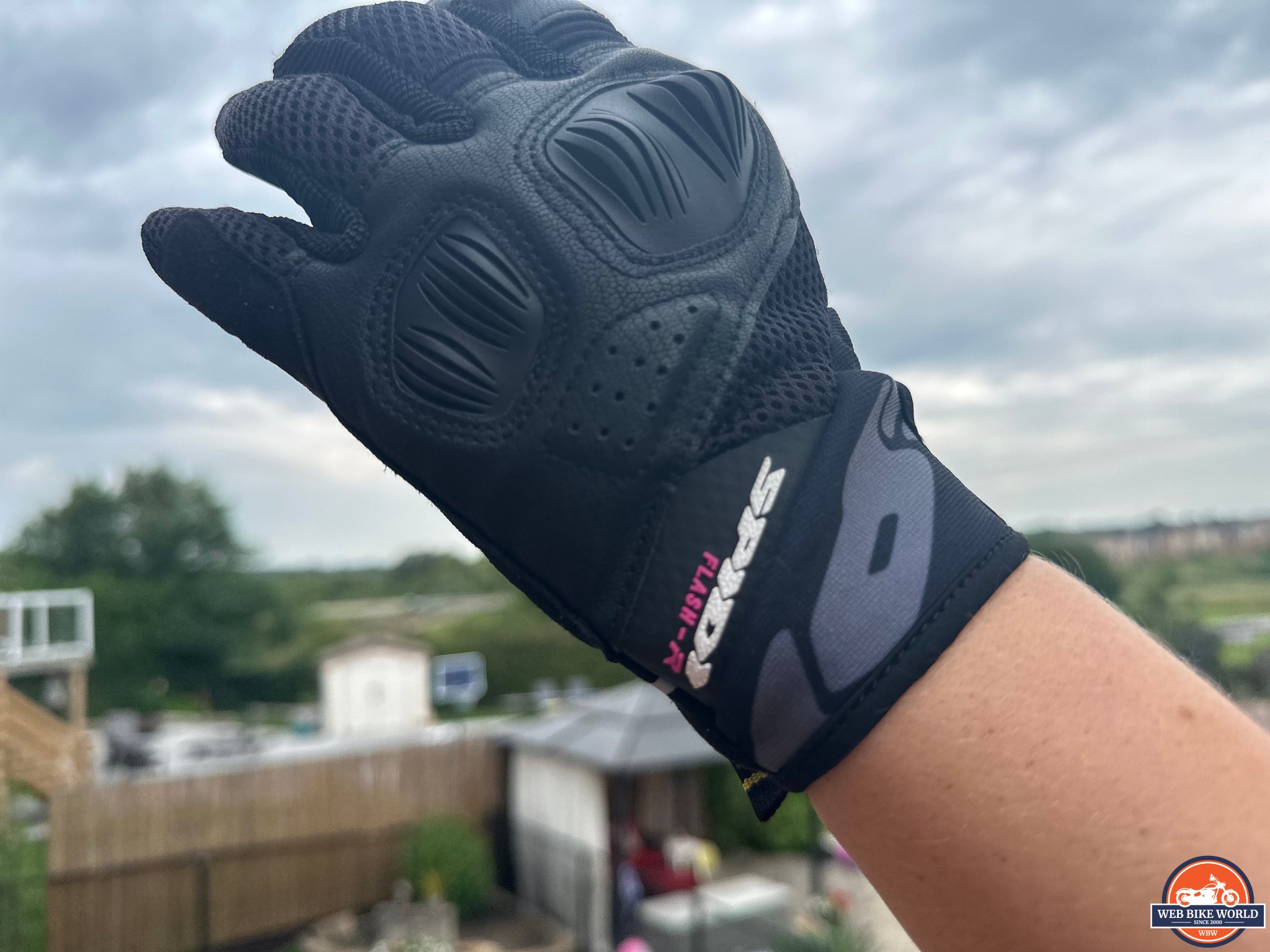 Initially I thought these gloves were going to be the perfect amount of protection for my hands. However after wearing them a handful of times, I have come to realize that Spidi has a huge opportunity for improvement for their overall glove protection.
CE Level 1 Knuckle Protector
A CE Level 1 knuckle protector seems like a perfect addition to a riding glove. And it is… as long as it is aligned properly. You want your knuckle protector to do its job and actually protect your knuckles.
To be honest, I just assumed that the knuckle protector was properly aligned. I didn't realize the knuckle protector pad was misaligned and sitting on the back of my hand until Devan pointed it out. He showed me that the pad wasn't aligned with my knuckles and it wasn't actually protecting me.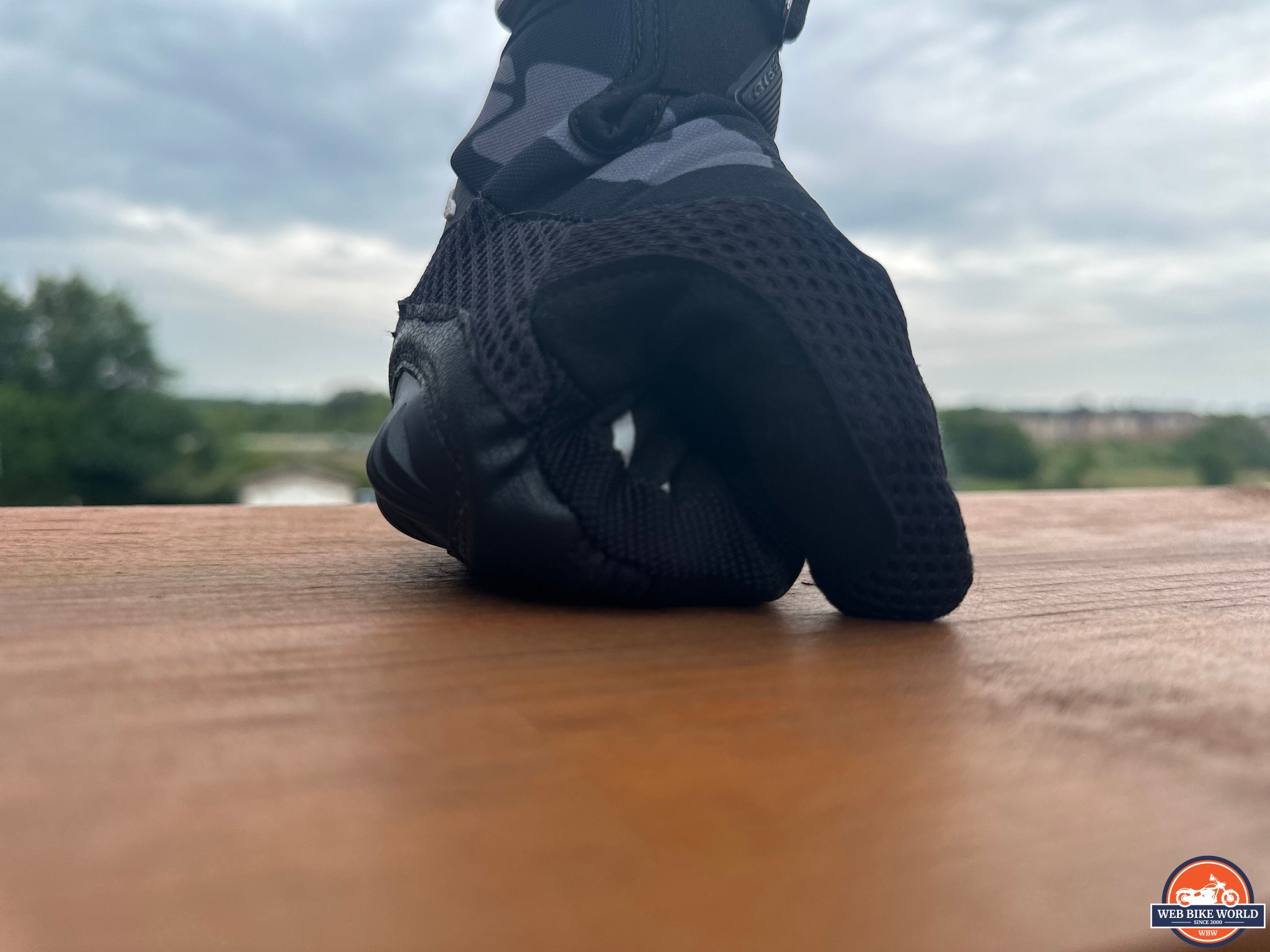 Considering the knuckle protector was a major selling point to me, I was very disheartened to find out the protectors were not doing their job.
I know the knuckle protector is an important feature to have and provides protection you don't want to skip out on. A simple realignment from the Spidi design team could fix this issue and turn the knuckle protector into a great piece of added protection!
Padding
The Spidi Flash-R EVO Women's Gloves come equipped with padding on the palm, side and back of the hand. The padding is made out of a variable-density polyurethane shield that has shock absorber functions!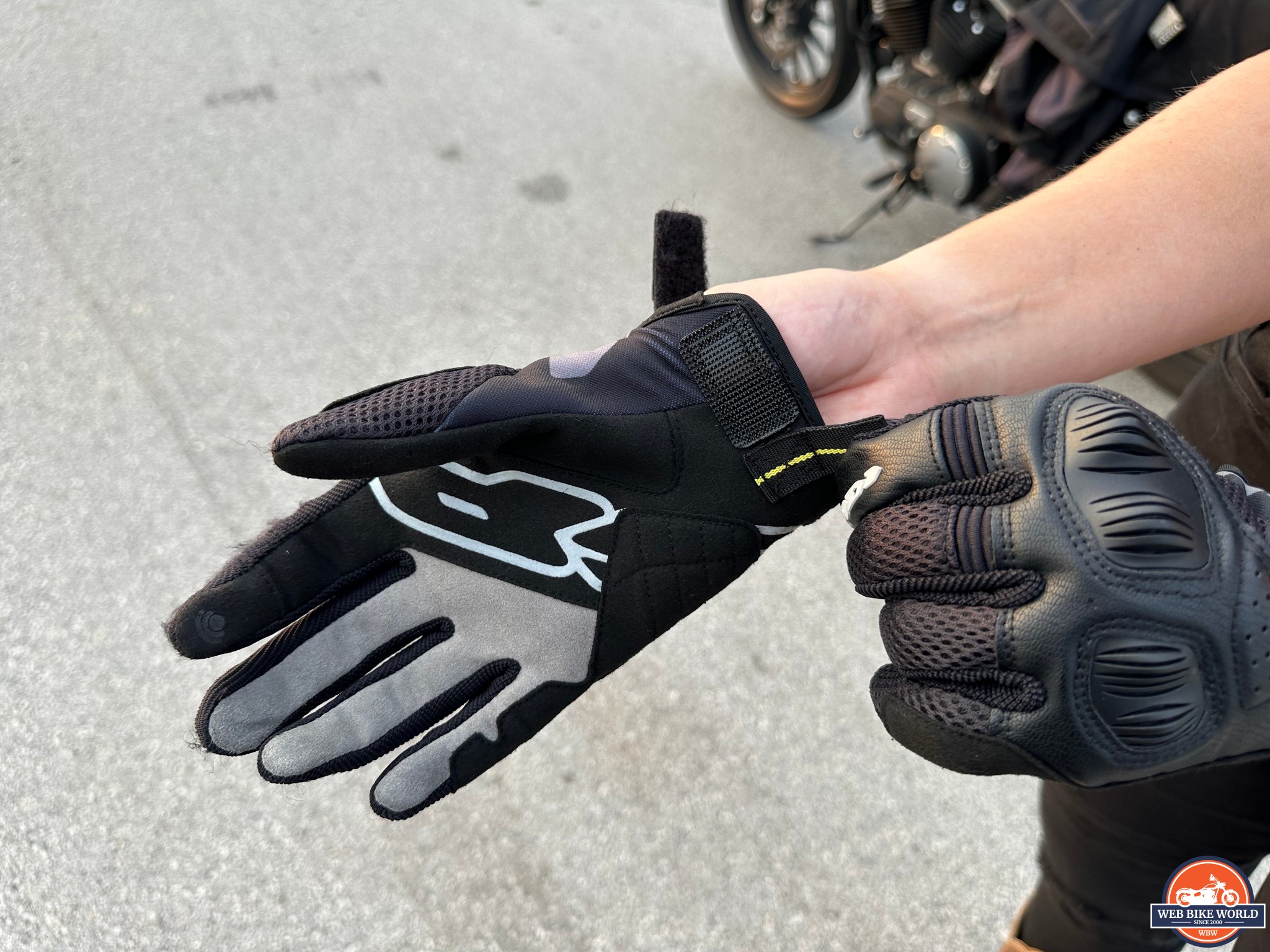 I assumed that the glove would feel stiff because of this added padding, but I was wrong! The glove is flexible and can be folded with ease. The padding adds protection but doesn't restrict your hand movements, which is a win-win to me!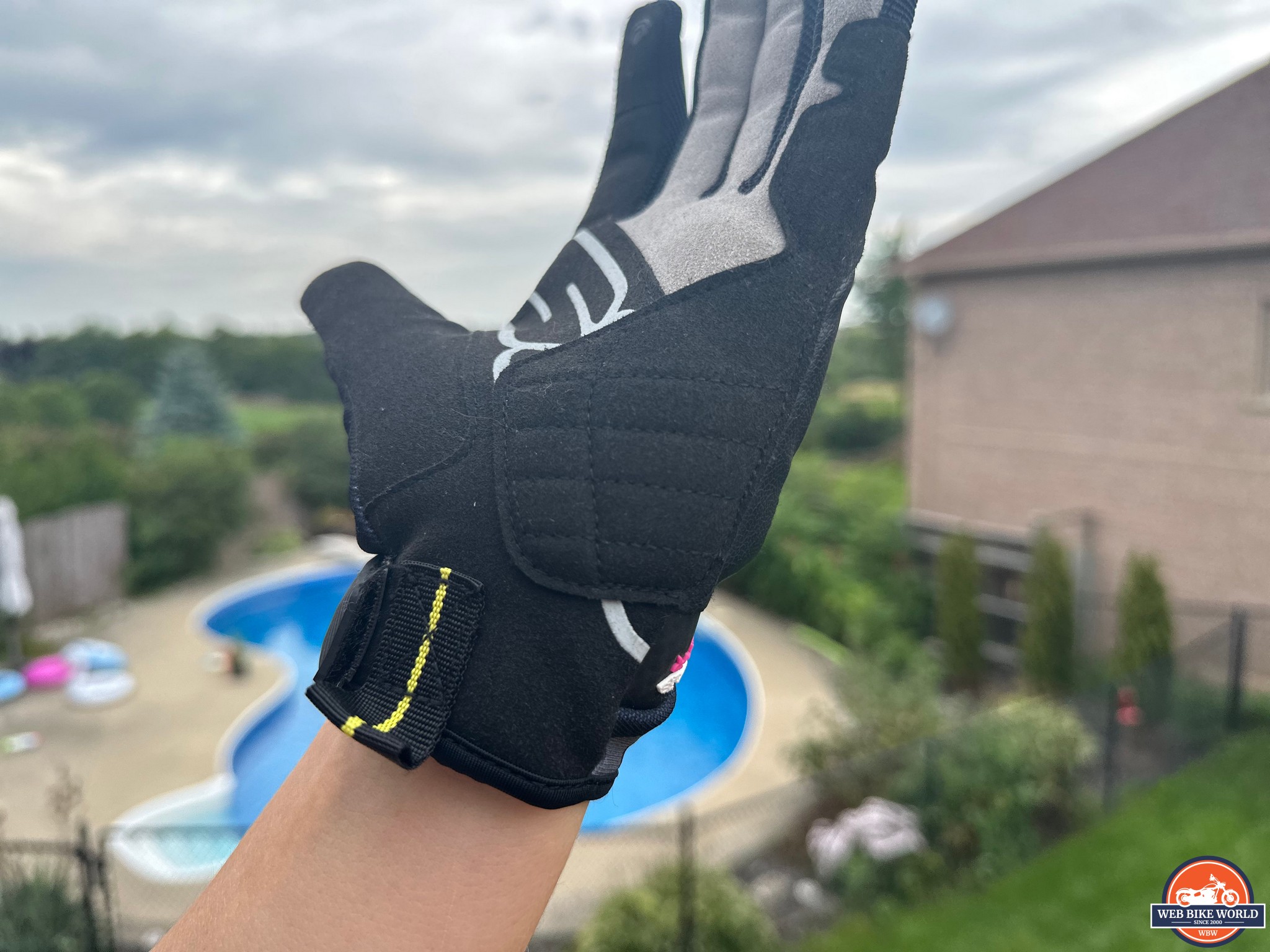 As great as this added padding is, I don't think there is enough of it. Even though this glove is advertised as a lightweight glove, protection is always my number one factor. I think the incorporated pads aren't thick enough or durable enough to make a meaningful difference in an accident.
Your fingers and thumbs are just as valuable as your knuckles, so they should be protected as well. Not having any protection on those areas is definitely another missed opportunity by Spidi, even as a lightweight glove.
Protection Rating: 65%
I think the protection incorporated into this glove is a step in the right direction, but not yet perfected. There is definitely room to add protective measures across your fingers, and an opportunity to have better padding throughout the glove.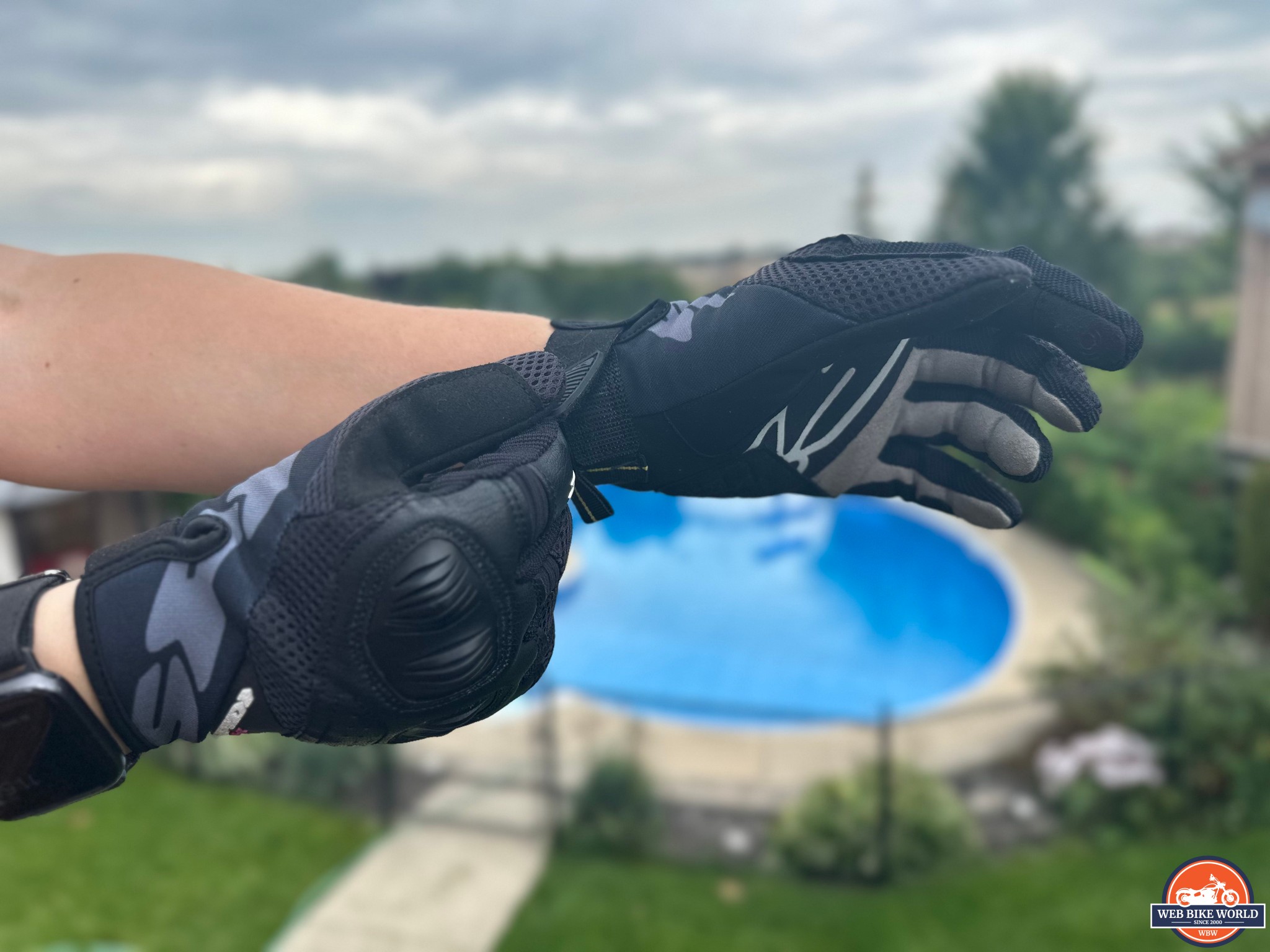 The knuckle protector at this point is not doing it's intended job, which is a problem. Like I mentioned earlier, a quick realignment of the pad could significantly improve the protection that this glove provides.
Spidi has a good start with the Spidi Flash-R EVO Women's Gloves in terms of protection. After a few adjustments and improvements, this glove could knock the protection component out of the park!
Final Verdict
Initially, I was very excited to have found my new go-to riding gloves. Having just reviewed the Spidi Hoodie Armor Light Women's Jacket, I was hoping that these Spidi Flash-R EVO Women's Gloves were going to be the perfect match to my jacket.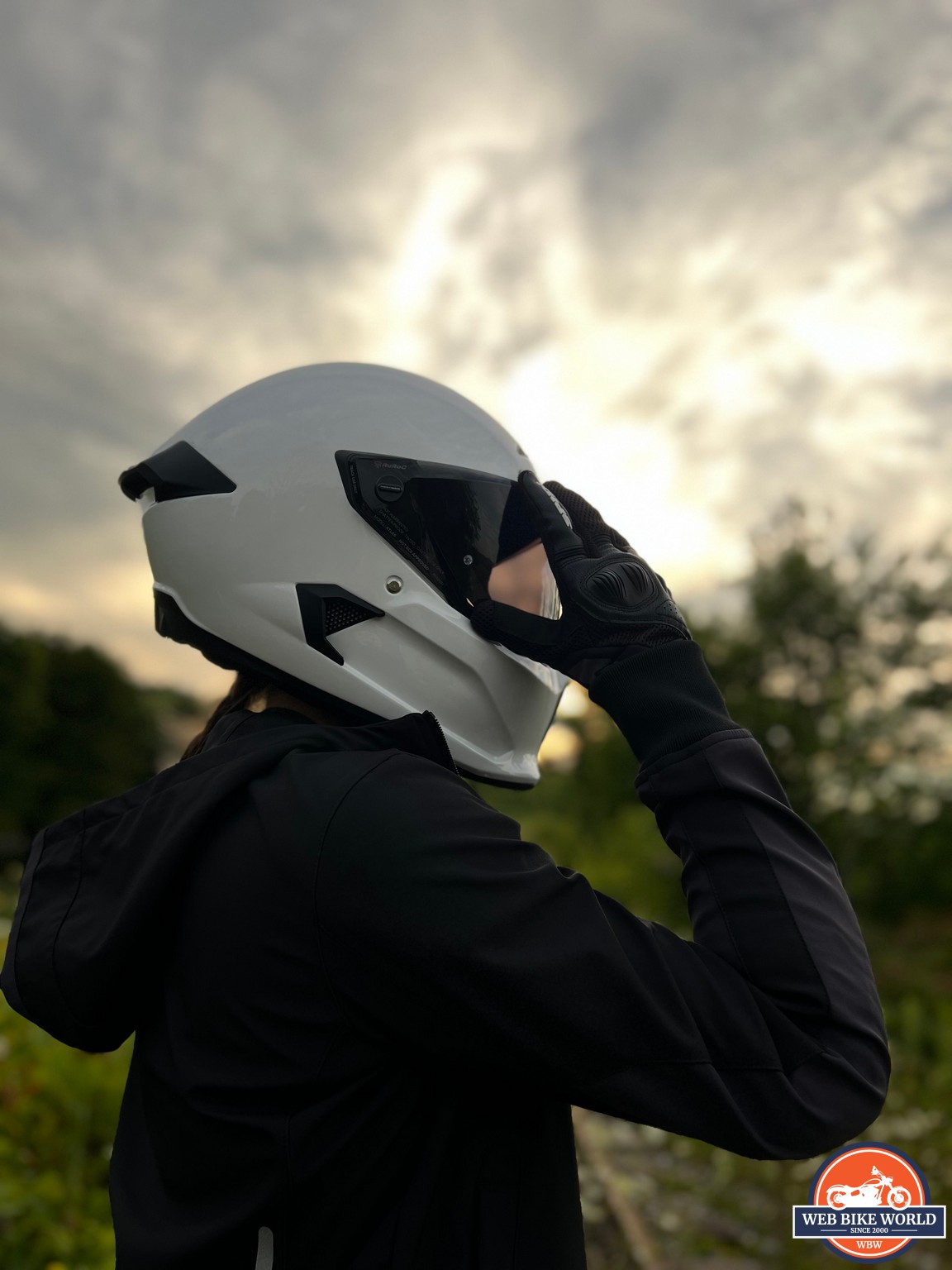 I had high expectations since I loved the Spidi jacket so much, however after wearing the gloves for a short period of time, I think I may have to keep looking for my everyday pair.
I am looking for a light-duty glove but with a beefier protective pads and made from quality that will last. Riding gear is not cheap, so I want to make sure I am getting the quality expected for the price point. Unfortunately Spidi has a little bit of a mountain to climb in order to get my full approval.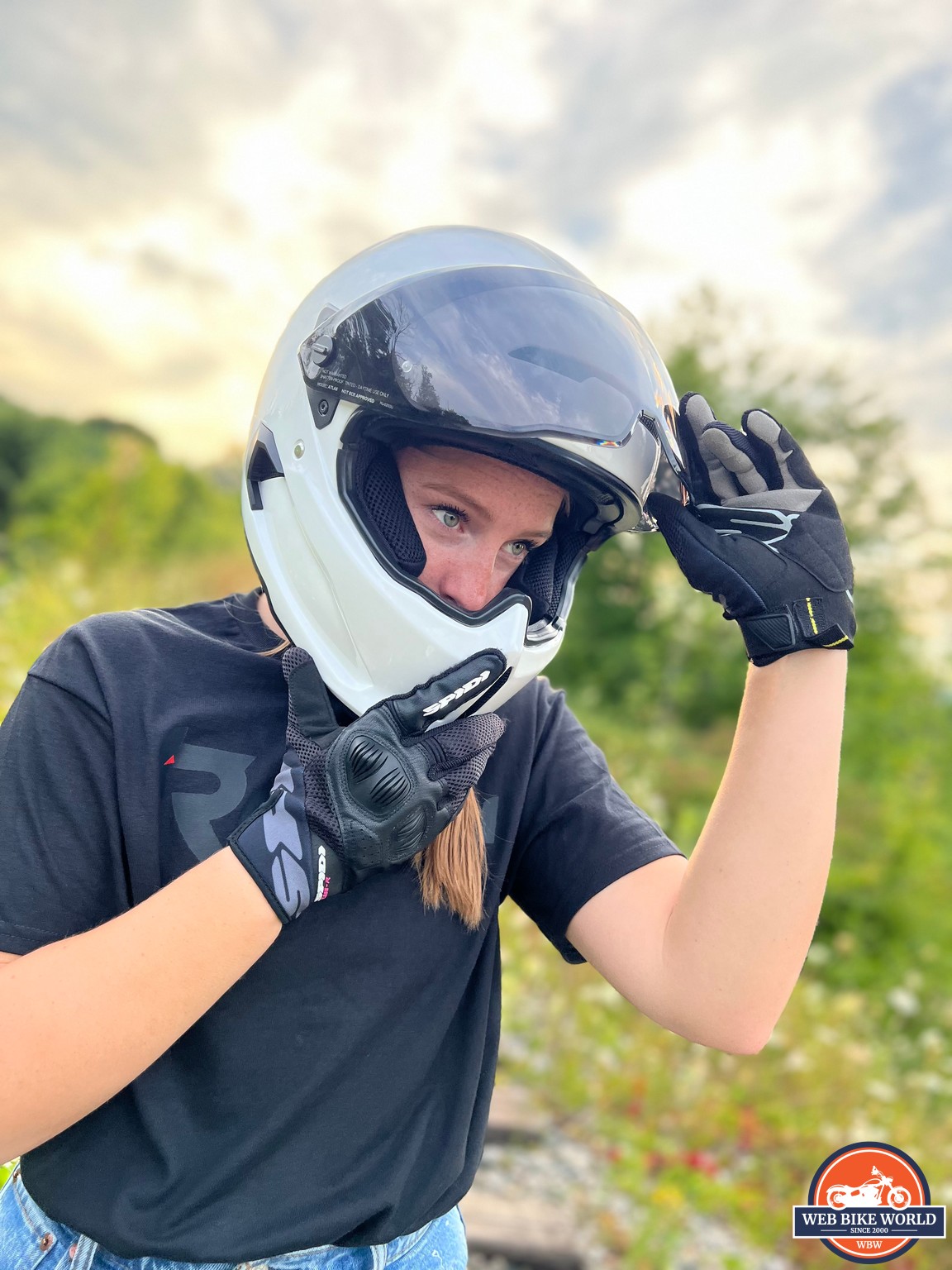 I love the sleek look of the glove and the added features definitely add great value to the gloves. However, the protection has just slightly missed the mark. The intention is good, but the execution needs work.
If Spidi were to fix the knuckle pad alignment and add more protection to the fingers and thumbs, this review would have gone in a different direction.
I still find myself reaching for these gloves on hot days as they really do keep your hands cool. But everytime I grab them all I can think about is the misaligned knuckle protector pad… Spidi definitely has some room for improvement, even with a great glove like the Spidi Flash-R EVO Women's Gloves!
Pros
Elasticized fabric paired with punched mesh fabric and vent details
High resistance suede microfiber
Flap at cuff to assist in pulling on glove
Padding on the back, side and palm of the hand
Touch screen fingertip works well
Snug, comfortable fit
CE Level 1 knuckle protector
Cons
The knuckle protector pad is misaligned and covers the back of the hand instead instead of the knuckles
No protection on finger joints
Glove color may differ from what you see online
Material frays very easily
Specifications
Manufacturer: Spidi
Price: $69.90 USD
Colors: Black, Black/White, Red, Black/Fuschia
Sizes Available: XS-XL
Review Period: July-August 2023
Where to Buy