Scorpion SGS Mk II Gloves Review
Review Summary
The Scorpion SGS Mk II gloves are a very well armored, comfortable pair of motorcycle gloves that unfortunately do not flow very much air. This leads to Sweaty Palm Syndrome, which in turn likes to grab the palm leather and bunch it up. It's not an end of the world level issue, but it is enough to be annoying. Otherwise, if you want as much protection as you can with a short cuff pair of gloves, the Scorpion's deserve to be in your consideration.
Materials & Build Quality
Pros
About as armored up as a short cuff glove can be
Double reinforced little finger external armor is a nice touch
Thumb and index finger are touch screen compatible
Easy to operate wrist closure that holds tight
Hard amor for the knuckles over soft impact foam for double protection
Two Knox hard armor sliders, very welcome on gloves this affordable
Cons
Ventilation is non-existent
The leather of the palm likes to bunch up when your palms are sweaty
Not the easiest gloves to pull on. A pull tab or loop would have been a nice addition
Next to your head and torso, your hands are probably the third most important part of your body to protect. You need to be able to operate two levers, twist one handle, use your thumb to command functions on the other handle, and oh yeah, be able to hang on to the bike in general. We take it for granted, but on a motorcycle, your hands are the crucial link to 80% of what the bike does!
I personally like to pick what gloves I used based on the weather and how far I am riding. If it's a short distance blast in warm weather, my Klim Dakar Pro gloves are always at hand (pardon the pun!). If I know I'm going to be out on the road at highway speeds for most of the day, my Rev'It Quantum 2 gauntlets are worn to give my wrists a bit of a break. If it's extremely hot weather, my Scorpion EXO Talon high airflow gloves are worn and work wonders.
However, I've been wanting a well armored, short-cuff pair of sports gloves for a while, and when Scorpion offered webBikeWorld a chance to review the SGS Mk II gloves, I immediately accepted. A few weeks later, the gloves were in hand (sorry about all the hand puns!) and I swung a leg over my bike to give them a thorough testing!
About Scorpion
Scorpion Sports USA is a subsidiary of Kido Sports, which is a South Korea-based motorcycle helmet and gear developer that has been in the helmet business since 2001. The Scorpion website likes to make mention of a number of global facilities, including a couple in the USA, but all of their gear is manufactured in China. This allows them to provide high quality gear at what seems at times to be bargain basement prices.
The gear itself is designed by an international team of engineers from Korea, Europe, and North America, and manufactured to strict tolerances. Given that they're the official gear supplier to many global racing stars, don't let the China connection bother you. Let the quality and affordability of their gear speak for itself!
About webBikeWorld's Review Policy
This product was provided at no cost by Scorpion for this review, but is available at our partner RevZilla. Despite our affiliate relationship with RevZilla, we do not allow brands to influence review scores or content. Please see our review policies for more information.
We here at webBikeWorld believe that you can't just try something out once and give an honest opinion of it. Any product we test is actually used by our testers, and as such, I have used the Scorpion SGS Mk II gloves as my only riding gloves for all of August and September 2023, no matter the weather.
Scorpion SGS Mk II Features, Fitment, & Comfort
Features
The SGS Mk II gloves are the short cuff variant of the popular SG3 Mk II gauntlets by Scorpion. They definitely fit the parameters of a sport glove, including reinforced fingers, a full leather construction, and a ton of armor.
On the topic of the fingers, it is important to note that the thumb and index fingers are touch capacitive, allowing for you to pull over, set a navigation destination on your GPS or smartphone, and set off again without needing to take the gloves off. 
The gloves are 100% goat leather, although two different types are used. For the main chassis, thicker, less processed leather is used to keep the glove stiff and give high abrasion resistance. The palm, on the other hand, is made of thinner, softer, but just as abrasion resistant leather, with some double layering over high wear areas.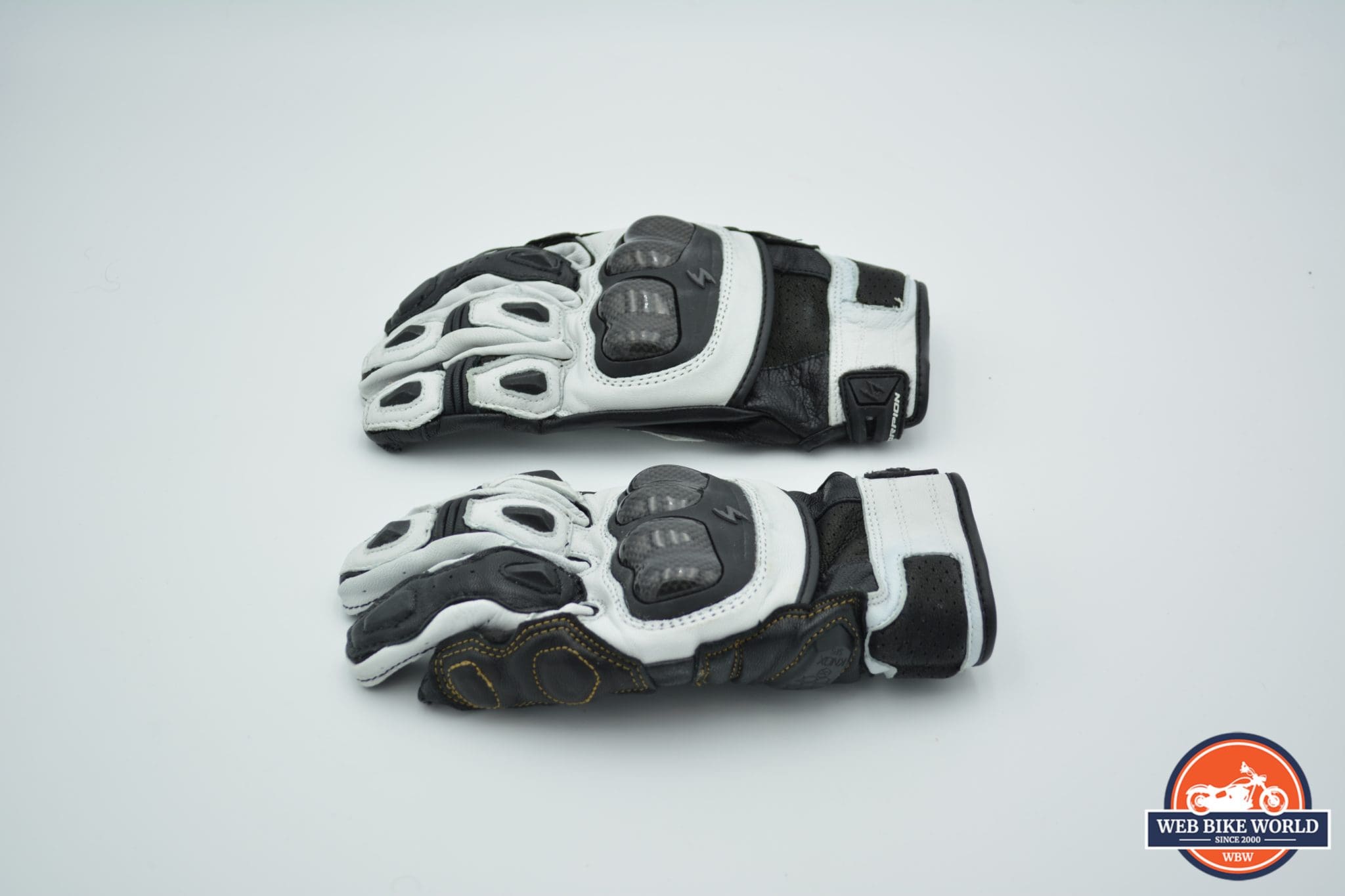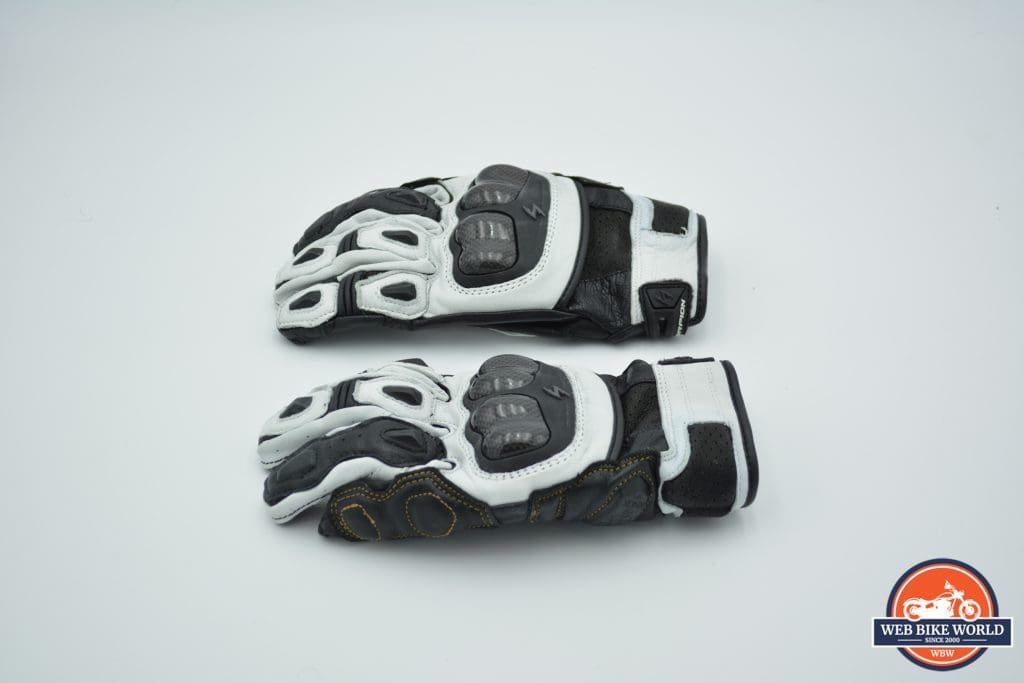 What truly impresses about the gloves, however, is the sheer amount of armor that comes attached. Separated and carbon fiber reinforced TPU knuckle protectors are located on a floating platform that keeps them over your knuckles at all times. Each finger gets two soft TPU sliders on the back, with on the first and third phalanges.
The little finger gets a double layer of the very stiff leather, including two TPU sliders on the outer knife edge, which helps prevent your little finger for torsional or vertical injuries should you come off your bike.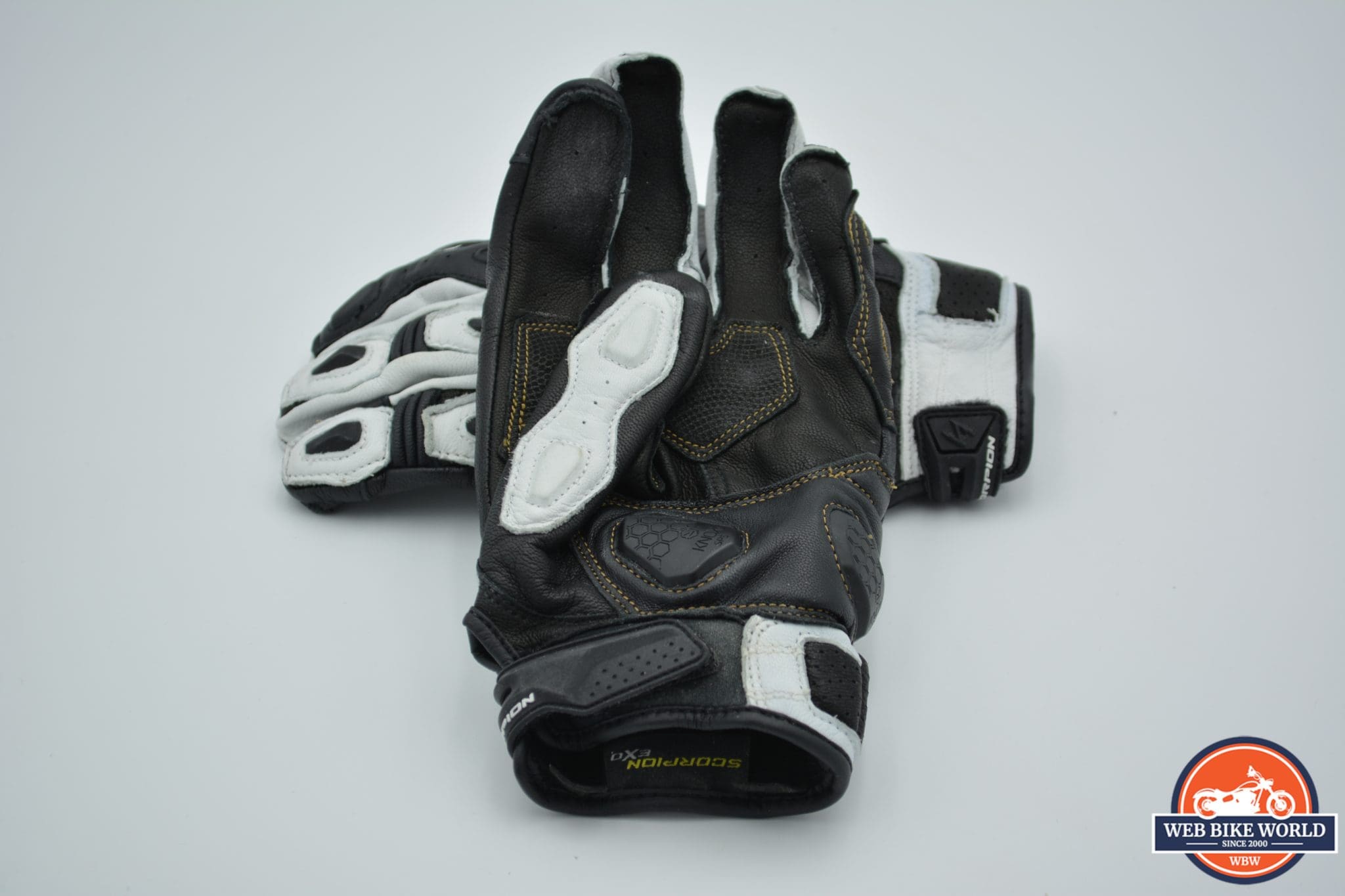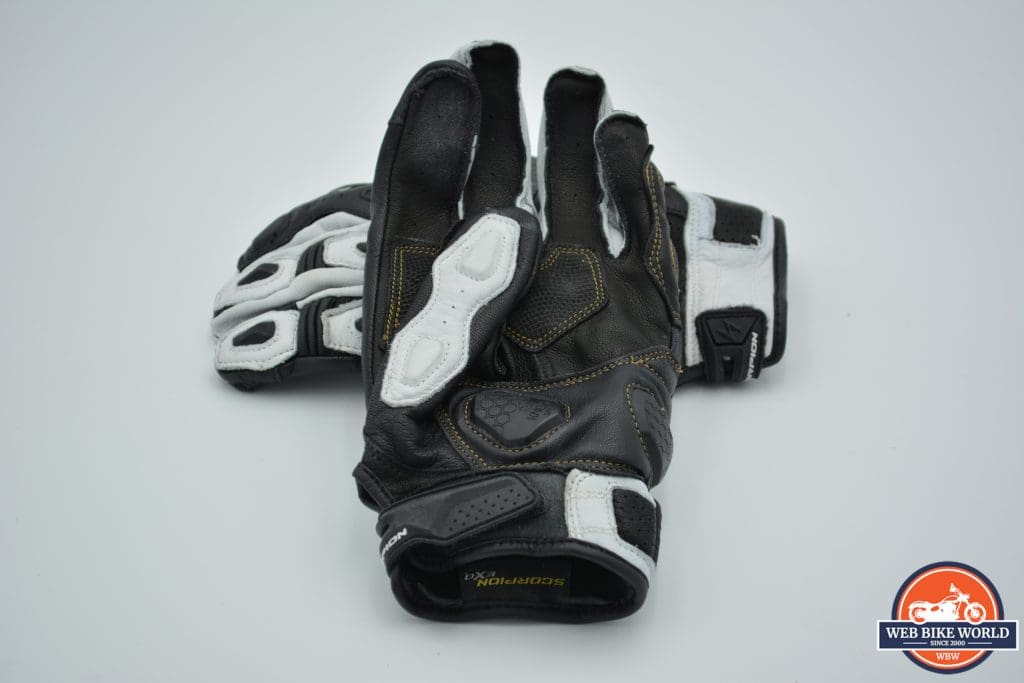 Across the palm slider area are two Know SPS hard sliders, one at the base of the thumb-to-palm interface, and one halfway between the palm and the knife edge of the hand. These are designed to slide and slowly wear away as you decelerate, preventing the armor from catching or tugging so you don't hurt your wrist or arm with a sudden stop.
The wrist closure does have an ulnar soft armor pad to prevent impact injuries, while the Velcro-backed rubber closure tab sits on the inside of the wrist.
Fitment, Ventilation, & Comfort
I have pretty big hands with average length fingers, so I selected a 2XL sizing as I am 9 ¾'s circumference around my knuckles. Once the gloves arrived, at first I thought they had shipped the wrong size as they were very, very tight.
However, knowing how leather needs to stretch and settle, I wore them around the house for a few hours, making sure to use my hands for as many things as possible, while also stretching my fingers wide and balling fists occasionally as well.
After about an hour or two, the gloves felt like they were starting to break in, so I geared up and went for a ride, which is where I encountered the first of two things that I consider to be flaws with the gloves.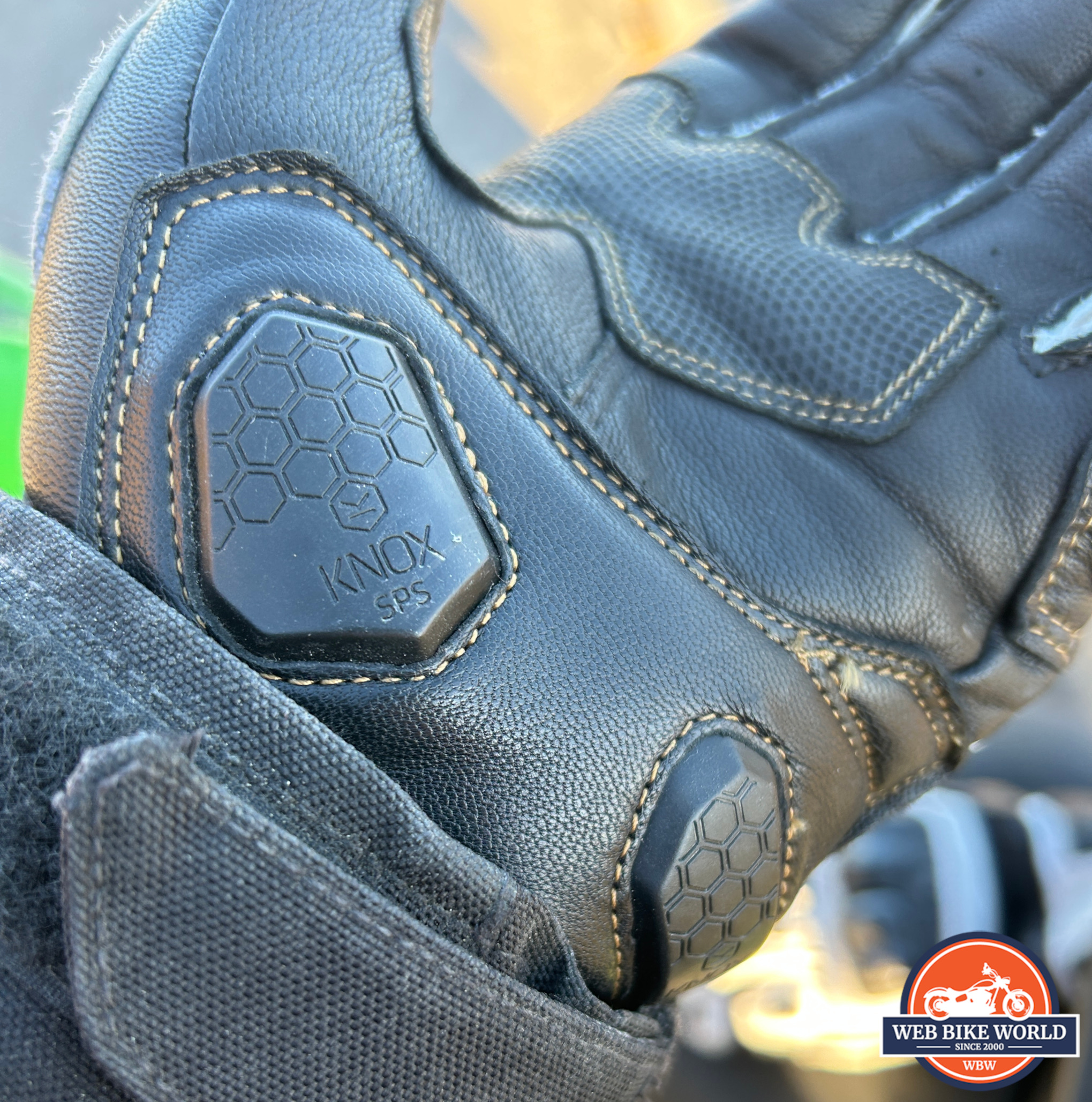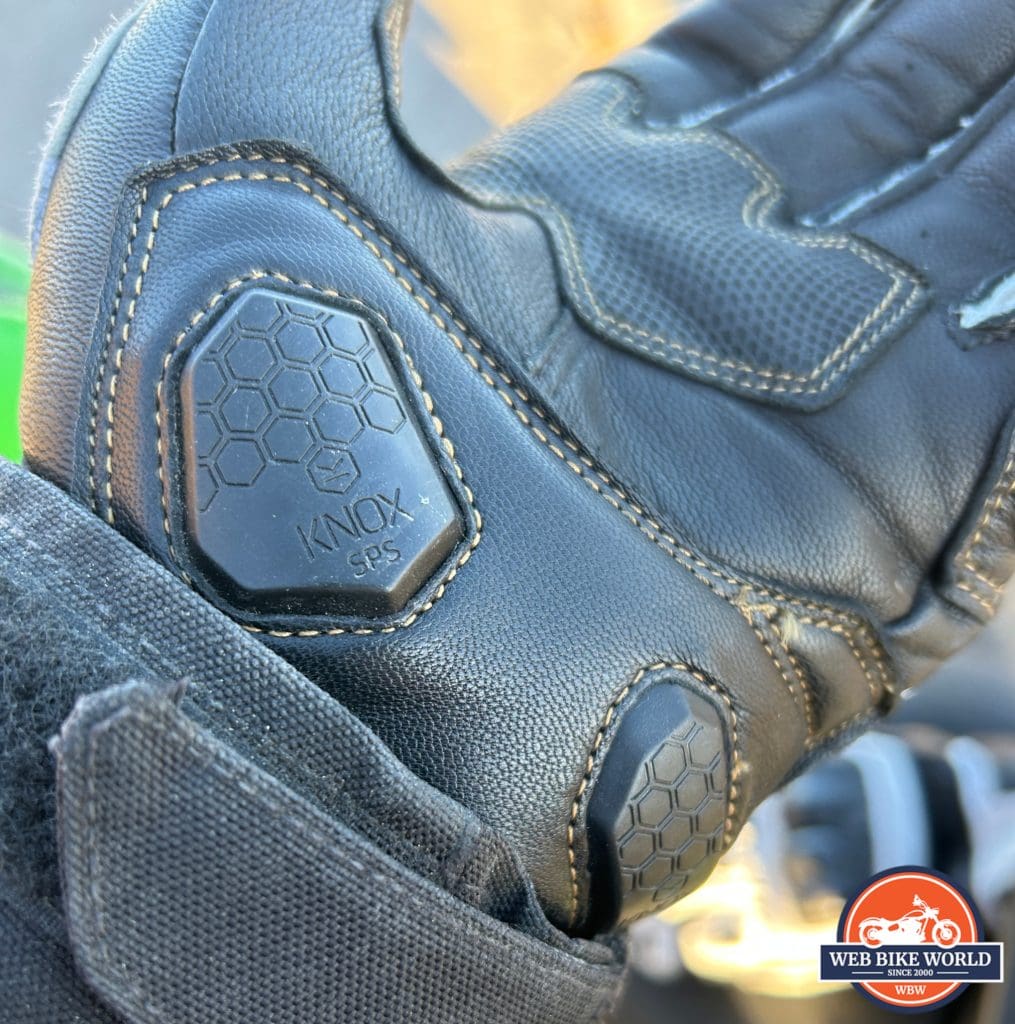 The first thing I noticed is that despite having a perforated back of the hand venting area, barely any heat was escaping. As well, the insides and undersides of the fingers have some mild perforation, but there was little to no cooling air getting in as these areas are out of the airstream that comes over the handlebars. A few more perforations along the fingers, or just before the knuckles, would probably alleviate these issues, but as it stands, the gloves do not get any airflow through them.
This meant that the second thing I noticed started to happen, in that it was quite warm that day, above 20 C (~70 F), was that my hands started to sweat. This, in turn, heated up the palm area of the glove, and somehow that made the leather more flexible and it started to bunch up in the palm, between the base of the knuckles and the palm slider area. 
It wasn't enough to really distract me from the act of riding, but at the first stop light I came to, I clicked into neutral and ran both my hands down my pants legs to tug them tight, as it had the illusion of feeling loose. The gloves didn't budge, as they were tight.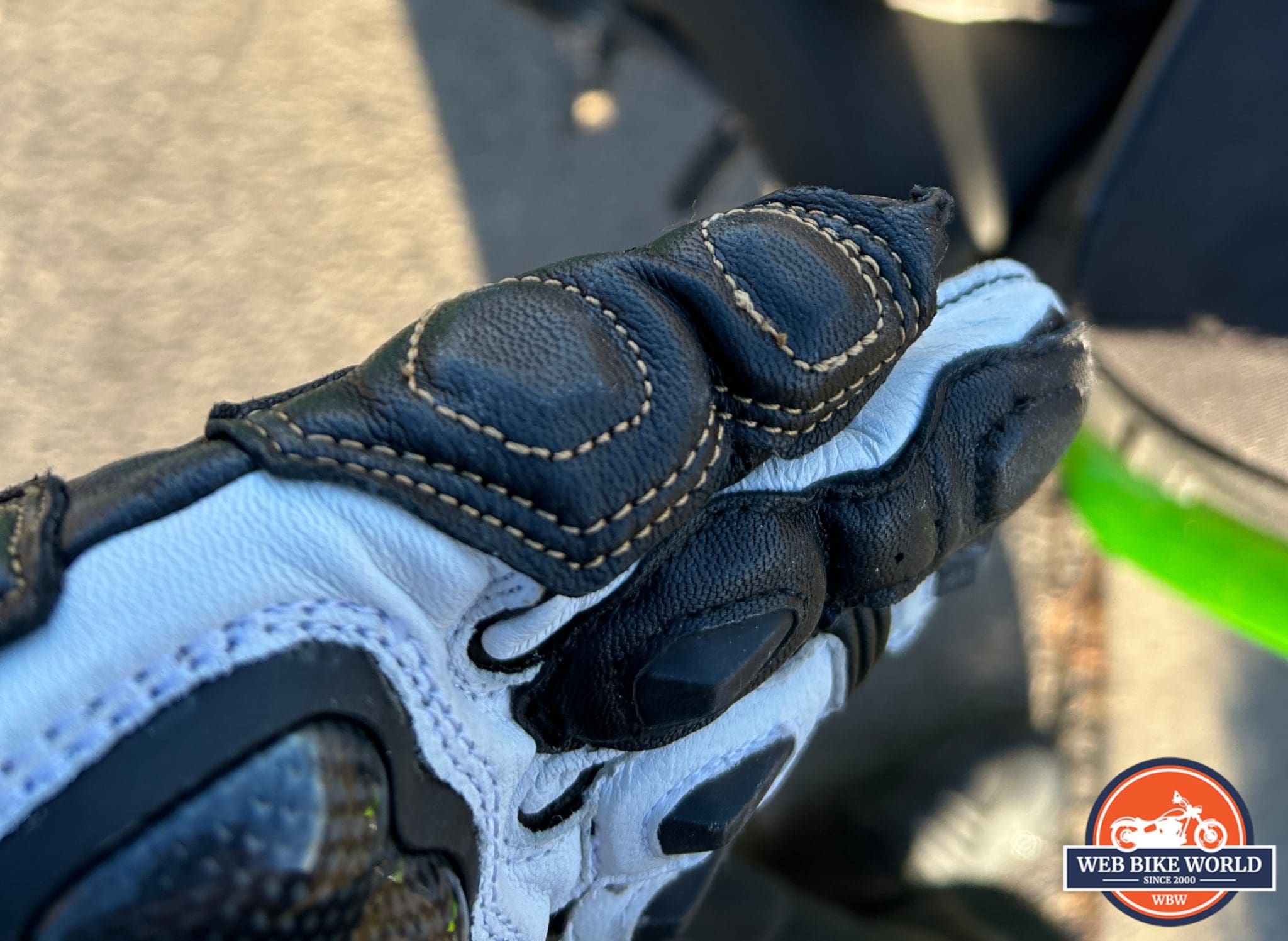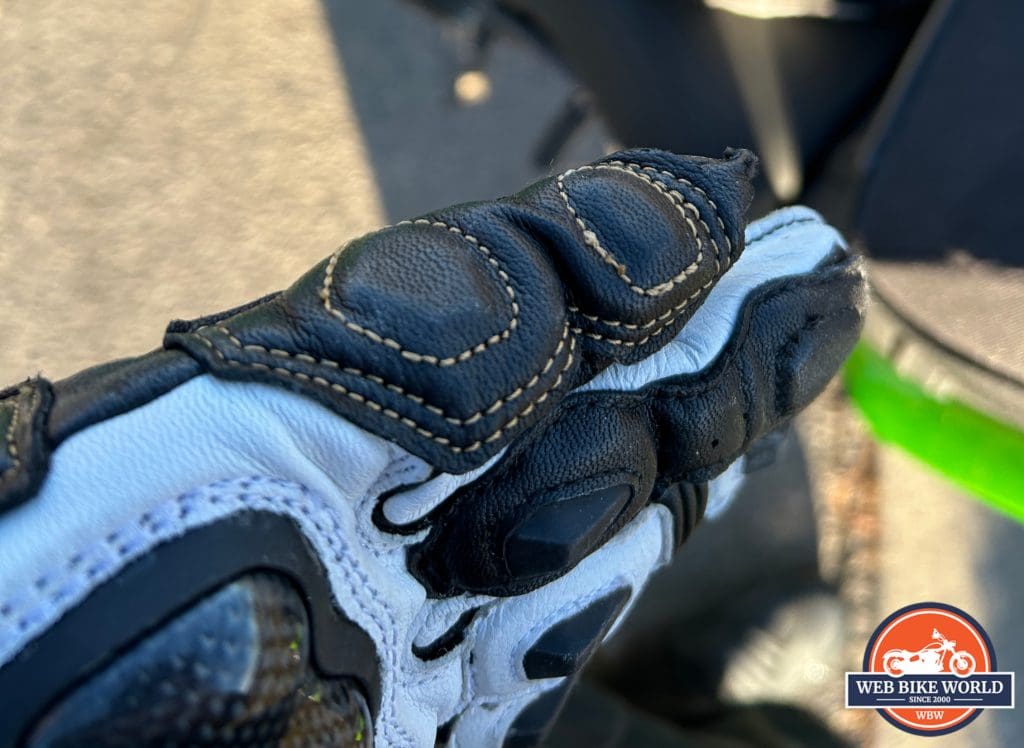 As I said, it wasn't outright uncomfortable, but it did take a little getting used to before I stopped noticing it, probably 3 or 4 rides of about an hour and a half each.
The heat did have one beneficial effect, however, in that it seemed to help the gloves along their final break-in, and they are now tight to put on, but comfortably stretch out to be nice and tight to the hand except in the palm.
[letsreviewaff}
Dexterity & Build Quality
At first, the gloves were rather stiff, especially along the little finger. This is not a bad thing, as the extra layering there is precise to make that area stiff, but after a few hours it became flexible enough I could wrap my little finger fully around the handles.
In terms of reaching for the levers, using my thumbs, and general overall grip, the gloves are very capable in that regard. The knuckle armor floats easily on its leather platform to keep the armor precisely where it needs to be at all times, and the feel through the bottom of the knuckles is direct and communicative.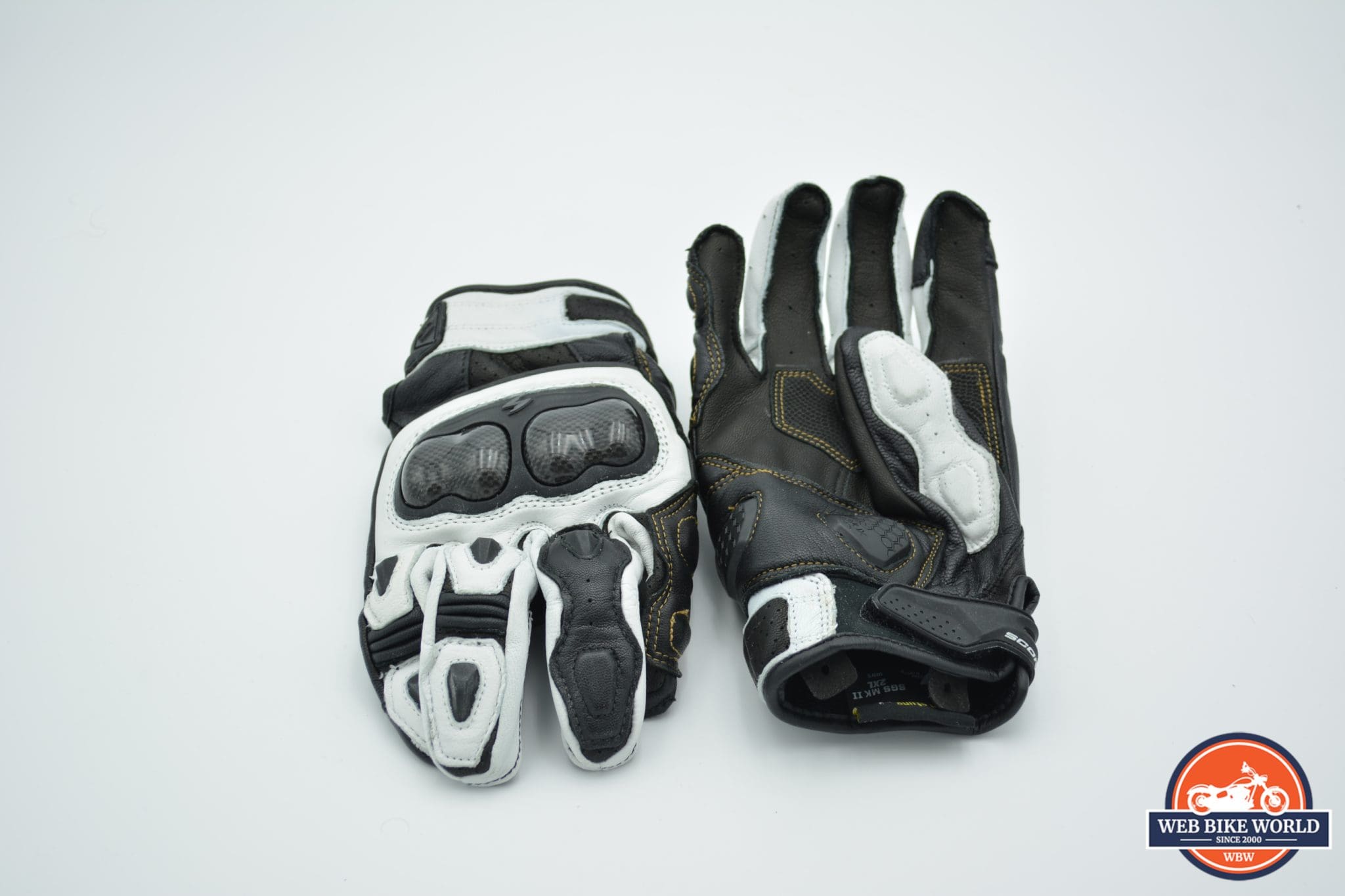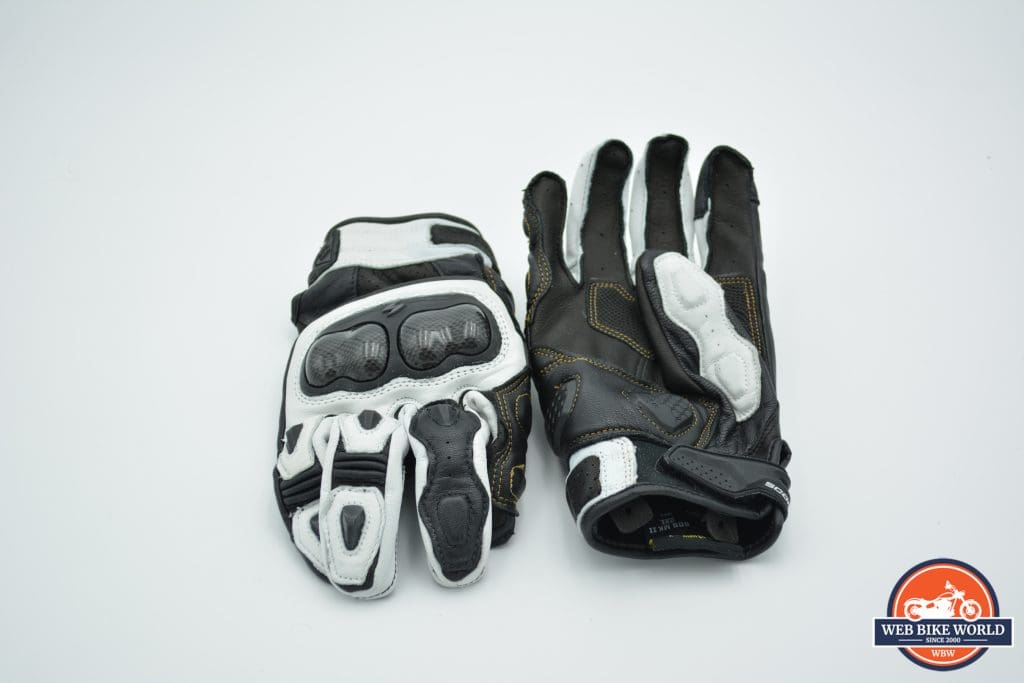 The gloves are also brought together quite well. Double and triple stitching exists throughout, with the heaviest stitching along the palm slider area and the base of the knuckles. The fingers are double stitched and have an accordion zone on the second phalange of each, allowing for the leather to flex and move without tugging or tightening.
At no point during my testing did I encounter any fraying or threading of any of the stitches or leather. This is despite several tens of hours on the bike, as well as using the gloves off the bike for various tasks such as brushing dirt off the tires, moving a rather large branch off the road that had fallen off a tree, and the like. 
The Scorpion SGS Mk II Gloves In The Real World
During the timeframe I was testing and reviewing the Scorpion SGS Mk II gloves, Calgary experienced a wide range of temperatures. There were a couple of days above 30 C (86 F), and some days as cold as 5 C (41 F).
As I stated above in the features and fitment section, on the hot days the gloves do not ventilate pretty much at all. No air gets in the mild perforations on the insides of the fingers, and the back-of-hand venting area doesn't get enough airflow, or is so far back that the sleeve of a riding jacket covers part of it, to effectively pull hot air out.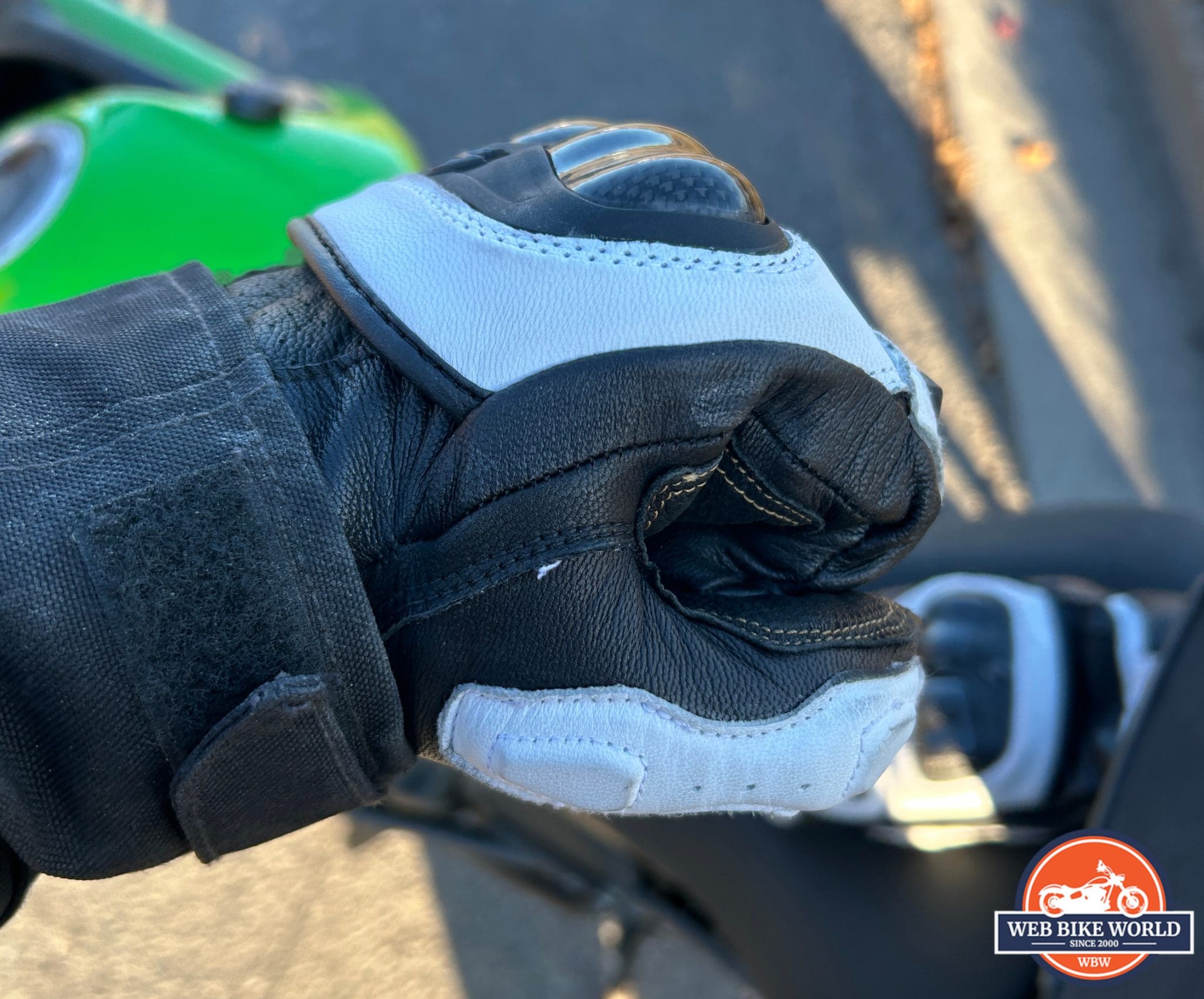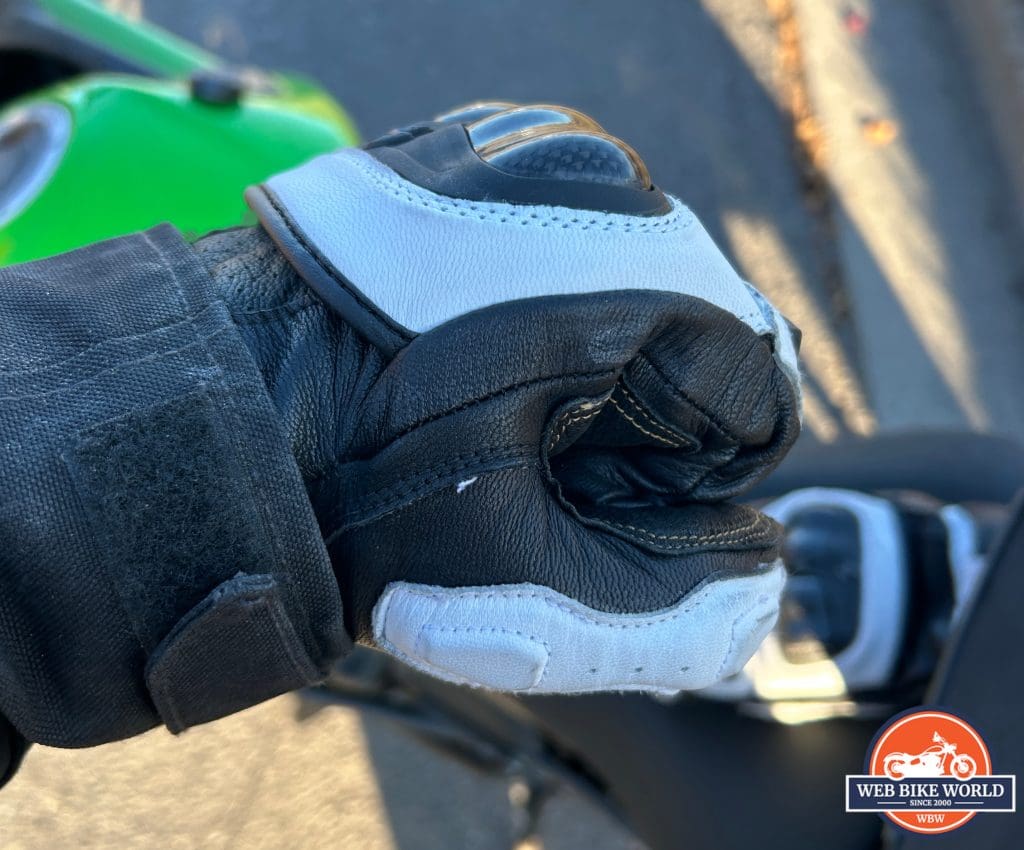 This led to my hands being sweaty on any ride where the temperature was above 20 C (68 F). On the cooler rides, the ambient temperature was enough to have an effect, in the sense that passing at speed through cooler air adds a windchill factor, and it was enough to penetrate the leather but not freeze my hands outright. 
As also pointed out in the comfort section, the warmer the gloves got, the more the palm seemed to loosen up. This led to the leather bunching up in the palm, which was inconvenient but not an outright distraction. The grip area of the glove still felt solid and connected to the handlebars, but at stop lights, I eventually had to resist the urge to tug on the gloves as they felt loose because of the leather bunching up, but were still solid and tight to my hands.
On the subject of tightness, the gloves are a bit of a task to pull on, as the wrist opening is solid leather, without any stretch zones. You have to make a spear out of your fingers and thumb, grab the wrist leather tightly, and wiggle quite vigorously to get your hand in. Once it's in, that's no problem, but having something like a little tab or pull loop to help add opposing leverage to the hand going into the gloves would have been a welcome feature.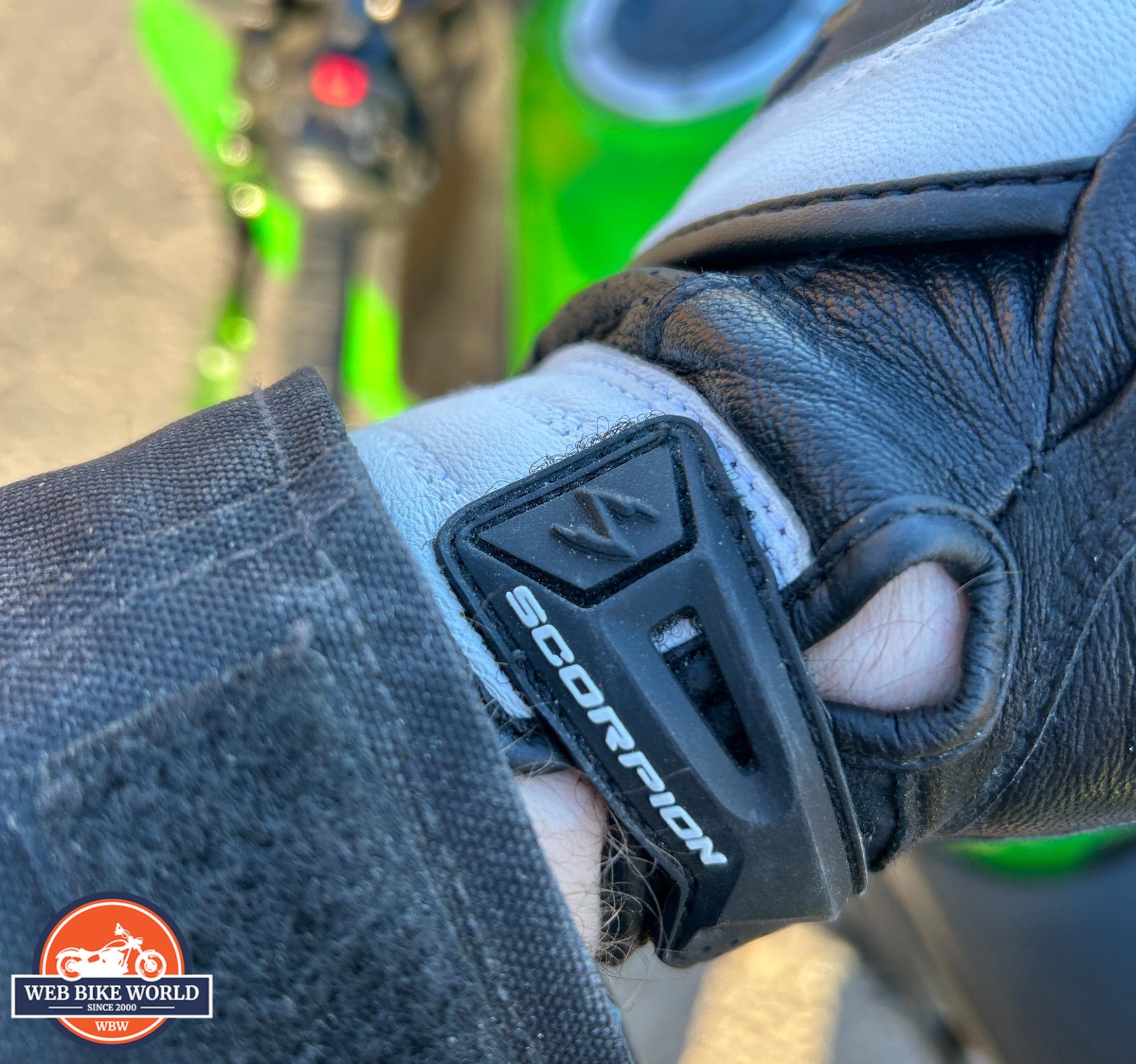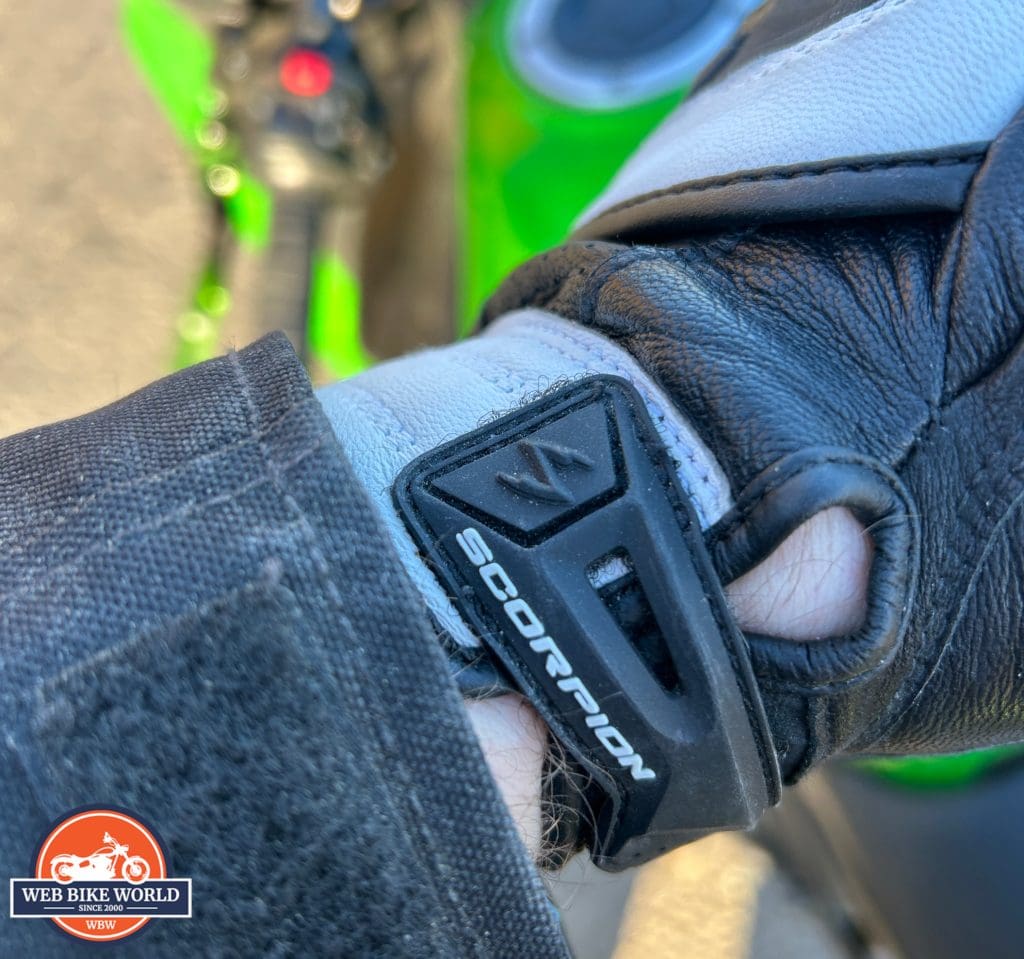 In terms of feel, road conditions and the bike itself communicated very well through the gloves. There is no loss of sensation even with the double reinforced underside of the knuckles area, and each finger allowed enough sensation through that clutch and brake lever operation was well within acceptable feel. In some gloves in the past, the leather of the gloves has been quite thick and dulled down the bite point of the brakes or clutch, but with the Scorpion's, it was as good as if I were barehanded.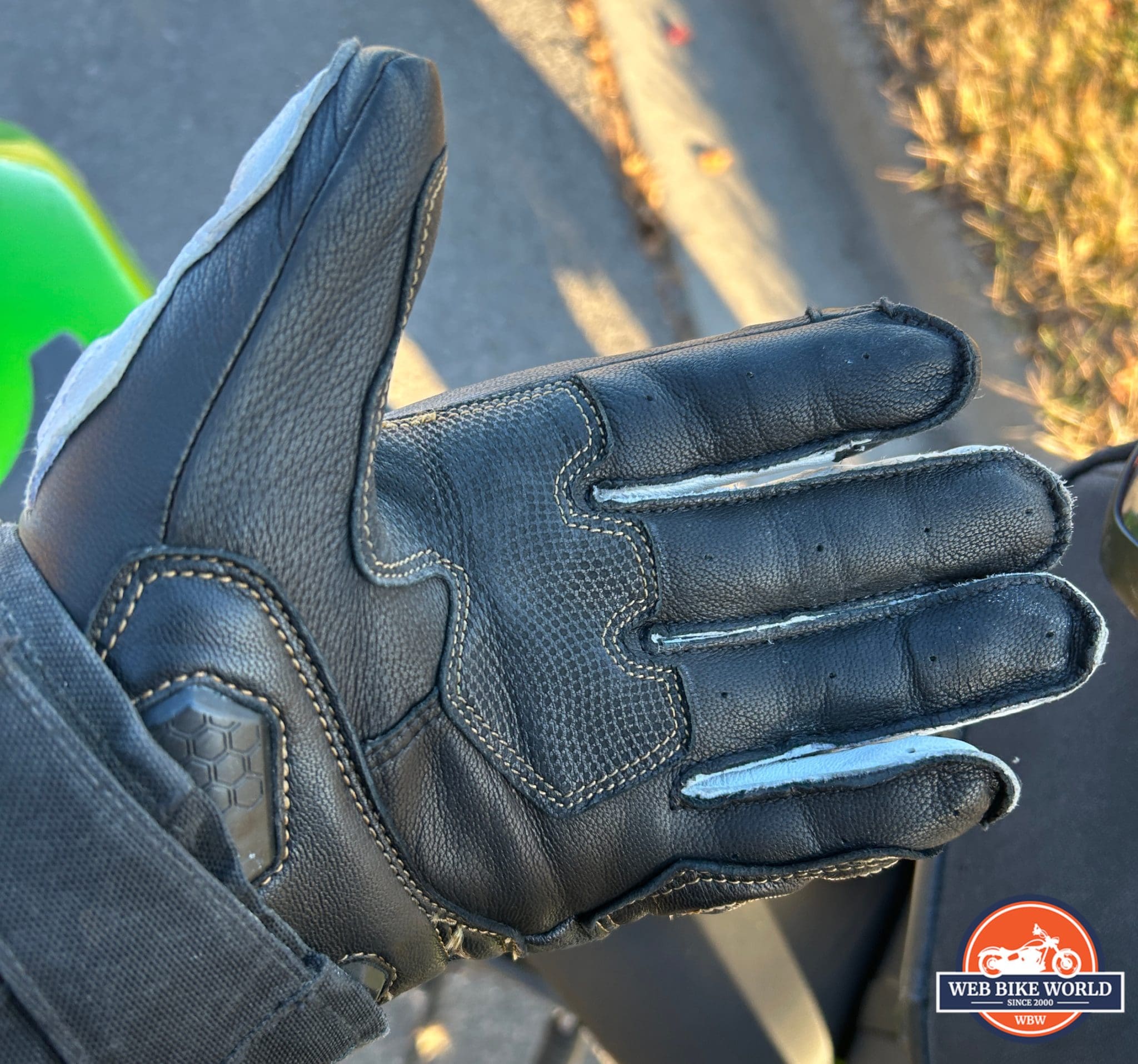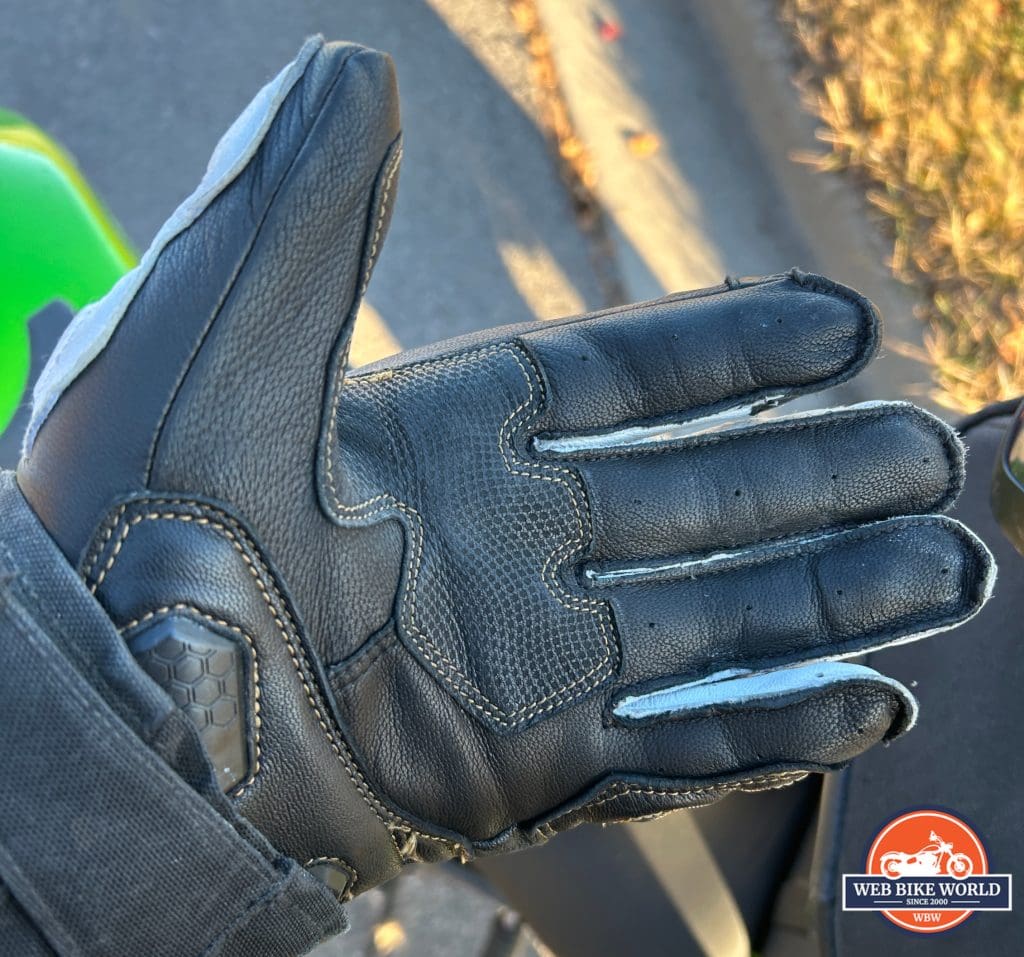 As well, the touch capacitive features of the thumb and fingers worked without issue. Some gloves you have to tap a button five or six times for the touchscreen to register it, but in everything from my iPhone 14 Plus to an ATM touchscreen, it worked the first time, every time. Big points there.
On another point, I did read somewhere that the sizing of the SGS Mk II's is not true to size, in that they recommend you go a size smaller. It may be because I am of the larger-handed type, or I got a pair of gloves that fit perfectly, but I found that the fingers were perfectly long enough without having any empty air at the end of each, and the glove was snug but not squeezing the life out of my hands.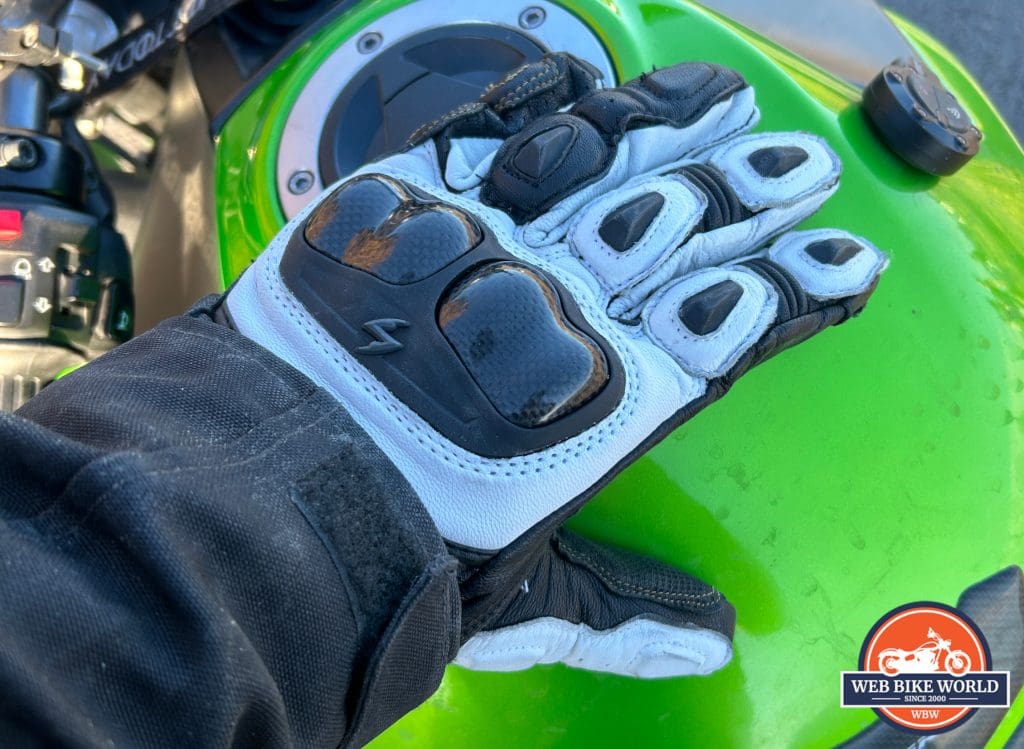 The only comment I would make about dexterity issues is that much like my (track day ready) gauntlet gloves, moving the left thumb to the button box requires me to almost stretch it back and then press or move the button I want. I did hit the horn instead of the blinker cancel more than once, until I got used to how much I needed to move, after which it became second nature. 
I chalk this up to the glove being the brethren of a full-on gauntlet glove, the SG3 Mk II, and as such keeps the thumb tucked in and tight in case one comes away from their bike at speed and hands on their hands. I think that for most people, it won't be much of an issue once you get used to it, but for some with prior hand or wrist injuries or conditions like tendonitis or carpal tunnel, it could add a bit of strain to their dexterity.
Final Thoughts: A Decent Pair Of Gloves, But With Some Flaws
Don't get me wrong, the Scorpion SGS Mk II's are in no way a bad pair of gloves. They offer excellent armoring, have a dedicated and severe focus on protecting your hands in a slide, and do not cheap out on materials or build quality.
However, due to this focus on overall protection, there is very little room left over for ventilation, and the gloves do suffer for it. As most track days and sport bike riding tends to happen when the weather is decently warm, that lack of ventilation leads to what I label as Sweaty Palm Syndrome. 
Where that gets nagging is that the sweat heats up the leather of the palm, and even though the palm leather between the palm slider chassis and the double layered grip area is just about an inch at its widest, it still does bunch up into the center of your palm.
With all things being equal, I would rate these gloves as moderate weather gear, but not appropriate for hot or very warm weather. If Scorpion can fix the ventilation issue, either with better perforation in the parts of the gloves that are in the air stream or by adding little knuckle armor intake vents like with the Scorpion EXO Talon gloves, I would definitely score these gloves as three season appropriate. 
I do have to rate the ventilation rather poorly as it stands, however. As well, because of the lack of ventilation, the comfort score is also knocked down a half point, as the gloves are otherwise quite nice to have on your hands. In terms of materials, build quality, protection, and overall value for money, however, you do get gauntlet glove levels of protection, presented in the form of a short cuff glove, and it's under $100. 
Can't really beat that… if you can live with having sweaty hands on your rides.
[letsreviewaff}