BMW Motorrad Australia has announced 2019 prices for its new midsize adventure bikes with a bigger 853cc parallel twin engine.
The extra power, engine capacity and new hi-tech features of the new F 850 GS and F 750 GS will obviously cost customers more.
The F 700 GS is now the F 750 GS, which will cost an extra $700, while the F800 GS goes from $16,490 to $17,990 for the F 850 GS.
BMW Motorrad Australia now offers a three-year, unlimited-kilometre warranty on all new models.
The warranty period also includes comprehensive roadside assistance, available 24/7 every single day of the year.
BMW F 750 GS  (plus on-road costs)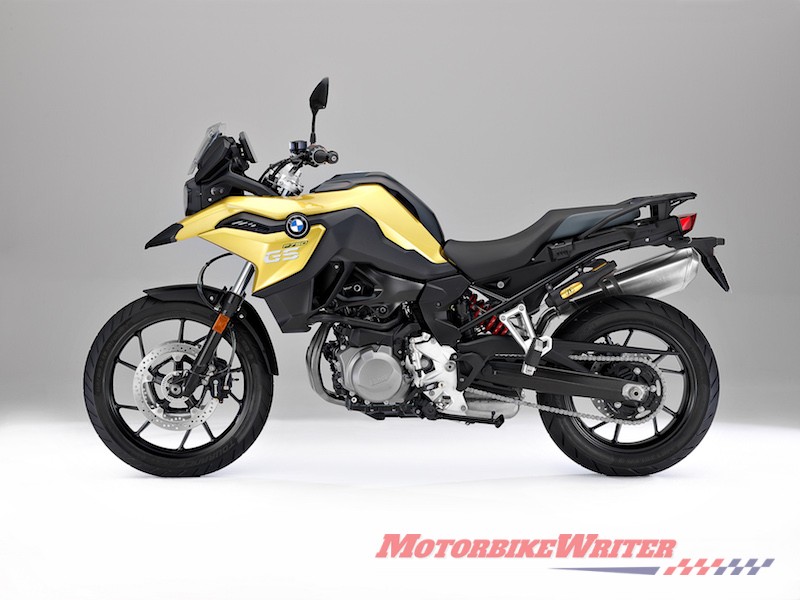 | | |
| --- | --- |
| BMW F 750 GS | $13,590 |
| BMW F 750 GS Tour | $17,305 |
| BMW F 750 GS Low Suspension | $13,840* |
| BMW F 750 GS Tour Low Suspension | $17,005* |
BMW F 850 GS (plus on-road costs)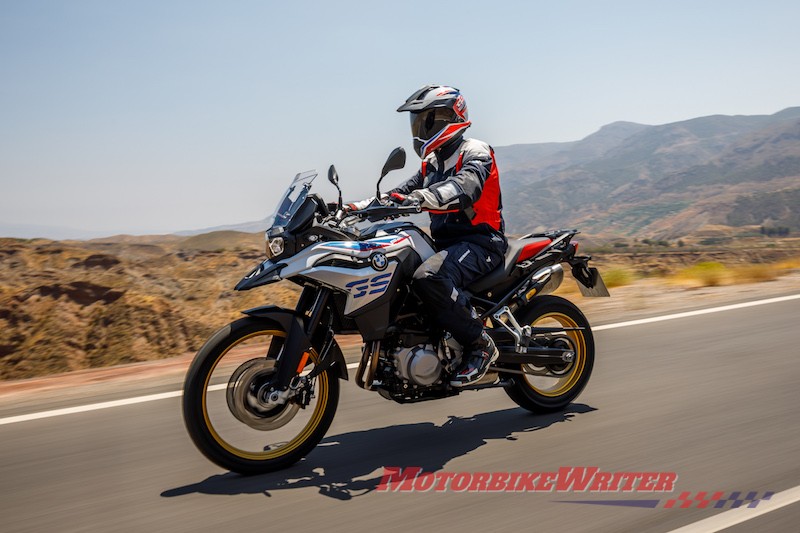 | | |
| --- | --- |
| BMW F 850 GS | $17,990* |
| BMW F 850 GS Rallye | $18,390* |
| BMW F 850 GS Rallye X | $22,305* |
| BMW F 850 GS Tour | $21,805* |
| BMW F 850 GS Low Suspension | $18,240* |
| BMW F 850 GS Rallye Low Suspension | $18,640* |
| BMW F 850 GS Tour Low Suspension | $21,505* |
At the heart of the new midsize adventurers are the two new parallel-twin engines, both with a displacement of 853cc, but different output.
The F 850 GS has 70kW (95hp) of power at 8250rpm and 92Nm of torque at 6250rpm while the F 750 GS has 57kW (77hp) at 7500rpm and 83Nm at 6000rpm.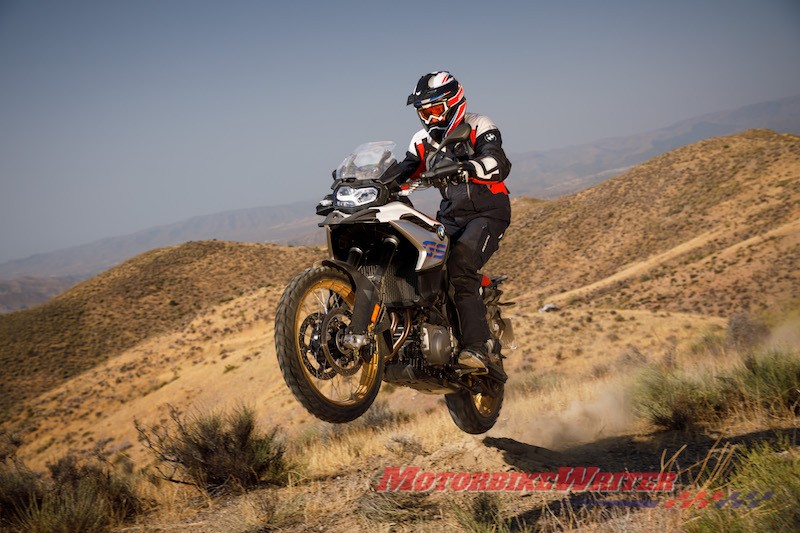 BMW says the F 750 GS is "designed for all riders" with a low seat height and "all-round qualities". It features mag wheels with a 19-inch front.
However, the F 850 GS not only has more power and torque, but BMW says it has more touring and off-road features. They include wire wheels and a 21-inch front.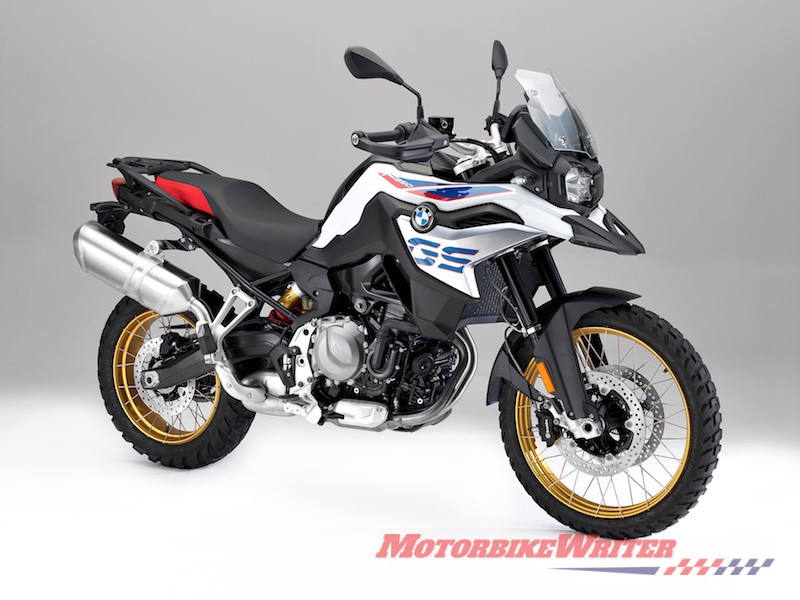 New F 850 GS and F 750 GS engine
BMW says the engine has a 90-degree crankshaft and a 270/450-degree firing interval with two counterbalance shafts to smooth it out.
A self-amplifying, anti-hopping clutch provides a lighter lever feel and the drop in engine drag torque prevents wheel lock-ups on downshifts.
The six-speed gearbox with secondary drive is now positioned on the left.
Rider aids include  'Rain' and 'Road' riding modes, ABS and automatic stability control ensures a high level of safety.
The F 750 GS and F 850 GS can be fitted ex-works optional equipment such as Pro riding modes, dynamic traction control and banking-capable ABS Pro.
New midsize frame
The bridge frame of the new F models is made of deep-drawn, welded components and integrates the engine as a co-supporting element.
BMW claims this improves torsional rigidity and "robustness".
The fuel tank is back in the traditional position for improved centre of gravity.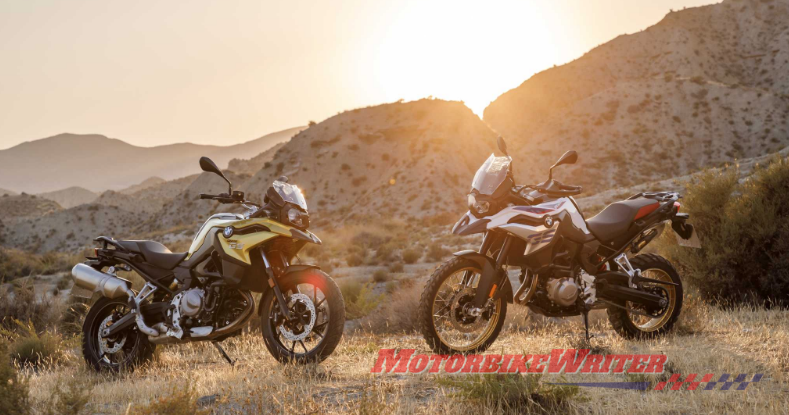 The F 850 GS adds a Rallye style variant with emphasis on off-road capabilities.
There is also a range of optional equipment including different seat heights, windshields, full LED headlight, Connectivity equipment with TFT display, Keyless Ride, Gear shift assistant Pro, Dynamic ESA and eCall.