In one fell swoop, BMW has not only gone and realized our anticipations for a 1300 GS, but they've also gone and beefed out the excitement with a trio of smaller-cc GS offerings.
All three of these mid-range buddies just debuted an hour or so ago. 
Happy Thursday to us. 🤩 🔥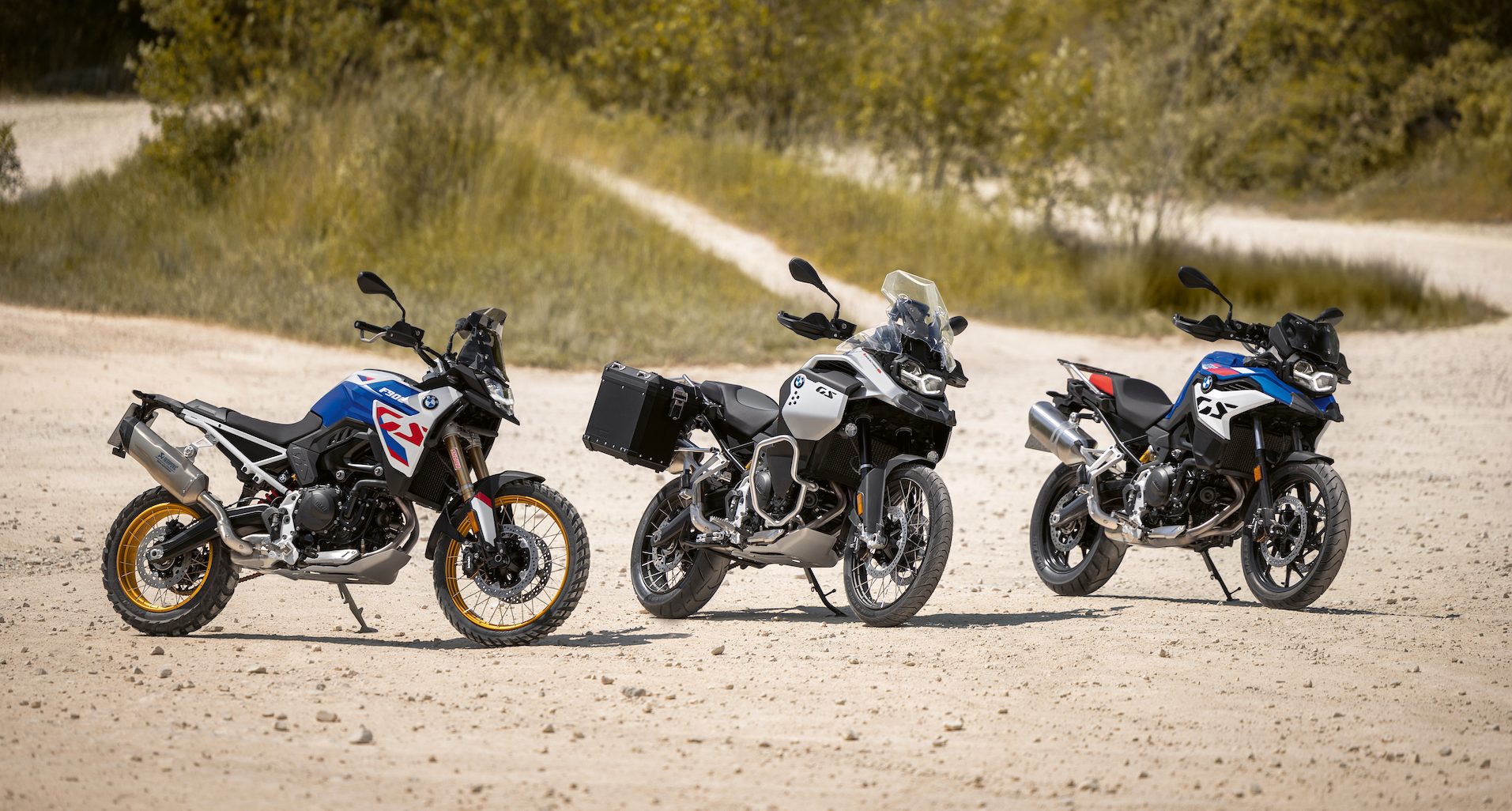 Meet BMW's all-new F 800 GS, F 900 GS, and F 900 GS Adventure, three new mid-range machines slotted to diversify the GS experience for the remainder of 2023. 
All three models carry an updated version of the 2-cylinder in-line heart previously present in BMW's F 850 GS, with higher output and torque refinement made possible by "two counter-rotating counterbalance shafts."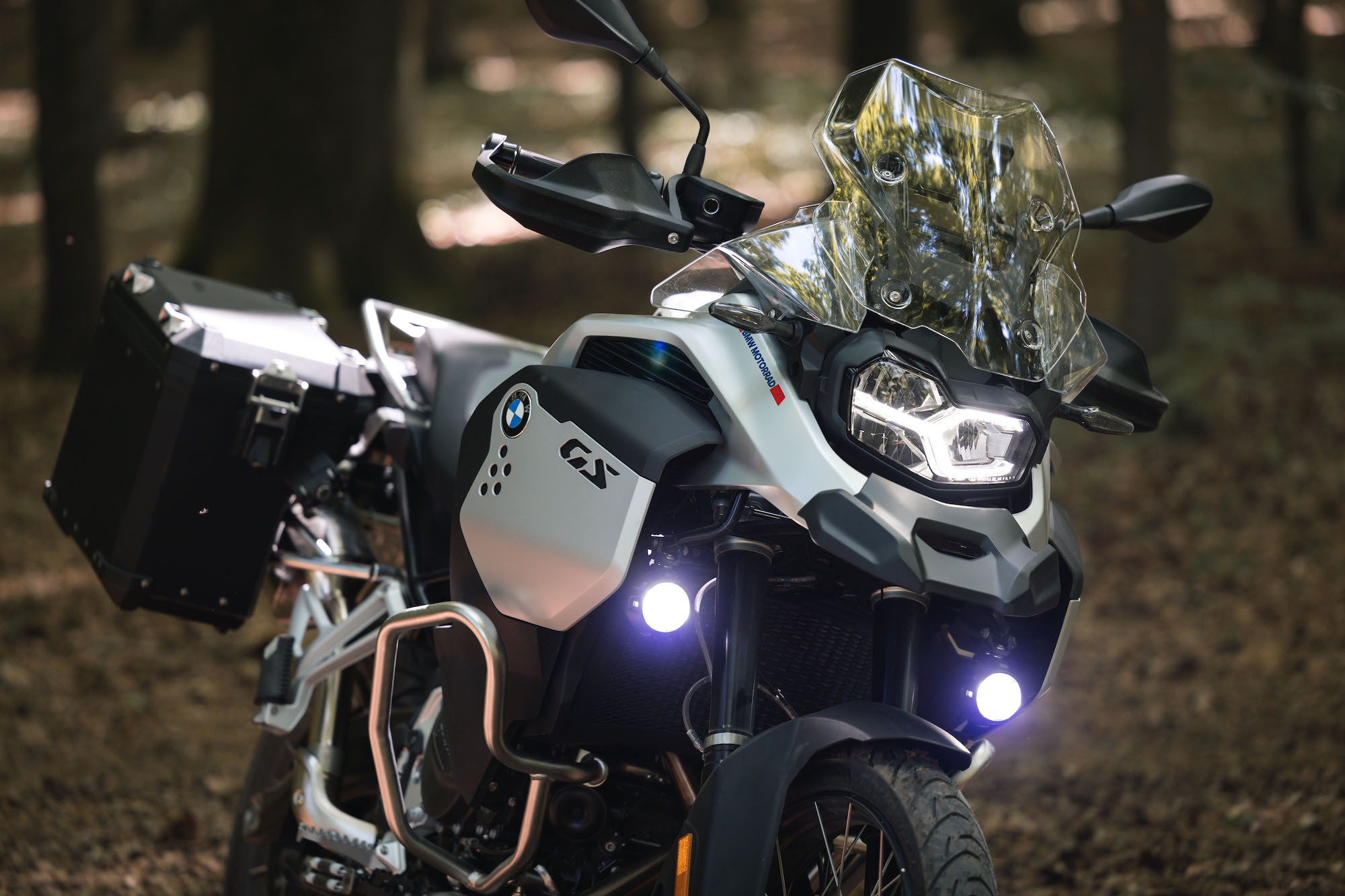 We've also been given, among other things, more Ride Modes to complement the addition of Dynamic Brake Control (DBC) and the option for engine drag torque control.
An optimized adjustable gearshift lever plays power through a B ridge-type style frame while revamped LED lighting, a plethora of seat adjustment options, a big 6.5" TFT screen, and that handy Emergency "eCall" button we covered back in June of this year add sophistication to durability. 
Let's tackle the specs sheets for each bike and see what the Bavarians have given us with this trifecta of touring enduros.
2024 BMW F 800 GS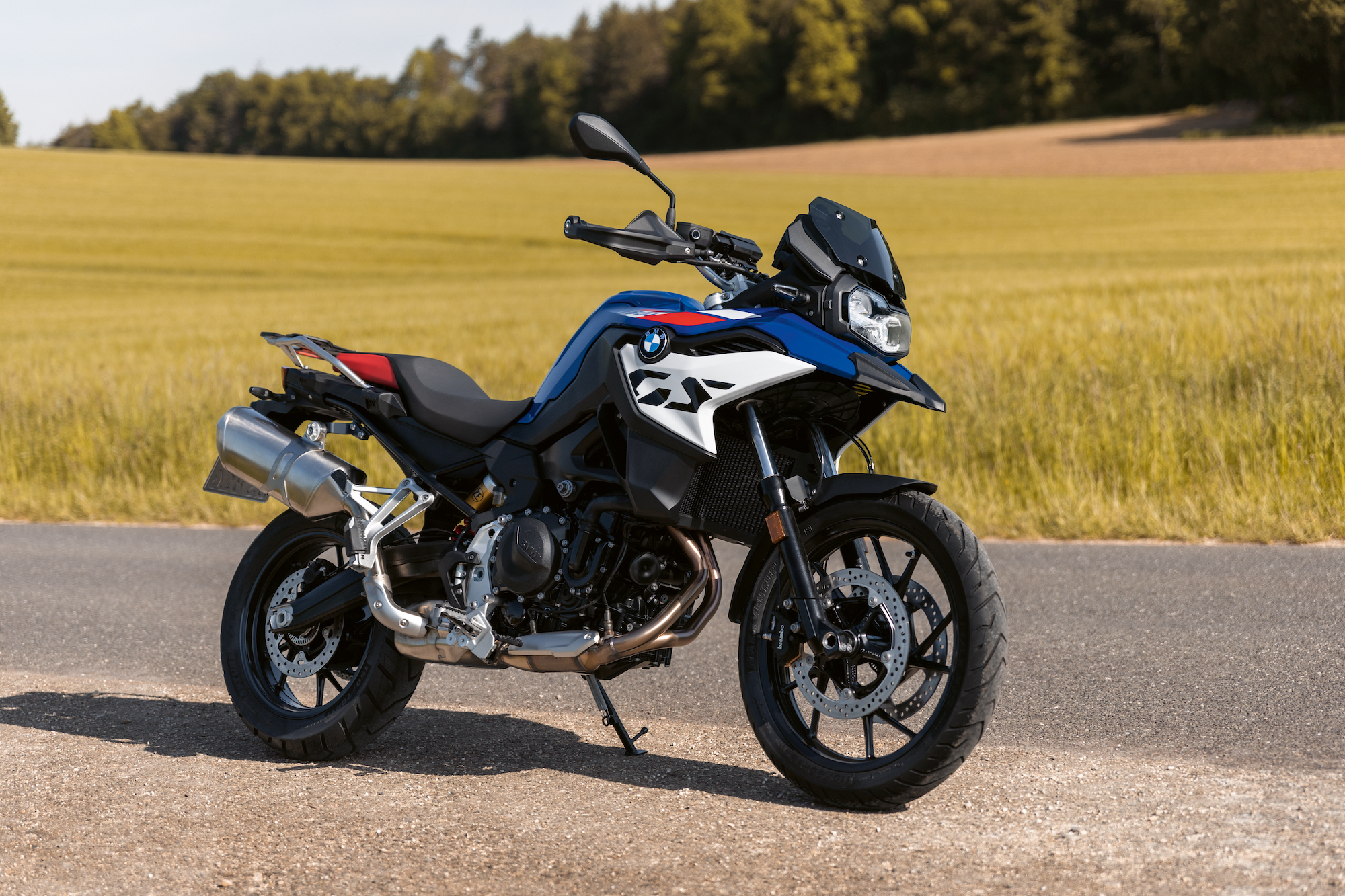 The new F 800 GS is lauded by BMW's recent press release as the ultimate entry-level GS – and no wonder, as this new machine now carries the lowest displacement of the GS family with the most premium features. 
A 6.5" TFT display now comes as standard for the F 800 GS, complementing the handy addition of heated grips with hand protectors, optimized LED lighting, and a novel Variocase carrier. The 800 GS's 2-cylinder engine firing interval has also been adjusted to a very nice 270/450 degree, rendering 895cc's (87hp) of growl to the GS aesthetic.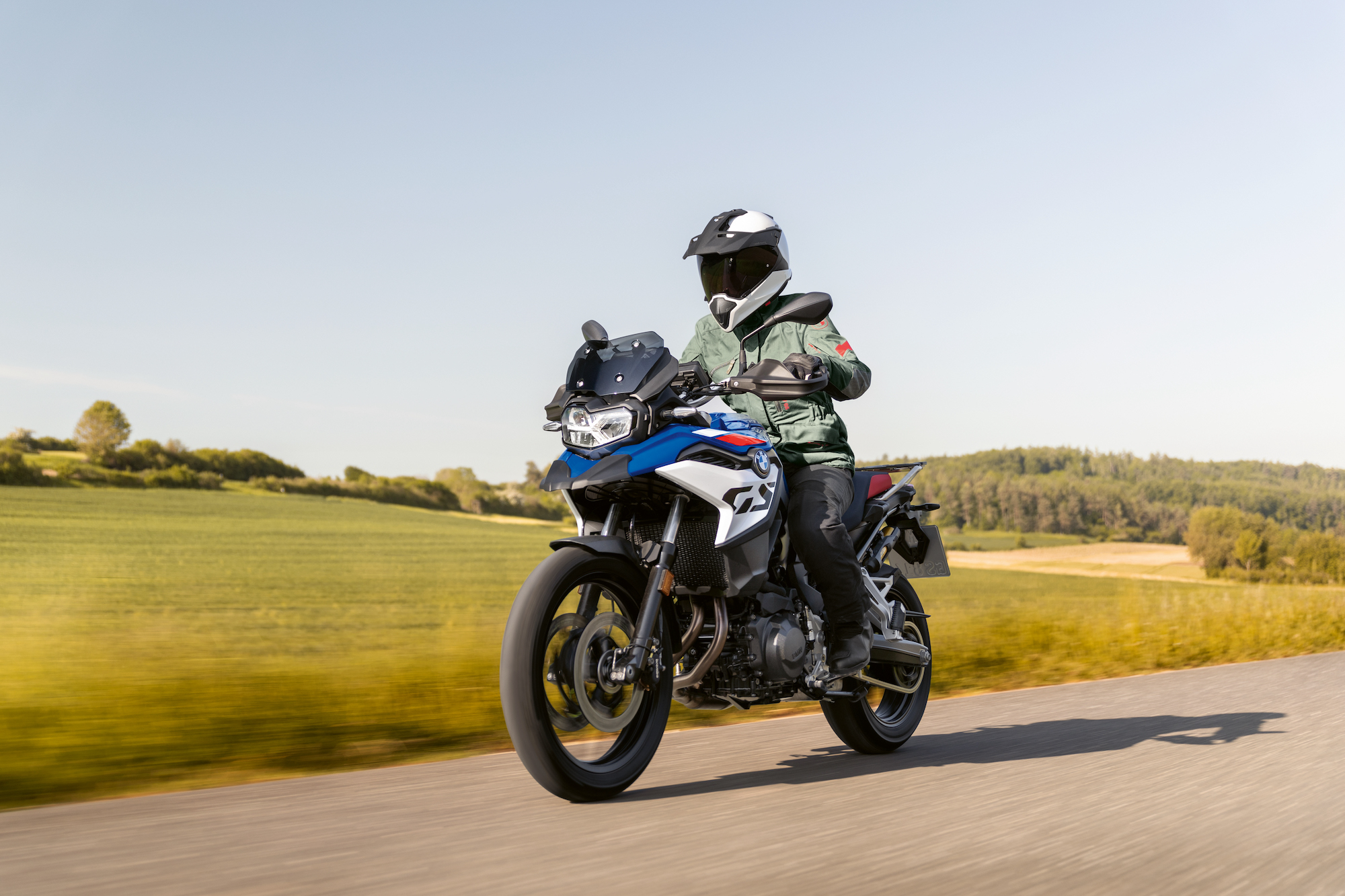 We're told the heart of the bike is a supporting part of the chassis, which is "made of deep-drawn sheet steel parts welded together."
The Enduro Pro package – standard equipment on the F900/Adventure – is optional ex-factory for F 800 GS riders, and BMW has also provided us with an A2-compatible 35 kW (48hp) variant, further diversifying the F 800 GS's reentry into Powersports markets. 
Color schemes for the F 800 GS include the following: 
Basic variant – Lightwhite

Sport model variant – Racing Blue

Triple Black variant – Blackstorm Metallic
2024 BMW F 900 GS
The Bavarians' F 900 GS has shed some weight for MY2024, cutting a little over 30lbs thanks to the addition of a smaller plastic fuel tank (only ~0.1gal less than the previous model) and a lighter swingarm/rear section. 
This "sporty" side of the GS famjam is accompanied by that nifty 2-cylinder engine's power ratings: 105hp @ 8,500rpm and 93Nm of torque @ 6,750rpm.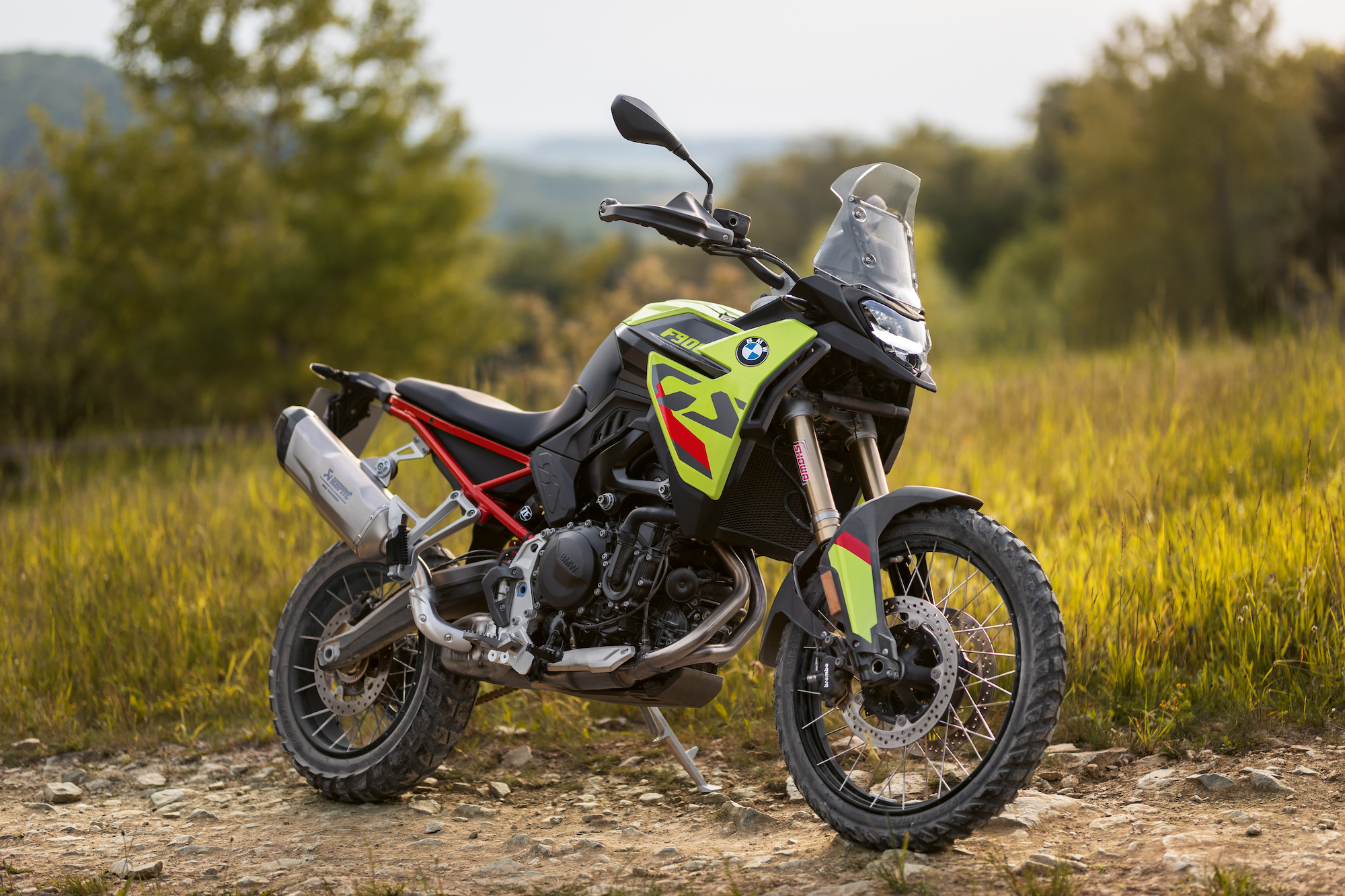 New bodywork is accompanied by a brand new USD telescopic fork (fully adjustable) for mid-adventure cush and an Akrapovič sport rear silencer. Off-roading capabilities are supported with new ergonomics, as well as the following features: 
Enduro footrests

Heated grips

Hand protectors

Aluminium side stand

New foot brake lever

New LED headlight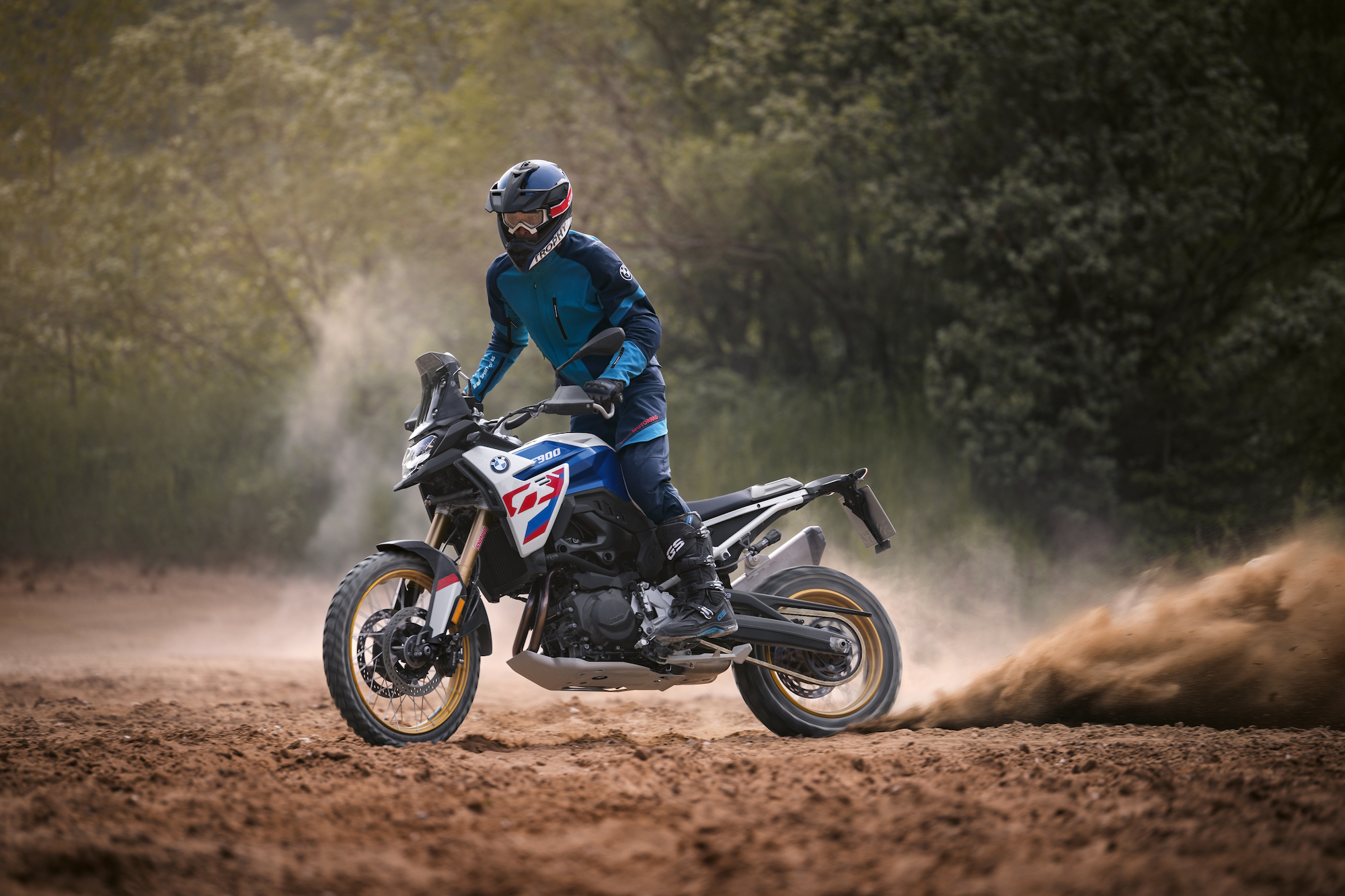 BMW finishes the whole kit with a neat multifunction holder for navigation devices, recording cameras, and more.
*Heads up: If you want to install the BMW Motorrad Connected Ride Navigator or the BMW Motorrad Connected Ride Cradle, we're told you will need to initiate the "navigation preparation" option for this bike.*
A reminder that this bike also carried BMW's new eCall button, as well as the option of Keyless Ride. 
Color schemes for the F 900 GS include the following: 
Basic variant – Blackstorm Metallic

Passion variant – São Paulo Yellow

GS Trophy variant – Lightwhite/Racing Blue Metallic
2024 BMW F 900 GS Adventure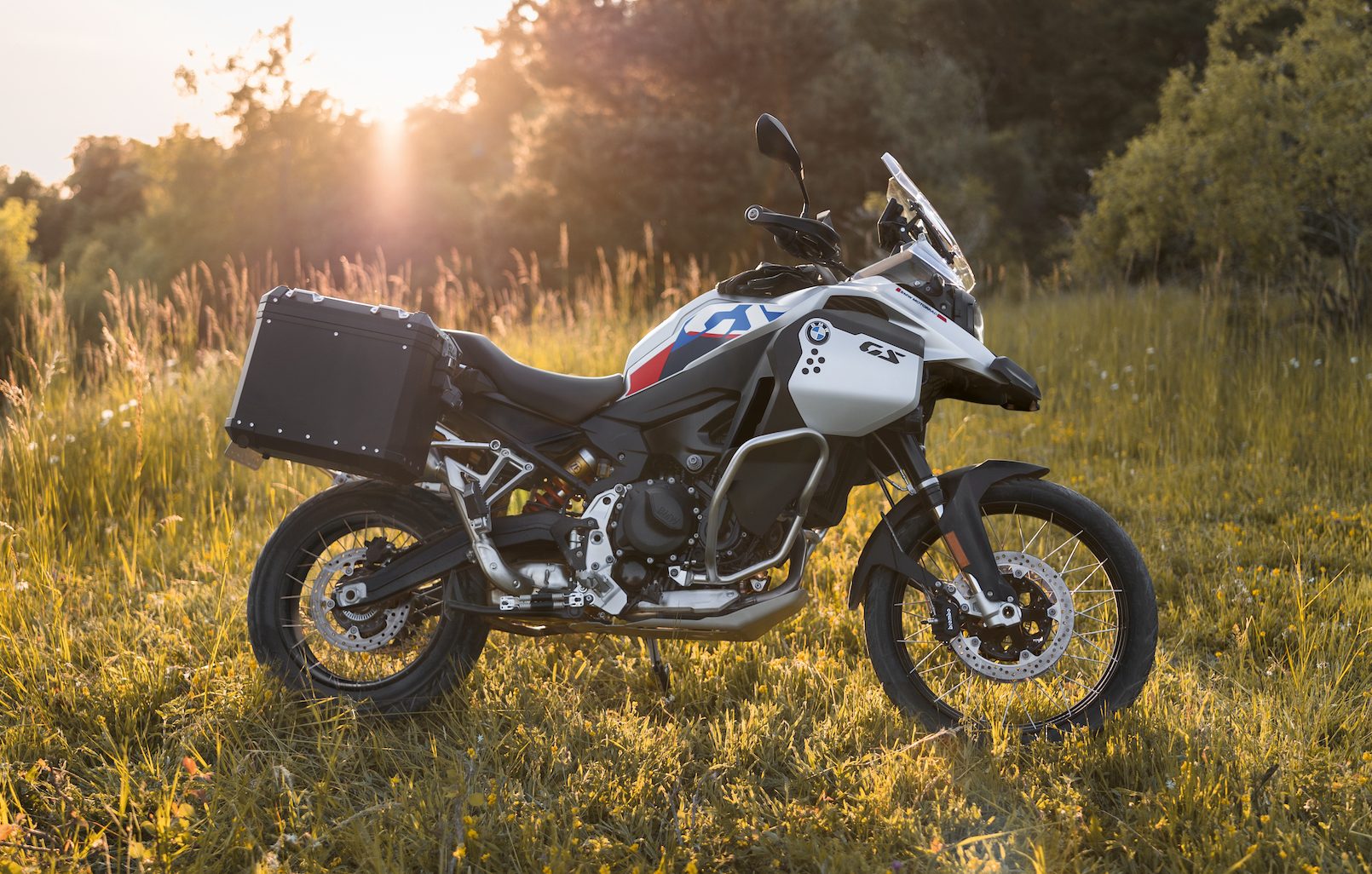 Demanding adventures require a machine capable of thriving under rough 'n tough handling – and BMW's F 900 GS Adventure does just that. 
On top of the 2-cylinder heart generating 105hp @ 8,500rpm and 93Nm of torque @ 6,750rpm, the Bavarians have included a Showa USD telescopic fork (again, fully adjustable), with the additional option of Dynamic ESA (Electronic Suspension Adjustment) electronic suspension for riders in search of the ultimate cushy experience.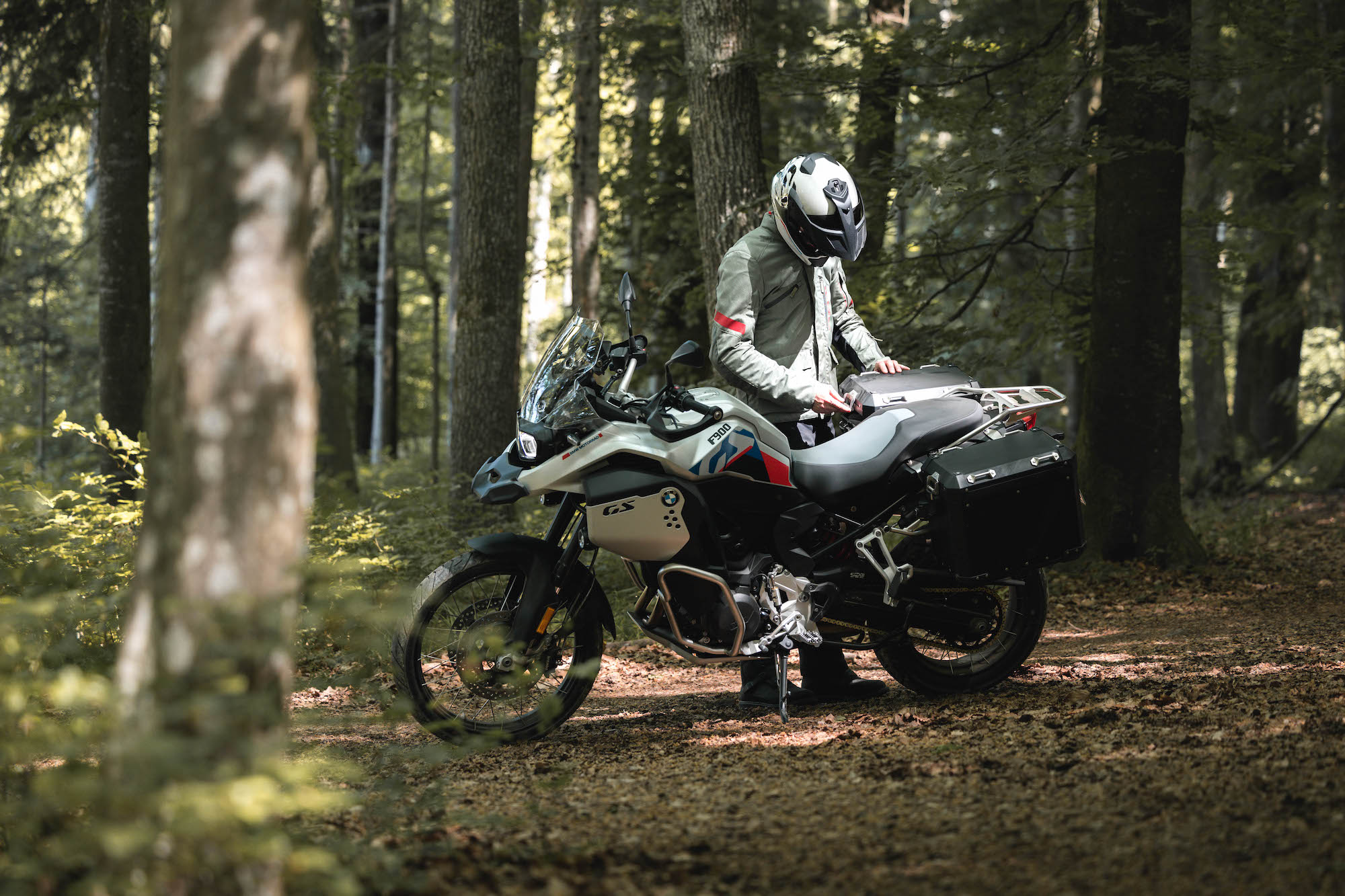 New side panels, heated grips, an aluminum engine guard, and an optional Ride Pro equipment package tallies up the front-line perks for this model, which shows off the other benefits and hardware present in the F 900 GS.
Color schemes for the 900 GS Adventure include the following: 
Basic variant – Blackstorm Metallic

Ride Pro variant – Matte White Aluminium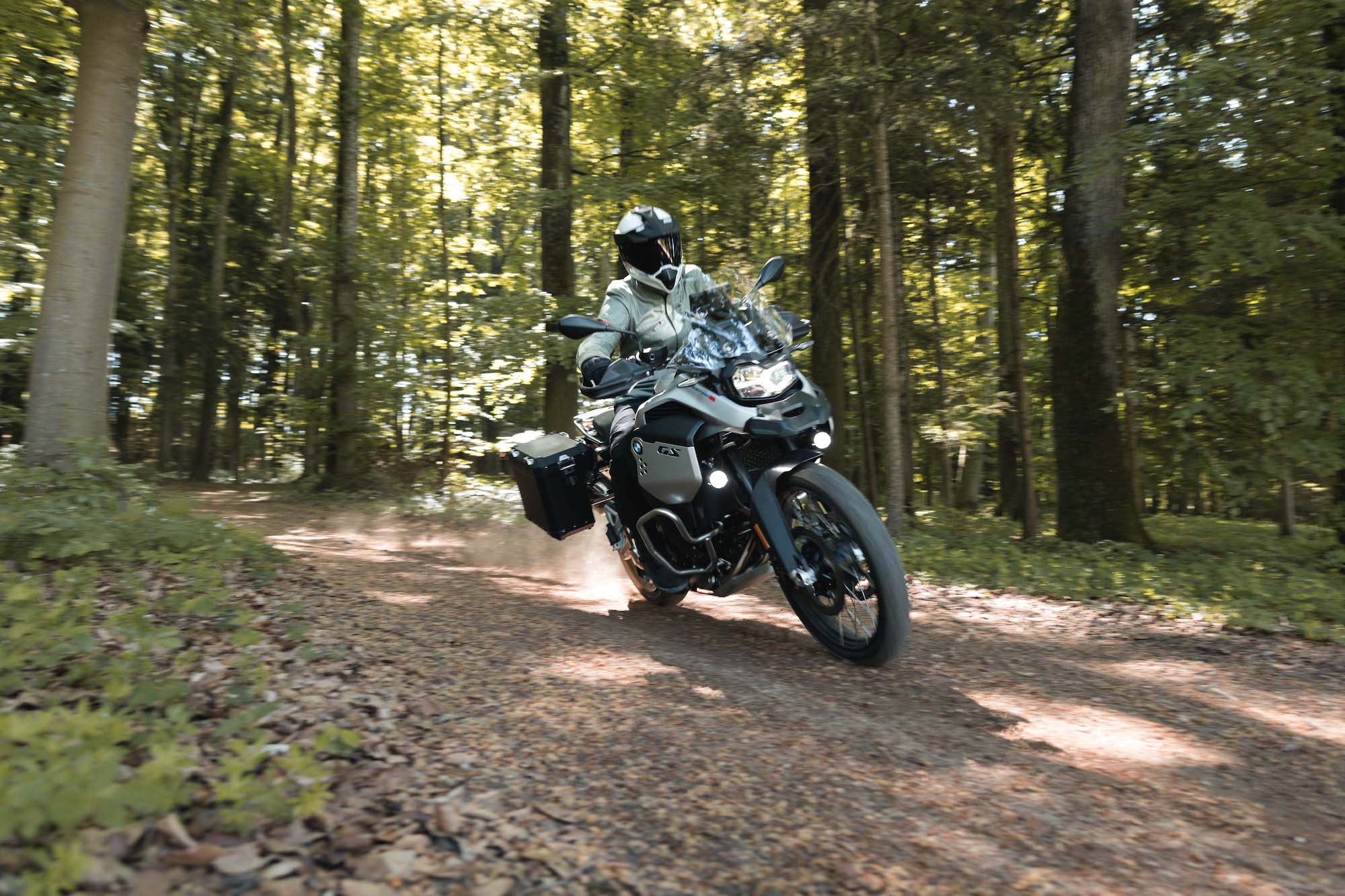 What do you think of BMW's new mid-range enduro touring family?