Review Summary
For the budget-minded buyer, the Breeze is a good all-around entry-level ebike that is suitable for paved pathways, groomed gravel trails, and general commuter-style riding. It is a good value for money and should be easy to service for years to come. For new riders that don't need high-end components or all the bells and whistles, the Breeze is a good choice.
Pros
Affordable at $1,499 MSRP
Attractive orange paint job
Comes with everything you need
Metal fenders and pre-installed rear rack
Cons
Cadence sensor and factory PAS settings could be better
Twist-throttle instead of thumb throttle
Can't use throttle when PAS set to 0
Review Summary
The KBO Breeze is $1,399 USD as of September 25, 2022

There are two models: the Breeze, with a traditional step-over frame, and the Breeze Step-Thru, which uses a step-thru frame.

For the budget-minded buyer, the Breeze is a good all-around entry-level ebike that is suitable for paved pathways, groomed gravel trails, and general commuter-style riding. 

The Breeze comes with pre-installed front and rear fenders, front shocks, a rear rack, a bottle holder, and a small bike repair toolkit.

While the Breeze comes with many components pre-assembled, be sure to check every connector, bolt, and component. Most will need to be adjusted before the first ride.

The Breeze reviewed here is a 2021 model year; the Breeze is unchanged for 2022.
Note: KBO provided this Breeze at no-cost for our use in this review (and future pieces of content). Brands collaborating with us must agree to our impartial review policies. Thank you for supporting us. See all our ebike reviews.
Words: Cameron // Models: Melissa, Max the Shih Tzu 
The KBO Breeze & Breeze Step-Thru Are a Pair of Affordable Entry-Level Commuter eBikes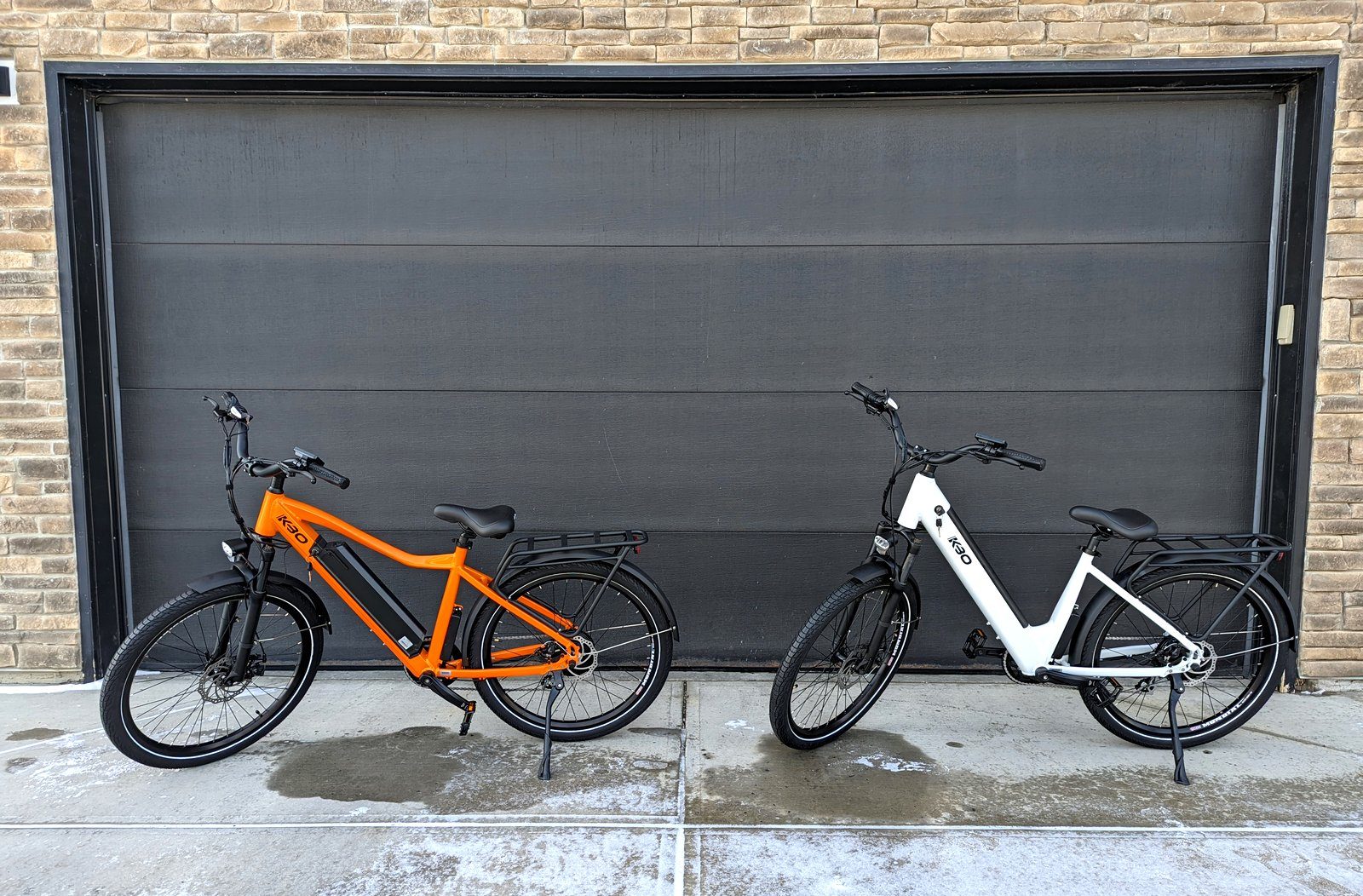 eBike sales have exploded, and ODM brands like KBO are making ebikes more accessible overall. Sales increased 145% in 2020 compared with 2019, and the momentum is not slowing down yet.
The Breeze, and its twin the Breeze Step-Thru, are both affordable with an MSRP of $1,499 (on sale for $1,399 as of the time of this writing). For $1,500, there's a lot here to like:
Front-suspension shocks (generic/unbranded)

Disc brakes

Front and rear fenders

Around 55 miles / 88 km of range

An 18 mph / 25 kph electronically-limited top speed

Panasonic 27.5" by 2.4" tires

An included rear rack
The spec sheet is a list of entry-level components, but the key bits are brand-name and tried and proven among entry-level ebikes. It's a good combination of components and enough to get you riding quickly.
If you haven't already, check out our KBO Breeze unboxing and assembling article, which goes into more depth on the Breeze's components and assembly. 
We put this bike through its paces, with hundreds of miles of paved pathways and a few brief stints through single-track trails. It was also ridden by a diversity of riders of all shapes and sizes.
Wait… What's an ODM Brand?
ODM, or "original design manufacturer", refers to when a brand works with a third-party manufacturer that builds bikes based on the ODM's specifications. In KBO's case, the manufacturer of the bike itself is Haidong, an ebike manufacturer and wholesaler. KBO specs their bikes out, orders XYZ amount of them, and manages the customer relationship and warranty.
This is how many products across many industries work, and it isn't necessarily a bad thing, but it's important to call out. This is one of the most important reasons why the Breeze is just $1,399 (on sale, $1,499 normally).
KBO Breeze Specifications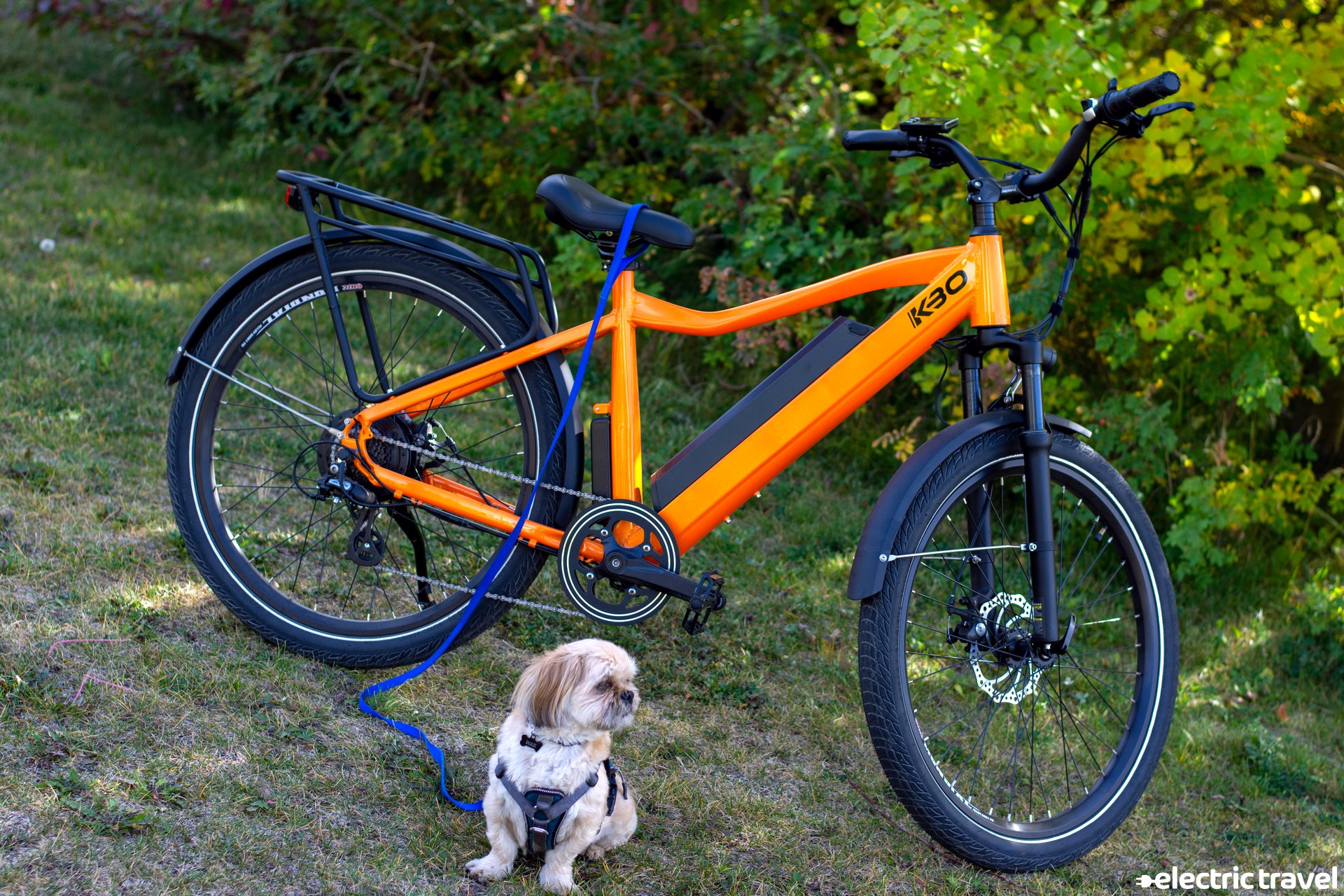 Motor:

500W rear hub motor

Torque:

60 Nm

Battery:

48V 16 Ah (using Samsung or LG cells)

Range:

55 miles / 88 kilometers

Pedal-Assist Sensor:

Cadence, 5 PAS settings

Top Speed:

45 kph (28 mph) class-3, requires unlocking

Derailleur:

Shimano Altus 7-speed

Shifter:

Shimano Tourney

Brakes:

Tektro Aries 180mm disc brakes

Tires:

2.7×2.4" Panasonic puncture-resistant tires

Weight (w/ battery):

Estimated 61 lbs
See all the specs at the KBO website.
The Breeze's Strengths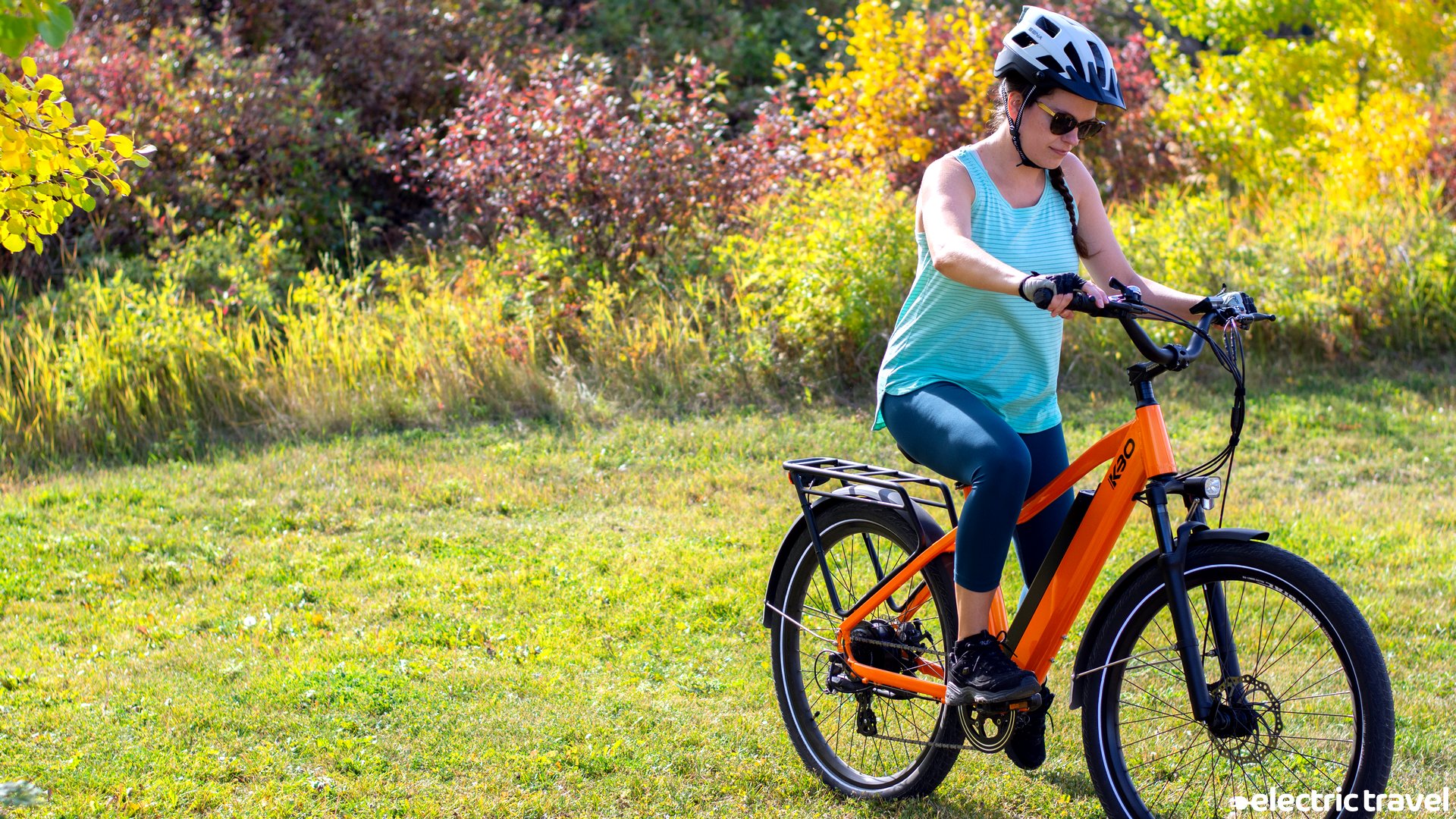 The Breeze is aimed at new ebike buyers: people who have not owned an ebike before and are not experienced with bikes in general. As such, KBO has fit the Breeze twins with everything that you'll need to ride and enjoy the bike without having to purchase additional add-ons.
Most bikes don't come with full fenders, a rear rack, a headlight, a tail light, or a bottle holder. KBO including all these components makes the Breeze more accessible to a new owner, as you won't need to go shopping for them after you receive the bike. It's not uncommon for a new bike to ship without a kickstand!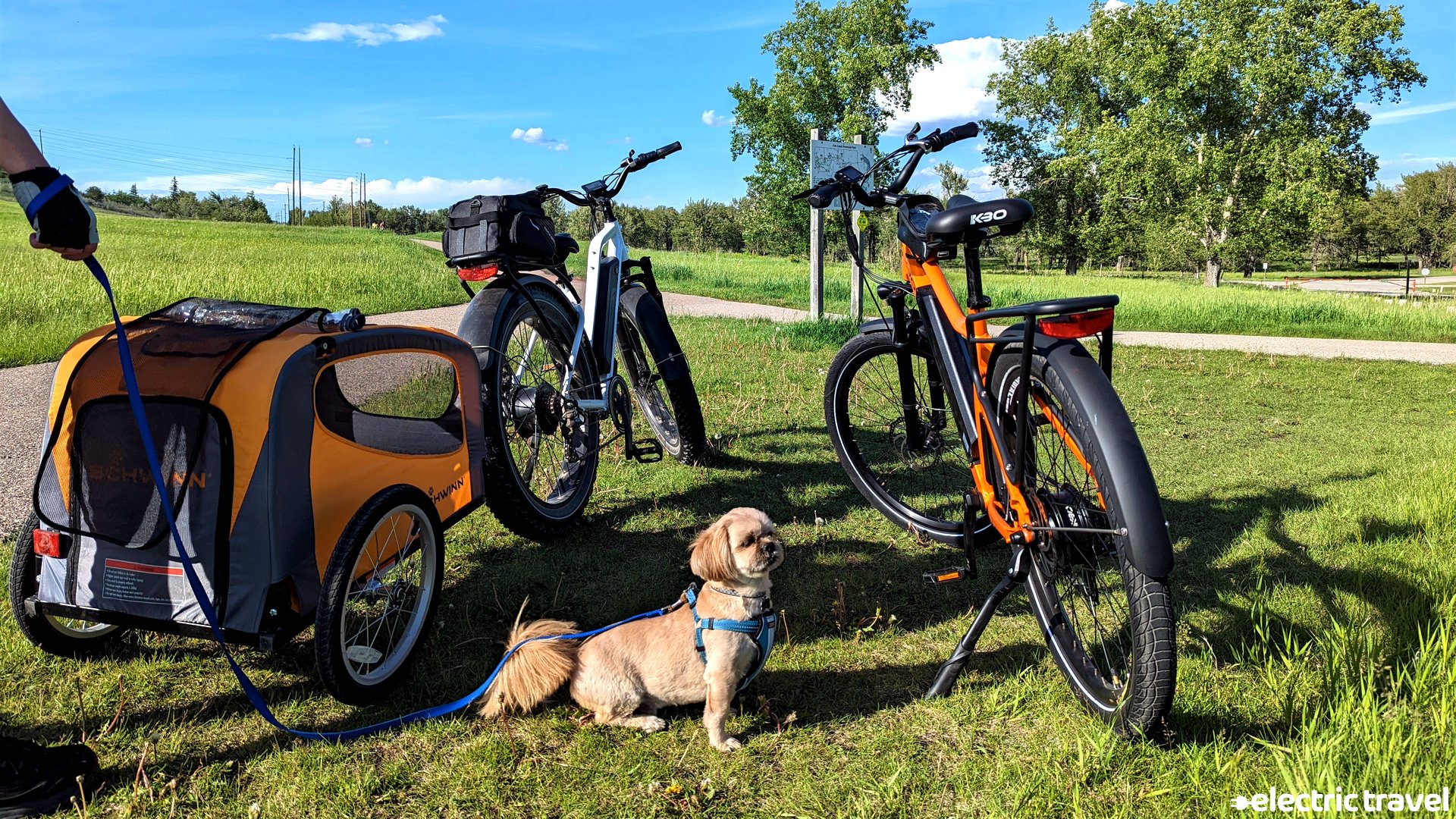 Some of the KBO Breeze's strengths include:
The comfortable saddle seat

, which accommodated a wide range of "seats" with no complaints.
The sub-$1,500 price

– there is a good amount of value in this ebike.
The relaxed handlebars and cruiser-style grips

, which are more comfortable for commuting compared to mountain bike style handlebars.
The 55-mile / 88 km range

, which is enough for several hours of continuous riding.
The metal front and rear fenders

, which are nicer quality than the plastic fenders that normally come with "all in one" ebike kits (such as the ones that came on the

Himiway Cruiser Step-Thru I reviewed

)
Riding position and comfort

, which is suitable for most people under 6 feet tall.
The components

, none of which are proprietary or will be hard to replace. The battery uses a common form factor, and so rebuilding or replacing it in a few years will be a viable option. Servicing and keeping the Breeze mechanically sound should be straightforward.
The awesome orange paint job

, which turns heads!
KBO also includes a small bike repair tool that easily fits into a pannier or tank bag. You should never leave home without one of these.
The Breeze's biggest strength is the sum of its parts. Assembly takes about an hour, and then you're ready to ride. KBO even includes a water bottle holder! It doesn't get much easier than this.
Where the Breeze Could Improve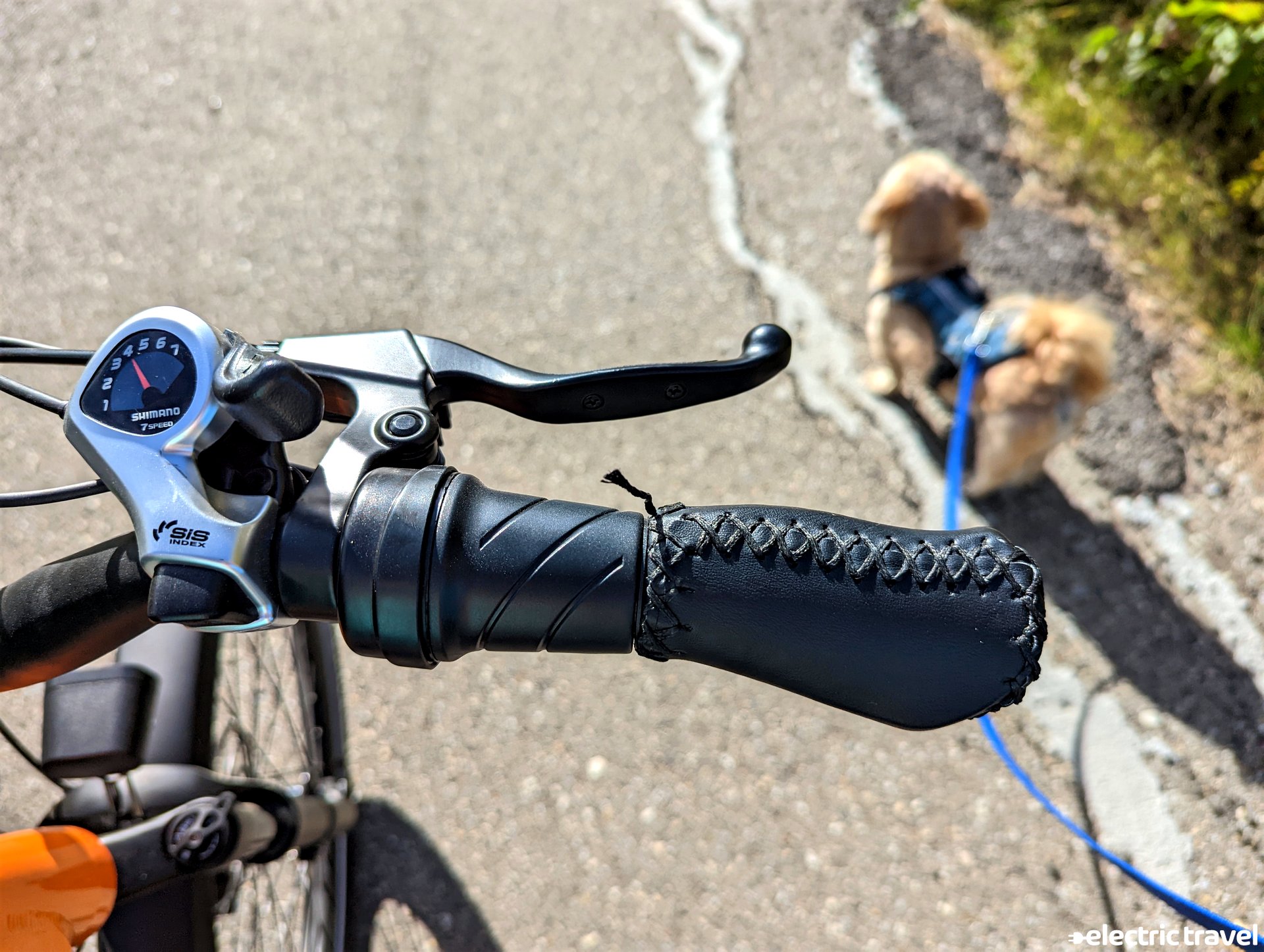 Like other Haidong-sourced ebikes, there are a few gaps in these KBO's that could be improved:
Increase the number of pedal assist settings from 5 to 8 or 10.

Only having 5 PAS settings means that PAS1/2 are both a bit jarring for new riders, though

you can modify these settings

if you want to customize the PAS speed-levels and are comfortable tinkering. 
Switch from a twist-throttle to a thumb-throttle

, which are more intuitive to use and have fewer accidental activations. I'll die on this hill.
Invest in some stronger components

, as there are some compromises in component quality in order for them to hit their $1,399 sale price (hence fraying stitching on an essentially brand-new ebike).
Allow riders to use the throttle even when pedal assist is turned off.

For low-speed rides, a quick blip of the throttle would be far superior to the on/off nature of the cadence pedal assist. Let riders use the throttle even if pedal assist is turned off!
KBO Breeze Build Quality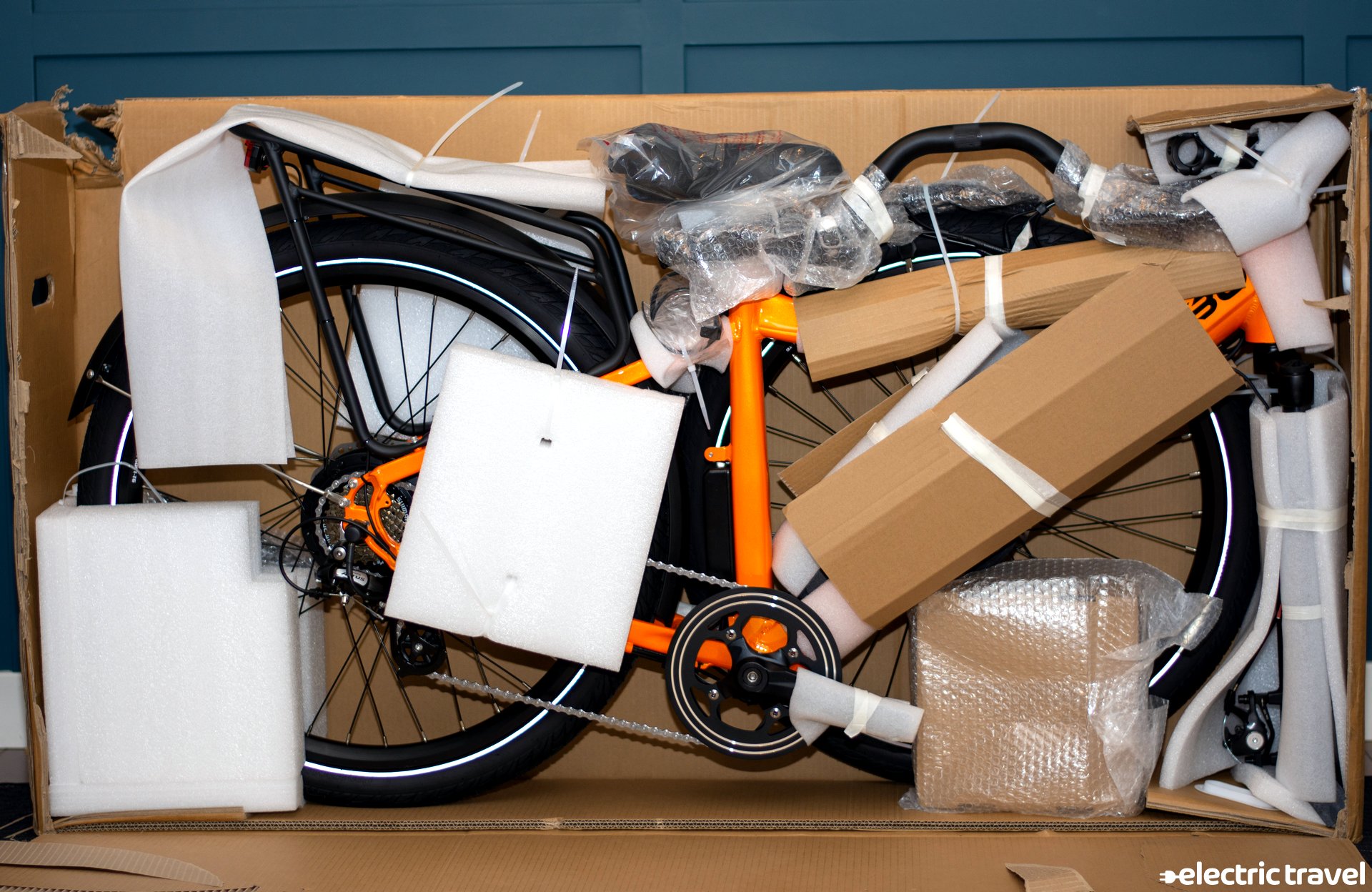 The KBO Breeze, and it's Step-Thru sibling, do make some concessions to hit their price point, but none of them are deal breakers. 
You will want to inspect the Breeze top to bottom before going for your first ride. You should always assume that your bike-in-a-box will need to be tuned and adjusted once it's out of the box.
While many components come attached out of the box, almost all the nuts/bolts will need to be properly tightened. The same is true of the brakes, which will need to be adjusted once you have assembled the bike. Our unboxing article includes assembly video instructions if you need them.
In the hundreds of kilometers I've put on the bike since I received it last year, the only issues tied to build are minor (things like the handle fraying, the paint scratching relatively easily, etc.). For the price, I am satisfied with its construction.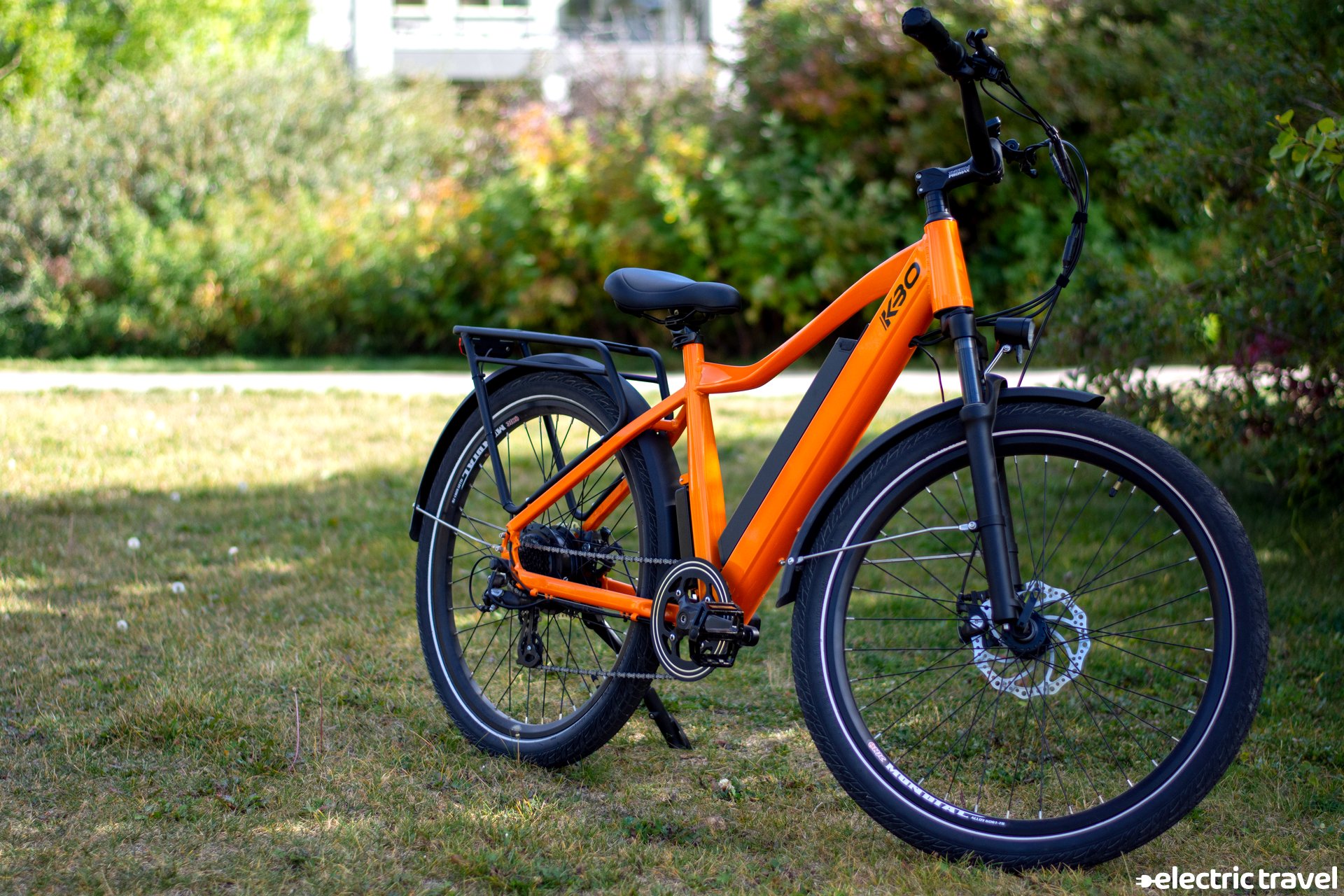 I like where the headlight is mounted, as it should survive a fall. I don't like when headlights are placed on the handlebars, as in my experience, that is where most minor impacts happen.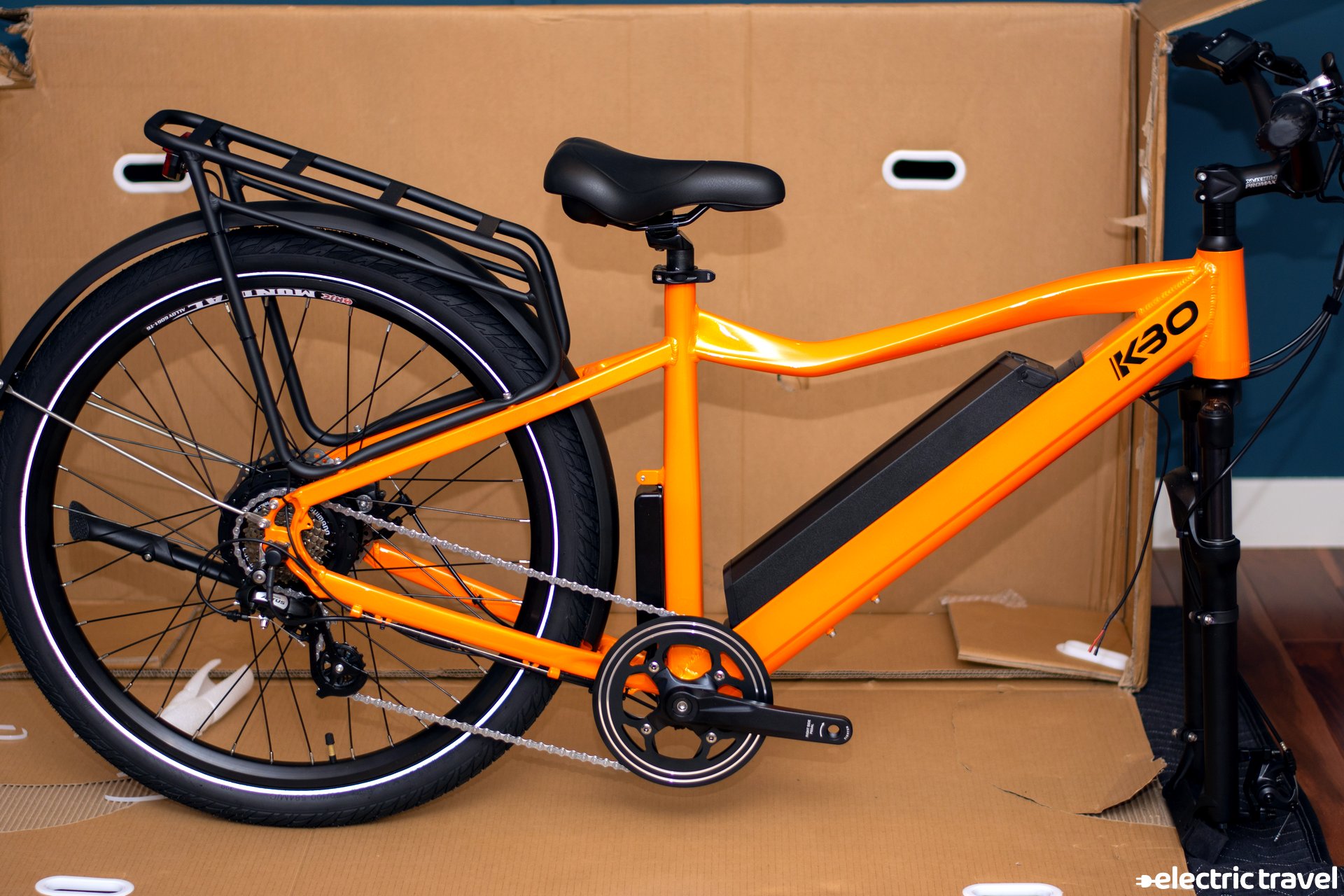 KBO mounted the controller in front of the rear wheel. The fenders cover the wheel past the controller's mounting location, so the controller is well protected. This is a good spot to mount the controller as it is reasonably protected from impacts, road debris, etc. 
KBO also used a very standard form factor for the battery, so replacing or refurbishing it shouldn't be a problem even years down the road. One of the issues surrounding the rapid growth of the ebike space is the disparate form factors and proprietary nature of many of the batteries brands are using, but that isn't a problem here. 
Take a standard and widely-adopted battery form factor and pair it with easy-to-access cabling and brand-name components, and you get a bike that should be serviceable and easy to maintain well into the future.
KBO Breeze Fit & Riding Position
The Breeze has a handlebar height of 46.5", a minimum seat height of 32", and a maximum seat height of 40.5". Just about anyone 6' or shorter will fit the Breeze just fine.
Melissa, who is starring in most of the pictures, is 5'7". I am 6'2" (188 cm) and 210 lbs. Melissa finds the Breeze much more comfortable to ride than I do.
For riders north of 6 feet, the KBO Breeze won't be as comfortable to ride because the geometry, and the slightly swept rake of the handlebars, place the arms and wrists at an uncomfortable angle. The handlebars aren't as swept as a more focused cruiser, such as the Pedego Interceptor or Boomerang, mind you, but the rake is there and my wrists found themselves at odd angles all the same.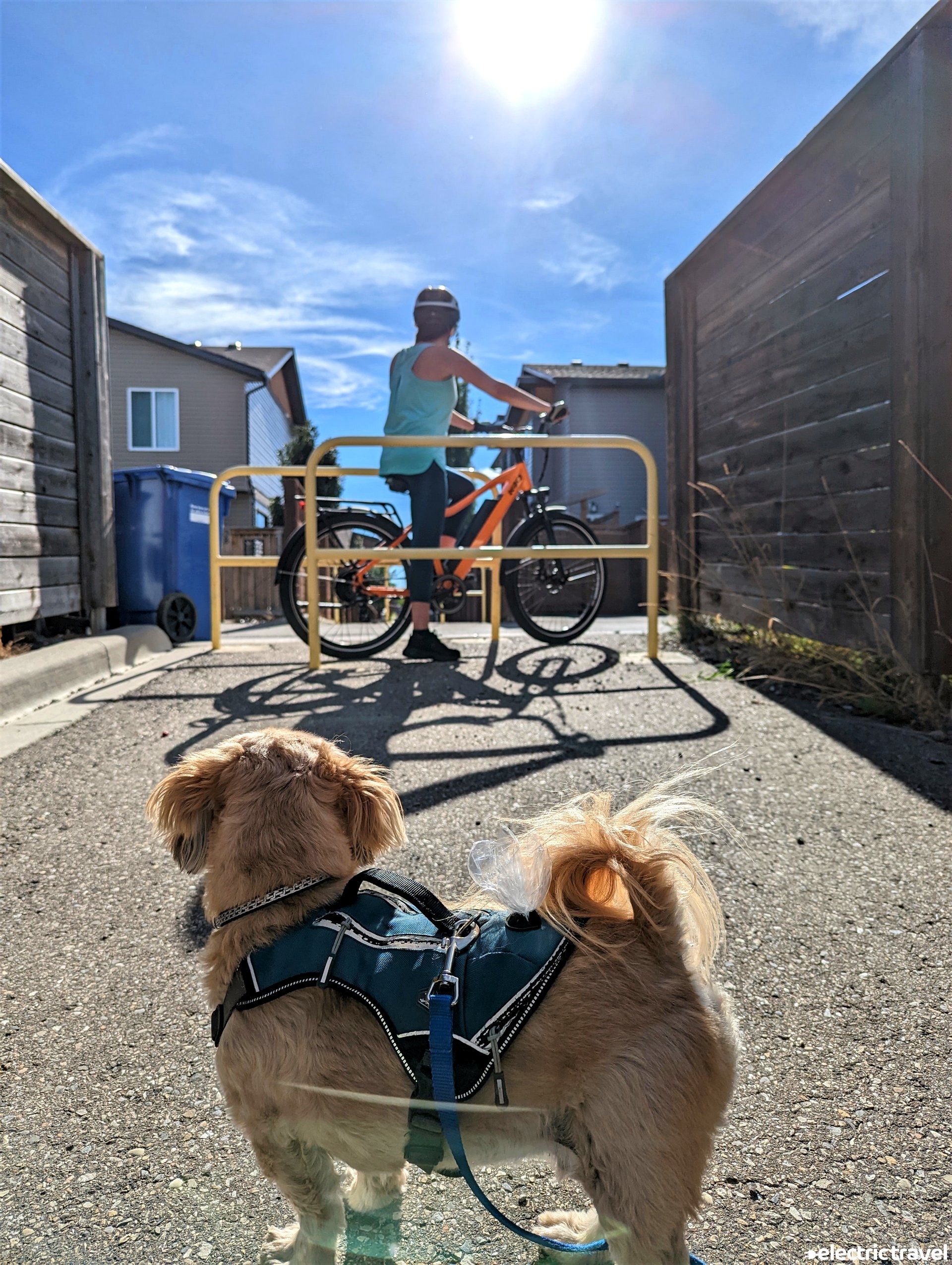 But nearly a half-dozen people rode the KBO, and I was the only one to complain about ergonomics. One person raved about how tight and easy to maneuver the Breeze is, though. The Breeze definitely feels nimble and spritely compared to other ebikes (especially fat-tire ebikes).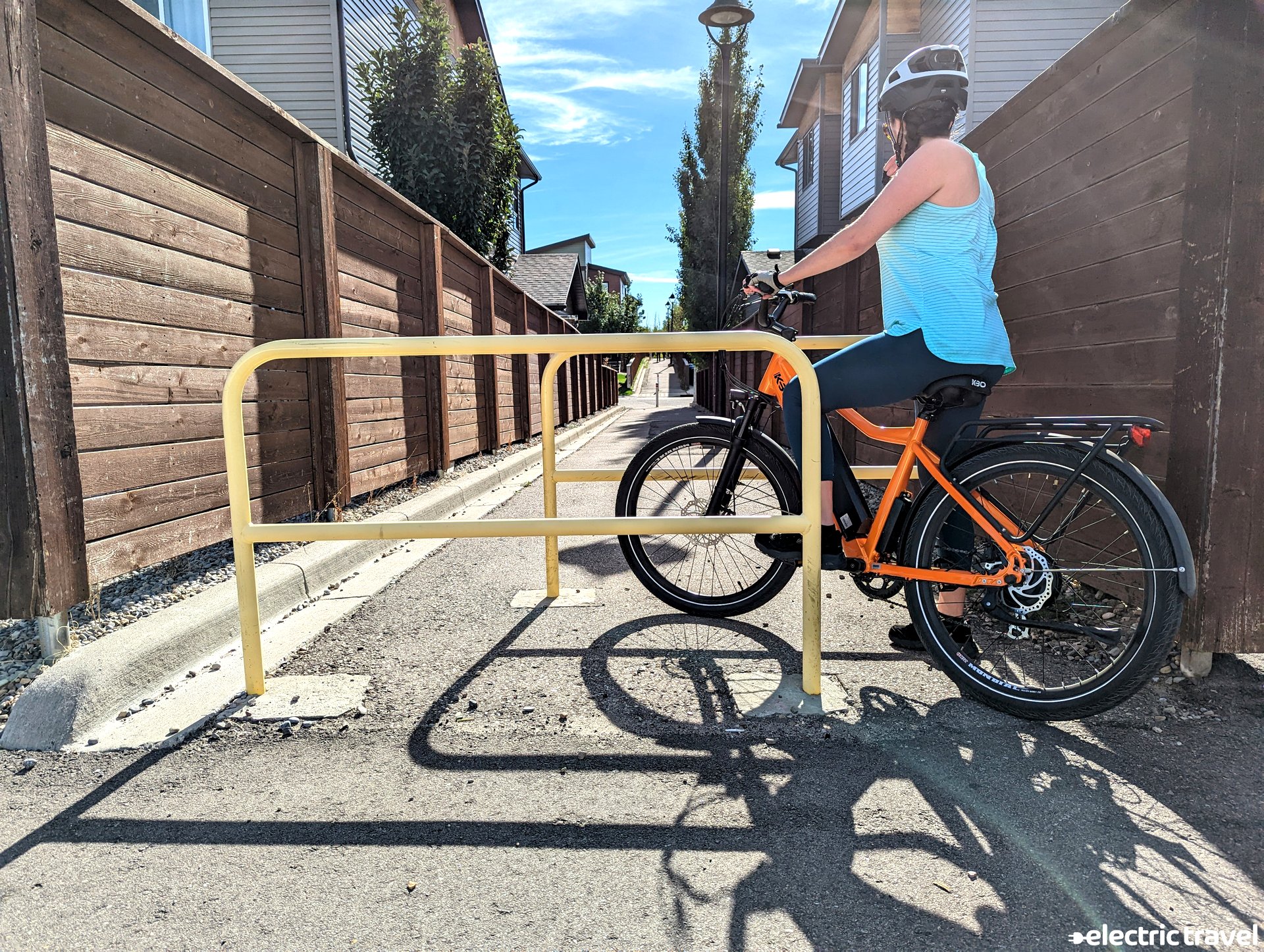 Riding the KBO Breeze on Paved Trails
Pavement, and tightly packed groomed trails, are where the Breeze twins want to spend their time. Their "skinny" 2.4" wide tires provide the best traction (and rider confidence) here, and the power from their 500W hub motor is best used.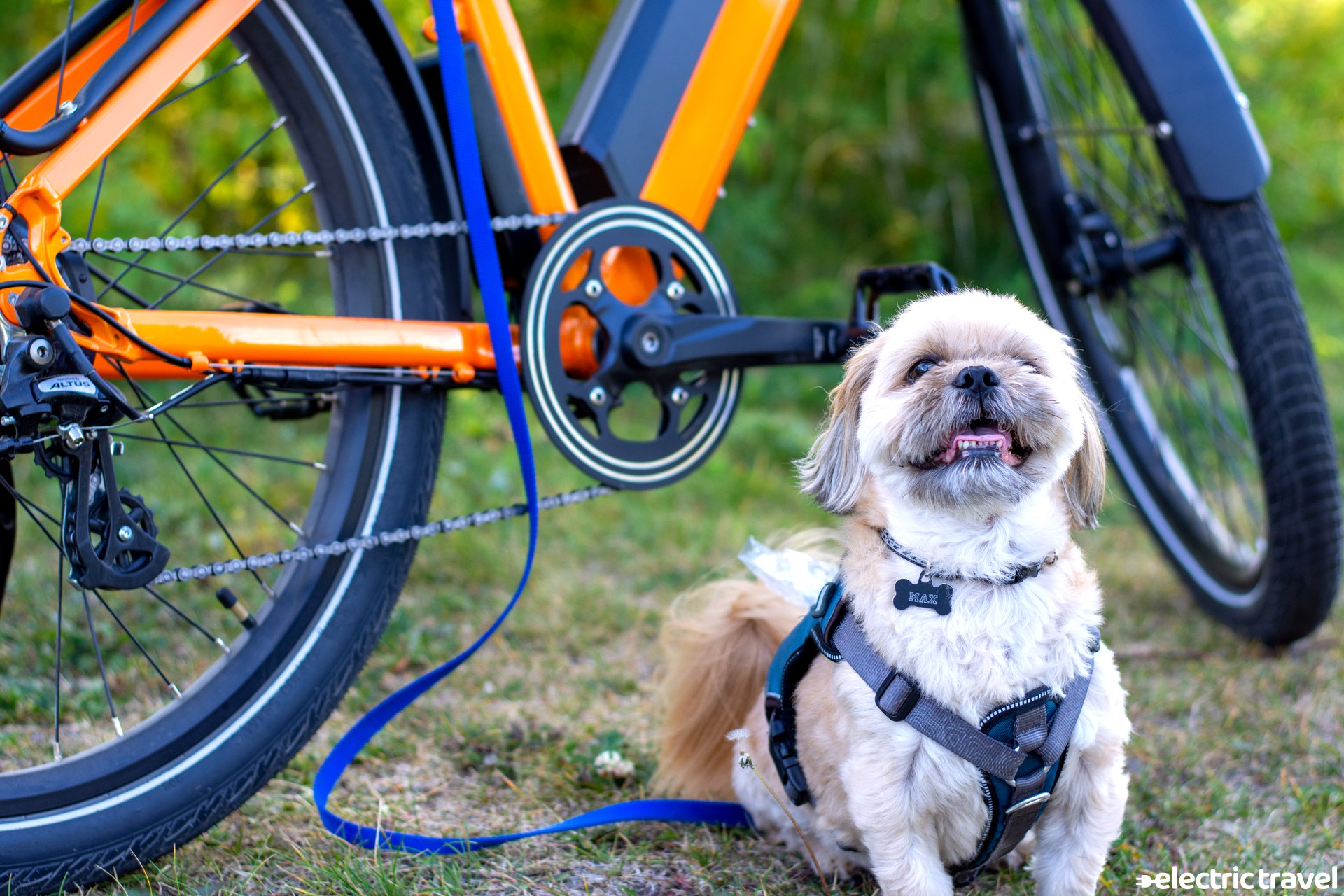 The motor offers enough get up and go, but with "only" 65 nm of torque from the 500W watt hub, the Breeze is not a speed machine. Since it has mechanical disc brakes in place of hydraulic, I'd say the motor is appropriately powered for its intended use case.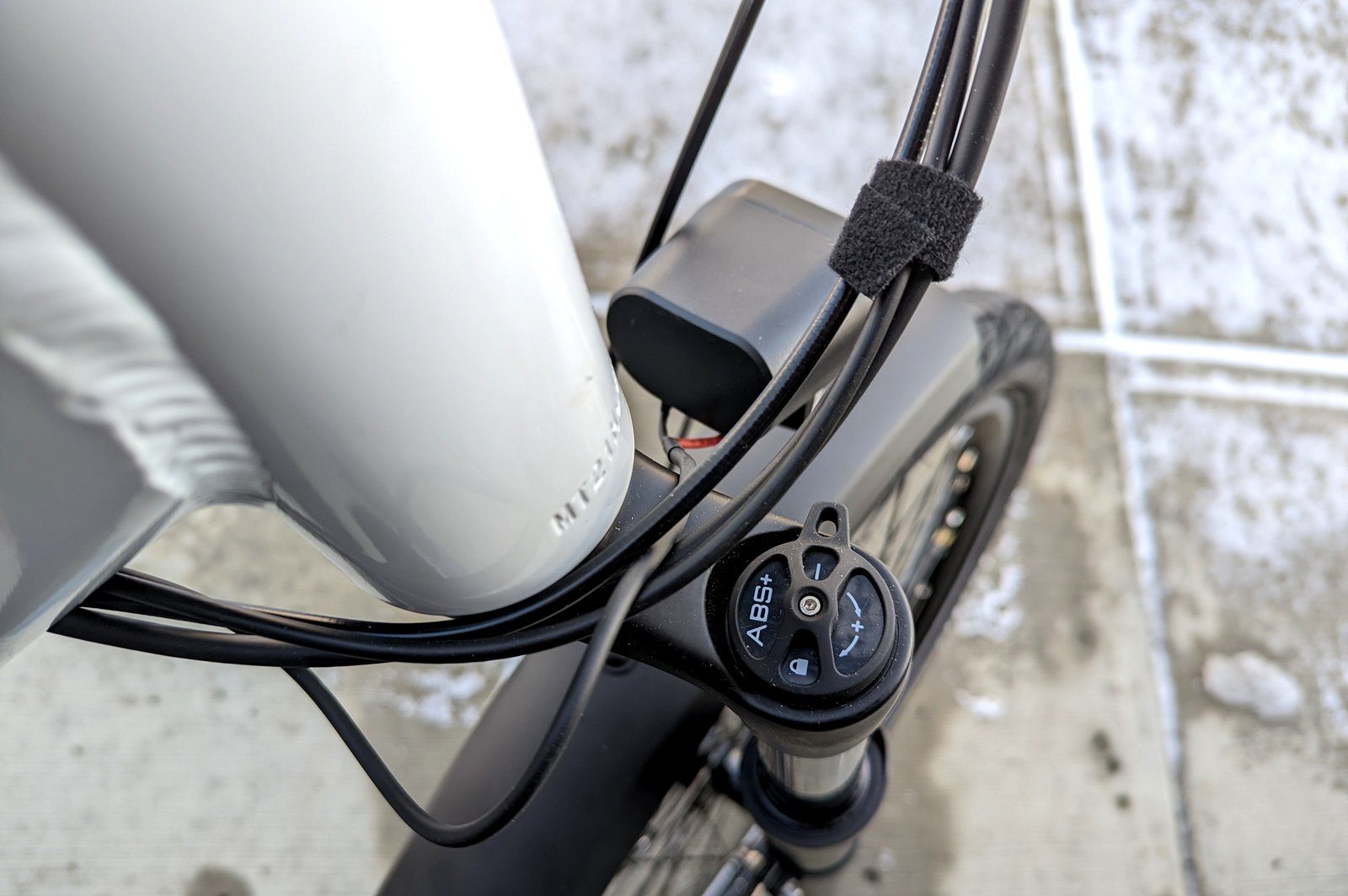 The front suspension allows you to preload it, or lock it out entirely, transforming the front fork into a commute-crushing cruiser! This piece of generic kit is unlikely to stand up well to the rigors of trail or off-road riding, but on-road the suspension does exactly what you'd expect it to.
As the Breeze uses a cadence sensor, paved trails that have a high speed limit (we are limited to 12.5 mph, or 20 kph, here in Calgary) are where the KBO shines. Like most cadence bikes, the pedal assist operates as more of a cruise control, and low-speed maneuvers are not where the Breeze is at its best. But for long-distance rides on pathways or bike lanes, the Breeze makes the trip its namesake. Easy-peasy.
Riding the KBO Breeze on Singletracks & Off-Road Paths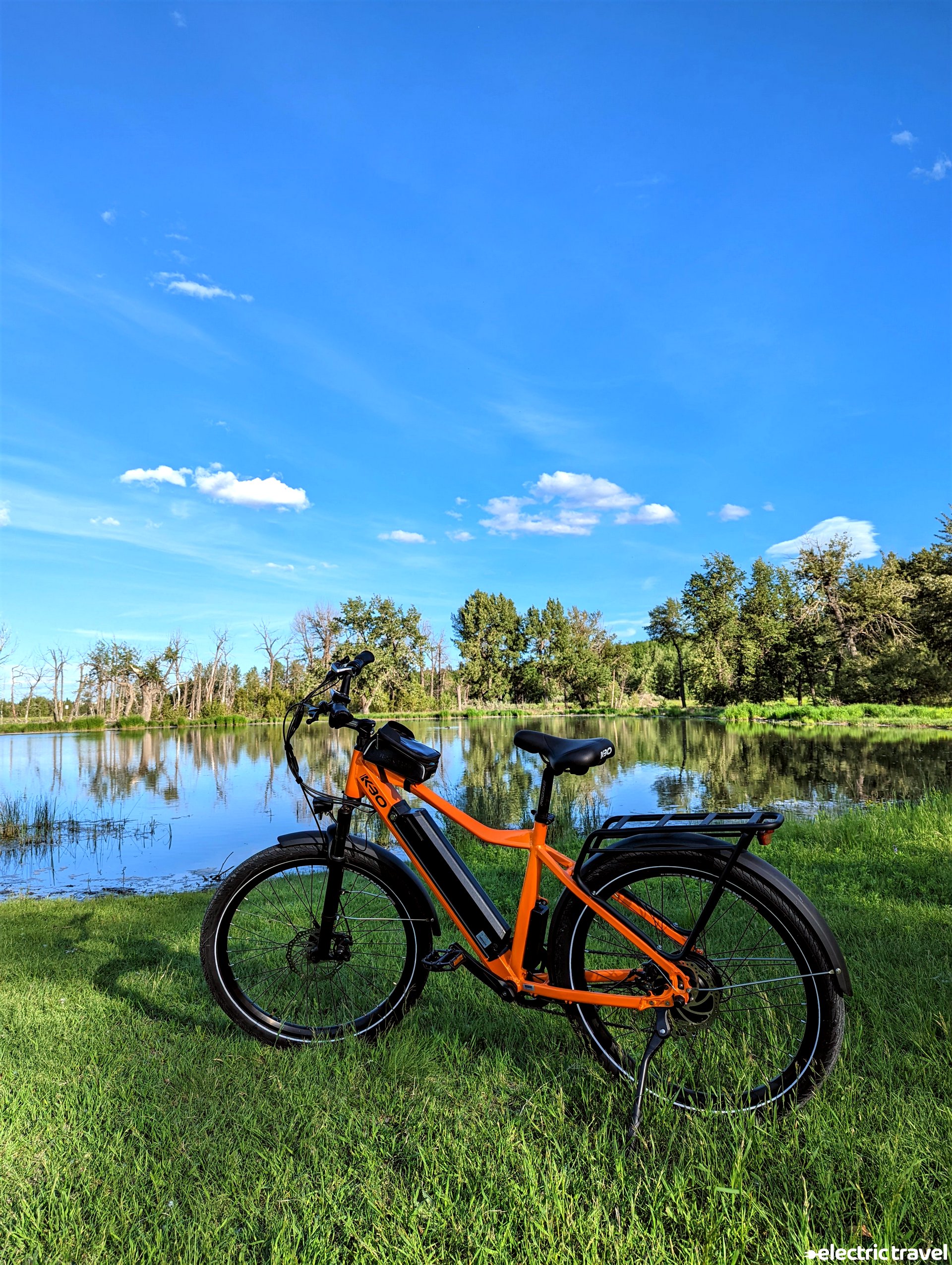 Don't.
While the Breeze is perfectly adequate for bike lanes, paved pathways, and well-groomed dirt/gravel pathways, it is not equipped for singletrack or off-road riding. It doesn't want to do trails.
A few notable callouts:
The 2.4" tires are road tires and do not have tread sufficient for dirt or loose gravel.
The cadence sensor pedal assist

lacks nuance, and so pedal assist is either

on

or

off

. When you're riding alongside a riverbank with tight turns or technical maneuvering, the limitations of the cadence sensor become obvious

fast

.
The cruiser-style handlebars trade precision for comfort

. When you're downhilling or riding in the bush, you want to be dialed in and 100% in control of the bike. 
The mechanical brakes have got nothing compared to hydraulic brakes

, and when you're off-road, you want all the braking power you can get.
Keep in mind that none of the above points are criticisms of the Breeze, as the Breeze was never designed to run the trails, tracks, or downhill trials. But the design distinctions are why I'm quite confident throwing my '21 Surface 604 Shred downhill, whereas I'm leaving the Breeze to the pavement where it belongs.
Overall, the KBO Breeze is a Strong Value & Good Entry Into eBikes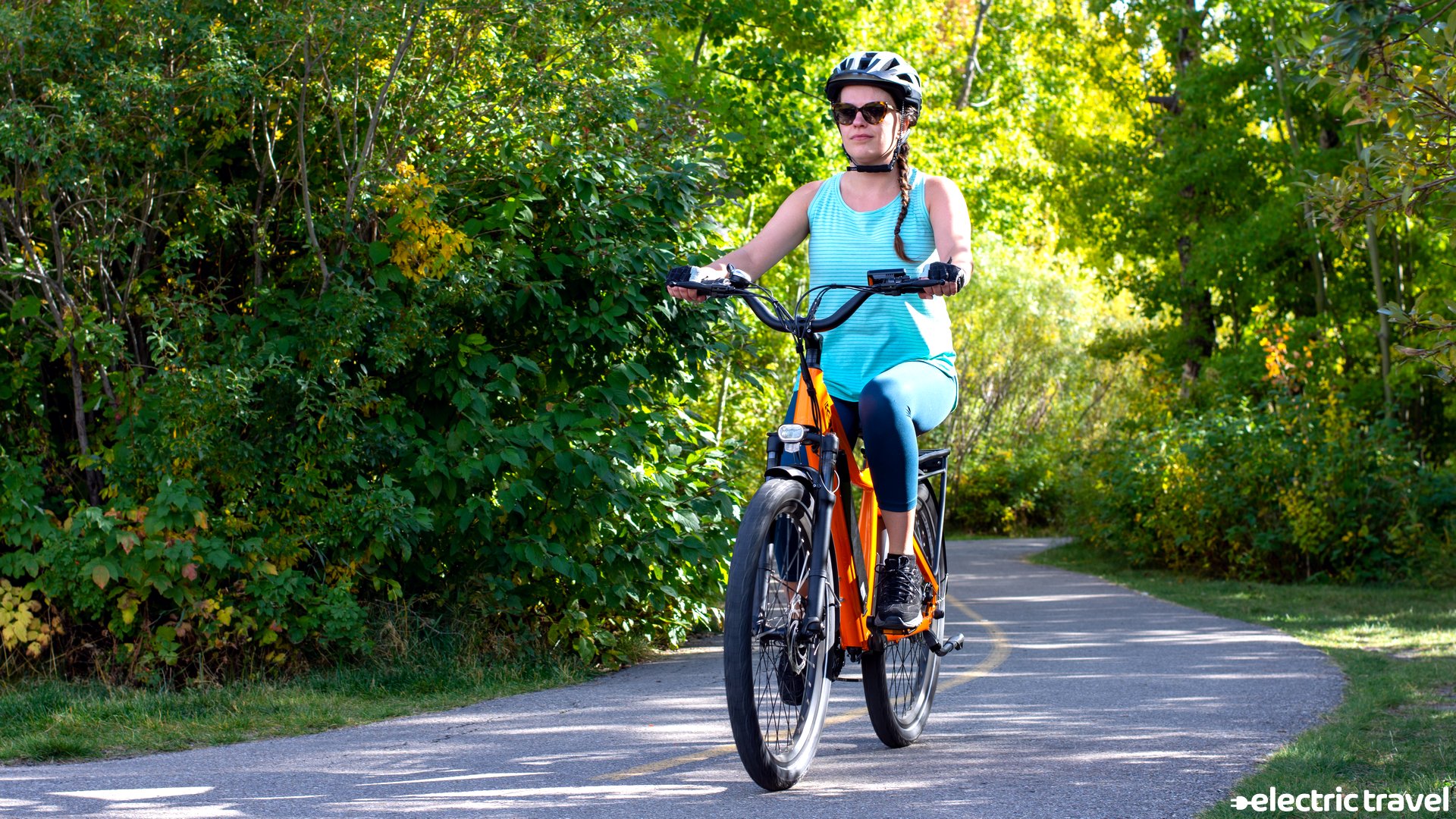 Finding a good-quality ebike under $1,500 is a dubious task as it's both a high and low price-point (depending on your view). In the ebike world, $1,500 is barely the starting point for an ebike that doesn't make serious compromises in its components, build quality, or both.
For someone looking to get their first ebike and doesn't want to break the bank, or for someone that wants an affordable ebike that will last a while, the KBO Breeze is a good choice. The $1,500 price point is accessible to most people, and the bike you get for that money feels good and is enjoyable to ride.