We Assess the Softail Himiway Cobra Pro While We Wait for the Snow to Melt
A good full-suspension mountain bike turns terrain into melted butter, as you glide over it without concern for what you're riding over. Pair a four-bar full-suspension getup with 4.8" wide fat tires – perhaps the fattest of tires – and you have what may well be the world's most comfortable entry-level eMTB.
Hyperbole aside, the Cobra Pro is an interesting combination of parts competing with its peers on features, function, and price. The spec list for a bike with a $3,999 MSRP is pretty impressive:
1000 watt Bafang M620 mid-drive motor with 160 Nm of torque

20 Ah battery that provides up to 80 miles / 125 km of range

Four-bar rear-linkage suspension and air front-forks with 150 mm of travel

Shimano Deore 10-speed drivetrain

4.8" wide

fat

tires

180 mm Tektro hydraulic brakes

A thumb-throttle
That is a lot of name-brand components at a competitive price. In some ways, the Cobra Pro's specs hit well above their pay grade. Few sub-$4,000 ebikes come with a 1000-watt torque-sensing mid-drive motor, full-suspension, a 9 or 10-speed drivetrain, or hydraulic brakes; even fewer come with all four. The fat tires are just a bonus.
However, at 88 lbs (40 kg), and because of its 4.8" wide tires, the Cobra Pro is not a nimble eMTB. If you're wanting something for mixed terrain rides, the Cobra Pro will fit the bill, but I'd skip the serious downhill.
In this preview, we unbox a brand-new 2023 Himiway Cobra Pro that Himiway sent us. Once we give the Himi a once-over, we put it together using the included tools and following the provided instruction manual.
The proper ~100 mile / 160 km review will be a few months yet – so check back if you're keen to see how this affordable eMTB does.
This is the fourth Himiway eBike that we have reviewed. Like the others, Himiway provided the Cobra Pro at no cost for the purpose of this editorial. We do not have a financial relationship with Himiway. See all our ebike content.
2023 Himiway Cobra Pro Step-Thru Specifications
Manufacturers website:

Himiway Cobra Pro website

MSRP:

$3,999 USD / Appx $5,400 CAD

Motor:

1000W (1300W peak) Bafang M620 mid-drive

Torque:

160 Nm

Battery:

48V 20 Ah (960 Wh) Samsung/LG battery 

Range:

Up to 80 miles (125 km)

Pedal-Assist Sensor:

Cadence + torque, 5 PAS levels

Top Speed:

45 kph (28 mph)

Derailleur & Gearing:

Shimano Deore, 10-speed

Brakes:

Tektro 180mm hydraulic

Tires:

26″ x 4.8″ CST fat tires

Weight (w/ battery):

88 lbs (40 kg)

Extras:

RockBros multi-tool, hat
About Himiway Ebikes
Himiway is an ODM ebike brand that primarily sells Haidong-manufactured ebikes. Himiway has aggressively grown in the marketplace, selling more than 50,000 ebikes since 2020. ODM brands such as Himiway spec-out their bikes, relying on Haidong to manufacture them. Unlike most ODM brands, Himiway has both a warehouse and dealer network established in North America. Himiway is among the largest direct-to-consumer eBike brands out there at the moment.
We have reviewed several other Himiway ebikes:
Himiway targets entry-level price points, aiming to attract new ebike buyers with a strong value proposition and "all-inclusive" packaging.
Double-Check Your "Bike in a Box"
Whenever you assemble something that is responsible for your well-being, be sure to double-check all the nuts and bolts before you hop on and go for your first ride. While much of the Cobra Pro comes pre-assembled, every nut and bolt on the bike should be given a once-over.
Himiway Cobra Pro First Impression + Unboxing
What is the Cobra Pro?
The ebike segment has exploded in popularity over the past few years. The Cobra Pro is a full-suspension electric mountain bike, with a four-bar linkage rear design and massive 4.8" wide fat tires. It is also considered the "big brother" of the Cobra, which uses the same frame but is a rear-hub motor vs. mid-drive (among other differences).
The Cobro Pro has an MSRP of $3,999 USD (about $5,250 CAD).
What's in the Box?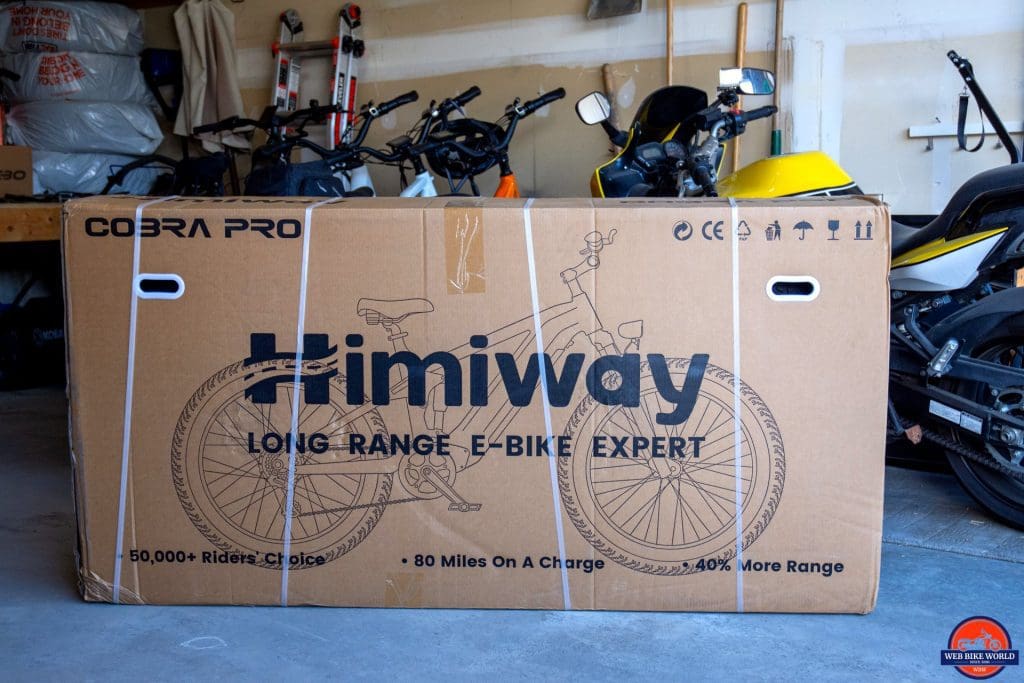 The Cobro Pro arrives in a large box that weighs approximately 95 lbs. The bike itself accounts for most of that (at 88lbs), though the box and protective packaging add a bit of padding to the figure.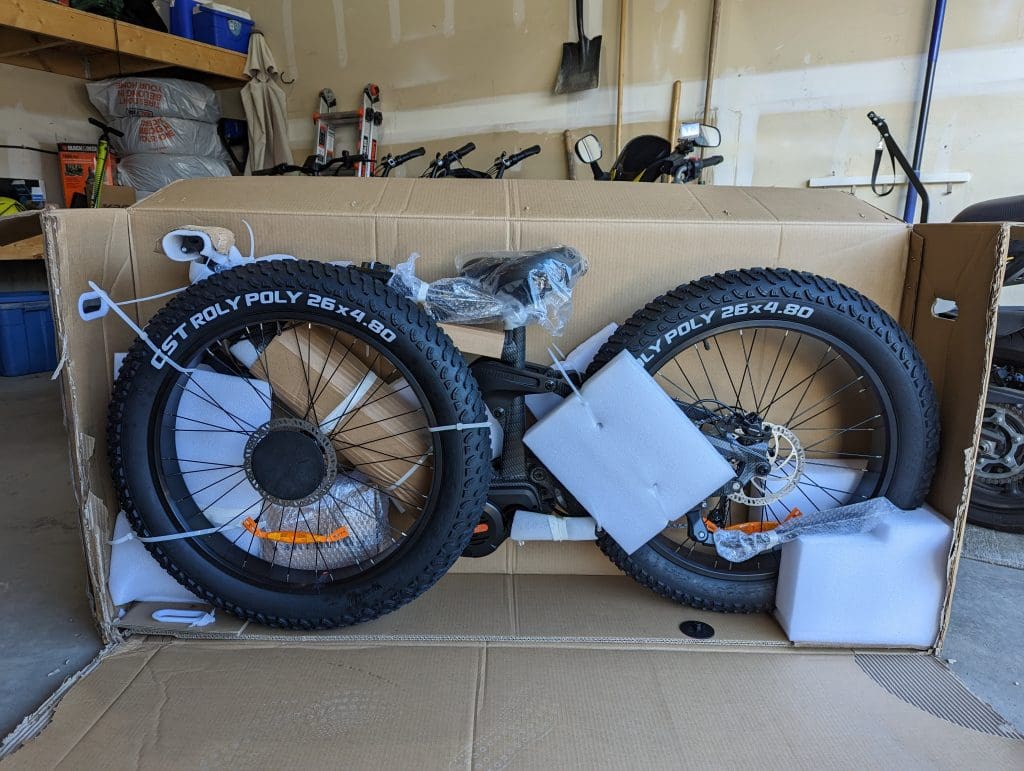 While at first glance the jumble of parts in the box may give the impression that you've got your work cut out for you, the major components come pre-installed on the frame (the battery, motor, front-forks, rear wheel, gearset, brake discs, etc.).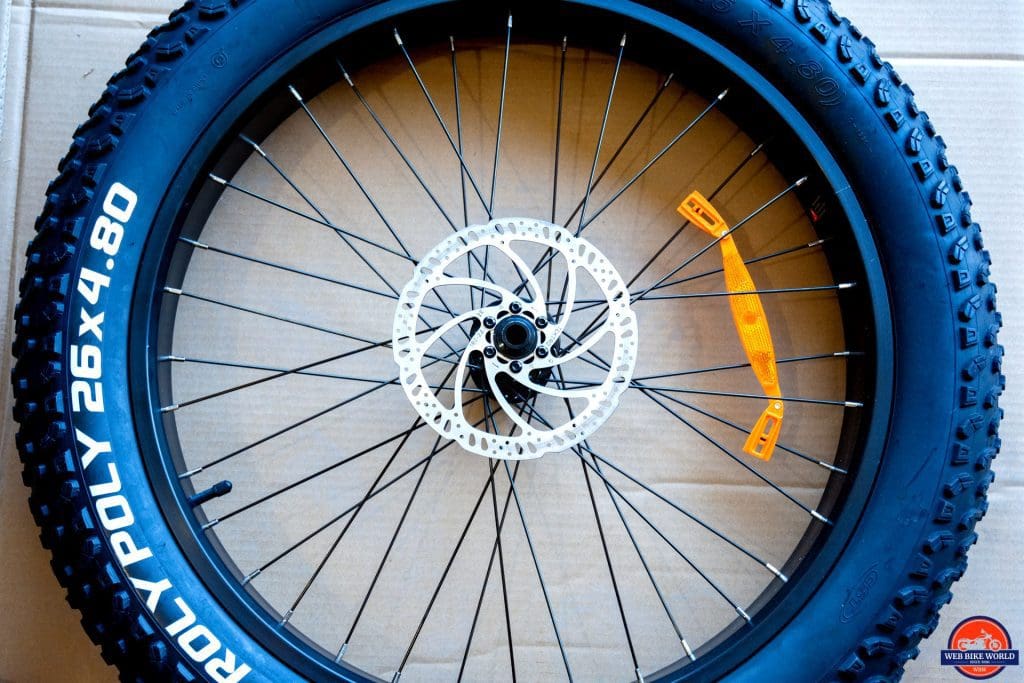 Once you've unboxed the Cobra Pro, you're basically in charge of putting the handlebars, pedals, and front wheel on the bike, as well as ensuring that the brakes are appropriately fit/aligned and then tightening all the things. Note that the front wheel is a thru-axle hub vs. a quick release.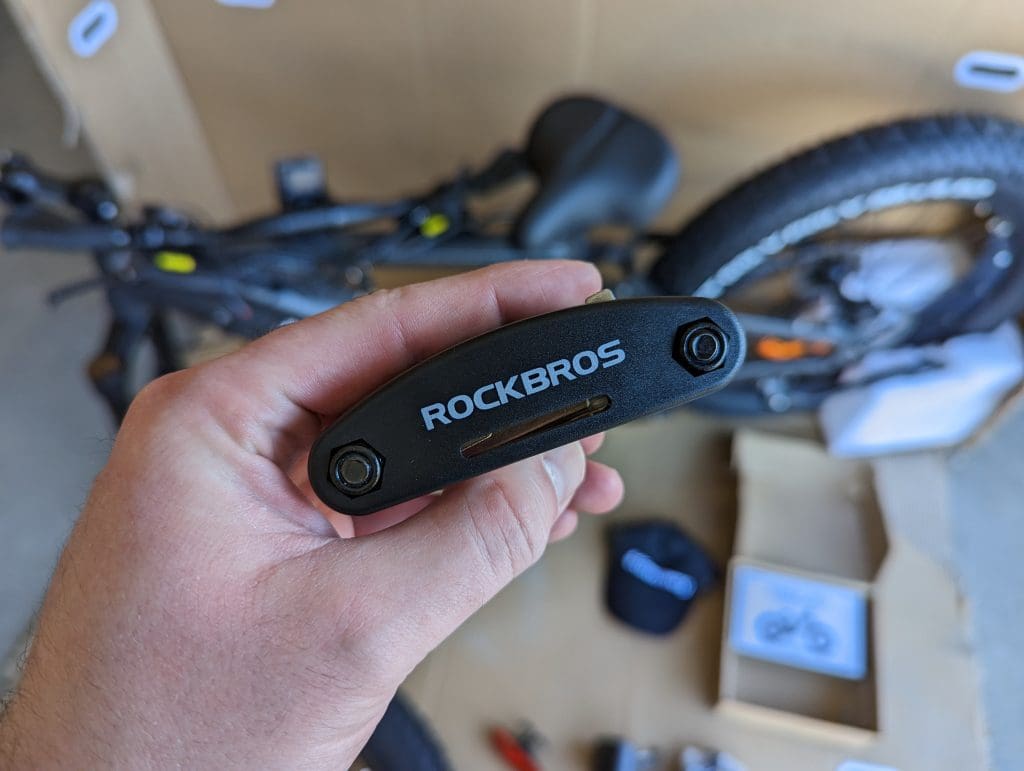 Himiway – and many other ODM ebike brands – includes a multi-tool in the kit that is fine for assembly. The one in the Cobra Pro is a RockBros unit, which is actually a bit unusual – most of the time, it's a no-name brand that is included. RockBros has been building a decent reputation in the bike sphere as a good value-focused brand (I've got a few RockBros items myself), so it's cool to see their name stamped on it. The multi-tool is of good-enough quality and is very useful (never ride away from home without one).
Assembly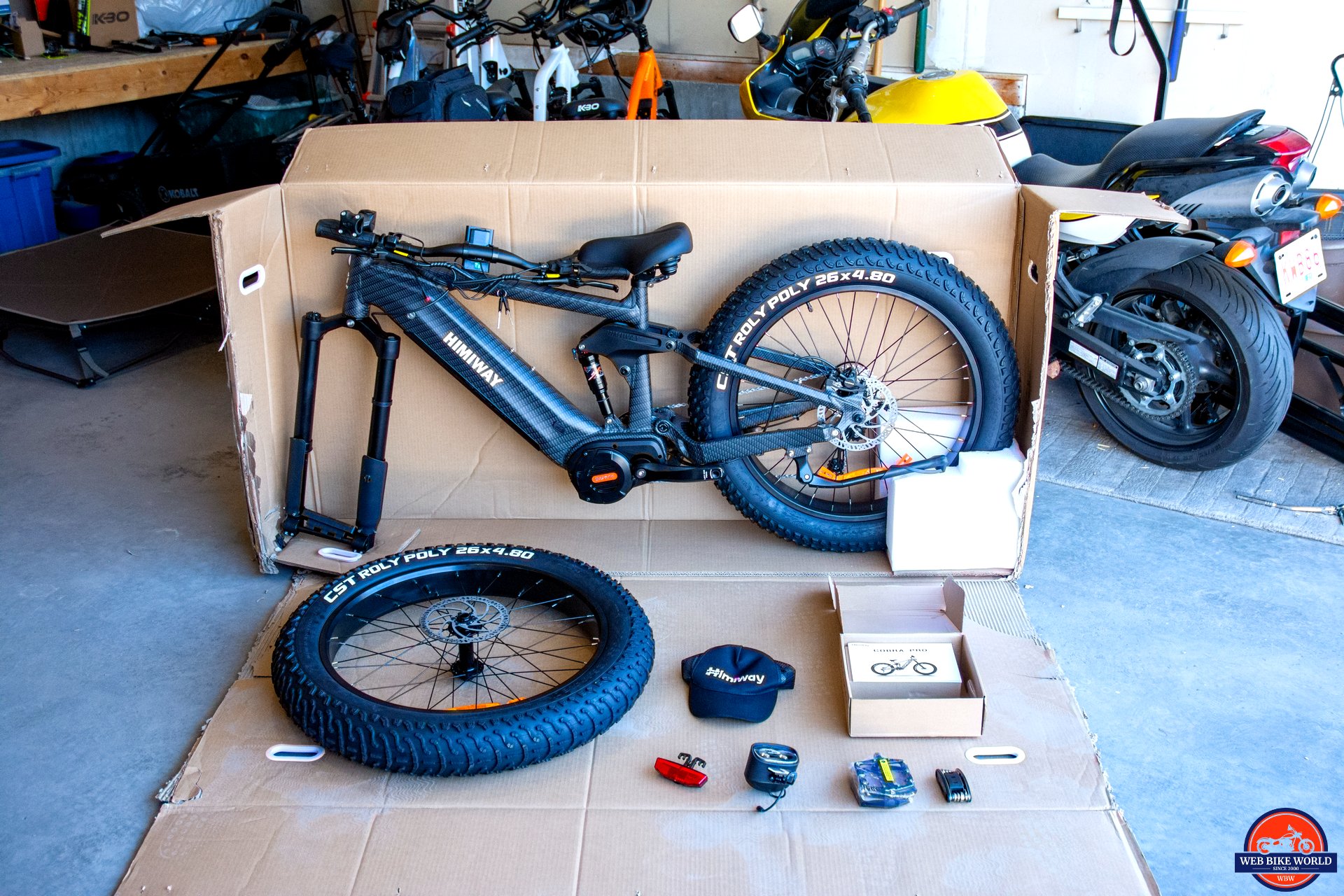 If you've ever built a bike, you'll have no issues here. By the time you're done removing all the packaging and bubble wrap, you'll be left with the above. As you can see, the steps are essentially:
Insert the seat

Attach the handlebars

Attach the front wheel

Attach the pedals

Attach the front light and rear reflector

Tighten everything up

Inflate the tires to your desired PSI
Himiway Assembly Instruction Video
Notes:
The Cobra Pro uses a thru-axle vs. the quick-release shown in the video
The Finished Product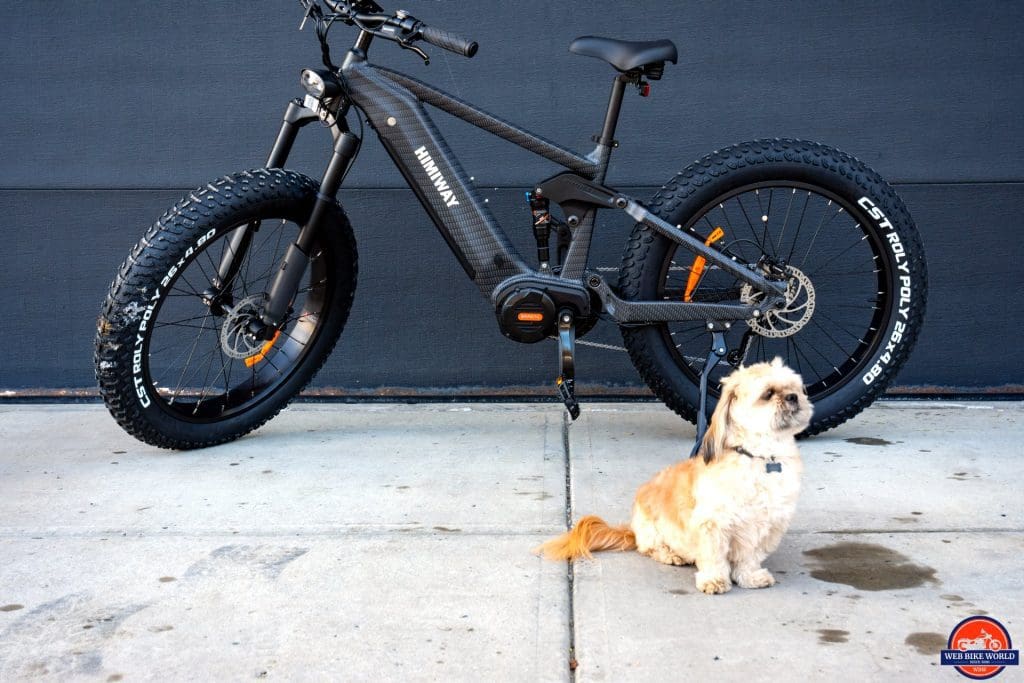 Max looks very proud to be posing with the Cobra Pro, and he should be: the tire sidewalls are bigger than his front legs! 
Thankfully, the assembly of the bike was a breeze. We followed the instructions exactly and did not look at any other resources (we wanted to see how good the doc was). Aside from some weird translations in the copy, the instructions were easy to follow. 
So there you have it: everything you need to build and ride your new Himiway Cobra Pro comes in the box, from bike parts to the tools that you'll need. The only thing missing is an air pump (and definitely check the tire pressure before your first ride).
Next Up: A Proper Hands-On (Pedal On?) Review
Receiving an eMTB in the dead of Canadian winter is not ideal timing when it comes to a proper review. Mind you, the ultra-fat tires of this bike make it suitable for winter riding, and it's already had a few of those. So far, it handles freshly-fallen snow like a champ. I am interested to see how it handles singletrack trails, light downhill riding, and more in the weeks and months to come.
More to come when the weather improves!