Chinese brand CFMoto was a little premature in the launch of the 650TK touring bike earlier this year.
The pre-production bikes were below par in terms of finish and equipment, and in comparison to the 650NK naked bike. Only a handful of the bikes were sold.
Now CFMoto has gone into full production on the bikes and the quality is substantially better as well as equipment levels and creature comforts.
The first full-size CFMoto bike was the 650NK which hit the market at $5990 plus on-road costs or a maximum of $6990 rideaway, depending on which state you live in. Read my review here.
The TK hits the market at $6990 plus on-road costs or a maximum of $7990 rideaway, which is a real bargain for a learner bike that you can realistically ride around Australia.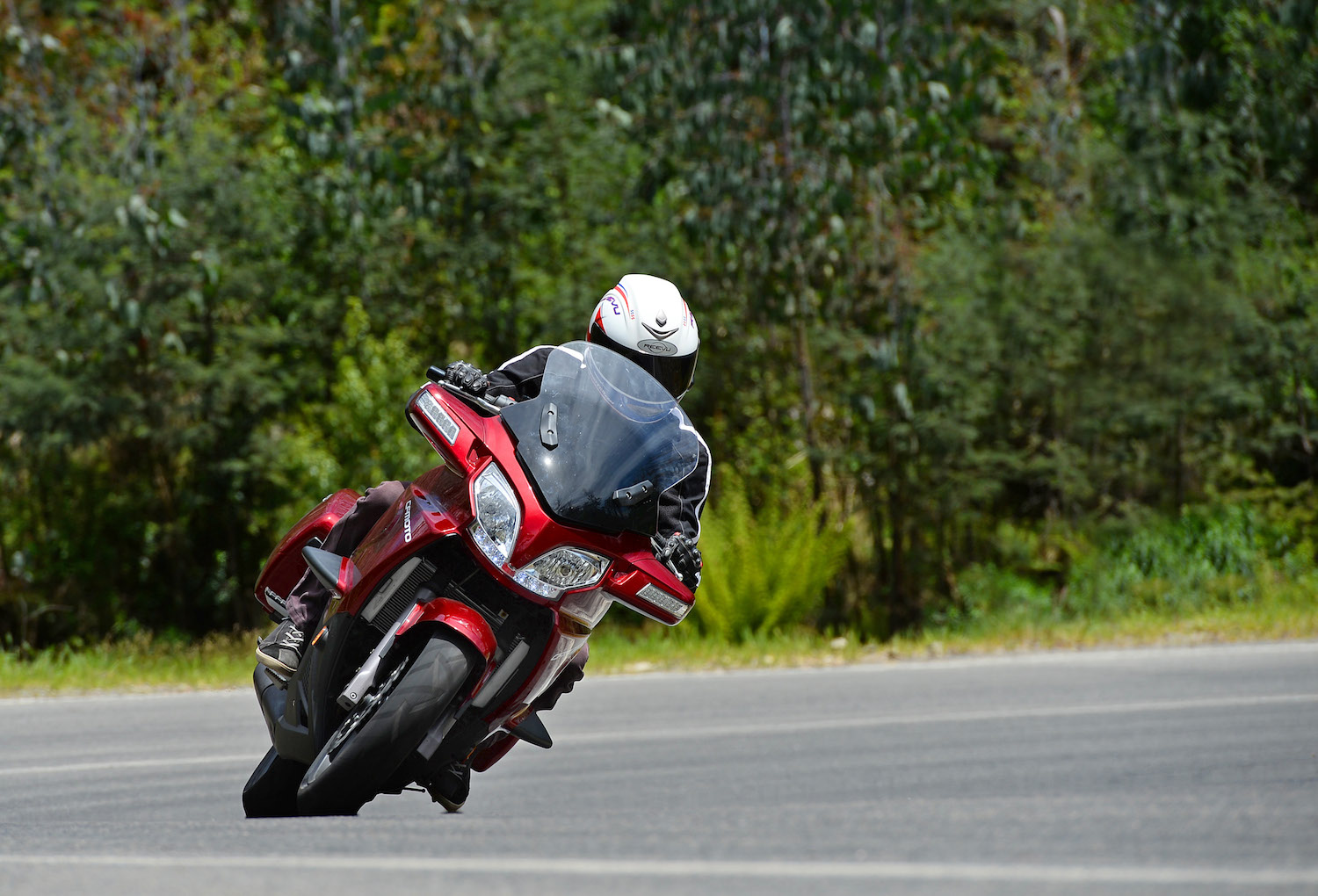 The updated bike has a mechanical throttle body restricter that tames the 52kW engine to 41.5kW or the magical 150kW per tonne limit to qualify as a learner-approved motorcycle.
Other updates include: LED running lights, indicators and taillights; a blackened stubby exhaust; new Koso instruments made in Taiwan; sticky German Continental Road Attack 2 rubber to replace the cheap Chinese CST hoops; and uprated brakes made in China for Spanish company J. Juan.
But the biggest upgrade is in the plastics which no longer look like they came from 17 different yoghurt containers.
The handmade pre-production version was very patchy in fit and finish, but the robot-built 2014 model now has a consistency in its build quality that you would expect from the Japanese.
Previously the plastics shook and rattled along with the vibey engine, but now they feel solid.
The gloveboxes on either side now open and close properly and they don't have huge gaps while the box on the left is lockable with the ignition key.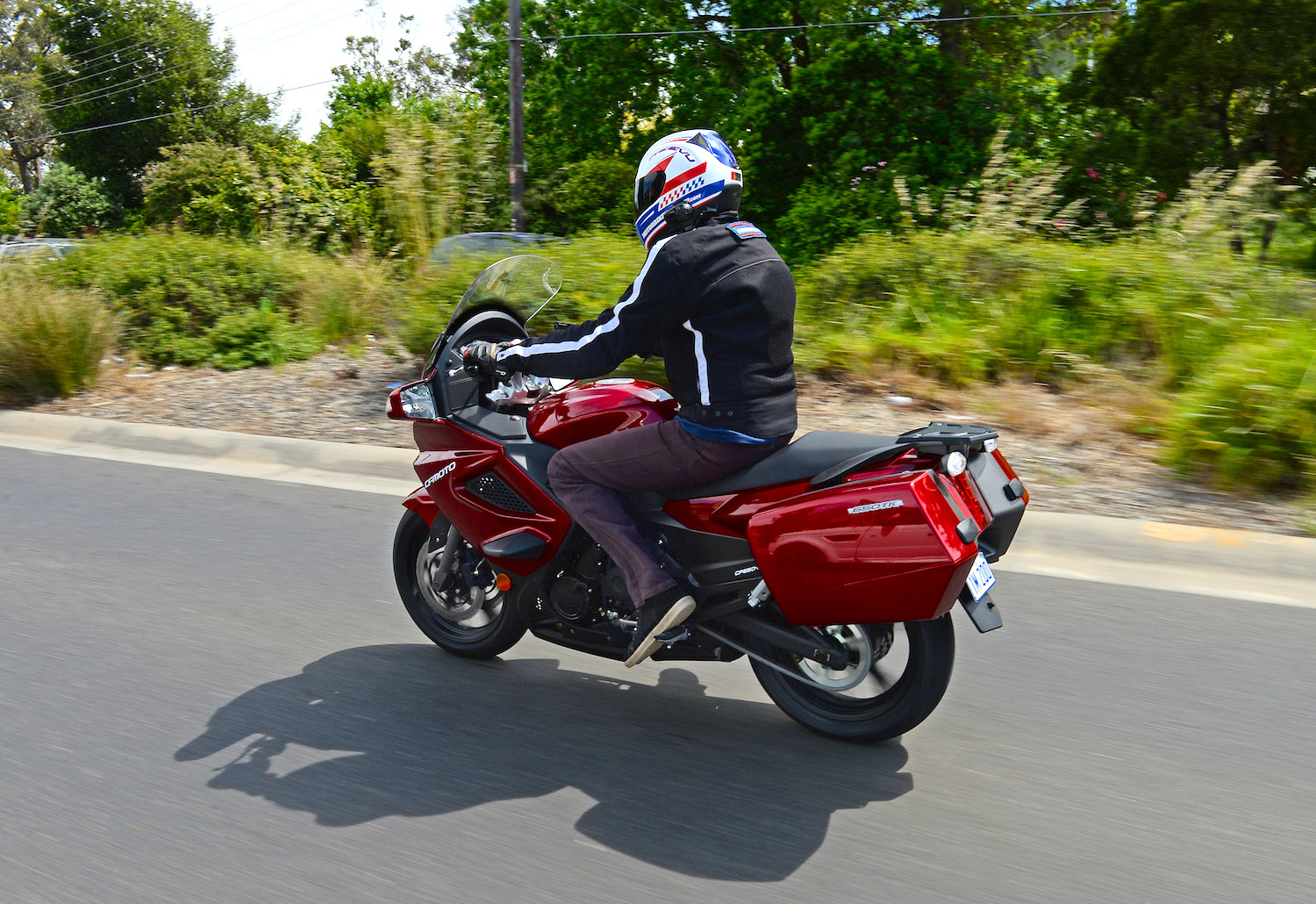 The 60-litre panniers are also lockable with the ignition key and now come with two failsafe latches front and back in case the central lock fails and spills your undies all over the asphalt.
They are made of unreinforced ultramid polyamide PA6 which is known for being tough and impact resistant with good damping characteristics.
CFMoto has changed the seat lock to a choke-style button located inside the left pannier so you can keep safe your comprehensive eight-piece tool kit, instruction manual and maybe even a spare pair of gloves or wet pants.
To improve the touring capability, the screen is now about 40mm taller and wider for far less buffeting and they have added a 12V outlet on the left inner-fairing.
I would have preferred the outlet was located inside the lockable left glovebox to power your phone or iPod. If you want to power a GPS, you are going to have to use some 100mph tape to secure a long lead to the handlebars.
The importers, Mojo Motorcycles, will mention the 12V location to the Chinese company who, they say, tend to listen to their feedback and act on suggestions.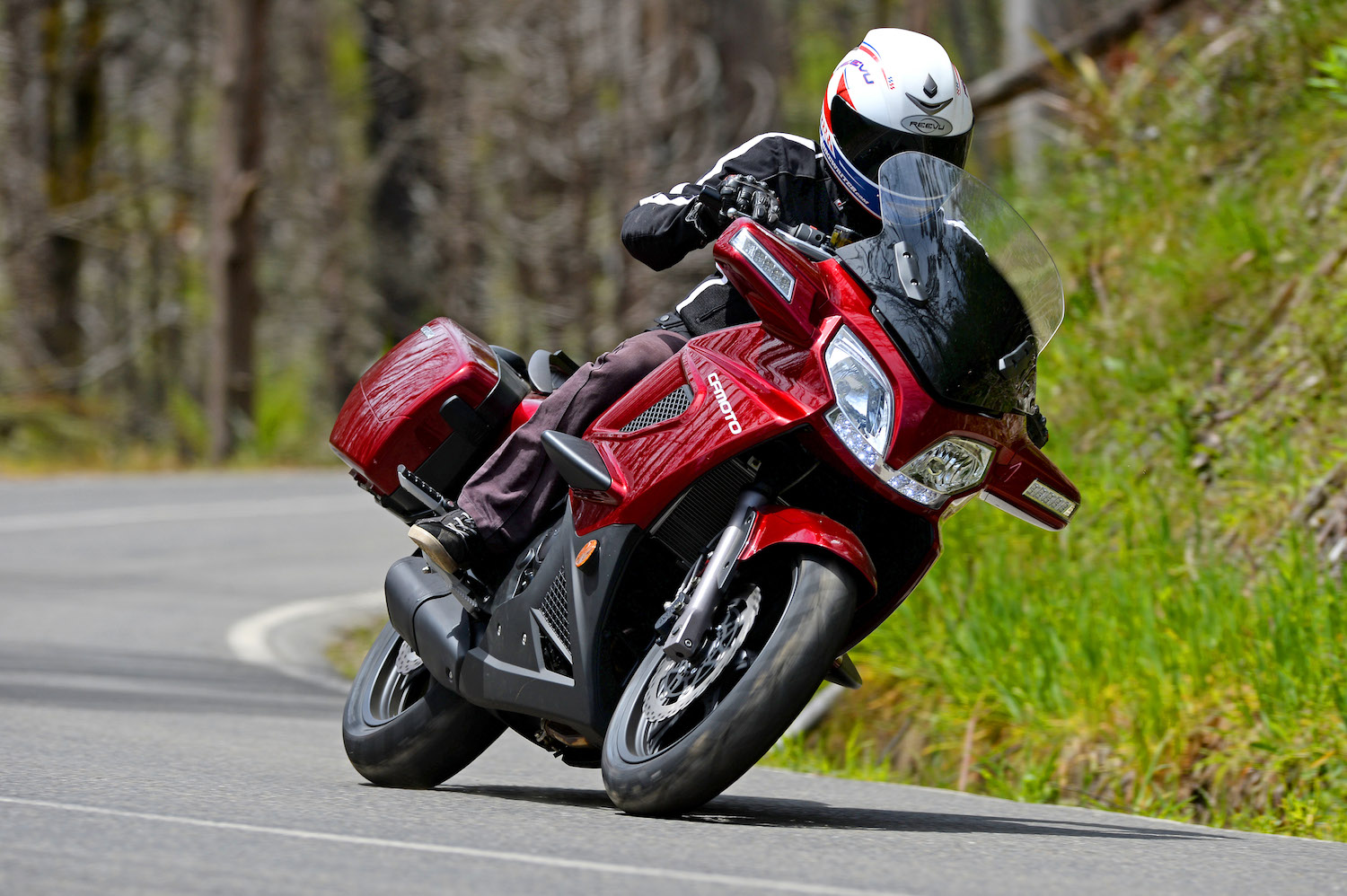 The new and bigger instrument cluster is easier to read and features odo, fuel gauge, clock, battery and water temp. The pre-production models only had an speedo and odo.
The hydraulic brake system from J. Juan also features 25mm bigger discs front and back and stainless steel braided lines.
They have a bit more feel than before and more bite, although you still have to grab plenty of lever to slow it down as the chunky Chinese steel frame makes it weigh in at 220kg.
For 2014 CFMoto has made the sidestands a little longer so the bike sits more upright and aren't as heavy for young learners and women to lift.
Once moving, the weight disappears and only becomes an issue when you are diving into a corner too hot with the Kayaba forks loaded up and a fist full of brakes.
Reminders of the bargain price are switchgear that feels cheap, an indicator switch that is difficult to deactivate and hand levers on the loose side.
However, it does have stylish LED running lights which you can turn on and off via a handlebar switch.
The parallel twin is a flexible engine that doesn't have heaps of low-down torque, but is willing in any gear at any revs which is perfect for ham-fisted beginners.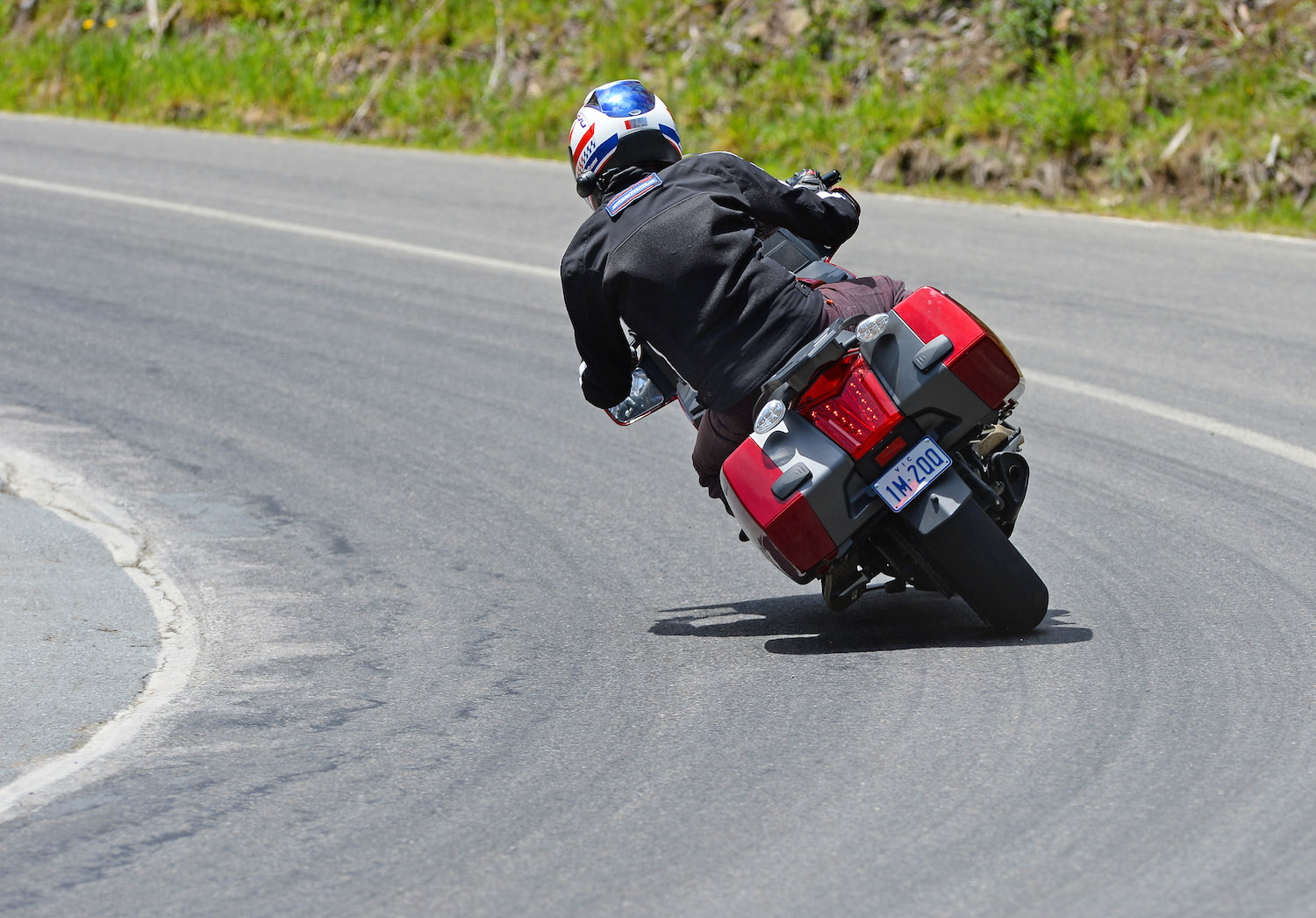 Engine braking is also strong without being abrupt, so if a learner drops too many gears or suddenly lets go of the throttle they won't fly over the handlebars.
The pre-production models tended to vibrate through the fairing and handlebars. It seems to have been refined and the fairing is probably also a tighter fit as there is much less vibration now.
Overtaking requires a downshift or two, or with a long clear stretch ahead, you can just roll on the throttle.
It hums nicely from about 3300rpm and becomes a little more active around 4000 revs, but then it's clear sailing up to the rev limiter at 10,000.
Of course, high-end power is limited, but there is more than enough poke here to get you into serious trouble.
Mostly you will want to keep the twin fluttering along at 4000 revs where it feels just right and the buzzing doesn't become annoying.
Clutch pull is very light and the gearshift is long, but positive and plush with neutral dead-easy to find, which should suit learners.
Riding position is a neutral sit-up-and-beg style with the bars at an easy slight reach although the fat rubber pegs require the occasional stretch for arthritic knees.
Speaking of which, my knees rub on the fairing just as they did on my old Honda ST1100 which was obviously the poster pin-up for the designers when they sketched this model. It even has the same "shark-fin" engine protectors on the sides.
It feels instantly comfortable for a long haul, although the seat could do with more cushion.
Fit a sheepskin cover or an Airhawk and you could easily do a lap of Australia, confident in the knowledge that there are 42 dealerships in every state and territory for service or repairs.
The only limiting factor could be the small panniers into which I could only squeeze a smallish backpack. However, the luggage rack is ample and will take a big bag, plus you can tie luggage to the back seat.
Pillions will find a flat and wide perch with nice big grab handles, although the extra weight will surely strain the restricted 650cc engine.
CFMoto 650TK tech specs
Price: $6990 (+ORC) $7990 (max rideaway)
Warranty: 2-years, parts and labour
Service: 6000km, or six months
Engine: 649.3cc, 8-valve, liquid-cooled, DOHC parallel twin, 180-degree crank
Power: 41.5kW @ 9500rpm
Torque: 62Nm @ 7000rpm
Bore x stroke: 83 x 60mm
Compression: 11.3:1
Transmission: 6-speed, multiplate wet clutch, chain drive
Chassis: tubular steel diamond frame with engine as fully-stressed member
Suspension: telescopic forks with hydraulic damper; oil and gas hybrid damper single damper rear shock
Brakes: dual 300mm steel discs with twin-piston calipers (front), 240mm disc with single-piston caliper (rear)
Tyres: 120/70 R1758H (front), 160/60 R1761769H (rear) Continental Road Attack 2
Wheelbase: 1415mm
Wet weight: 220kg
Seat: 795 mm
Fuel capacity: 17.5 litres
Colours: white, silver, black, maroon