From time to time we create content in cooperation with industry brands and properties. This post is sponsored by Grip500.ie. Note that wBW does not have a relationship with Grip500.ie outside of this post.
Tires are arguably the most important part of your entire motorcycle. They are the only thing separating you from the earth's crust on your two-wheeled travels. First, understanding how tire sizing works is necessary when looking for your own tires. Reference the image below to get an idea of what those weird numbers are on the side of your tires.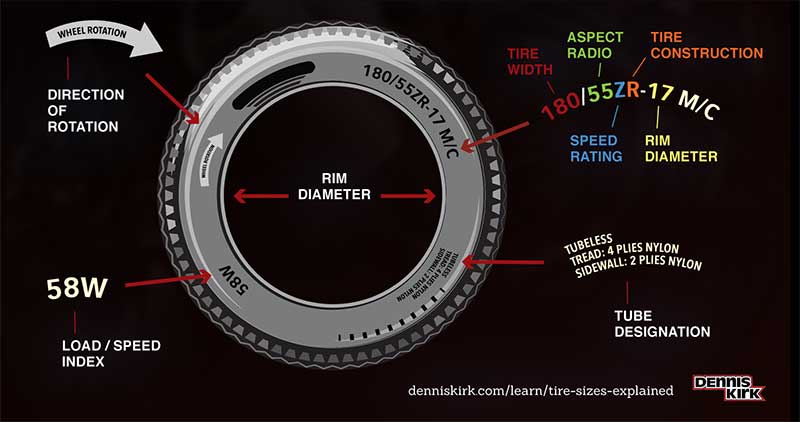 Today, we cover some of the tire sizes you won't see every day. Whether it be for mini trail slayers or behemoth road warriors, these bikes require some "special" sizes. 
So that begs the question, does size matter? Let's find out. 
Tire Size: 130/90/10
This tire size is what you'll need to get your minibike carving through whatever magical forest or remote destination you find yourself headed to. This size is most often seen on small scooters or minibikes like the notorious Honda Z50 and CT70, and is more common on small bikes you'll often see in Japan, the Philippines, India, etc. 
Who Makes These Tires?
Pirelli

– Pirelli has been around for 148 years and has been a household name for about the same time. They have supplied tires for not only Formula1 but also the likes of

Ken Block's Hoonicorn

.
Interesting Bikes They Came On
Honda Z50 –

The Z50M was released in 1964 and often referred to as the Monkey or Gorilla, referring to its cramped riding position. Producing 4.5HP out of its 49cc engine, it's enough to get you around in a cramped environment. 
Honda CT70 –

First released to the US market in 1969 the CT70 or "Trail 70" is a sought after gem that true Honda collectors scoop up any chance they get. 
Where to Buy
Tire Size: 2.50-8 4PR WT
Honda has always been great with coming up with some awesome compact transportation. This tire size is also classified as a scoot/moto tire size but is actually the size required for a very special Honda. 
In association with the Honda City, the tires required for its "trunk bike" counterpart were 2.50/8/4PR, making these unconventional tires tricky to find.
Who Still Makes These Tires?
Dunlop

– From folding trunk scooters to MotoGP, Dunlop has been providing quality tires for use in an array of applications since before you were born. Dunlop has been in the tire industry since 1890, so you could say after 130 years, they know their stuff. 
Interesting Bikes They Came On
Honda Motocompo NCZ50 –

First released into the trunk of the Honda Today and Honda City in 1981. This "trunk bike" was a statement anytime it unfolded into the 2.5HP beast it was. 
Where to Buy
Tire Size: 165/55/R15
This one seems a tad out of place, but wait, we're not done! 
We'll first address the elephant in the room with this one: no we're not asking you to become a Dark Sider (a rider who uses car tires on their motorcycle). 
This just happens to be a tire size required for our 3-wheeled friends on Can-Am Spyders and the like. 
Who Makes These Tires?
Kenda

– Kenda was founded in Taiwan producing bicycle tires in 1962. They are also the proud producers of tires for golf carts, lawnmowers, passenger cars, dirt bikes and motorcycles. Have no fear, they've been producing motorcycle tires for 50 years now. 
Interesting Bikes They Came On
Can-Am Spyder

– What do you get when you combine an ATV-like chassis with a snowmobile layout? You get a

Can-Am Spyder

sporting a single rear-wheel drive trike. 
Can-Am Ryker

– Introduced to the market in 2019, the

Ryker

is the much smaller, much sportier younger brother to the Can-Am Spyder. Flaunting either a 600cc or 900cc engine this little unit handles like it's on rails. 
Where to Buy
Good News: Motorcycle Tires Are Getting a Bit Less Weird
Unconventional rim and tire sizes are more common on older models, particularly if you go back to the 50s, 60s, and 70s. In the years since, manufacturers began to standardize rim and tire sizes as they built efficiencies into their supply lines.
In other words, unless you really need an unconventional size in your application (such as creating a three-wheeled on-road machine), it's more cost-efficient (for the manufacturer and owner alike) to use a common size.