If you've been riding motorcycles for quite some time and you're looking for an upgrade, you might be wondering what kind of bike would suit your needs. Whether you're a speed junkie or an adventure seeker, there are motorcycles that are perfect for advanced riders like you.
Before we dive into the list, let me explain what I consider an advanced rider to be. An advanced rider is someone who has been riding for a while and has the skill and experience to handle more powerful and complex motorcycles. Advanced riders know when the correct reaction is more throttle when every fiber of your being says brakes. Advanced riders know as much about a high-speed corner as they do a low-speed u-turn. Advanced riders know when they should be standing on the pegs, using the rear brake, or feathering the clutch during that weekend ride over a mountain.
With time and miles come knowledge and understanding.  Knowing the importance of tire pressure, suspension adjustments, maintenance, and even things like insurance.  Having taken riding courses, having owned other bikes, and having a history of safe riding, can all have a dramatic impact.
Not all expert-level bikes are created equal and insurance premiums can differ between bike segments (i.e., cruisers vs sportbikes). Companies frequently allow you to to compare quotes for motorbike insurance, so be sure to consider this when choosing your next bike.
With that in mind, we've put together a list of 10 motorcycles aimed at advanced riders in 2023.
SuperSport
Modern SuperSport motorcycles can have upwards of 200hp with razor-sharp handling and a power-to-weight ratio rivaling a Formula 1 car. Advanced riders are sure to appreciate the subtle nuances of these hyper machines both on the road and on track days.
The 998cc, inline-four engine that powers the 2023 Yamaha R1 and R1M generates 198 horsepower and 83 lb-ft of torque. The engine has forged pistons, titanium connecting rods and intake valves, and the manufacturer's renowned crossplane crankshaft technology. The R1M goes one step further, offering GPS data logging and fully-adjustable Ohlins dynamic suspension in place of the KYB units on the standard bike. Both iterations include a number of features, such as engine brake management, power modes, traction control, slide control, lift control, launch control, and a bidirectional quick-shifter.
Price: $17,999 USD / $22,799 CAD
Engine: 998cc, liquid-cooled, inline four-cylinder
Power: 198hp
Torque: 83 lb-ft
Weight: 448 lbs (203.2 kg)
228 horsepower from a 998cc, supercharged four-stroke, liquid-cooled engine! A variety of cutting-edge technologies that improve the performance and handling of the Kawasaki Ninja H2 are also included in its standard equipment. Including a powerful Brembo braking system, fully adjustable suspension, and Kawasaki's sophisticated traction control system, and about a bazillion other electronic aids that assist the rider in maintaining control
Price: $31,500 USD / $37,500 CAD
Engine: 998cc, liquid-cooled, 4-stroke, DOHC 16-valve in-line four
Power: 228 horsepower
Torque: 104.9 lb-ft
Weight: 524.8 lbs (238 kgs).
The BMW M 1000 RR features a powerful 999cc four-cylinder engine that delivers 205 horsepower and is equipped with electronic aids, such as ABS Pro (adaptive anti-lock braking system), Dynamic Traction Control (DTC), and Pro Shift Assist (gear shift assist). It also has an Automatic Stability Control feature, which helps reduce wheel slip on slippery surfaces. BMW included a Race Mode with four different riding levels depending on the rider's preferences.
Price: $37,990 USD / $43,260 CAD
Engine: 999cc Water/oil-cooled in-line four cylinder four stroke
Power: 205 horsepower
Torque: 83 lb-ft
Weight: 375 lbs (170 kgs)
Full Dressed Touring
Advanced riders will appreciate the pavement devouring capabilities of these fully loaded touring bikes. It takes experience to handle a 900 lb bike, fully loaded to travel and two riders aboard, especially at slow speeds. One slip on loose gravel coming to a stop and you could see $50k lying on its side with someone's leg caught underneath. Time and miles definitely add appreciation to just how amazing these big bikes are.
The CVO Road Glide Limited Anniversary model, which is exceptionally limited and serialized, is jam-packed with unique features that celebrate 120 years of Harley Davidson motorcycles. Every feature of this bike, from the potent Milwaukee-Eight® 117 V-Twin engine to the opulent aesthetics, has been painstakingly designed for a genuinely exceptional riding experience. This unique bagger is certain to become a sought-after item among Harley lovers due to its restricted supply.
Price: $51,999 USD / $65,999 CAD
Engine: 117 ci V-twin
Power: 105 HP (estimated)
Torque: 126 lbs-ft @ 3750 RPM
Wet Weight: 963 lb. (437 kg)
The liquid-cooled 108ci PowerPlus V-Twin engine that powers the Indian Pursuit Elite is rated to produce 122 horsepower and 128 lb-ft of torque at 3,800 rpm.  Featuring Smart Lean Technology that controls traction control, ABS, and torque via a Bosch IMU. The rider's ability to see the bike's controls at night is improved with backlit switch cubes, and the combination of the Pathfinder Adaptive LED headlight, Pathfinder S LED driving lights, and saddlebag lights increases visibility. A heated seat with controls on the seat and infotainment system is provided for the rider and passenger.  Only 150 units will be made available globally.
Price: $39,999 USD / $47,999 CAD
Engine: 108 ci V-twin
Power: 122 HP (estimated)
Torque: 128 lbs-ft @ 3800 RPM
Wet Weight: 917 lbs (416 kg)
Adventure
The latest big displacement ADV bikes take technology, horsepower, and off-road prowess to unbelievable levels. Thanks to ride-by-wire throttles, 6-axis IMU's and electronically adjustable suspensions, these new machines are nearly out of the crate ready for the Dakar Rally. Skilled riders will make the most of the big power, and electronic aids, for some serious adventures.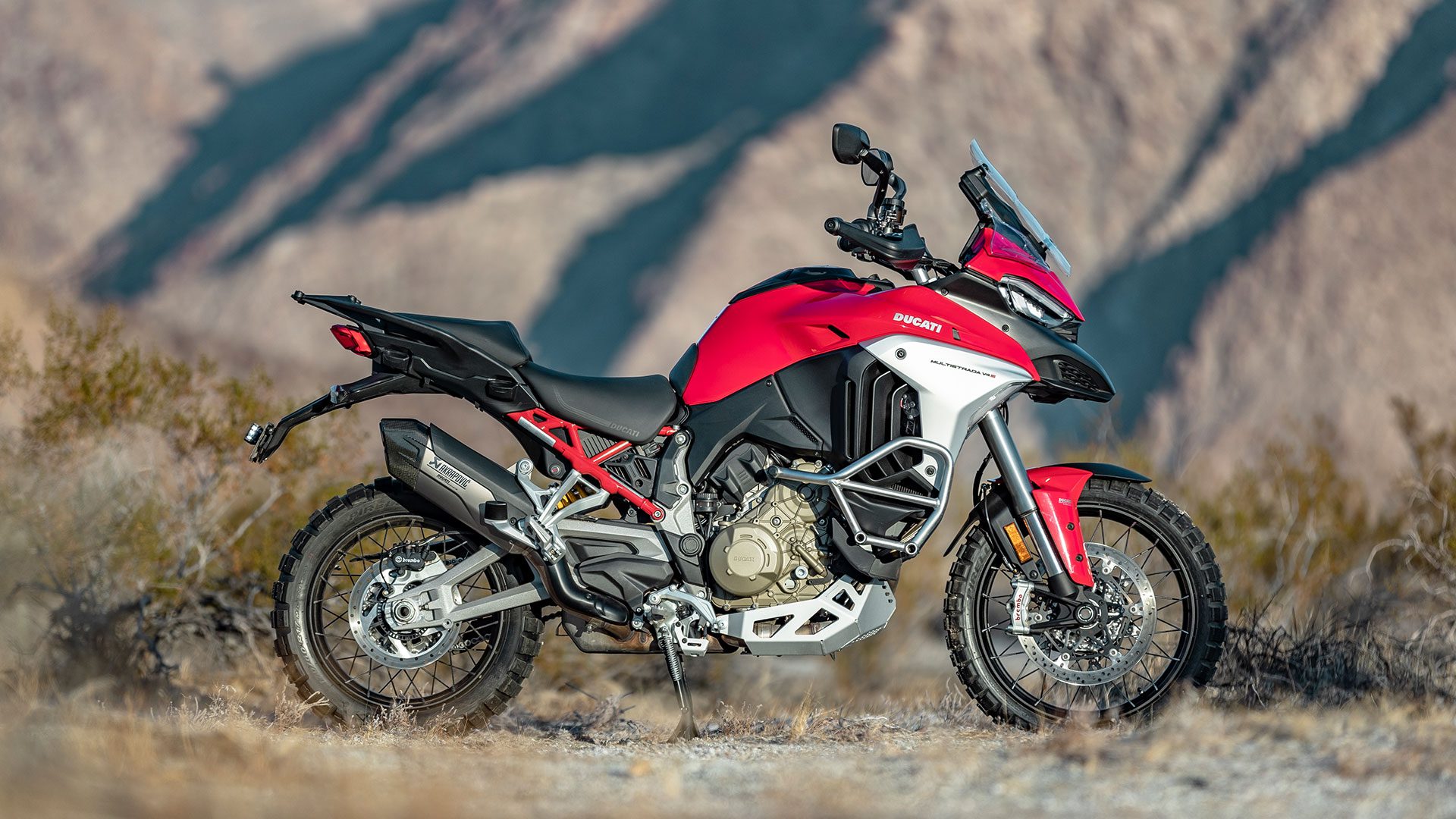 The 2023 Multistrada V4S has the first front and rear radar system on a motorcycle, plus 170 HP from the silky smooth Granturismo V4 engine. An innovative chassis, ergonomic solutions, and advanced Ducati electronics include an auto-leveling system, Ducati Skyhook semi-active suspension system, and 4 riding modes to adjust the delivery and power of the motorcycle as desired. Yes, there is little doubt why the big Multistrada is considered one of the best ADV bikes in the world.
Price: $26,895 USD / $29,645 CDN
Engine: 1158cc V4 Granturismo
Power: 170 hp (estimated)
Torque: 92 lb-ft @ 8,750 rpm
Wet Weight: 481 lbs (218 kg)
The 2023 BMW R 1250 GS Adventure features a powerful boxer engine with 136 hp and a maximum torque of 105 lb-ft. BMW stays at the top of the ADV game thanks to the latest in electric aids such as Hill Start Control Pro, Automatic Stability Control, and Dynamic Traction Control. The suspension has been updated to include BMW's Electronic Suspension Adjustment system for improved handling on any terrain. This machine might just have the deepest catalog of aftermarket equipment of any Adventure bike made.
Price: $20,345 USD/$24,145 CAD
Engine: 1254cc air/liquid-cooled four stroke flat twin
Power: 136 horsepower
Torque: 105 lb-ft
Weight: 591 lbs (268 kgs)
The 2023 Triumph Tiger 1200 Rally features an 1160cc Inline Triple making 147 hp and 95 lb-ft of torque, mated to a smooth 6-speed transmission and a lightweight low-maintenance shaft drive. Brembo Stylema® brakes, plus a Showa semi-active suspension, and a stunning 7" TFT display. Triumph ups the game with a 30L tank, a heated seat, and Blind Spot Assist. Blind Spot Assist uses a rear facing radar to let the rider know when another vehicle is in their blind spot, and Lane Change Assist. This bike is very much a "if you know you know" machine.
Price: $22,995 USD / $26,295 CAD
Engine: 1160 cc DOHC, inline 3-cylinder
Power: 147 HP (estimated)
Torque: 95 lbs-ft @ 7,000 RPM
Wet Weight: 549 lb (249 kg)
Naked
Strip away some fairing off a Supersport, and in a heaping scoop of hooligan attitude, and be ready to set your hair on fire. These modern Hypernaked bikes are like fighter jets. Without the electronics current fighter jets are practically unflyable, and the latest Hypernaked bike is out to kill you if the electronic aids didn't step in. Experienced riders have enough time in the saddle to appreciate exactly what they have just put a leg over.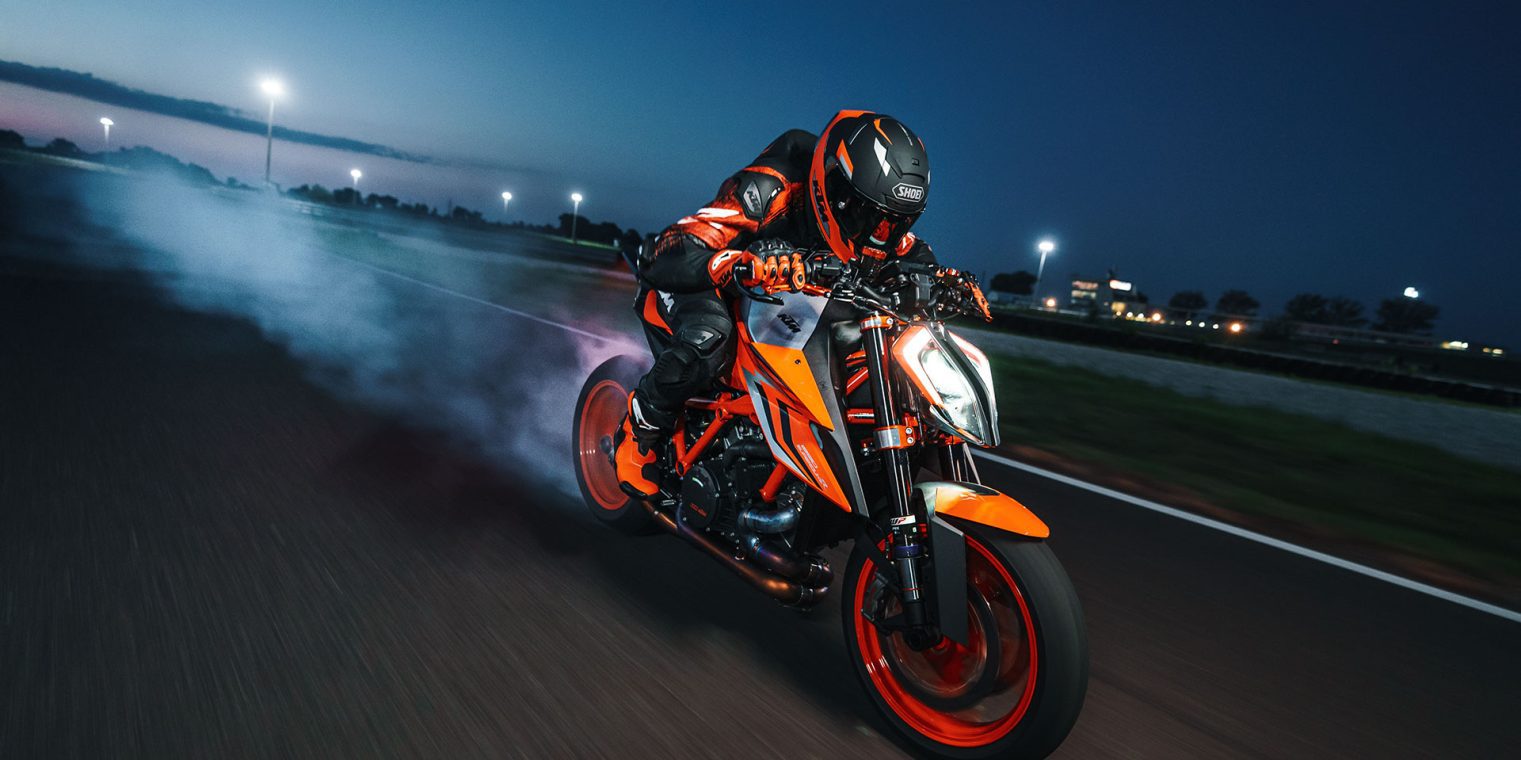 The KTM 1290 Super Duke R Evo is better known as the Beast. At an advertised 180 hp and 104 lb-ft, this beast is capable of tearing up the road. The R Evo uses a six-speed PANKL-manufactured gearbox with a power-assisted slipper clutch and quick shifting. A semi-active WP suspension system features electronically controlled damping and three unique settings, Track, Auto, and Advanced, each offering a different level of customization to the suspension. But wait there's more! A full suite of rider aids, three standard riding modes (rain, street, and sport) along with optional track and performance modes, and keyless ignition & gas cap.
Price: $19,799 USD/$20,799 CAD
Engine: 1301 cc V-Twin
Power: 179.5 hp
Torque: 104 lb-ft
Weight (Wet):  496 lbs (225 kg)
The 2023 Ducati Streetfighter V4S is powered by a 1,103cc V4, which is said to make a monstrous 208hp and 90.4 lb-ft of torque. The bike uses a six-speed transmission equipped with a dual-directional quick shifter. Equipped with semi-active Öhlins suspension, Marchesini forged wheels, a lithium-ion battery, multiple preset power modes, Cornering ABS, advanced traction Control, Wheelie Control, Slide Control, Full LED lighting, and much, much more.
Price: $27,595 USD / $31,395 CAD
Engine: 1103 cc Desmosedici V4
Power: 208 hp
Torque: 90.4 lb-ft) @ 9,500 rpm
Weight (Wet):  444 lbs (201.5 kg)
When it comes to choosing a motorcycle for advanced riders, there are many factors to consider such as riding experience, personal preference, and budget. The motorcycles mentioned above are just a few of the many options available in 2023. Regardless of which motorcycle you choose, always make sure to prioritize safety, respect the traffic laws, and be sure you have the right insurance to protect your new top-dollar investment and all the mods you add. Happy riding!