More and more women are taking to motorcycles and with that comes more women in the motorcycle industry, says Julia Preeo the northern regional manager for Suzuki Motorcycles Australia.
Long gone are the male-dominated bike shops. Julia says that these days there are loads of riding school providers with courses specifically for women, shop rides for female riders and women's riding groups to join, as well as many women in the industry keen to help. "There are many ladies out there always eager to meet new friends and show them the ropes," she says.
She says Suzuki is conscious of the growth in women riders and sponsors many events such as free ladies-only events for riders at any stage of their riding career.
The next Ladies Night is at Brisbane Motorcycles, Caboolture, on Thursday, October 23.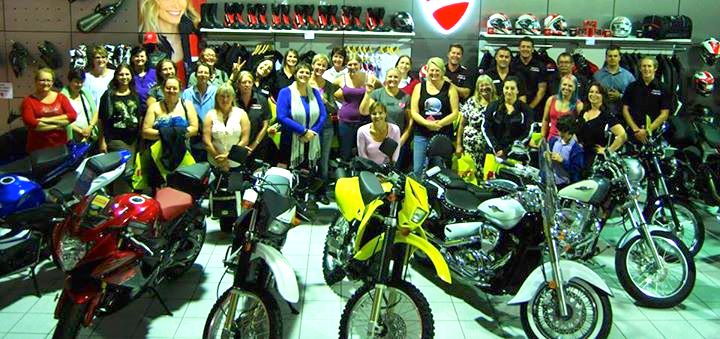 "Come along, meet new friends and learn the basics of motorcycling," she says. "All ladies, whether you ride or not, are welcome to come along for a free information session where we cover loads of topics including latest bikes and riding gear, basic bike maintenance and much much more."
Julia has been in the industry for five years but says she has been obsessed with bikes "ever since I can remember".
"My dad stopped riding just after I was born and I still remember running around the house with his old school helmet on pretending to speed away down the imaginary race track in the living room."
Julia says she's spoiled in her job as she's able to ride the latest Suzukis, although her favourite is the naked Bandit.
"I love the feeling of freedom you get cruising through the twists and turns of a country road," she says. "There is no other feeling like the first time you connect with your bike and lose yourself during a ride. It doesn't matter if you are the one in the front seat or enjoying being chauffeured around on the back seat, if you have ever had the inkling to get on a bike of any kind, go for it."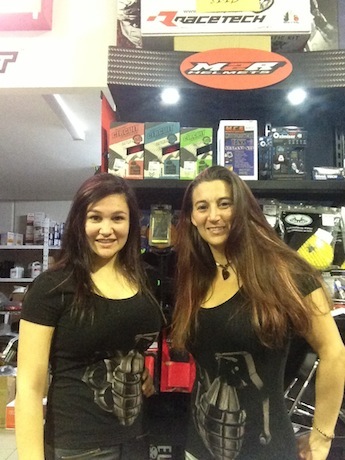 Women who attend the Brisbane Motorcycles Ladies Night will not be alone as the dealership has several female workers, including motocross/supercross/FMX champ Adam Cini's sister, Kirsty. She's just 21, but has already been in the industry two years and has been riding since she was three.
"I love the adrenalin it gives me when I'm riding and crashing!" she says. "It's my hobby and I love the fact that I can share my experiences with everyone."
Kirsty has wise words for women thinking about riding. "You only live once, so don't live in fear otherwise you are going to miss out on the best time of your life."
By contrast, Parts and Accessories Manager Pam Bornman, 33, has been in and out of the industry since she was 16. "I love getting on my bike (Aprilia RSV Mille), sticking my iPod on an drowning the rest of the world out," she says.
Pam says her job allows her to make an impact on her customers' lives. "Whether it's helping get their bike back to running condition, blinging the bike out or getting the helmet or gear they always wanted, or just some advice. I don't mind, I just love it all."
Shelly Eshman-Myhill who works for Swan Insurance at Brisbane Motorcycles has been in the industry nine years and reckons the most important thing to ride with – part from comprehensive insurance – is a neck brace. "I wouldn't ride without one," she says.
Despite the risks of riding, she says women shouldn't let fear hold them back.
"Just to give it a go," she says. "Don't be scared to ask lots of questions. The people in your local dealership are a wealth of knowledge. Also seek out other females as they may have had the same hesitations when starting out."