Sena 50C 4K Camera & Mesh-BT Comms System Review Summary
Review Summary
The new Sena 50C is a multi-faceted fully integrated audio/video/comms helmet system that remains true to Sena's integrated system baseline. It features BT 5, Sena's proven multi-device firmware, multi-channel audio capabilities, long range multi-party multi-path Mesh 2 and Bluetooth intercoms and a fully integrated UHD 4K, QHD and HD video recording capability along with still or burst photo modes. A long overdue feature – Video Enhanced Image Stabilization or EIS is now provided for the 1080p (30 or 60fps) settings. Device installation for best camera orientation is provided with three versatile mounts, one with 360-degree rotation, while the flush-mount lens features a 30-degree adjustment bezel so the user can get the desired horizontal point of view with a fixed mount. As a member of the upper tier Sena Quantum Series the Sena 50C features SOUND BY Harman / Kardon speakers and microphone for what is arguably the best helmet audio environment available. Battery life between video, comms and streaming use is very good and, the system is usable while recharging from or being powered by an external 5V USB supply. An integrated WiFi feature provides the camera to smart device link with the included Sena WiFi Adapter Cable used for charging, data and OTA firmware updating. This unique feature-packed hybrid system comes at a cost but what it delivers is well worth the investment. It truly has no peers and as a multi-role integrated system it is worth considering.
Build Materials & Quality
Pros
(Still) the only integrated helmet-mounted (4K) camera and BT/Mesh system available
Lens has 30-degree horizontal range adjustability
Three sturdy versatile base mounts – one with 360 degrees of vertical movement
4K, 2K and HD (30/60fps) video resolution settings with still & burst photo modes
Multiple recording modes with Video Tagging for preserving notable or critical events
Electronic Image Stabilization (EIS) for the 1080p 30 & 60 fps settings
Unique dual file creation (full and reduced) for playback, downloading and storage
Very sensitive microphone provides audio for comms and camera features
Multi-source (speaker-based) audio for recording is switchable
Long-range BT and Mesh intercoms, used singularly or in a mixed environment
Superb helmet audio thanks to SOUND BY Harman / Kardon components – WOW!
System usable during charging or as powered from external source
Usable with Sena Remote Controls (RC4 tested) with firmware update
Sena Motorcycles and Camera Apps easy to use with essential features
An even better multi-featured multi-role investment than before
Cons
A bit larger & heavier with wider profile (but well balanced and secure)
Camera Button on bottom is hard to activate with gloves on
Voice Command (remains) a weak feature
Reduced options in selecting discrete audio sources for video recording
Sena 50C 4K Camera & Mesh-BT Comms System Image Gallery
Review Summary
The Sena 50C combines the features of a motorcycle helmet camera with a bluetooth comms system.
This is a premium product with top-of-the-line features, like video resolution in 4K and sound by Harmon Kadron. There's also Video Enhanced Image Stabilization and long-range, multi-party, multi-path Mesh 2 technology.
It's a bit more cumbersome than you might think—the unit is larger than expected, the buttons can be difficult to press with gloves on, and the voice command feature isn't as effective as it should be for the price point.
Overall, this is still the best (and only) integrated, helmet-mounted 4K camera and BT/Mesh system on the market.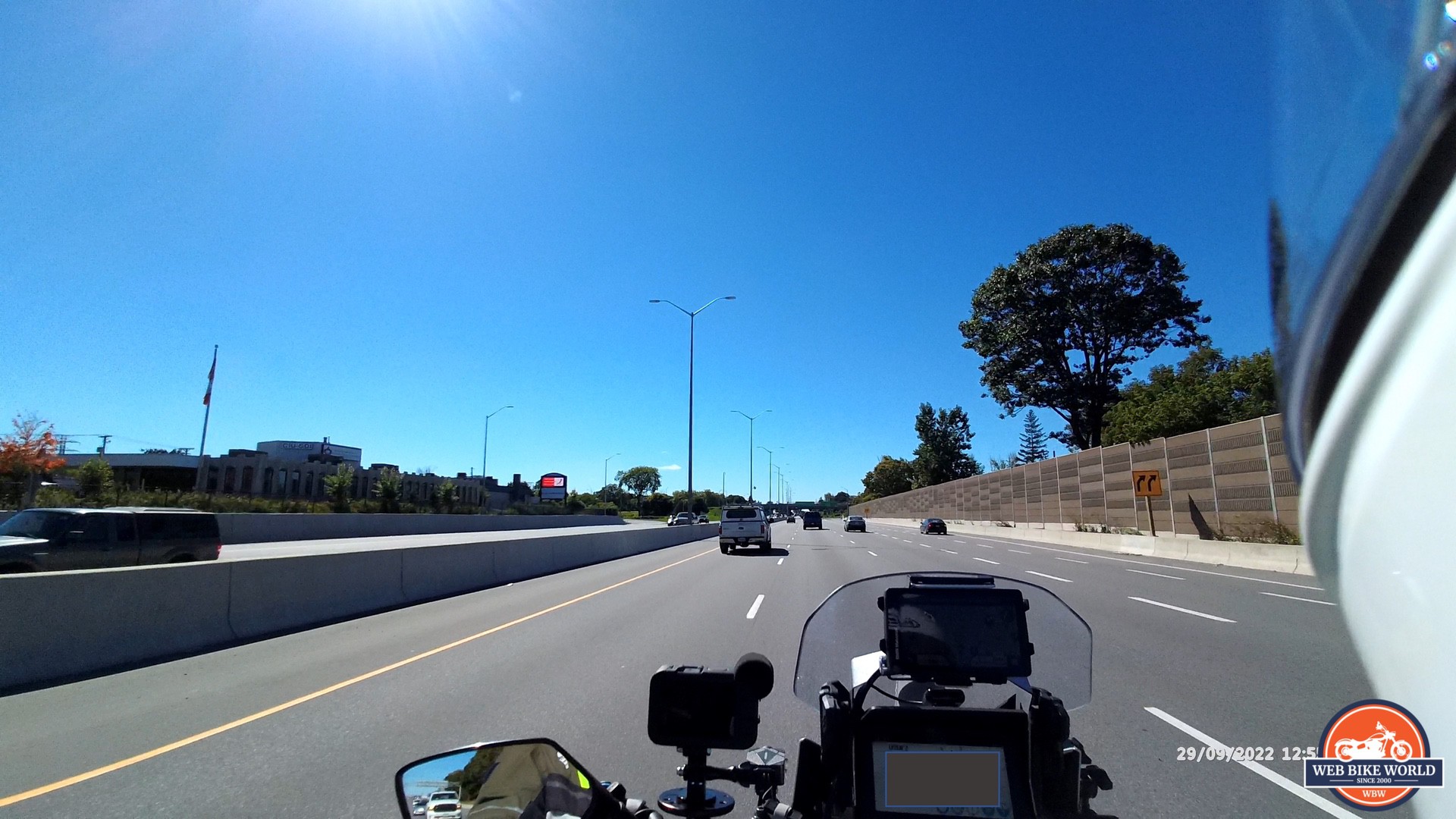 Introduction: SENA Sets Out to Impress with the 50C
Welcome to the third of three Sena products reviews on my spring-into-summer and now into fall assignment list.  Although using the word 'assignment' is a bit of a misnomer – with Sena announcing that the new 50C was available for review earlier this spring there was stiff lobbying between Jim Pruner and me for this one…
This strong desire by both of us to get our hands on the Sena 50C falls out from the fact that both of us are very familiar with all previously released Sena Camera iterations by way of individual procurement experiences or in managing to get our dibs in early to get Sena's latest camera products, including the 50C – truly an industry unique product.
With Jim living out west and me residing in Jim's former residence of Ottawa the 'negotiations' have been via email, not in person; meaning we didn't need to keep a close eye on anything new on our motorcycles, or helmets – hah!
So, while Jim was planning for, along with accessorizing and prepping his Norden 901 for the Great Divide ride, I was leading a more sedate (read no long-distance adventure trips this season) life although with lots of closer to home riding over spring and summer and even more with an extended warm fall season.
And for this ATGATT rider, the gear complement includes a smartphone linked to a helmet headset for communications and, a motorcycle and/or rider mounted camera for road event and travelogue documenting…and this brings us to the focus of this review – the Sena 50C.
See Also:
A Thank-You and Credits
Before delving into the Sena 50C system, a BIG 'thank you' is given to Sena North America for their continued provision over the years of virtually everything Sena produces – keeping reviewers engaged, our readers informed and some great dialogue generated.
And to keep the record and credits straight, the diagrams used herein are from the Sena 50C User Guide, with everything else used produced with the Sena 50C by the reviewer for this wBW submission.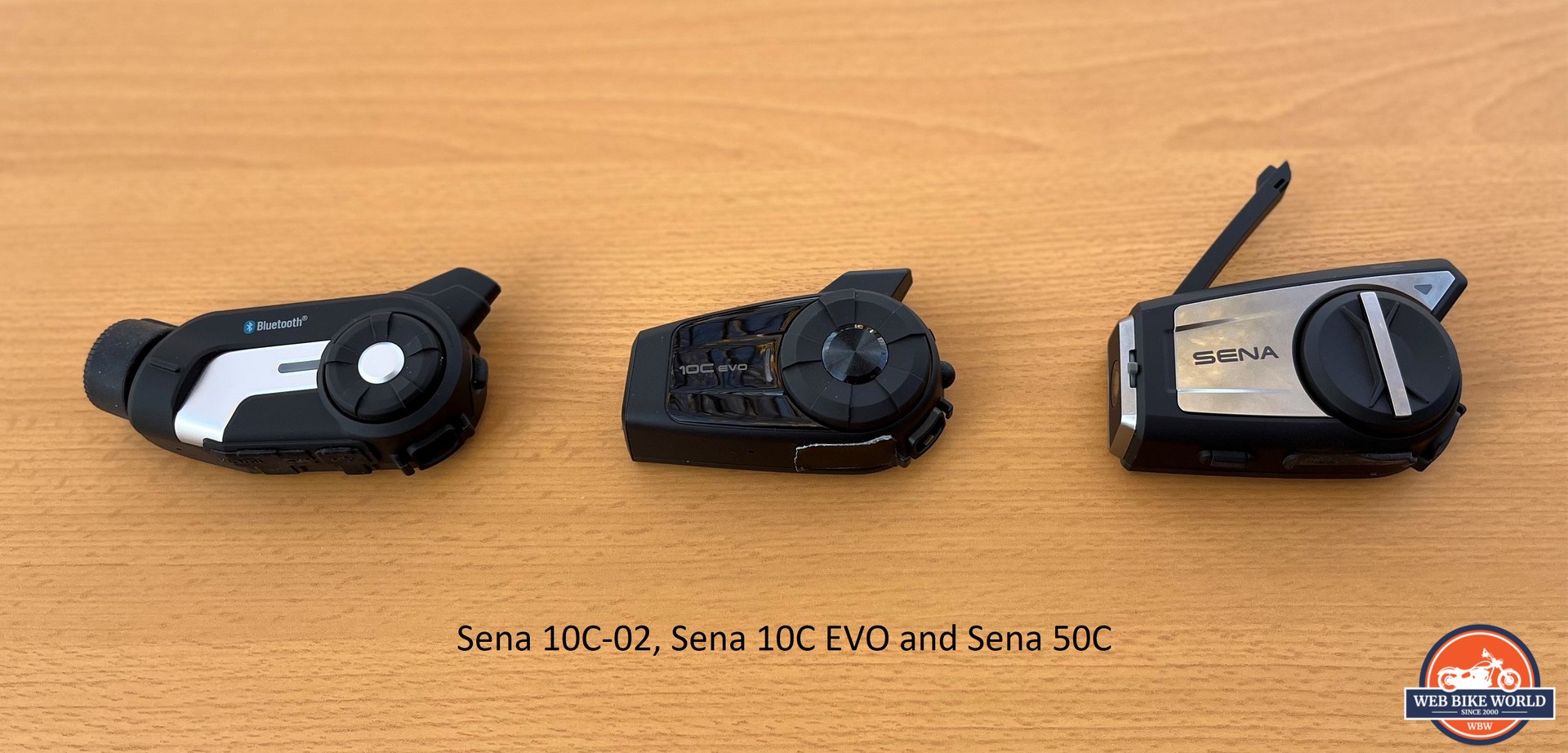 Sena 50C History & Overview
Historically, Sena's latest top-of-the-line integrated camera and communication system is evolved from the original 10C product announced in October 2014 at AIMExpo in Orlando and Rick (wBW founder) was among the first to give motorcyclists a preview of what was an industry first all-in-one helmet-mounted system.
See Our Other Recent Sena Reviews:
This newest version is now included under the Sena 50-series line and marketed under the Sena Quantum Series offerings originally announced in November 2021 although widespread availability did not occur until late winter/early spring this year.
Along with this new Sena 50C, the Quantum Series includes the top-tier 50R and 50S helmet systems and the Stryker full-face and Impulse Modular Smart Helmets; all these systems provide both Bluetooth and Mesh intercoms and, SOUND BY Harman / Kardon audio.
Two other Sena-designed for SHOEI helmets products – the modular SRL-MESH and the SRL-EXT also utilize the latest features and capabilities found in the Sena Quantum Series products including the SOUND BY Harman / Kardon audio.
As with its predecessors this new Sena 50C package is multi-function and feature-rich with a 4K camera system along with Mesh and Bluetooth intercom features and the SOUND BY Harman Kardon components and FW-based audio enhancements that seriously up the helmet environment audio ante.
A familiar-shaped but larger form factor chassis is used for the 50C but in appreciating everything that is packed inside its not unexpected – high-resolution camera systems generate heat that needs managing for sustained performance and longevity of the vital components that make up this hybrid feature-rich package.
The integrated UHD 4K Camera offers 2160/1440/1080p @30fps and 1080p @60fps recording modes.  Both 1080p modes (30/60fps) are usable with or without EIS (Enhanced Image Stabilization). Single and burst photo modes are also provided.
The camera lens has a 120-degree Field of View, an f/2.4 Aperture and 30 degrees of horizontal adjustment available in using the small lever found on left side of the lens bezel (housing), a change from the bottom positioning found on the Sena 10C EVO.
Along with this horizontal adjustability comes a variety of mounting bases for vertical field of view optimization.  As with earlier Sena 10C-series kits, three mounts – two clamp style and one adhesive are included.  Of the two clamp mounts the Gear Mount version with its 360-degree (rotational) adjustability has the most flexibility.
For connectivity, two wireless mediums are used with the Sena 50C.  The Bluetooth v5.0 side of things supplies device pairing, connectivity, switching, audio services and comms, while the built-in dedicated camera WiFi provides the local (device to device) high-speed wide-bandwidth (2.4GHz or 5GHz) interface for the integrated camera system.
Sena also includes their WiFi Adapter Cable that has a WiFi chip built into the USB-A end of the cable allowing charging, data connectivity and firmware updating to be done with this single cable and, it can be used with other compatible systems including the 50S and 50R.
Two iOS and Android platform Apps – the Sena Motorcycles App and the Sena Camera App provide the 50C user with real-time smart-device-based interfaces for the Bluetooth and WiFi features, respectively.
And thankfully, the Sena 50C is a 'connectable' system, able to be used while recharging or drawing power from a compatible 5V source (AC/DC charger, USB port on a desktop or notebook, powerpack or an onboard USB outlet) – this is good, exceptionally good.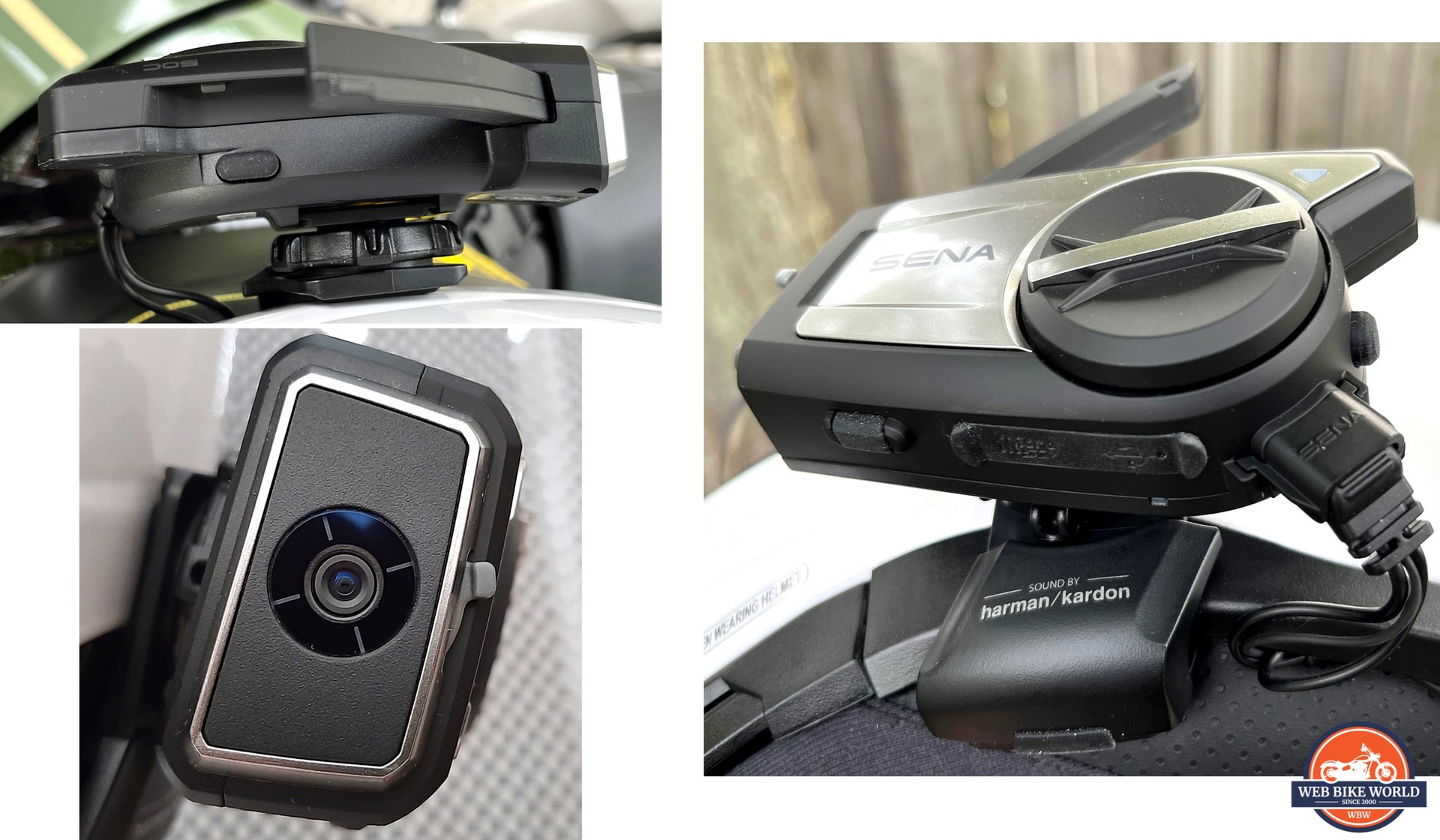 First Impressions of the 50C
Starting at the front – the flush-mounted camera lens fitted into a raised housing along with a small smooth functioning lens adjuster bezel on the outer side providing 30-degrees of lens rotation, so the optimal horizontal point of view angle is available depending on helmet placement.
Along the top edge the familiar push-in-towards-helmet-to-release Mesh antenna and small Mesh Interface Button or MIB sit along the top edge of the housing.  The easily found and used Phone Button sits centred on the back edge below the upper curve of the housing for the internal antenna.
The headset and microphone port sits angled on the rear lower corner while the USB-C interface port and micro-SD card slot are found on the bottom under a soft silicone weather cover.  The Camera Button has migrated from the top of the housing to the bottom for better (direct) access, although activating it is now harder…more on this later.
A large and easily accessed version of Sena's unique and oft-copied Jog Wheel dominates the back face surface of the module – it is well-sized for the larger form-factor used with the Sena 50C system and is easily manipulated no matter what weight of gloves are worn.
Sena 50C Features At a Glance
Industry unique product with integrated PoV camera and Dual mode comms
BT 5 platform features dual Mesh & Bluetooth intercom systems
BT Intercom – supports four users, up to 1.6km (1.0mi) range
Mesh Intercom – virtually unlimited users, 2km (1.2mi) rider to rider and up to 8.0km (5.0mi) with minimum of six riders, nine discrete channels in Open Mesh mode
Integrated UHD 4K Camera: 2160/1440/1080p @30fps; 1080p @ 60fps
Video Enhanced Image Stabilization at 1080p 30 or 60fps
Nominal video recording time: 100 minutes
Camera Field of View is 120 degrees, Aperture is f/2.4 and Lens Rotation is 30 degrees
Photo Mode: 12MP (4:3), Burst Shot – 8 pics per second, Time Lapse – 1/2/5/10s
SOUND BY Harman Kardon – premium speakers & microphone, audio equalizer
Smart Audio Mix
Multi-Channel communication
Voice Activated Digital Assistant (iOS or Android)
Voice Commands in Eight Languages
Onboard FM Radio
Sena WiFi Adapter Cable – charging/data and WiFi connectivity (firmware updating)
Sena Motorcycles App and Sena Camera App
Battery 1450mAh Lithium polymer

Talk time; BT = 22hrs, Mesh = 12hrs
Average Recording Duration = up to 100min
Full charge time = ~ 2.5hrs

External MicroSD storage slot for U3 or higher, up to 128GB (or larger), media not included
3-Year Warranty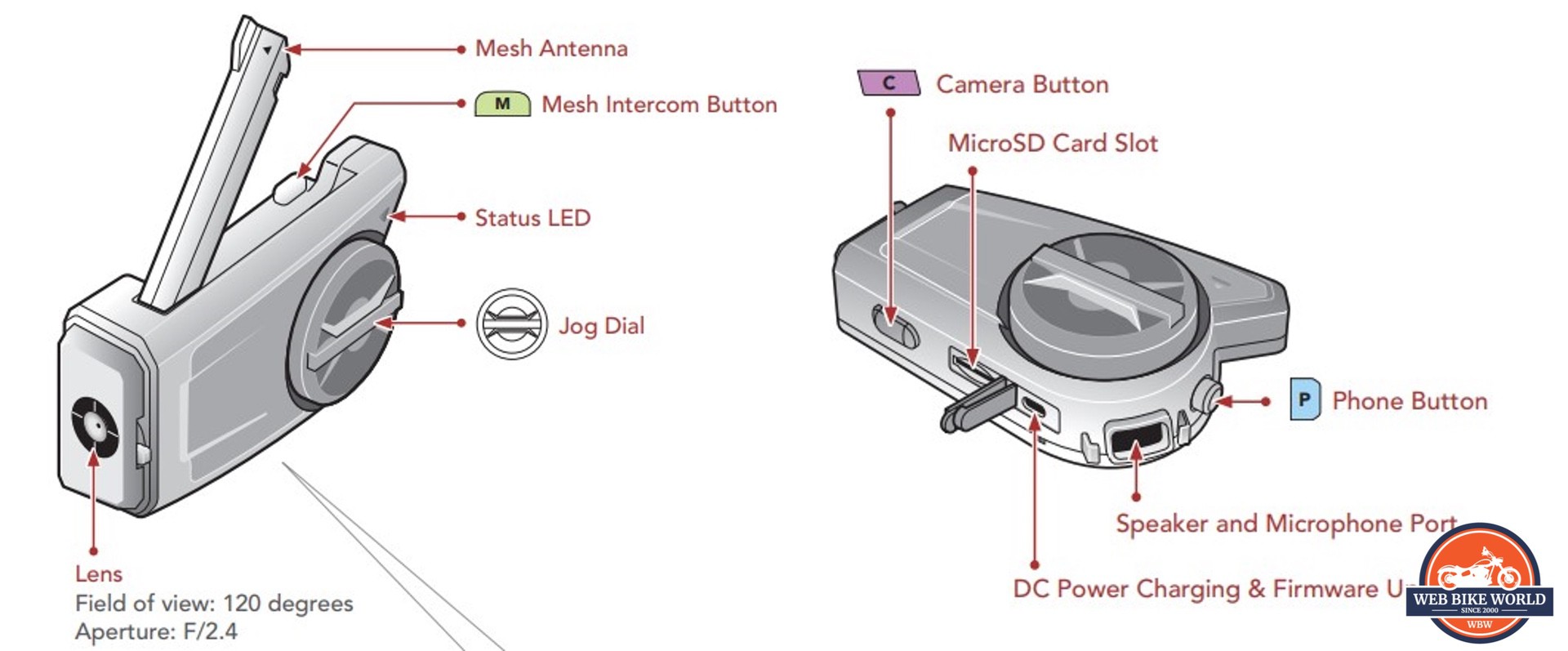 Sena 50C Basic Controls & Inputs
Power ON/OFF – to power the Sena 50C on, press the Jog Wheel and Phone Button for one second.  As the system boots up, the LED flashes Blue once and "Hello" is heard from the headset, followed by another Blue flash and Red battery status flashes.
Paired devices that are found and connectable for audio services will be announced, e.g. – "Phone Connected" and once done the system goes into (standby) – the slow Blue flashing pattern, unless other input is received.
Battery Status – during the boot up process, the second Blue flash from the LED will be followed by one to four Red flashes (four = full; three = three-quarters; two = half and one = low).  When the battery needs charging during use, a voice announcement is heard.
Note – battery status is also provided under the Bluetooth Paired Profile listing on the smart device and on the main Sena Motorcycles App motorcycle screen…handy references.
Device Pairings – for first smart device pairing, press and hold the Phone Button until "Phone Pairing" is heard, and the familiar Red/Blue LED pattern flashing seen.  Make sure the smart device has its BT on and is detectable.  Newer devices with newer versions of BT will pair almost instantly, with or without a validation or confirmation pairing security pop-up screen.
Other Pairings – this multi-BT-channel device supports secondary devices – another phone, stand-along navigation device, media player, Sena SR10 two-way radio adapter, etc. using the specific 'Mobile Phone Pairing', 'Second Mobile Phone Pairing' and 'GPS Pairing' steps along with 'Advance Selective Pairing' features for dedicated Hands-Free or A2DP Stereo connectivity.
Camera ON/OFF – a quick push on the Camera Button has the "Camera On" announcement made with the LED flashing an aqua colour for a few seconds.  Activating the camera also turns on the dedicated camera WiFi feature.  To turn the camera OFF, a quick push on both the Camera and Phone buttons is needed.
In depth details and function of the camera feature are provided in the Camera section later…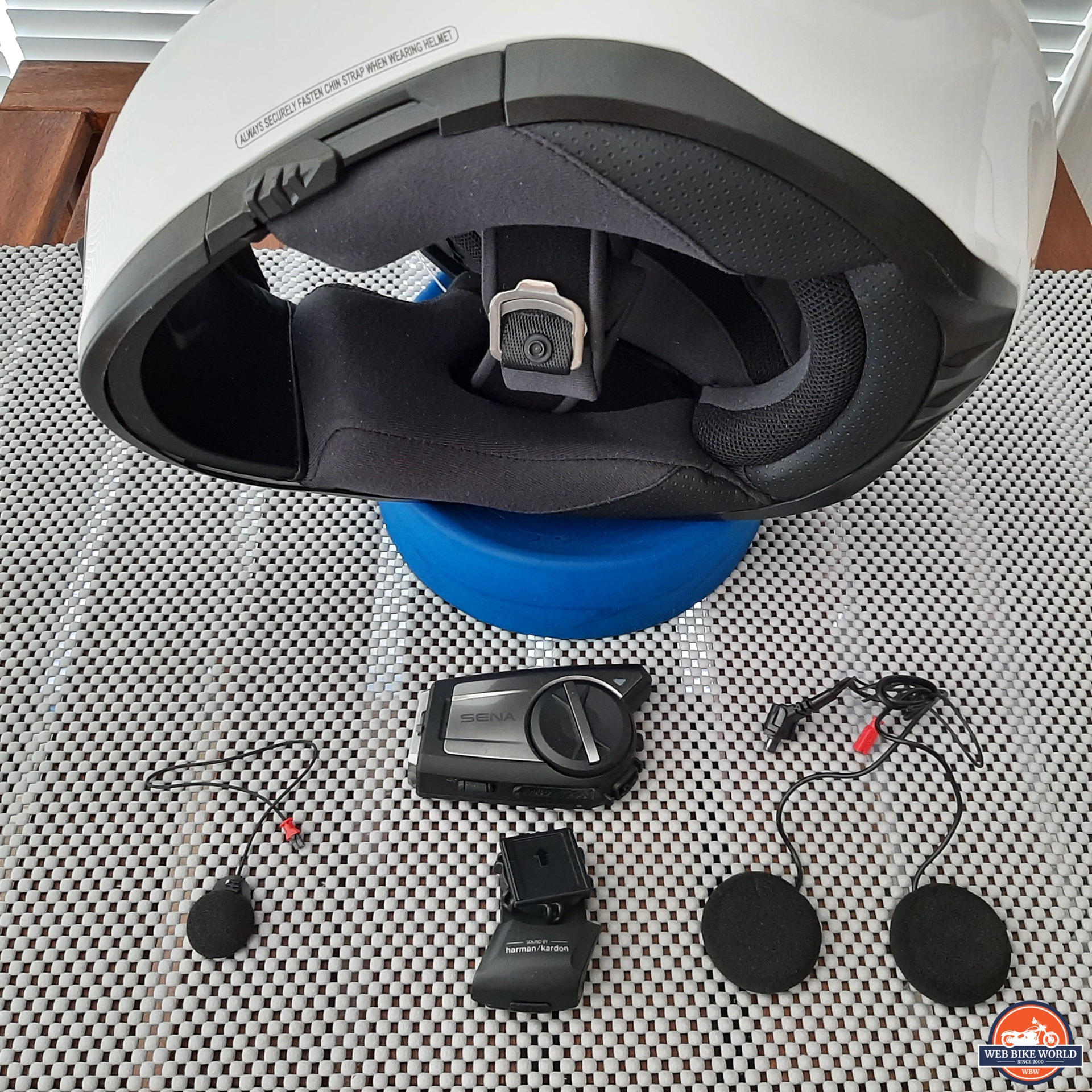 Sena 50C Installation
As with the original 10C series integrated camera and BT systems, the Sena 50C works well with full-face, modular, and most three-quarter style helmets using either of the two clamp-style mounts or the more universal adhesive mount and everything needed for (almost) any installation is found packed in the kit.
Headset (Speakers and Microphone) – fitment of the round high performance 40mm Harman / Kardon speakers with foam covers and the microphones – the thin-wire button style or new-shape boom piece is not an issue with specific mounting pieces simplifying use of either microphone.
Multiple mounting pieces are provided in the Sena 50C kit: the Gear Clamp Mount with its inner adjustment wheel for precise vertical angulation of the camera; a second simpler Clamp Mount with three median angulation settings of 8, 20 or 32 degrees; and the adhesive mounting plate.
Note – during installation of any of the mounting solutions, fitting the Sena 50C onto the mount and using the live view feature via the Sena Camera App is a particularly effective way to get optimal placement of the system for the best or desired field of view and this feature makes subsequent adjustments or other installations easy.
Gear Clamp Mount – this offset mount has been and still is the favourite as it provides 360 degrees of vertical (rotational) adjustment by simply loosening the thumb wheel positioned between the module and the mount base (thus the offsetting) allowing the user to achieve the desired vertical angle.
Using the adjustable (tension) wheel is best done with bare fingers but it is simple and effective.  It would be great if Sena would provide an adhesive mount with this same adjustability- this 360-degree rotational mount is one of the best solutions ever used for a helmet-based camera.
On the HJC i70 full-face, the gear mount sits positioned behind the bottom mounted sun visor control slider at the best point regarding helmet shaping, overall field of view and to minimize how much of the helmet shell shows up in videos and photos.
Clamp Mount – this more standard mount is still adjustable with three vertical angulation changes provided – 8, 20 or 32 degrees, done by loosening the two alignment/joining screws on the back plate.  The default angle is set at 20 degrees.

To change the vertical angulation to either 8 or 32 degrees, remove the angle plate and position it up and down to reveal the etched '8' marking.  Flipping the angle plate will reveal the '32' etching.
With the pieces reassembled using either positioning, the vertical mounting angle for the camera engagement will now be changed by 8 or 32 degrees… not as exact as the gear clamp mount, but the three settings are good medians for most helmets.
Adhesive Mount – this plastic plate with 3M VHB adhesive is a secure mounting solution for the beefy 50C system although placement and angulation assessment (manually or in using the live view via the Camera App) is good before setting the mount into place.  Hint – warming the adhesive slightly accelerates curing time although leaving it overnight is still recommended.
Thankfully, Sena has not changed this basic piece also used for the SMH5 and 10C-series products, so unused mounts are usable for the 50C and other helmets still in use so adorned can host the 50C, although one loses the benefit of the Harman / Kardon headset.
Footprint and side profile – as installed on the Gear Clamp Mount the Sena 50C sits out about 4.7cm or 1.85in from the helmet shell.  Depending on the motorcycle and cockpit environment, its presence is felt, but its not a negative factor overall.
And when considering the offset layout of the mount with its vertical adjustment wheel and resultant clearance vis-à-vis the helmet it all works for a better PoV (point-of-view) while minimizing how much of the helmet shell becomes part of that view.
Profiles – admittedly the Sena camera mounts have always fitted the device close and securely to the helmet shell and with the larger size and (weight) of the 50C, this approach is a good thing and, there are ways to move the 50C out further from the helmet or put it on top if so desired.
Some manufacturers use a wider profile option with mounting plates, an adjustable mounting arm and a cradle of sorts; this approach works to provide an unobstructed view, but it can be less stable overall and easier to bump or hit during use, messing up the desired view.
Having said this though, and to follow-up on comments made in other Sena camera reviews, a 20 to 26 cm (0.6 to 1.0in) offset in one of the provided mounts, or a new one, perhaps with an extender sleeve or arm, would pretty much eliminate any helmet intrusion, accepting some impact on stability and security.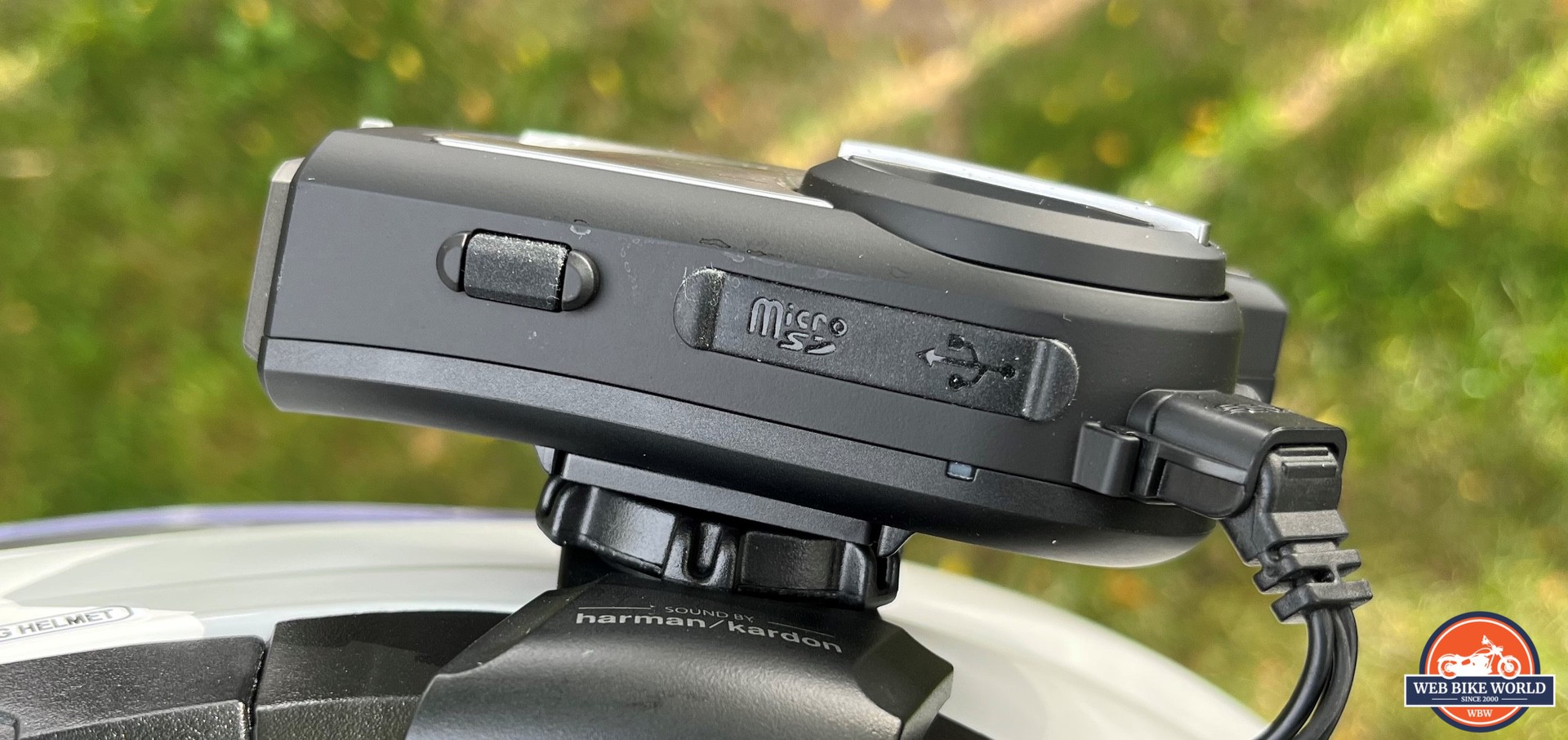 Sena 50C Connectivity
In getting the most from this multifaceted investment, time spent in learning its features really pays off, particularly if (a) one is not familiar with an integrated multi-functional helmet-based system and (b) not familiar with a high-resolution camera system.
With the Sena 50C based on the Sena 50-series products it has traditional functionality approaches along with the advanced features expected from technology-based motorcycle or rider-worn systems, including multiple options for use, configuration and maintenance including connectivity.
Along with the Sena Motorcycles App and Sena Camera App, this connectivity is provided by the Sena WiFi Adapter Cable enabling firmware updates, the USB-connected Sena Device Manager or Sena WiFi Docking Station accessory.
Sena is arguably the, or an industry standard regarding legacy support for both their branded systems and collaborative products marketed with OE branding.  Over the years their core firmware builds, and prompt iterative product releases provide the means to refine and enhance and add new features and capabilities – very much a return-on-investment scenario.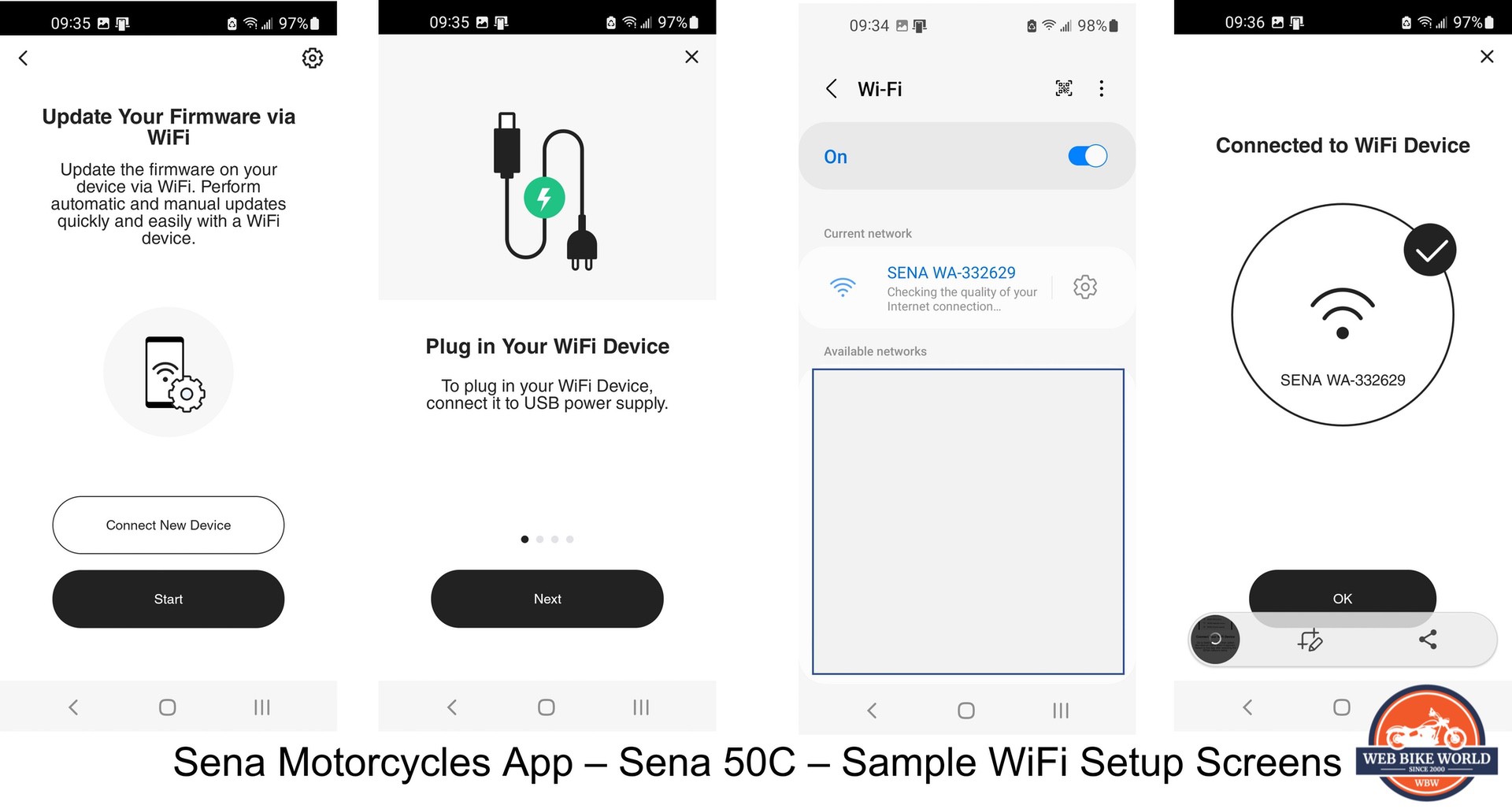 Sena WiFi Adapter Cable
Although the Sena 50C has integrated WiFi, this capability is reserved for the Camera component (more on this under the Sena 50C Video Section).  As such, the Sena 50C system gets its WiFi upgradeability by using the provided Sena (WiFi) Adapter Cable that houses a wireless LAN chip inside its enlarged USB-A connector.
Using a separate Wi-Fi enabled connection, provided by the included Sena WiFi Adapter Cable serves two purposes: (1) to provide a separate charging, data and firmware updating cable for use and (2) to eliminate the need to have the 50C and its camera feature (and related local WiFi capability) turned on during updating…
This more complex approach actually separates two key functions and as eluded to above allows the WiFi chip-equipped Adapter Cable with its three status LEDs (Charging, Firmware Upgrade and WiFi) to be used for other compatible product updating like the Sena 50R and 50S systems in use on other helmets.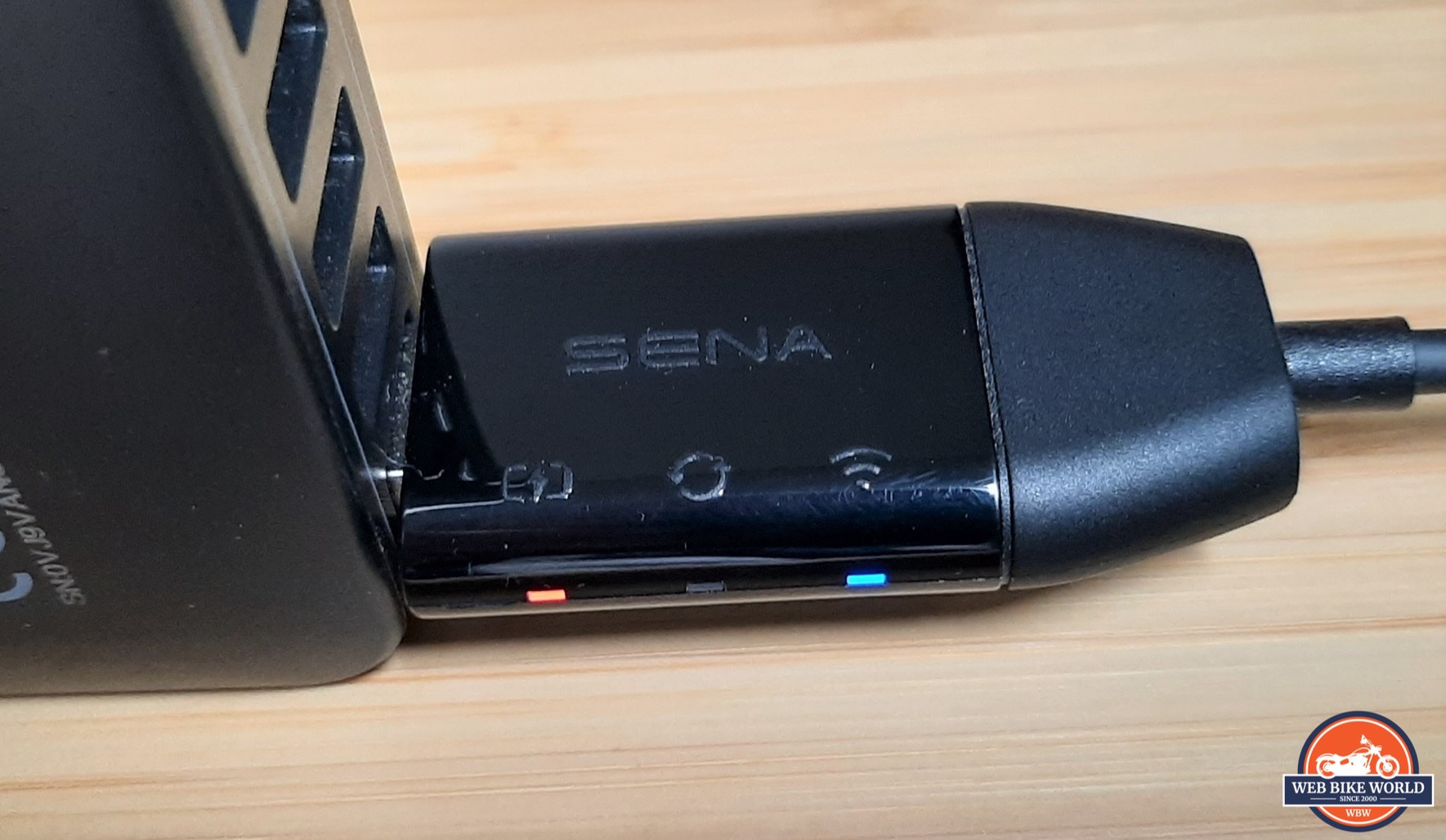 Sena Motorcycles App
The Sena Motorcycles App for iOS or Android systems, allows users to set-up, configure, and dynamically manage almost anything to do with the Sena 50C and other compatible Sena system as this App becomes the 'go-to' interface for more and more systems.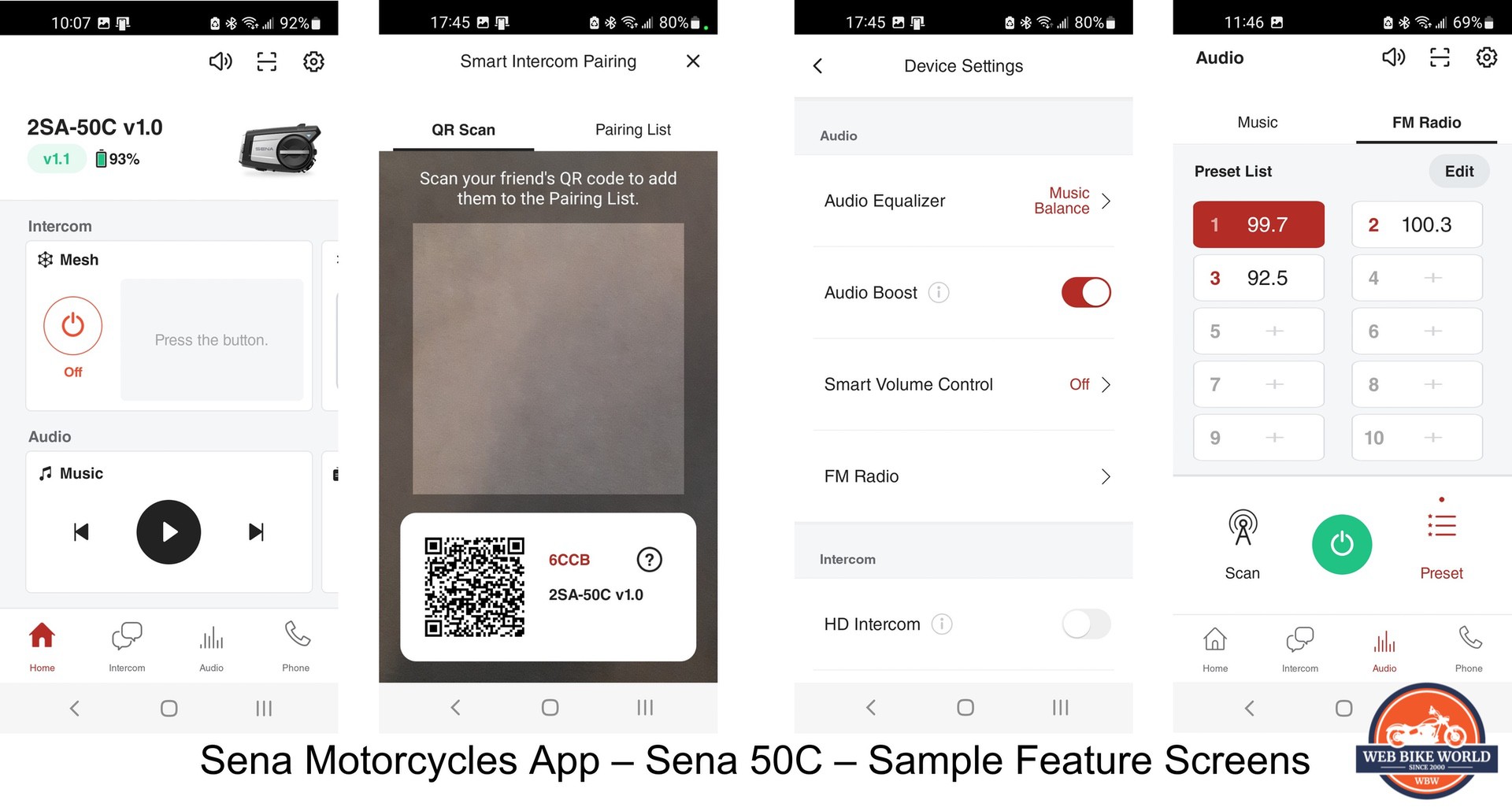 The App is the user interface to setup the WiFi feature of the Sena WiFi Adapter Cable, use the Smart Intercom Pairing or SIP QR-code based feature to connect to other users, dynamically manage features including Mesh and BT modes, channels, and groups, and take real-time advantage of the Audio Equalizer for optimal optimization of SOUND BY Harman / Kardon.
Sena Device Manager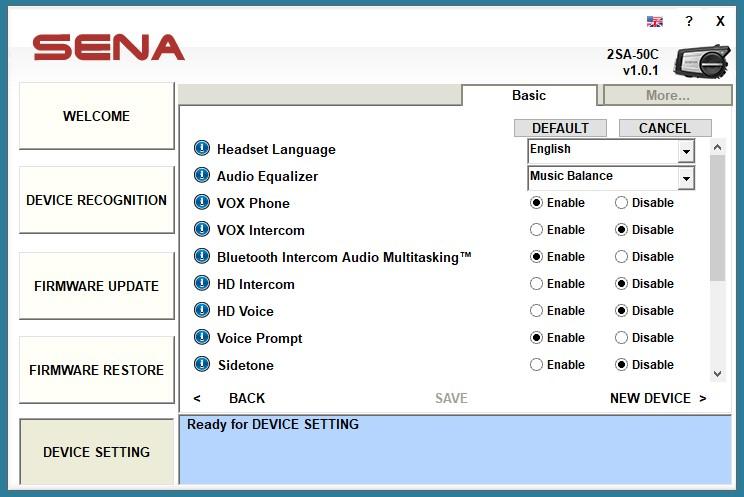 The Sena Device Manager is the cornerstone albeit wired interface for updating and configuring virtually any Sena or Sena-produced device on the market.  This venerable program is easy to use and is available for downloading onto compatible Mac or Windows system platforms.  Read the basic instructional steps and go from there.
Sena Camera App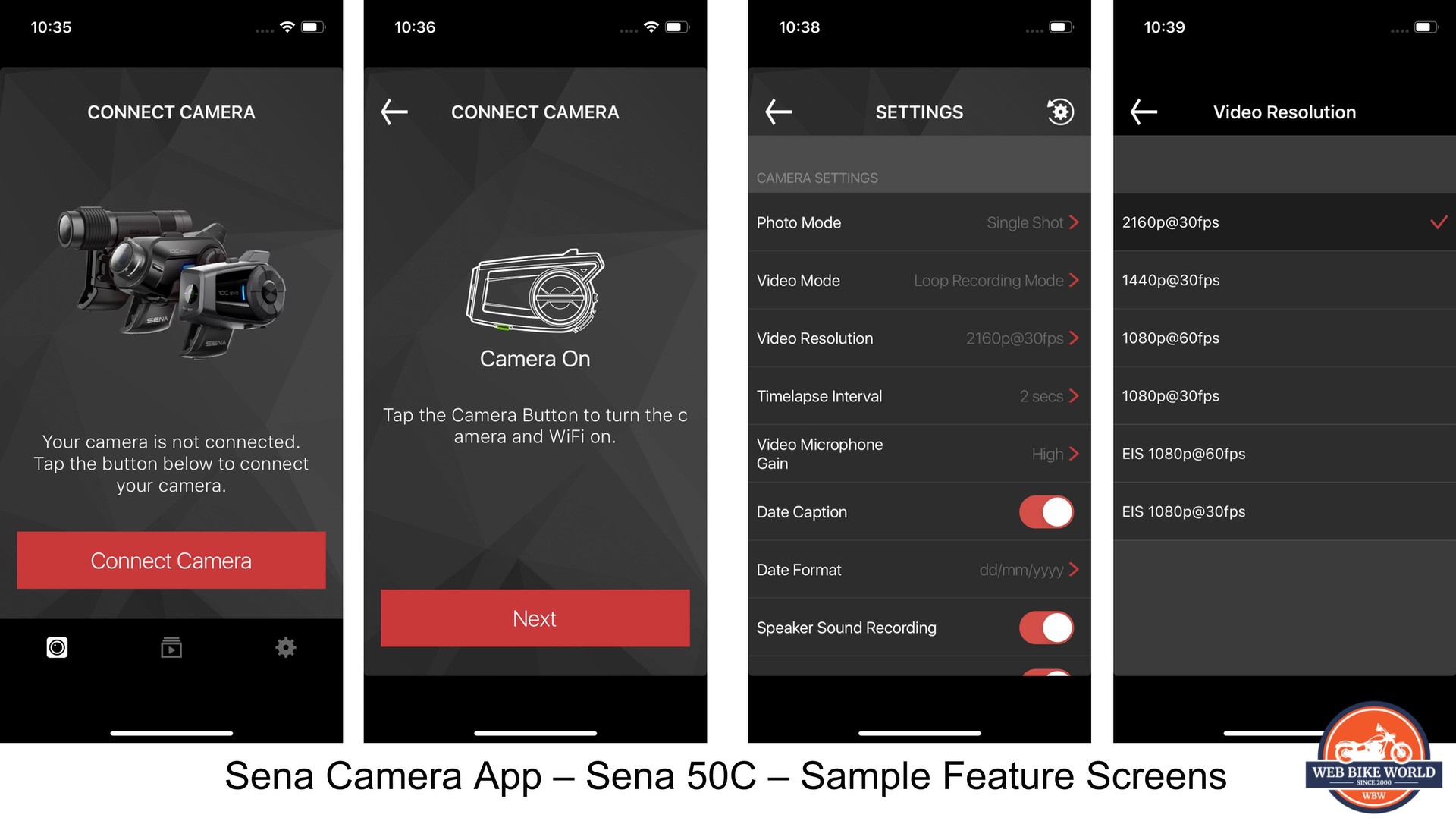 With the Sena Camera App installed and the Sena 50C turned ON, the user need only tap the lower Camera Button to power up the camera, "Camera On" and then go to the smart device's WiFi settings to get the local WiFi connection set up.
Using the camera's WiFi feature allows the user to configure the camera and dynamically adjust settings, use the (connected) live view for preview or watching and to manage recorded media files.  WiFi connectivity setup and using the Camera App is described in a later section.
Different Options for Powering the 50C
Thankfully, at least for this appreciative user, the Sena 50C continues to be usable whether powered from an AC-DC converter, USB port on a computer of some sort, from a 5V-based portable power pack or onboard USB 5V outlet, with the following conditions:
Direct Mode – if connected to an external USB source (power bank, onboard outlet) when the 50C is ON, the source power is used but the internal battery is not charged, and
Recharge Mode – if connected to the external source when the 50C is OFF, you can use the 50C while the external source charges the internal battery.
Sena Voice Command – "Hey Sena"
As found on most other Sena comm systems the Voice Command feature provides the user with a voice-activated means to input or manage the system features for a relatively hands-free environment.  Voice Command supports English, French, German, Spanish, Italian, Chinese, Japanese, and Russian.
Along with being able to activate, close or change settings of the most common Intercom, FM Radio and Music features, there are also five specific commands for the Camera feature – On, Off, Recording, Stop Recording and Tag Video; a short specific listing that covers the essentials.
Sena Voice Command input needs to be triggered by the key phrase, "Hey Sena" with the desired action spoken directly afterwards, like "Hey Sena, Camera On."
The example command used above is most appropriate, seeing as how the Camera Button is so hard to use with anything other than the bare hand or a light glove; the four camera related commands, all activated with "Hey Sena" and "camera on", "camera off", "recording" or "stop recording" are very much appreciated – when they can be invoked.
However, despite some enhancements to this feature over the years, it can still be hit-n-miss to activate, whether in low or high noise environments (which is where input activation is typically optimal).  And while the enhanced Harman / Kardon microphone has been a help, the Voice Command feature is still lacking when compared to the Natural Voice feature used by Cardo.
Even at 70 to 80 percent effectiveness (my subjective assessment), Voice Command is usable, and it can minimize direct manipulation of the control buttons – not a bad thing; but it takes more effort than it should – a feature with so much potential not yet realized.
But there is another option…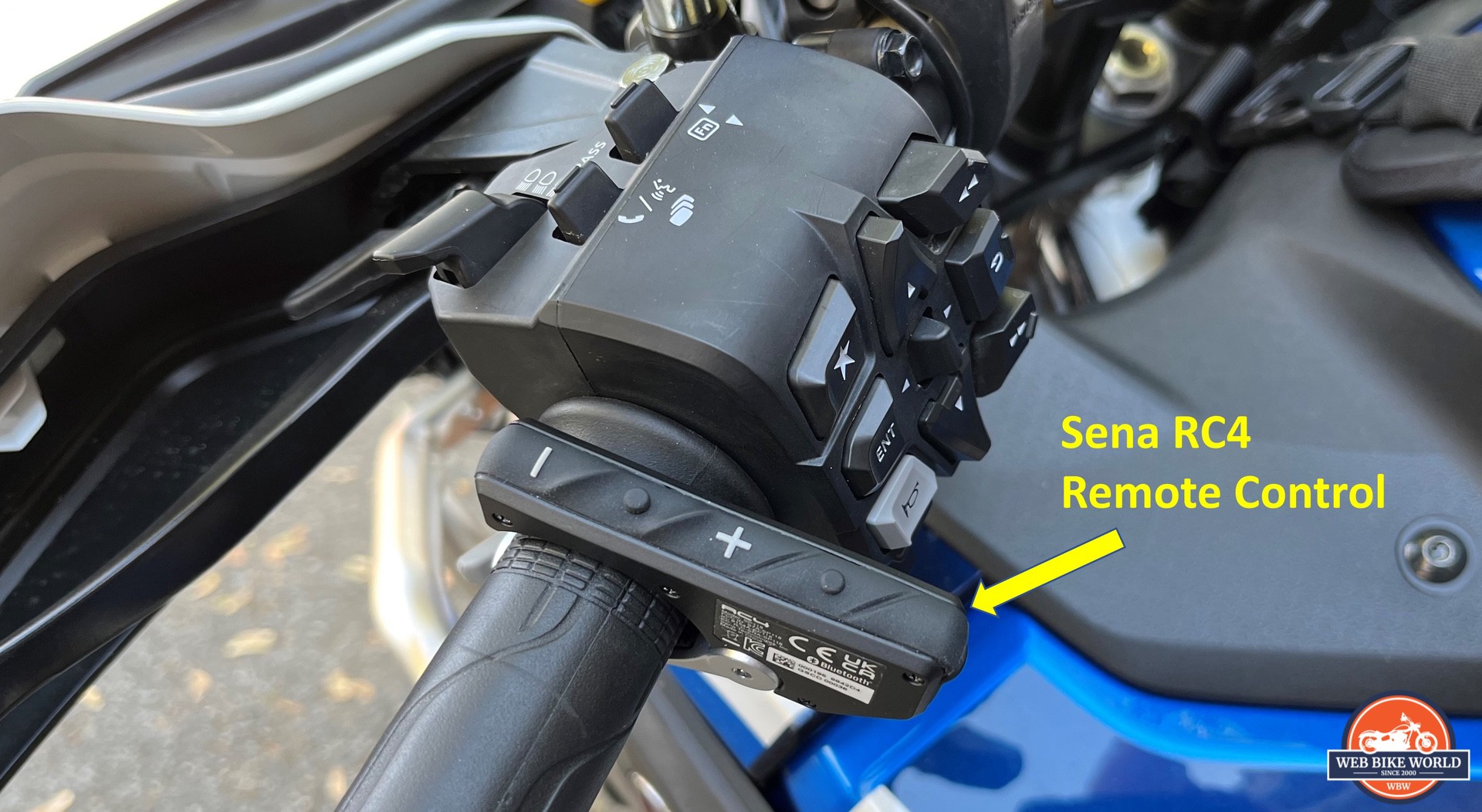 Sena Remote Controls
Finding the Camera Button isn't an issue, but activating it can be, especially with heavier gloves on and as the Voice Command feature can be hit-n-miss, using a Sena Remote Control is a viable option to gain simpler (wireless) access to the camera, and system controls.
Alas, in discovering that two three button remotes with non-replaceable rechargeable batteries (not topped up for two months) were not responding to charging (not usual), it was time to find an expedient solution.  Luckily a Canadian-based reseller had a Sena RC4 four-button remote on hand and 72hrs later it was in my hand… and a new replaceable battery installed.
The pairing process is simple although it took multiple attempts, mainly because the Phone Button is the control needing to be used to activate the pairing once the Sena 50C is in the 'Configuration Menu' and 'Remote Control Pairing' mode, vice the Jog Wheel input identified under the instructions?
So, with the RC4 put into its pairing mode by an eight second push on the Plus button, pairing and connectivity is completed with "Remote Control Connected" heard via the 50C's headset.
From this point on, it has certainly been 'to the rescue' for Sena 50C camera use – the RC4 provides nine discrete camera operations along with virtually all the standard inputs offered by Sena BT-based systems.  The Sena 50C camera and RC4 remote is one sweet effective combination.
Sena Digital Assistant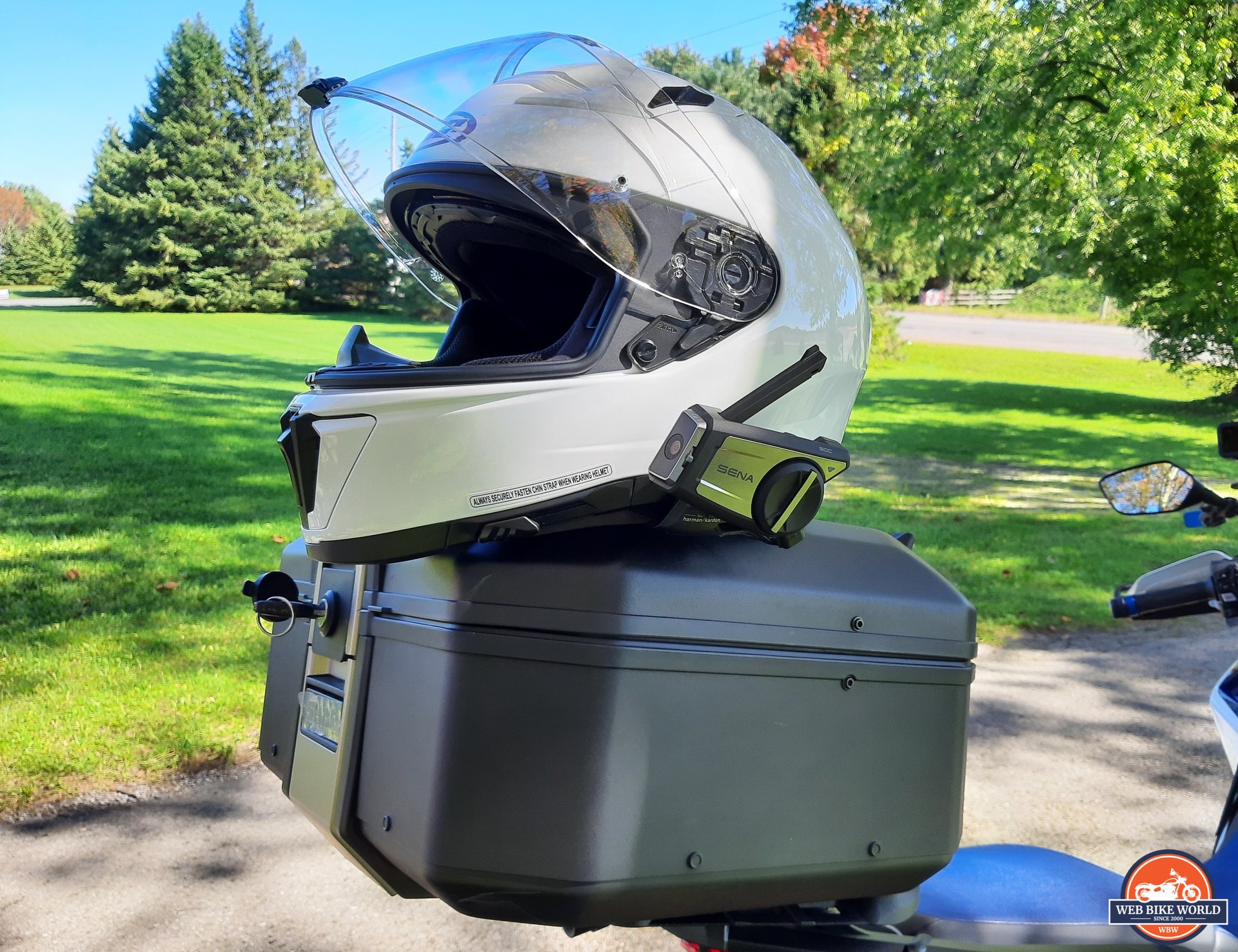 If enabled on the paired/connected smart device, both Siri and Google Assistant are directly accessible via the headset microphone although a 'wake' word or phrase is needed, e.g. – "Hey Siri" or "Hey Google".  If not enabled on the device, a single tap of the Phone Button invokes the respective assistant. Functionally, this feature works better than Voice Command…
Sena 50C Communications
Something not lacking with Sena systems, particularly those endowed with both BT and Mesh intercom features relates to communications.  There is lots of flexibility, functionality, capability, and performance packed into Sena intercoms including interoperability, allowing a hybrid or bridged comms environment to be utilized.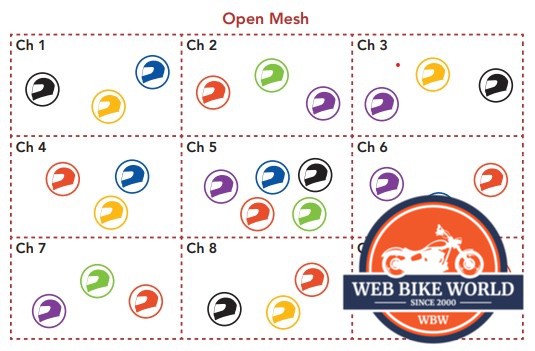 Mesh Intercom
Open Mesh – Sena's Multi-Channel Open Mesh Intercom provides the industry-first channel system like FRS handhelds or CB radios, with nine discrete channels for comms groupings and/or privacy – all selectable using the Mesh Interface Button or MIB control on the system or via the App.
No configuration or other setup is needed, and it supports a near limitless number of users within a stated range of up to eight kms or five miles (with five to six riders at optimal separations) although only six users can talk at the same time with optimal quality.
The How-To – press the Mesh button, wait for a few milliseconds, and start talking – done.  I've used virtually all forms of Mesh communications over the years (consumer and otherwise) and the Sena implementation is arguably still the best and it's getting better all the time…
Group Mesh – for focus or private group conversations, Group Mesh Intercom mode is best.  Each Group Mesh supports a private collective of up to 24 users, with the same range and dynamic network configuration features as Open Mesh; Group Mesh participation is by invitation only…
Bluetooth Intercom
The Bluetooth or BT intercom medium may be long in the tooth (pun intended), but it still is a viable comms medium, especially as part of a mixed or hybrid environment where the Mesh medium is available and supported.
The Sena 50C BT intercom can pair with three other users and work in dedicated BT groups of 2, 3 or 4 parties and incorporate Universal Intercom paired devices as well within the maximum allowed.  These pairings are simplified by using the QR-code based Smart Intercom Pairing or SIP feature.
One of the best and most dynamic features of the Sena 50C, like all the BT & Mesh capable systems is its ability to function as a communications hub, allowing BT and Mesh users to bridge into a true multi-mode, multi-user environment.
And as shown above, the Smart Intercom Pairing or SIP, found on virtually all Sena Apps, provides a one or two step QR-code-based enabler to pair up compatible systems in seconds and add them to respective pairing lists.  Look for the small QR box icon on the app display.
Universal Intercom – another common feature among good BT helmet systems is the ability to support a Universal Intercom capability, that rather than being some black-arts magic is use of a BT device resource setting, e.g. – second mobile phone.
Depending on the frequency and/or channel capabilities of the systems and BT class power output there may be range and connection limitations.  But respecting these limitations, this feature works and it also supplies the means to fold an other-brand Universal Intercom connected user into the greater hybrid Mesh/BT intercom mix as well…
Product Note – in discussing the Universal Intercom feature its relevant to point out that the Sena Meshport Blue adapter is expedient (and relatively inexpensive) option to bring other brand-users directly into the Sena Mesh medium environment.
Intercom Performance
Mesh/Mesh 2.0+ – in using all the Sena Mesh products and in keeping their firmware updated, there have been significant performance boosts made since Sena first released their Mesh capable products; with the newest implementation as found in the Sena Impulse and Sena 50C products most impressive in every way.
In multi-rider scenarios with the Impulse Smart Helmet and 50C Mesh systems in use along with Sena SPIDER ST1 and RT1, Sena 50S and 50R, and 30K systems on a variety of rider's helmets, rolling along multi-lane or more secluded secondaries with foliage and gentle rolling hills results in Mesh link ranges between two users of 1.5kms to 2.0kms (1.1 to 1.24mi) or more.
With five to six Mesh users in the mix, overall ranges do typically exceed 5kms (3mi) with minimal impact from terrain or density due to the dynamic 'best-path' management of the mesh network.  Over hill and over dale, the result is reliable, quiet, clear audio; even more so with the Harman / Kardon speakers and microphone components.
Bluetooth – typical user to user range is 1.6 to 2.0km (1.0 to 1.2mi) under open, level, or gentle terrain conditions and even when riding within more dense natural surroundings with some elevation changes, BT connectivity remains very good in the 1.0 to 1.5km (0.62 to 0.9mi) range although degradation of audio is normal as maximum range is approached…
Users will find that the BT intercom can be degraded to varying degrees when riding in built-up urban areas although audio typically stays good, just with more noise on the link.
Note – all intercom ranges are verified through speed and time calculations, road markings or intersection and GPS map distances.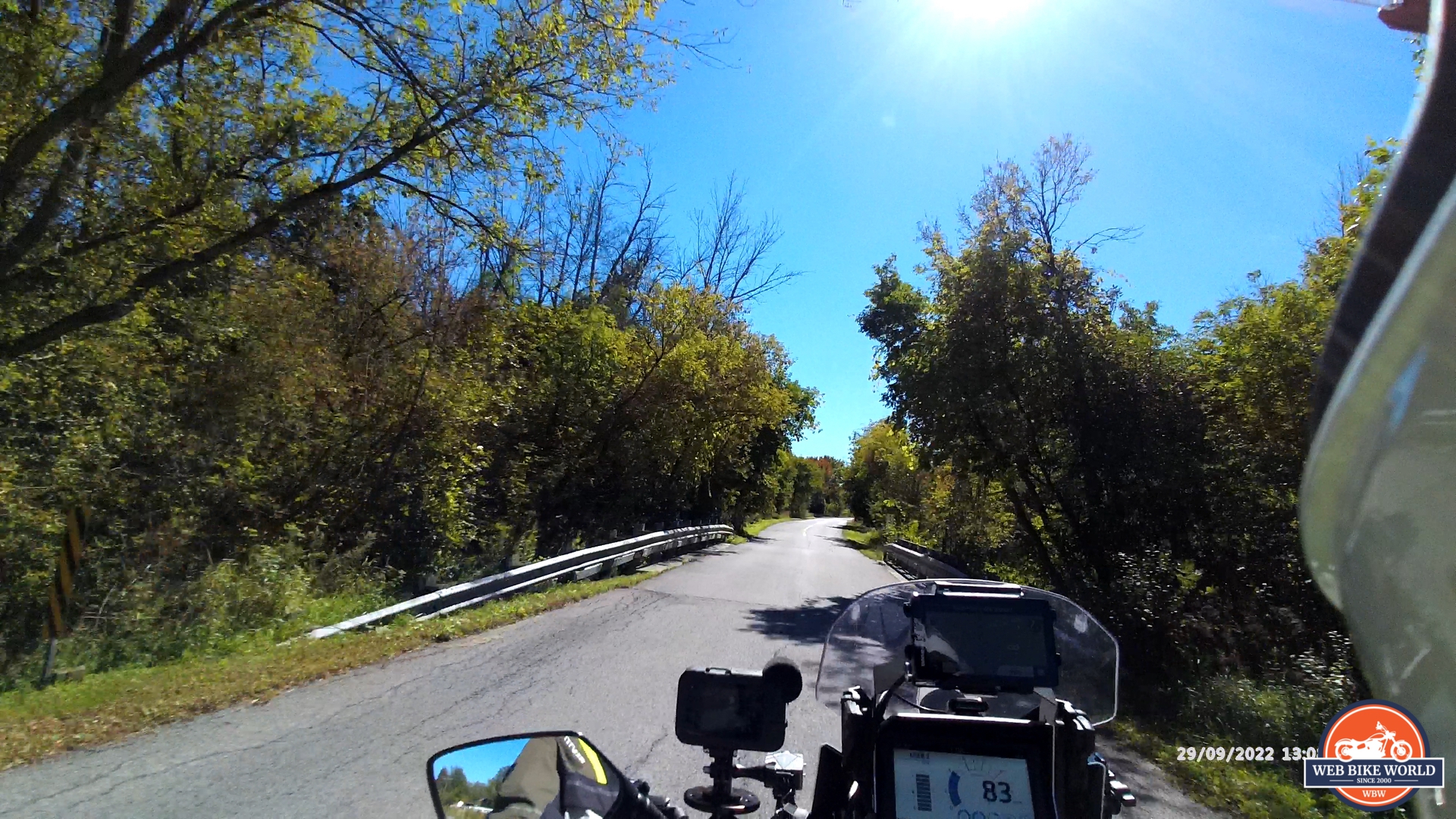 Sena 50C Video – Setup & Use
The Sena 50C camera provides video performance ranging from 4K @30fps to 1080p at 60fps with other settings in between with each mode individually selectable under the Sena Camera App.
Four 1080p resolution settings are available – 30 or 60fps and 30fps with EIS and 60fps with EIS.  The (Video) Electronic Image Stabilization or EIS setting is another new and very welcome feature for this newest Sena hybrid system and it (clearly) works, adding another visual attribute to the very popular 1080p mode.
Photo-wise, 12MP photos in Still, Burst or Time-Lapse mode are possible, except when recording at 4K, in which case a lower resolution is provided.
Video recording time is listed as 100 minutes, with the video file format being MP4 (H.264) and the maximum video bit rate being 60 Mb/s (4k).
Users may find the Sena 50C somewhat lacking in its range of user-selectable features, and outside of its field of view adjustments provided by the mounting pieces and lens adjustment slider, along with the video resolution and photo setting adjustments available under the Camera App, it is indeed all basic.
And despite that the current f/2.4 lens VS the former f/2.0 lens matter (light to sensor) is still with the jury, there is no missing the fact that (overall) the Sena 50C camera feature provides excellent deep rich vibrant video and still photos.  Simplicity and ease of use is good, especially when it works.
Storage Media
As the Sena 50C camera can work at 4K (3480 x 2160 resolution) as well as other settings the need for a high-quality high-performance micro-SD or Secure Digital (SD) memory card is important.
Media in 128GB or 256GB with Class 10, U3 and V30 ratings are good although higher rated cards up to UHS-II with a V60 or V90 rating typically supply even better performance at a higher cost.
High-performance cards might have good specs, but actual performance can be anything but.  Doing some research and getting input from other users and camera professionals can narrow things down although some trial-and-error testing is often needed; thankfully most 128/256GB micro-SD cards are at a competitive price point.
In having used (and rejected) a lot of 32GB to 1TB cards over the years my shorter list includes V30 to V60 rated pieces with the current cards used being SanDisk Extreme PRO or Ultra PLUS pieces and Samsung EVO Plus cards in 128 to 512GB capacity.
Sena identifies that cards up to 128GB are compatible, but high performance 256 and 512 GB pieces work just fine in the 50C and increase video capacity – well beyond battery time of course, unless the system is powered by an always-carried USB power bank or plugged into one of the installed onboard USB outlets – for continuous use this ability cannot be understated.
Formatting – do not forget to prepare the storage card – this is best done by inserting the storage card, contact side up, into the media slot (residing under the left side of the silicone weather cap) until the card clicks into place.
Turn the 50C On, let it settle into Standby (slow Blue flashing), then hold the Camera Button for five seconds and when "Format SD Card" is heard, tap the Phone button – the LED blinks Blue.  Once formatting is successfully done, "Format SD Card Completed" is heard – all done.
As with other camera systems, including Sena products, removal of the slightly recessed media can be tricky.  A small pair of plastic jeweller-style tweezers works great; I keep one of them with other packed 'support' pieces when riding along with a micro-SD to USB-A adapter to hold the media card if removed (small = droppable = losable) and/or to carry spare media.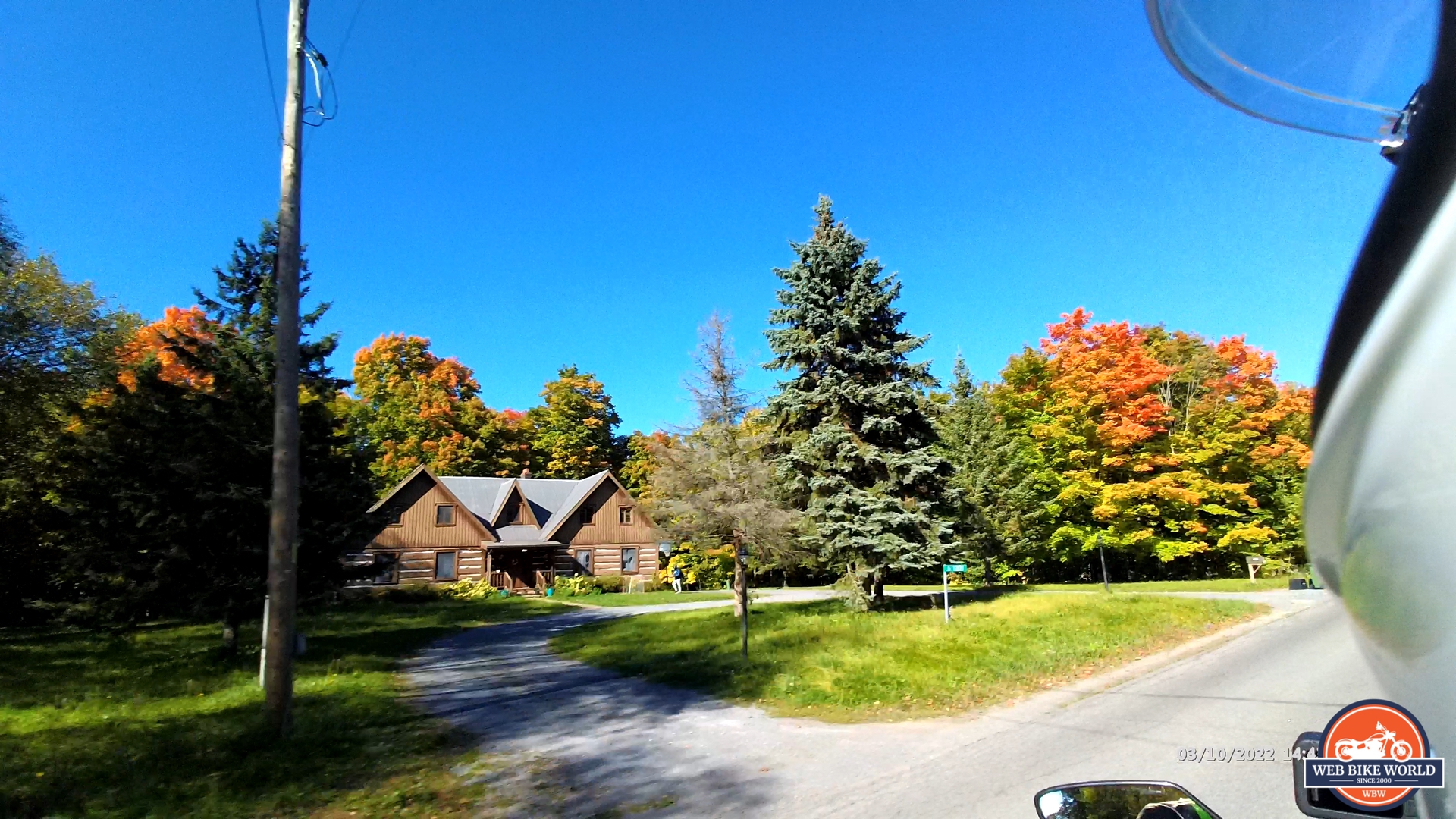 Camera Control and Connectivity
Once the Sena 50C is turned ON, a quick push of the lower edge Camera Button turns the camera feature on, as announced, with the LED flashing an Aqua colour for a few seconds.
WiFi Connectivity – depending on the smart device used and the Sena 50C WiFi feature, it can take anywhere from five to ten seconds (or more) before the '50C-xxxxxx' ID is offered up.  Initial use will see a password needed – the default is 'sena0000'.
Selecting the ID for the 50C should see the local 'Connected without internet' status listed under the connection listing; from here the user can launch the Sena Camera App.
Again, depending on this local WiFi connection, the App can either launch and take another couple of seconds to communicate to the Sena 50C or it may come up with the connection screen with the user needing to confirm that the connection is indeed made.  If things don't work, close the App, cycle the 50C, re-do the WiFi pairing and it should now work…see note.
Note – the default WiFi 'channel' is 5GHz, but if this is not supported, the WiFi channel needs to be changed to 2.4GHz.  To toggle between 5GHz or 2.4GHz, hold the Camera Button for 10-12 seconds, "WiFi Channel" is heard – for the 5GHZ setting tap the Jog Wheel control once (two Aqua-coloured flashes); for the 2.4GHz setting tap the Phone Button once (one Red flash).
Other than when powering the camera OFF, the Camera Button is the single module-based control for this feature:
ON = tap Camera Button once, "Camera On"; this turns on the local WiFi as well
OFF = press Camera and Phone buttons for one second, "Camera Off"
Start Video Recording = hold Camera Button for one second, "Recording"
Stop Video Recording = hold Camera Button for one second, 'shutter sound'
Photo (single or burst, per App settings) = tap Camera Button once, 'shutter sound'
Video Tagging (Loop Mode) = press Camera Button for three seconds, "Video Tagging"
Auto Camera Sleep (On or Off, Default = On) – unless changed from its default under the Camera App, powers the camera OFF after five minutes of inactivity.  This feature is not
enabled during system charging.
Battery life is indeed extended if the camera is kept off or allowed to automatically turn off after five minutes.  But, if the user wants to capture the 'moments' on short notice, having to turn the camera on and then start recording can turn into a five-to-ten second process, resulting in a missed moment or moments.
Unless just using the 50C camera feature occasionally (not usual), the Auto Camera Sleep mode is kept turned off under the App; this does increase consumption a bit but provides much better responsiveness – a one-second push of the Camera Button or Remote-Control input activates recording with 1-2 seconds and/or allows a photo or burst series of photos to be taken almost instantly.
Video Modes & Media
Of the three (or four) video modes, the default is Normal Recording Mode where the video runs continuously until the media card is full or the battery is low.
Note – Sena lists that the maximum size per video at any resolution is 4GB (a FAT32 file system limitation), once this size is reached a new video is started.  FWIW, SDXC cards using exFAT do not have the same limitation…
Like the Sena 10C EVO or PRO, two simultaneous video files are created sharing the same file name, but the primary (typically higher resolution) larger file (name) is appended with an 'A', while the second adjunct smaller file at a fixed 560×340 resolution is tagged with a 'B'; this lower resolution video is perfect for playback, downloading, or offloading for other use.
The cumulative storage space needed for two files does increase of course but for expedient review or vetting purposes or even if handing off 'needed' visual media, e.g. – EVENT files, the smaller files are easier to manage.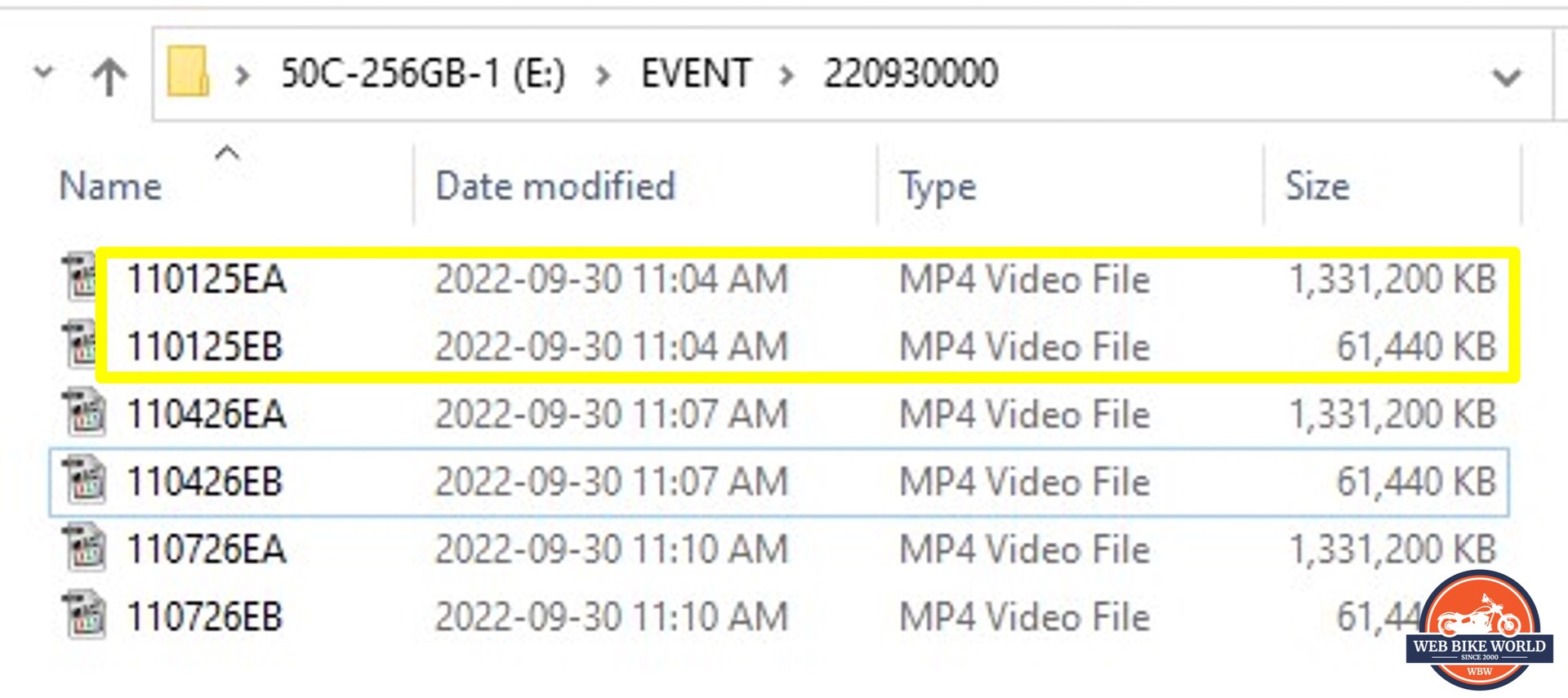 Timelapse Video Mode is where a series of (timed) photos processed together into a video is created.  The intervals available under the Camera App are 1, 2, 5 and 10 seconds.
Loop Recording Mode – this is my default mode; it results in more files, but it is far easier, less any video tagged files, to sort, view and manipulate through three (3) minute videos to find a specific view or series of views.  In this mode when the media becomes full, the oldest footage is deleted.  Using small capacity media can become an issue here…
Video Tagging – I refer to this as the fourth mode, even though it can only be invoked from Loop Recording Mode.  This recording condition can be the or one of the most valuable sources of visual information desired or perhaps needed at some point in time.
Why?  Well because when you encounter an event worth or needing saving pushing the Camera Button for three (3) seconds brings about a double beep and "Video Tagging" heard.  This action creates an 'Event' video sequence consisting of Past, Present and Future segments (before, during and after) with each segment being the set loop duration, e.g. – three minutes.
Once invoked, the Video Tagging process creates six tagged videos (Hi & Lo resolution set for each time segment) all stored under the 'EVENT' folder on the storage media (see related screen grab above).  After the event timeline runs its course, "Tagging Complete" is heard unless the user or circumstances intervene.
Video Tagged files stored in the EVENT folder are kept even if the media becomes full and can only be erased manually.
And this capability is why I keep the Sena 50C, like all the motorcycle or gear mounted video devices used set in a loop recording mode.  Over the years, whether close to home or afar, stored media, particularly specific event files, have proven valuable in situations to someone; worthwhile investment – indeed.
Camera Modes
To take a photo, tap the Camera Button once, the (shutter) sound is heard.  Single Shot Mode takes, well, one photo…  If the camera is set for Burst Shot Mode under the App, tapping the Camera Button takes a burst shot of eight (8) photos.
Note – if in 3840 x 2160 @ 30fps resolution for recording, a photo cannot be taken.  In any case the camera resolution is set to 12MP, except when a photo can be taken during other video recording resolutions, which will result in a photo resolution of 8.3MP.
Audio Overlay
And as segue into the next section, the user has, along with the always-on direct microphone input capability, the option to allow all speaker audio to be written onto the video track as well although phone conversations are excluded.
If only direct voice input is desired – say for singing along to a track or adding the odd locational or scenery inspired comment, there are three Video Microphone Gain settings – Low, Medium, and High, selectable under the Camera App, for clear voice input.
As way of note, an ongoing or occasional short descriptive monologue is a terrific way to keep track of the 'where', when, what, especially as there is no GPS data being written to the video track…
Finally, the user can exercise the option to turn off the Speaker Sound Recording feature – this setting is also found under the Camera App.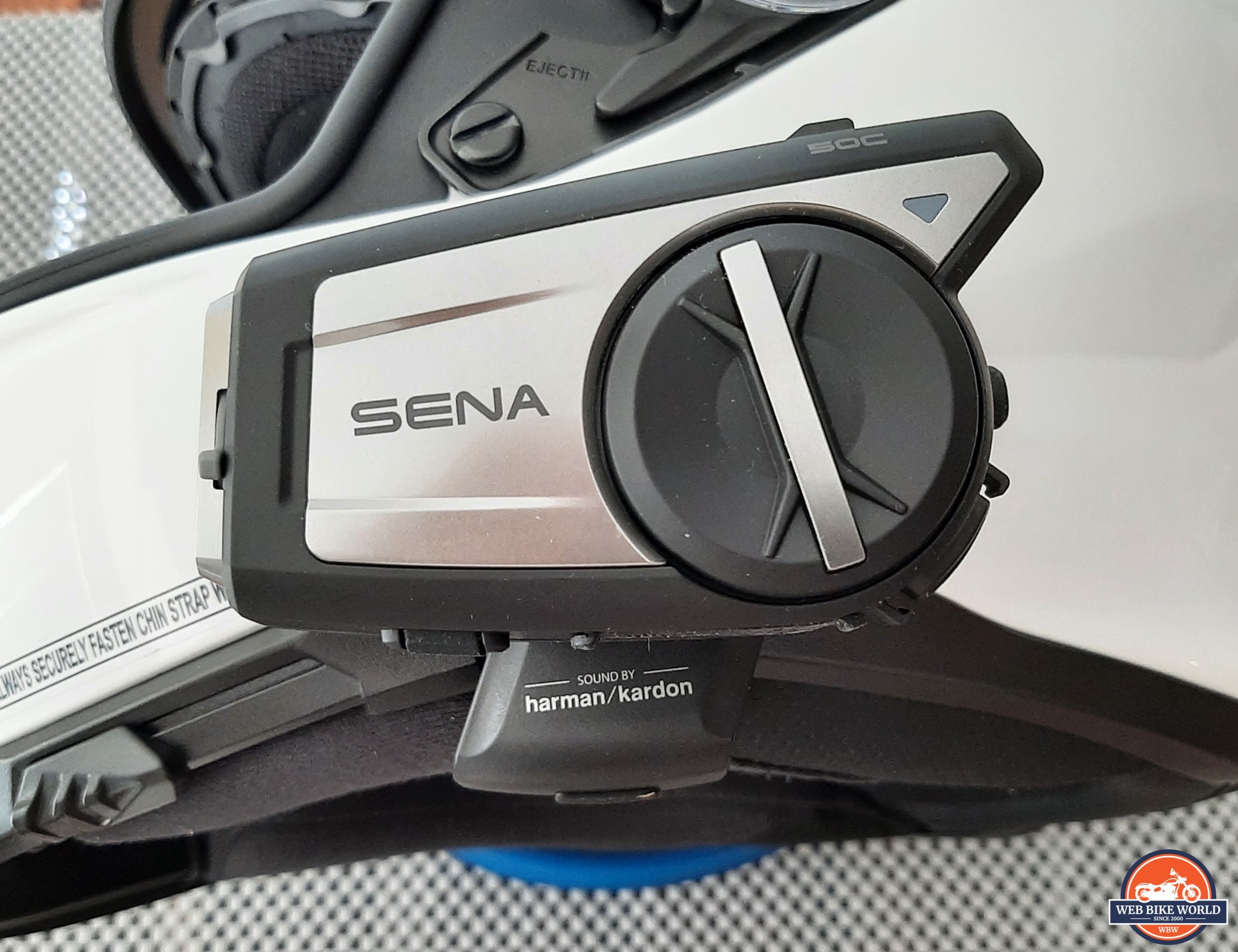 Sena 50C Audio with SOUND BY Harman / Kardon
Audio Sources
The multi-channel Bluetooth features along with Sena's evolved comprehensive firmware makes pairing, connecting, and managing multi devices for concurrent or overlaid audio streams a relatively easy task, especially when using newer smart devices running BT v4.2+ or BT v5.0 or better.
But even older devices can have their day as a basic tenet of Bluetooth is to minimize the exclusion of legacy devices and for the most part, the newest flavours remain true to this principle.  After many years of involvement with Bluetooth, I haven't found very many devices that cannot be paired and/or connected for use with Sena systems.
FM Radio Feature
This audio (and information) feature is often overlooked but it can be (and has been) an asset at times to many riders and if like myself, its somewhat of a constant companion, even more so than audio streaming, while riding locally or further from home, especially when alone.
Turned ON or OFF with a one second push of the Phone Button, "FM On", "FM Off" or by activating it under the Sena Motorcycles App, the tuner has a ten-station memory that can be populated using the system controls, the App, or the Sena Device Manager under the 'Other' tab, with navigation between pre-sets done using the Phone Button or App feature.
SOUND BY Harman / Kardon
The Quantum Series products use the SOUND BY Harman / Kardon hardware and software and the sum of the parts results in the best helmet audio environment experienced by this user and not just in one helmet either.
From the redesigned microphone, now reshaped to reduce noise and better sensitivity particularly in the voice frequency range and the 'premium power' SOUND BY Harman Kardon speakers, in conjunction with the App-based five-setting audio equalizer everything comes together seamlessly creating a superb audio environment.
Relatedly, the custom designed interior and integrated components found on the Sena Impulse do seem to give it a slight edge in overall feel and ambience of the SOUND BY Harman Kardon audio, but the sum of the components is not lacking when it comes to the other helmets used.
The first host for the Sena 50C, a new HJC i70 full face is a basic but surprisingly well-built, comfortable, and relatively quiet helmet; it makes a particularly good platform for testing externally mounted pieces, including other pre-release and newer camera systems now under review.
Relatedly, my thoughts that the Harman / Kardon audio would or could be severely affected, e.g., degraded in this helmet were quickly dispelled; kudos to HJC and of course Sena and the Harman / Kardon collaboration.
A reduction in overall ambience is noted vis-à-vis the Impulse with its acoustic engineered focus but in moving between Audio Equalizer settings (described in the User Guide extract below) audio in the HJC can be tailored for gains, especially if there is a specific audio focus like music streaming or ongoing intercom use.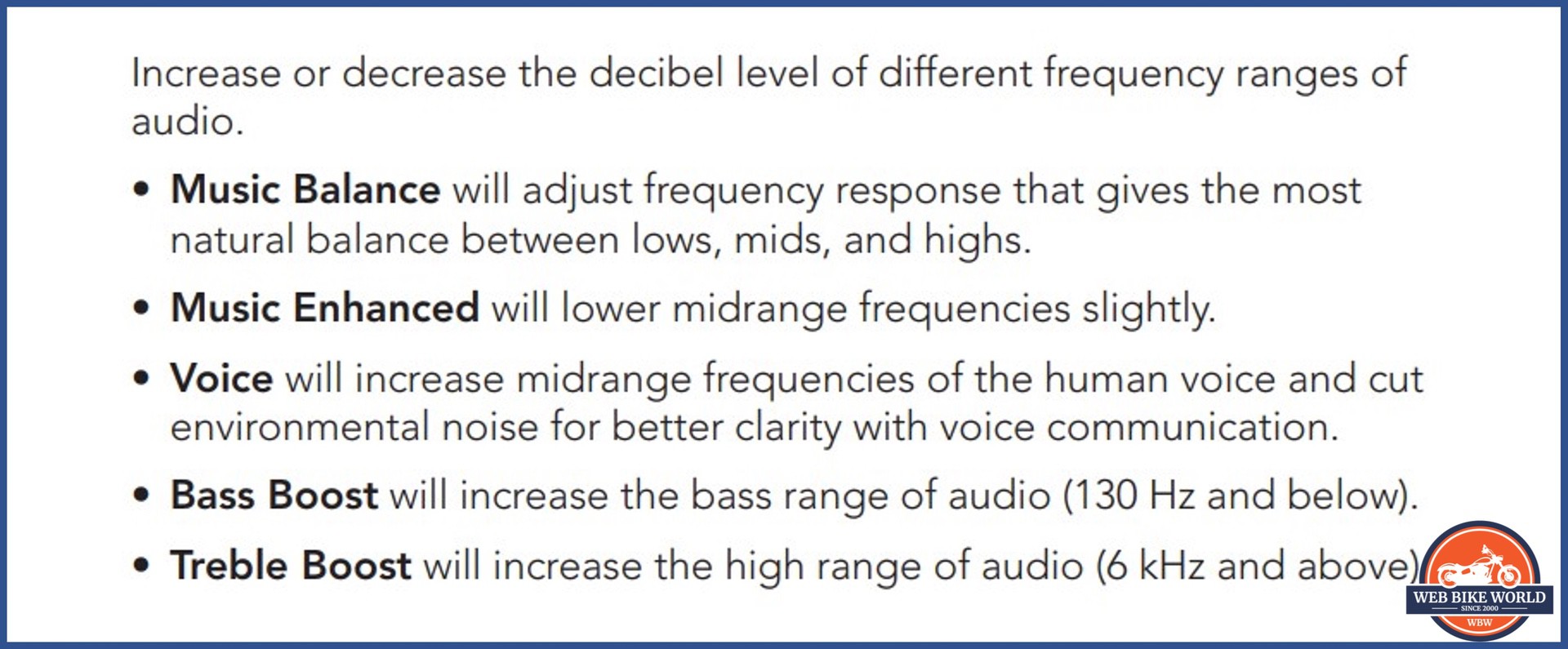 As noise levels build, output volume for the most part continues to provide a 'hearable' listening environment although the lower frequency range is still diminished but not totally lost.  And for sustained intercom use, the 'Voice' setting is indeed the best…
Another audio goodie – being able to move between the Sena Motorcycles App Audio Equalizer settings dynamically audibly reveals the discernable differences in the respective outputs and allow excellent for-the-ride tailoring capability.
For most riding over a wide variety of terrain and noise environments the Music Balance setting is best overall although if one really wants to keep the beat as noise levels build then Music Enhanced or Bass Boost settings do the trick.  For intercom-based activities I usually select the Voice setting – its the ticket for boosted filtered audio.
Over the last four months of using the Sena Impulse and the Sena 50C system, both with their superb Harman / Kardon audio, it was and is still a distinct audio joy to use the intercom, steam music or listen to the FM radio – nothing sounds bad in these helmets…
Audio Bottom Line – WOW!  This expression is carried over from the Sena Impulse review and for good reason; with validation courtesy of the Sena 50C system in the HJC i70 and now, two more helmets, the Sena Quantum Series SOUND BY Harman Kardon is my new helmet audio standard.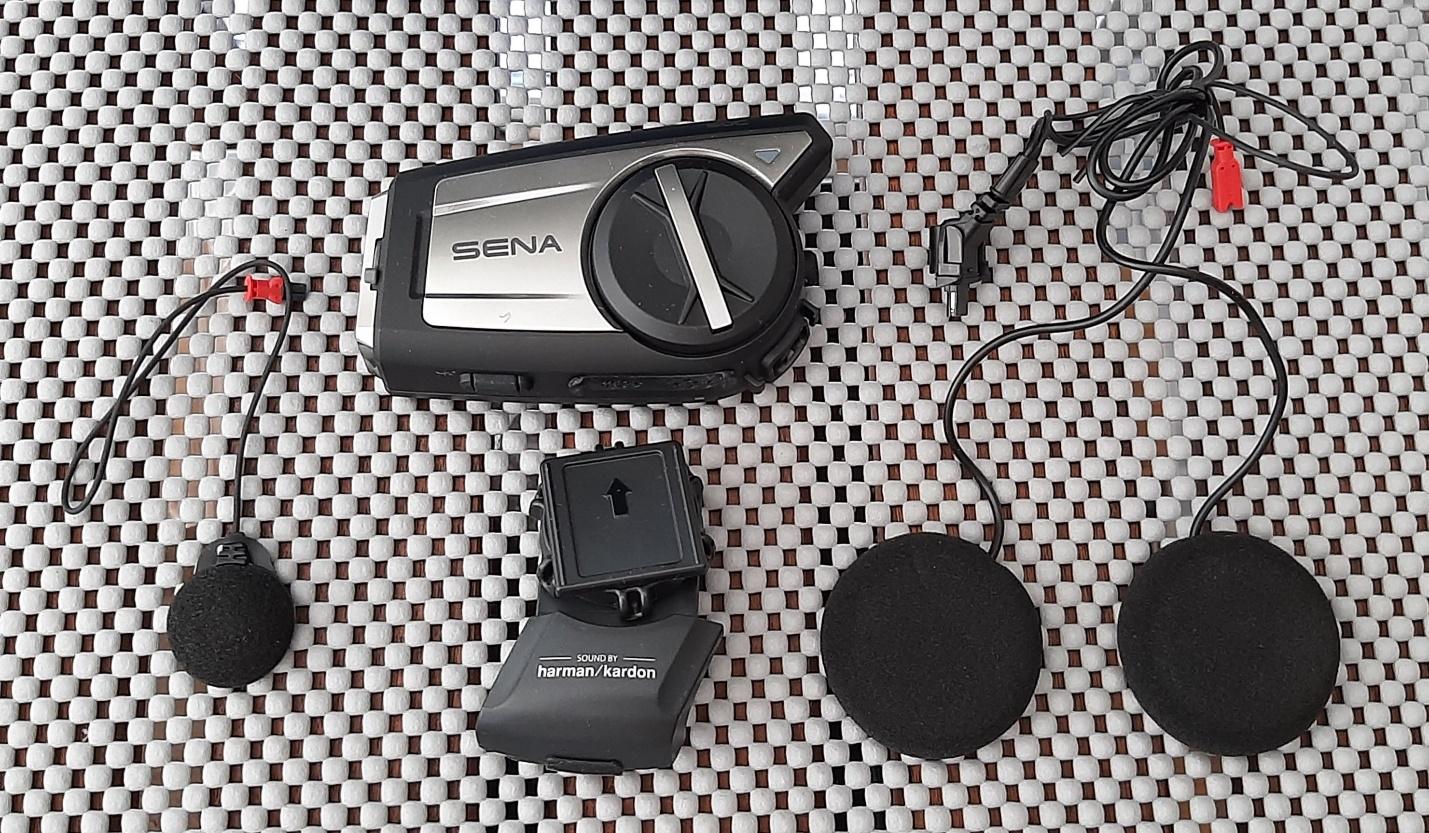 Sena 50C Function & Performance Observations
As noted for the Sena 10C EVO review, these hybrid systems are truly multi-faceted multi-function devices and while not difficult to use, users will benefit greatly from previous Sena system ownership if applicable and/or reading the User Guide, exploring the system in a practical sense and spending time reading or watching related reviews…
Camera Control – if there is an observation (read issue) to raise here it is the Camera Button.  Its top loaded placement on the Sena 10C EVO added extra reach effort but the control was findable and usable even with medium to heavy gloves worn.
There is some appreciation for moving this control to the bottom on the Sena 50C – it has its own real estate and can be accessed easier but the small front and back moldings – probably intended to make the control easier to feel while protecting the push button are at the same height as the tactile button and only serve to reduce direct effective access to the control.
A bare or lightweight gloved finger can find and activate the control but using the control with medium to heavy gloves is plain frustrating.
Its not a deal breaker for this long-time Sena integrated device user and yes, the basic Voice Commands could/should mitigate this physical issue, but the reliability of the voice-input feature is not what it should be.  Thankfully, a compatible Sena remote control (like the RC4) is a satisfactory solution; but personally, it should be a choice more than a requirement.
Camera Point of View – the 120-degree wide-angle lens is a very good median between the 160-degree (or wider) lens or narrow layouts; The Sena 50C lens provides a balanced point of view from near to far; some distortion is visible depending on the depth of view and objects but its not readily discernable in most videos although more prevalent with photos and grabs.
Video Performance – another highlight worthy of observation.  Sena cameras have always been particularly good regarding quality, richness/colour fidelity and transitions, although the f/2.4 aperture (also found on the 10C EVO) does impact low light and light transition performance as can be observed in some of the video samples.
A new video performance feature is enhanced image stabilization, available when using the 1080p resolution setting and the user can choose between 1080p at 30 or 60fps without EIS or the same resolution at 30 or 60fps with EIS; when enabled there is no doubt on resultant video that the algorithmic-based EIS is working although sometimes hard to discern overall…
Why?  Well, rider and riding position along with gear combinations results or can result in a lot of the physical motion/vibration being absorbed between the surfaces being travelled and the helmet, minimizing the visuals observed between EIS On and EIS Off at 60 or 30fps.
To see what the differences would be between helmet and motorcycle mounting the CB500X hosted the 50C (sans its headset) using the adhesive mount from the kit, a round RAM-B AMPS base and short RAM-B arm with short runs over a bumpy with pot-holed trail done to compare video from 1080p 30 & 60fps EIS On or Off settings; video samples are linked to this submission.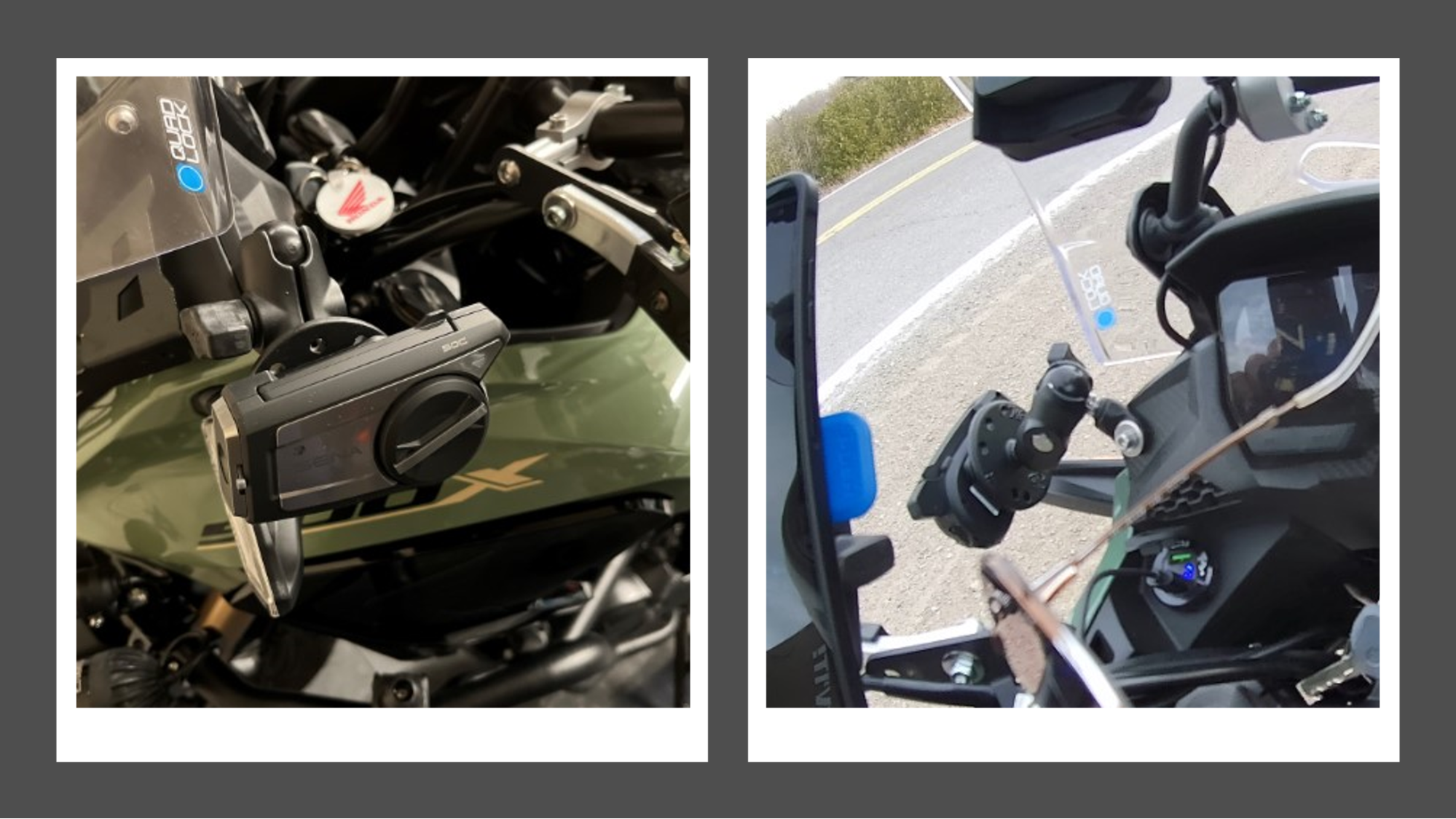 Battery Performance – with average use, focusing on camera operation, but with ongoing Mesh and/or BT comms, the battery typically shows 65 to 75% after 40 to 45 minutes of 4K video recording and steady Mesh comms use.  With camera management, a big chunk of a riding day is possible on one charge for the system; your experience of course may differ…
Even better, unless needing to specifically run the system as a self-contained unit, gear based (worn) comms or camera systems are typically connected for power during use or for part of the riding day to maintain the battery.  You never know when the internal battery might be needed for an emergency if external power sources are not available…
Audio – not a nit but a BIG pick.  As experienced with the Sena Impulse Smart Helmet, the Harman / Kardon speakers, microphone, and FW-based Equalizer make for an unequaled helmet audio experience, at least for this user.
In considering everything about the Sena 50C and its almost daily use through spring, the heat and humidity of summer and both warm to cool to cold fall weather, the host of choice is the full face HJC i70; it sits in between the more open and noisier Shoei J-Cruise II three-quarter and uber-quiet Schuberth C3 Pro helmets regarding Harman / Kardon headset performance.
I (subjectively) rate the Sena 50C and Harman / Kardon collaboration as very good with the Shoei J-Cruise II, extremely good (bordering on excellent) with the HJC i70, and superb with the Schuberth C3 Pro; testament to the engineering and performance of this Sena and Harman / Kardon collaboration.
Final Thoughts on the Sena 50C
Takeaways – the Sena 50C hybrid system, like its 10C series predecessors remains unique within the powersports realm and secondly, Sena continues to evolve, albeit slowly, this hybrid product in a most positive manner.
Outside of the Camera Button and the continuing desire for integrated GPS, there aren't any real issues or at least none that have arisen yet after five + months of use; and based on use of earlier Sena 10C products, there likely won't be…
The Sena 50C is indeed larger, heavier, and wider, but outside of making its presence sometimes felt on the helmet in exposed cockpits, there are no form or fit issues while the only function nit regards the already well identified camera button thing; partially mitigated when the Voice Command can be invoked and totally mitigated in using the Sena RC4 remote control.
At $549.00 USD the Sena 50C is a healthy investment, but argumentatively you get multiple capabilities in one integrated product with a lot of value in the sum of the parts – literally.
You want a high-resolution camera – check; you want multi-device multi-channel audio streaming – check; you want the easiest to use Mesh intercom – check; dedicated or hybrid Mesh and Bluetooth comms – check; the best helmet audio – check and, all this in one package – CHECK.
Sena Quantum Series 50C Bottom Line: this newest iteration of Sena's unique camera and high-resolution comms system reveals a multi-faceted and well-rounded product with lots of performance packed into its (slightly) larger housing and divided between the 4K camera, BT and Mesh Intercoms and BT device interface features. Even more performance is packed into the new SOUND BY Harman / Kardon speakers and microphone with complementary audio fine tuning via the multi-level equalizer feature – audio with a punch!  Misses – the can-be hard to activate Camera Button, hit-n-miss Voice Command capability and, (still) missing GPS feature…  Regardless of the misses though the Sena 50C is an almost-perfect blending of multiple desirable features and capabilities that keep this user satisfied and smiling.
wBW Specs
Manufacturer:  Sena
Price when tested: $549.00 USD
Assembled in: China
Warranty:  3 years on electronics
Review Date: June to October 2022
Sena 50C Video Gallery
Sena 50C, wBW Video 3, EIS Feature, Side by Side, 1080p, Motorcycle Mounted from Bruce Cole on Vimeo.
Sena 50C, wBW Video 2, Fall Colours, 4K at 30fps from Bruce Cole on Vimeo.
Sena 50C, wBW Video 1, Clip Compilation of Various Settings from Bruce Cole on Vimeo.