Sena 10C Quick Look Image Gallery
Is it an InterVid? A VideoCom?
We introduced the unique Sena 10C in this preview in October 2014.
That was during the official announcement at the 2014 AIMExpo (Report).
Now have a pre-production unit undergoing a webBikeWorld review.
This is such an interesting product that we're bringing you a first "Quick Look" and we'll follow it up with a full review soon.
The Sena 10C combines a Sena intercom/communications system with the Sena Prism action camera (review) and this is what makes it unique.
The 10C includes the latest Bluetooth 4.0 and a water-resistant unibody design with voice prompts and voice commands.
The action camera built into the 10C has 1080p, 30fps video capability.
It also has single, burst and time lapse versatile photo modes.
[
UPDATE:
  (July 2016) The 
latest firmware update
 now gives the Sena 10C a loop recording capability.]
10C owners can record their voice to the video while also conducting four-way intercom communication at distances up to 900 meters.
Included is the Sena "Universal Intercom" function, which allows the 10C to connect to other brands of Bluetooth intercoms.
Also included is Sena's Group Intercom technology and Advanced Noise Control.
It also has music sharing, an FM radio tuner, an external antenna and the famous Sena jog dial. Interface apps are available in either Android or iPhone format.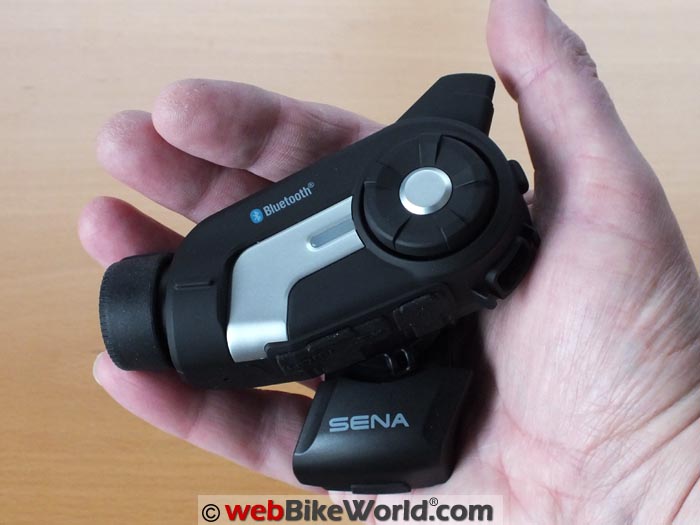 Introducing the Sena 10C
So what do you do with the first Bluetooth Helmet Communication System that is integrated with a very capable HD "Point of View" action camera?
Well, first off, you marvel at how nicely integrated and functional the device is and second, you enjoy it!
Ever since the Editor published the Sena 10C Preview, introduced at the 2014 AIMExpo (Report), we've been anxiously awaiting further news…or even better, a 10C unit to play with.
The Sena 10C is a first: the blending of a Bluetooth-centric motorcycle helmet communicator with a high performance action camera.
In the preview the Editor asked, "any ideas of what to call this type of device?"
My answer is this: the Sena 10C is an Integrated Audio/Video Motorcycle Helmet System! That's a mouthful but probably indicative of what sort of "electronic mashup" this powerful little product really is.
But no matter what Sena or consumers call the 10C, even in its pre-release form the system is proving to be very interesting.
The Editor will be hard pressed to get it away from me; it goes with me everywhere and gets used for everything…exactly what it was intended for!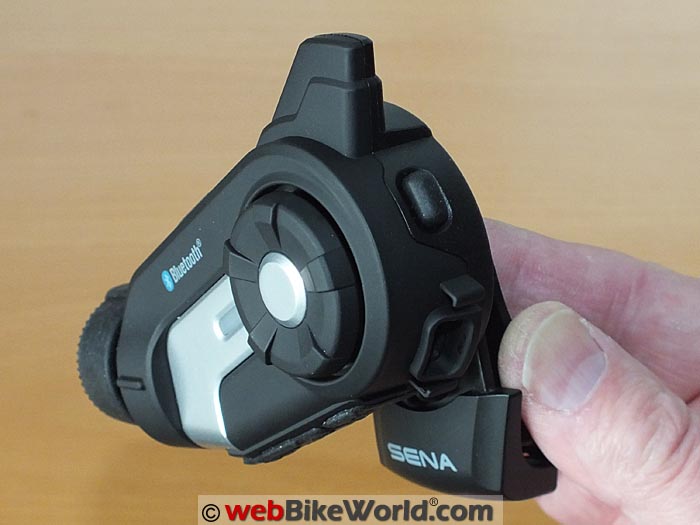 Anticipation is Everything
The 10C we received is a pre-production version that came in a small plain brown box that the Editor delivered into my anxious hands.
This is obviously not retail packaging but the box contained the 10C module with a 16GB microSD card installed in the memory slot. The 10C has a new style base unit with a rotating bezel and helmet clamp plate.
Our package also included a small USB memory stick with some Sena factory test video cuts, along with a draft copy of the User Guide (to which we have been providing feedback) and folders for the beta iOS and Android apps.
A short but useful information sheet from the Sena team rounded out the contents.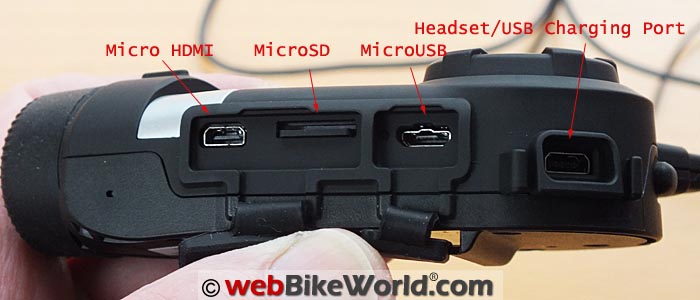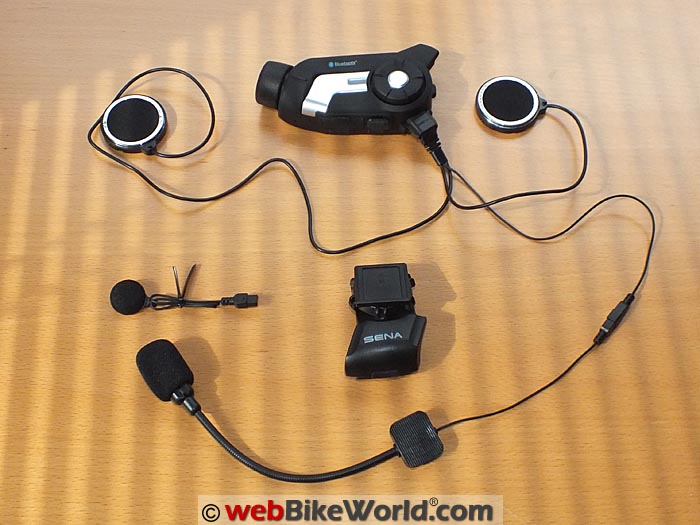 Sena 10C Feature Set
The current listed features of the 10C (which may change for the final release) include:
Bluetooth 4.0 (HSP, HFP, A2DP and AVRCP).
Unibody design for BT headset and video camera.
1080 Full HD video with 3.5MP still-shot image capture.
Video modes: 1080p @ 30fps and 720p @ 30/60fps.
Versatile photo mode: single, burst and time lapse functions.
Pitch angle adjustment: 360 degrees via bezel wheel/lock.
Lens rotation up to 30 degrees.
Bluetooth intercom up to 900 meters (980 yds).
Four-way intercom voice prompts.
Smart Audio Mix: mix your voice and music into your video.
Smartphone App for iPhone and Android.
Advanced Noise Control.
Universal Intercom connects with other brands of Bluetooth intercom systems.
Music Sharing FM radio tuner with station scan and save function.
Optional: handlebar remote support (not included, but one will be coming).
Easy operation by the versatile Sena Jog Dial.
Water-resistant for use in inclement weather.
Can be operated while charging.
Support for microSD media up to 32GB (not included).
Firmware upgradeable.
Smart Audio Mix
An interesting special feature of the 10C is the "Smart Audio Mix". What you hear through the intercom speakers can be recorded along with your voice and whatever is in the background: music streaming, FM radio or intercom (or even a phone call, but be cautious of conversation recording laws).
Once you become used to the feature, then you don't need to insert the music after capturing the video.
You can record what you want, since you can control the camera easily either by camera button (on the 10C) or the upcoming handlebar remote control. Listen to music and record your voice-over narration for a "professional" video presentation
Battery Life
Both the intercom/communication system and the video camera and recording draw power from the same battery. Sena said they "have been really serious in efficiently managing the power consumption".
The camera module works separately from the intercom communication feature, so the camera is not turned on with the 10C by default. Press the camera button to turn it on and then press the camera button again to turn video recording on and off.
If there's no activity within the certain time period after power-on of the camera module, the system automatically turns off the camera module (if the automatic sleep feature is activated).
If the camera module doesn't have enough power, then the system turns off the camera module to enable users to use the communication features.
After the camera module is off, the communication function can work for up to two hours.
If you use both the communication and camera function, then it would last around 1:40 to 2.0 hours and you can use the communication function for 2 hours after the camera is turned off.
If you just use only the communication function, then the intercom should be powered up for around 13 hours.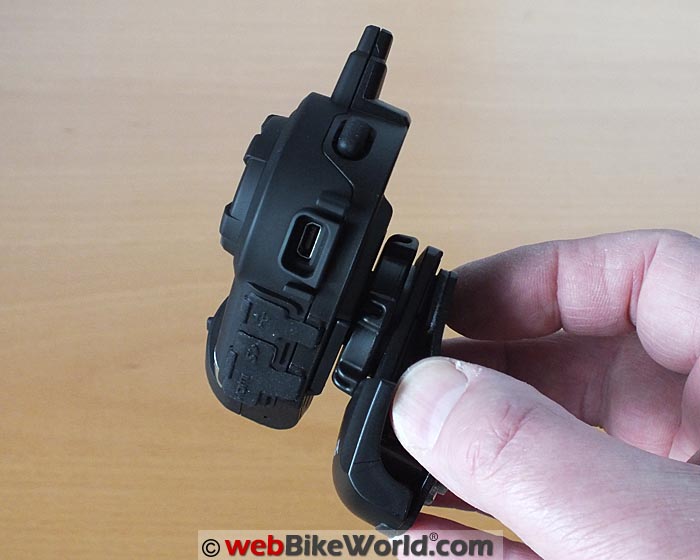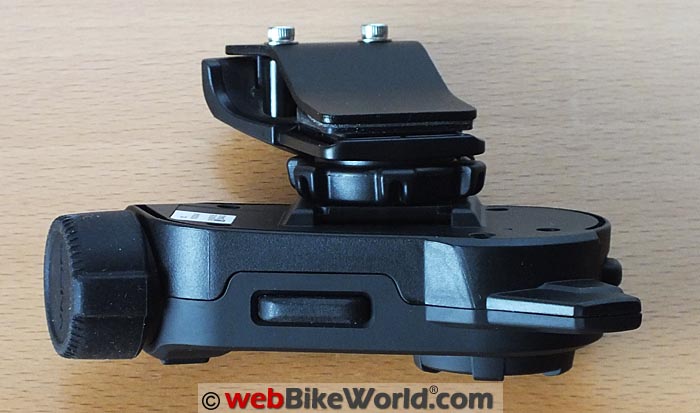 Sena 10C First Impressions
First of all, the 10C is revolutionary in its looks, integration, features and functionality and it is going to have a major impact on the market.
A fusion of technology and function between the Sena SMH10 (review) and the Sena Sena Prism action camera (review), the 10C system is tied together with Bluetooth 4.0 functions and speed; if someone was going to do this, it was going to be Sena.
The 10C's form factor is both different and unusual, but Sena has achieved an excellent blending of style, form and fit, although the 10C module does stand out from the helmet more than expected, due to the bezel wheel adjuster that sits between the base and the module plate.
But this bit of extra girth provides the superb ability to pivot the 10C module through 360 degrees.
If capturing the night sky is the objective, adjustment is a five second exercise once the bezel is accessed, which should only be done when stopped or dismounted.
30 degrees of horizontal lens adjustment is provided by the rotating housing that has a small red dot for orientation purposes.
The lens is protected by a soft rubber cap — don't forget to remove it before turning the camera on, because there's no warning! Without a live preview capability, adding a voice prompt reminder about this small but critical step would be good to hear when the camera is turned on.
The iOS and Android beta apps allow the basic settings for communications and video, but by the same token there are a few things missing…something Sena acknowledges and is being addressed before the 10C's official release.
For example, the Sena Bluetooth Device Manager does not yet support the 10C, but it will. And as of yet, there is no live view capability, which would help to align the lens. But Sena has hinted that a new app may be coming for the 10C and hopefully these issues will be addressed.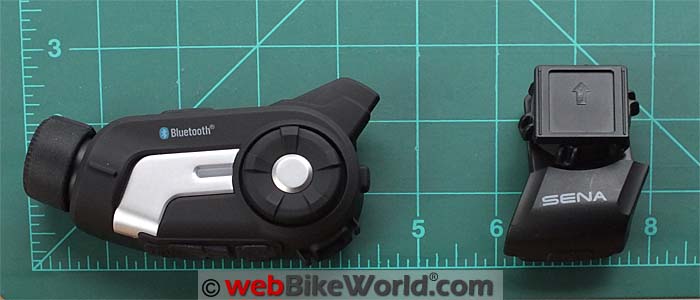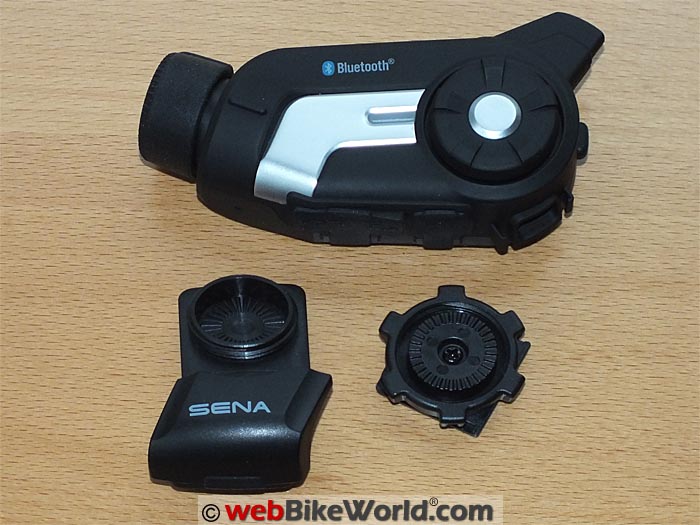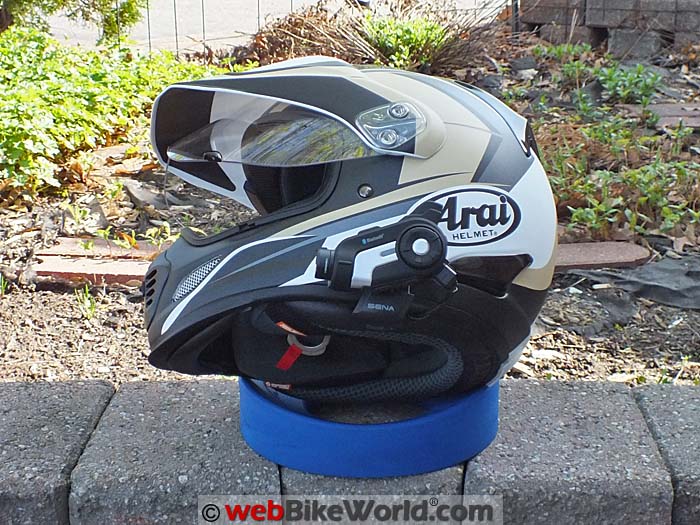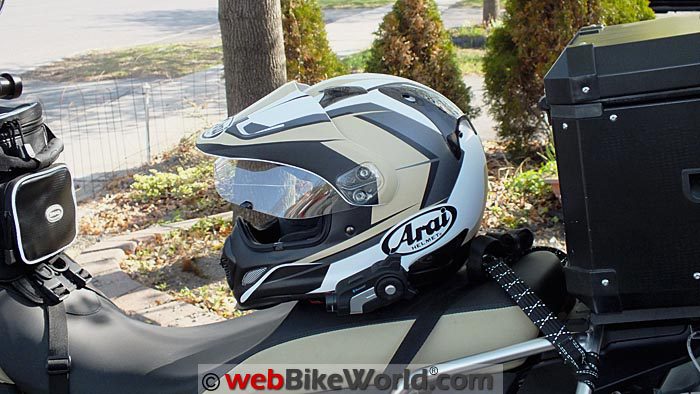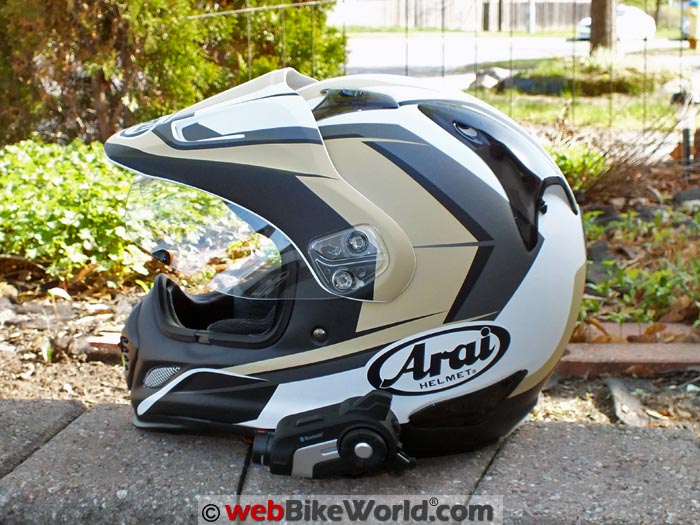 Initial Conclusion
This has been a very brief "Quick Look" at the Sena 10C, as we must wait until the final production version is ready before we can put it through the full webBikeWorld review process.
But since putting this pre-production version into service, a two-way stream of information has continued to flow between the Sena team, the Editor and myself — all in all a very positive and productive environment.
Outside of a missing live view capability — valuable for alignment and verifying video — everything I imagined the 10C would or could do, it does. [UPDATE: the live view functionality may become available in a future version of the 10C.]
Outside of one or two missing Voice Prompts, nothing else has yet surfaced of any consequence. As a pre-release, post-prototype "product", the Sena 10C reveals very good maturity for its young age; its heritage is apparent in its feature set, interface controls and functionality.
Are we excited about this product? In a word: yes! Stay tuned for the complete webBikeWorld in-depth review that will be completed once the final production version of the Sena 10C is available.
Publication Date: May 6, 2015
More webBikeWorld: 
▪ Video Action Camera Reviews
▪ Intercom and Radio Reviews
Note:
 For informational use only. All material and photographs are Copyright © webWorld International, LLC since 2000. All rights reserved. See the webBikeWorld® 
Site Info page
. Product specifications, features and details may change or differ from our descriptions. Always check before purchasing. Read the
Terms and Conditions
!
Owner Comments and Feedback
---
From "B.M." (August 2015): "I love the integrated cam and Bluetooth however I believe I have uncovered a serious flaw.
I purchased the handlebar remote, hoping it would alleviate having to remove my hands from my bars to operate. Other than the fact there are very poor instructions that came with the unit, it also has no control over the 10C's camera.
Luckily I found, on YouTube, instructions on pairing but nothing on camera operation with the remote.
As much as I like Sena's products, the support site actually expressed surprise that anyone would wish to operate the camera from the remote. This is unconscionable and a total surprise.
At a 100 USD, the remote is definitely not ready for 'prime time'."
---
From "C" (July 2015): "I have been using the 10C for a little over two weeks. The only problems that I have found are relating to the camera.
The video camera is either set to record everything OR video tagging. As somebody who has been involved in a serious accident in the last the ability to record an accident is very important to me.
The drawbacks of both camera settings are:
Main recording: when the card is full, recording stops.
Video tagging: if involved in an accident and you are unable to "Tag" the video nothing is recorded.
To be used as a "dash cam" in case of emergency, video tagging is not a real option.  Being able to set the main recording to "loop" would be a much more useful feature.
I hope that "looping" the main recording is added as a new feature in an upcoming upgrade. It would make the 10C absolutely perfect."
---
From "N.M.S." (July 2015): "Hi, I am one of your followers from Singapore. We have several distributors here currently pushing the sales of Sena 10C.
While the features and the "all in one" systems is fascinating, attractive and has potential on the use with the apps and firmware upgrade, I am still skeptical on its use in the long run.
Here is my concern: Sena 10C charges using the micro usb and has an in-built battery. Over time the inbuilt battery will deteriorate and there will be a need for replacement.
I have had several action cams, and I realized that there will be a point when the rechargeable batteries will need to be replaced to maintain the desired operating period of use.
Will this require us, consumers to then buy another unit of 10C? Or will Sena be able to replace the inbuilt battery?
Even so, here in Singapore, there are no service centres for Sena (at least not to my knowledge) and I thought for this reason it is putting me off from making the purchase.
One would argue that the 20S or SMH-10 does not have removable battery either. However, a camera uses much more power and will drain the battery life faster.
In my opinion, the 20S and the Prism should be what Sena should focus on improving. Such as its operations, convenience, FPS in 1080p and incorporate more functionality to users.
The introduction of 10C could hinder the prospects Sena has on the 20S and Prism. Hope you are able to share this with Sena as I love their products."
---
From "S.F." (June 2015): "I pre-ordered a Sena 10C and received it late last week. Installation is easy and very solid. The combination of functionality in such a small, well integrated package is truly impressive.
Despite all the functionality, the built-in controls remain easy to operate. The video quality is great.
People on the phone have no idea I'm on a motorcycle. The radio sounds great (I hope to test intercom between the 10C and my SMH-10 soon).
In your "Quick Look" you pointed out that some configuration was not quite there yet in your pre-production unit.
Unfortunately, some of it still is not there, and it is difficult to actually reach support.
You pointed out that "Interface apps are available in either Android or iPhone format." Well that's true, IF you have a relatively new smartphone: iOS 7.0 or Android 3.0 are required as a minimum.
Your pre-release package included "… folders for the beta iOS and Android apps".
It's a good thing because the instruction booklet sends you to www.sena.com/app where you will find apps for the 20S and the Prism, but not for the 10C.
It turns out that the 20S app also supports the 10C but nothing tells you that on the above app page.
Your review points out that "… the Sena Bluetooth Device Manager does not yet support the 10C, but it will."
You had no way of knowing that the PC based device manager software now supports SOME of the 10C functionality, but none of the video camera related configuration.
Much of the camera configuration can be set with the on-board voice prompt menu system (which is very nice) but date and time can not be set that way. You can enable and disable display of date and time in your video with the menu, but you can't set it.
Apparently the only way I can set date and time on my 10C is to buy a new smartphone. That required accessory seems a bit excessive.
The lack of looped video recording is a serious shortcoming in my opinion. The video tagging you mentioned in reply to another comment is a nice feature, but it is not a substitute for looped recording.
As for support,  I submitted a question regarding date and time setting 4 days ago.
No response yet so I called.
If you call, you get put on hold with music for 5 to 10 minutes, then an automated voice tells you there is no one available to take your call and encourages you to leave a message.
After several attempts to get through, I gave up and left a message. They did call me back later in the day. That call confirmed that the date and time setting issue is a problem that would be referred to "engineering".
Overall, it's a very nice device, but video camera configuration and looped recording support still need some work … and Sena apparently needs to hire some support staff.
I look forward to your complete review of the 10C. Your web pages provide a great service to all of us. Thank you once again.
[P.S. I've been experimenting with the 
Innovv Action Cam (review)
 and 
Mobius action camera (review)
 as well as RAM and Leader handlebar mounts, more to come on those.]"
---
From "R.M." (June 2015): "I own a 10C. I bought it Wednesday as soon as I received an email … that it was available.
I found out my local dealer had one in stock and rushed over as I was leaving the next day for a four day BMW rally in Panguitch Utah and didn't want to miss the fun.
I own an Midland XTC 300, JVC Axxion and a Tachyon Biker Cam.
As stated these are lacking in mounting. I also have the Sena SMH10 and love it.
Some observations. Lacking voice commands is huge. The buttons with riding gloves are cumbersome and I missed a few spectacular shots on Utah 12 when in a loop of "Tagging."
Overall excellent and love being able to program the speed dialing from my Samsung S6. Now if I can figure out how to voice dial. Any help would be appreciated."
H.B.C.'s Reply: Agree totally regarding voice commands. Probably not in the near-term for the 10C (Sena please prove me wrong), but possibly with any evolution of the 10C down the road that could be based on 20S architecture/firmware.
But, the Sena Handlebar Remote Control will provide some headset input relief.
Regarding voice dialing, reference Sena 10C Manual v1.0, Section 7.1.6, bullet 3:
'Tap the Phone Button in stand-by mode to activate the voice dialer of your mobile phone. For this, the voice dialing function must be available on the mobile phone. Refer to your mobile phone manual for further instruction.'
This feature has been used with the 10C and the iPhone 4S and a Google Nexus 5 and it should work fine.
As well, Section 7.2 details Speed Dialing that can facilitate dialing out, although interaction with the controls on the headset is needed.
An overall solution to eliminate or minimize interaction with the 10C headset will be to get one of the new Sena Handlebar Remote Control (PN SC-HR-01) that may be available by end June (20S, 10U and 10C compatible as of now).
Unfortunately we are still waiting receipt of one to review, but it will allow the user virtually all headset control via two buttons and a finger joystick.
Note that the camera functions are not identified (yet) for the remote, but I have a hunch they will be added. Enjoy the 10C, I'm very much attached to our pre-production unit.
---
From "Z.A." (May 2015): "I am a UK biker and a present SMH10 user.
I am definitely very interested in the 10C however if i was to purchase it, it would be to use it as more of a Dash-Cam safety/insurance camera type use.
Could to you tell me from your trials if you were able to identify whether or not, it had a constant loop record feature? So that I don't have to empty out the memory card all the time.
I do understand that it has video tagging to save clips by pressing a button like on a dash cam so that that particular clip will not be overwritten (like most dash cams also have an event button).
But that will not be particularly useful in the event of the worst happening.
If something were to happen to the rider and leave him in a situation when he is too injured to press the tag button, what happens then? Will that footage still be retrievable (like it is on all dash cams even without events being logged) or does it have to be tagged?
I understand it probably has a regular record mode which just videos non stop, but that will fill the memory card meaning ill have to pull out my laptop and go through the hassle of emptying it all the time.
If it had a toggle-able setting to basically set aside enough memory card space for the last 30 or 60 minutes of video.
If it recorded in ten or twenty 3-minute clips, recorded constantly not stopping.
It should overwrite the oldest clip first, with the option of tagging a clip, permanently saving it and moving it to a different folder in the memory card without limits on the number of taggable clips.
And with the feature that if the camera was to suddenly switch off, that the clip would still be saved and recoverable.
With all of that, it would be the perfect device and I would buy it in a heartbeat.
Could you please use your connections with Sena to notify them of this feedback to see if they could incorporate it into the device before launch, or if not, as a software update shortly after.
As soon as they do, they have a buyer.
At the moment, it's more of a moto-vloggers device.
But most riders are not motovloggers, and most riders main concern is safety, staying out of accidents, and ensuring that justice is served.
And that we are rightfully compensated when and if the worst ever was to happen, which unfortunately is far too often.
I feel they are really targeting a vocal media-savvy minority and ignoring the overwhelming majority of their consumer base.
P.S. in response to your editors question on "Any ideas of what to call this type of device?"
Although your suggestion of "An integrated audio/video helmet system", is technically accurate, I think my suggestion of simply "Bluetooth InterCam" rolls of the tongue a little easier 🙂 "
Editor's Reply: The current version of the 10C (post July 2016) does now have a continuous loop recording feature; download the latest firmware update to provide that capability to older 10C units.
---
From "M.W." (May 2015): "Like others have commented, I was greatly excited to see the information about the forthcoming release of the 10c.
As an SMH10 user for some years I have been pleased with the performance of the product and the continued development by Sena.
Friends who use the 20s have demonstrated the 'extra features' it has over the SMH10 and I looked forward to the 10c being a 20S with a camera included. It seems that this is not to be the case.
I think Sena are making a mistake by taking the best BT intercom system, the 20s, and removing some of its features such as the dual BT, voice command and the larger group talk functionality in order to incorporate the camera.
A further imperative to me is the ability to live view what the camera sees. Surely this is desirable, if not essential, in order to make set up more simple and review recording whilst on the road.
It's clear from your comments that you have a conduit to the Sean team developing the 10C.
Perhaps you would pass on these comments, made by a biker seriously considering a POV camera and who had just about decided to buy the 10c as soon as it was released but who is now not so sure.
The possible shortcomings in the feature set are making me revisit my research into separate BT intercom units and cameras.
Selfishly, I want the 10c to be perfect for me, and it seems that on the information I have been able to glean to date, I may have to wait for future iterations before it has the features I would like to see.
No doubt in your full review of the device you will address all the points I have made and I look forward, as a regular and enthusiastic reader of WbW, to studying your report."
---
From "Y.T." (May 2015): "Would it work as a security cam — i.e. does it function on continuous loop recording mode?"
Editor's Reply: Sena calls it "video tagging". It is a different from loop recording with a dash cam.
In loop recording, a memory space (e.g. 1GB) is set aside for the latest X minutes- or hours-long video clip(s) and video is continuously recorded to that memory space.
Video tagging in the 10C captures video clips for 180 seconds (previous 60 seconds/current 60 seconds/future 60 seconds) once you press the record button.
---
From "R.S." (May 2015): "I'm one of your UK readers here and firstly I'd like to say thank you for your excellent website. It's become one of a couple of sites that I now regularly use with regards motorcycle equipment.
Off the back of your review I purchased a Sena 20S last year and think its excellent. (I have) Yet to be disappointed and I use it regularly alongside an older Cardo Scala G4.
I've been after a head cam for a while and the 10C combined BT intercom and cam that you recently reviewed has grabbed my attention big time.
Couple of things I`d like to know if possible please: Does it have dual BT same as the 20S?
Last thing seeing that you seem to have direct access to Sena at this early stage of the 10C development.
Any chance they could utilise the same mount as the 20S or have an interface so I can swap between the 20S and 10C on the same helmet.
Yes to both these requests likely means a confirmed purchase of the 10C on my part when it comes to the UK."
Editor's Reply: The 10C has a single Bluetooth system, which sort of puts it between the 20S and the 10C in terms of features. The 10C doesn't have a voice command, audio multitasking, NFC and motion sensor.
However, it has almost all the functions same as the 20S including microprocessor, speakers, audio engine, etc.
Unfortunately, the same helmet mount can not be used for the 10C and 20S.
The 10C has a similar mounting system to the SMH5. Sena is researching the issue to see if they can make the systems more interoperable, however.