Review Summary
The 10C Pro is the best device currently available for vlogger and action sports enthusiasts. A compact and affordable package that does a lot! You get HD video and photo capability, long battery life and user-friendly controls coupled with decent build quality. It serves as an in-helmet communication system additionally by connecting to your phone, GPS or other Bluetooth units to enhance your motorcycle riding experience. My biggest complaint is the "fishbowl" lens effect that distorts the sides of video and photos thanks to the wide-angle 135-degree field of view. It's also sometimes challenging to level the camera to avoid capturing slightly tilted images. Otherwise, this is a nice product from SENA.
Build Materials and Quality
Pros
Strong, compact, & durable build
Water & weather resistant
reasonably priced
Fairly user friendly
Easy firmware updates
Easy installation
Long battery life & fast recharging
2-year warranty
Quad HD video capable
Camera-video-communication device
Only 3 buttons
Can recharge while in use
Good speaker sound
Clear audio recording
Loop video feature doubles as dash cam
Cons
"Fishbowl" lens distortion
SENA app connection is sometimes glitchy
Easy to miss photo ops if camera is in sleep mode
A bit tricky to level the picture
Lack of zoom or slow motion in video
No internal memory
Leaking camera glass lens cover
SENA 10C Pro Image Gallery
I've been trying to find a way to reliably shoot sharp videos with clear sound while out testing motorcycles since I started writing for wBW a couple of years ago. I haven't been able to decide which equipment I needed to do it.
Last year I gambled on a GoPro Hero 6 thinking it was the answer but I didn't do my research properly before buying and it still stings. I'm hundreds of dollars poorer and deeply frustrated with the short battery life, frustrating controls and horrible audio the GoPro provides. Sure it records superb video in HD, but it just sits on my shelf at this point because in short: I hate working with it.
I did recently discover SENA makes a Bluetooth Audio Pack to in theory improve sound gathering for GoPro cameras that perhaps I could use to solve one of the 3 major issues I have with it.
Anyone want to buy a lightly used GoPro Hero 6?
Thank you, SENA!
The 10C Pro is currently the only device from major manufacturers on the market able to record video, take photos, and link to your cell phone/GPS/etc, other than the old 10C and 10C Evo. I have seen some lesser-known companies from China beginning to produce similar products though.
SENA sent me this 10C Pro unit free of charge for this review.
Now that I'm properly equipped you should be seeing more video reviews from me going forward. I finally have something I can satisfactorily work with.
It gives you a camera system with a piggybacked Bluetooth communicator, which is a must-have for me. It used to be you'd have to buy two or three devices to get the same performance, but 10C pro has it all integrated into one. It's almost like having a SENA Prism camera and an SMH 10 in one housing for a bit less money.
The Rumor Mill
I'd read some posts online from frustrated 10C owners about their devices being hard to work with along with reliability issues. I don't put a lot of trust in those to be honest because often I find the bellyaching is overblown or rooted in user error. I think many people won't take the time to read the manual before giving up on devices like these.
The 10C Pro is an upgraded version of the now-discontinued 10C and it sounds like most people who have upgraded to it are reasonably happy, so I had a lot of hope coming into this test.
Nothing is Perfect
Just so you know up front, there are still some problems with the 10C Pro that I'll break down in this review.
Before I get to that, here are the claims made by SENA about the 10C Pro:
Features From the SENA Website
GENERAL
Talk time: 17 hours
Operating Temperature: -10˚C – 55˚C (14°F – 131°F)
Dimensions:

Main Module: 105 mm x 60 mm x 31 mm (4.1 in x 2.4 in x 1.2 in)
Speaker driver unit: 36 mm – thickness 6.5 mm
Boom Microphone: length 190 mm
Wire between Speakers: length 555 mm
Weight: main module – 90 g (3.19 oz)
WIFI
Bluetooth
Bluetooth 4.1
Headset Profile (HSP)
Hands-Free Profile (HFP)
Advanced Audio Distribution Profile (A2DP)
Audio Video Remote Control Profile (AVRCP)
INTERCOM
Working Distance: Up to 1.6 kilometers (1.0 mile) in open terrain
Supports up to 4 riders
AUDIO
Noise Cancellation: Advanced Noise Control™
Codec: Built-in SBC Codec
FM Radio:

Radio frequency specifications: 76 ~ 108MHz
10 preset station memory
OPTICAL
Field of view: 135 degrees
Aperture f/2.0
VIDEO
1440p/30fps
1080p/60fps
1080p/30fps
Video recording time: 2 hours
PHOTO
TIME-LAPSE MODE
Single-shot every 1 sec or every 10 secs
BATTERY
Charging time: 3.5 hours
Type: Lithium Polymer Battery
EXTERNAL MEMORY
MicroSD card (class 10 or higher) up to 64 GB (not included)
Installation & Firmware Update
As recommended, I first charged the unit fully which took a few hours. Then I plugged it into my laptop to do an update on the firmware.
This is when I learned my first lesson about getting along with the 10C Pro: Make sure you use the provided USB cable to do the updates or your laptop might not be able to detect it.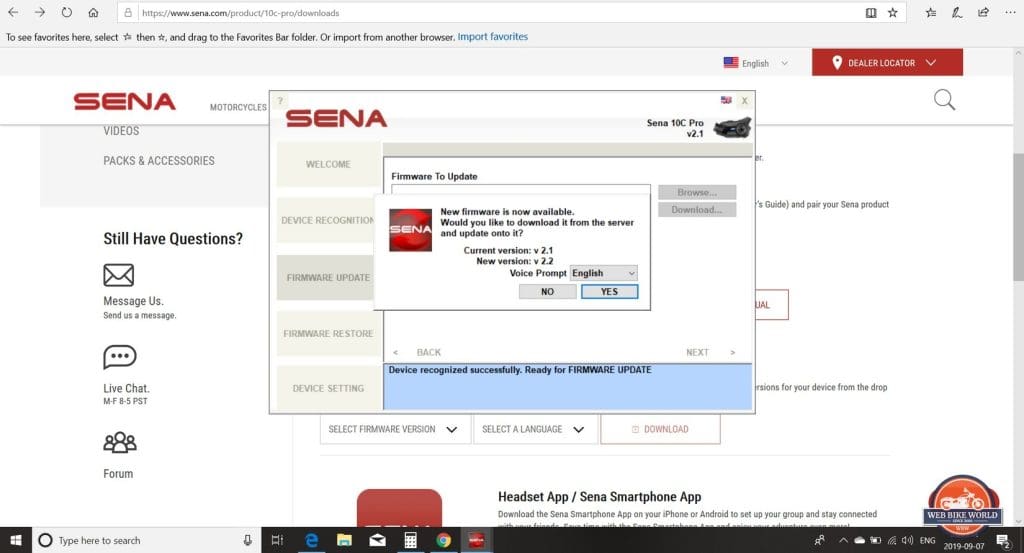 Once I figured that out the update went in after I downloaded the app without a problem.
You can also adjust the settings on the 10C Pro using this app on the laptop as you can see in the photo below.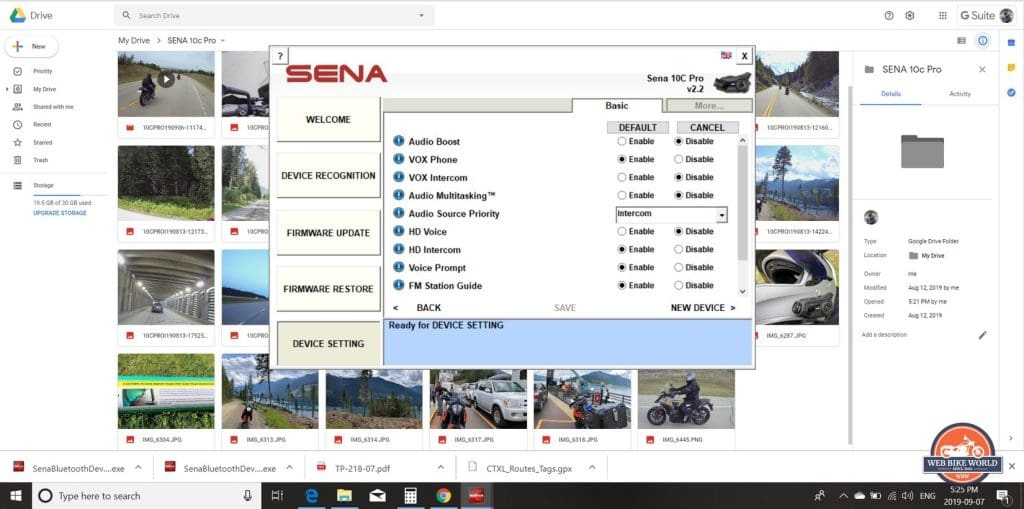 The SENA Camera App
Next, I downloaded the SENA Camera App onto my iPhone X.
This is the best way to wirelessly pull photos and videos off the 10C Pro as well as making changes to settings since most people don't bring laptops with them out on the motorcycle.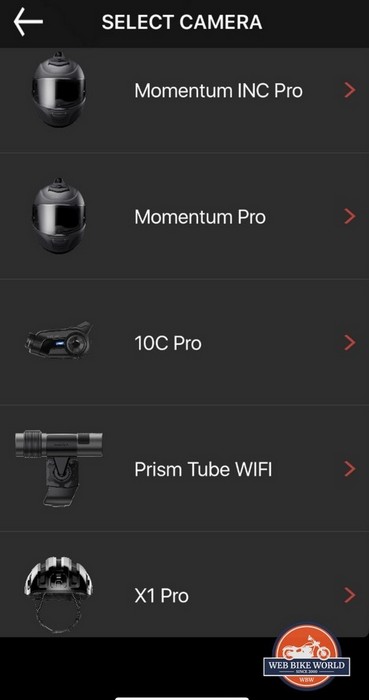 As you can see in the screenshot above the SENA Camera app works for any SENA device with an integrated camera. On the 10C Pro, you have to go into your WiFi settings and connect to the 10C Pro instead of using Bluetooth.
This is the main difference between the old 10C and the new Pro. Having that WiFi connection allows much faster data transfer from the camera to your phone, but you can still remove the MicroSD storage card from the 10C Pro and plug that into your laptop alternately to download video and photos from it. I went this route when I began shooting video in 1440p because it took too long to download it via WiFi and I often run out of room on my photo and video-clogged iPhone.
Using the WiFi is smarter and easier to pull lower resolution videos and photos off the camera. I can then watch them on my phone, AirDrop them to nearby friends, and upload them to social media or my Google Drive.
Connecting & Changing Settings
Once you've used the app to successfully connect to the 10C Pro you can display what the camera sees on your phone in real-time, though there is a slight delay when you look around.
At times I encountered a weird pixelation effect happening when I moved my head with the camera actively displaying on my phone, but this was pretty rare and went away after a couple of minutes.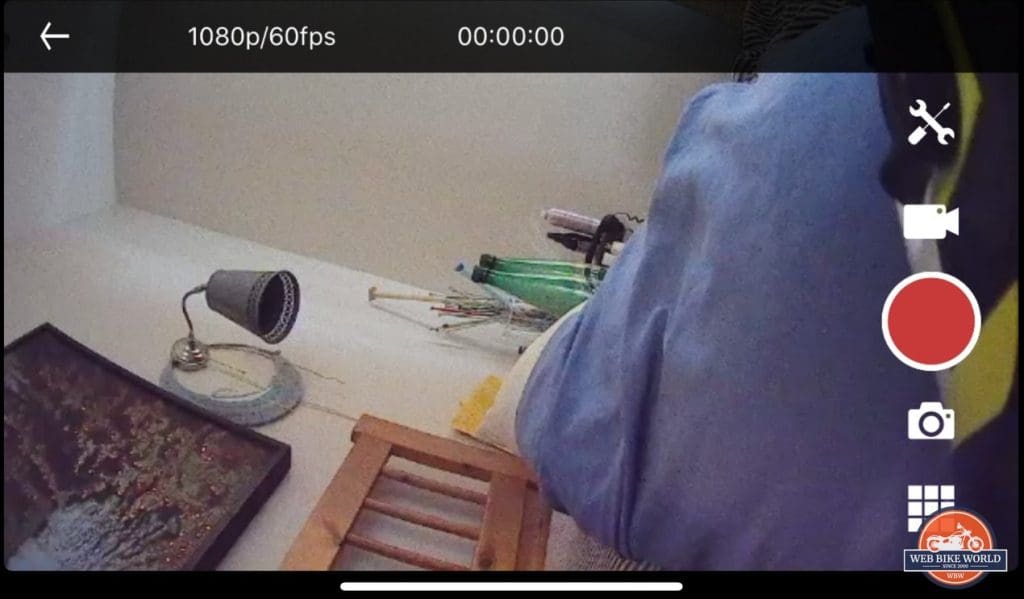 You can use the large red button on the phone screen to take photos or start/stop recording video when connected like this, instead of using the camera button located on top of the 10C Pro housing.
The collection of squares icon allows you to view any photos of video stored on the camera and the screwdriver and wrench icon gives you access to changing camera settings. You can do all the same adjustments using your phone app as you can on the laptop app.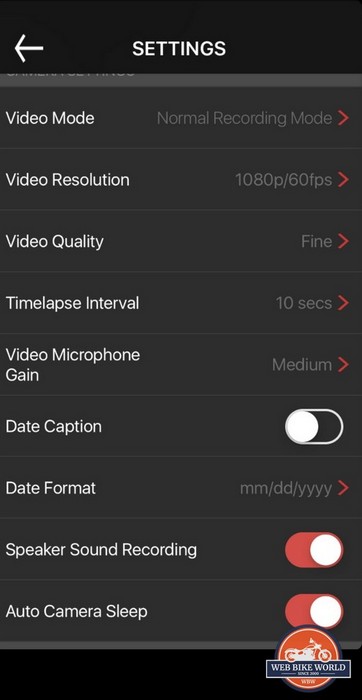 Installation In Two Different Helmets
I first installed the system in a Joe Rocket Canada Ion helmet then later in an Arai DT-X.
The SENA 10C Pro installed on an Arai DT-X helmet (below).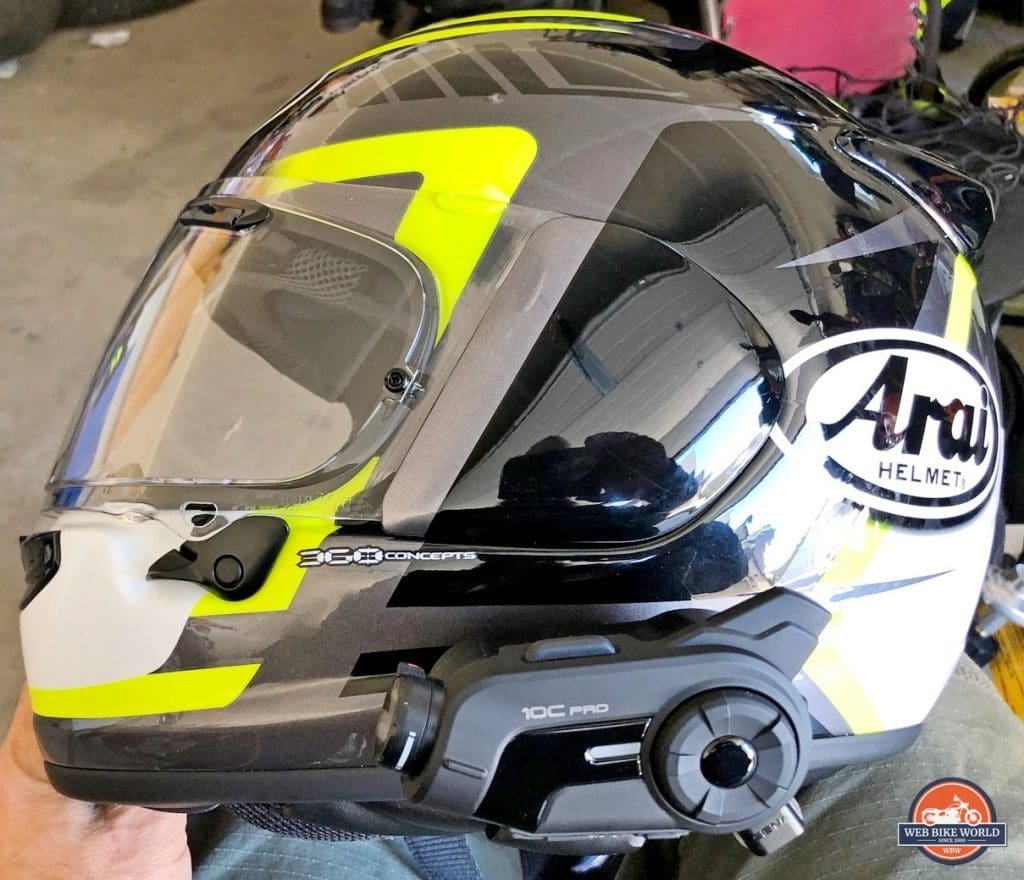 I found it easy to accomplish in either helmet using the clamp style mount. I did have to carve out a small section of the cheek pad plastic in the Arai in order to pass the wiring through from the camera to the headphones and microphone installed inside the helmet.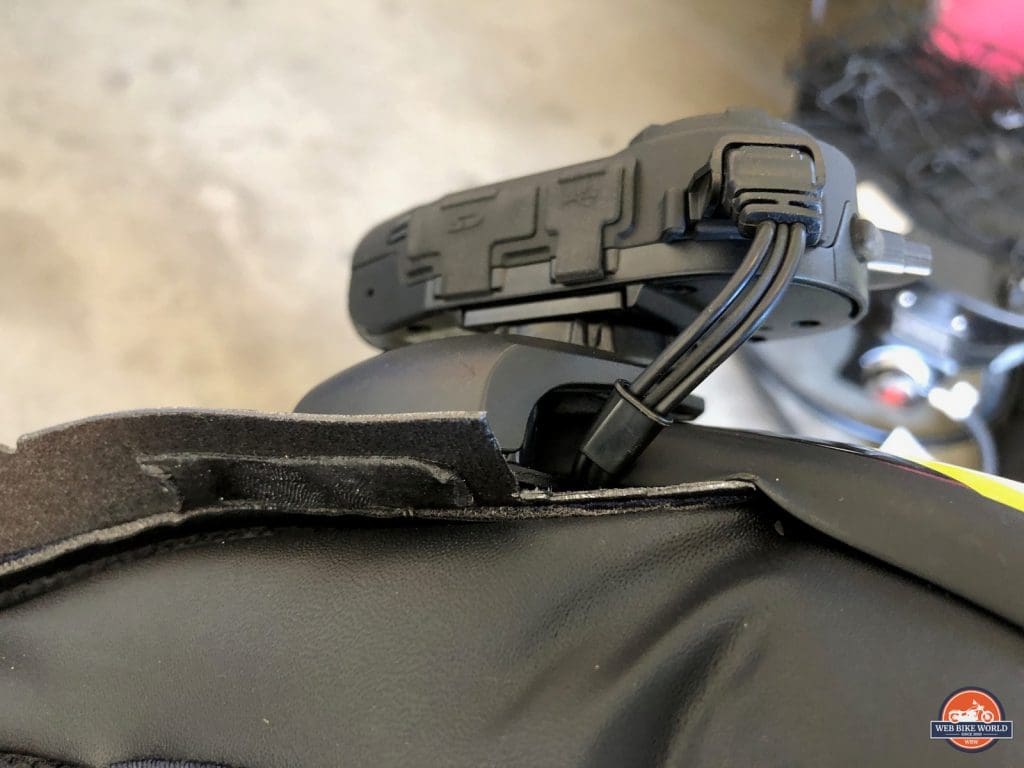 Quick Disconnect Wiring Harness
One unusual feature is how the wiring harness can be unhooked from the camera using only your fingers. This allows you to remove the camera from the mounting clamp if you want without using any tools.
I like this feature, but notice sometimes the connection isn't always 100% when I put the helmet on and start up the system. The proof of this is that sometimes only the right speaker works until I wiggle the wiring where it connects to the camera. Doing that will instantly bring the left speaker back to life.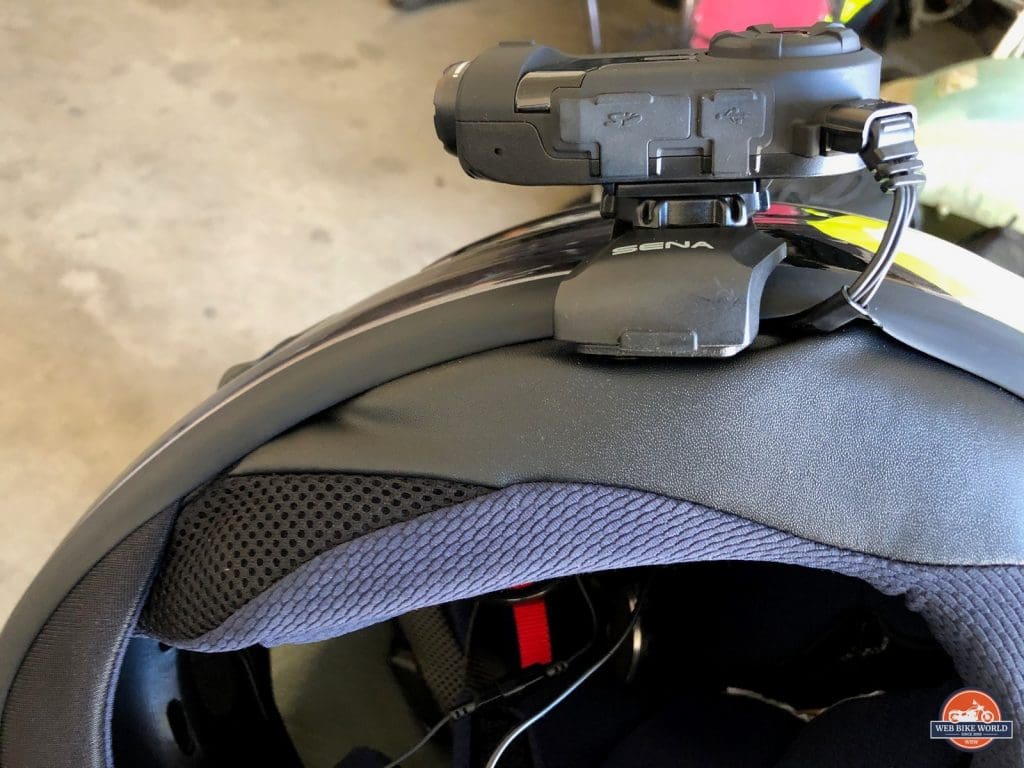 See this video for details on installation from SENA.
SENA 10C Pro Intro and Helmet Installation Video
It's Not JUST A Camera
As mentioned, this isn't just a camera, though that's primarily what it's built to be.
I thoroughly tested the Bluetooth 4.1 ability of this unit to play music from my phone playlists, tune into FM radio, connect to GPS, and the dash display on my KTM 790 Adventure. It passed all these tests with flying colors as I expected.
Speaker Sound Quality
Generally, I'm never happy with the volume, clarity, and especially bass in any Bluetooth headset. In the first helmet where I installed the 10C Pro, that was the case. It's just not good enough to hear clearly above the 70mph mark. This is the same for every other system I've tested.
When I installed it in the Arai DT-X things were different. It's a fairly quiet helmet and it fits me better than most other helmets on the market. The speaker pockets in the padding line up perfectly with my ears and I find now I can hear the music or GPS clearly until I get closer to the 90mph mark. I can even hear the bass better than in any other helmet.
The credit for this should go to Arai more than SENA, but I thought I would share this all the same.
SENA to SENA Intercom Pairing
When it comes to intercom pairing I found the 10C Pro generally prefers connecting with its own kind as opposed to other brands. You can connect 4 riders together max in a grouping.
When connected to my SENA 30K unit the two behaved like long lost friends. They were almost inseparable and the sound quality excellent on both ends. I found the range claims of 1 mile were about right and even when there were vehicles or other obstacles in the way the signal was often still clear unless the two units were well past the 1-mile range limit. Pairing was easy to accomplish and held without dropping for the most part. It was really nice!
Universal Intercom Pairing
When it came to universal intercom pairing with my Nolan N-Com B901L and Lexin FT4 units I got it to work once with each of them, but couldn't manage it the second time with the N-Com no matter what I tried. The first time the sound quality was very good and the range was decent but not as strong as with the 30K, especially when obstacles were present.
Overall the 10C Pro Camera is perfectly capable of moonlighting as a SENA communicator device, which shouldn't come as any surprise since comms – not cams – is what SENA has built its reputation in the market upon.
Getting Level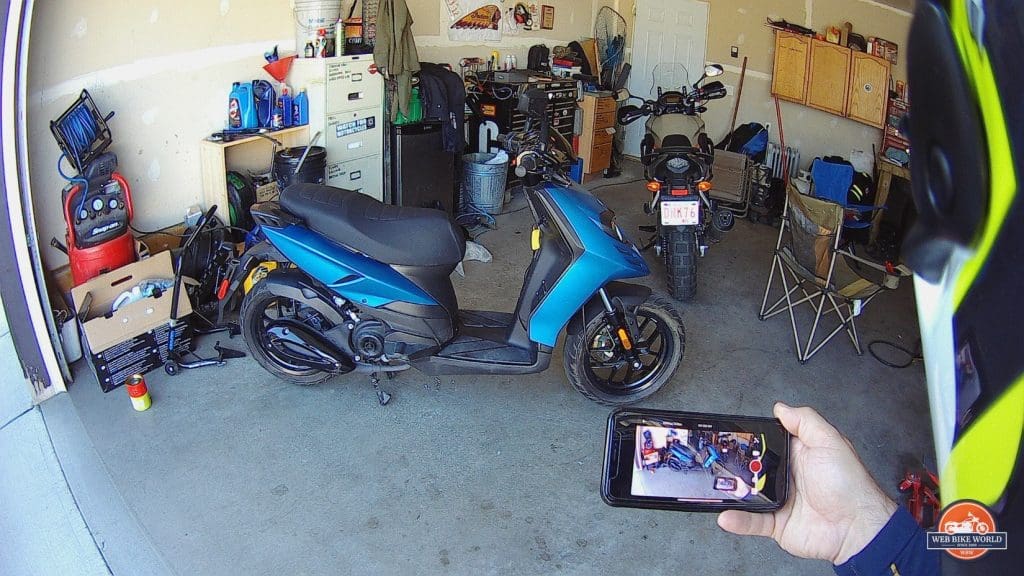 Once I had the 10C Pro installed in the helmet and paired to my iPhone with the app running I began the process of getting the angle leveled on the field of view.
This took me a few attempts as you can see from the video and photos below. They're all cocked slightly because I didn't twist the end cap of the camera lens to adequately compensate for the slope of the angle on the helmet's shell it mounts to.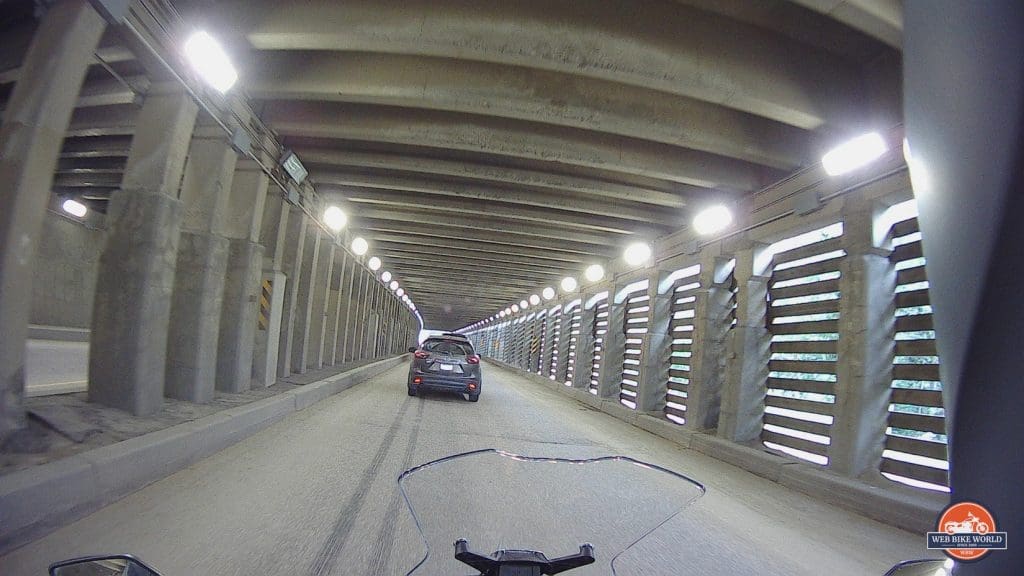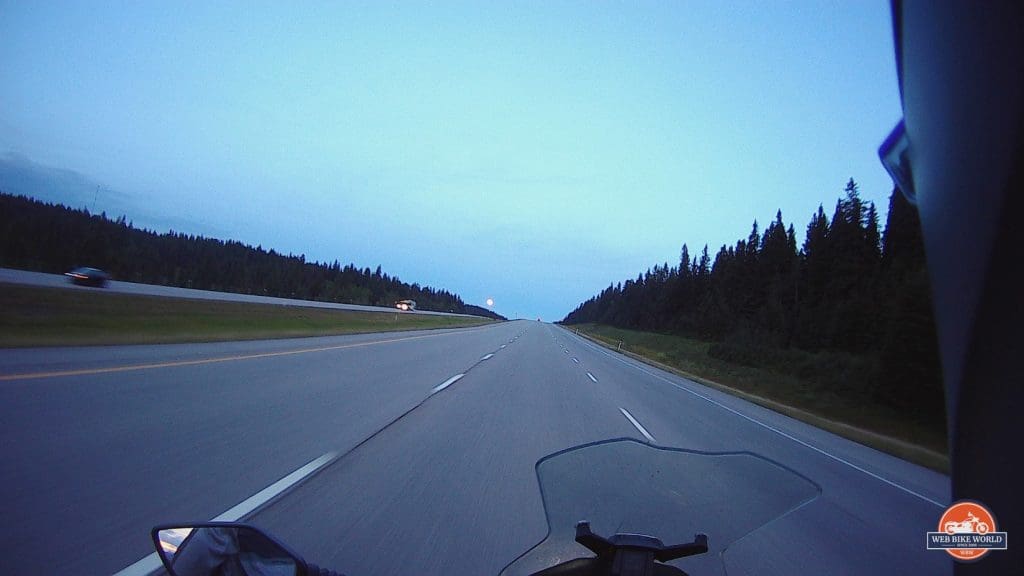 The small red bar painted on the edge of the lens cap perimeter indicates the top of the image the camera will record. I can't honestly think of a time I would want an off-kilter photograph or video, but perhaps I'm just not creative enough.
I went through this irritating fine-tuning process again when I moved the SENA into my Arai helmet. If SENA could incorporate an auto-leveling feature in future models I would be very grateful for that.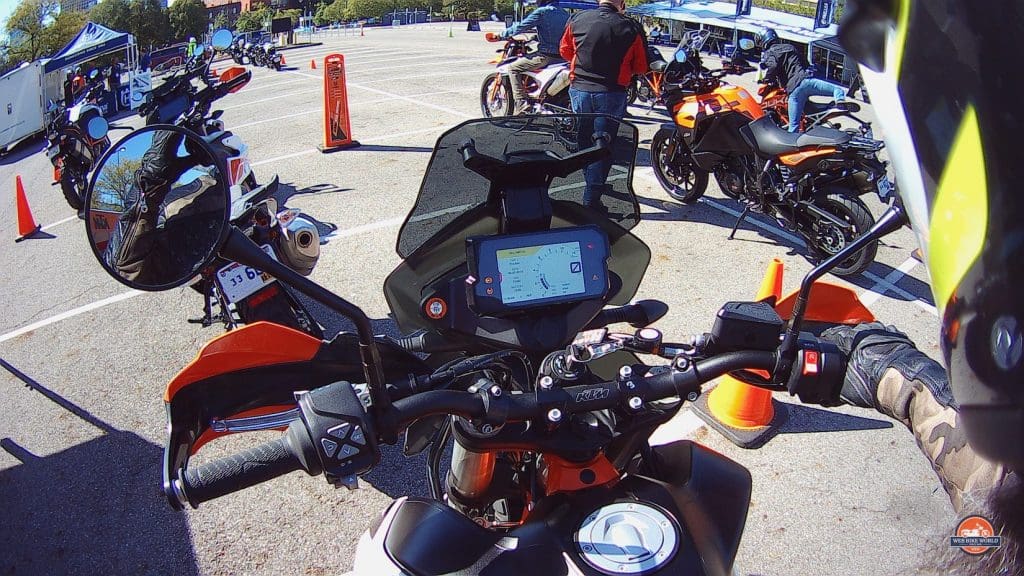 Happily, the leveling ring doesn't seem to ever move out of position once you set it where you want it. Even when I was riding off road over rough terrain I never found it to have come loose or wandered off where I left it. Bravo SENA!
Recording Video & Taking Photos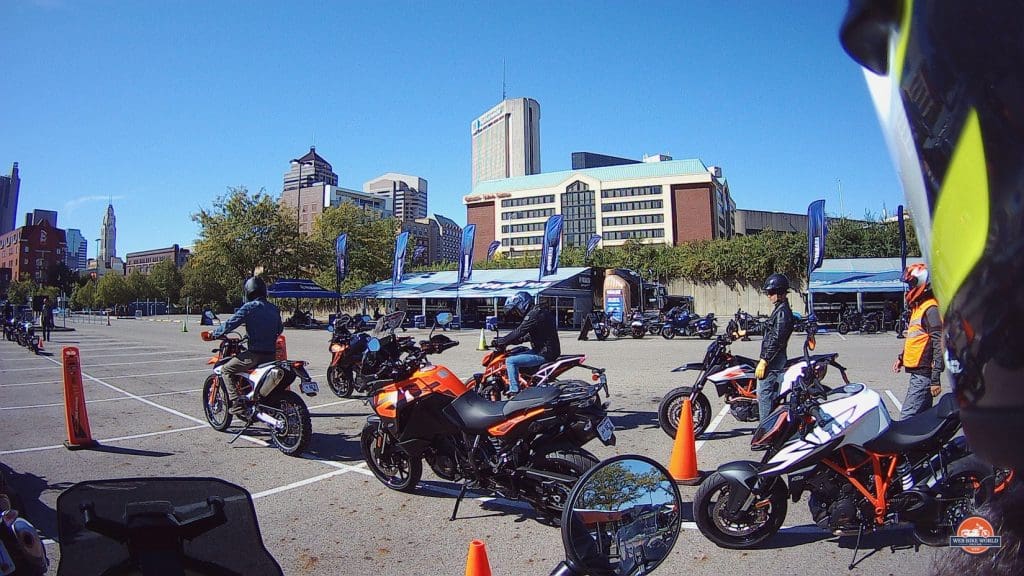 Always Remember The Memory Card
In order to begin logging video/photos, I needed to install a memory card in the camera for storage. The camera won't function at all unless you install a standard Micro SD card which SENA doesn't include with the 10C Pro purchase. The largest capacity card it can handle is a 64GB one.
Naturally, I went for the full 64GB option because I don't want to risk running out of storage space. During all my testing I never even came close, even when recording and storing videos filmed in the richest 1440p x 30 fps setting.
I wish the camera had even a small amount of internal memory to use, just in case I ever forget to put the memory card in (for whatever reason) and miss my chance to record video of, for example, a Sasquatch encounter. I haven't managed to forget it yet, but I've seen it happen many times to my Dad with his Canon Quickshot camera. I like to learn from the mistakes of others.
Fish-Eye Field of View
The camera provides a 135-degree field of view whether recording video or snapping photos. This is both a blessing and a curse depending on what you're going for.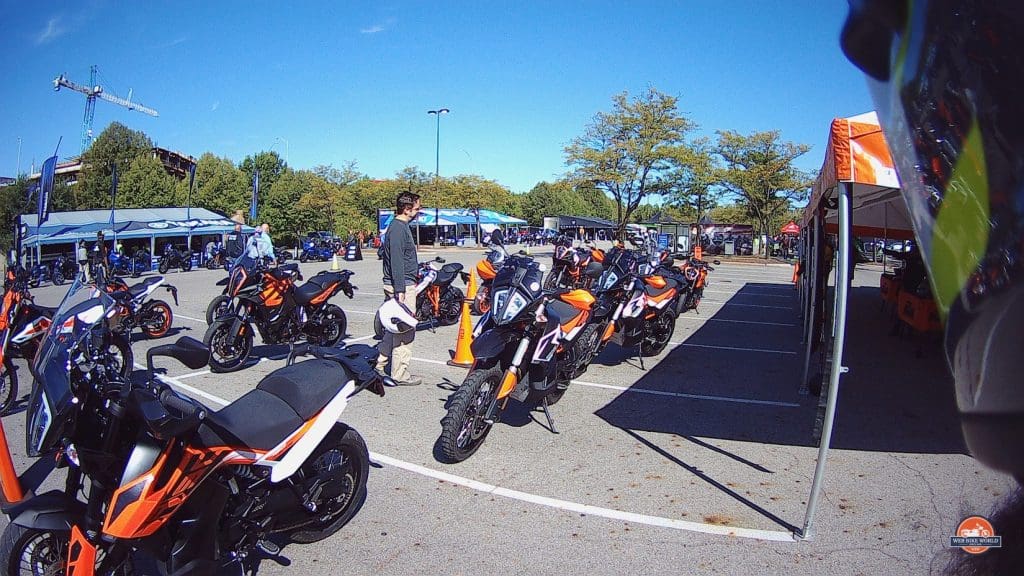 On my much bemoaned GoPro Hero 6 the option is there in the settings to switch from Wide Angle View to Linear. Linear eliminates the distortion around the edge and I would always shoot in this setting. I wish SENA had incorporated that in the 10C Pro.
Continuous Loop Video Mode
If you're considering using the 10C Pro as a dashcam the wide view couldn't be better suited, because you want to cover a wide area in the video. I think this is a feature perhaps SENA hasn't promoted well enough because there's an increasing number of riders out there who are looking for a reliable dash cam system. This one legitimately fills that niche while filming in Continuous Loop mode.
You can turn on or off the time-stamping feature in any kind of video or photos as well, but I think it makes the most sense to use this in continuous loop mode. It's just kind of ugly everywhere else.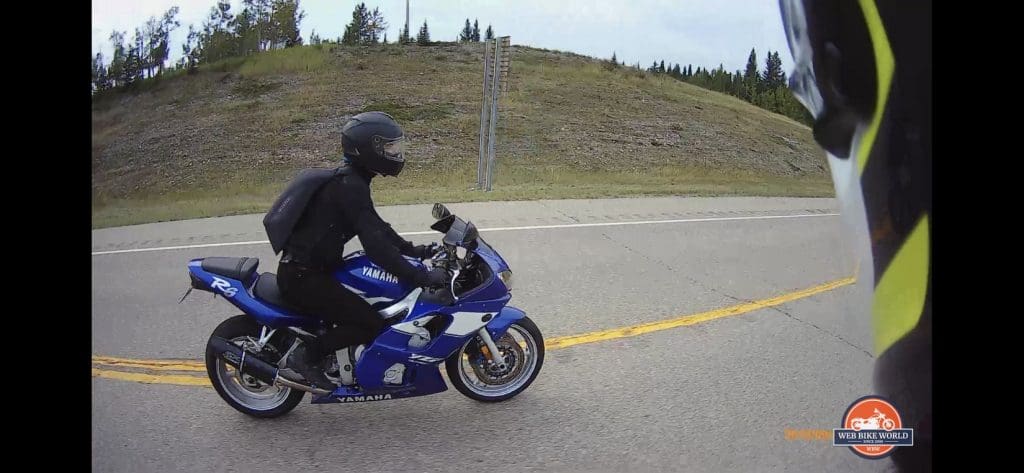 Time-Lapse Video
The 10C Pro can record video in a time-lapse mode, snapping one every second or 10 seconds. I think the wide field of view is beneficial when using this feature, but personally I don't have a need for time-lapse video at this juncture. See the videos I recorded below as a comparison of the two time-lapse speeds.
This video is the one photo taken every second version.
The video is the one photo taken every 10 seconds time-lapse.
Landscape Shots? Not A Great Fit
If you're trying to take a nice photo of your new friend Ian with a stunning Idaho landscape set behind him… well, unfortunately the 10C Pro leaves plenty to be desired and it's the weakest area of performance.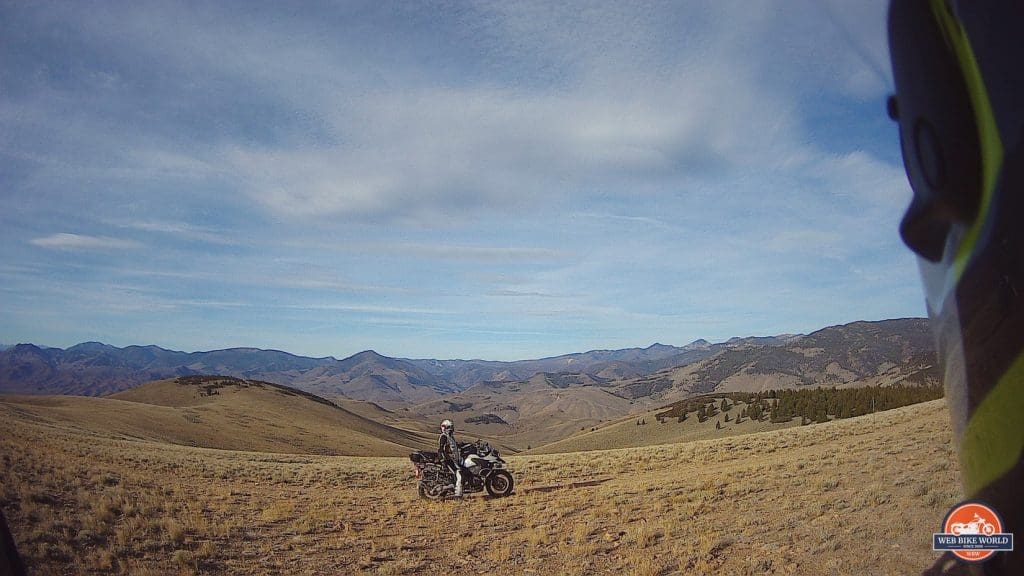 I don't know if it's the wide-angle lens effect or something else, but distance always seems greater to an object in video or photos using the 10C Pro than it really is. This takes some getting used to. The photo above is a good example of that. Ian is actually about twice as close as he appears to be in that pic, but the wide-angle lens makes him seem like he's avoiding me…
Having said that, I did capture a couple of really stunning shots with it seen below.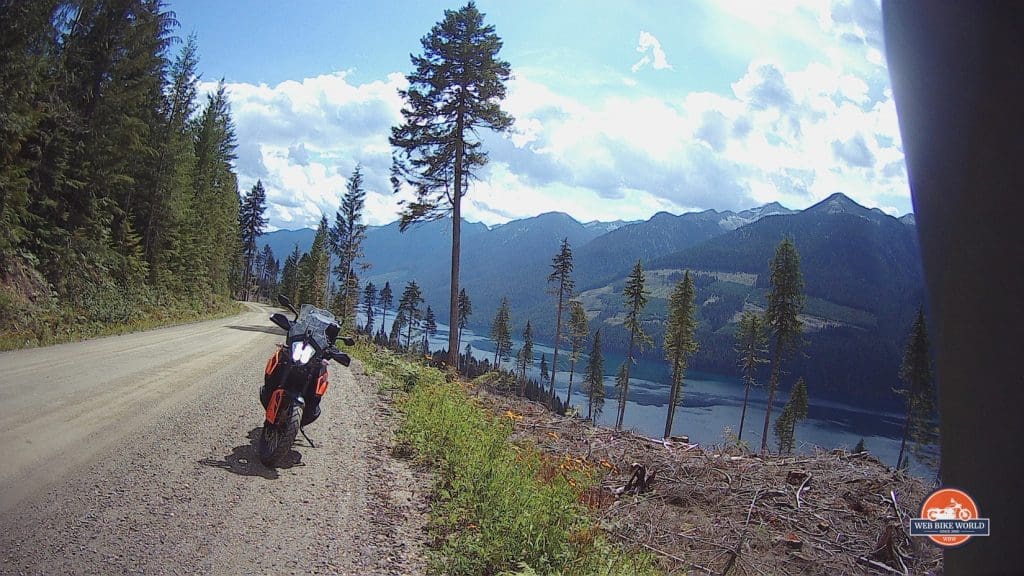 (Full disclosure these two photos have been edited a little bit to enhance the colors.)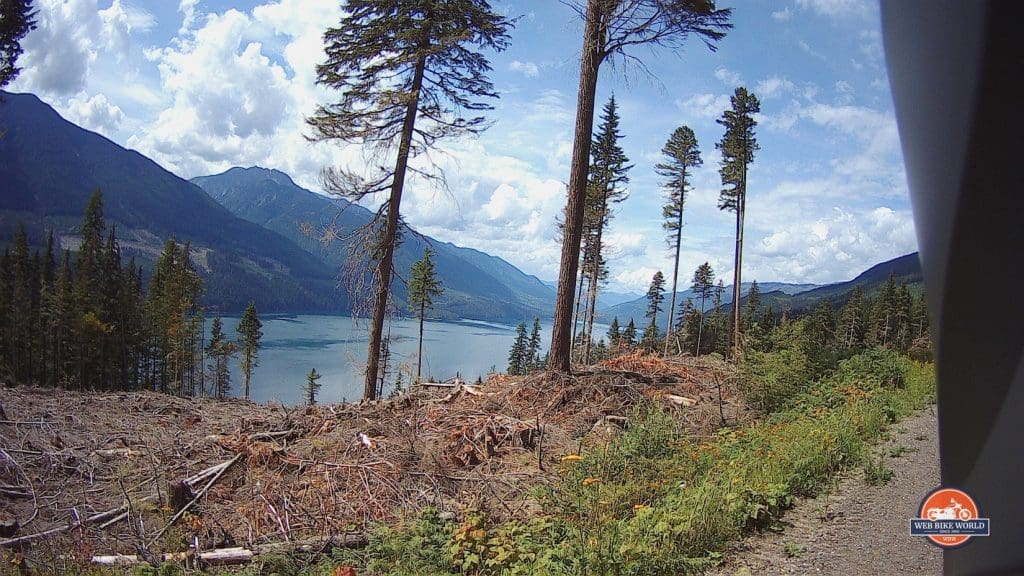 The 10C Pro Sweet Spot
Somewhere in the middle, it works acceptably well. Like when you're taking fun shots and videos of friends and your spouse riding a twisty mountain highway like the 1A near Canmore, Alberta.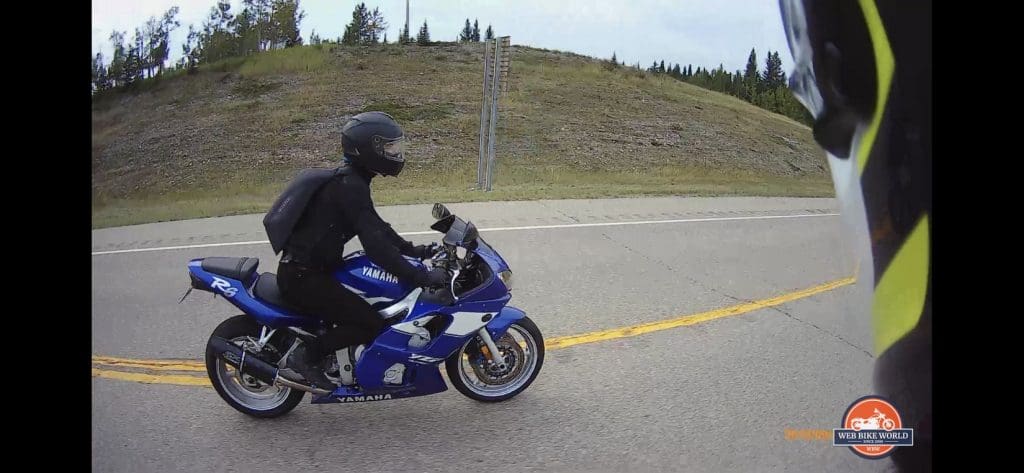 Above is my friend Michele "SpeedQueen" on her R6. Below my friend Chris on his FJR1300.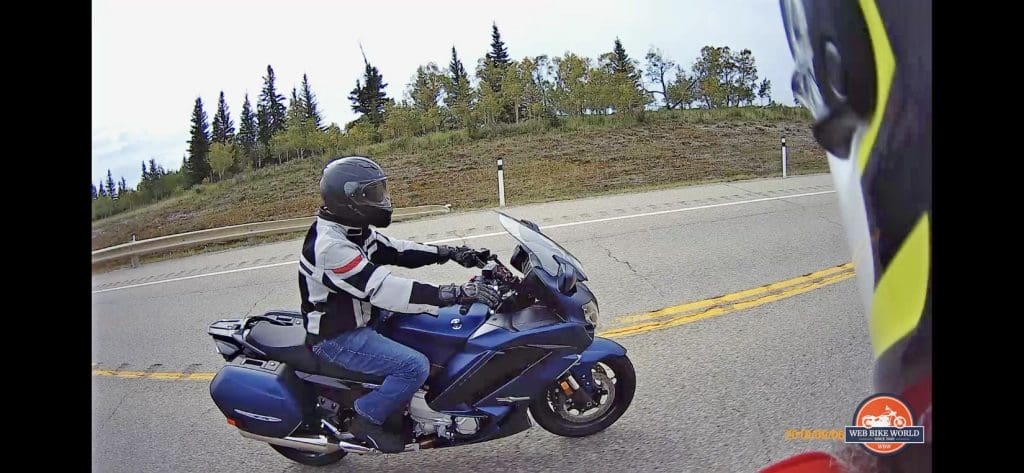 You can still see how the edges of the shots curve weirdly in the two shots above, but after some practice, I got better at learning to center my subjects as you can see with the photo of my wife on her CB500X below.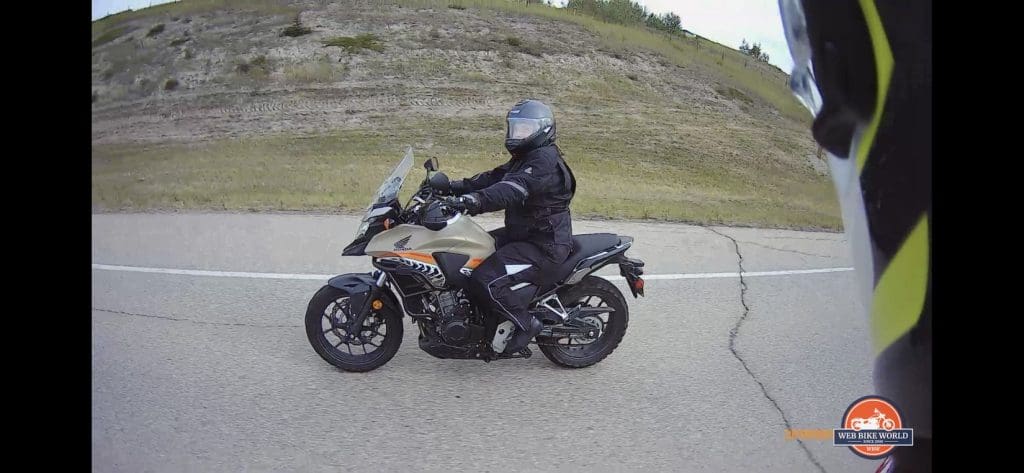 I suppose it wouldn't be hard to crop the distorted edges off photos during editing.
Functionality
Timing Is Everything
As with any new tech I review there's an awkward period of adjustment where I have to learn to adapt to the product's "quirks". The span of that period is what I base my user-friendly rating upon. The 10C Pro took a little getting used to, but I had it sorted out after about 3 days of use.
Delay Issues
The biggest hurdle to mastering the camera is working around the startup or wake up delay on it.
There's only one button to control the camera which makes it quite simple to turn on and take a photo or video. Push that button momentarily and you'll hear the voice of SENA say "Camera On".
Half a breath later you'll hear a tone letting you know it's ready to record or take a photo, but before that, you're unable to do anything except wait… and that's the hard part to stomach as you pass by deer… (pic below).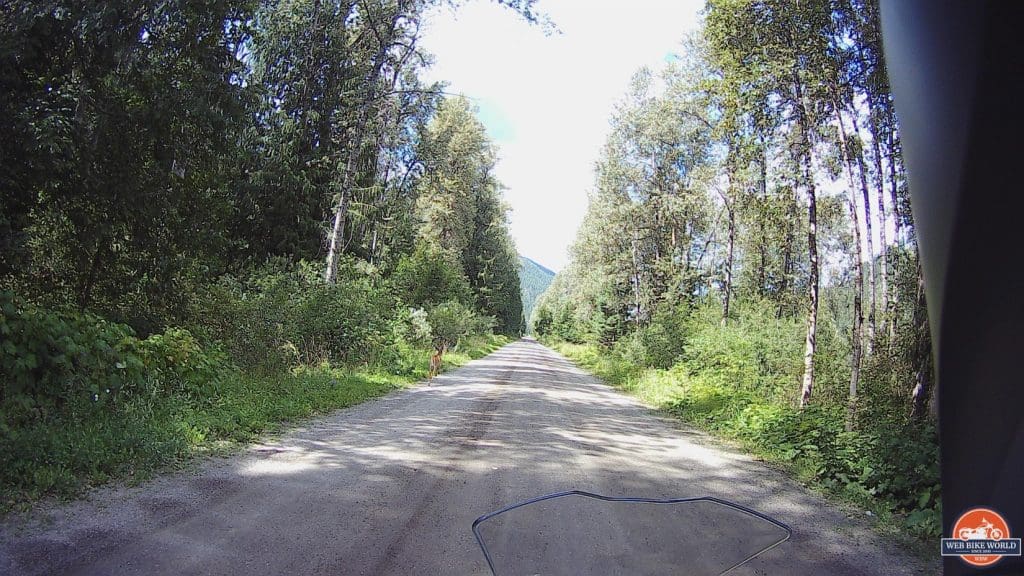 Or a porcupine (below) on the road you might want to always remember.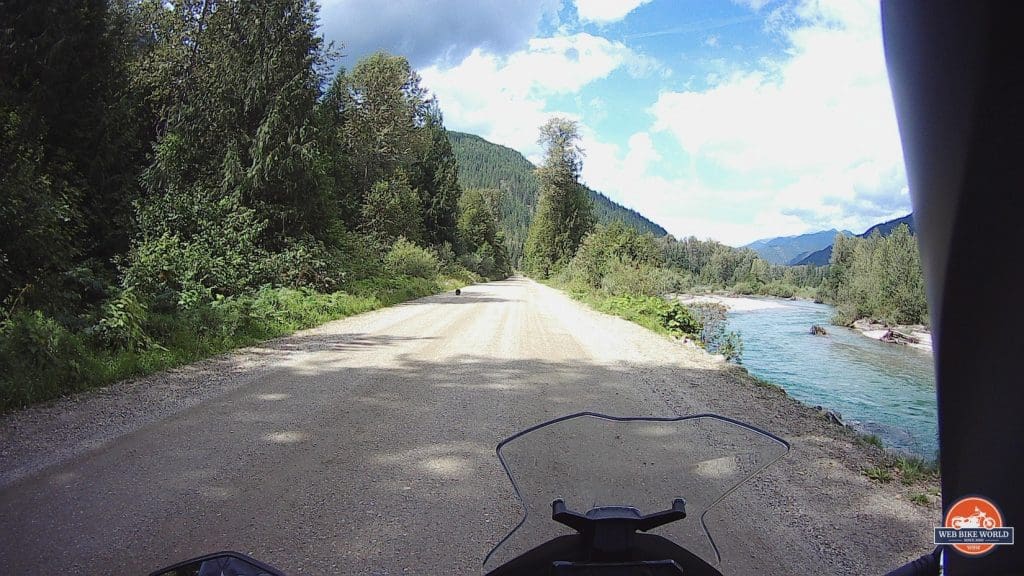 I was too far away to get a good picture of the deer and porcupine in the photos above, even though they seemed close enough to my eye. The "fisheye lens" effect strikes again.
I waited too long to push the camera button to get a photo of the porcupine after I got right beside it. The result was that it was off the road and partially in cover when the SENA actually took the photo (below).
After hearing the "ready tone" when first firing up the camera you have to either momentarily push down the camera button again to actually snap a photo or hold it down almost 1 full second before releasing it to start recording video. That adds even more time to the process of capturing a fleeting moment while out on the road.
You can see how I almost missed getting a pic of my friend Ann in the photo below as I passed her. This further illustrates the learning curve of capturing media using the 10C Pro.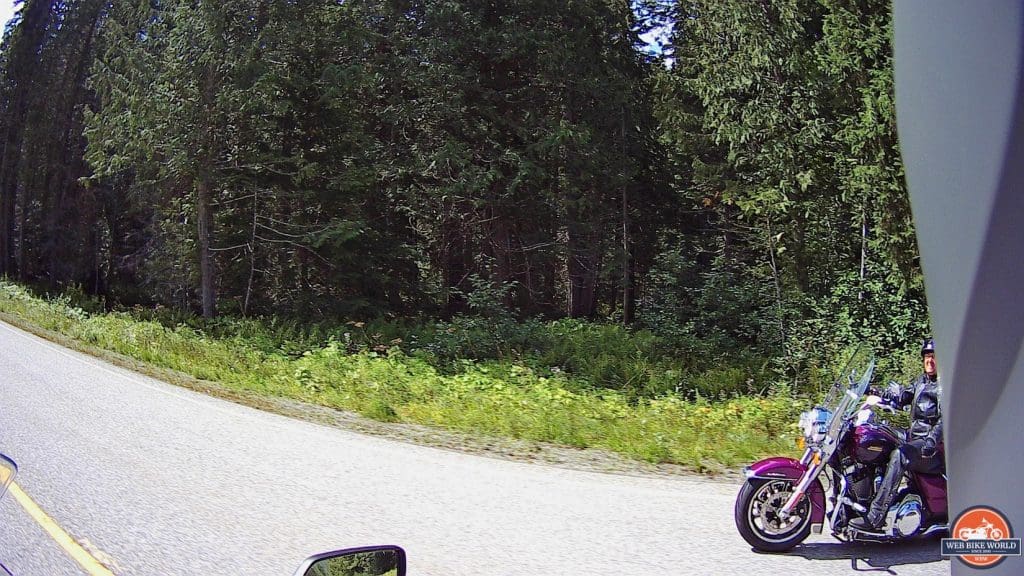 Camera Sleep Mode
Wait… there's more waiting.
If you've had the camera turned on for more than 5 minutes SENA goes to sleep in order to conserve your battery life. She lets you know about this by saying "Camera Off" which is very polite, but annoying and sometimes startling if you've forgotten about her and are daydreaming when she announces naptime.
Turn Sleep Mode Off?
You can go into the settings and turn off the sleep mode for the camera to avoid this problem. Doing so will, of course, deplete your battery much faster if you forget to turn it off manually afterward.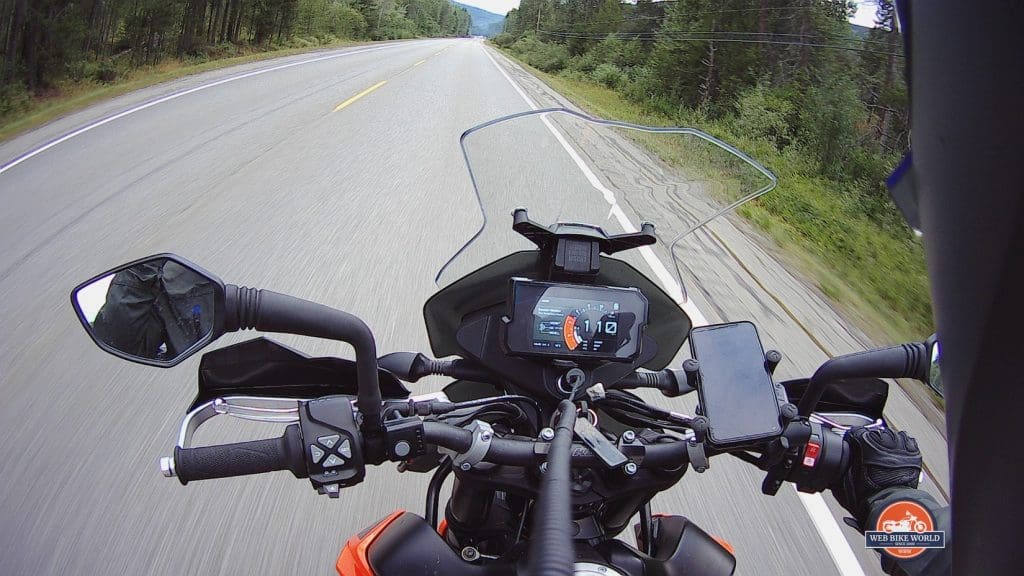 You can beat this problem by simply plugging in the 10C Pro while using it! SENA knew you'd want to do this and has made accommodations. I quickly learned to plug mine into the 12V aux plug on the dash of my 790 Adventure (photo above) and so haven't missed capturing a shot ever since.
Battery Life
I first rode with the camera on the Powder Face Trail in the foothills near Calgary, Alberta where I shot about an hour of 1080p video at 30 and 60 fps combined with about 20 photos. I found the battery had no issue holding up to that, but the videos were all short in length, and so nowhere near the 2-hour continuous claims of the manufacturer.
I do notice that after using the 10C Pro even sporadically for video and photos over an 8 hour period it will suspend camera use but allow the communicator to keep working. Again, the solution to this problem is just plugging in the charging cable to bring it back to life.
I found the 2-hour continuous filming claim to be the truth later on while testing. SENA actually made realistic promises for the 10C Pro. Maybe SENA should start designing and building politicians?
Shooting Video
1080p at 30fps Video Example
Here's an example of a 1080p x 30fps video I shot with the 10C Pro. It's the footage I pulled photos off of using screenshots posted previously in this review. You'll note a few important things in it:
This was filmed on an overcast day and as a result, many details are lost on dark clothing, roads, etc. The 10C Pro gets a much better quality video when there's plenty of light available.
You'll hear some loud and obnoxious music playing from my iPhone playlist during the video. This is a really neat Smart Audio Mix feature of the 10C Pro which can be turned off if you don't like it. It's caused me some trouble when I've posted videos to Facebook and YouTube because those sites will mute videos with copyrighted music playing in them, so that's something to bear in mind.
If I had spoken during any of this action it would have been recorded on the video as well. This applies to chatter coming from other riders connected to your headset via Bluetooth pairing as well.
You can see the timestamp feature was active during this exchange.
You can hear the sounds of traffic passing me, engine noise, tire whine etc because the 10C Pro has an external microphone on it used to pick up ambient noise and record it on the video. This is adjustable to 3 different levels. Low level you won't hear anything going on outside the helmet, while this video was shot with it at the medium level.
1440p at 30fps Video Example
Here's a much sharper example of what the highest quality video looks like from the 10C Pro.
In this video you'll hear me commenting about the ride and motorcycle I'm testing. The mic was placed right in front of my mouth inside the helmet chin bar, so there's some popping going on as a result. I later moved it off to the side and up a bit to avoid this.
This kind of rich video takes a very long time to download, especially using the WiFi connection and I think I'll likely switch to 1080p for that reason.
Quality & Performance Issues
I think most people will be shocked to hear that once I adapted to the sleepy camera delay and fisheye lens issues I've been really pleased with the 10C Pro performance. It hasn't suffered from any technical issues whatsoever and has given me what I was after for the most part.
Given all the complaints I've found in forums and even on the SENA Tech Support pages I was surprised, to say the least.
Waterproof, Windproof, Heat, & Cold
I used it in a torrential rain storm without any issue the second time I took it out on the road. Just like every other SENA product I've reviewed, it wasn't afraid of rain one bit.
I've used it to shoot video and take photos in temperatures ranging from a low of 37F (3C) up to a high of 97F (36C) with no discernible difference in performance noted.
Leaky Camera Glass
Somewhat interesting is that the outer camera glass lens cover seal leaked during that rainstorm and allowed some condensation to form on the inside, but not on the lens itself as you can see in the photos below.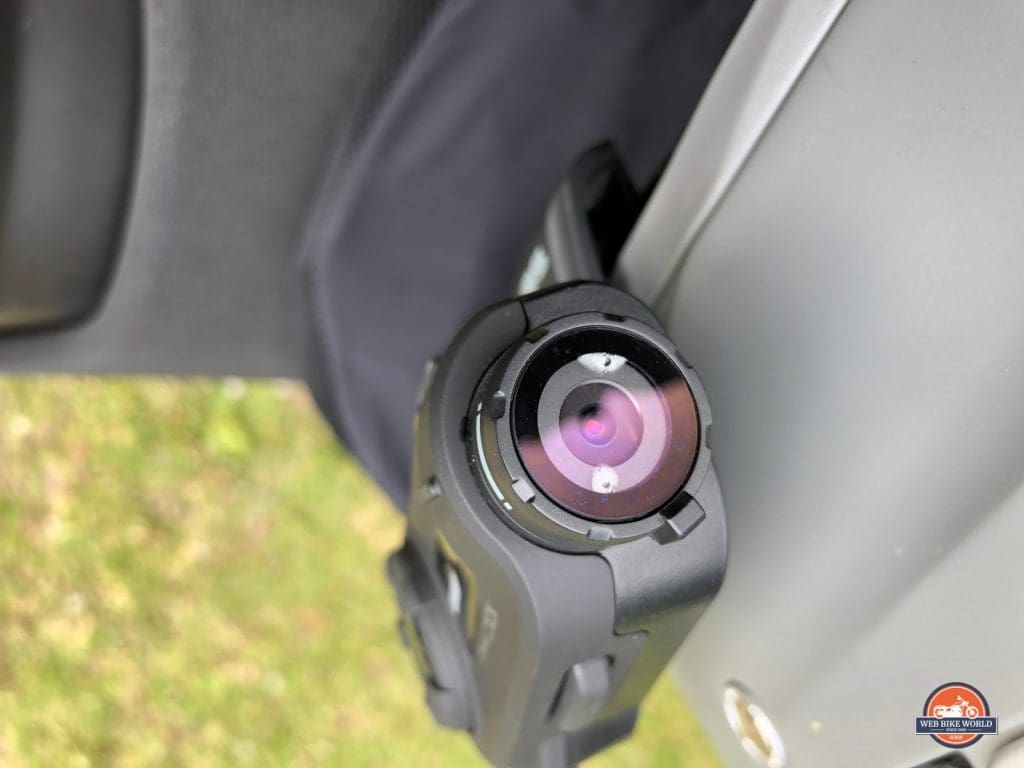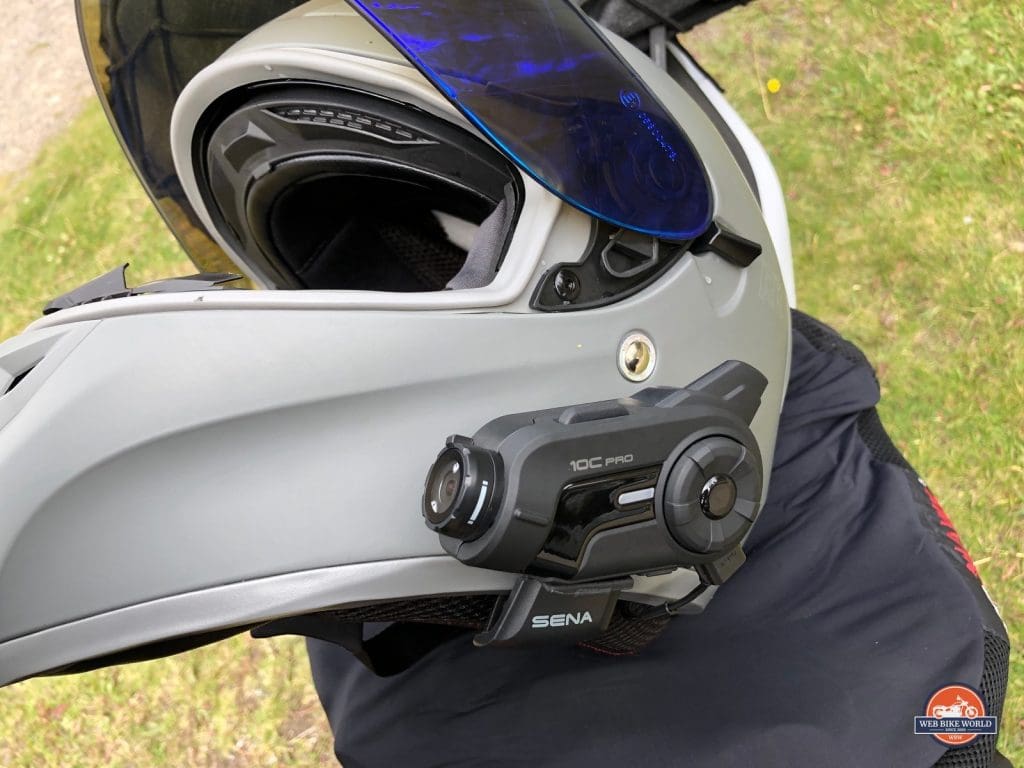 This seems to suggest the glass isn't sealed properly, but luckily after a time in dry and warm conditions, the condensation disappeared. I decided to continue testing the camera without approaching SENA about it to see what would happen from here.
Idaho Klim Cow Tagz Rally Dust Intrusion
Nothing is what happened even with a ton more use of the camera until I recently used it in Idaho at the Klim Cow Tagz Rally.
The mixture of Montana, mountain rain I encountered on my ride to Idaho along with the tiny, talcum powder-like dust particles produced by the off-road trails surrounding Challis, Idaho made a permanent modification to my 10C Pro as you can see in the photos below.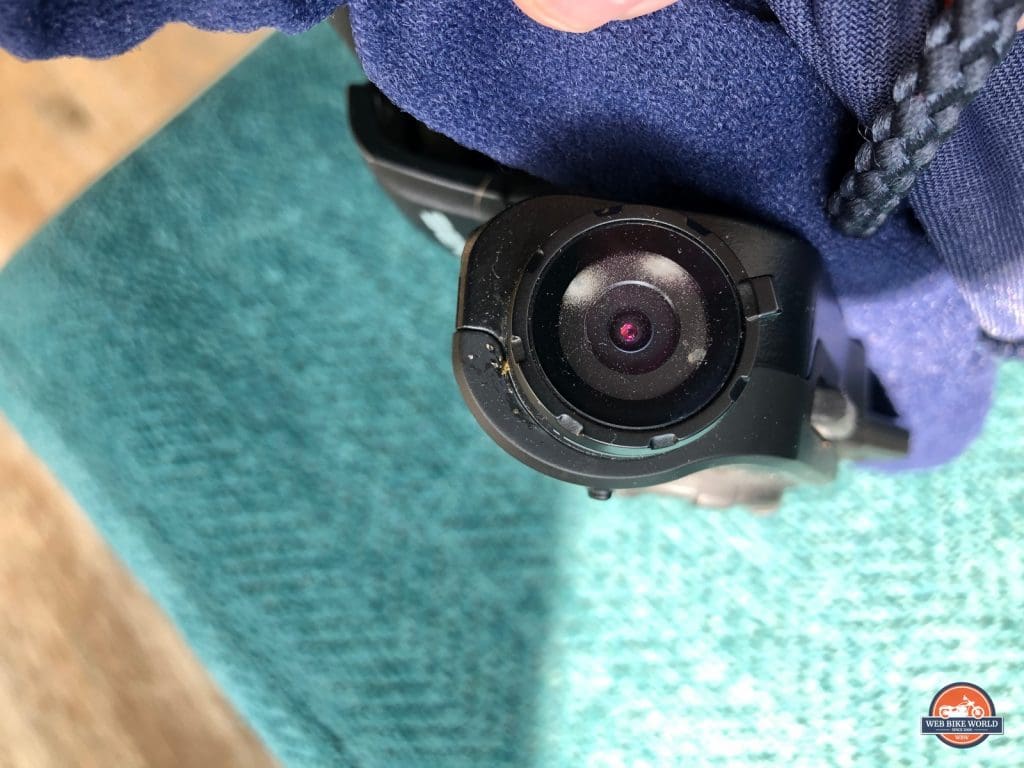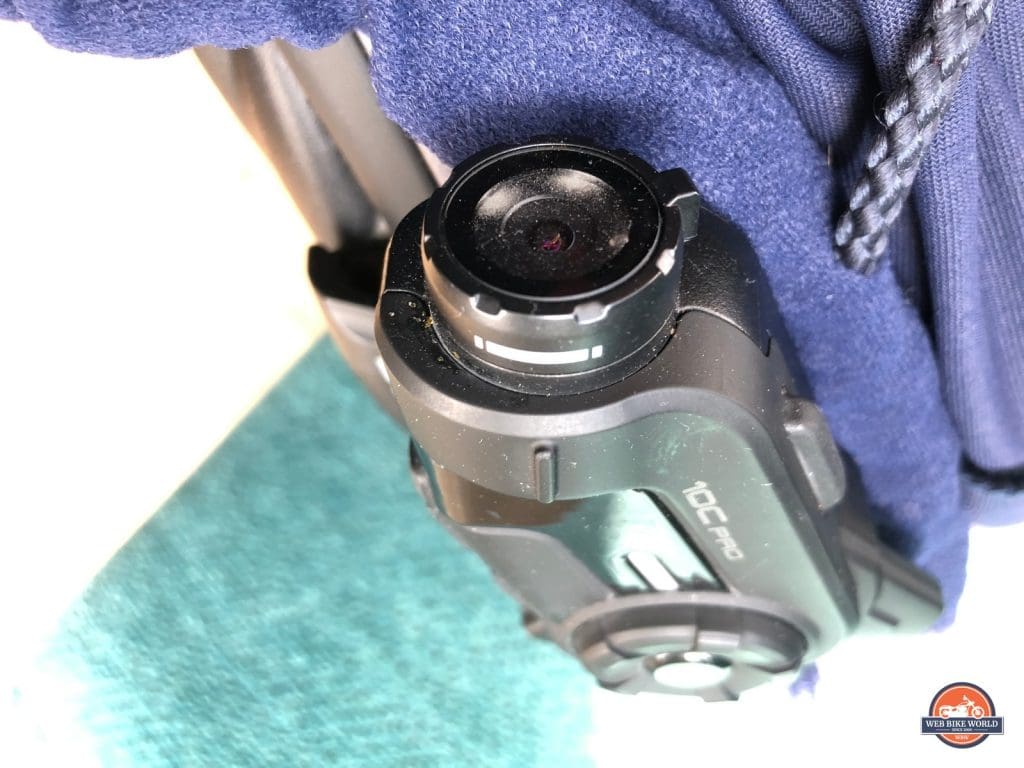 I thought for sure it would compromise any video or photos taken – only it still hasn't even up to now! The dust is still trapped inside, but I haven't seen any difference on the video or photos taken.
SENA Warranty
At this point, I did contact our SENA rep to ask about whether this would be repaired/replaced under warranty.
I was told it definitely would be repaired or replaced even though the dust wasn't affecting the camera's performance. The only problem is that the current supply of 10C Pro cameras is way under the level of demand, so I won't be getting a replacement camera right away. It's not urgent at this point because as already mentioned even this permanently entombed dust isn't showing up in any pictures yet.
Lousy Lens Cover Design
SENA does include a plastic lens cover with the 10C Pro to help protect the camera glass. The problem is there's nothing holding it on the camera other than a pressure fit and the cap is small and easy to drop when you pull it off to take photos.
Yes, I lost it almost immediately and never saw it again. It's somewhere out there on the road probably hanging out with a bunch of other lost 10C Pro lens caps.
SENA should design a new version of lens cap equipped with a magnetic or velcro retainer on the side of the camera body. It should also have a small tether on it so that when you pop it off while riding it won't fall on the road and bounce away into the ditch. The retainer could hold the cap out of the way until you're finished using the camera then be replaced to protect the glass.
What About Camera Bug Strikes?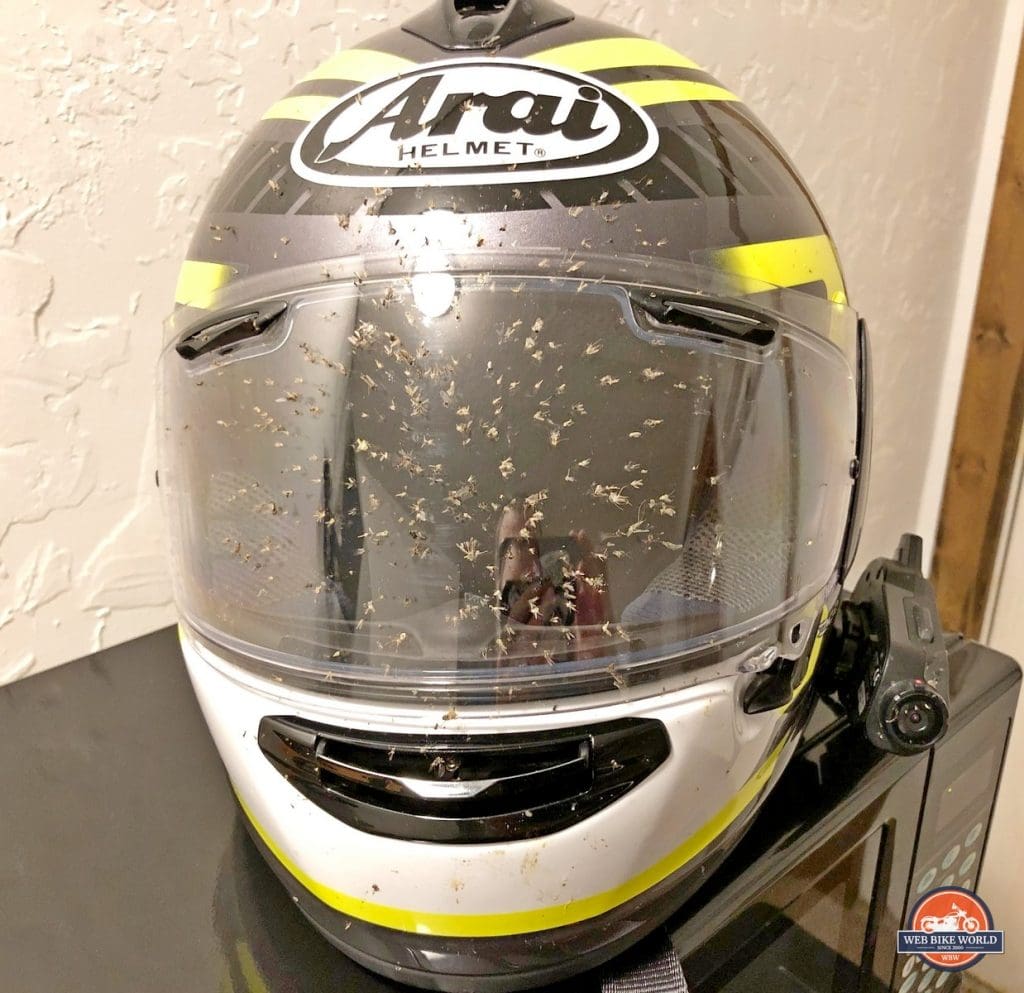 Indeed this was a concern of mine because there are some really big bugs exploding on my helmet regularly. 
Would these kamikaze insect corpses and resultant body fluids affect or ruin my ability to capture quality video media?
In a word: Nope.
It shocks me how seldom anything actually gets on the lens where it would affect the picture, believe it or not. I logged well over 2000 miles of testing time on this camera and I can show you one video I shot out of dozens that were affected by insect gore stuck on it. Even at that, it's footage I still plan on using in my upcoming MotoZ Tractionator Adventure Tires review.
Final Verdict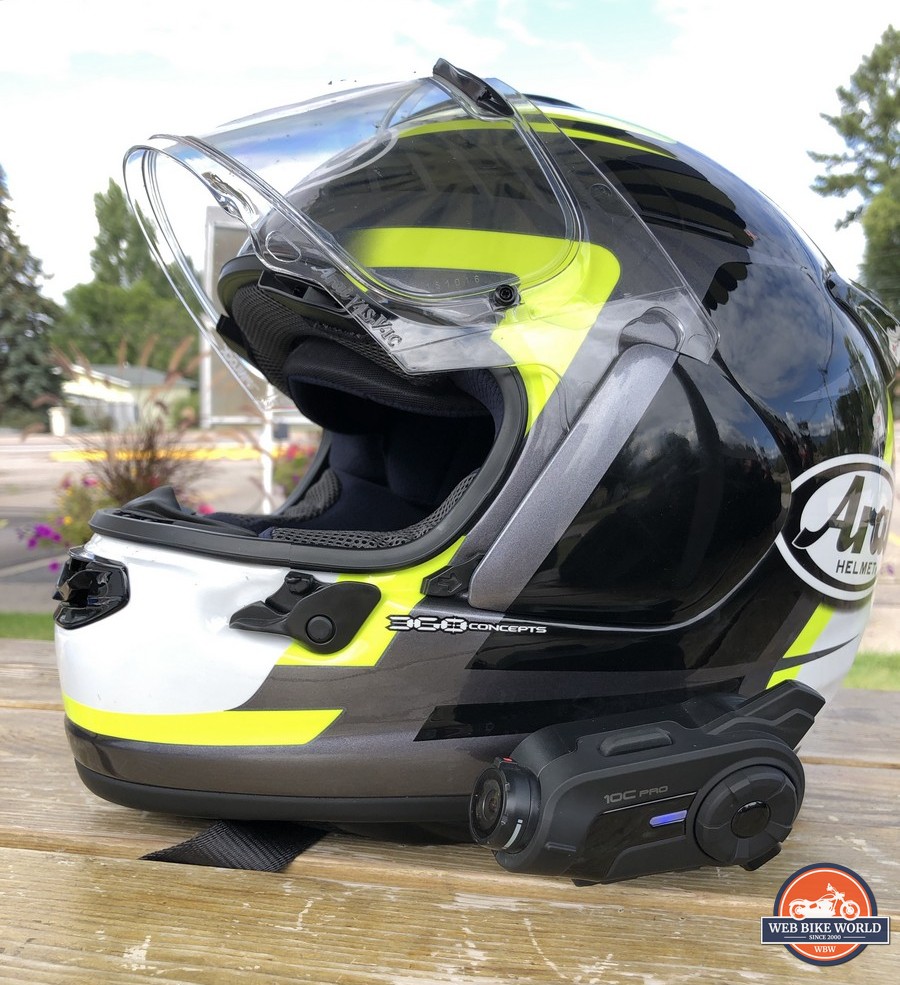 The reviewers at wBW aren't the easiest group to impress. We put products through rigorous testing and don't hold back with our criticism when the review is finally written. Looking back I can confirm that we've given SENA a bit of a rough ride in the past during previous reviews of their products.
I myself might be one of the most critical of the bunch and I tend to test gear out over a longer period than most others because I don't want to miss anything. Bear that in mind as you read this next part.
I really like the 10C Pro… really, REALLY like it. I'm on the verge of saying I love it. If I could change from wide-angle to linear view that would be enough for me to utter those words most men never want to say… I love you SENA 10C Pro.
SENA if you can just make a couple of tweaks on the next generation, please? Thank you.
Pros
Strong, compact, & durable build
Water & weather resistant
reasonably priced
Fairly user friendly
Easy firmware updates
Easy installation
Long battery life & fast recharging
2-year warranty
Quad HD video capable
Camera-video-communication device
Only 3 buttons
Can recharge while in use
Good speaker sound
Clear audio recording
Loop video feature doubles as dash cam
Cons
"Fishbowl" lens distortion
SENA app connection is sometimes glitchy
Easy to miss photo ops if camera is in sleep mode
A bit tricky to level the picture
Lack of zoom or slow motion in video
No internal memory
Leaking camera glass lens cover
Specs
Manufacturer: SENA 
Price when tested: $ 349.99 USD
Made in: China
Review Date: September 28, 2019