Cardo Freecom 4X Communicator Review Summary
Review Summary
The well-built Freecom 4X sits atop its class thanks to a flawless voice command feature, clear JBL speakers, long battery life, cordless over-the-air firmware updates, and its user-friendly design. It is what it claims to be in every way. The price seems slightly high and I occasionally encountered static noise while connected to the second Freecom 4X unit in the Duo pack. The control wheel is mounted so low on the device it sometimes impacts the shoulder armor my riding jackets when I make shoulder checks. Hitting that button shuts down music or guidance audio. Overall this is still an excellent piece of riding kit that outperforms comparable Sena devices in my opinion. Having said that, I would recommend looking at the Packtalk Edge for $120 more if your budget allows it because the Edge might offer greater value for the extra money.
Pros
Flawless voice command system
Easily connects via Bluetooth to Sena devices for intercom needs
Excellent battery life
Intuitive and easy-to-use controls/buttons
Near flawless intercom functions
JBL speakers have above-average sound quality
USB C charging cable
Over-the-air updates are easy to do
The Cardo Connect app works well with a good selection of settings
Waterproof, dustproof, and handles cold and heat well
Cons
The control wheel switch can contact jacket armor while doing shoulder checks
The charging indicator light turns off once it reaches 100%
No Mesh intercom capability
Bluetooth intercom has infrequent static and limited range
Price seems high
Cardo Freecom 4X Communicator Image Gallery
We've compiled a good many Cardo reviews and Sena reviews on wBW over the years, with the majority coming from our electronics expert Bruce Cole.
That makes complete sense—but as a longtime Sena user, I've been looking to do a Cardo review to see if their grass is greener.
Thank You, Cardo!
Our contacts at Cardo (Kelsey and Zac) sent me a set of two Freecom 4X devices at no charge to do this review. Am I ever glad they did! This review has swung me over to the Cardo camp from the Sena one I've been in for years.
For me, the biggest factor behind joining "Team Cardo" is the unmatched voice command feature on the Cardos versus the one on the Senas.
My History: Sena vs. Cardo
My inventory of Sena devices consists of the 30K, 10C Pro, and the 10C Evo—actually, four of them. Yes, I own four Sena 10C Evo cameras and yet only sporadically produce mediocre video content.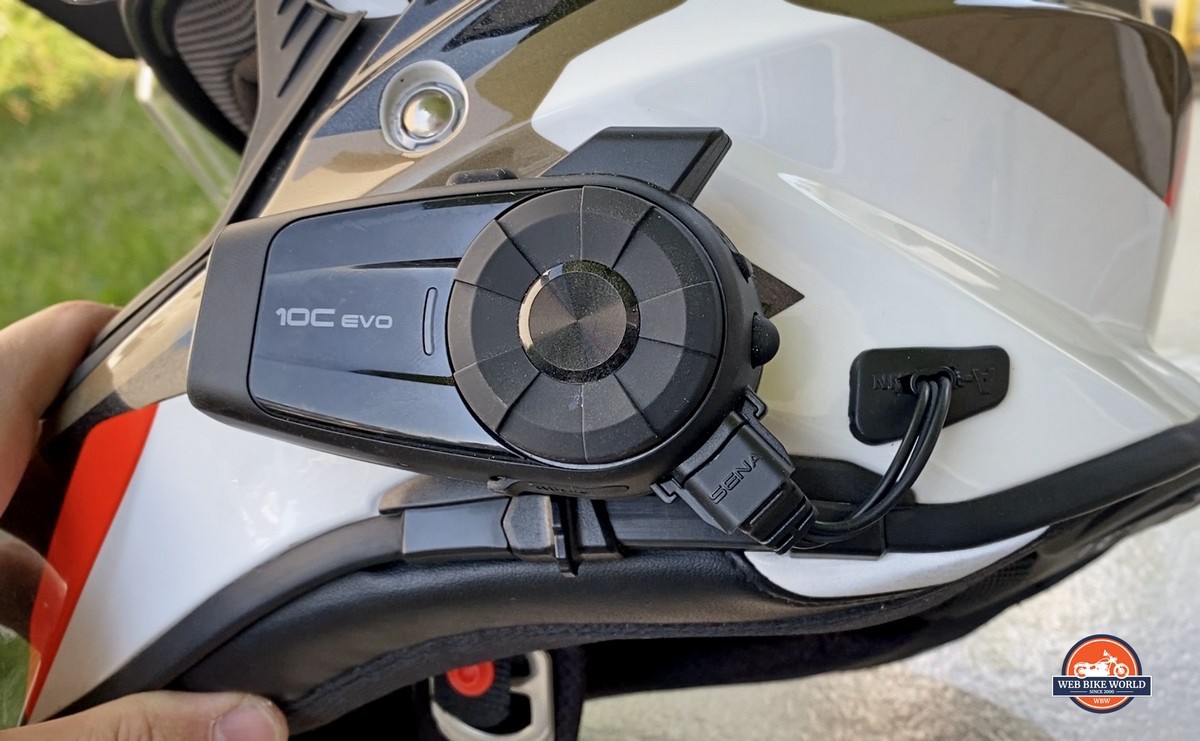 The 30K first won me over after making the 6000-mile Ride to Tuktoyaktuk in 2018. It saw a lot more miles after that too—until I got the 10C Evo, which then became my go-to device because it can do it all (navigation, music, phone calls, radio) and additionally record high-quality video/audio.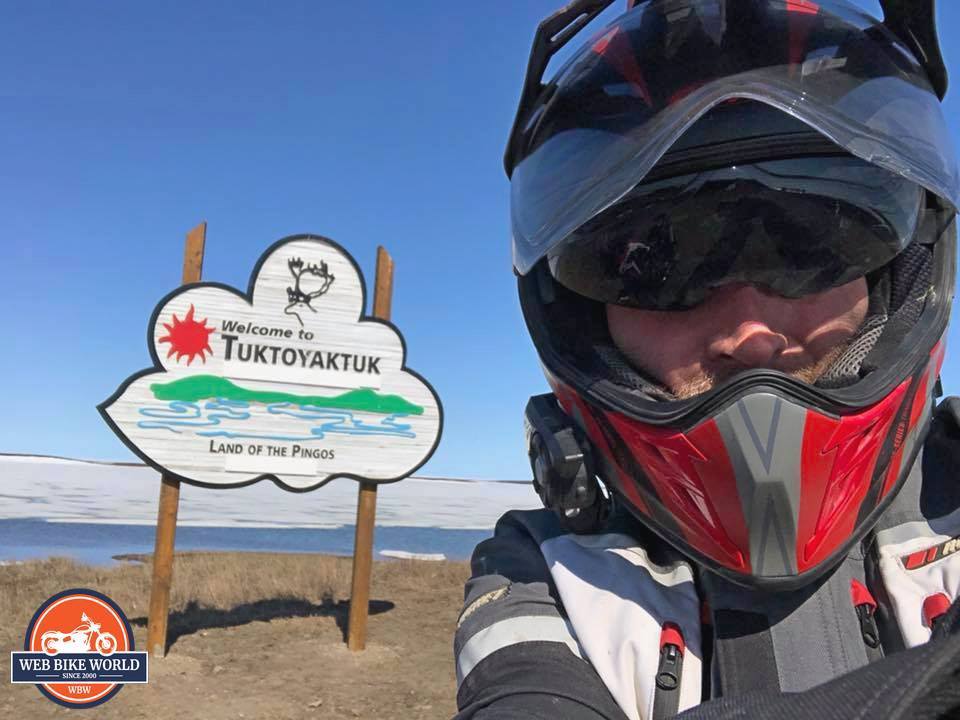 Despite my general satisfaction with the performance of all those Sena units, there were some irritating bugs and shortcomings. Specifically, I speak of issues with intercom clarity and ease of use at highway speeds.
Nothing Is Perfect
The 30K is equipped with praiseworthy Mesh intercom technology and a moderately useful voice command feature. Unfortunately, the Sena voice command assistant only responds about 10% of the time on the highway thanks to wind noise overpowering my voice—even when I yell directly into the mic at the top of my lungs!
With one of my 10C Evo units, I've also endured annoying static and popcorn noise when connected to other devices using its Bluetooth intercom feature.
I've now found that the Freecom4X (aka the F4X) can outperform my Senas, but not in every category… just 99% of them. Still, it's worth noting that the Sena equivalent of the F4X is less expensive.
A More Succinct Review
In this review, I'll skip commenting at length on all the features the Freecom 4X has to offer and instead focus on what really stood out—along with where it fell short.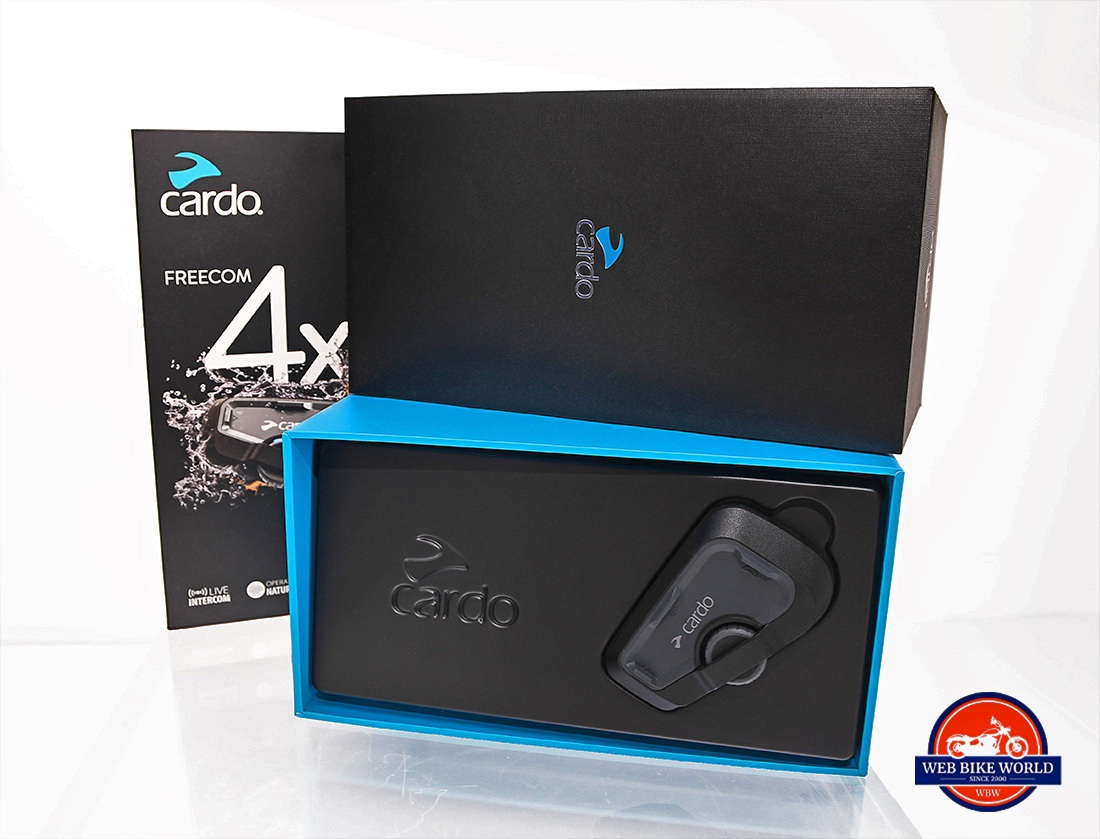 In that spirit, let me first get the following details out in the open: I found the Freecom 4X was able to do everything Cardo claims it should during my testing.
It connects to my iPhone 13 Pro Max immediately upon startup
Performs firmware updates when connected to my iPhone using WiFi or cell data
Battery charges to full in less than 2 hrs and lasts for over 12hrs of continuous use
Battery still registers at 50% after sitting unused for 15 days
Installs easily in a Klim Krios Pro helmet
The buttons are easy enough to use even while wearing gloves
Plays music, radio stations, podcasts, and any audio coming from my phone perfectly
Makes and takes clear phone calls
Activates Siri on my iPhone every time I ask it to verbally or using the phone button
Connects to navigation apps or devices that work concurrently with music playing in the background
Connects via Bluetooth intercom to other Cardo and even Sena devices
Performed as intended in temperatures as low as 41 °F (5 °C) up to a high of 107 °F (42 °C)
Handled exposure to rain, dust, and dirt without issues in the Mojave Desert at the Revzilla GET ON! Adventure Fest Rally
I expect any good quality comms device to check all the boxes in the list above, so it begs the question: what did the F4X excel at doing that impressed me so much? Read on.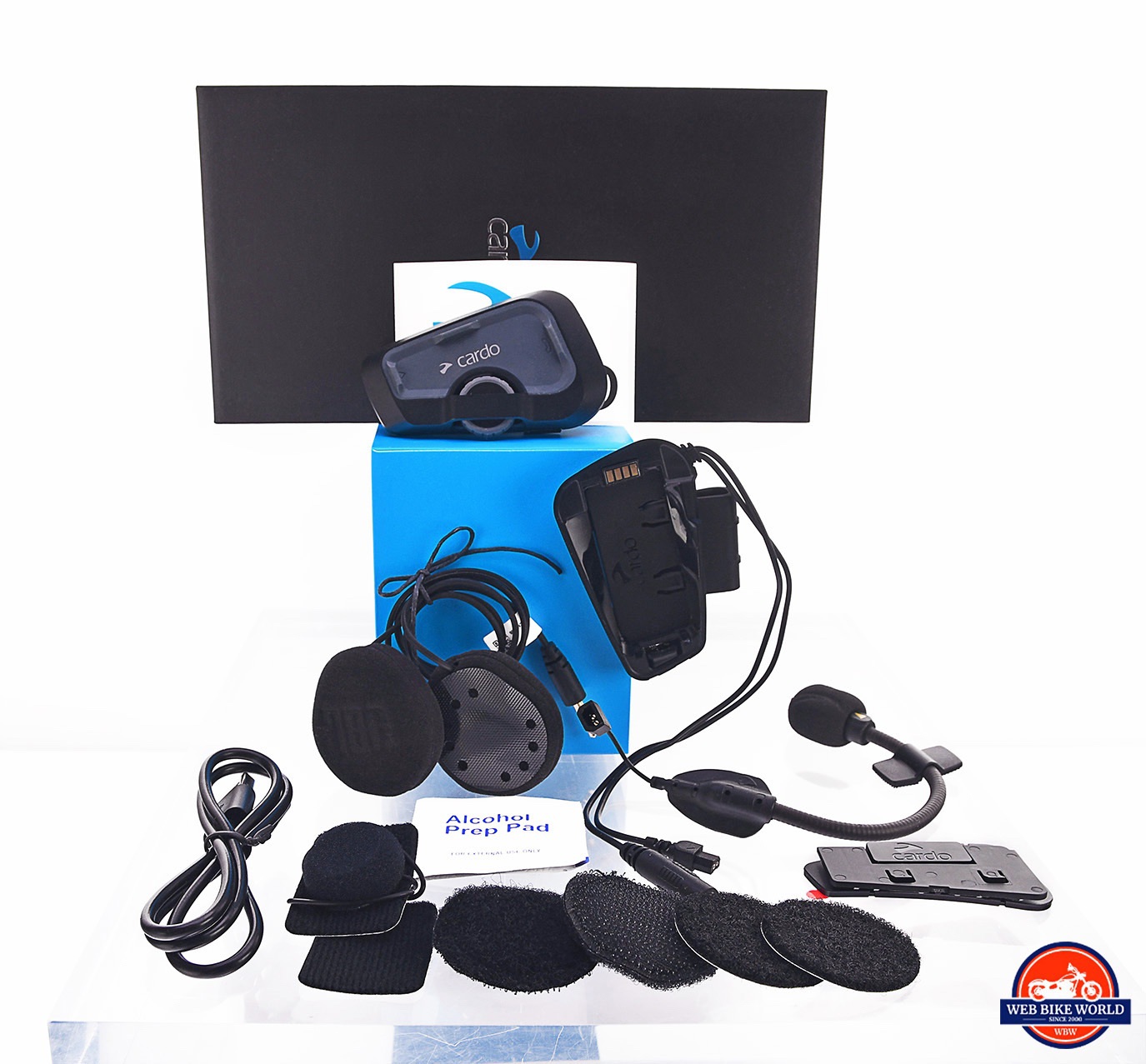 The Cardo Voice Command Feature
If you don't have the patience to read this entire review you can stop after this section, because I think the voice command is what makes the Freecom 4X the safest and best device to buy in its class.
"The best" is a phrase I avoid using normally because it's so subjective and relative to a given situation, but this voice feature is what truly makes Cardo devices stand out. The ease of use and 100% accuracy of the voice command feature are mind-boggling to me.
Never once did my "Hey Cardo… do this or do that" command go unfulfilled! It didn't matter what speed I was traveling or how loud the wind or motorcycle exhaust noise was, the control was flawless.
What's Cardo Voice Command?
In case you aren't familiar with what the voice command feature is, it allows the rider to verbally control the Freecom 4X functions and even summon Siri or Google to activate cell phone features (like a phone call). See the photo below for a list of available Cardo commands.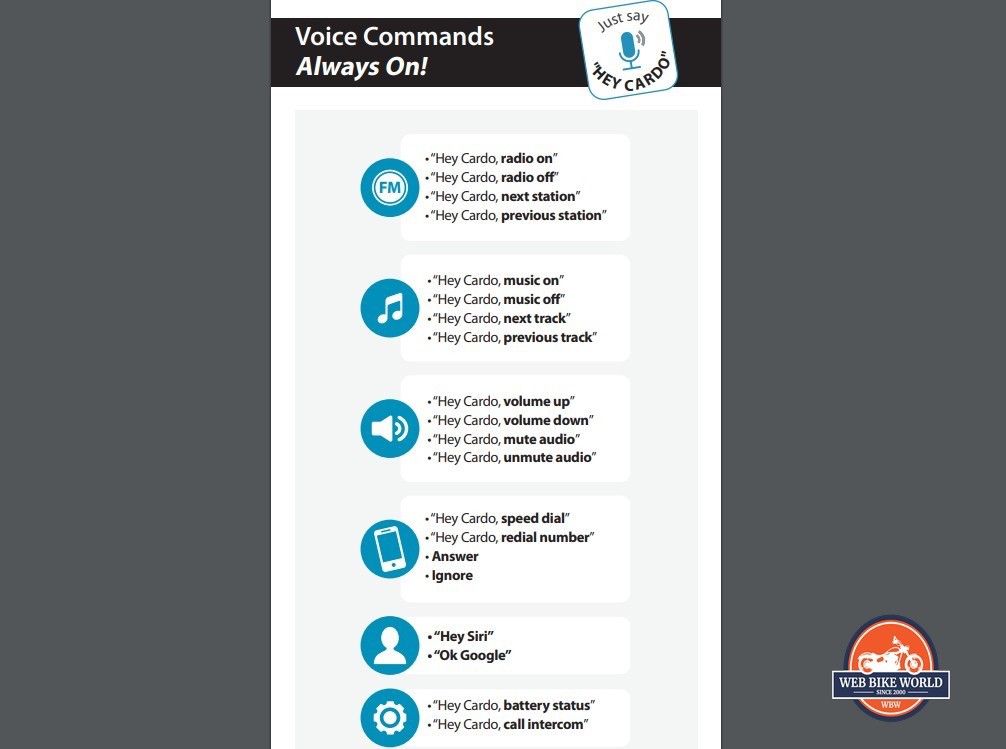 It's not just the accuracy/reliability of this feature that places the Cardo ahead of Sena and others either. With the Cardo, a user can activate the device's voice command assistant and issue the desired action in one continuous phrase. "Hey-Cardo-radio-off" results in the radio immediately switching off, whereas with Sena devices, it's not that smooth—even on their flagship 50 series.
Timing Your Pauses
If you watch my recap video from EICMA 2019 and jump ahead to the 2:30 mark you'll see me experimenting with the voice command feature found on the Sena 50R. Note that the difference in voice command fluency is that the user has to pause briefly after saying "Hey Sena" to get the device to listen for the actual command words that follow. With the Cardo, that pause isn't needed.
This may seem an insignificant difference, but believe me when I say it's noticeable and irritating to have to be so exact with that pause. Mess up the timing and you'll find the command phrase won't get recognized (or executed) on the Sena. The older 30K model is even more laborious and inaccurate.
Sena is getting closer, but they're not quite on par with Cardo in this area.
What About Accents?
After many miles of absolutely rock-solid consistency, I got to wondering if I might be able to trip up the voice command by using different accents, changing vocal rhythms, mumbling, or placing emphasis on different syllables. To my surprise, the Cardo still understood my impersonations of British, Scottish, Irish, and French-accented English. Compare that to how the Australian or English version of Siri on my iPhone 13 Pro Max doesn't understand my Canadian English accent. What a hoser!
A friend of mine who is originally from Columbia (and has a slight accent on his English) just bought the newly-released Cardo Packtalk Edge. He's been equally impressed that the voice command works perfectly for him.
The Safest Comms Device
All this boils down to the fact that a rider using Cardo voice commands never has to take their left hand off the grip to push buttons on the headset when they want to get things done on the fly. Ergo, I feel confident saying the Cardo is a safer helmet communicator than average because it's the easiest to use verbally.
Over-the-Air Firmware Updates
If you own older Cardo devices, you'll know how frustrating it's been to do updates on your device using the Cardo website and a laptop. Part of the frustration comes from needing the original Cardo USB cable to do it, which is unreasonable in my opinion. Who among us hasn't misplaced or damaged a charging cable in their life?
Sena devices will work with any USB mini cable for charging or firmware update needs and as such, have the upper hand against older Cardo units.
With the Freecom 4X, this wasn't an issue for me because when the device is connected via Bluetooth to a smartphone, the Cardo app will prompt you to send updates cordlessly. The Cardo app can use either WiFi or cellular data to retrieve the update and then transfer it to the Cardo device via Bluetooth. I completed the first wireless update to my 4X while riding in a truck on the highway using cellular data. This slick process impressed me, just as the voice command feature did.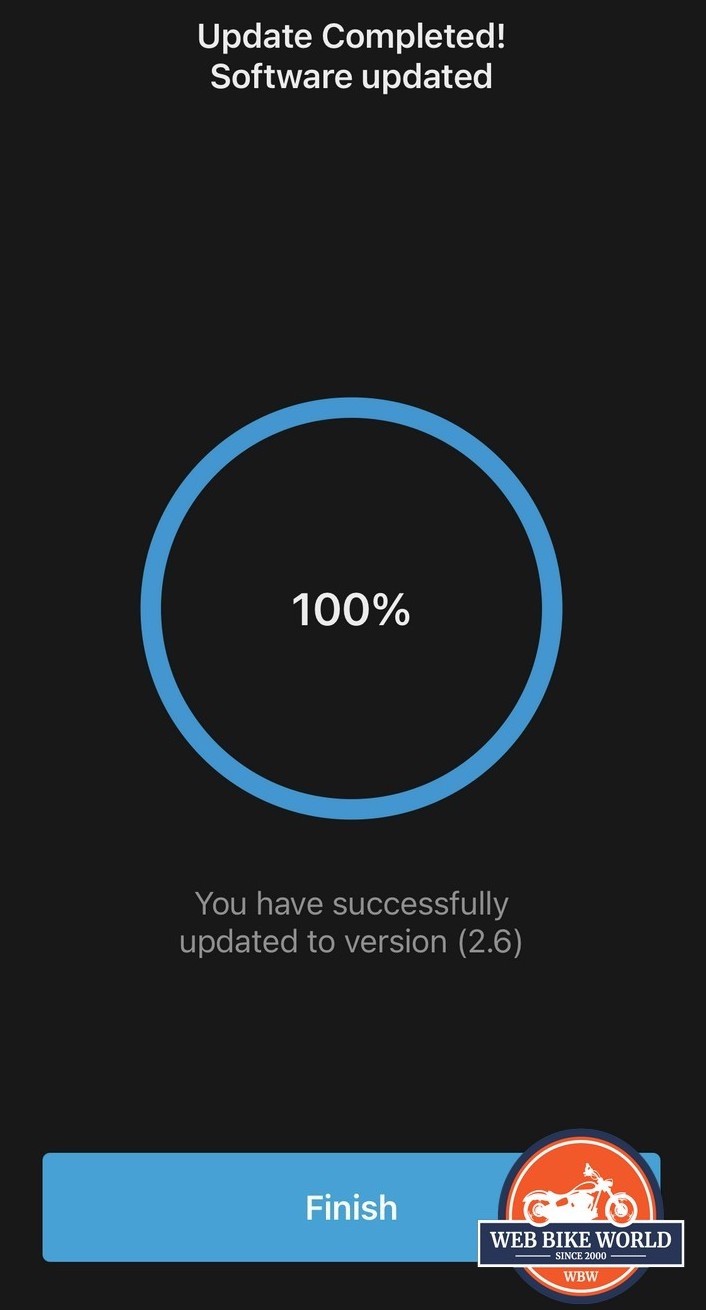 The Cardo system again is superior to the new (and equivalent) Sena wireless update system on their 50 series devices, which still requires a special WiFi adapter cord.
USB C Charging Cable
Another great example of the attention to detail Cardo put into the F4X is that they used a USB C-type charging cable.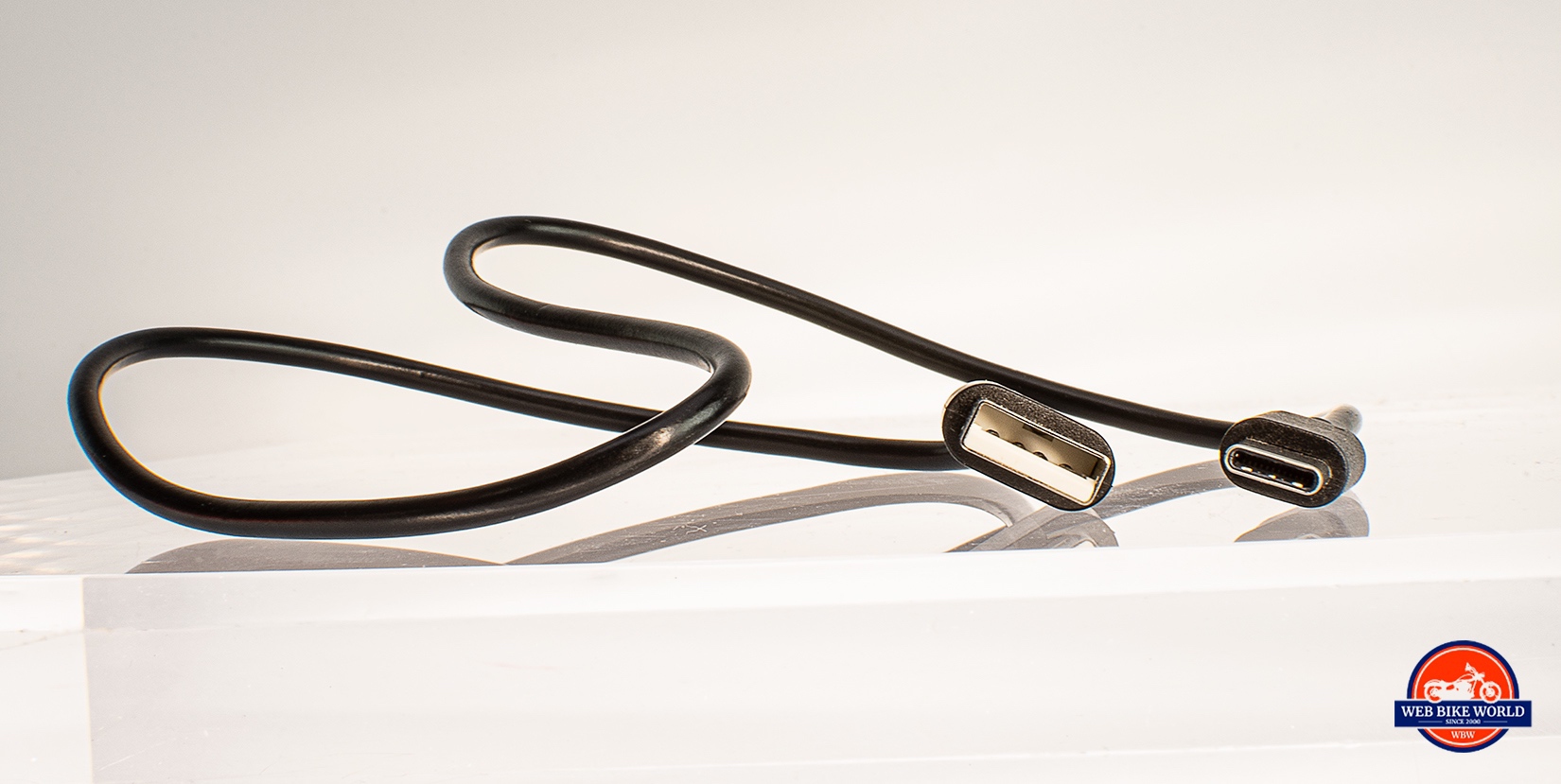 The end that plugs into the device itself is bidirectional, unlike the USB mini connectors all my Sena devices use. The USB Mini connector has to be inserted the correct way or it can damage the charging port. This is admittedly a small attribute to praise but one I appreciate when I'm tired at the end of a long day of riding and trying to charge my comms device.
The Freecom 4X Intercom Connects Easily to Sena Devices
In my other reviews, I've sometimes been unable to get different brands of communicators to link up for rider-to-rider intercom needs. This is a huge frustration for most everyone I know and often forces people to buy a Cardo when they actually want a Sena (or vice versa) in order to make things go smoothly on group rides with their friends.
At first, I thought it would be the same with the F4X since I couldn't get it to pair with my Sena 10C Evo using the universal intercom on the Sena and the phone pairing on the Cardo. That has worked on older devices but wouldn't on this new Cardo. I reached out to my Cardo contact since the information in the instruction manual wasn't clear.
The answer I got was much simpler than I anticipated.
The New Cardos Are More Adaptable
Turns out these new Cardos can adapt to other brands of comms.
All I had to do was start the standard Rider A intercom pairing process as usual on the Cardo, then activate the phone pairing feature on the Sena—and BAM! They were linked perfectly after that, but I had to use the phone button on the Sena to pause or initiate the intercom channel as opposed to the usual intercom button. This is because basically, the Cardo had fooled the Sena into thinking it was a cell phone instead of another comms device.
The JBL Speakers Hit the Bullseye for Me
The F4X comes standard with 40mm JBL speakers, which have great clarity and volume capabilities compared to many competitors' offerings. I would say these JBLs sound slightly better when it comes to clarity at high volume than Sena's HD speakers, which is saying a lot.
It's crucial to mount the speakers in the helmet as close as possible to your ears to fully appreciate how good they are. If they're too far away, you won't get much bass or midrange, and they'll sound quiet at high speeds.
The 40mm speakers are a perfect size to install in the pockets of most helmets on the market now, but they wouldn't fit if they were any larger.
Rumors about Charging While In Use?
I've heard through the grapevine that the Freecom 4X battery can't be charged while the device is in use—but I was able to do it with mine.
This is a very important feature to be had on any comms device—if, like me, you find yourself riding and camping in remote areas instead of staying in hotels each night.
The Freecom 4X Mounting Plate
Moving the device on or off the mounting plate is easy with the F4X. I can accomplish it using one hand (most of the time), while doing it with any of my Sena units is a two-handed task.
What Could Be Improved on the Freecom 4X?
The Control Wheel Switch Location
The control wheel placement was problematic at times, due to the large shoulder armor in my Motoport USA jacket. Sometimes, when I did a left shoulder check, the control wheel would hit on the armor and actuate the built-in button, leading to a shut down of my in-helmet entertainment.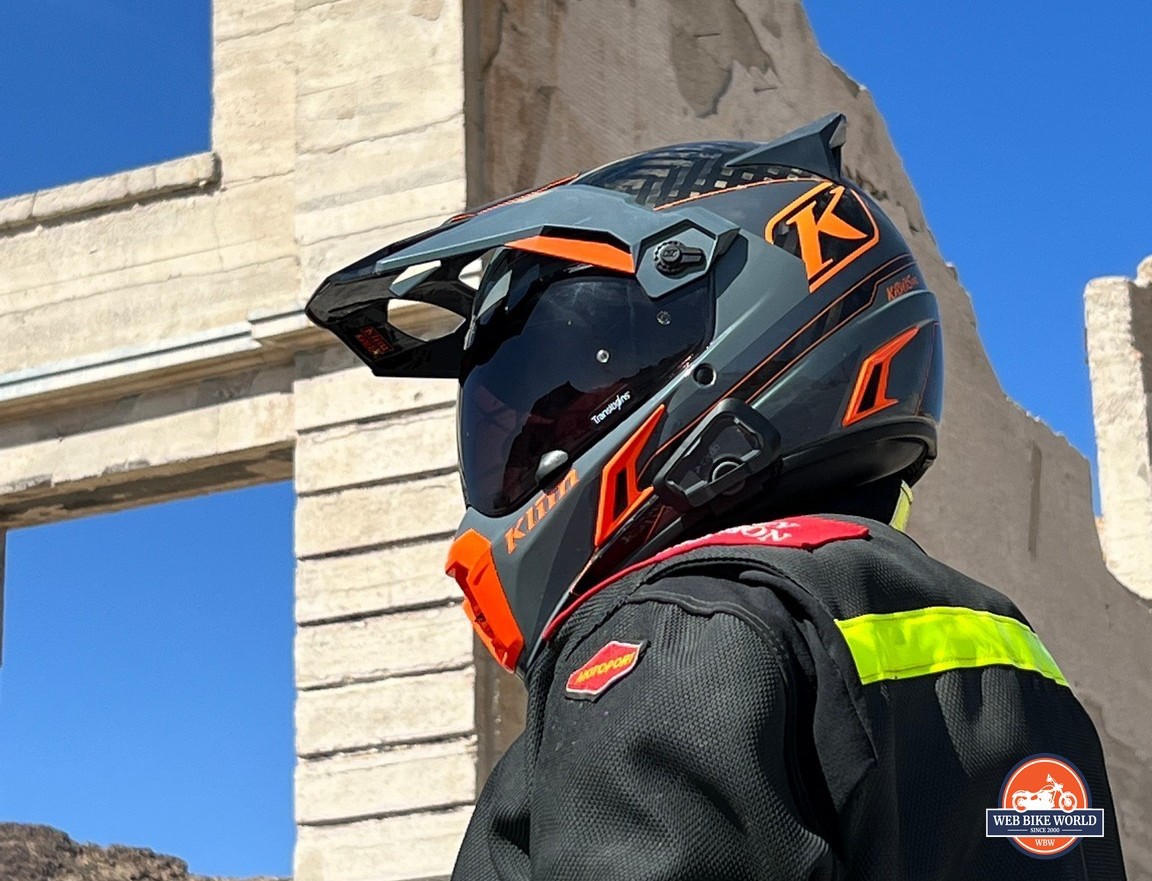 More Intercom Range
The claimed range on the F4X is 0.75 miles or 1.2 kilometers. It sounds like a lot but quickly disappears once you get riding out on the road with a slower rider. The range is further reduced once buildings or even vehicles get between two Freecom 4X units.
The Sena units I've grown accustomed to have a claimed range of 1 mile (1.6 kilometers) but seem equally prone to interference caused by obstacles.
Charging Light Indicator
When you plug in the USB C cable to charge the F4X, the LED glows red until the device is fully charged. At that point, the light turns off completely—leaving me wondering if the battery is full or if something interrupted the charging process.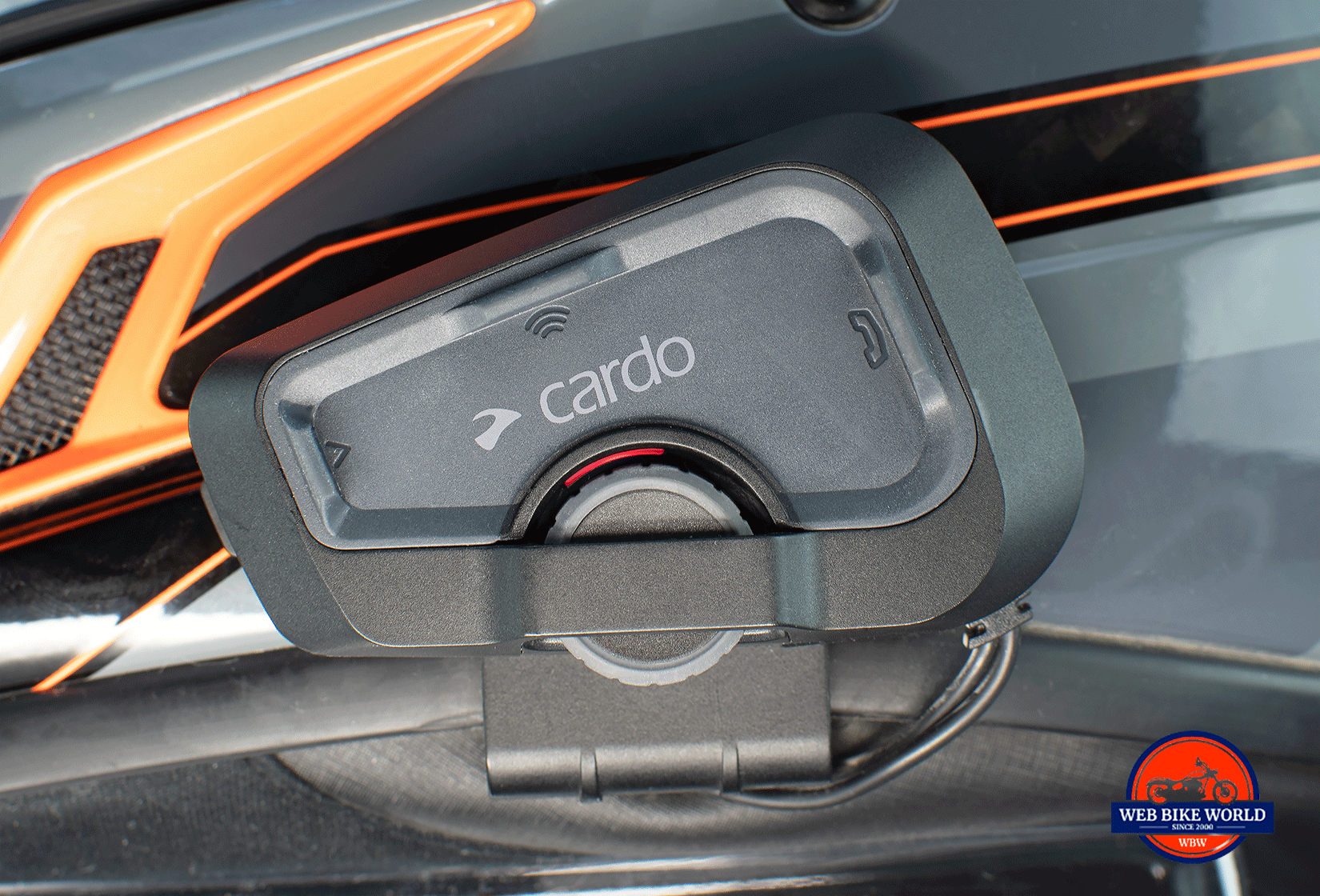 Battery Life Indicator
Each time you turn the F4X on or off, the device assistant verbally updates me with the battery life remaining. This is decent, but I'd prefer there to be an external numerical visual indicator to let me see how the battery is doing at a glance instead.
There is an intermittently flashing blue light located above the control wheel that uses something akin to Morse Code to give the battery status, but it's too hard to remember what two slow flashes versus what one slow flash means in terms of battery life percentage.
Add a "Dead Cat" Cover to the Microphone
I can't figure out why no manufacturer has put a better wind muffler on their mics yet! It would help to cut down on the background wind noise encountered when the intercom channel is open.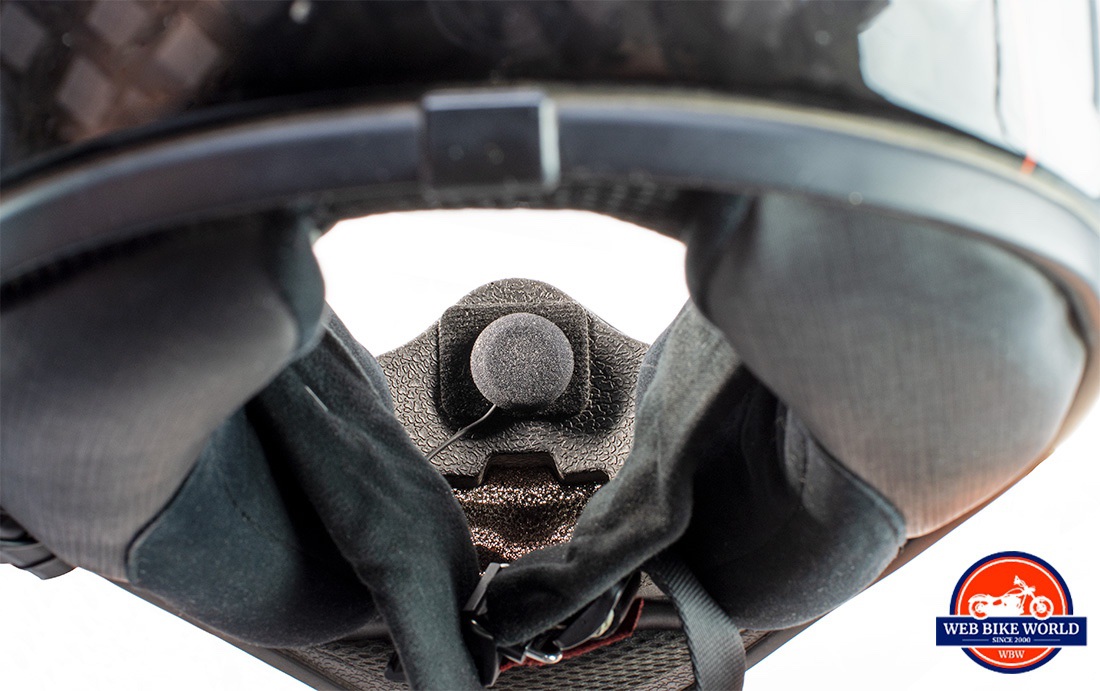 The Freecom 4X Price Tag
On Cardo's website, a single F4X costs $269.95 US and a Duo Freecom 4X kit is $499.95 US, meaning you can save some money if you and a friend split the cost of a Duo kit instead of going it alone.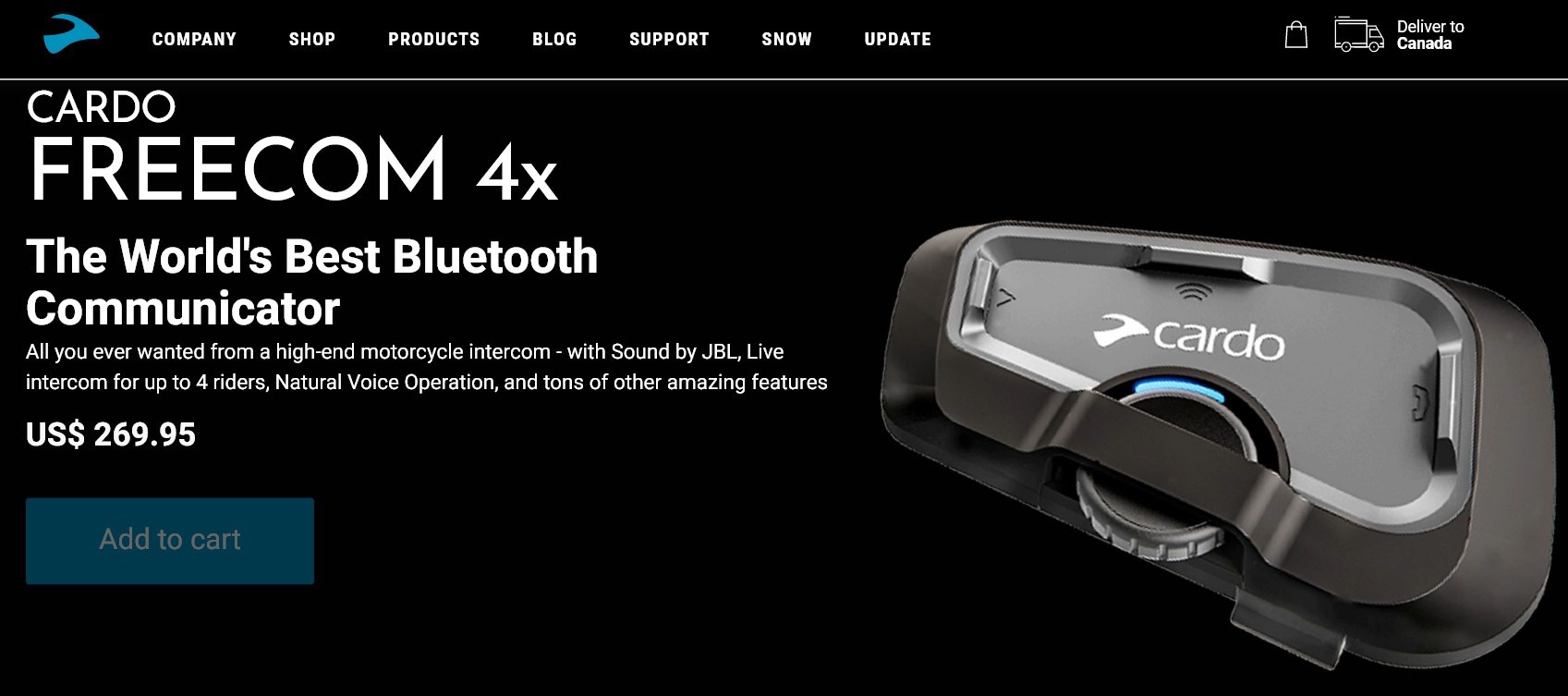 Compared to the $439.95 US Sena 10S Dual pack, the Cardo is notably more expensive. In my view, it's worth the extra money even if just for the voice command feature, but it would be smart for Cardo to price the 4X equal to the Sena 10S.
I noticed that on RevZilla's website, they've almost done this by knocking the prices back to $242.96 for a single F4X and $449.95 US for a Duo pack. It goes without saying that shrewd shoppers will be buying from Revzilla as opposed to directly from Cardo.
Final Thoughts?
Using the F4X with my friend's Packtalk Bold, a Sena 10C Evo, and another F4X for intercom purposes did produce some occasional static, popcorn pop, and robotic sounding audio… but most often, that was due to being out of range or close to it.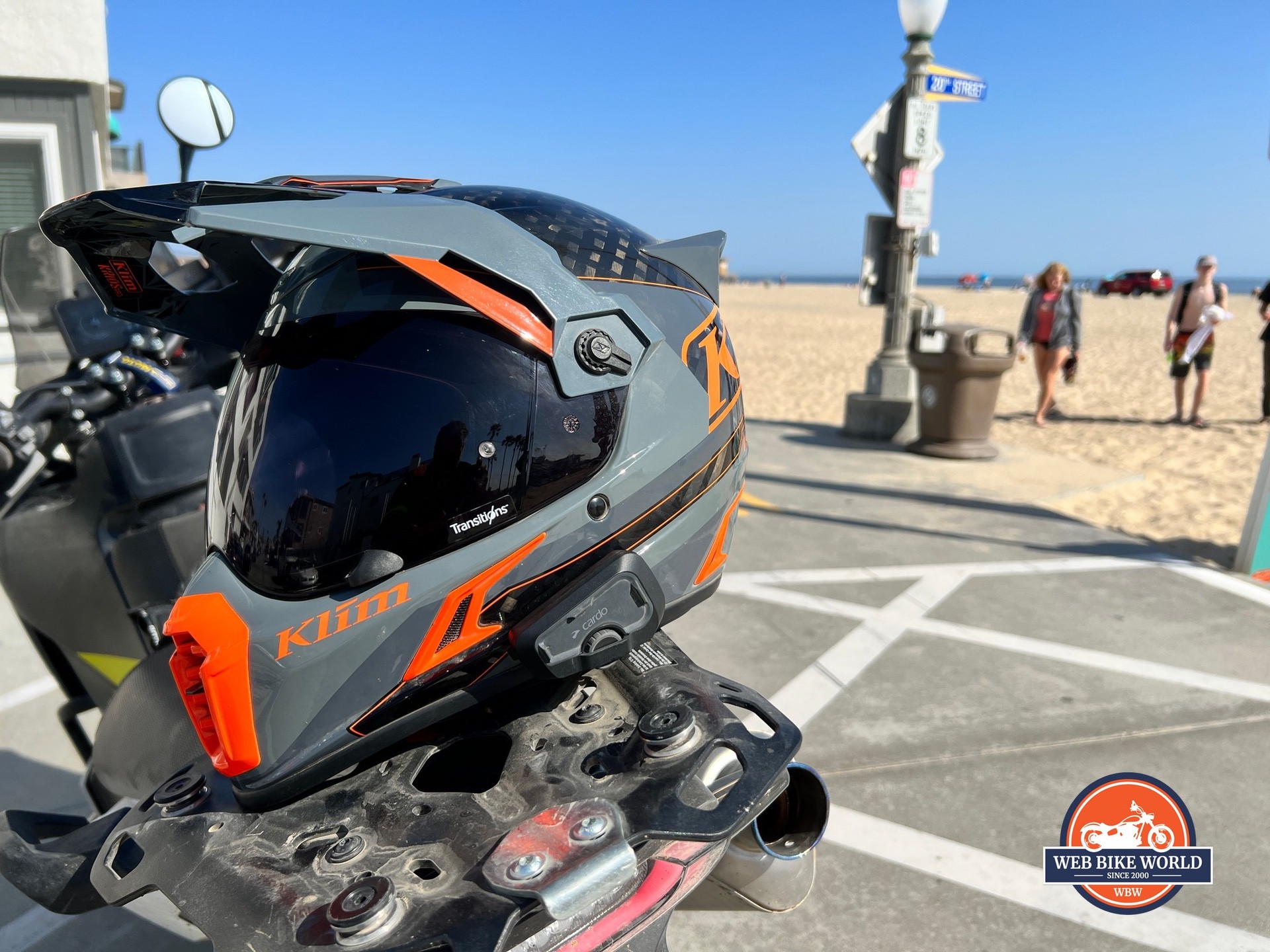 Overall, as mentioned, the device worked better than or equal to my Sena devices in almost every area of performance.
Would I recommend the Freecom 4X to potential buyers? Yes and no.
If you can only budget spending $270 US on a device then yes, I would say go ahead and buy the F4X ahead of any other device in that price range. Opt for the Duo package to save a few more bucks as mentioned above.
I'd Buy the Edge Instead
However, if you can find $120 US more, I would say consider buying the Packtalk Edge instead because it comes with all the same nice features as the 4X does, plus a couple more worthy of your hard-earned money.
The Edge has a more powerful and user-friendly Dynamic Mesh intercom system, greater range, a magnetically assisted mounting system (air mount), and the ability to link together up to 15 other headsets in a massive group chat.
Not to mention, you'll never accidentally bump the control wheel on your shoulder armor.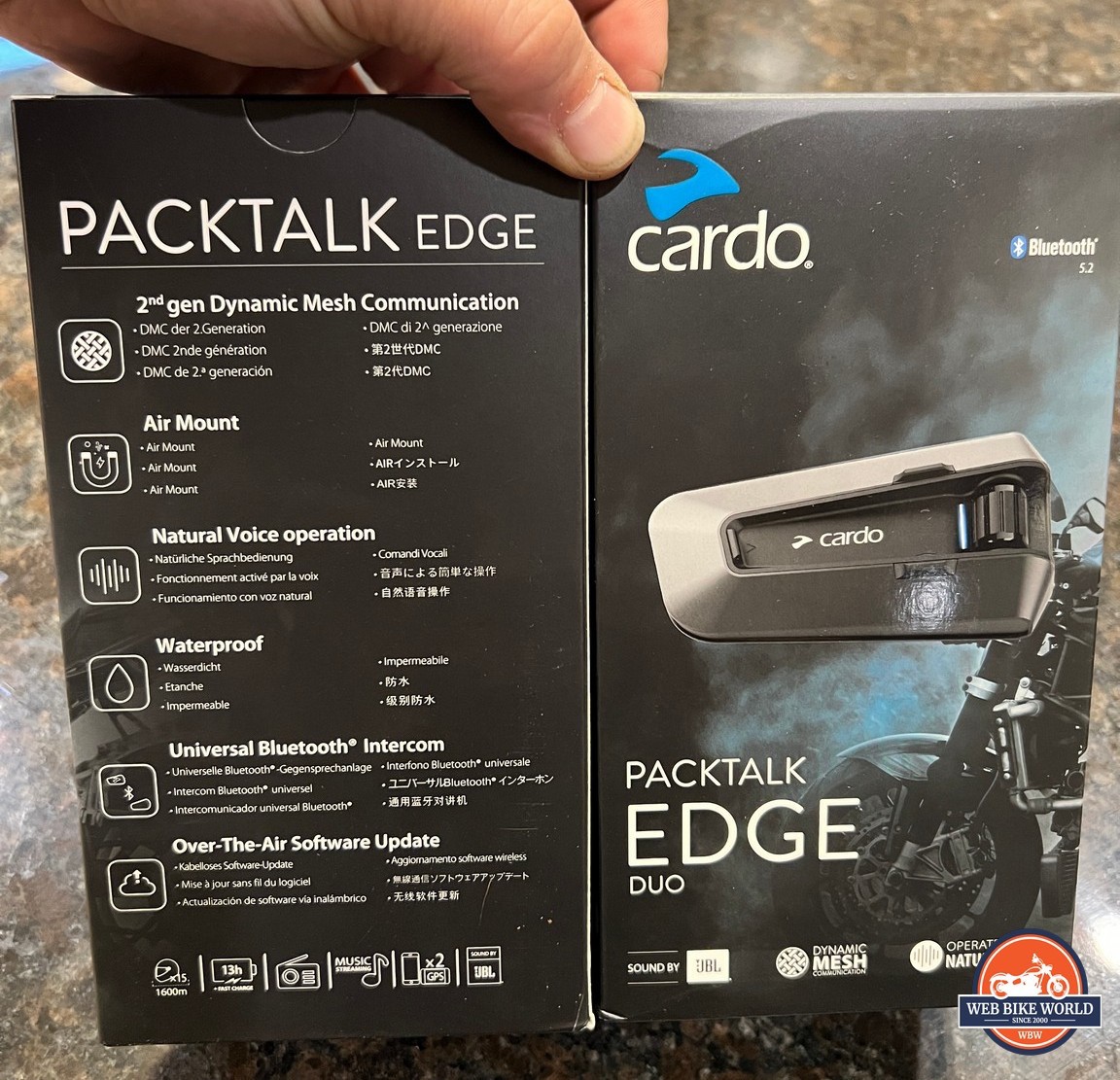 As a matter of fact, I just received a Packtalk Edge from Cardo, and I look forward to seeing whether my opinion will change after some hard miles pile up on it.
You'll read about it in my next review.
Specs
Manufacturer: Cardo Systems Ltd
Price when tested: $449.96 US for the Duo pack (Revzilla)
Assembled in: Ukraine
Colors: Black
Review Date:

Jun 16, 2022