Review Summary
Choices are abundant when searching for warm weather gloves, and the Sand line from Rev'it is popular with many riders. The Sand 4 is a well-ventilated and well-protected summer glove aimed at the adventure rider crowd, but this is also a glove that will work for many street riders wanting excellent ventilation and protection.
Pros
High-quality feel
Connect fingertip for easy touchscreen use
Protection via Level 1 CE Certified materials
3D air mesh gives plenty of airflow
TPR-injected knuckle protectors for extra finger protection
Grip panel on palm helps operate controls
4 color choices offer good variety
Tricot liner enhances comfort
Cons
Construction requires a bit of break-in time
Not everyone finds REV'IT sizing accurate, so you may need a step up from the size chart
REV'IT Sand 4 Photo Gallery
There are plenty of warm-weather short cuff motorcycle gloves out there, but the REV'IT Sand 4 Gloves make a pretty strong case for picking them over the competition. These gloves combine protection with ventilation in an exciting-looking package that will likely appeal to adventure and street riders alike.
I got my hands on (and in) a pair of Sand 4's during August, and rode with them in a variety of different situations. Find out more about my experience below, and make an informed decision on whether to purchase these gloves for yourself.
REV'IT Sand 4 Gloves Specs:
Goat Leather
Grip panel at palm
Perforated leather and ventilation holes
Injected ventilated flex knuckle
Tricot liner
Connect fingertip
3D air mesh
TPU hard-shell palm slider
Sizes XS-4XL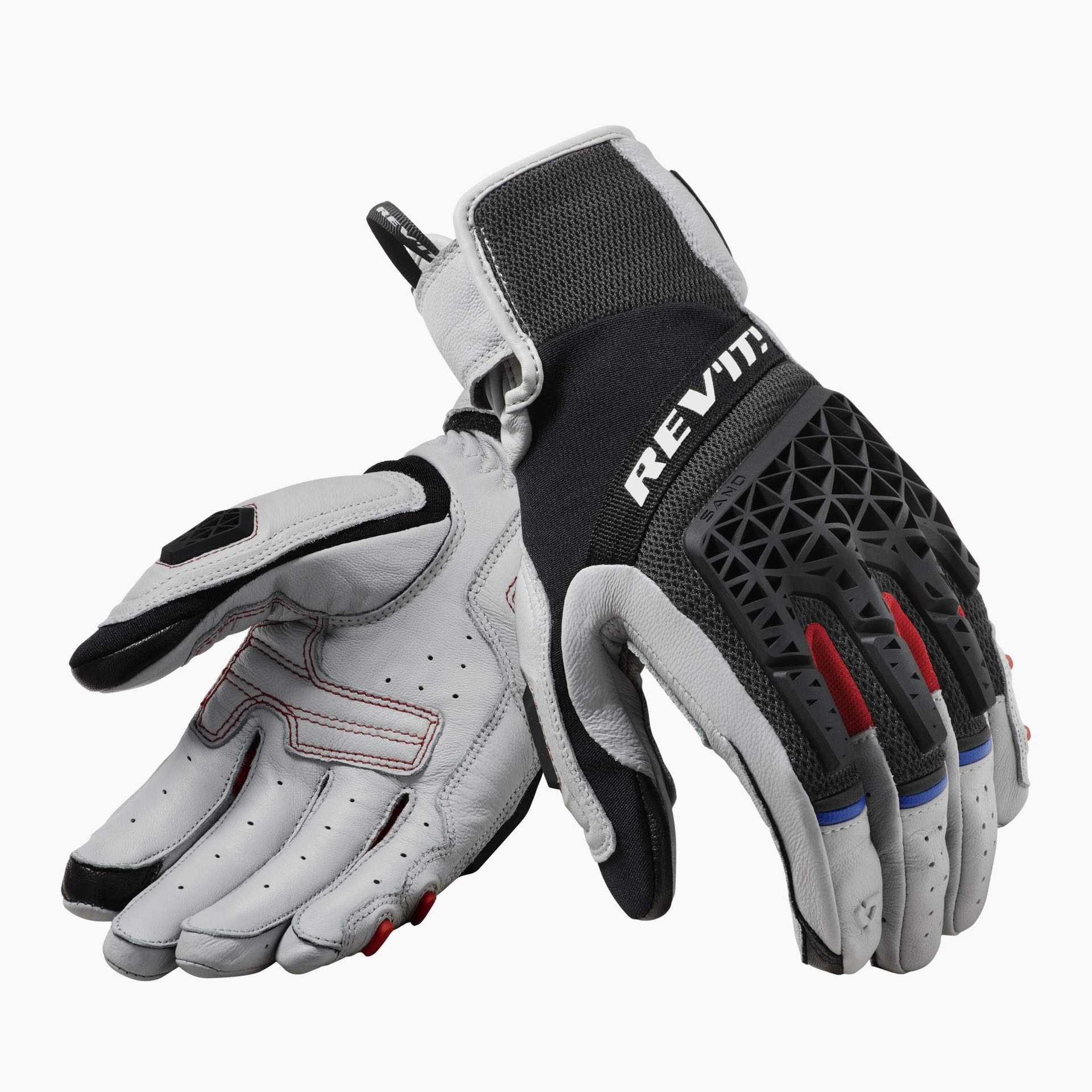 REV'IT Sand 4 Gloves Appearance
Building on the company's previous Sand 3 motorcycle gloves, it seems REV'IT wanted to add a bit more flash when they designed the Sand 4's. The backside of the hand is a mix of abrasion-resistant synthetic materials that provide an aggressive and dynamic appearance. At the same time, a combination of 3D air mesh fabric and PWR 500D stretchy fabric provides excellent airflow and the dexterity ADV riders need.
With TPR waffle-formed protective areas found on every key part of the gloves, these gloves offer strong protection for riders' hands while looking high-tech and almost futuristic. There's plenty to choose from when it comes to colors and sizes, too:  REV'IT offers four color combos and sizing from XS thru 4XL.
Aggressive and Colorful Appearance: 90%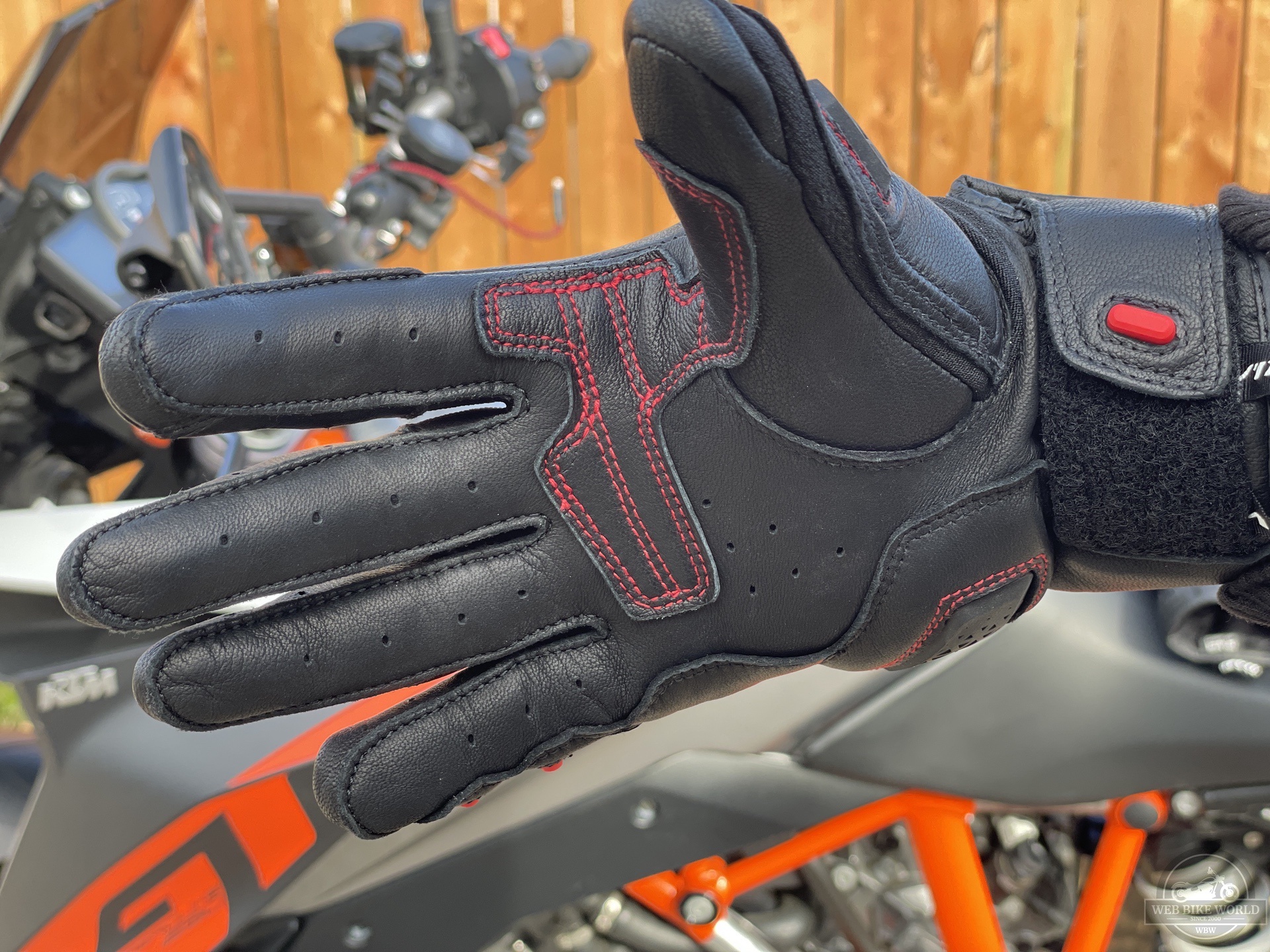 REV'IT Sand 4 Gloves Build Quality
Designed in the Netherlands and manufactured in Indonesia, these gloves fit in well with the rest of the REV'IT Sand 4 collection—which is to say, they give the clear impression of being a well-made piece of kit. Combining so many types of materials and TPR pads to provide protection does make for a busy glove from an assembly perspective, but when looking over the stitching and trim work, everything seems neat and tidy.
There are also no areas that rub or add pressure to my fingers when I wear the Sand 4's. REV'IT adds an additional piece of goat leather to the palm, right in the zone that commonly wears down on my throttle hand from aggressive use, which is a very nice touch I'd like to see in more leather motorcycle gloves. I also appreciate the little extra bit of padding and grip this feature adds.
The perforations on the fingers are clean and go straight through the leather. I also like the contrasting stitching on the red/black pair I rode with—and knowing how well the materials in other REV'IT gloves I have worn hold up, I expect there to be no issues with the Sand 4's when it comes to longevity.
The stitching on the outside of the glove is very clean and seems quite strong, but I found this stitching to be less tidy on the inside. It was lumpy and rough, especially at the last knuckle toward each fingertip. A closer look shows multiple pieces of material all coming together in a small area—so on the inside, it just isn't that smooth.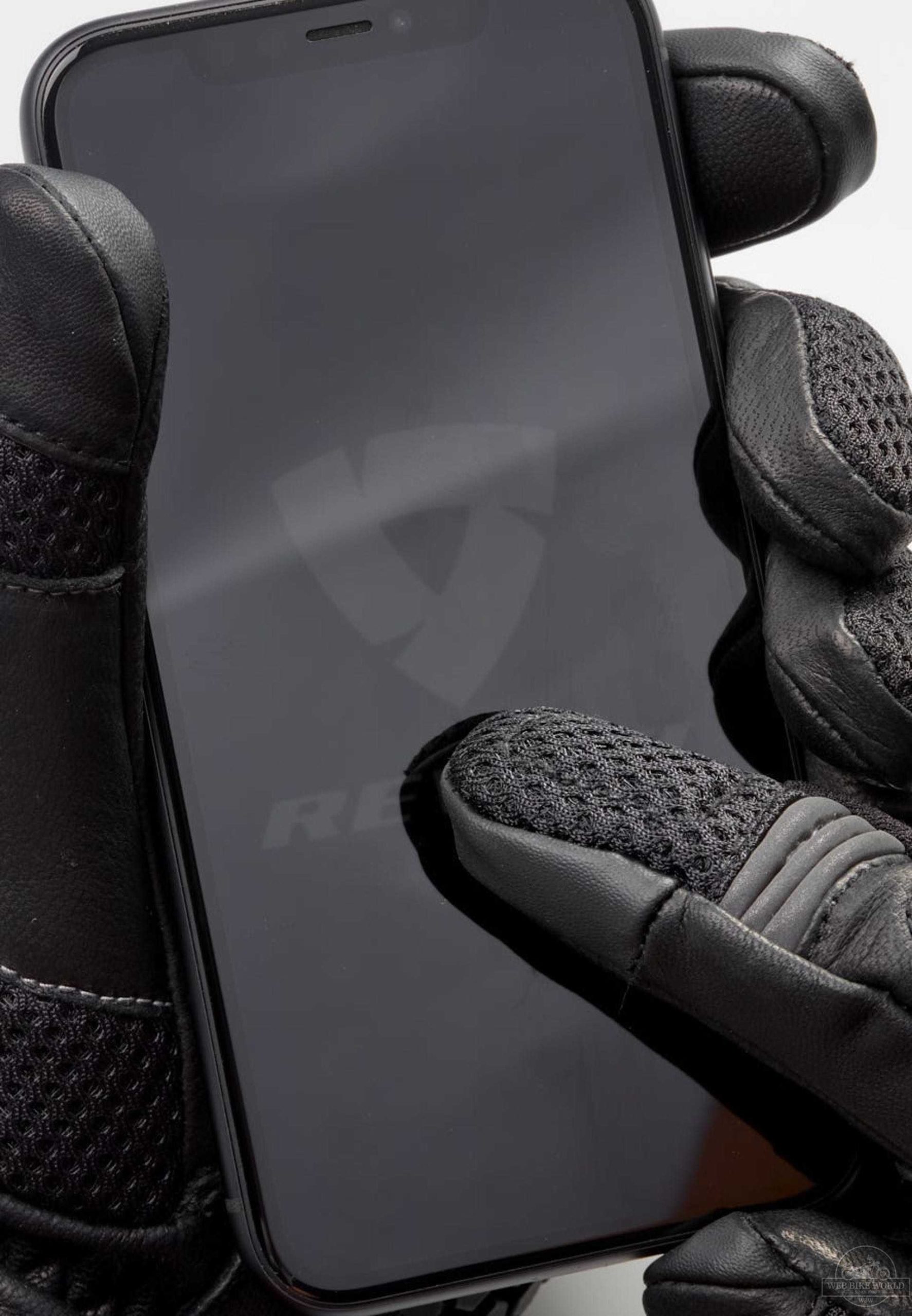 I really liked how well the Connect touchscreen fingertip worked on my iPhone. This feature is built into the tip of each pointer finger, making it quite easy to answer calls or change songs with my phone mounted in my Ram Mount.
I have had many sets of gloves with an add-on patch at the fingertip, and they often wear away quickly. The extra stitching at the tip of the pointer finger is noticeable, but it was never uncomfortable for me. Overall, REV'IT does not disappoint in this category. The Sand 4 Gloves are well made.
Clean stitching and nice materials: 90%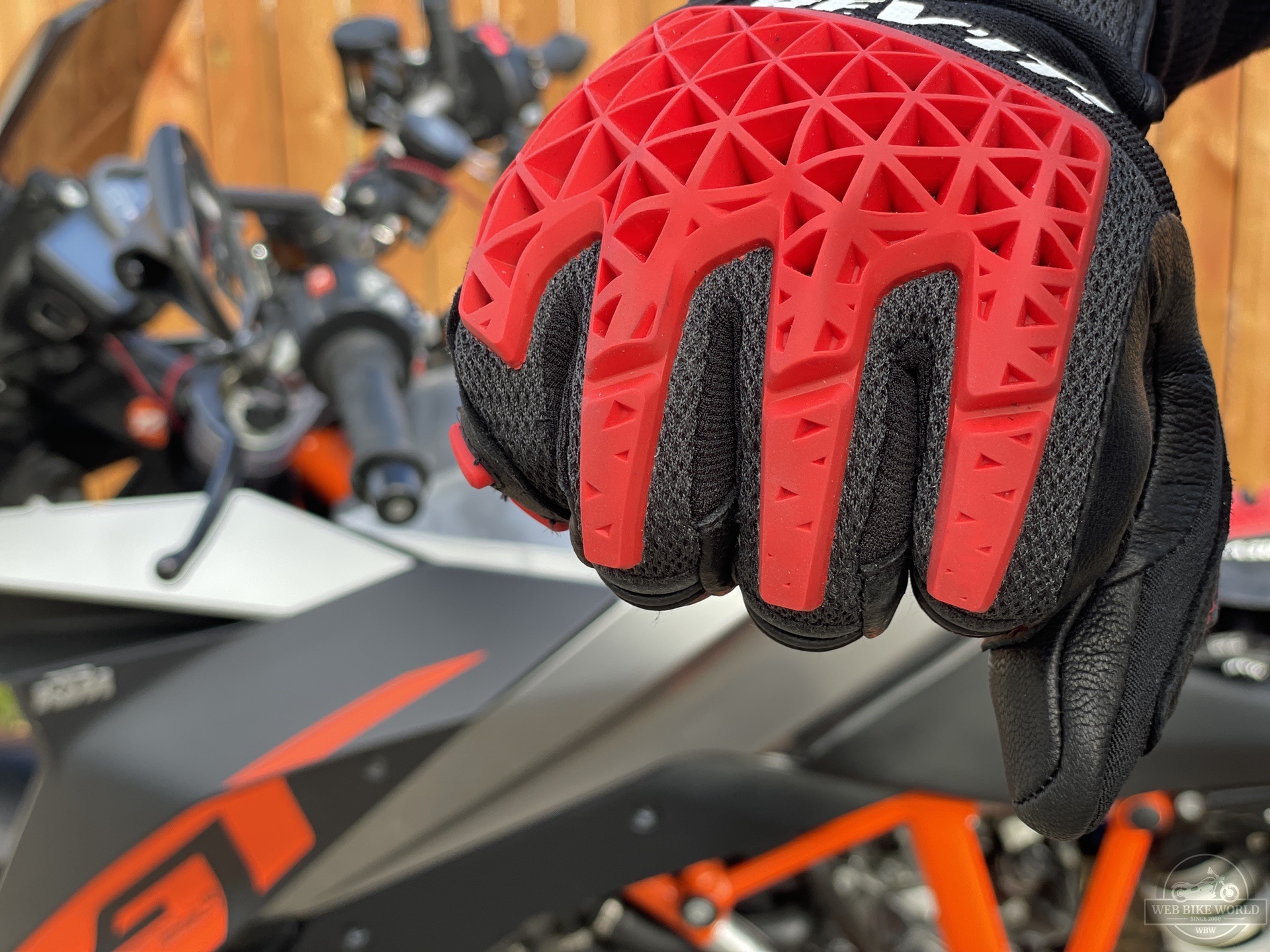 REV'IT Sand 4 Gloves Comfort
This style of glove honestly works for street riders and adventure riders, but I rode them on my SuperDuke GT. Like most gloves, they are stiff and tight right out of the package. Other adventure and touring motorcycle gloves I've owned that have a textile and leather mix have felt a bit tight to start, but I find these styles tend to gain a bit more stretch as I break them in.
I enjoyed the airflow through these gloves as the August temperatures here in Western Canada had climbed into the high 90's (F). I never felt any sweat buildup, and my control grip was secure and comfortable.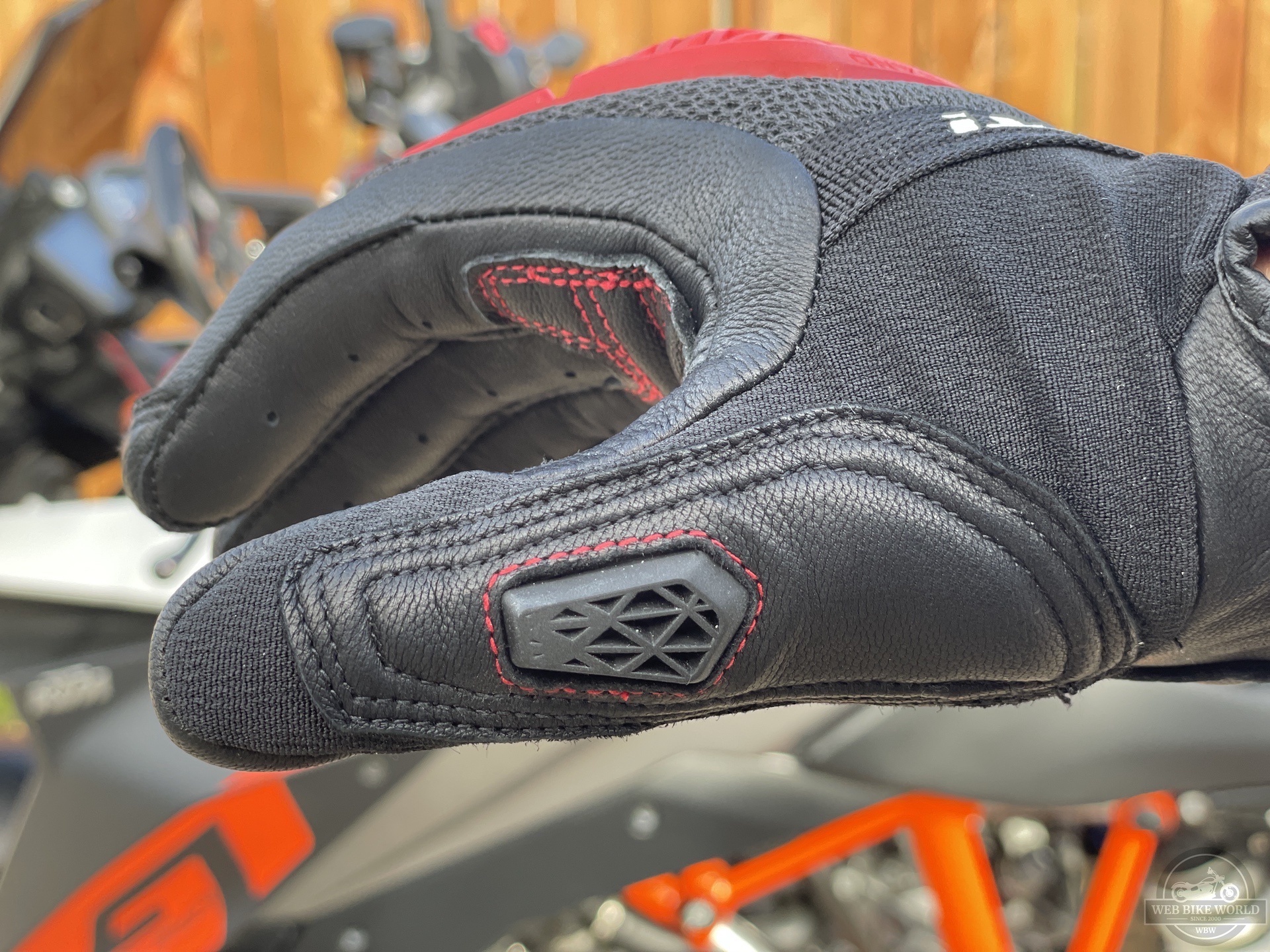 The TPR material on the back of the fist does run significantly onto the first knuckle segment on all fingers except the pinky. Despite having one relief cut, this material was slow to loosen up; I can feel them improving, but they still haven't fully softened yet.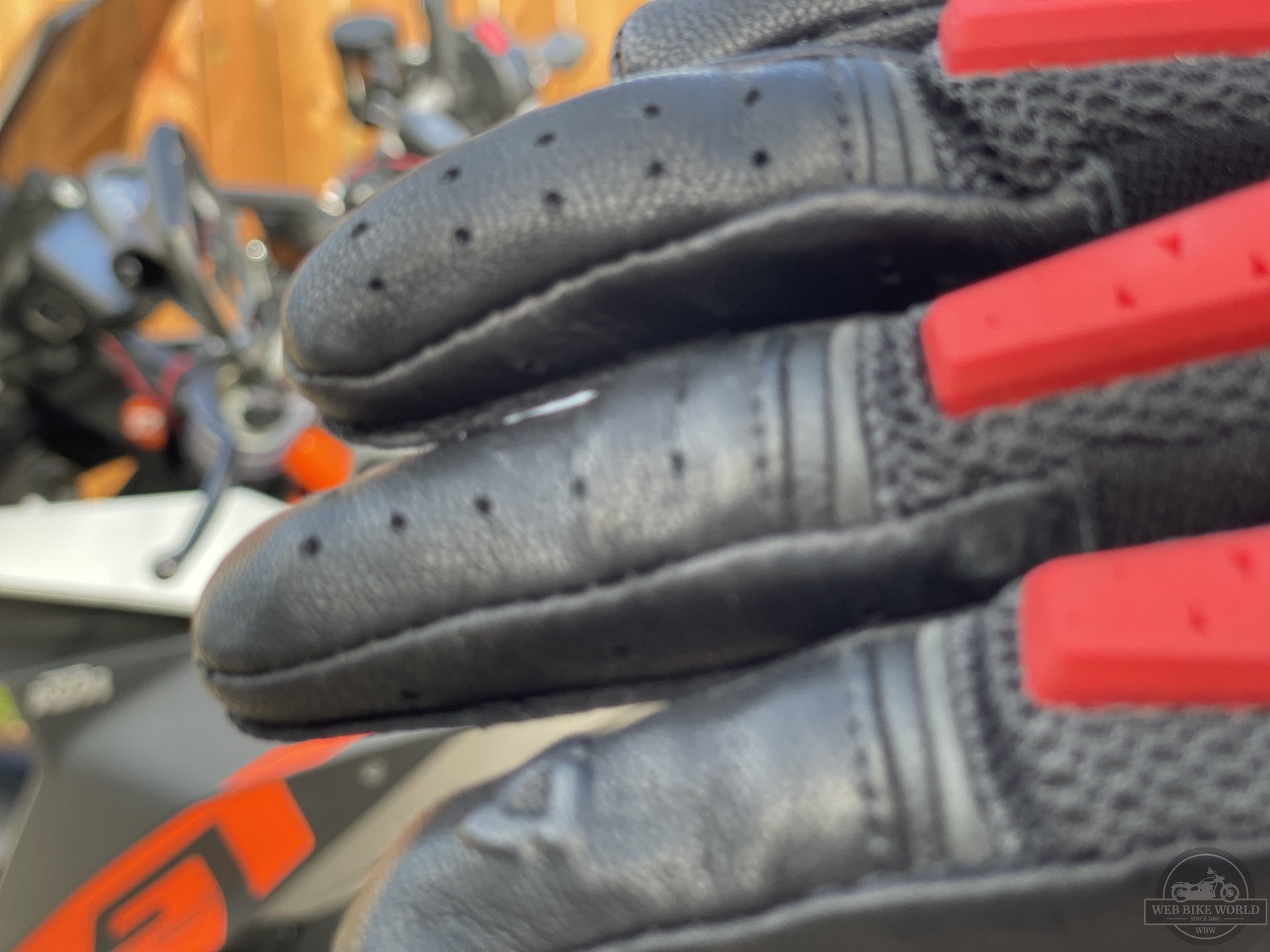 I think time will solve this issue, which is my only concern with comfort for the moment. I would like the flex in these gloves to feel a lot softer since my clutch and brake pulls felt slightly effortful while wearing them.
Good and Seeming to Improve with Time: 85%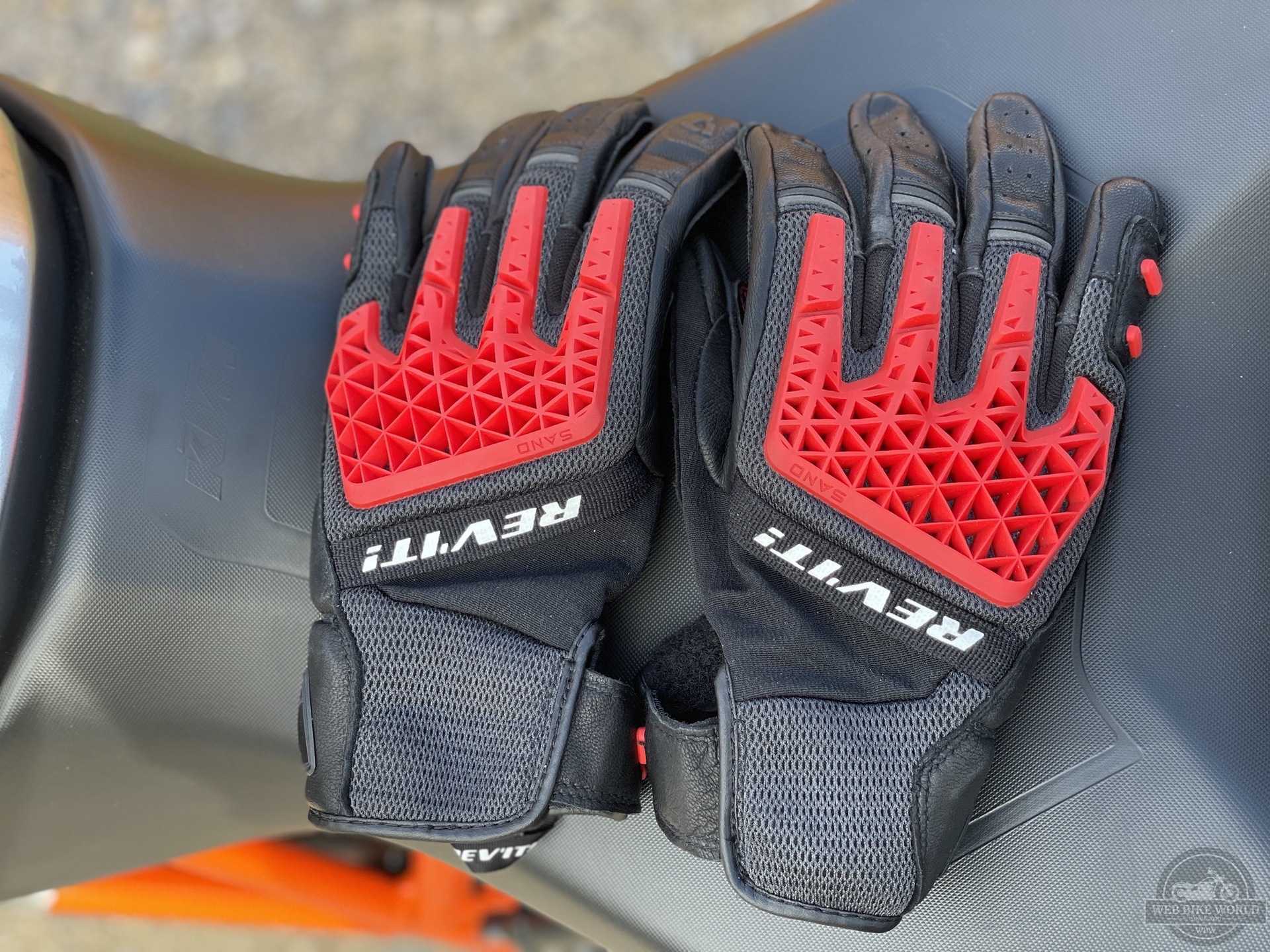 REV'IT Sand 4 Gloves Protection
Personally, I prefer short cuff motorcycle gloves like the Sand 4's. When paired with a well-fitting motorcycle jacket, I feel these gloves won't give up much of the protection you'd get from full gauntlet-style motorcycle gloves.
The Sand 4 design has TPR protectors on all sides. TPR offers excellent resistance to impact, flex fatigue, and tearing—making it an ideal defensive material for knuckle protection.
TPR parts are injected into the outer shell of these gloves, allowing for freedom of movement. Even the pinky gets two small pads on the outer edge.
The outer wrist and the thumb are both areas where I love to see protection beyond standard palm sliders and knuckle protectors. I have had stones and tree branches catch me in both of these spots back when I rode a Suzuki V-Strom, so these are nice touches to see from Rev'it.
The use of 3D mesh and the PWR 500 fabric ensures higher cut, tear, and abrasion resistance levels than many natural fabrics. The goatskin is soft but has a proven history of durability.
Designed with adventure in mind, the Sand 4's offer good protection, and REV'IT also offers a version of the Sand 4's with waterproofing for a small upcharge—for those who ride in wet conditions a bit more often.
They Will Save Your Skin: 90%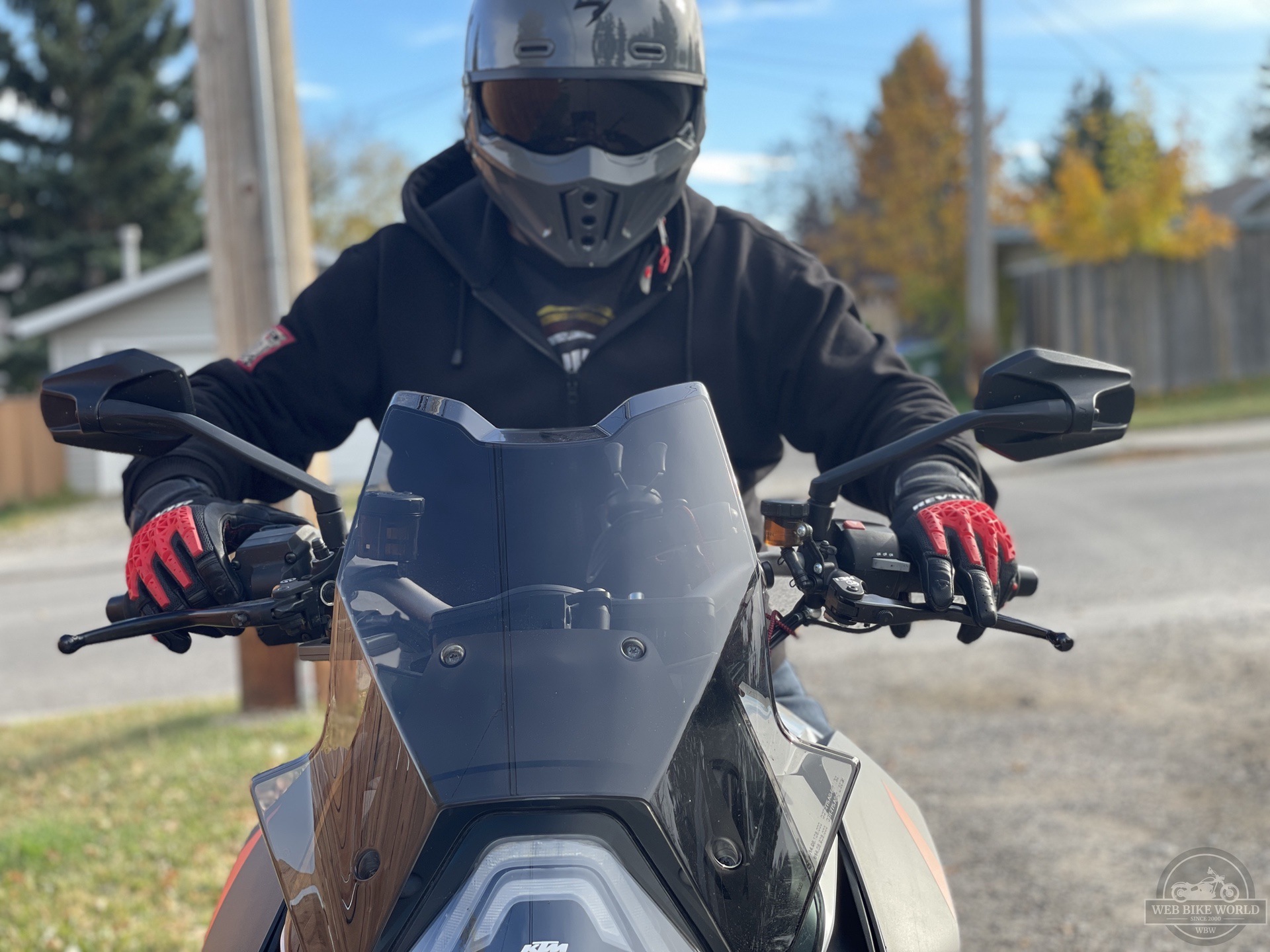 REV'IT Sand 4 Gloves Value
The Sand lineup is popular for Rev'it, and I found out why. The Sand 4 Gloves are nicely made, have great protective elements, and will suit both adventure riders and Street riders.
The Sand 4 gloves allowed for plenty of ventilation and rode cool and comfortable on the hot summer days I was out. I like the dexterity they offer, and though I still need more riding time with them, I could feel them becoming more comfortable as I broke them in.
These gloves are priced at $110 USD, so REV'IT is definitely offering good value here. You're getting a lot for the price, even compared to other excellent motorcycle gloves under $150. And the four different color choices offer lots of variety—even if there wasn't a good KTM orange for me.
Overall Value: 90%
Pros:
High-quality feel
Connect fingertip allows for easy touchscreen use
Comprehensive protection with Level 1 CE Certified materials
3D air mesh allows for plenty of airflow
TPR-injected knuckle protectors offer extra finger protection
Grip panel on palm makes it easy to operate controls
4 color choices provide plenty of variety
Tricot liner enhances comfort
Cons:
Construction requires a bit of break-in time
Not everyone finds REV'IT sizing accurate, so you may need a step up from the size chart
Specs:
Manufacturer: REV'IT
Price: $109.99 USD
Made In: Indonesia
Colors: Black / Black-Red / Black-Blue / Light Grey-Black
Sizes Available: XS-4XL
Review Period: August 2021
Important Links / Where to Buy: