Gravel OutDry Boots Review Summary
Review Summary
The REV'IT! Gravel OutDry Boots are designed and crafted to look like top-notch protective footwear and for the most part, they are. All the good stuff is present. They aren't up to the same build standard as the more expensive Discovery OutDry boots, but at $200 less they are a worthwhile investment to get a very good multi-purpose adventure-oriented boot.
Pros
Design, quality material and build
Fitment
Wide temperature range comfort
Overall protection
Durable Vibram sole
Waterproof but breathable
Entry-Exit is good
Cons
Inside of leg overlap
zipper placement
Pants worn inside need better accommodation
Rubber bumper guard thin, easily damaged
TPU shift pads/panels are too small
Gravel OutDry Boots Image Gallery
Introduction
One never has enough riding gear, including footwear, of course. As such, one is always on the lookout for the 'next best pair'. And this, as one would say, brings us to the storyline.
My introduction to the REV'IT! line of adventure boots came about through a review of the (then) new Discovery OutDry Boots, way back in April of 2017. They had many unique design features including the Boa Lacing System, as well as a traditional approach in using good leather. All appreciated approaches.
Since this time, however, virtually everything acquired or provided for evaluation has been mostly or totally formed of man-made materials. A trend it seems, but one that doesn't sit well with some consumers…
Opportunity Strikes
Early this spring the opportunity to get a pair of the (new) REV'IT! Expedition Boots came along and in having already scoped them out online, I was looking forward to getting a pair of boots that weren't totally formed of man-made components.
But with REV'IT! citing production issues with the Expedition Boots, it seemed the opportunity slipped away – hopefully, it is just a temporary slippage.
To offset my pouting, REV'IT! offered up two alternative products – the Discovery H20 or Gravel OutDry Boots… hmm, 'gravel' = dirt, right? Simple logic, simple decision.
Made for Adventure
REV'IT! touts the Gravel OutDry boot as "made for around the world adventure". But as my RTW adventure hasn't (yet) become a near-term opportunity, the boots will have to perform their duties in a more local environment.
Like all OutDry footwear, the Gravel boots are finely crafted from select natural and top-grade man-made materials representing a combination that seems to be disappearing from footwear in general and adventure touring pieces specifically. And yes, I do appreciate the issues…
And like all OutDry products, the boots are anatomically designed for a close comfortable fit for natural movement on or off the motorcycle – no stone-wear here.
First Impressions
I admit to having developed a bit of a weak spot for the REV'IT! footwear line – in that everything tried on, evaluated, and now used leaves little doubt how serious REV'IT! is in delivering the goods – the Gravel OutDry Boots don't disappoint in the feel and looks department.
And since having learned to go up one size when trying on or getting any of the REV'IT! footwear for review, that issue is resolved to boot.
Three Initial Observations
Only three initial observations were made early on:
The first being whether the traditional Vibram sole assembly is repairable or replaceable – it is well-formed and appears to be super-strong however
The second may be a personal thing, but it needs to be made regardless – positioning of the overflap and main zipper on the inside of the leg (motorcycle side) rather than the outside.
In never having owned, used, or evaluated anything but front or outer leg positioned solution, this layout takes some getting used to. Access alone is or can be a pain.
The third is another favorite and (unfortunately) a recurring thing – a distinct lack of reflective markings on the boots beside the seeming industry-standard small insert at the back of the heel – a piece typically obscured by pants, a passenger or luggage.
Having fore, side, and aft markings along the lower outside of the boot would be excellent…
Style
Styling… hmm. How about the strong sturdy type? All the surface features common to good all-purpose or adventure touring boots, and a couple unique to REV'IT! footwear re-found on the Gravel OutDry Boots.
Like the original Discovery OutDry boots reviewed, the Gravel OutDry pieces are kind of subdued overall. They feature clean, simple lines and discrete visual-contrasts between the smooth leather sections along with the suede sections at the front, inner flap, outer side adjuster, and back insert points.
There are no large ratcheting or engagement style straps to disturb the outlines of the boot. One could, if one was not aware of the product line, be convinced that these boots are more style than function. And in that, one would be wrong.
The boots present a balanced mix of natural and man-made material that provides a touch of quality and durability, common across the REV'IT! OutDry line. So, don't be fooled just by their good looks – these boots are up for some serious adventuring.
Weight & Height
The REV'IT! Gravel OutDry boots are very close in overall size and weight compared to the Discovery OutDry pieces, so it was time for some data collection.
The actual combined weight of the Gravel OutDry pair is 2328gr or 82.1oz (5.13lbs). For the record, the left boot comes in at 1166gr and the right at 1162gr.
By comparison, the original Discovery OutDry boots have a combined pair weight of 2192gr or 77.32oz (4.83lbs), so close, but actually a bit lighter than the Gravel OutDry pair.
Height-wise, the Gravel OutDry Boots are 34.5cm or 13.5in tall at the front and 31.75cm or 12.5in at the back. Not quite as tall at the front as the Discovery OutDry pair originally evaluated.
Construct Features & Observations
On the Outside
The outer or upper is formed of two types of leather:
Omega leather – a high-quality full-grain durable breathable cowhide that should, and does equal comfort and protection
Suede leather – a napped finish for contrast, function, and a visual touch of quality
Grade-A Suede
Suede is still used in footwear, but not often on this type of boot, even though its texture and open-pore features make it a great moisture-absorbing layer – think of the suede wipers that were, or perhaps still are found, on some riding gloves. It works and it is a sign of the quality found throughout.
The large inner leg overflap is covered in suede, with a large shaped hook-n-loop fastener section on the inside that – it takes a bit of effort to separate and gain access to the zipper is provided.
Heavy-Duty Protection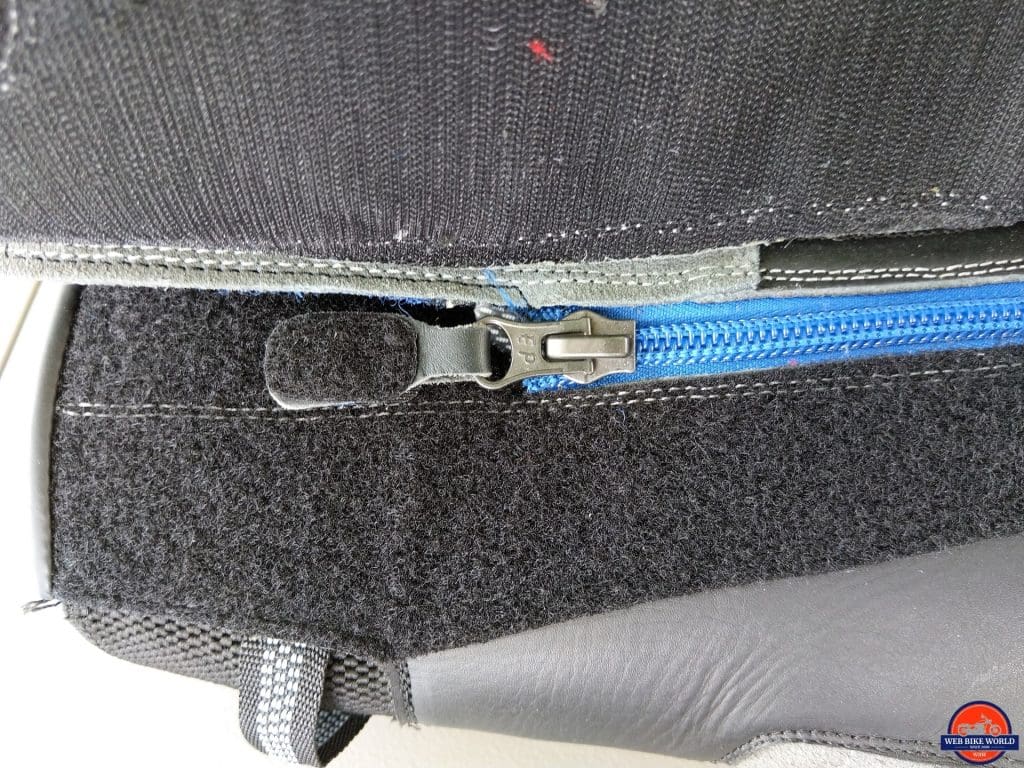 More heavy-duty goodness comes in the form of the reinforced HD zipper that takes some effort to use but is obviously up to the task. It is a big zipper in every way with additional webbing and stitching for long term durability
Behind this larger than life zipper, is a leather gusset providing a good seal as additional protection from the elements. A protective edge is stitched right behind the zipper for clearance, so the zipper doesn't 'grab' the gusset and complicate things.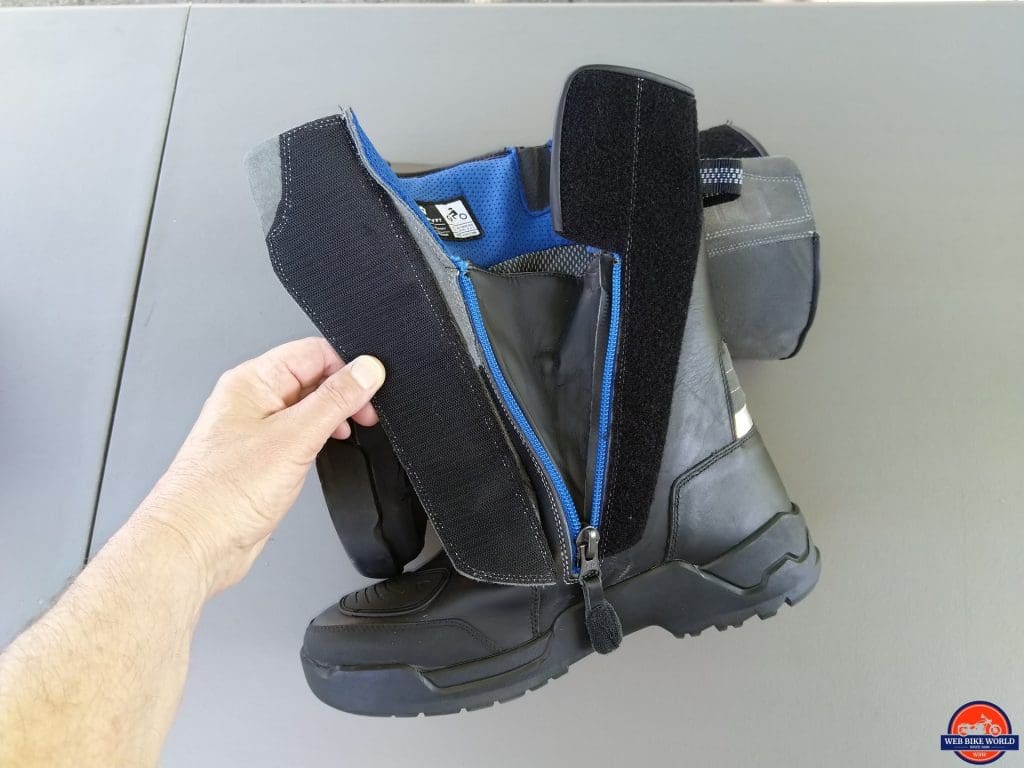 So now we can identify another reason for the suede – as a protecting layer and for grip – in remembering the comment above about its ability to absorb (slippery) moisture.
While mitigating moisture-building, the suede also protects both the overflap and zipper and enclosed leg from motorcycle surfaces due to pressure and movement while minimizing rub damage to side pieces, features often missed in the greater build scheme of things.
Initial Try-On
The top entry point offers pretty good flexibility although not equal to the Discovery OutDry or most SIDI boots that admittedly use a different opening and closing approach.
Once the foot is past the initial entry point, it enters a narrowing but supportive ankle section as the foot settles in. I find it all very comforting and comfortable, but if there is a calf, shin, or lower ankle concern, a test fit is recommended – as it is for any piece of gear.
Flexibility & Adjustability
With the zipper closed and the overflap in a full laid-over placement, the top entry diameter is about 13.35cm or 5.25in and with the overflap laid out wider the diameter grows to about 16.50cm or 6.5in.
Letting the well-placed elastic back section do its thing provides another 2-3cm (0.75 to 1.0in) of entry opening.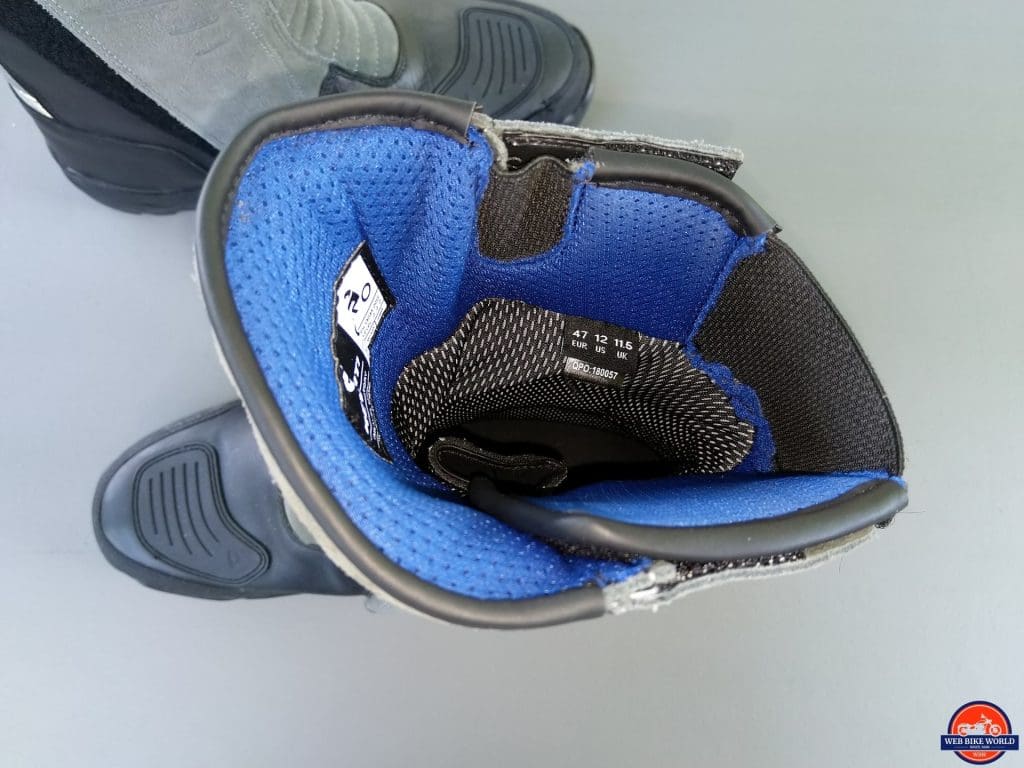 These flexibility and adjustability features are good for a wide range of pants whether worn in or out, but again (primarily due to the side zipper and overflap approach) not as user-friendly for heavier weight pants worn tucked in.
Thankfully the right-sized rear stretch insert and a smaller side insert with adjustment tab do help things overall in both widening or contracting (sealing) the top of the boot.
Pants Compatibility
The lighter weight REV'IT Offtrack Adventure Pants and KLIM Latitude Gore-Tex pants are accommodated by the boots when worn inside, but anything heavier, including the Motonation Cappra or Tourventure pants can be tucked in but perhaps with zipper and overflap issues.
No matter if riding or over-pants are worn in or out, fit, security, and comfort all need to be considered here, along with space for shin or knee supports or external armor pieces if applicable.
Durability
Moving up to the front of the boots, we find TPU (thermoplastic urethane) gear shift pads (on both sides, of course) that can protect and thus diminish long-term wear-and-tear on the boot, depending on the motorcycle or power-sports platform being ridden.
A rubber abrasion layer (edge) covers the lower boot acting as a bumper guard of sorts to keep everyday damage to the minimum. It is totally unobtrusive and flexes with the boot, so it has no impact on comfort while contributing to overall protection.
The layer isn't as strong as hoped for and not even close in durability compared to the more robust and encompassing layer on the Discovery OutDry boot. The Gravel OutDry bumper layer only took a couple of foot-peg and one shifter encounter to damage it on the inside of the left boot (more on this later).
The visible and valued Vibram Elevation Sole is an in-house development by REV'IT! featuring a full-rubber construction. The whole component is geared for optimal support and traction on and off the motorcycle as well as comfort and protection – see the Traction Section.
On the Inside
The 3D Mesh Lining is the first layer encountered when putting the boots on. It is an open loft three-dimensional mesh providing ease of movement while enhancing foot comfort and boot breathability.
Next up, literally, is the patented OutDry layer touted as waterproof and breathable. As a one-piece sealed layer, it keeps the wet stuff out while also providing breathability and wicking for continued moisture and temperature management.
A set of lightweight REV'IT! stamped insoles are installed – they seem comfortable enough, but in the need to take up a bit more space while adding some cushioning support, a set of my favorite heavy-duty gel-based inserts replaced the original pieces.
The Gravel OutDry boots, after a couple of weeks, are providing day-long comfort on and off the motorcycles and are (almost) as comfortable as my well-worn BMW Santiago boots that I can literally live in.
For the Record – Boot Composition
Outer Shell – Omega leather, suede leather
Outsole – 100% synthetic rubber
Midsole – 100% EVA
Lining – 100% polyester
Membrane – 100% polyurethane (tricot 100% polyamide)
Sizing
I have a narrow foot although now somewhat widened by wear-n-tear (age), otherwise, they have remained a near-perfect size 46 for footwear fitment with its size or its equivalent, found with all my footwear, no matter weight, style, or function.
With most of my motorcycling activities revolving around on/off-road adventure touring and local riding, my footwear is so oriented – from pure motocross-style to medium to heavy-duty adventure gear. and one pair of paddock boots/shoes.
Given my typical sizing and comfort zones, most of my riding footwear is by SIDI, as were my cycling shoes and although some close matches have been found through the years, it has remained the go-to marque. But some change is afoot…
Sizing Issue
But I digress… way back in early 2017, when choosing the best size of REV'IT! OutDry Adventure Boots for a wBW evaluation and in not having anything locally (at the time) to try on, my usual size 46 was selected. This turned out to be a poor choice on my part in subsequently finding they were (almost) a full size too small.
In experiencing some difficulties in getting the boots exchanged, the review went ahead, although not without some discomfort that was totally sized based – everything else about these new and unique boots was excellent.
And since then, in getting to try on other REV'IT! footwear in both 46 and 47, it is very clear that I need to go at least one size up – a fact well identified by many other consumers. Lesson learned – size 47 is now my listed sizing when evaluating REV'IT! footwear products.
Fit & Comfort
With the sizing issue addressed and with the boots on hand, trying them on becomes foremost. With the inside of the leg overflap and then the zipper opened, getting in from the top is easy to accomplish – it is almost step in and step out.
Helping the insertion process is a strong open-loop pull strap at the upper back (calf) of the boot. The strap, like virtually everything else regarding the boot, is sturdy.
Step In, Step Out
The 'almost step in, step out' comment was made not as a negative, but rather to imply a positive feature – the narrowing but very supportive and protective ankle and shin to instep shape of the upper. It's a slight push or pull when the boots go on and off – a good thing in my mind.
There is more good stuff in and on the boots. One being an elastic stretch panel insert at the ankle area allowing more natural movement along with the very visible padded flex insert for the instep.
As found with the Discovery OutDry boots, the anatomically-shaped, injected, and thermoformed pieces/inserts and the ever-comfortable 3D mesh lining all come together to form one very comfortable environment for the feet.
Just save a little bit of energy for boot removal as a bit of force is needed to separate the seemingly industrial strength Velcro of the overflap and then pull down the muscle-toning zipper.
While the REV'IT! boots in size 46 are short for my foot they are a better fit width-wise, whereas the size 47 boots provide needed length but seem to be a little bit wider. But removing the REV'IT! branded inserts and adding a set of my own did the trick.
Protection
Footwear like the REV'IT! Gravel OutDry boots are intended to and indeed the user expects a high degree of protection. In this regard, the Gravel OutDry pieces do not disappoint.
As with the OutDry boots, REV'IT! does an outstanding job of providing a precise secure fit for the foot, a critical ingredient in the protection recipe.
Injected and thermoformed pieces from the shin guard, down to the comfortable injected ankle cup and heel cup and out to the toe cap provide a series of unobtrusive comfortably shaped, extremely supportive and very protective inserts.
Comparing Boot Protection
Is the whole combination as secure and protective as the Sidi Adventure 2 Gore-Tex boots? Hmm, close, but not quite the same, acknowledging that the two boots have slightly different objectives along with their own design and build approaches.
And in putting the Discovery OutDry and the Gravel OutDry products side by side when considering the 'secure' and protective' side of things, the Gravel OutDry boots don't quite stack up to the original Discovery OutDry pieces.
Both are excellent products, but each of them also has a slightly different focus. Thankfully within this market segment, and between brands and models, we have lots of choices – assess your needs and pick your pair.
Climate Control – Water Resistance & Breathability
An overall heavy-duty build is sometimes both a positive and negative regarding sustained comfort especially when considering a wide range of temperatures along with other climatic conditions and terrain.
In considering these issues, the Gravel OutDry boots do an excellent job in taking a wide variety of temperatures and other elemental changes in stride while keeping the feet, ankles, and lower legs comfortable.
While the use of quality leather for the uppers contribute to overall comfort and climate control, it is the one-piece OutDry barrier that seals the deal, literally.
OutDry Layer
Identified as an impenetrable layer, the OutDry layer is heat-bonded directly to the outer fabric, leaving little means for water, or the cold, to get in. In cool and wet spring riding, the whole combination works extremely well, even with lightweight low-tech cotton sports socks my feet remain dry and comfortable.
And this comfortable rating carries through for the inner environment as well as OutDry breathes to the extent that while no water ingress is allowed, the layer does facilitate wicking of body-generated heat and moisture for a balanced all-day environment.
Coping with a wide range of temperatures isn't an overwhelming challenge for the Gravel OutDry boots. The boots are comfortable, with good riding socks, from around 5C (41F) well into the high 20s C (80 to 86F) – a good omen for even longer hotter days spent riding in these boots.
Water Resistant or Waterproof?
Subjecting the Gravel OutDry boots to the (infamous) wBW Bucket Test is the first real step (pun intended) in evaluating whether the footwear is truly 'waterproof' or just 'water-resistant'.
Testing 1, 2, 3
As done with the Discovery OutDry (and all other footwear evaluated) an extended static test with the boots on, in a large bucket of ice water, for ten to fifteen minutes comes first. The cold is felt, but nothing else – no moisture ingress of any kind. Test one – pass.
Early spring scooter-swallowing potholes or depressions, both filled with water and other stuff, are easy to find on secondary and gravel roads. Neither of these water sources caused any discomfort, or leakage, of the Gravel OutDry footwear. Test two – pass.
Finally, a good half-day of the wet stuff (we had lots of it this spring) while out traversing the back roads validated things – the Gravel OutDry boots, without subjecting them to gaiter-like above the knees depths, are 'waterproof', at least by my standards. Overall – pass.
The Sole – Support & Traction
The equally important, or as some would say the more important component sole, is up for discussion.
Like the original Discovery OutDry boot, REV'IT! stays the course in providing a strong supportive sole that features a layer of polypropylene (PP) to minimize twisting/torsion forces along with a reinforced PP rib from heel to shank for extra standing-on-the-pegs support.
It all works, less one traction related observation concerning the shank or center area. Unlike this area on the Discovery OutDry that featured a fully blocked pattern for torsional strength and grip, the Gravel OutDry used a hard, flat surface with only the front part having very minimal patterning in front of the Vibram logo insert.
Traction & Grip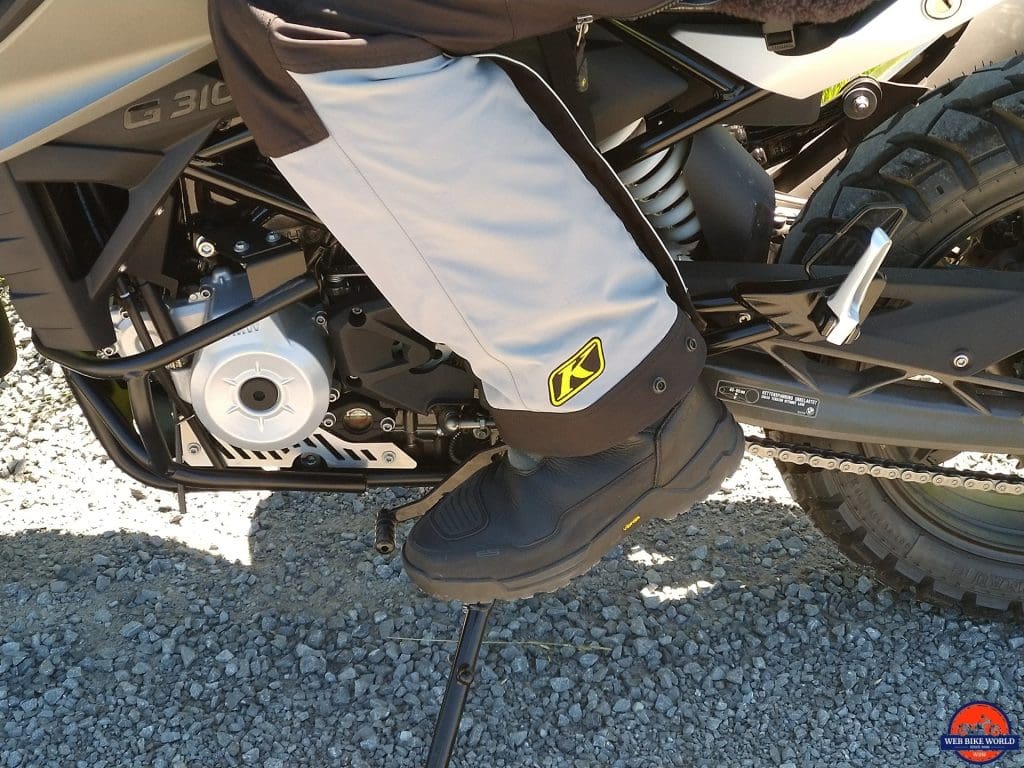 Using the Gravel OutDry boots on motorcycles with the stock rubber peg inserts in place provides more traction between the boots and pegs, but slipping off the pegs is still common.
On the adventure and off-road-oriented machines, most with standard or wide enduro-style grated grip pegs, the issue is just as bad – a conscious effort is needed to keep the boots on the pegs until such time as some repositioning is done or the ball of the foot is positioned on the pegs for riding control and stability purposes.
Transitioning between seated and standing on the pegs can also be disconcerting if care if not taken, even though the increased weight on the boot when standing does offset slippage.
There are no traction issues once dismounted. Walking (or hiking if you will) for time and distance remain a comfortable experience. As with the Discovery OutDry, the newer Gravel OutDry boots have great shaping along with heel and front-end grip surfaces for traction and flexibility over all types of terrain.
Durability
There is no denying that the Gravel OutDry boots are built for durability. As their name would imply, gravel isn't easy on footwear (as me how I know).
Sealing & Stitching Concerns
As identified earlier, the only issue encountered so far related to durability is the tear in the protective sealing rubber layer and some of the companion stitching due to slippage off the left peg and related gear shift encounters.
It's a visible wound of sorts, one I had not expected until later in life perhaps, and while it does or could compromise overall boot integrity, it isn't severe enough to preclude their continued use.
But it is still disappointing, especially when viewing how well-laid, utterly protective, and solid this same area is on the Discovery OutDry variants.
Everything else about the boots reflects strength, and if the already damaged area is protected or repaired it is easy to anticipate a long life for the Gravel OutDry boots.
Maintenance & Upkeep
Like the Discovery OutDry boots before them, the Gravel OutDry boots don't need much in the way of maintenance, or haven't yet, although I will see about getting the minor tear addressed sooner than later.
Wiping down the boots with a heavy-duty shoe brush followed by taking a wet textured cloth to remove other mud-n-crud on the leather and man-made material is about the extent of care and feeding to this point in time.
Conclusion – The Bottom Lines
It's amazing how much better a review can feel when the shoes fit. And in this case, the REV'IT! Gravel OutDry boots in size, fit, and function work just fine thank you.
There wasn't much to complain about with the original Discovery OutDry boots, less being too short in size 46, a situation partly of my own creation, but in getting beyond that, they were and remain just about perfect.
Coming back to the present, there isn't much to complain about with the REV'IT! Gravel OutDry boots either less the rubber bumper guard layer.
Design and construct are first-rate, something found in all the REV'IT! footwear. Size 47 is the perfect length and a bit of extra width has been nicely taken up by a heavier and preferred pair of gel inserts. All in all, life is good with these boots, on and off the motorcycle.
And that one issue is a case of a thin and easily marked/torn rubber bumper-guard outer – an area notoriously prone to wear and tear, from both the shifter, foot-peg and the stuff being ridden over or through.
On the Discovery OutDry boots this bumper layer was heavier and encompassed more of the side and toe area and it doesn't show any signs of wear or tear. Beefing up this area on the Gravel OutDry boots is needed…
As you can see, the gripe list is short. They didn't require much break time at all and have become almost as comfortable as my BMW Santiago boots, which by the way aren't nearly as sturdy or protective in the same ways that the Gravel OutDry boots are.
Bottom Line
An excellent protective boot option, no matter if riding close to home or far far away. And at a $200.00 less than the top of the line Discovery OutDry/Discovery H20 product, the Gravel OutDry boots represent a real deal; worth a close look.
Pros
Design, quality material and build
Fitment / Wide temperature range comfort
Overall protection
Durable Vibram sole
Waterproof but breathable
Entry-Exit is good
Cons
Inside of leg overlap/zipper placement
Pants worn inside need better accommodation
Rubber bumper guard thin, easily damaged
TPU shift pads/panels are too small
Specs
Manufacturer: REVIT!
Price (when tested): $299.99 USD
Sizing: Euro 38 to 47
Colors: Black with (grey) suede sections
Review Date: April to July 2019