Motonation Cappra Vented Textile Pants Review Summary
Review Summary
The Motonation Apparel Cappra Vented Textile Pant is a great piece of gear with excellent design features, great build, and attention to detail. Less a somewhat short inseam for larger sizes, the pants are a comfortable fit with far more features and versatility than expected for the price point. Some would consider it an absolute steal and they would be absolutely right.
Pros
Simple design
Very good fit overall appreciating short inseam
Fuller cut and sizing is appreciated
Spandex & expansion panels add all-day comfort
Great layout and finishing
Double stitching at reinforcement points
Excellent airflow
Good armour
Sand a good colour option
Bargain-priced @ $99 USD
Solid Strong Textile Build
Mesh for Warm Weather Comfort
Cons
Inseam length needs to be addressed
Limited storage
Still no ladies sizing
Cappra Vented Textile Pants Image Gallery
Introduction
Welcome to another installment of the Motonation Apparel Textile Gear Series featuring the Cappra Vented (Textile) Pants. And yes, I know Kathy Koewler reviewed a pair of them in May 2018, so this is a refresh – and these are the Sand tone variant, changing everything, no?
A well-known source for premier riding gear, Motonation has been in the import business for some awhile, during which time significant design and marketing experience accrued, leading to a business decision to introduce their own brand of products, Motonation Apparel.
They are also the exclusive North American importer for Forcefield, Trilobite, Sidi, SDS and Vemar brands and wBW has reviewed many products from these brands over the years.
It was acknowledged going into this overall series that there would be in all likelihood some size/fitment issues and one of them was relatively well known – that being the default 32in inseam of the textile pants, whereas my desired inseam length is 33 minimum and 34 optimal.
But knowing is going and that is why this along with other issues are on the discovery list as we revisit the Motonation Apparel Cappra Vented Textile Pants, 2XL, in the Sand tone.
(Note: Motonation provided the product for this review)
Cappra Vented Pants Breakdown
(Feature List from Motonation Data Sheet)
Impact areas are constructed of 600 denier polyester strengthened woven textile for durability and comfort
Knee and inside lower leg areas are reinforced with highly abrasion resistant ballistic nylon
Polyester mesh fabric is utilized on the front and rear leg areas of the pan for maximum airflow on warmer days
100% Polyester anti-bacterial fixed mesh lining
Removable stitched main seam construction for maximum tear resistance
World famous YKK zippers are used throughout the pant
Two front zippered handwarmer pockets
Expandable elastic waist features adjustable hook & look waist tabs
Removable high impact CE approved dual-density protective armor on the knees
Reflective piping is used across the knees and on the outside of both lower legs for maximum nighttime visibility
8-in YKK waist connection zipper for jacket attachment
Available in a 32-inch inseam length
Zippers are located on the side of the calf from kneed down with hook & loop closures for easy entry
Accordion fabric Spandex textile panels are used in the crotch and down the inside of the thighs for the finest non-binding fit possible
First Impressions & Gear Comparisons
First impressions experience verdict is like the Pursang Jacket: Ditto. The jacket matches well with both pairs of pants, one being the Cappra and one being the Phantom Tourventure are both 2XL and both in Sand (you see the theme here).
Between the Pursang and the two pairs of pants, the eyes go to the Cappra vented pieces first… Different and nice to see in a lighter tone – the mind digs up the fact that I've only had one pair of semi-vented pants that were not black, so seeing the Sand option is good.
After a close inspection of all three garments, the general consensus is that the jacket and pants look pretty spiffy in Sand, especially the Pursang jacket and Phantom pants with their black strategically placed inserts, along with the dark tone used for the well-placed and grip-friendly opening tabs for the pocket over-flaps.
The Cappra pants are much simpler in appearance and build, although all the basic features are there, just not highlighted in the same manner as with the other garments.
And the coordinated look theme can continue in now having three pieces in Sand; the two pairs of pants cover the riding ground nicely regarding temperature range and use, with the Pursang jacket as the versatile adaptable upper garment – it all works.
Build Quality
Testing and writing about the Pursang jacket served to reinforce my long felt feeling – that good things can and do (indeed) come in low and modestly priced packages. The Cappra pants reinforce this feeling even more.
Like the Pursang jacket, the Cappra pants, as well as the Phantom pants, reveal a solid design approach, good use of materials overall, and excellent attention to detail – everything is cut, laid-in, and finished in a first-class manner.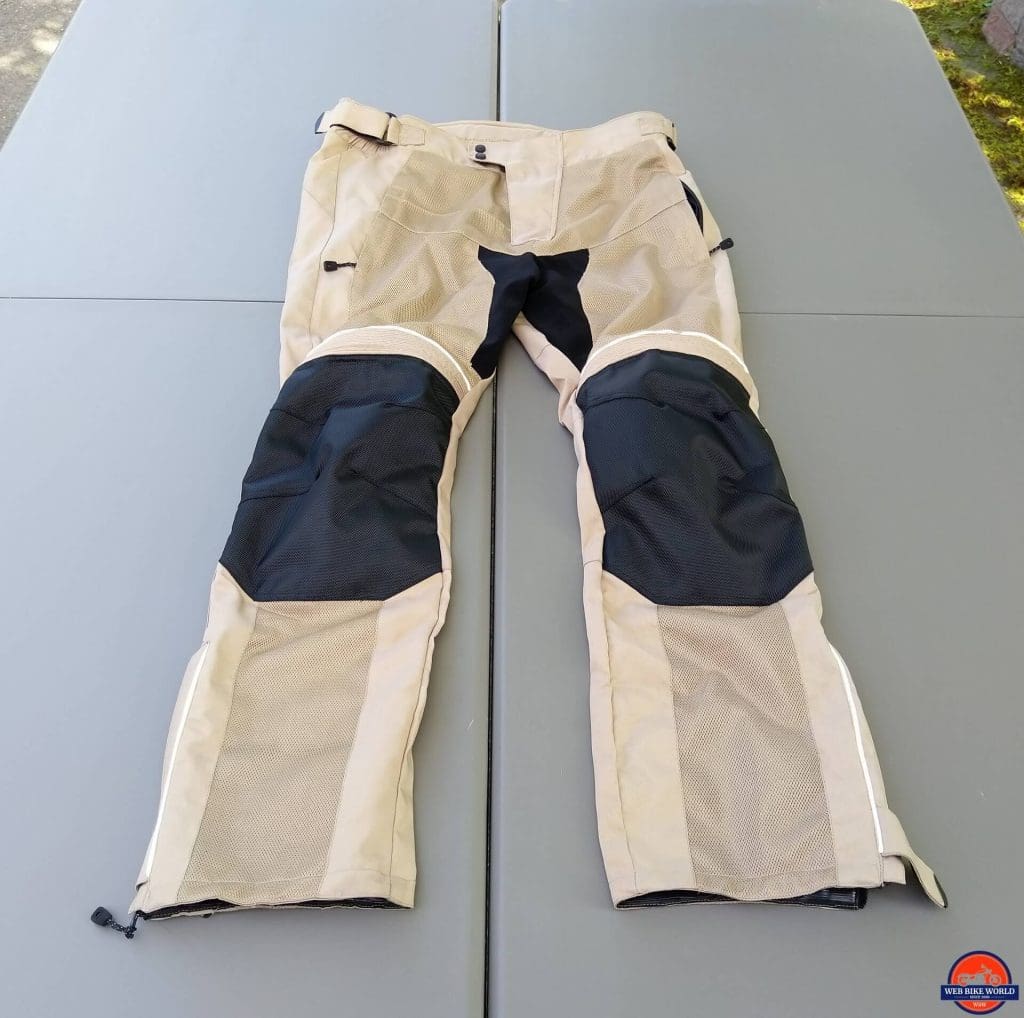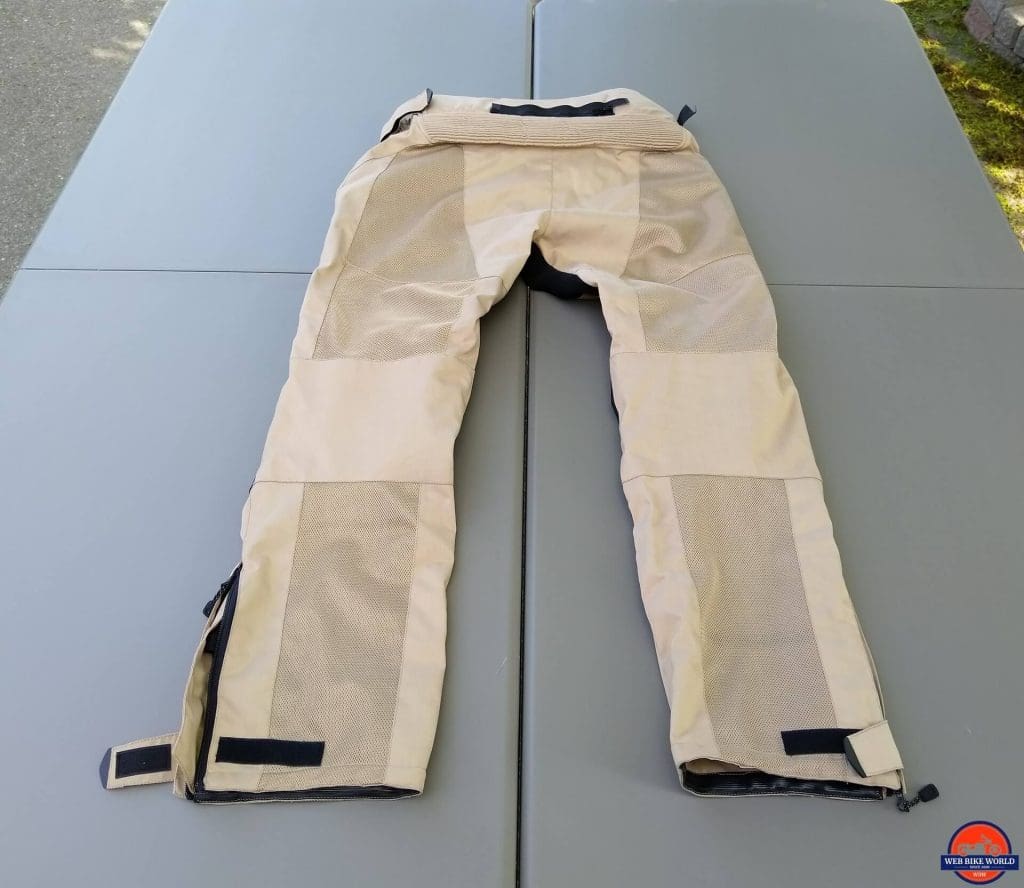 Stitching
Sections are flat and well-stitched, with no bunching or loose ends seen anywhere. Reinforced areas of 600 denier polyester (strengthened woven textile) feature extra stitching – common features seen on all the Motonation Apparel products.
Multiple stitched main seams are resistant to impact and tearing; pulling hard at any of the seams reveals everything is solid. Even the inside antibacterial fixed mesh lining is solid, only some light stretching seen and it's expected.
Waist Yoke Section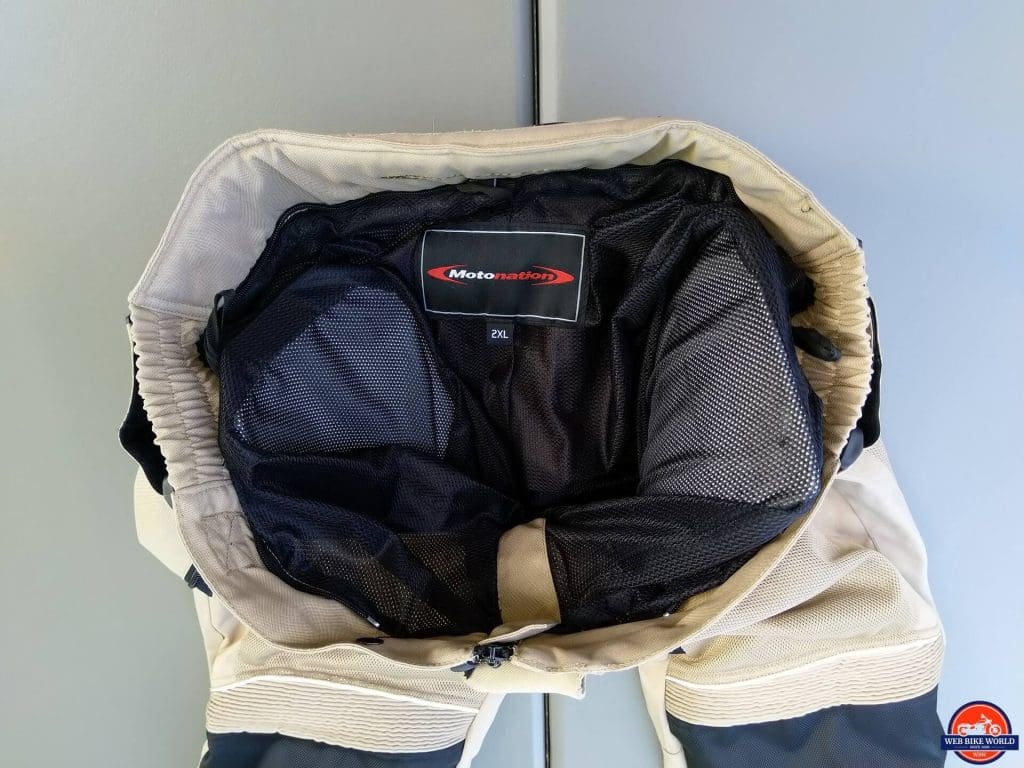 The waist yoke section is padded (protection and lower back comfort) and raised to bring the (jacket) and pant interconnection zipper closer together.
The fly zipper is smooth running with fastener sections and – what is probably my favorite fastening approach – two metal hook pieces on the upper front flap – positive, strong, and comfortable.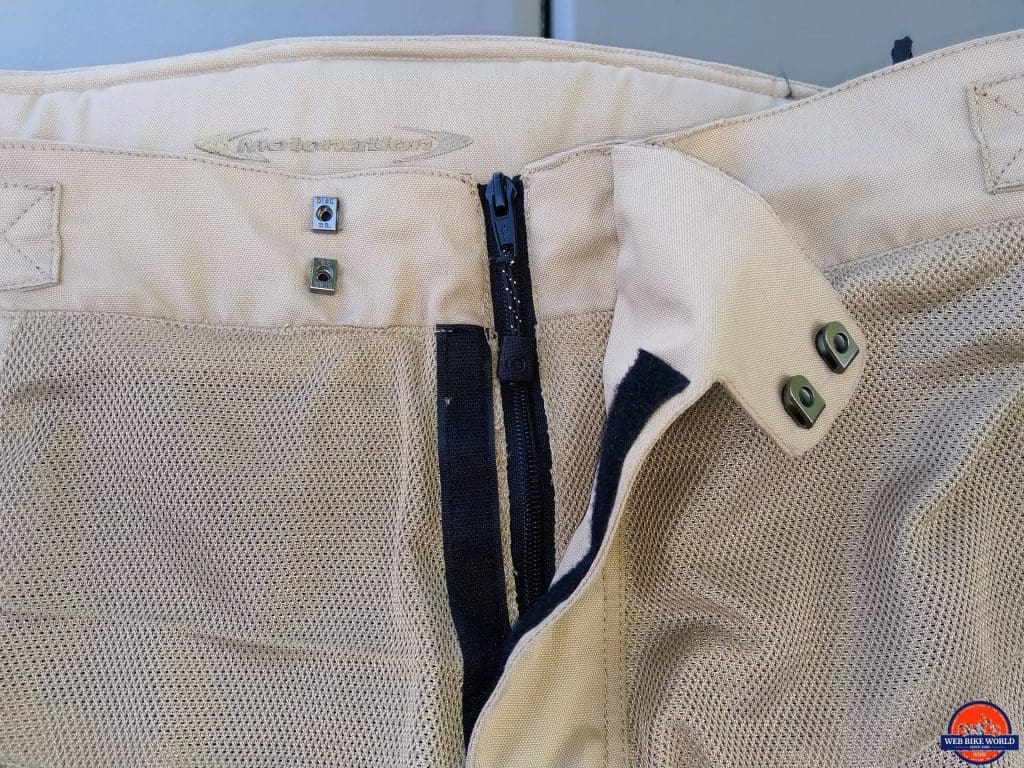 Stretchy side expansion sections (four to five inches total) along with D-ring and fastener adjusters allow quick precise in/out sizing customization as needed or desired.
Crotch & Thighs
A strong black Spandex textile insert from the crotch down along the inside thighs offers strength and comfort as do heavy duty accordion style stretch material inserts used above the reinforced knee sections.
Bottom Hem & Cuffs
To facilitate boot entry/exit, zippers from the hem to a point (well) short of the knees are found on the outside calf areas, along with short fastener tabs to keep the bottom of the pant legs sealed/secured.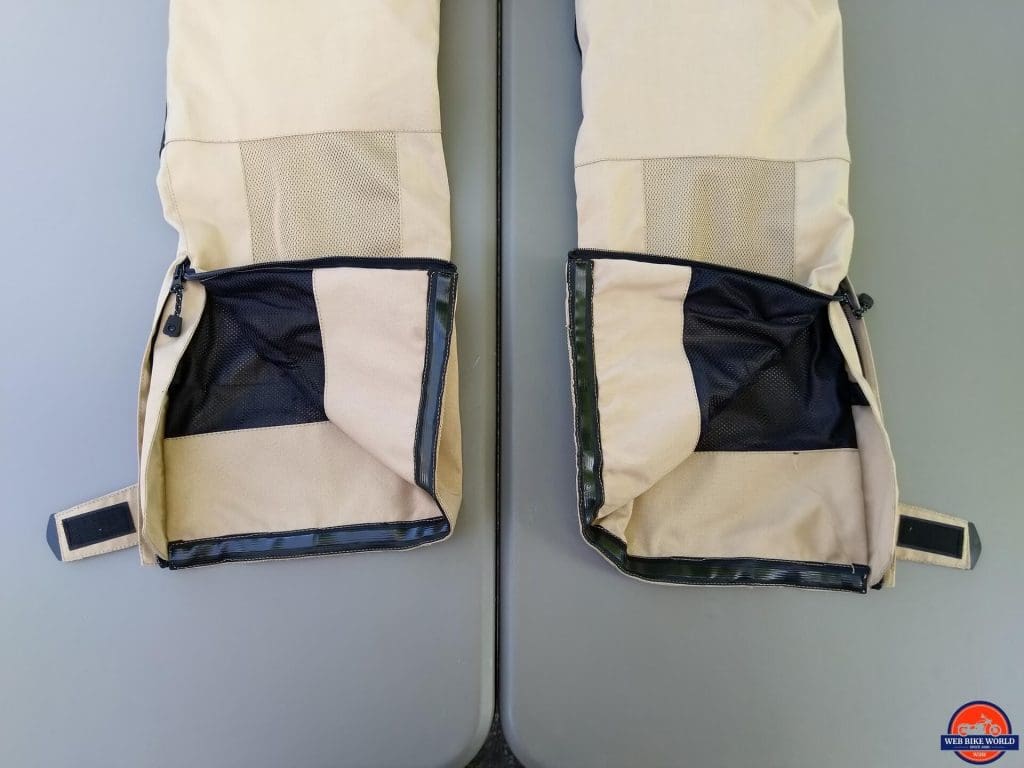 Surprise Feature
A feature seen on few outer-wear pants these days – silicone-based anti-slip hems stitched around the inside of the legs. These pieces provide shape and grip, keeping the pant legs from creeping up the boot for a better leg fit and less bunching (see following section).
Visibility
Retro-reflective markings are (unfortunately) minimal – piping is found at the top of the knee accordion stretch panels and more are found along the outer edge of the lower boot zippers. I really wish there was more…
Fit & Comfort
The 2XL pant is a good fit, other than being a bit short inseam-wise. Overall, they fit like my usual 38in waist jeans and with continued, more comfortable.
Liner/No Liner
Adding the thin Reissa waterproof liner results in a snug(er) fit but the combination remains comfortable overall walking or riding. Without the liner, I can wear light cotton sweats underneath for those cool-start mornings.
Inserts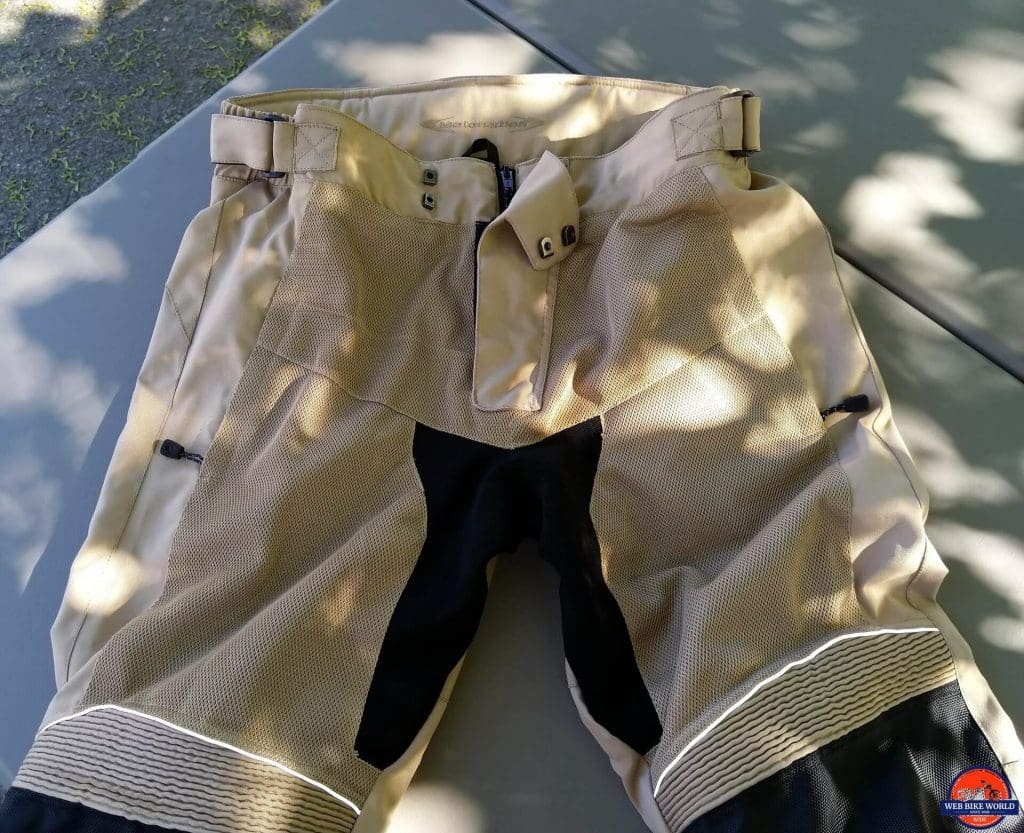 One of the best features is the black Spandex insert at the crotch down to about mid-thigh that is another big contribution to overall fit, comfort and all-day rideability.
And when getting on, off or sitting in the saddle, the previously identified accordion stretch inserts above the knees absolutely eliminate tension and pulling. I've had them on other lightweight pants and have always appreciated their presence.
Inner Hem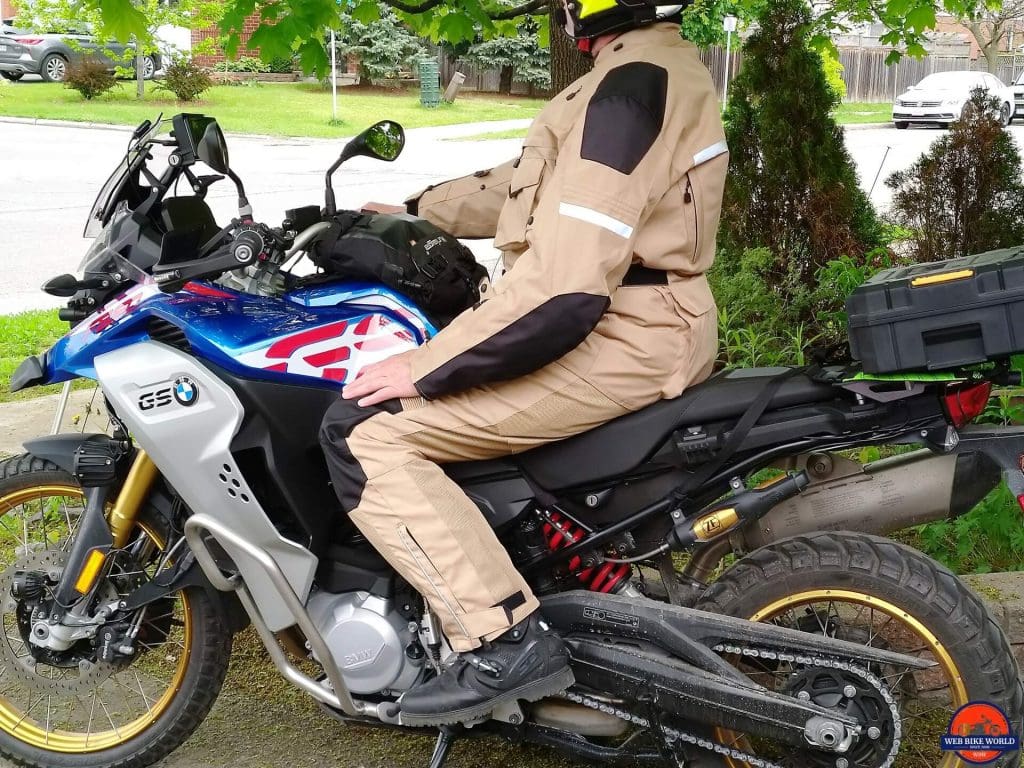 The non-slip inner hem pieces identified above also contribute to a good continuing 'fit' while on the motorcycle along with keeping leg material in place so pant creep is minimized. This will minimize material bunching and result in better airflow continuance through the mesh.
Another positive of the anti-slip pieces? When the pant legs are short relative to the rider's leg, like mine, having less creep up the boot and some stretch in the lightweight vented shell, there is less of that 'the pant legs have pulled up over my boots' visual – and feeling all good in my books.
Climate Zone (Air Flow & Heat Management)
Hey, these are 'vented' pants, so would we expect anything less? Well, there are vented mesh pants and then there are vented mesh pants. I've worn a lot of 'vented mesh' pants and some of them lack much ventilation at all, making for an uncomfortable pant environment.
But the Cappra pants are not of the former category – they flow air very well, a fact that Kathy discovered, even if she had an offset or sorts in the dark tone.
I also agree 100% with Kathy that these pants really do what they are designed to do – allow lots and lots of airflow to, in, and around the pants and the lower body parts.
This pair of Cappra pants haven't (yet) been tested to the same degree or degrees that Kathy put hers through, but even in mid-20s C (77-80F) with a warm almost humid breeze the pants seem to be loafing at their duties. I've no doubt that they will indeed continue to perform well as temperatures increase.
And yes, as Kathy noted in her review, unzipping the front pockets and letting them catch some air really does help things. It makes them more useful to boot – I don't tend to put much in this style of pocket, anyway, not located where they are…
Protection
As with the Pursang jacket protection suite, the protective inserts found in the pants is minimal, a common situation with many low to mid-priced jacket and pants. Thankfully, upgrading is an option.
The main CE armor pieces in the knee protective inserts are vented themselves – a good feature that continues the trend in making the overall garment a high-flow piece of gear.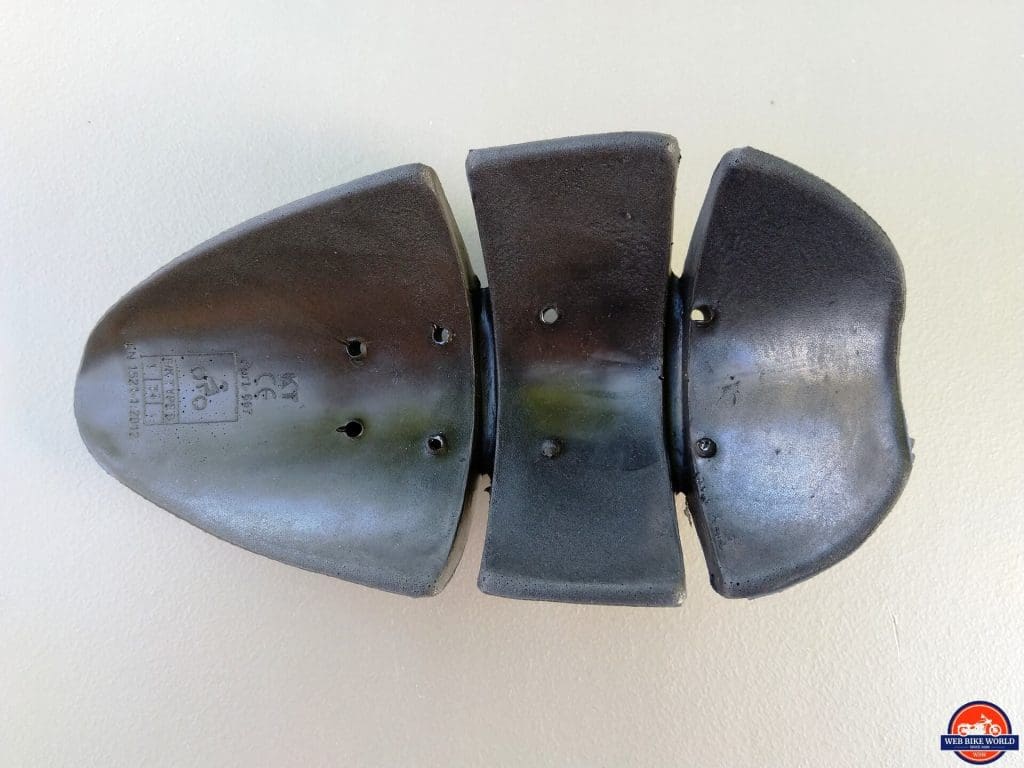 Another welcome feature is the lower leg access for the knee inserts – separate the hook-n-loop strips and work the malleable pieces in or out. The mesh pockets should support most after-market pieces.
Thin foam pads in squarish mesh pockets sit in place for basic hip protection. These white sections are small without any stampings (rating), but still welcome.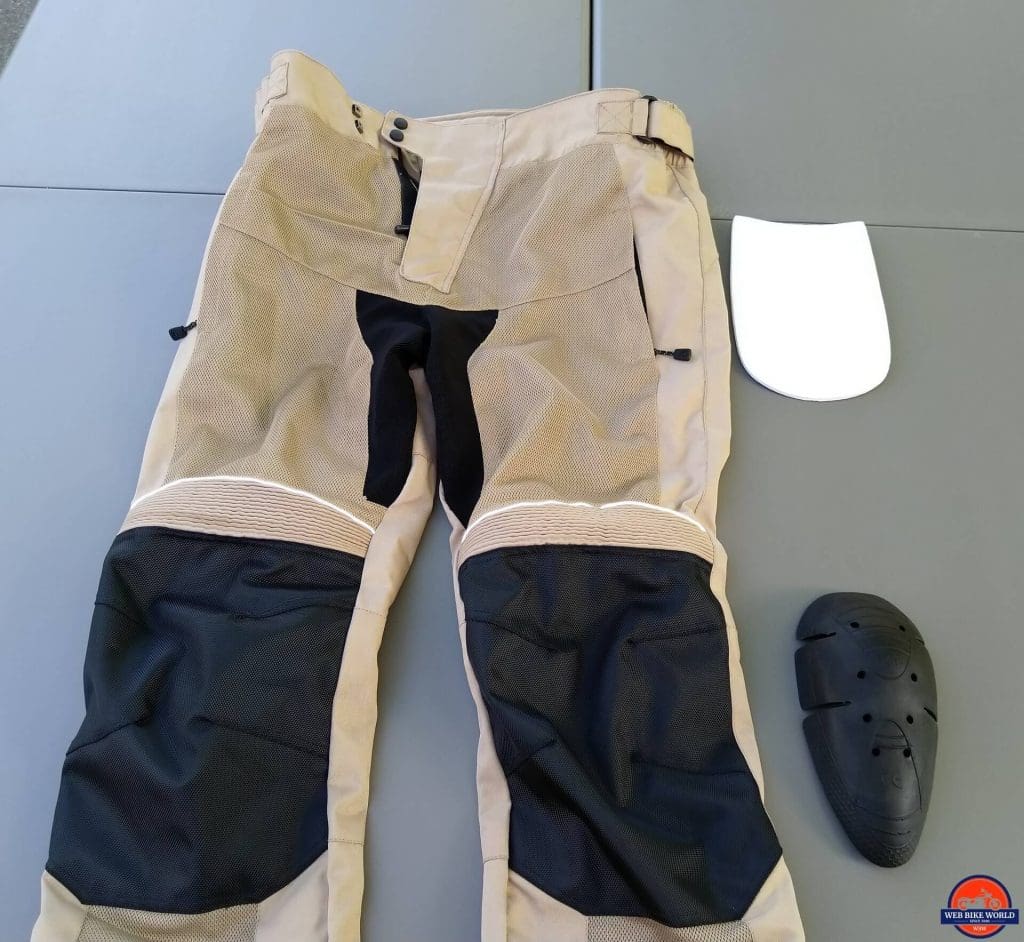 On the list of near-term things to do is the sourcing of replacement protective inserts for all the Pursang jacket and both pairs of pants. The provided inserts will work to degrees, but if the garments are going to see continued varied use, then upgrading is the wise thing to do.
Pockets & Storage
Short and simple here – two zippered slash-style front pockets (floating mesh) are easy to use, but given their location and the likelihood of them moving to the outside or inside of the thigh, I tend not to use them while riding although, for dismounted use, they are just fine.
Like Kathy, I would wish for other pockets – even small pockets or thin deep pouches stitched into the solid shell sections so as to not impact venting would work.
Smaller pockets can be located on the leg, even if they hang a bit to the rear when off the motorcycle, as they will orient properly when in the saddle. An older pair of lightweight KLIM desert pants have large pockets like this and the approach works well.
Liner
The included liner is formed of the same Reissa material used for the Pursang jacket and the other pants. It is a proven wind and waterproof layer, although I don't find the breathability to be less than other materials used for other brand products.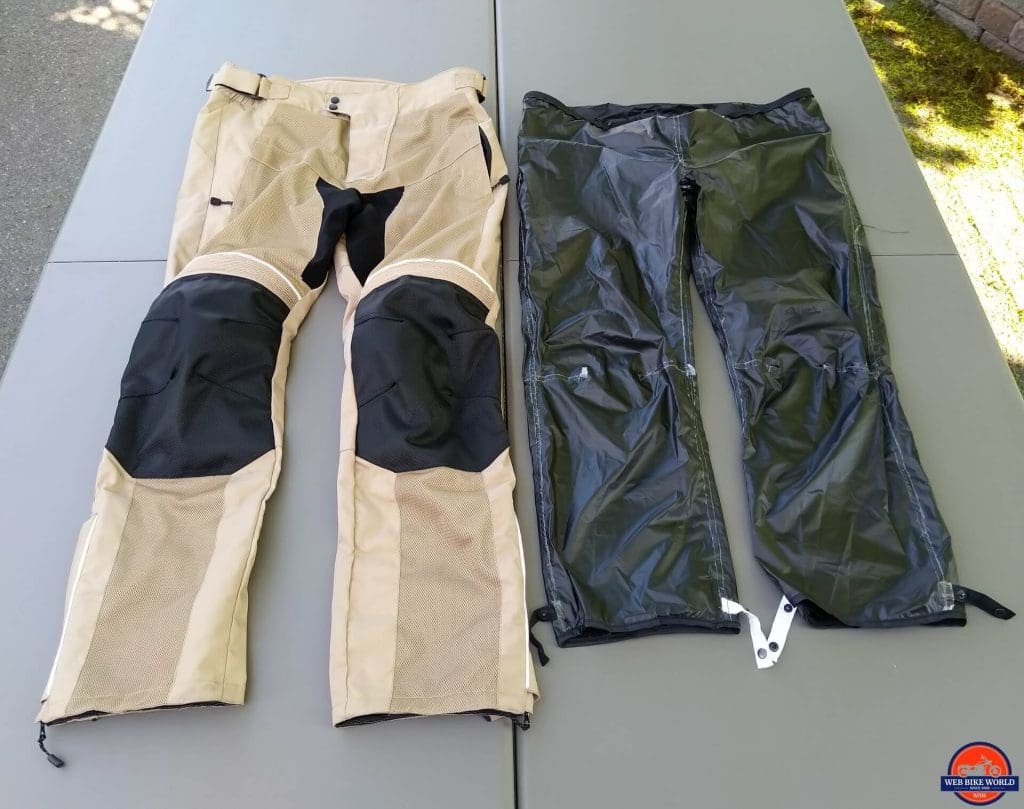 And if the liners are to be used, the full venting nature of the Cappra pants should provide enough airflow to keep the liner from causing overheating of the rider.
And yes, the liners zip in with a perimeter zipper and color-coded lower leg snaps, although to be honest, it could be a while before this liner is used. When it's warm enough to be wearing the Cappra pants, getting wet isn't a big fuss.
Besides, when the rain stops the pants are likely to dry out in a hurry – this is a test for the summer. And, I always carry a light set of outer rain gear anyway for the quick change option.
Durability
Timeline wise, like the Pursang jacket, durability has not yet been properly tested – time, use, and distance will tell that tale. But so far, nothing has failed to work or has fallen off, and my feeling is that these pants will be around for a while.
Function & Performance Observations
Function-Wise
It's not that the Cappra pants are boring, they aren't really, but so far even though it is indeed early days, there isn't a lot to raise regarding function and performance.
The pants and liner together make a reasonable combination for early morning starts where temperatures and/or slight windchill is present.
I actually prefer to just use the pant shell with a pair of light cotton sweats, or as Kathy did, add a lightweight wicking layer – either combination is comfortable and while not being (totally) windproof, offers a very good solution over a wide temperature range.
Observation-Wise
The lack of useful well-placed pockets needs addressing and the current front mesh pockets need to be tacked down for security and (protection) reasons – and, the inseam length is very much in need of reconsideration.
Inseam length is a common observation – for this and with other reviews. Unless a Tall option is going to be offered that could provide a further 34/35 inseam option, the current inseam needs increasing to at least 33 or 34 inches.
Conclusion
I can't and won't argue any of Kathy's findings and I will most certainly concur with her 'Verdict', in that the Cappra pants perform as advertised (and better).
And after over five decades of riding, I'm not a novice nor, a casual rider. I do own or have access to lots of riding gear and while admitting to being a bit jaded over gear, the Motonation products have got my attention, big time.
The Cappra pants are now being used with other lightweight or fully vented upper garments to see how the pants perform in various combinations and vis-à-vis other similar products. So far, the Cappra pants are more than holding their own.
And, the Sand combination of the Pursang jacket and the Cappra or Phantom pants is visually eye-catching to boot. Again, it's not usual for me to have matching upper and lower vented gear, so this is a great change – spiffy or what, including the always-present hi-viz vest.
And I just know Kathy would find the pants in Sand somewhat cooler than the dark tone she reviewed…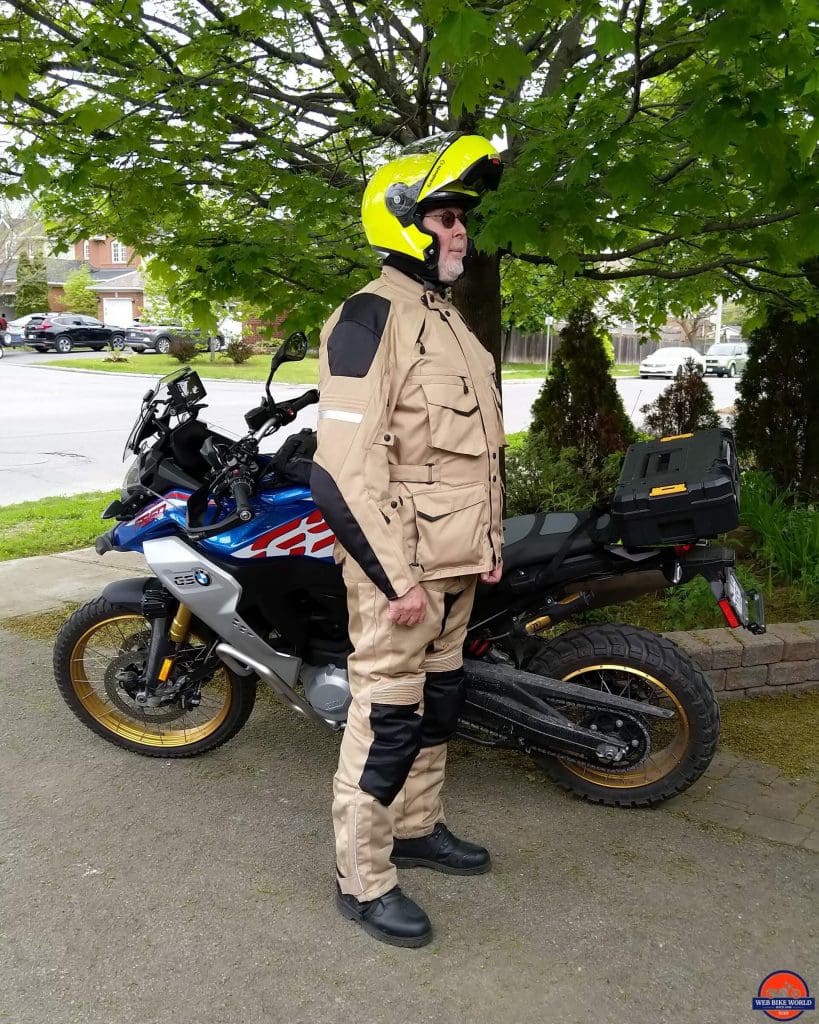 Pros
Simple design
Very good fit overall appreciating short inseam
Fuller cut and sizing is appreciated
Spandex & expansion panels add all-day comfort
Great layout and finishing
Double stitching at reinforcement points
Excellent airflow
Good armor
Sand a good color option
Bargain-priced, excellent value
Cons
Inseam length needs revisiting
Limited-used pockets
Still no ladies sizing
Specs
Manufacturer: Motonation Apparel
Price (when tested): Cappra Vented Textile Pans, $99.00 USD
Colors: Black, Sand (available direct from Motonation)
Sizes: Small, Medium, Large, XL and 2XL
Fitment: Regular
Original Review Date: May 2019