Offtrack Adventure Pants Review Summary
Review Summary
Like the (reviewed) REV'IT! Offtrack Jacket, the Offtrack Pants are one good looking piece of gear and a perfect complement to the Offtrack Jacket. Both are targeted at active adventure riders and both are touted for their warm weather features, although the pants perform extremely well as a two-to-three season garment (depending on the climate of course). An attractive and protective exterior shell with functional and removable waterproof/thermal liners make these pants a versatile solution.
Pros
Visually appealing
Finely detailed
Quality Construction
Excellent protection
Outstanding ventilation
Useful cargo pockets
Cons
Sizing an issue for some bodies
Liners are not separate wearables
Boot zippers are too short
Offtrack Adventure Pants Image Gallery
Introduction
wBW has been doing product reviews, collections, and new product line overviews and long-term evaluations of adventure touring equipment for years with REV'IT products prominently featured… for all the right reasons – they have a diverse product line featuring innovative and versatile riding gear.
Past Gear Limitations & Current Option Diversity
For most of my decades-long riding career fitment of the proper protective riding gear has been a challenge in fitting my 189.2cm (6ft 2.5in) frame with long arms and a 34in inseam – which is often the deal breaker.
But while now able to more often find adventure touring jackets that are a good or close fit, with some compromise, finding the same solution in pants, matching or otherwise, for the most part, remains difficult; just an honest assessment of the situation here…
I get tired of being able to pull on high-end adventure style pants in my usual 38 to 40 sizing and find that while the pants may go on and pull up into place, the cuffs sit three to four inches shy of the lower ankle point!
OK, off the soapbox. And, to put a more positive spin on things, I must acknowledge that manufacturers and suppliers are indeed getting (more) of the consumer messaging in producing more diverse products – many with good size and fit ranges; especially in the adventure-travel market segment.
The result is that I can now pick from a decent range of gear from various brands that fit and function comfortably with only a few sizing concessions, although pant/inseam length remains a real toss-up.
The REV'IT! Experience
In being a long-term admirer of REV'IT products, my overall experience with the brand has been limited to more of an admiring bystander than functionary, although one older lightweight mesh jacket did fit me perfectly, which seemed to be an anomaly at the time… but the complementary pants weren't even close.
Zooming in to the present, one product that gives me positive thoughts (and hope) regarding fitment along with comfort, warmth, and dryness, is the new REV'IT! Offtrack (Adventure Touring) gear – jacket and pants.
Since (very) early spring, the Offtrack jacket (review available soon, check back!) and pants have been keeping me quite warm and very dry, even during use in weather that felt like late winter rather than spring. But heading into warmer days (and humidity) the liners are removed, and the vents fully utilized.
First Impressions
As with the Offtrack Jacket, first impressions of the Offtrack Pants are very positive and while far simpler in many ways compared to the jacket, the details found in the pants regarding design, construct, feel, and obvious quality are hard to miss.
With the decision to go with the Silver-Green jacket combination, the complementary Black-Silver scheme was chosen for the YXL (3XL) pants. As identified in the Offtrack jacket review, the pants are also one size over – the 2XL was close, but the next size up provided more space at the waist and hips and better end of leg positioning.
Visually the jacket and pants are a great combination and while there isn't a lot of hi-vis material overall between the two garments, the silver/black/green contrasts with the jacket and pants really stand out to other road users and observers.
One thing that did need some getting used to, as with the jacket, was having both waterproof and thermal insert liners for the pants. But both liners work extremely well and with the zippers and related fasteners sorted, quite easy to use, properly.
Breaking Down The Offtrack Pants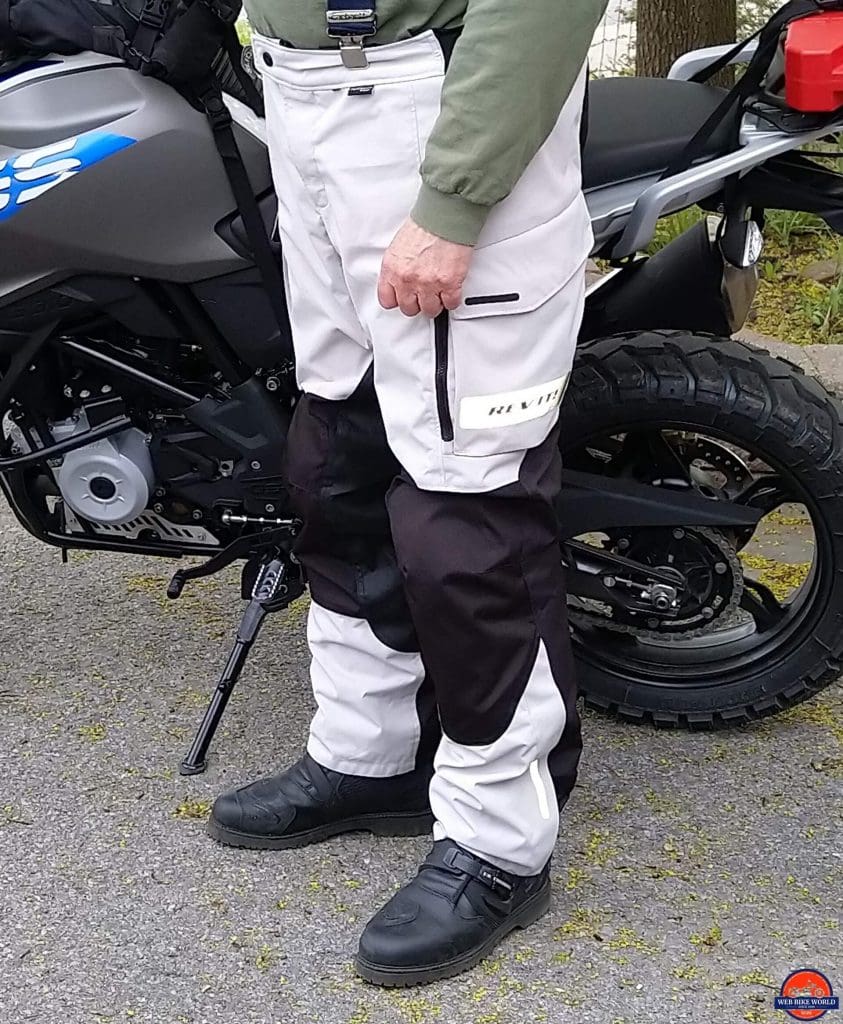 The Offtrack pants (trousers) provide the same lightweight construct with protection, ventilation, and storage space features like those found on the Offtrack jacket.
Large sections of the pants are comprised of polyester ripstop – thick reinforced threads interwoven into the fabric in a crosshatch or 'ripstop' pattern. Lower risk (impact) areas use Softshell 3L, that is polyester 600D as form-fitting sections to enhance rider comfort.
A grip patch on the pants seating point minimizes slippage on the seat, especially important when surfaces are wet or cold and movement is taking place – as in up and down on the pegs.
The front YKK zipper component includes a conical shaped slider/receiver that provides a positive lock to keep the pieces together… it is different, and it works.
Calf-height zippers are used on the legs, with Velcro strips for adjustment and security. The approach works, but it requires that footwear be removed first, even half-height boots. Less one other pair of pants, all my riding pants feature full length or ¾ length zippers on the outside for step in/step out functionality…
Elastic inserts along with adjustable slider straps are located at the top of the pants on each side. The straps work well – good range of play and retention, although I still need suspenders to keep the pants positioned as desired; a requirement that is just fine with me as they lessen the tension and direct weight on the hips and waist.
Large lined stash pockets with large over-flaps and tactile strips reside on each thigh. The pockets are well-placed, easily accessed, and capable of holding lots of stuff (keep it safe though). Full-length VCS zippers along the inside edge of each pocket provide air flow management into the pants.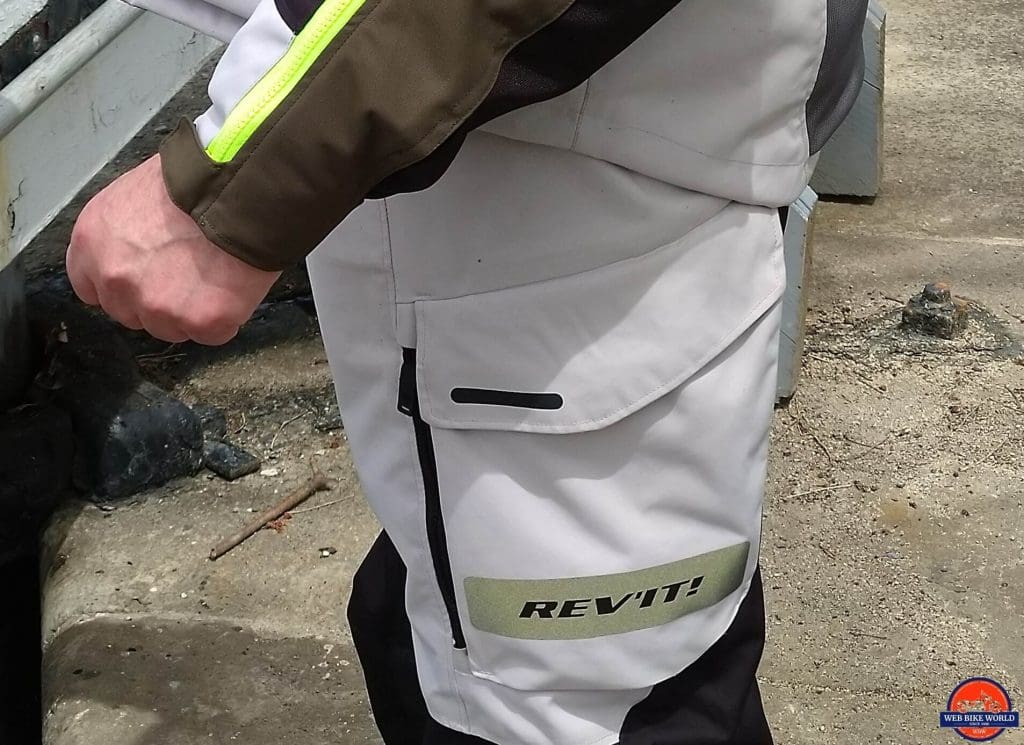 Protection
Proper sizing and fitment of any protective inserts are important. In this regard the REV'IT! SEESOFT, SEEFLEX, and SEESMART products are hard to beat – they are available for a wide range of products and fitment applications and all are certified to the highest CE standards.
For the pants, heavy-duty abrasion resistant panels and SEEFLEX CE-level 2 knee protector inserts are provided. Marketing material identifies the inclusion of SEESMART CE-level 1 hip protectors as well, but they were not provided… something to pursue perhaps?
Fit & Comfort Zone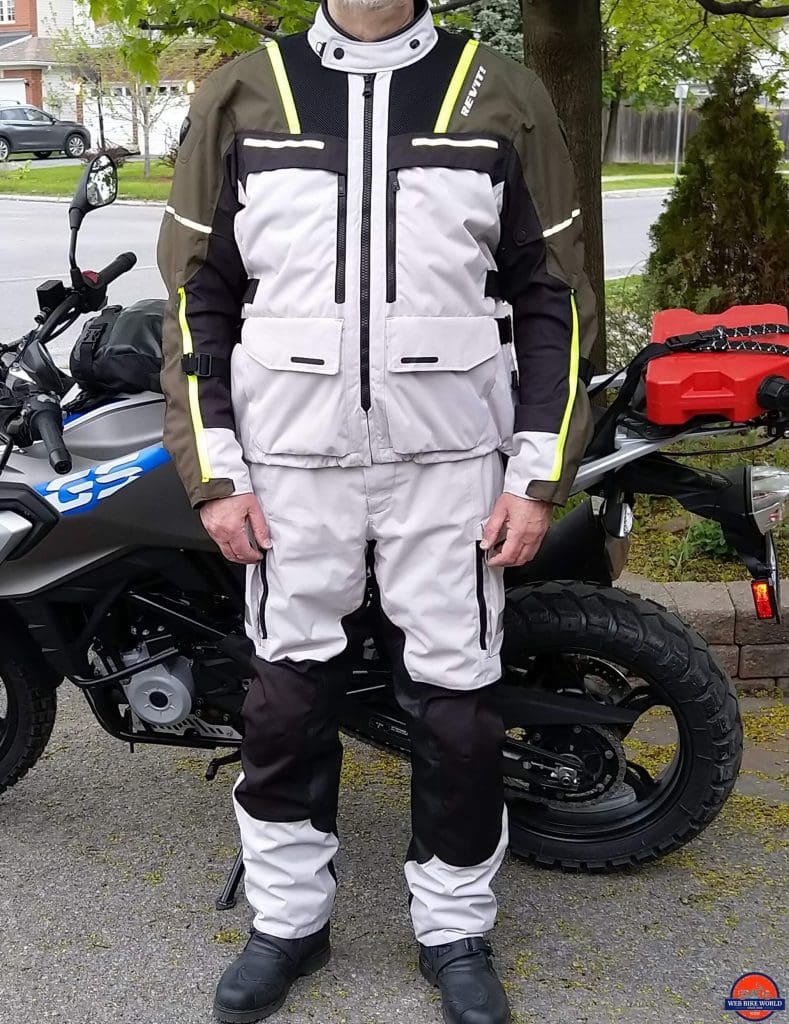 The Offtrack gear is intended to be and is indeed built for comfort. Even when trying on the 2XL Offtrack pants, it was obvious that comfort/room is prioritized in comparison to other lines.
Regrets in going one size up? Not really – going up for both the jacket and pants do impact some fitment areas, but the positives gained far outweigh the negatives. Concerning the decision, it turned out to be a wise one – pants included.
In riding a mix of motorcycles, on and off-road, in varying weather conditions and terrain, often in the course of one day – freedom of movement along with multi-use, multi-purpose functionality is key, something the Offtrack gear delivers.
Like the jacket, oversizing the pants was a conscious choice to get the inseam (minimum 34in) desired and freedom of movement. I'm happiest with long pants that don't ride up much when in the saddle – no matter if the pants are over long riding boots or tucked inside when wearing motocross style footwear.
Yes, the waist is big on me, but again it's a comfort and movement type of thing, and a pair of trusted Carhartt suspenders takes care of the support issue, as does zipping the pants and jacket together.
Climate Zone
The Offtrack pants very much complement the jacket, especially as an integrated riding solution that handles a wide range of temperatures and changing elements. The pants, like the jacket, has been a pleasant surprise regarding capability.
It's capability is largely due to the outer shell construct, easy to use VCS zippers, very functional liners, and some room to add an additional next to skin layer when needed.
With warmer riding weather upon us, the opportunity to better assess how the Offtrack pants cope has arrived and so far, so good.
Although they don't air flow at multiple points as the jacket does (understandably), the frontal VCS zippered intakes do a good job of funneling fresh air into the upper leg and lower body areas, but not so much below the knees.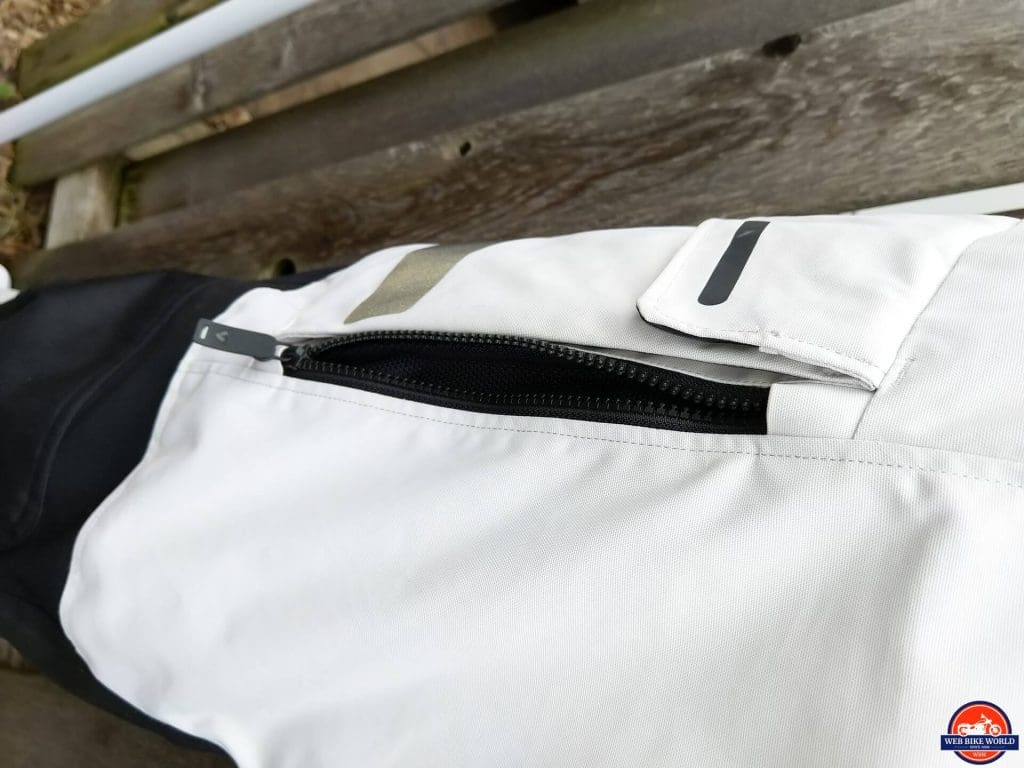 Pockets & Storage
The matter of pockets and/or storage space on riding gear, especially adventure touring stuff, is often a sore point; in that there aren't any or very few. I know there is a need to appreciate a cleanish design, space, feature costs and of course weight and safety concerns, but still…
Thankfully the design, placement, and number of pockets (small and large) provided between the Offtrack jackets and pants is most welcoming and very much appreciated. In other words, well used.
Compared to the multiple pockets and storage points found on the Offtrack jacket, the pants might seem somewhat devoid. But rest assured, the two thigh-positioned cargo pouches are very useful and hold lots.
Don't forget to be mindful of what goes into the pockets – anything that could be dangerous in an impact or spill needs carrying elsewhere…
Liners
Two removable and separately usable liners are provided with the Offtrack pants, one the waterproof layer and one the thermal layer – how they are used is up to you. Neither are designed as stand-alone dismounted wearable garments, which is unfortunate.
Waterproof Liner
The pants liner is detachable and formed of the same Hydratex mesh G-liner material used for the jacket liner. This stuff is surprisingly stretchy, strong and impermeable to moisture, which both static testing and riding have validated.
For the pants liner, a double zipper stitched in around the waist serves both the waterproof and thermal liners. The waterproof liner uses the lower or pewter-colored zipper, along with inner leg zippers located about 5cm (2in) above the bottom cuff of the outer shell.
Thermal Liner
Secures to the upper of the dual waist zipper and leg zippers located just below the general knee area, and this is where an issue can arise…
Where the waterproof layer features full-length leg sections that zipper in tightly and are cut to shape with the lower flap adjuster for good boot entry and sealing…
The thermal leg sections are shorter and can cause a gap in coverage, especially if low or half-height footwear is worn.
Another 10cm or about 4in of thermal leg length would be just about perfect…
Function & Performance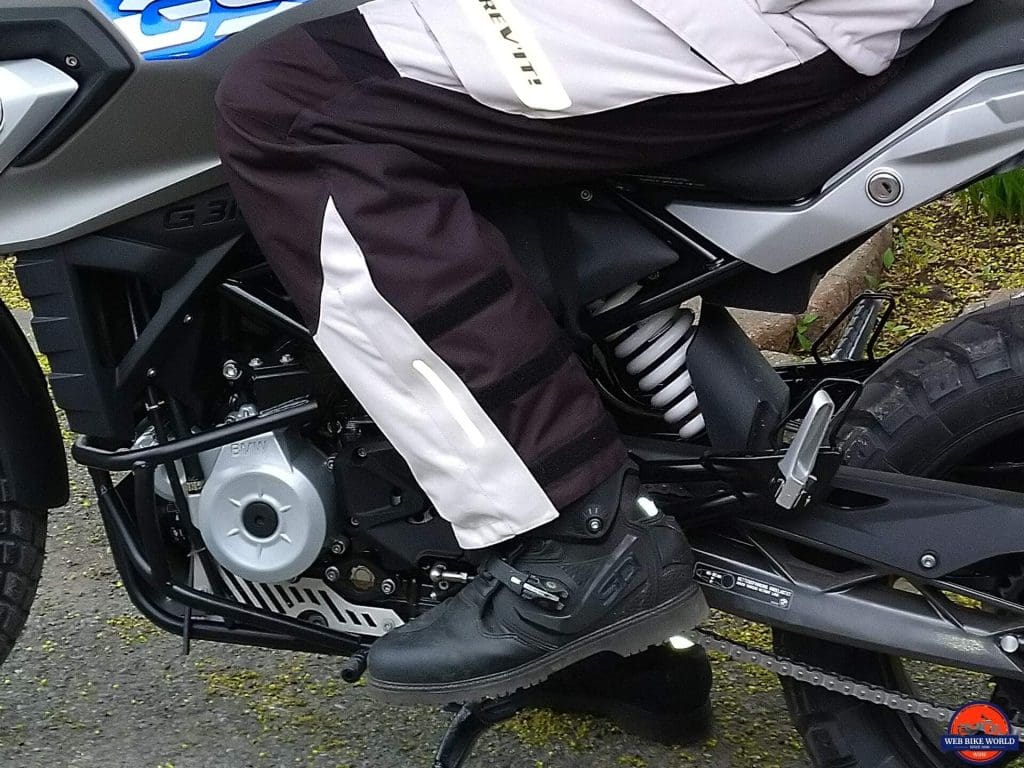 The Offtrack pants have admittedly been used mainly with the Offtrack jacket, although on occasion they have been worn with other jackets, allowing some comparative observations.
Environmental conditions when using the Offtrack jacket and pants together or separately varied from just below 0C (32F) to 21C (~70F), with the cooler temperatures introducing significant windchill as well.
For coverage consideration, the motorcycles ridden are the 2019 BMW F850GS Adventure, the newest arrival, a 2019 BMW G310GS, and the venerable 1975 Honda CB400F that provides a fully-open-to-the-elements environment.
And don't forget the human factors – all of us have varying tolerances regarding the elements, so the assessments provided may not be the same as yours and are meant to be general in nature.
No matter the motorcycle with both liners installed, the Offtrack pants proved very adaptable, remaining quite comfortable in the 5C to 15C (41 to 59F) range and with some other personal layering temperatures around or a bit below the freezing point were tolerable.
As temperatures climb and windchill lessens, the thermal layer is typically removed first, leaving the waterproof liner to do its usual effective job of blocking or minimizing chilling air flow; something many riders never appreciate regarding their rain gear or layers.
In the 15 to 20C (59-68F) range, depending on frontal coverage (and the weather forecast) removing the waterproof liner and just using the thermal insert provided a comfortable riding environment or in lieu, a good third-party liner.
And the Offtrack pants while not the equal of the jacket for air flow, they are a very good match. Their lightweight outer shell and thigh-placed zippered vents work well in cooling the lower half of the body.
It will be interesting to see if the more closed environment pants with heavier protective panels remain a balanced part of the combination when temperatures and the humidity really rise with more body activity as when navigating off-road terrain.
Conclusion
The Offtrack products are new and marketed as warm weather adventure touring products. Somewhat surprisingly, however, both pieces together are seemingly going to be effective as two-to-three season riding gear.
There is little to question or nitpick regarding overall design, features, build and performance, less perhaps the (somewhat) short legged waterproof pant liner, a wish that more of the identified protector inserts were included rather than options and, longer boot-entry zippers.
And to repeat a comment used for the Offtrack jacket review, "fit is indeed subjective". Life with the oversized pants (and jacket) is just fine; the important requirements are satisfied, and functional features validated.
At $329.99 USD for the pants or $449.99 CAD, pricing is pretty consistent for what I consider to be a premium offering, like the jacket is as well and the two really do go best together.
But no matter if the Offtrack pants are used with other gear or with the Offtrack jacket, they prove their worth with every ride.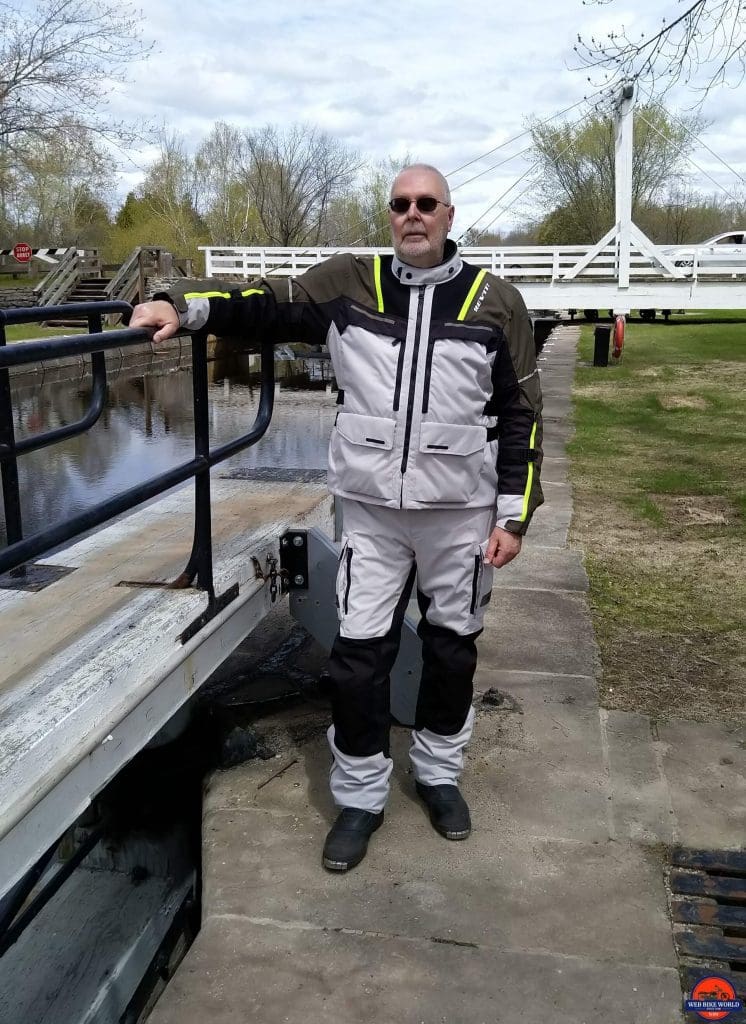 Pros
Visually appealing
Finely detailed
Quality Construction/Excellent protection
Outstanding ventilation/Useful cargo pockets
Cons
Sizing an issue for some bodies
Liners not wearable pieces
Boot zippers are too short
Specs
Manufacturer: REV'IT!
Price (when tested): Pants; $329.99 USD
Colors: Pants – Black, Black/Silver
Sizes:

Pants, Regular – SM, MD, LG, XL, 2XL, 3XL, 4XL
Pants, Short – SM, MD, LG, XL, 2XL, and 3XL
Pants, Tall – MD, LG, XL and 2XL

Fitment: Race or Regular
Original Review Date: May 2019