Phantom Textile Adventure Pants Review Summary
Review Summary
The Motonation Apparel Phantom Textile Pant is another great offering – excellent design and build features and very good attention to detail seen with all the Motonation Apparel. Less the standard (and known) short inseam for larger sizes, these pants are comfortable with lots of very functional features, including venting. Another pair of pants that fits into the 'absolute steal' category.
Airflow / Heat Management
Pros
Simple design
Great material layout & finishing
Even stitching, doubled where needed
ery good fit overall – fuller cut is appreciated
3XL size has additional inseam length
Spandex & expansion panels offer day-long comfort
Decent airflow
Minimal protection inserts
Bargain priced
Cons
Overall inseam lengths need revisiting
Minimalist armor inserts
Lack of reflective markings
Textile Adventure Pants Image Gallery
Introduction
Welcome to the third and final installment in this Motonation Apparel Series that has already featured the Pursang Jacket and the Cappra Vented Mesh Pant – this one highlights the Phantom Textile Pants – as in two-pair.
Motonation is a well-known source for premier riding gear, having been in the import business for some time. And during this time, they also accrued significant design and marketing experience that led to the introduction of their own brand – Motonation Apparel.
They also remain the exclusive North American importer for Forcefield, Trilobite, Sidi Design Series, and Vemar brands with wBW continuing a long tradition of reviewing many of the products from all these brands.
It was acknowledged going into these reviews that there would be some size/fitment issues, some relatively well known including the default 32in inseam of the textile pants, whereas my desired inseam length is 33 minimum and 34 optimal; but, we were able to address this to a degree (more on this later).
And in having a total of four Motonation Apparel textile products to review, three in the Sand tone and one in basic Black a lot of consistencies and very few inconsistencies are observable between all the gear; seemingly a trend for all the Motonation gear reviewed lately by wBW.
Left to right: Cappra 2XL (sand), Phantom 2XL (sand), Phantom 3XL (black)
The original shipment from Motonation included the Pursang Jacket, Cappra Vented Pants and a pair of the Phantom Pants – all in Sand and all 2XL Regular sized. But in doing some fitment follow-up with Jason at Motonation he said a 3XL black pair of Phantom pants were available if I wanted to try them as well and given their 33in inseam, it was a done deal.
Phantom Pants Breakdown
Feature List from Motonation Data Sheets:
Designed for any climate
Constructed of 600 denier polyester strengthened woven textile for durability and comfort
Knee and inside lower leg areas reinforced with high abrasion resistant ballistic nylon
Removable waterproof and breathable Reissa – full liner zips over permanent mesh lining
Removable thermal insulating quilted full liner zips over the Reissa waterproof liner
Pants may be worn with no liners for warmer days or with the waterproof liner for warm and wet days or with the waterproof liner and quilted liner for truly nasty days
Horizontal open-air vents are positioned across the thighs just above the knees with exhaust vents on the rear of each thigh
Accordion fabric Spandex textile panels are used in the crotch and down the inside of the thighs for the finest non-binding fit possible
Removable high impact CE approved dual-density protective armor on the knees
Multiple stitched main seam construction for maximum tear resistance
World famous YKK zippers are used throughout the pant
100% Polyester anti-bacterial fixed mesh lining
Zip open lower legs with hook & loop closure
Zippers are located on the side of the calf from knee down with hook & loop closures for easy entry
Hook & loop plus metal clip secured flap over the fly
Two front hand wamer pockets and two thigh cargo pockets
Expandable elastic waist features adjustable hook & loop waist tabs
8-inch YKK waist connection zipper for jacket attachment
Sizing up to 2XL is available in two inseam lengths: 32in (Standard) or 30in (Short) **
Reflective striping used on lower legs
**wBW Note – the 3XL in Regular has a 33in inseam (Black only)
First Impressions & Aesthetics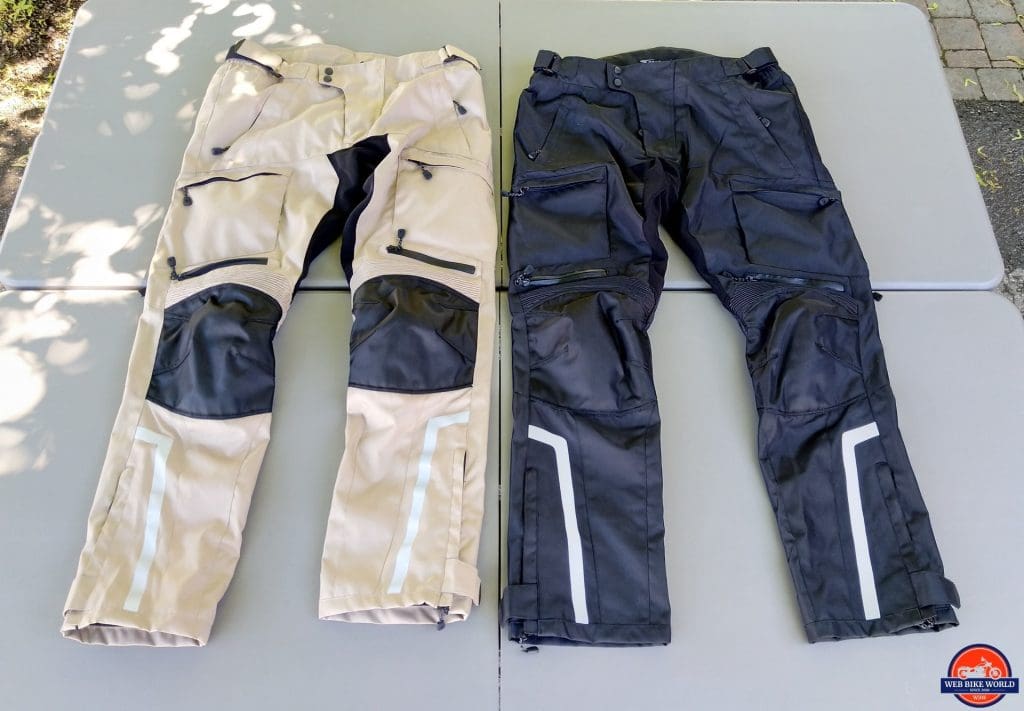 Like all the Motonation gear received, and now reviewed, the Phantom Pants are of far better quality than expected of motorcycle gear for the price point – and there is absolutely nothing wrong with that.
Again, like all the other pieces reviewed, the material is well-cut, with even stitching that is reinforced where needed. Nothing is out of line or appears hastily finished. Overall quality control is very good.
The 600D shell feels heavy-duty but is still pliable and very comfortable to wear. The Sand coloration with black crotch and knee inserts, and black zipper highlights, and a distinctive below the knee to hem reflective striping provide contrast while accentuating the styling that balances function, form, and looks… all OK with me.
With the same features, the 3XL Phantom Pants in black don't reveal the same contrasting points but do feature the same precise cut and finish of the other Phantom (and Cappra) pants, just with a bit more material with a more generous cut – and a 33in inseam.
Build Quality
And to repeat… testing and writing about the Pursang Jacket and the Cappra Vented Textile Pants served to reinforce my long-felt feeling that good things can and do (indeed) come in low and modestly priced packages. The Phantom Tourventure Pants are even more reinforcement regarding this feeling.
There is nothing about the cut, layout, and finish of the Phantom pants to cause concern – solid simple design, good use of materials and obviously great attention to detail.
Both the outer shell and wind/waterproof liners have inner mesh layering for comfort, wicking purposes, and ease of use when getting in and out of the pants – features always appreciated.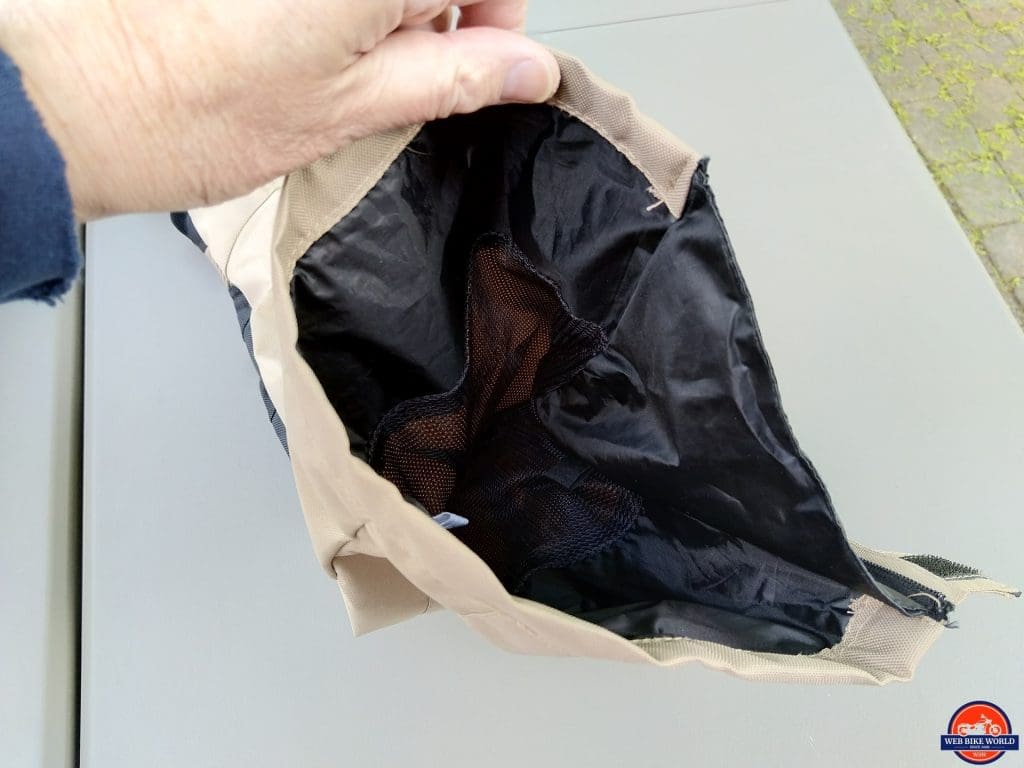 And these inner mesh layers are securely stitched in but with enough give to reduce tearing while minimizing pulling or bunching – all good things regarding long term comfort and wear-n-tear.
Stitching
Everything is laid out and aligned to close tolerances with heavy duty single stitching standard and extra stitching used at all stress points or where reinforced abrasion-resistant ballistic nylon reinforcement sections are used.
These multiple stitched stress seams and reinforcement areas are important to overall strength, protection, and durability with only a couple of minor loose ends or finishing points.
Waist Yoke Section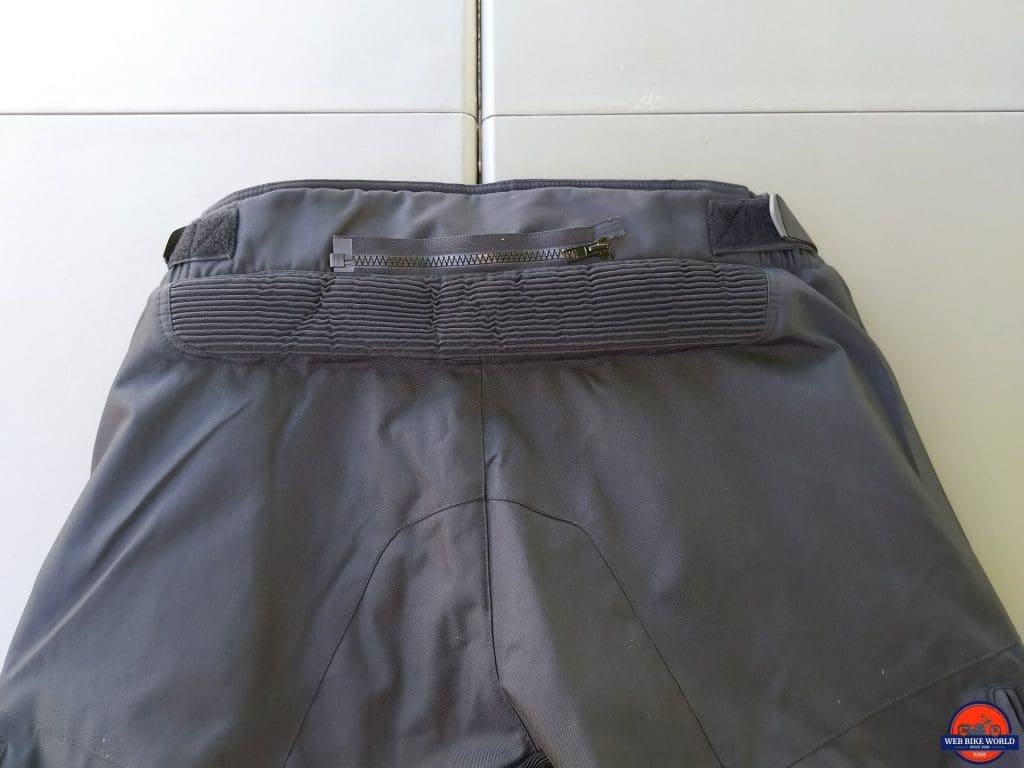 Like the Cappra pants, the waist yoke section on the Phantom pieces is well padded (with stitched Motonation logo) for protection and lower back comfort. There is a shaped high cut to cover the lower back and bring the jacket and pant connection zipper closer together as a protective overlap between the pieces.
The Phantom dual metal hook solution on the upper front flap is positive, strong, and so far durable while in use with the fly zipper running smoothly and well secured between its vertical hook-n-loop flap and upper front flap.
I sure could use this Motonation approach on some of my other (far) more expensive and touted 'better made' pants where the zipper and overflaps cause nothing but grief and typically don't fasten or remain fastened.
And the stretchy side expansion sections (3 to 4 inches total) combined with the rectangular D-ring and long hook-n-loop adjustment straps provide excellent quick precise waist-sizing adjustment. Full marks are given here as well.
Crotch to Thigh & Knee Sections
The shaped Spandex textile insert from the crotch down along the inside thighs is quite a contrasting and extremely effective insert that offers strength and comfort no matter the riding conditions.
And the sturdy accordion style stretchy inserts found above the reinforced knee sections is another big contributor to fit and comfort, especially when getting on/off the motorcycle and transitioning between seated and standing.
But the observation to be made here is that when one or both liners are installed, there is less real estate for movement given the non-expandable characteristics of the liners vis-à-vis the shell's Spandex insert, and of course less air circulation – desired or otherwise.
Bottom Hem & Cuffs
The short but still useful boot zippers work to reduce the overall effort in putting boots on and taking them off. The zippers run from the bottom hem up along the outer calf towards the knees.
But as noted with the Cappra pants the zippers are about 10 – 12 cm (4 – 5in) shorter than ideal and extending them up to the bottom of the knee insert would be a great modification.
Regardless of this observation, the boot zippers work as designed and with the zippers done up and the short fastener tabs in place, the bottom of the pant legs are well sealed and secured.
Unfortunately, we can't detail a 'Surprise Feature' section here – the Phantom pants don't have the same anti-slip inner hem found on the Cappra pants that were a most welcome surprise.
They do, however, feature waterproof gusseting on the lower leg for weather protection featured below.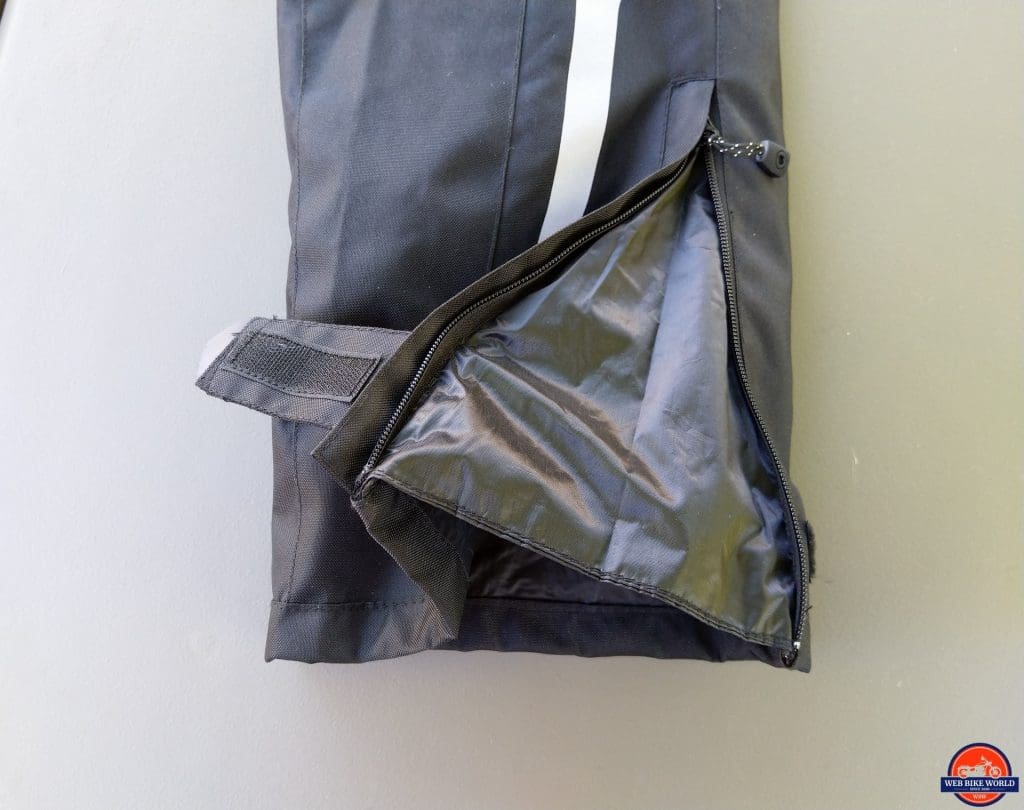 Visibility
As with the Cappra pants, reflective markings are unfortunately minimal. The only presence seen is a longish stylized strip running from the hem to just below the knee insert, positioned on the outer front of each leg.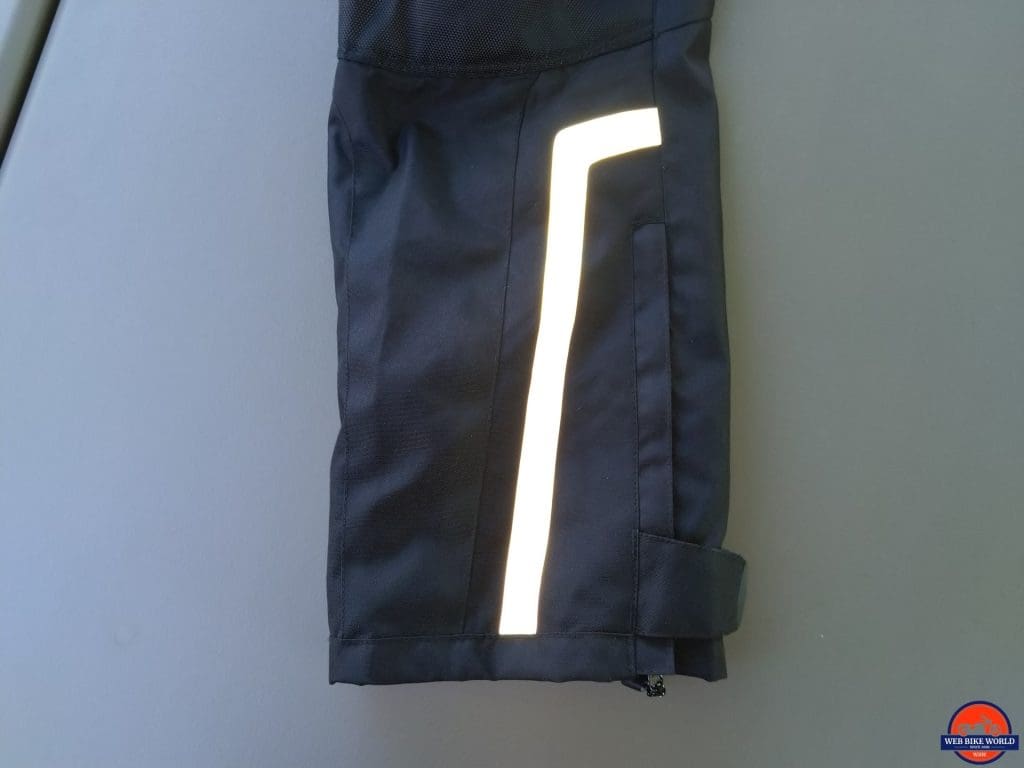 The piece is indeed well-placed and highly visible for low light and night-time conspicuity (unless the pants are tucked into the boots). Even adding the discrete but visible reflective edge piping found on the Cappra pants would be a simple enhancement – something else to add to the wish list.
No matter the color or how distinctive the design might seem, reflective piping, strips, and panels work far, far more than even most riders realize in contributing towards 'passive' conspicuity. We (all) need to push for better standards and/or more voluntary action by those who design and produce our garments.
Liners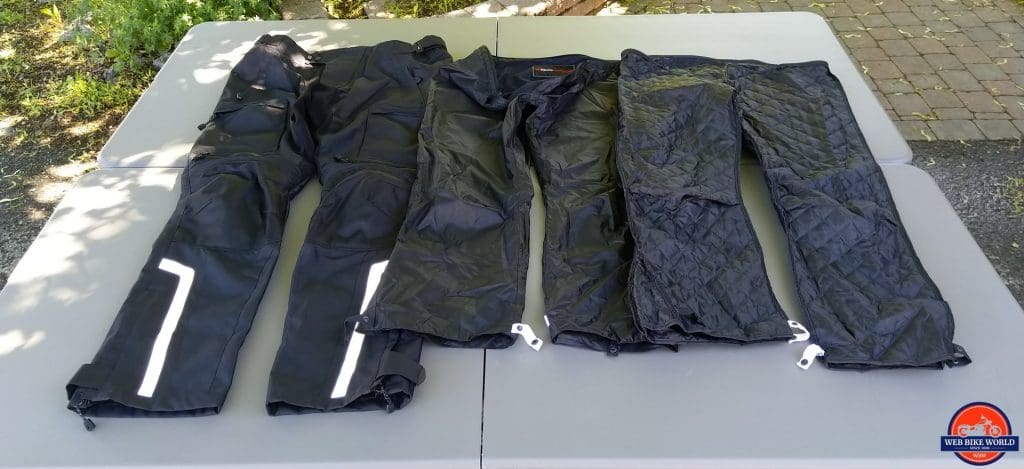 Two liners are included with the Phantom Textile Pants – one waterproof and one thermal, with both, one or neither as options depending on riding conditions and rider preferences.
Formed of the same Reissa material used for the Pursang Jacket and the Cappra Vented Mesh Pants, the Wind/Waterproof Liner is a proven wind and waterproof layer although as previously observed its breathability isn't as good as other materials used for other brand products.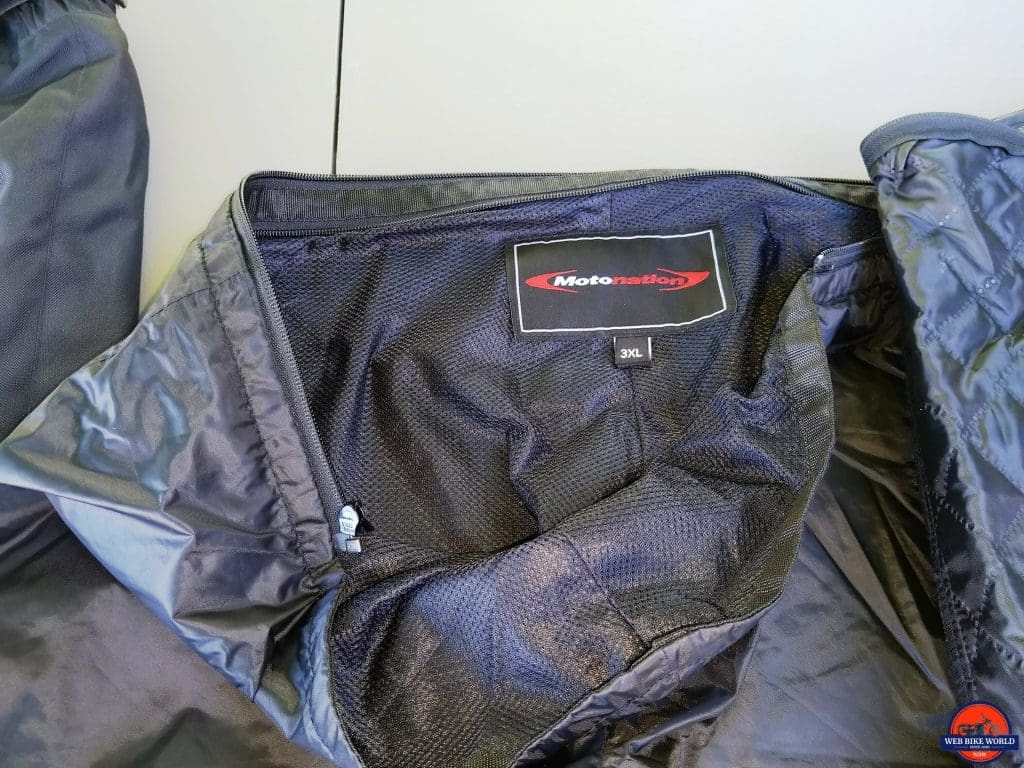 But an offset of sorts to this breathability observations is provided by the presence of a thin mesh layer on the inside of the liner. It works very well in providing wicking when the liner is installed and making it far easier to get in and out of the pants with less friction or stiction.
The full length lightweight Thermal Liner provides a great warming inner layer when needed and as the waterproof liner neither is difficult to add or remove in short order.
Both liners are easily folded up into small bundles, easily tucked away somewhere, or carried in the Pursang Jacket's rear cargo pouch if space is available.
Standardization is good for so many reasons (including costs and efficiencies) so the Phantom Pant liners zip in with the same simple and effective perimeter zipper and color-coded lower leg snaps as used for the Cappra pants.
Fit & Comfort
Common to both 2XL and 3XL pants are the rear vertical and horizontal side stretch sections at the yoke and waist that provide excellent fit and comfort adjustability. This includes the accordion-pleated inserts above the knees and the Spandex insert for the crotch and upper inner leg area.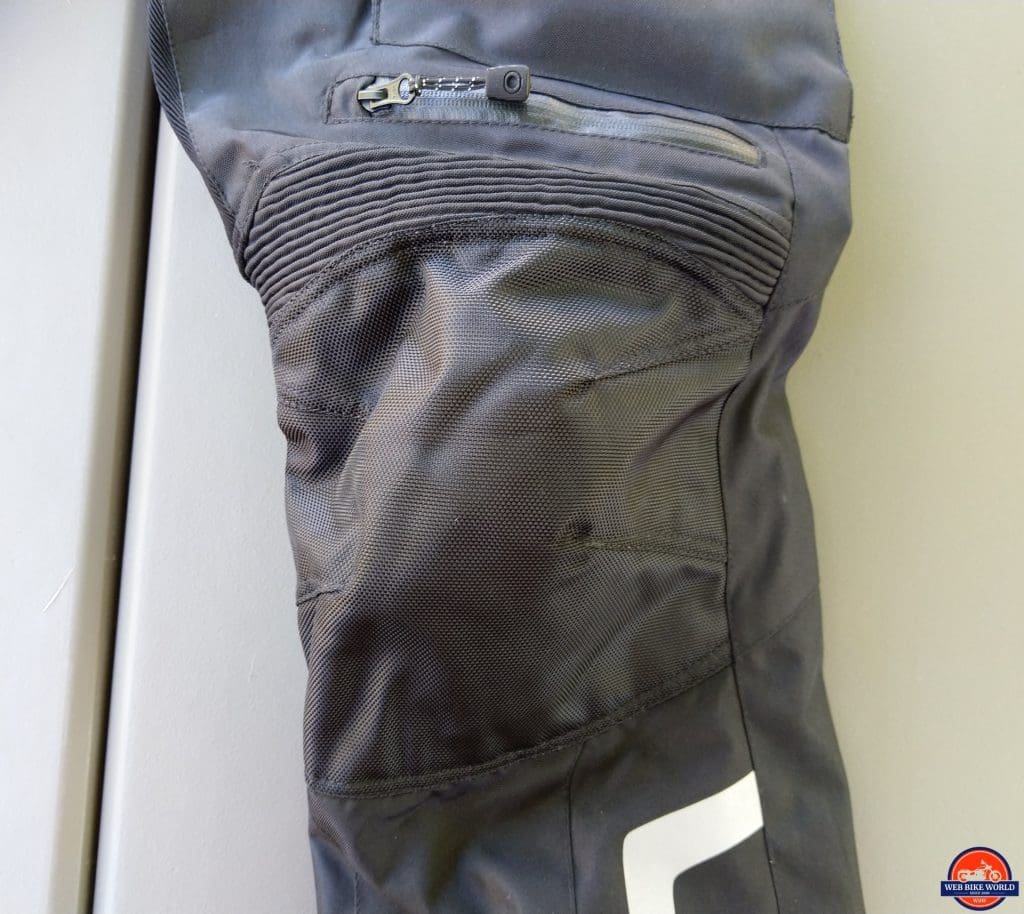 And in adding or removing layers top or bottom, the long side waist adjusters are quick and easy to use. No struggling here with snaps or pressure sliders, just separate the hook-n-loop tabs, decrease or increase girth as needed, re-engage the tabs – done.
2XL Sizing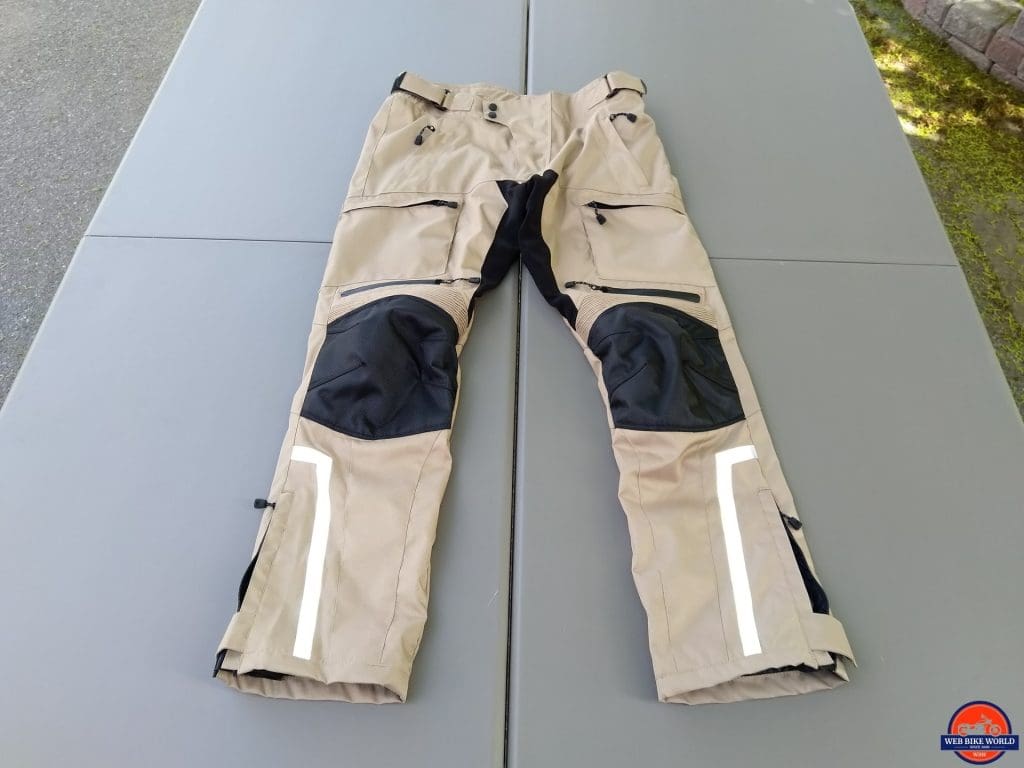 Like the 2XL Cappra pants, the Phantom pants fit OK, although they are cut a bit lower than usually preferred (riding gear or otherwise) in that I lean towards a fuller, higher cut.
Unlike the Cappra vented pants that can be worn in relative comfort with the wind/waterproof liner or a light pair of cotton sweats, the Phantom Tourventure pants are heavier-duty without the stretch and flex of the mesh-based Cappra pants so a light wicking base layer is about the limit for day-long comfort with the 2XL Phantom pants.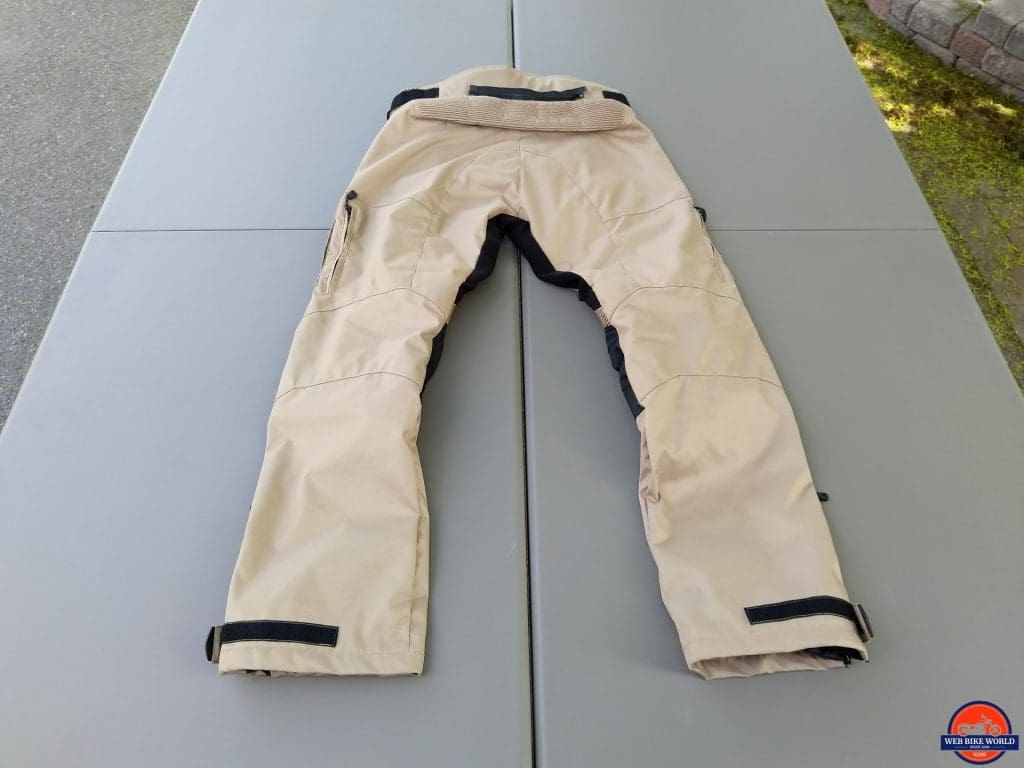 3XL Sizing
These larger cut pants provide additional lower body and legroom, and that extra inch of inseam; all good. Everything is cut, laid out, and stitched to the same high caliber observed with the Sand colored products.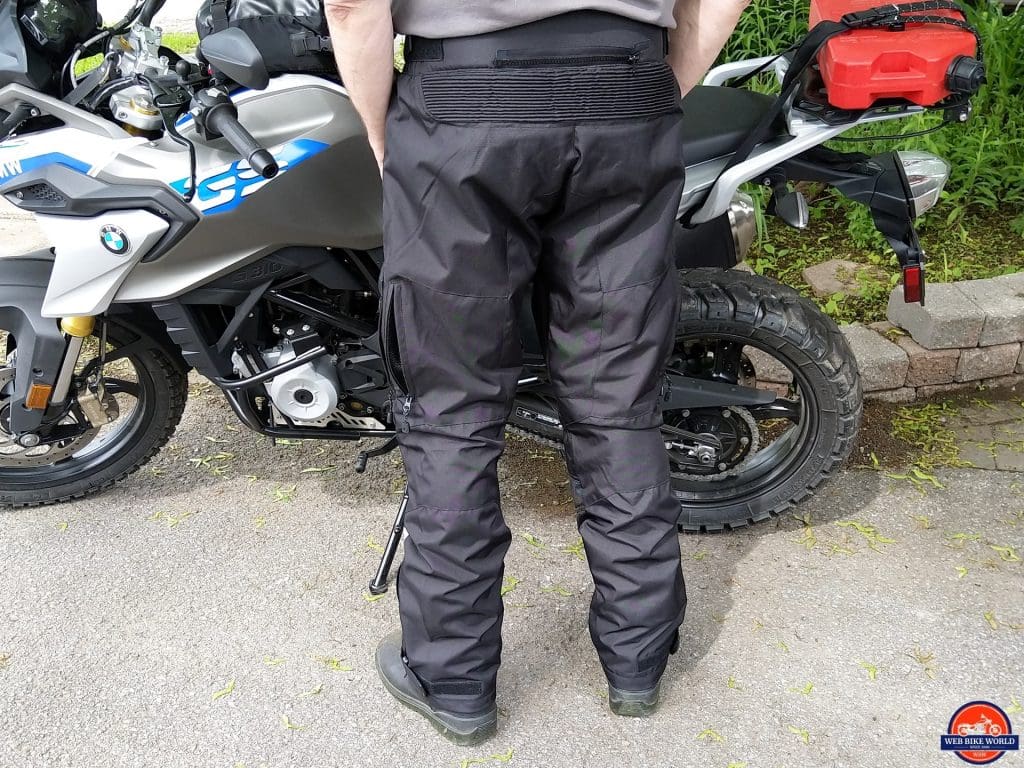 Less the low-cut observation, the Phantom pants in 3XL are just about perfect for me. The liners can be used with enough room inside for comfort and ease of movement on and off the motorcycle. With the liners removed the light set of cotton sweats or a wicking base layer is easily accommodated.
Climate Zone (Air Flow & Heat Management)
The Phantom pants are solid and the dura guard shell provides very good protection from the elements alone and, even better with the liners installed as needed. But on the flip side of things, this same build and resiliency to the elements can be a detraction when the going is hot (and humid).
With one or both of the liners installed, the pants are a warm and comfortable environment with no cold spots and as temperatures rise, removing the liners to leave just the shell facing the elements proves two things: effectiveness of the garment combination and the versatility of the shell by itself.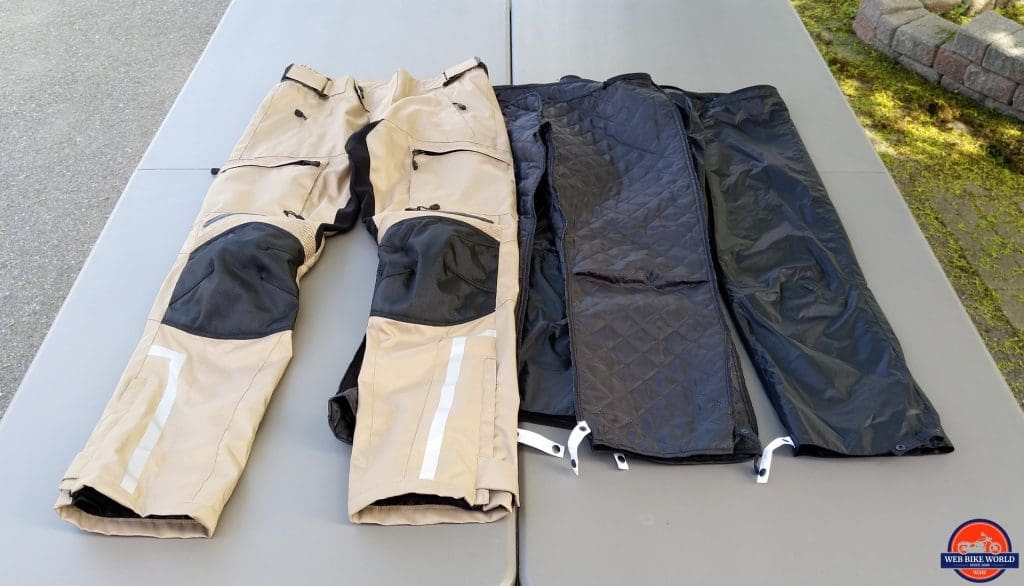 Removing one or both of the liners with a personal base layer left in place, the pant shell does a very good job of maintaining comfort in moderate (10-15C or 50-59F) spring temperatures, performing as well if not even better than two other pair of adventure-touring pants with similar build features.
And in higher temperatures, riding or walking, opening the front horizontal sealed-zipper vents positioned just above the knees for some cooling intake and opening the vertical vents positioned just behind the back of the cargo pockets does the trick to keeping an even supply of air flowing through the upper leg area.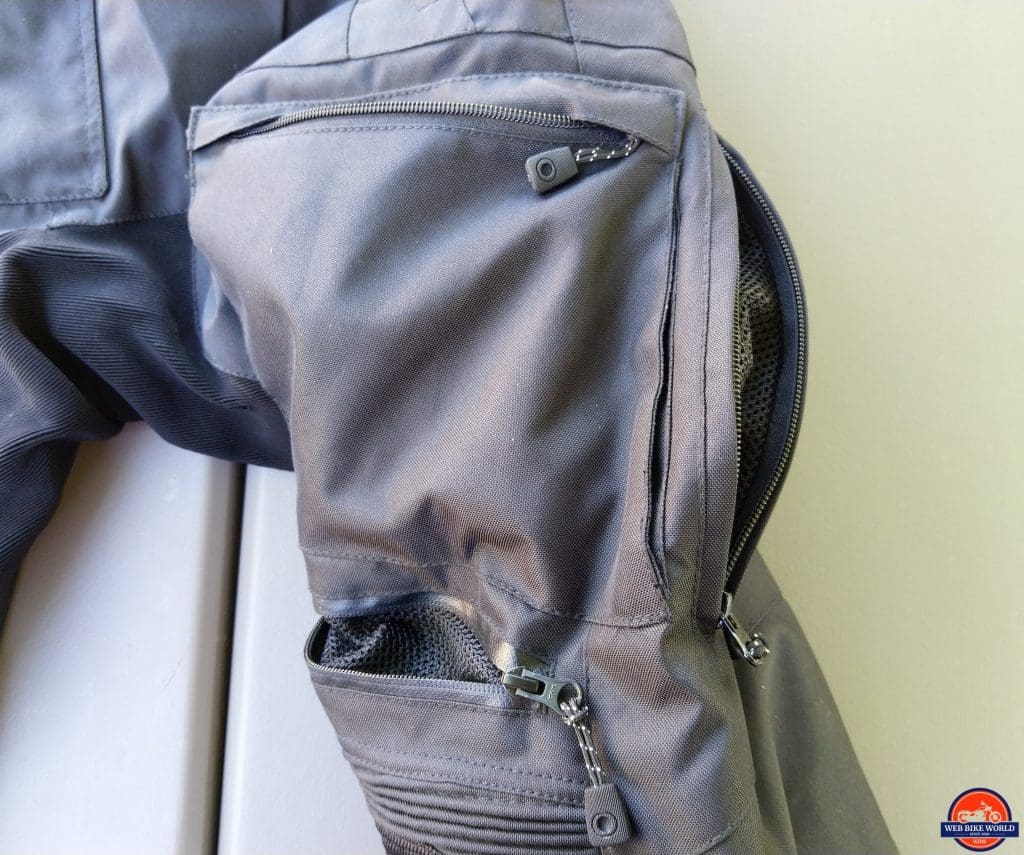 This horizontal/vertical vent combination seems to be pretty good for promoting needed air flow from the upper knee to thigh and groin area but the vents don't open as wide or 'sit-up' as mini air intakes that would/could really enhance air intake when needed.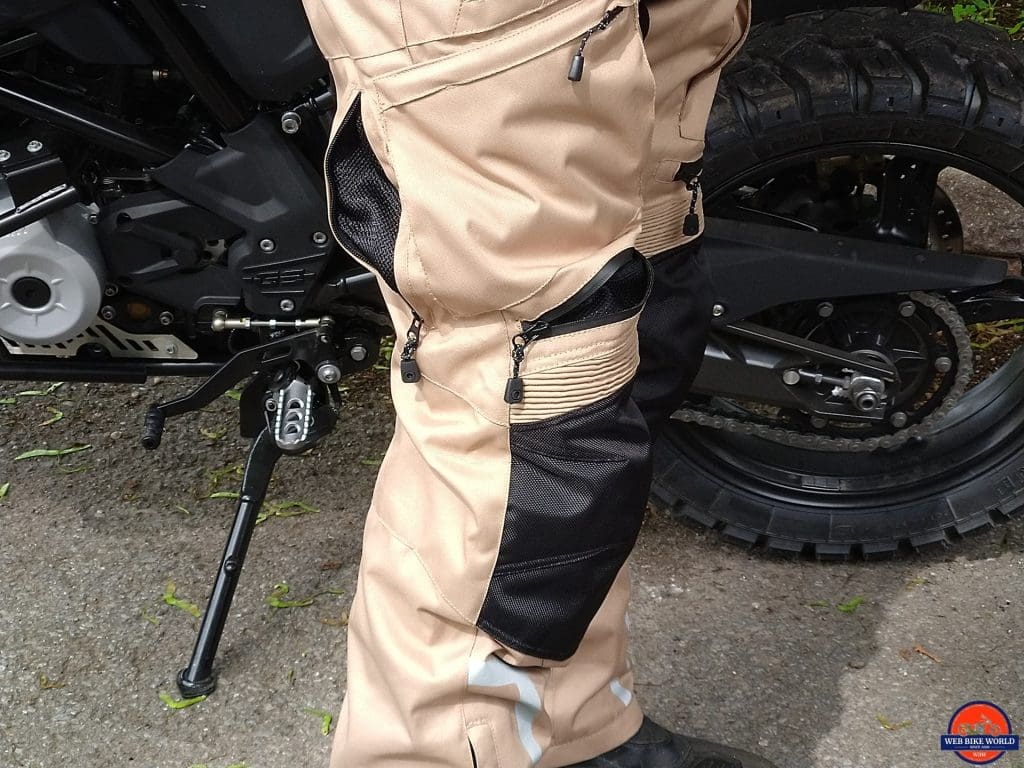 With the warm to hot temperatures here, there are plenty of opportunities to further evaluate just how effective the venting works on the Phantom pants over the longer term.
But like other pants, including the REV'IT! Offtrack Pants (I also reviewed the Jacket), there isn't much provision for venting at or below the knee.
In recognizing the need to have a well-protected lower leg, I also recognize the need to have ventilation down there – something that can't always be provided by opening up the boot zippers if the pants are worn on the outside.
This observation isn't a direct hit for the Phantom Pants but is a common observation and (shortfall) pertaining to so many other heavy-duty ruggedized and armored lower body garments.
Protection
As with the Cappra Pans, the protective inserts found in the Phantom Tourventure pants is minimal – a common situation with many low to mid-priced jacket and pants – thankfully, upgrading is an option.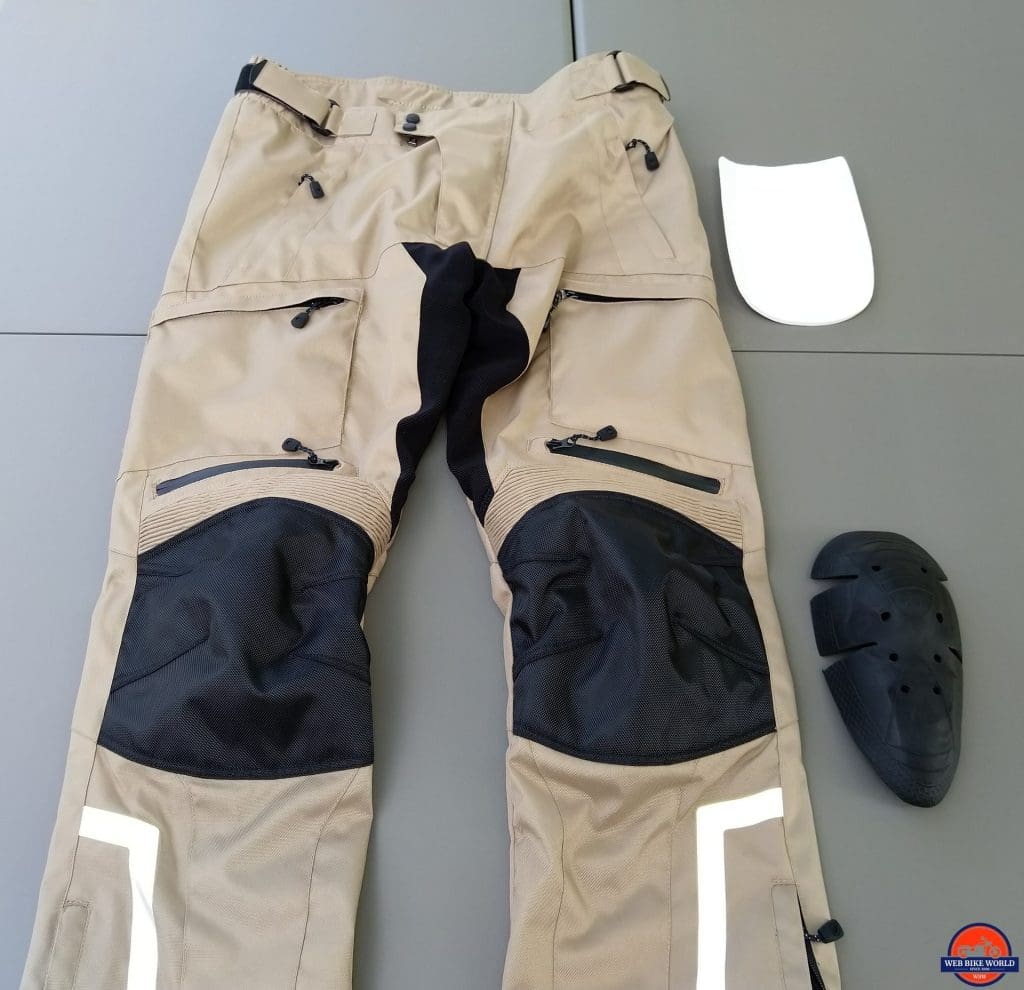 Knee
The main CE armor pieces in the knee protective inserts are well-shaped but smallish, providing minimal basic coverage. Thankfully with closer examination, and the testing of various other higher-quality knee inserts, the mesh insert pockets can accommodate many aftermarket pieces. Having the knee insert pockets open from the bottom facilitating access is even better.
Hip
Thin high-density foam pads in squarish mesh pockets sit in place for basic hip protection coverage and unlike the typically heavier thicker hip inserts on other pants, these pieces are unobtrusive and comfortable. These hip inserts don't carry a rating or any markings at all, but again, the mesh insert pockets should accommodate upgraded pieces if desired.
Additional Armor & Upgrades
A one-stop 'shop and fit' excursion should see the desired pieces sourced and added to the various Motonation Apparel pieces that will be used for lots of riding activities – and upgrading armor is or should never be a bad thing.
Pockets & Storage
Four pockets are found on the Phantom pants. The two traditional upper front pockets (or hand warmers) are somewhat angled and are zippered. Residing further down on the thighs are two medium-sized cargo-style pockets, also zippered.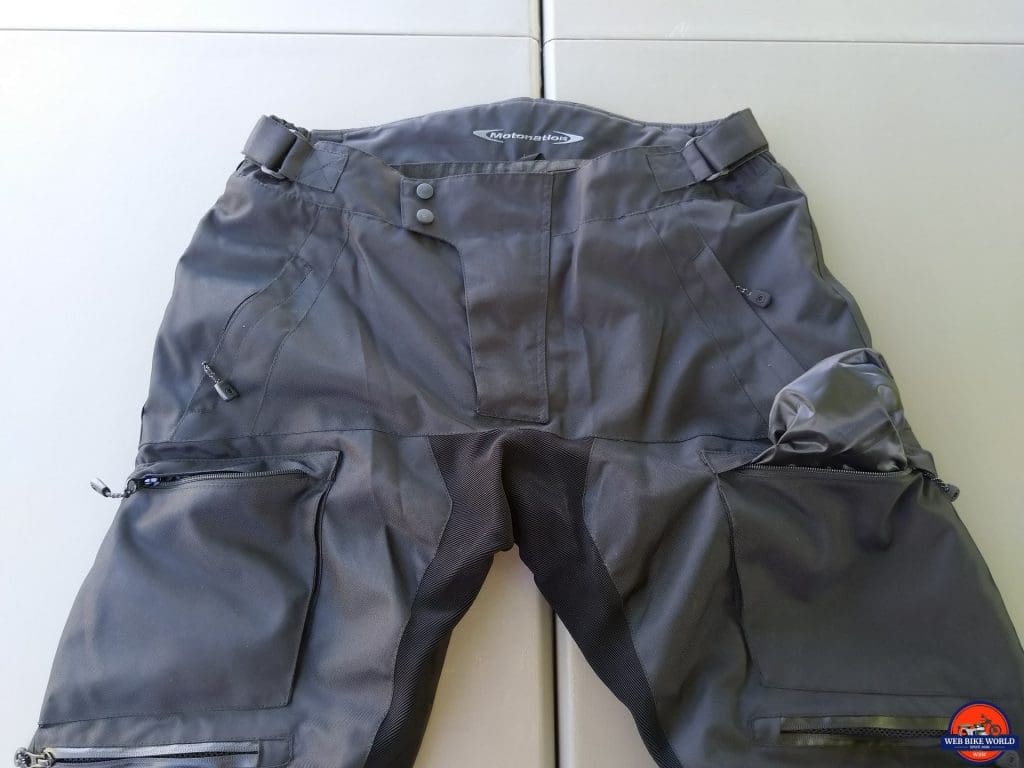 All four pockets are lined to provide contents protection from the wet stuff. The smooth lining also makes it easy to access pocket contents but the pockets themselves are not stitched in, so the pockets and contents could shift.
Durability
In use over the last two and a half months, the Phantom Pants see regular use through cold, warm, wet, and dry conditions and outside of being hung up for drying and letting the (dura guard) fabric breath, they haven't received nor needed any special care and feeding.
Some mud and muck marks were easily wiped away with a damp cloth with no staining seen once the material dried.
It is early days for both pairs of Phantom Pants but like all the provided Motonaton apparel, my sense is that between design and construct, the gear is likely to last quite well.
Function & Performance Observations
One of the best of a bunch of positives regarding the Motonation Apparel is the experience provided when wearing the Pursang Jacket and Phantom Pants as a combination.
Jacket & Pants Combo Test
In near-freezing temperatures and significant windchill, the combination was comfortable with both liners installed top and bottom along with a personal base layer. As temperatures rose, shedding one or both of the liners provided a transition from late winter-like to late spring-like riding conditions.
This all-around versatility is attributable to the outer shell material, the liners, and well-placed intake and (exhaust) vents that, although minimal in number and size, do a good job. The Phantom Pants don't (and can't) flow air like the Cappra Vented Mesh pants do but they acquit themselves quite well or have so far.
Phantom Pockets Vs Other Gear
Unlike the Cappra lowers, the Phantom pants do have more useful storage in the form of two upper zippered pockets (that can double as handwarmer pockets) along with two smallish cargo pockets on the thighs.
All four pockets are lined for weather resistance and facilitating access, but as noted the pockets are not stitched in. As such, some movement could occur depending on contents, room against the leg and rider position, as when transitioning from sitting to standing on the pegs.
Overall the four pockets provide less storage than most of my other adventure-oriented riding gear; but again, it's a choice thing. Many riders eschew using any pockets for a cleaner more streamlined look and to avoid potential issues if contact with other surfaces is made…
Liner Fits on 2XL & 3XL
With both liners in, the 2XL Phantom pants are snug fitting although the lightweight (thin) liners can be tolerated and movement on or off the motorcycle isn't an issue. Without the liners, they fit like the Cappra Pants – low cut, but very comfortable in or out of the saddle.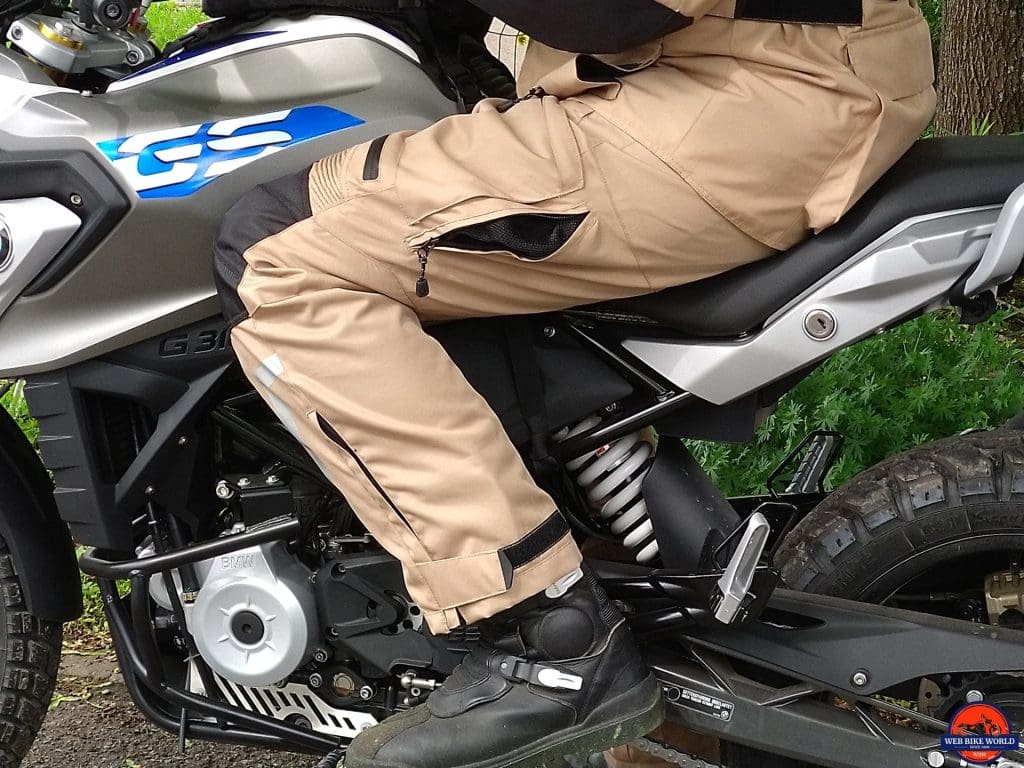 The 3XL-sized Phantom Pants are the best fit for me, providing free space even with the liners installed and lots of room with the liners out all while not looking totally 'baggy'. Quick waist adjustments are a piece of cake thanks to the side D-ring adjusters – lots of range for quick and easy tailoring at the waist.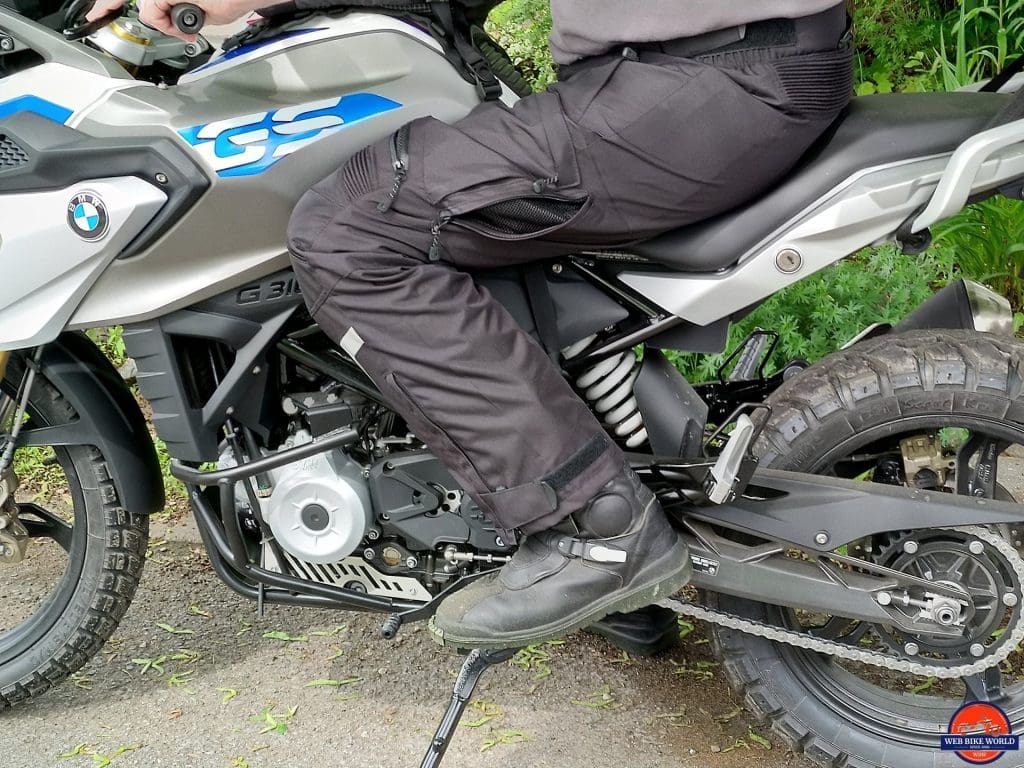 And of course, the previously identified observation regarding the standard 32in inseam for regular fit pants that go up to size 2XL remain – but with some redemption in that the 3XL pants feature a 33in inseam.
Hey, its progress. Hopefully, this issue gets addressed as it would eliminate one of the 'nits' regarding these and the Cappra pants. Ideally, an increase to 33 for the regular fit XL/2XL, 34in for the regular fit 3XL, and 34-35in for a tall model are likely to address requirements across a broader spectrum of consumers.
Conclusion
Outside of the already identified fitment (arm and inseam length issues relevant to my frame), the minimalist armor, and a lack of reflective markings, there isn't anything else on my 'nit' list for these Phantom Tourventure Pants or for that matter the other Motonation Apparel textile garments reviewed (Pursang Jacket and Cappra Vented Pants).
There are lots of 'picks' (including design and versatility) thanks to the shell and liners, attention to detail with the comfort-oriented areas (yoke, crotch, and knees), and the list goes on…
If there is one thing that stands out it is the consistent look, feel, and build quality common to all the products. Someone has their processes down…
In having the opportunity to do these reviews but in not having been directly exposed to Motonaton Apparel previously, I wasn't sure just what the opportunity would reveal.
Motonation, you have my attention now – I am impressed, you make good solid gear.
Bottom line here – the Motonation Apparel gear reviewed is solid gear at a great price. And with some of the $$ saved put to upgrading the protective inserts, it will make for an even better investment.
Pros
Simple design
Great material layout and finishing
Even stitching, doubled where needed
Very good fit overall – fuller cut is appreciated
3XL size has additional inseam length
Spandex & expansion panels offer day-long comfort
Decent airflow
Minimal protective inserts
Bargain priced
Cons
Overall inseam length needs revisiting
Minimalist armor inserts
Lack of reflective markings
Specs
Sizes:
Sand (Regular): M, L, XL, 2XL
Black (Regular): S, M, L, XL, 2XL, 3XL
Black (Short): M, L, XL, 2XL

Fitment: Regular, Short

Original Review Period: April – June 2019

Product: Provided by Motonation