BMW Santiago Boots Review Summary
BMW Santiago Boots Image Gallery
The BMW Santiago boots are typically classified as an Adventure Touring boot, but don't let the moniker fool you; they can do more — far more.
Understated traditional styling hides most of the boots strengths and capabilities until they are worn and used.
The Santiago boots are supremely comfortable with hard-to-beat durability and they offer optimum protection.
The BMW Santiago boots are what I would call a well-balanced solution for so many moto-activities — particularly those that will or might take you into some unknown territory.
These boots are worth every penny. And yes, they are waterproof!
Although my Sidi Crossfire TA Boots (review) are supremely comfortable and functional, I didn't have a good set of motorcycle boots that would bridge the functional gap between them and theFalco 480 Raid Boots (review) or the Sidi On Road Gore-Tex Boots (review).
Both of those are excellent footgear in their own right, but in reality they are more suited for life on the road and street riding rather than the continued abuse that can be dished out during off-road adventures.
I must add, however, that the Falco 480 Raid boots have held up quite well on the odd off-road foray, as they provide more support and protection for the feet and ankles vis-à-vis the Sidi On Road boots.
Having recognized that something with more protection and versatility was needed, my ongoing research was slowly steering me towards something like the Gore-Tex versions of the Sidi Discovery Rain Boots (review) or the BMW Santiago boots that kept catching my eye.
So with my Sidi On Road boots showing serious wear, the decision timeline grew short.
Fortunately our local BMW dealer let me know that they had now had a pair of size 46 Santiago boots in stock and the decision was made.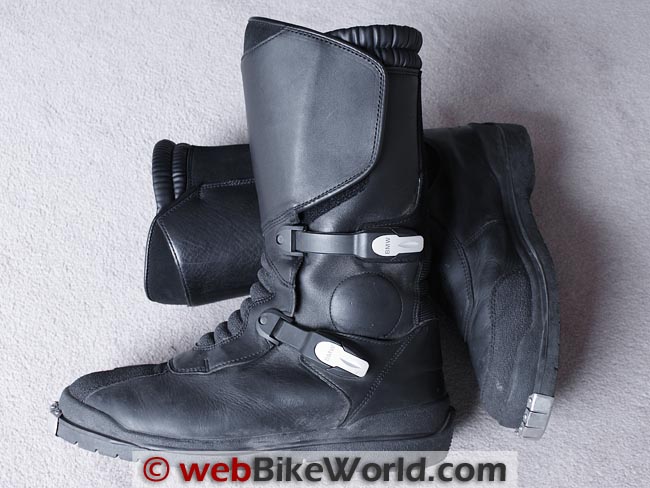 BMW Santiago Boots
Every time I talk to someone about the BMW Santiago boots we end up on the same issue — are they a pure adventure touring boots, some sort of hybrid…or what? But before any decision on this can be made, a closer look at the boots is needed.
The 14-inch high Santiago boots are physically larger than most street or touring boots, but smaller when standing beside the Sidi Crossfire TA off-road boots.
Styling is also in the middle — or "traditional", depending on your view. Outside of the two aluminum fasteners and very visible and audible stainless steel caps on the toe, everything else is black on the Santiago boots.
But traditional doesn't or shouldn't mean lacking in style.
And upon closer inspection, it becomes obvious that two critical requirements — strength and protection — have been addressed, along with all the other necessary features so important for good adventure touring or off-road foot gear.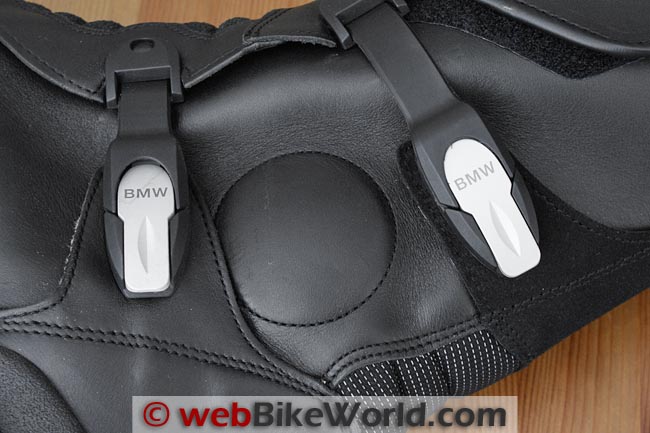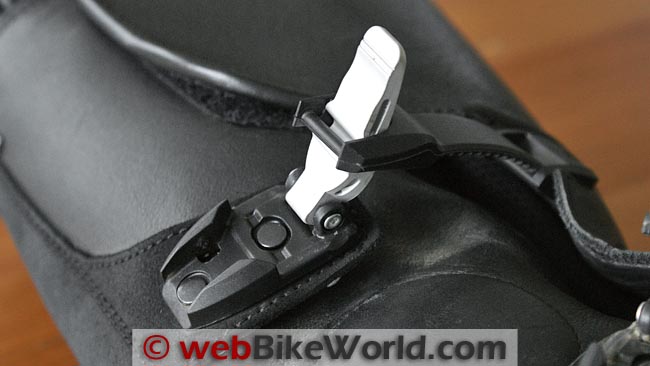 BMW Santiago Boots: Features
All pieces of the Santiago boots fit together precisely and all seams are double-stitched. The leather uppers (smooth and brushed sections) are bonded to the frame of the sole, forming a unified solid protective environment for the foot, ankle and lower leg.
The soles are made of rubber and it is an extremely solid component providing complete bottom protection and shock absorbency with higher profile sidewalls at the heel and toe for even further unit strength and foot protection.
Marked only with "SILGA" and "Gas and Oil Resistant" markings, the soles do not have large cut-outs or complex patterns as might be found on a Vibram-style sole.
The relatively flat surface and rubber composition of the soles epitomizes what I classify as grip. The boots have never let me down (literally) when it comes to both on- and off-the-peg activities.
Foot support is outstanding and particularly appreciated when standing on the pegs (fixed or pivoting) for prolonged periods of time.
A large shin protector, with a raised front edge guard, is incorporated into the upper section of the over-flap and the inner elasticized front closure piece serves as additional defence in keeping dirt and moisture out.
The elasticized front closure piece is much simpler and definitely less expandable than the system found on the Sidi off-road boots. But my measurement of the top inside diameter of a Santiago boot revealed an effective inside circumference of 48.2 cm (19 in).
This lets me put my leather or textile-clad calf inside the boot and fully secure the over-flap.
And slipping a foot into one of the Santiago boots reveals the inner comfort that awaits.
First contact is made with a soft cushioning inner liner made of "Keproshield", a combination of Kevlar/Dynatec and cotton webbing, that serves to protect against wind and water and provides thermal insulation.
Inserted between this inner and the thick outer leather is the Gore-Tex membrane, the all-encompassing windproof, waterproof but breathable layer, the value of which cannot be overstated.
The outer upper layer is hydrophobic cowhide, from 2.3 mm to 2.5 mm thick. The "hydrophobic" designation means the leather is machine washable, using a special BMW Motorrad detergent.
Kevlar protective inserts are used at high impact or wear areas (shifter) for additional protection and particularly where strain or stretch coverage needs to be maintained, such as the instep.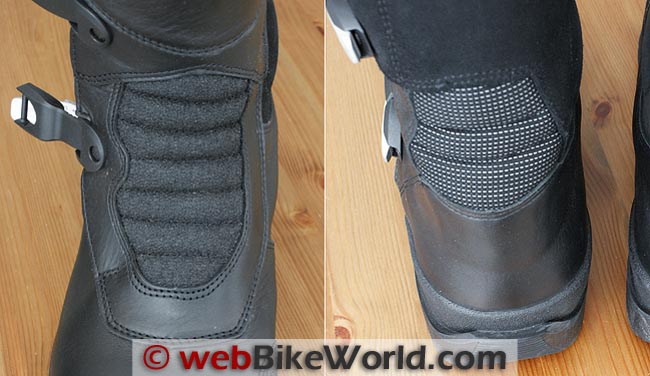 Replaceable Components
A flexible padded insert located above the heel plate is made of "Cat's-Eye" reflective material — discrete and effective.
But it is the only reflective material on the boot, less any light reflection that might come off the aluminum fasteners or the toe cap.
The two quick-action aluminum fasteners are located at the instep and just above the ankle and once properly adjusted, they secure the boot and foot together comfortably.
Adjusting the fasteners is done by what has become the virtual industry standard; push or pressure release ratchet straps that reside on the inner side of the over-flap.
The Santiago boots are probably designed for more vertical posture common on most adventure-touring and pure off-road machines when sitting or standing.
But the well-placed and well-padded back and instep inserts along with fastener placement allow the boots to be used in an "on the pegs" positions or configurations common to full-on sport machines as well.
One observation on the "memory effect" fasteners is that they are riveted to the leather straps, which would seem to complicate replacement (an identified feature).
I know the rivets can be punched out, but with so many other boots using owner-replaceable components, this is one area that could use a change.
And speaking of replaceable components, the thin but tough stainless steel toe caps are easily replaced (thankfully) by removing eight tiny Phillips-head screws  (five top, three bottom).
My well-aged set of what could be termed JIS screwdrivers (review) came in handy when installing a new set of BMW toe caps.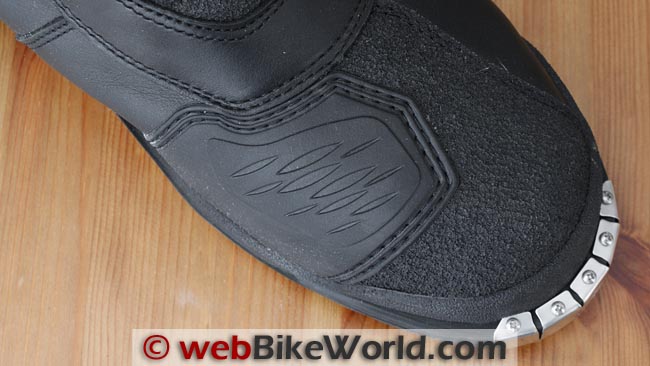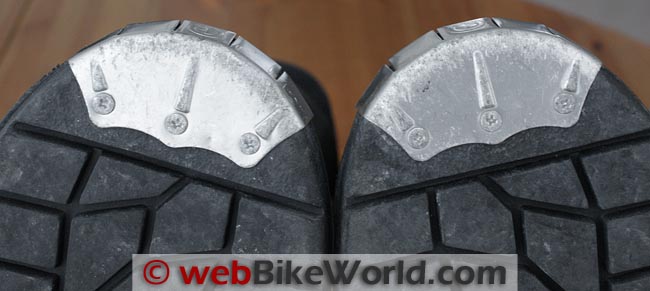 On the Road With the BMW Santiago Boots
It bears repeating how easy it is to put on and take off the Santiago boots. With my size 46 (11.5 US) feet slipped in and the over-flaps secured, the aluminum clip fasteners are loaded through the catches and snapped into place — done.
Getting out of them is just as easy and far (far) less effort than a full-fledged pair of motocross boots, with or without inners: Unhook the two fasteners, open the flap and pull out or anchor them off — another done.
Taking less than a day to get even more comfortable than they were in the store, the size is bang-on, providing a little bit of extra toe wiggle room in the front.
Admittedly, the Santiago boots are slightly wider than my standard Sidi gear that has always fit my narrow foot to a "T".
To remedy the situation, I use a custom thicker insole that helps take up the extra width nicely making for a comfortable environment when wearing light and medium weight socks.
My heavy-duty winter socks will probably work better with the original insole, but thinking about having to use them (soon) gives me the shivers, brrrr… There is no denying the Santiago boots are warm when it is cold, and cool when it is warm.
After using the boots continually throughout the summer and now fall, including the scorching heat (and humidity) enjoyed during the BMW MOA Rally this year, the Santiago boots have passed with flying colours.
That includes surviving everything without heat rash (thanks to Gore-Tex breathability) or frozen toes (yet),
Going for a hike? Spending hours standing in the sun during a competition? Wading into sippy holes to help keep motorcycles from becoming submarines?
Been there, done that and thanks to the Santiago boots there was very little strain, no pain and no water intake at the end of the day.
And if you need to liven things up at any time, some fancy toe clicking will draw everyone's attention…
In day to day use — suburbia, road, trail and tracks — nothing fazes these boots.
Rocks, identified flying objects (some of significant size) and big branches that leap out to attack have all been defeated by the Santiago boots with nary a bruise to show for the skirmishes.
I've now used the Santiago boots on over fourteen different motorcycles without any problems, other than some initial foot peg placement issues depending on where the shifter and brake levers are located. The thick sturdy sole provides grip, absorption and feedback.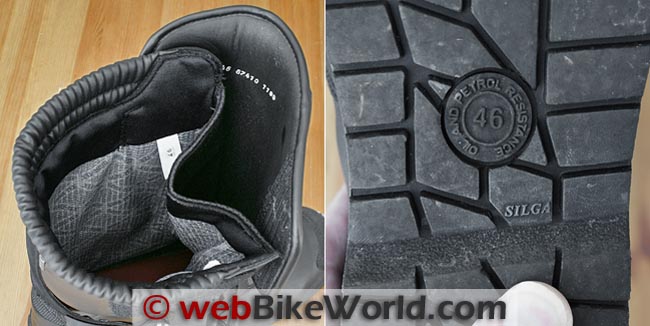 Conclusion
The BMW Santiago boots reflect what I have come to expect from BMW accessories, including riding gear: quality and performance.
So can I now pigeon-hole the Santiago boots? Nope. And I actually shy away from doing just that when talking to fellow riders about them.
They might really be an adventure-touring boot, but to me they are a multi-purpose and multi-discipline product and a most welcome addition to my ATGATT collection.
w
BW
 Review: BMW Santiago Boots
List Price (2011): $389.00
Made In: Slovenia
Colors: Black
Sizes: 39 – 47 (Euro)
Review Date: October 2011
Note:
 For informational use only. All material and photographs are Copyright © webWorld International, LLC since 2000. All rights reserved. See the webBikeWorld® 
Site Info page
. Product specifications, features and details may change or differ from our descriptions. Always check before purchasing. Read the
Terms and Conditions
!
Owner Comments and Feedback
---
From "P.R." (August 2014): "Great product and supremely comfortable and have served me well for seven years.
However regrettably they have now begun to let in water as the joint between the sole and the upper has begun to open up. Such a pity as apart from this they remain fully usable and in good order."