RAVEN Moto REVOLT Ripped Armored Jeans Review Summary
Review Summary
The REVOLT Ripped Armored Jeans bring a refreshing new look to riding pants. As an industry first, RAVEN has strategically placed rips throughout the jeans without exposing the rider's skin. Denim flaps sewn into the seam of the jeans under the rips keep you covered. Available in 2 colors, these super-stretch denim riding jeans provide superior comfort both on and off the bike. Included in your purchase is premium CE Level 2 armor that can be accessed externally. To combat abrasion, an interior Kevlar lining has got your back (literally) with a reinforced stitch that's built to last. With 20 stocked sizes and the option for custom sizing available, there's nothing keeping you from trying my favorite pair of riding jeans.
Pros
Industry-first ripped pants design that does not expose your skin
Extremely comfortable to wear stretch-denim
Close to flawless streetwear appearance
High-quality build with reinforced stitching and YKK hardware
Armor pockets can be accessed externally with included premium CE Level 2 protectors
Endless size options
Easy to maintain and wash
Cons
Denim strips that reinforce the rips are not fully sewn into the pants
Pockets may poke out of the rips
The zipper on the external access knee pocket could scratch your bike's paint
Armor is bulkier than what's included in the women's REVOLT pants
RAVEN Moto REVOLT Ripped Armored Jeans Image Gallery
Review Summary
If you're looking for the main takeaways from this review, here is my summary of RAVEN Moto's REVOLT Ripped Armored Jeans:
The Men's REVOLT Ripped Armored Jeans retail for $349.99 USD
Industry-first ripped riding jeans that do not expose the rider's skin
Premium CE level 2 armor is included and can be accessed externally
A Kevlar lining with reinforced stitching protects the rider from abrasion
Denim flaps that are used to protect your skin under the rips are not sewn into the pants on all sides
The top and bottom of the flaps can fold up and decrease the amount of skin they cover
The REVOLT jeans are more comfortable to wear than some of the streetwear in my closet
Stretch denim works hard to conform to your body in a riding position
Available in 2 colors across 20 stocked sizes with the option for custom sizing
Almost entirely indistinguishable from regular jeans with subtle branding
My favorite pair of riding jeans to date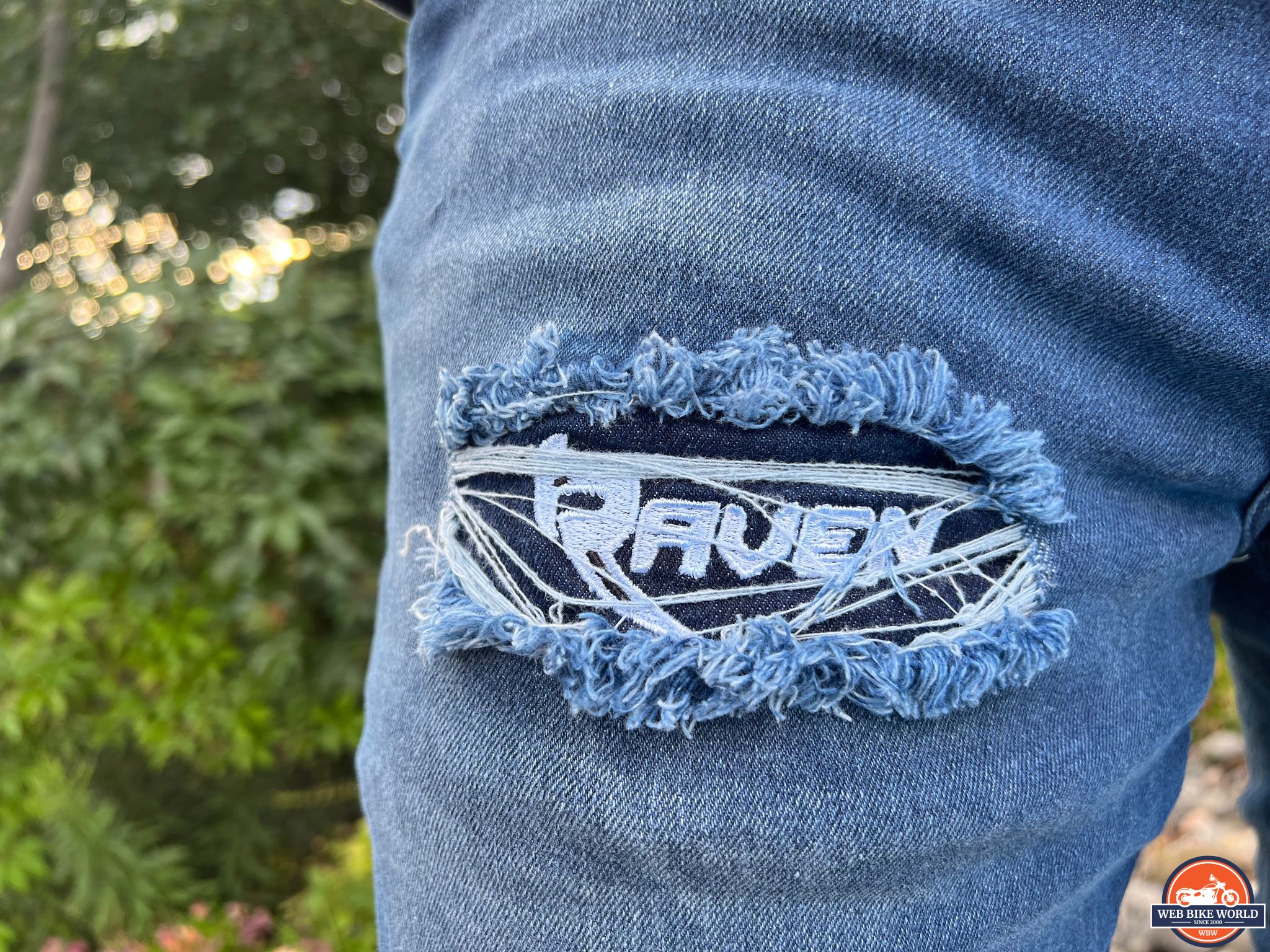 Sorry, Did You Say Ripped?
Ripped jeans on a motorcycle.
I never thought I'd be using those words together in a sentence. Google ripped motorcycle jeans and tell me what you see. Likely a listing for regular ripped jeans with the word motorcycle in it as a keyword, or the aftermath of a crash.
The concept of ripped riding pants seems counter-intuitive, doesn't it? After all, the point of wearing riding gear is to protect our bodies in a crash. Surely intentional rips in the jeans would expose our skin, right?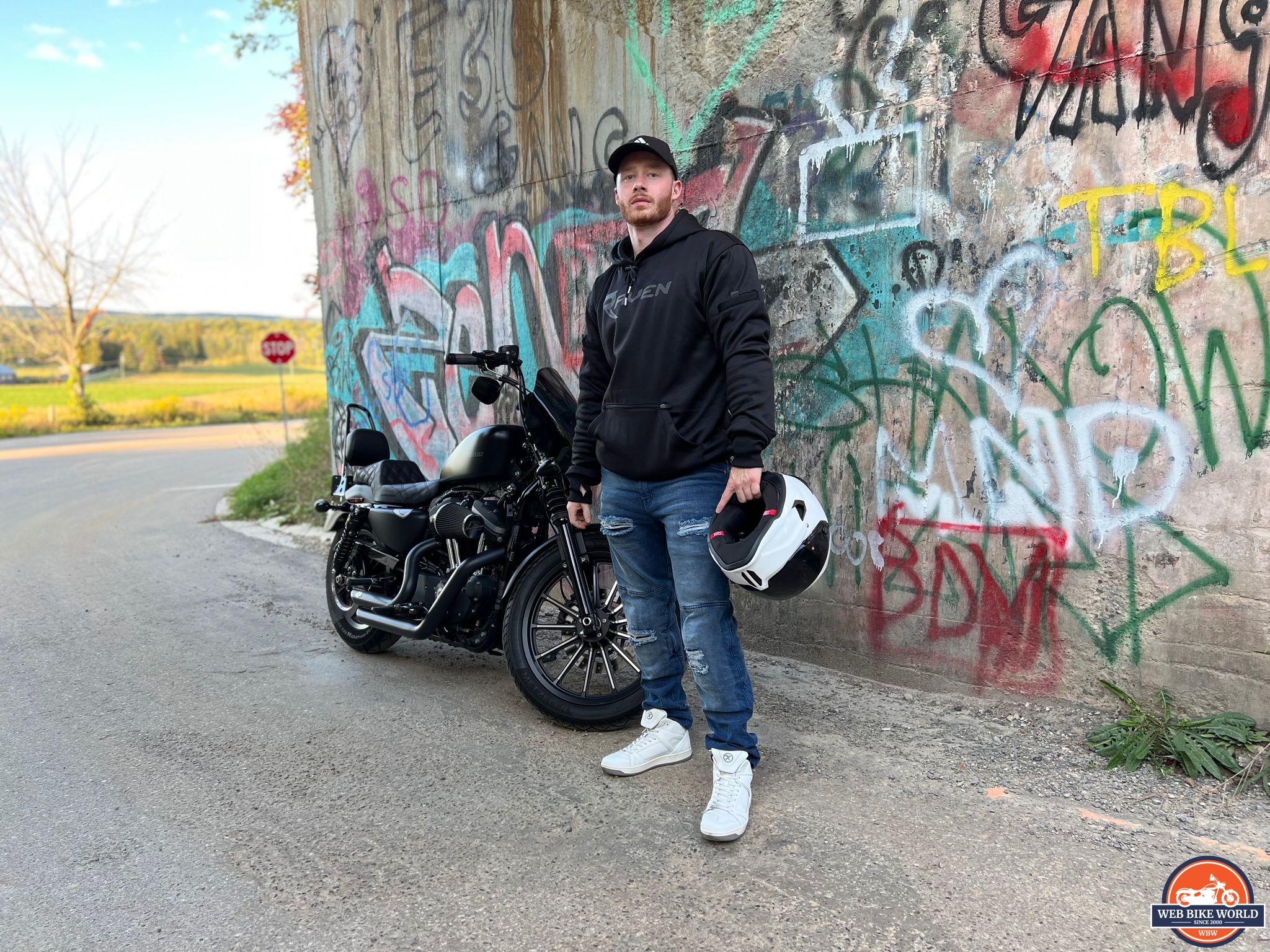 Wrong.
RAVEN Moto has just developed and released a pair of ripped armored jeans that don't expose your skin. In theory, they sounded great but the first question that came to my mind was how practical are they? I began doing some research and couldn't find anything like it in the market. Was there a reason for that?
If you're as intrigued as I was, stick around as I explain RAVEN's method of keeping you covered, and if it's feasible for riding gear.
Introducing the REVOLT Ripped Armored Jeans
I must admit that I enjoy reviewing RAVEN Moto's gear. They're always an absolute pleasure to deal with and I'm yet to be disappointed. As a fellow Canuck, it's an added bonus working with a Canadian brand.
When I was looking for a new pair of riding pants one of the first people I contacted was Alex at RAVEN. They had just launched their ARCANE Armored Cargo Joggers and I was dying to get my hands on a pair.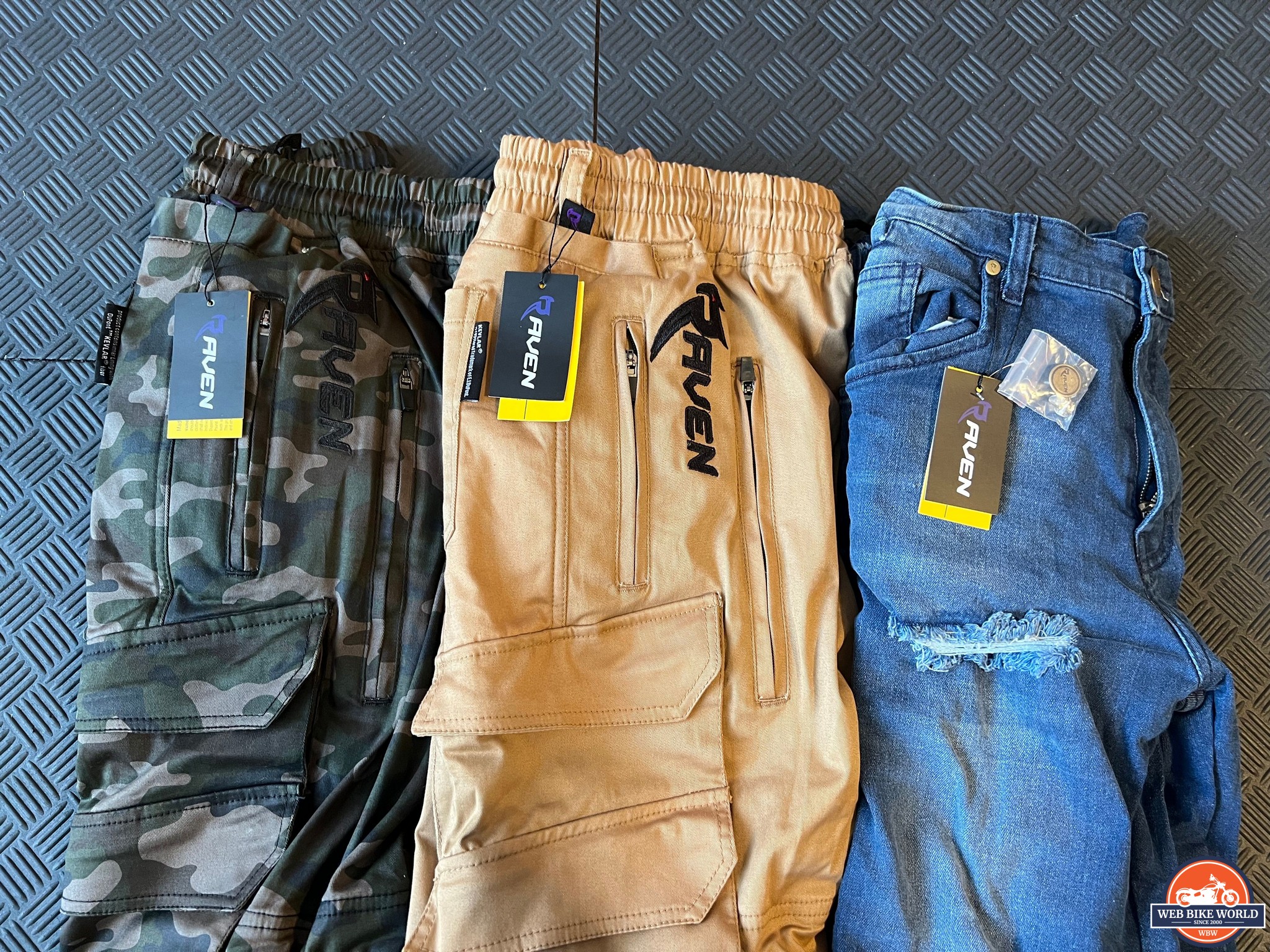 Well, as it turns out, RAVEN had more up their sleeve for 2023 than just stylish jogger pants. Alex hinted at a new release that was set to hit the market soon and thought that it would be a perfect fit for me and webBikeWorld.
That's when he introduced me to the REVOLT Ripped Armored Jeans. A pair of riding jeans with ample stretch, unmatched comfort, and a ripped design that doesn't expose the rider's skin.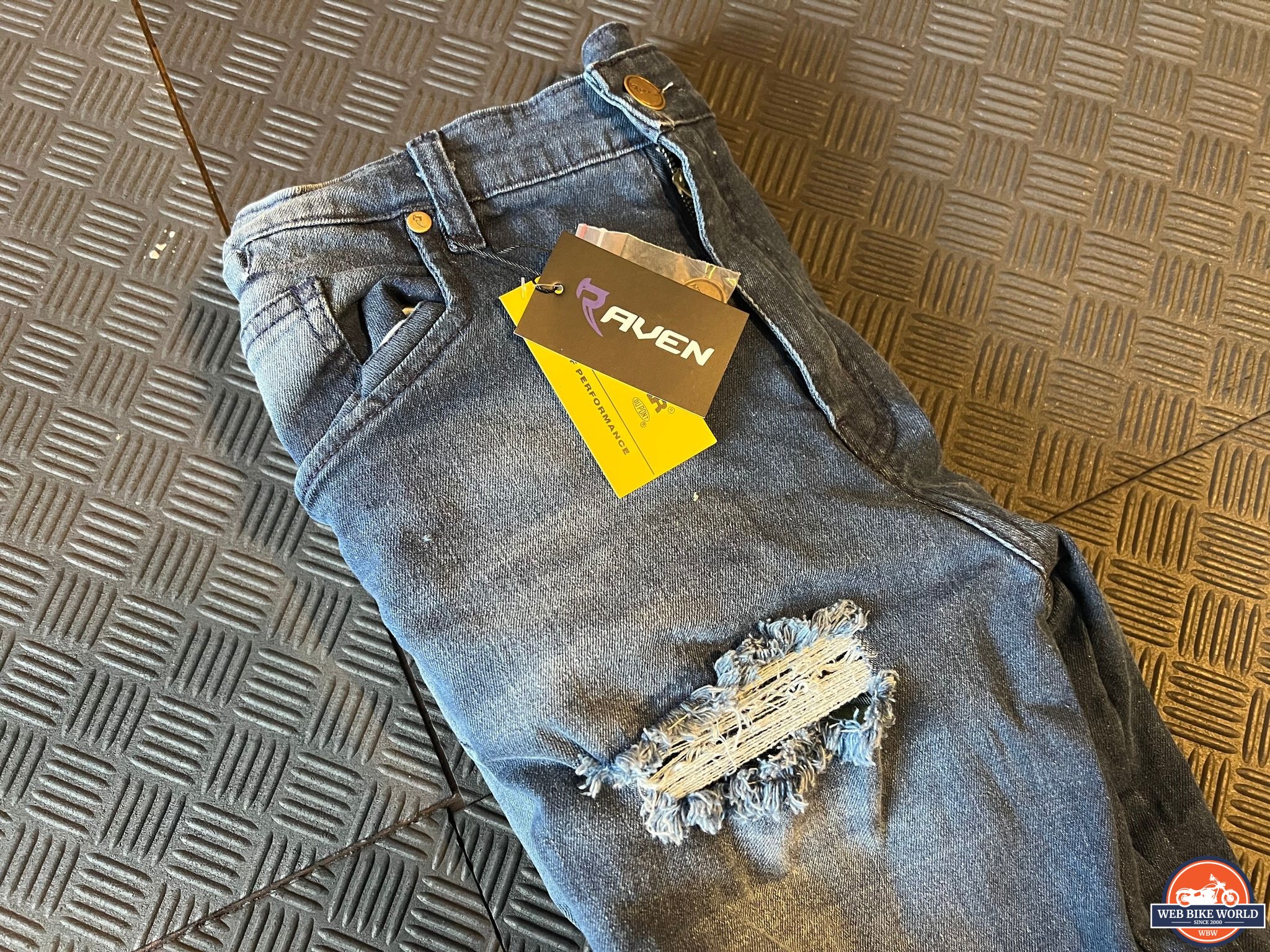 As far as I'm aware, this is an industry first and I was lucky enough to get my hands on a pair pre-launch. I thoroughly tested these jeans over the last few weeks and I have to say, I'm very impressed.
Ladies – Are You on the Right Page?
Stop!
Before you read any further, please make sure you're on the right page! This review is for the Men's REVOLT Ripped Armored Jeans.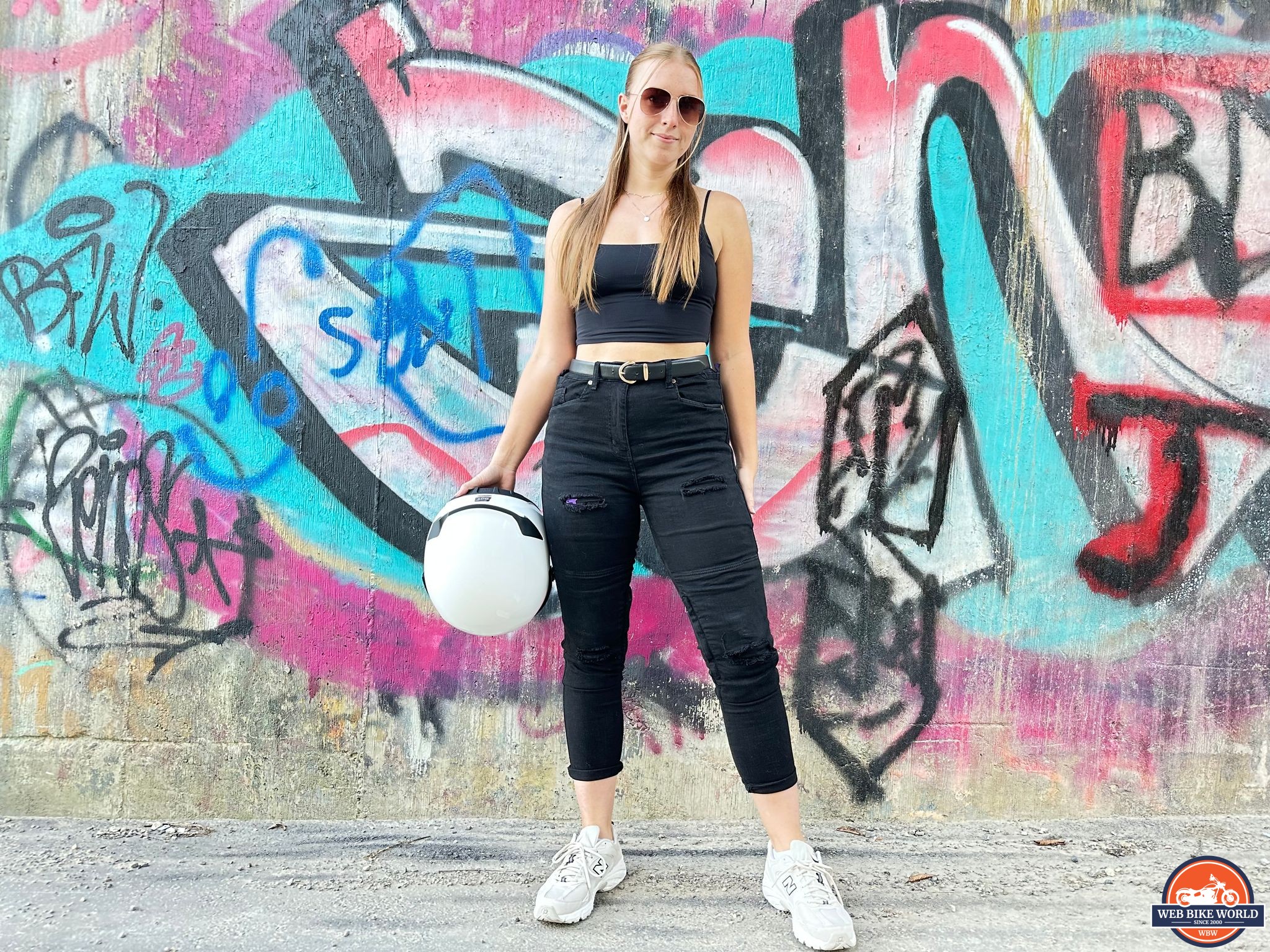 RAVEN Moto has released men's and women's REVOLT Ripped Armored Jeans. The two pairs are virtually identical with the exception of the women's jeans being high-waisted and available in a third color scheme.
First Impressions
The moment I took these pants out of the box I knew I was going to love them.
What wasn't there to like? In my hands was a pair of riding jeans that felt better than most of the jeans that I wear to work. The denim was super-stretchy and the legs were tapered to a nice, slim-fitting look. The REVOLT jeans are nothing less than the high-quality I've come to know and love from RAVEN.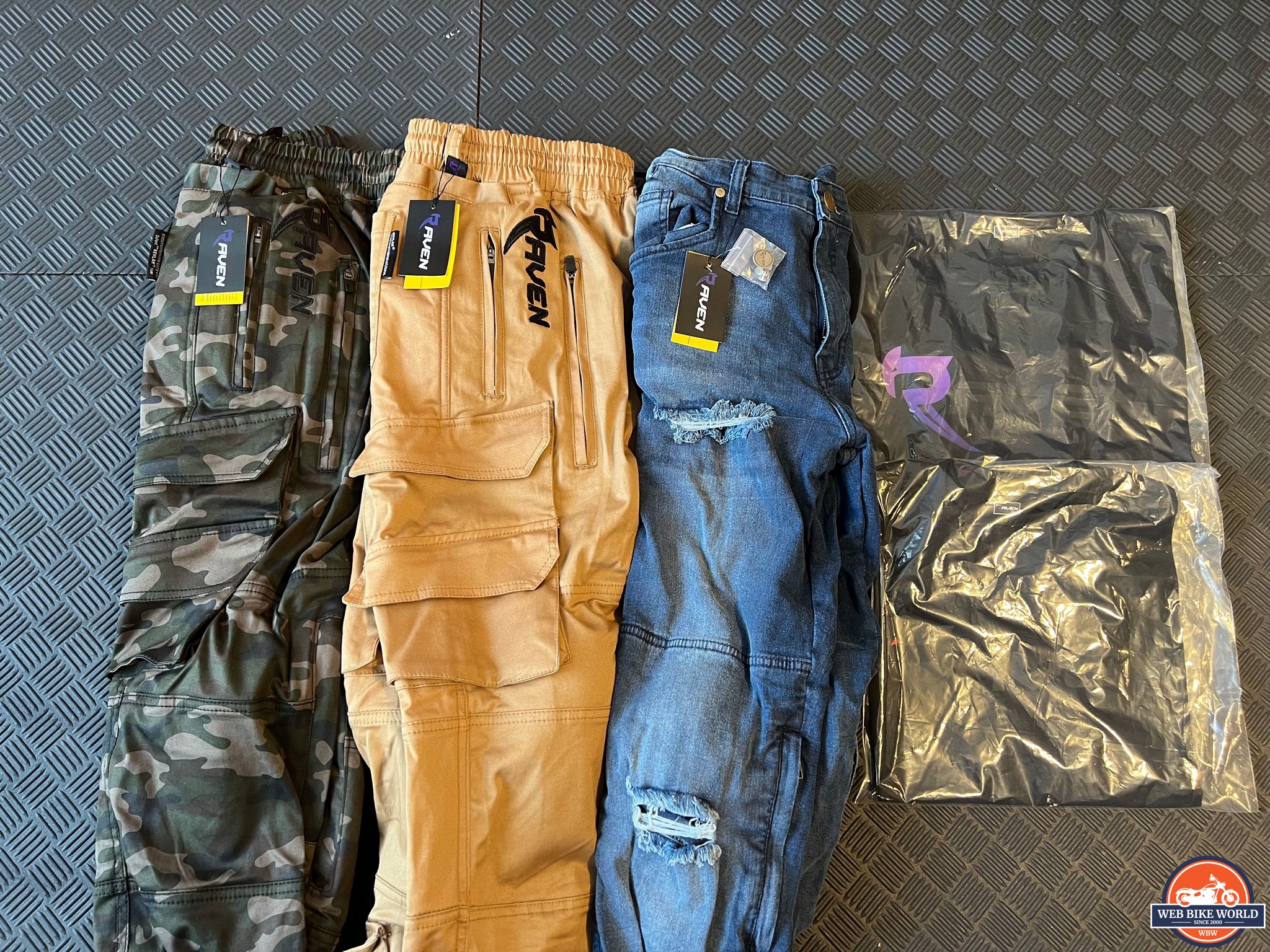 Are They as Protective as They Say?
Right out of the gate, I'm going to address the elephant in the room;
Are they safe to ride in?
The simple answer? Yes! But there is so much more to the story that I'm going to try and cover as best I can.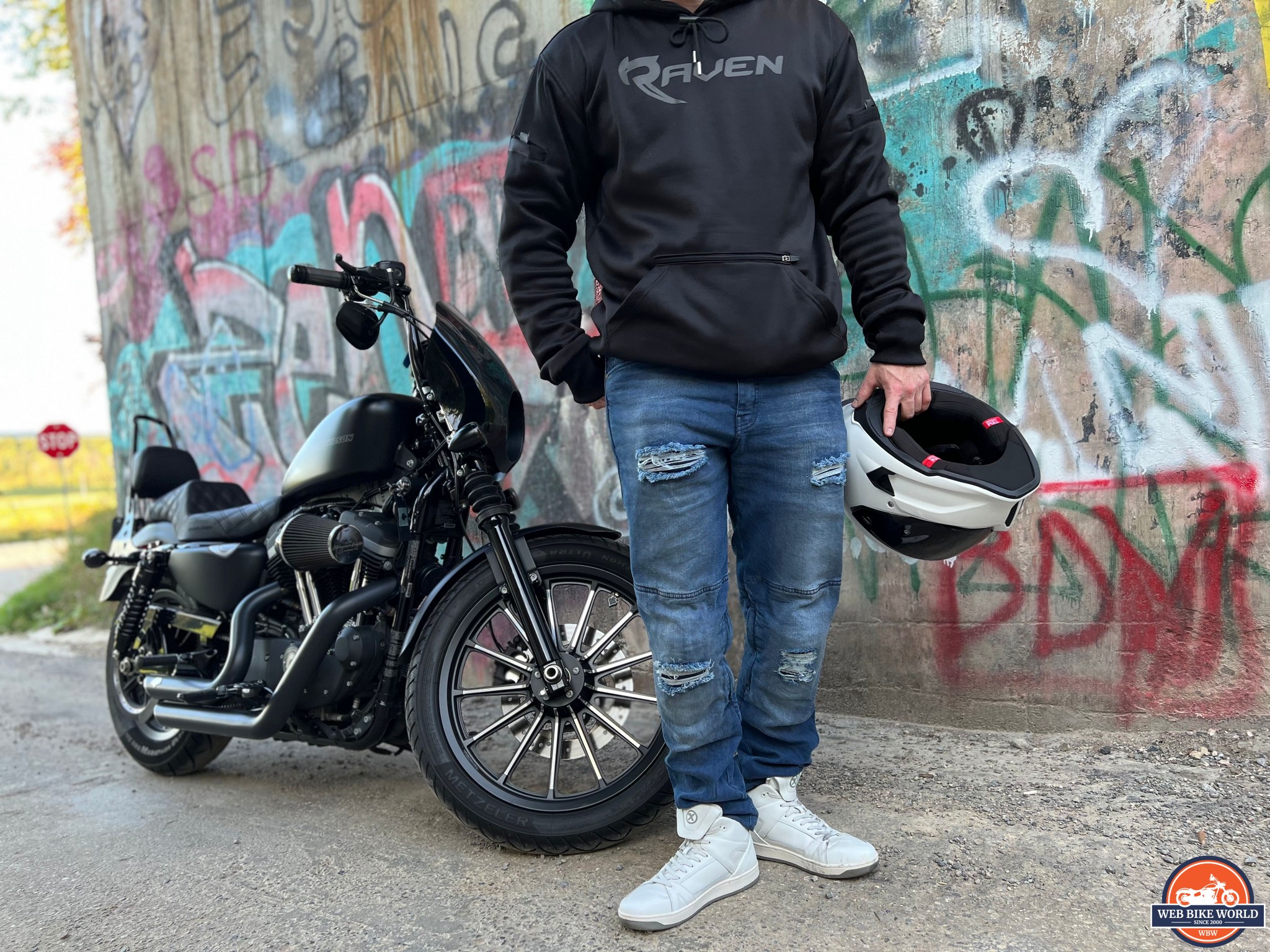 Rips Without Exposing Your Skin
Nobody in their right mind is getting on a motorcycle in ripped jeans.
Unless of course, they're the REVOLT Ripped Armored Jeans. RAVEN makes use of several creative ways to ensure you've got a layer of defense underneath the rips to prevent your skin from being exposed.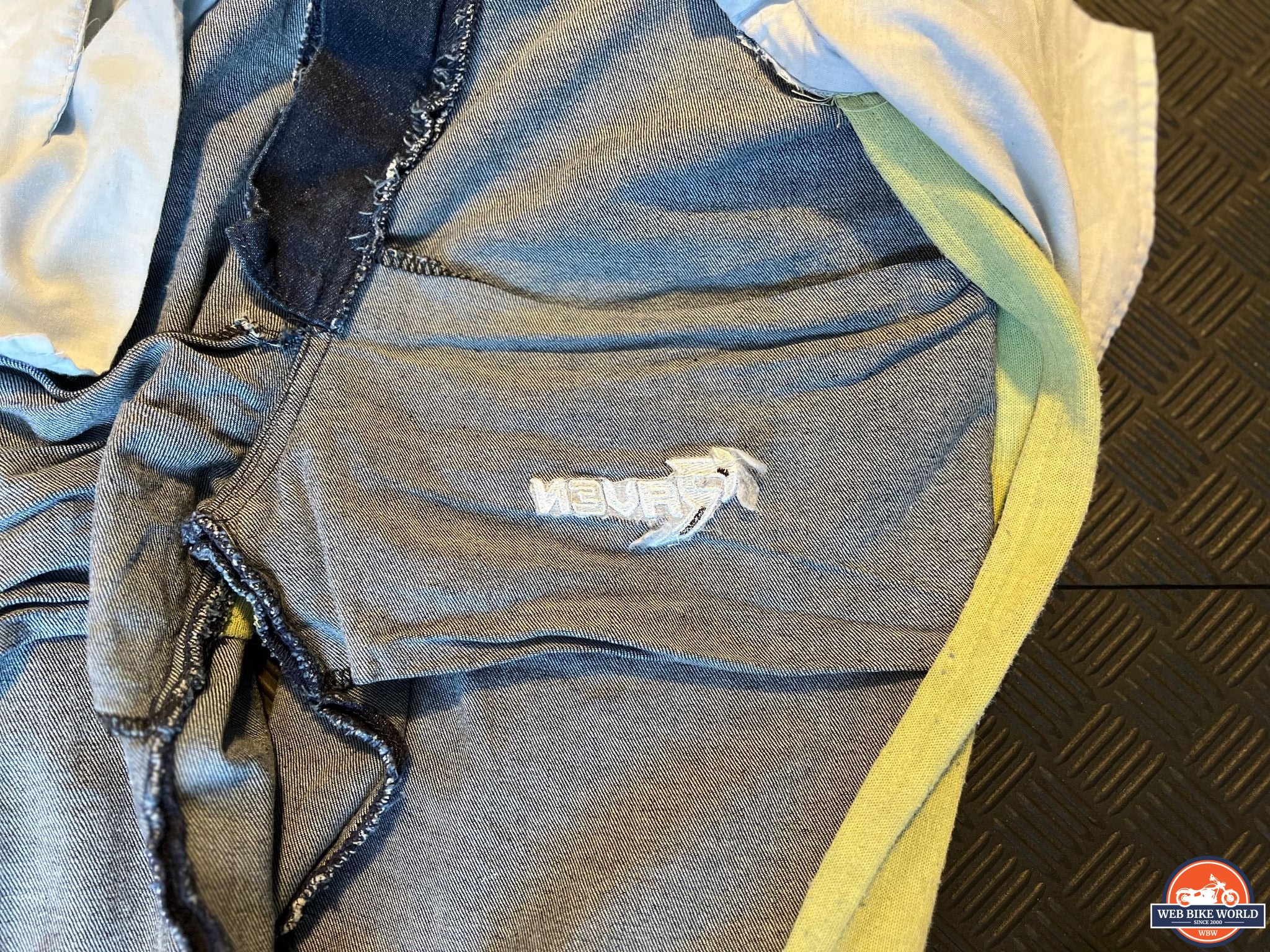 On the upper thigh, strips of denim are sewn into the seams of the pants with a reinforced stitch. The strips are over 7" in width at their fullest, making them over 4-½ times wider than the rips themselves. The strip is not sewn in perfectly middle to the rip, with more material above the rip compared to below.
In my mind, this makes sense as abrasive forces in a frontal slide would pull the material in a downward direction. With that, you'd want more material on the upper portion of the strip to accommodate for that pull, thus preventing your skin from becoming exposed.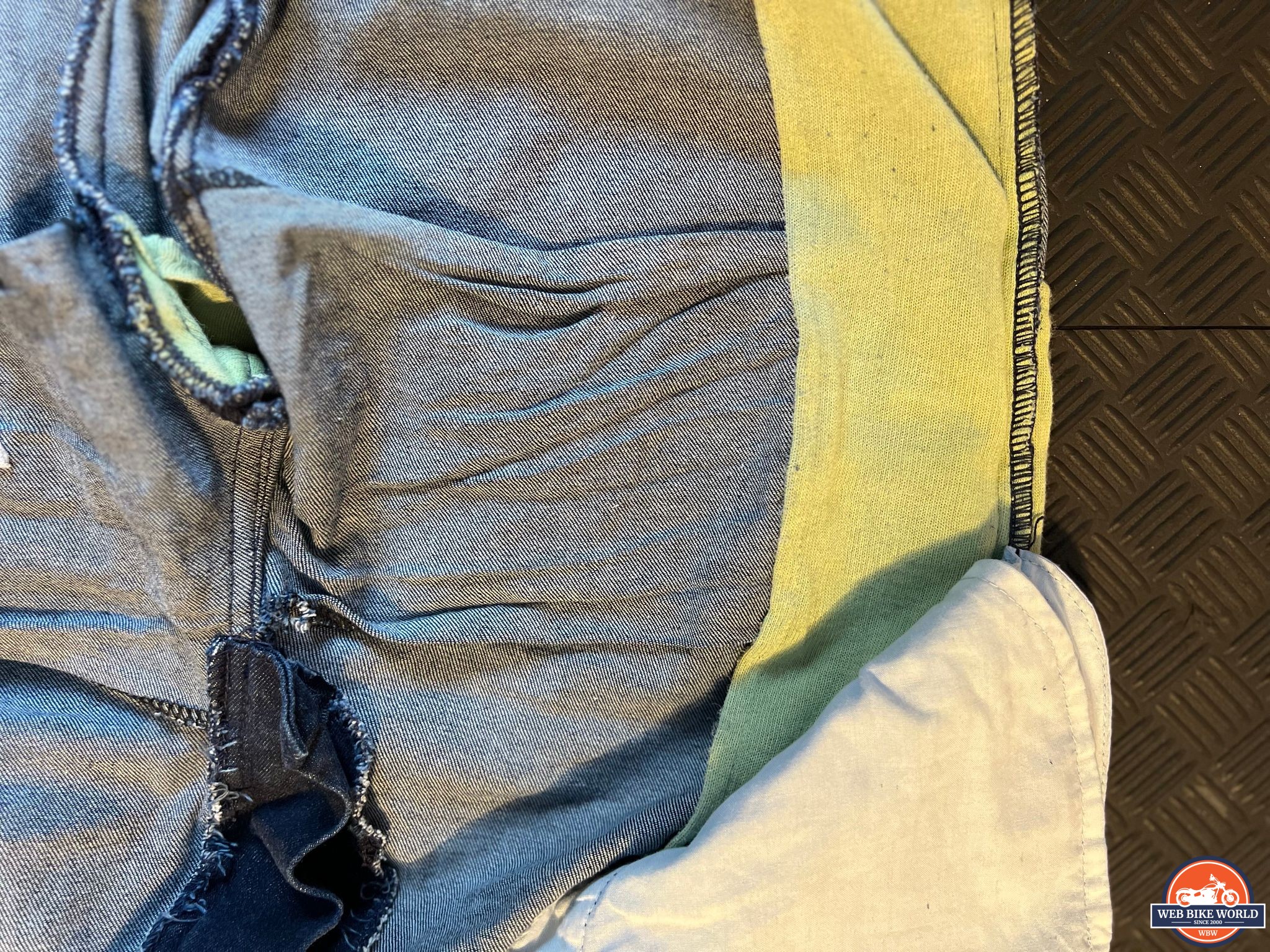 On the knee, we see the same style of denim strips being used but slightly smaller. The reason is that underneath those strips is a Kevlar lining, as well as an armor pocket. Should the strip be torn out of place in a slide, the Kevlar lining will take the brunt of the force and offer even greater protection.
Abrasion Resistance
We know that leather pants offer the best resistance against abrasion, with other styles lacking behind them. With the help of modern technology, that performance gap is slowly closing as textile pants and jeans slowly advance.
Reinforcing the rips with denim strips may sound like a good idea on paper, but how practical is it?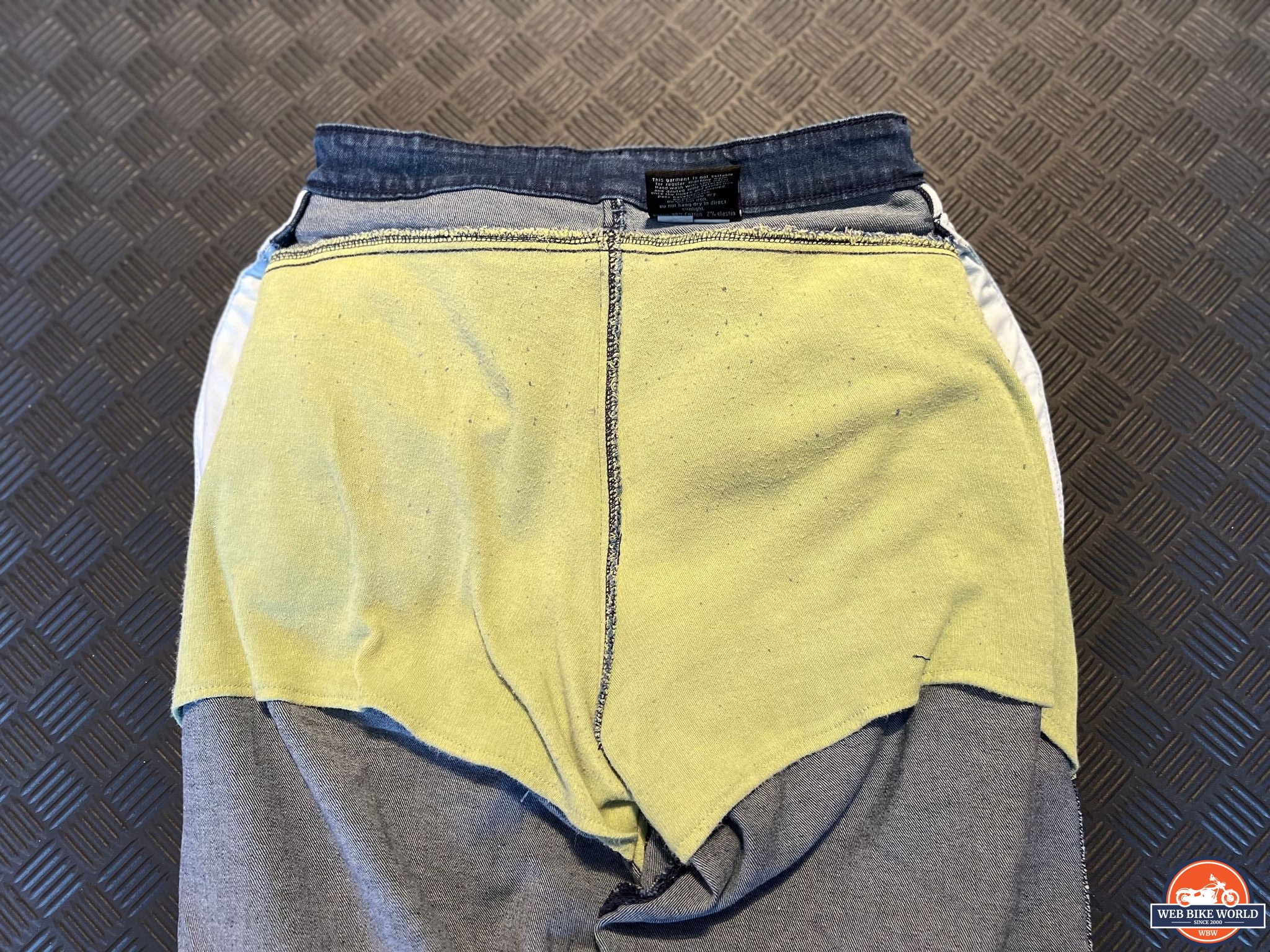 The answer to that question lies with what materials were used to make said denim. In this case, the REVOLT jeans are made out of 12-ounce elastic denim that is 98% cotton and 2% spandex.
While highly comfortable, stretch denim is not as durable as real denim. The elastane content found in stretch-denim fabrics results in a reduction in resiliency to abrasion. Thankfully, the spandex content in the REVOLT jeans is fairly low, and as such the drop in performance will not be as severe.
Either way, RAVEN backs up the denim exterior with a 100% DuPont Kevlar lining. This lining covers all of your major areas of impact such as the knee, hip, and butt. Unfortunately, much like the ARCANE joggers, there isn't any Kevlar lining on the front of the pants near the crotch.
Much like the strips of denim we discussed above, the abrasion-resistant lining is sewn in with reinforced stitching in order to withstand tremendous ripping forces.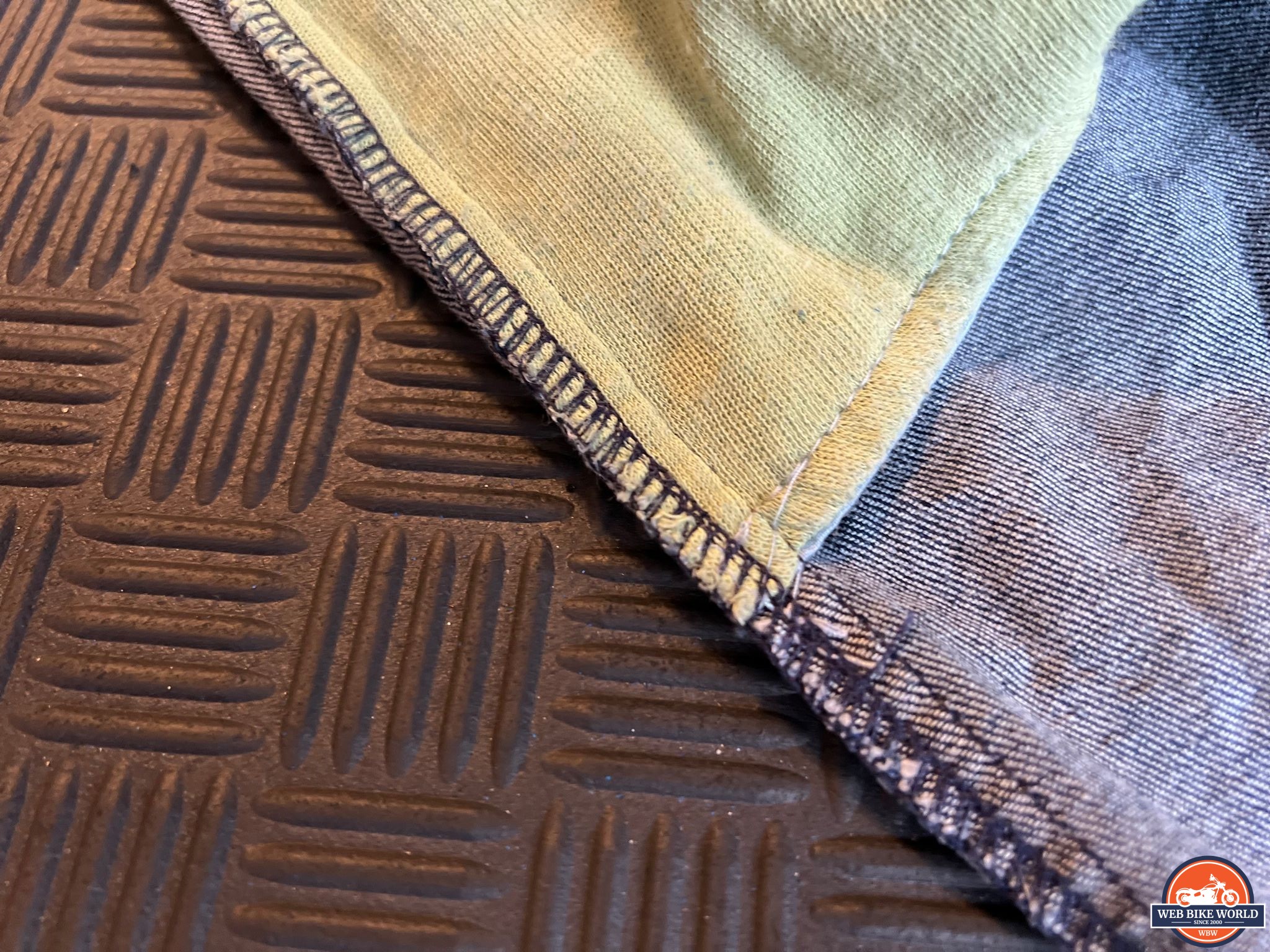 Impact Resistance Armor
One of my absolute favorite things about RAVEN Moto is that they include premium CE Level 2 armor in all their gear. The armor that was included in my LORICA Armored Hoodie was thin, flexible, breathable, and comfortable to wear.
The same can be said about the armor that RAVEN included with the REVOLT Ripped Jeans. Both the knee and hip protectors came pre-installed in pockets that can be accessed externally. The armor felt durable with high-compressive properties that gave me the confidence it was capable of absorbing a large impact and keeping me safe.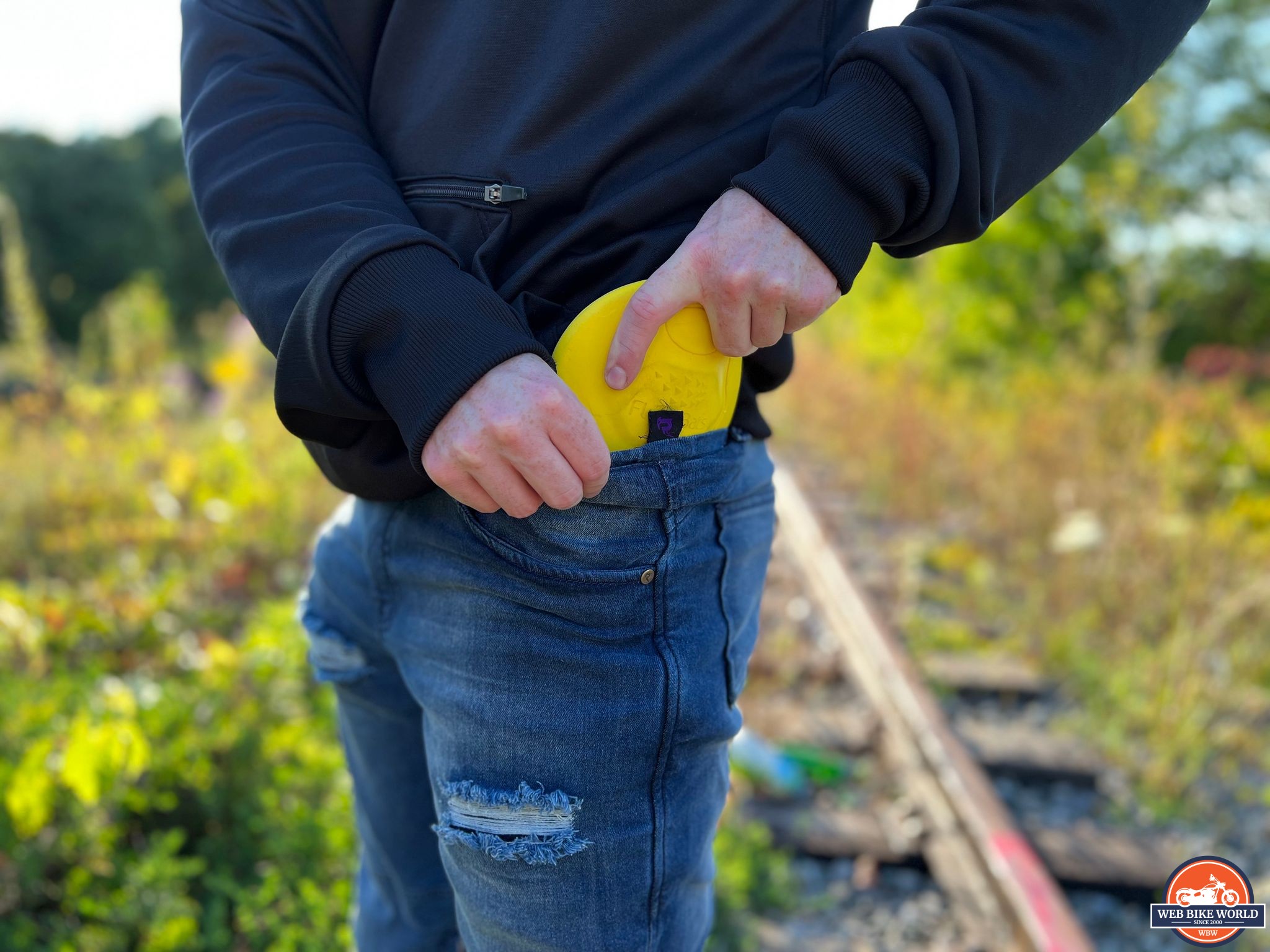 Being able to access the pockets externally was a blessing in disguise. It's a feature that you cannot truly appreciate until you've experienced it firsthand. I can't stand turning my gear inside out to insert armor and hope that it stays in place after making the fabric right side out again.
The external access made it quick and easy to insert, remove, and rearrange the armor. The hip pockets are secured with a strip of velcro while the knee pockets have a zipper on the inside. The zipper is covered with a flap of material to keep it concealed.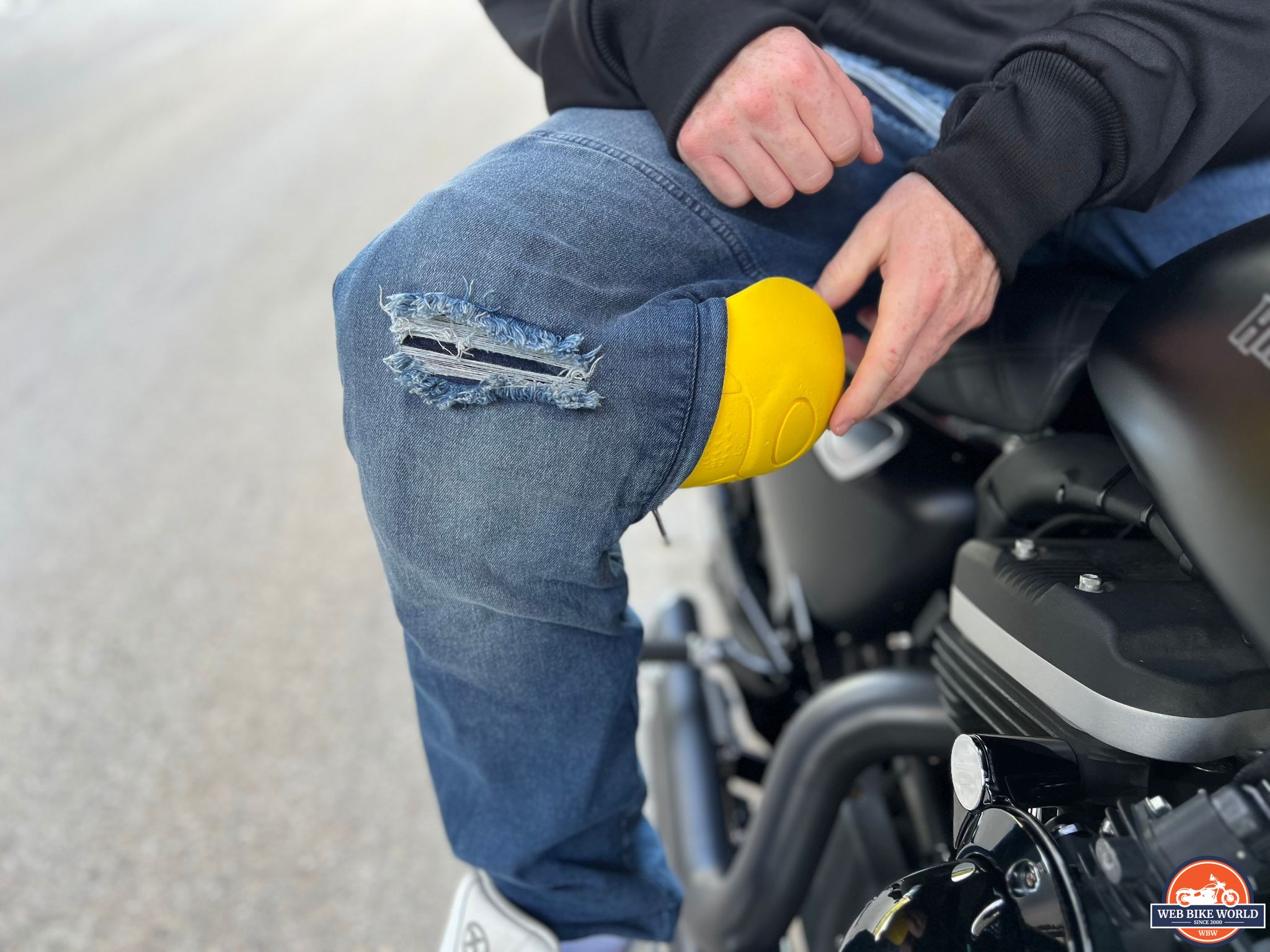 Bulky Armor Compared to Women's Pants
The armor that was included in my pair of REVOLT Ripped Armored Jeans was much bulkier than that of Ashleys. She was sent a pair of the Women's High-Waisted Jeans to review and the set of armor she received was different.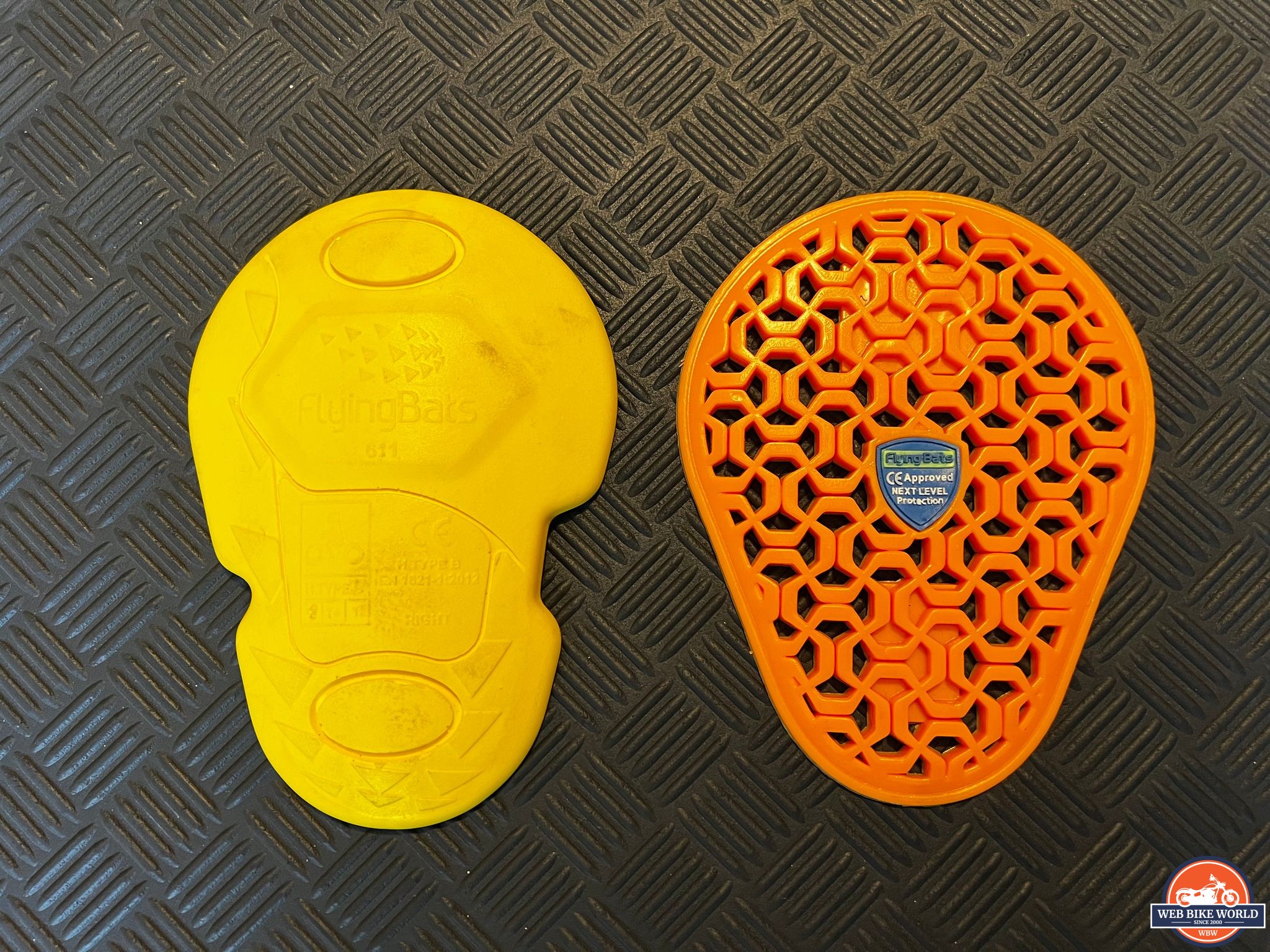 As shown on the website, the women's pants come with thin, perforated inserts that are extremely flexible. Both the men's and women's armor are certified to CE Level 2 standards, so you aren't sacrificing protection with the thinner inserts. I found the thinner inserts to be much more comfortable to wear and less noticeable.
Protection Rating: 75%
Giving gear a protection rating is difficult as each rider will have a different conception of what being protected means. There is a broad spectrum of differing opinions with one end claiming that being fully clothed is sufficient protection, while the opposite is preaching ATGATT.
At webBikeWorld, our goal is to help riders make an informed decision about the gear they are purchasing. With that in mind, you'll never see me claim that something is the end-all solution. In regard to the REVOLT Ripped Armored Jeans, I can confidently say that they will offer you a great deal of protection, but at the same time have some room for improvement.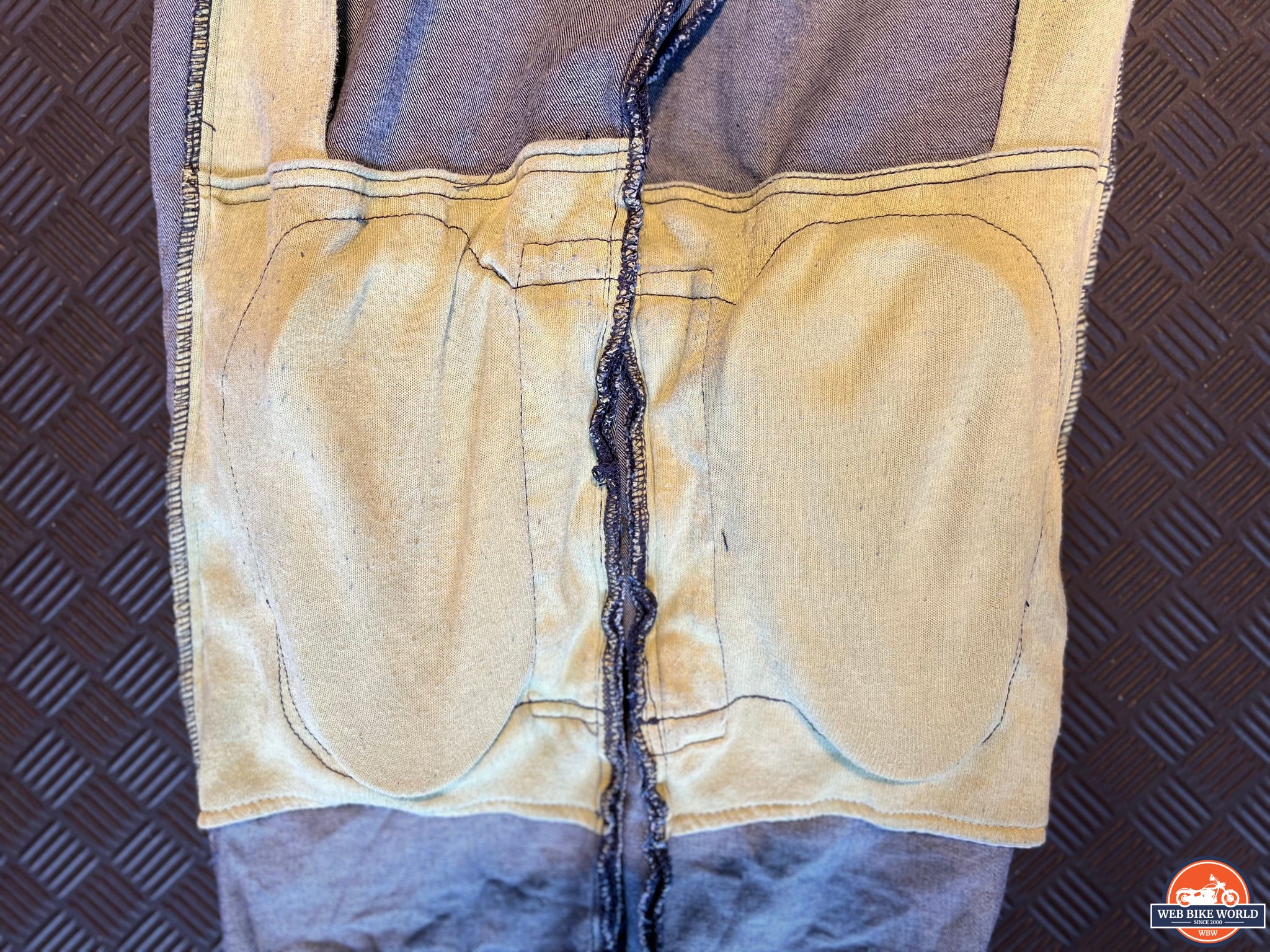 A combination of armor inserts and a 100% DuPont Kevlar inner lining is what I come across most often with riding gear designed as street wear. The REVOLT Ripped Armored Jeans make great use of both and instill a sense of security in me.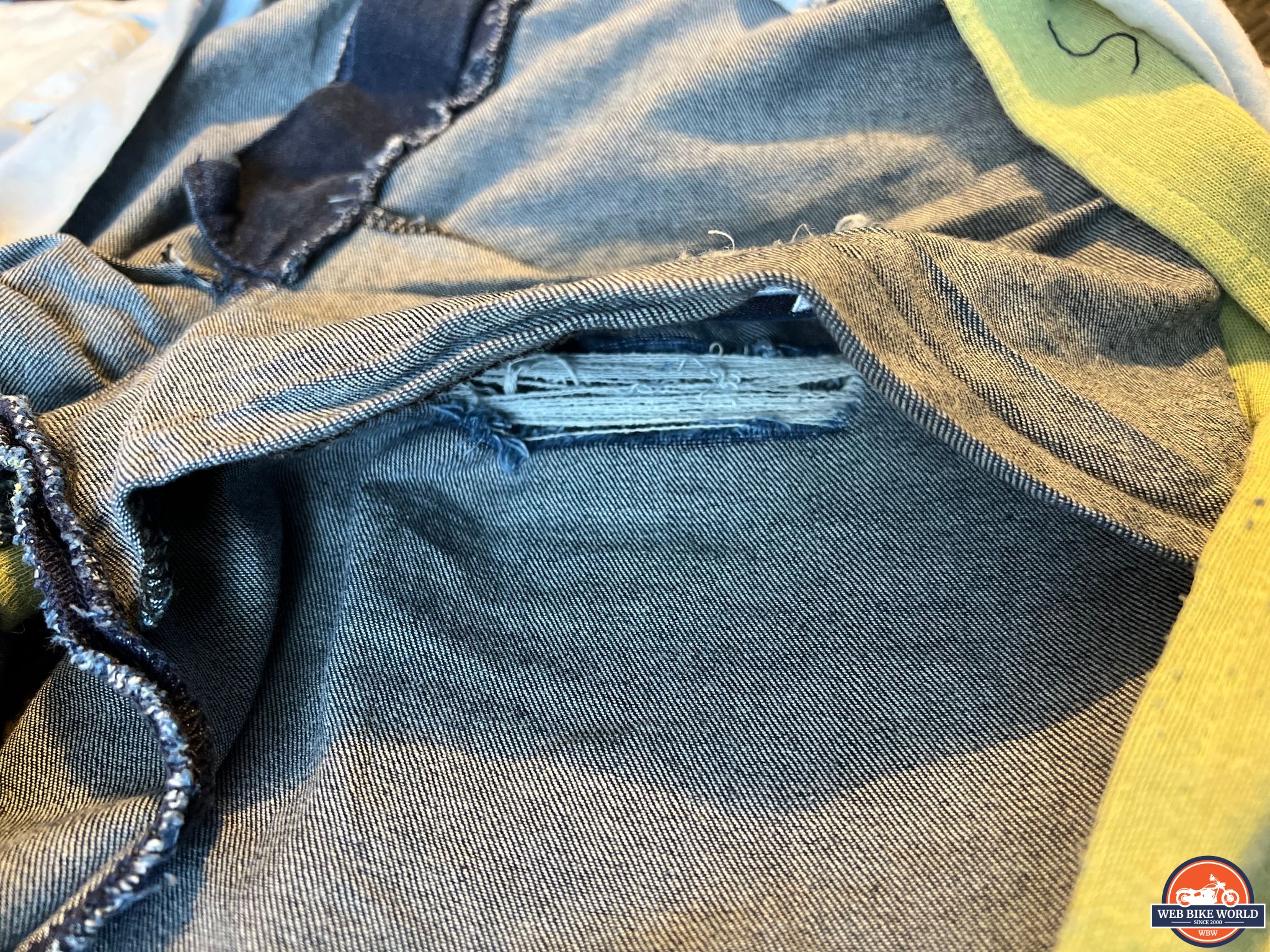 In terms of protection my biggest concern is with the denim strips underneath the rips. Only the lengthwise ends of the strips are stitched into the pants. Because of this, the strip would bunch together and not sit flat, thus covering less area than intended. Suddenly, your 7 inches of coverage has turned into 2 or 3.
If RAVEN could find a way to stitch the entire denim flap into the pants, they could effectively eliminate this problem. You might be sacrificing some comfort, but at least you know you're protected at all times.
I'd also love to see RAVEN include the thinner armor in the men's jeans. While the thicker armor gave me a greater sense of durability, the thinner armor that is sent with the women's jeans is much more comfortable to wear and far more discreet. With both being CE Level 2, I'm confident they'll perform the same.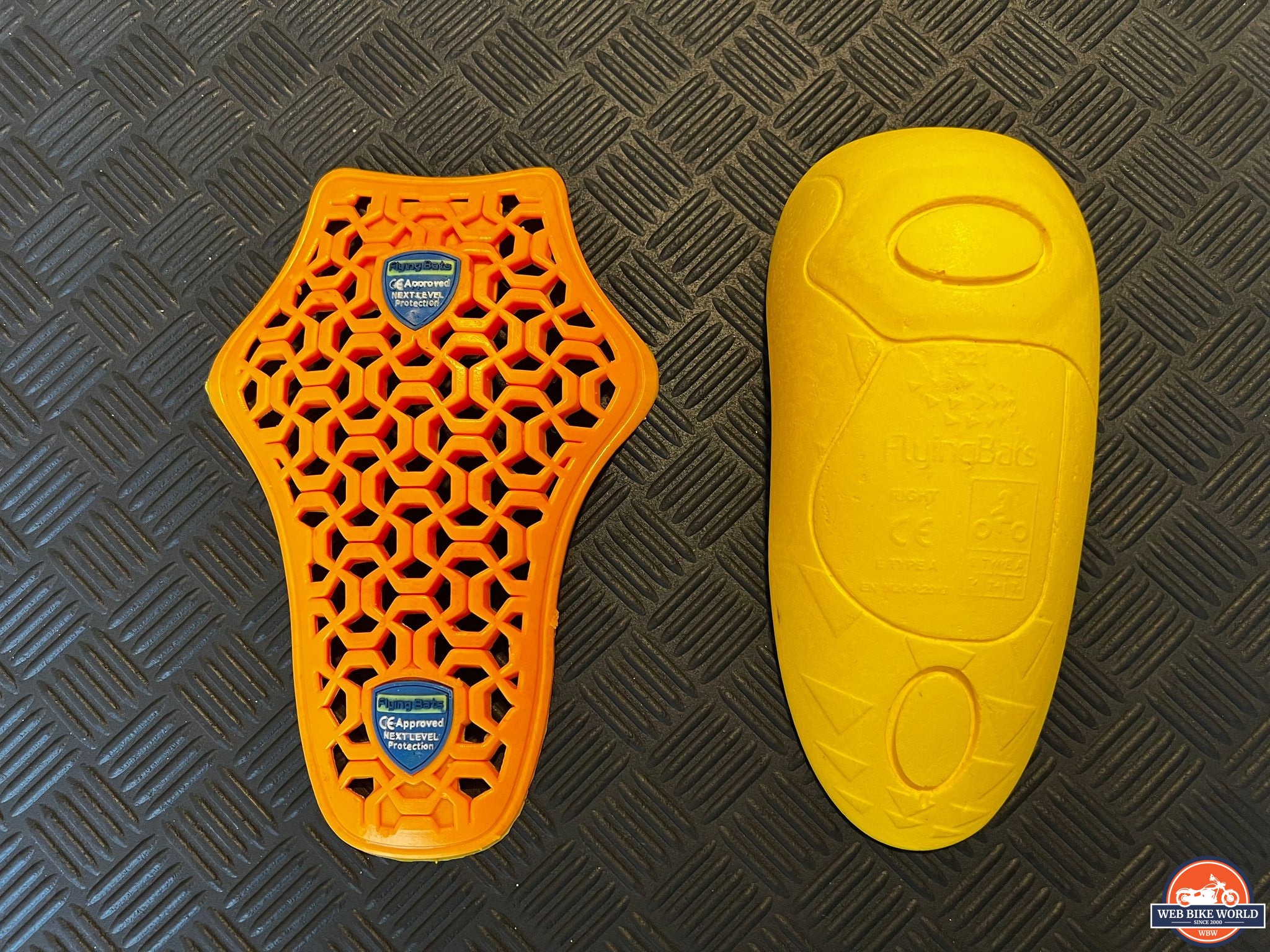 High-Quality Ripped Jean Design
If you're still with me, I'd imagine it's safe to say the REVOLT jeans have met your standard for safety. With the boring stuff out of the way, let me take you through the design and quality of the pants.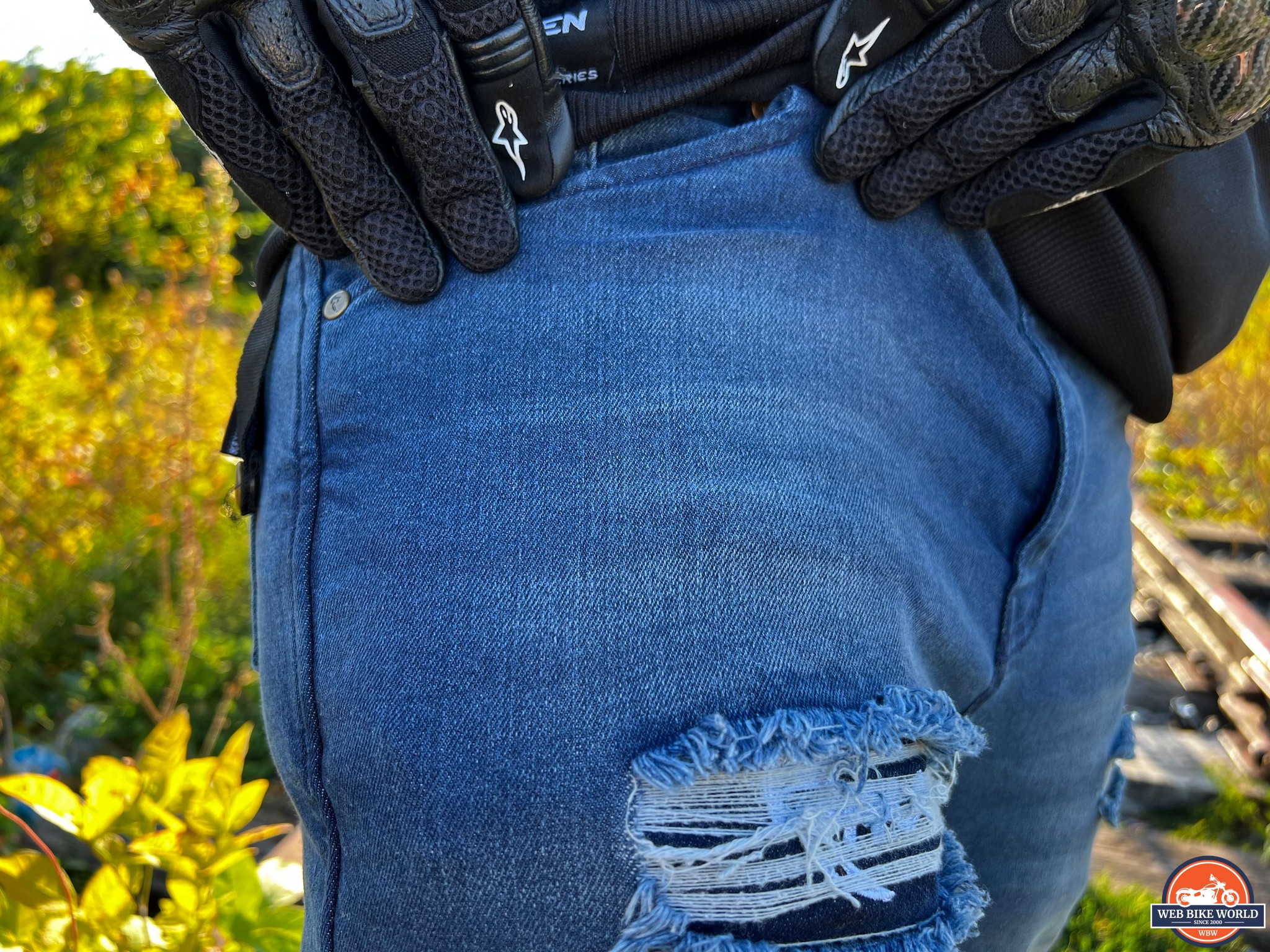 Simple Design That's Guaranteed to Please
RAVEN's design team are no strangers to making great-looking gear and they've knocked it out of the park once again with the REVOLT Ripped Armored Jeans. The pants are available in two color schemes:
Sky Blue with White logos
Charcoal Gray with All-Black Stealth Logos
The Sky Blue jeans that I received are a medium wash with an extremely subtle whisker-like pattern on the thighs just below the front pockets for a gentle worn-out look. On the back of the knee is similar detailing but resembles folds in the denim as if you were sitting in a chair when they were washed.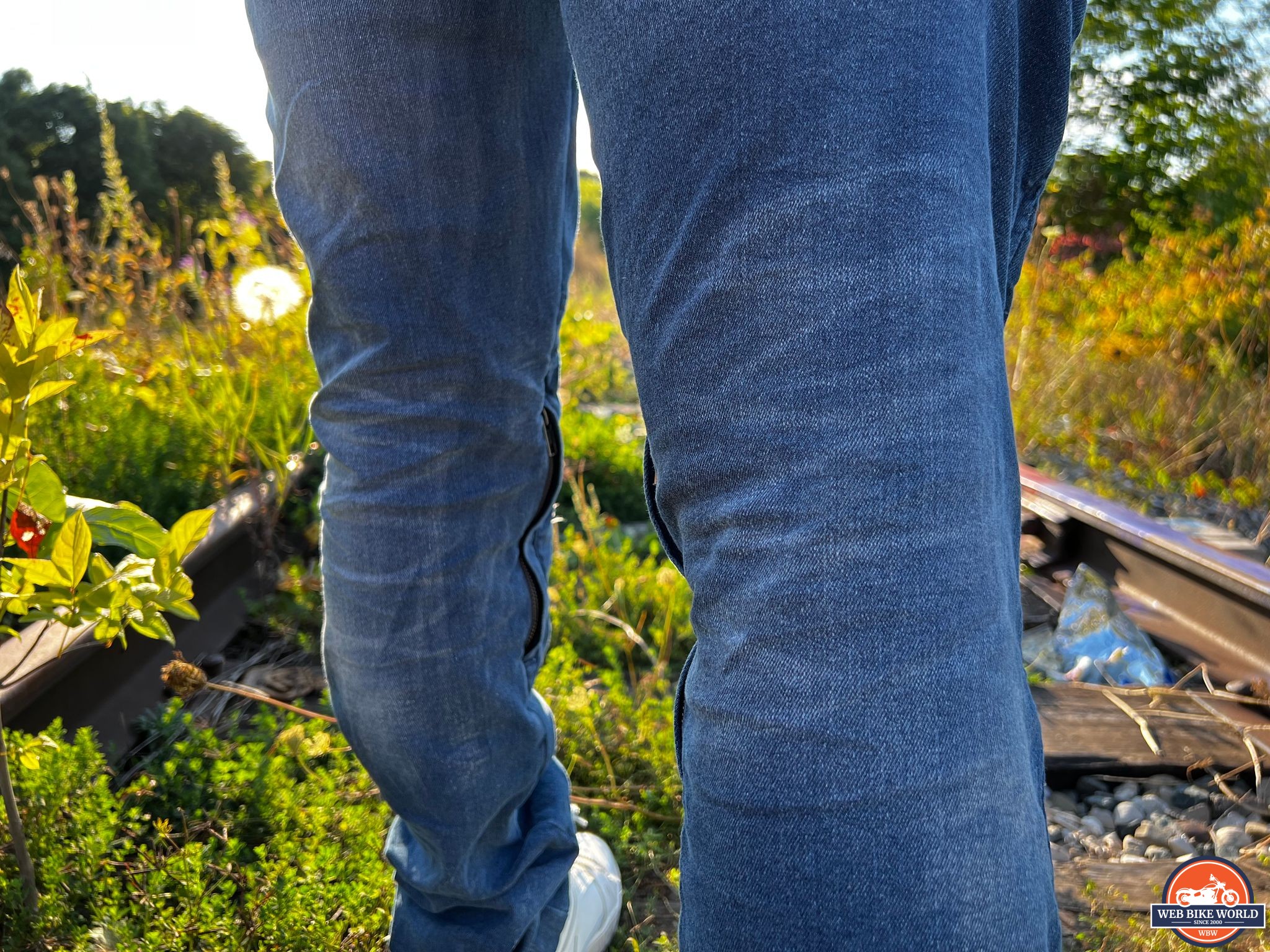 RAVEN's website pictures the blue jeans as having 3 rips, but in reality on the front are 4; two on each leg. The two rips on the upper thigh are smaller than the rips on the knee, with all 4 having threads of fabric stretching from either side. The surrounding material is frayed to give a distressed look.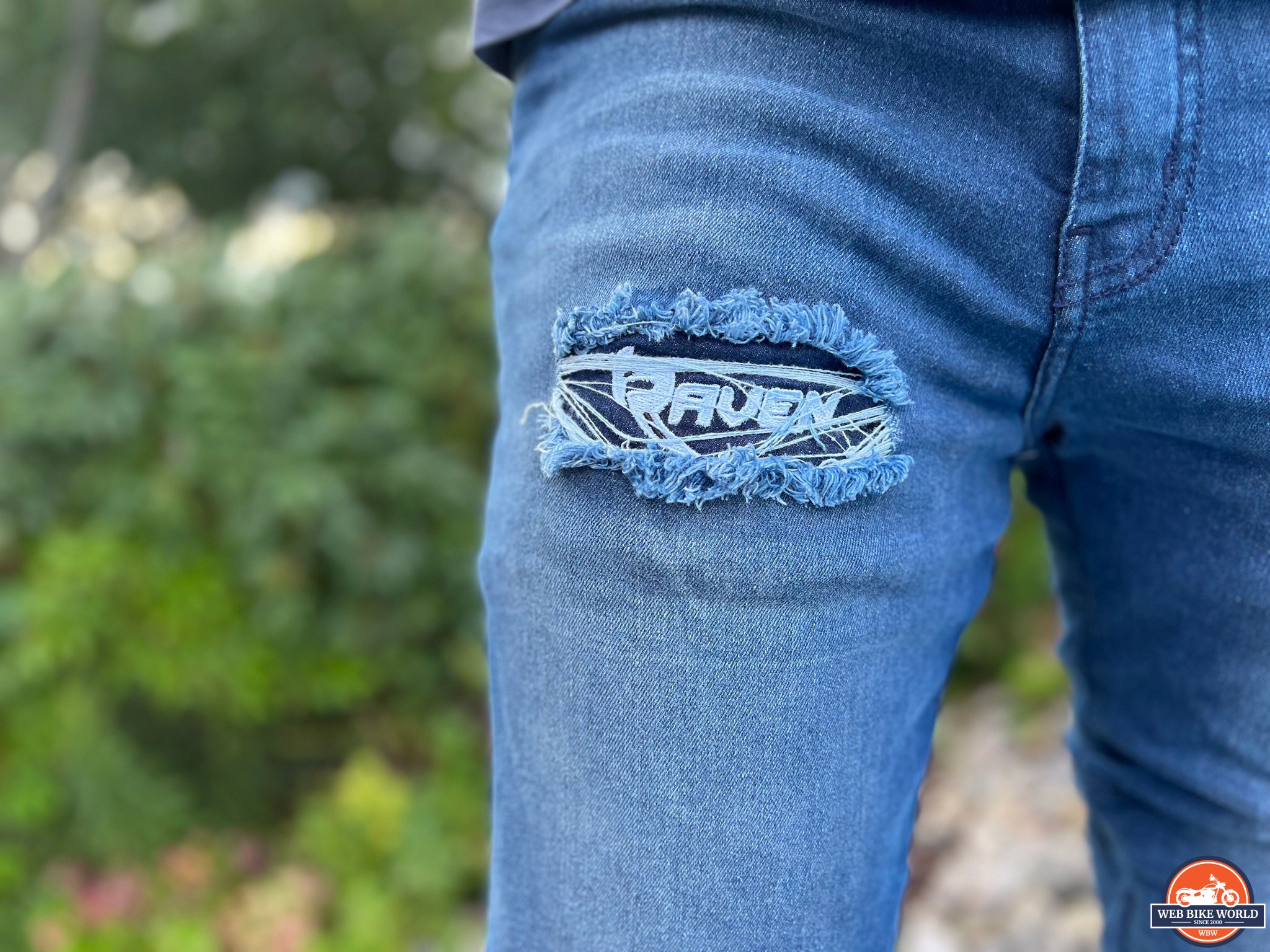 Each rip is accompanied by the aforementioned denim strip underneath. Looking at the jeans head-on, the top left and bottom right rips have RAVEN logos underneath the frayed fabric strands. Aside from that, the only other branding on the pants are in the form of tags on the hip pockets, and the RAVEN logo on the waist button.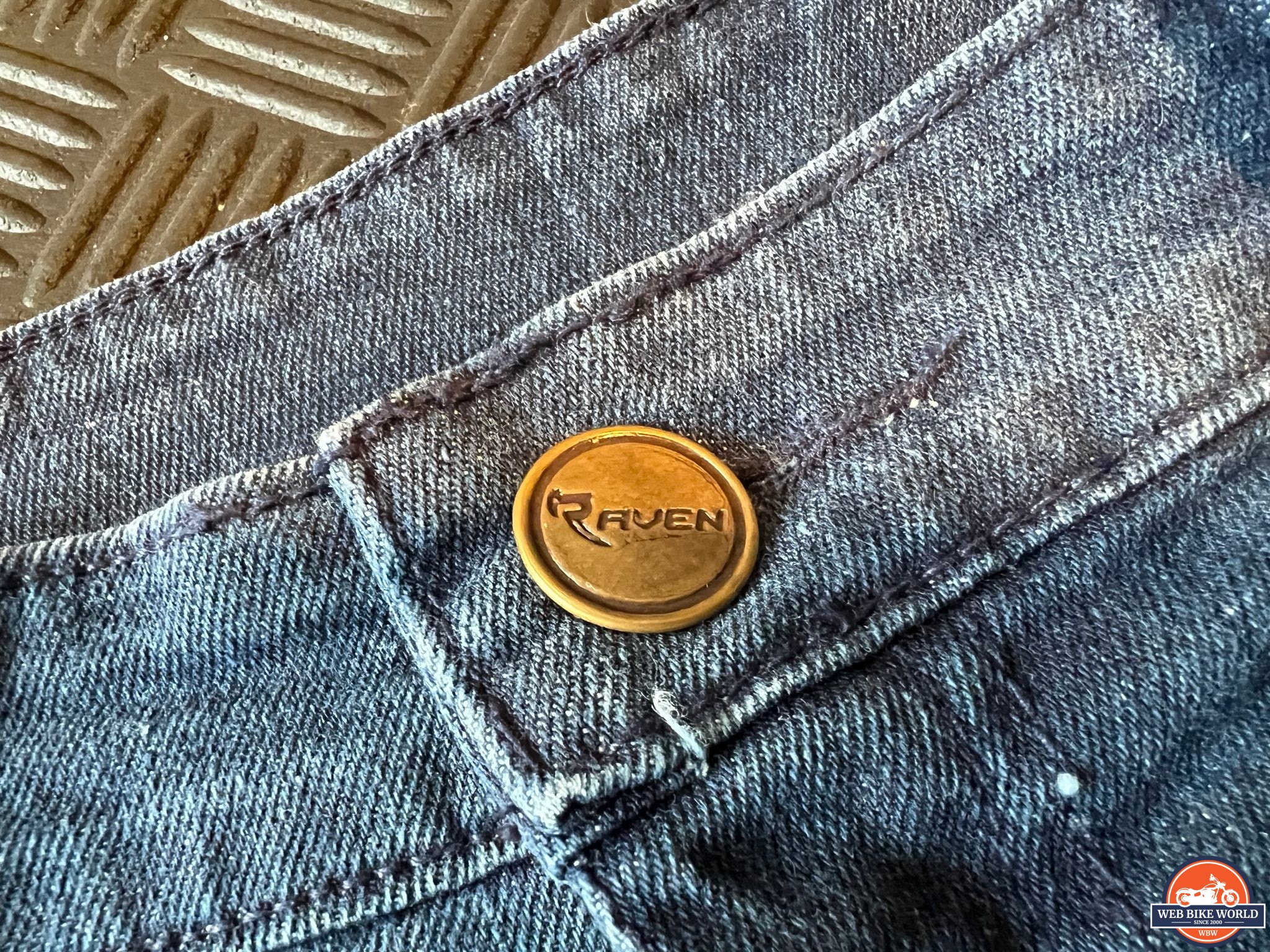 Unlike regular jeans is a band of stitching that runs across the front of the jeans just above the knee. The stitch is what holds the knee armor pocket in place and prevents it from shifting in a slide.
Overall, the design is very discreet and unsuspecting to passersby. Without the armor, it would be very difficult to distinguish the REVOLT Jeans from your favorite pair currently tucked away in your closet.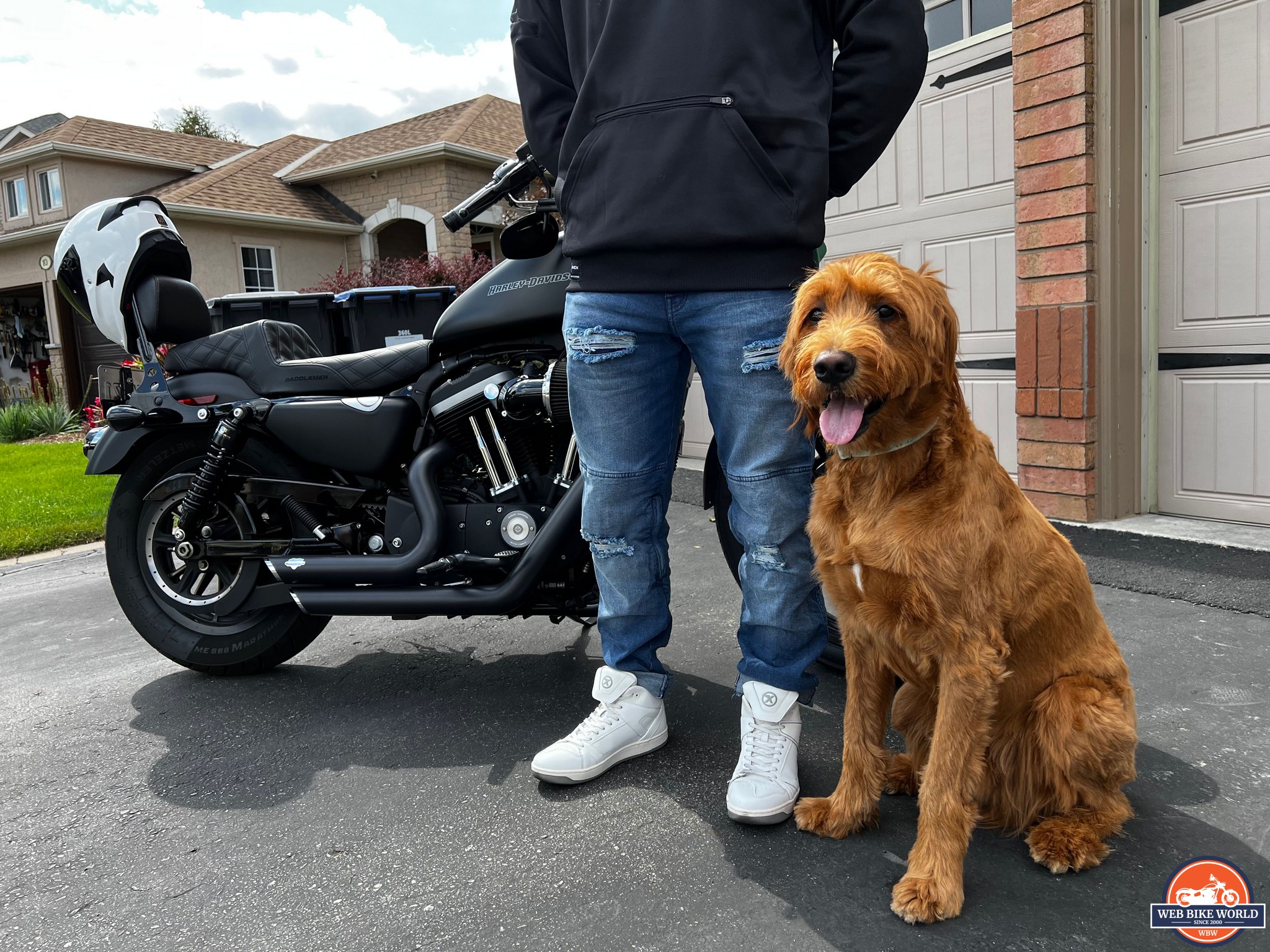 Lasting RAVEN Quality
Raven has yet to disappoint me with the quality of their riding gear.
Everything down to the T-shirt I ordered for Ashley has been high-quality and free of manufacturer defects. I combed over these pants inside and out looking for any sign of concern or defect and came back empty-handed.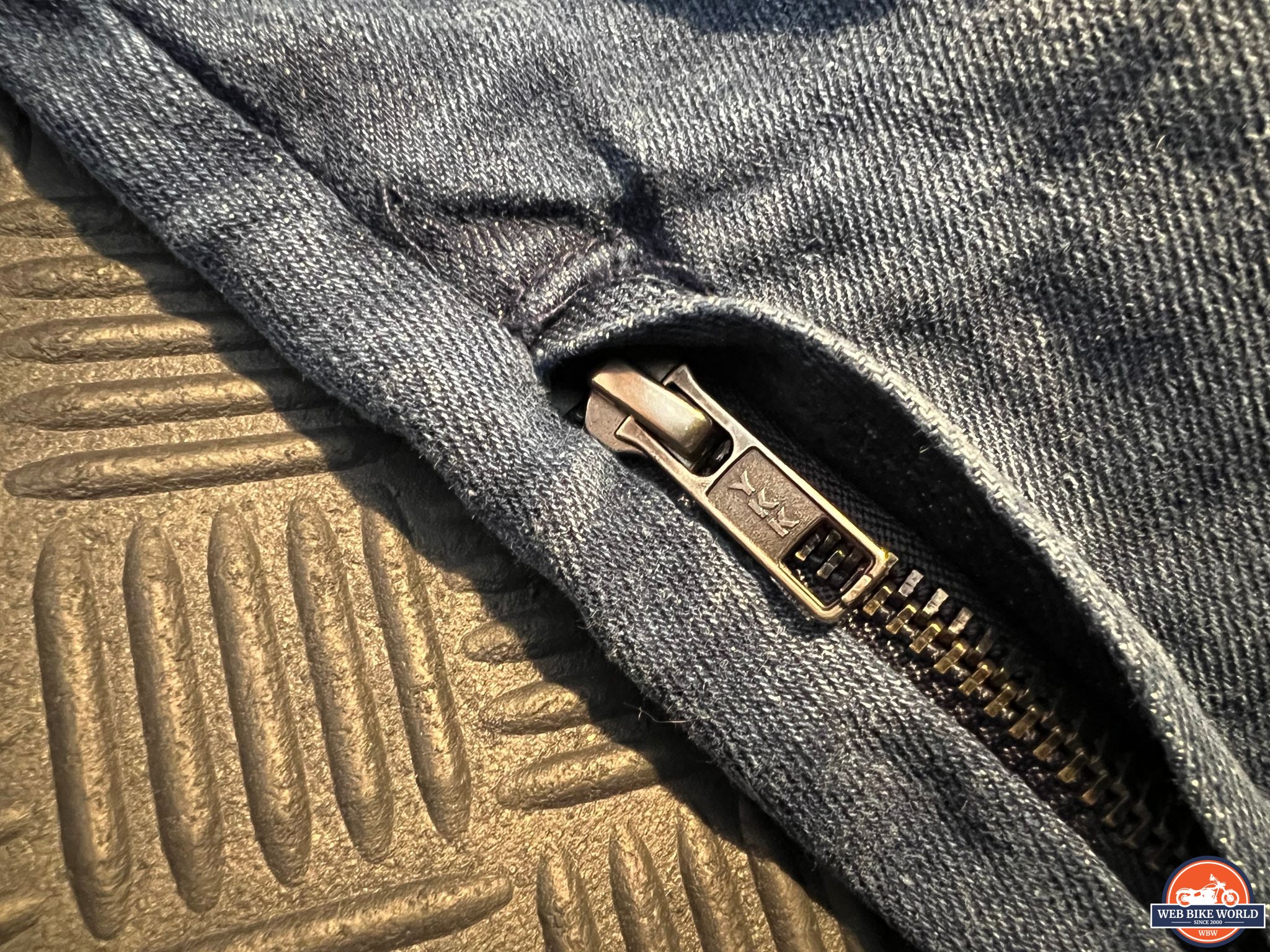 All of the seams and liner stitching have been done neatly and professionally. The fly and armor pockets are secured by premium YKK zipper closures. The denim itself feels thick and durable all while remaining soft and flexible.
If you've worn ripped jeans before you'll know it's not uncommon for some of the fabric strands to tear. The pair of REVOLT jeans I received arrived free of any torn strands. The stretchy feel to them also gives me the impression it would take a large amount of force to rip them.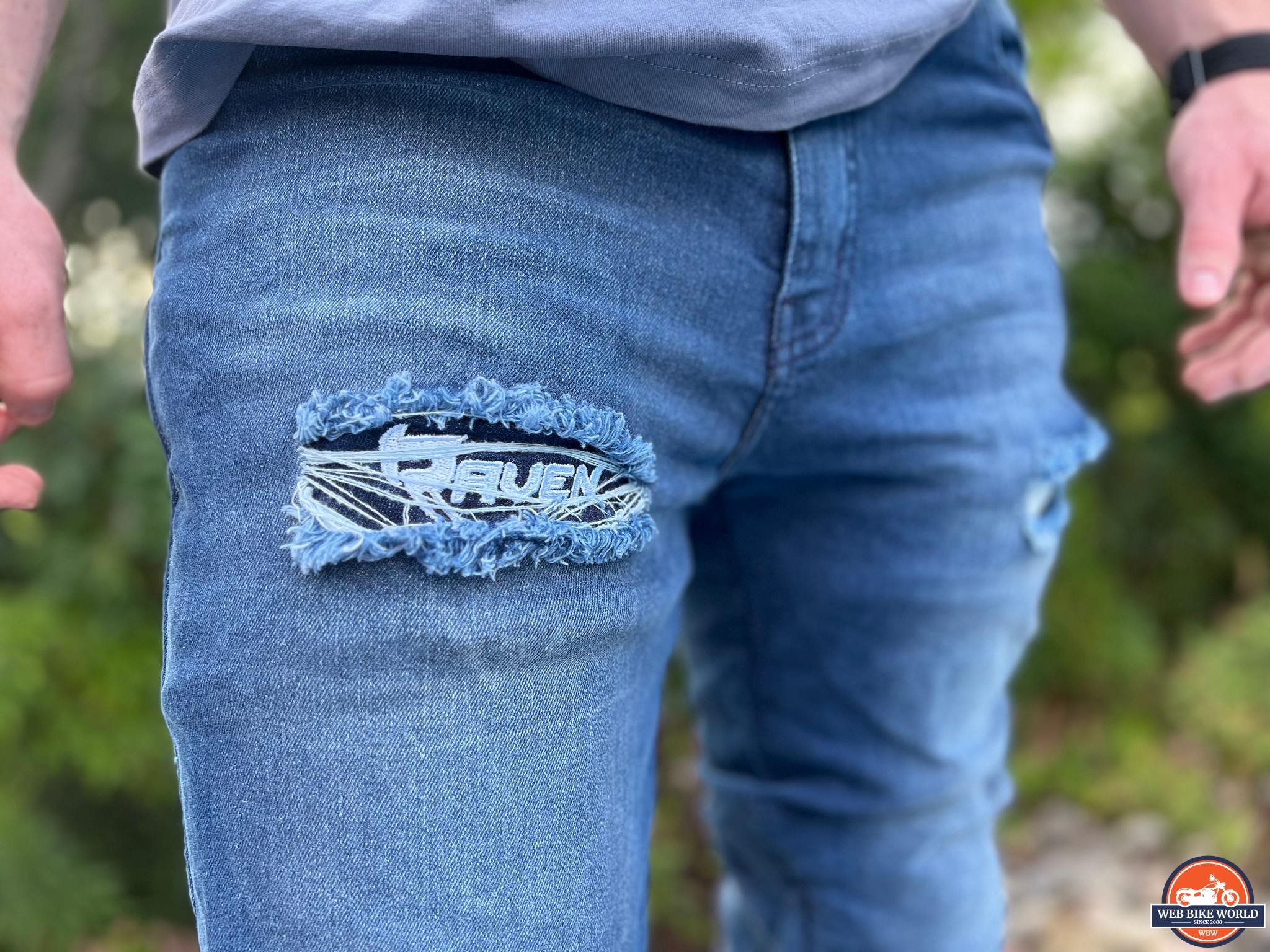 Design & Quality Rating: 85%
The design of the REVOLT jeans checks off all of my boxes. They look and feel just like regular denim, if not better. The branding is very subtle and only noticeable upon close inspection. The rips are incorporated into the pants almost perfectly and the distressing features add a complimenting textured look to the jeans.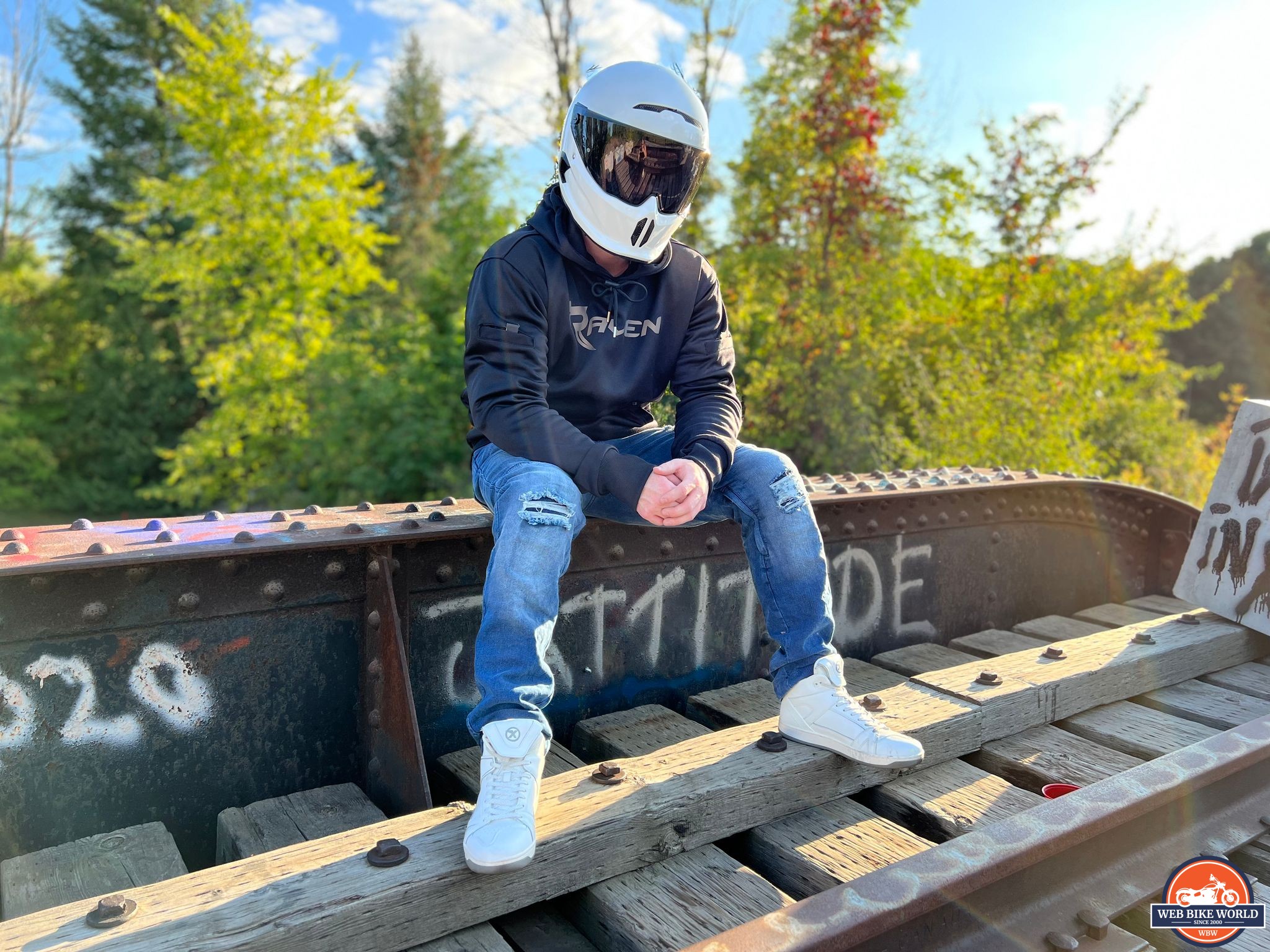 When it comes to the quality of the REVOLT Ripped Armored Jeans, I have zero concerns. My thorough inspection didn't uncover any hidden manufacturing flaws or defects and I'm confident in the reinforced stitching to hold against strong ripping forces.
The only area that I can see for improvement relates back to the stitching on the denim strips. Because the denim strips are not sewn into the pants on the top or bottom, it's possible that your toe may catch it while putting the pants on. If you aren't paying attention, you could easily rip the material. Take my word for it as it happened to me!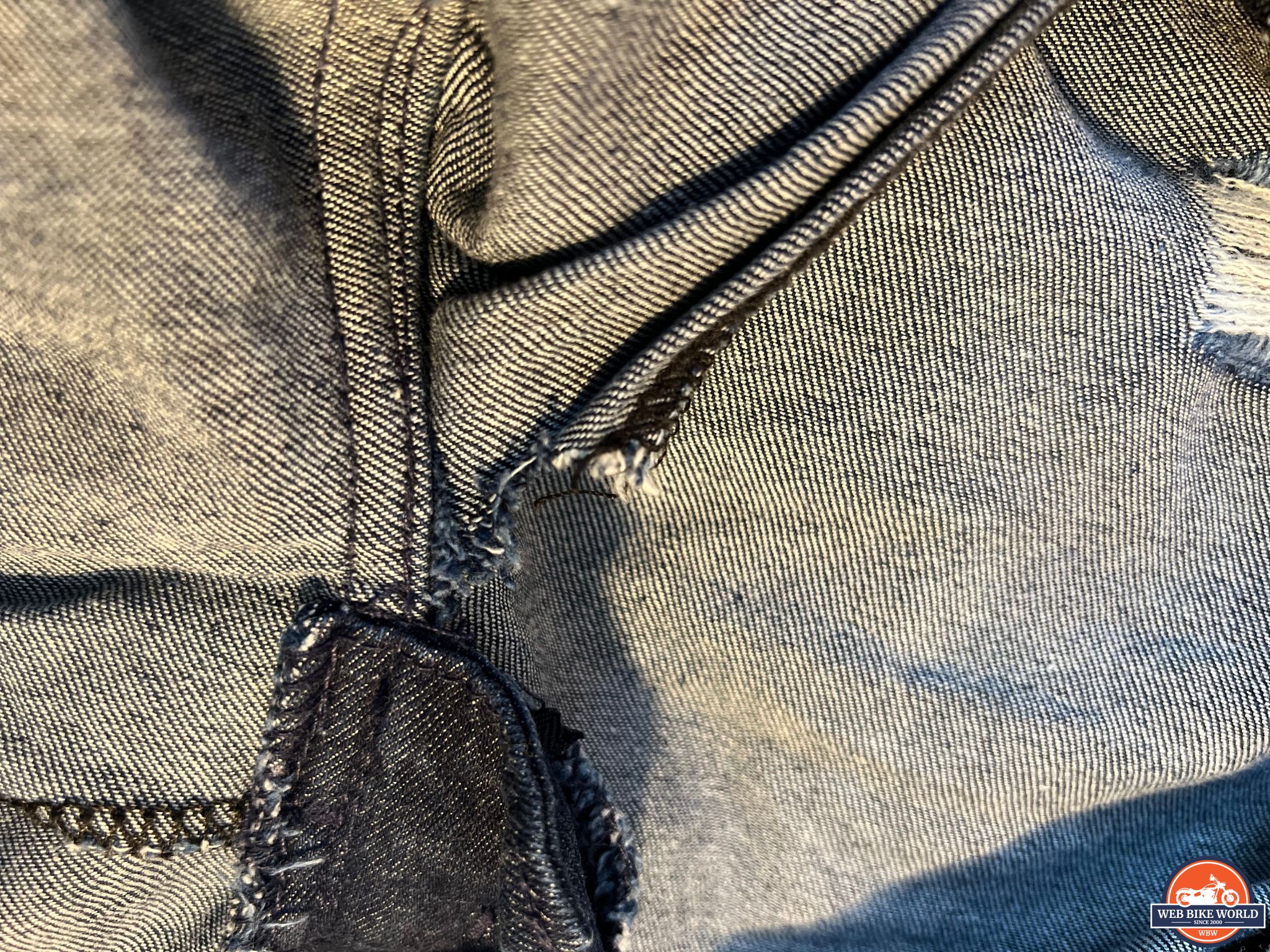 Even more troublesome is having your pockets come out of the rips. On a number of different occasions, I had my phone sticking out of the rips as the pockets got on top of the denim flap and rested halfway through.
I'd love to see RAVEN bring the strip all the way up to the waistline to hide the upper stitch and eliminate the possibility of tearing them, as well as having my belongings hanging out of them.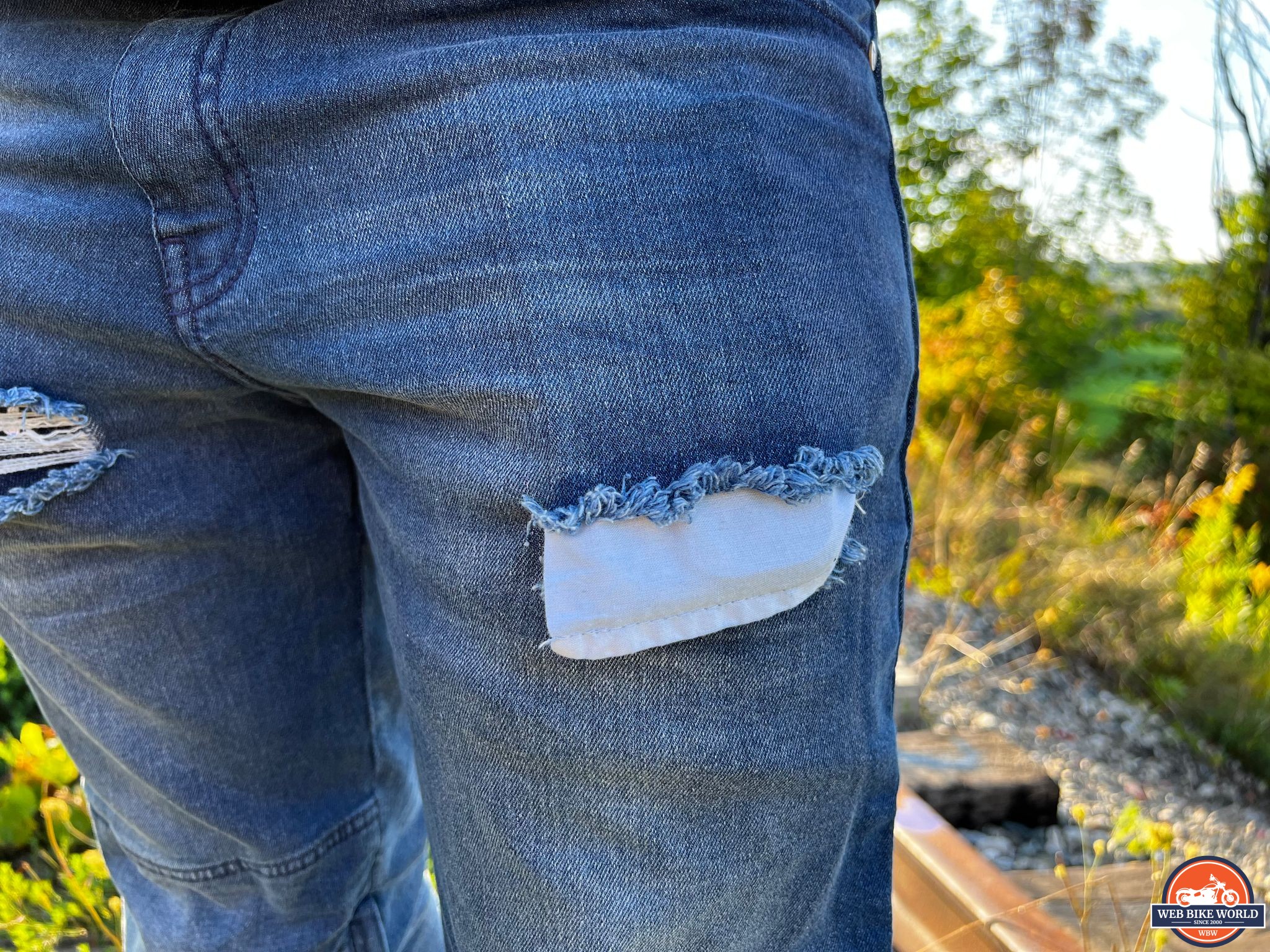 Slim Fitting With Plenty of Stretch
As with any piece of clothing, if the fit isn't just right it's likely to sit in my closet. The same is true for riding gear but on a much larger scale. If you're like me, you'll want to pay close attention to this section.
After all, we aren't talking about a t-shirt you picked up because it was on sale. No, we are talking about a pair of riding pants that's going to cost you hundreds of dollars!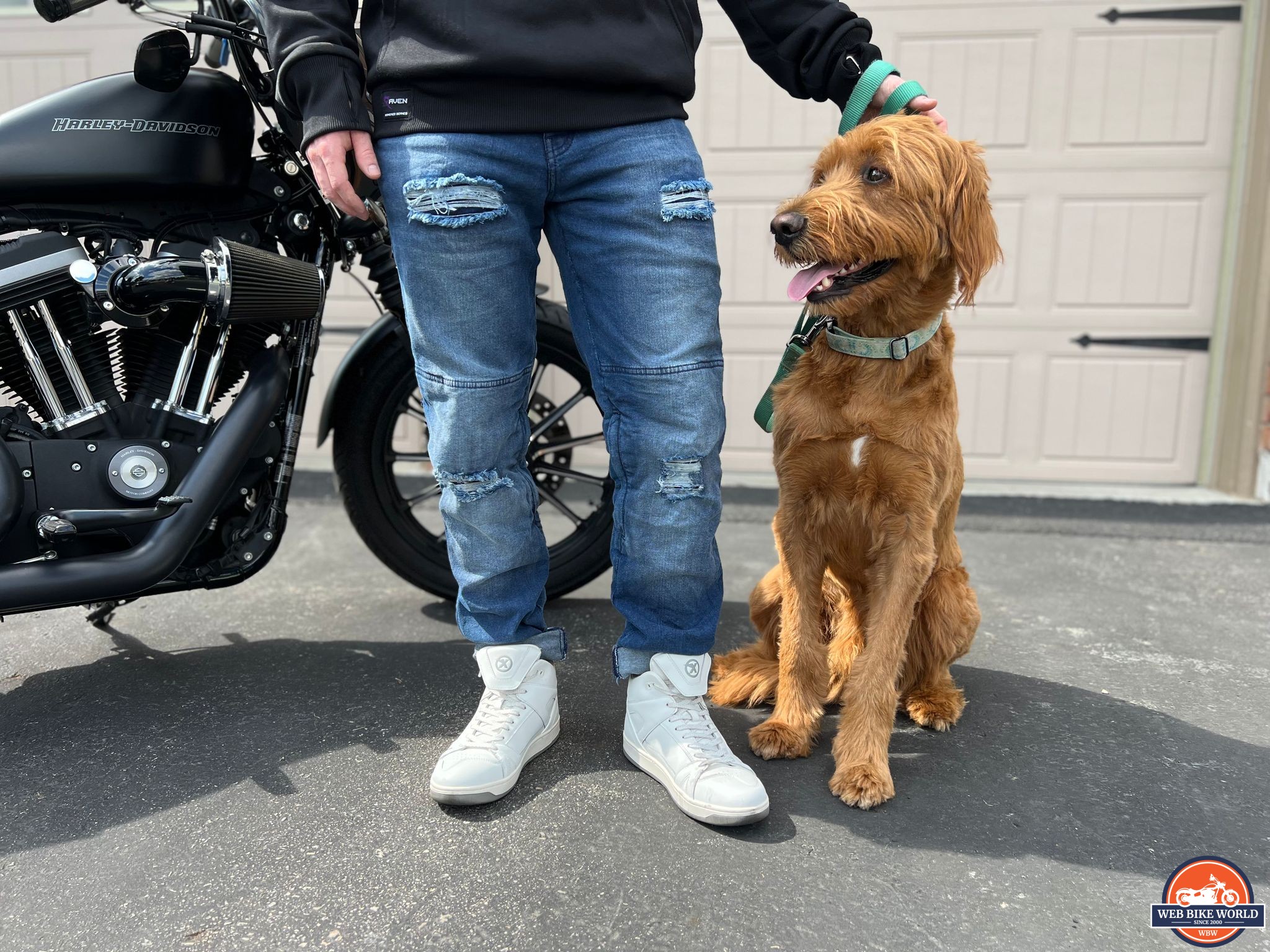 Athletic Slim Fit For All Body Types
The REVOLT Ripped Armored Jeans are looser above the knee, but more tailored below the for an athletic slim fit. At 5'10", I knew the 32/32 would be long, but what I didn't account for was the knee pockets.
I ordered a 32" inseam to ensure the pants covered my ankles in a riding position. Sitting on the bike, the knee pockets are perfectly positioned, meanwhile, when standing, the pockets and armor rest on my shins which can be a nuisance when walking.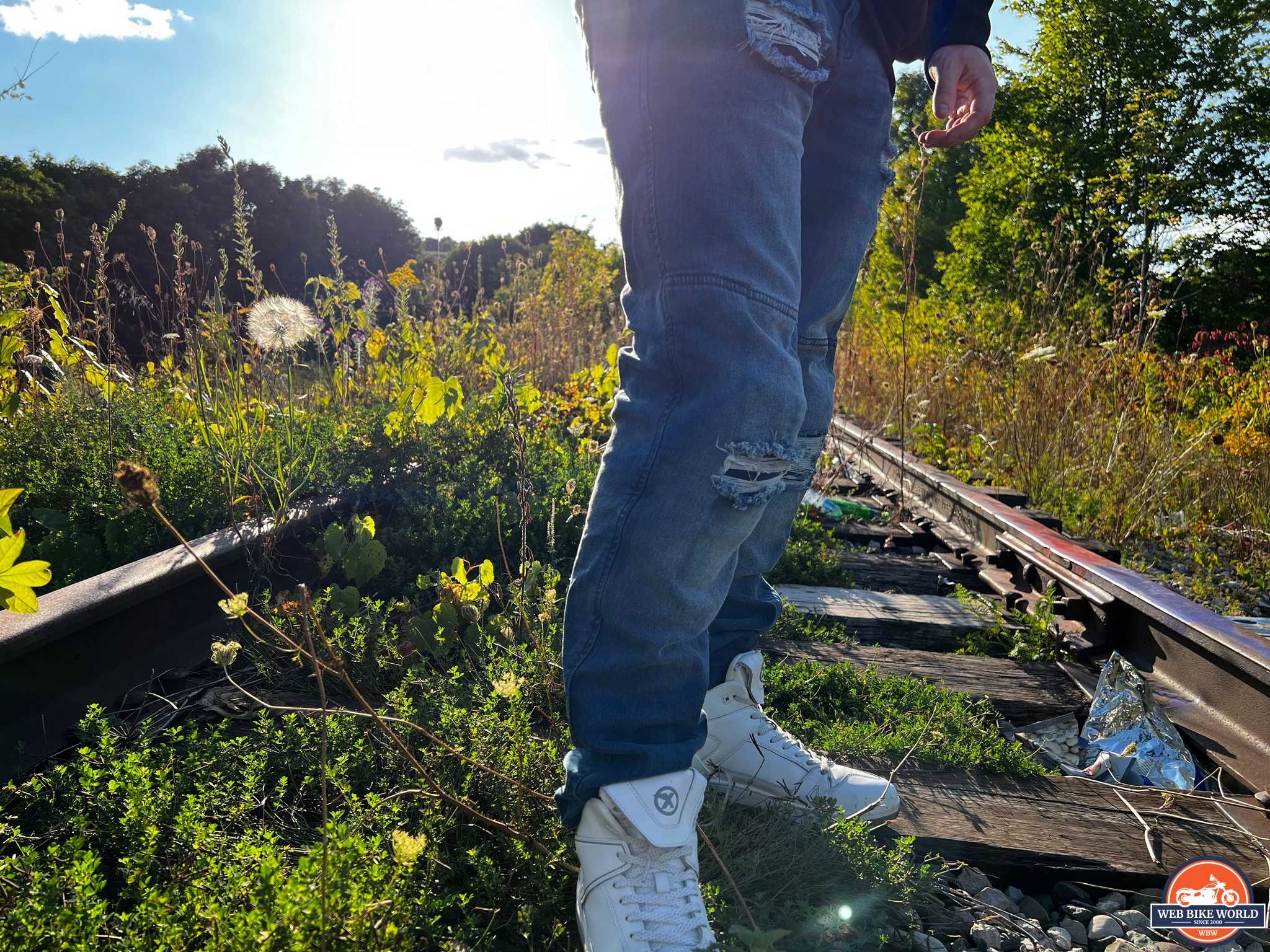 For someone like myself with bigger thighs, I found the pants had more than enough room above the knee to not be skin-tight. From the knee down the taper was apparent, but not as dramatic as it would be on skinny jeans.
For my body type, I would've preferred something slightly skinnier. Keep in mind, that my riding shoes are a high-top design which causes the fabric to bunch up and gives the taper a slightly baggier appearance. If you prefer a baggier fit, check out the Wrench Motorcycle Pants by Akin Moto.
With the armor removed the REVOLT Ripped Armored Jeans have a bit of excess material in the knee. The bulk is minimal and in my opinion, would not be noticeable to someone unless you made a point of mentioning it.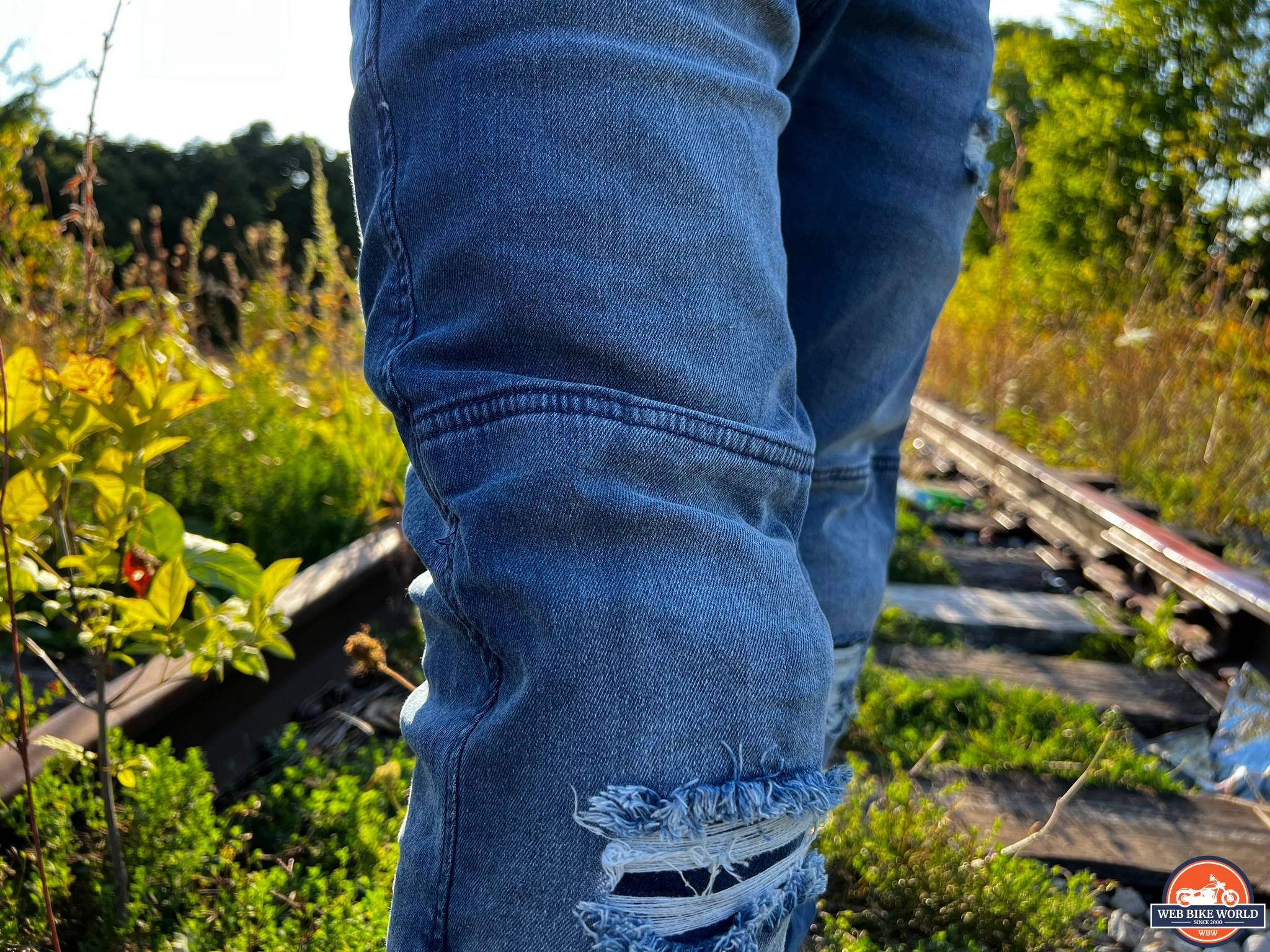 Once removed, the space that was once accommodated by armor flattened out and gave the jeans a relaxed fit. The pants cuffed nicely which turned out to be a great solution to combatting the excess length I need for on-the-bike use.
Unlike the ARCANE Armored Cargo Joggers, the REVOLT jeans are not unisex. RAVEN has released male and female-specific options. What that means is that the pants have been made to better fit your body type as opposed to trying to appeal to a broader audience.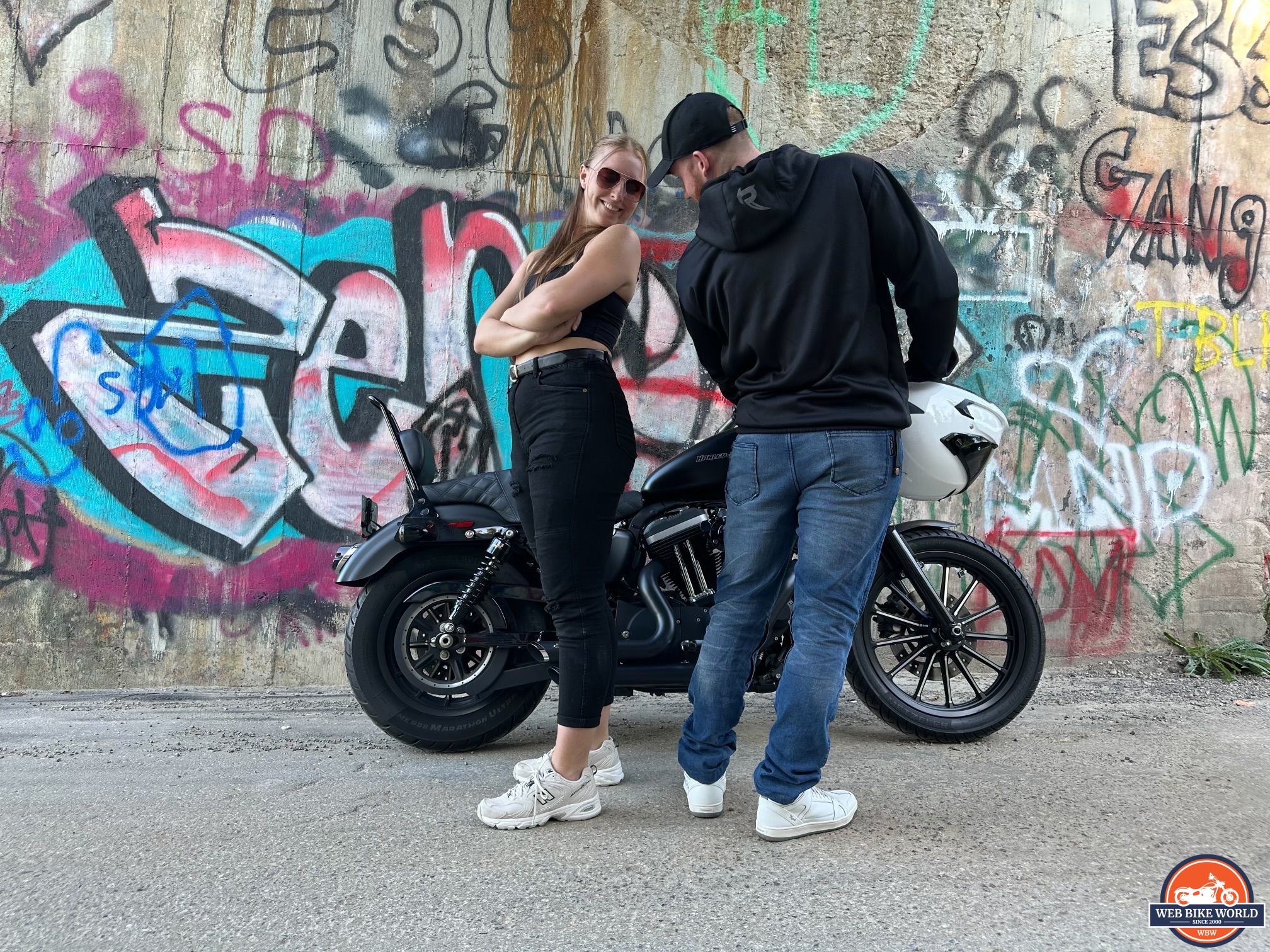 Surprisingly Comfortable
I was optimistic as I headed into this review because I've been so fond of the RAVEN gear I've reviewed in the past. The REVOLT Ripped Armored Jeans are advertised as offering all-day comfort and by God did they deliver.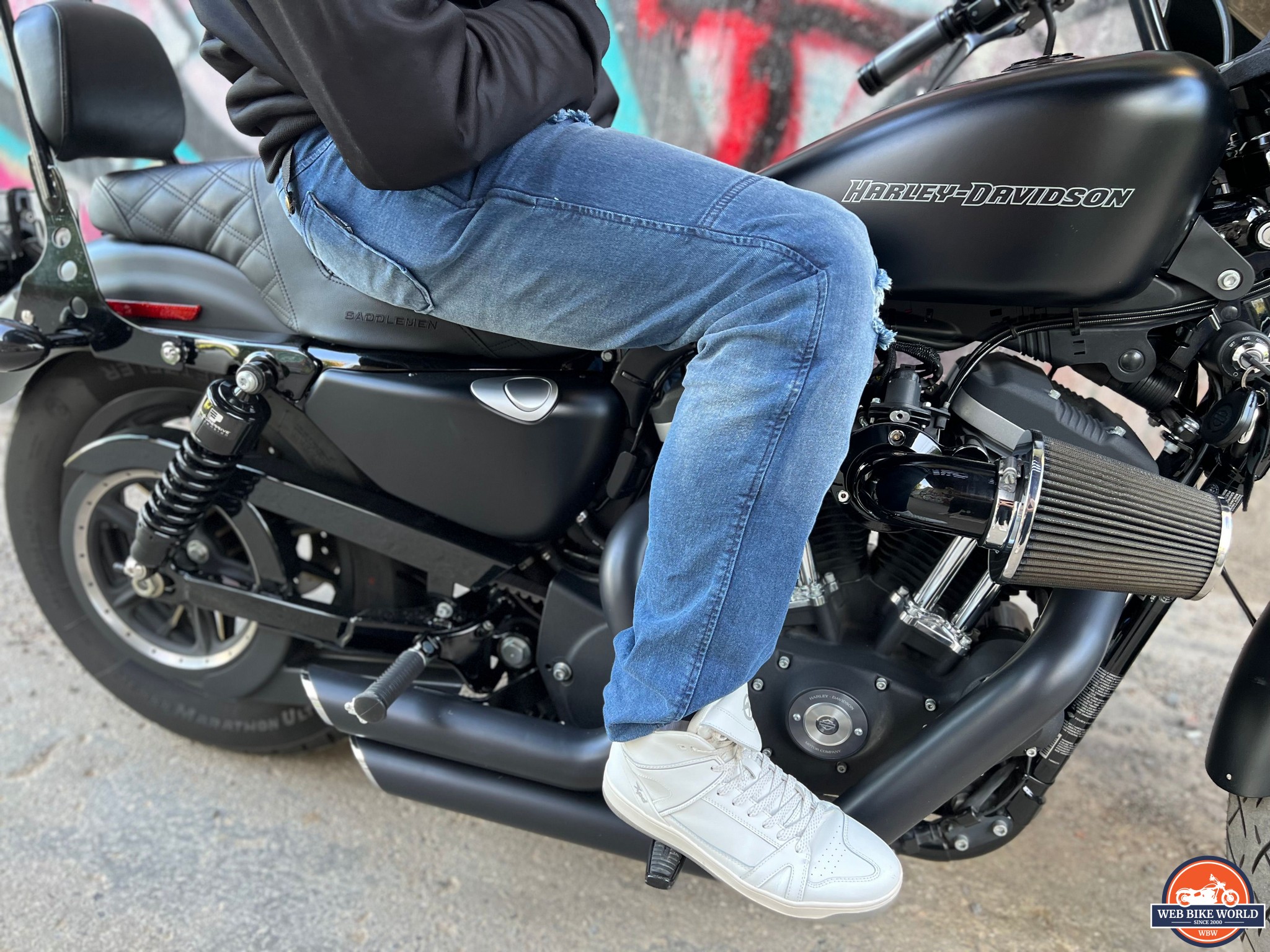 For starters, it was difficult for me to differentiate the REVOLT jeans from some of my favorite pants. When I wore them casually without the armor, the only recognizable difference between the REVOLT jeans and store-bought denim was the feeling of the knee pockets.
The best analogy I can make is that it felt like I was wearing a pair of light shorts underneath the jeans. On an extremely hot day, the kevlar lining and armor pockets will make it difficult to wear them off the bike, but with that being said, the same will hold true for any pair of jeans.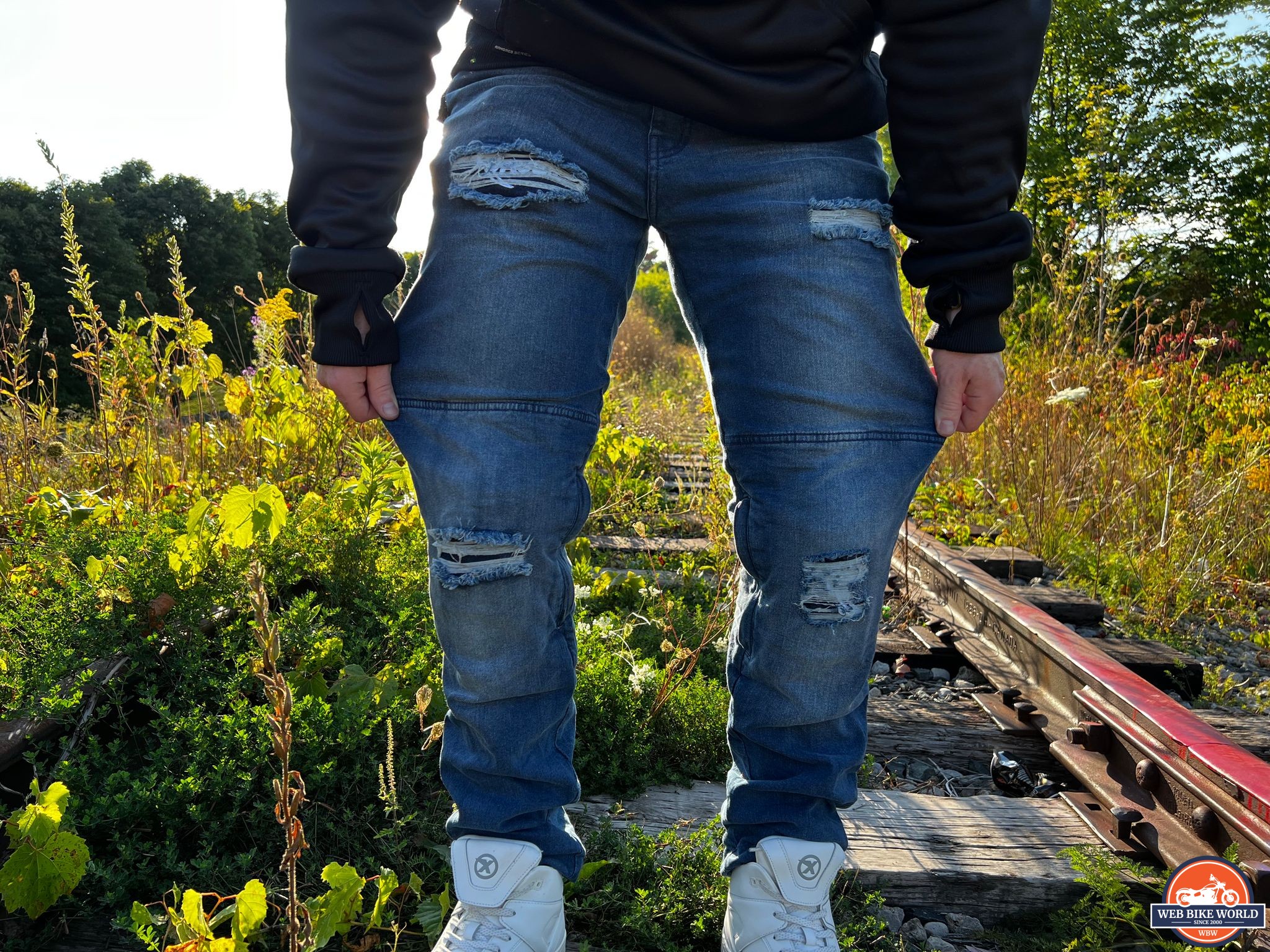 On the bike, the stretch denim performed flawlessly and left me with a complete range of motion. I didn't experience the typical pinched crotch and tight thighs that I have grown accustomed to with riding jeans. For larger riders who struggle to find jeans, the vast stretching capabilities are going to be a saving grace for you.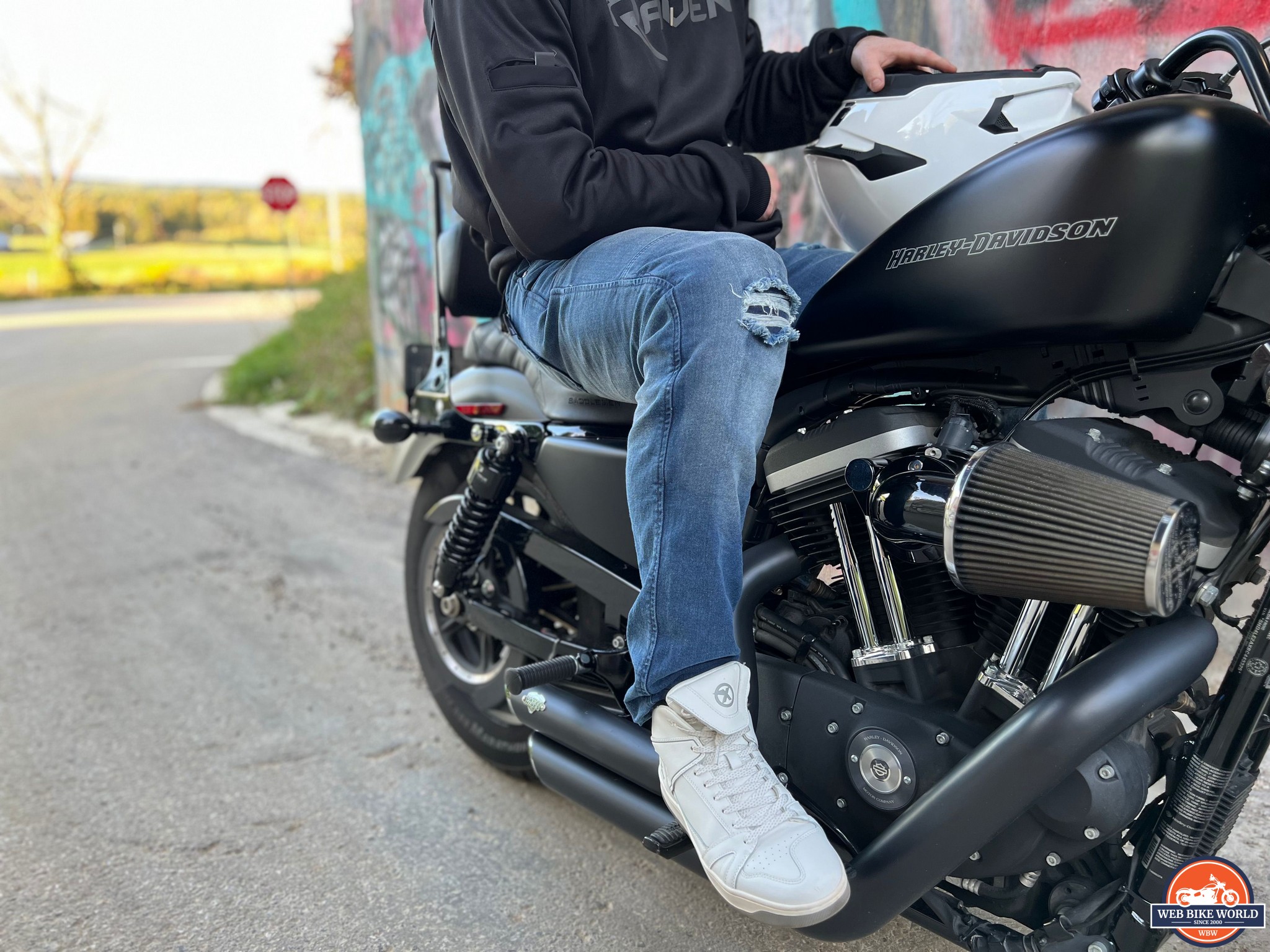 Fit and Feel Rating: 90%
When I first started reviewing motorcycle gear, I used to cringe at the thought of riding jeans. Between the pair that I own and the few that I tried in stores, I could never bring myself to wear them because of how uncomfortable they are. Of course, I wasn't wearing the best motorcycle-riding jeans in the market so my opinion may have been biased.
My opinion has since changed after wearing the REVOLT Ripped Armored Jeans. The fit was damn near perfect for both on and off-bike use. Long ride or short, hot day or cold, I didn't experience any level of discomfort while wearing the jeans.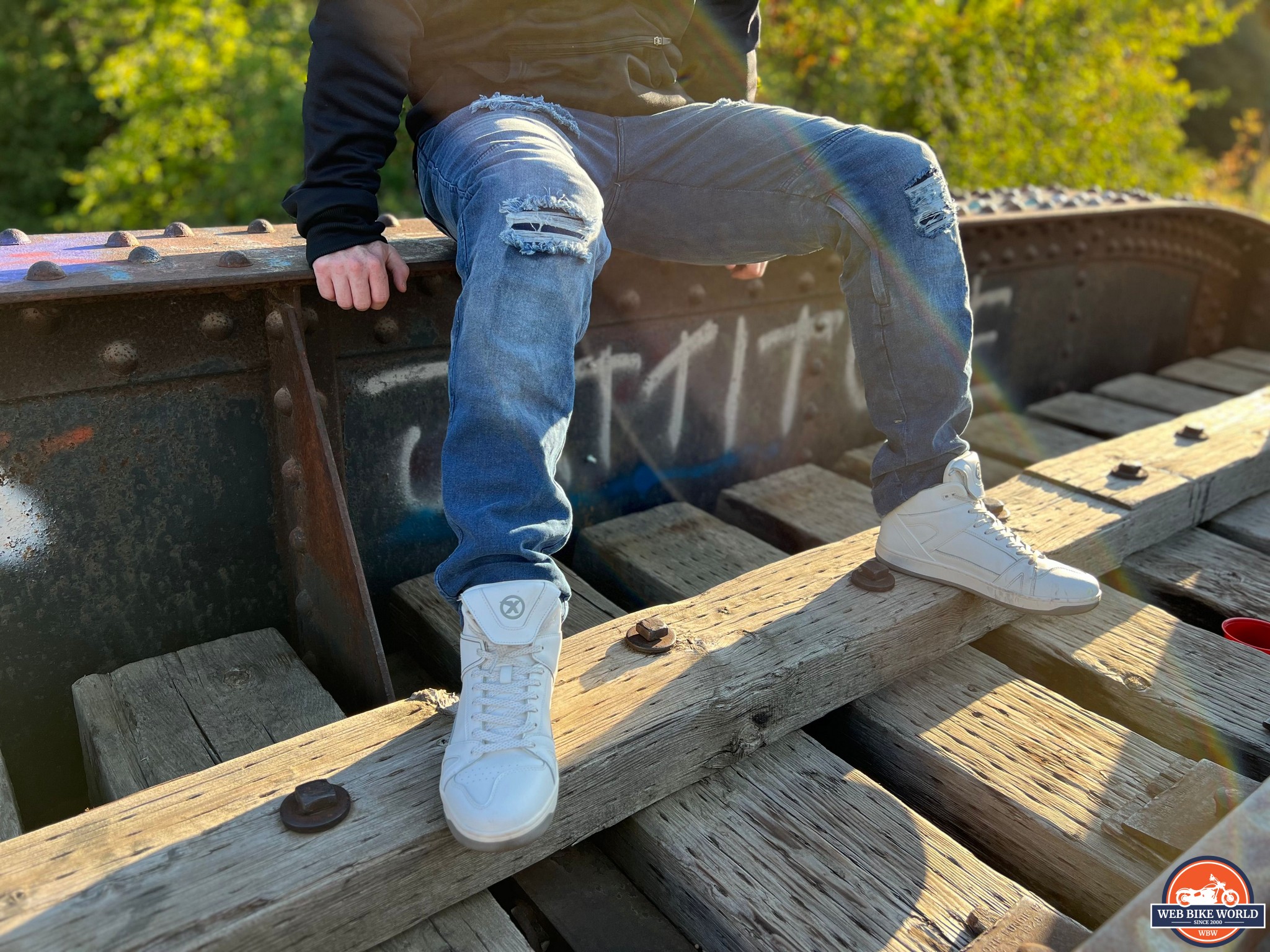 Most importantly, they maintained their shape throughout my extensive use. Denim has a tendency to look worse each time you wear it but the REVOLT jeans held true and still had the same slim fit as they did on day 1.
Diverse Sizing for All Riders
How often do you walk into a store at the mall and they're out of your size? Unless you're operating out of a facility the size of Amazon's distribution centers, it's nearly impossible to keep all that inventory on the floor.
Motorcycle riding gear is no exception. If you were to scroll through RevZilla's Riding Pants page, you'd notice that each SKU is offered in limited sizing. Take a look at the Scorpion EXO Covert Pro Jeans for example. While a great pair of riding jeans, they are only available in a 32" inseam.

RAVEN, on the other hand, has done the complete opposite with the REVOLT Ripped Armored Jeans. The pants are stocked in 20 sizes with various waist/inseam combinations ranging from:
28" to 44" waist
28" to 34" inseam
The inseam lengths are not consistent across each waist size. For example, you cannot get a 34" inseam with a 28" waist, nor can you get a 30" inseam with any size waist 38" or above.
Even with those discrepancies in mind, the REVOLT Ripped Armored Jeans are stocked in a much wider variety of sizes than industry averages. With so many options available, RAVEN is able to accommodate a vast majority of riders.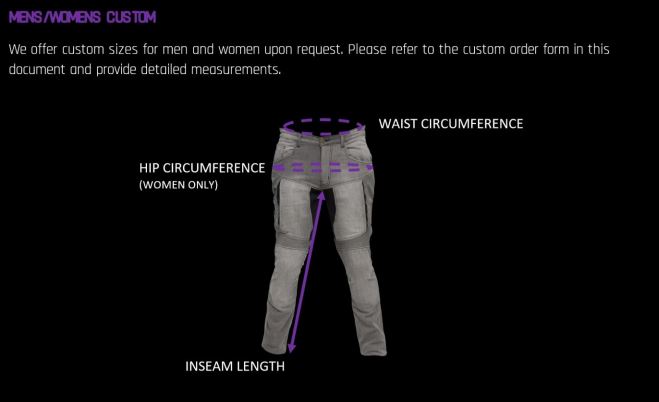 Should you find yourself out of the stocked sizes, custom sizing is available as well. As per the size guide, riders need only to fill out the custom order form found on their website. This isn't something I've come across before and is a great option for riders who commonly have a hard time finding gear that fits.
Size Rating: 100%
My first 100% rating! At first, I thought I was being too generous, but realistically what more could I ask for when it comes to sizing?
Not only is RAVEN offering a wider variety of sizes than most of the big guys, but they're stocking it too. That's a ton of overhead to carry just to stock the one-off and less common sizes.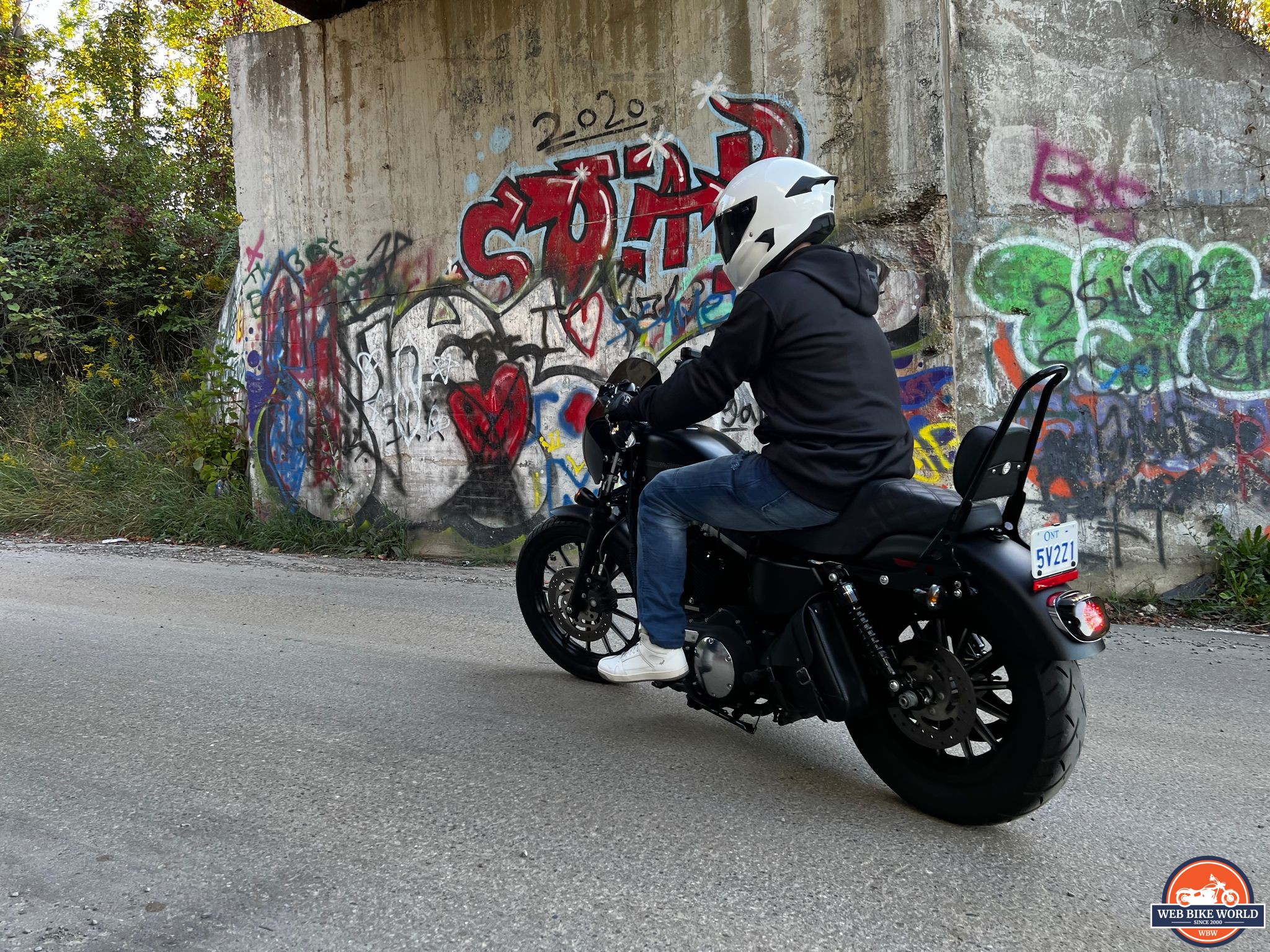 Sure, some sizes aren't available in a longer inseam, but you'll never be able to stock enough sizes to accommodate everyone. Even still, RAVEN has found the next best option giving you the opportunity to order custom-sized gear.
Washing the REVOLT Ripped Armored Jeans
If you take my claim seriously and plan to wear the REVOLT jeans both on and off the bike, you're going to be cleaning them more than you typically would with riding gear.
I found a tag inside the pants claiming that they were to be hand-washed only. I reached out to Alex at RAVEN to comment as to why that is. Was there a concern with the Kevlar lining breaking down in the wash, or does it have to do with the rips and threads that span them?
Naturally, I didn't wait for an answer and threw them in the wash. My first step was removing the armor from the pockets and then closing them. I then put the REVOLT jeans through a gentle wash in cold water. Finally, I hung up the jeans to dry and later reinserted the armor.
My gamble paid off as the jeans were completely fine after coming out of the machine. My biggest concern was damage to the ripped threads but they came out the wash looking as good as when they went in. The denim strips on the inside of the pant rips needed to be readjusted, but that was a much easier task than washing the entire jeans by hand.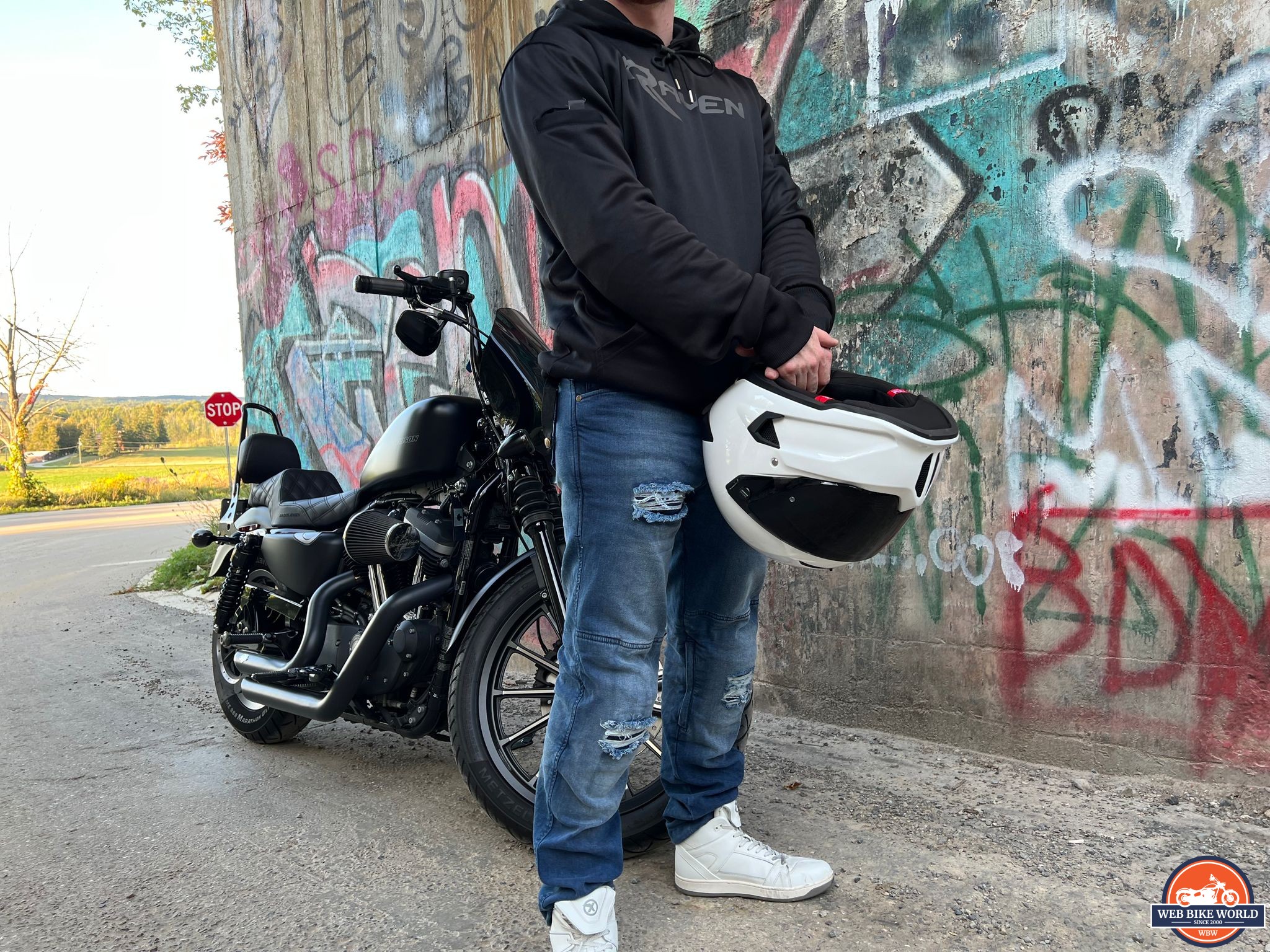 When I heard back from RAVEN, they confirmed there's no harm in putting their jeans through a gentle cycle. As my pair of REVOLT pants were from an initial batch of inventory, the labels were outdated and have since been revised. If you were to order a pair today, the tag would be updated with the correct washing procedures.
I threw them in the machine alongside my LORICA Armored Hoodie and other dirty clothes. Aside from a few white socks turning blue (entirely my fault), I didn't have any problems.
Are They Worth the Money?
I'm going to take this review in a direction I don't typically go and discuss the price point of these pants. Retailing at $348.99 USD, the REVOLT Ripped Armored Jeans are priced higher than the majority of the riding jeans on RevZilla.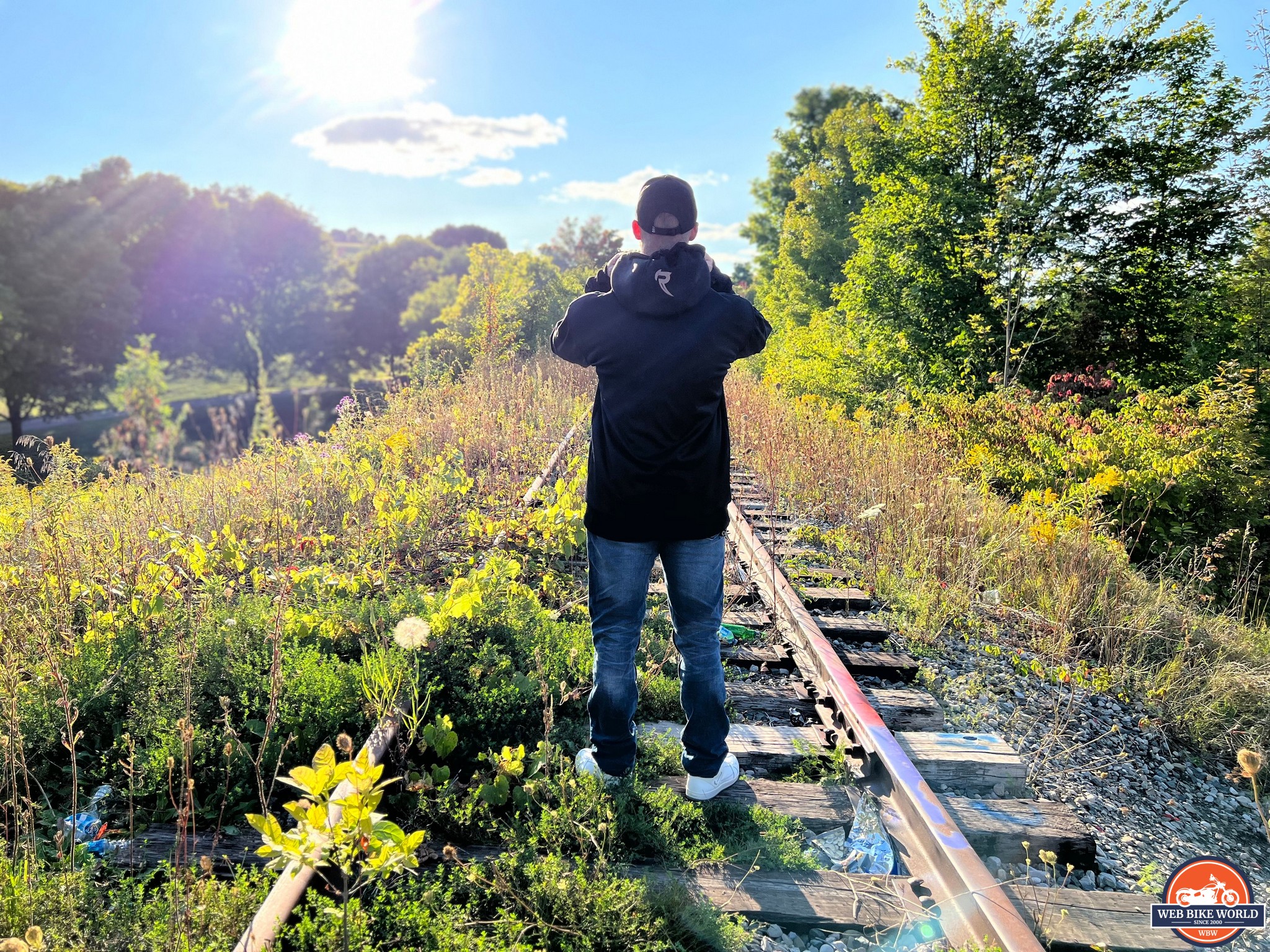 What makes these jeans so expensive? And are they worth the hefty price tag? To answer that question, I've looked at the following key selling features and weighed them against the pants drawbacks:
Pros
First-of-kind ripped jean design in a stylish athletic slim fit
Extremely comfortable to wear
High-quality materials consistent with RAVEN gear
Can double as both streetwear and riding gear
Endless size options backed by free returns and great customer service
Premium CE Level 2 armor is included in your purchase with external access pockets
Free worldwide shipping
Frequent sales and can be paired with armored jackets for further discounts
Cons
Cheaper options do exist in the market
Sewn-in denim flaps can potentially be torn out, leaving your skin exposed
Minor design flaws with the length of the pockets and the placement of the rips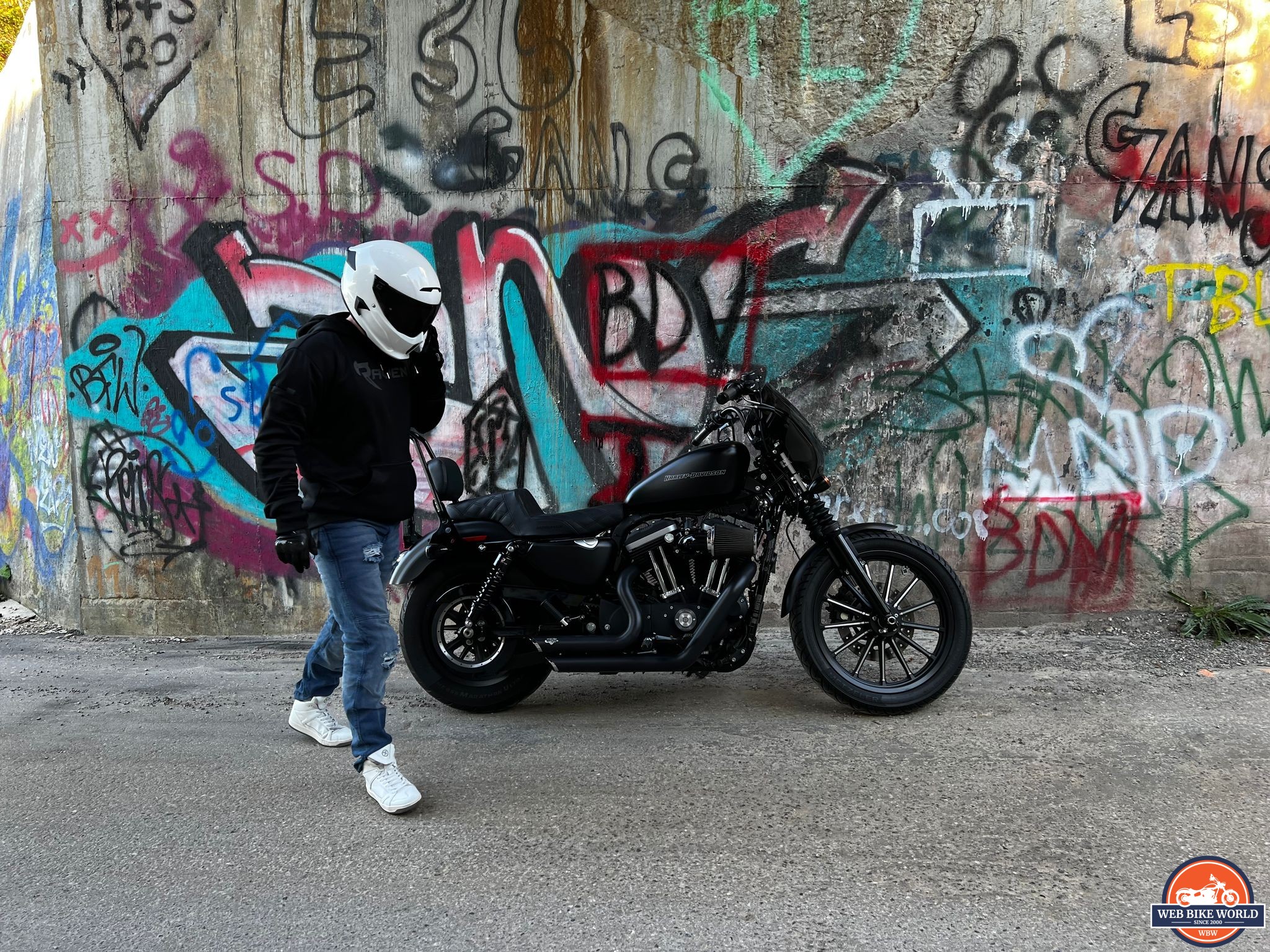 Value Rating: 80%
It is my opinion that the REVOLT Ripped Armored Jeans bring enough value to the table to justify the price point. The bulk of my decision was made on one selling point; the comfort of the pants.
To put it simply, I'd much rather pay more for a pair of riding jeans I want to wear versus paying less for a pair I have to wear. If you think an extra $100 is a hard pill to swallow, imagine buying a pair of armored jeans and not even wearing them.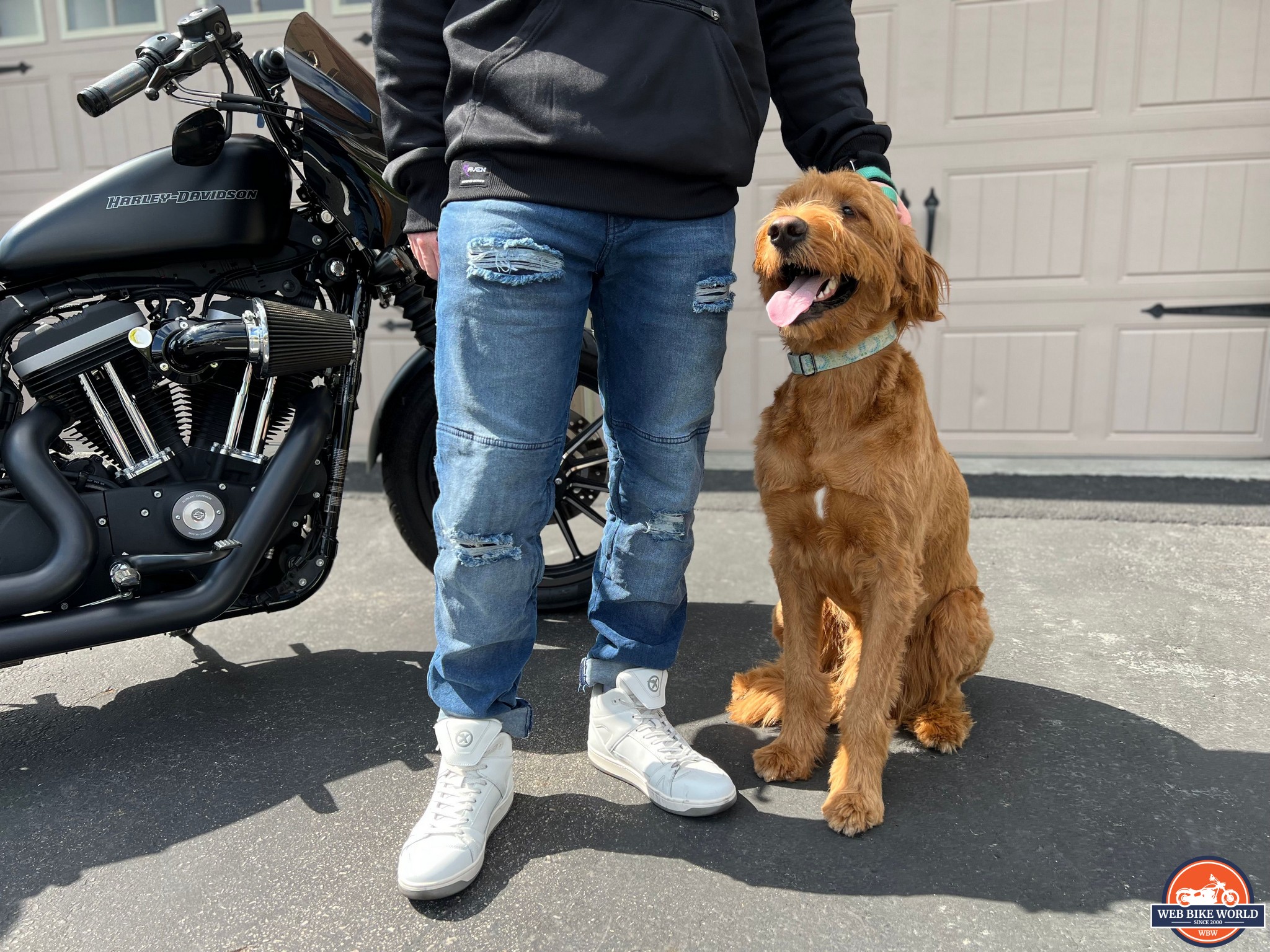 I despised wearing my previous pairs of riding jeans, and as such they've spent more time in the closet than they have on the bike. With the REVOLT jeans, I choose to wear them over other gear. In my eyes, that makes the world of difference.
Final Verdict
RAVEN have added another great piece of riding gear to their arsenal. As if it wasn't clear, the REVOLT Ripped Armored Jeans are my favorite pair of riding jeans that I own.
I've said it before, I'll say it again, I've got regular jeans in my closet that are less comfortable to wear than the REVOLT's. The design of the pants almost flawlessly depicts store-bought streetwear. The quality is up to par with what I've come to expect from the RAVEN Moto team. I have no doubt that they are using high-end material that'll do its intended job if/when the time comes.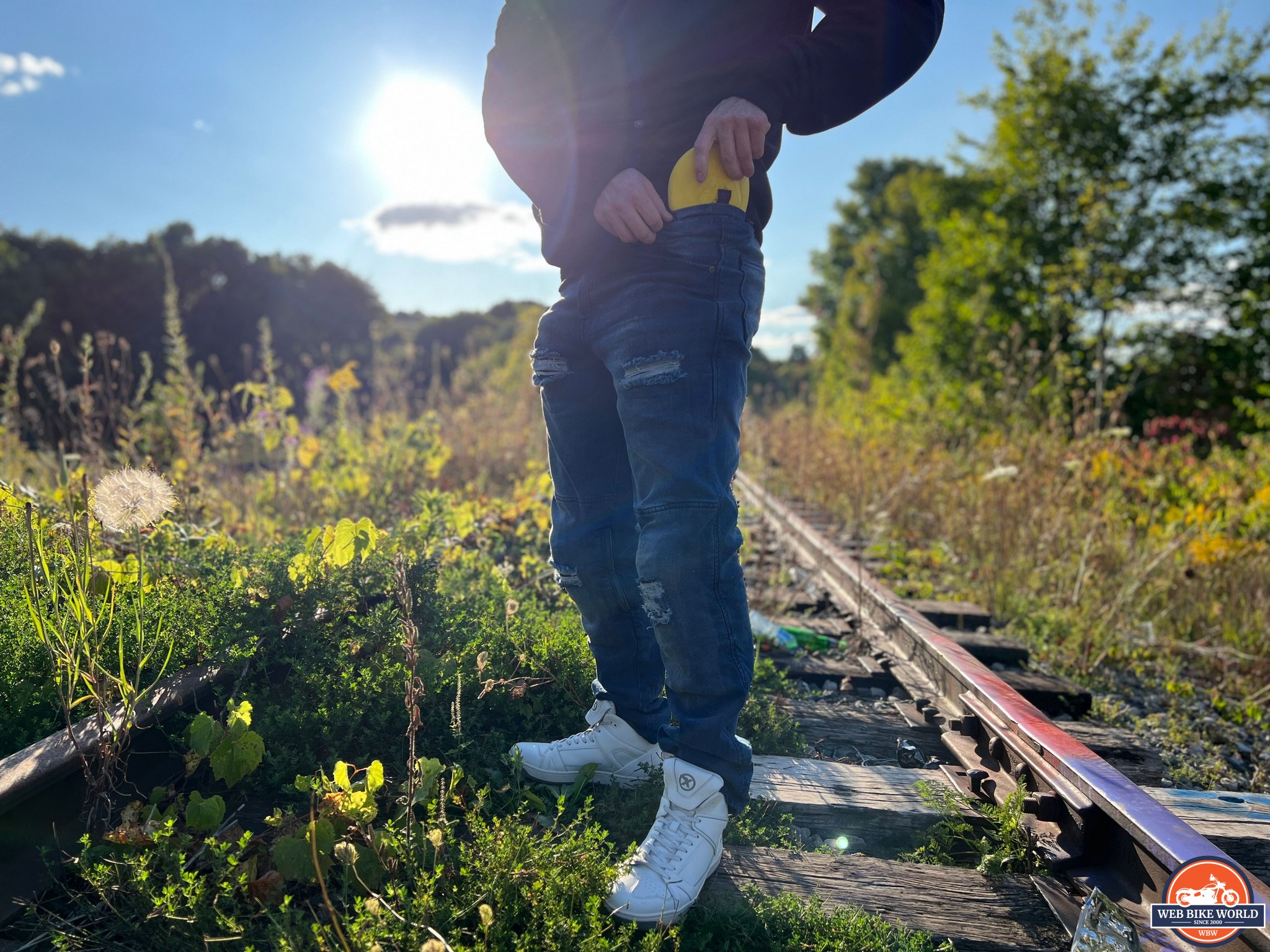 The REVOLT jeans aren't going to offer you the best protection that money can buy. The included armor is more than welcome and the Kevlar lining will protect you in a slide. While the price point may seem high, the pants bring enough value to the table to justify it. By using the below link, you can save yourself a cool 10% at checkout. Savings!
While I will admit that I prefer RAVEN's ARCANE joggers over the REVOLT jeans, my preference has nothing to do with the jeans themselves. While riding, I prefer the convenience of the cargo pockets compared to typical jean pockets, as well as the cuffed ankles. With that being said, I think you'd be hard-pressed to find a better pair of riding jeans on the market that combines protection, comfort, and style so effortlessly.
With endless size options, there's nothing stopping you from discovering your next go-to pair of jeans.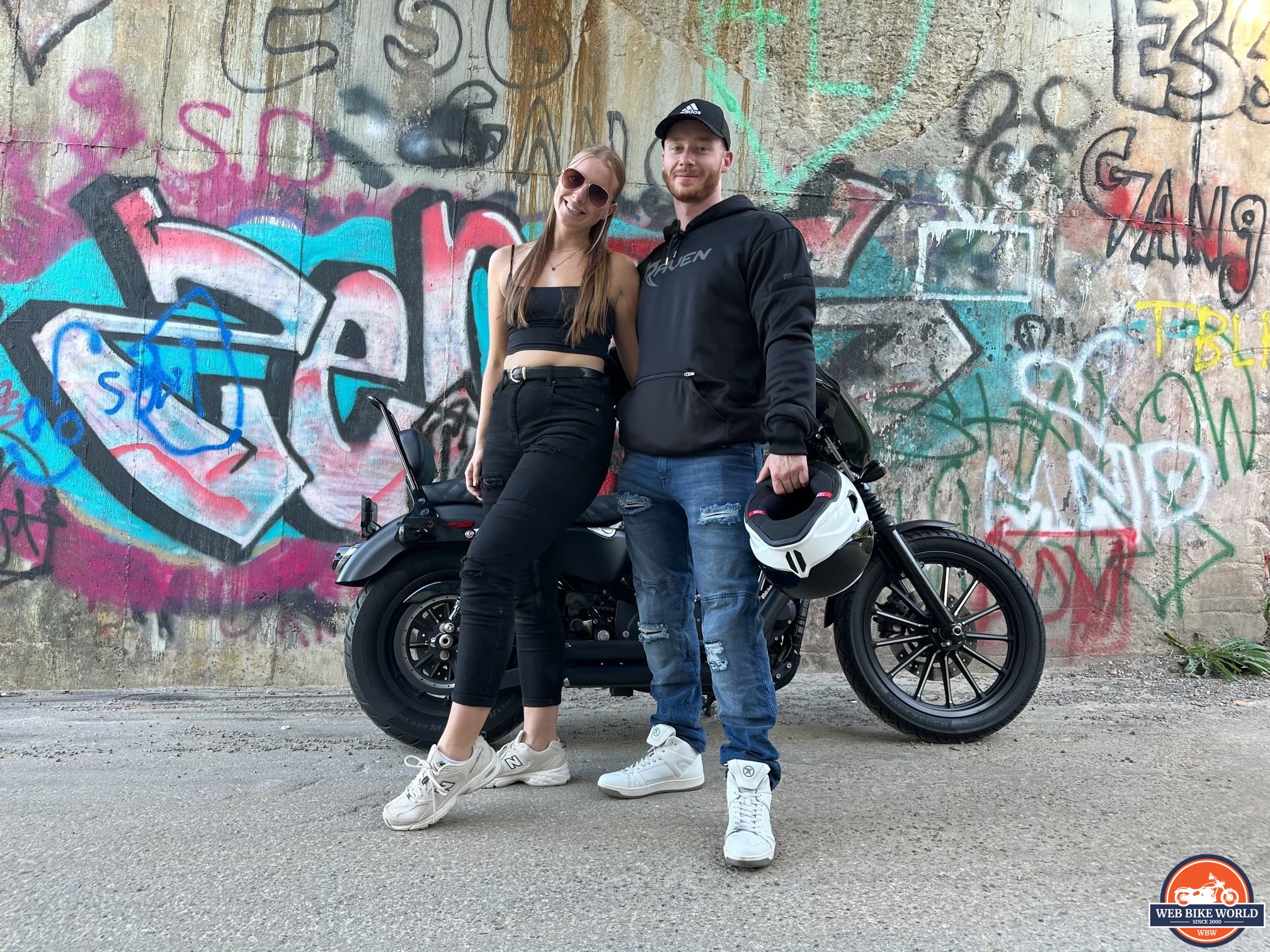 Pros
Industry-first ripped pants design that does not expose your skin
Extremely comfortable to wear stretch-denim
Close to flawless streetwear appearance
High-quality build with reinforced stitching and YKK hardware
Armor pockets can be accessed externally with included premium CE Level 2 protectors
Endless size options
Easy to maintain and wash
Cons
Denim strips that reinforce the rips are not fully sewn into the pants
Pockets may poke out of the rips
The zipper on the external access knee pocket could scratch your bike's paint
Armor is bulkier than what's included in the women's REVOLT pants
Where to Buy