Review Summary
The ​​Scorpion Covert Pro Jeans offer serious abrasion-resistance for riders, thanks to their one-two punch of Heavy 250 GSM DuPont™ Kevlar® in the lining and a Cordura® 373 GSM abrasion-resistant exterior. It would be nice if they came in a few different styles, but if you want value for money and leg protection for your next road ride, it's hard to go wrong with a pair of these bad boys.
Pros
Premium soft feel
Great-looking 5-pocket design
Cordura® 373 GSM exterior offers excellent abrasion resistance
Heavy 250 GSM DuPont™ Kevlar® lining from knee to waist adds protection
NightViz® 3M® Scotchlite™ reflective material at rear inner cuff provides increased nighttime visibility
Mesh lining offers comfort and airflow
Void of all rivets or sharp paint scratching bits
Accurate sizing
Cons
Only comes in straight leg style
The armor pockets are awesome, but not including the armor is not
Only 2 color choices
Scorpion Covert Pro Jeans Image Gallery
Truth time! We have all done it, and I shall confess. "Oh holy gods of two wheels and petrol, I confess to riding squid." The vast majority of us in the biker world live in jeans 24/7, but my faithful 501's are nothing but an illusion of protection.
Scorpion offers the Covert and Covert Pro line of motorcycle riding jeans. I spent almost 2 months in both cool weather and extreme heat testing the Covert Pro jeans. Denim, Cordura, Kevlar, and how to make your man-butt attract endless catcalls—3 out of 4 of these topics will be covered in this review. Come along, my friends, and I will tell you all about my experiences with the Scorpion Covert Pro Jeans.
Scorpion Covert Pro Jeans Design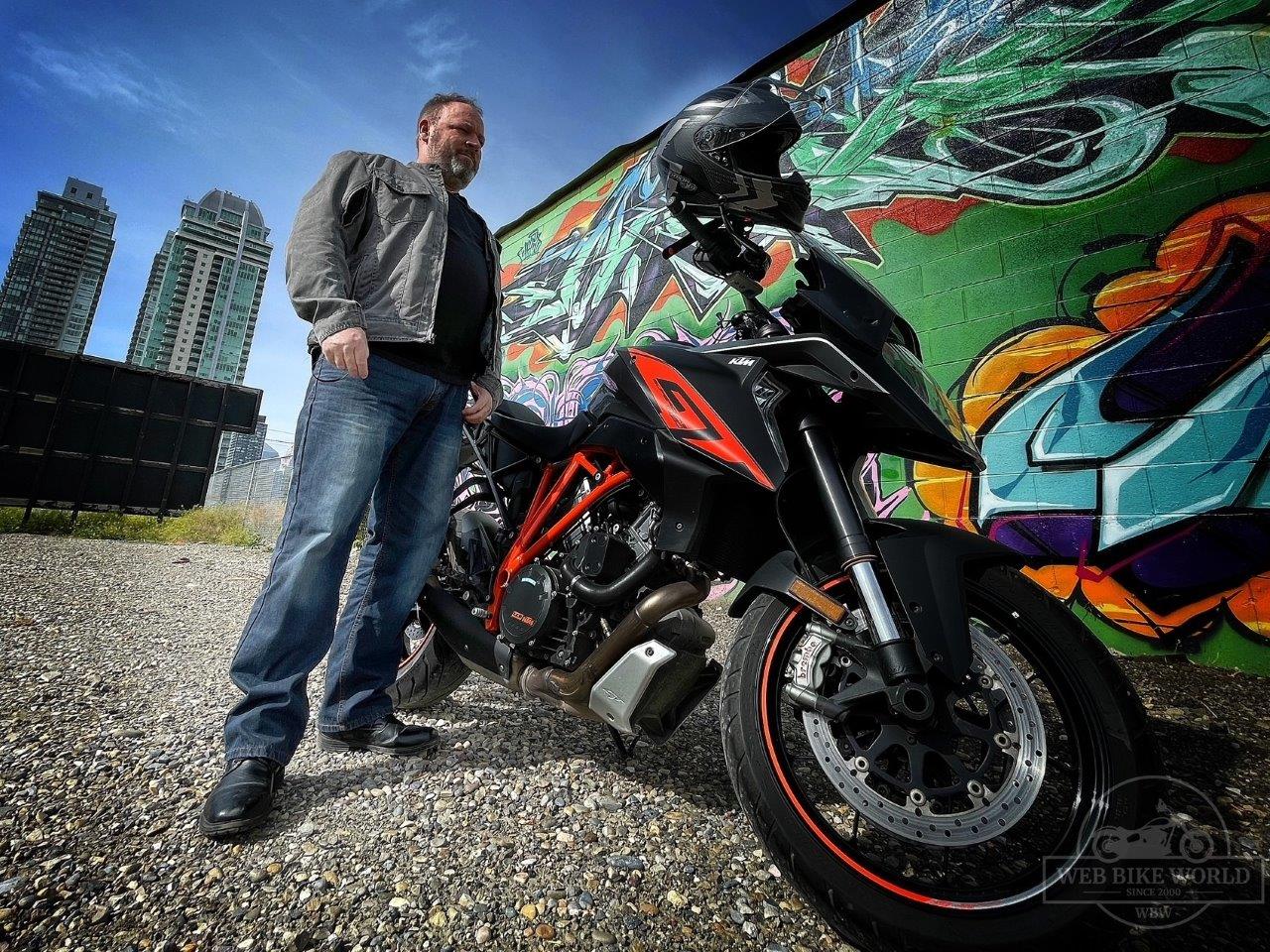 The Scorpion Covert Pro jeans are a traditional 5-pocket design that somehow manages to make my one-burger-too-many basic dad-bod look pretty dang good. Erring on the more subdued side, Scorpion keeps the overall look of the Covert jeans classic straight leg.
There are no rivets on pocket corners to cause paint scratches. The contrasting stitching is well-sewn, and thankfully does not create attention-seeking patterns across the back pockets. It also stops on the hip and does not create a stripe down the outside of the leg.
Clean Simple Classic Looks: 85%
Scorpion Covert Pro Jeans Material and Build Quality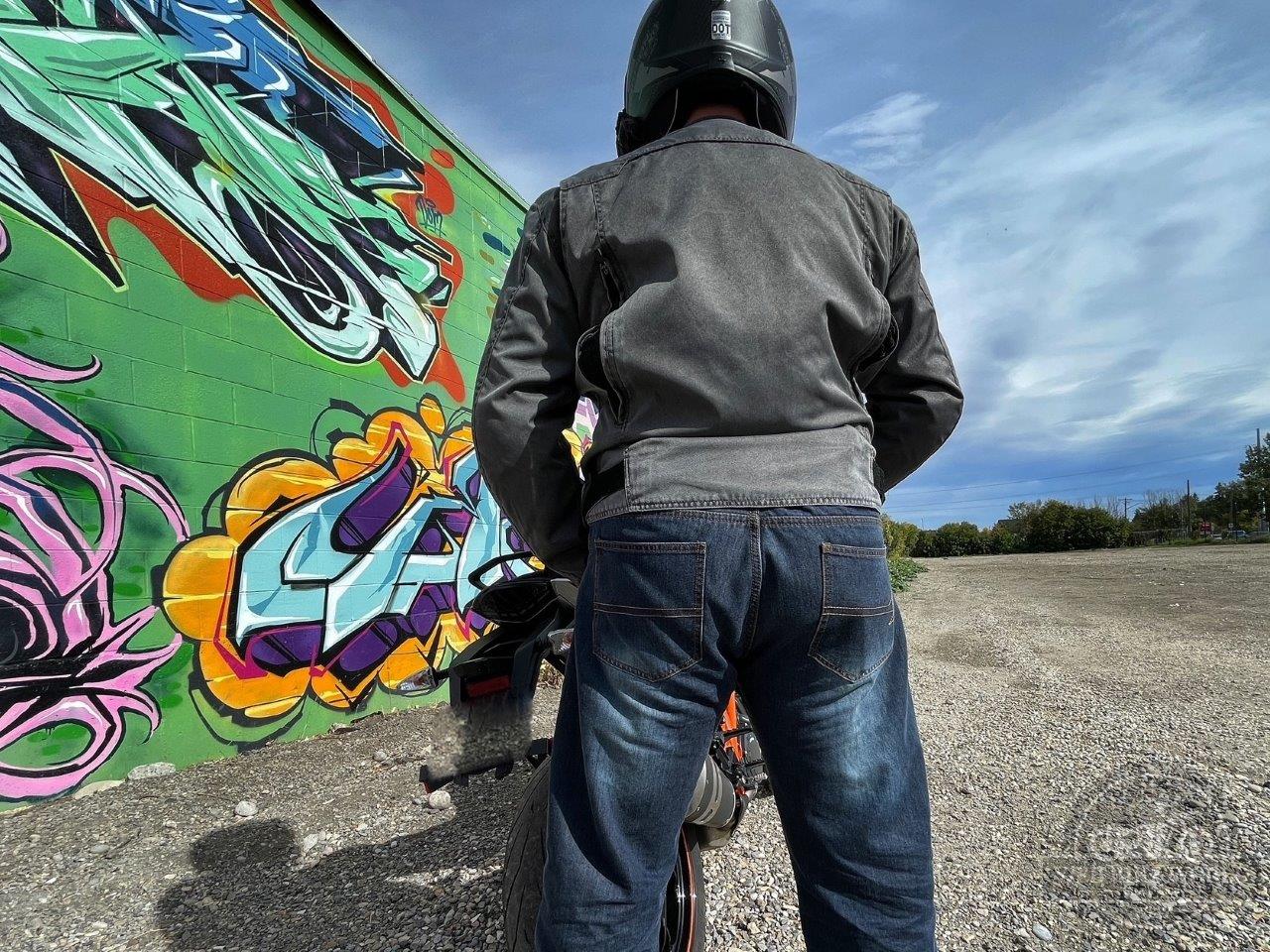 Motorcycle jeans are making constant improvements as material suppliers find ever-better methods for abrasion resistance in the fabrics. It is a given that during a crash, a rider will end up sliding across a surface they would rather not be on and end up at risk for some degree of road rash. Regular denim is all but useless above 15 mph; thankfully, the addition of Kevlar and Cordura in conjunction with cotton and nylon gives the Scorpion Covert Pro jeans the strength to withstand asphalt slides at legal highway speeds.
Mixing Cordura® 373 GSM with 85% cotton and 15% nylon to form the outer shell—or the soft "denim" you see and feel—is just half the story. Lining from the waist to knees is a heavy 250 GSM DuPont™ Kevlar® material in neon green, which makes these pants much sturdier.
I chose the darker blue color, and with the gold stitching, I like the overall look. Upon closer inspection, the stitching appears very well done, and the seam's finish is soft. The seams on the inner leg sit very flat with no uneven segments, which I found impressive considering all the different materials coming together inside these pants.
Top Quality Kevlar and Strong Cordura Shell: 95%
Scorpion Covert Pro Jeans Sizing, Fit, and Comfort
I am never quite sure how so many brands can be so different when it comes to their measurements, but Scorpion was true to size for me. I have a 32" inseam, and the Covert Pros fit great. I occasionally need to have standard pairs of jeans tailored to get the length spot on, and the Covert Pros can be hemmed without much issue—but I kept these as they came.
A key factor for me when choosing riding jeans is the overall fit. I think many of us are buying these jeans so we can ride and still look great when we arrive at our destination. The Covert Pros look great; I never felt like I was in obvious motorcycle riding gear when out and about. I also found it easy to wear them while off the bike, thanks to the soft feel and the mesh lining that helps prevent heat build-up.
Fit Great; Feel Great: 90%
Scorpion Covert Pro Jeans Protection
A step above many other brands at this price point and an upgrade over the standard Scorpion Coverts, the Kevlar lining is what will literally protect your ass. The Cordura/denim outer shell is 4 times more abrasion resistant than regular denim, but with enough friction, it will burn through. The 250 GSM DuPont™ Kevlar® material is resistant to tearing and provides a protective barrier for the skin against whatever surface a rider could find themselves sliding along.
For added protection, sleeves at the hips and knees are equipped to accept SAS-tec armor pads that can be separately purchased. It would be nice to see these included, but I understand the company's desire to keep the pricing down.
The pants also feature NightViz® 3M® Scotchlite™ reflective material on the rear inner cuff for increased nighttime visibility. Anything that adds visibility is always welcome; I'm just not sure how often I would remember the Scotchlite™ is there and add the needed roll to each pant leg.
Kevlar, Cordura, Mesh, and Scotchlite. Nice! 90%
Scorpion Covert Pro Jeans Value for Money
I will admit it: I am a frugal guy. I prefer to save my money for tires rather than try to look fashionable when rolling past. Checking Revzilla, I see jeans that range in price from $100 to well beyond $400. Scorpion has an asking price of $159.95—and honestly, that is about $100 less than I expected them to be. It's certainly much cheaper than most leather motorcycle pants.
Looking at the materials used when comparing these jeans to others, I find the Scorpion brand to offer excellent value. The Covert Pro jeans are well made, provide excellent protection, fit me well, and look and feel great to wear. I am very happy to have them and give them a solid recommendation. Hurry up and take our money, Scorpion!
Great Value From Scorpion USA: 95%
Final Verdict: Take My Money, Scorpion!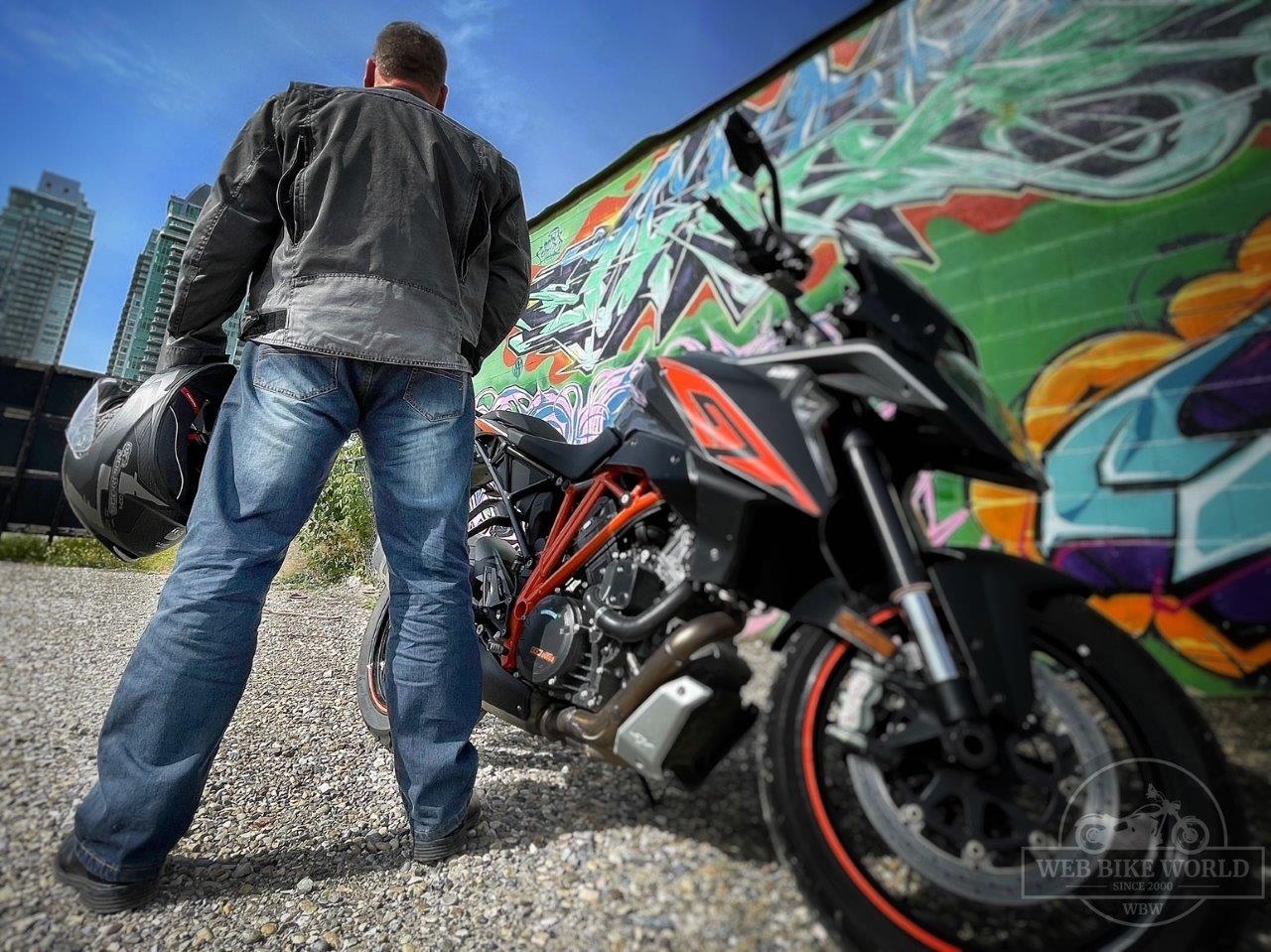 I know for a fact that many, many riders get a leg over without wearing enough protective gear. I am totally guilty of this sometimes, but now I have no excuses. The fact that I can protect myself and still look good in a pair of jeans without breaking the bank to do so makes this a no-brainer for me. I have witnessed way too much road rash from crashes at all speeds, and anything I can do to keep myself safe matters. Spend the money, protect your butt, and get out to enjoy the ride.
Pros:
Premium soft feel
Great-looking 5-pocket design
Cordura® 373 GSM exterior offers excellent abrasion resistance
Heavy 250 GSM DuPont™ Kevlar® lining from knee to waist adds protection
NightViz® 3M® Scotchlite™ reflective material at rear inner cuff provides increased nighttime visibility
Mesh lining offers comfort and airflow
Void of all rivets or sharp paint scratching bits
Accurate sizing
Cons:
Only comes in straight leg style
The armor pockets are awesome, but not including the armor is not
Only 2 color choices
Specs:
Manufacturer: Scorpion USA
Price: $159.95 USD
Made In: Pakistan
Colors: 2 shades of Blue
Sizes Available: 30-42
Review Period: Summer 2021
Important Links / Where to Buy: