RAVEN Moto LORICA Armored Hoodie Review Summary
Review Summary
Long gone are the days of sacrificing your own safety in pursuit of style and comfort. RAVEN Moto combines safety, good looks and functionality all into one, slim fitting package - The LORICA Armored Hoodie. Numerous features sprinkled throughout the LORICA's design are not only convenient, but essential to what defines this jacket. The premium CE level 2 armor provided with your purchase is paramount to the LORICA's exceptional value for money. Regardless of what you ride, the LORICA makes a great road trip companion.
Build Materials & Quality
Pros
Made out of high quality materials with true to size fitting
Aramid fiber lining, 100% DuPont Kevlar in high impact areas
Discreet premium CE Level 2 back, elbow and shoulder protectors included
Logos, tags and other elements are reflective for all-around visibility
Numerous features for both rider safety and convenience
Backed by a good company with great customer service
Cons
Moisture-wicking interior lining can trap in sweat & odors
Can be reluctant to dry when wet
Heavy hood and drawstrings can be a nuisance while riding
Elbow protectors have a tendency of coming out of their velcro sleeve
RAVEN Moto LORICA Armored Hoodie Image Gallery
Review Summary
If you're looking for the main takeaways from this review, here is my summary on RAVEN Moto's LORICA Armored Hoodie
The LORICA Armored Hoodie retails for $249.99 CAD with free shipping over $60
Comfortable, pullover style hoodie available in 5 different colors
The LORICA is very indistinguishable to regular streetwear in terms of both looks & feel
Incognito premium CE level 2 armor is provided and pre-installed in the shoulders, elbows and back
A Kevlar reinforcing layer is used in all high impact areas
Amongst many other features, underarm vents with breathable mesh keep your body cool while riding
Moisture-wicking interior lining keeps your body dry but has a tendency to trap in sweat & odors
The LORICA is a great value for the money and is one of my go-to jackets for riding
The LORICA Armored Hoodie – Protection & Comfort At Its Best
Squids.
The reason your mother lost sleep for weeks after you told her you were getting your first motorcycle.
We've all experienced it – You're cruising on the highway with your window down on a nice summer day and suddenly it happens.
The startle has your heart skip a few beats and as you regain your composure you spot the loud, screaming sport bike with a gearless rider weaving through traffic at twice the speed limit.
Your eardrums are still ringing and you could've swore the bike was so close to your car you could've touched it. Next, queue the typical "where the f*** did he come from?".
"Are they crazy riding like that in a t-shirt?"
Well yes, they are. With today's technology, there's absolutely no excuse to be riding without gear. And while it takes more than just a lack of gear to be considered a Squid, we'll leave the riding instruction for another day.
Being Protected Doesn't Need to be Uncomfortable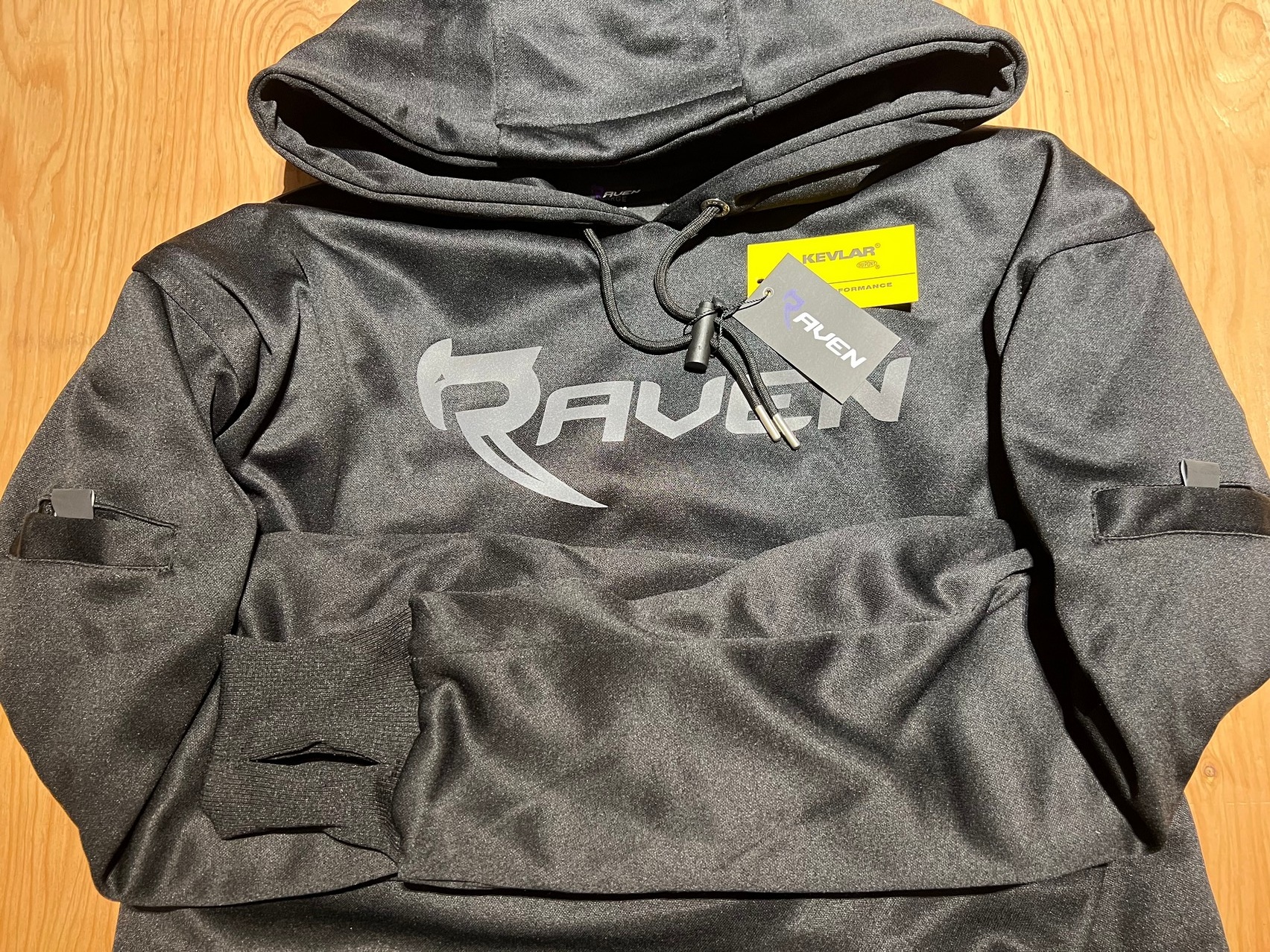 If you haven't before, ask a friend or family member who rides without gear why they do it. I guarantee you their answers will be nothing short of trivial. Personally, I believe it comes down to the ignorance of the rider.
I'm not afraid to admit that when I was first looking into getting a motorcycle I wasn't interested in wearing gear. Don't get me wrong – blazing down the street in shorts and a t-shirt wasn't my style, but at the same time I certainly didn't want to wear a racing suit on a cruiser.
And that is exactly the problem.
My ignorance as a newbie rider gave me the wrong impression of what motorcycle gear is.
As a member (which you definitely are, right?), you'll undoubtedly know better. Our readers know that you don't need to look like Ironman to be protected – and so does RAVEN Moto.
LORICA Armored Hoodie
The team over at RAVEN have out done themselves this time.
At first, I must admit that I was a bit skeptical. My initial impression was that the LORICA was so jam packed with features, some things must've been overlooked or sacrifices been made to keep the price point so competitive.
Have you ever heard of the saying "if it's too good to be true, it probably is."?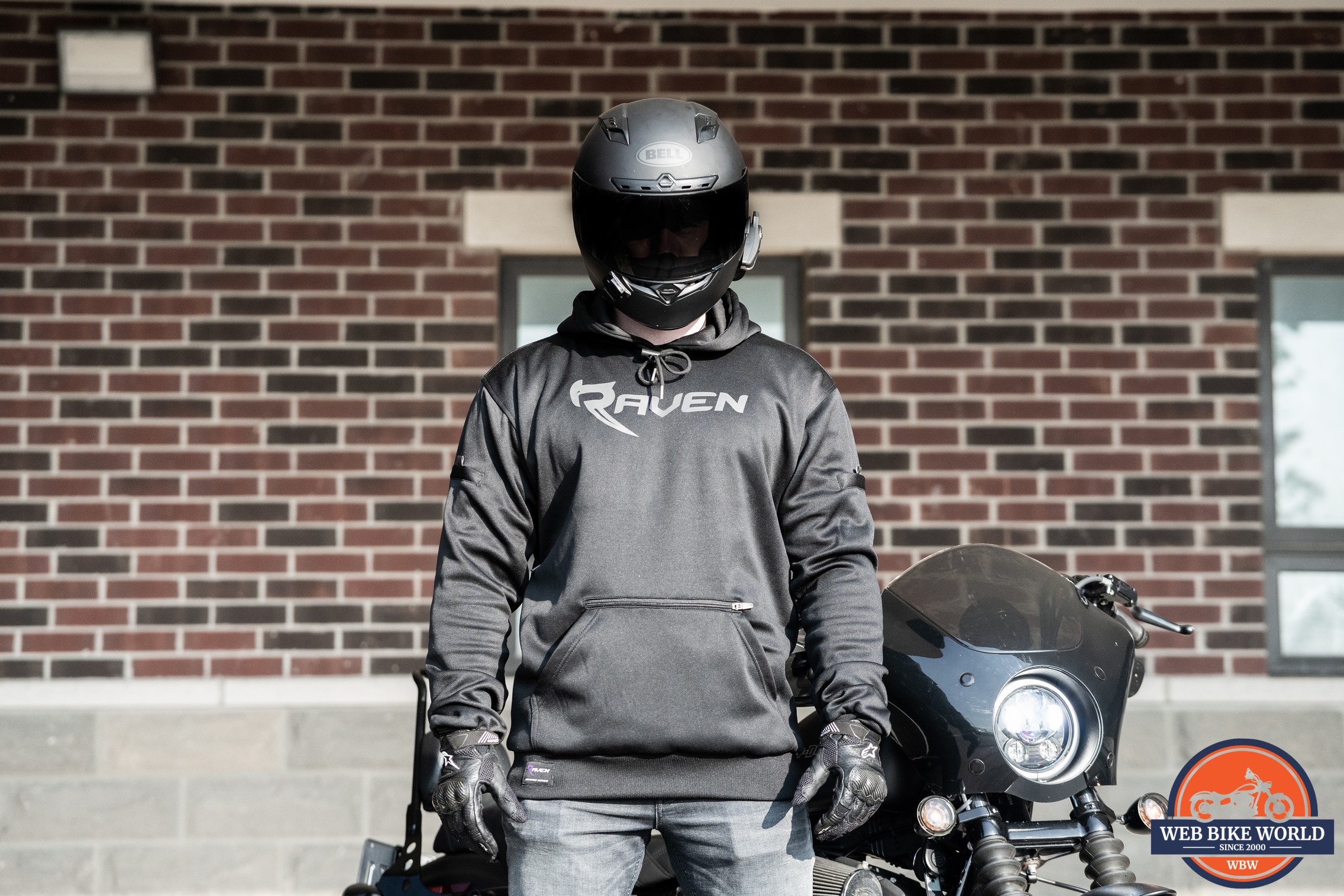 Fortunately, this was not the case with the LORICA. As motorcycle lovers themselves, the RAVEN Moto design team took the needs of the everyday rider and turned them into a highly functional and comfortable armored hoodie. Most importantly to me – they did it without a zipper.
The LORICA is marketed as an Armored Jacket but styled as an Armored Hoodie. The two terms will be used interchangeably throughout this review.
For All The Zip-Up Lovers
Very rarely do I see a motorcycle jacket without a zipper. I understand that for the majority of riders, zippers are welcomed with open arms as they allow for easy on and off. While I can admit they're highly convenient, my appreciation for zippers stops there.
Have you ever washed a jacket with a zipper? Cold wash, hang dry, it doesn't matter. The next time you zip up that jacket your zipper is full of peaks & valleys as if you're smuggling a child's flexible ruler underneath.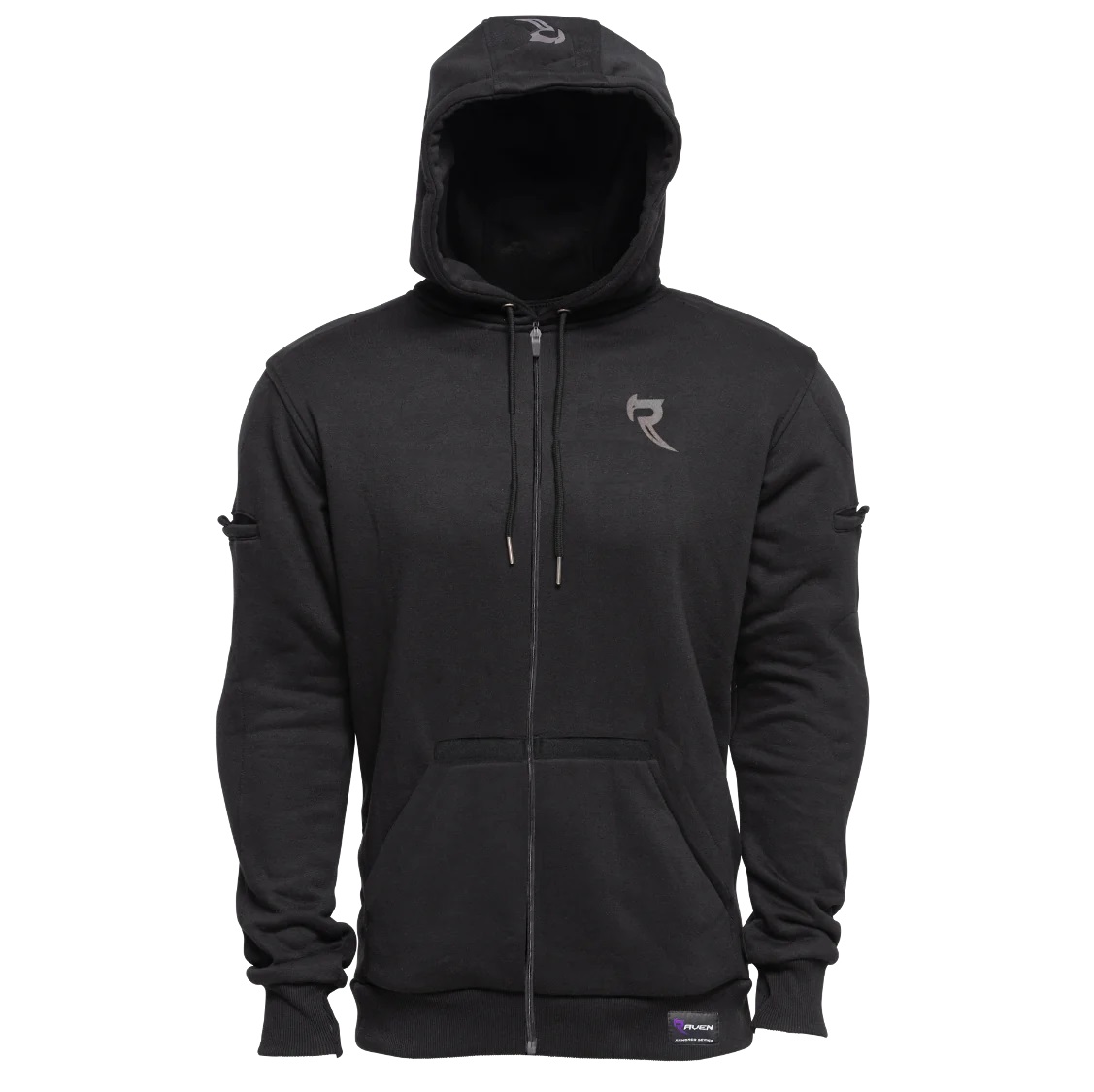 And don't even get me started with tank scratches. Yes, there are ways to prevent it but perhaps the easiest way is also my favorite – buy something without a zipper.
Nonetheless, zippers are still very popular and many riders' first choice. If that's you, don't worry. The team at RAVEN Moto have you covered with their Lacuna Full-Zip Armored Hoodie.
Design, Fit & Feel
The LORICA is almost exactly what I was looking for in a pullover hoodie. It's slim fitting, breathable, and extremely good looking. It is available in 5 different colors with my personal favorite being the all black. However, I will admit that the purple does look pretty sharp as well!
Designed to Look Like a Regular Hoodie
On RAVEN Moto's website, the LORICA Armored hoodie is pictured with very distinctive armor patches on the shoulders, elbows & back. I was pleasantly surprised when I received my hoodie to find that the armor is very incognito. In fact, I've had a few instances where someone thought I was wearing a regular hoodie. It was not until I had mentioned I was wearing armor that they then noticed.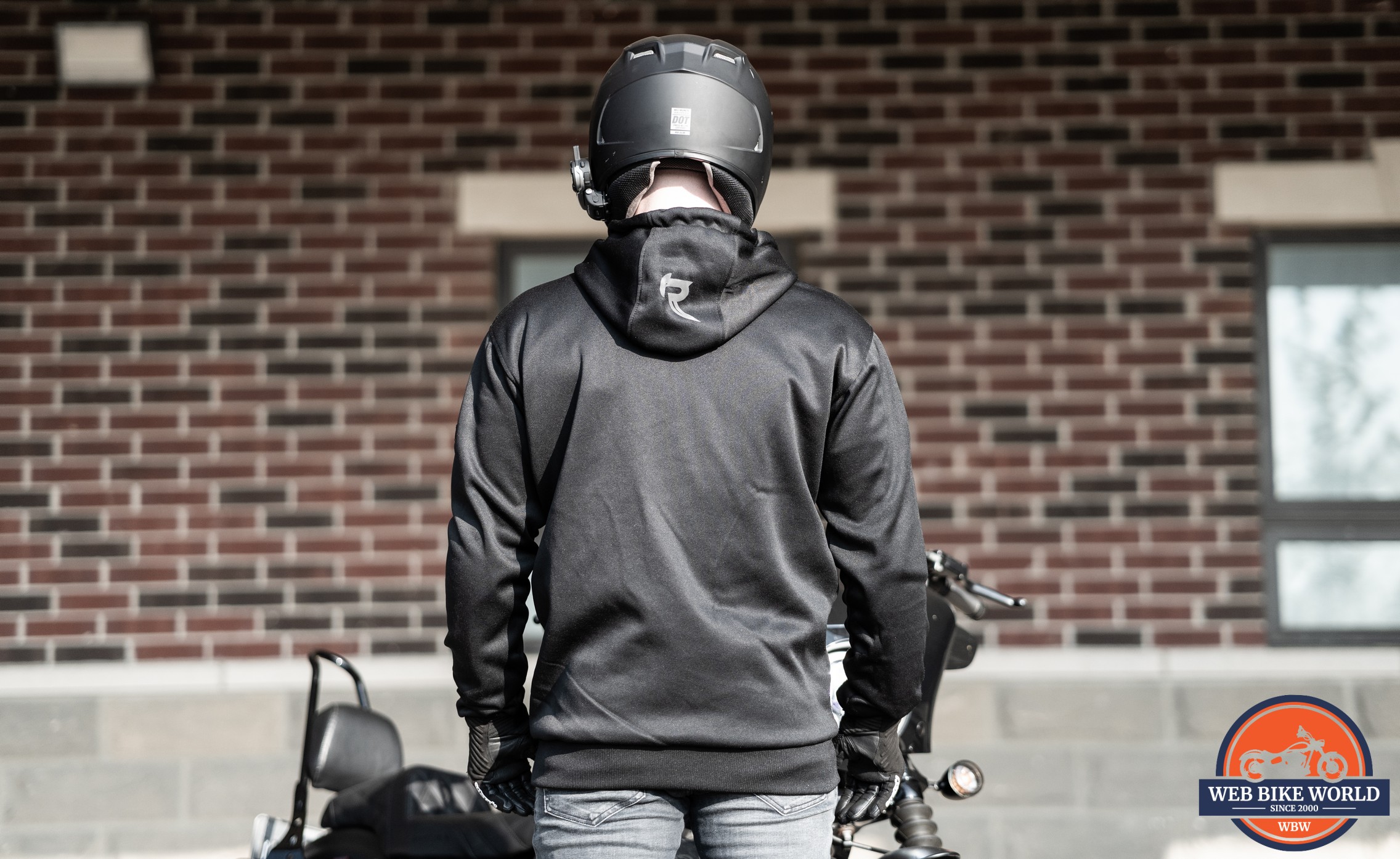 Continuing its look as an everyday hoodie, the LORICA sports drawstrings that can be removed if needed. Logos on the center chest and hood, as well as tags, are reflective for better visibility in poor lighting. The sleeves and total length are oversized, and for good reason, as you'll find out as we cover features.
The inside of the LORICA will be covered below with Features.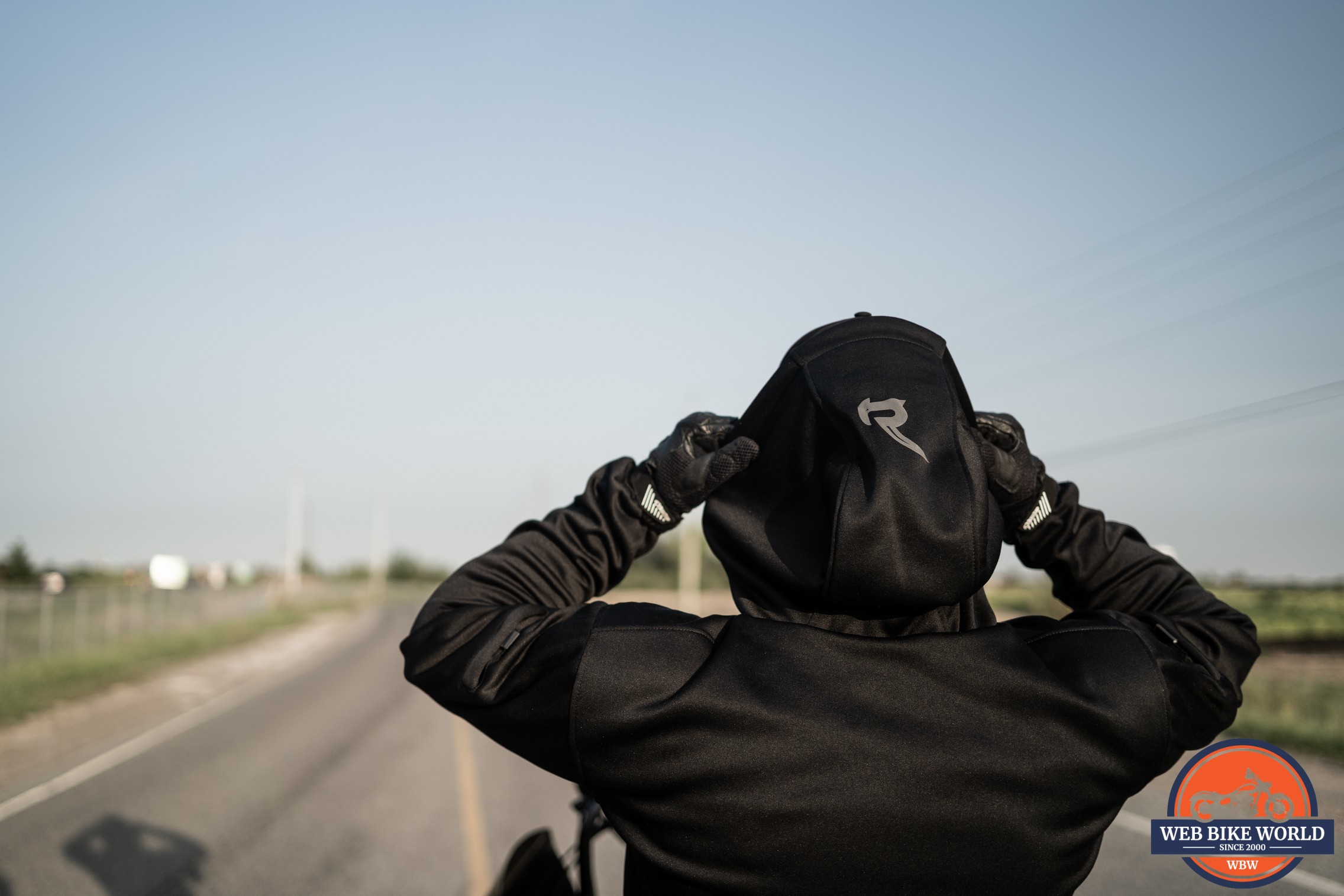 Sizing
I found the LORICA to fit true to size. If you're unsure about your size, you can consult their guide but you should be safe ordering the same size as you would any other hoodie.
For the purpose of this review, I decided to consult RAVEN Moto's sizing guide. I found myself borderline between large & XL. The guide's recommendation is to size up when you're in between sizes, and I believe that was the right choice.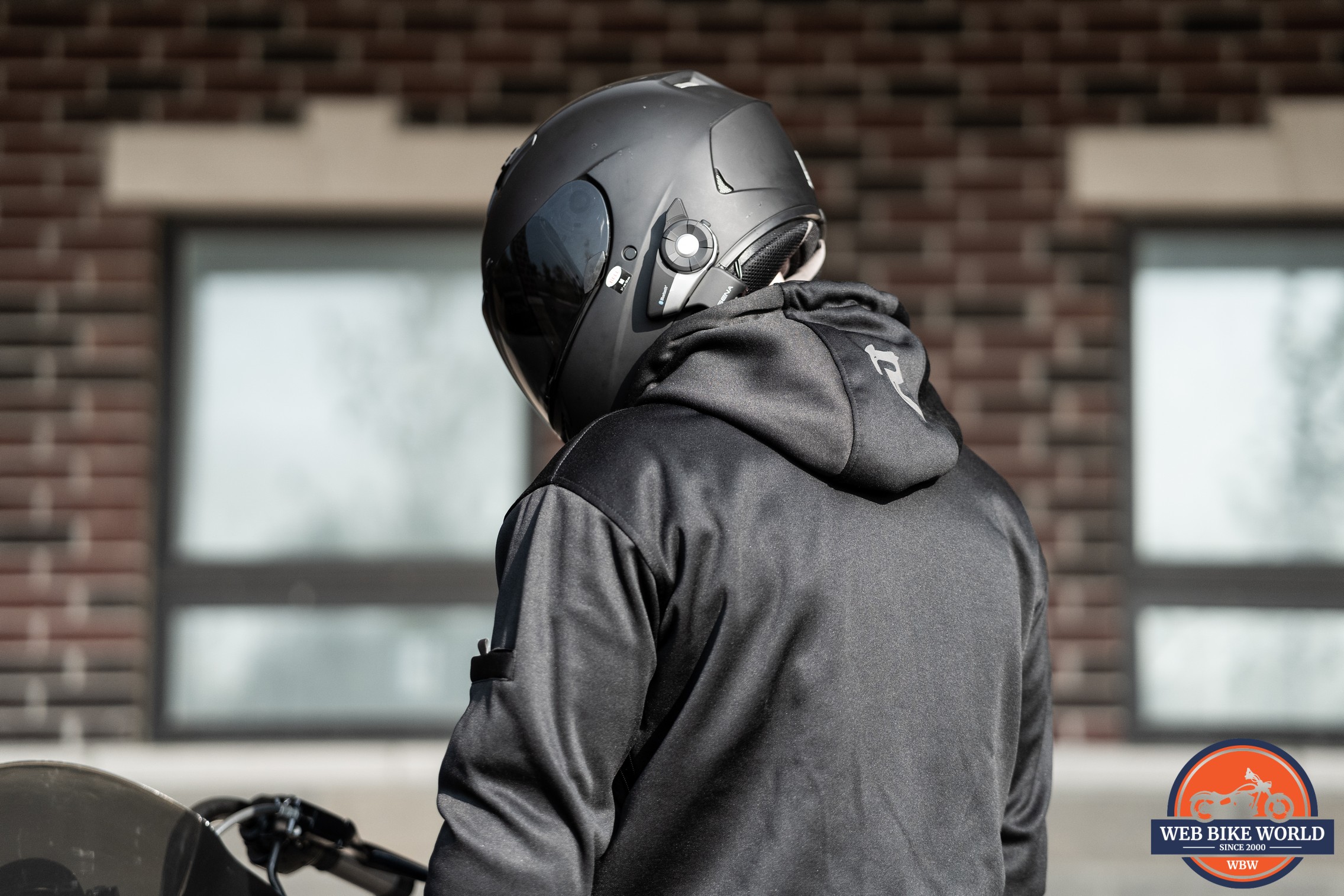 Although the LORICA is designed to be slim fitting, I feel that a large would've been just a tad too tight for my personal preference. With the XL, I have full range of motion and don't feel any stretch in the fabric when holding the handlebars, shoulder checking, or leaning forward. While it may not be as slim fitting as the designers intended, it fits exactly how I'd like it to and I believe that is more important.
Heavy, Yet Light at The Same Time
The LORICA is heavy in your hands, but while riding that weight translates into confidence. I found the weight of the hoodie reminds you that you're wearing armor because without it, you could easily forget.
Your initial thought is likely similar to mine: Heavy = Hot. Thankfully, that is not the case. The LORICA wears like a thin, lightweight hoodie and thoughtful vents keep your body cool (more on that in Features) while riding.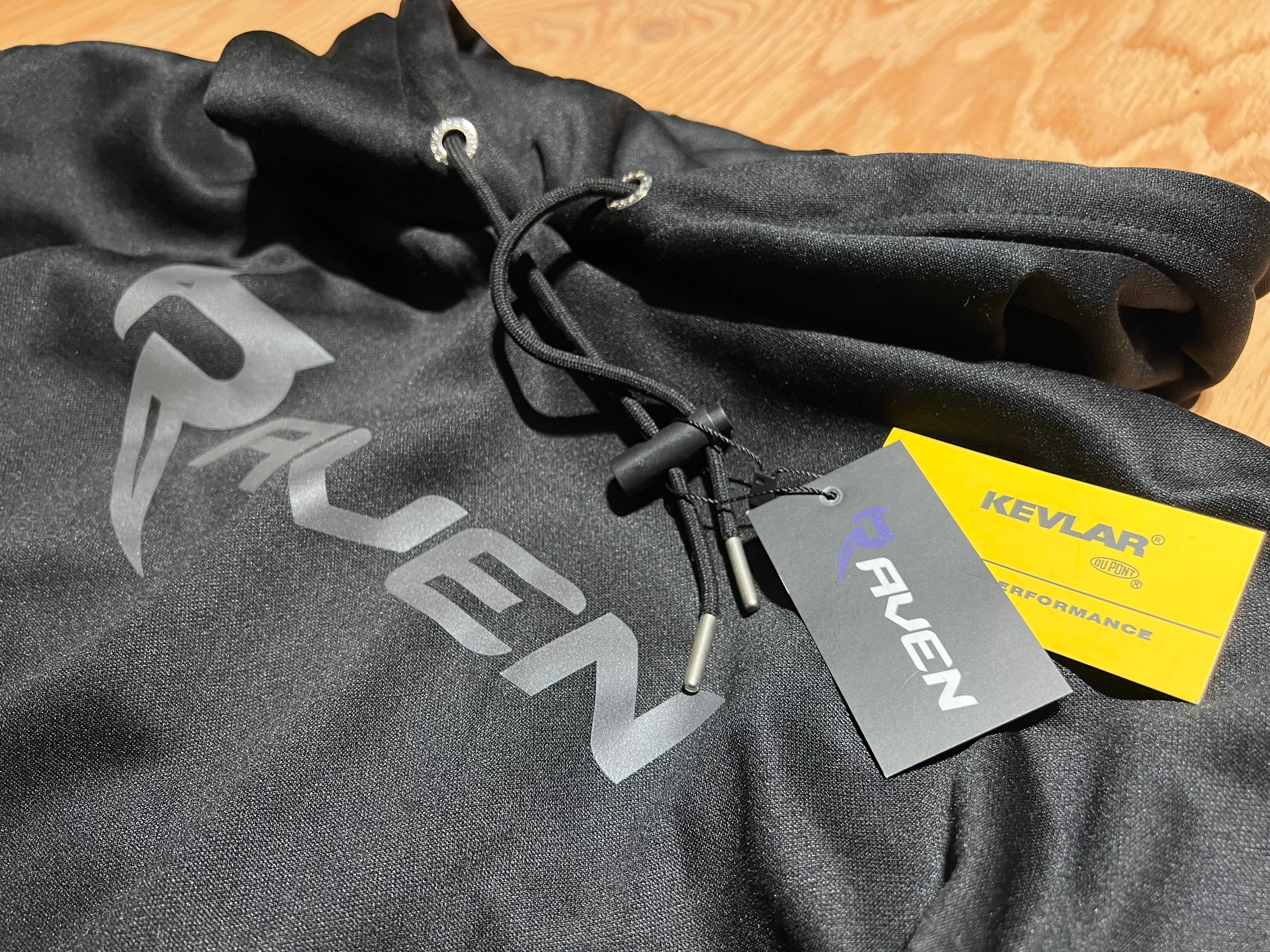 The exterior fabric isn't as soft as the fleece you'd wear to lounge around the house. Instead, it's more comparable to that of sweatpants or gym shirts. If you're wearing an undershirt, you will not have to worry about any itching or scratching. The fabric does not collect lint, and dirt/debris can easily be wiped off.
Design, Fit & Feel Rating – 85%
All in all, the LORICA does a great job of presenting itself as any other hoodie you'd wear on a night out or around the house. The sizing fits true and the fabric encourages you to wear it again and again.
If I had to make a complaint, and this is a stretch at best, it would be that the hood is fairly heavy and can feel like a weighted cape when riding. I found that tightening the drawstrings & tying them in a bow helped prevent this.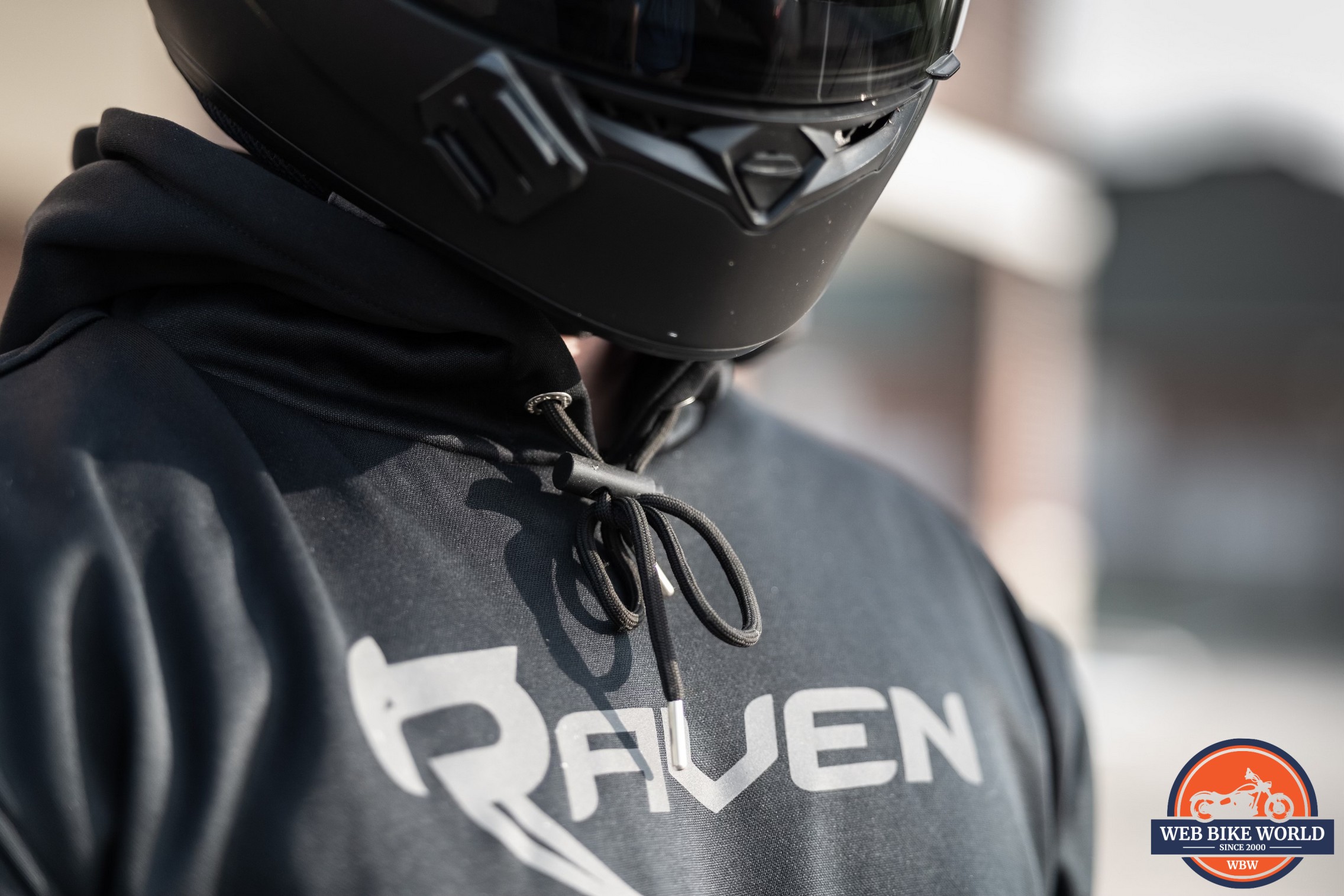 What's more, I would've preferred if the LORICA didn't have drawstrings at all. I find that when it comes to motorcycle gear they're more of a nuisance than anything. I understand the LORICA is designed to pass as streetwear, and as such perhaps a metal snap closure could've been implemented instead?
Features
As previously mentioned, the LORICA has a fair share of features. While their website does a good job of highlighting some, I was continuously finding more throughout the first week of use.
Pockets
The LORICA has 4 pockets – 1 on each sleeve, a center kangaroo pouch with a center zip pocket overtop. My personal favorite is the sleeve pockets, or the "License & Registration" pockets as I referred to them as. They're the perfect size for small wallets, cash, keys, and other important items. The pockets are deep and secured with velcro.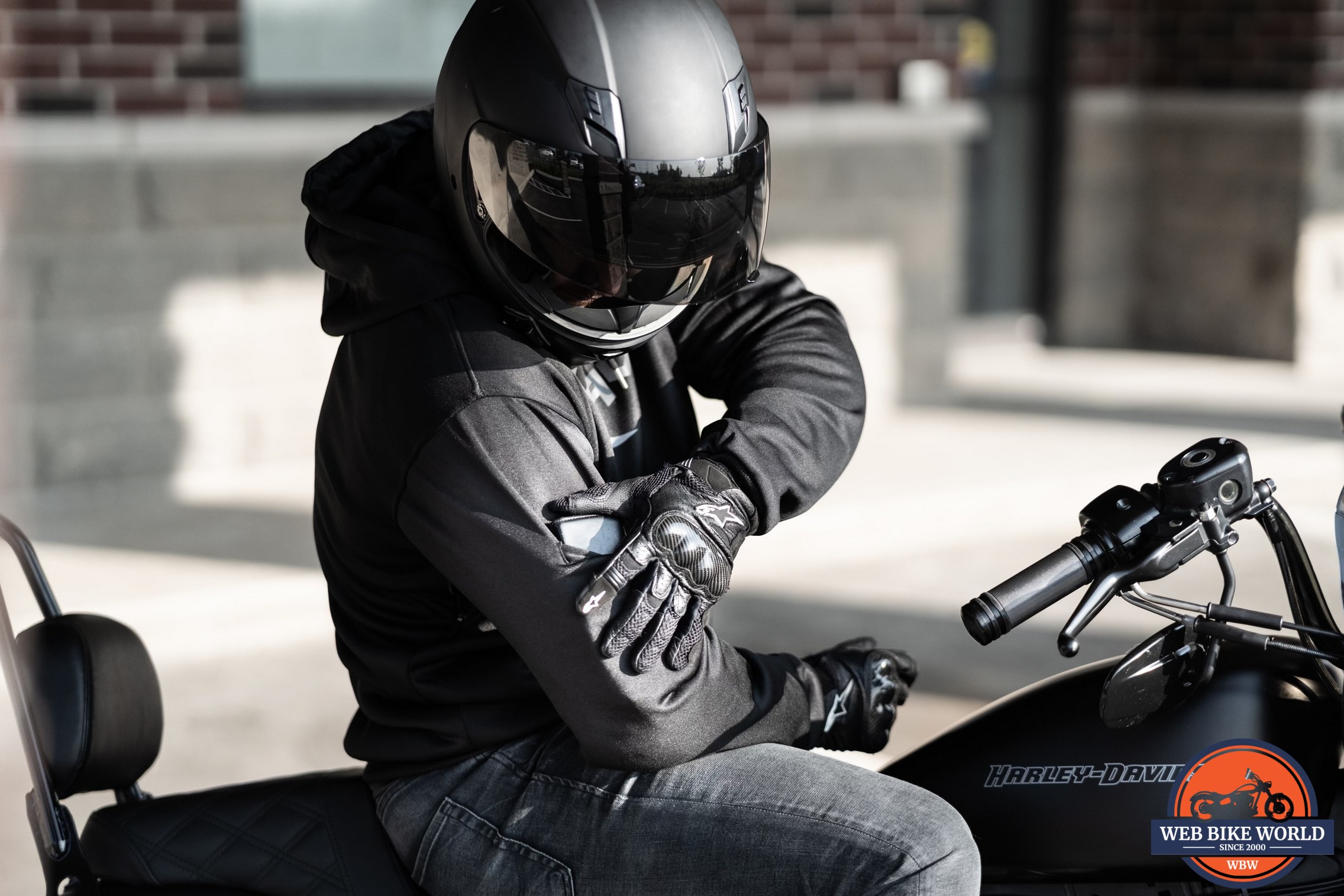 The kangaroo pouch makes for a convenient place to hold your gloves when you aren't riding, but the center zip definitely steals the show. This pocket is large enough for bottles of water, a baseball cap, your phone and so much more. I make frequent use of this pocket everywhere I go with my hat, house keys and phone.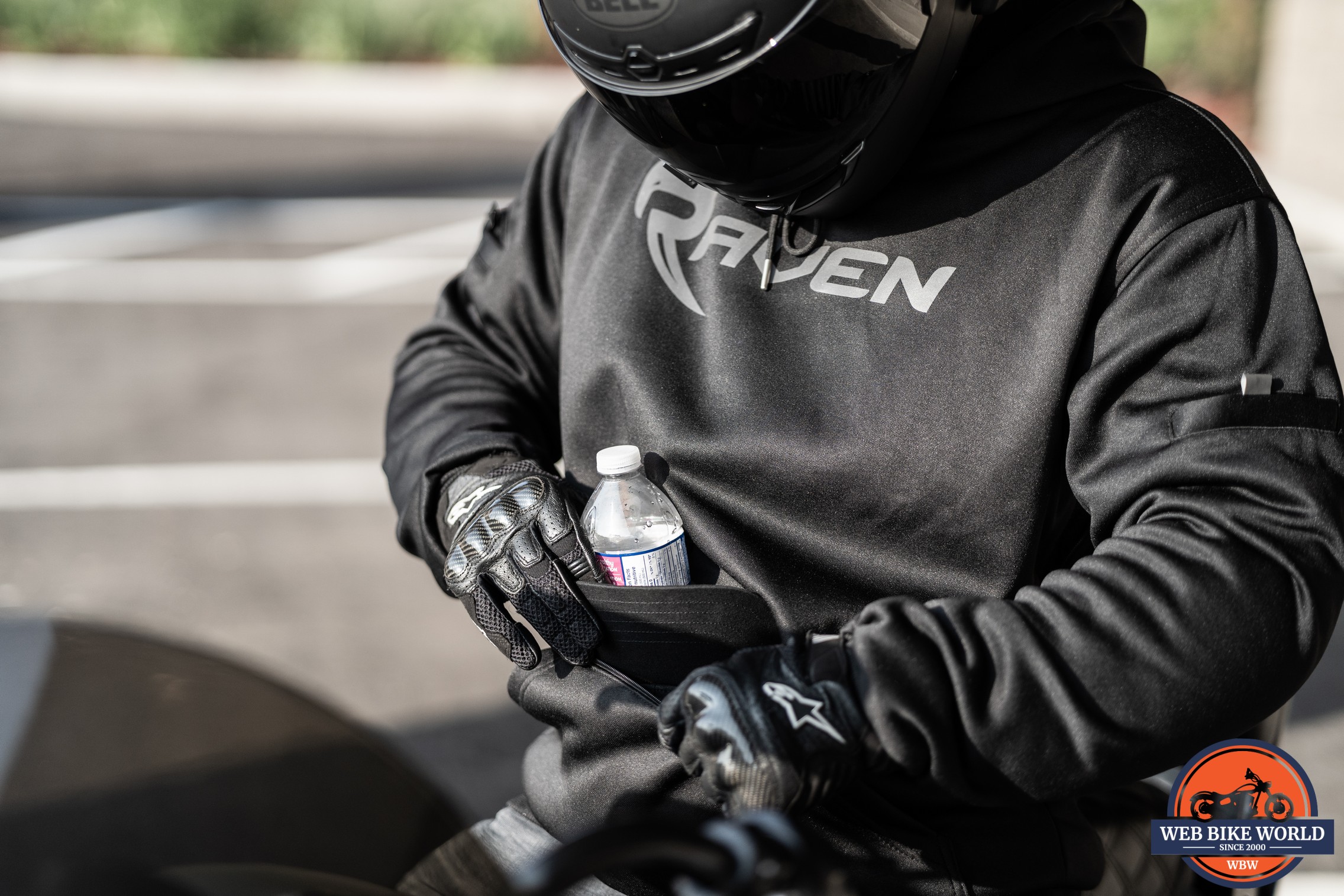 Thumb & Belt Loops
In the event of an accident, the LORICA has thumb loops and hidden snap closures on the inside of the waist band to hold the hoodie in place while sliding. The hidden closures open and wrap around your belt opposed to feeding it through the loops. The extra total length keeps the belt loops hidden and prevents the hoodie from riding up while leaning forward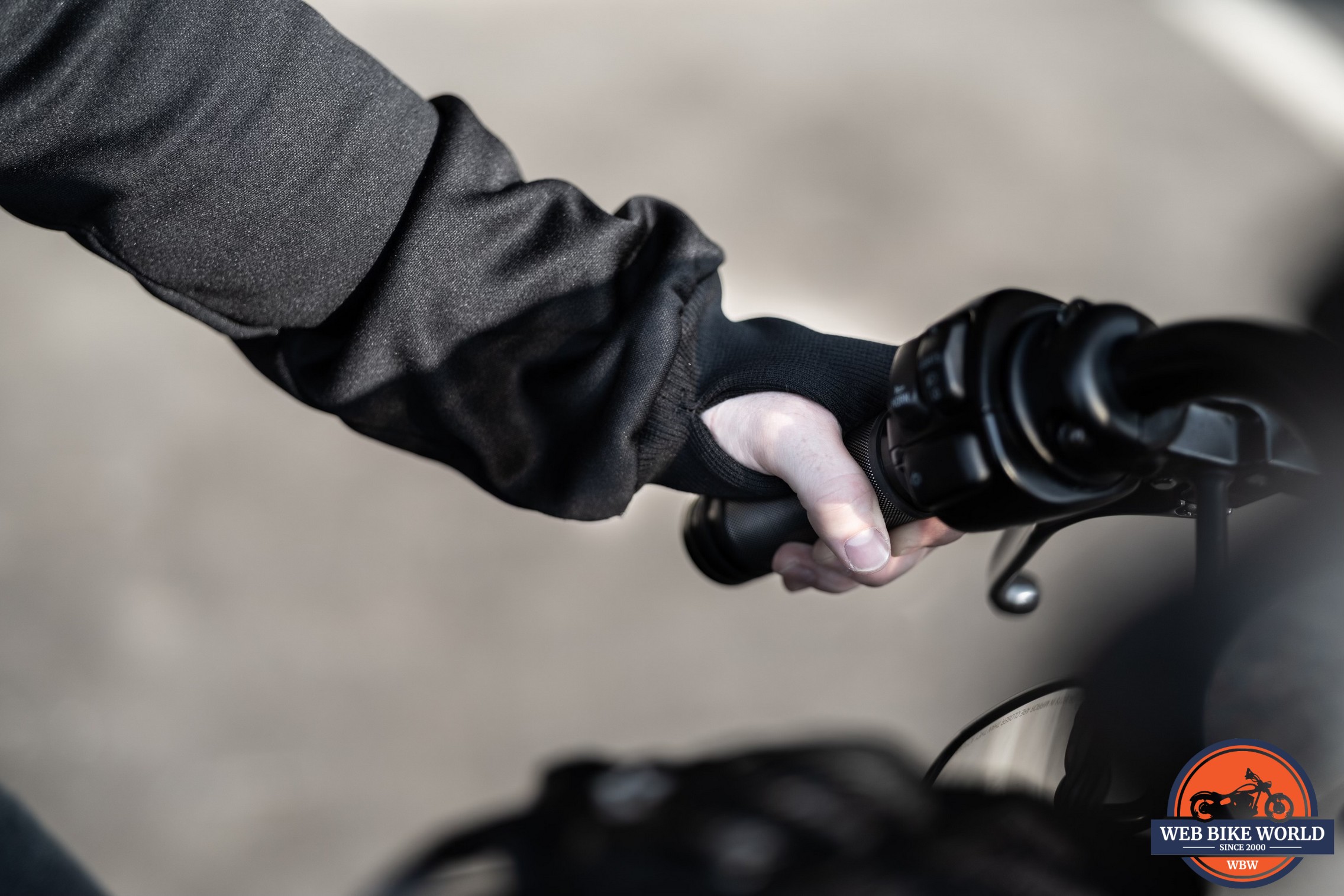 Typically, I avoid using thumb loops as the sleeves feel stretched and uncomfortable. The thoughtfully designed oversized sleeves on the LORICA eliminate that stretch, even while reaching for your handle bars.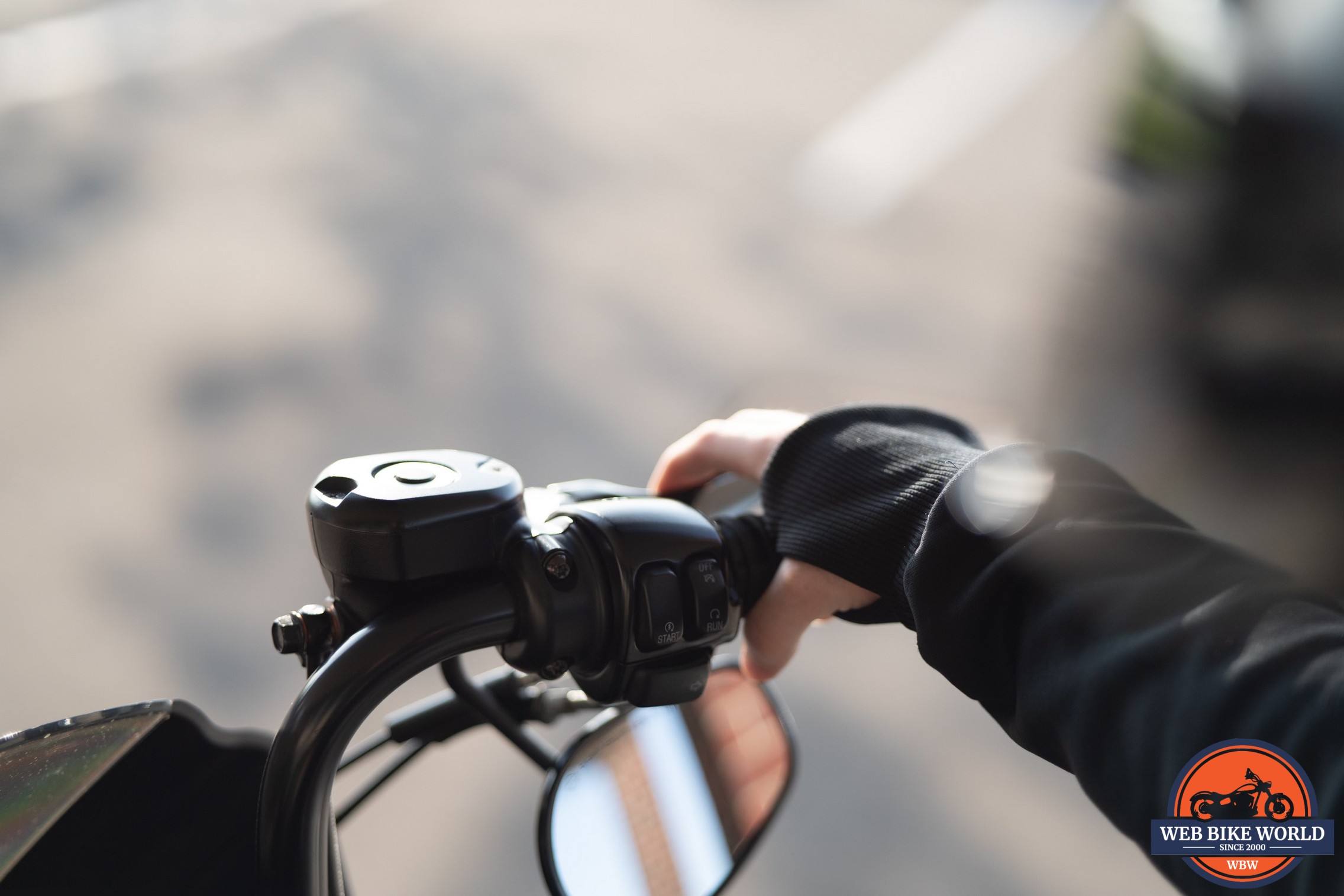 Under Arm Vents & Breathable Mesh
Let's get one thing straight – I'm a relatively sweaty guy. As such, it should come as no surprise to you that my favorite feature of the LORICA is the under arm vents.
With my raised handlebars, I can really feel the air flowing in and throughout the hoodie as I ride. The vents are sealed off with a durable, breathable mesh to prevent any bugs or debris from getting in.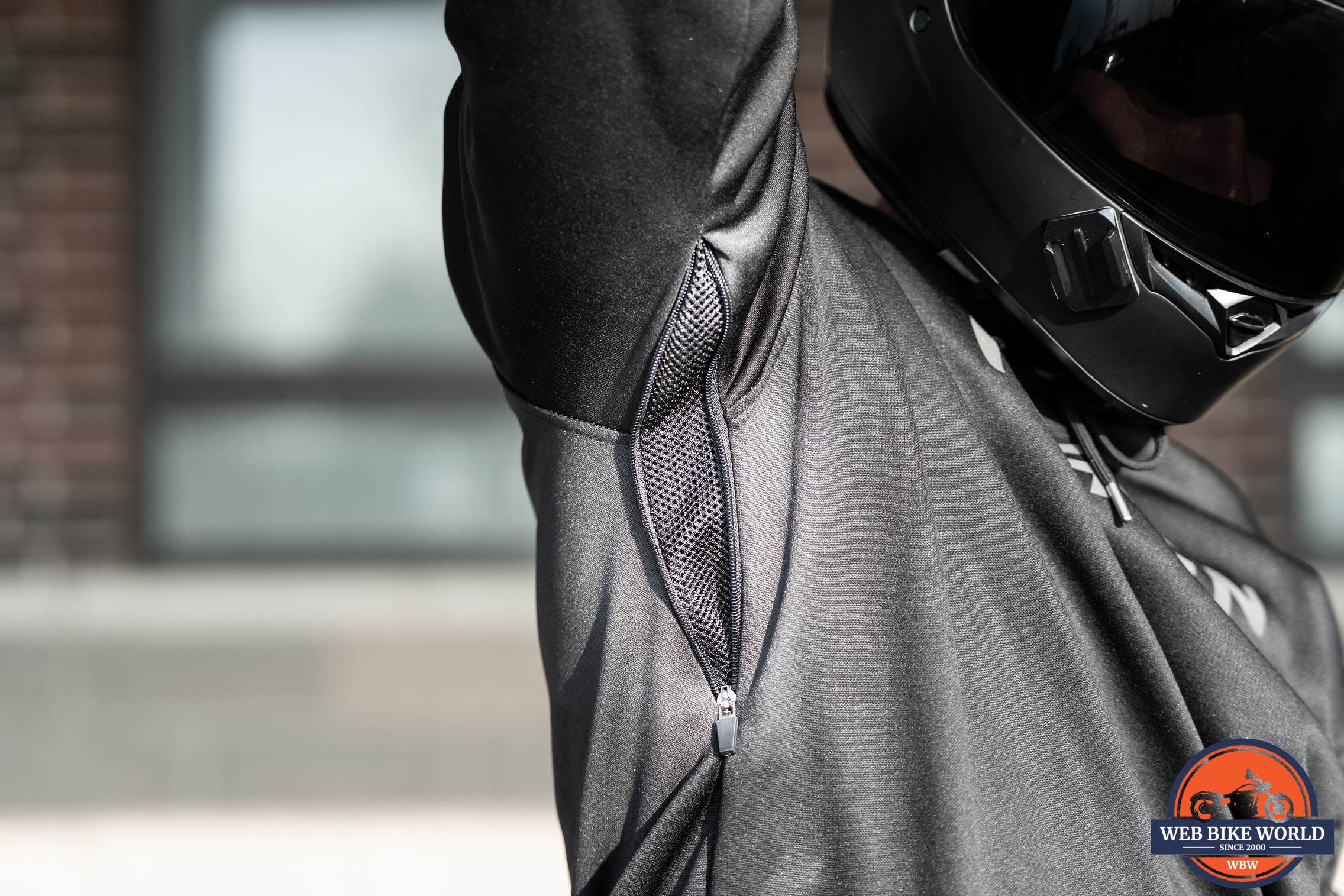 After a grueling gym session on a hot humid day, I found the underarm vents dramatically changed the temperature of my body while riding. Even at a red light, the cool breeze flowing in was more than welcomed.
Reflective Materials for All Around Visibility
As riders, we all know how important it is to be visible to drivers. The side pockets sport small loop tags that reflect light. The center chest logo, as well as the hood logo are made out of reflective material as well for better visibility.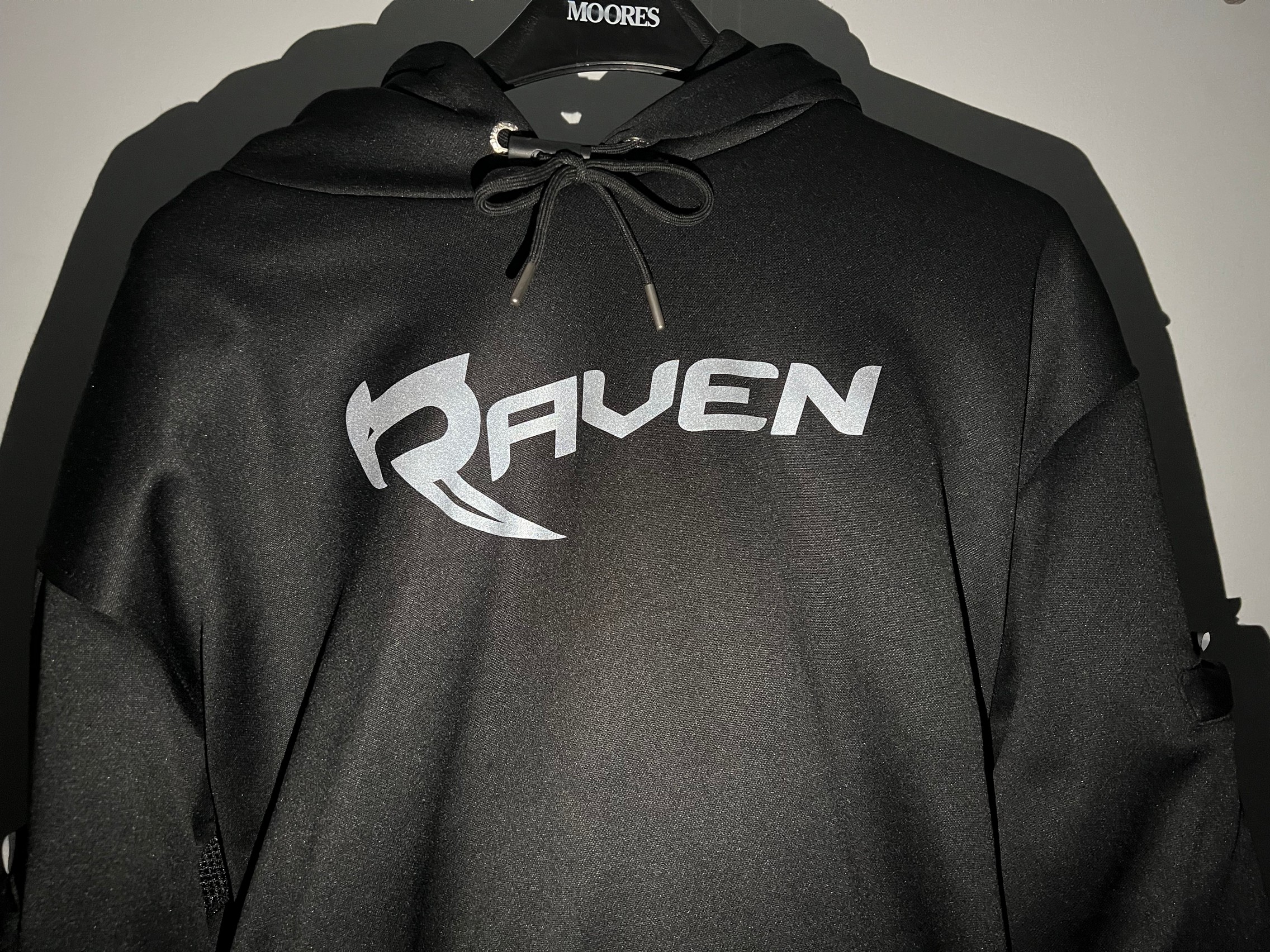 With only using the flash on my phone's camera, you can see how well the logo acts like a hi-viz vest, reflecting the light and standing out from its black background.
Interior Mesh Lining
Flip the LORICA inside out and you'll find the entire hoodie is lined with an interior mesh. This mesh is highly breathable and acts as a moisture wicking layer between your skin and the hoodies fleece.
I found this mesh to be a very welcomed feature as it felt cool against my skin opposed to the typical fleece interior you'd expect in a hoodie.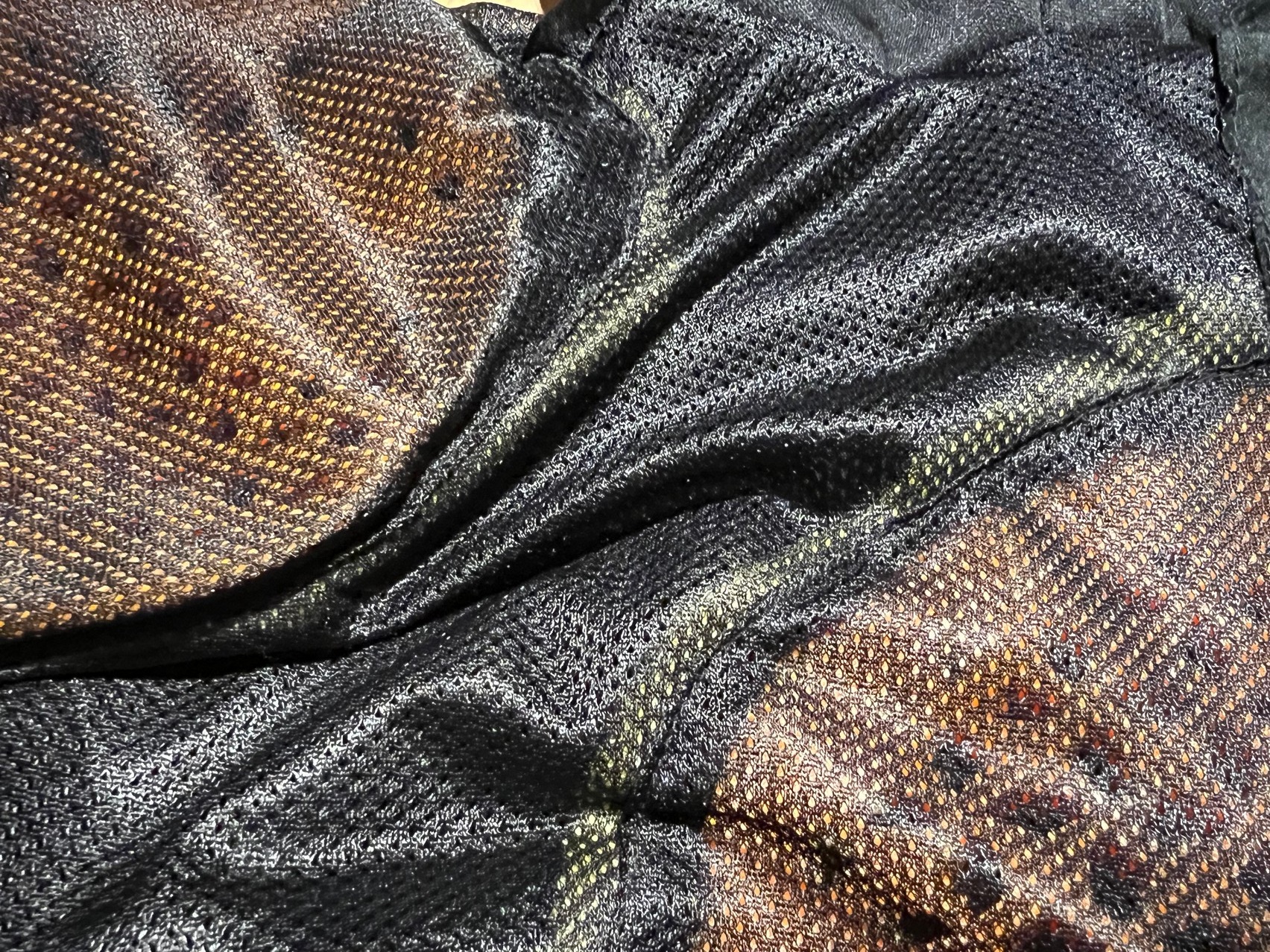 Features Rating – 80%
The LORICA has a number of features that may seem trivial until you've experienced them for yourselves. For example, I believe the thumb and belt loops are a genius addition and you'll be grateful for them if they're ever used for their intended purpose – god forbid.
Throughout the testing phase of this hoodie I didn't find myself wanting more. I struggled to think of additional features that would've been nice to have. I was thoroughly impressed that armor was included, and the quality of said armor (see Protection for more).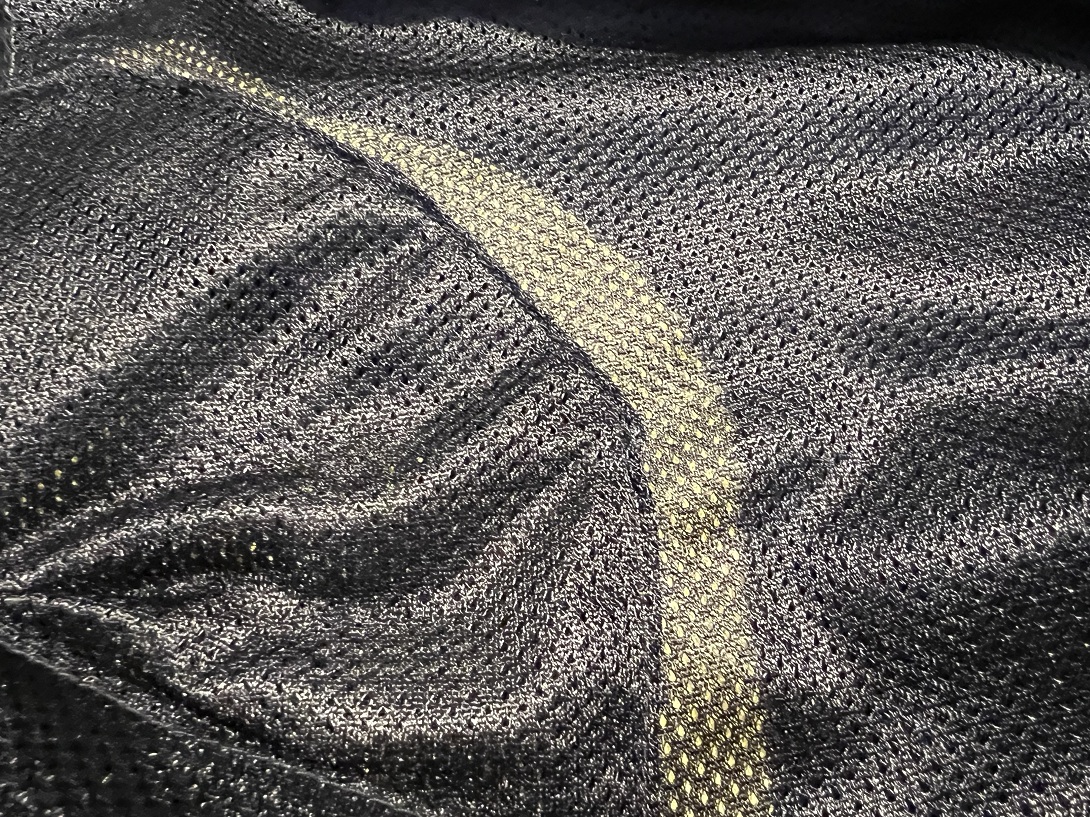 Unfortunately, the moisture-wicking interior lining just didn't cut it for me. While it did its job and wicked away sweat, I found the moisture would get trapped between the lining and fleece and was sometimes reluctant to dry. The same instance occurred with odors.
Protection
The LORICA Armored Hoodie ships straight to your door pre-packed with premium CE level 2 protectors, as well as an aramid fiber lining, 100% DuPont Kevlar in impact areas.
For a better understanding of how protected you'll be, check out this article on The Evolution Of Armor: An Investigation Into the Gear that Keeps You Safe.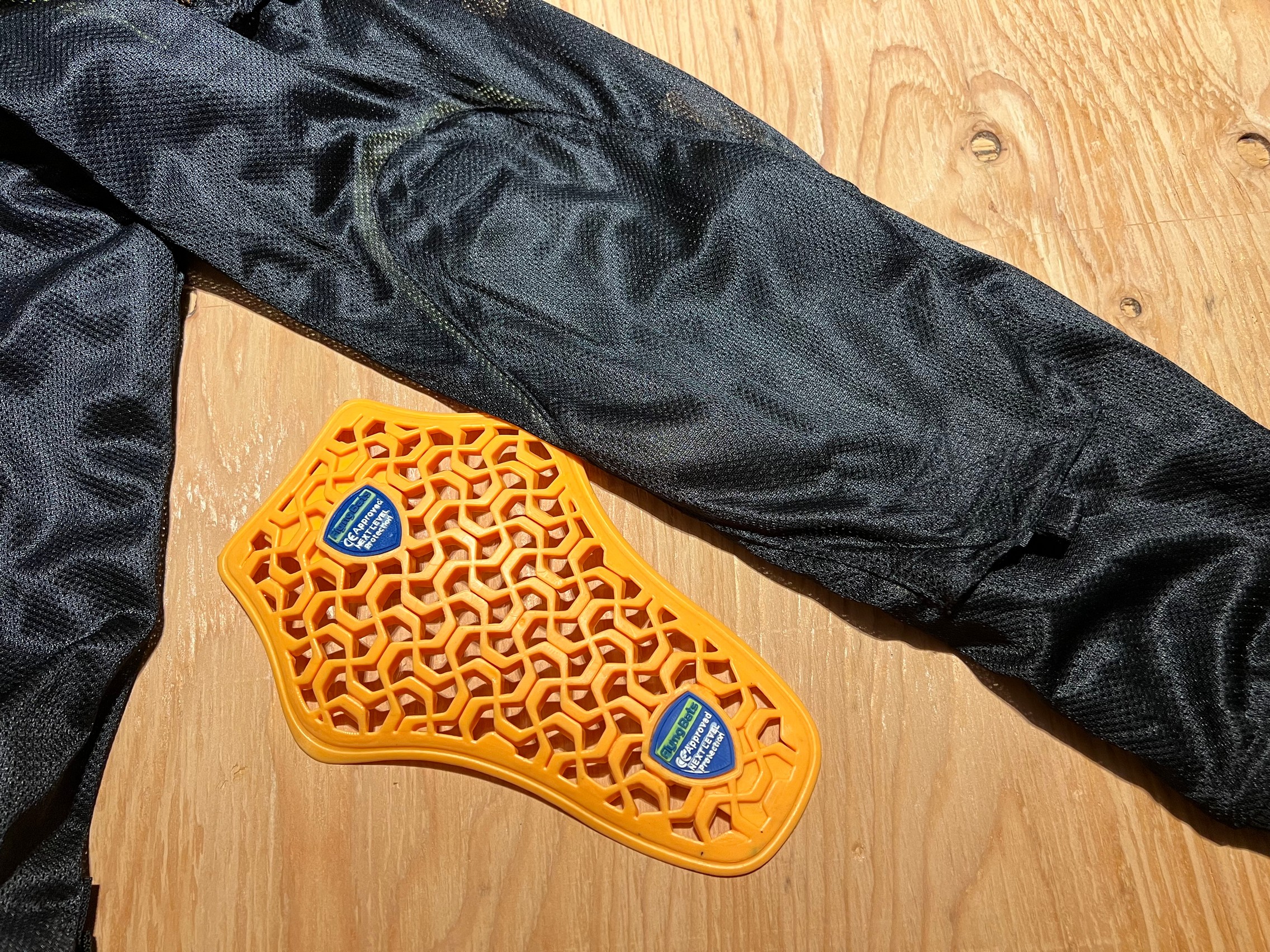 Abrasion Resistance
If you like your skin being on your body, abrasion resistance will be of much importance to you. If you look closely at the photo below, you'll notice a yellow outline around the armor sleeve. This yellow lining is the DuPont Kevlar RAVEN Moto used to help combat abrasion.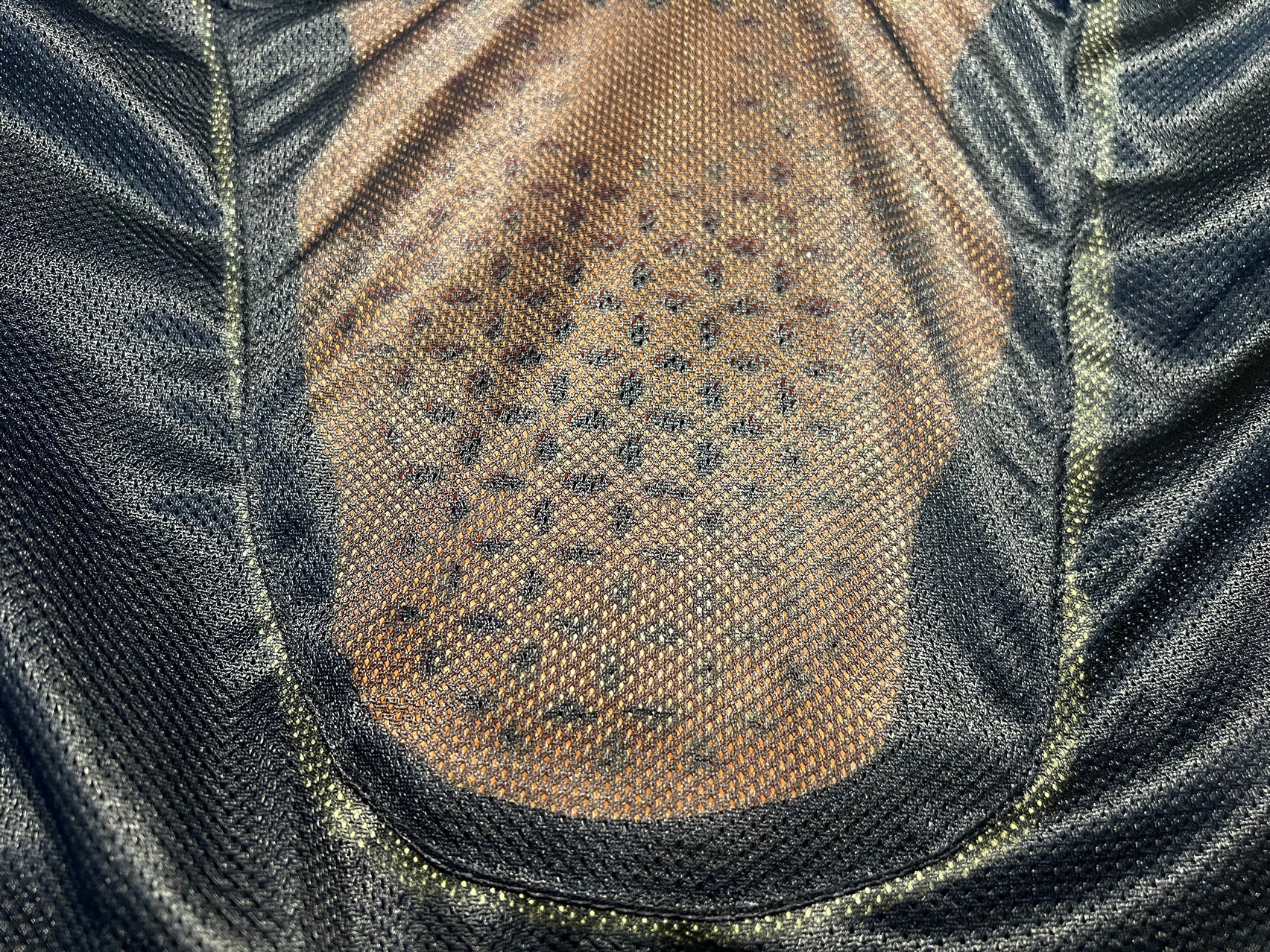 The armor pouches are reinforced with the aramid fiber lining as they are high impact areas. While not as abrasion resistant as leather or textile, Kevlar will help minimize bodily harm should you ever find yourself skipping across pavement.
It is typical in gear designed to look like streetwear to only use Kevlar in impact areas. If you're looking for all around abrasion resistance, you may want to check out RAVEN Moto's Phantom Street Armored Motorcycle Jacket.
Impact Protection
It's not uncommon to purchase a jacket and only receive some armor, if any at all. With the LORICA, RAVEN Moto provides premium CE level 2 protectors pre-installed in the shoulders, elbows, and back.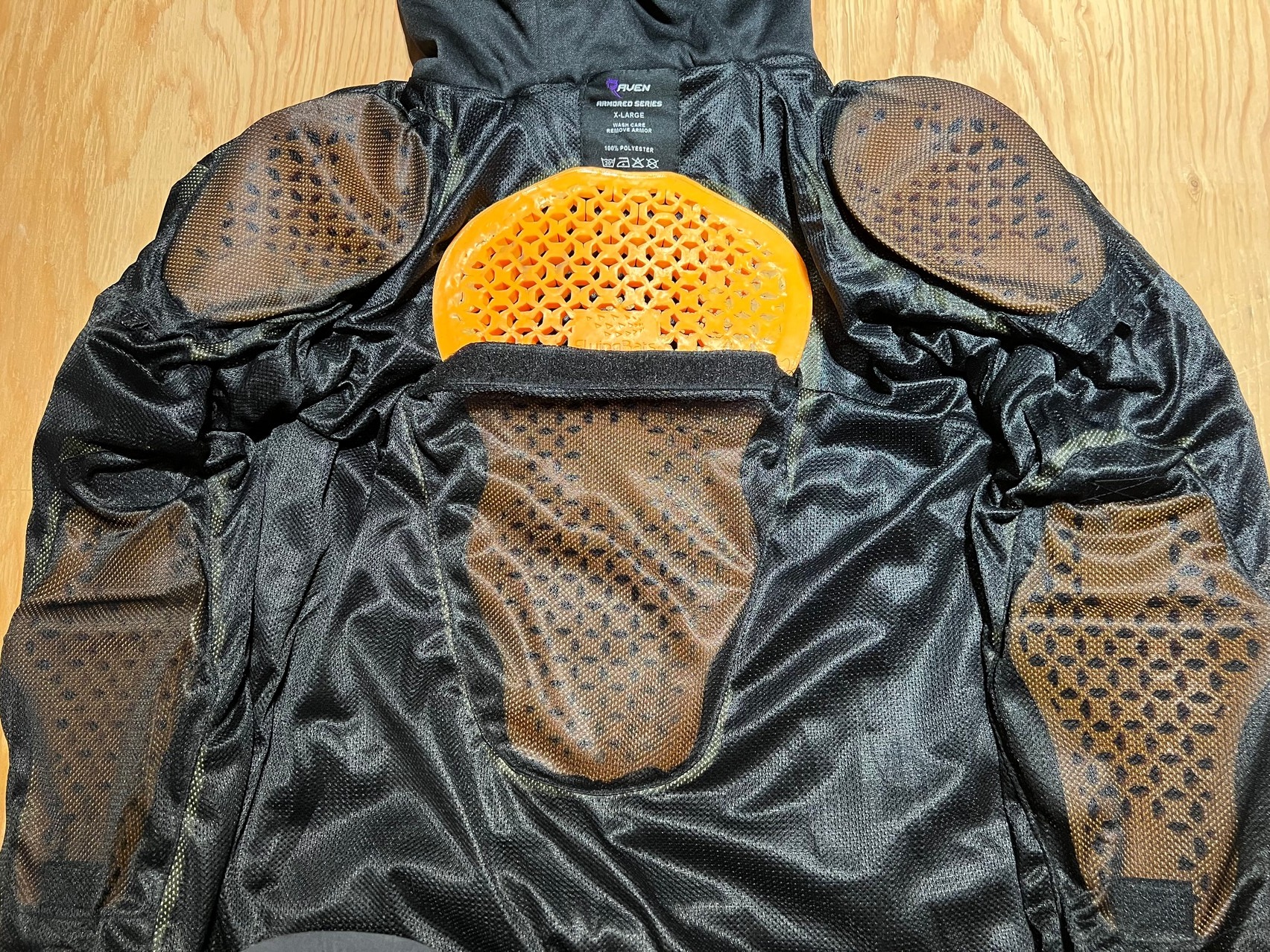 The Flying Bats Lite-Pro Air Wise 2 protectors are lightweight, flexible, breathable, and comfortable. I found the armor to be much thinner than SAS-TEC protectors I had installed in previous jackets while still meeting the same safety certifications.
I am notorious for removing elbow pads out of my jackets as I find them unbearable to ride in. With the LORICA, I forgot they were there the majority of the time. Occasionally the elbow pads would slide out of their velcro enclosure which leads me to believe the oversized sleeve length may be to blame.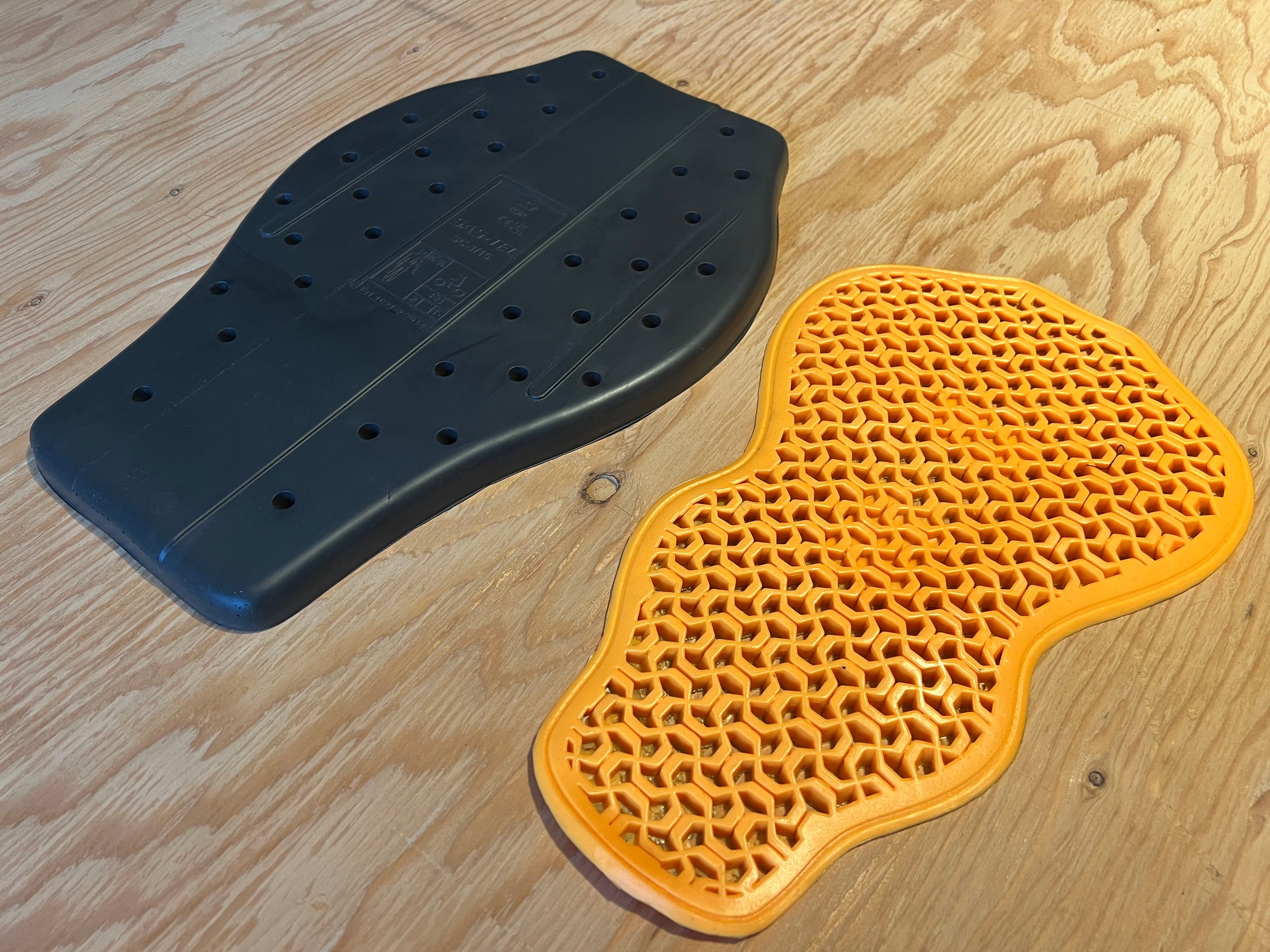 RAVEN REBIRTH Program
I came across something I thought was very cool while scrolling through RAVEN Moto's website – the REBIRTH Program.
Simply put, should you ever find yourself in an accident wearing RAVEN's gear, there is a short online form you can complete for a chance of receiving replacement gear.
To me, giving back is very important. Through various programs, such as their mental health initiative, RAVEN Moto's commitment to their riders and their safety is something I'd love to see more of in the industry.
Good on you, RAVEN.
Protection Rating – 80%
The LORICA will do a great job at keeping you protected, but cannot receive a perfect score as it doesn't provide all-around coverage.
Unfortunately, when it comes to safety the fact of the matter is that there are better options in the market. As we covered, leather & textiles will provide you with greater abrasion resistance, and racing suits being a tier above that.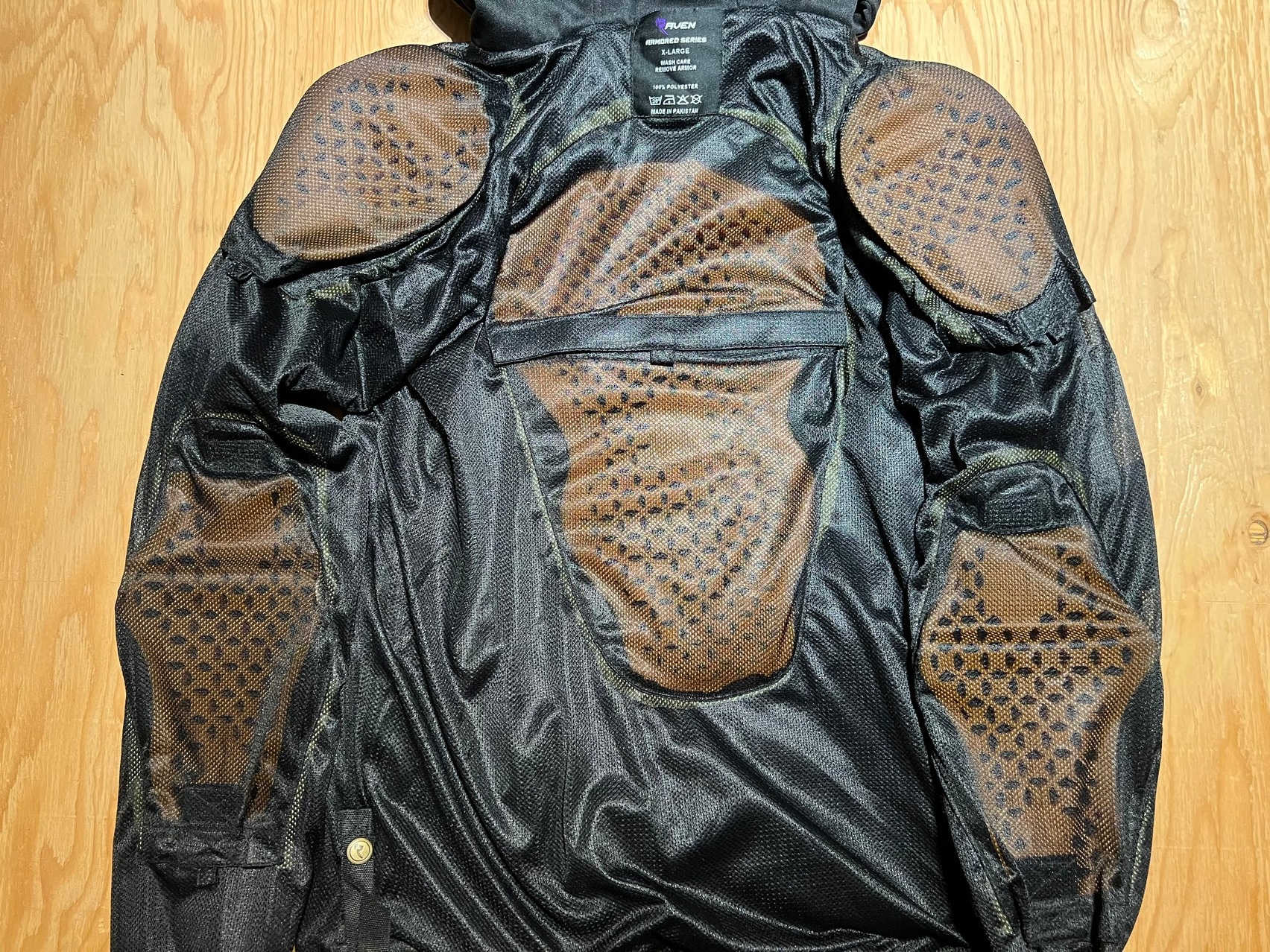 With that being said, the LORICA Armored Hoodie is extremely protective for what it is – a streetwear reinforced hoodie. I really like that good quality armor is included with your purchase for all impact areas.
Final Verdict
RAVEN Moto if you're reading this please send me another LORICA Hoodie.
On a serious note – I really like this product. I think the team over at RAVEN Moto have done a great job at creating a hoodie that acts like streetwear while simultaneously keeping you protected and safe as motorcycle gear should.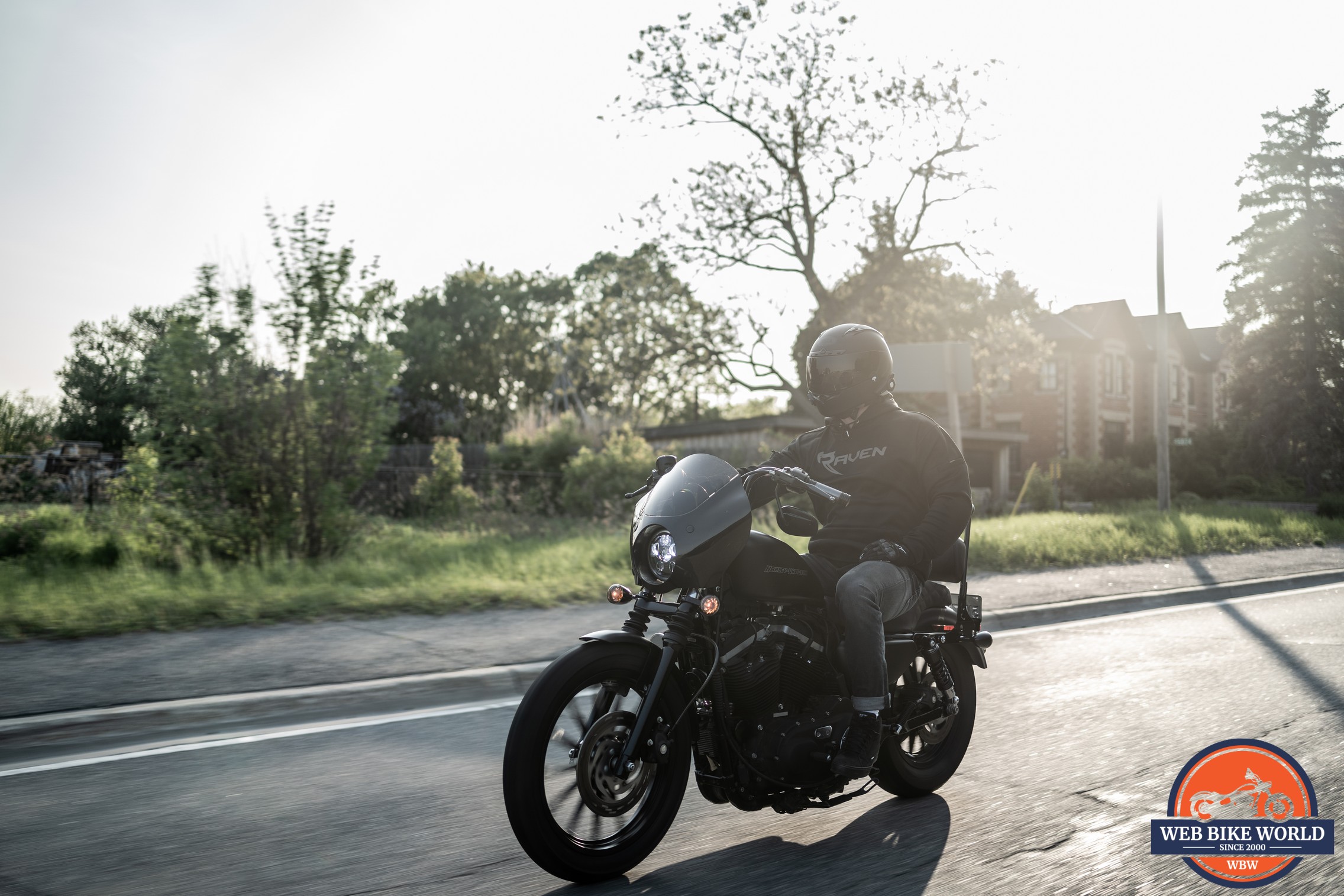 Thoughtful features sprinkled throughout the design left me satisfied and not wanting more.
If you're on the fence, do not let minor setbacks discourage you from an otherwise fantastic overall product.
Like I mentioned previously, there aren't many non-zip options available on the market. If you're looking for a pullover that'll work hard for you both on and off the bike, I suggest seriously considering the LORICA Armored Hoodie.
Pros
Made out of high quality materials with true to size fitting
Aramid fiber lining, 100% DuPont Kevlar in high impact areas
Discreet premium CE Level 2 back, elbow and shoulder protectors included
Logos, tags and other elements are reflective for all-around visibility
Numerous features for both rider safety and convenience
Backed by a good company with great customer service
Cons
Moisture-wicking interior lining can trap in sweat & odors
Can be reluctant to dry when wet
Heavy hood and drawstrings can be a nuisance while riding
Elbow protectors have a tendency of coming out of their velcro sleeve
Specifications
Manufacturer: RAVEN Moto
Price: $249.00 USD
Colors: Black, Purple, Red, Blue, Pink
Sizes Available: SM to 4XL
Review Period: May to June 2023
Where to Buy